Morning Friends!
Are we getting excited for this week?!? Turkey day is one of my favorite holidays. You get to wear your stretchy pants and get after it. I have a strong weakness for mash potatoes and gravy! Total side note, but have any of you tried the new Starbucks turkey cranberry stuffing panini? Oh man, its been gearing me up for Thursday. Really good!
For my family, we switch each year and spend it with one side of the family. Often times, we still try to make our rounds to all three places. Can't be mad at it sometimes, that's three different times we are eating. Fat pants are needed for sure! I like to be the guest that is the best by bringing a dessert and some flowers. I like to make my own arrangement, it just means that much more to family. This year, I turned to Jennifer from Busy Bee Floral Design to give me some step by step directions to make the perfect fall arrangement. She is sharing it with you today too! You can make this arrangement a day before and store in a cool place, this way you are not rushed on Thursday. If you are hosting thanksgiving, this would be a perfect arrangement for your table. Head to your local flower mart, and get to picking. If you are in Nothern California, we suggest the SF Flower Mart or the United Wholesale Flowers (this is where I go).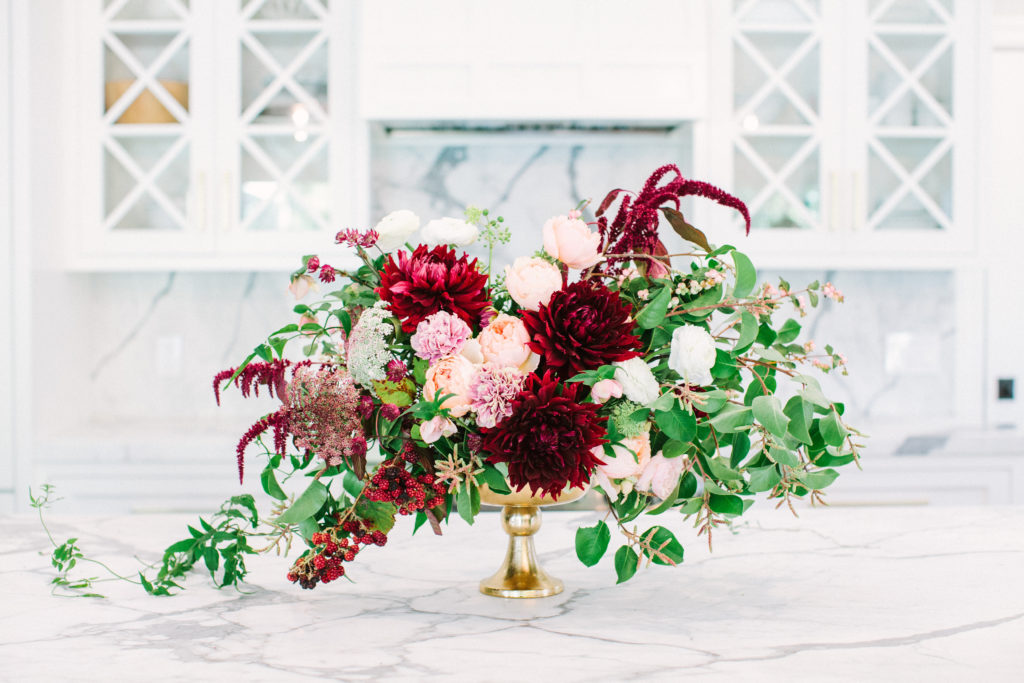 Photos by Yasmin Sarai
Step by Step Instructions by Jennifer from Busy Bees Floral Design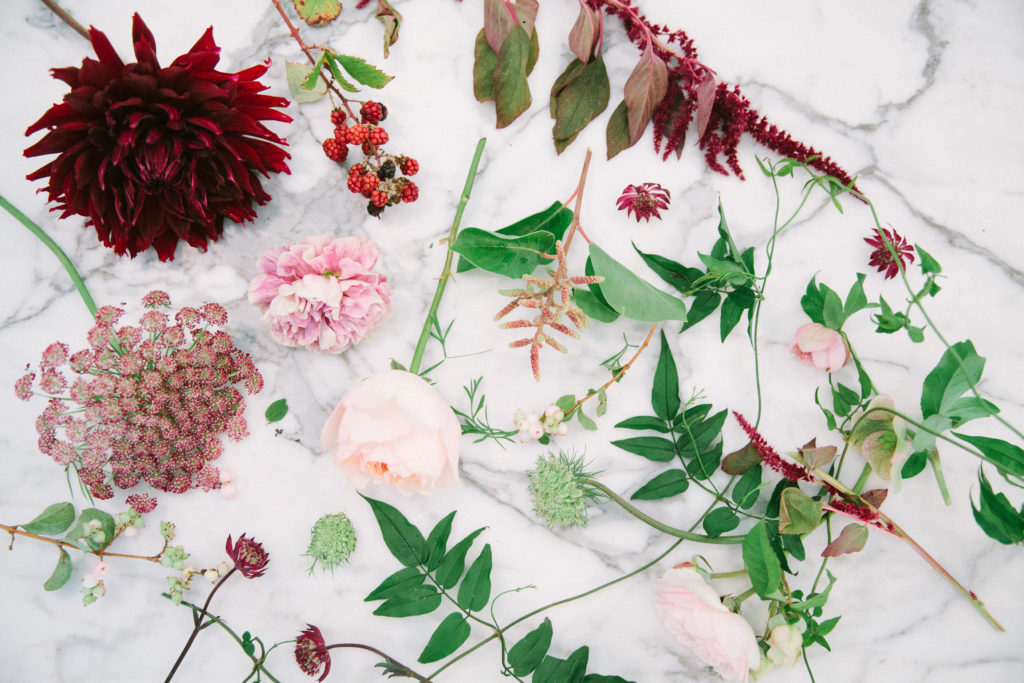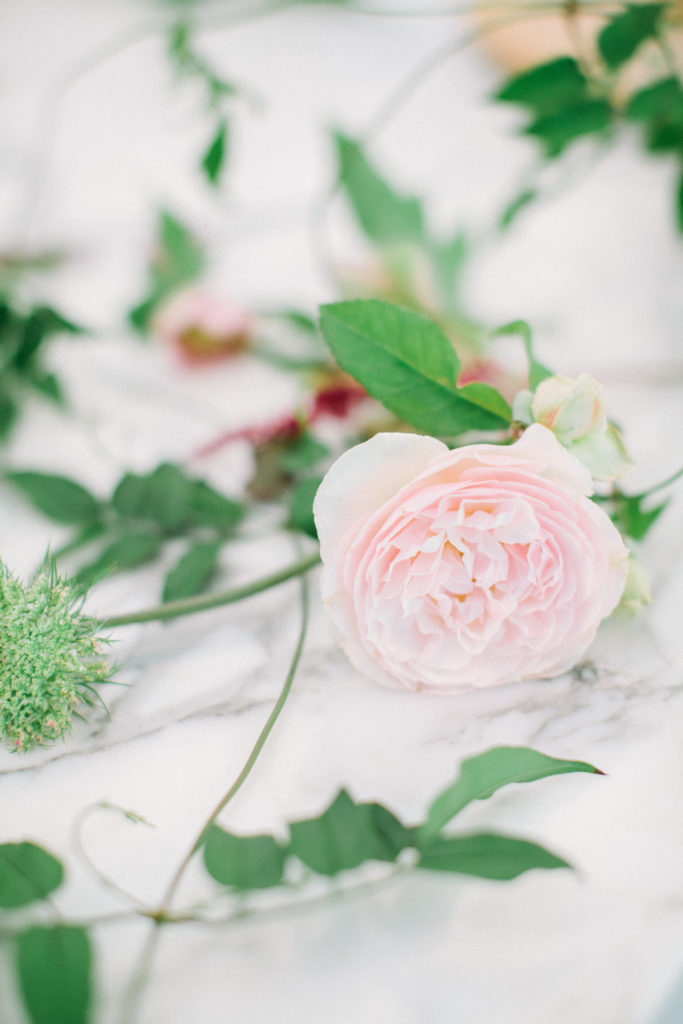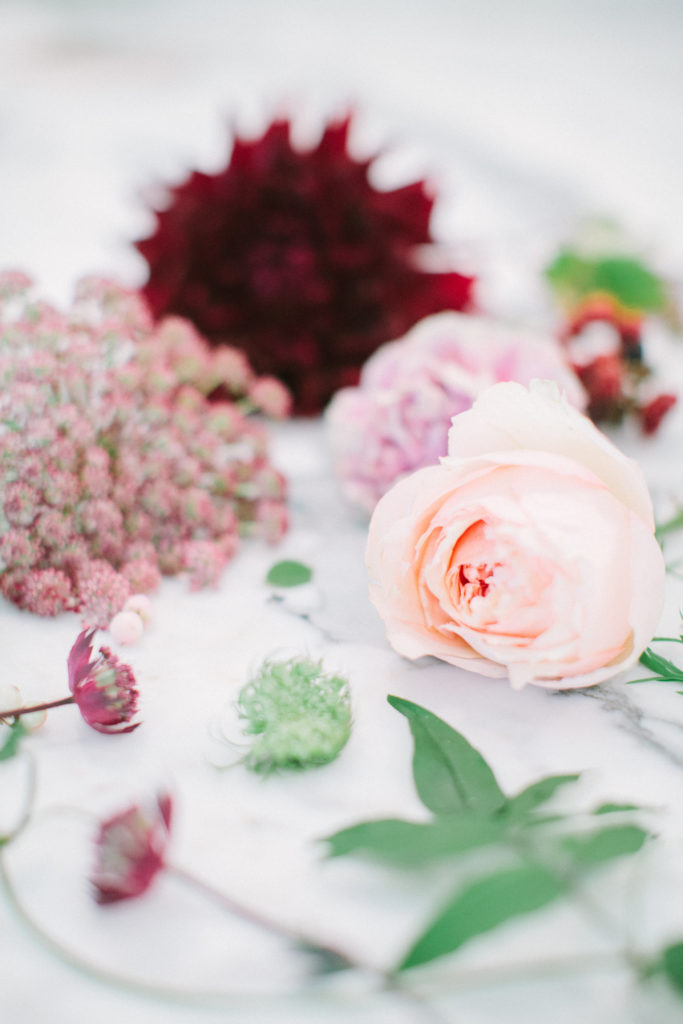 Flowers
Sumac- greenery
Dinner Plate Dahlias- burgundy flower (upper left)
Peach David Austin Garden Rose (center)
White Ranunculus
Snowberries (lower left)
Blackberries (upper left)
Carnations (light pink color)
Chocolate Queen Anne's lace (lower left below the Dahlia)
Amaranth (upper right)
Other Items
Vase
Floral Foam
Floral Tape (taped down the floral foam)
Shears
Step 1 
Proper preparation makes flowers last much longer.
Prep the flowers by cutting off the bottom half of the leaves on each stem of all the flowers. Removing the leaves before placing flowers in water decreases the chance of getting harmful bacteria.  Bacteria will significantly reduce the lifespan of your flowers. I also made sure to cut the bottoms of each stem at an angle to allow the flower to drink more water.
Step 2
Don't underestimate the important of the vase
You will need to choose a vase based on the types of flowers you will be using. The vase is an important part of the overall aesthetic of the arrangement. We used a gold pedestal vase here.
Step 3 
Use a floral foam
To stabilize the flowers in the vase, I use a floral foam which stays at the bottom of the vase. Floral foams keep your arrangements in place.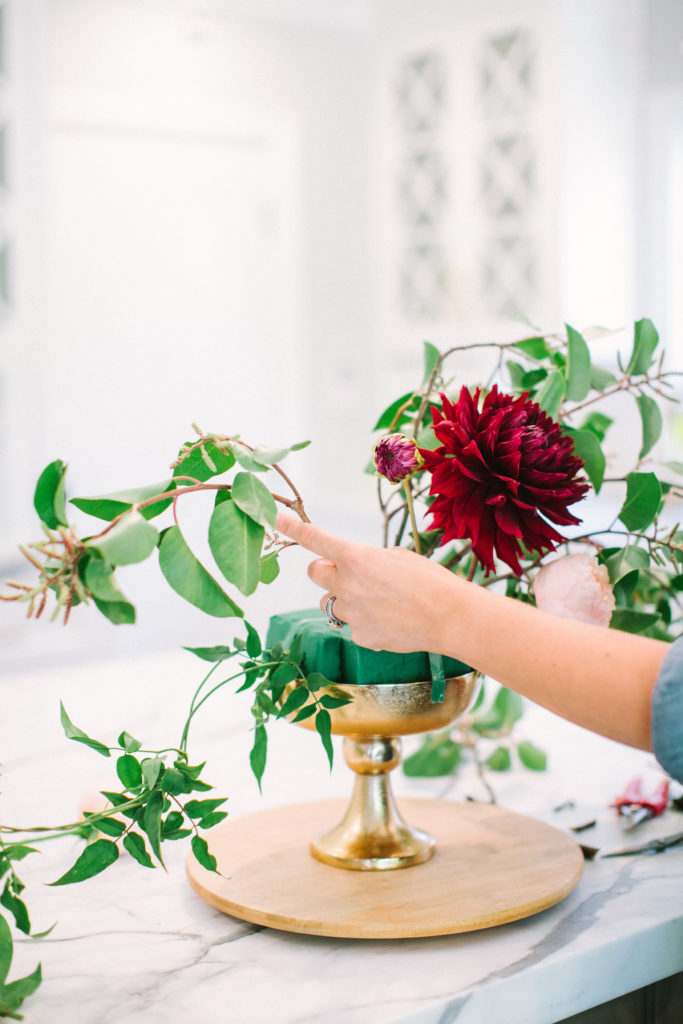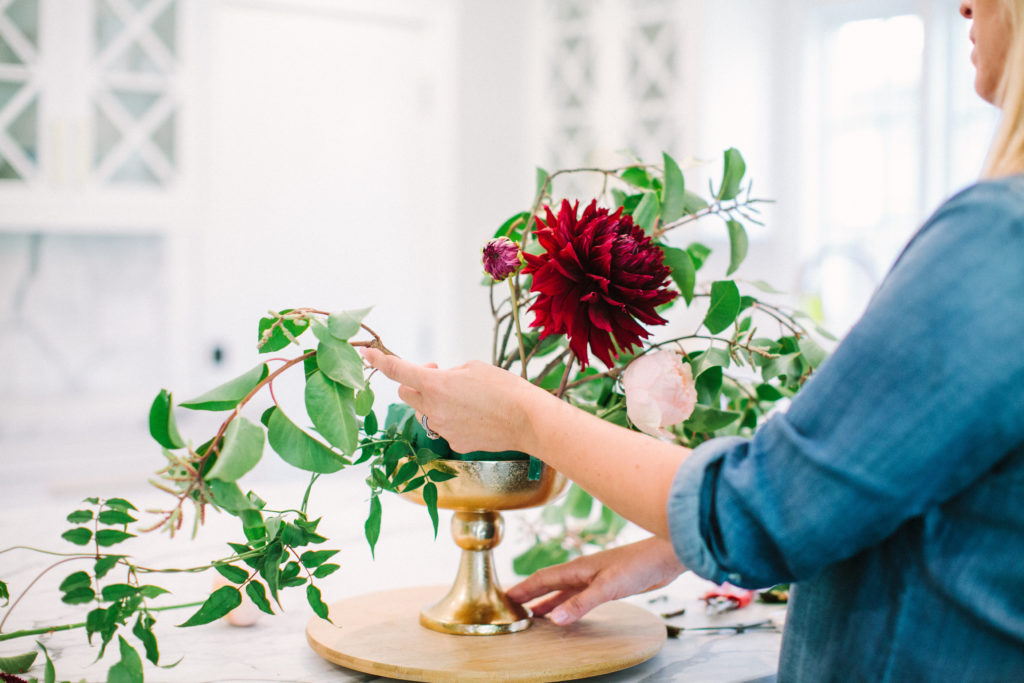 Step 4 
Add Greenery…we are getting close!
I start by placing the Sumac greenery in the vase to build a base for the arrangement.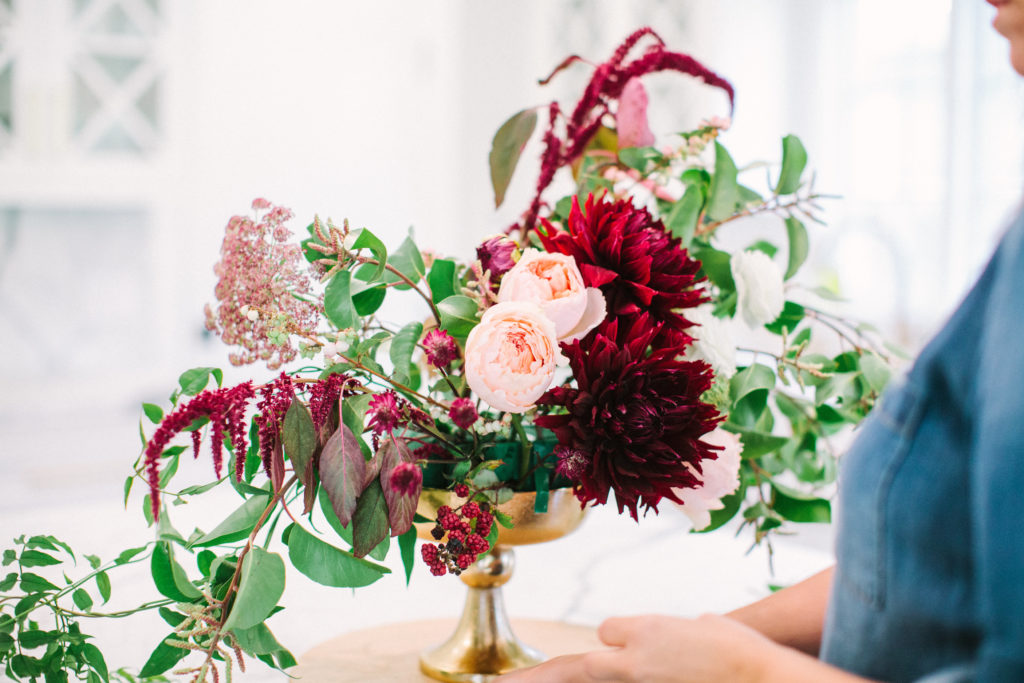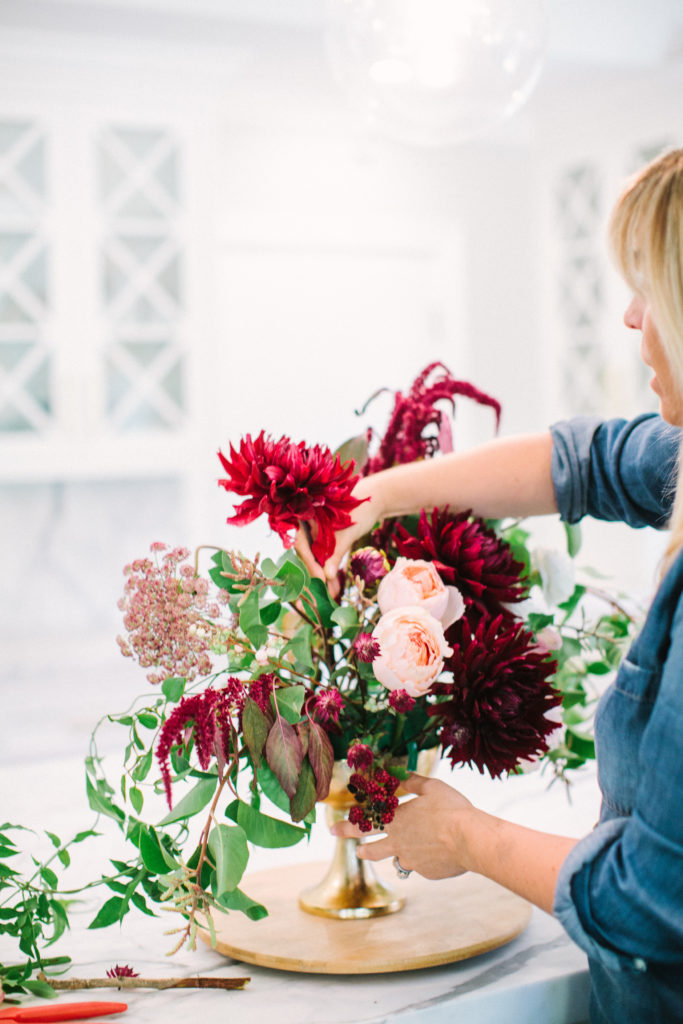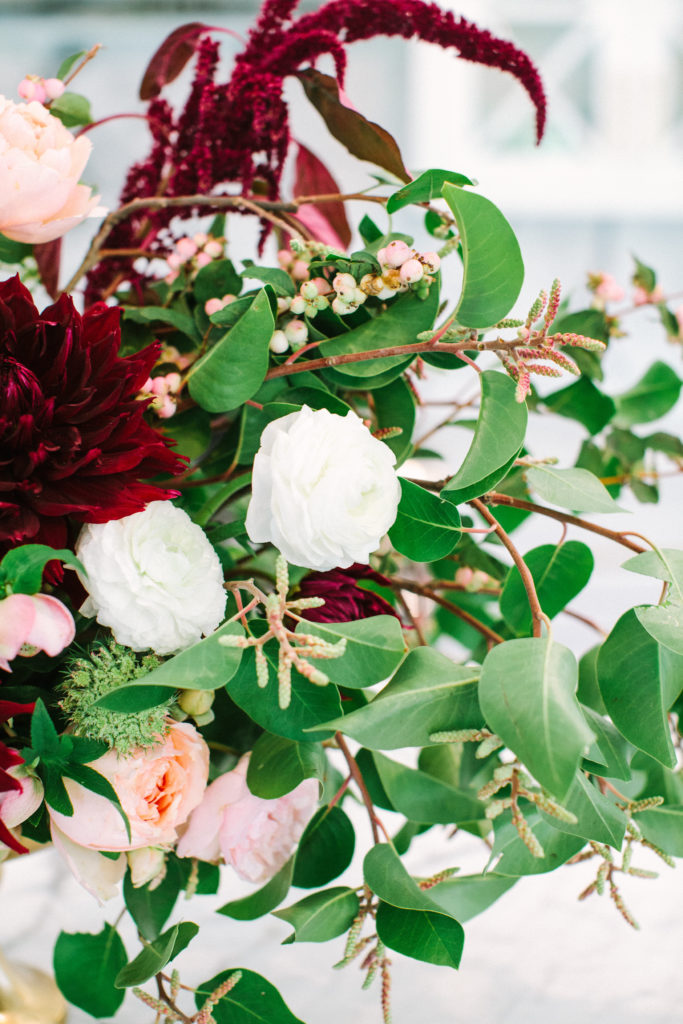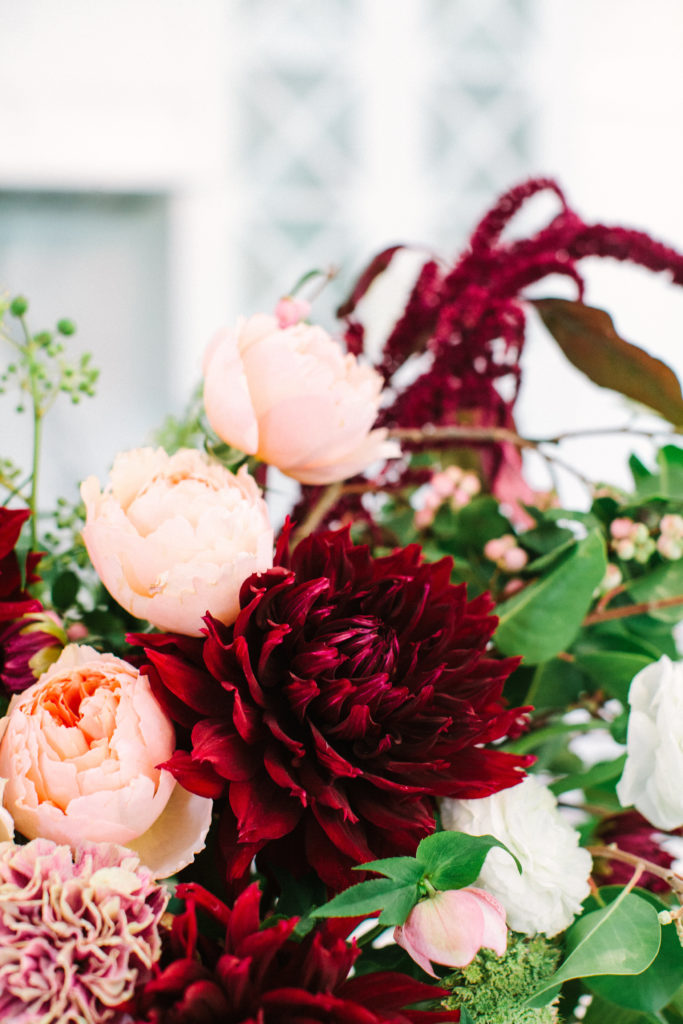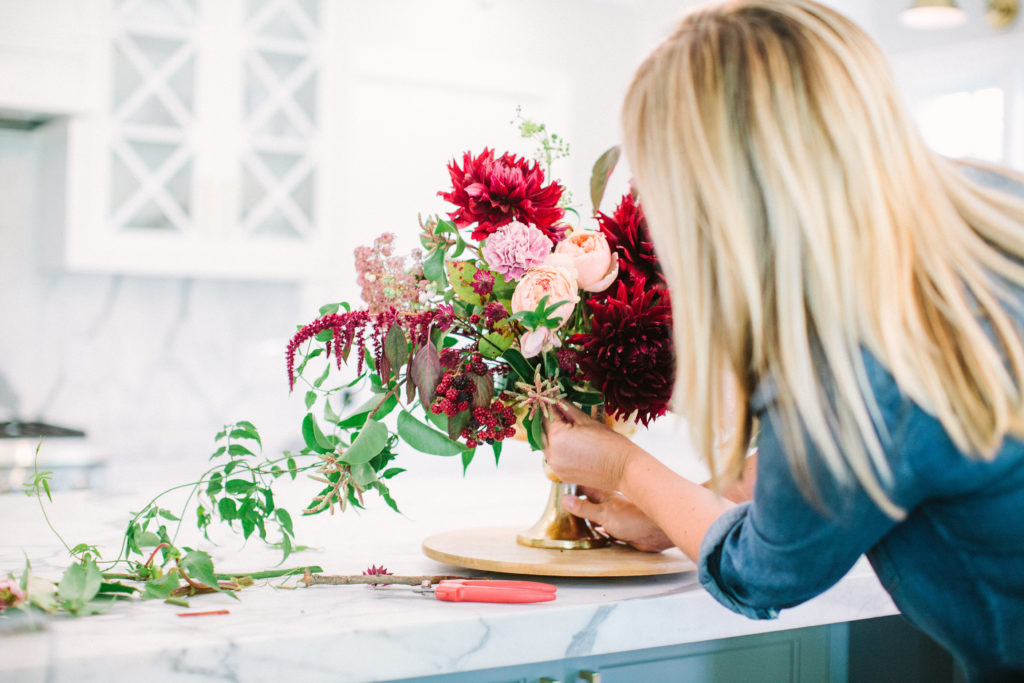 Step 5
Add Flowers to bring to life
Add the flowers! This is when the arrangement really starts coming to life.  Choose a focal point and arrange a clutter of mixed flowers. First I begin by using the Dinner Plate Dahlias since they are the focal point of the arrangement. I then began adding the roses and the Amaranth to fill in the empty spaces. Then begin using the other flowers in empty spots.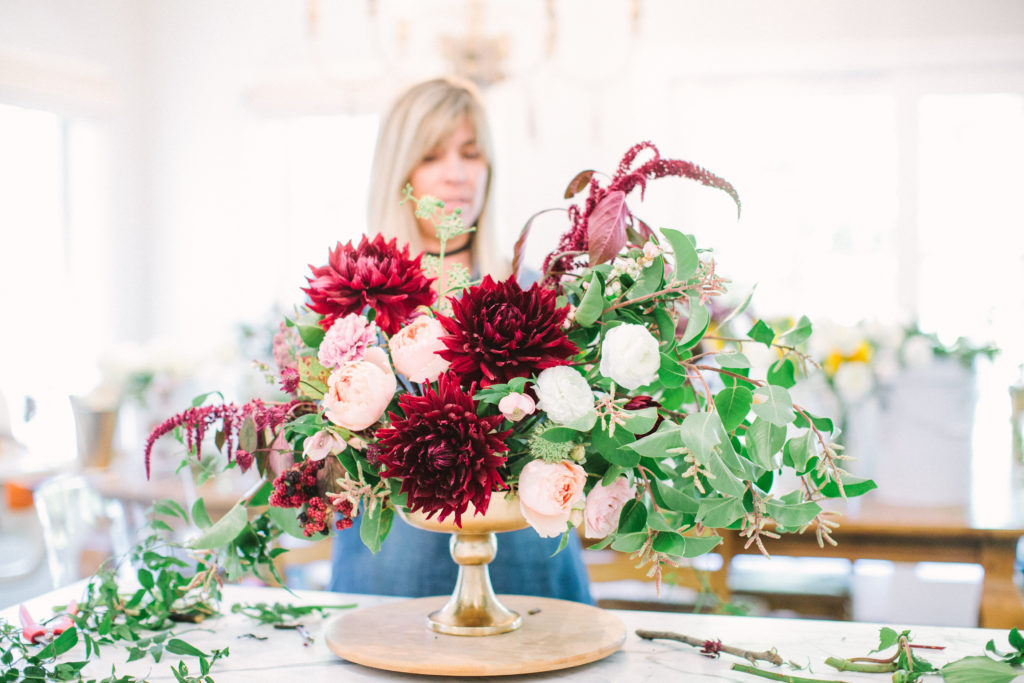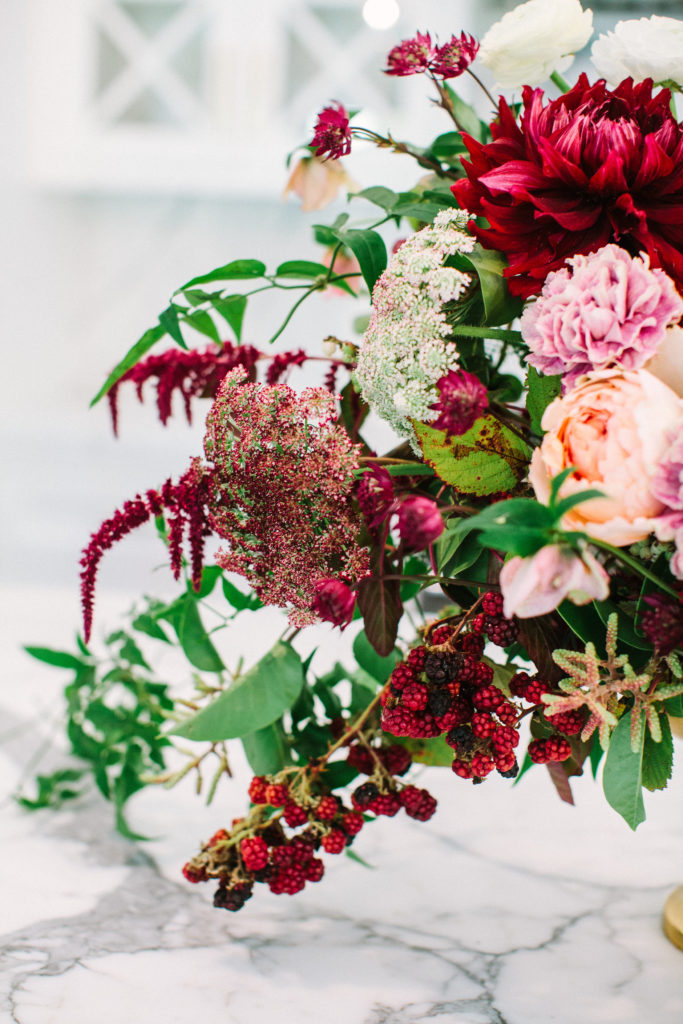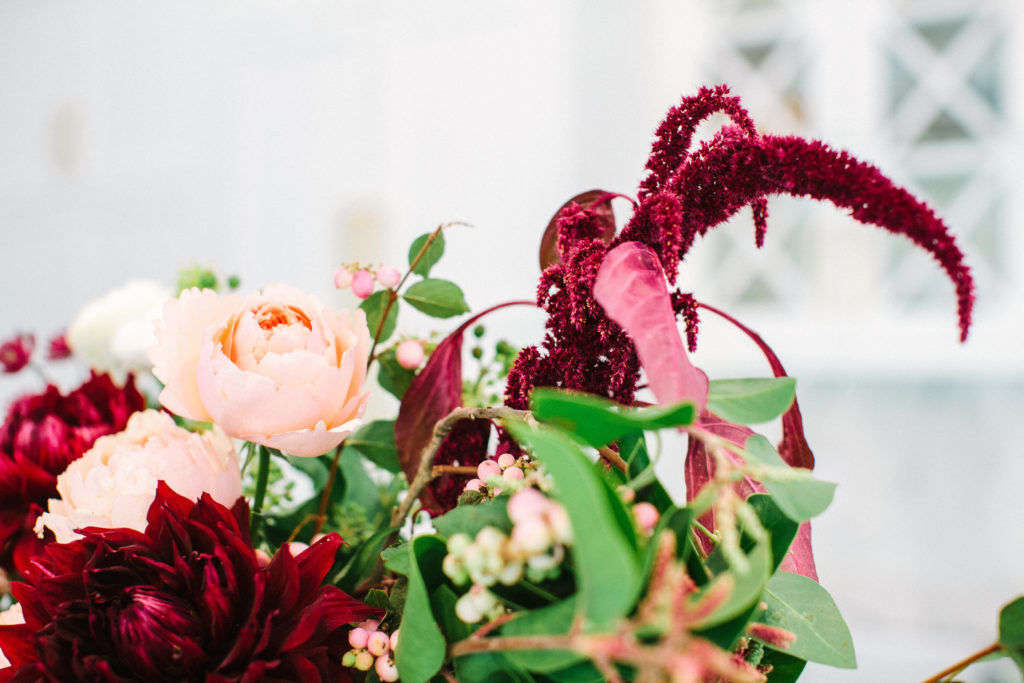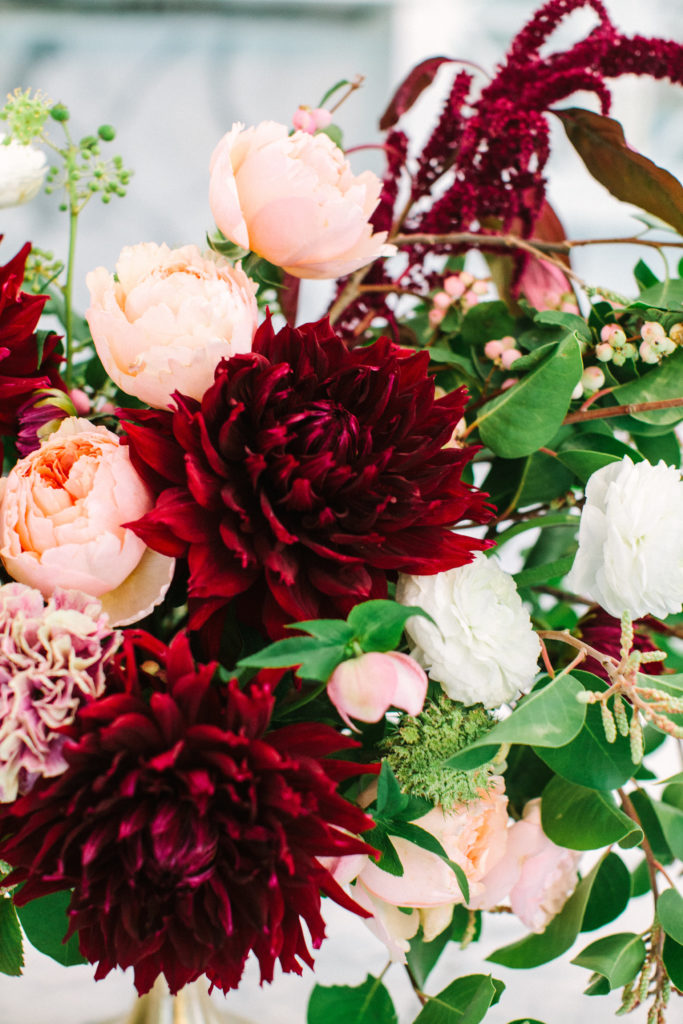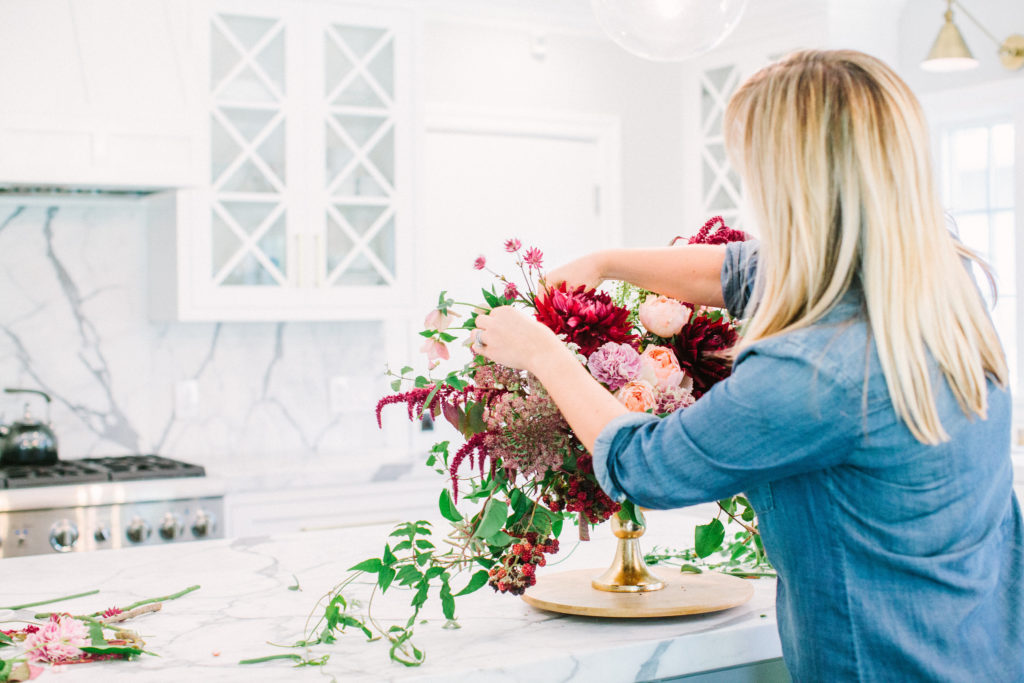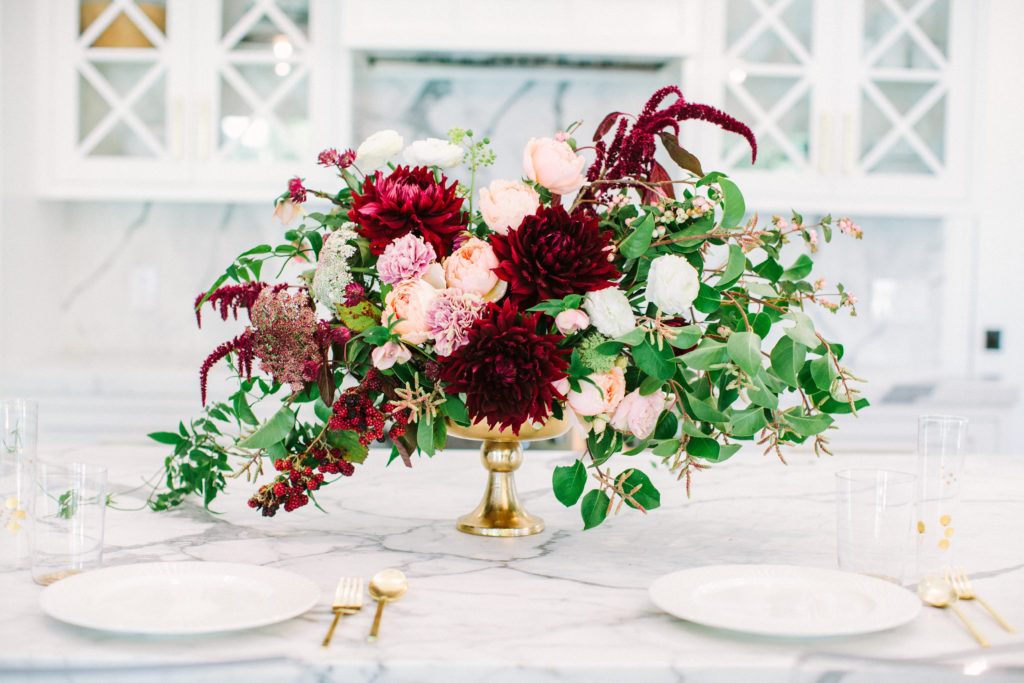 Step 6
Make sure there are no holes
Fill in the holes. Make sure each of the flowers are represented throughout the arrangements and have a nice flow throughout. Too many of one flower will over power the arrangement. To finish, I always like to add more greenery and fill in the empty spots.
Thanks Jennifer!
xx
Abby