Oohhhh my gourd, do I have a yummy fall soup for you today! I love anything with butternut squash, and then add goat cheese and coconut cream? NO, I didn't! Yes, I did! This soup for me screams Thanksgiving. Ingredients like butternut squash, thyme, pomegranate seeds, goat cheese, and pistachios are essential fall goodness. It gets even better cause we are pairing this soup with One Hope Wine's California Sauvignon Blanc. Veggie soups are great to pair with a yummy white wine. Does it get any better? When I make this soup, I will double it cause I can't get enough of this delicious soup. I like to serve soups as an appetizer for the holidays; this soup will be perfect. Simply, serve in little cups like this one or a disposable one, and garnish. You just won over your family and friends.
Now its looks like a lot of ingredients, but most of them you should have in your kitchen already.
Photos by yours truly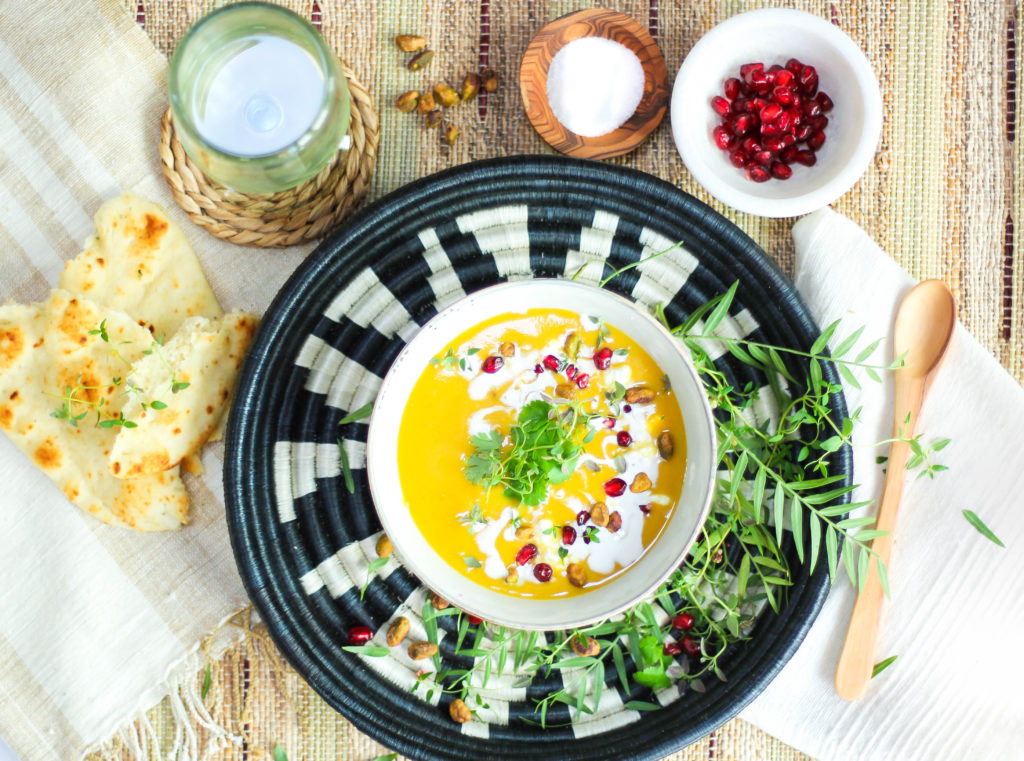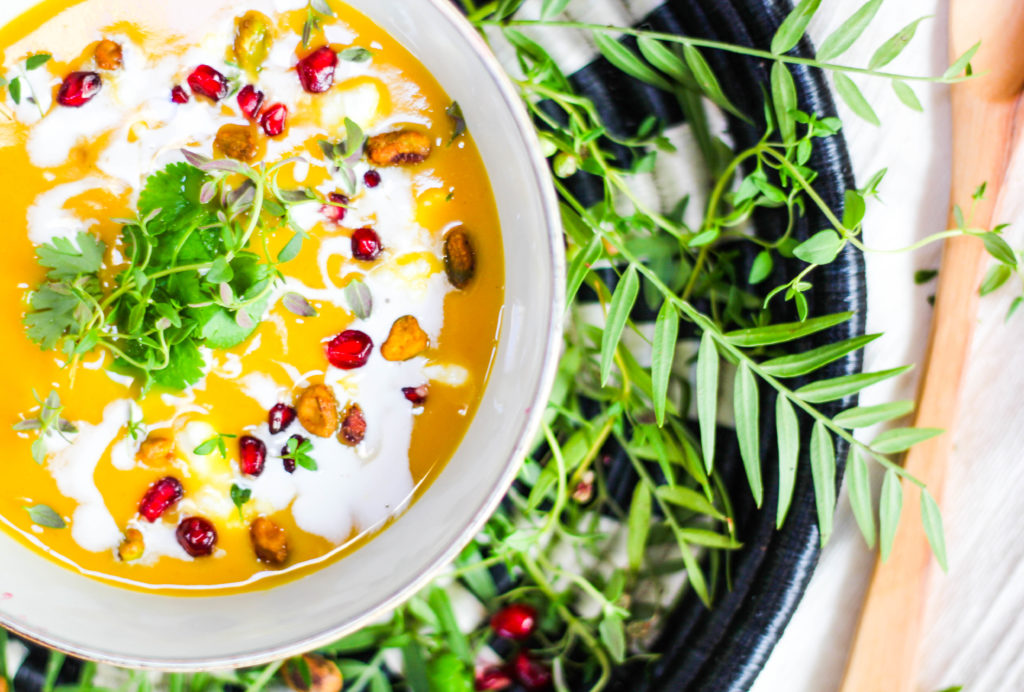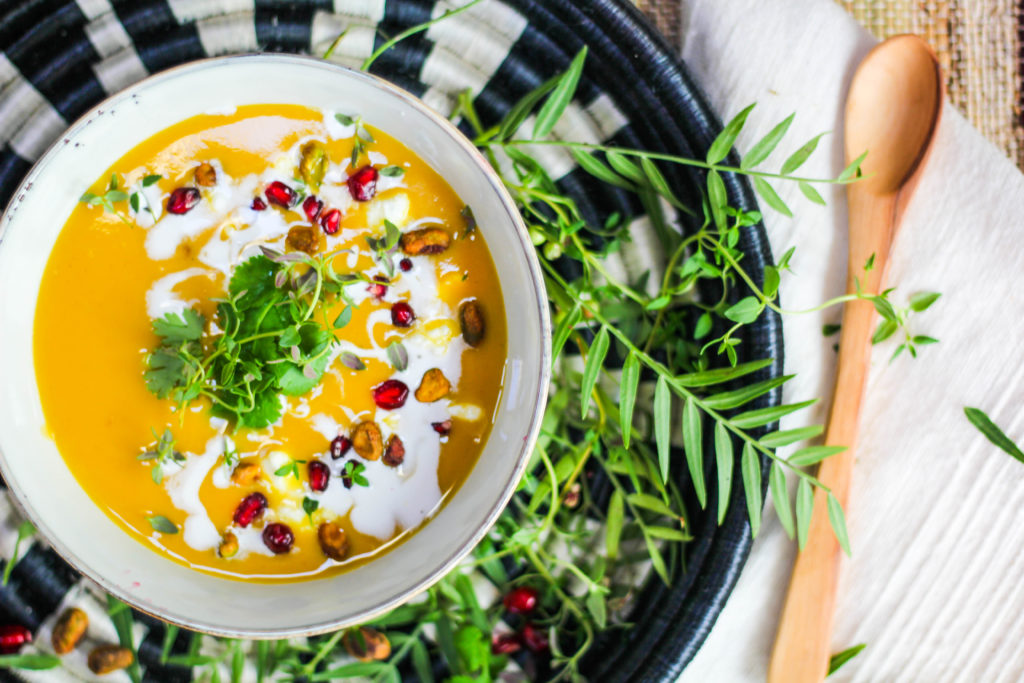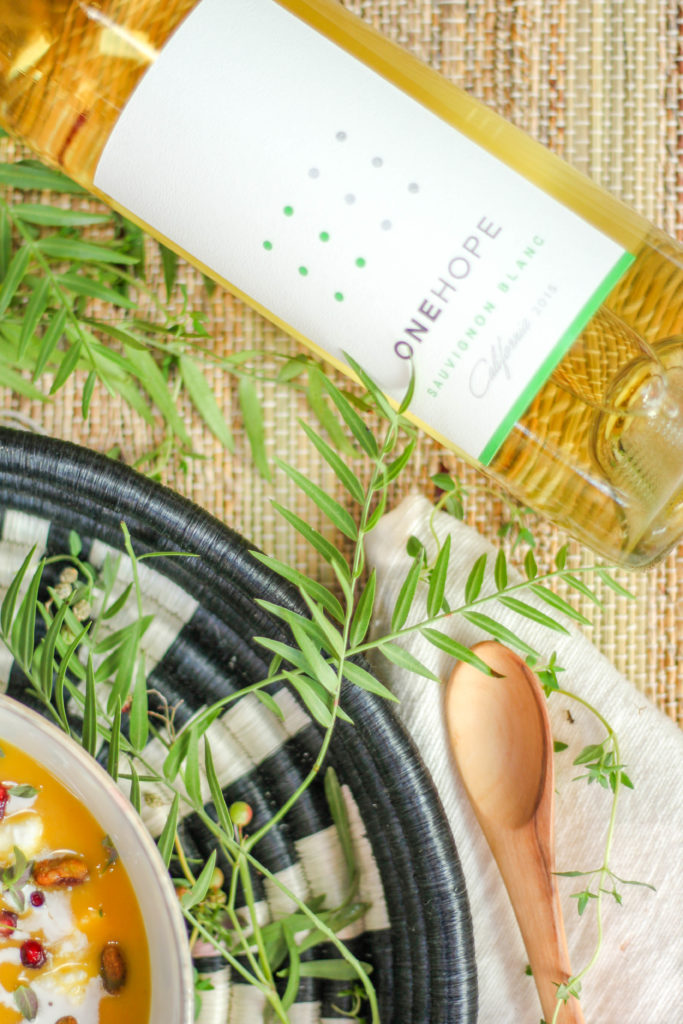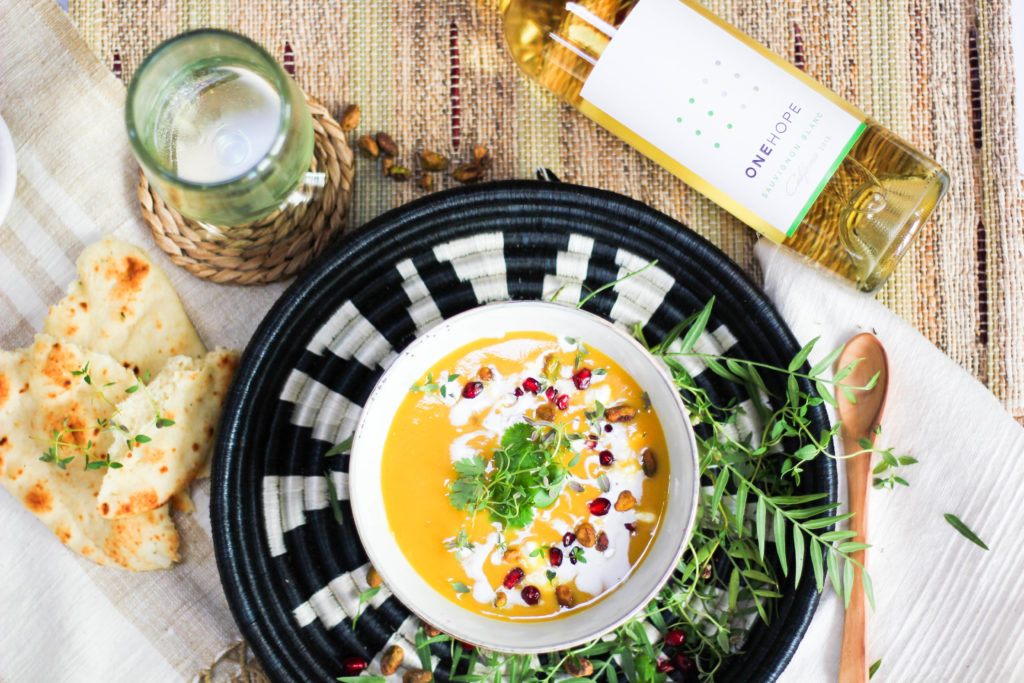 Butternut Squash and Goat Cheese Soup w/Coconut Cream + Pistachios.
Ingredients
1 head garlic, for roasting
Two tablespoons coconut oil
One red bell pepper, chopped
4 cups butternut squash, peeled and cubed
One teaspoon spicy curry powder
One teaspoon smoked paprika
1/2 teaspoon cumin
1/2 teaspoon cinnamon
1/2 teaspoon cayenne pepper
1/2 teaspoon fresh thyme
1 (14 oz.) can coconut milk
2 cups organic veggie broth
Salt (I prefer pink) and cracked fresh pepper
4 ounces goat cheese, plus more for garnish
Chopped cilantro, for garnish
Pistachios, for garnish
Pomegranate seeds, for garnish
Naan, for serving
Directions
Preheat the oven to 400 degrees F.
Roasted Garlic How To:
Chop off the top portion of the garlic head. Pour about one teaspoon of coconut oil on top of the garlic cloves and sprinkle with salt and fresh cracked pepper. Cover with foil. Roast for 45 minutes, or until the garlic is golden brown and soft. Remove from the oven and set aside to cool. Once cooled, squeeze garlic out into a small bowl, mash well with a fork and set aside.
Meanwhile, add the coconut oil to a large soup pot set over medium heat. Once hot, add the red pepper and cook for 3-5 minutes or until soft. Add the cubed butternut squash, spicy curry powder, smoked paprika, cumin, cinnamon, cayenne, and thyme. Season with salt and pepper. Cook for 3-5 minutes then pour in the coconut milk and veggie broth. Bring the soup to boil, reduce the heat, cover and simmer for 20-25 minutes or until the butternut squash is fork tender.
Once the butternut squash is tender, add the roasted garlic and the crumbled goat cheese to the soup. Remove the pot from the stove and allow to cool slightly, then puree the soup in a blender or food processor. Once blended, place back on the stove and heat through.
To serve, ladle the soup into a bowl. Drizzle the coconut cream over the soup. Garnish with chopped cilantro and thyme chopped pistachios and crumbled goat cheese. Sprinkle with pomegranate seeds. Serve with some hot naan and One Hope Wine's California Sauvignon Blanc.
Yummy! Yummy!
xx
Abby