It's the last of our November soup recipe posts and I couldn't let this month pass by without sharing one of my favorite soups, Caldo Verde.  I mentioned my love for soup earlier this month and much of that stems from my amazing Avó.  Growing up she always made the most delicious soups.  If you haven't heard of me speak of her, my Avó is my Portuguese grandma.  She immigrated here with my grandfather, my dad, and his brother and sisters almost 50 years ago.  I grew up with lots of Portuguese culture and traditions, which meant lots of Portuguese food.  At Avó's it was customary to always have soup before dinner, and each of the soups in her arsenal were equally yummy!  Caldo Verde, which translates to green broth, was one we had a lot of the time and is known as the national soup in Portugal.  I think you will really love the flavors and comfort behind this soup, plus it is pretty healthy and easy to make!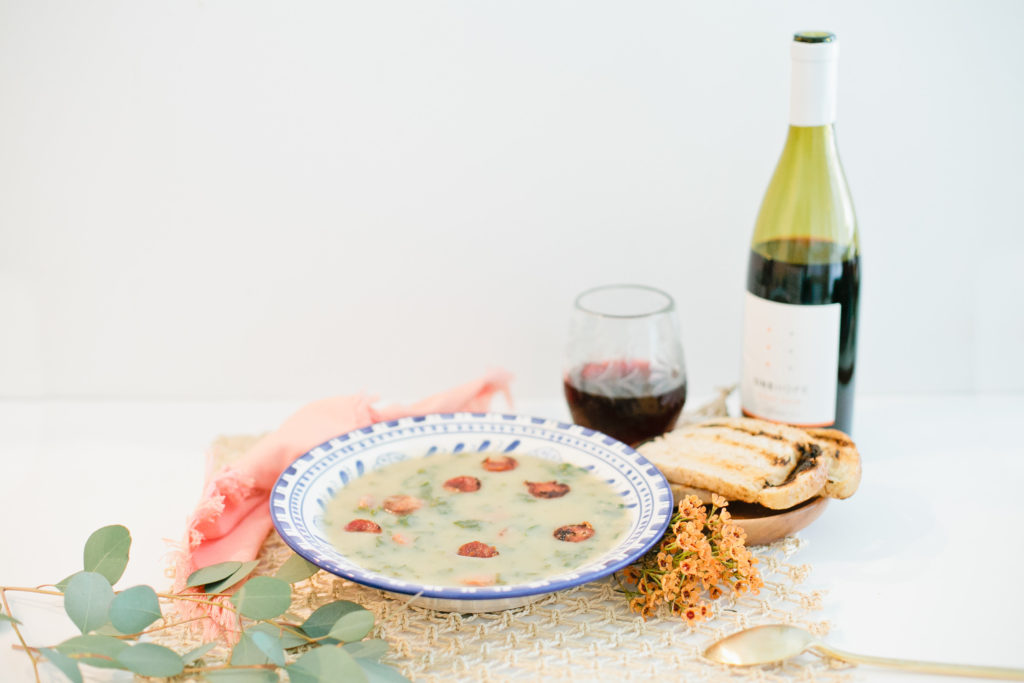 All Photos by Megan Welker
Ingredients 
2 tablespoons of olive oil
1 small onion, chopped
1 teaspoon crushed garlic
4 cups of chicken stock
¼ teaspoon black pepper
2 large potatoes, chopped
1 link of linguica sliced thin
½ pound kale, stems discarded and leaves shredded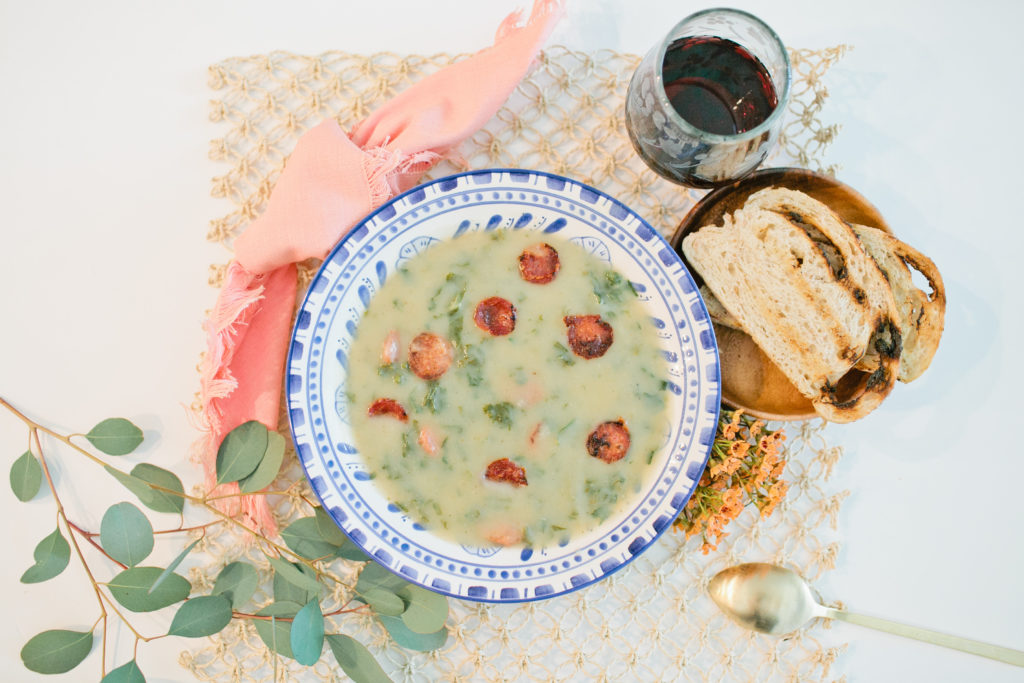 Instructions
In a large saucepan heat the 2 tablespoons of olive oil.
Add the onion and garlic, cook over low heat, stirring occasionally, until the onion softens, about 10 minutes.
Add the chicken stock, pepper and potatoes, bring to a boil.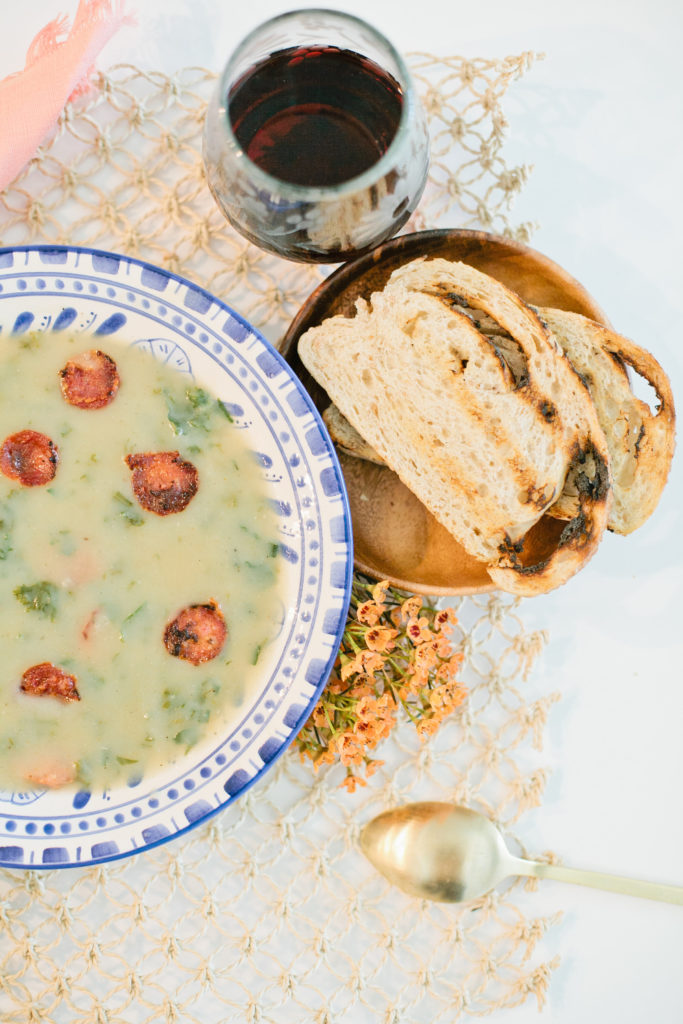 Simmer over low heat until the potatoes are tender, about 20 minutes.
Using a blender or food processer, blend the soup to a puree consistency. Then add back to the pan.
Meanwhile cook a few of the slices of linguica in a pan on the stove.
Add the kale and the rest of the sliced linguica and simmer until it is kale is wilted, about 10 minutes.
Top with the other sliced linquica and serve with bread and butter, another Portuguese must!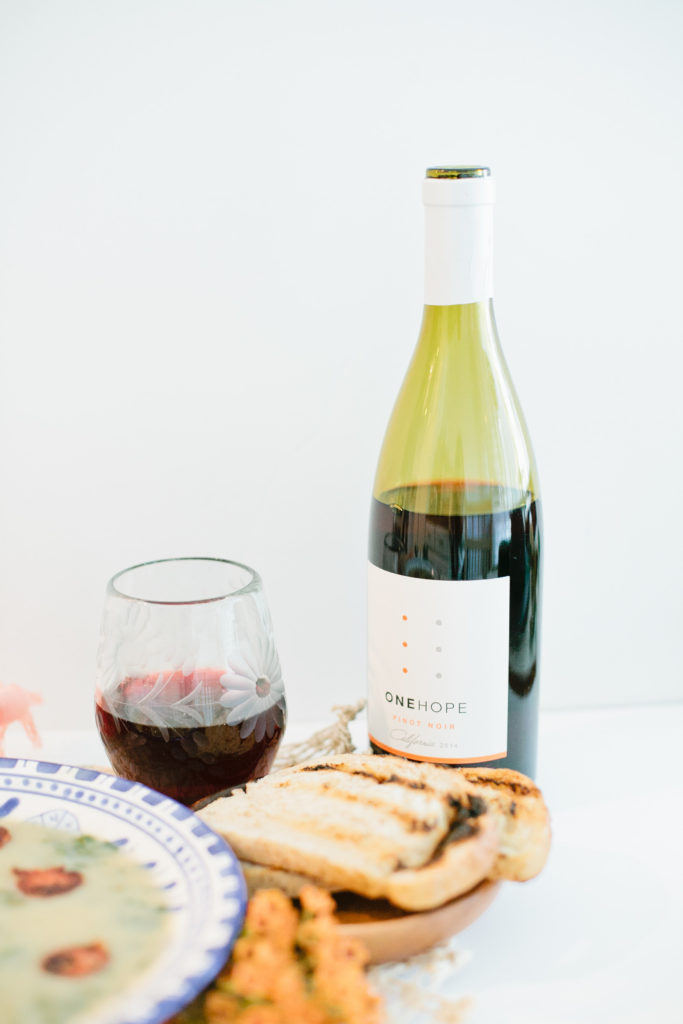 Lucky us, One Hope wine has been pairing each of our soups with their delicious wines this month and for the Caldo Verde the recommended their Pinot Noir.  They chose this wine specifically to match well with the spicy linguica saying: Heat from the linguica sausage will be tempered by the fresh berry notes in this California Pinot Noir.
Don't mind if I do!!  You can't talk me out of a good glass of red wine!
Enjoy!!
xx
Jacquelyn