We're kicking off November with a new Fall Recipe series, and this time we are talking soups!  Now, soup is my absolute favorite food.  If you know me then you know that when I go out to eat, if there is soup, I'm ordering it!  I was raised eating the most delicious soups made by my Avó and my mom, eating them reminds me of home.  With the air starting to get chilly I am ready for something warm, and a cozy soup is the perfect fix!  For my first soup this month my mom (my personal chef, haha) and I decided to try out this yummy roasted cauliflower and chick pea soup, it was super easy to make and delicious.  This soup has a nutty flavor to it; it's hearty and with the addition of some rep pepper chili flakes it has the perfect amount of spice!  Best of all we are pairing all of our soups this month with One Hope wine, so you know just what to drink while you're eating, sounds pretty perfect!  Now let's get cozy and get cooking!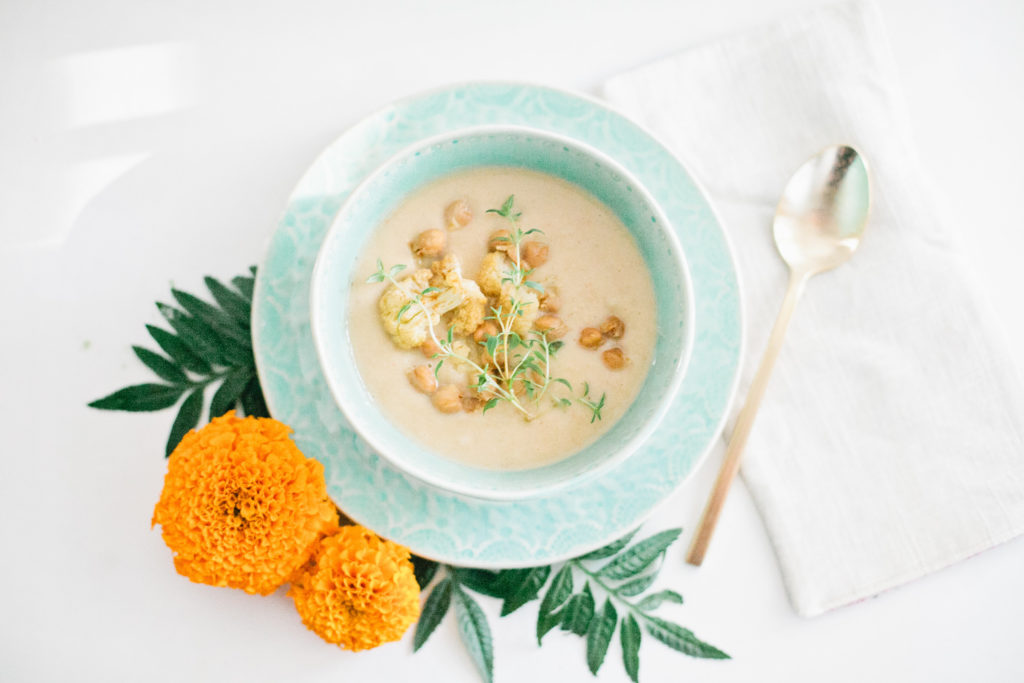 All Photos by Megan Welker
Ingredients
For the Soup
1 Cauliflower head, cut into florets
1 (15 oz) can chickpeas, rinsed and drained
5 garlic cloves, peeled
4 tablespoons extra-virgin olive oil, divided
1 tsp. ground cumin
1/2 tsp. salt
1/8 tsp. paprika
2 medium Yukon gold potatoes, peeled and cubed (about 2 1/2 cups total)
1/4 tsp. black pepper
4 cups vegetable broth
1 cup water
1/2 cup heavy cream
For Garnish
Reserved roasted cauliflower mix
Red pepper flakes
Fresh thyme leaves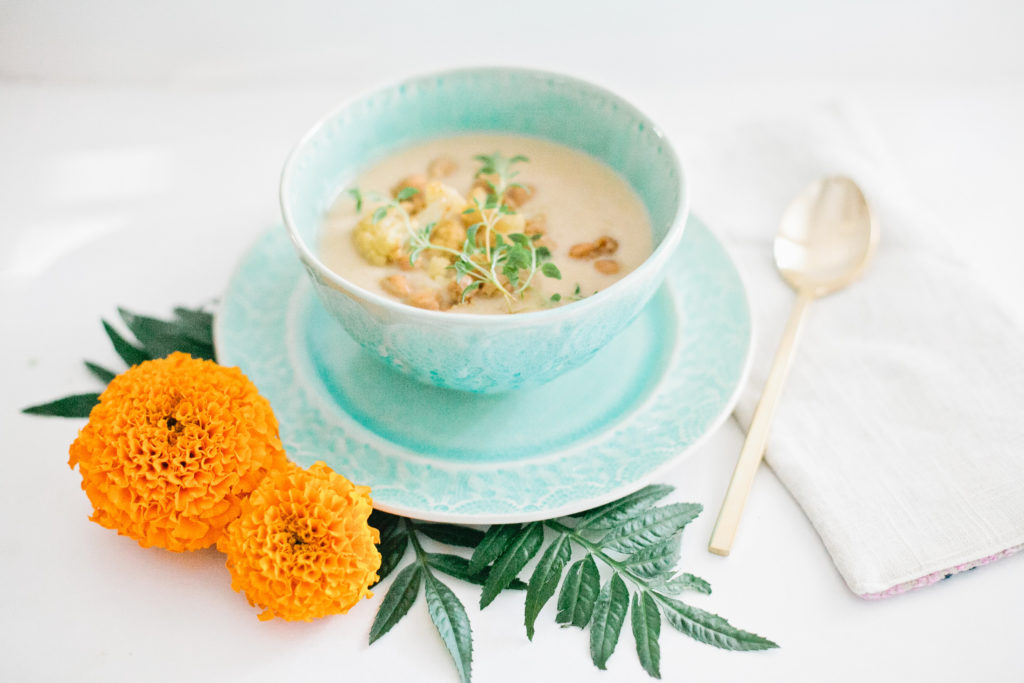 Instructions
Pre-heat your oven to 400 degrees.
On a large rimmed baking sheet, toss the cauliflower florets, chickpeas and garlic cloves (just leave them whole) with 3 tablespoons of the olive oil and the cumin, salt and paprika. Roast in your pre-heated oven for 30 minutes, stirring once half way through.
Remove from your oven and set aside. Reserve about 1/2 cup for the garnish.
Meanwhile, heat the remaining 1 tablespoon of olive oil in a large pot over medium heat.  Add the cubed potatoes and black pepper. Cook for about 2 minutes, stirring frequently.
Add the vegetable broth and the water and increase the heat to bring the mixture to a boil. Once boiling, turn the heat down to maintain a simmer. Simmer, uncovered, until the potatoes are very soft, about 15-20 minutes.
Remove the pot from the heat. Stir in the roasted cauliflower mix.
Puree the soup using an immersion blender.  Alternatively, you can use a food processor or blender, working in batches if necessary and being careful when transferring and blending hot liquids.
Return the pureed soup to the stovetop and gently re-warm it. Stir in the heavy cream. Season to taste with salt and pepper.
To serve, ladle the soup into bowls and top with the reserved roasted cauliflower mix, red pepper flakes, fresh thyme leaves and a drizzle of heavy cream, if desired. Enjoy immediately.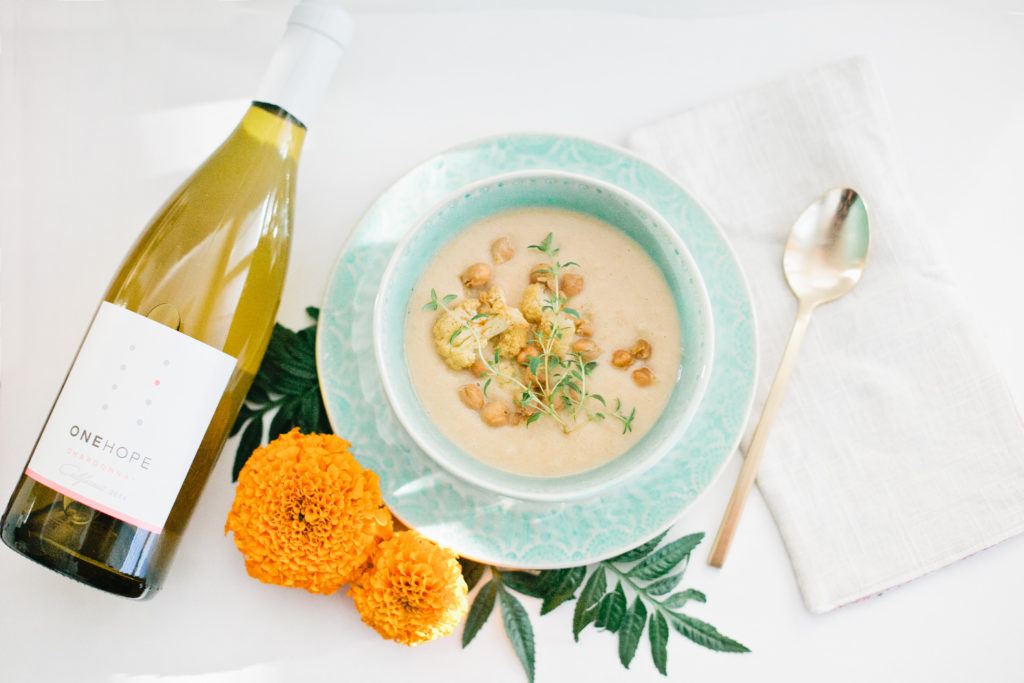 As far as pairing goes, One Hope paired this delicious soup with their Chardonnay.  Here are their pairing notes: With only a touch of oak, this Chardonnay is perfectly balanced (not too acidic, not too full bodied) to pair with the creaminess of cauliflower and chickpea.
I tried it myself and it was the perfect combination, and I know you will love it as much as we did!  My mom is a big Chardonnay fan so she was a big fan!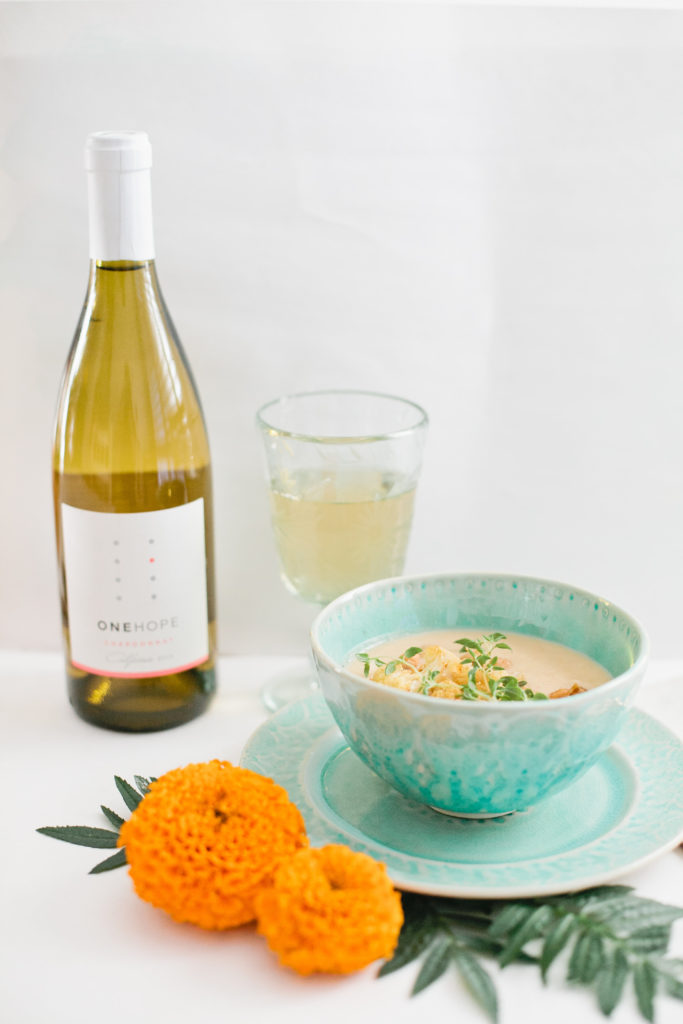 xx
Jacquelyn