Guess what!?! It's time for a new Friday series, and this month it's all about fall salads! Yay! Salads are so versatile you can make a salad out of anything. I love salads that are without lettuce. The combination of fruits and veggies are on my top list of yumminess. Today, I'm starting our series off with a classic fall salad. The apple and celery matchstick salad. I love the simplicity of it. I have made this several times for my family, and the kids get seconds! A winner in my book! Not only does it stand alone on its own as a salad, but I have also used in my pulled pork sandwiches, and have added chicken into it as well. Try to use this on the side with something spicy; it is a great palette cleanser with the fresh herbs and apples. It's a simple and easy dish that has a fresh, crisp taste that can be used anywhere it sees fit.
Photo by Food Photographer Yasmin Sarai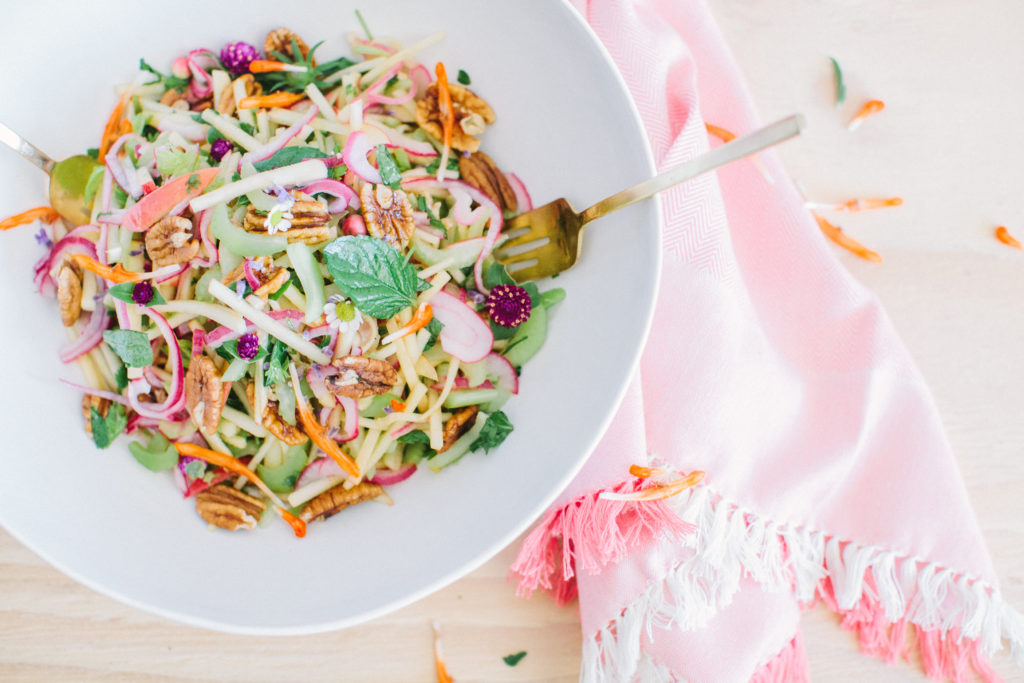 Matchstick Apple and Celery Salad
Serves: 2
Ingredients
One red onion, thinly sliced
rice wine vinegar, to cover
One Pink Lady apple, cut matchstick
Two stalks celery sliced thin on bias
2 tbsp olive oil
1 tbsp honey
Pink Himalayan salt (you can use kosher as well)
cracked black pepper
¼ cup pecans
mint
cilantro
basil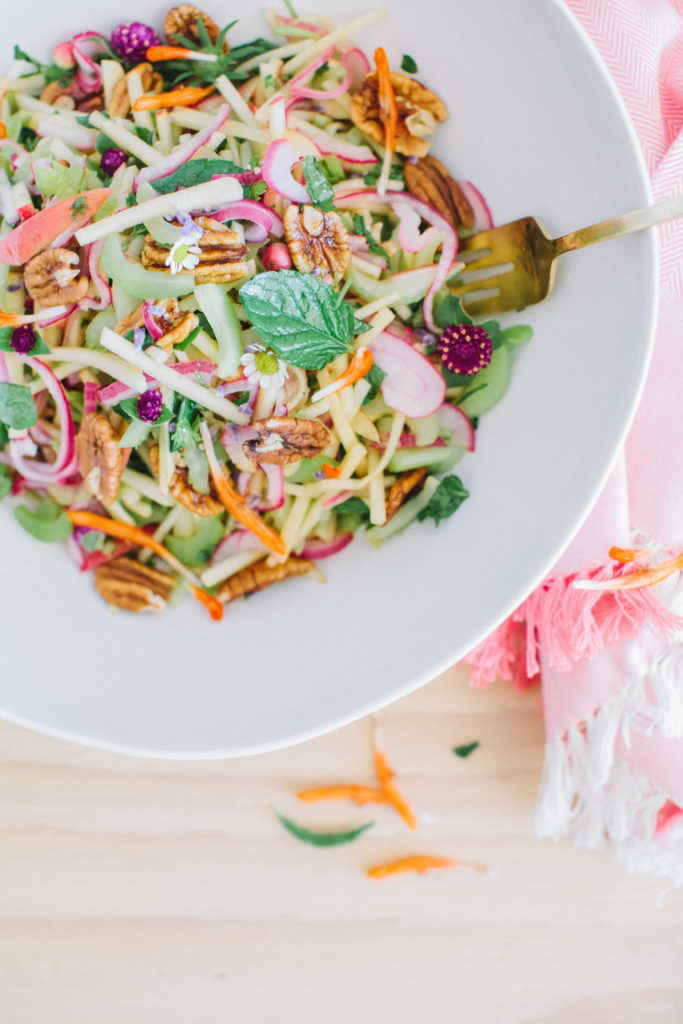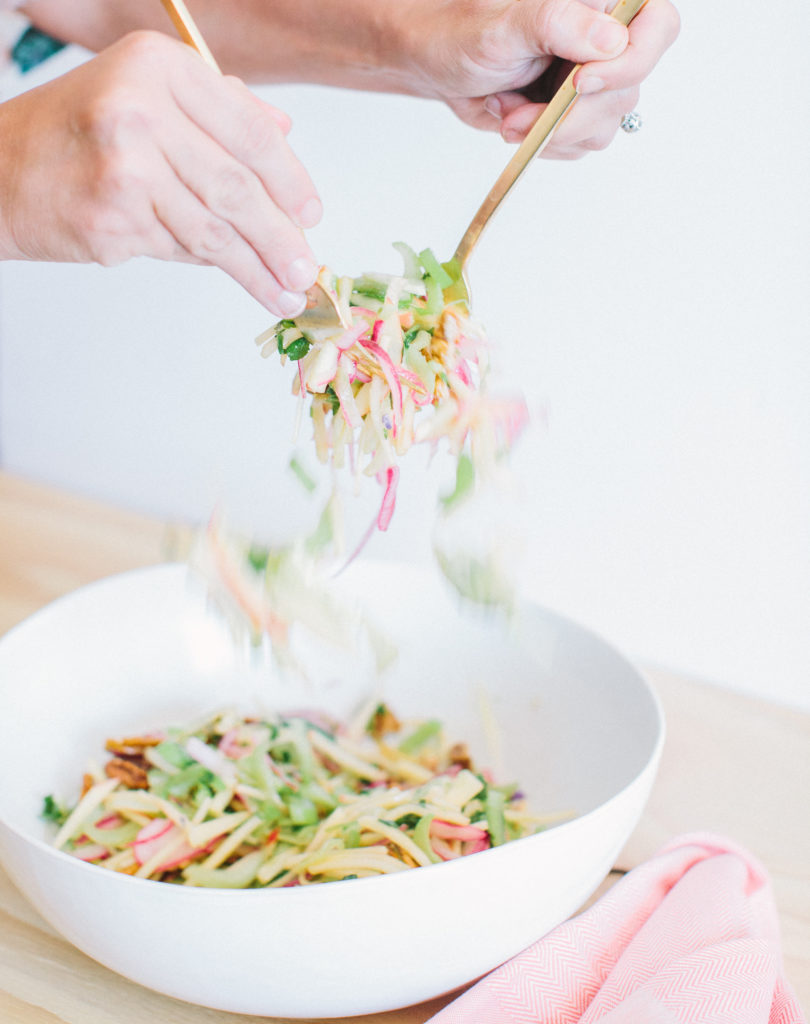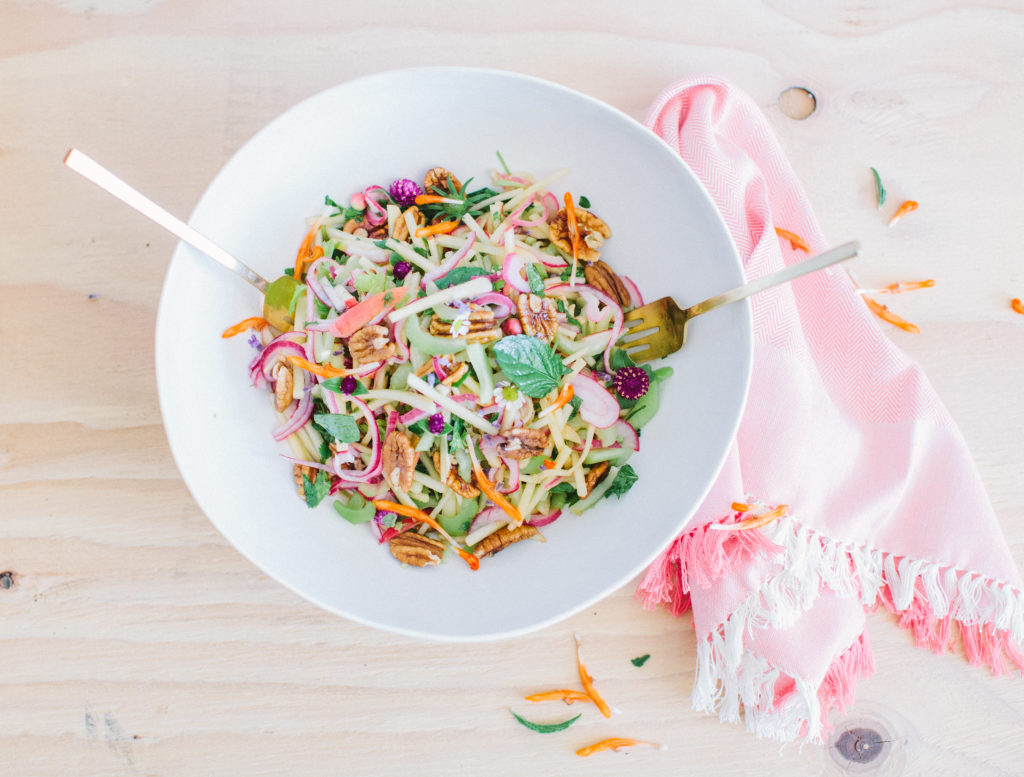 Instructions
Thinly slice a red onion and cover with rice wine vinegar. I use my mandoline, it's a life saver! I highly recommend you get one. Thank me later!
Refrigerate for a minimum of 30 minutes. The longer you keep in the fridge, the more yummy the red onions will be.
Using a food mandoline, cut the apple into matchstick pieces. Slice the celery thin, on the bias and mix with the apple matchsticks in a bowl.
*If you are making this ahead of time, give a little squeeze of fresh lemon juice so your apples don't brown.
In a small bowl whisk together the olive oil, four tablespoons of the rice wine vinegar from the marinating red onions, honey, a pinch of pink salt and some fresh cracked black pepper.
** You can totally use kosher salt, I use Pink Himalayan salt cause we try our hardest to have no white products in the kitchen.
Roughly chop some of the marinated red onion and add to the apple, celery bowl. Roughly chop the pecans, a few leaves of mint and basil as well as a few sprigs of cilantro. Add to the apple/celery mix and pour vinaigrette over. Toss to coat thoroughly and refrigerate until ready to serve.
This is one yummy salad you will want in your rotation for fall! Stay tuned every Friday for a new fall salad!
xx
Abby