Being an event planner, my mind is always scheming up ideas for any sort of function I may have. Father's Day is no exception! It might be one of my favorite holidays to plan for. I love making this day special for my husband. He is a very simple guy who never asks for anything, so I like to do a little extra to make sure he knows how much we love him. We send him off golfing in the morning, which also allows me to go shopping and set up our dinner. The kids love to get involved, so I have them make cards for him which will go on his place setting. They are so proud of their hard work, it's the cutest thing. I worked with my favorite Chef Molly from Organicopa to get create this full course menu that any dad will love. My husband is a big lamb guy so we included that! She was generous enough to let me share the recipe for you guys to make too! All this yummy food, displayed on a cool casual monochromatic table setting. Add in the DIY that we did last week, and you just gained some major wife points!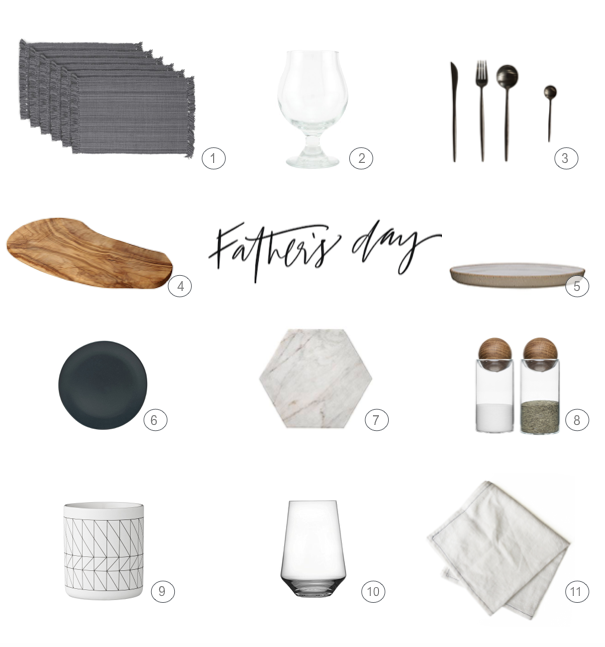 1 | 2 | 3 | 4 | 5 | 6 | 7 | 8 | 9 | 10 | 11
I just love this table setting. Not only does it have a masculine vibe to it, but it also has a cool casual California style that can be used at any function. My favorite item out of all of this is definitely those ceramic plates.  A life goal for those to be my everyday plates. Till then, they are fun ones to bring out for a little dinner party action. Let's not get started on that matte gunmetal flatware, so so good! This time around, I did stemless wine glasses and beer goblets instead of the typical wine, water, and tumbler combination. This table setting will make any food look 5 stars, but I got you covered there too.
Father's Day Menu
Appetizers
Humboldt fog fondue with savory dippers: heirloom baby carrots, steamed asparagus, apple, garlic rubbed crostini
Fillet of beef on garlic rubbed crostini with caramelized onion, point Reyes blue cheese and balsamic reduction
Watermelon Martini: cubed watermelon, lime juice, mint and feta in a martini glass
Salads
Summer asparagus, sweet pea and feta salad with lemon dijon vinaigrette
Grilled sweet corn salad with ancho aioli, queso fresco, lime and cilantro Heirloom tomato and wild arugula salad with honey-lime vinaigrette and candied pistachio
Main
Tuscan lemon marinated lamb lollipops with sweet potato puree and black cherry cabernet reduction
Marinated grass fed rib eye with shaft blue cheese compound butter, grilled tomato and asparagus, twice baked potato and garlic rubbed crostini
Cocktails
Georgia on my mind: bourbon, peach ale, peach liquor and mint with lemon juice Spice and Ice: tequila, mango puree, lime juice, ginger-habanero syrup
As promised…
Tuscan Marinated Lamb Lollipops with Sweet Potato Puree and Blackberry Cabernet Reduction
Ingredients
 10-15 large garlic cloves, crushed
1/4 cup fresh rosemary leaves
1⁄4 cup fresh thyme leaves
1 cup lemon juice or white wine vinegar
Coarse sea salt
2 tablespoons extra-virgin olive oil
1 rack of lamb cut into 8 lamb chops, about 3/4-inch thick
Directions
In a food processor fitted with a metal blade add the garlic, rosemary, thyme, lemon or vinegar, and salt. Pulse until combined. Pour in olive oil and pulse into a puree. Pour the puree on both sides of the lamb chops and let them marinate for at least 1 hour in the refrigerator, but preferably longer. Remove from refrigerator and allow the chops to come to room temperature; it will take about 20 minutes. Heat a grill pan over high heat until almost smoking, add the chops and sear for about 2 minutes. Flip the chops over and cook for another 3 minutes for medium-rare and 3 1/2 minutes for medium.
Sweet Potato Puree
3 pounds whole sweet potatoes, peeled
1/2 teaspoon salt and freshly ground pepper, to taste
1/2 cup cream
1 cup cream cheese
6 tablespoons butter
Directions
Boil sweet potatoes in salted water until fork tender and mushy, about 20 min. Puree with salt and pepper in a food processor. With motor running, gradually add milk and cream cheese through feeder tube, then butter. Process until silken. (Can make up to 2 days ahead; store in an airtight container.) Reheat and serve.
Blackberry Cabernet Reduction
Ingredients
2 shallots, chopped
2 tablespoons chives, chopped
2 teaspoons rosemary, chopped
2 teaspoons thyme, chopped, divided
3 tablespoons olive oil, divided
1 cup Cabernet Sauvignon
1 1/3 cups unsalted beef stock
1/2 cup blackberries
1/4 cup blackberry preserves
1 teaspoon cracked black pepper
1/2 teaspoon kosher salt
Directions
Chop shallots, chives, rosemary, and thyme finely. Preheat medium saucepan on medium-high 2–3 minutes. Place 1 tablespoon oil, shallots, rosemary, and 1 teaspoon thyme in pan; cook 2–3 minutes or until shallots are soft, stirring constantly. Stir in Cabernet, scraping up any brown bits from the bottom of pan; cook 3–5 minutes or until wine is reduced by half. Stir in stock, blackberries, and preserves; mash berries with back of a spoon. Simmer 8–10 minutes or until thickened. Cover and keep warm.
Assembly of Dish
Find a martini glass without a stem, so it's more stable. Take 1⁄2 cup of sweet potato and put it in the bottom of the glass  Add 2 lamb lollipops to each martini glass. Drizzle lollipops with sauce and sprinkle with remaining 1 teaspoon thyme and chives; serve.
Shop the post here!

xx
Abby