It's that time of year again! Time to get the family together and make them look somewhat presentable for photos, haha! We love choosing our holiday cards and year after year we always turn to Minted. They are always coming up with new creative designs that showcase our families in the best way. Whether it be their different borders, layouts, or a touch of metallic they always manage to make each card unique and detailed, just the way we like things! This year Alison, Leah and myself chose our cards and they are all very different but beautiful. See all of them below and shop our favorite cards at the end of the post.
Photos by Alison Bernier – Styling Mats from Chasing Stone
---
J A C Q U E L Y N
This year I went with a traditional yet modern vibe for our cards. We took our photos at the most beautiful spot in Crystal Cove overlooking the beach then walked down for a few shots on the sand. Our neutral backdrop could work well with most colors which was great, but our warmer clothing colors went really well with this pretty green.
I found the Bold Frame card by Stacey Meacham and loved how it showcased a photo that my talented friend Alison took of us on the cliff with empty space showcasing the ocean and sky behind us. I added the metallic gold lettering to say Happy Holidays and made the border a wave shape. The back of our card showcases both of my boys and their cute personalities and another family pic.
For extra details I chose addressing with a pretty greenery and a green plaid envelope liner which really pops on our kraft envelopes. Another sweet detail were Minted's wax seals, I of course had to play with that pretty green again. I love how the traditional Christmas green along with those modern details came together! I can't wait to send these out to my friends and family.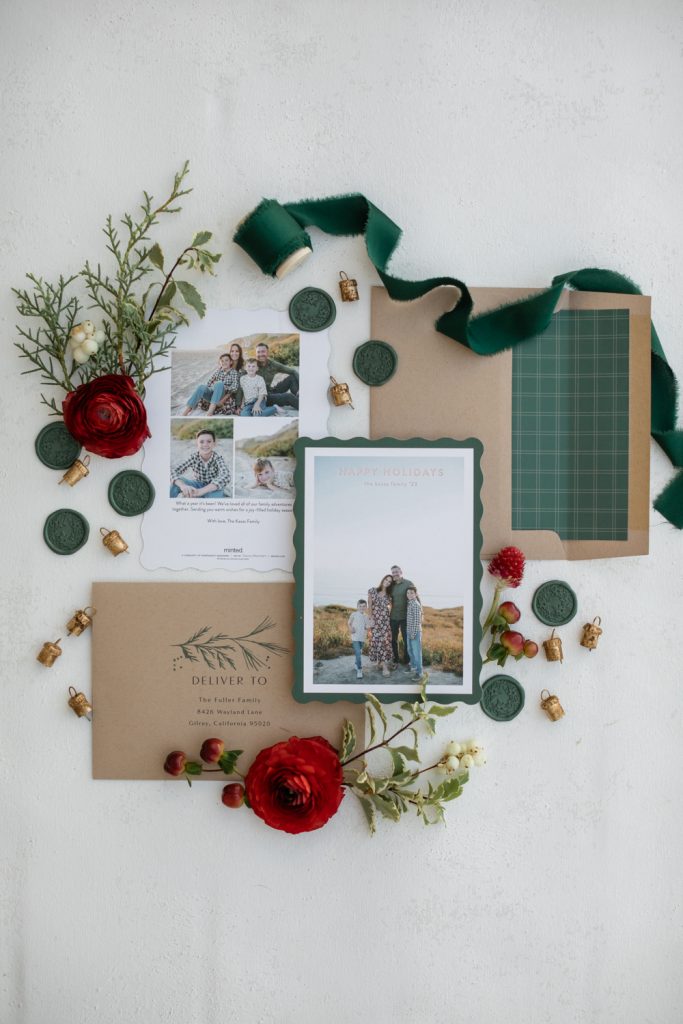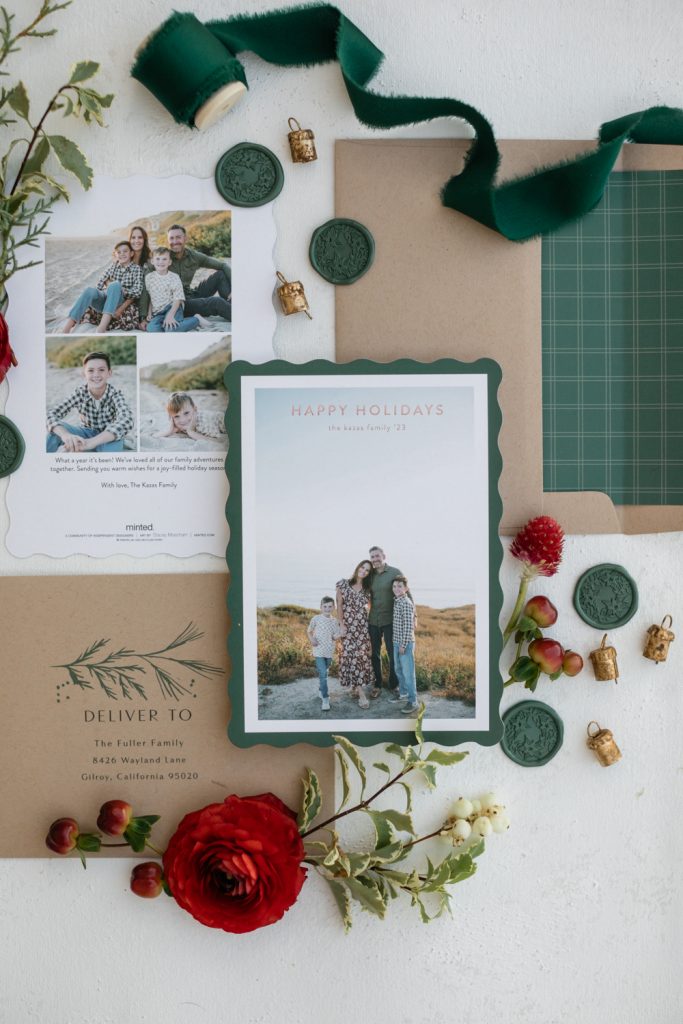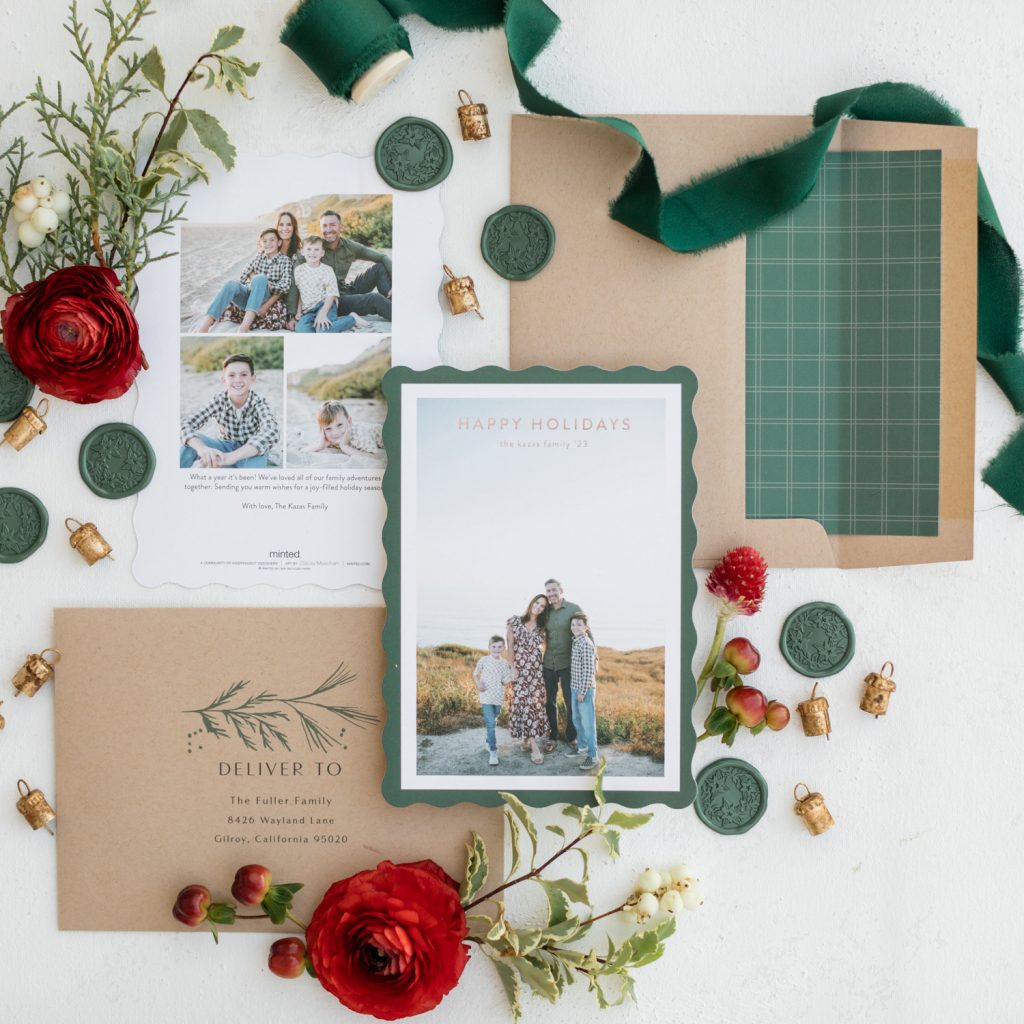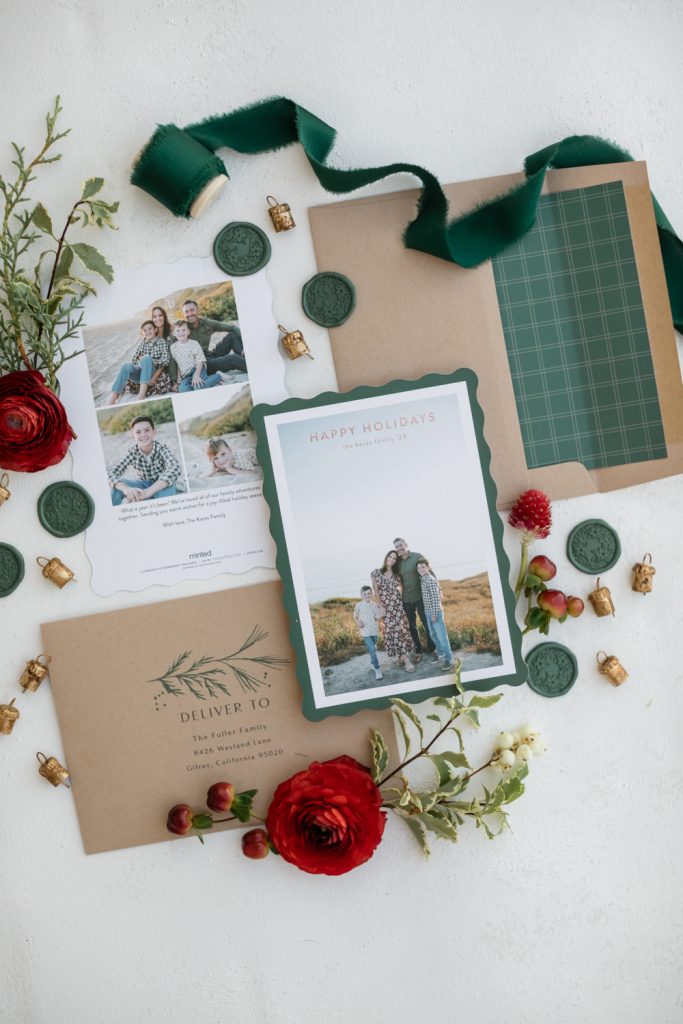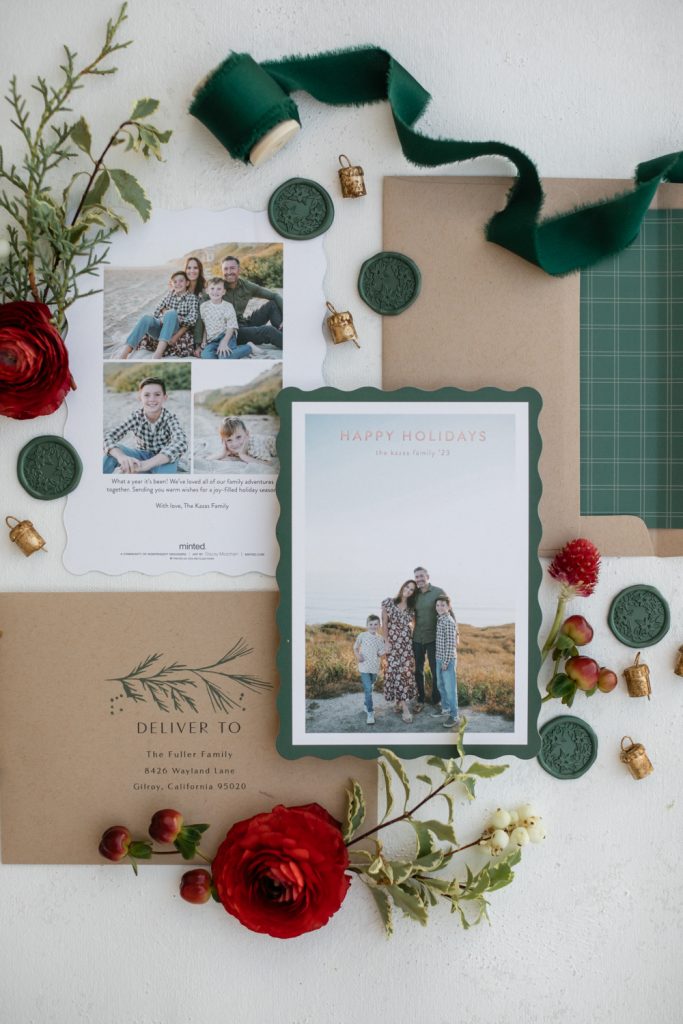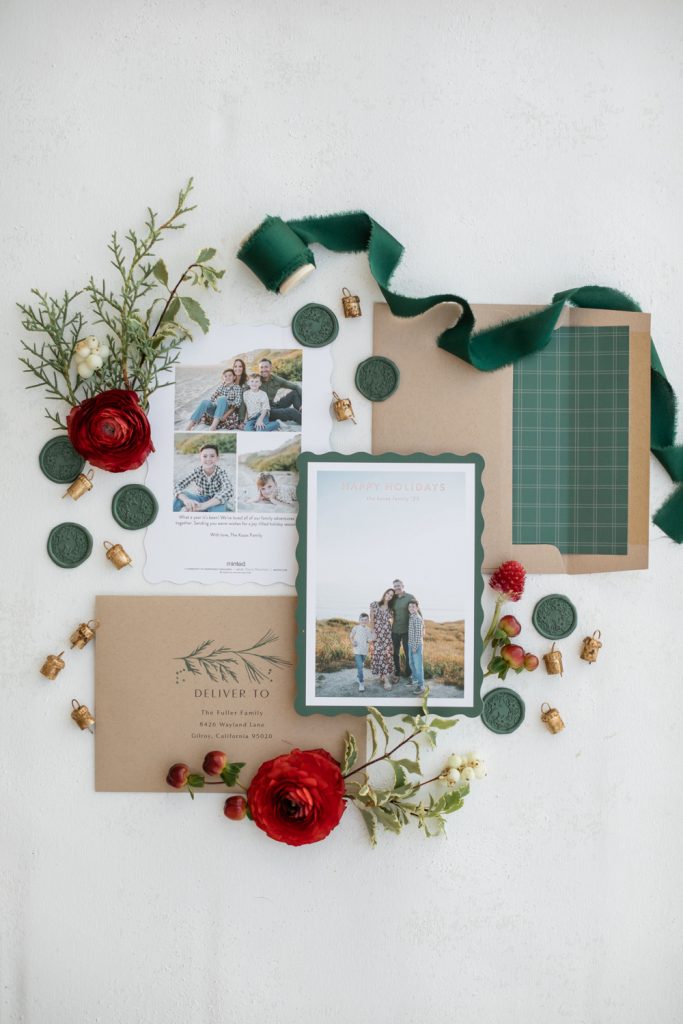 ---
A L I S O N
This year I decided to mix it up a little and do a card with multiple photos instead of one hero shot. My family and I have been on a lot of fun adventures the past few months and displaying multiple photos was a fun way to show our friends and family all the fun we got up to.
Plus "Photo Board" by Cass Low has this great pink color way which happens to coordinate with so many of our girly outfits!  Of course adding in the gold wax seals made everything extra pretty!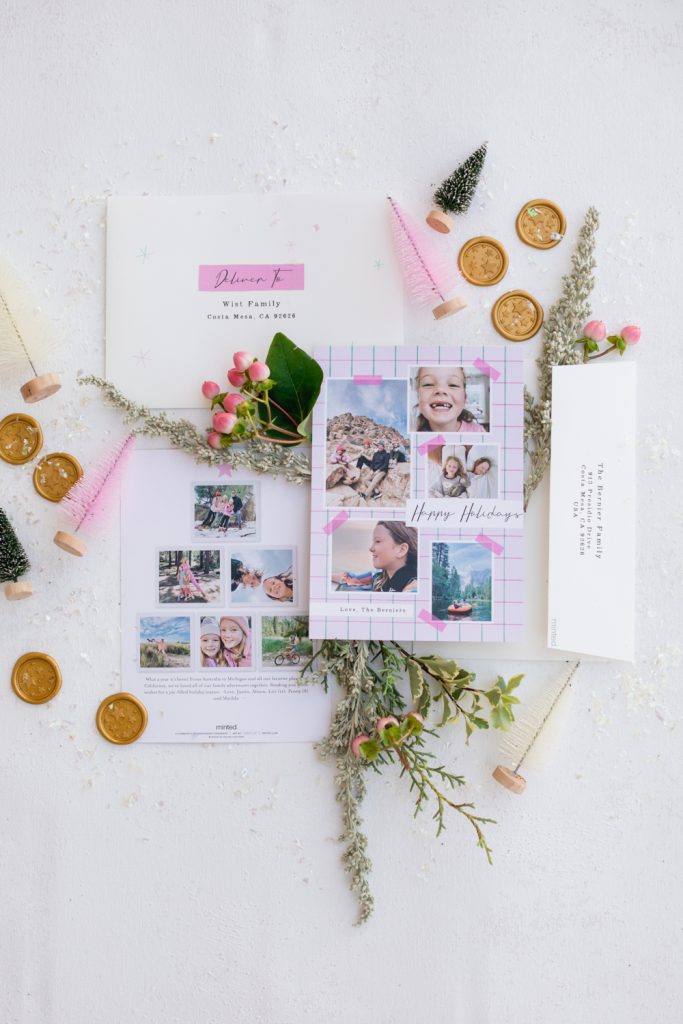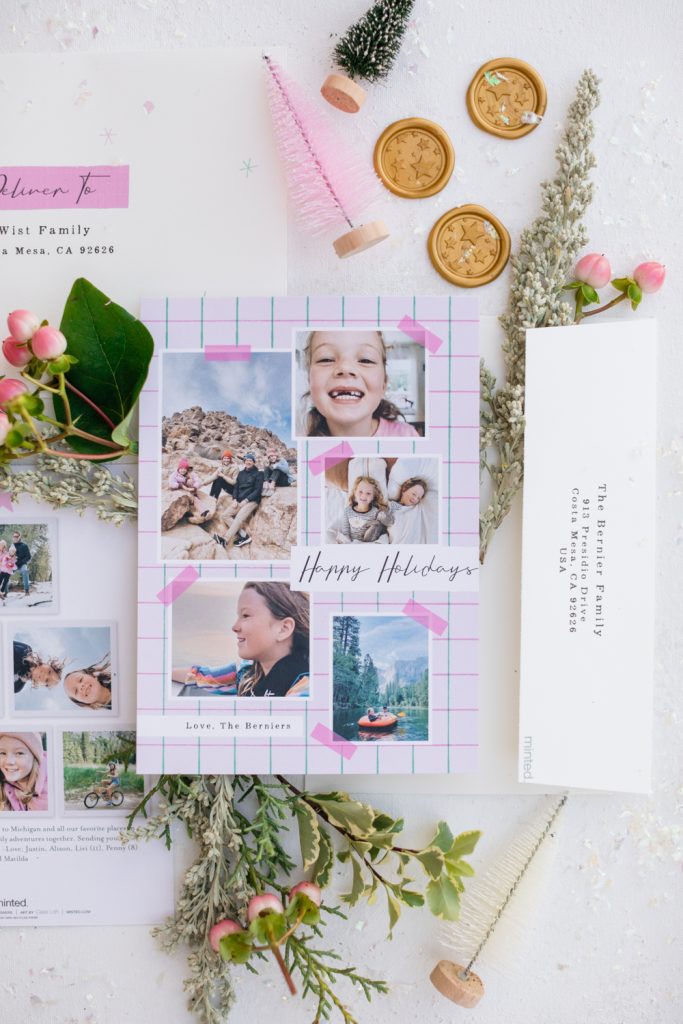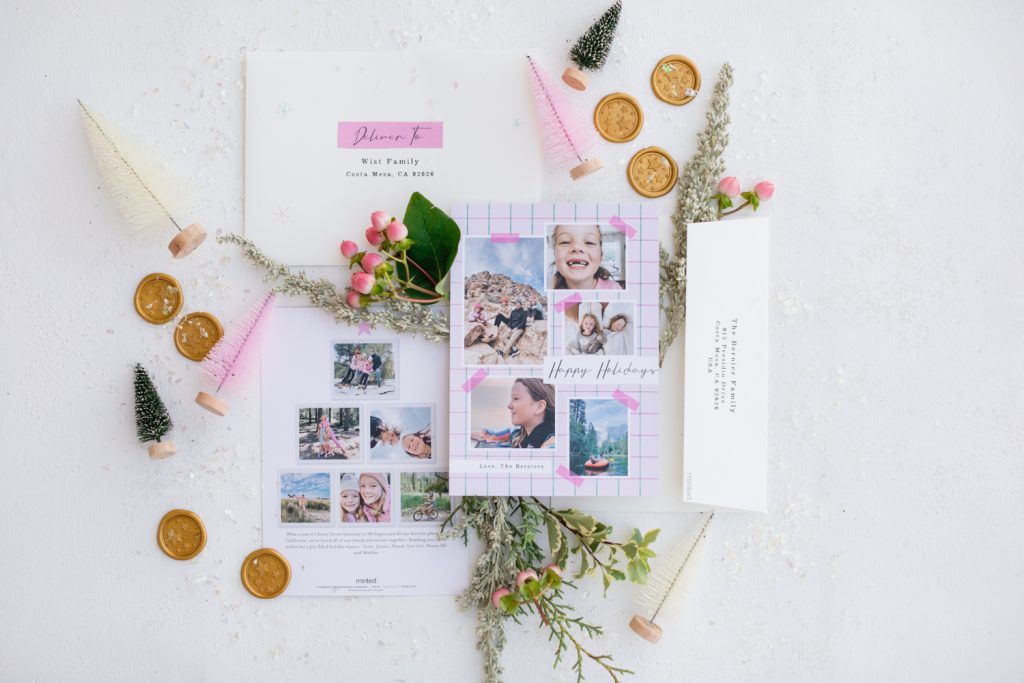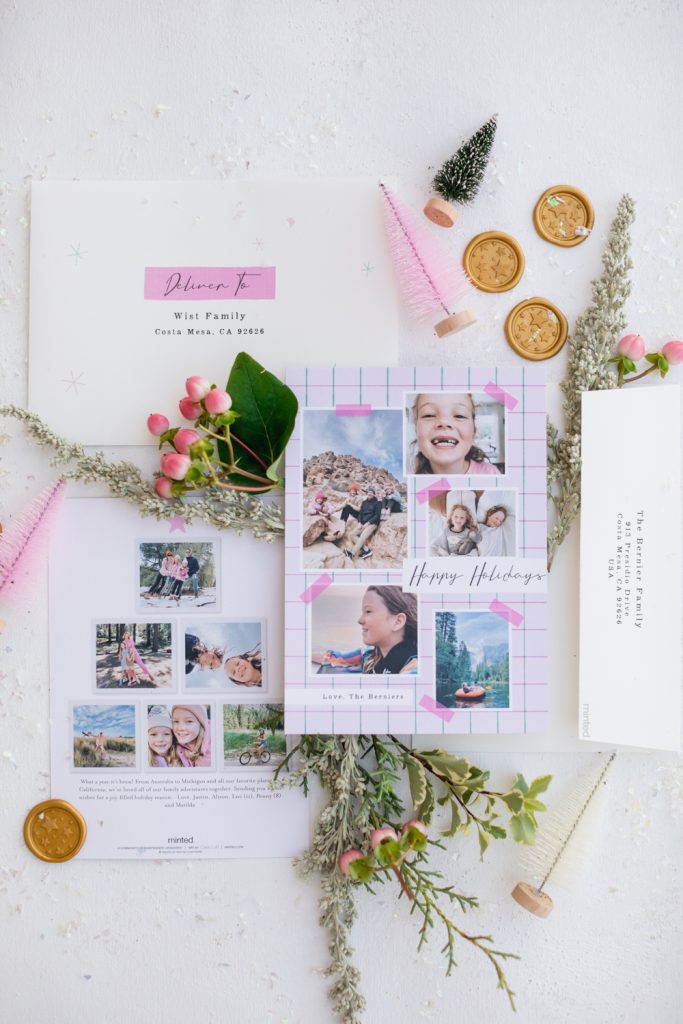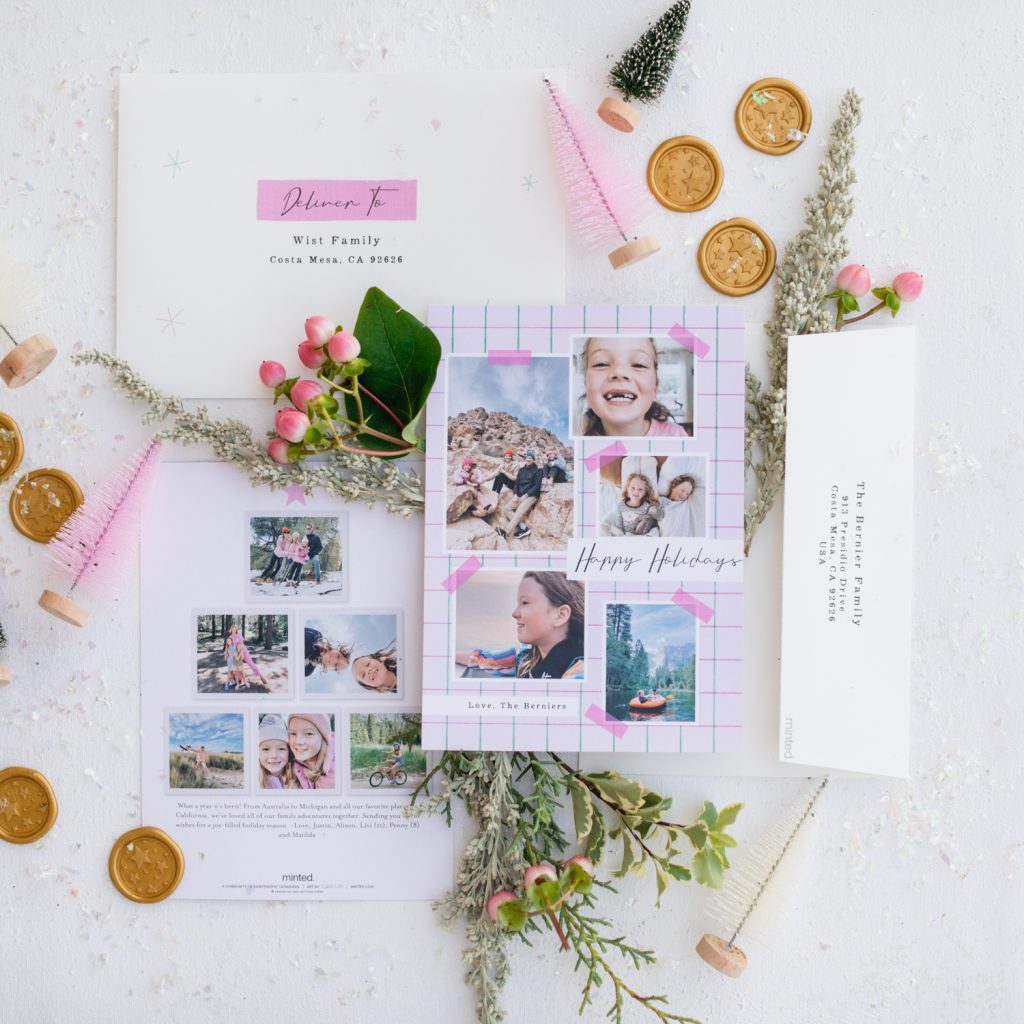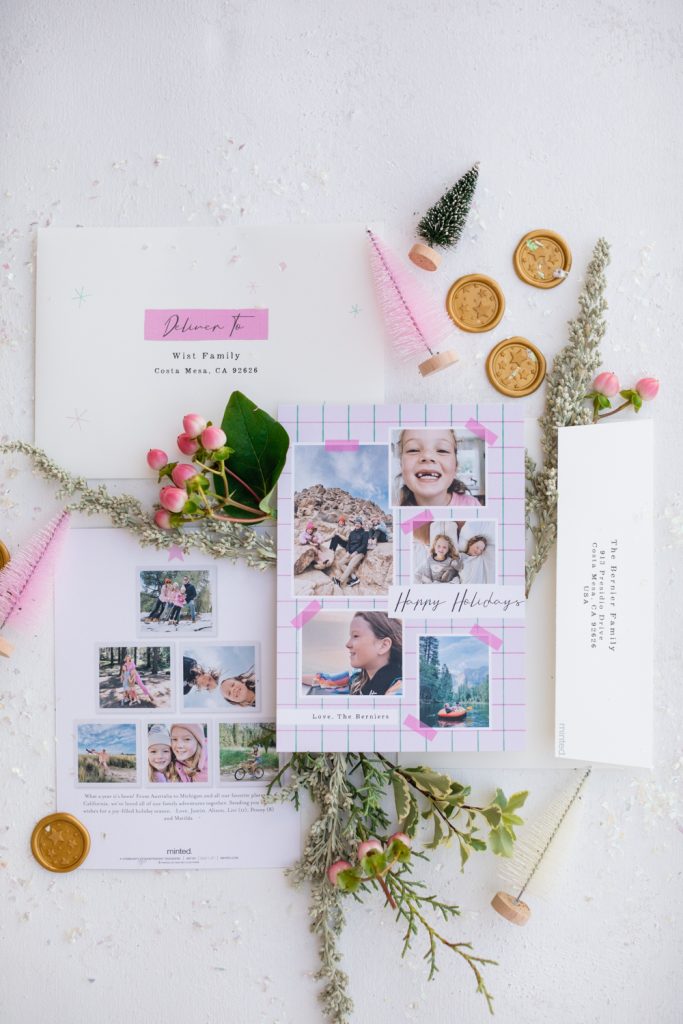 ---
L E A H
This year when the "Fun Zone" was suggested to me for our Christmas photos, I thought it would be just that, fun! It's different, unique, and that the kids would get excited about it as well.  With the colorful backdrop in mind, I chose the Arc Over Holiday card by Pixel & Hank for its simplicity. I also really liked the circular shape of the photo on the front of the card since we went with a wide shot.  I love how Minted offers such a variety to personalize your cards, from the envelopes to the liner to all the fun fonts and the wax seal!!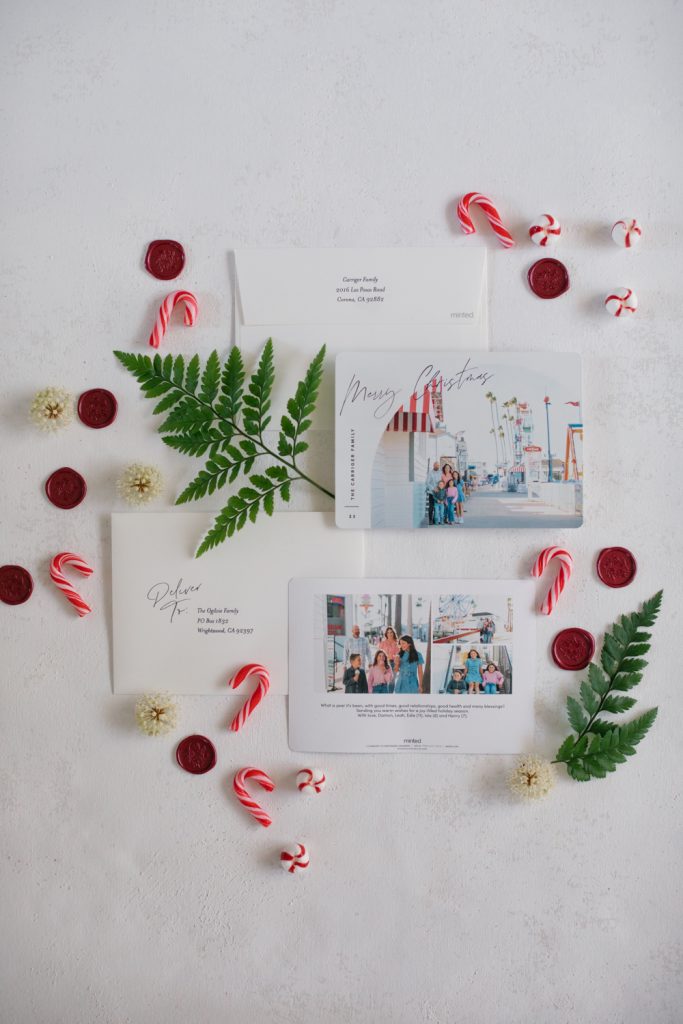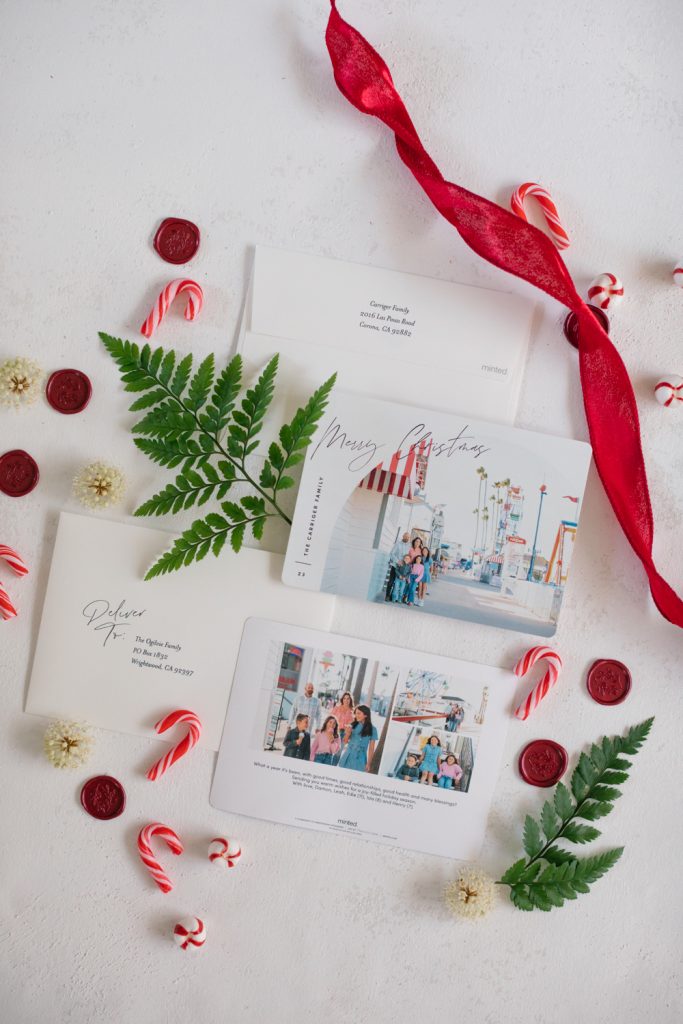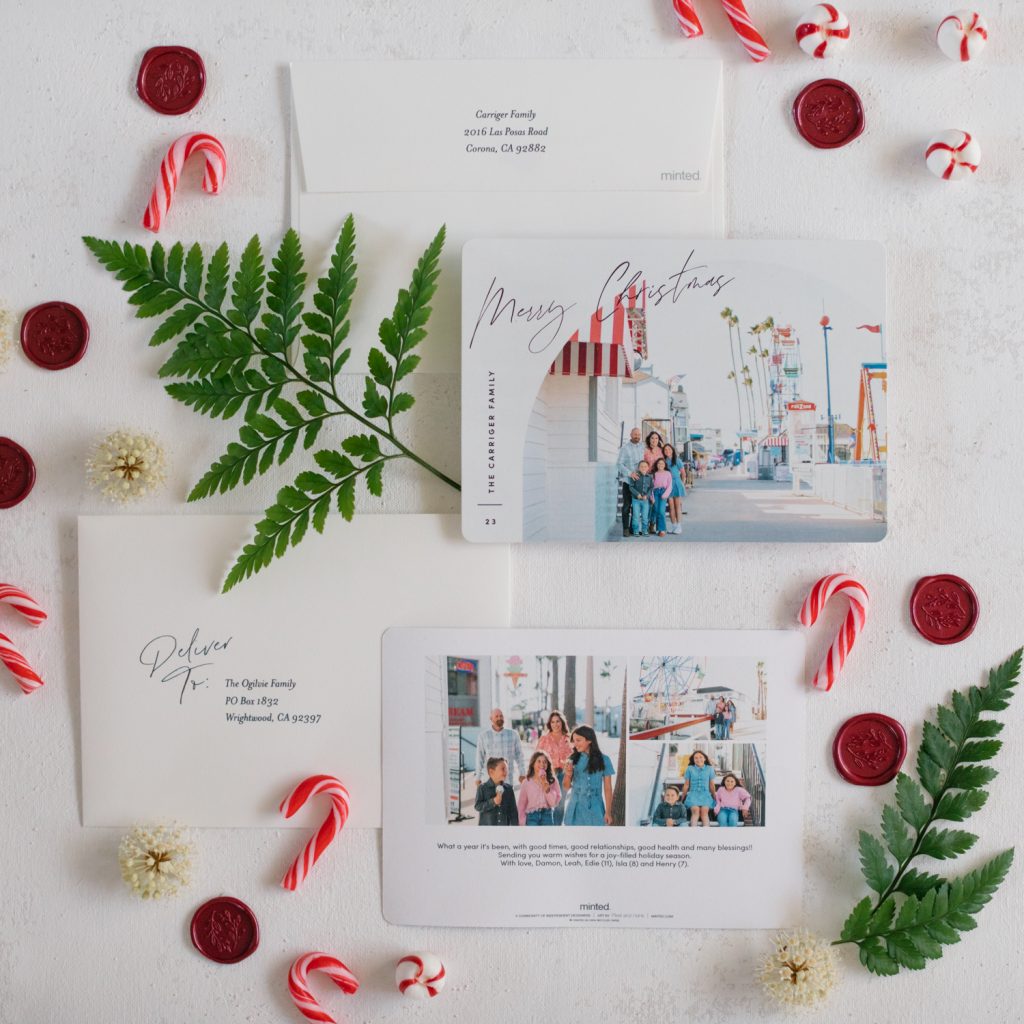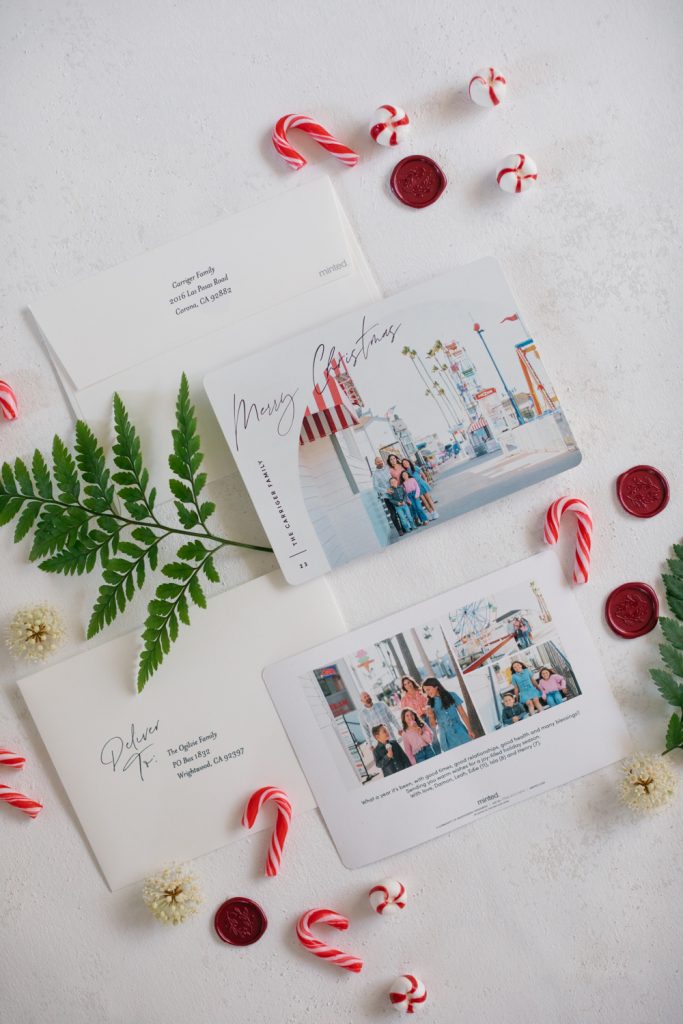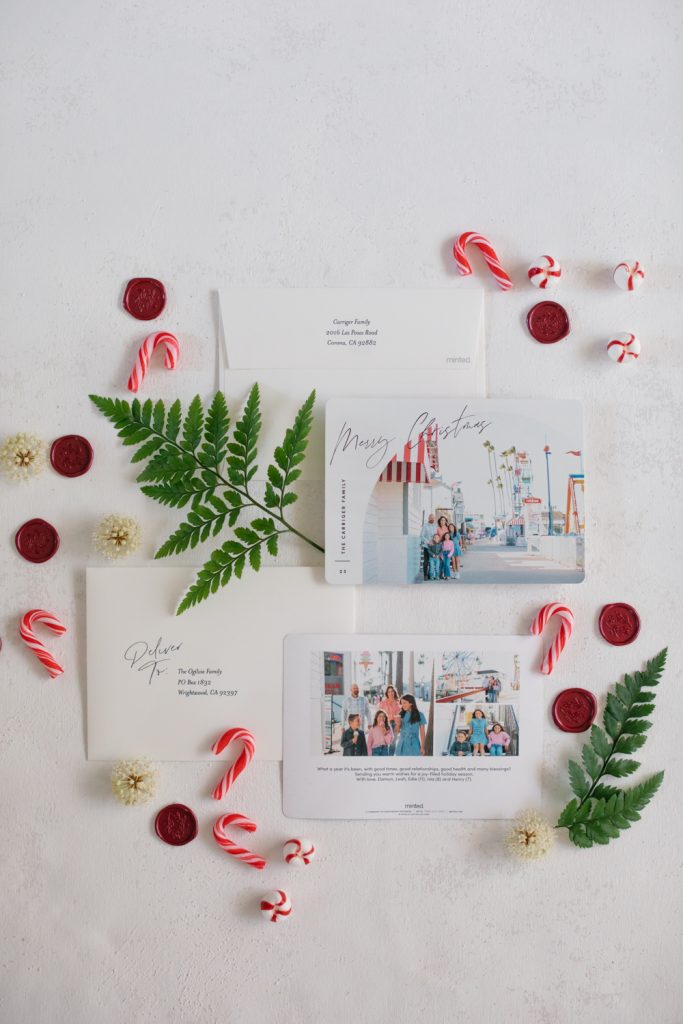 ---
Shop our holiday cards this year, accessories and a few other picks below!

xx
Jacquelyn, Alison & Leah