This year, I took the plunge feet first into gardening. I did the usual herb garden before, but I wanted a bit more of a challenge this year. Every morning, I would pick some herbs that I made my morning infused hot tea with. There really is nothing better than picking items straight out of your backyard and into your drink or meals. Last year, I wasn't prepared for how much of the basil, mint, thyme, etc. that I would use. The mint and the basil were big time in our house. So this spring, I planted much, much more, used seeds and added fun new flavors. I did pineapple mint, lemon thyme, pineapple sage, purple basil, Thai basil, cilantro (which didn't do well in this heat, have to wait for the end of summer); and more! If you know our meals we create over here, there always needs to be a fun edible flower or herb at hand reach. On top of the herbs, I did various peppers, fun cherry tomatoes, tons of San Marzano tomatoes, kiwi, pink lemons, finger limes, and more. So far, so good; everything is still alive! But with all these herbs and veggies growing, I thought a yummy garden toast needed making. So grab your basket, get to pick your fresh herbs and tomatoes, and let's literally go from farm to table.

Photos by Dayna Studios
---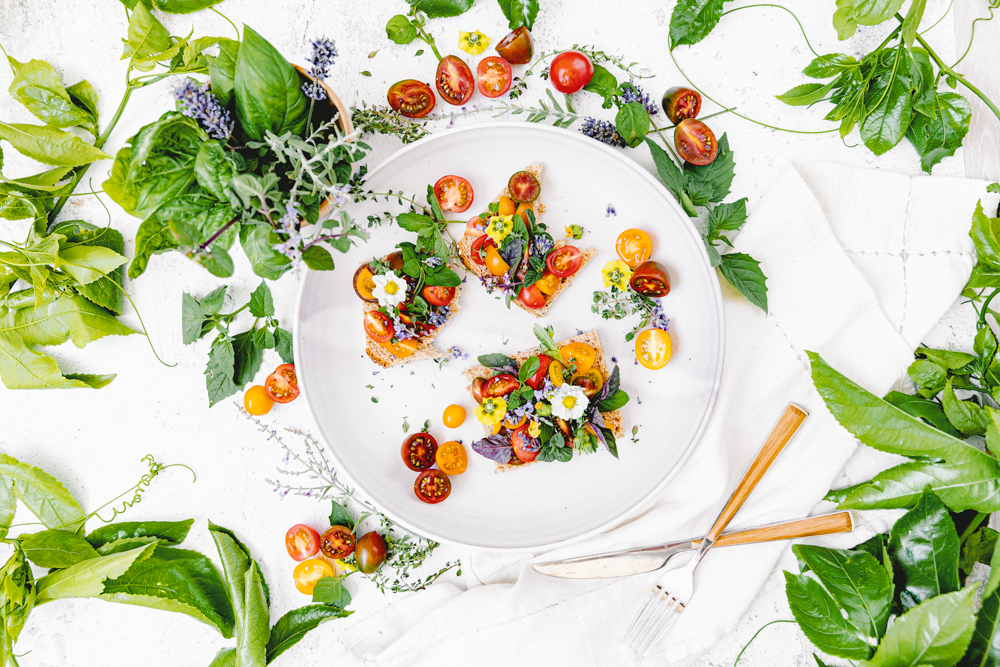 ---
Heirloom Tomato + Herb Garden Toast
SERVES: 1 toast | PREP: 5 MINUTES | COOK: 0 MINUTES
W H A T Y A N E E D
Multigrain toast
Red, yellow, and orange cherry tomatoes
Pea shoots
Red Rubin basil leaves
Thai Basil flowers
Strawberry Flower
Sweet Violet Flower
Dill flowers
Sage Leaves
Thyme Lemon Flowers
Baby Nasturtium leaves
Red chili flakes
Salt/pepper
Olive oil
B U S T O U T
Small mixing bowl
---
I N S T R U C T I O N S
Start by gathering your herb, flowers, and tomatoes. If you don't have a garden to pick them, that is totally ok! The majority of this you can find at the store. Wash all your product, and set on a paper towel to dry all the way. Chop up about 1/4 cup of your tomatoes, and then lightly coat with olive oil and salt/pepper. Julienne some basil and mint leaves, and throw those herbs into your tomato mixture as well. Feel free to do all the herbs. I like to place it in the fridge for about an hour, so all the flavors unite. Once the tomato mixture is at the flavor you want, toast your bread. Spread your tomato mixture onto the toast. This is where the fun comes in. Take the rest of your herbs and edible flowers, and create a pretty scene. I also like to finish it off with some fresh-cut tomatoes and a few dashes of red chili flakes, salt, and fresh cracked pepper. Enjoy!
---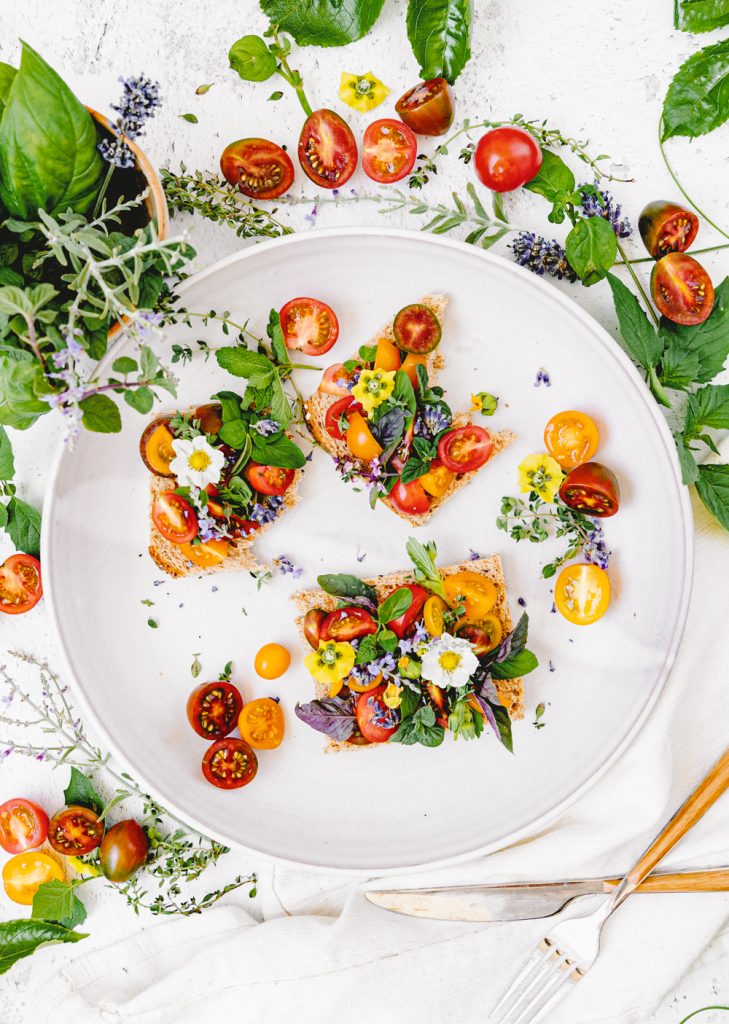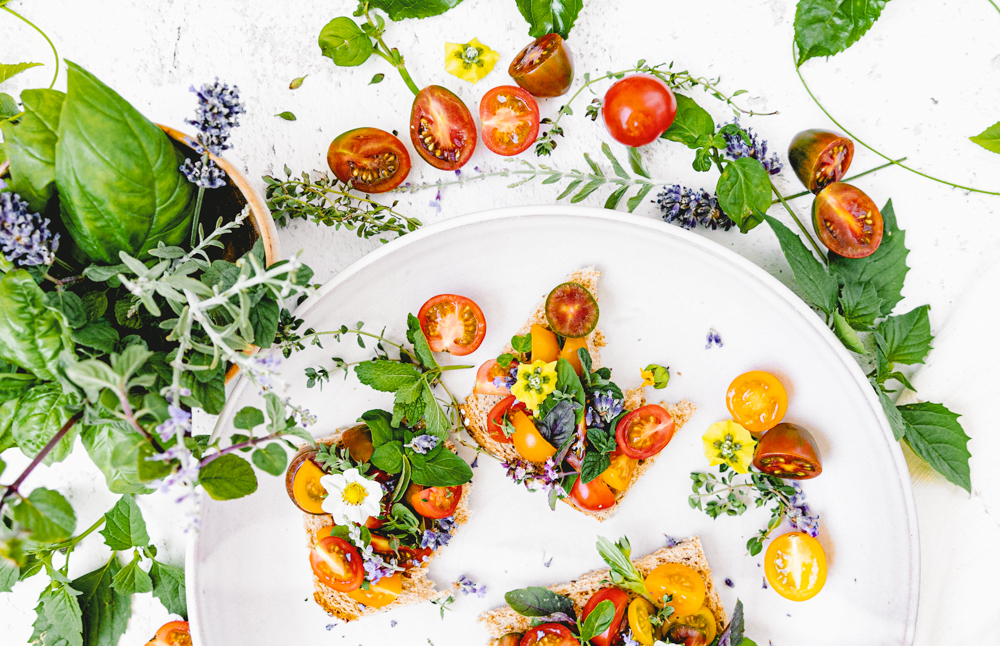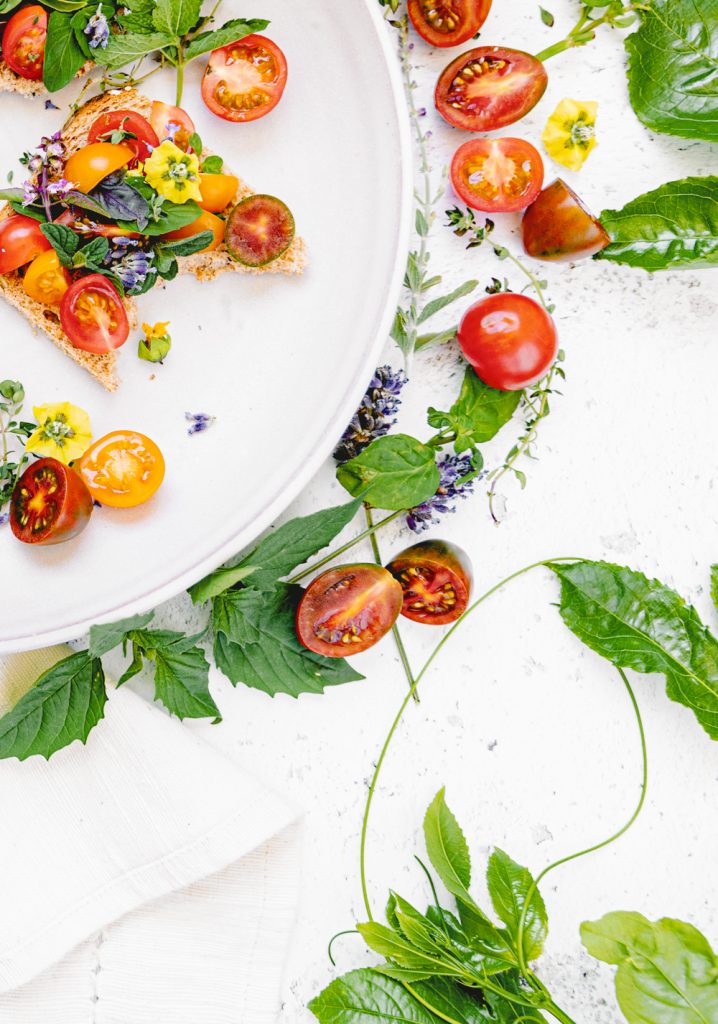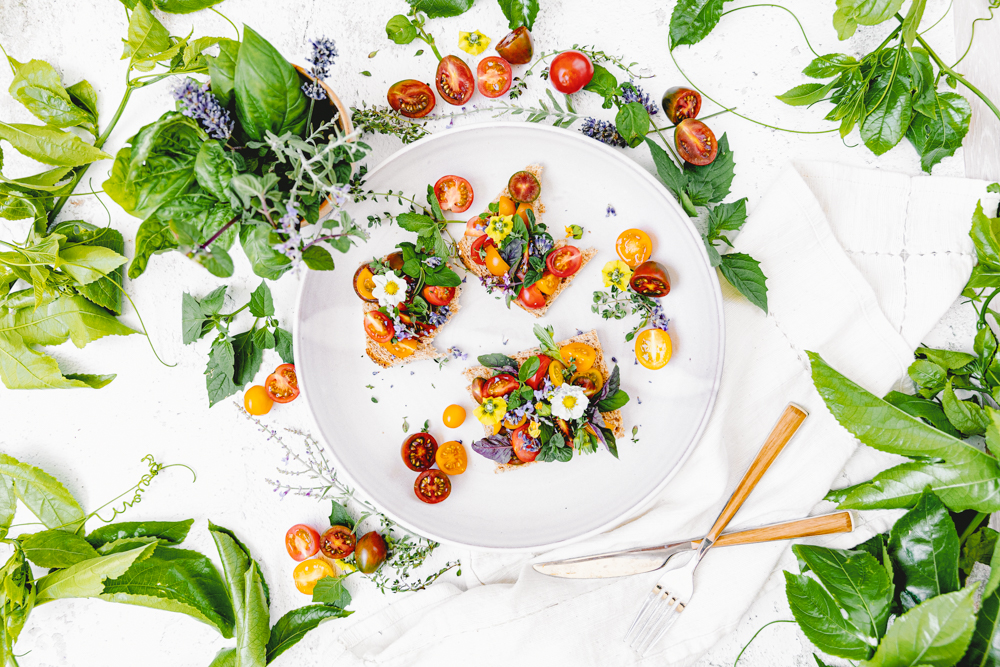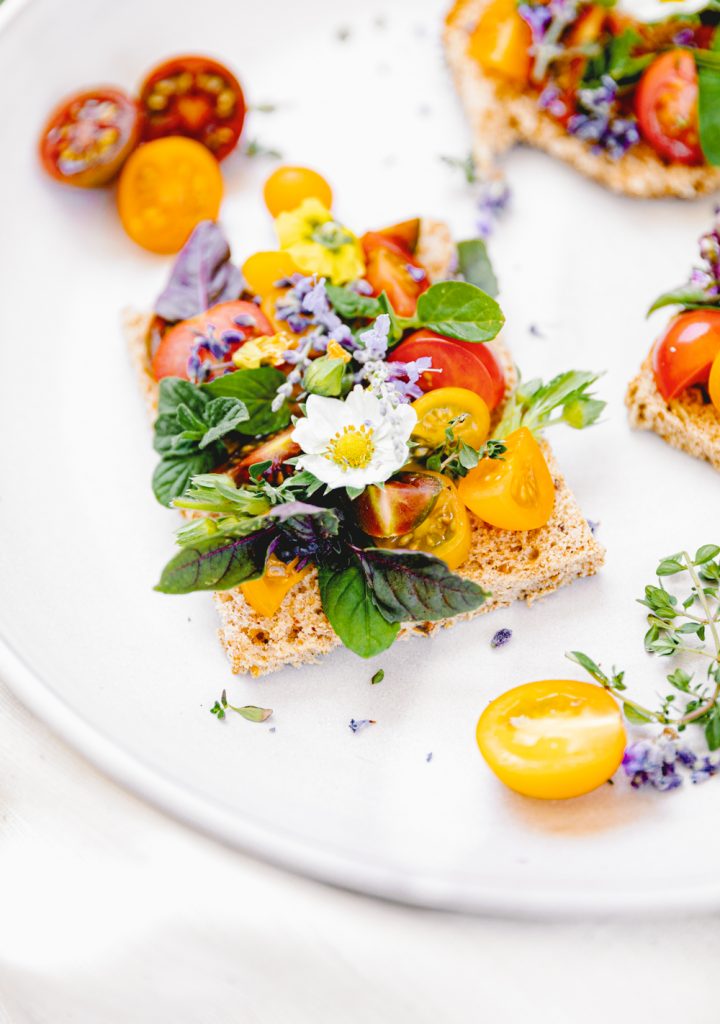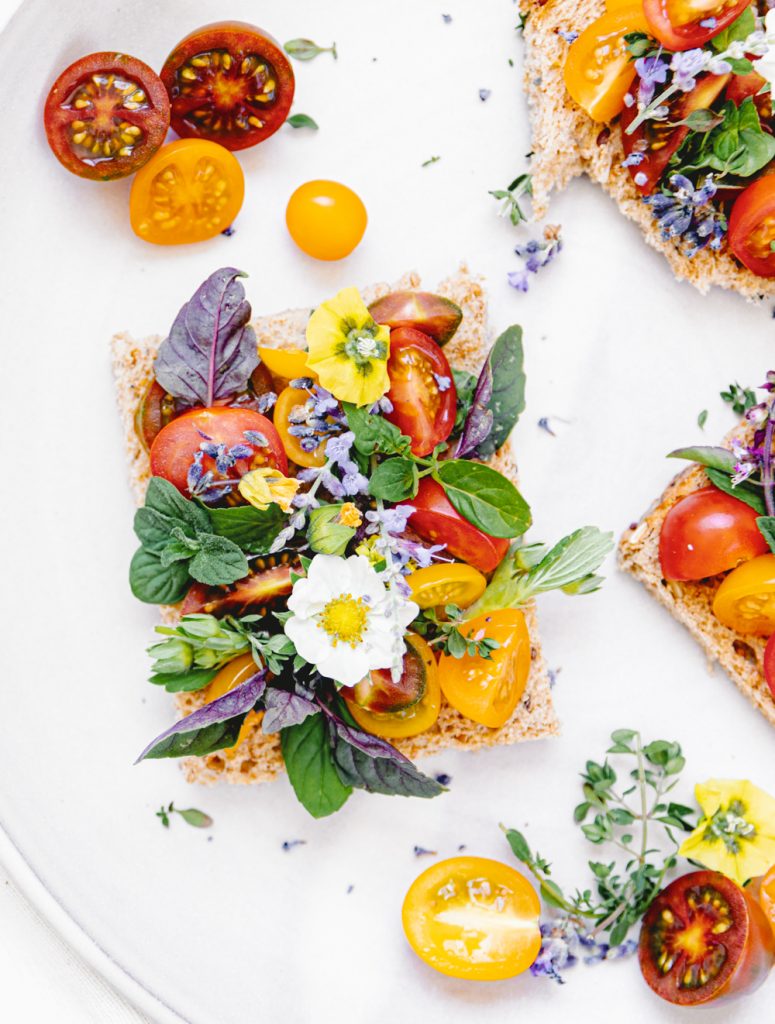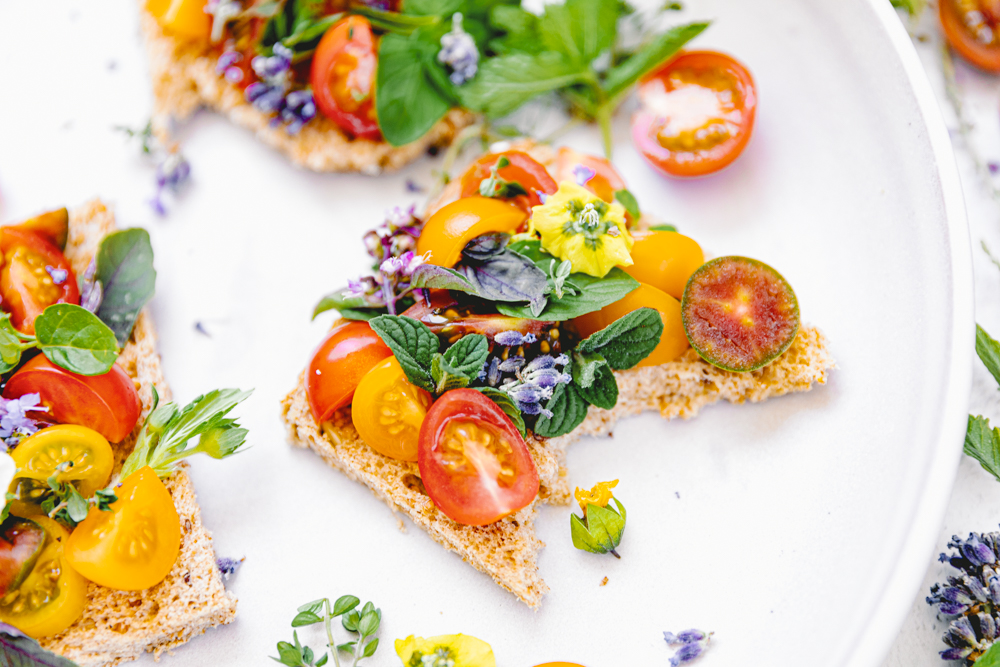 ---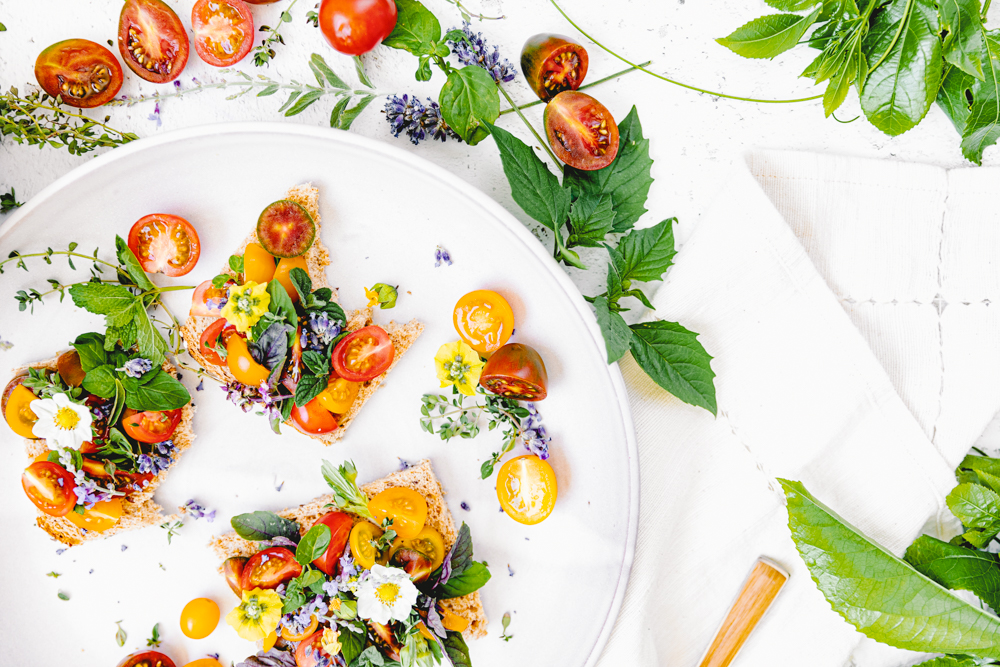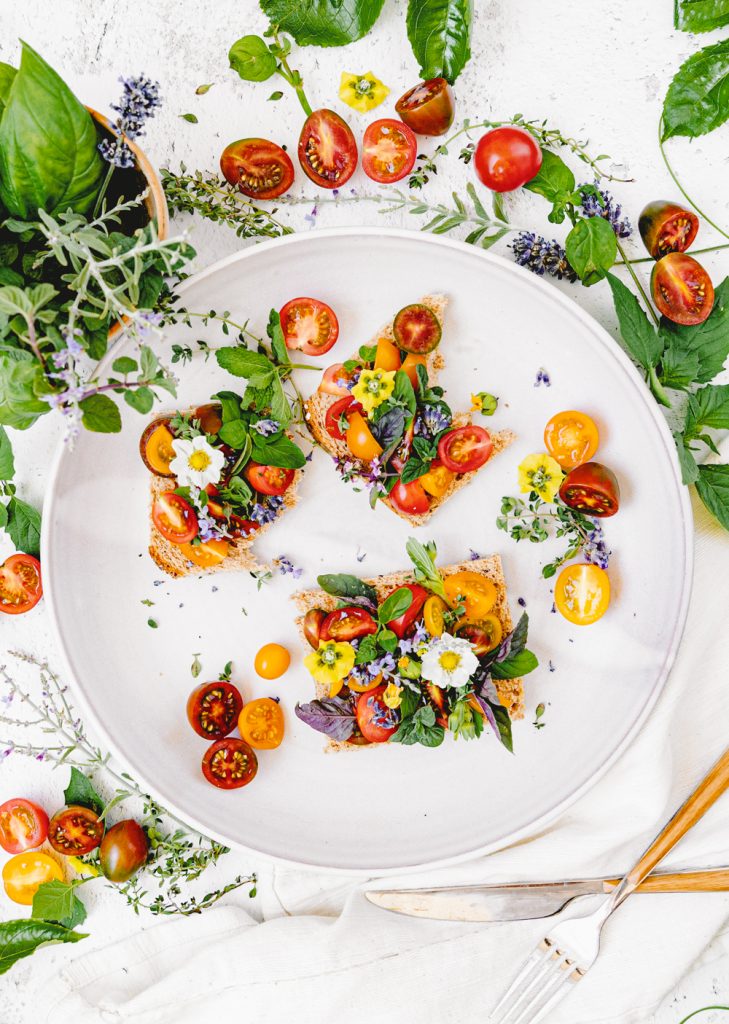 xx
Abby