Well, guys, it's September 20th, and you know what that means! My house is decorated for Halloween!! Haha! Yep, I'm that crazy lady on the street with her house decked out, probably driving most of my neighbors crazy… But hey, you better be early to the game if you want all the cute decor pieces from Pottery Barn!
The front porch has always been a focal point of any home, but especially now with all these outdoor gatherings. I teamed up with Pottery Barn to give my front porch a spooky makeover and they are already selling out of these fun pieces. So jump to it and get ready to haunt your house with a few tips from yours truly!
Photos by Jessica Lynn Photo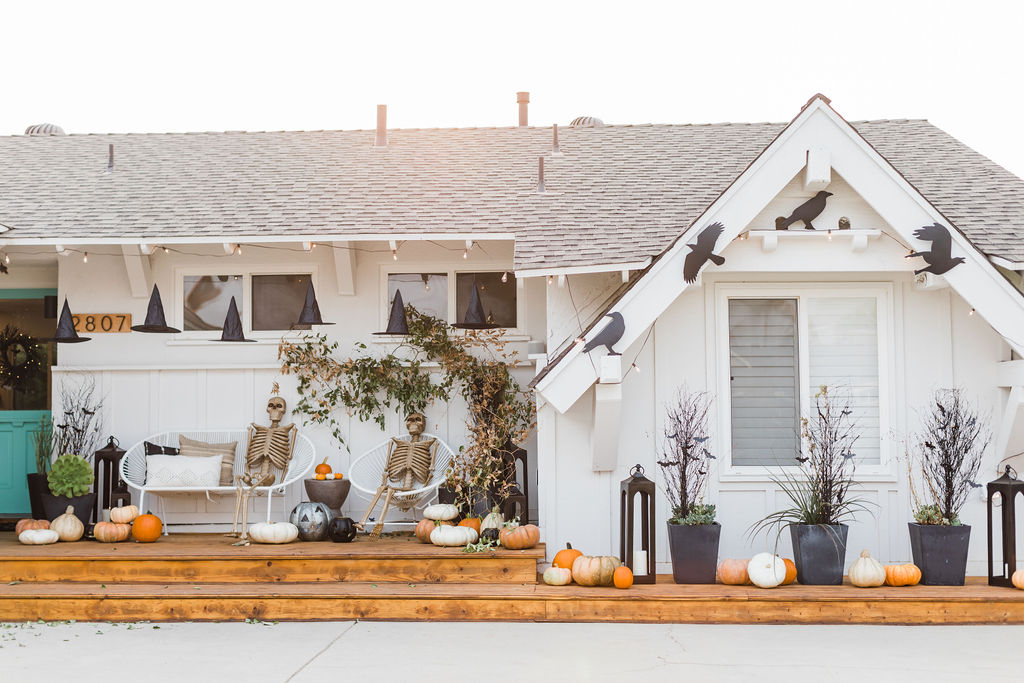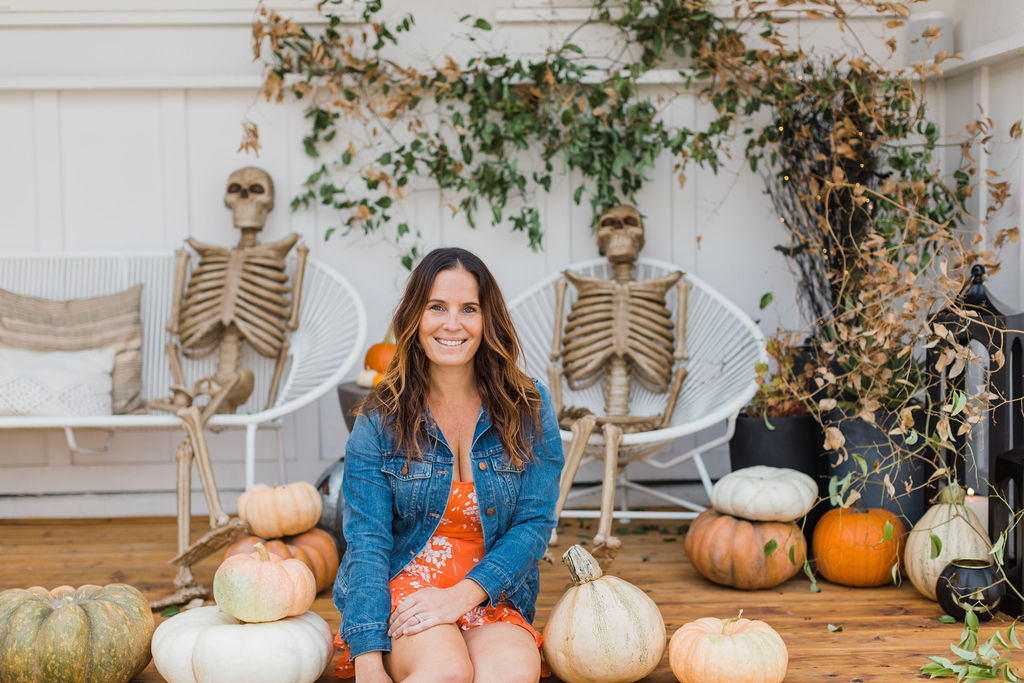 One of the pieces I had to have from Pottery Barn were these skeletons! Every house needs them for Halloween. We got two and my sons have named them Jack & Larry. I guess you can call them part of the family now, ha! And they are great to have out year after year.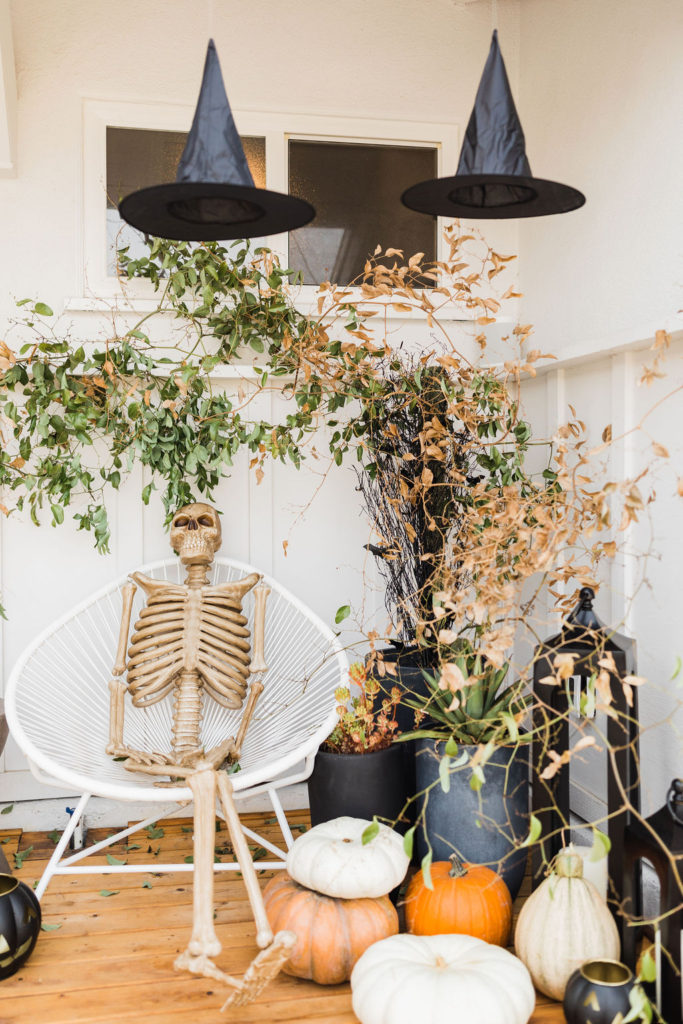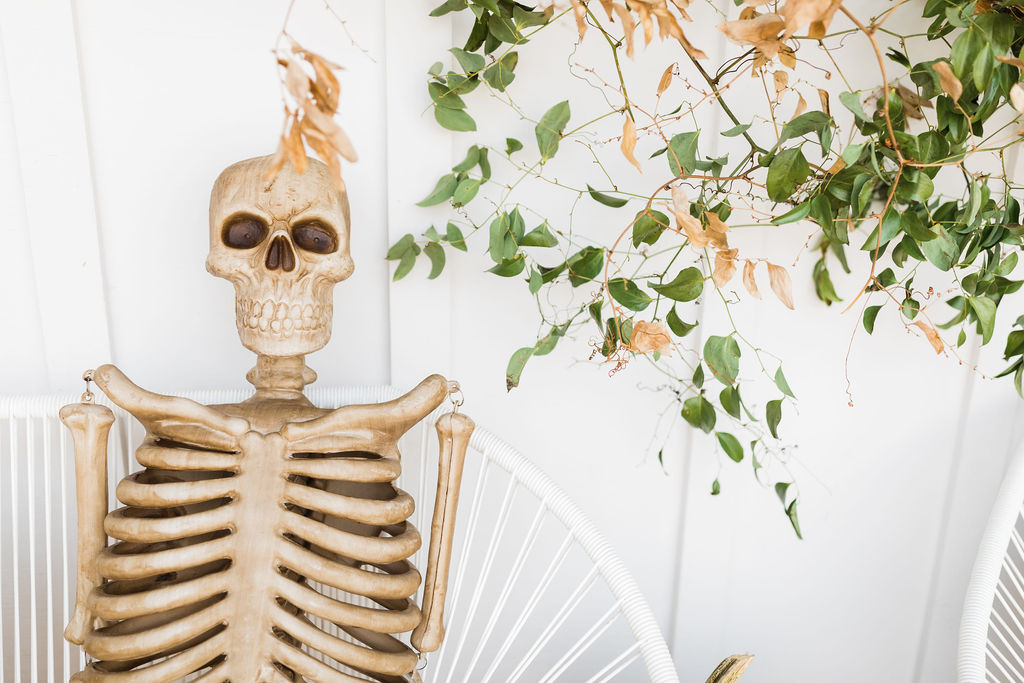 My friend Alex from Third & Park came over and added that pretty greenery and fall foliage to the wall. Doesn't it look so pretty with all the great Halloween decor?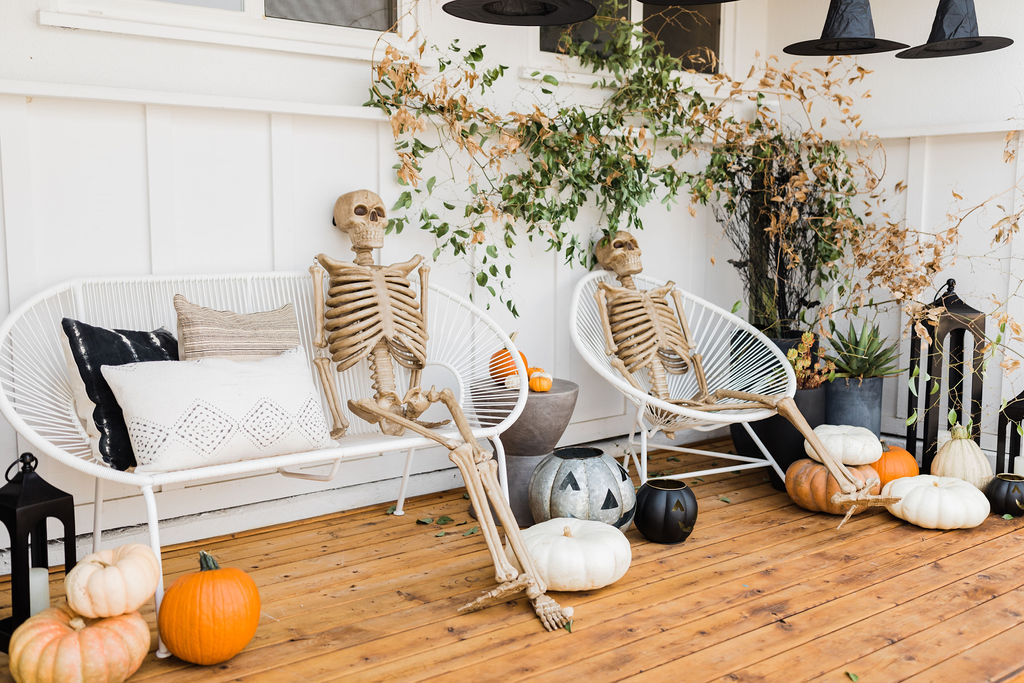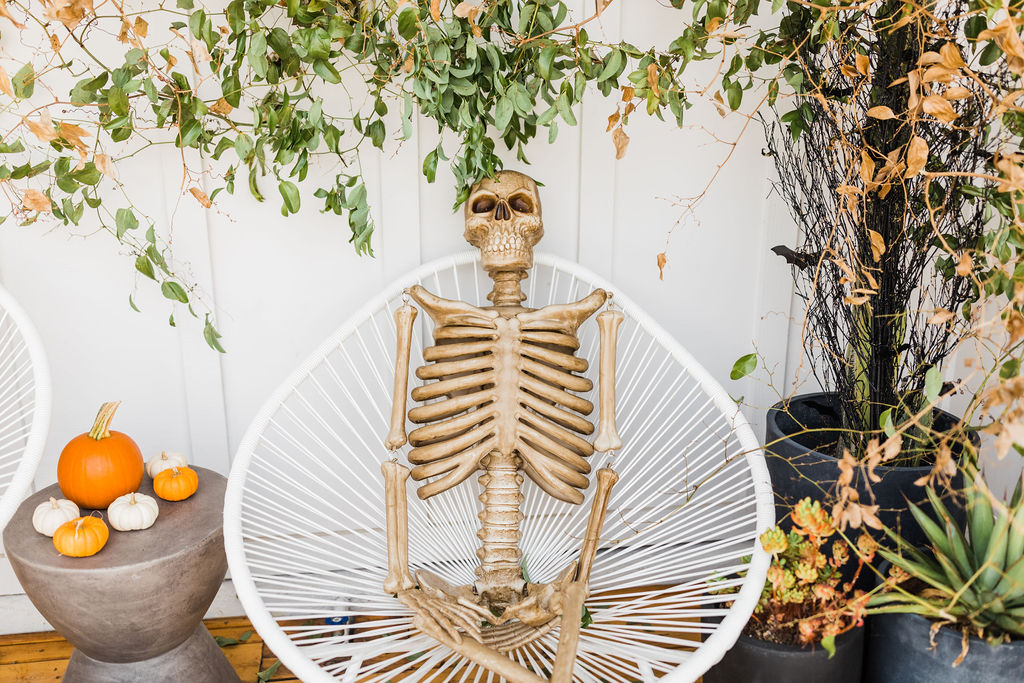 Did you notice those witch hats hanging above the porch? That was a little DIY I did and am really happy with. Plus, it was so so easy!! I bought these witch hats and fishing wire on Amazon. Then I just cut small holes at the top of the hat, looped fishing wire, and tied to the top of my porch! Simple! And the cutest floating witch hats I ever did see.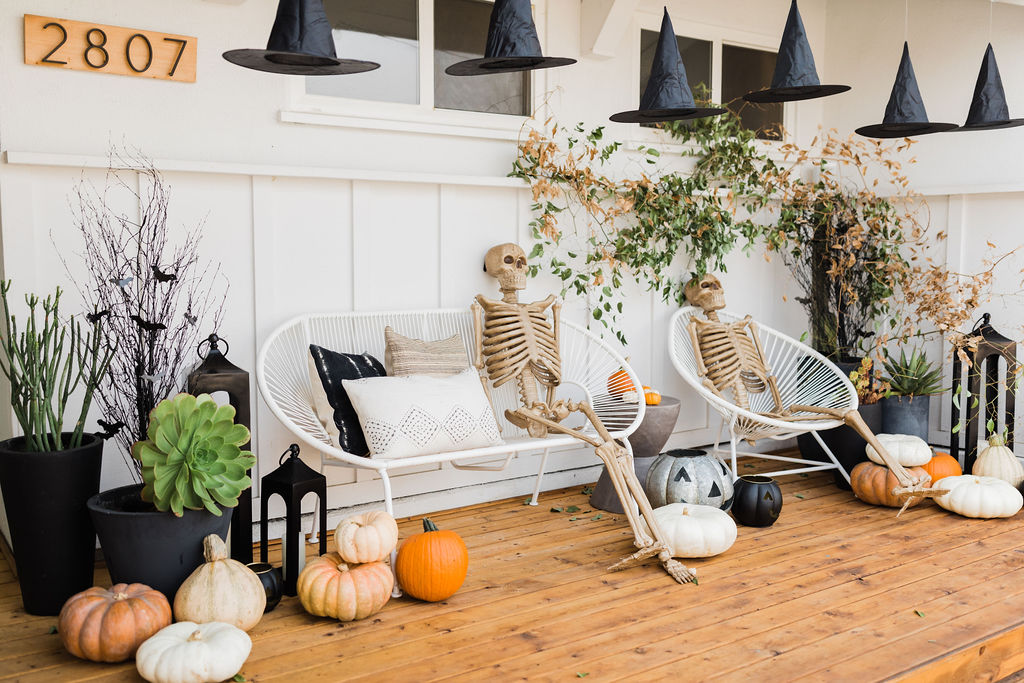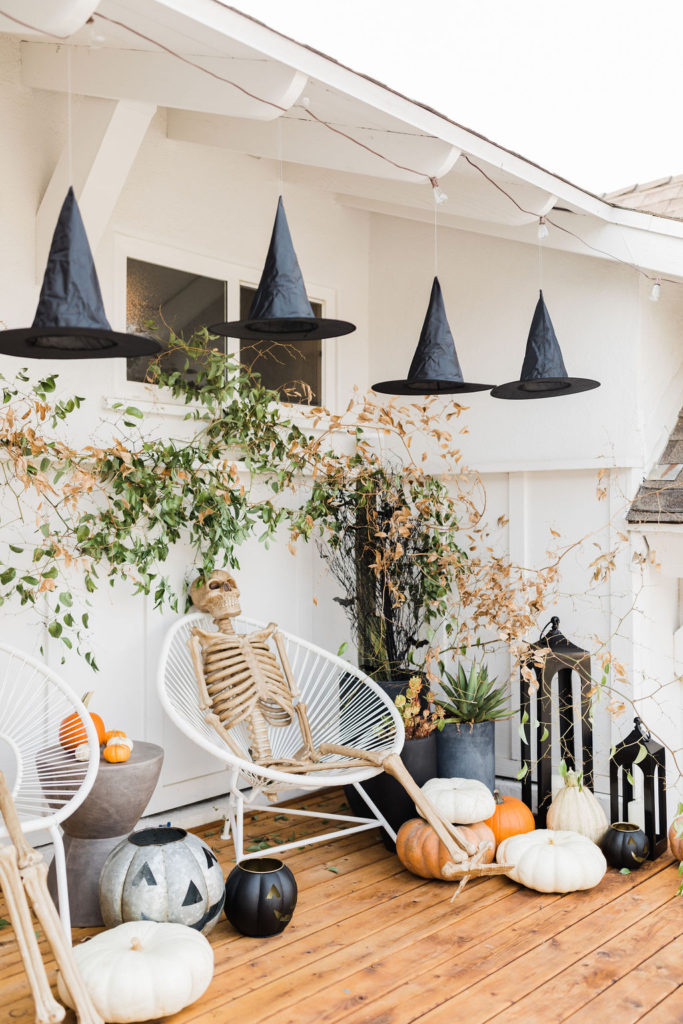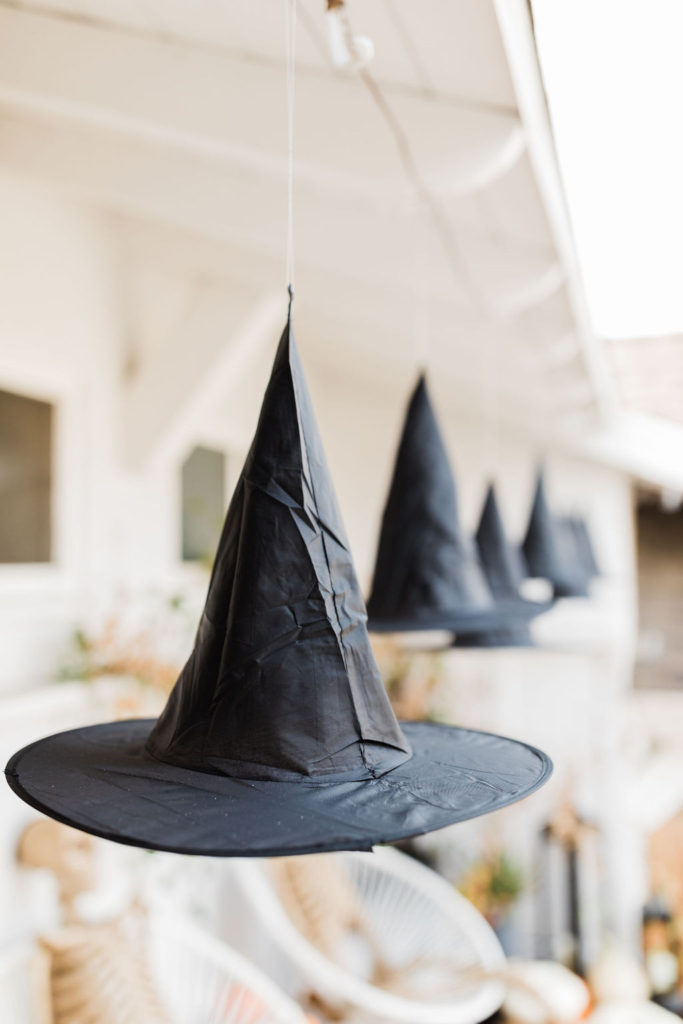 Pumpkins are a MUST for Halloween decor in my opinion, and I also think you can never have enough. My husband would disagree with me on that one, haha, but I'm holding strong to my beliefs! My go to spot for pumpkins is always Trader Joe's, but Sprouts also has a great selection. Even better if a local farm near you has them!!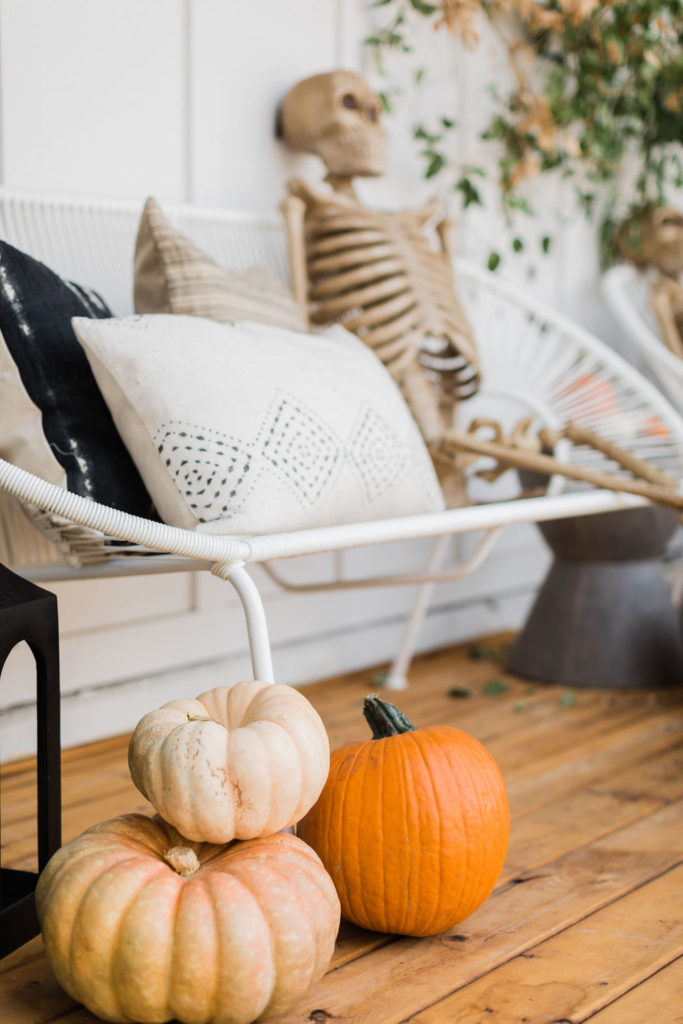 In addition to real pumpkins, I added in some of Pottery Barn's galvanized and black metal pumpkin candle holders. They add so much character and look amazing mixed in with all the orange, white and green! Plus, how can you resist that cute jack-o-lantern face?!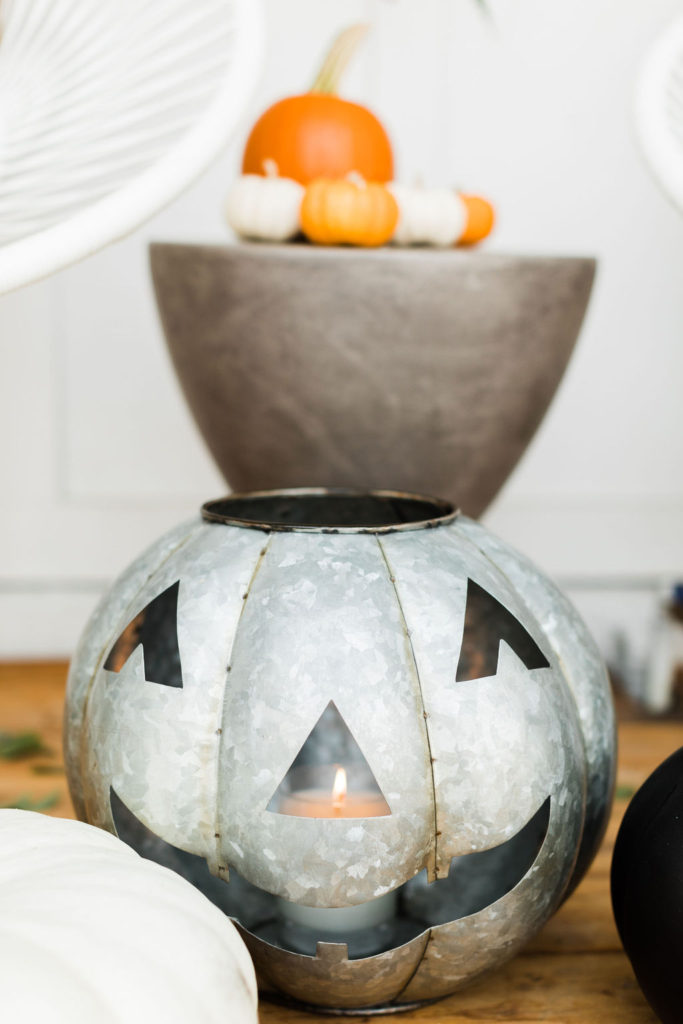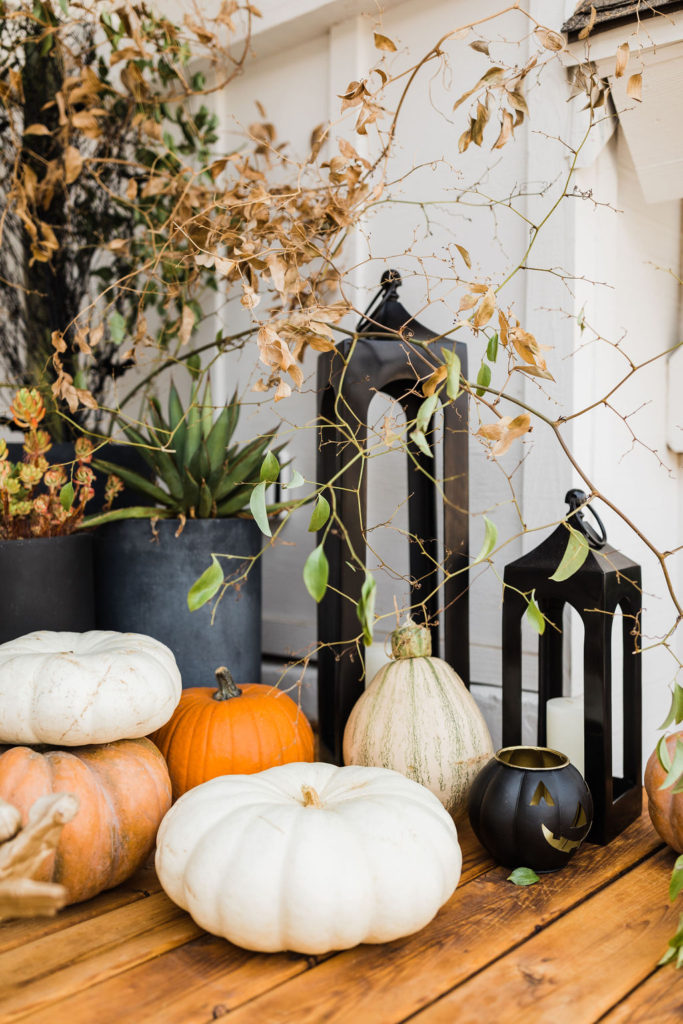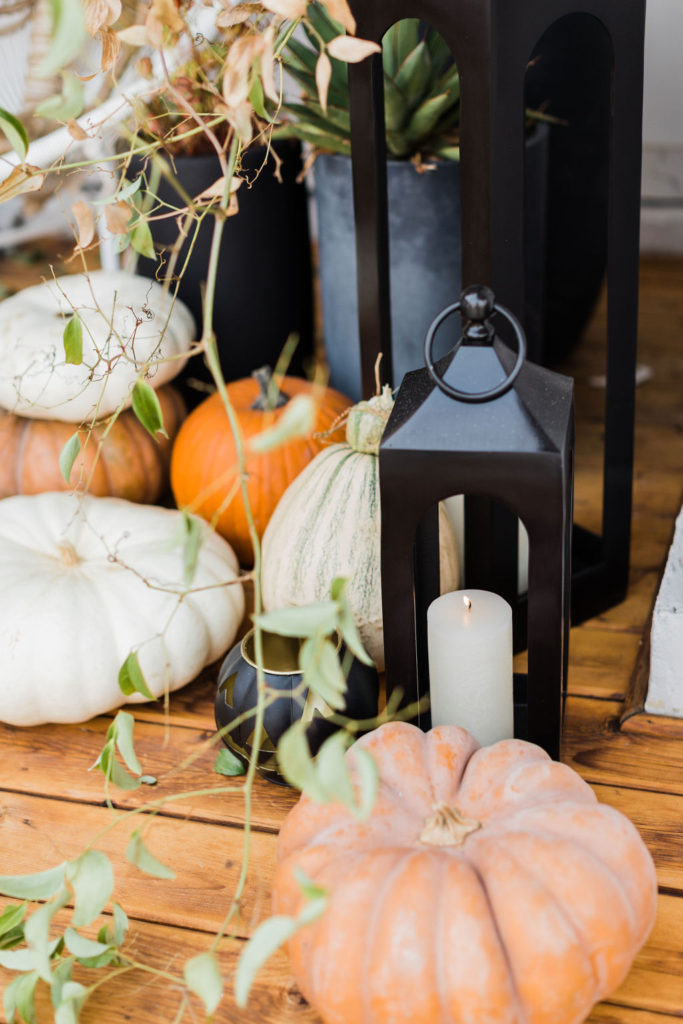 Another must for me from Pottery Barn were these Caleb Metal Lanterns. How pretty are they?! And they definitely add a modern spooky factor. Plus, they go with my planters from Hart Concrete Design so perfectly. I can't wait to use these lanterns for holiday decor as well! They are just such a great piece to use year-round.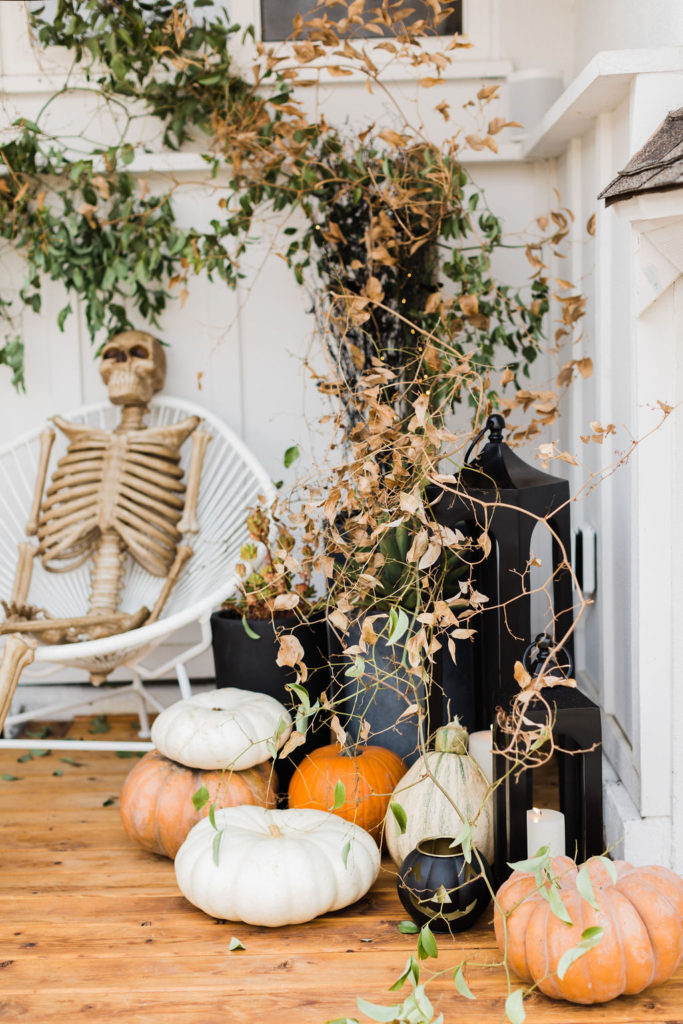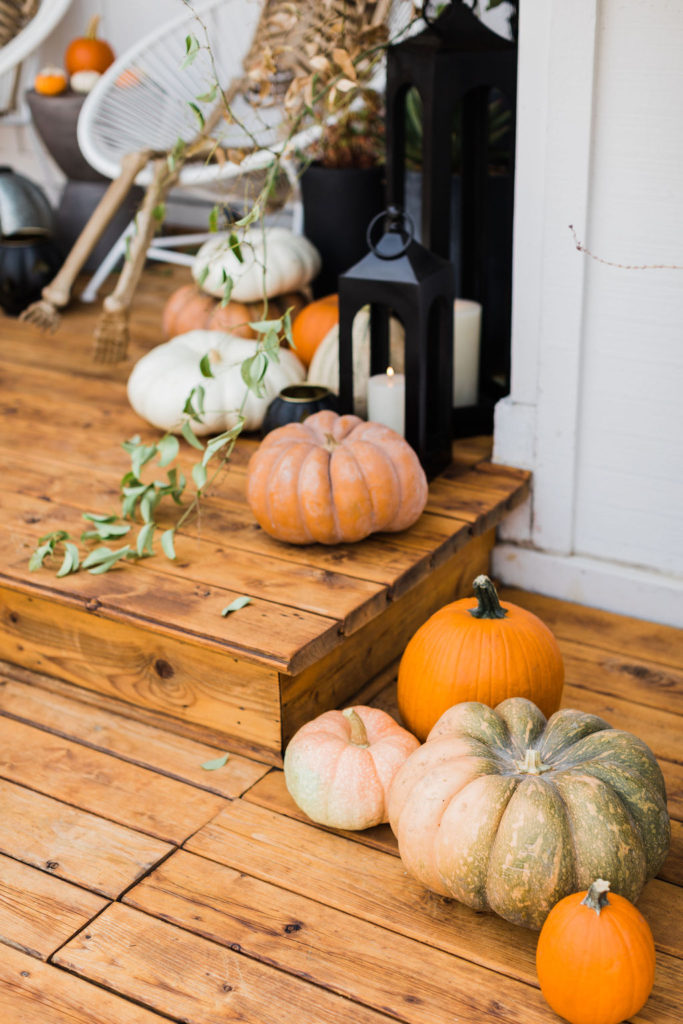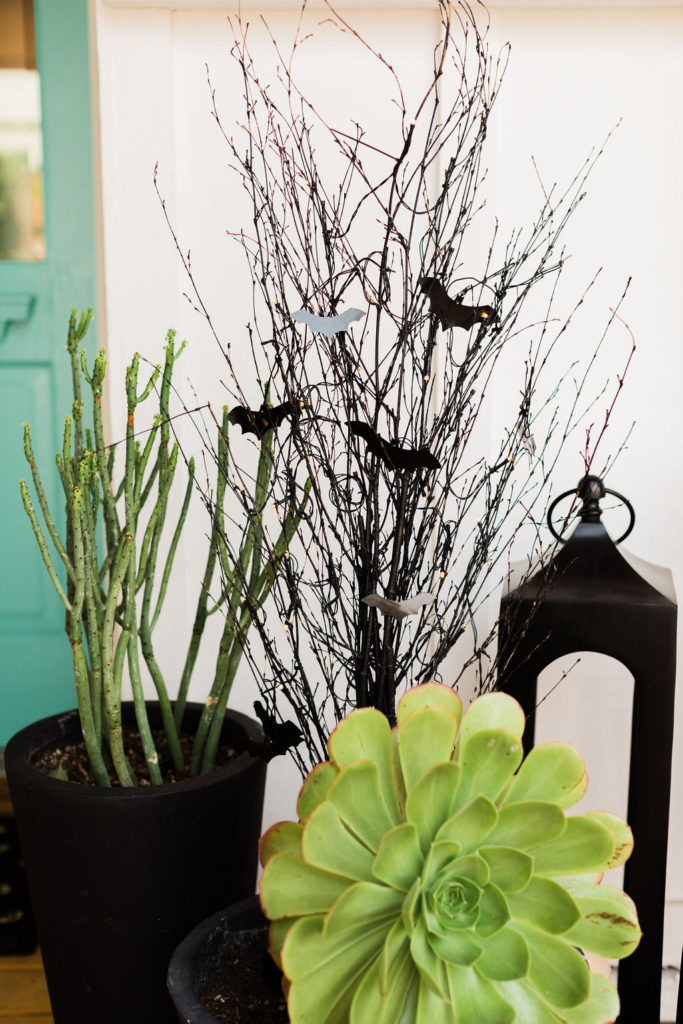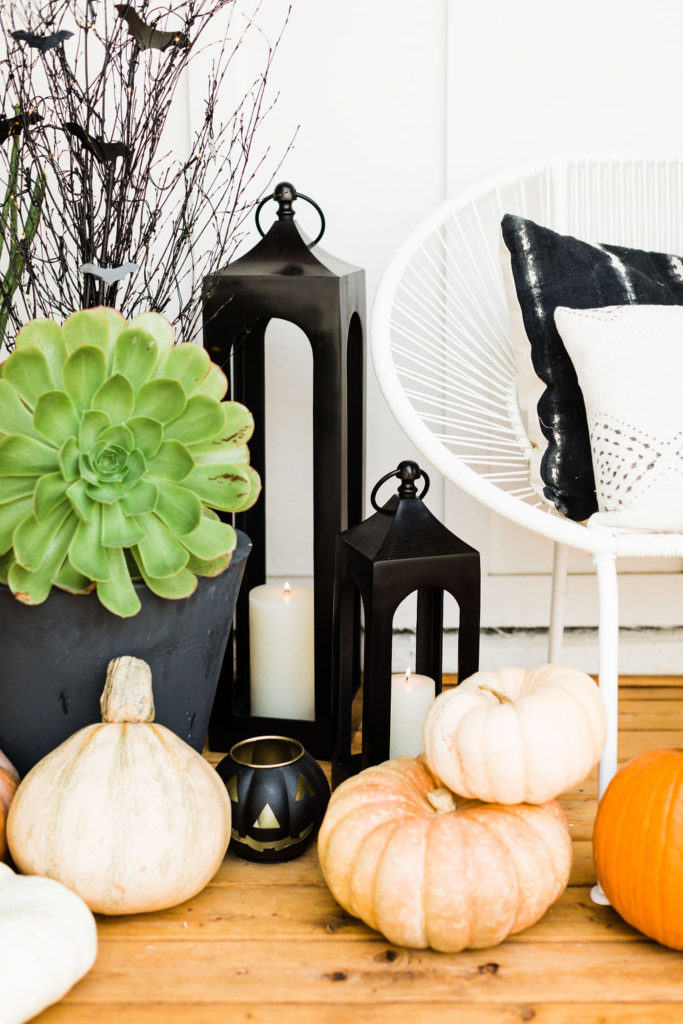 I absolutely love it all together!!! But wait, there's more! My front porch is kind of big you guys… So more fun decor!!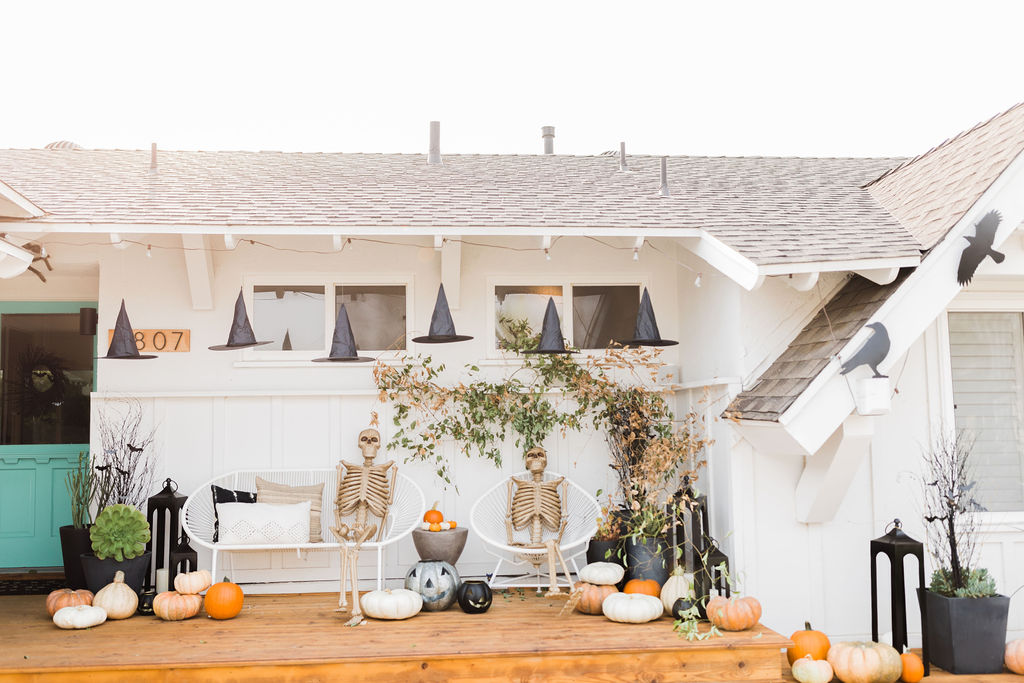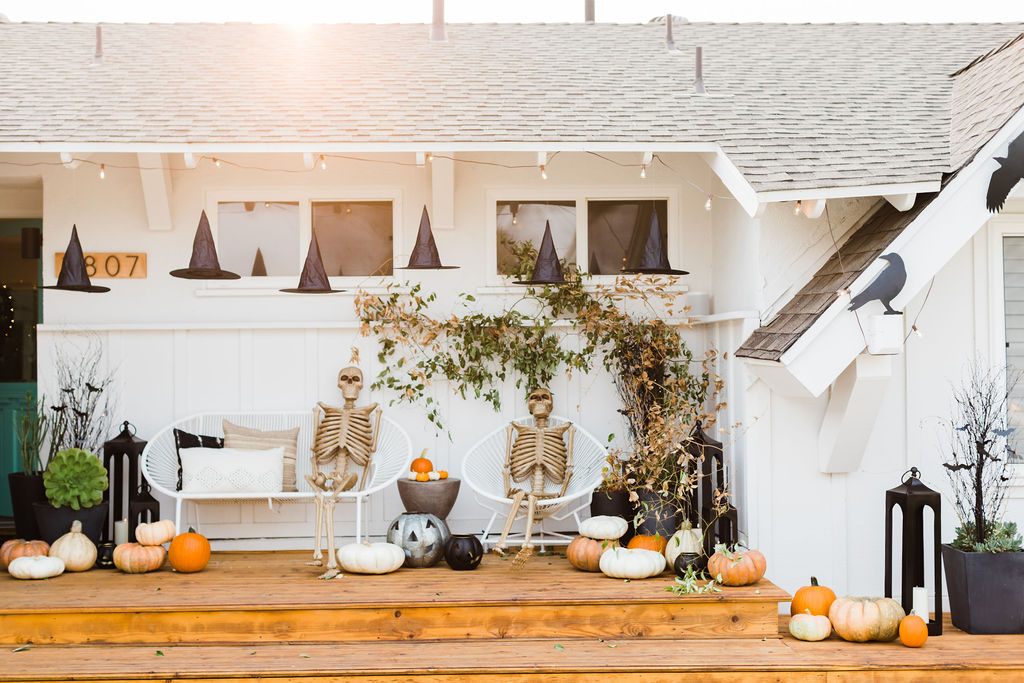 Like this spot! I'm obsessed with these Silhouette Crows, they are a MUST!! How great do they look on the house? I think I may need more of them! They are so simple but add such great spooky detail.
The pre-lit Black Glitter Branches with Bats are so fun as well! I placed them in my larger potted succulents and they add some fun sparkle to the porch. Plus the light-up factor is really fun at night!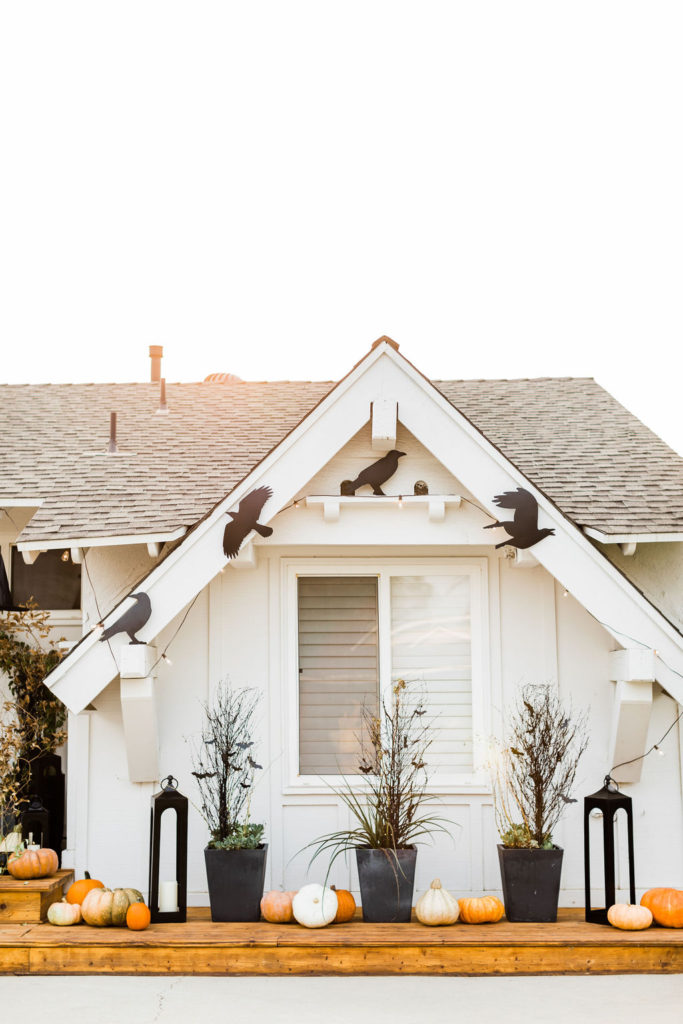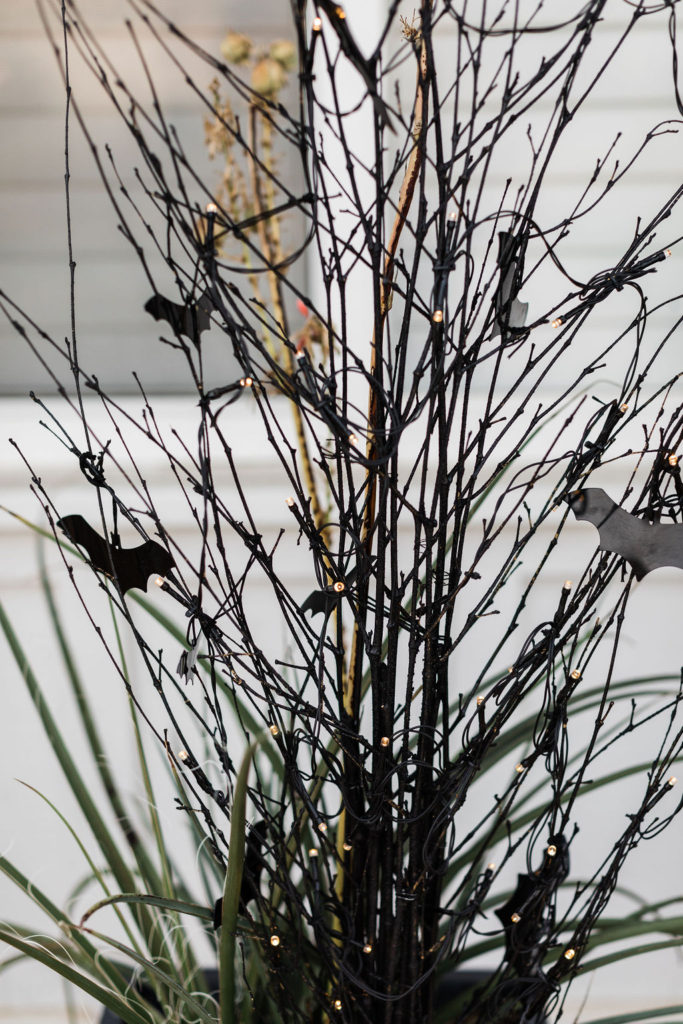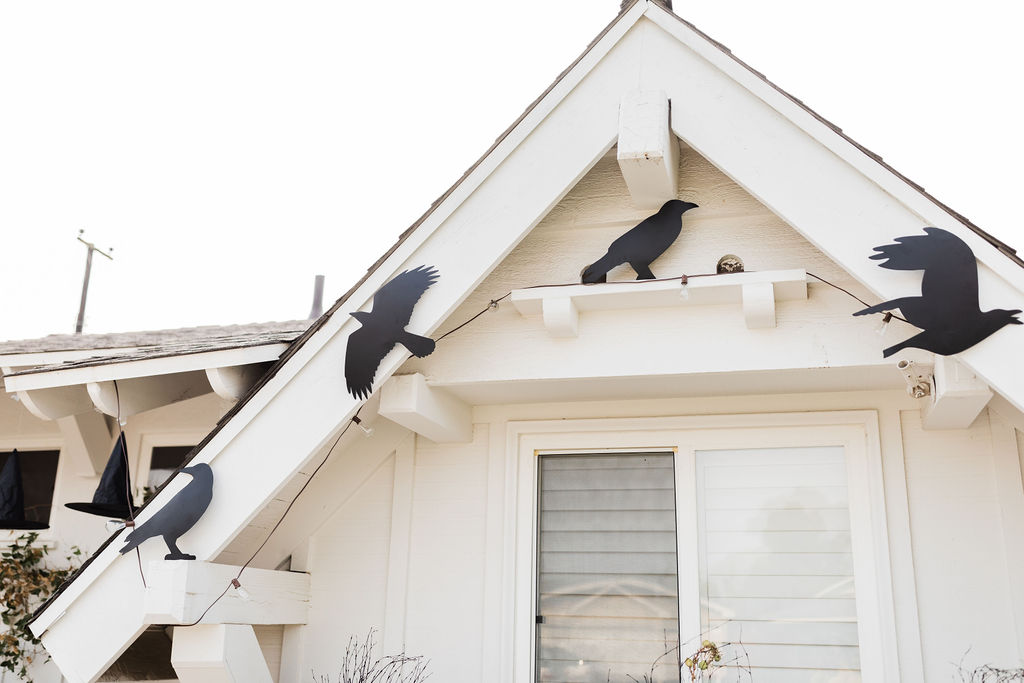 I also got these String Lights from Pottery Barn to add to the overall ambiance. They let everyone see my cute decorations at night too!! Win, win situation!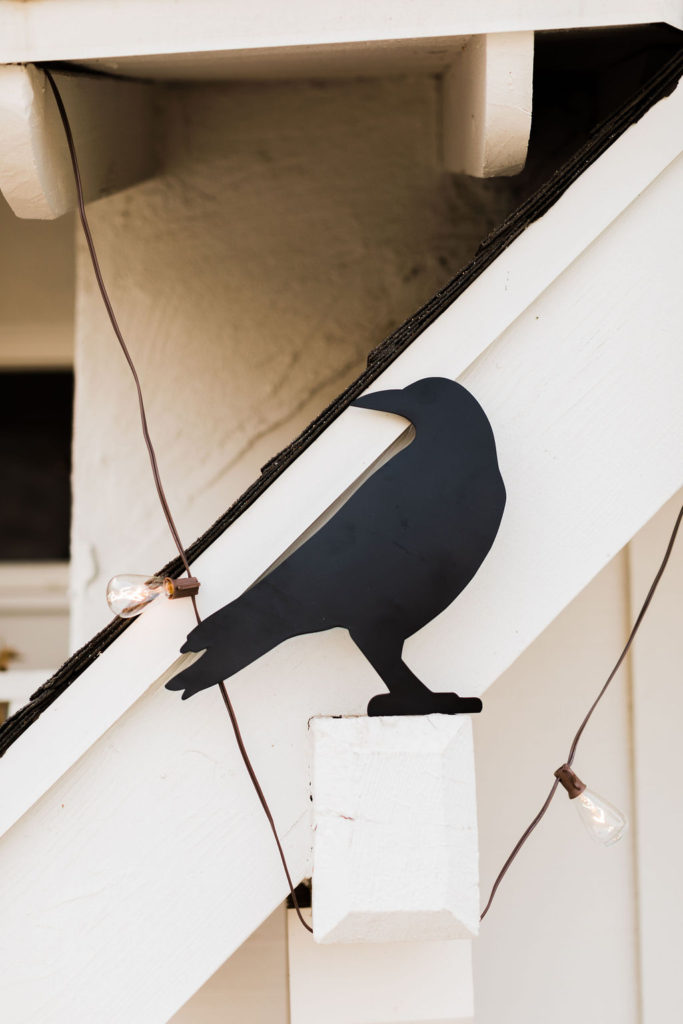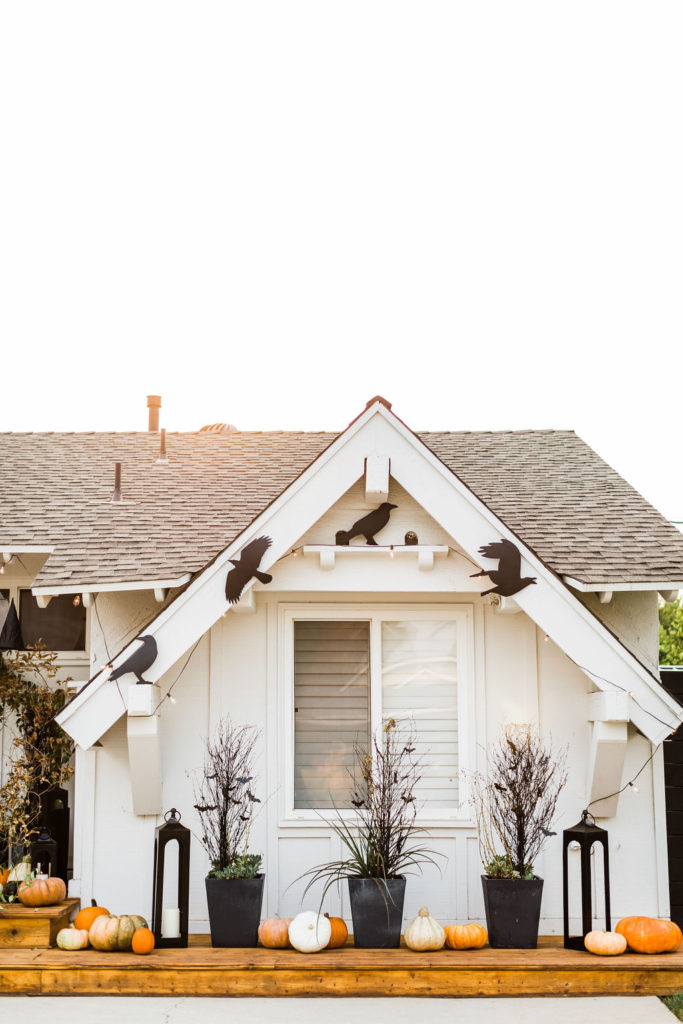 Next up, the front door! This window below is a little bit hidden so it was the perfect spot to surprise guests with this Lit Crystal Spider Web. I have to say, this is actually so gorgeous in person! Pretty Halloween decor?! Yes, please!!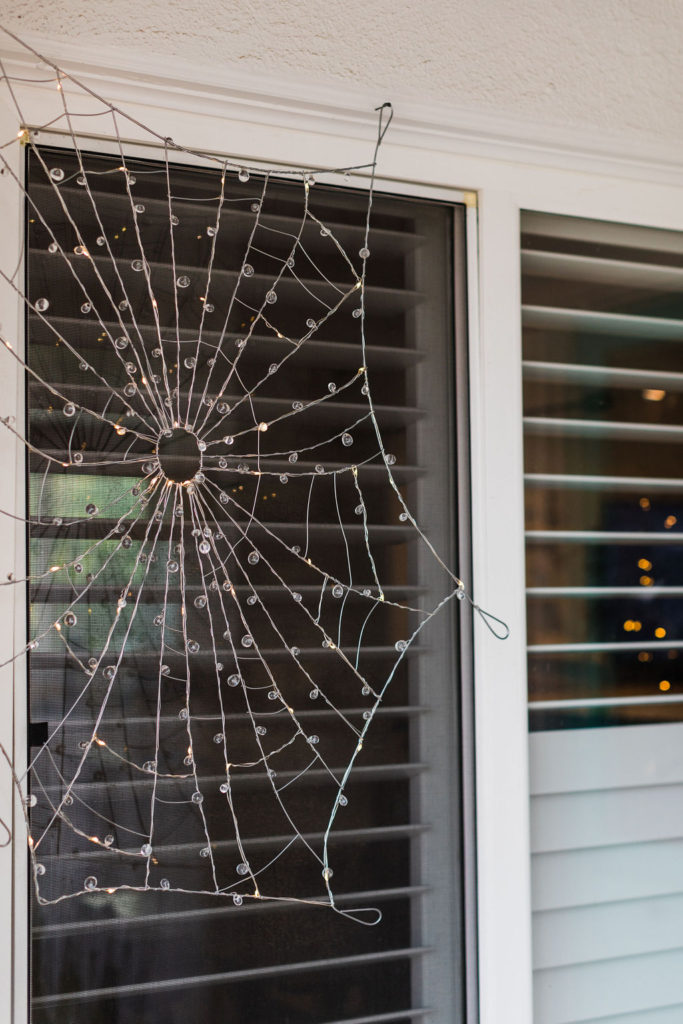 Next up, this furry little guy! He happens to be my kid's favorite, as a matter of fact, he's every kid's favorite that comes over! This Moving Spider jumps down and surprises, or scares, visitors that come to the door. And also drives my dogs a little crazy, haha, but worth it 100%!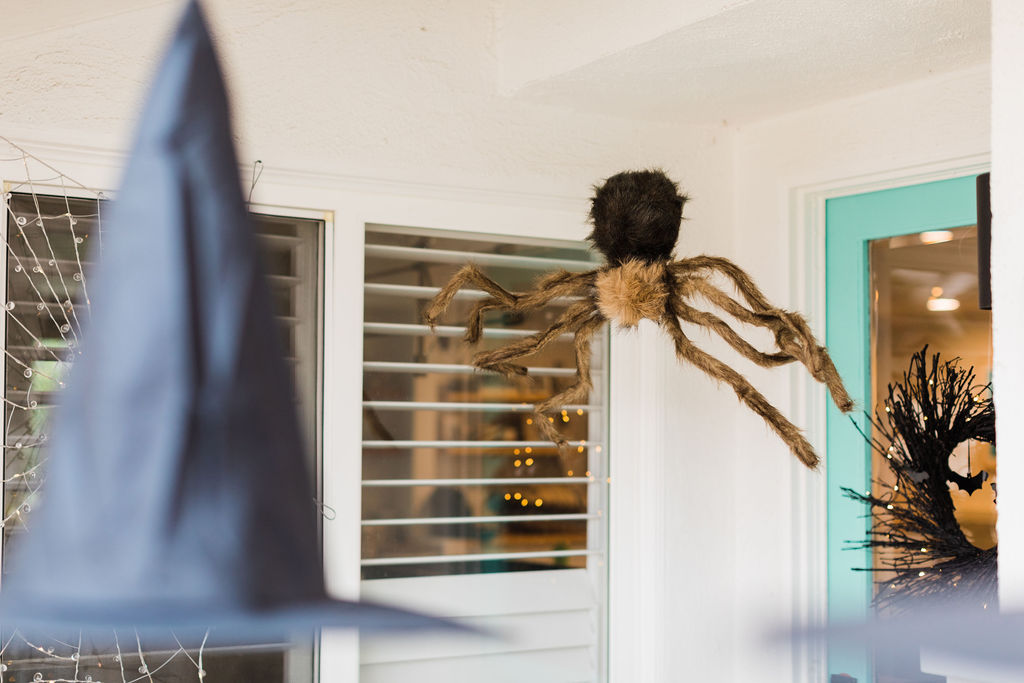 A few more details, like the Pre-Lit Black Glitter Branch Wreath, and the Spooky Eyes Glowing Doormat, and your front door is set! Oh, and don't forget pumpkins! Never forget pumpkins…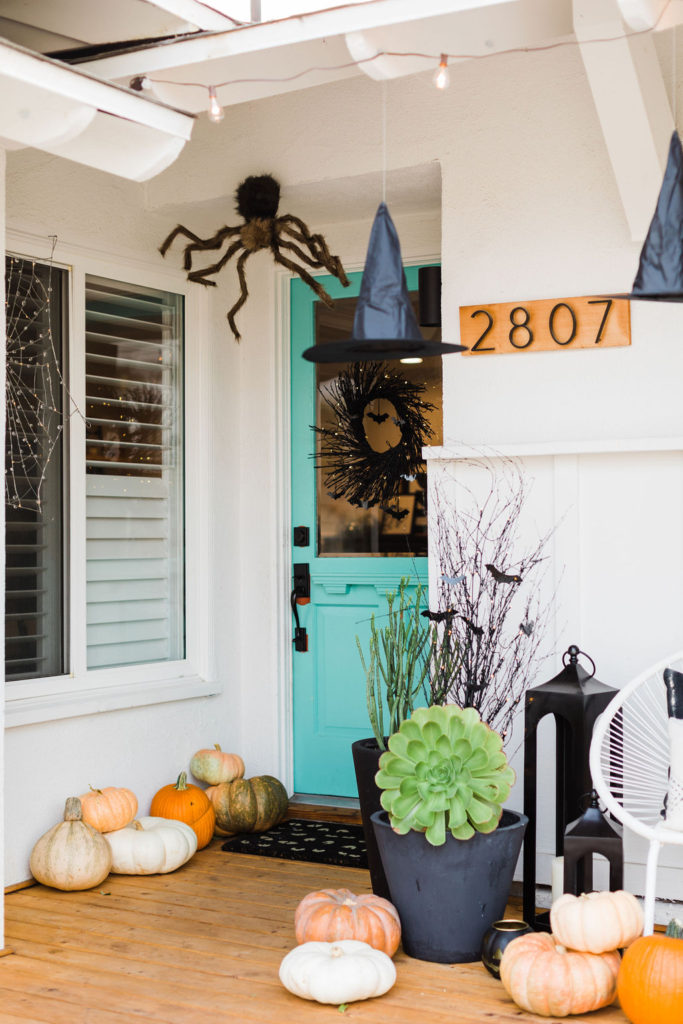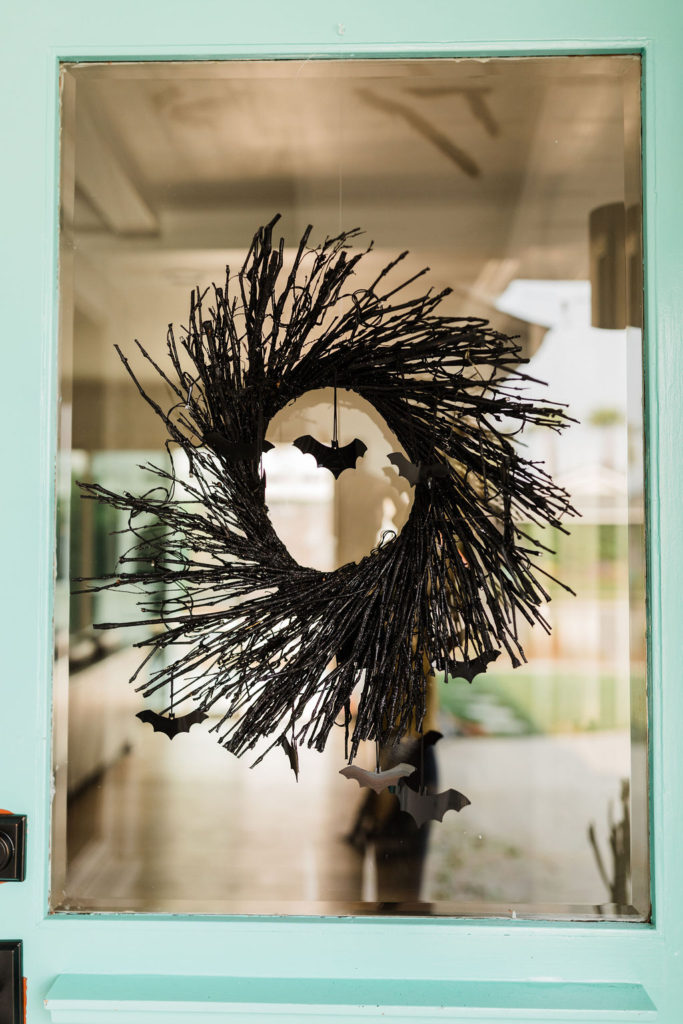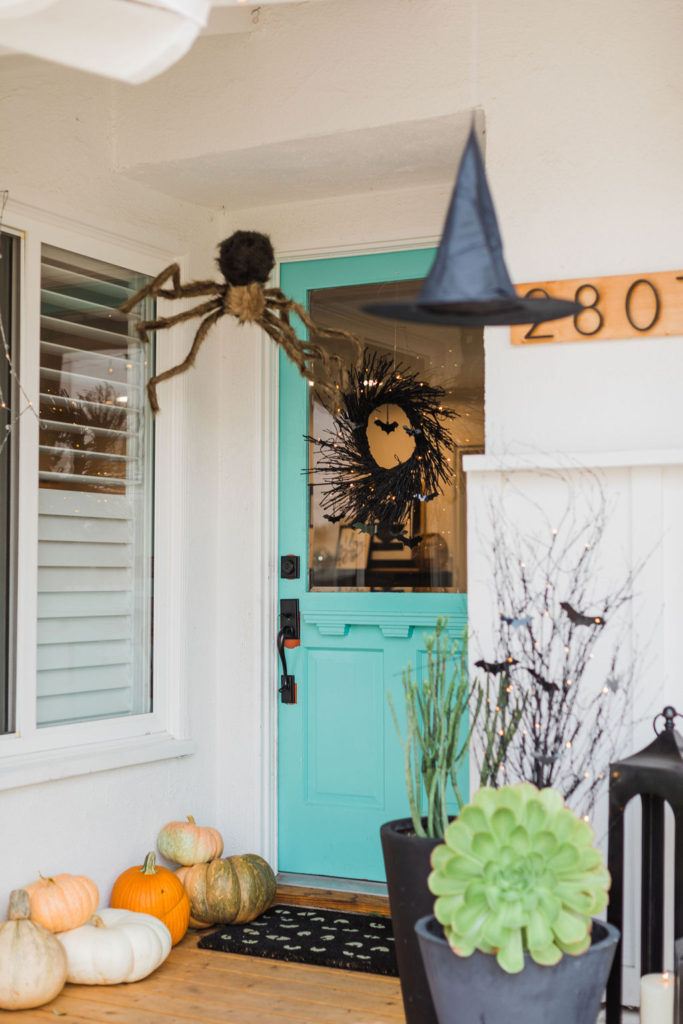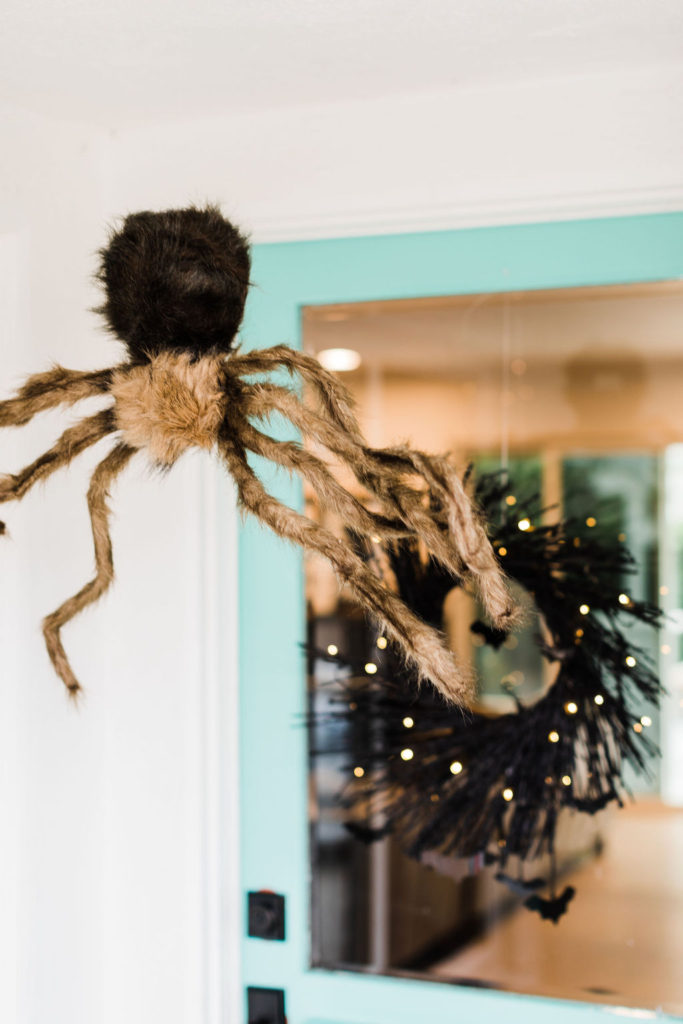 As you all know, we take holidays seriously over here. Even the silly ones! But Halloween has always been a favorite for me, and it's my boys' favorite as well. So I really enjoy going all out, even if I do look a little crazy doing it in mid-September!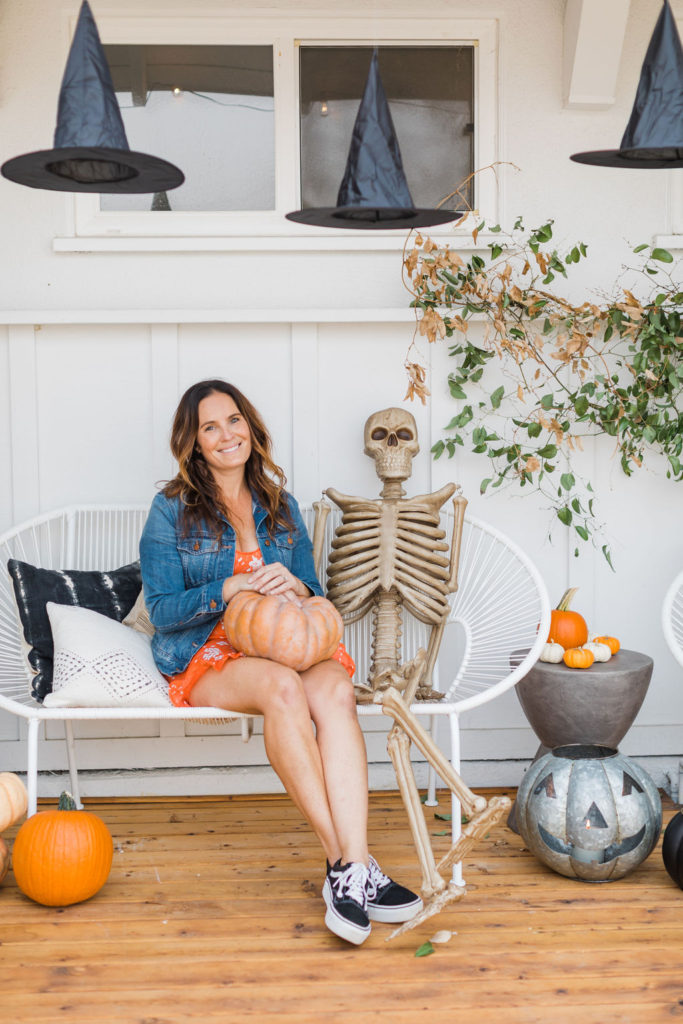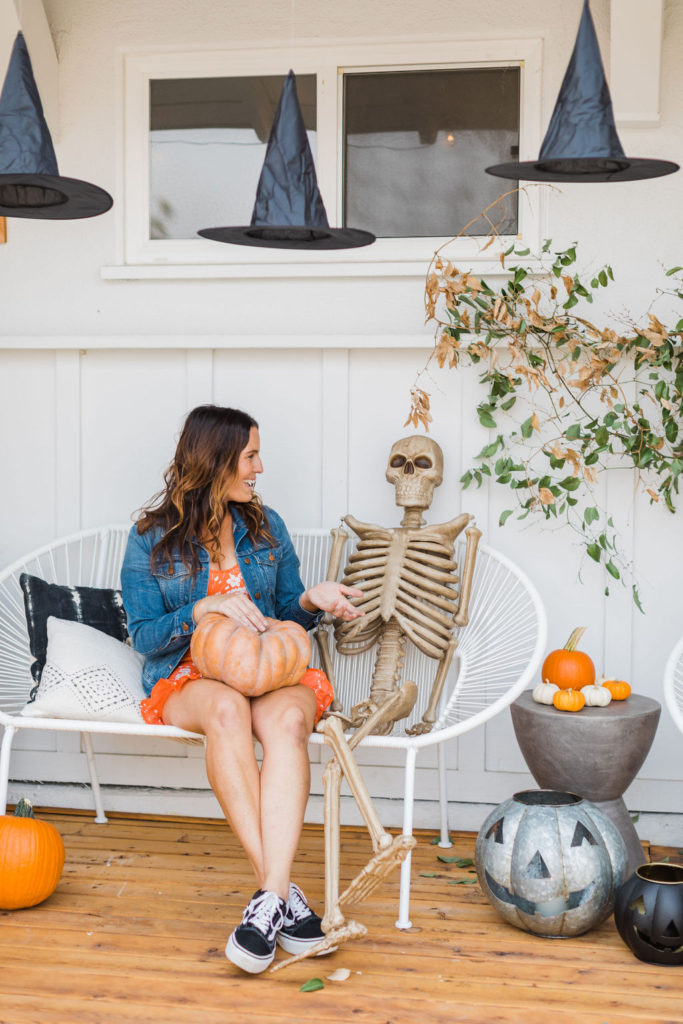 I'm ready for Fall, and my house and I are dressed for it! How cute is this orange dress from Saltwater Luxe? Paired with my vans and a jean jacket, and I'm ready for all the Fall things… Floating witch hat optional…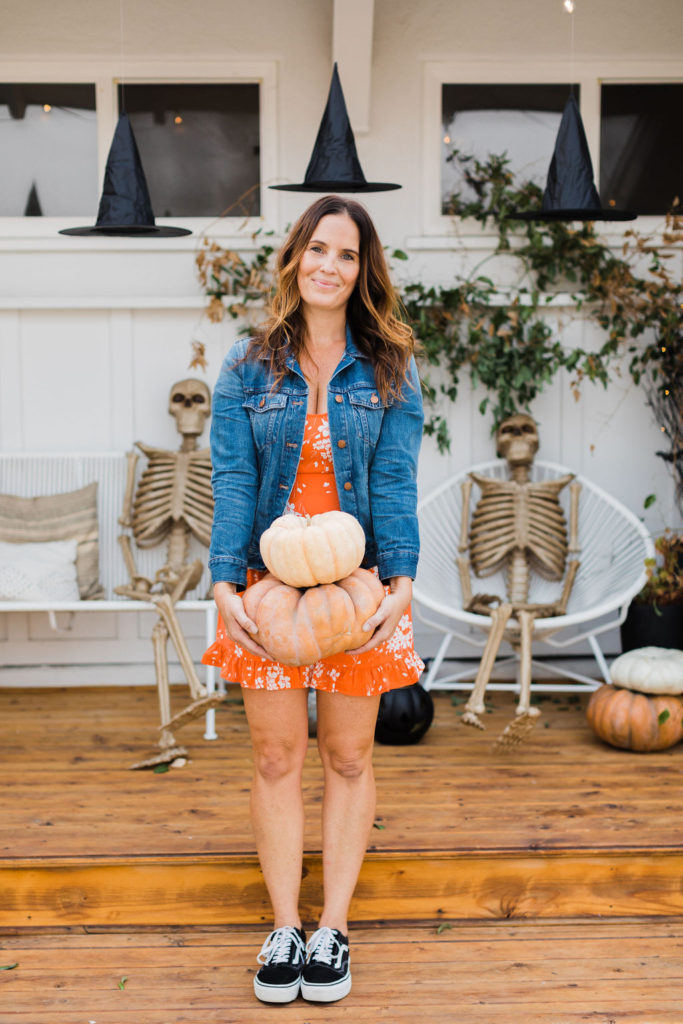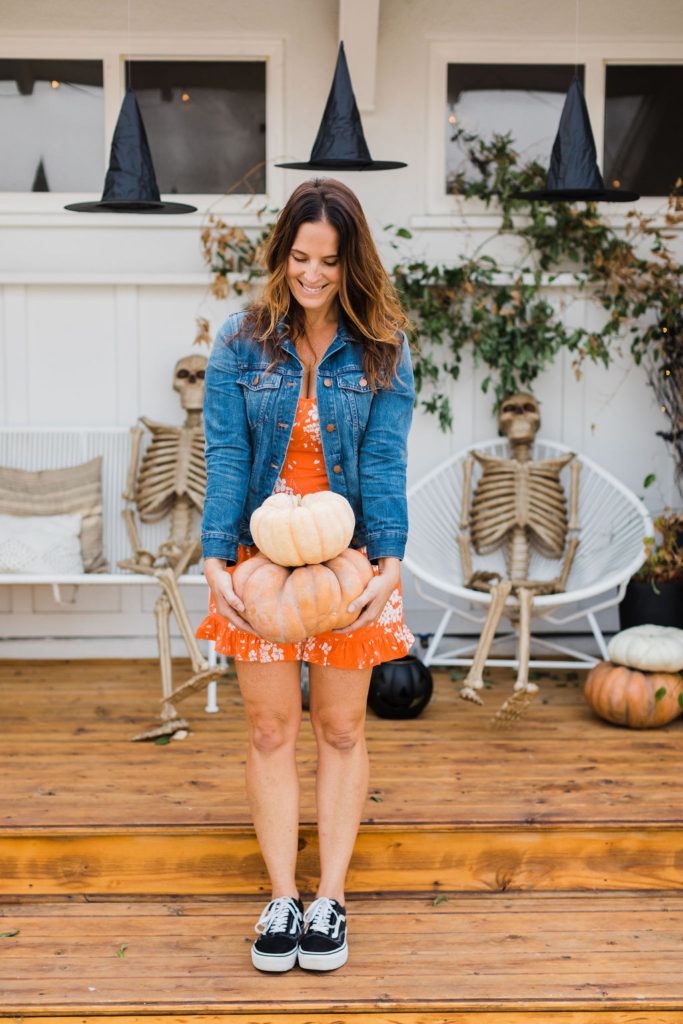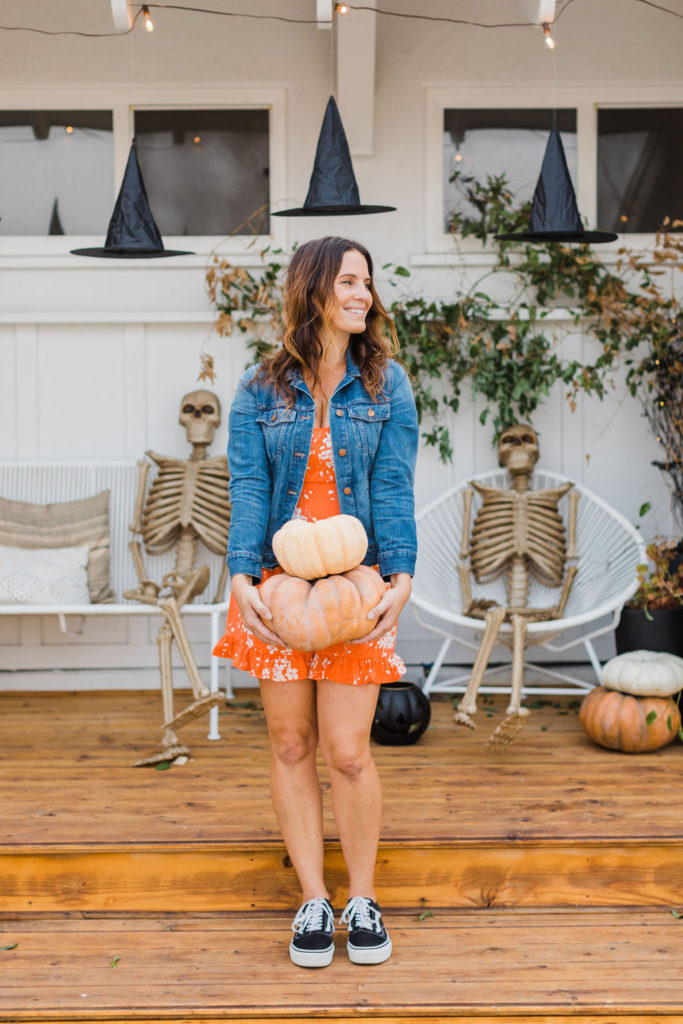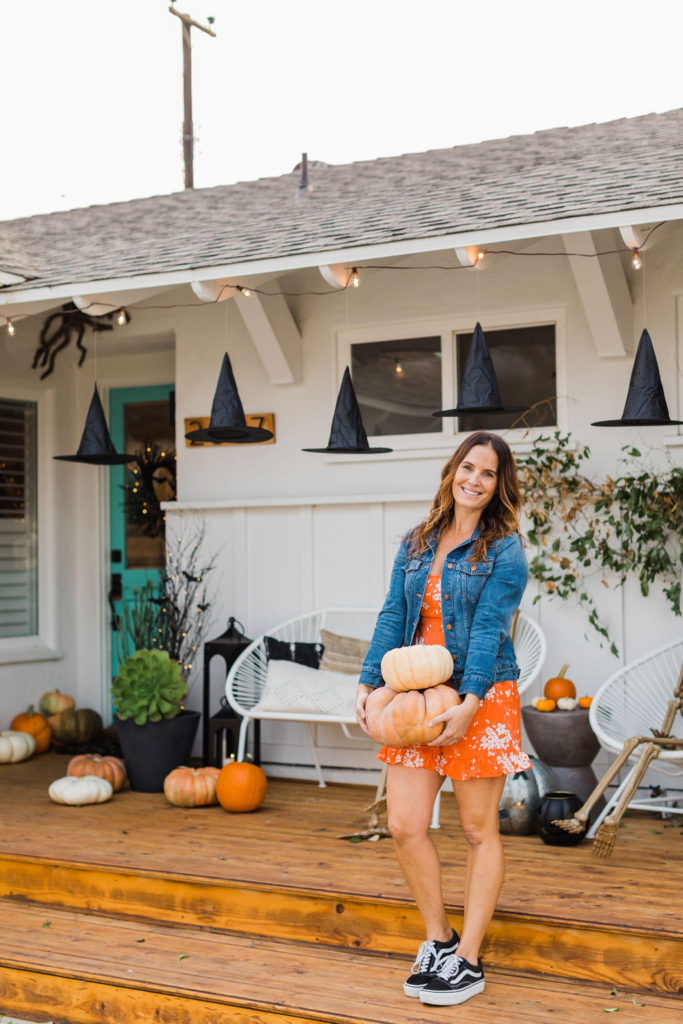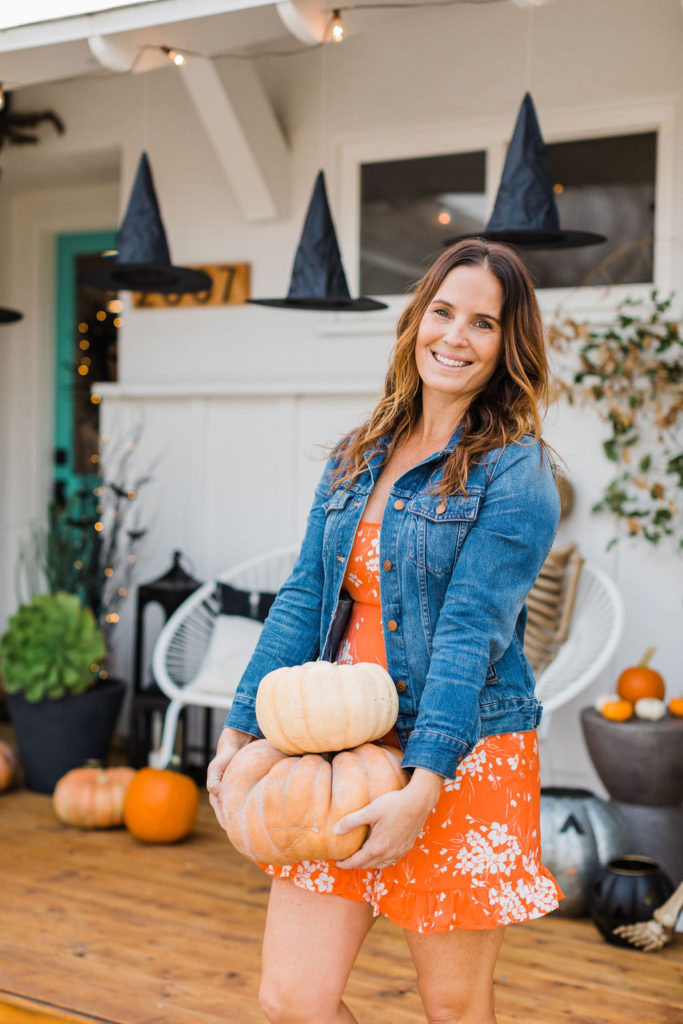 And there you have it, folks! My front porch decor for Halloween with Pottery Barn! What do you think?! Are you going to get your house decked out like mine? I have it all ready to shop at the bottom of this post if you are!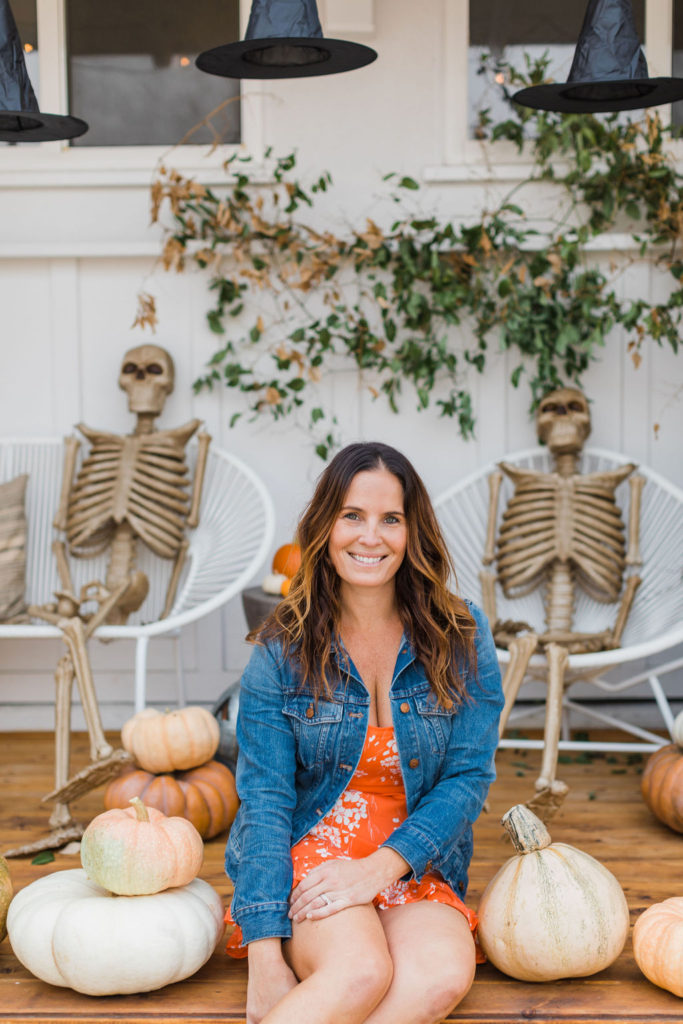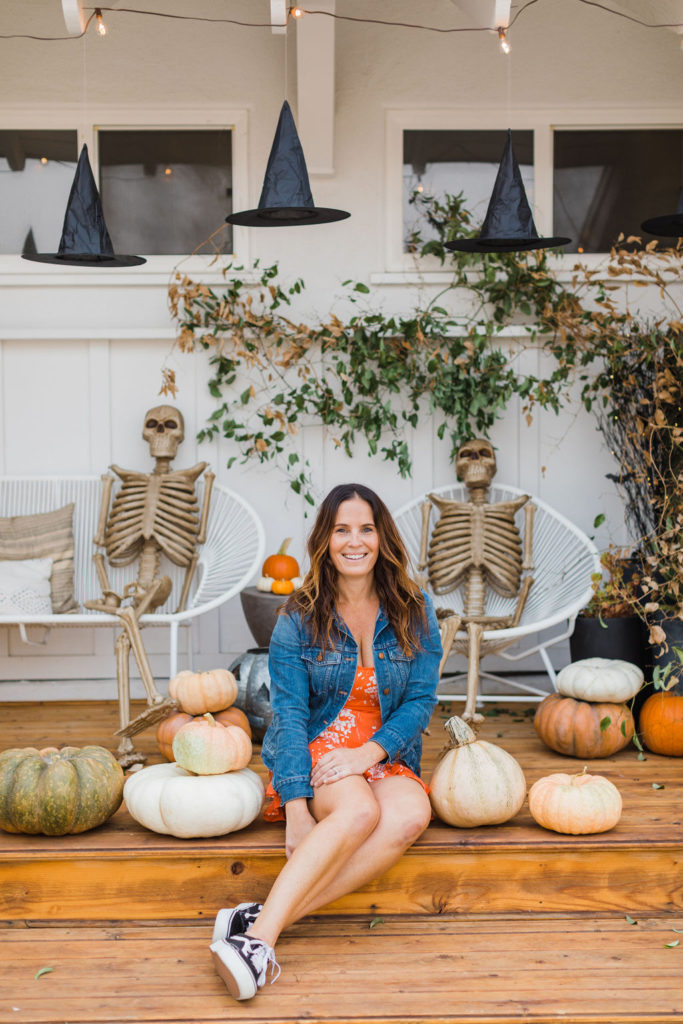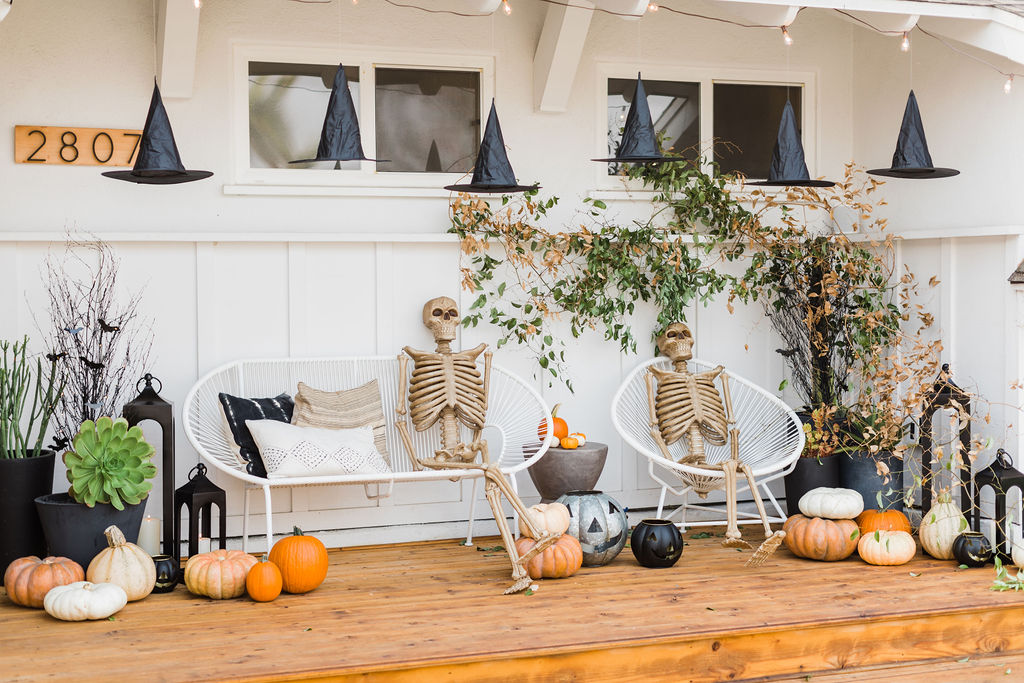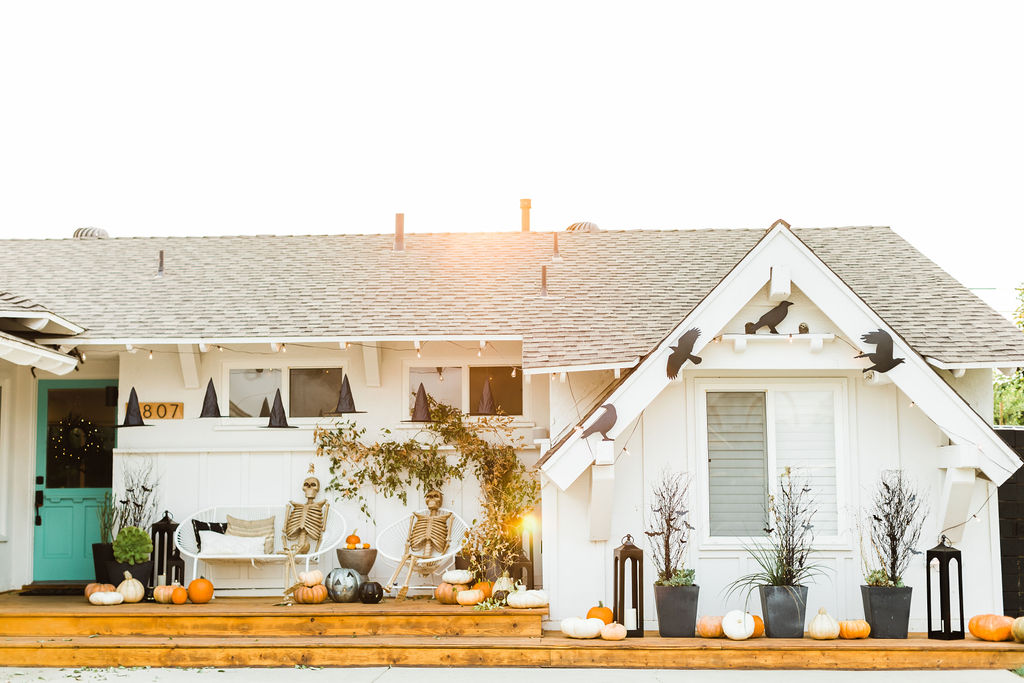 Shop all my favorite Halloween decor pieces below!!

xx
Jacquelyn