With New Year's Eve happening tomorrow, you are probably ready to start off 2020 on the healthy side. So why not start on New Year's Eve! Are you hosting or having a gathering with family and friends? I have two salad recipes that will not only wow your guests, but you are also helping them start the new year on the healthy side. I teamed up with our friends over at Taylor Farms to create fresh, wholesome, and organic salads that are festive for your New Years' dinner. You probably have had Taylor Farms salad kits, they are in all the grocery stores. These salad kits are a staple in my house. Fresh and delish, and they are ready and on the table in under 2 minutes.

My two favorite ones are the Asiago Kale Chopped Kit and the Tangerine Crunch Chopped Kit this time of the year. You can most certainly serve as they come, but I like to add a bit more fresh products into the salads to help create a more holiday taste to them. So run on over to the grocery store, and pick up your salad kits today, and let's start 2020 off on the right track!

Photos by Dayna Studios
---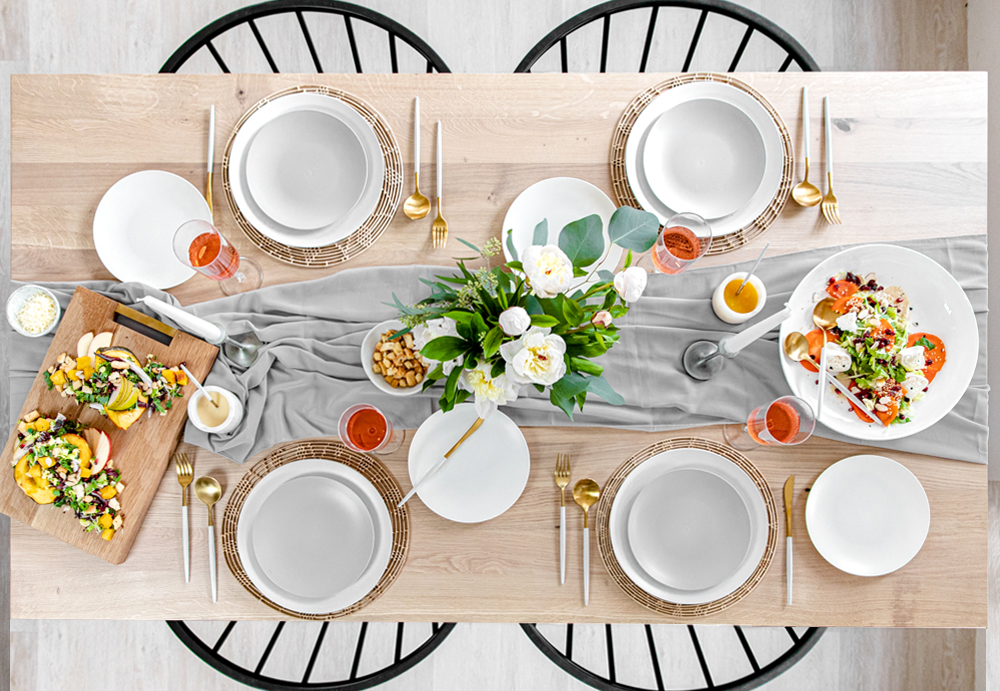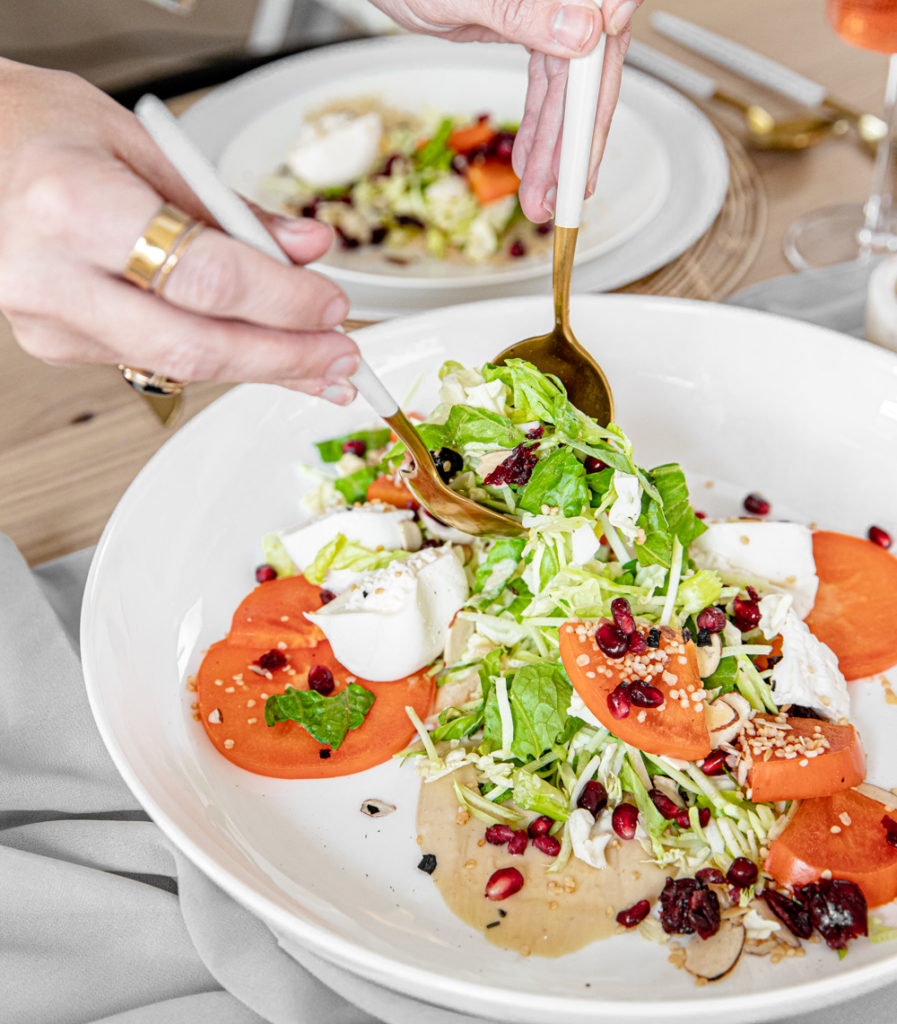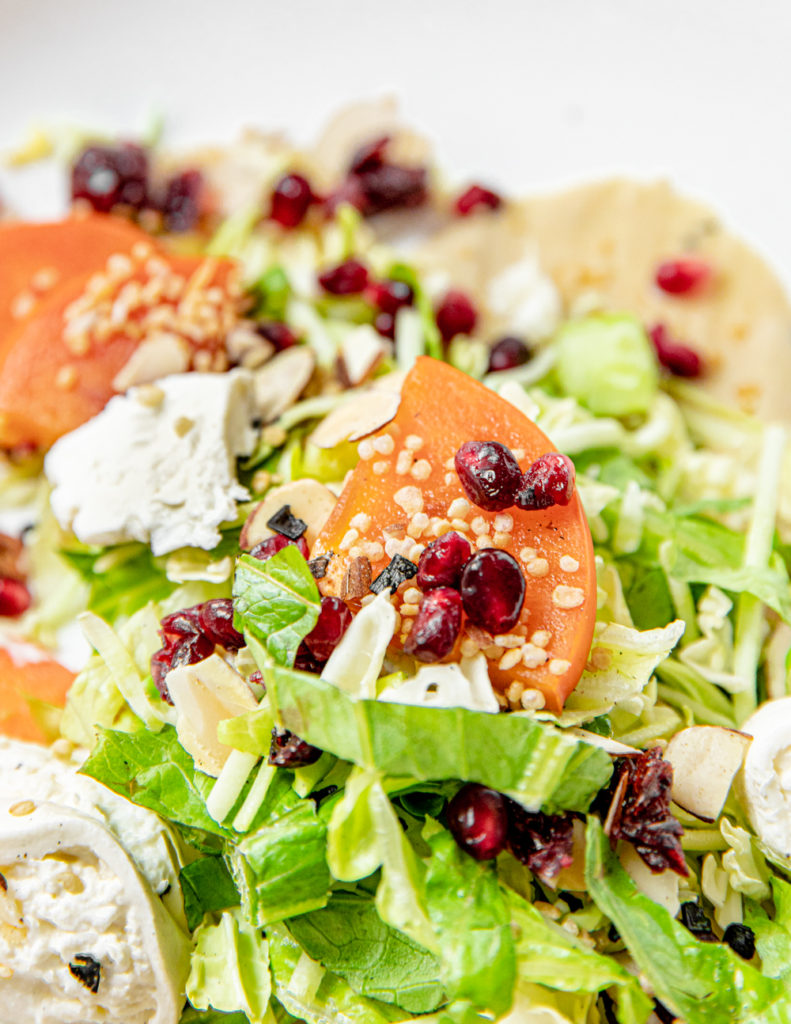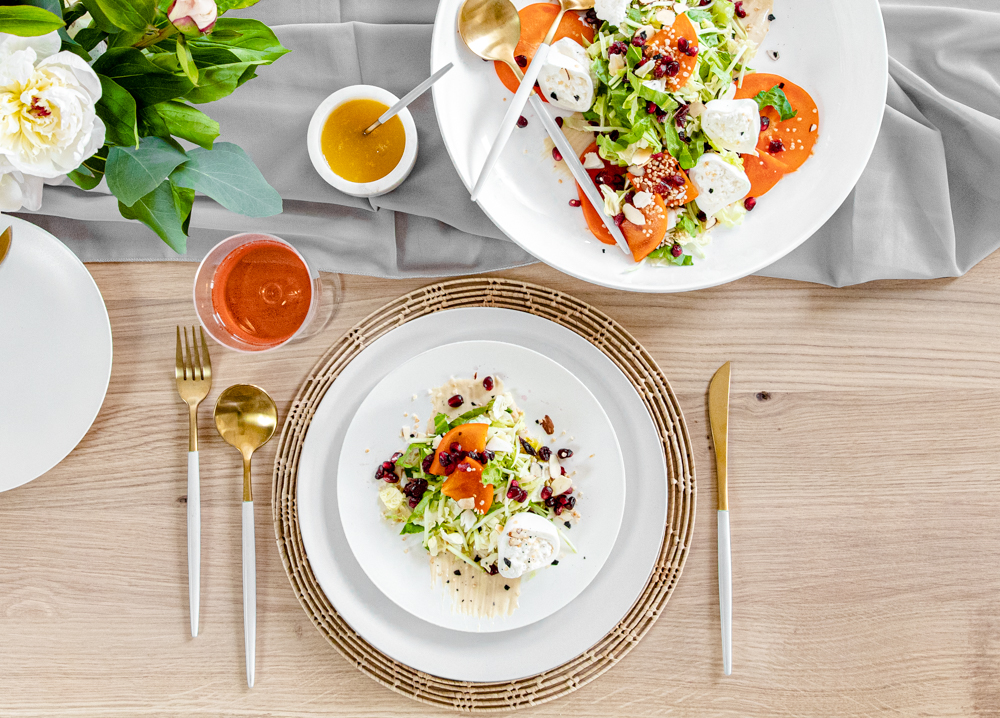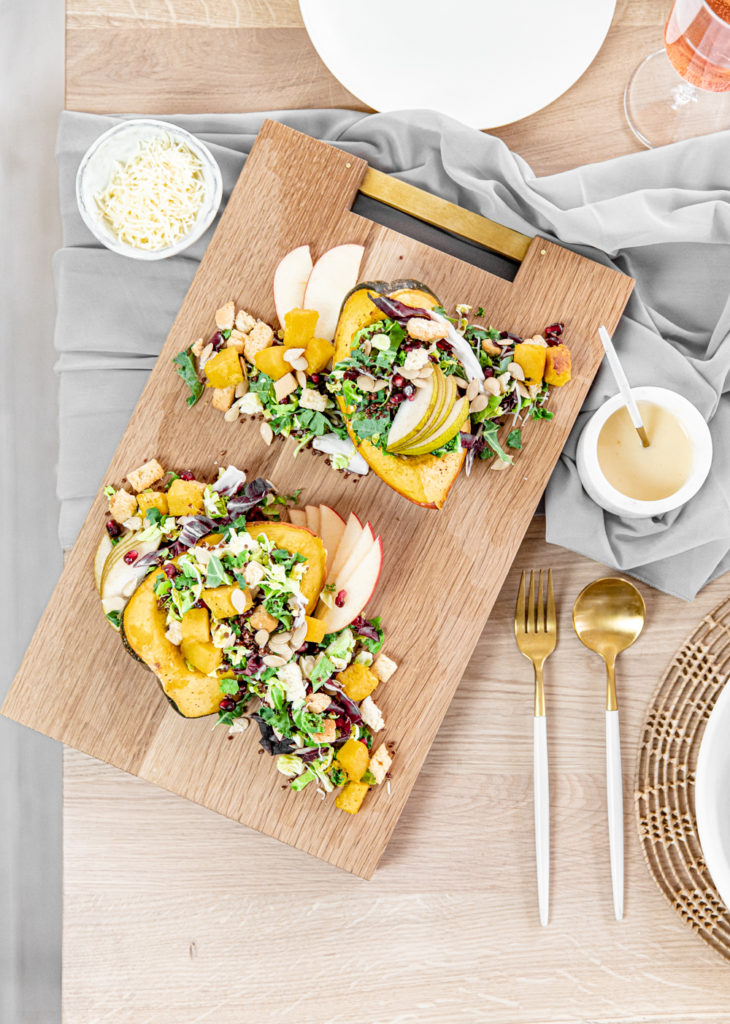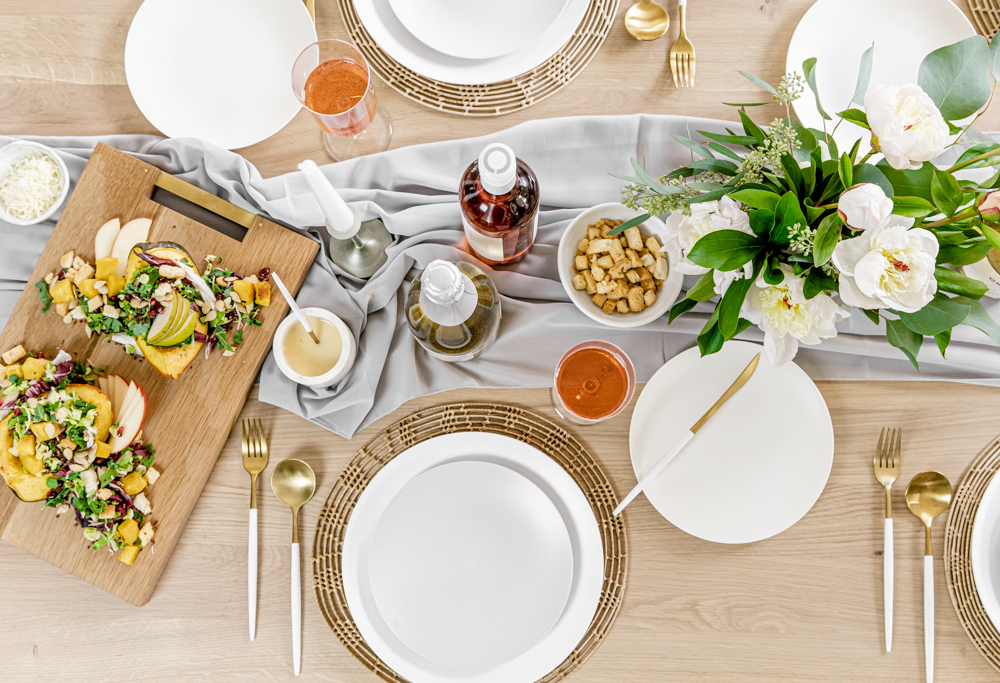 ---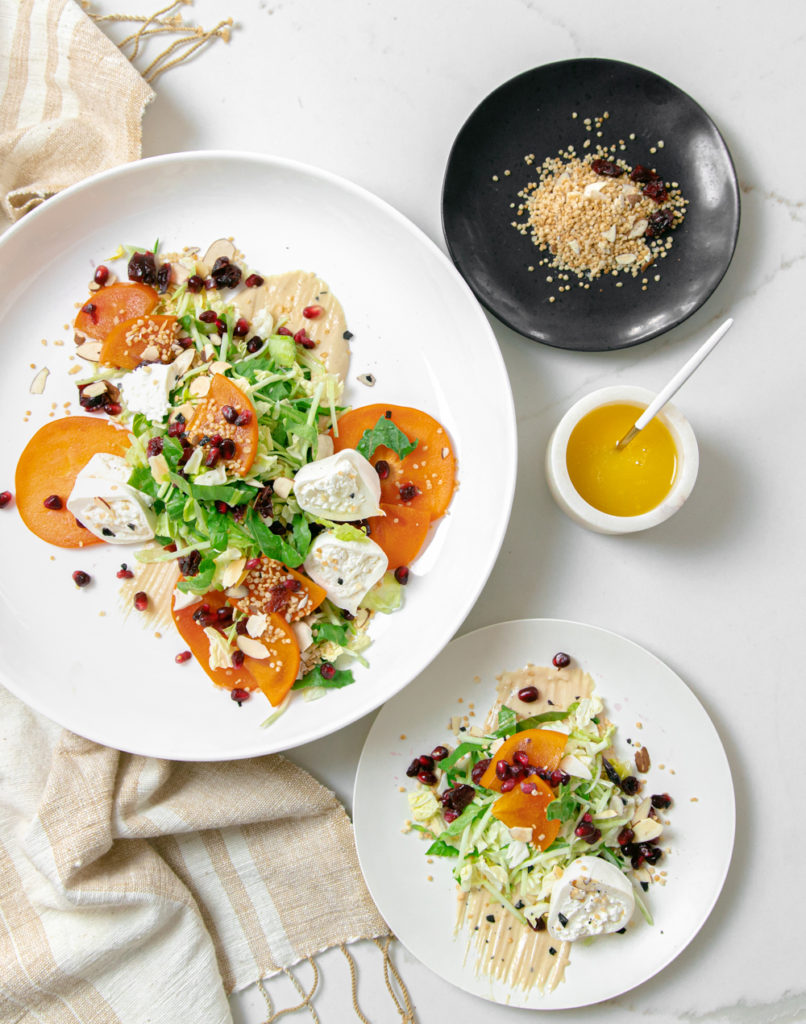 Tangerine Crunch Salad with Persimmons, Burrata and Cashew Butter
SERVES: 4-6 | PREP: 10 MINUTES | COOK: 0 MINUTES
W H A T Y A N E E D!
Tangerine Crunch Chopped Salad Kit
Burrata
Pomegranate Seeds
Cashew Butter
Persimmons

B U S T O U T:
Large Salad Plate for serving
Flatware
Mixing Bowl
Basting Brush
---
I N S T R U C T I O N S
Let's chat cashew butter really fast. I make my own simply by putting raw cashews in the food processor and letting it grind down and turn into butter. It is actually really fun to watch how it goes from ground up cashews to a butter consistency. You can also buy at the store, but I always go the homemade route.

Take a large plate and smear your cashew butter on the plate. I used a kitchen basting brush, but you can also use a spoon. Slice up the persimmons, and place around the cashew butter. In a mixing bowl, toss the salad kit together with its delish tangerine dressing and all its yummy toppings like toasted quinoa, cranberries, and almonds. Along with what comes in the kit, add some pomegranate seeds as well. Nothing says the holidays like cranberries, pomegranates, and persimmons!

Place the salad in the middle of the plate on top of the cashew butter. Lastly, cut your burrata into chunks and place around the salad. I like to finish it off with a little sprinkle of pepper.
---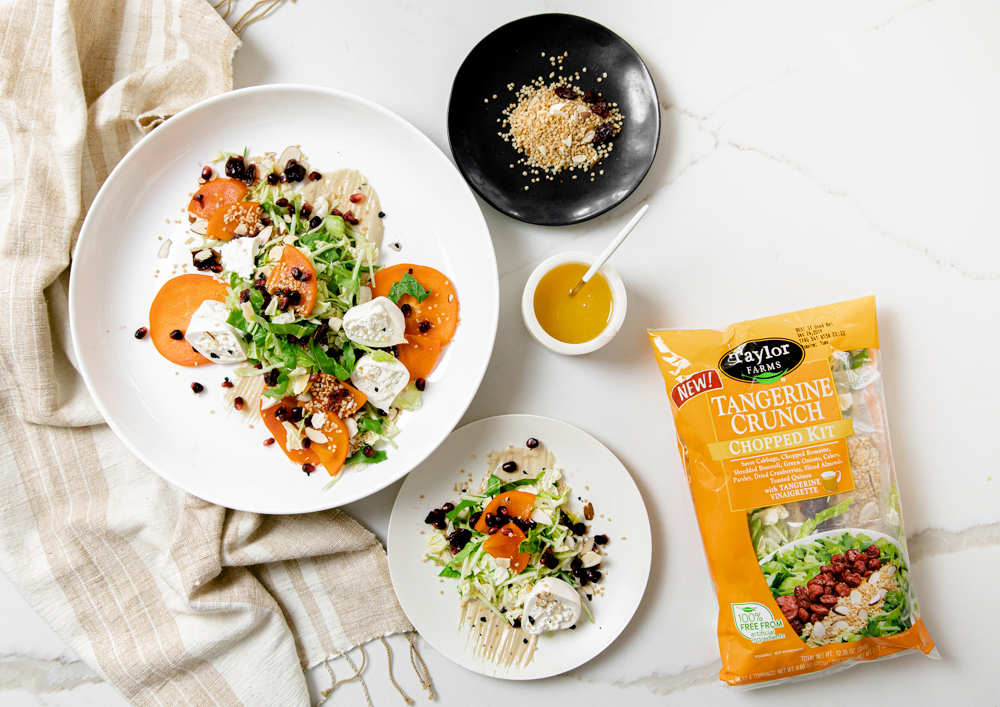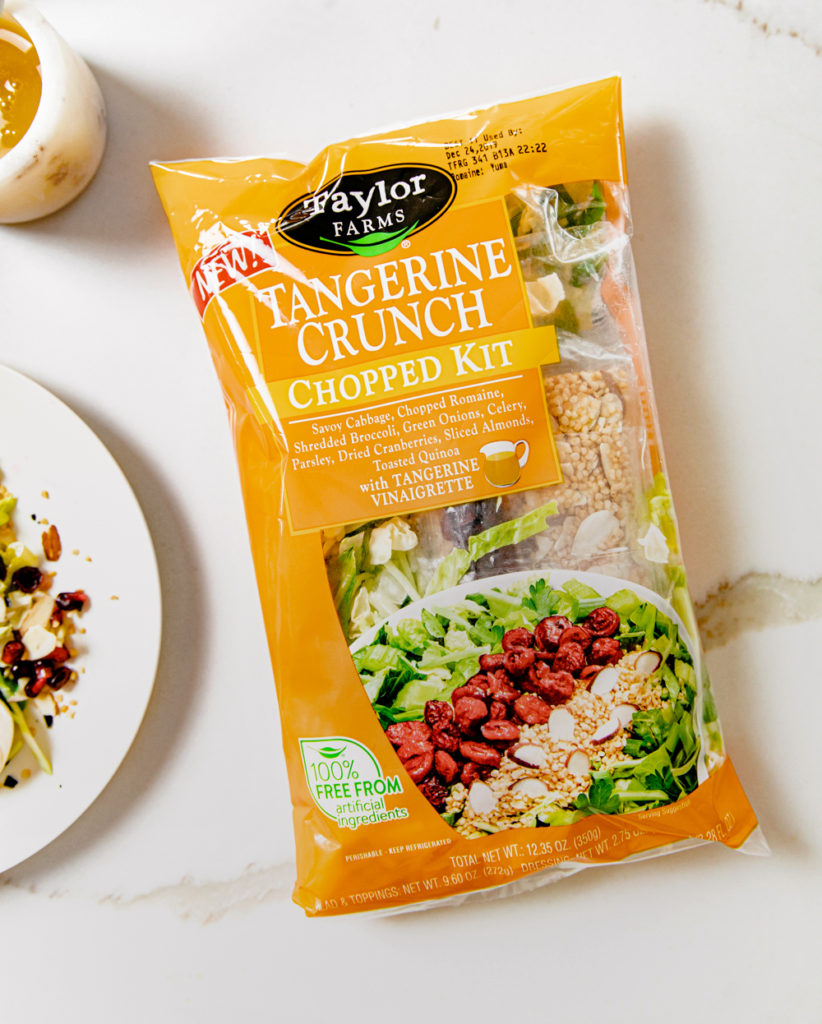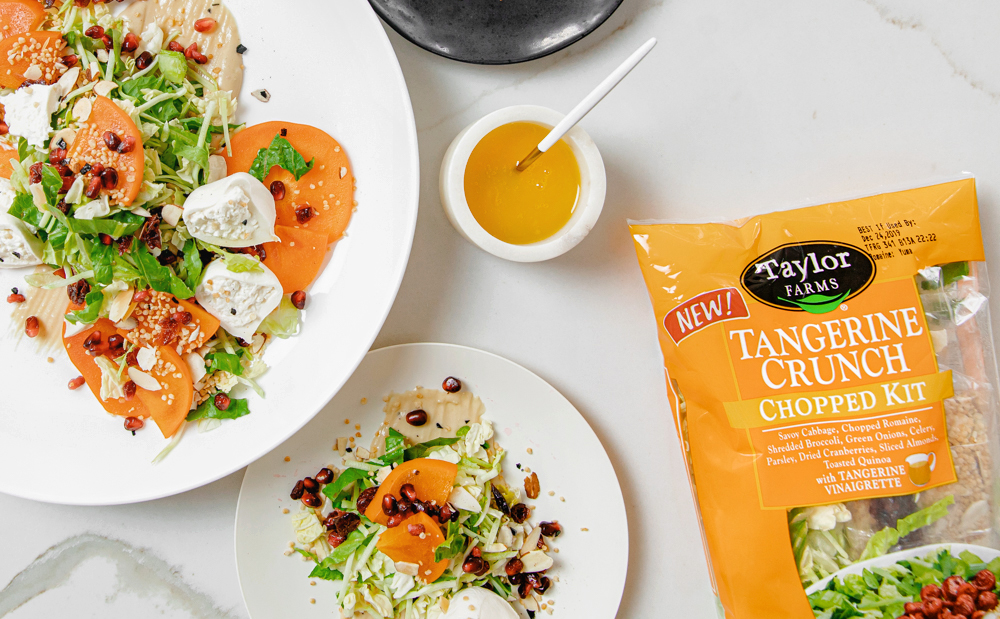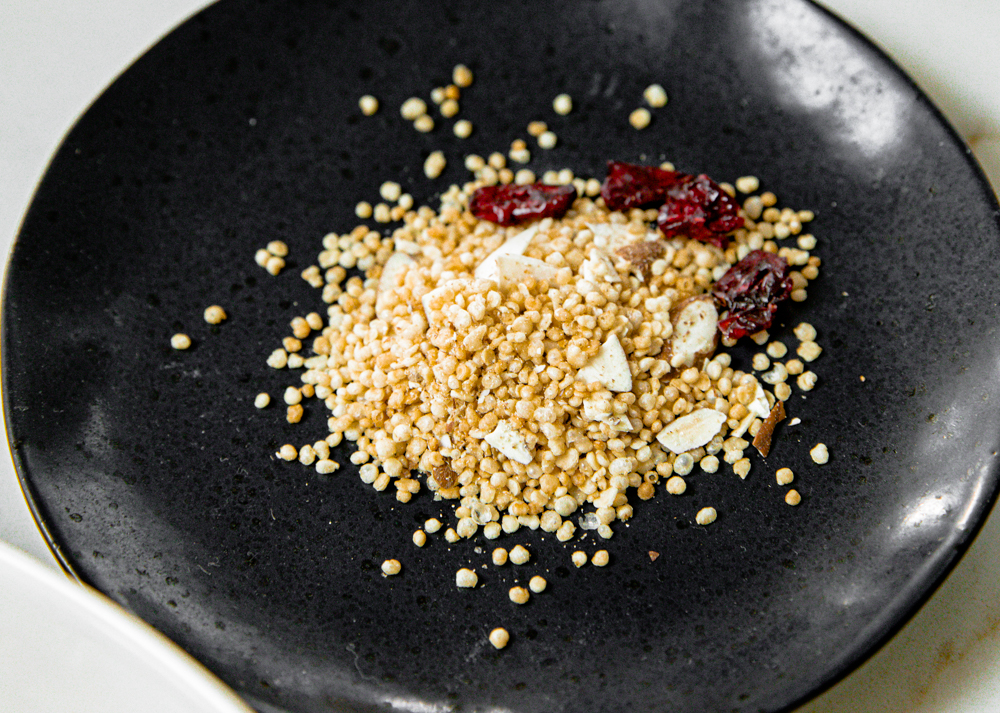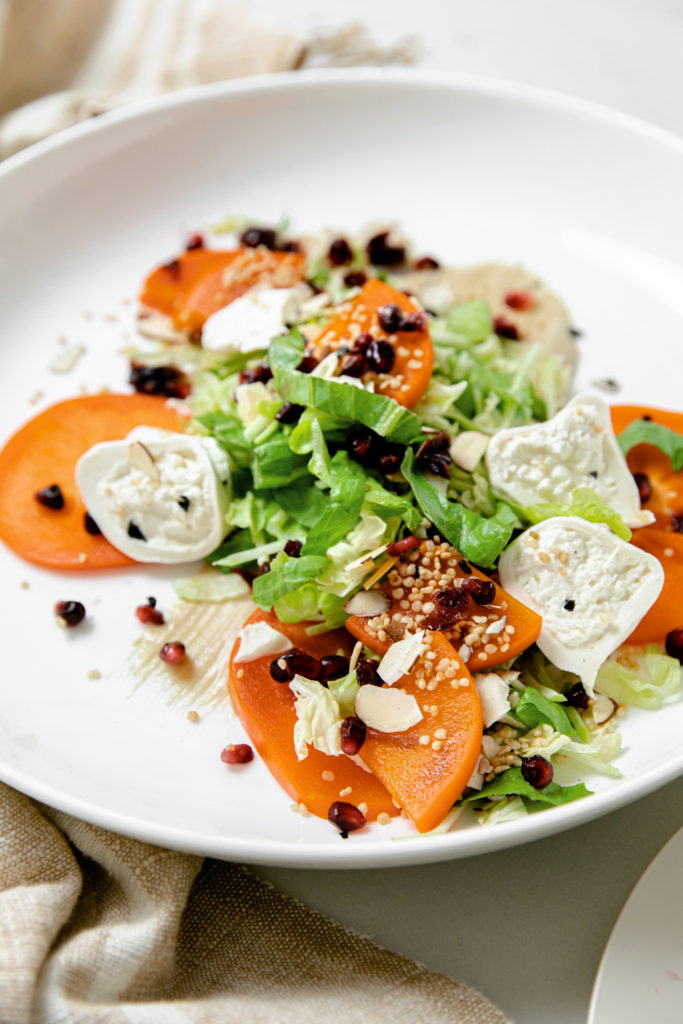 ---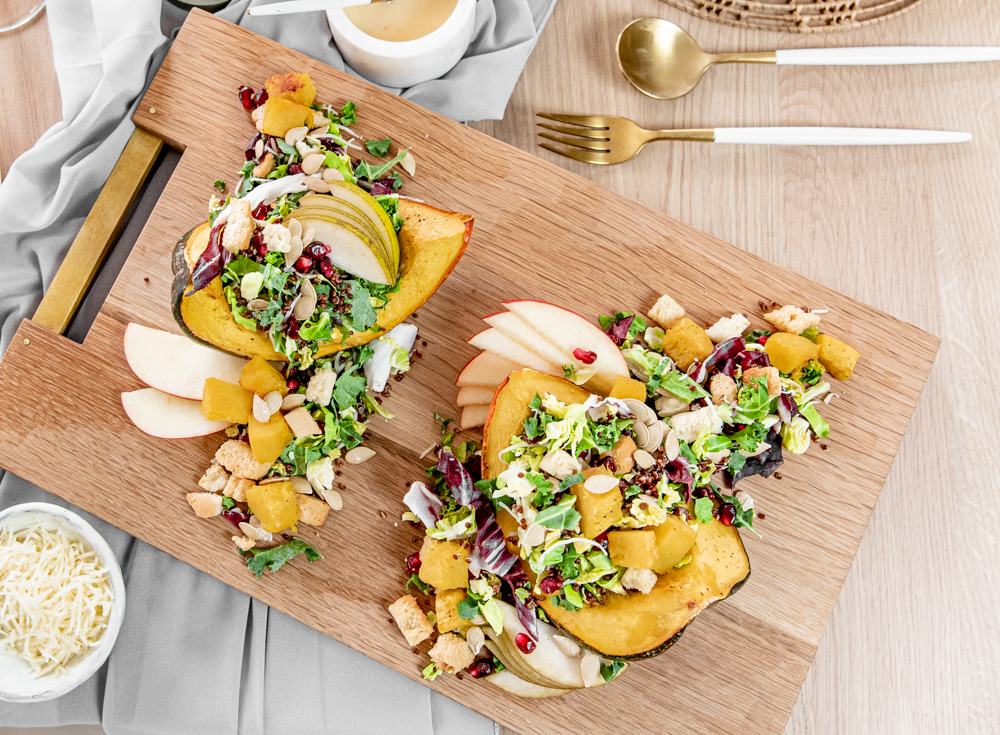 Asiago Kale Salad with Acorn Squash, Pears, and Apples
SERVES: 4-6 | PREP: 20 MINUTES | COOK: 30-45 MINUTES
W H A T Y A N E E D!
Asiago Kale Chopped Kit
Acorn Squash
Pears
Apples
Pomegranate Seeds

B U S T O U T:
Cooking Tray
Olive Oil
Strainer
Serving Board
---
I N S T R U C T I O N S
Start off by roasting the acorn squash in the oven for about 30-45 minutes until they are perfectly browned and tender. I like to set the oven to 375 degrees. Slice the squash in half and remove the seeds. Cut into wedges, you will be able to get about 4 wedges. Coat the wedges with olive oil and sprinkle them with salt and pepper.

For the seeds, place into a strainer and wash to get all the flesh off. Dry and set on a cookie tray lined with foil and toss with olive oil and salt + pepper. Preheat the oven to 275 degrees, and once the seeds are dry and dressed up with the olive oil, place in the oven for about 15 minutes.

Once the acorn squash is out of the oven and cooled, use one of the wedges and cut into chunks and remove the skin. Place the remainder wedges on your serving tray. In a mixing bowl, mix together the chopped salad and set carefully on top of the wedges. Take the chopped acorn squash and sprinkle on top of the salad. Followed by the acorn squash and pomegranate seeds. Finally, slice the pear and apples thinly, and fan out and place in the corners of the acorn wedges.
---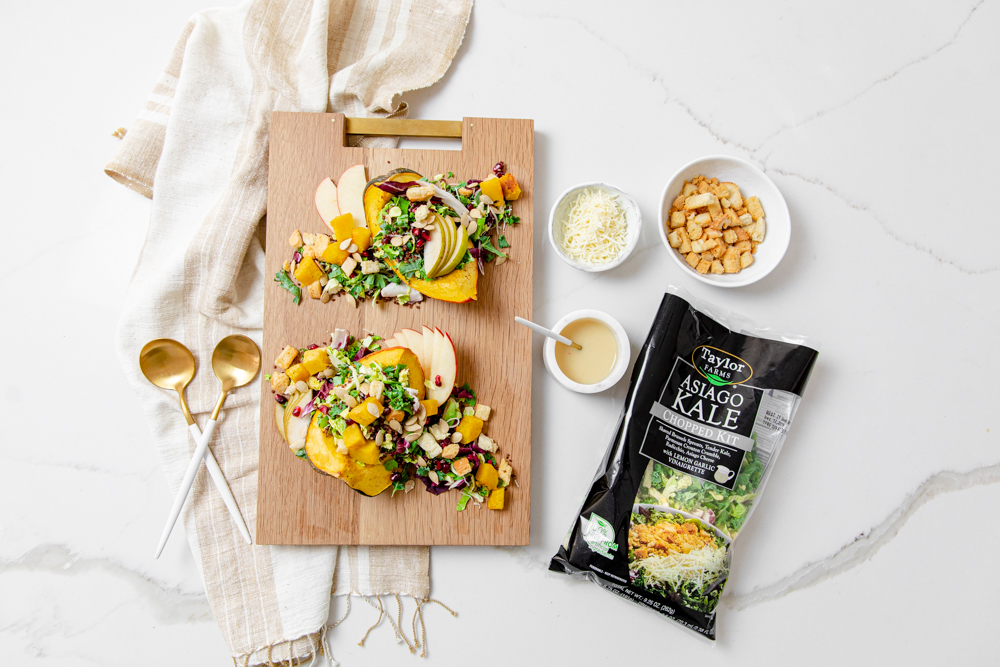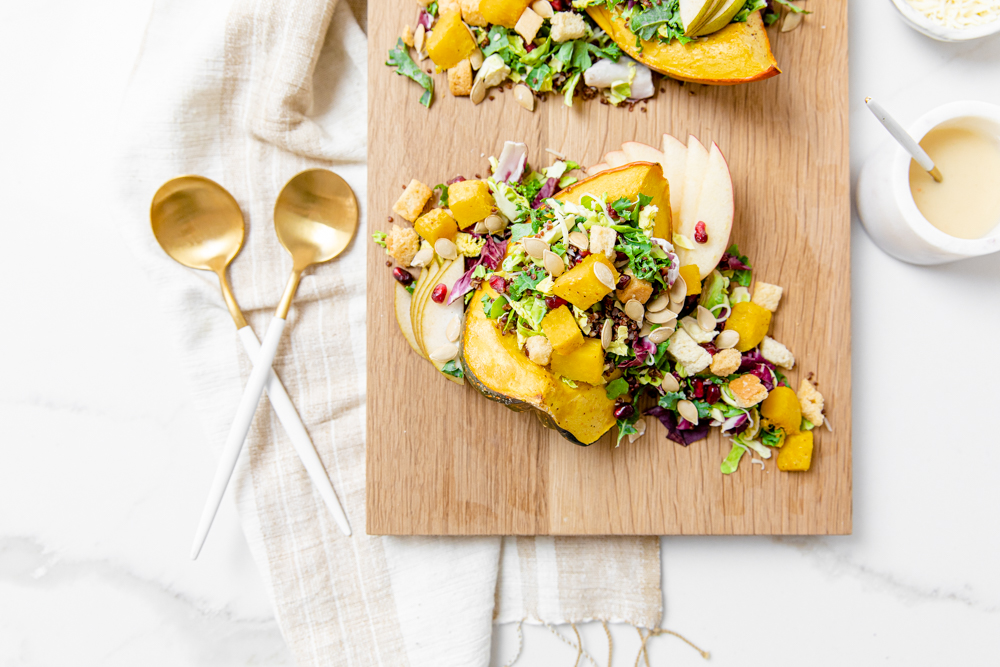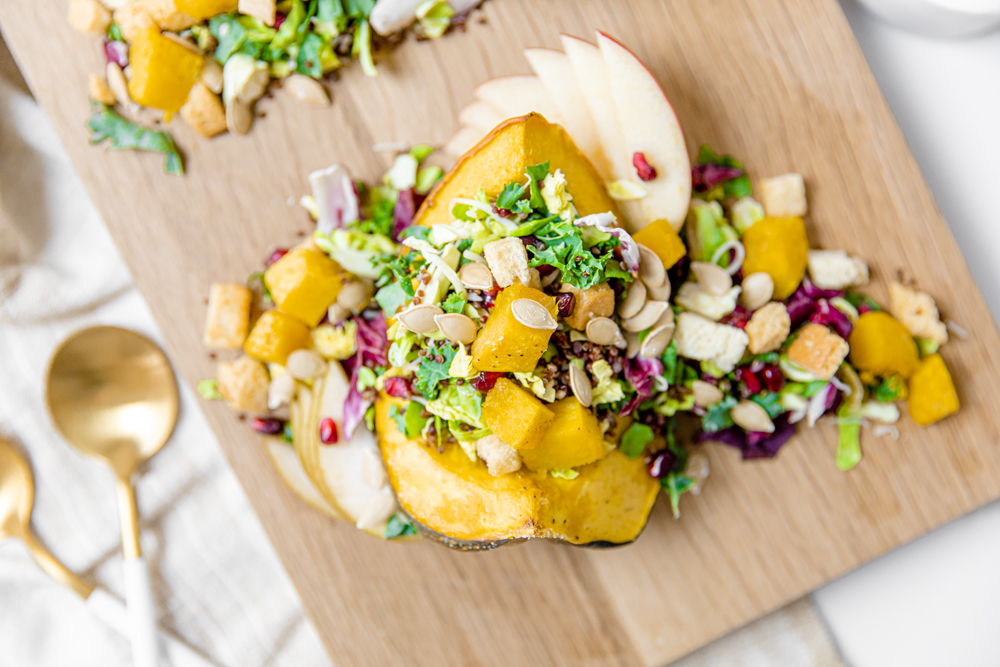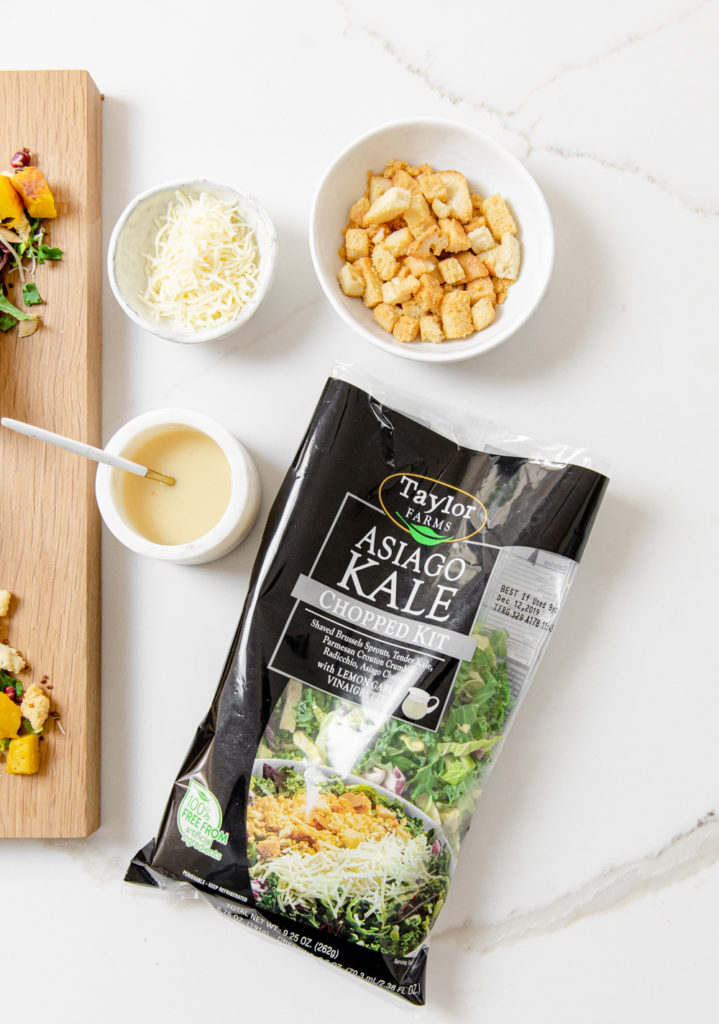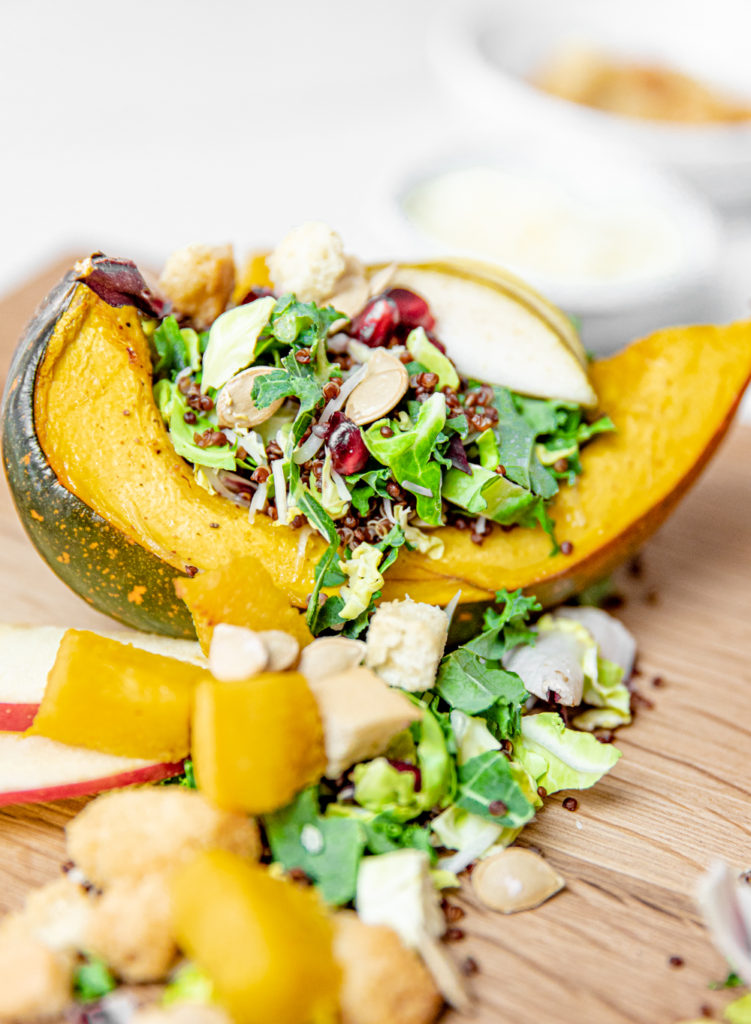 xx
Abby