This week is all about hosting and styling our houses for Christmas. We 1st showed you how to throw the perfect cheese and wine happy hour with Williams-Sonoma, earlier this week. Tomorrow, we will show you how to style your house up with flowers. But today is a goodie! We have partnered up with Pottery Barn to create a festive tablescape for your holiday dinner. It's the most wonderful time of the year to be hosting family and friends. We are showing you how easy it is to do! Let's get started!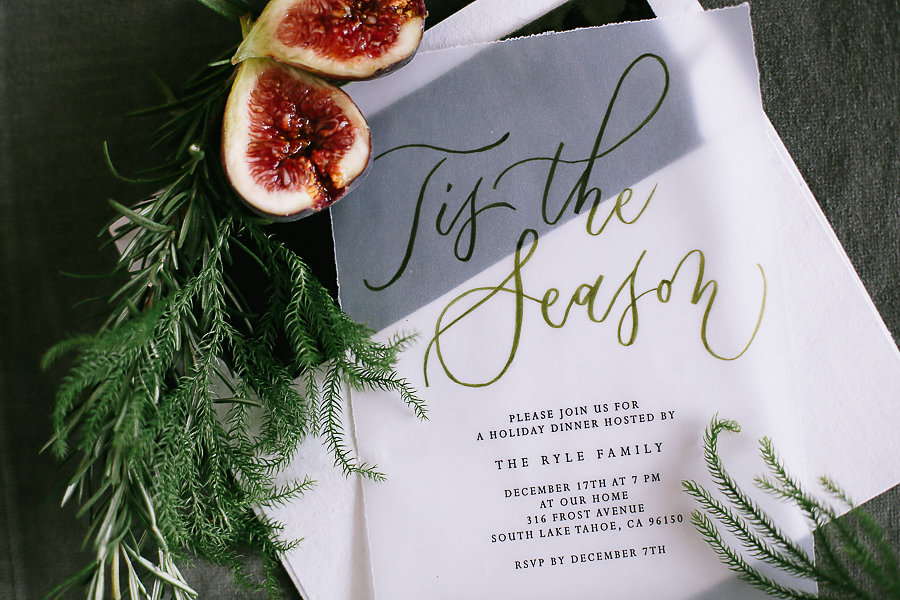 Every dinner party starts with an invitation. Tia Joy Kim created a vellum and olive green velvet invitation. It doesn't get more festive and elegant than this. Your family and friends will know they are in for a treat just by receiving this.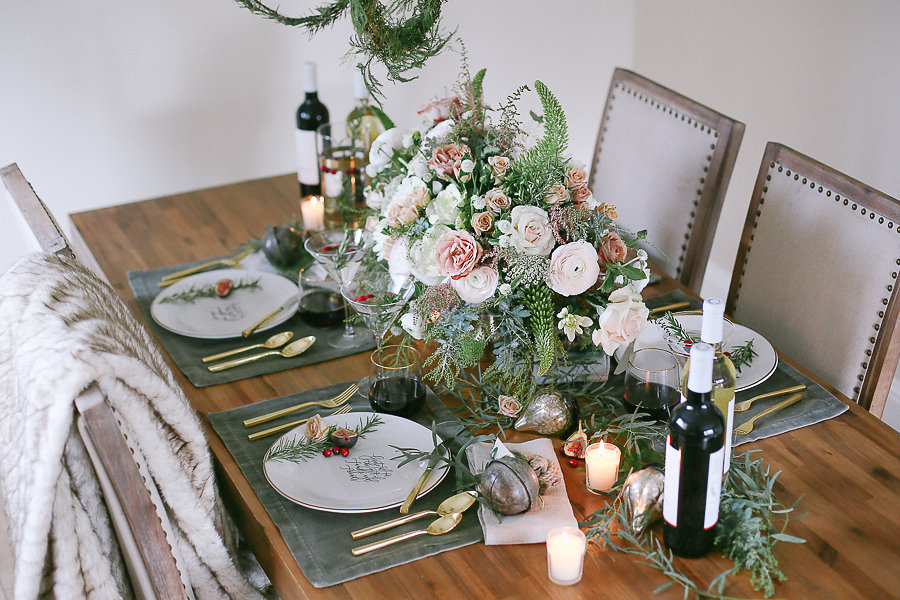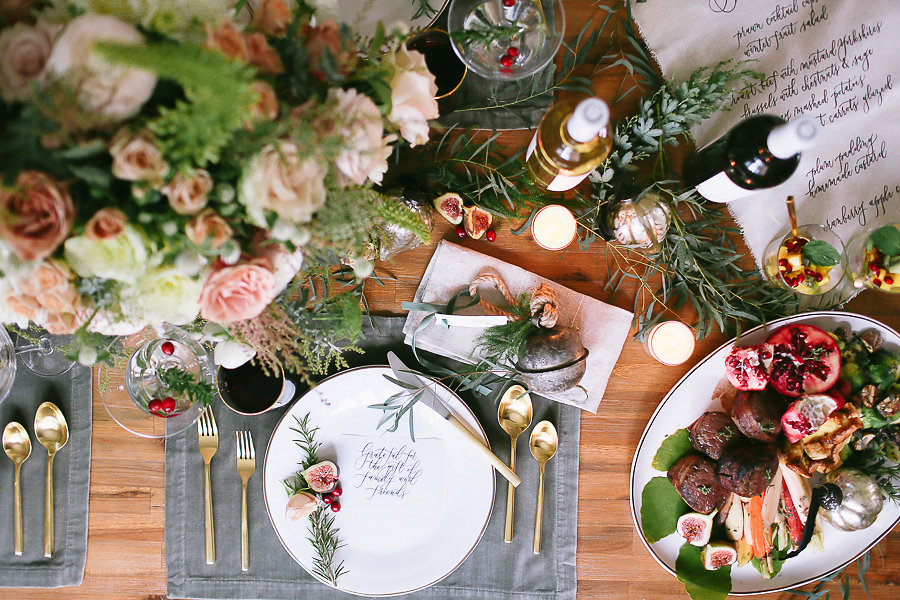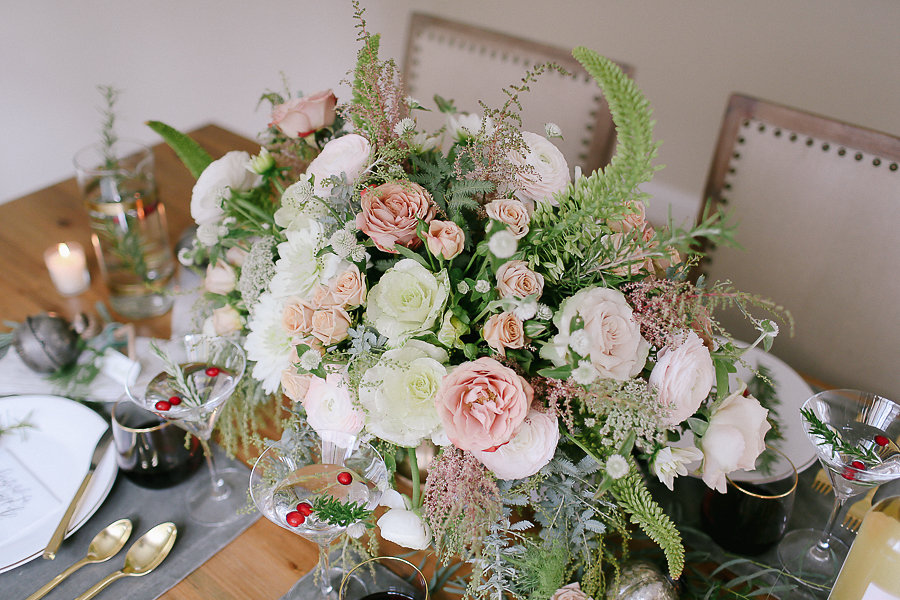 Now, every table needs a beautiful and bountiful flower arrangement. Jen from Busy Bees Florals did just that with her version of a natural and delicate arrangement. We went for a look that didn't scream Christmas, and we are in love with the results. The light pastel garden roses mixed with white cabbage leaves and greenery make a statement but in a delicate way. With the tablescape being made up of gold, olive greens, reds, and greens it makes the flowers pop and stands out from the rest. But they also don't outshine the tablescape as well. If you are thinking to yourself, there is no way I can make that… then just simply use some greenery that you can find at your local flower mart to give height to your table. Also, add greenery around the arrangement on each side of the table.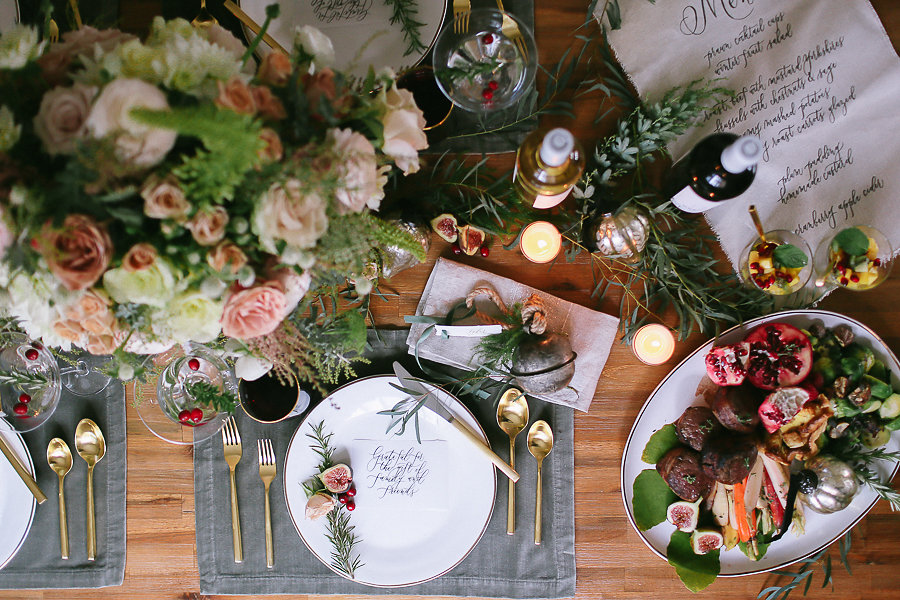 Gathered Faux Fur Throw- Ivory Tipped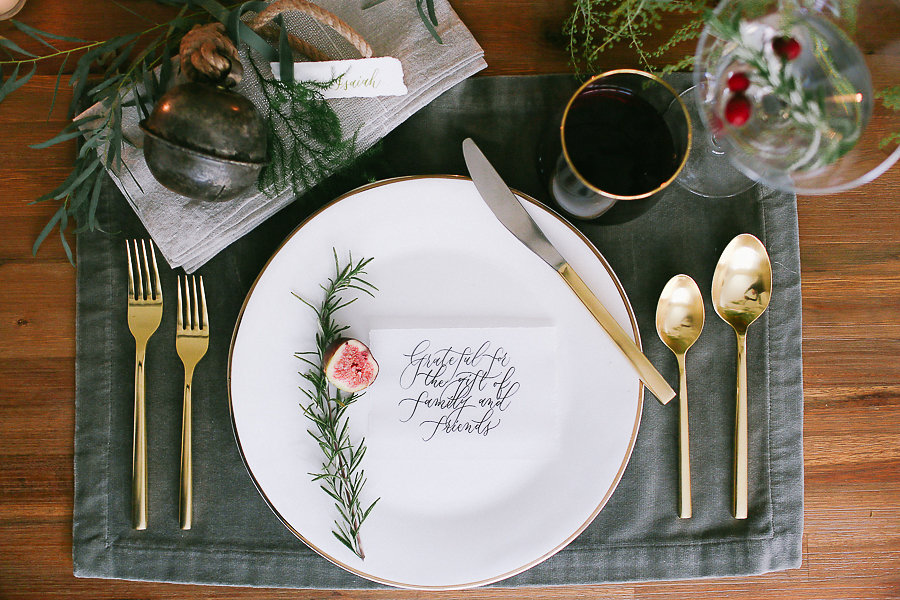 The place was setting, the most important element of the table. This is where your guest will ooh and aww. I fell in love with the Velvet Placemat in Sage Green. It brings out that festive look you need for the holidays, and a wonderful texture that I just love. Next, the festive Gigi Gold Rim Plate. This dinnerware set gives you a natural, organic feel with a touch of glamor with the gold rim. To match the gold detail, the Luna Brushed Gold Flatware set was placed on each side of the plate.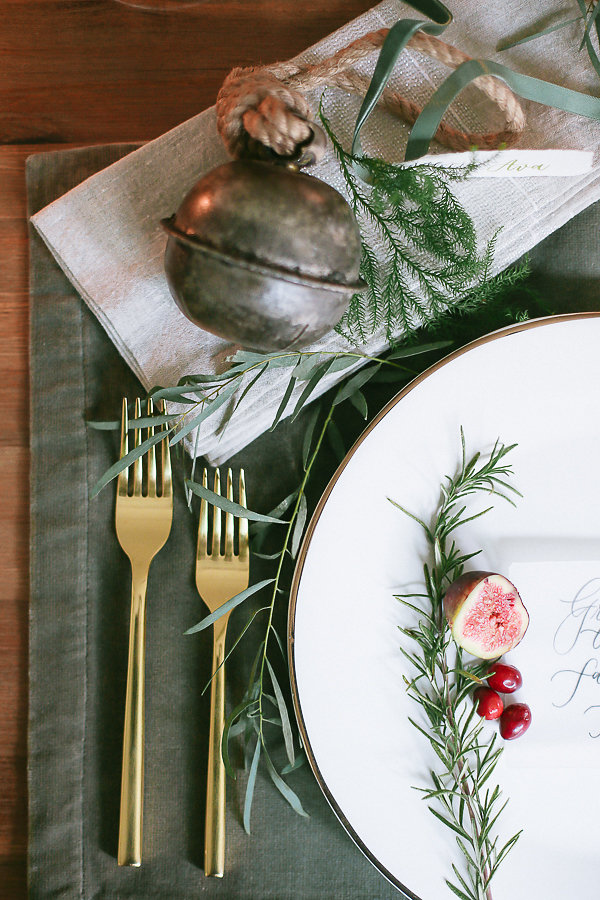 No holiday place setting isn't complete without some jingle bells. We took the Antique Bell Ornament and set them at each place setting for our guest as a favor. Tia Joy Kim also did a name card that was beautifully calligraphed in olive green. As well as a special note to the guests letting them know how grateful we are to have them in our lives.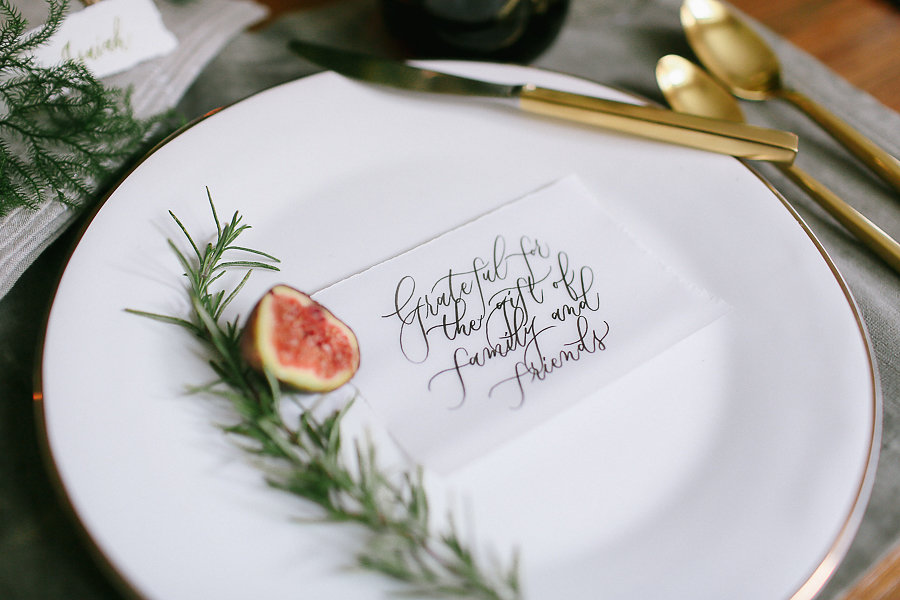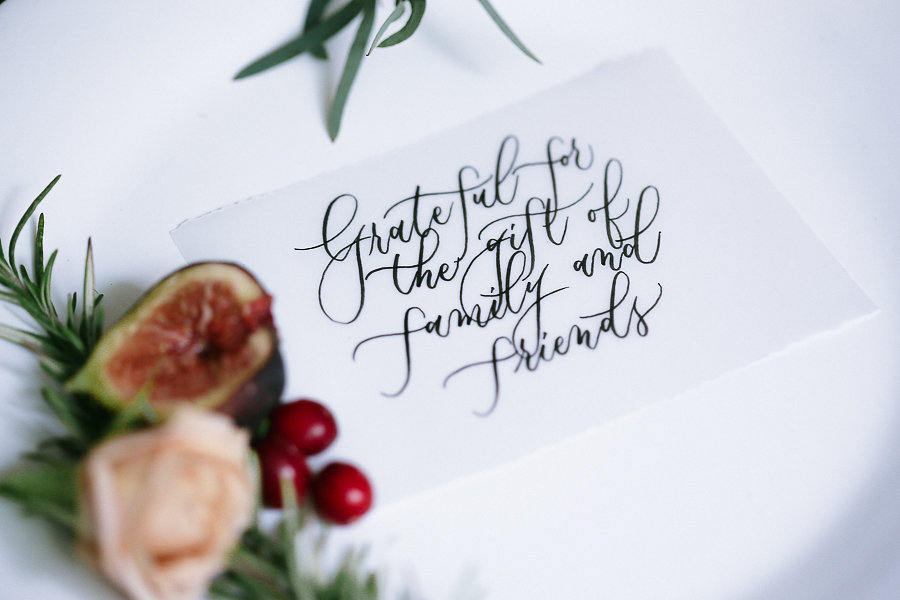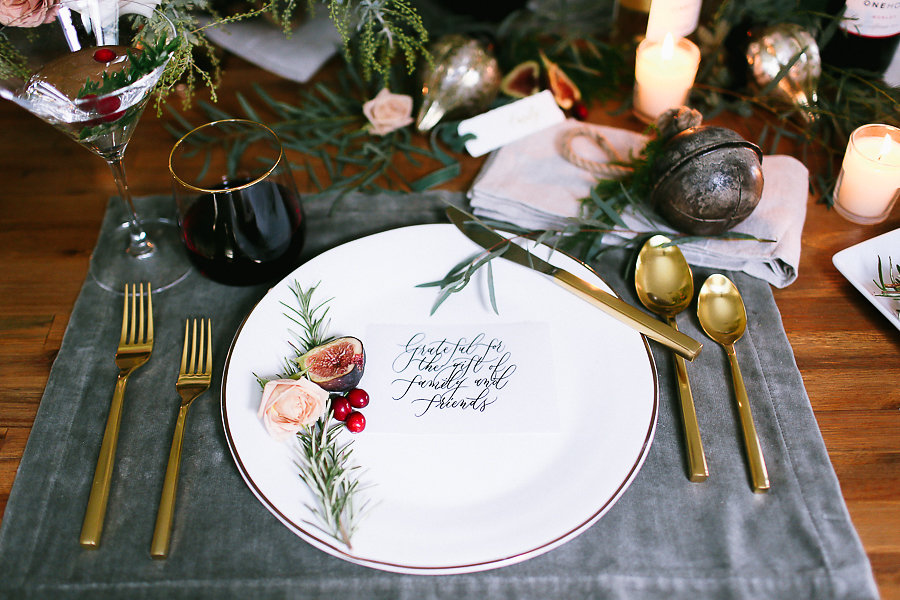 Adding rosemary, flowers, figs, and cranberries to the plates give a festive pop and color to the table.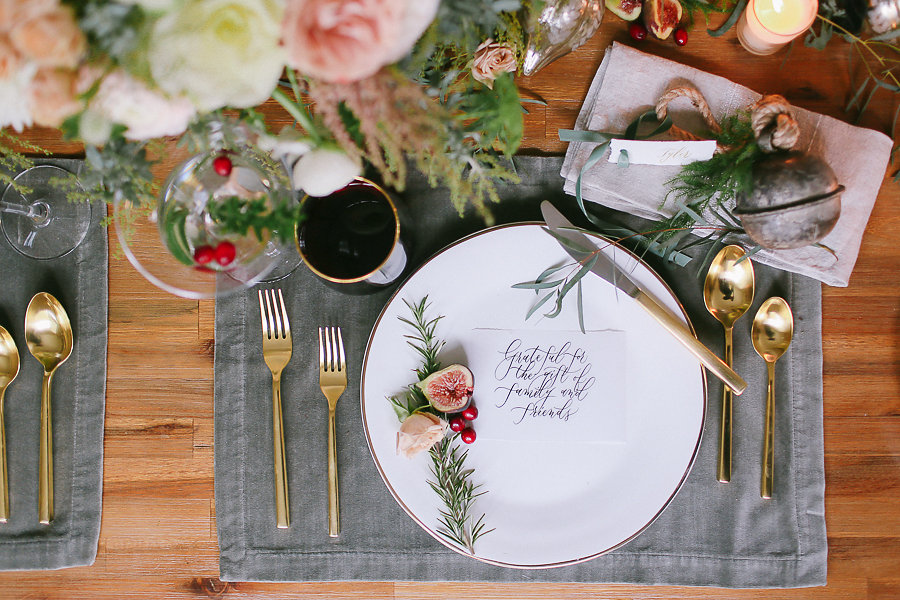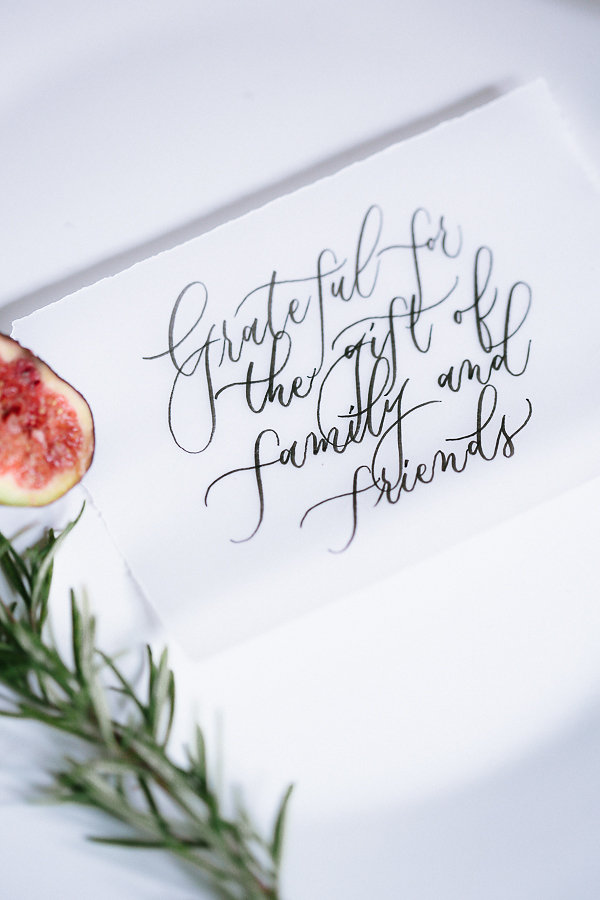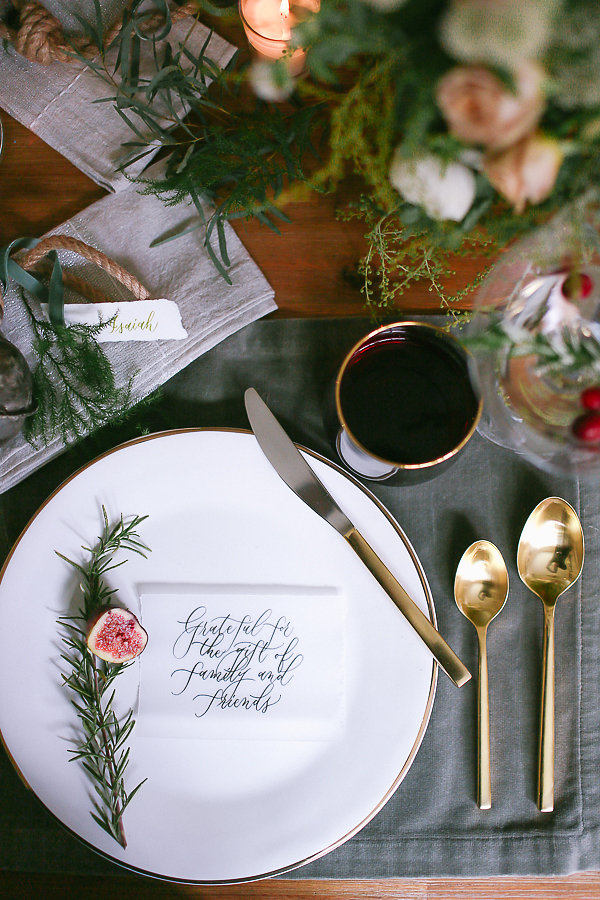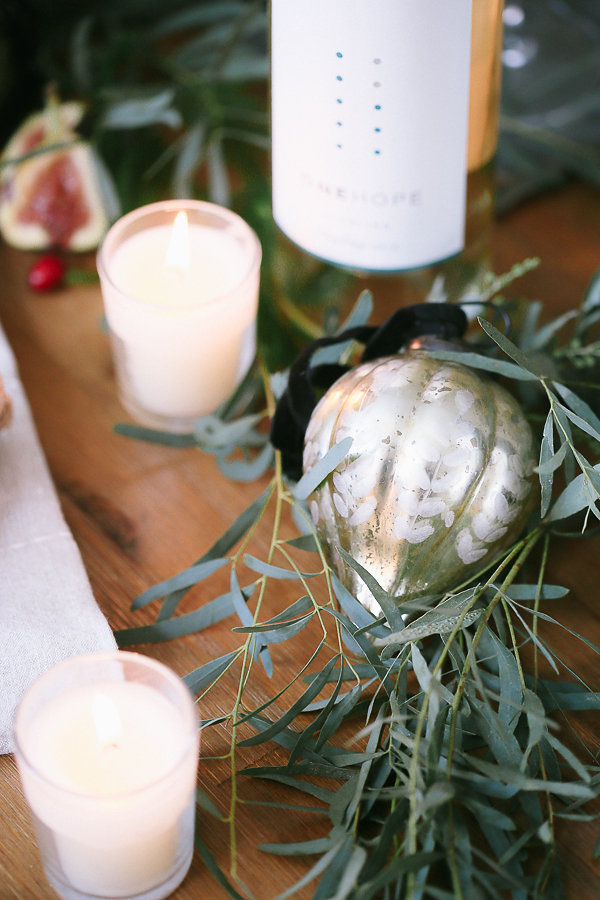 Among the greenery on the table for added detail, we placed silver mercury glass ornaments. Adding embellishments like an ornament to a holiday table brings back happy memories of my childhood as my grandmother use to do this. By doing this, I know that my family will cherish that detail.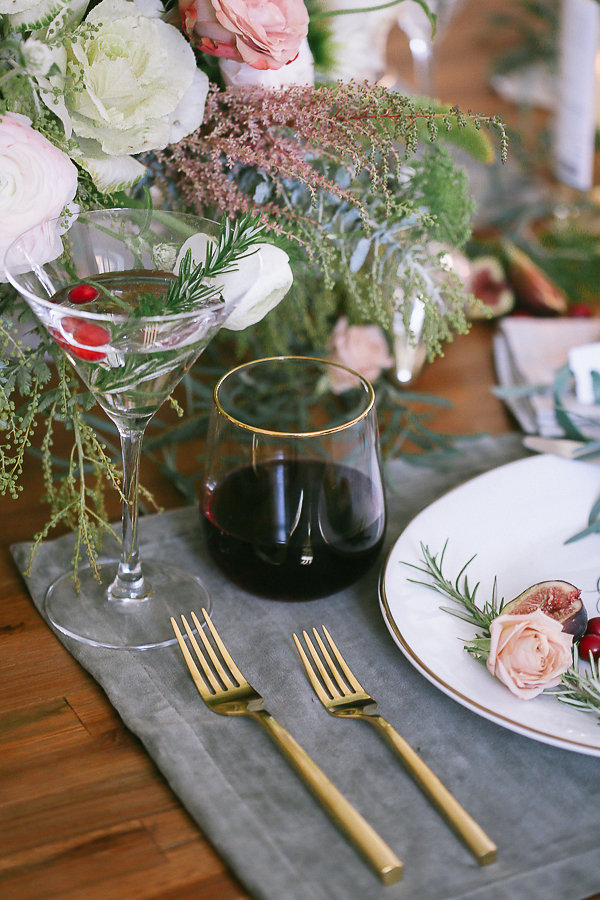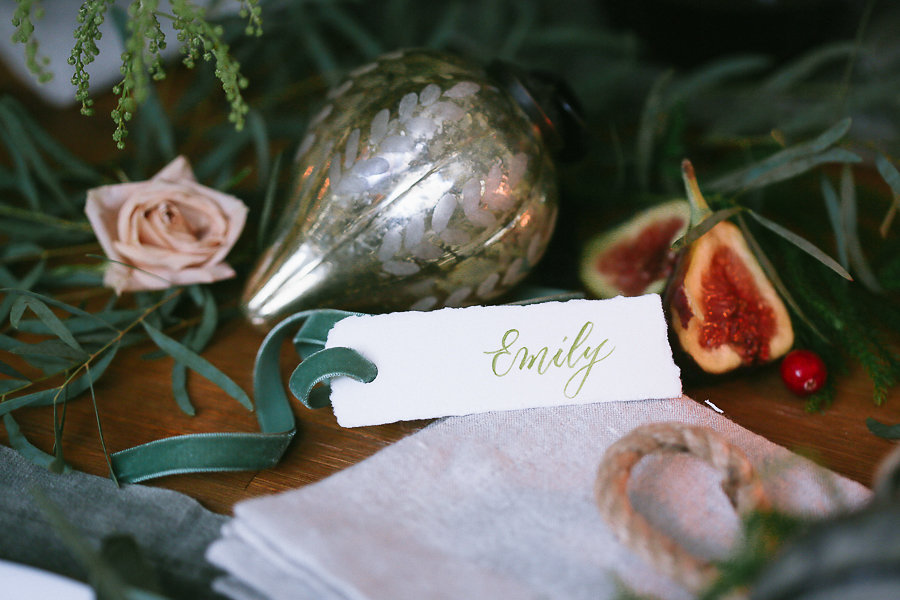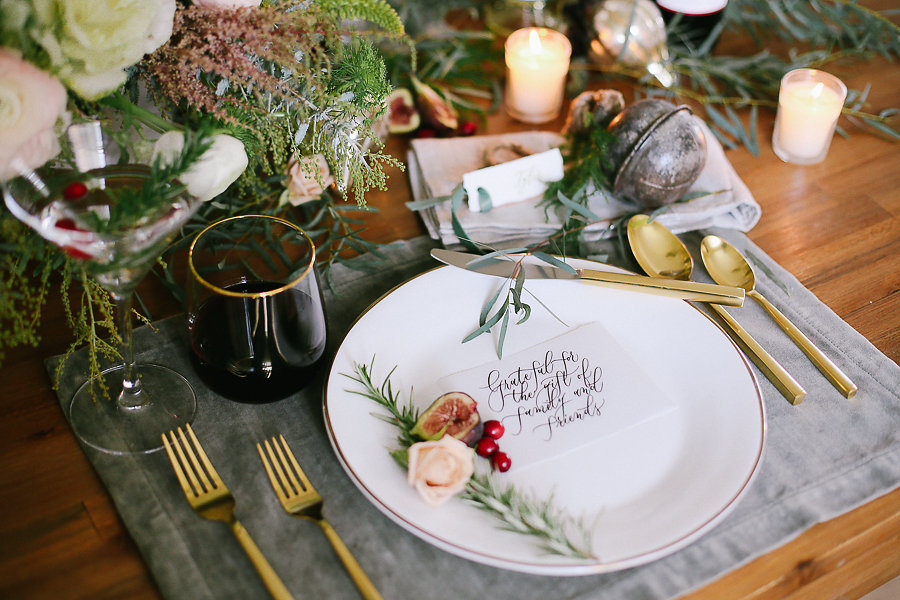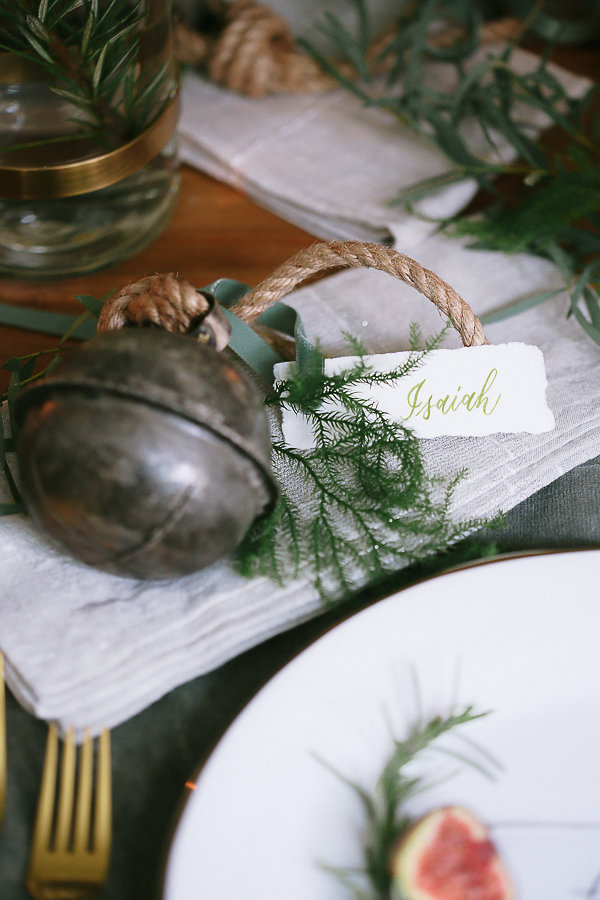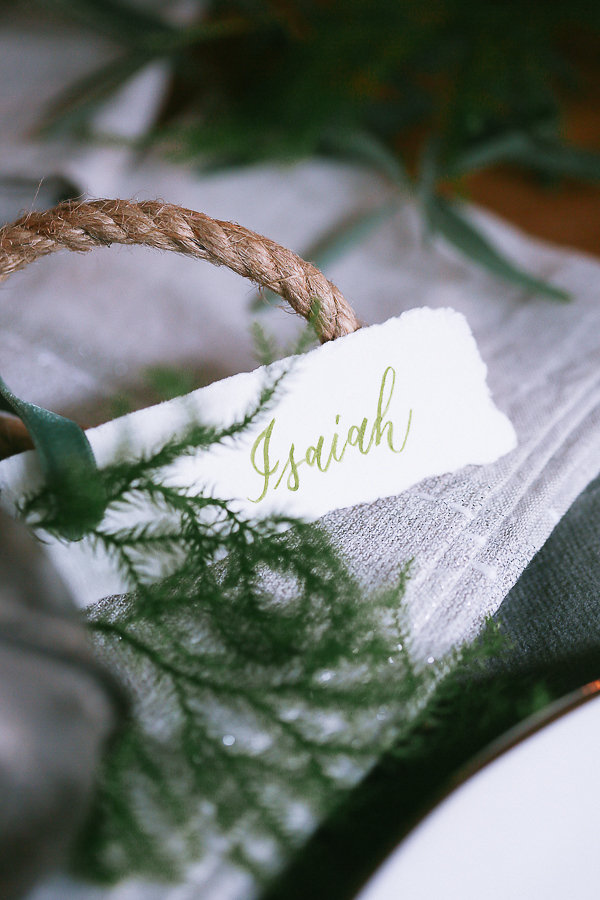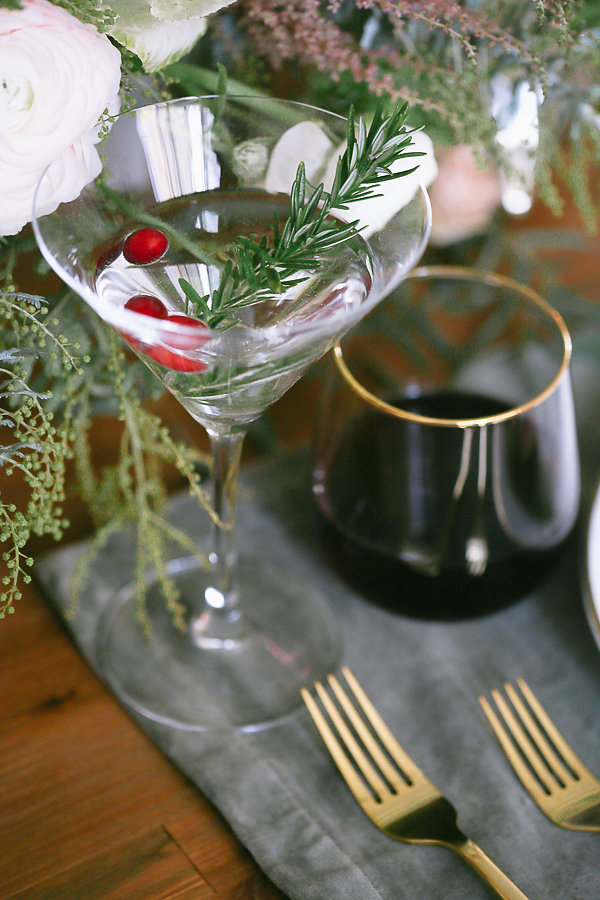 No holiday table is finished without glassware. To match the dinner plates, the Gold Rim stemless wine glasses were a must. We decided to shake things up and add a martini glass instead of a water goblet. I love the classic look of the Schott Zwiesel martini glass, and it adds height your place setting. I like the unexpected look of having the martini glass be the water goblet.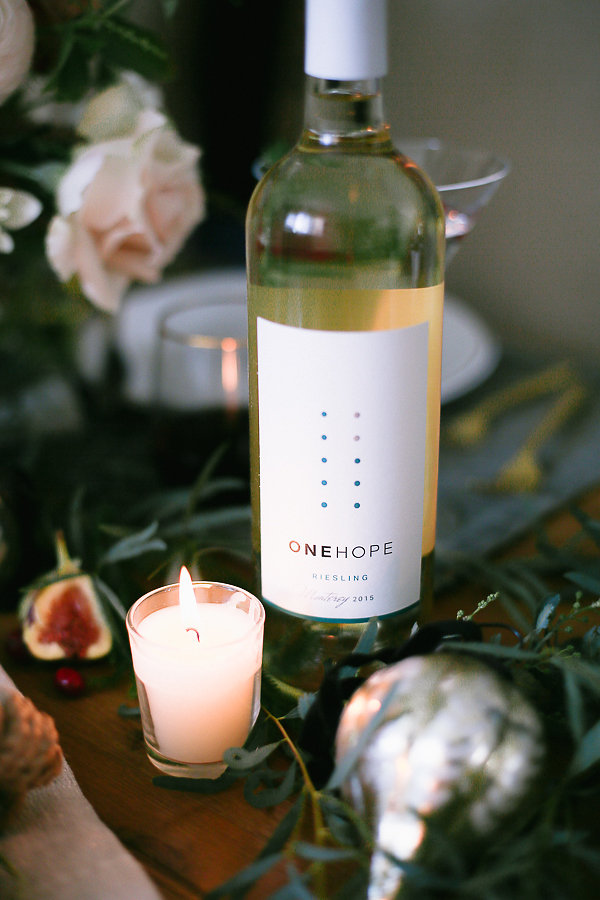 One Hope Wine for the win. Place multiple bottles around your table for guests to grab.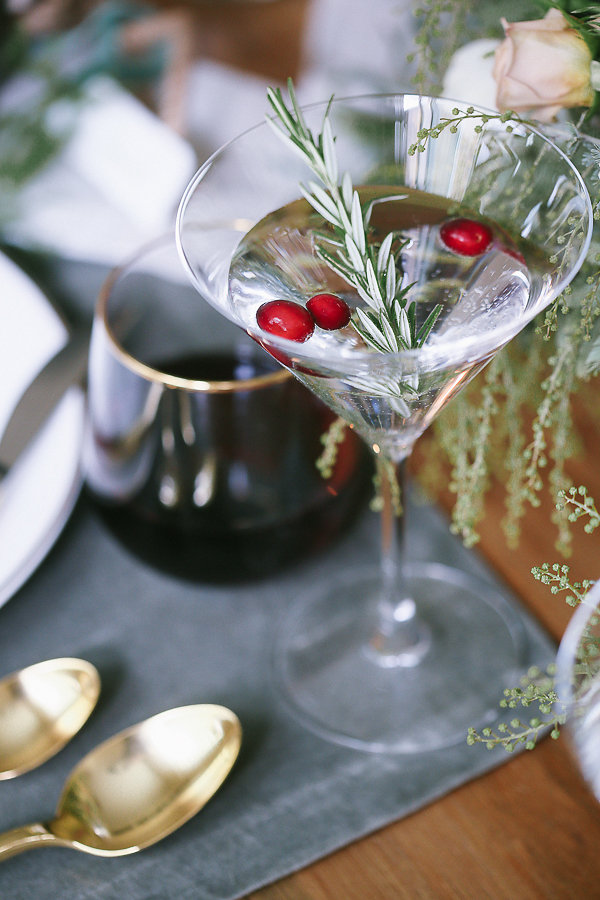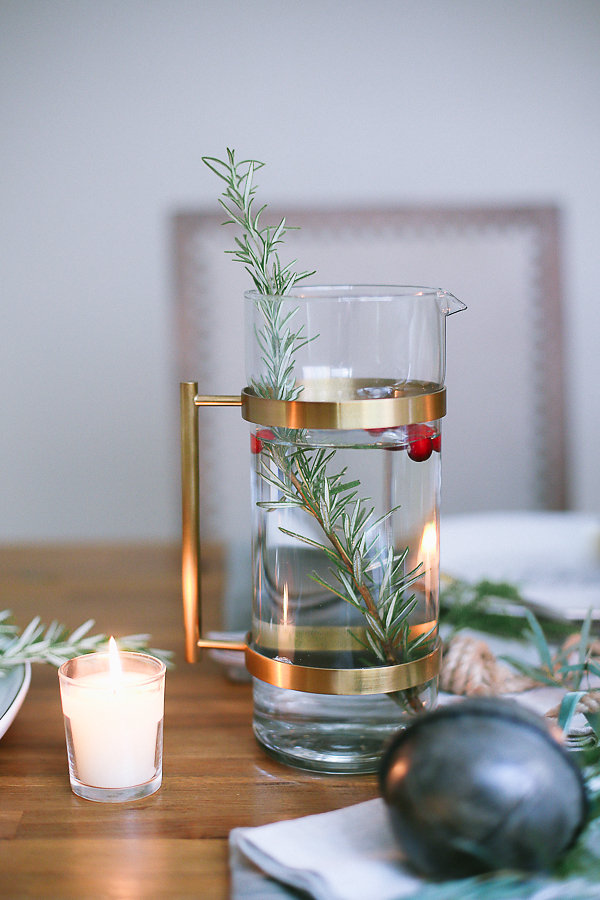 Bleecker Bar Martini Pitcher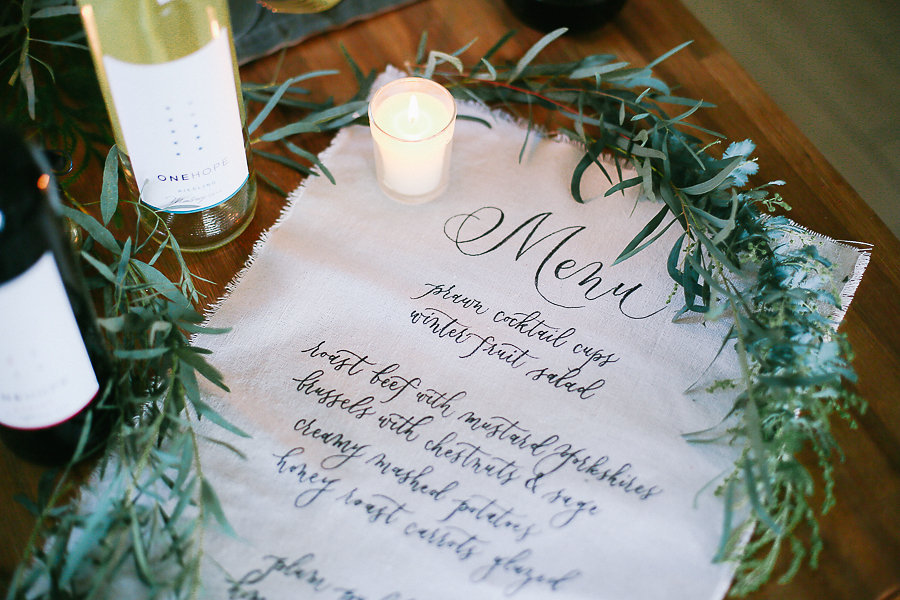 Linen menu by Tia Joy Kim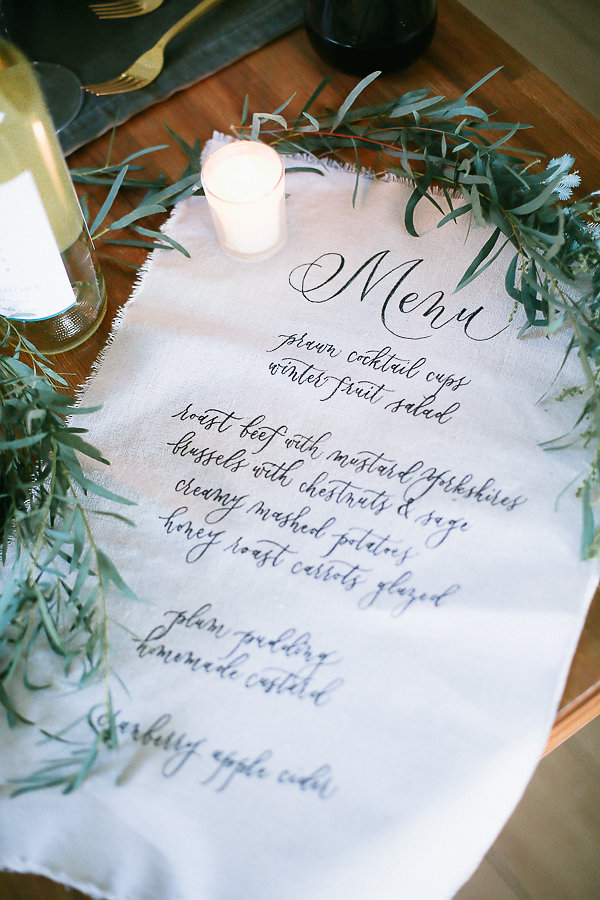 I think a menu is a must when hosting family and friends. Once you see that menu, you can't help but be so excited for what is to come. With this menu, I hope everyone wore their stretchy fat pants. You are in for a treat!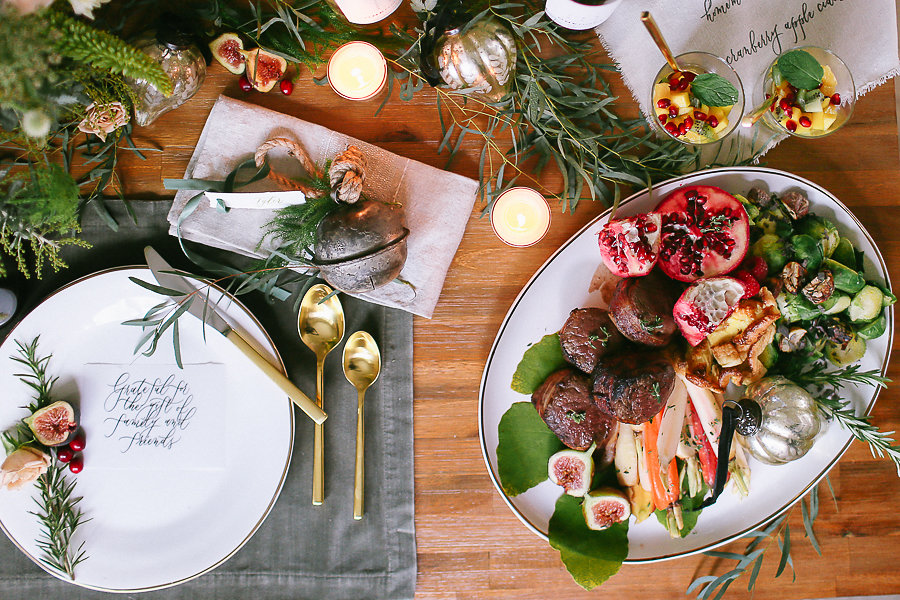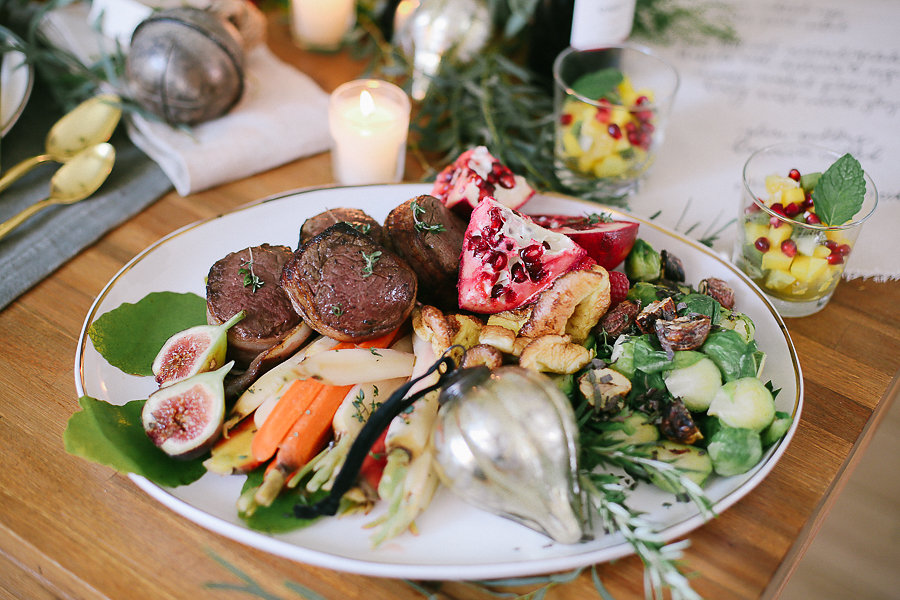 Organicopa made all this yummy food. Serve it up family style with the Gigi Gold Rim Platter. Add figs and pomegranates to give the platter some color.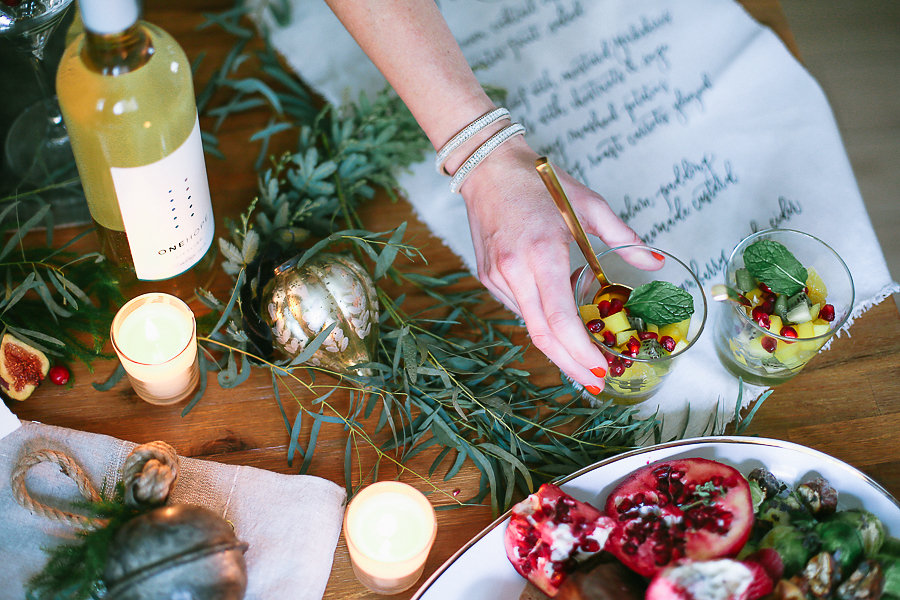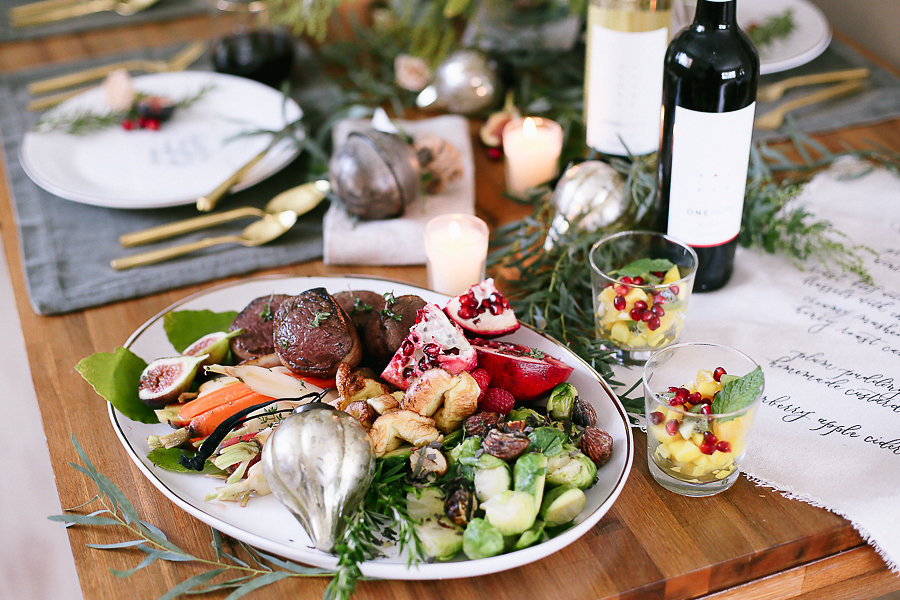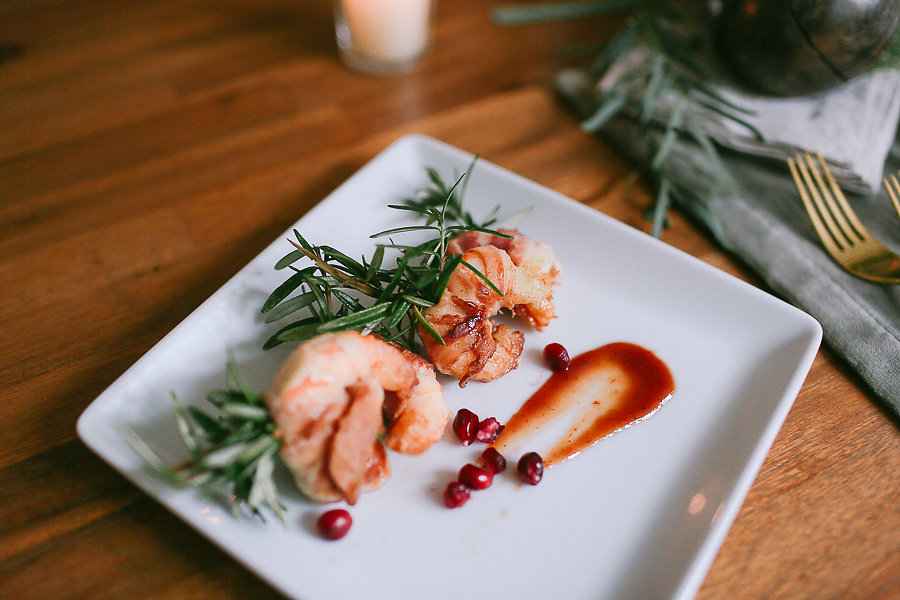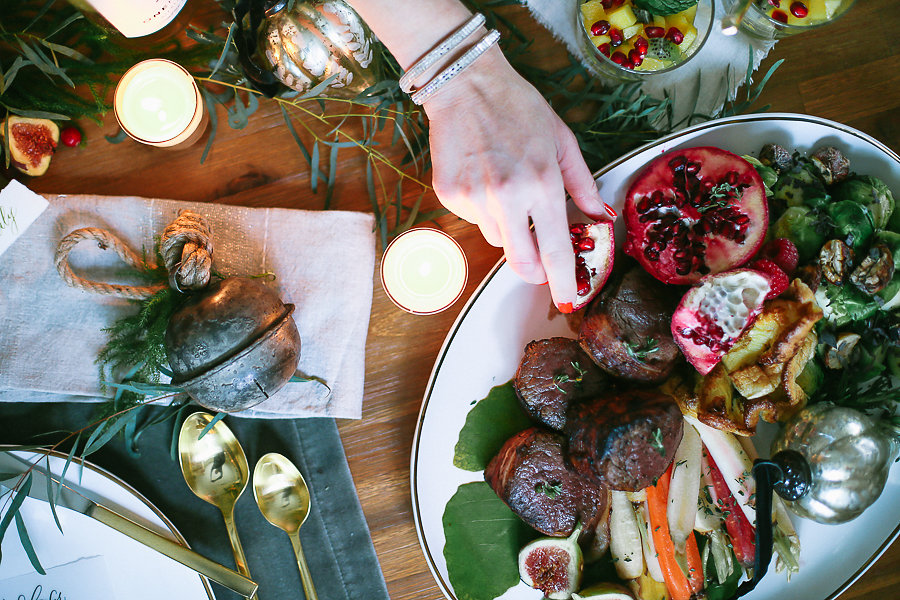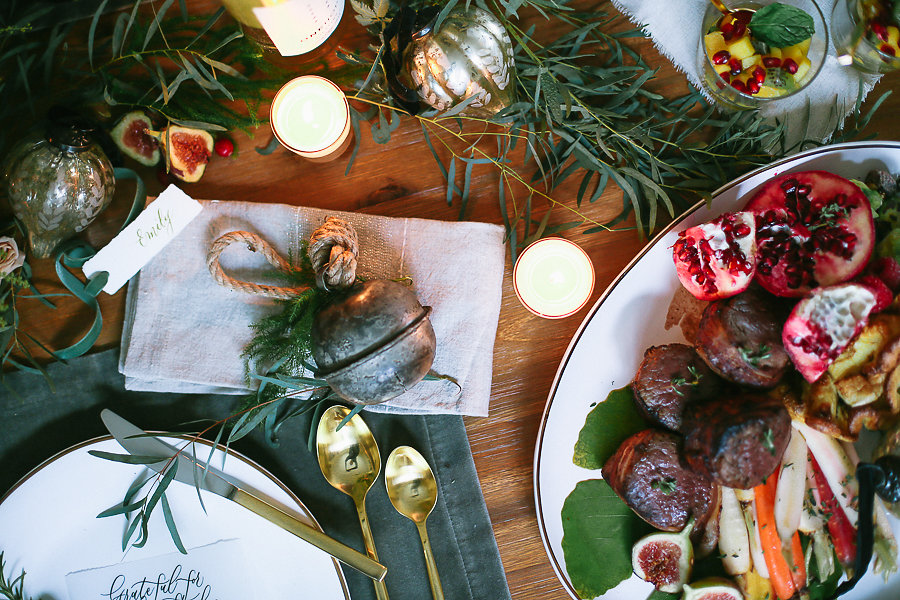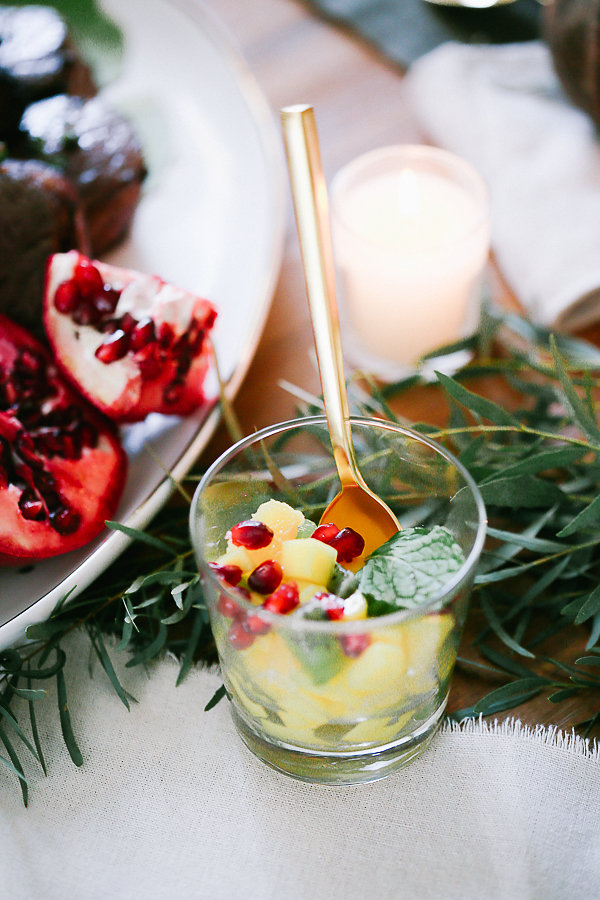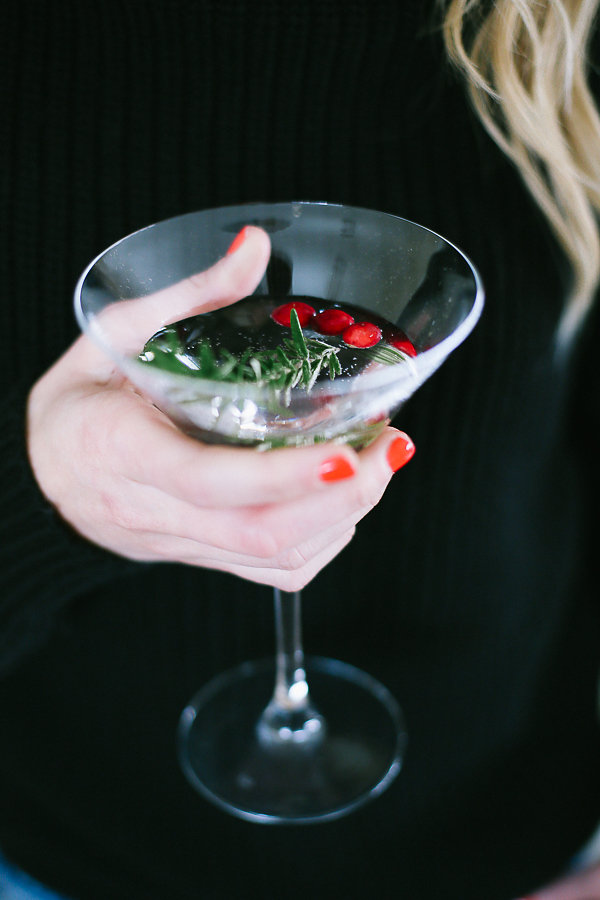 Run on out to Pottery Barn and create this festive look for your family and friends!
Cheers to a Merry Christmas!
Vendors:
Styling: Beijos Events
Photography: Julie Cahill
Flowers: Busy Bees Floral
Paper Goods: Tia Joy Kim
Tableware: Pottery Barn
Food: Organicopa