Yes, we are those people who are already kicking off the Christmas fun! And what better way than with Pottery Barn Kids and the classic Christmas story – How the Grinch Stole Christmas! It's a favorite book and movie in our house during the holidays, who doesn't love that heartwarming tale?! Better yet, I got to team up with my friend Royale from But First Party on this one, so it's extra special!
Keep scrolling and get ready to get really excited for all the Christmas cuteness!!
Photos by Simply Adri Photography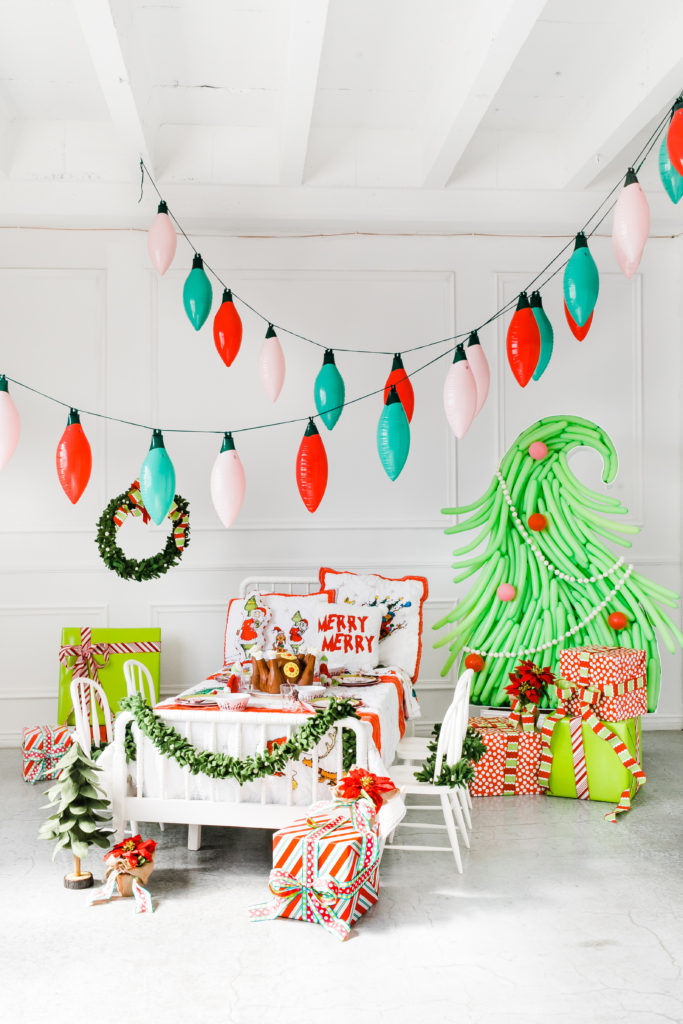 The highlight of the Pottery Barn Kids Grinch Collection has to be their amazing bedding! Think about how fun a winter wonderland bedroom would be each holiday season?! I love the idea of making that special change each year in my kiddos rooms!! There are so many cute options with pillows too, this was so fun to throw together!
Since we were so in love with the bedding, we thought, why not make the bed our table! We were inspired by the lovely Leanne of Dream a Little Dream Events on this one!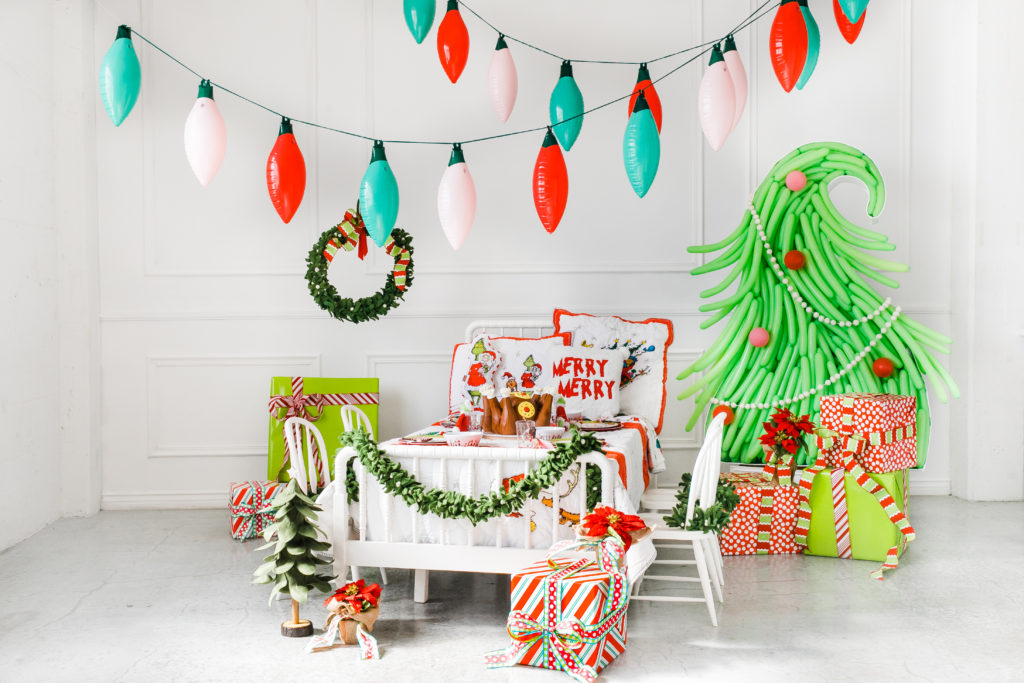 And that TREE!!! A combination of the talents of Bonjour Fete and Lily of The Creative Heart Studio. We simply added this cute felt garland and balloon ornaments! The wrapping paper and ribbon is all from Amazon and linked at the bottom of our post! So festive and fun – classic Christmas with some funky flair!!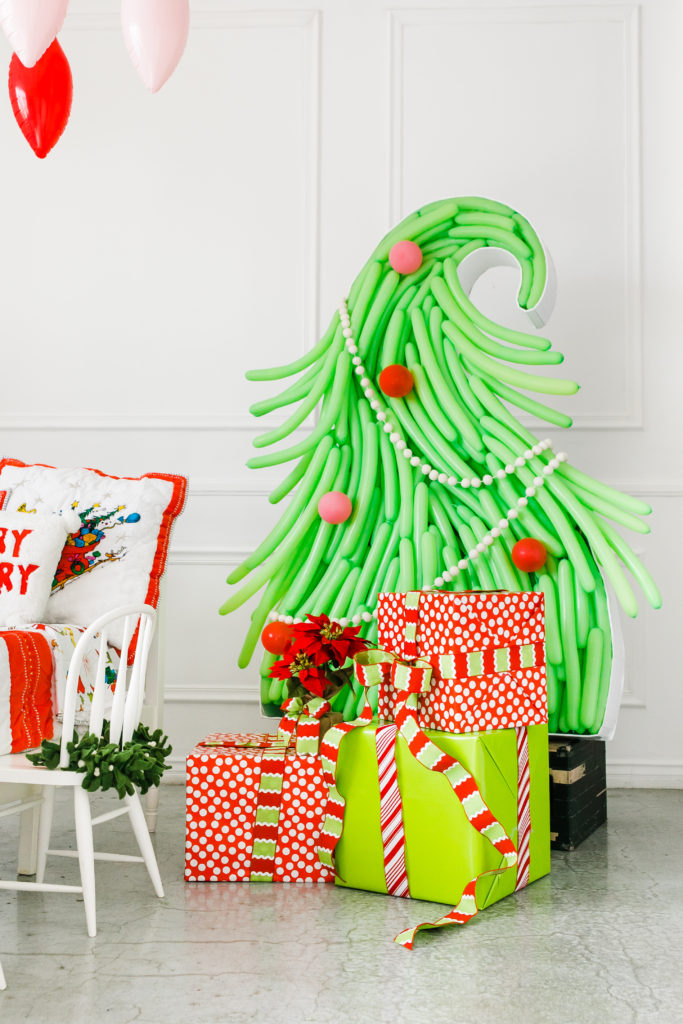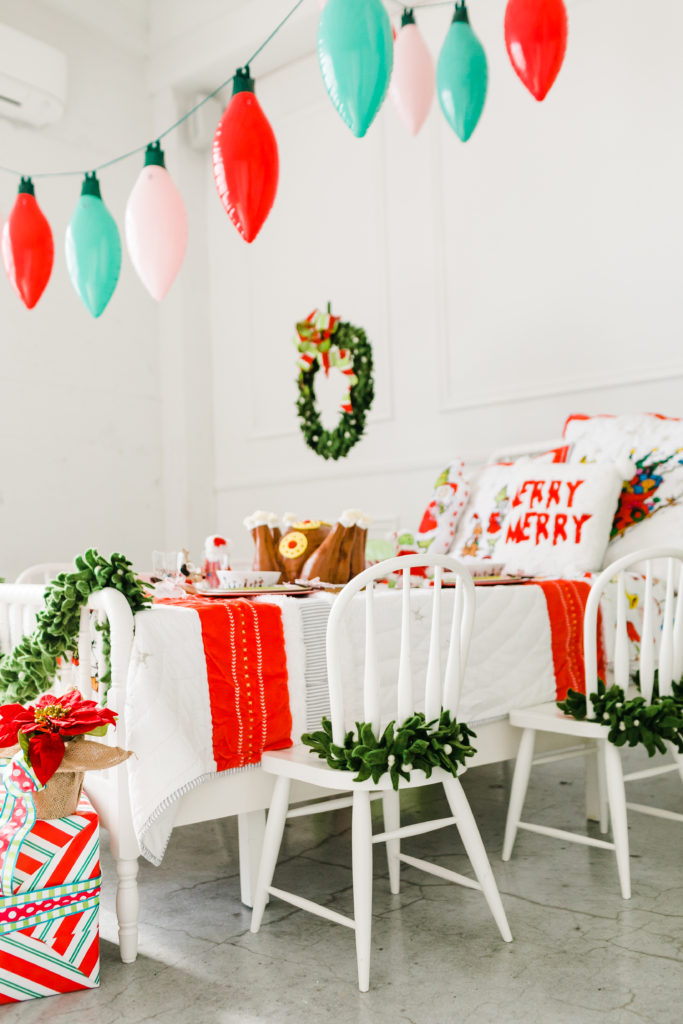 The table was set with all the trimmings! Including these cute mistletoe felt garlands and wreath.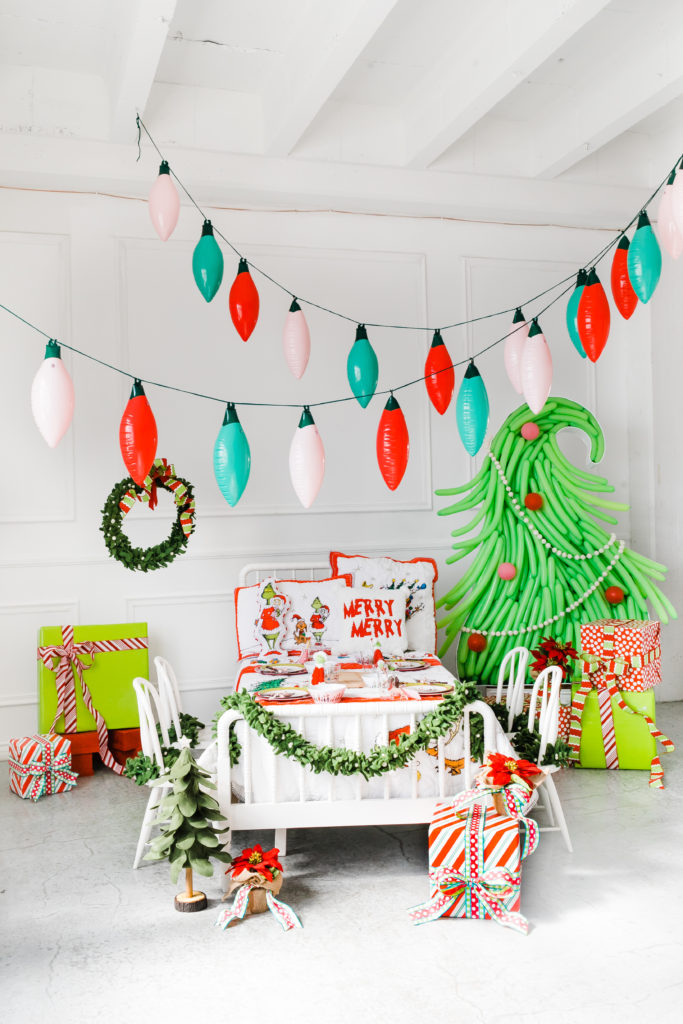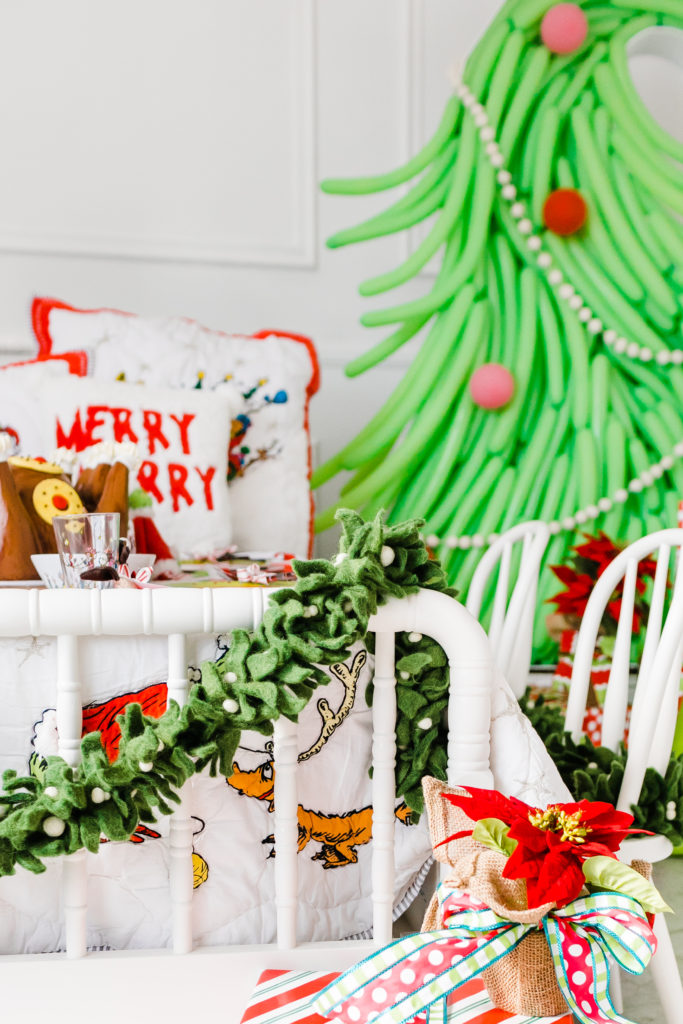 Aren't the throw pillows so fun?! Love that classic Grinch pom pom pillow and of course the Merry Merry!!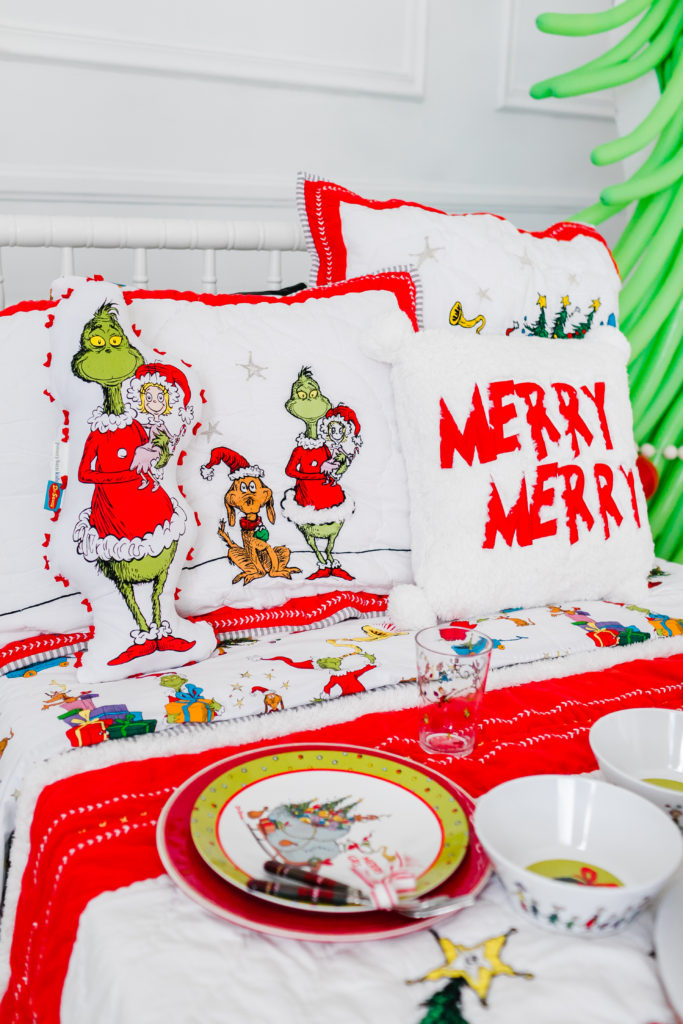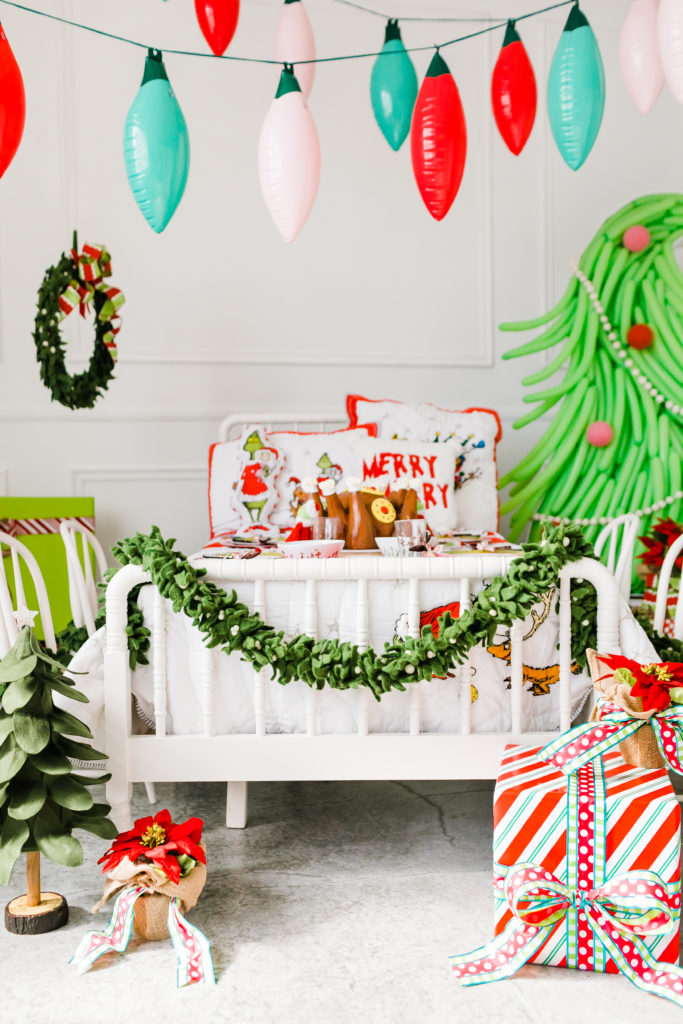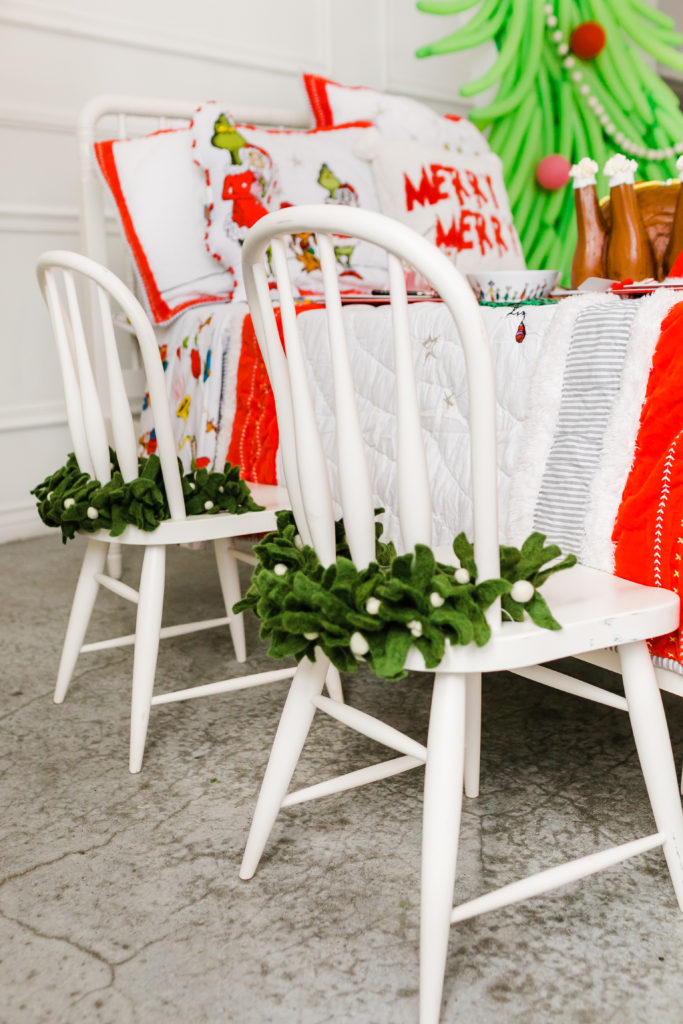 We couldn't set a table without some tabletop items!! Wouldn't these be so great Christmas morning for the little ones?! This comes as a complete set! Just add the plaid flatware and you're ready for Santa!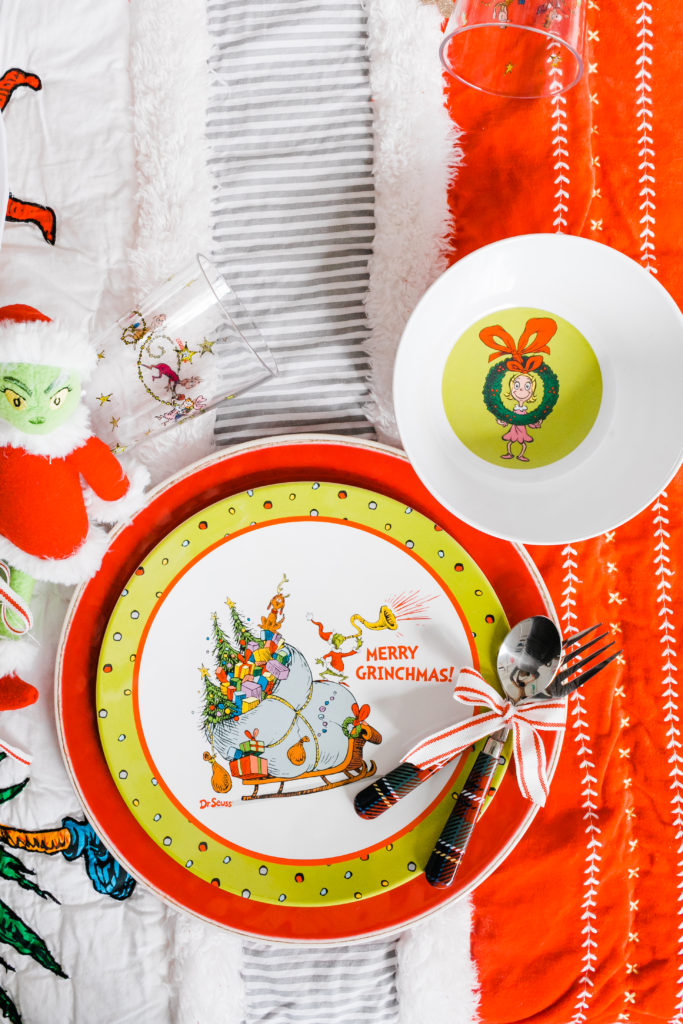 These ornaments made the most adorable place cards, our friend Meghann Miniello was kind enough to add each child's name on a gift tag to complete it!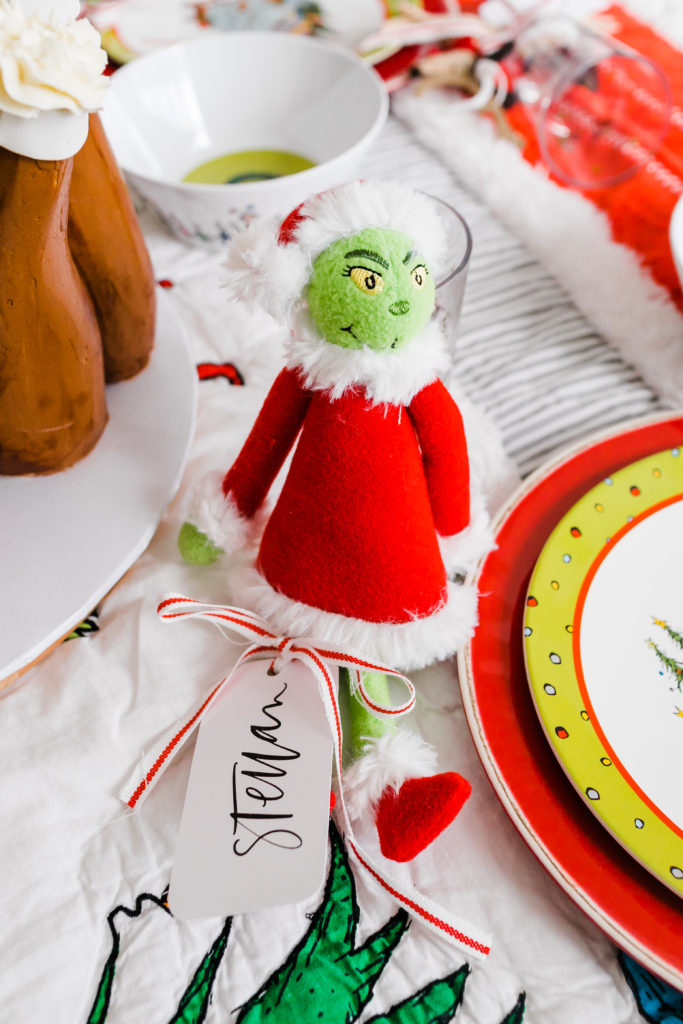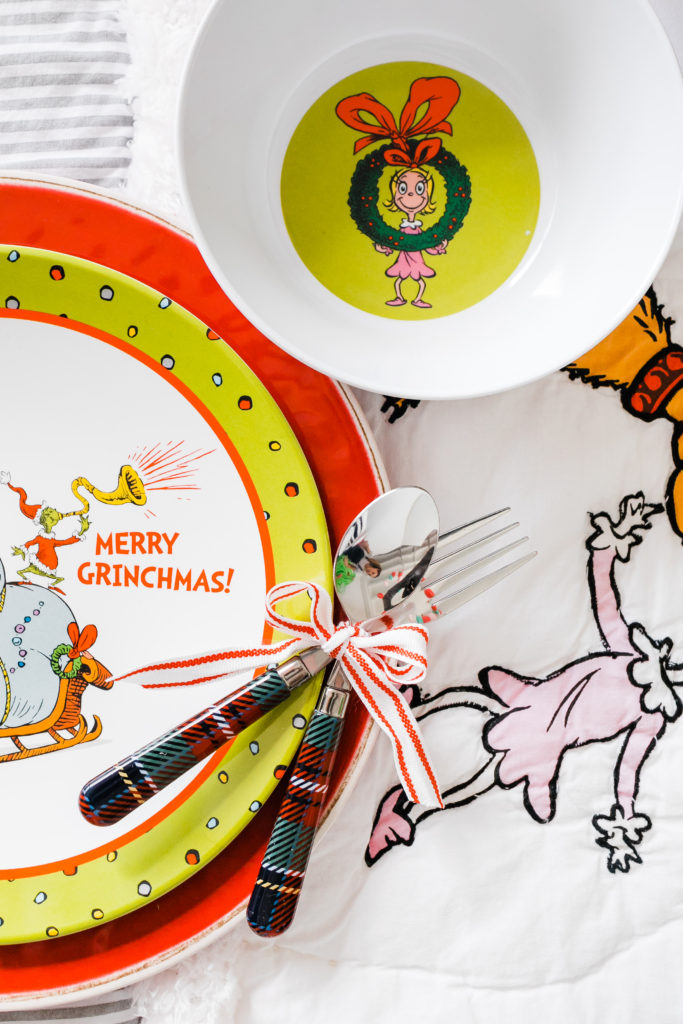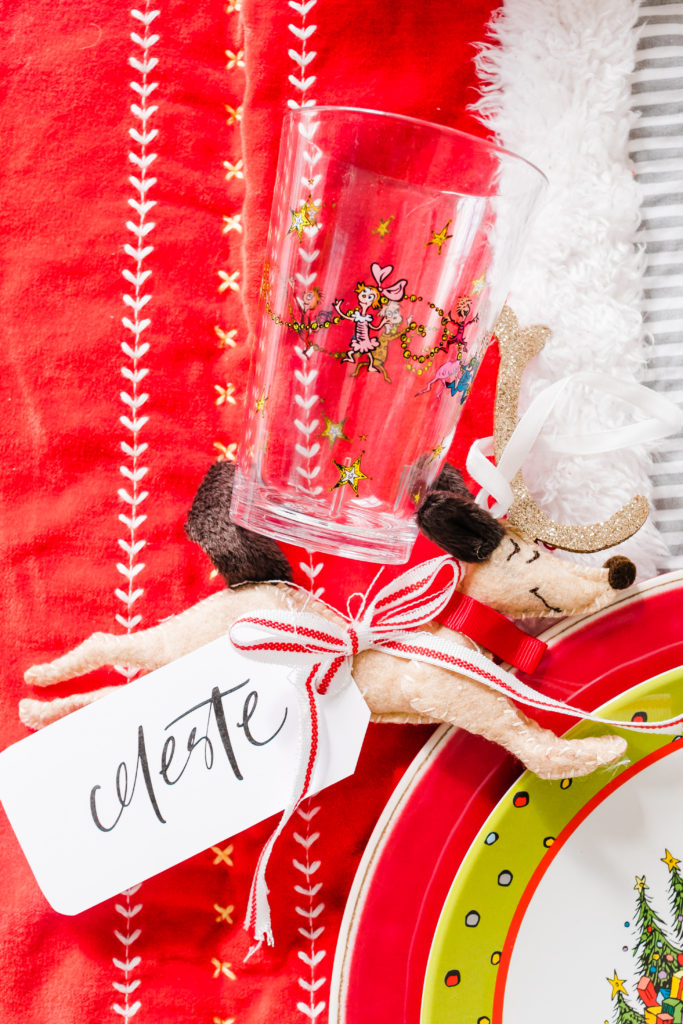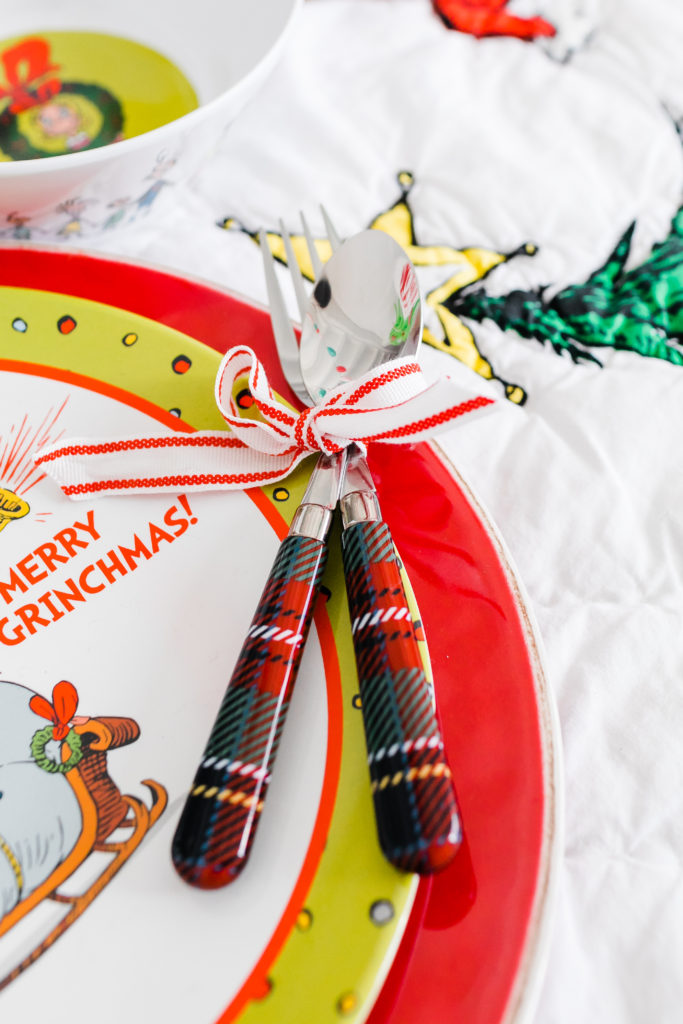 "Then the Whos, young and old, would sit down to a feast. And they'd feast! And they'd feast! And they'd FEAST! FEAST! FEAST! FEAST! They would start on Who-pudding, and rare Who-roast beast. Which was something the Grinch couldn't stand in the least!"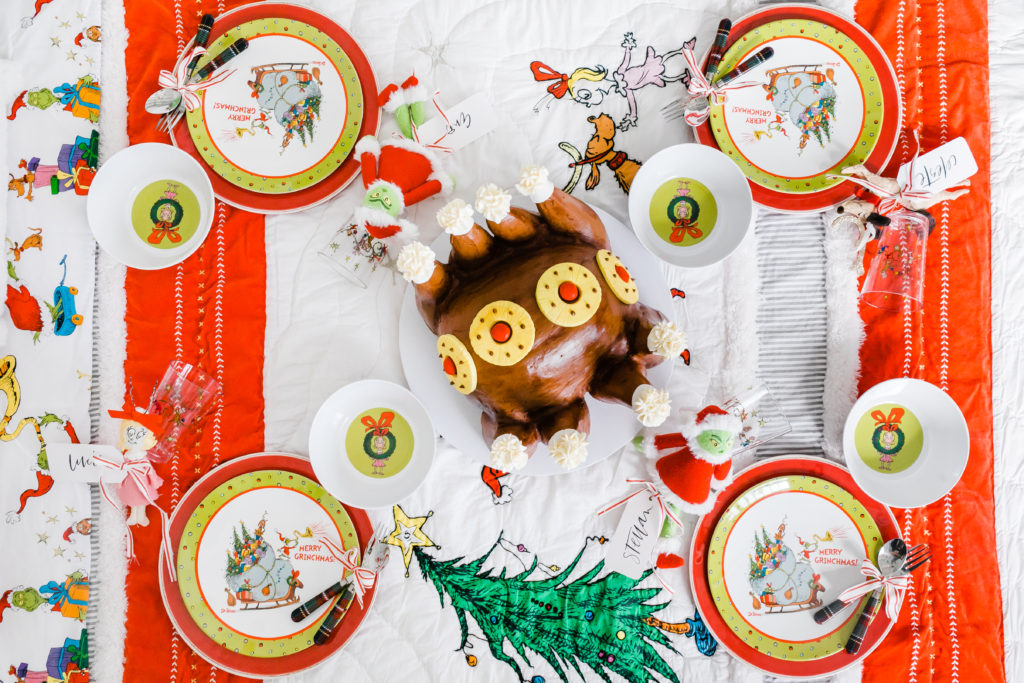 Yes, that's our cake!!! Can you believe it?! Butter Cake Shoppe took the inspiration and created this masterpiece!! Obsessed!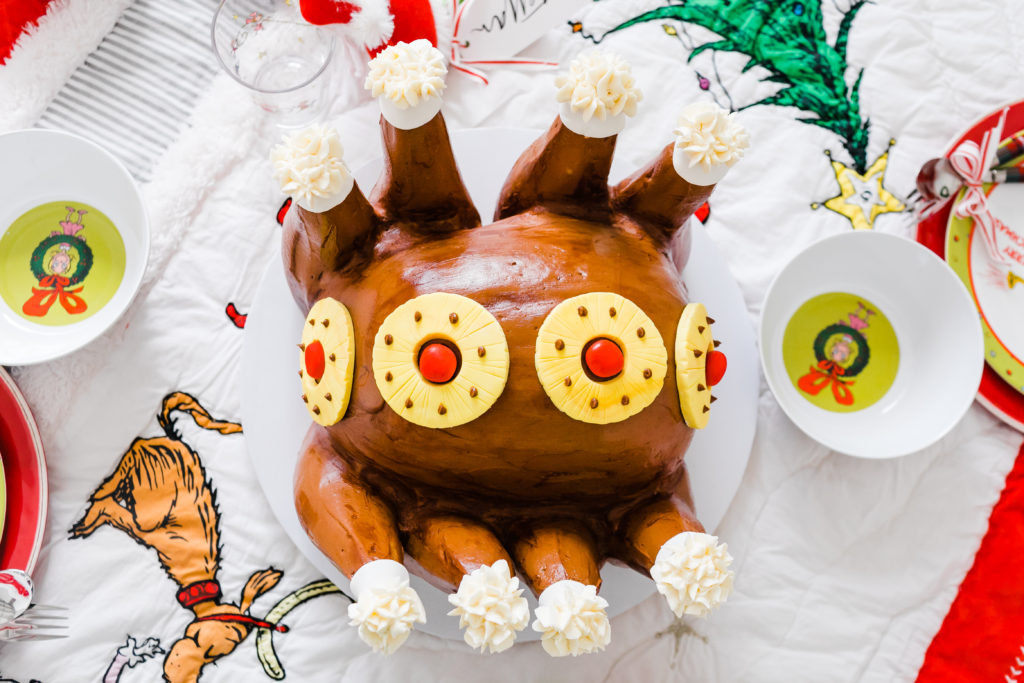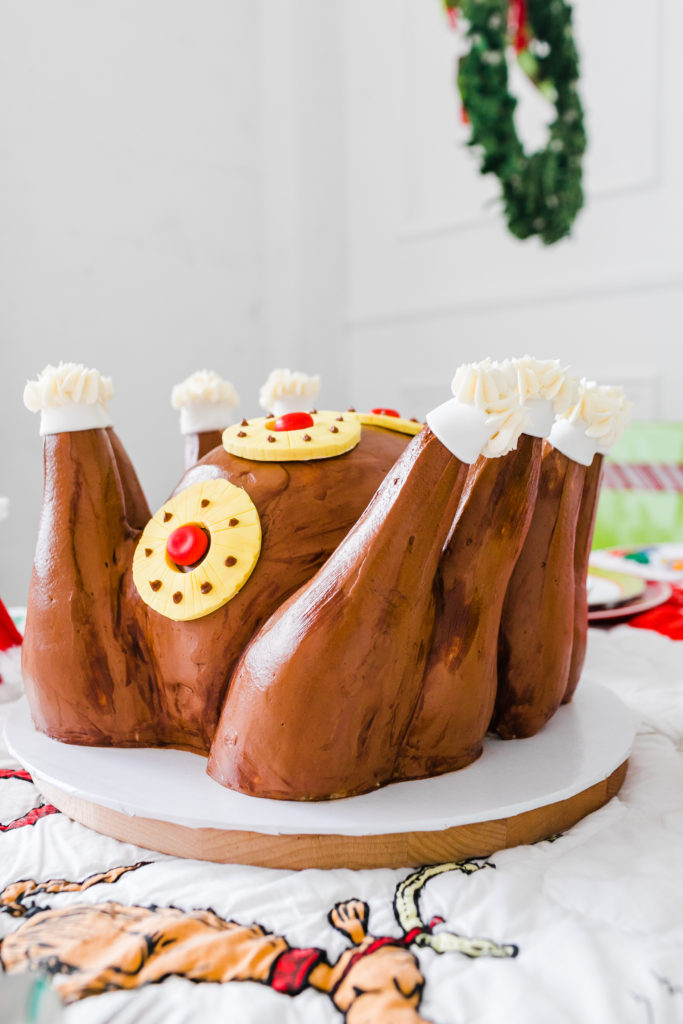 "He brought everything back, all the food for the feast.
And he, he himself, the Grinch, carved the roast beast."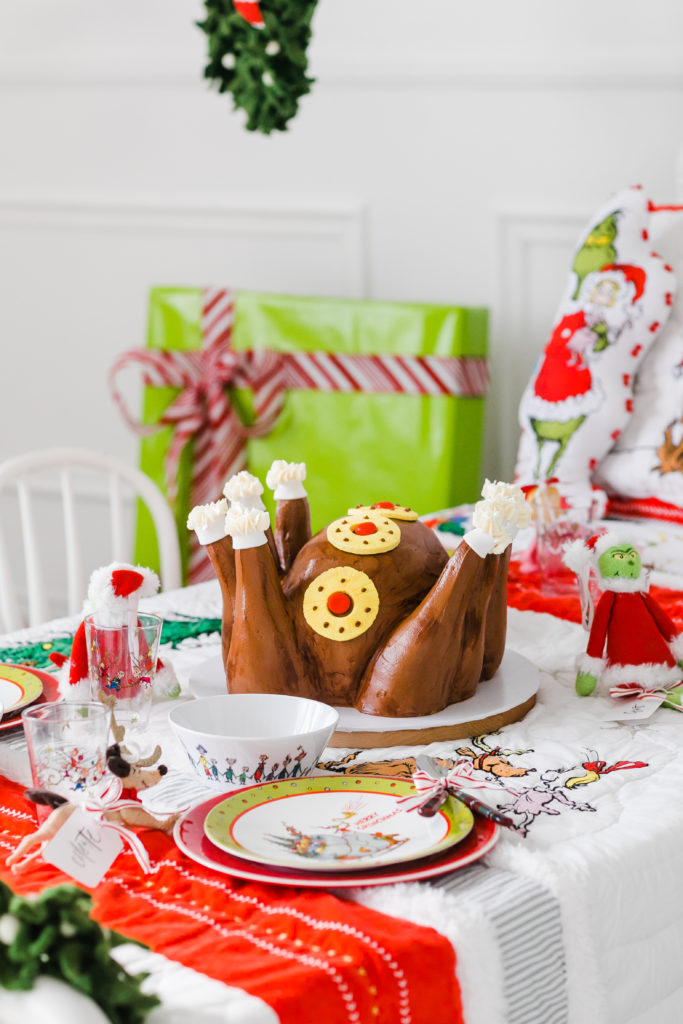 Now time to add in a few cuties!!! I already picked up these Grinch jammies for my kids, make sure you get yours before they sell out!! Just think… reading them the book while they're in their cute jammies while you cuddle them in bed… Sounds like HEAVEN!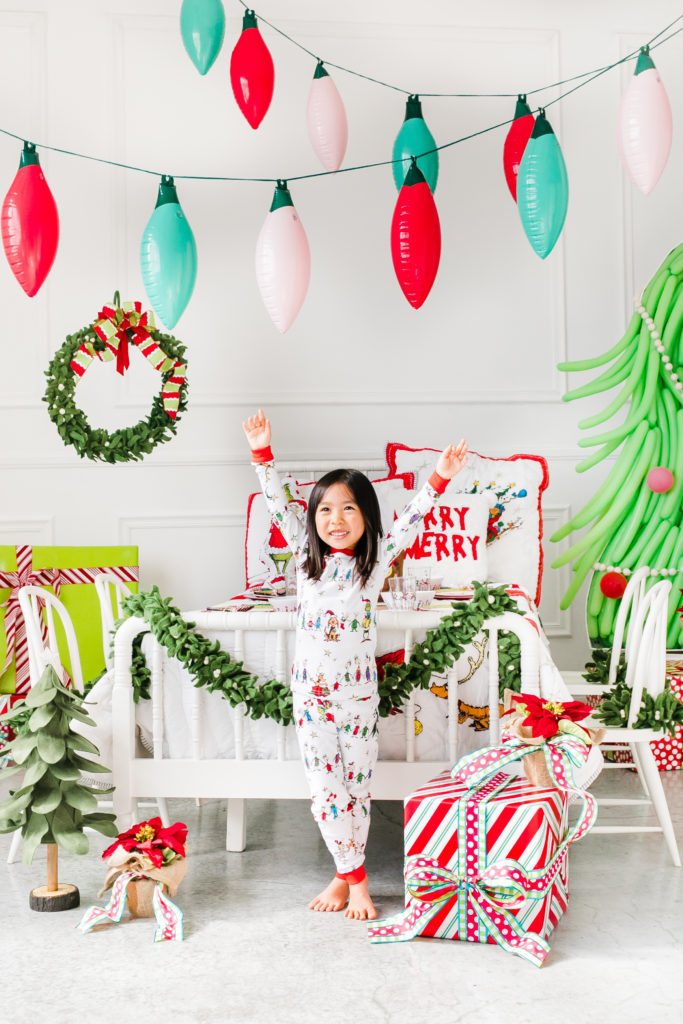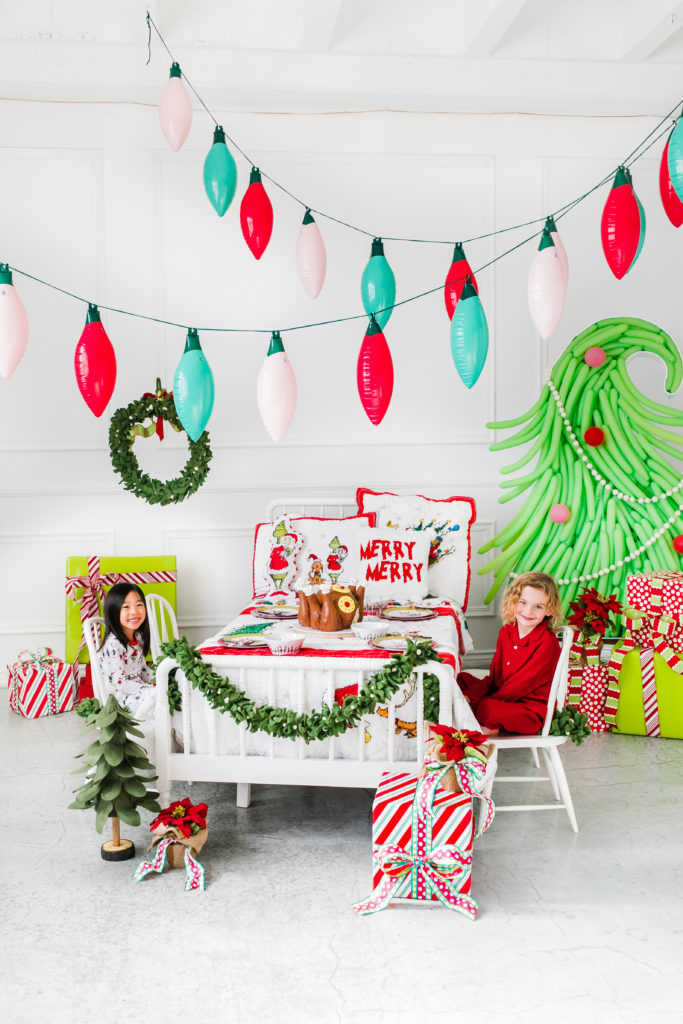 I mean it doesn't get much cuter!! All I want for Christmas is my two front teeth!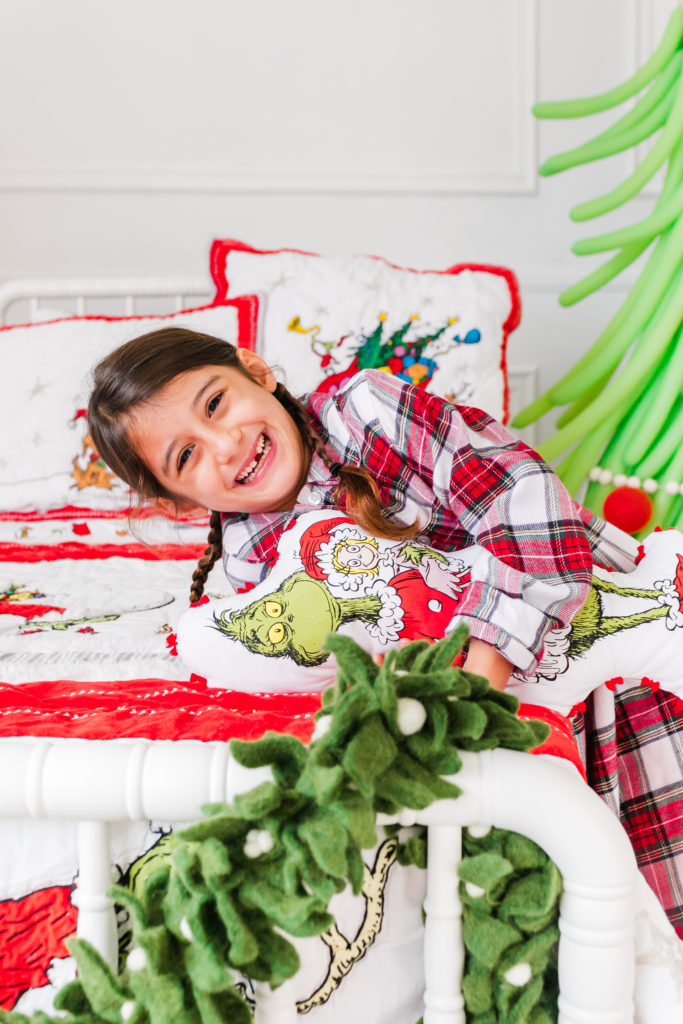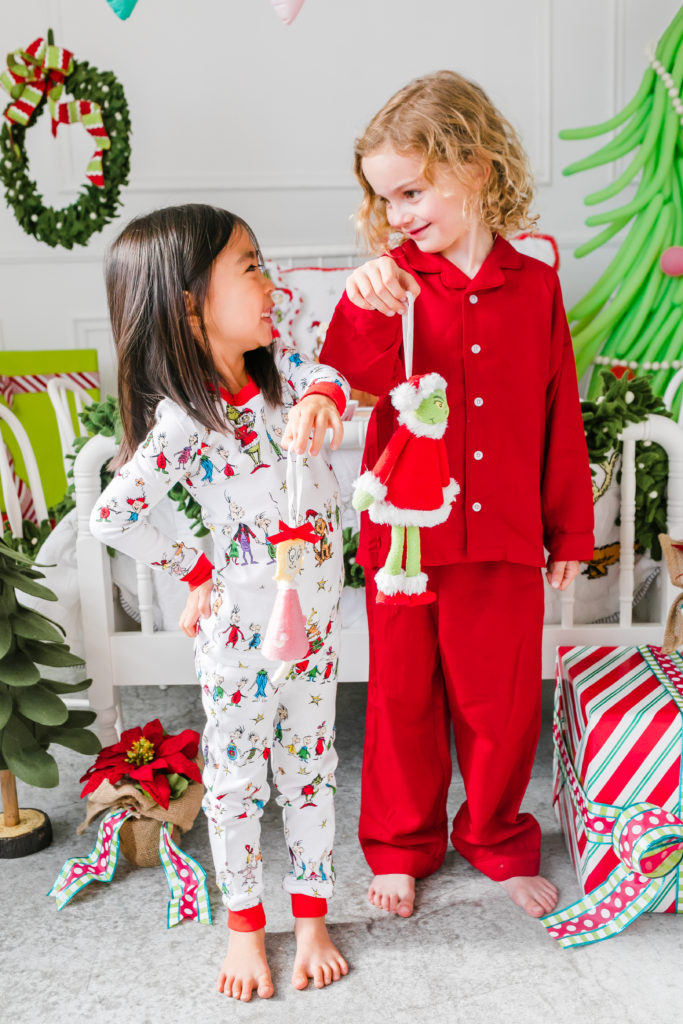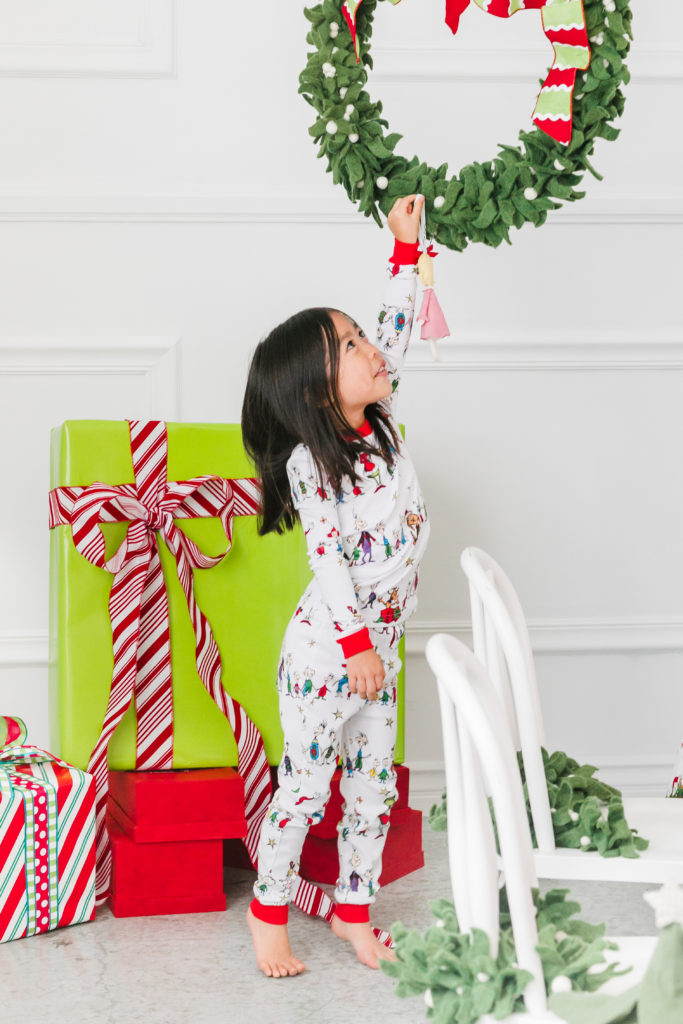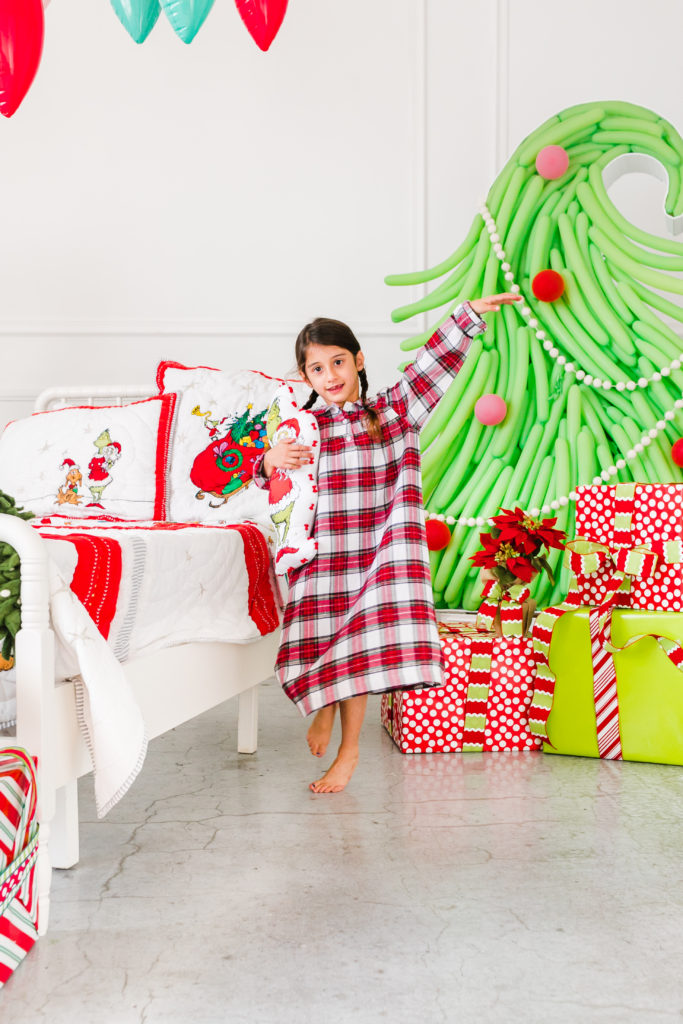 Presents galore!!!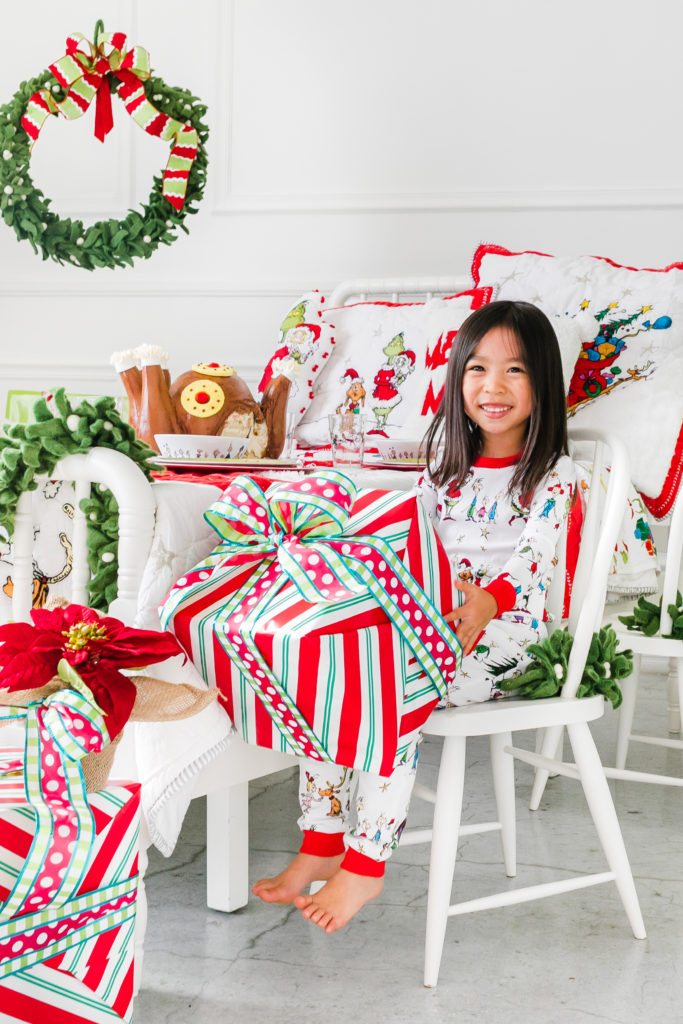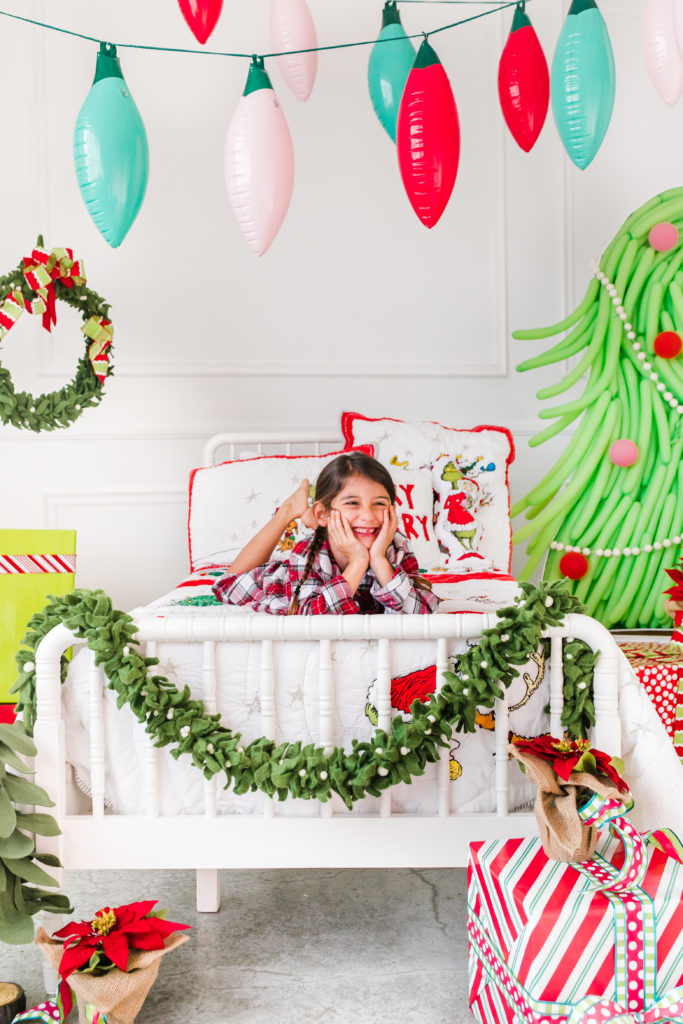 We even had a fun little snack at this party! One that is so easy to recreate at home and pays homage to the Grinch himself! The perfect snack in fact for a Grinch viewing party…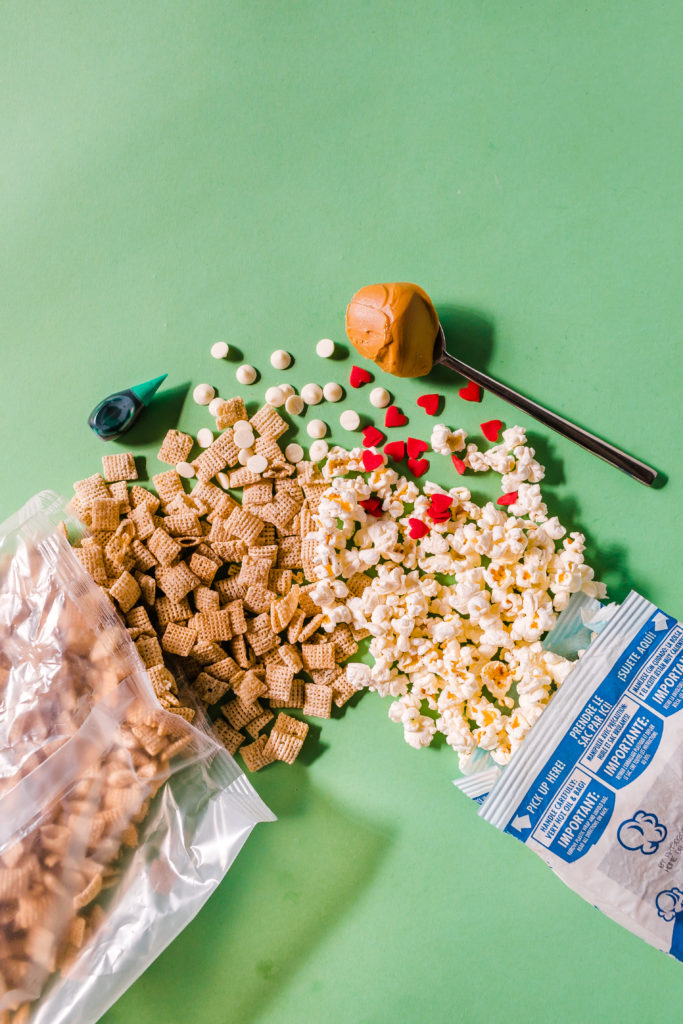 I used this recipe here from Hostess with the Mostest! Super easy and SUPER YUMMY!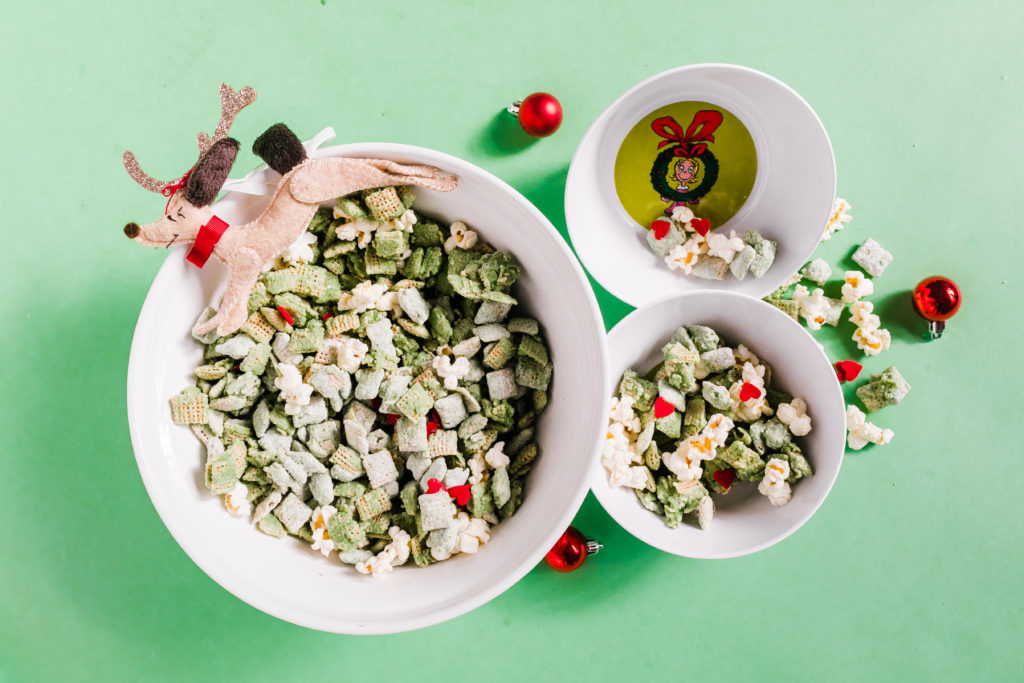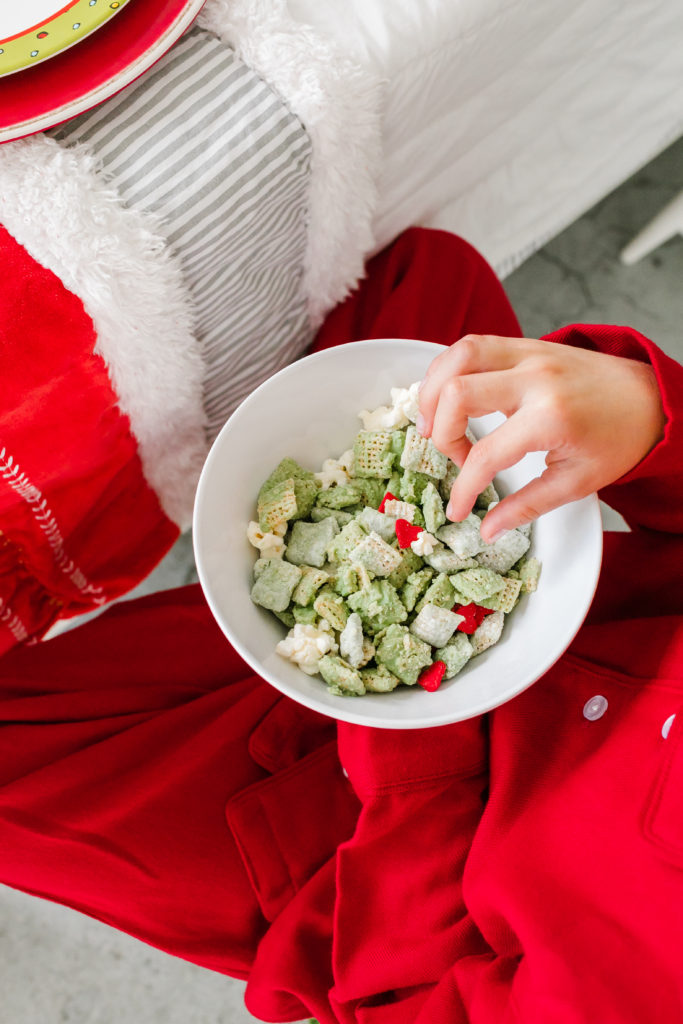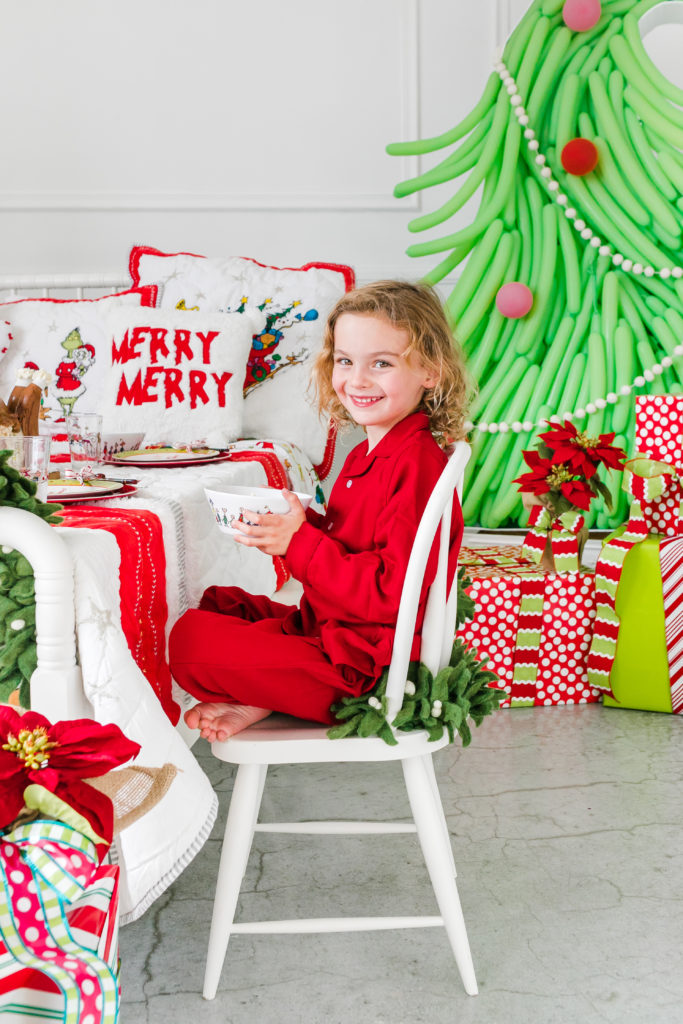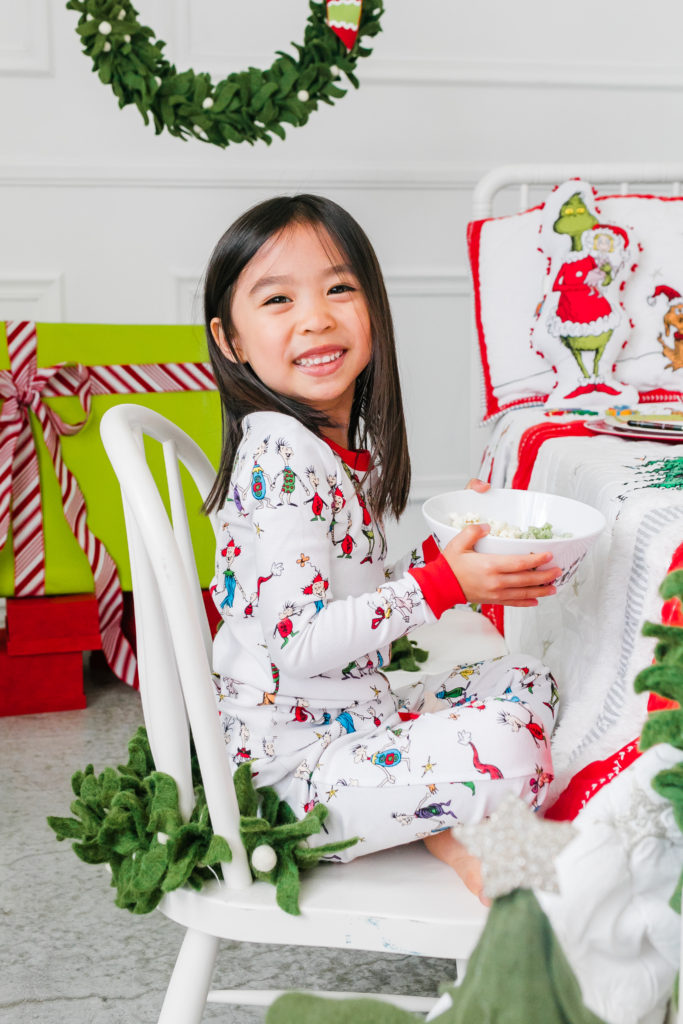 These cuties are too much!!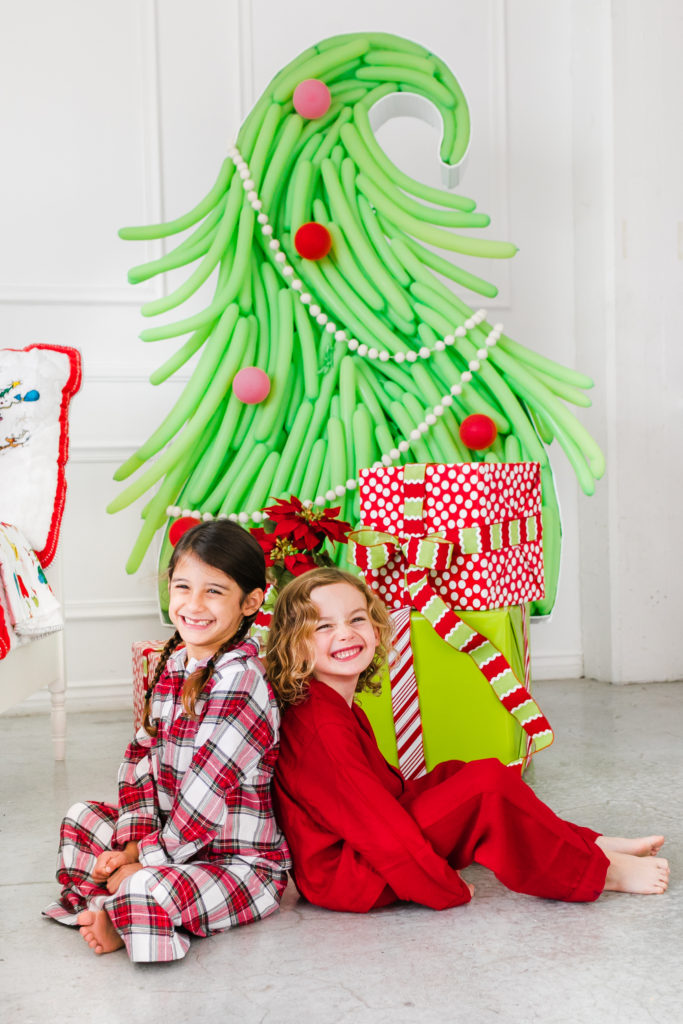 And it doesn't get prettier than these details! Loved the colors and all of the fun product from Pottery Barn Kids for this party!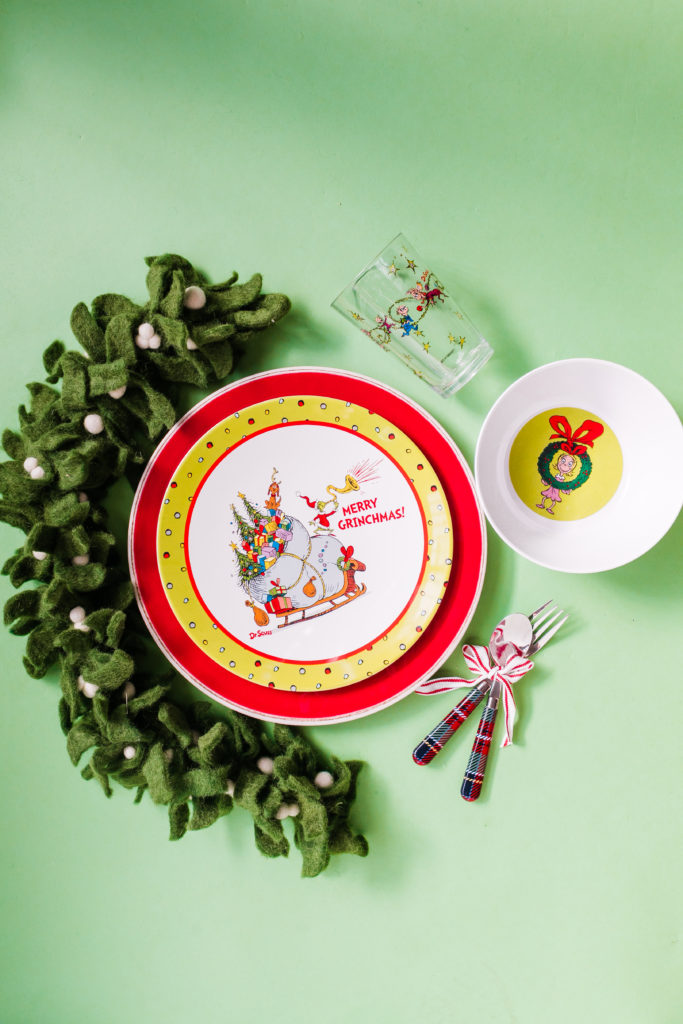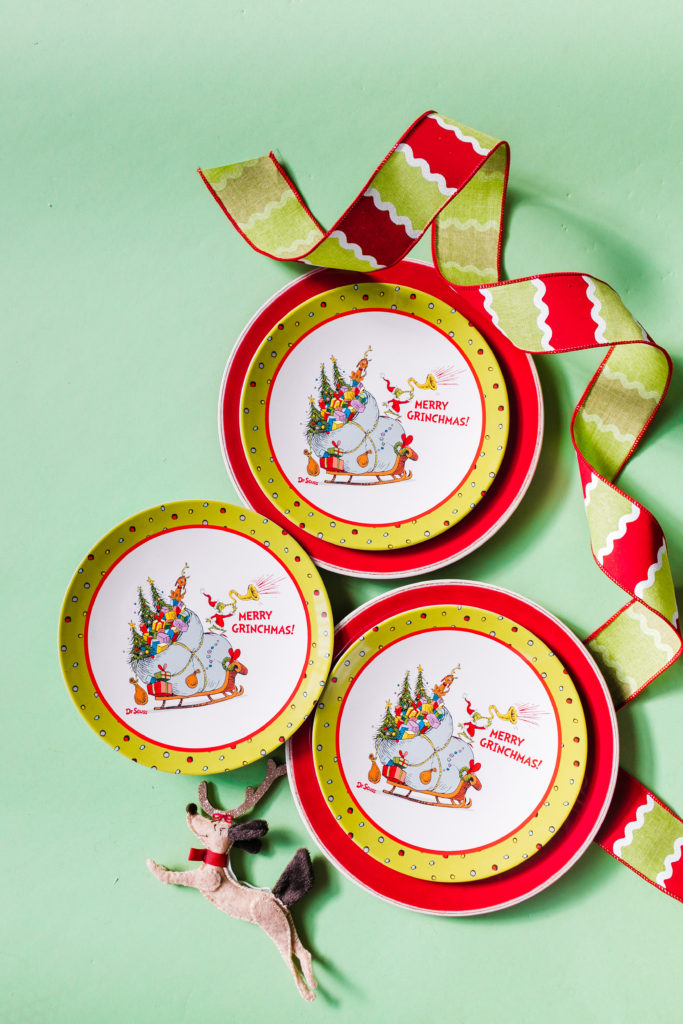 "And the Grinch, with his Grinch-feet ice cold in the snow, stood puzzling and puzzling, how could it be so? It came without ribbons. It came without tags. It came without packages, boxes or bags. And he puzzled and puzzled 'till his puzzler was sore. Then the Grinch thought of something he hadn't before. What if Christmas, he thought, doesn't come from a store. What if Christmas, perhaps, means a little bit more."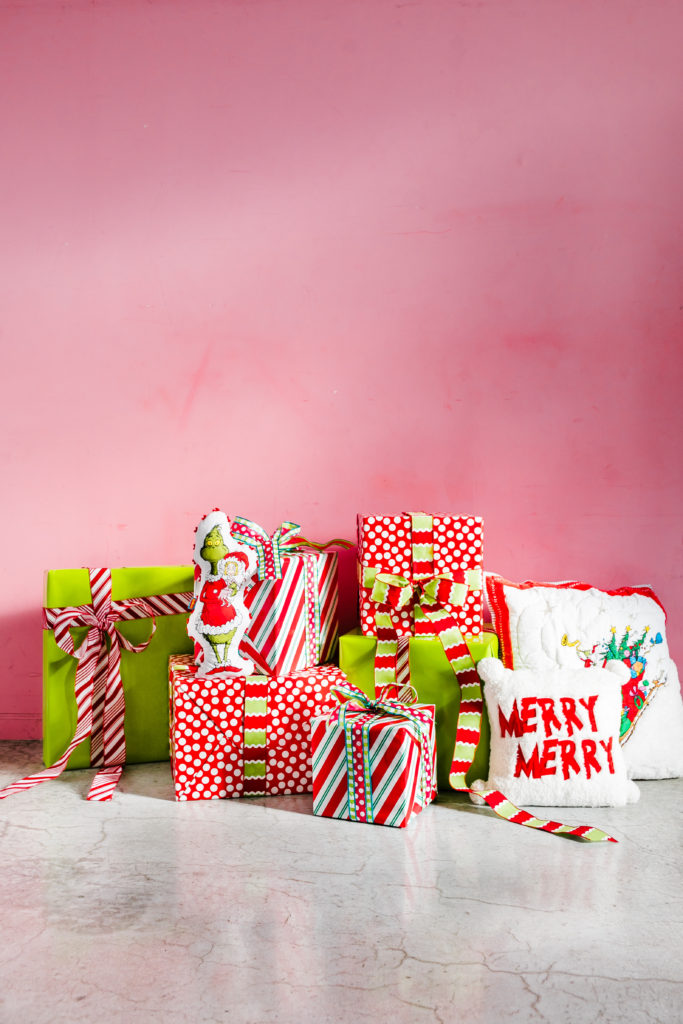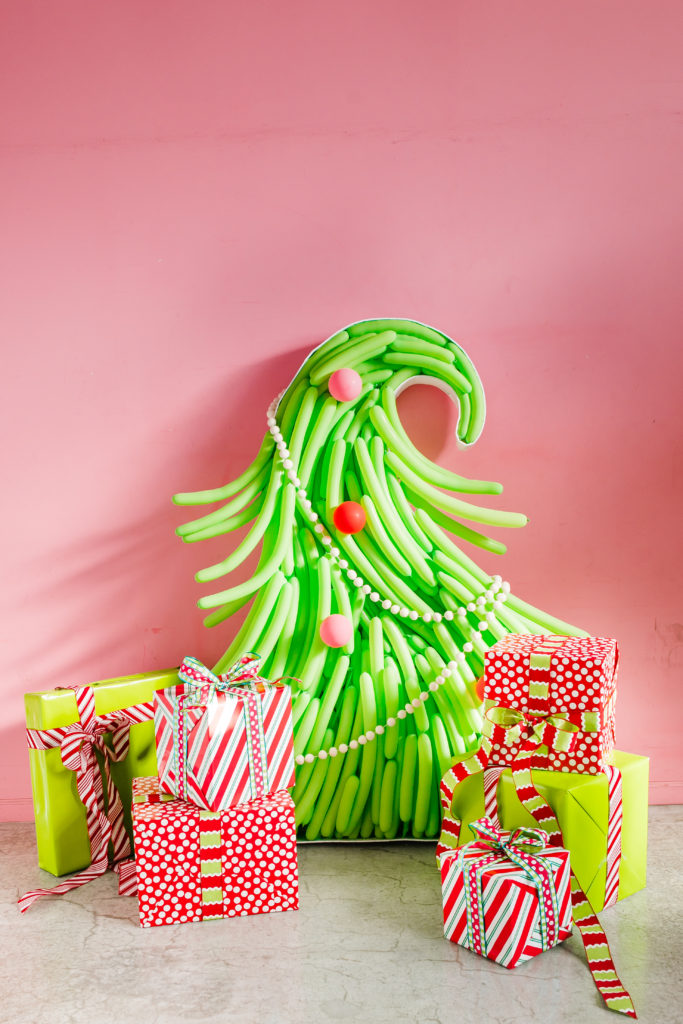 "And what happened, then? Well, in Whoville they say – that the Grinch's small heart grew three sizes that day. And then – the true meaning of Christmas came through, and the Grinch found the strength of*ten Grinches, plus two!"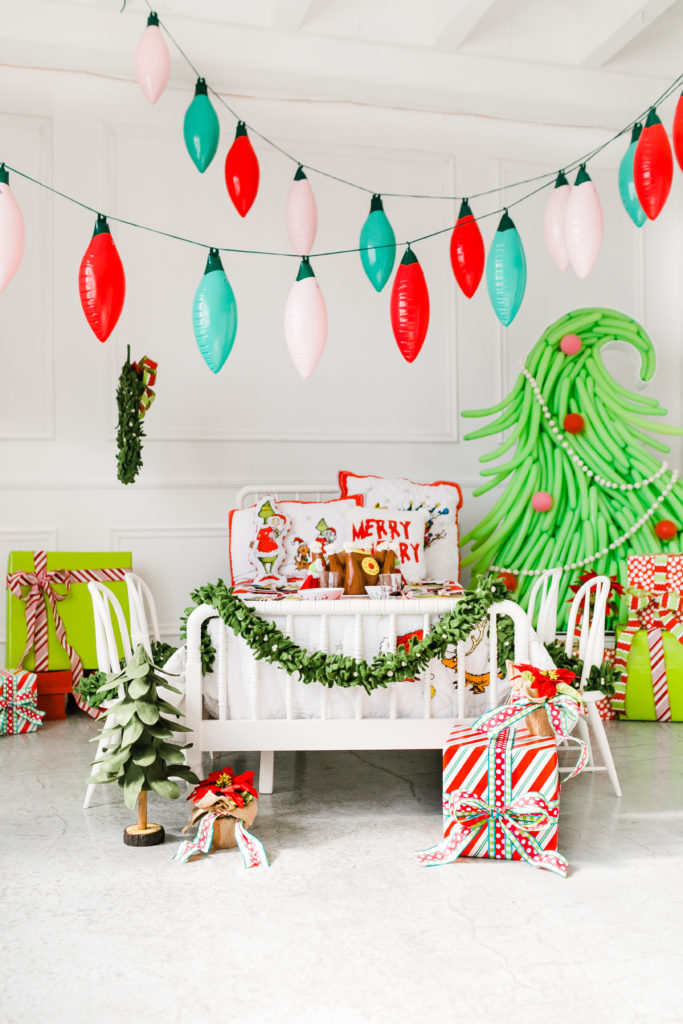 Let the holiday festivities begin!! Hope you are in love with this one like us! Shop all of these goodies below before they sell out!!!

xx
Jacquelyn