Nothing better than kicking off this week with a little Mickey D's if you ask me! Those salty, crispy fries and those drive-thru burgers that you dip in sweet and sour. Oh wait, am I the only one that does that? I do have to say that I passed that down to my son, and he loves it. Mcdonald's, I'm pretty sure is a crowd please for many families out there, and like many fast food establishments, an easy way to cater a party. So, join us celebrating the classic fast-food burger and fries this week, and see how you can easily take a couple of classic items and turn them into individual meals for your next party!
---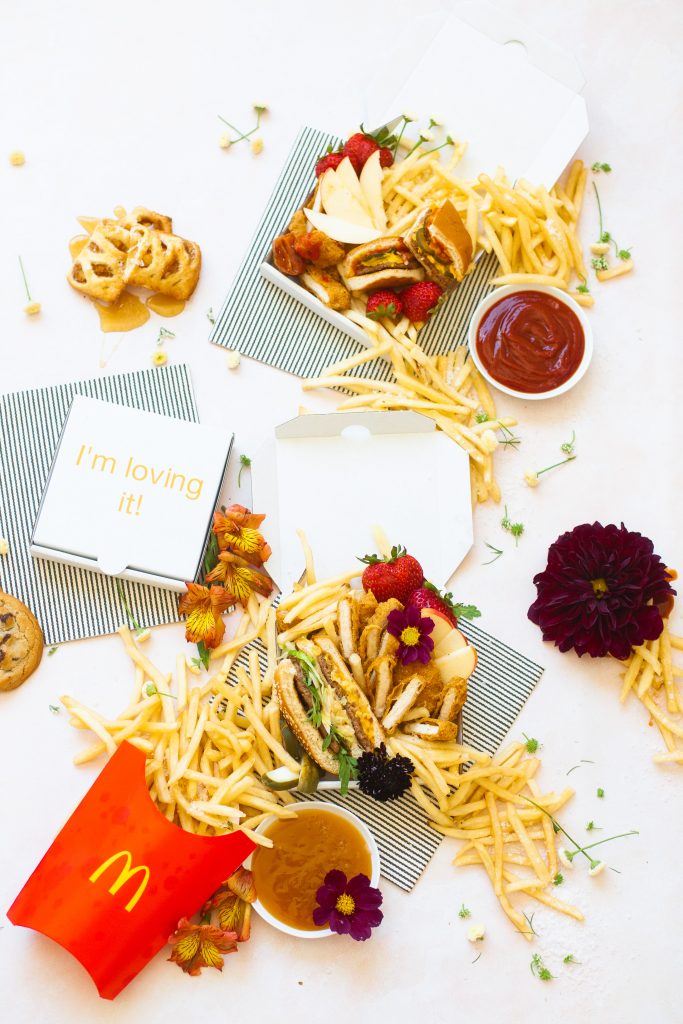 ---
MCDONALD'S CHARCUTERIE BOARDS
SERVES: 1 | PREP: 5 MINUTES | COOK: 0 MINUTES
W H A T Y A N E E D
Cheeseburgers
Big Macs
Nuggets
French Fries
Dipping Sauce of Your Choice
Apple Pie
Chocolate Chip Cookies
Fresh Fruit
Flowers for Garnish

B U S T   O U T

Mini Pizza Boxes
---
I N S T R U C T I O N S

Ok, pals, as usual, we try to keep it pretty simple around here. 1st, if you are doing this for a party, which is a great idea! Cause crossing off food for a party is a big relief! One less thing to worry about, plus I'm pretty sure everyone loves a little Mickey D's! You can beat their fries. So let's keep it real here, get the food at the last minute. No one likes cold fast food. Now, grab your little pizza boxes and start creating your masterpiece. Cut the nuggets in half to create little sticks. Slice your cheeseburgers or Big Macs in half. Have fruit sliced and ready to go. Let's start with the french fries 1st by piling them in a corner. Then work your way around the pizza box. I like to create two corners for the fries. Then start to layer in the big items like a burger or chicken sandwich. Then tuck in the nuggets next to them, followed by some fresh fruit to balance out all that sodium intake. Finally, add some flowers for garnish cause honey, fast food isn't the prettiest thing to look at! Plus, we love our floral garnishes over here. Add in an apple pie or cookie on the side for a little sweetness. Be sure to serve with your favorite side of sauce; we are a sweet and sour family for sure over here! And, there you have it! One cute little mini pizza box of fast food delish. What kid is going to pass that up! Easy for you and makes those little smiles extra big!

To make the mini pizza boxes is super easy! If you have a vinyl printer like a Cricut or Cameo, you print and cut out any cute saying you want. I did, "I'm loving it" in a mustard color. Then apply straight onto the mini pizza box. You could also add a name on there for an extra custom touch! Great idea for a kid's party.
---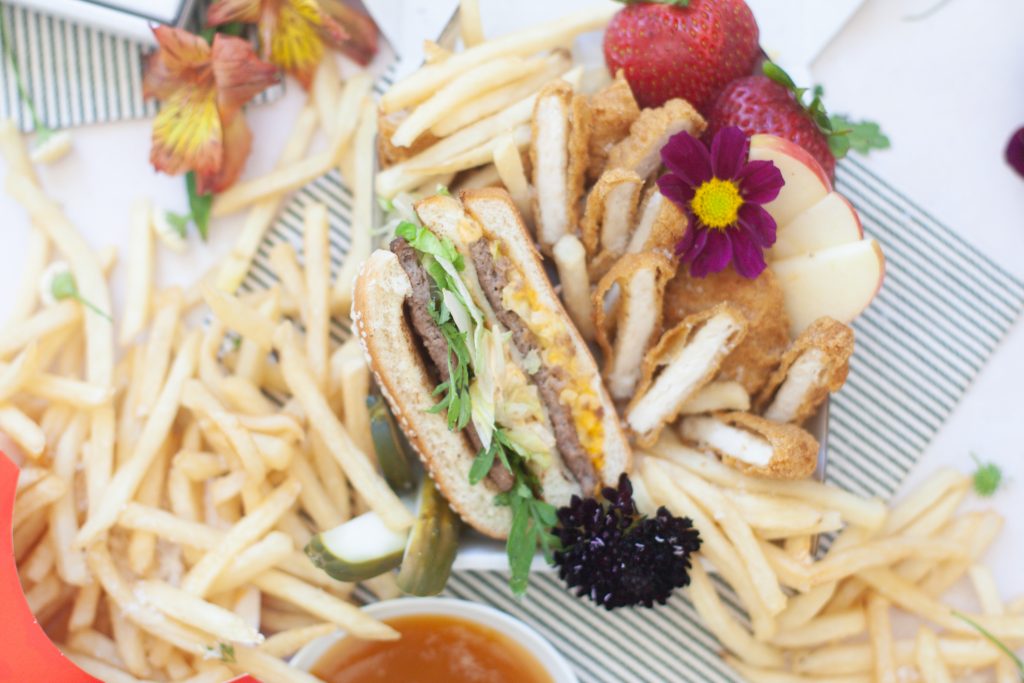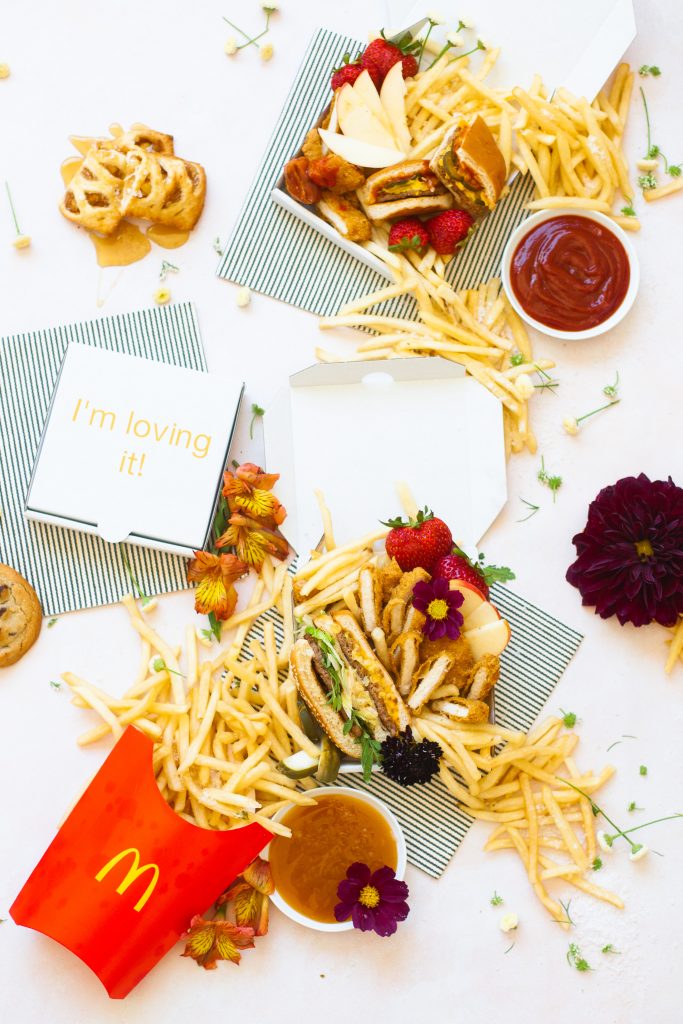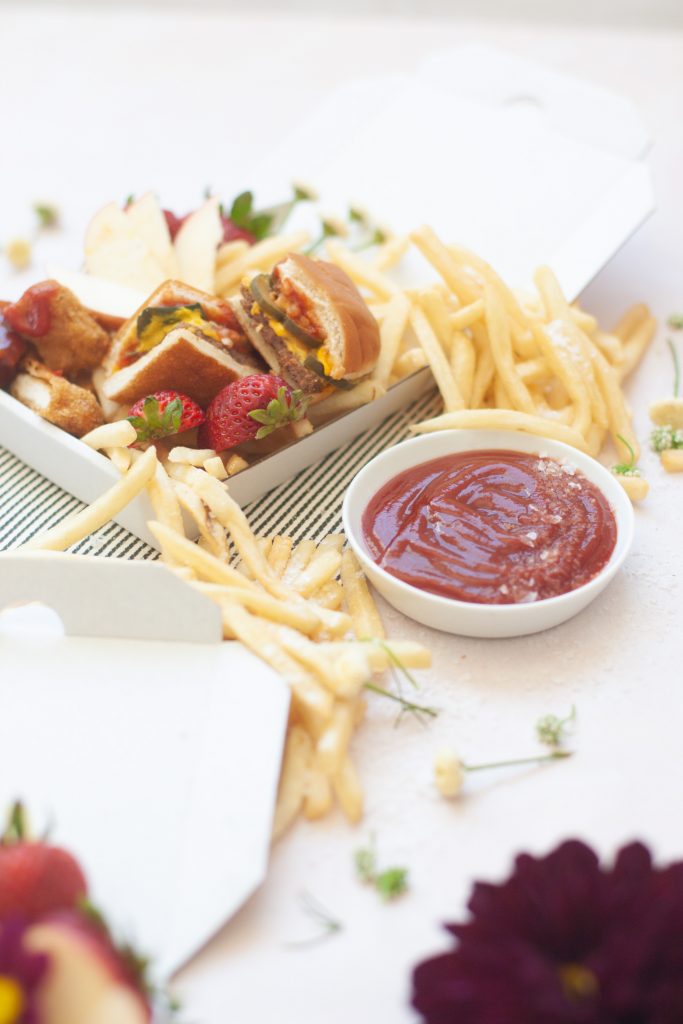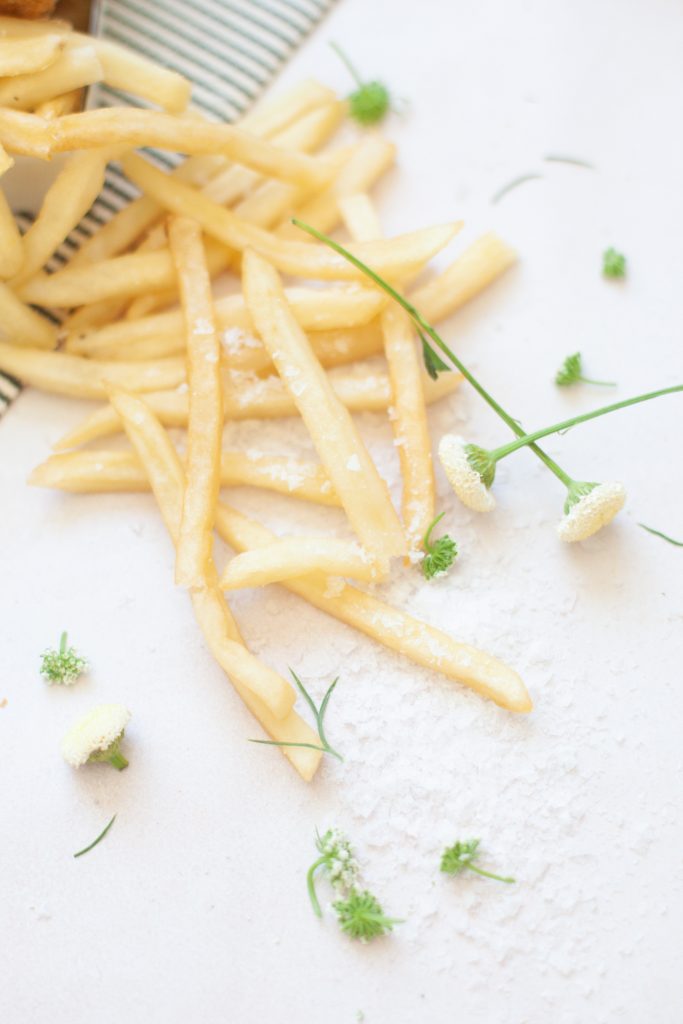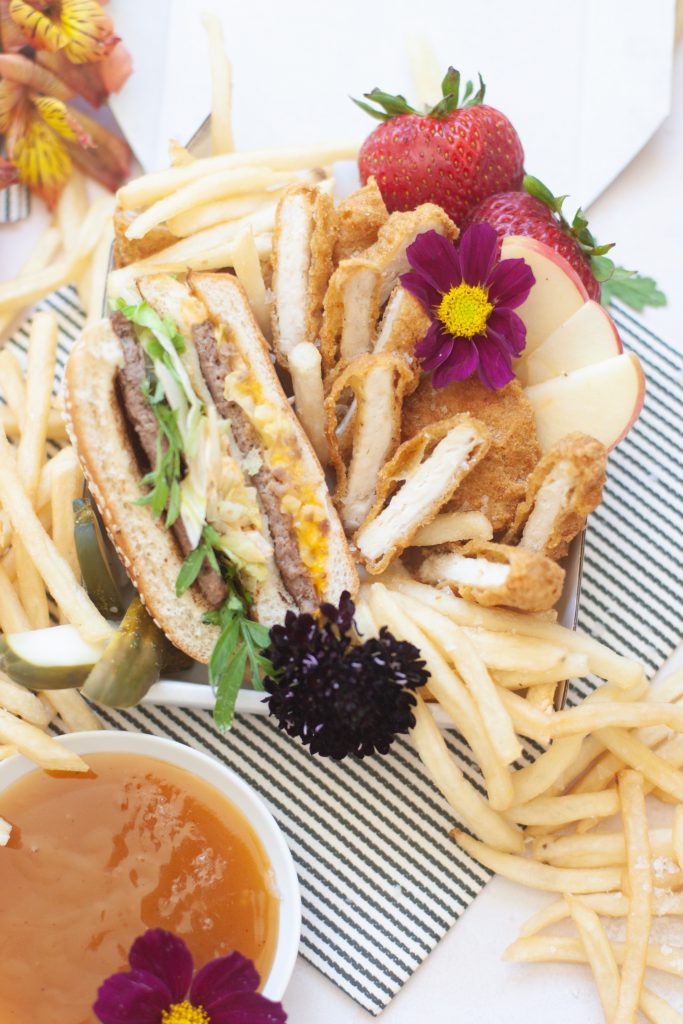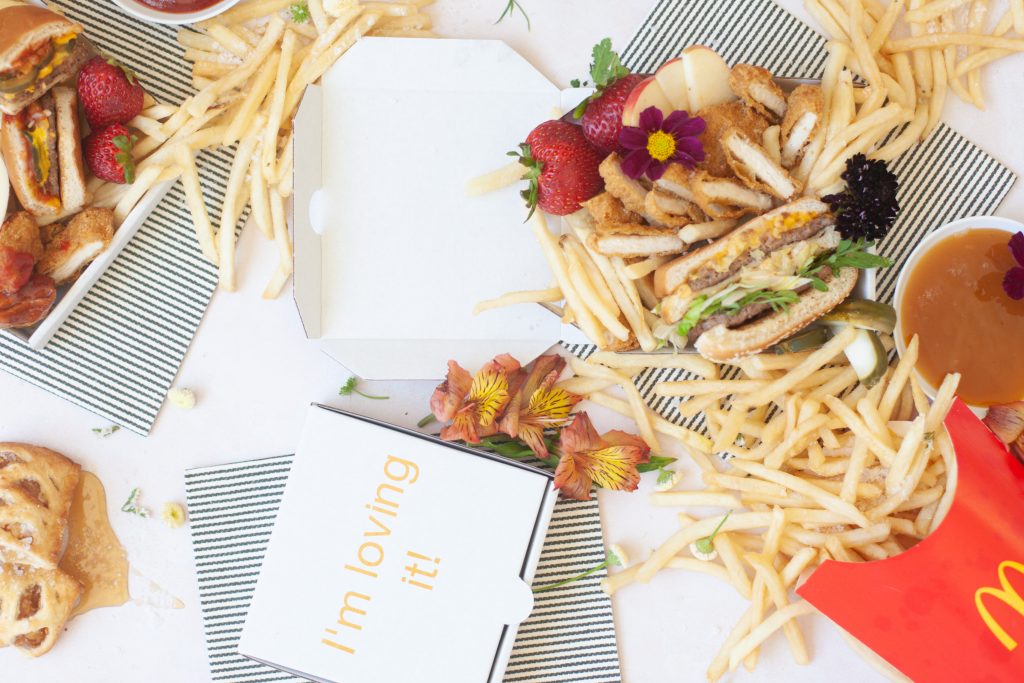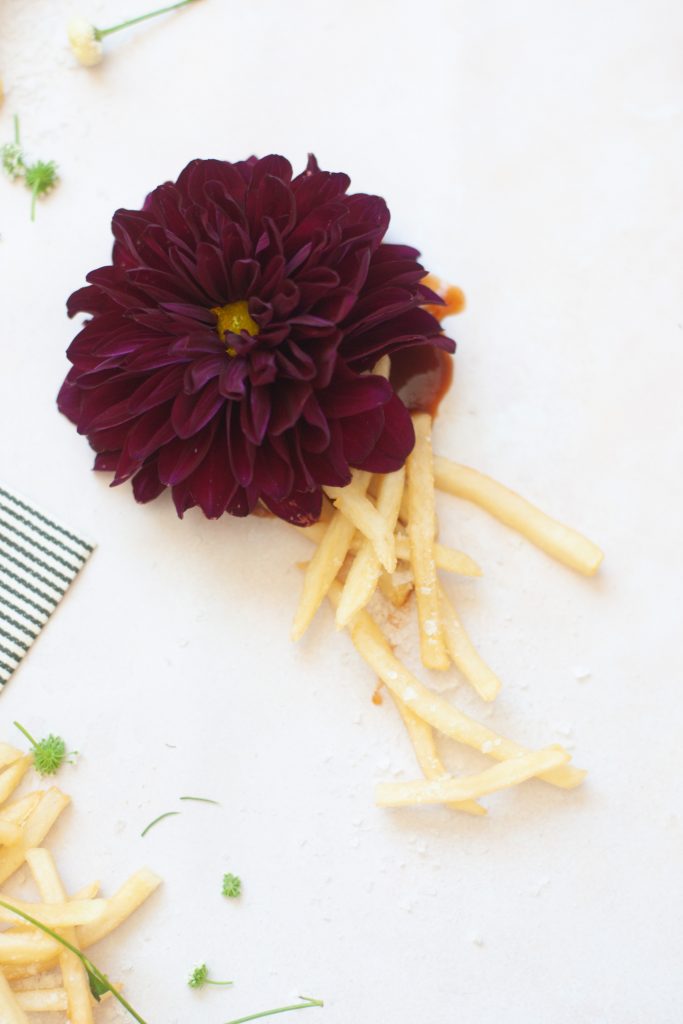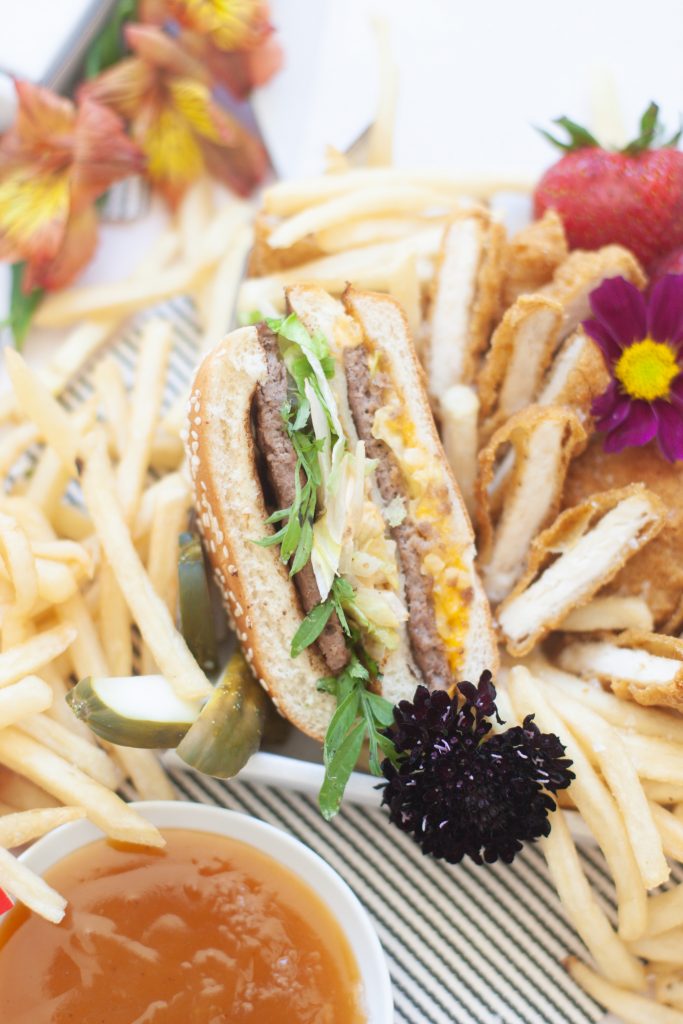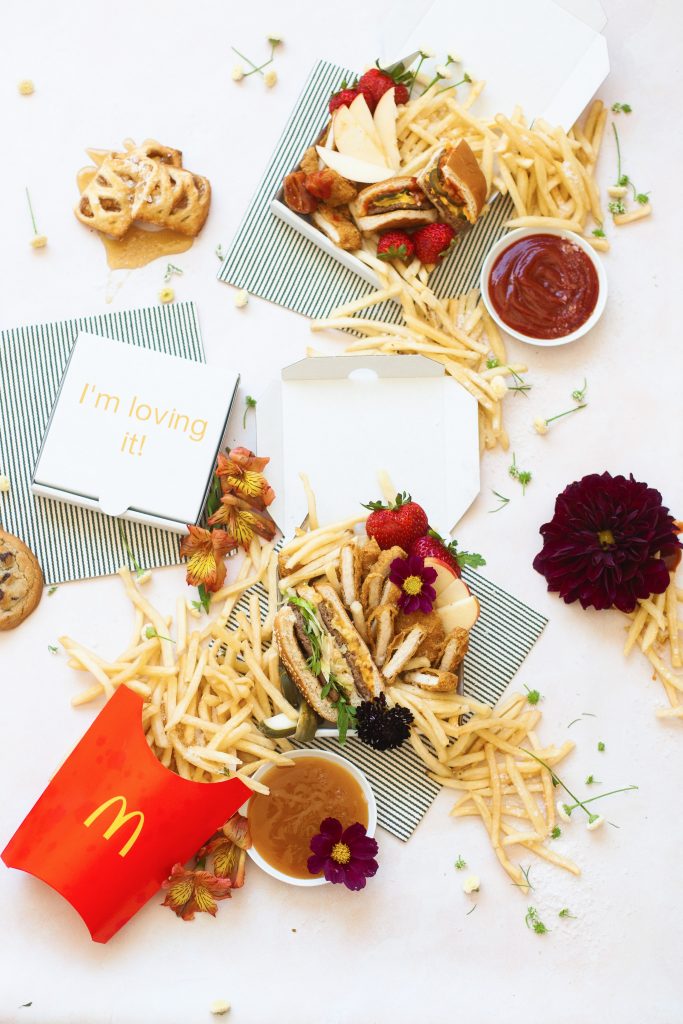 xx
Abby