We do a lot of un birthday parties for kids around here, and they tend to mostly be for girls! So when we get a fun boy party I get really excited!! Let's us flex our creativity muscles a little, and speaking of muscles, this one is a Super Hero party! Both of my boys went through a super hero loving phase, I even did a super hero themed party for my son Court 4 years ago!
Well this time it was our little buddy Bowie's turn, and his mom wanted to make sure he had a super time, so we went all out! I'm excited to share this one with you today with all the adorable photos by Alison Bernier! Keep soaring, I mean scrolling, to see it all!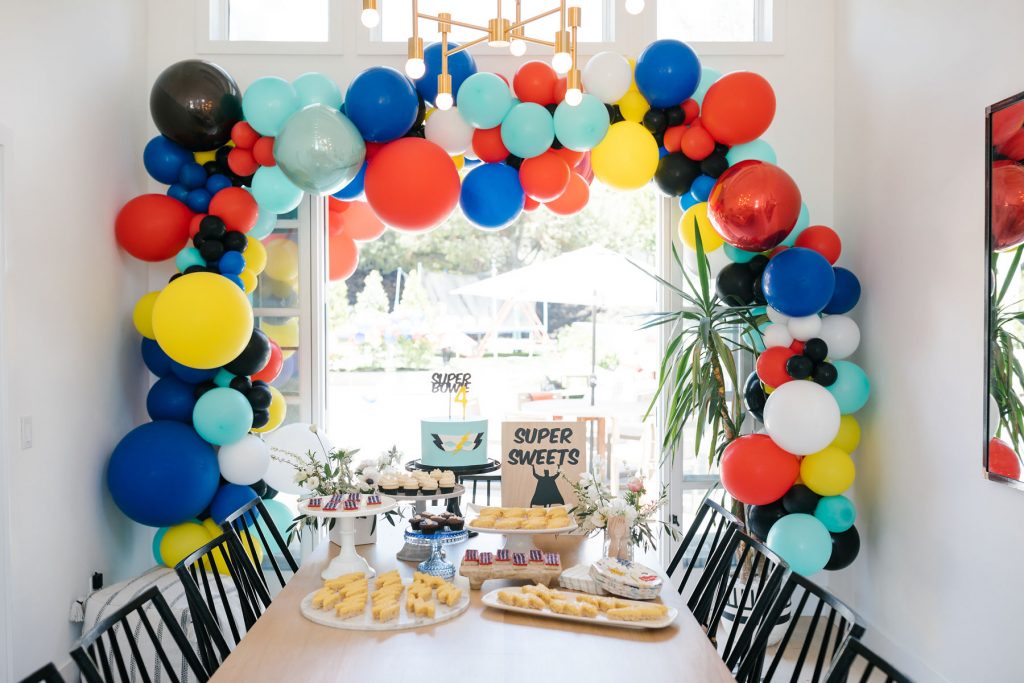 They say first impressions are everything and we like to have a little statement at the entrance to our parties! The Pop Shop decked out our client's front door and we added the perfect welcome sign by Poppy Jack Shop to jazz it up as well!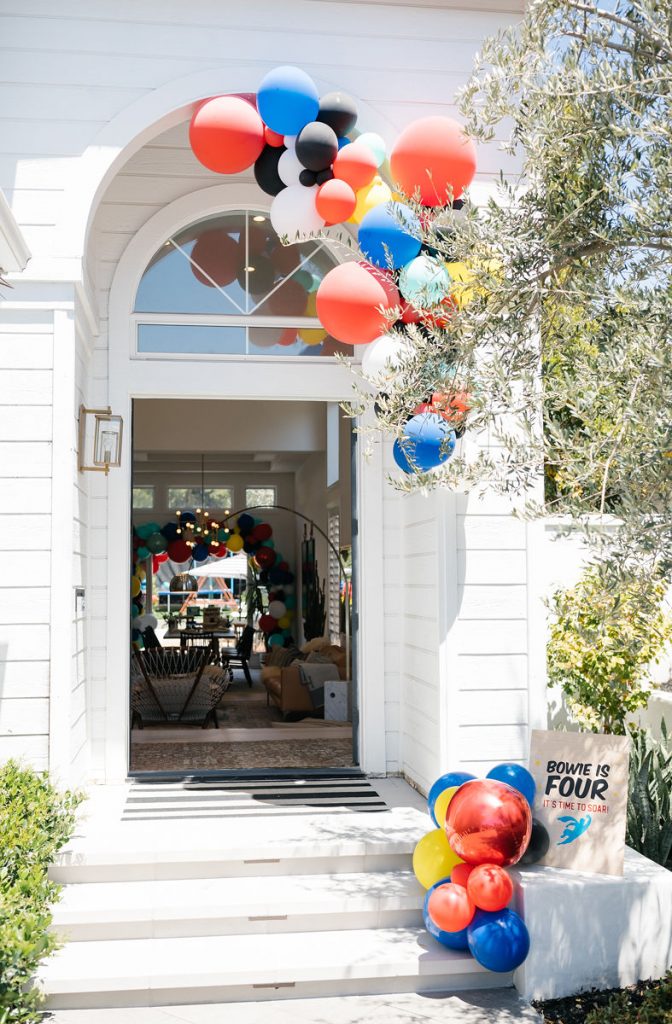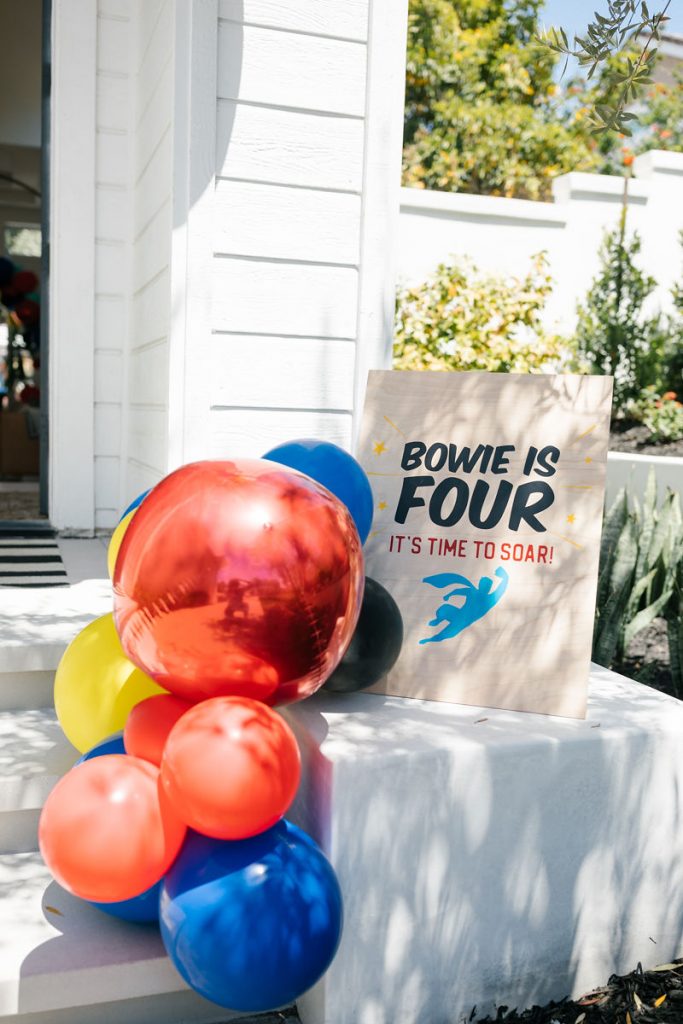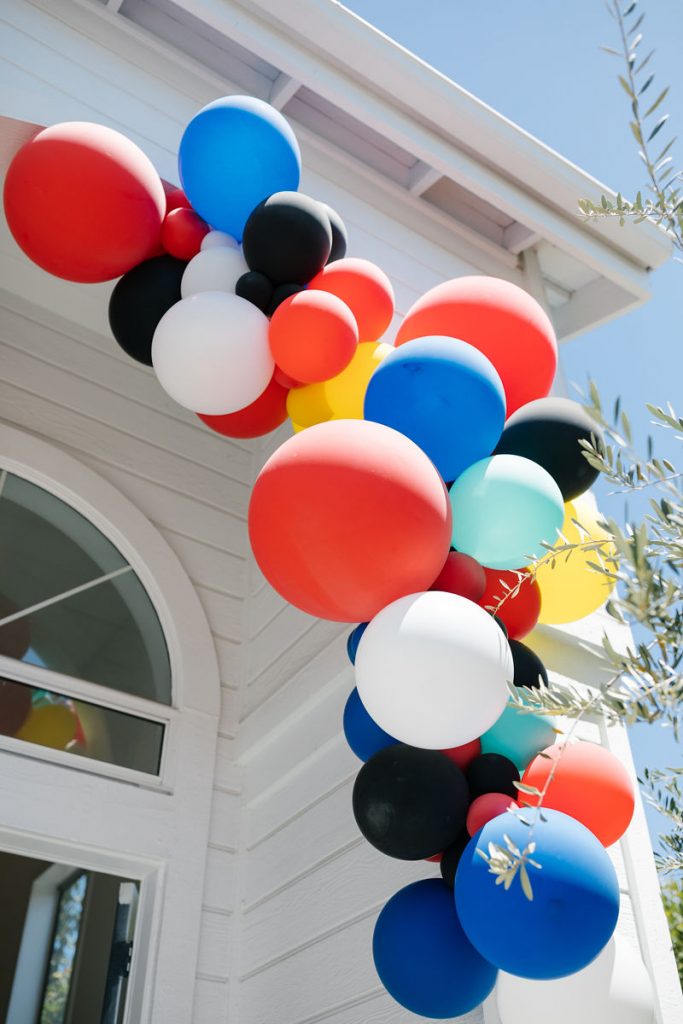 How adorable is this family?! Kate, the beautiful mama, was a dream client and so fun to work with!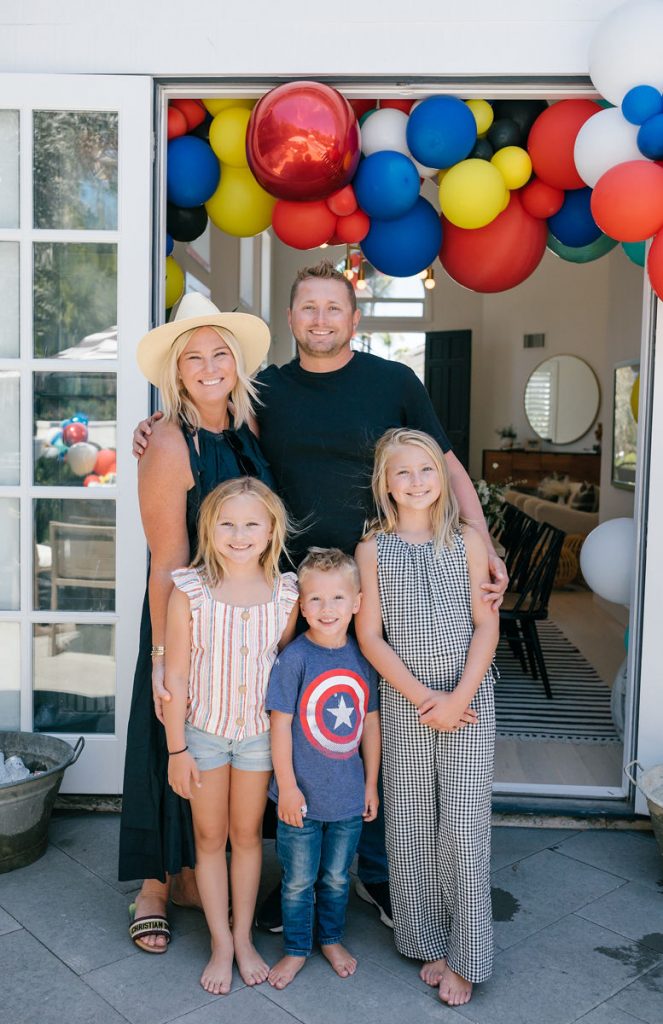 Bowie is one lucky guy to have such sweet big sisters!!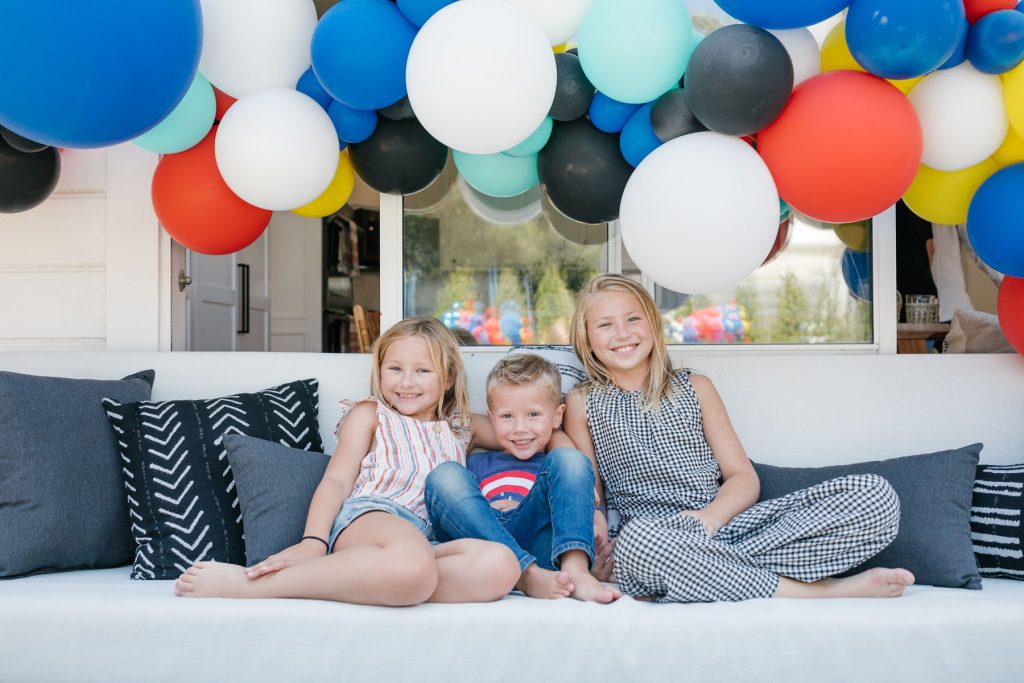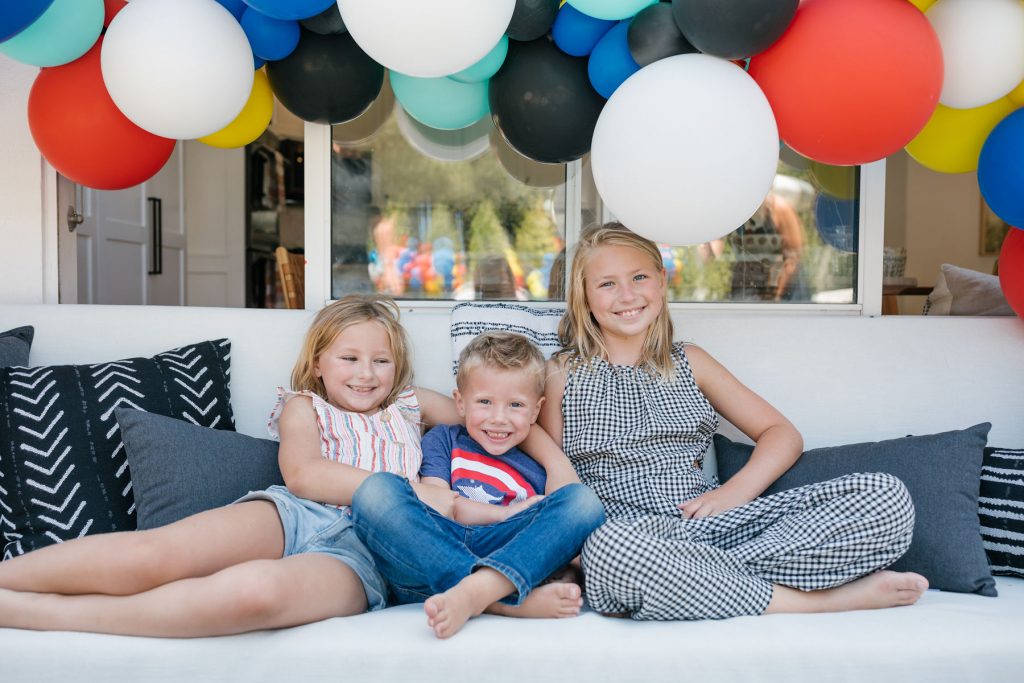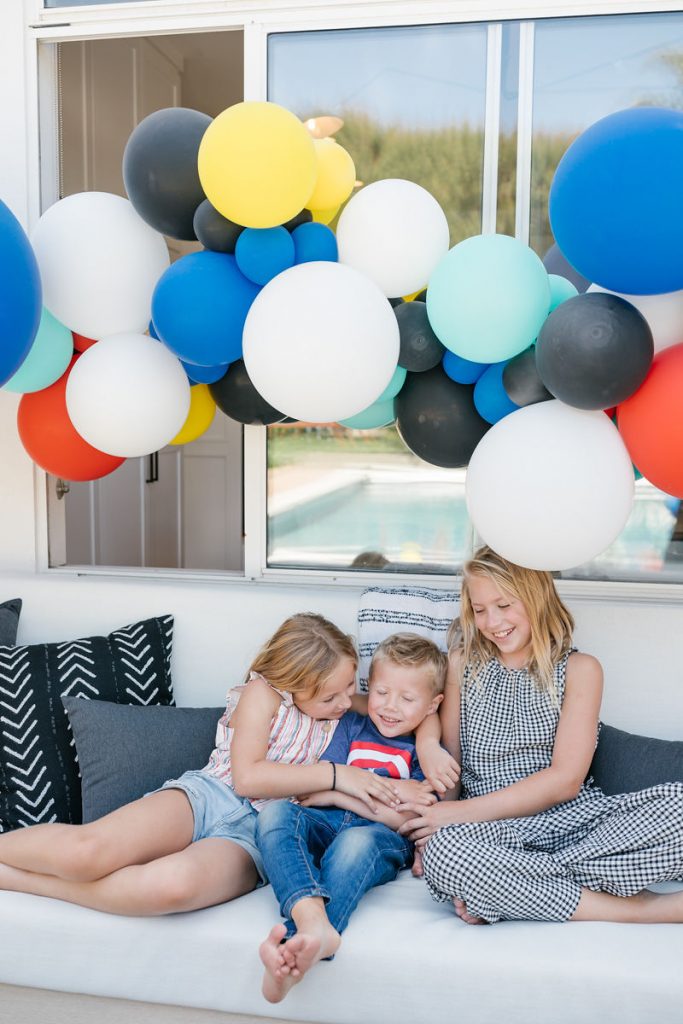 Now those are some super muscles!!! I always love how Alison Bernier captures kiddos!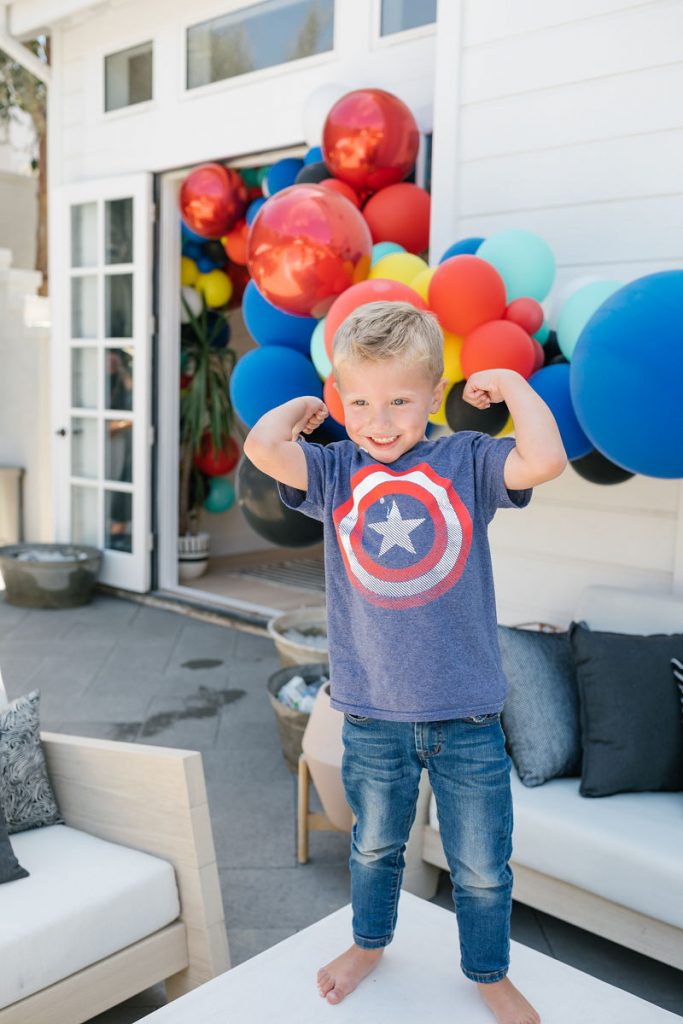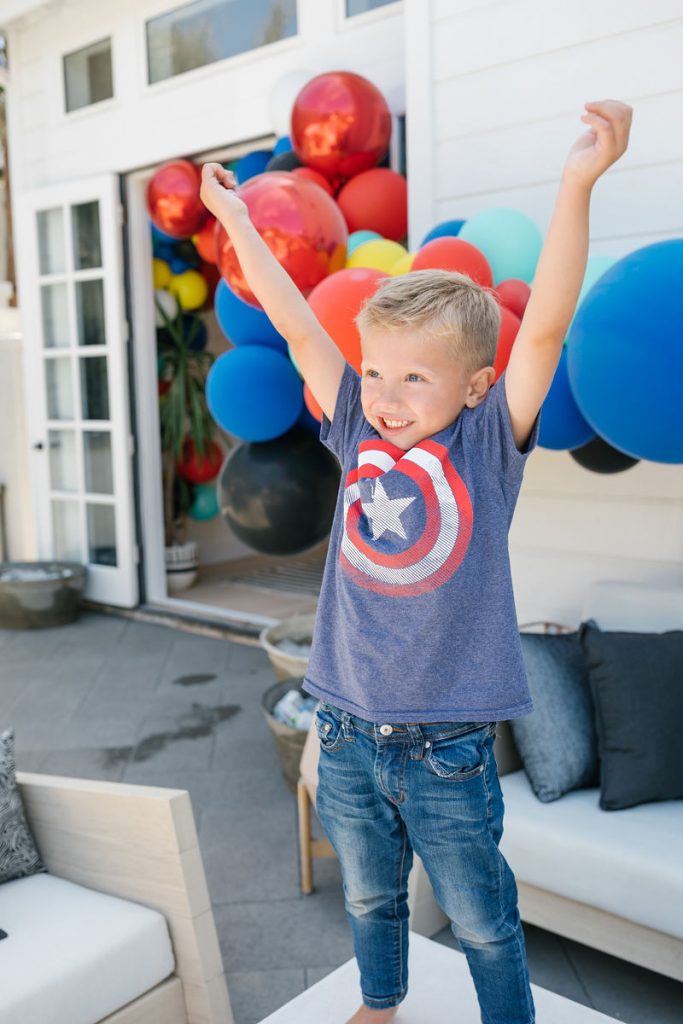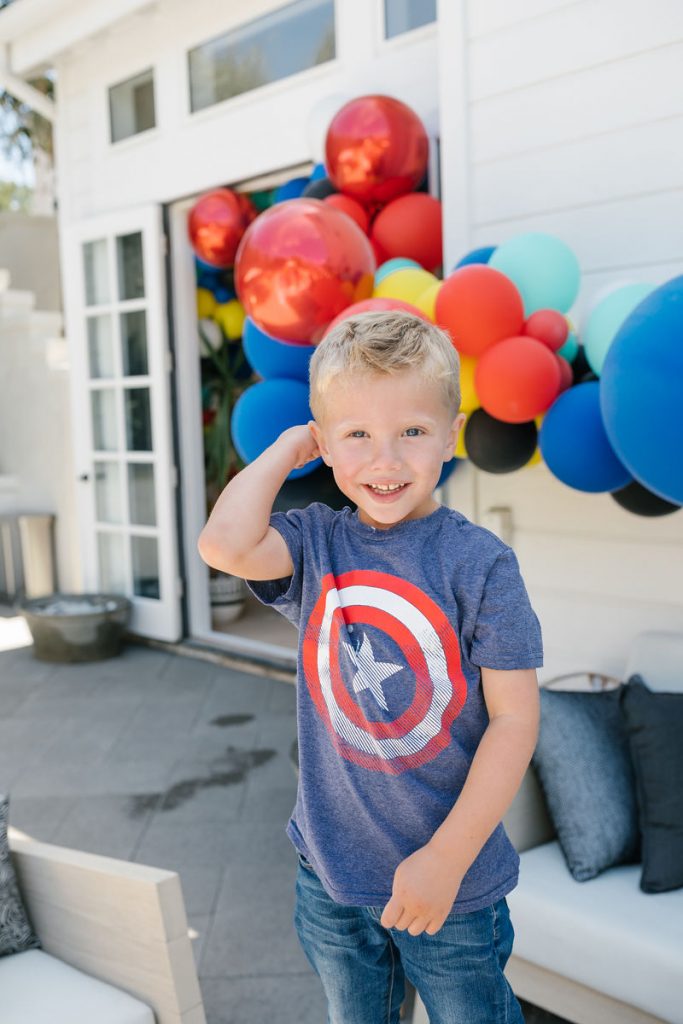 Love this shot!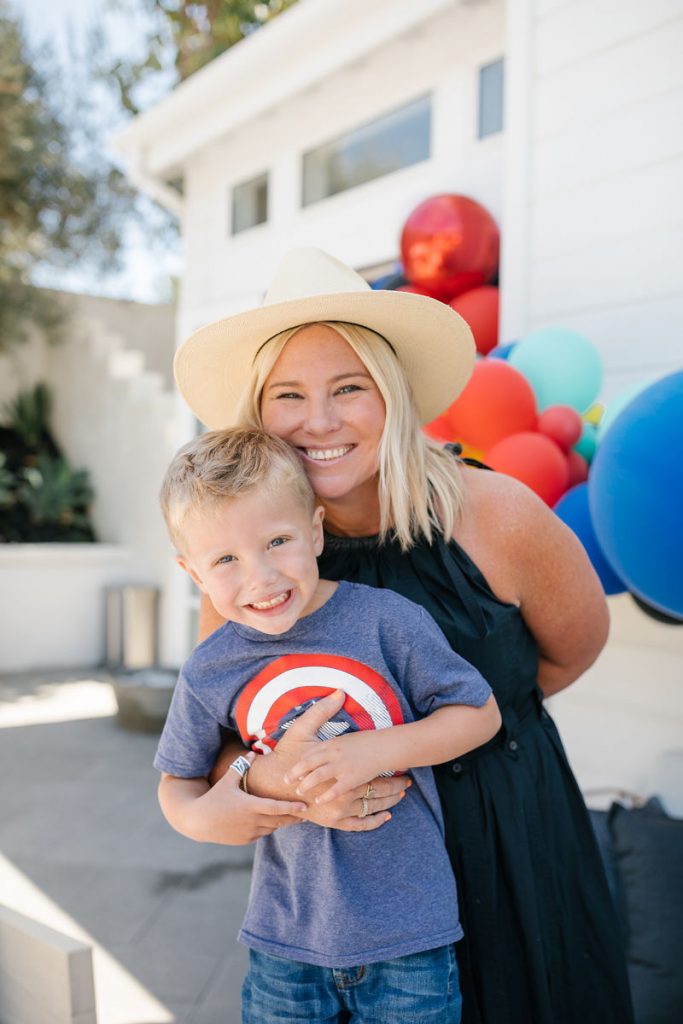 The table was set with fun modern colors and graphic prints courtesy of Oh Happy Day and Daydream Society. I loved using black as an accent color with the chairs from Sweet Salvage Rentals, flatware from Sophistiplate, and details by Poppy Jack Shop. I kept the flowers neutral with white, greenery, and black as well with the anemones! Third & Park nailed the floral design.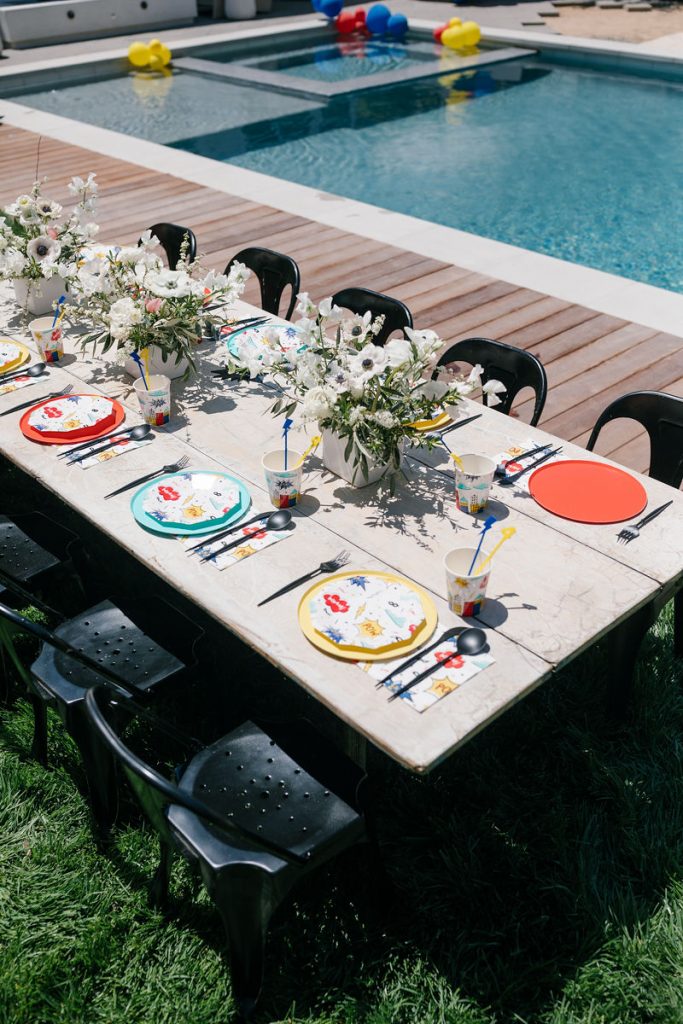 More balloons from The Pop Shop because you can never have enough!!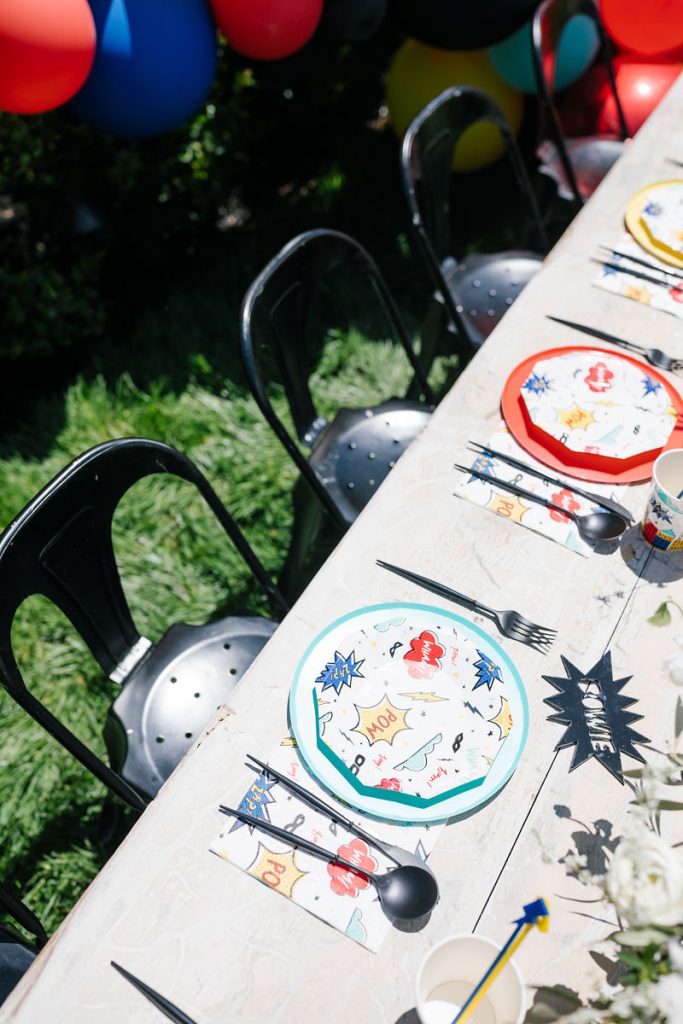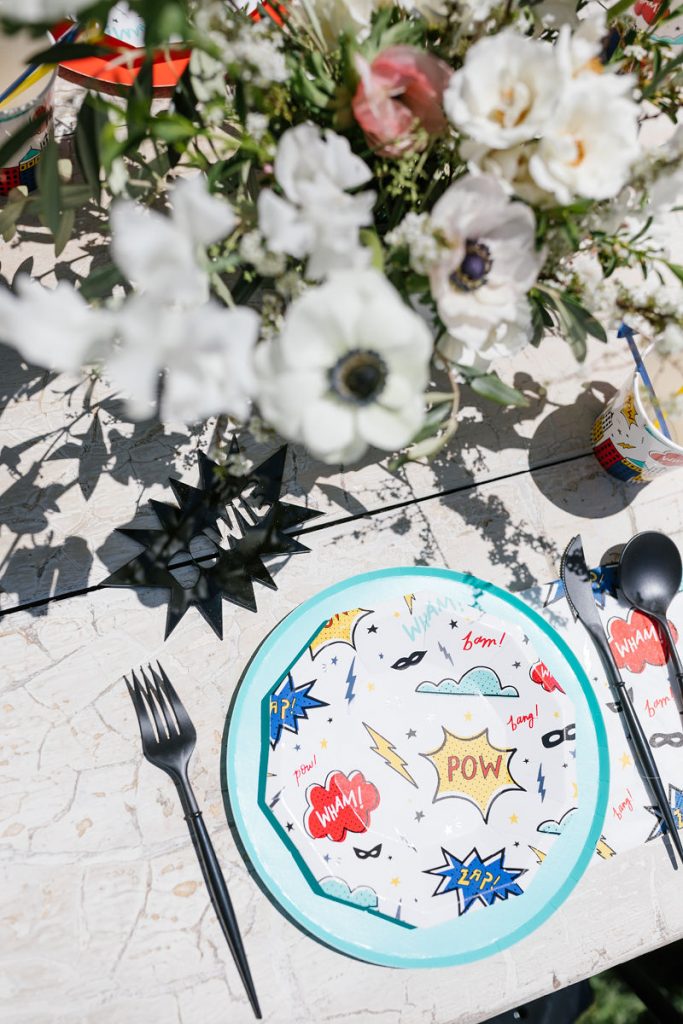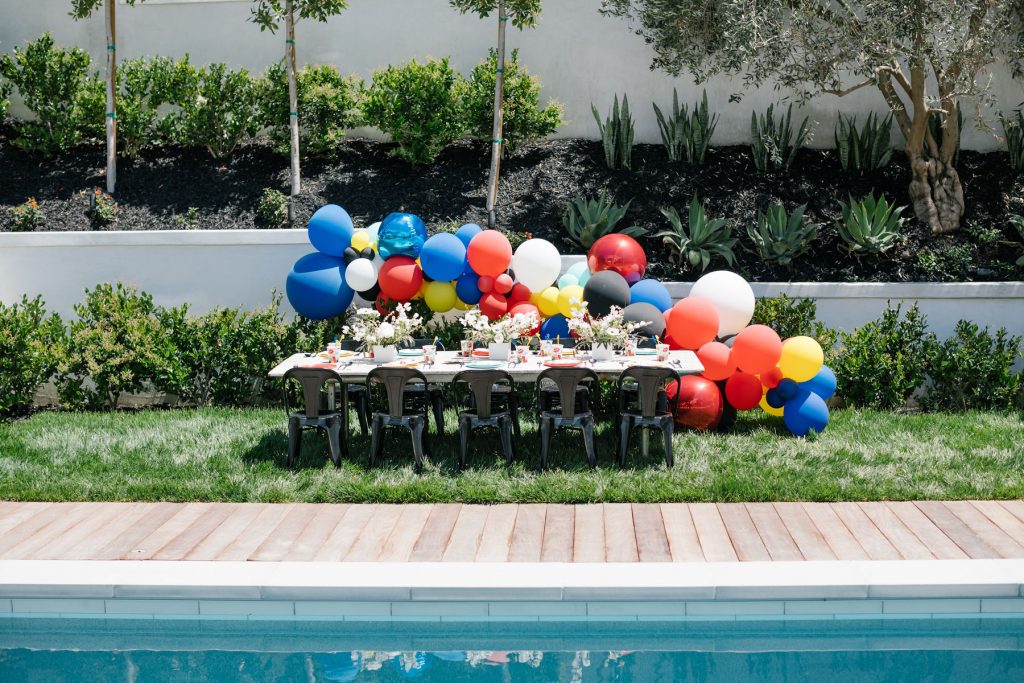 The perfect place setting for our super hero birthday boy!!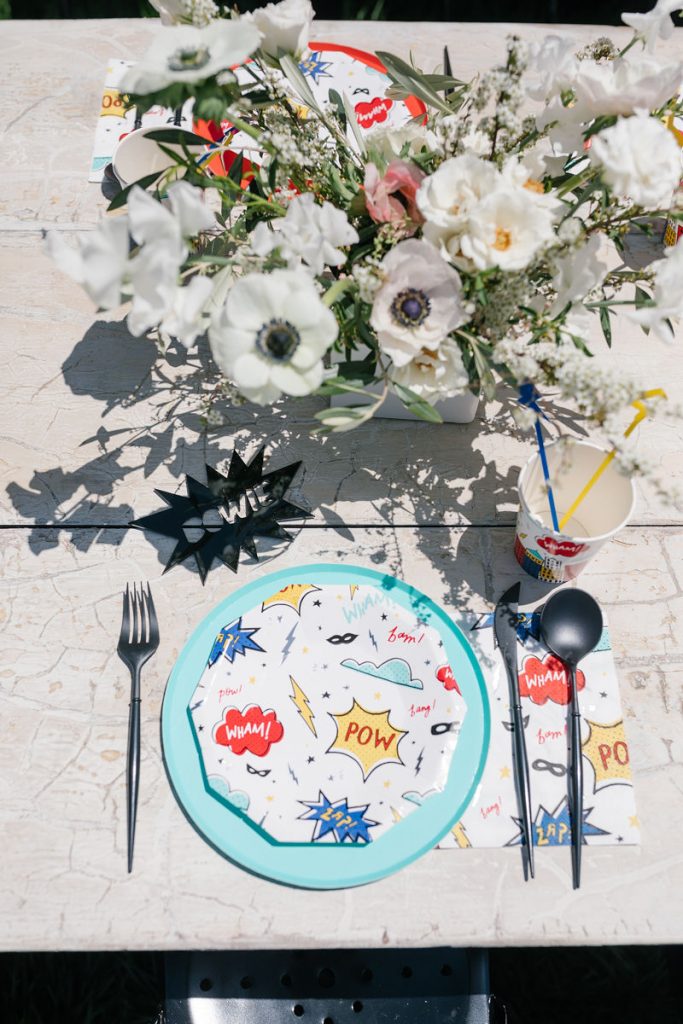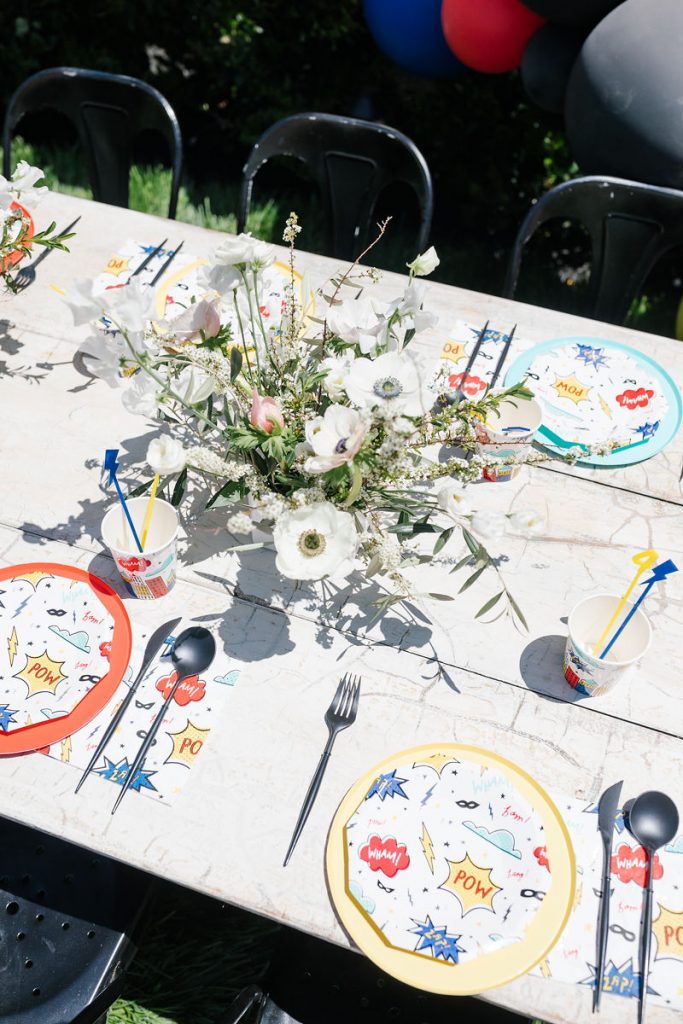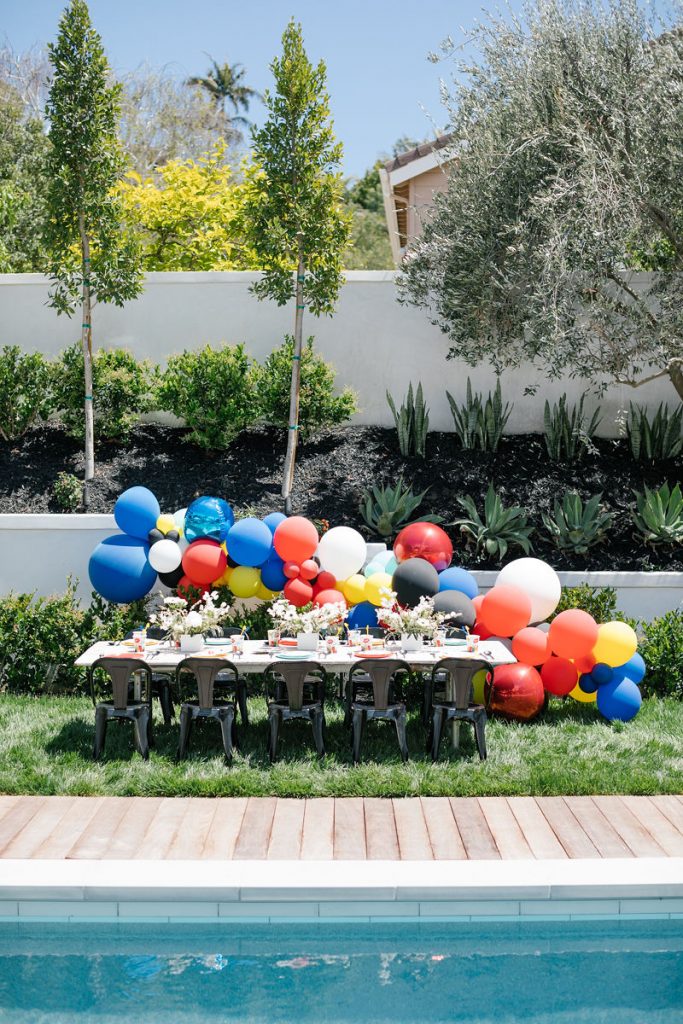 An all white bounce house from Bounce Couture with LOTS of balloons added was another must for this party! We let those super heroes bounce it out all day long!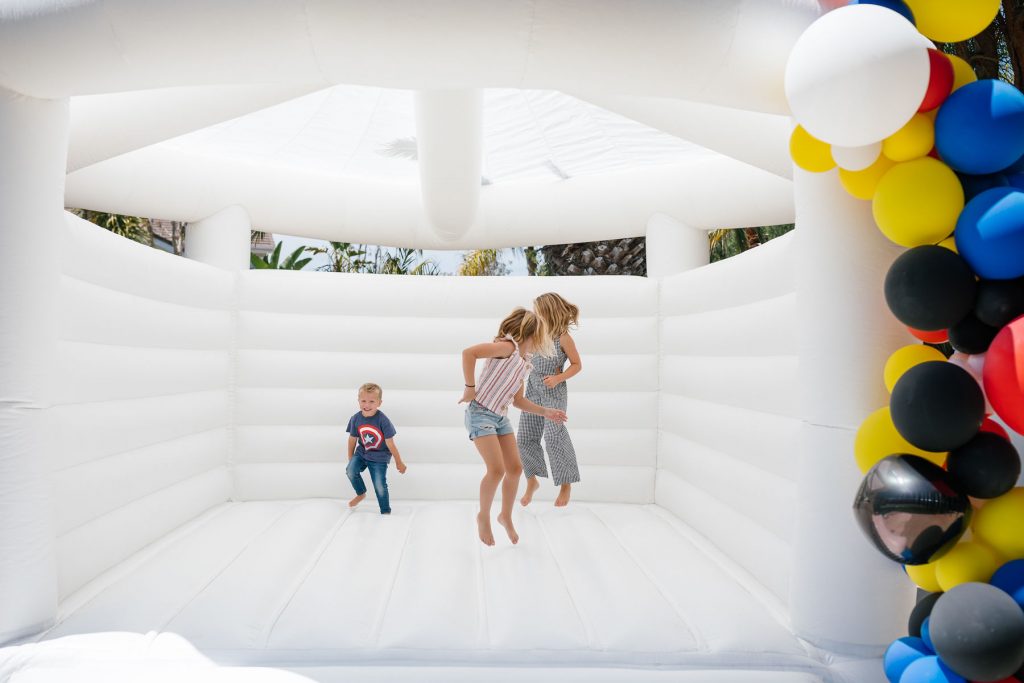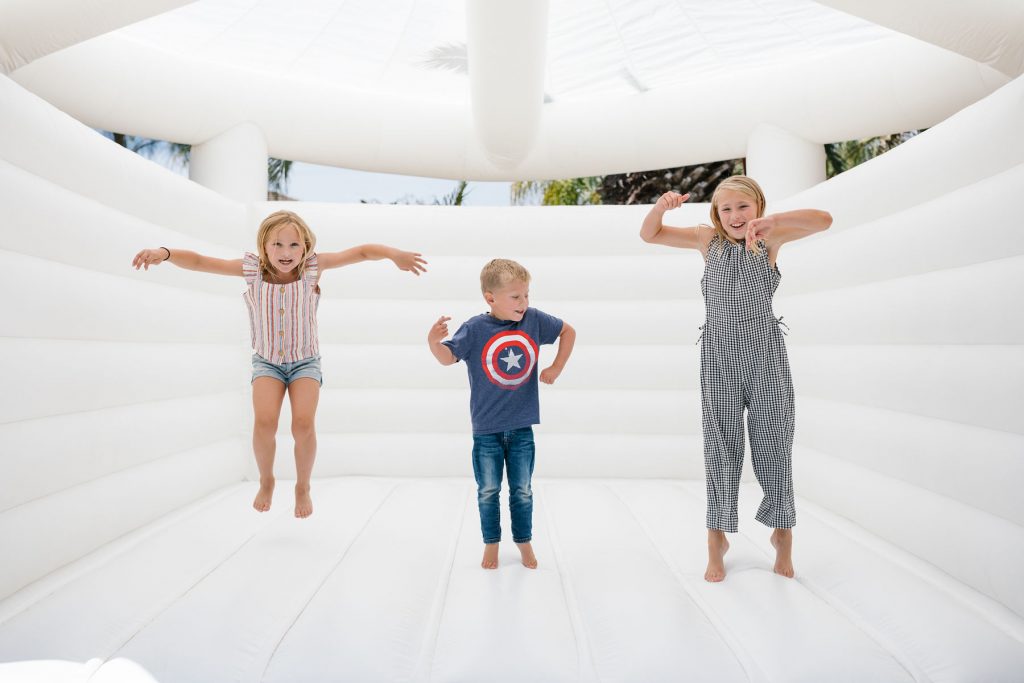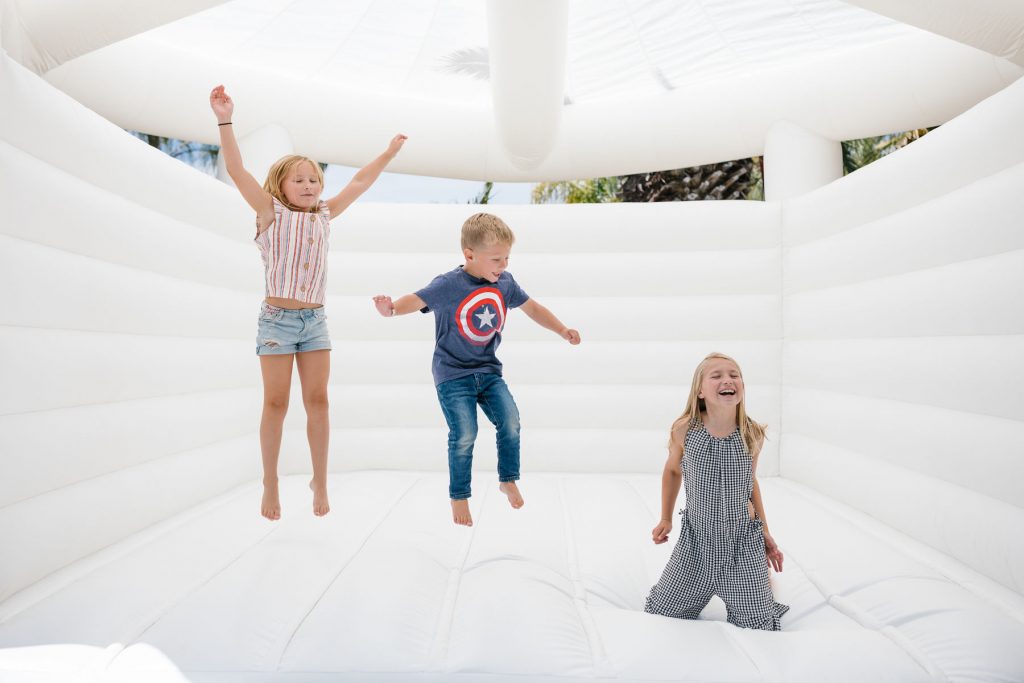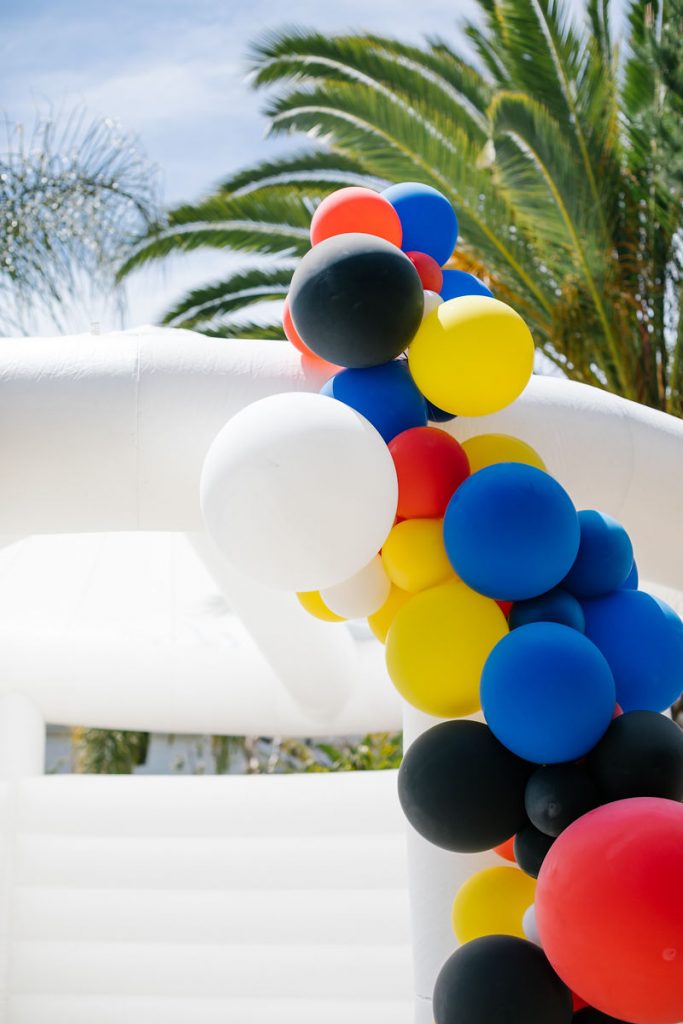 So many cute photos by Alison Bernier – sorry for the overload but I just had to!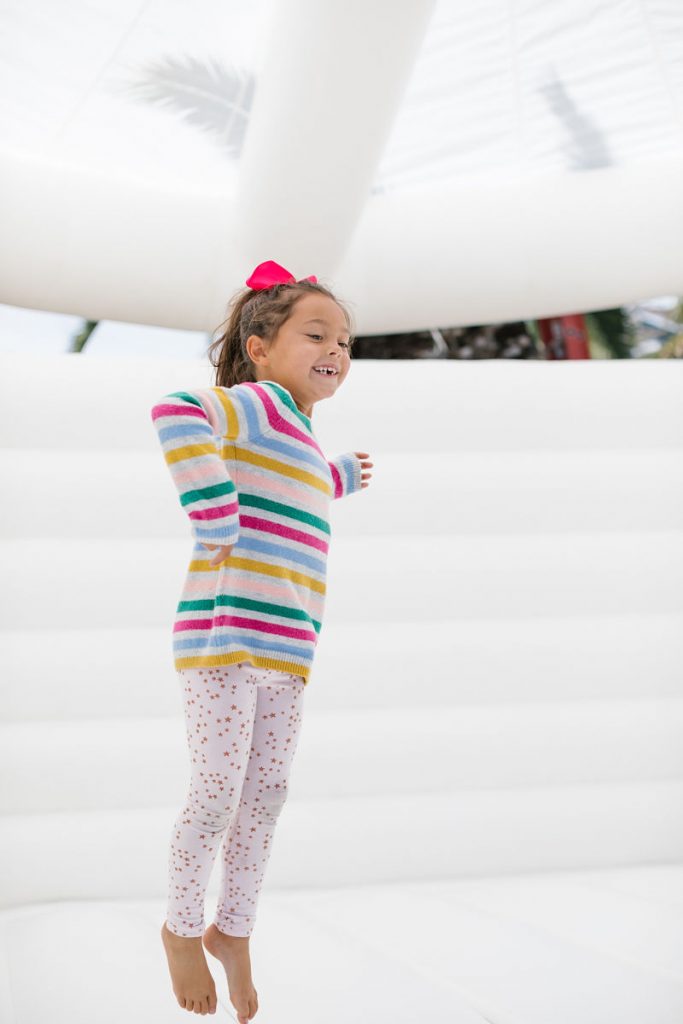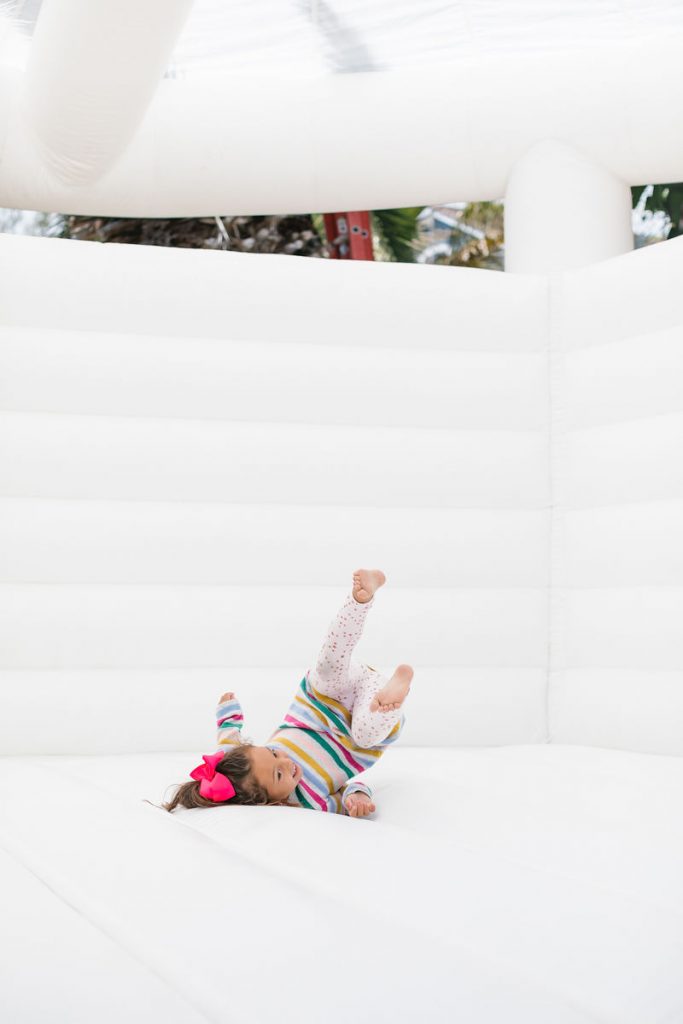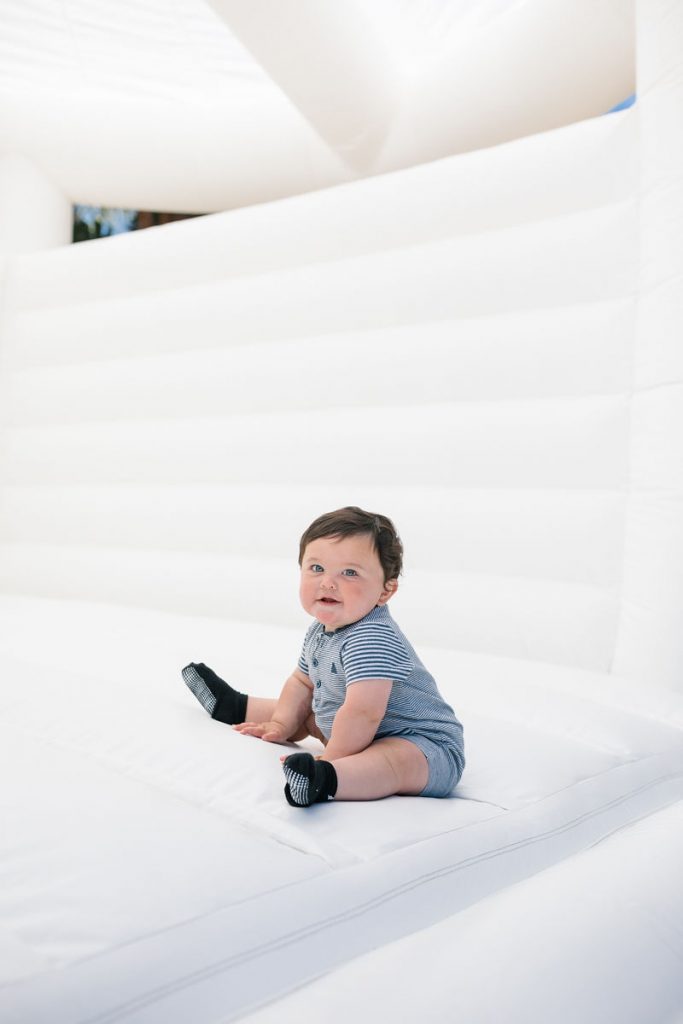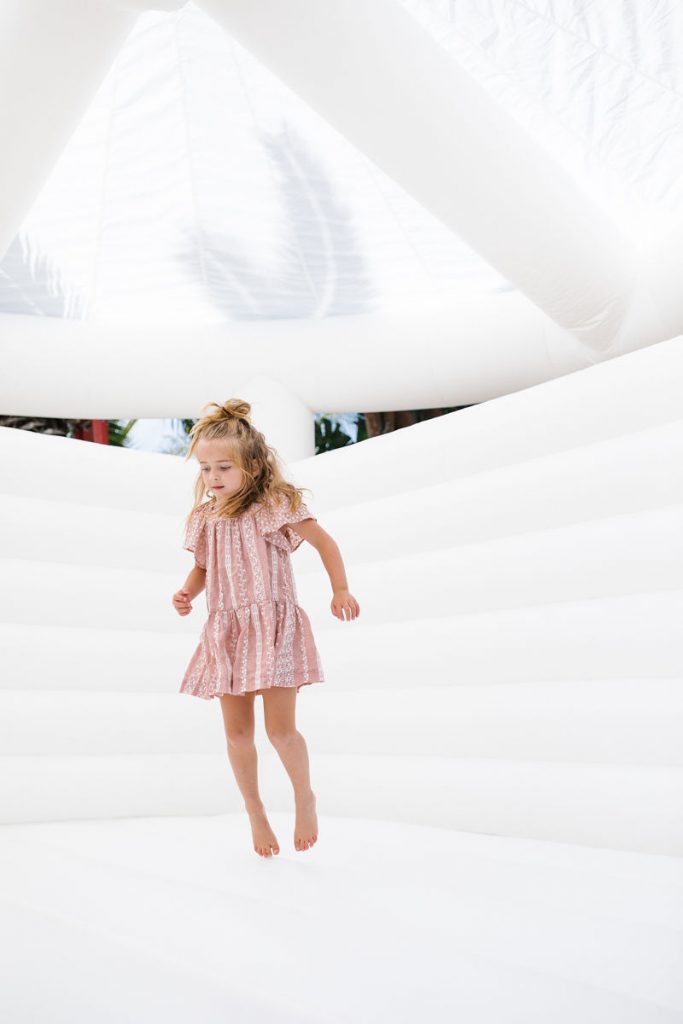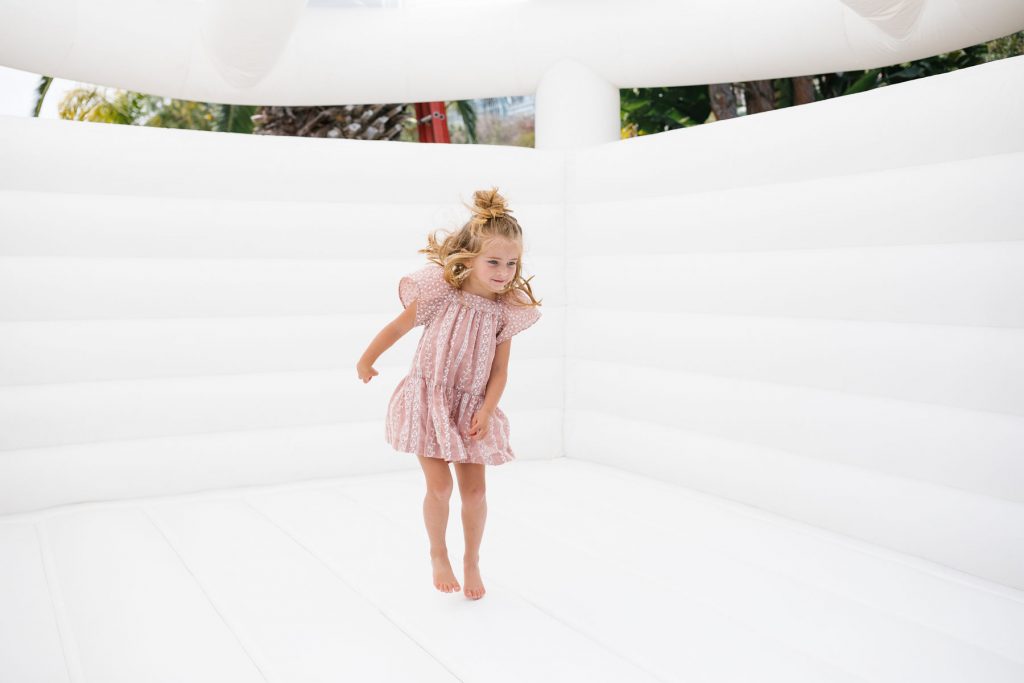 You know these super hero gloves lead to lots of fun!!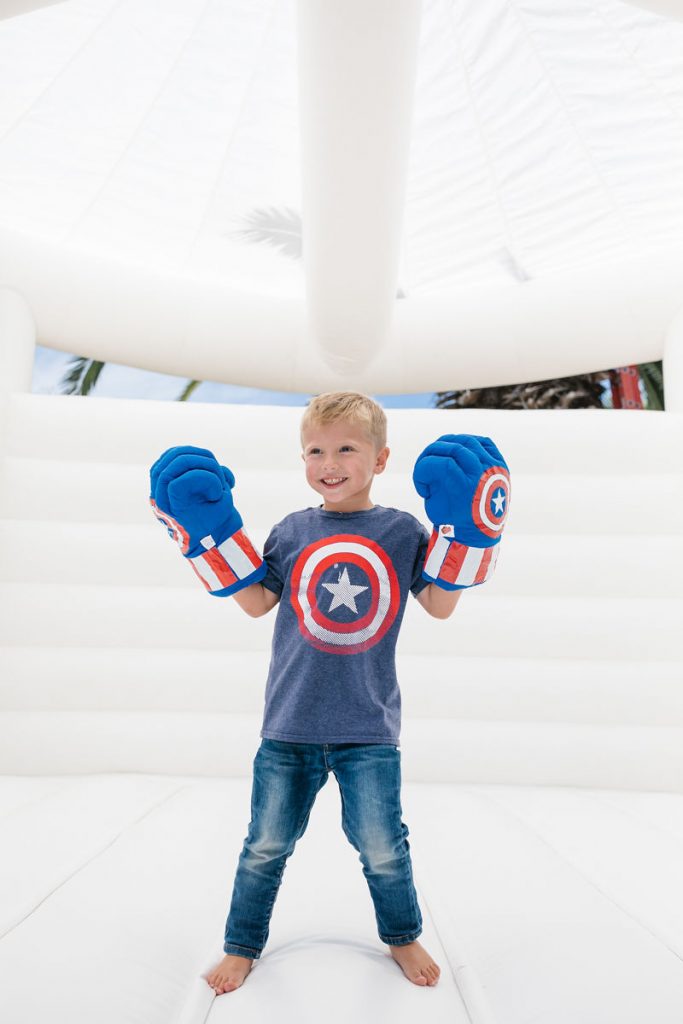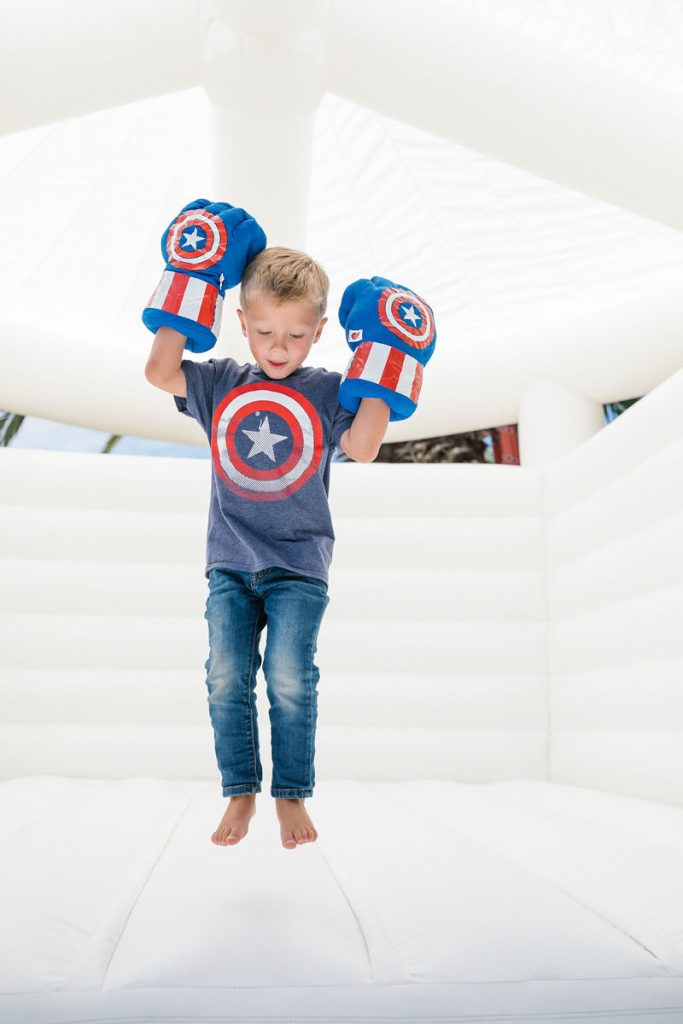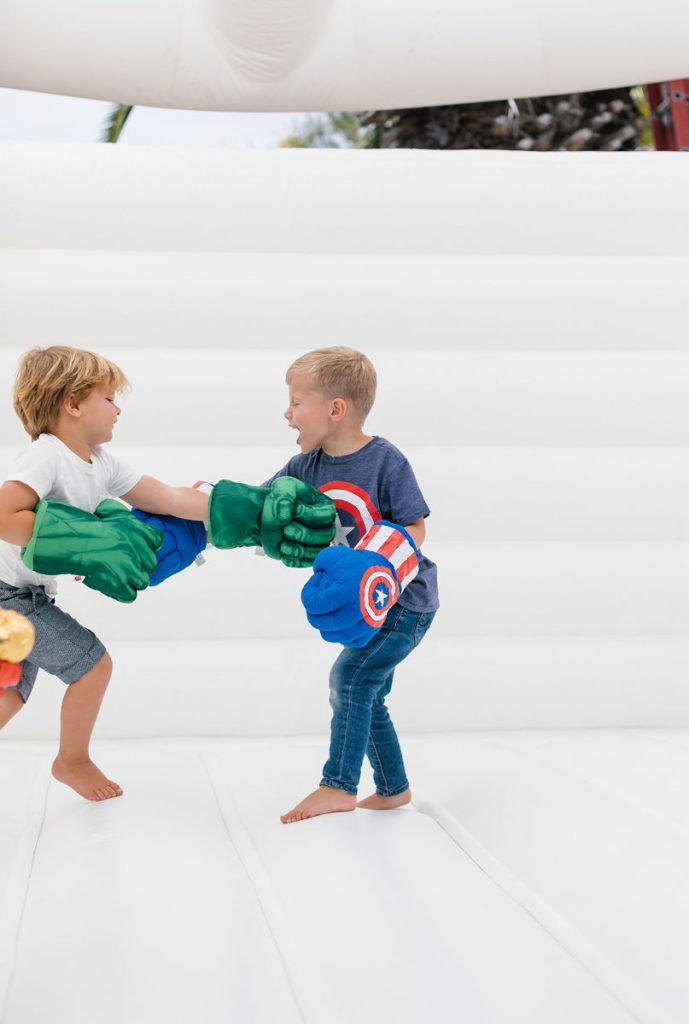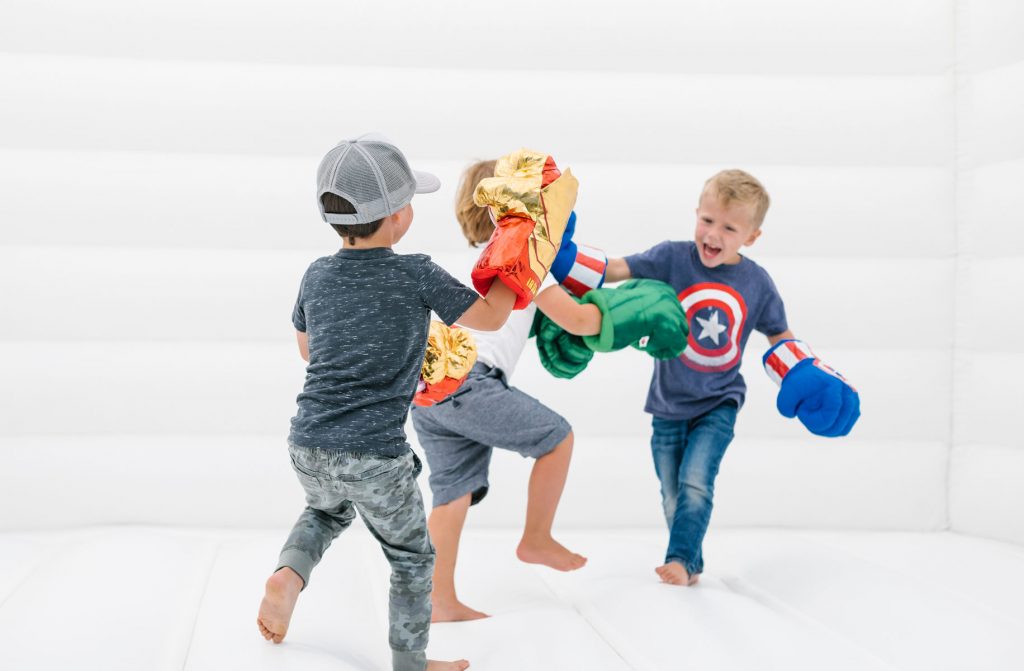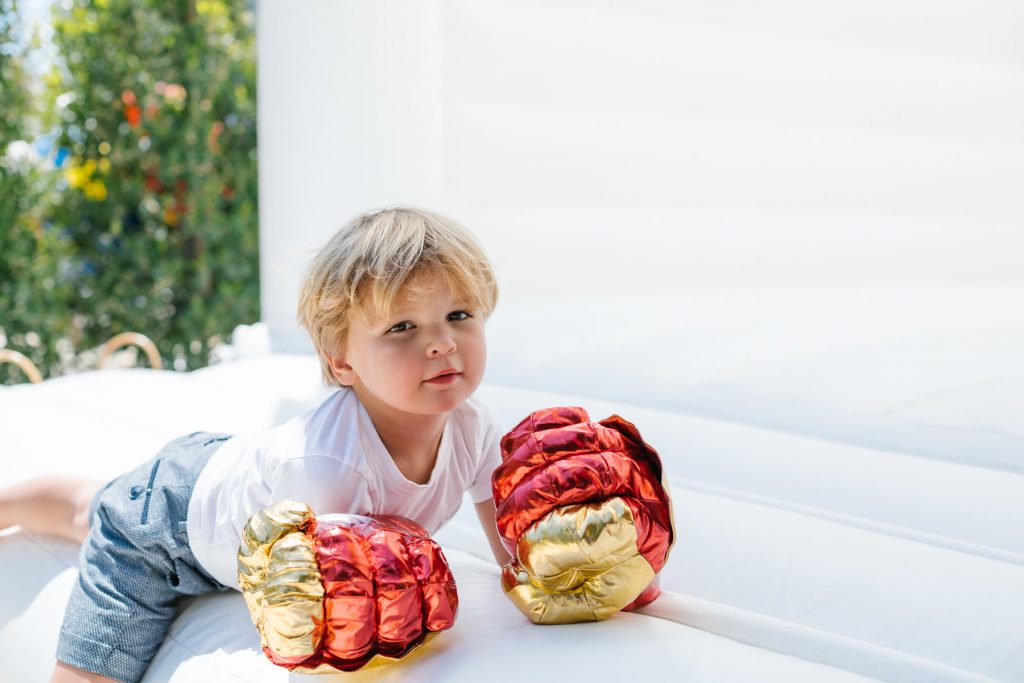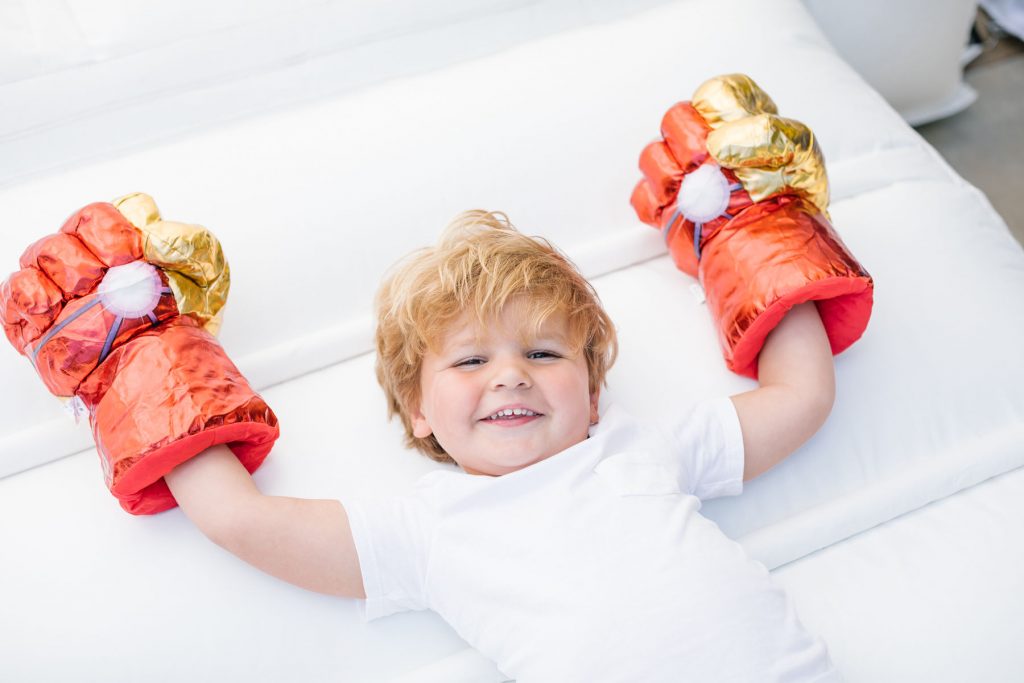 For a fun activity we had Camp Lila come with arts & crafts! Each kiddo got to create their own shield and get a balloon sword! They had so much fun getting creative, one of my favorite additions to any party!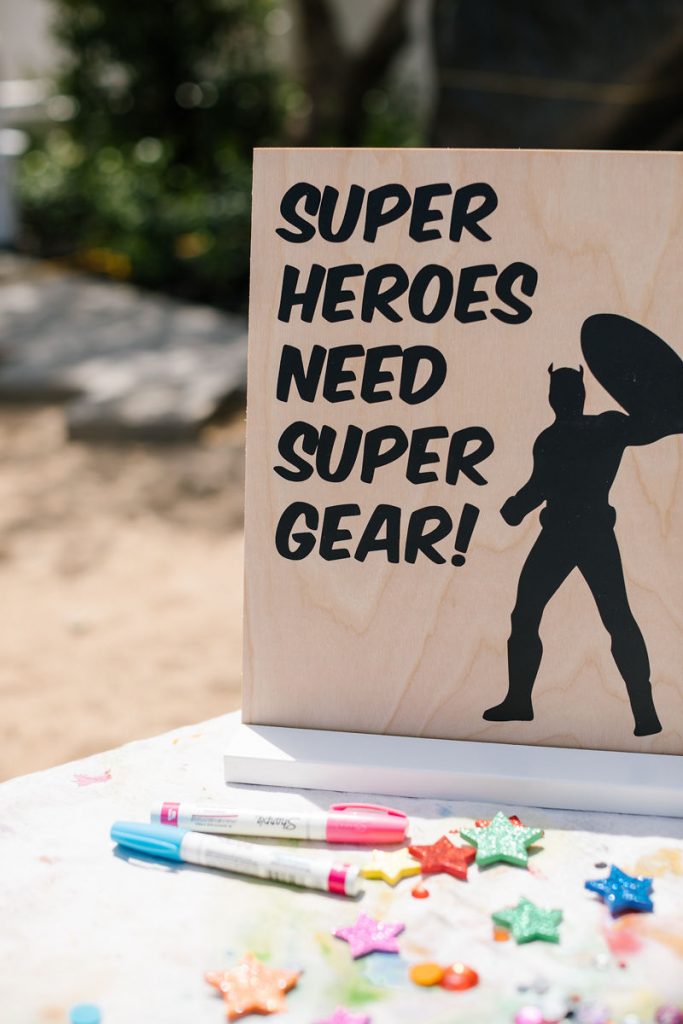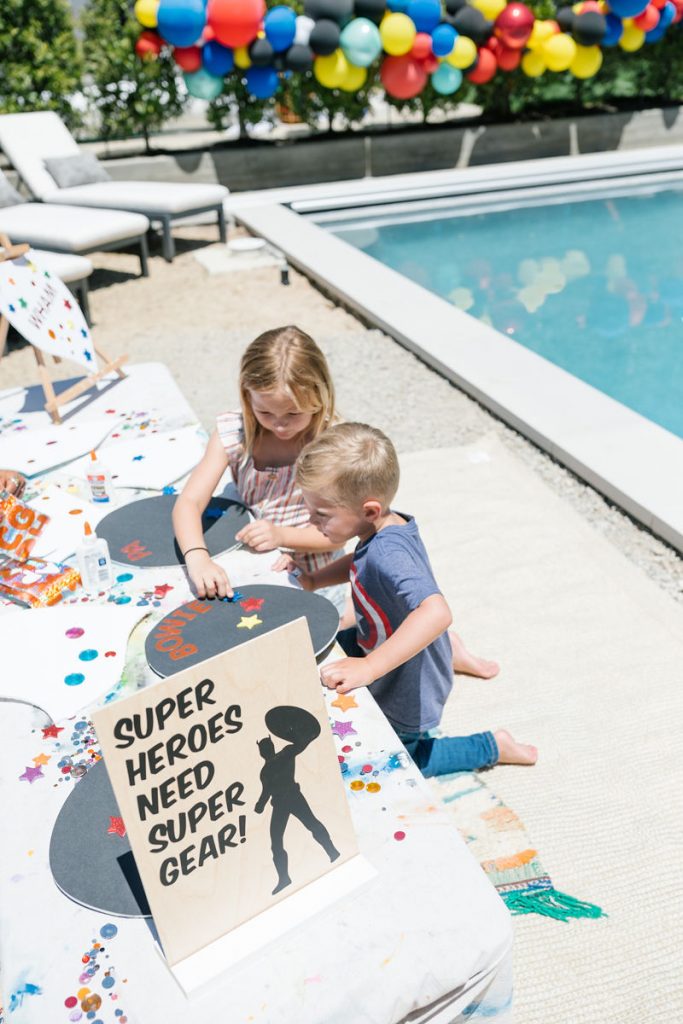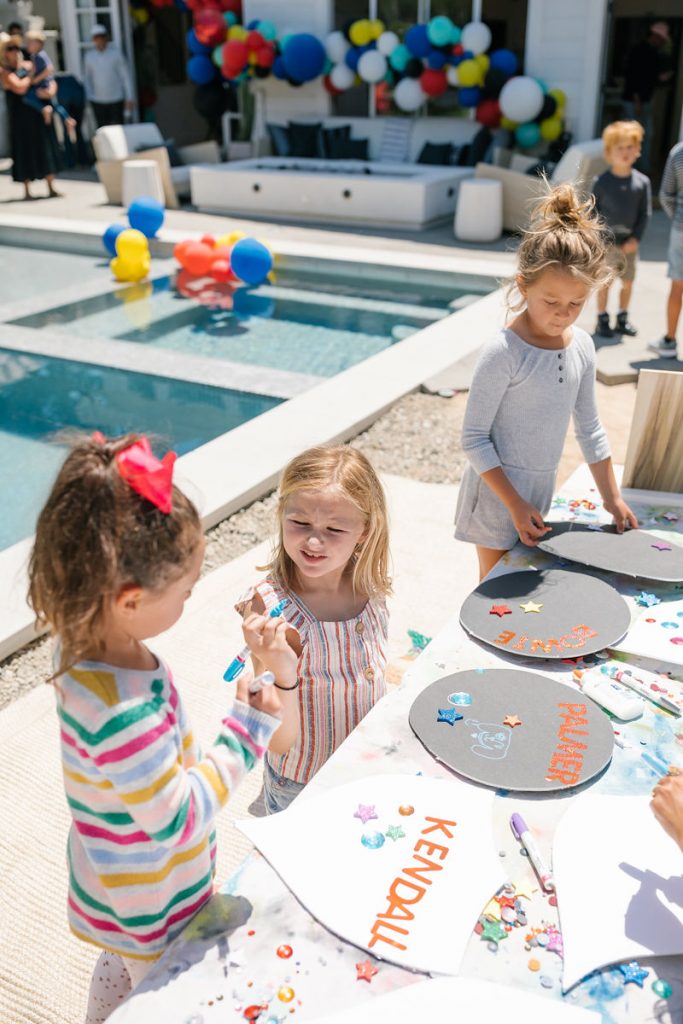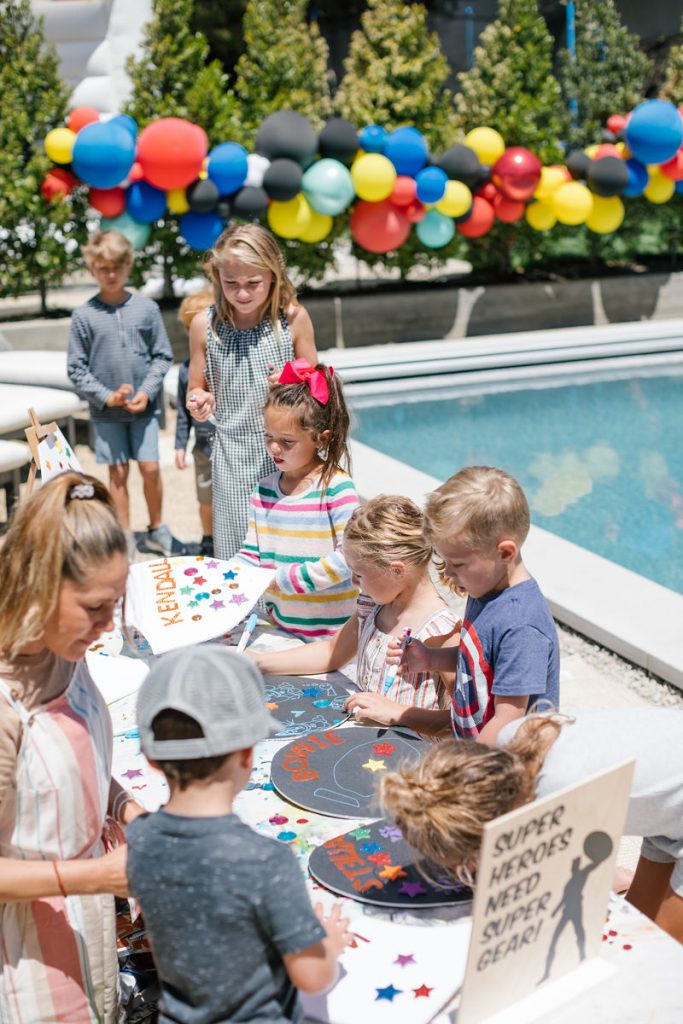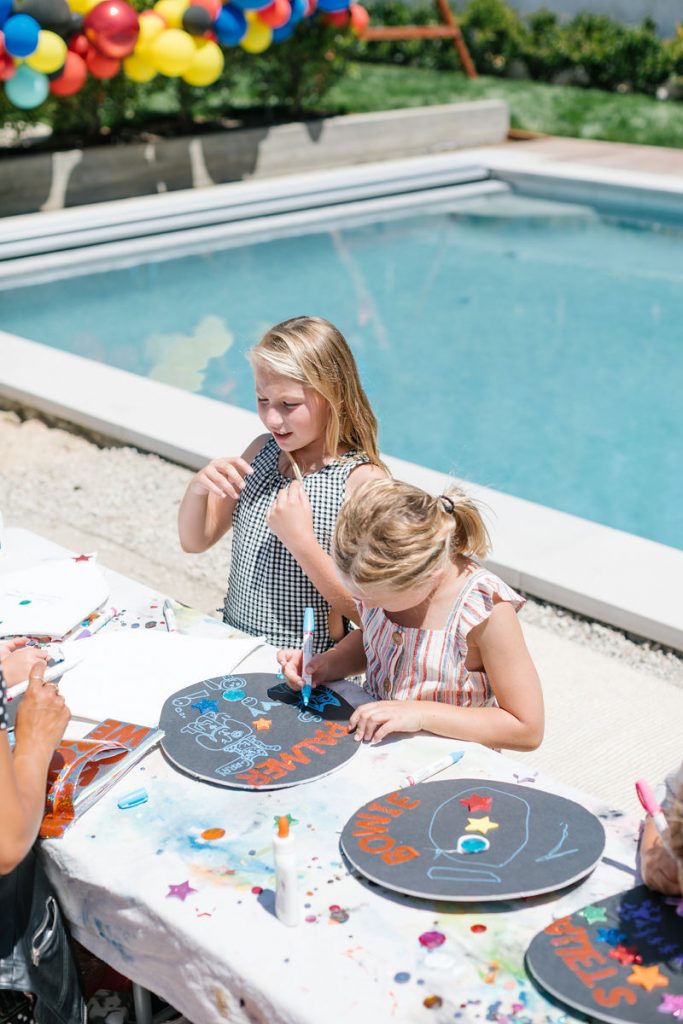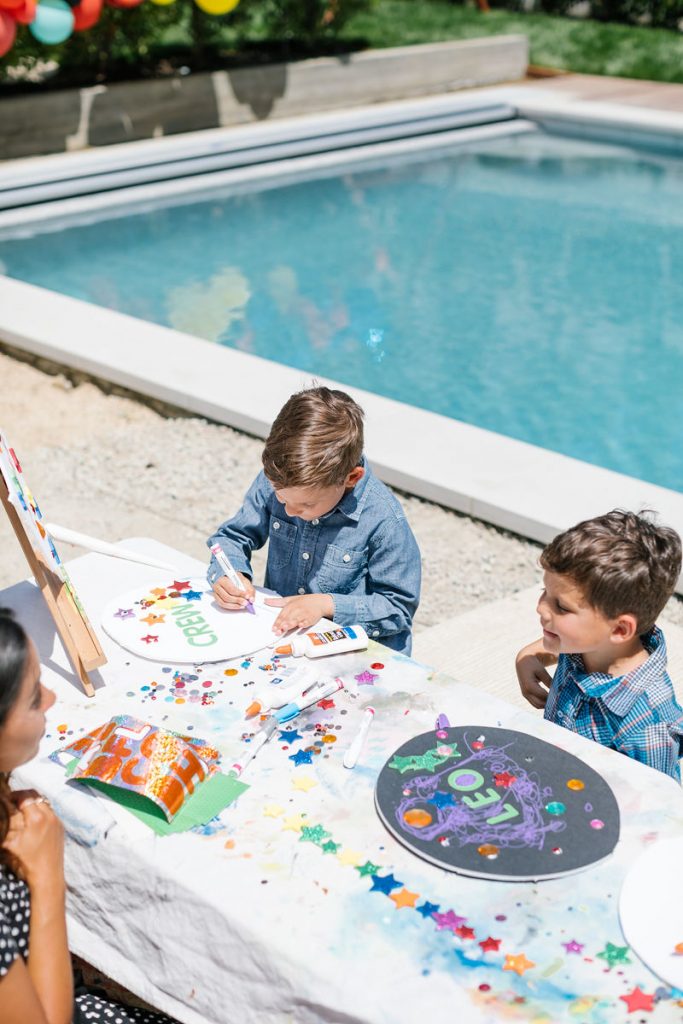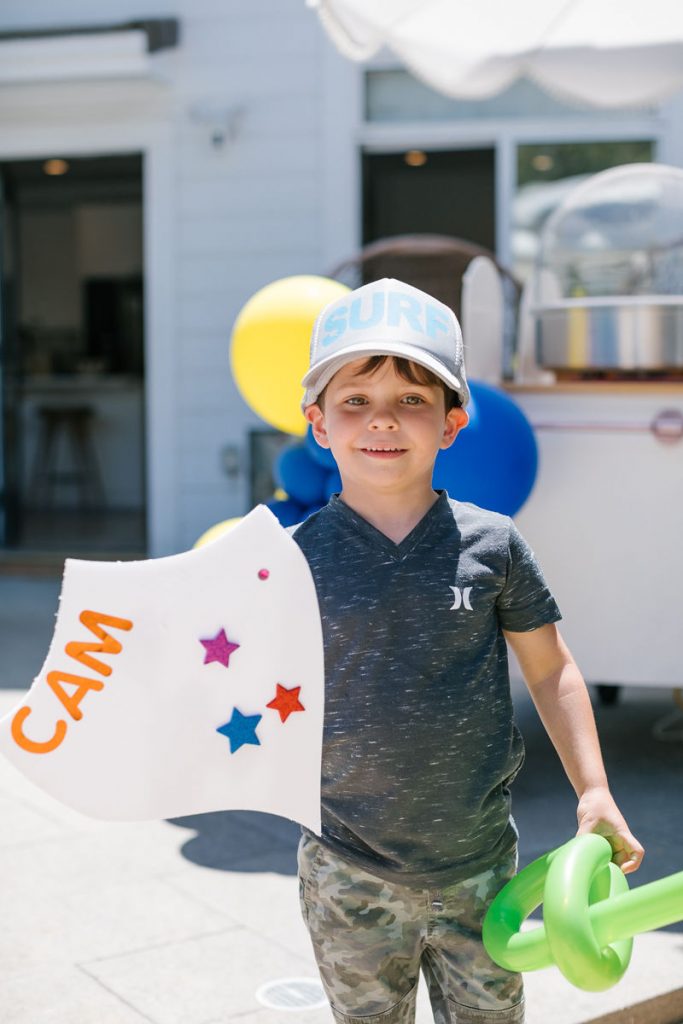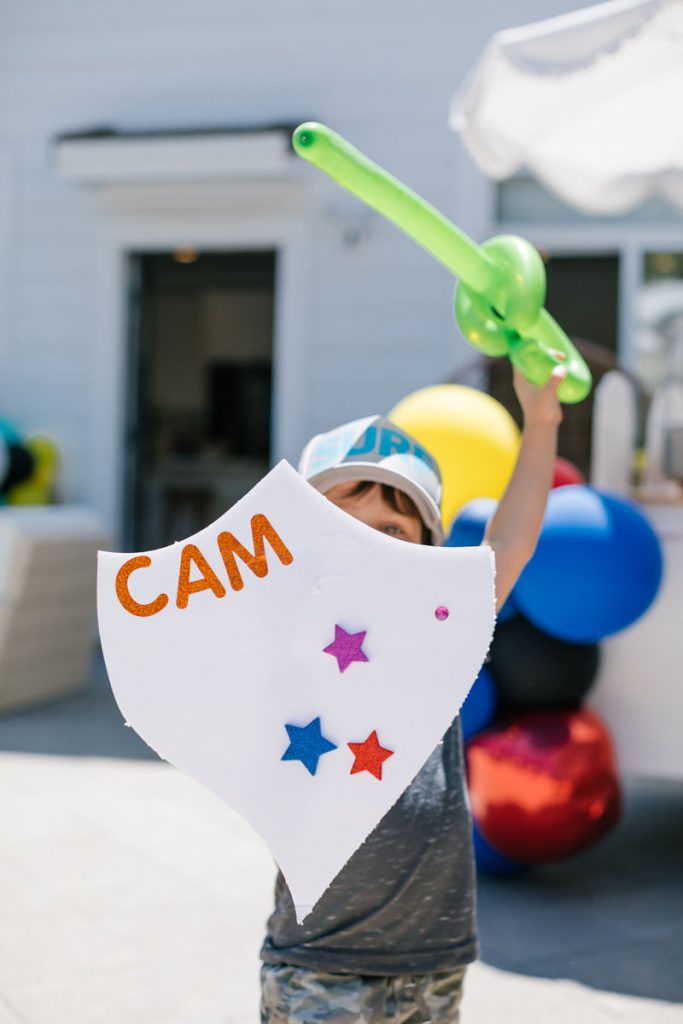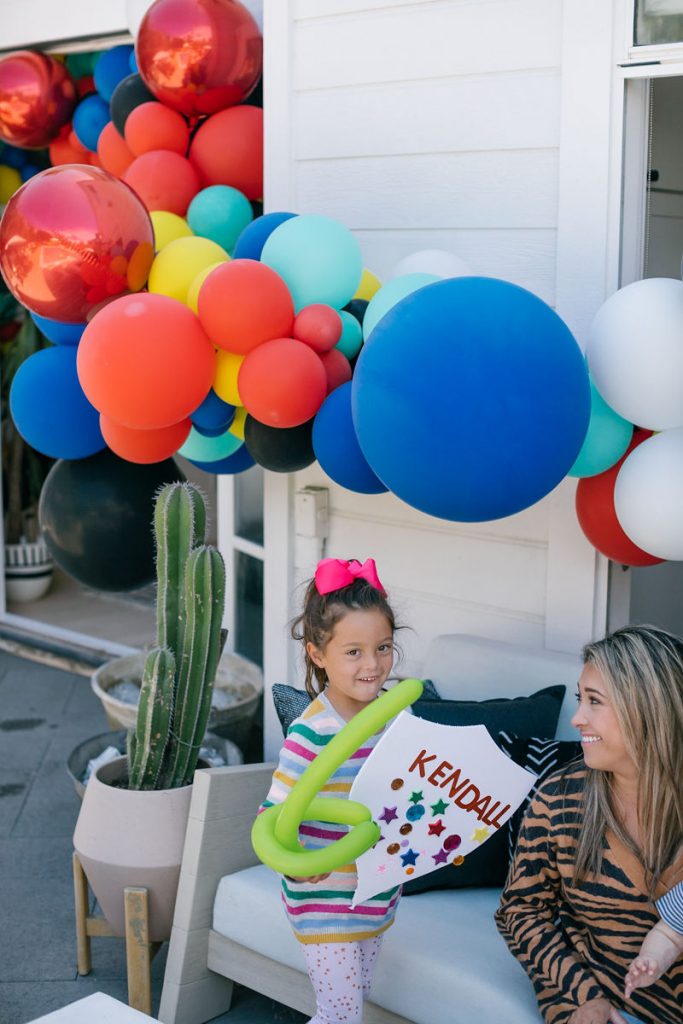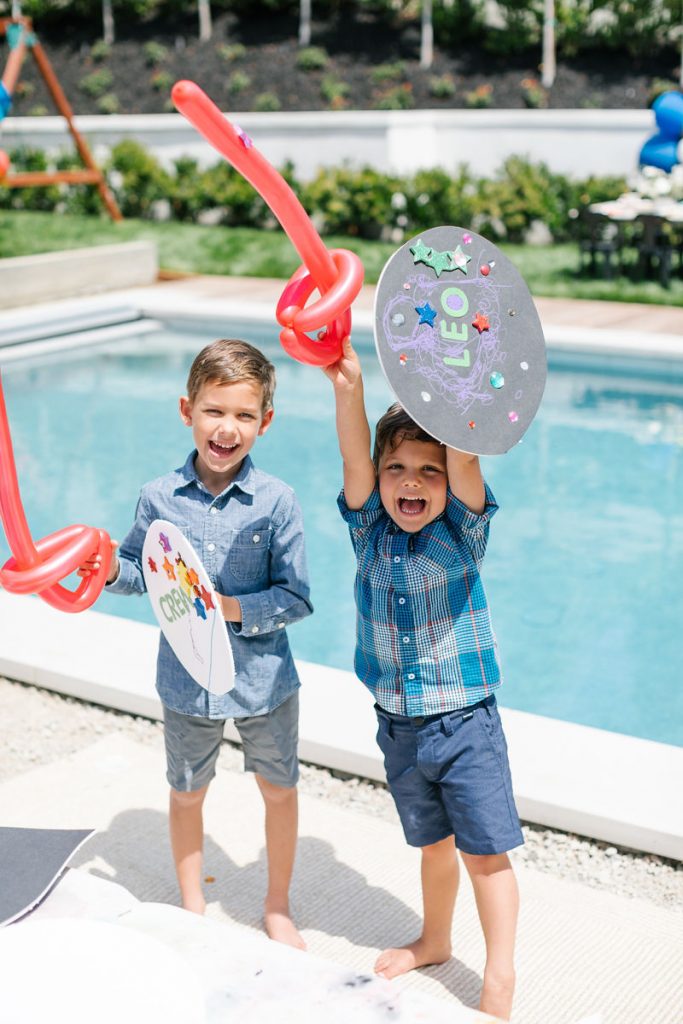 Decorating this gorgeous house was a dream! The Pop Shop had her work cut out for her but it really added so much to the party and decor. Don't you love the balloons in the pool as well? We always love adding extra touches to any party!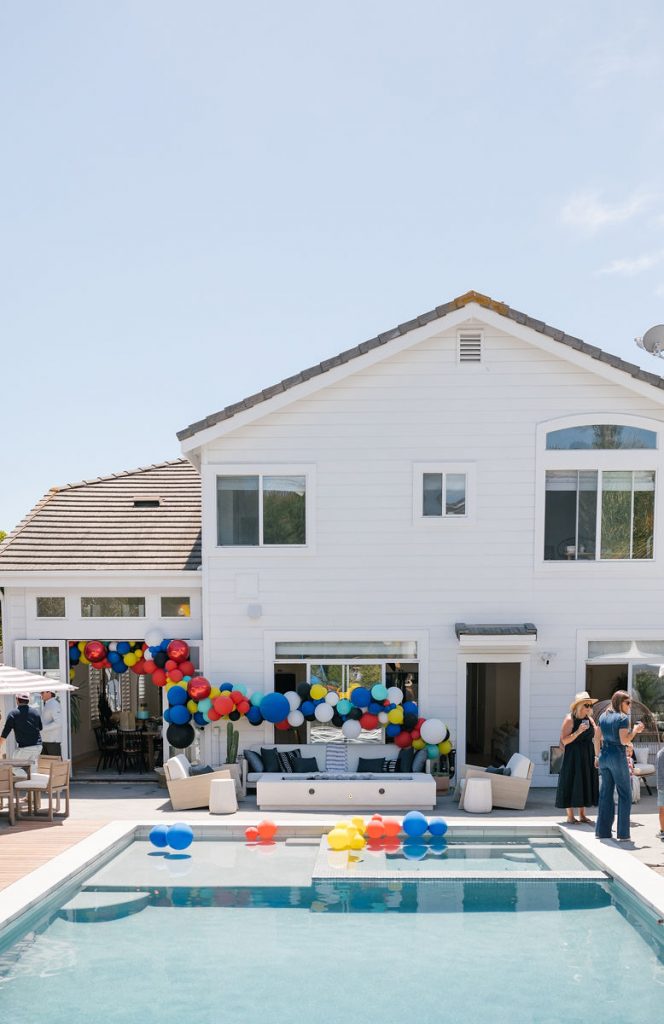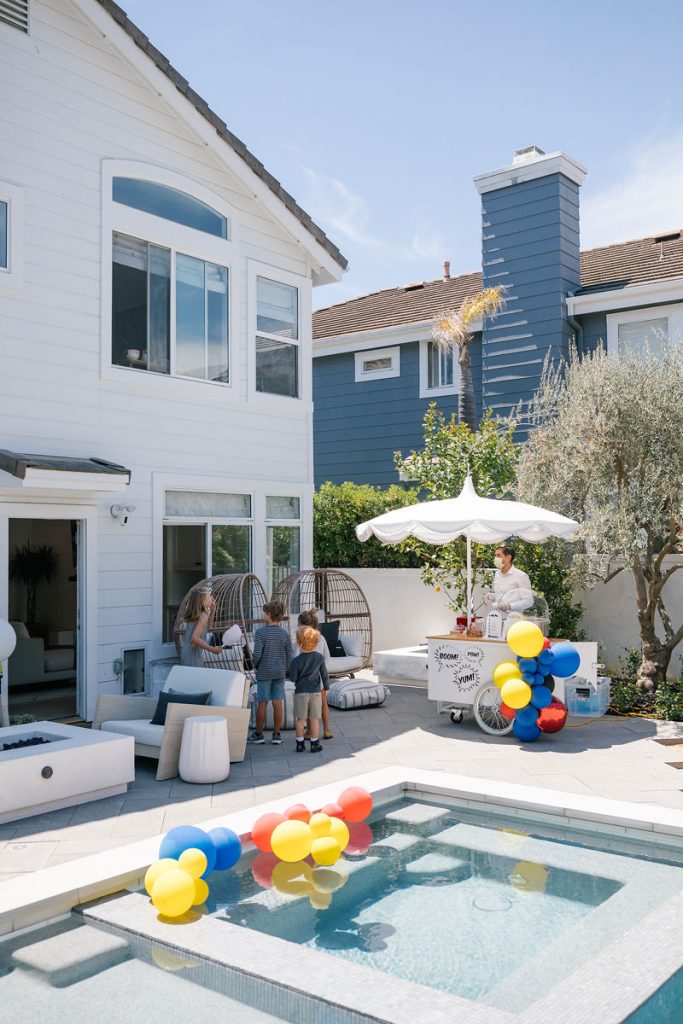 Our friends from The Jolly Sheep came out to celebrate as well, and Boom! Pow! Yum! They were a HIT!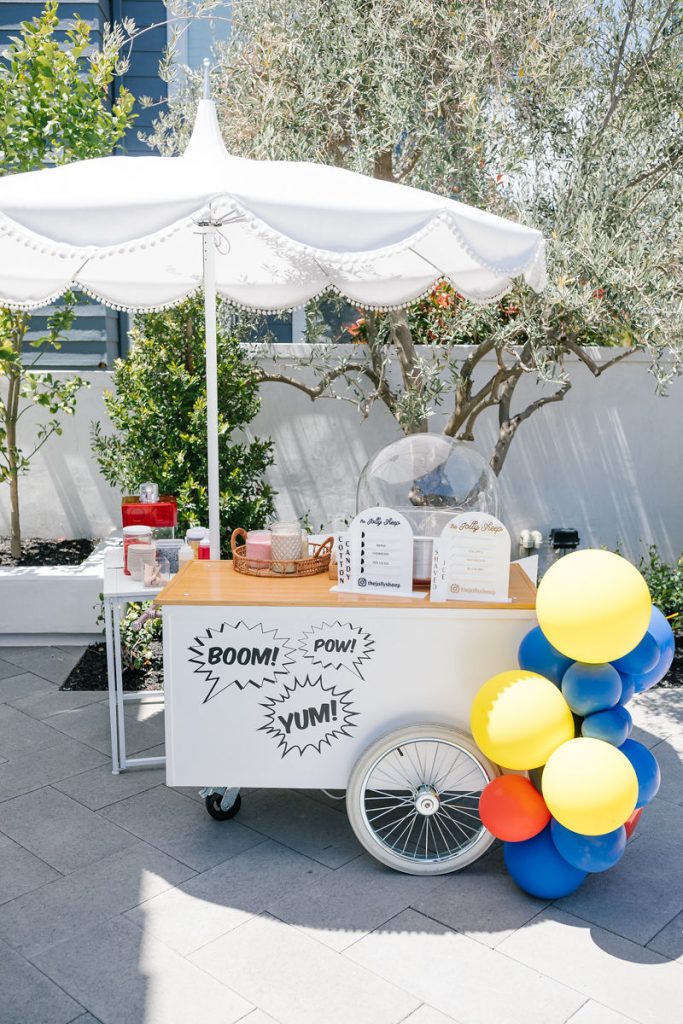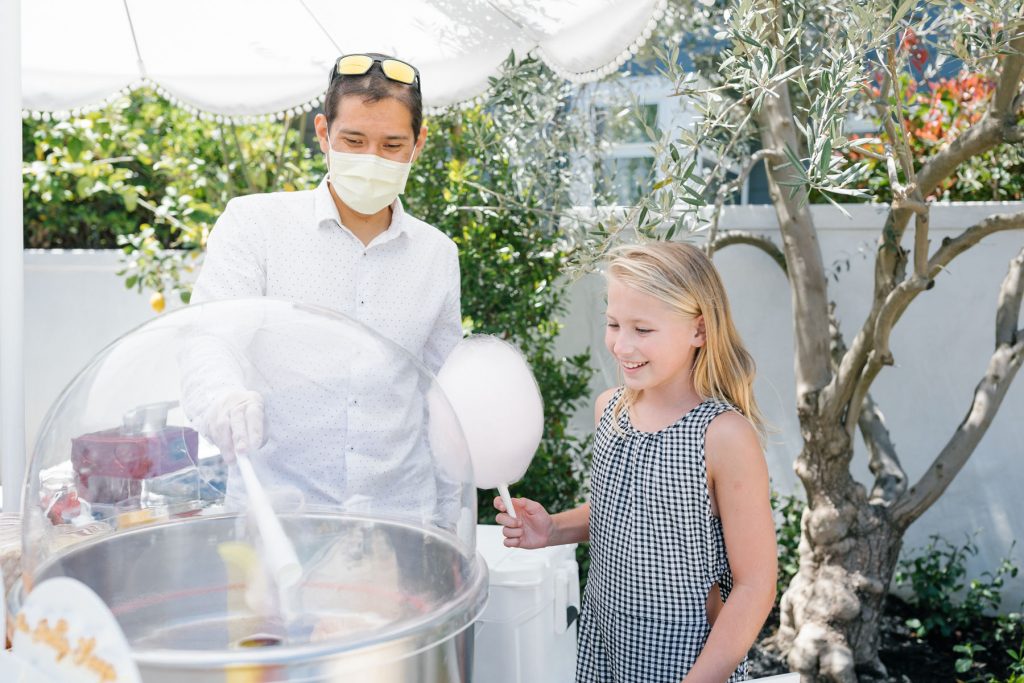 Big sister approved!!!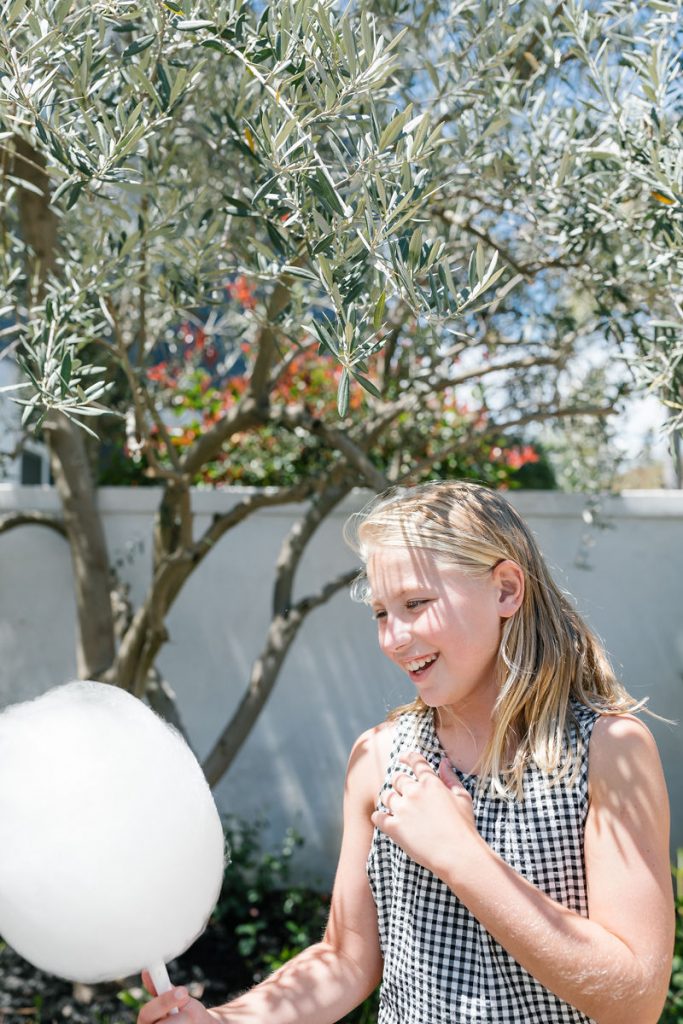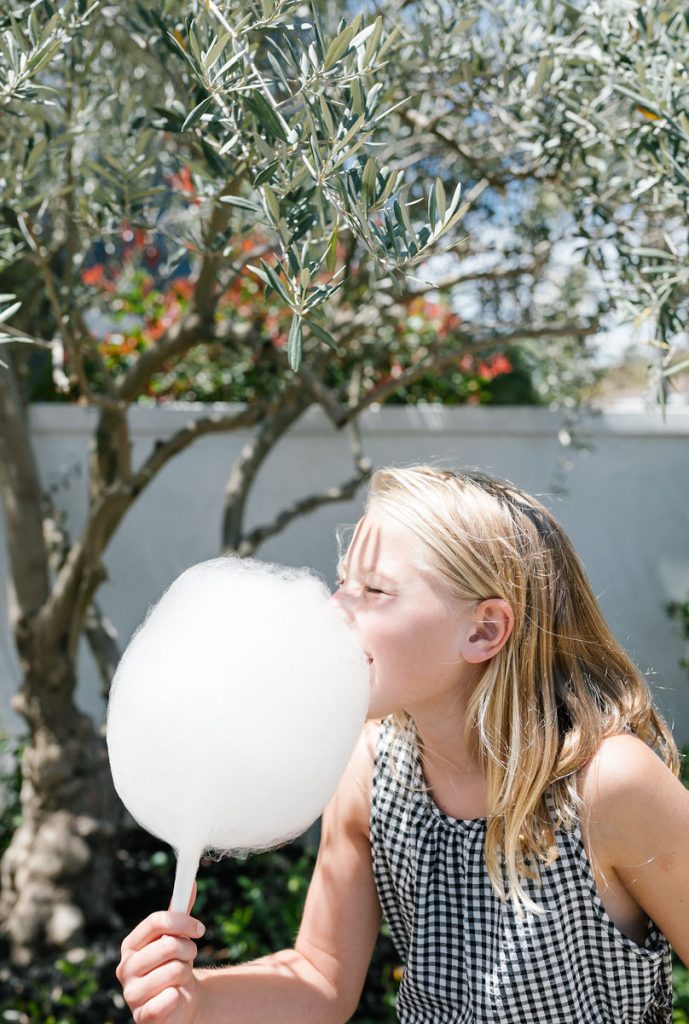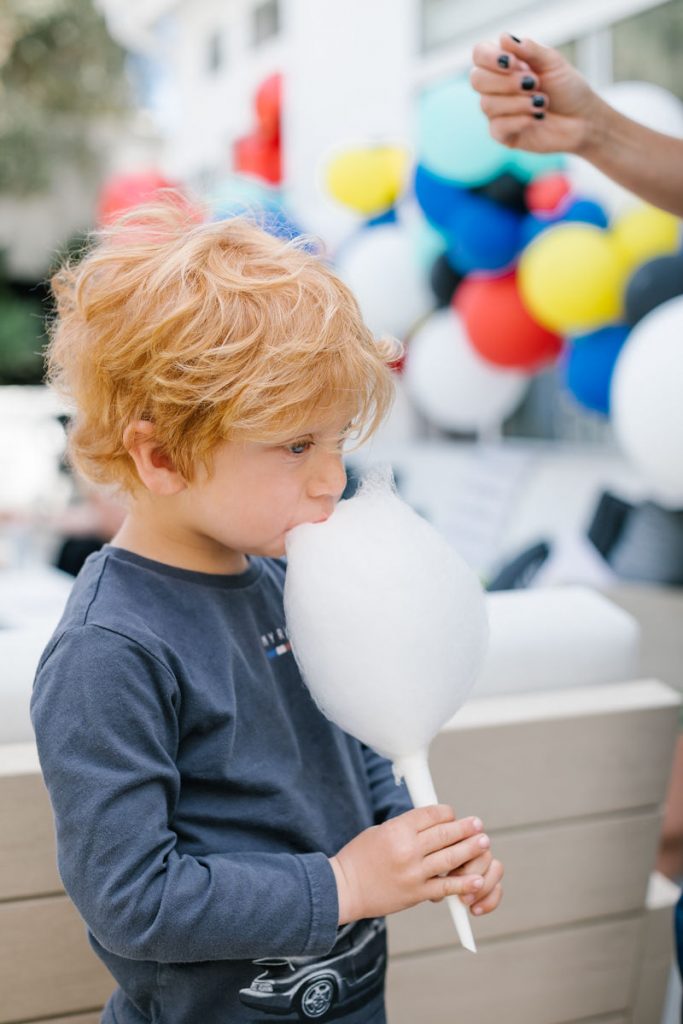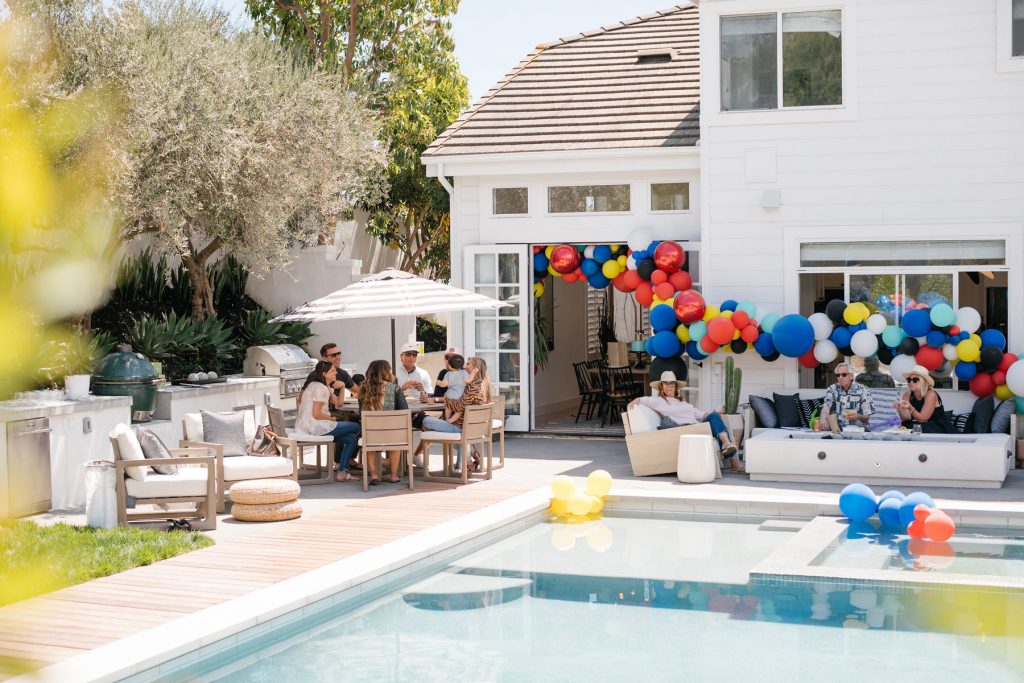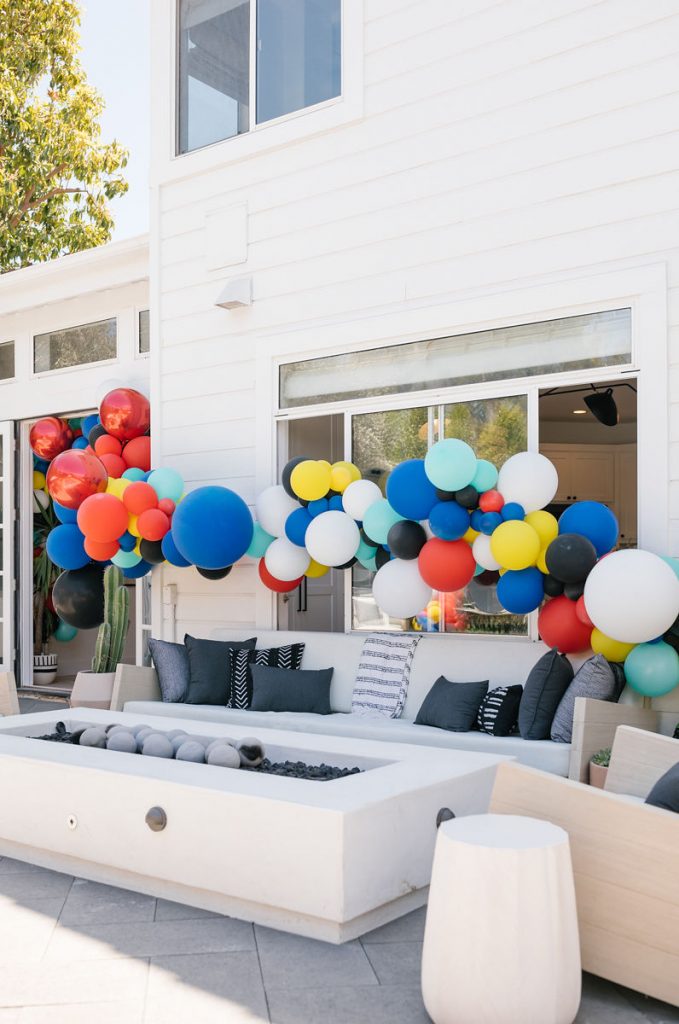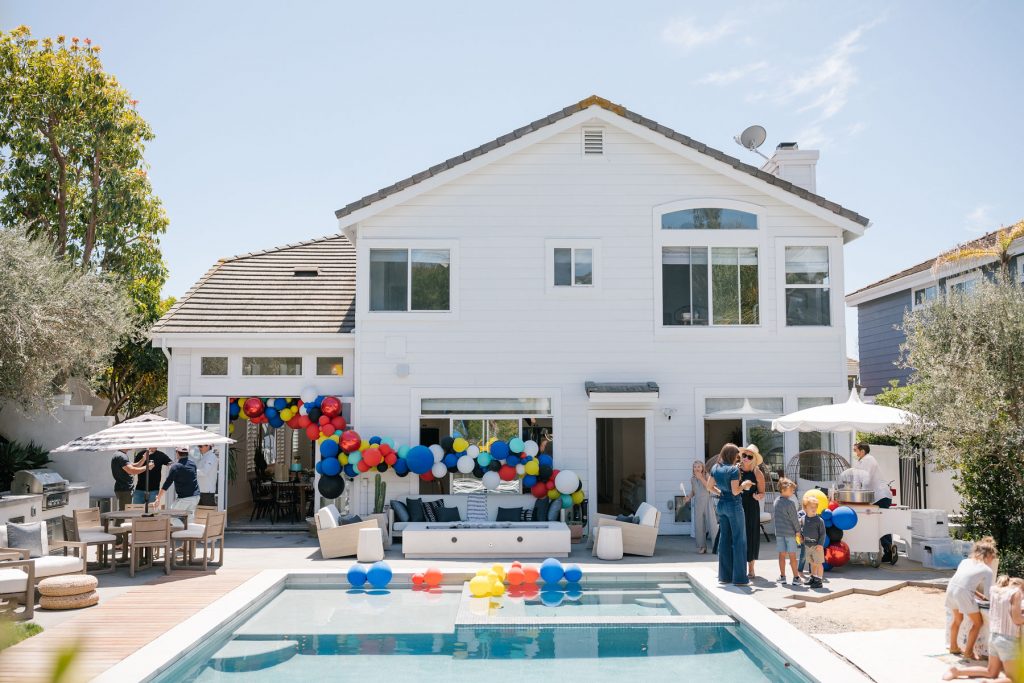 Knock Knock, our favorite Super Heroes have arrived!!! Captain America and Black Panther blew Bowie's mind and showed up right at his front door! And these guys didn't mess around! They were ready to have some fun with the birthday boy and all of his friends!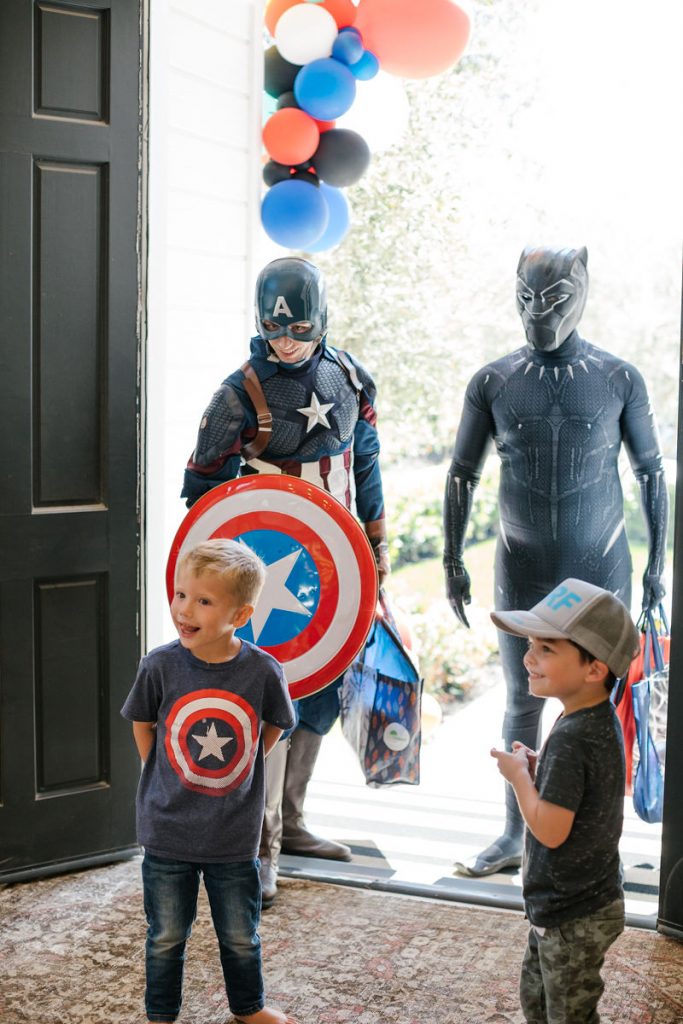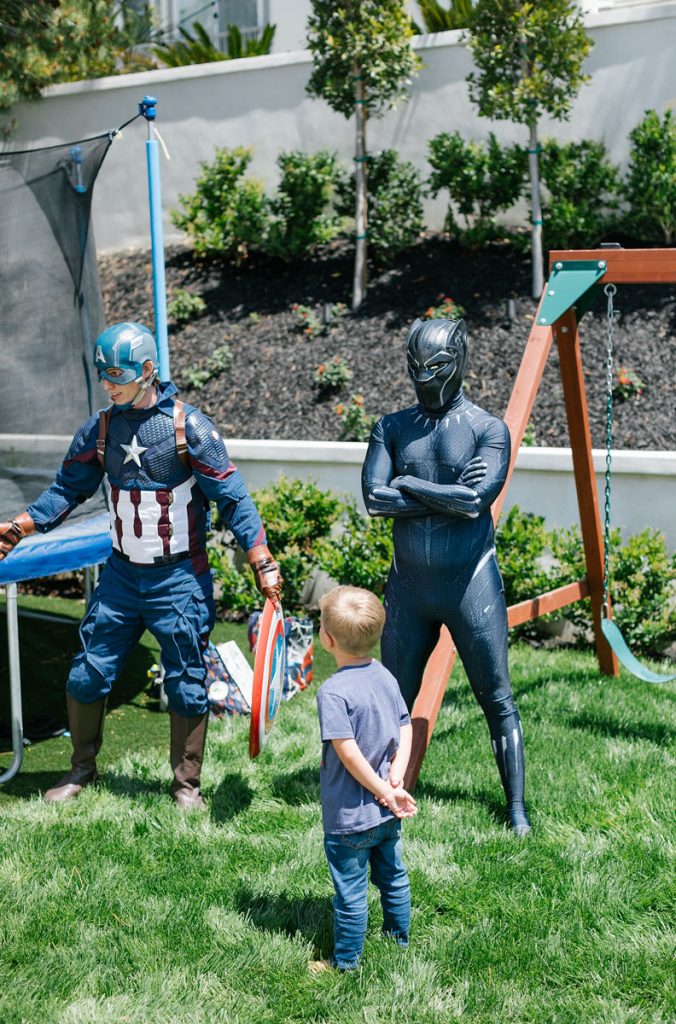 You don't become a super hero without doing push ups!!! Show us what you got Bowie!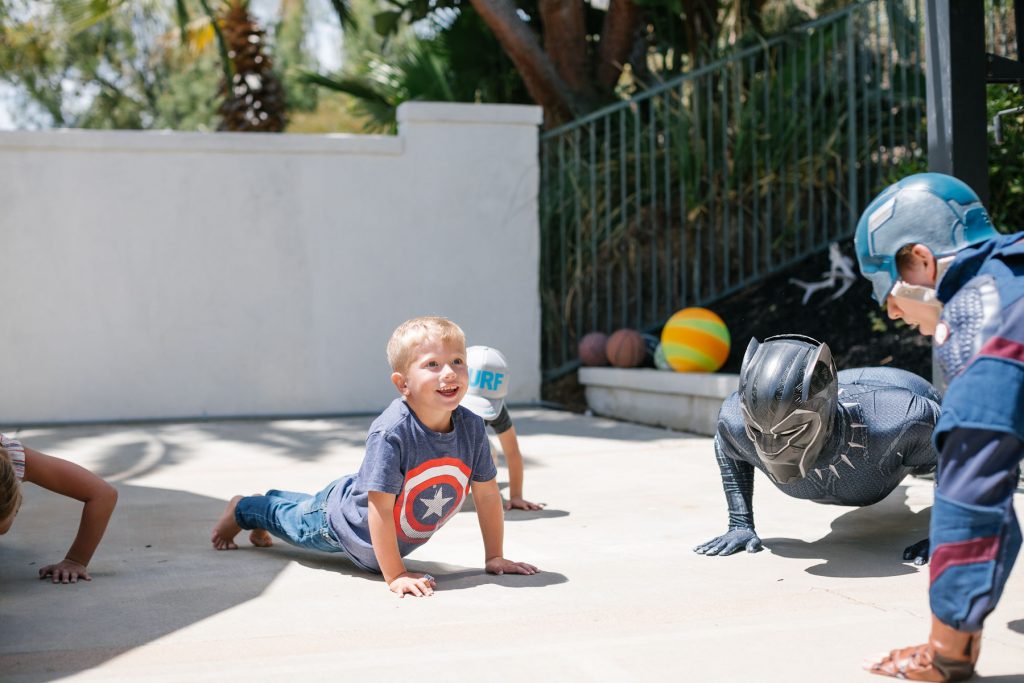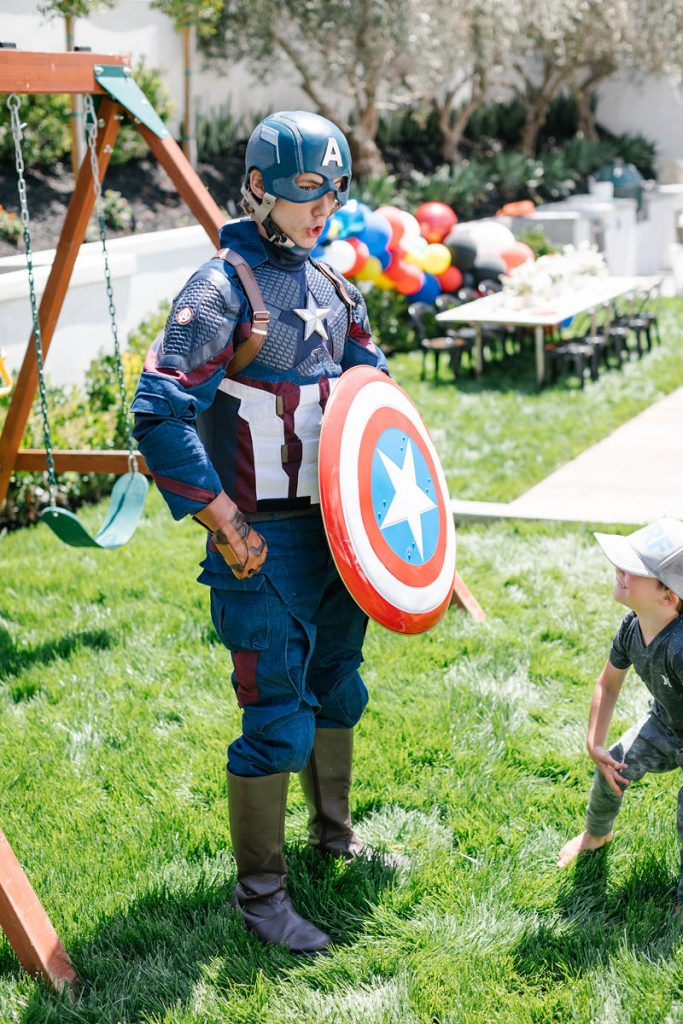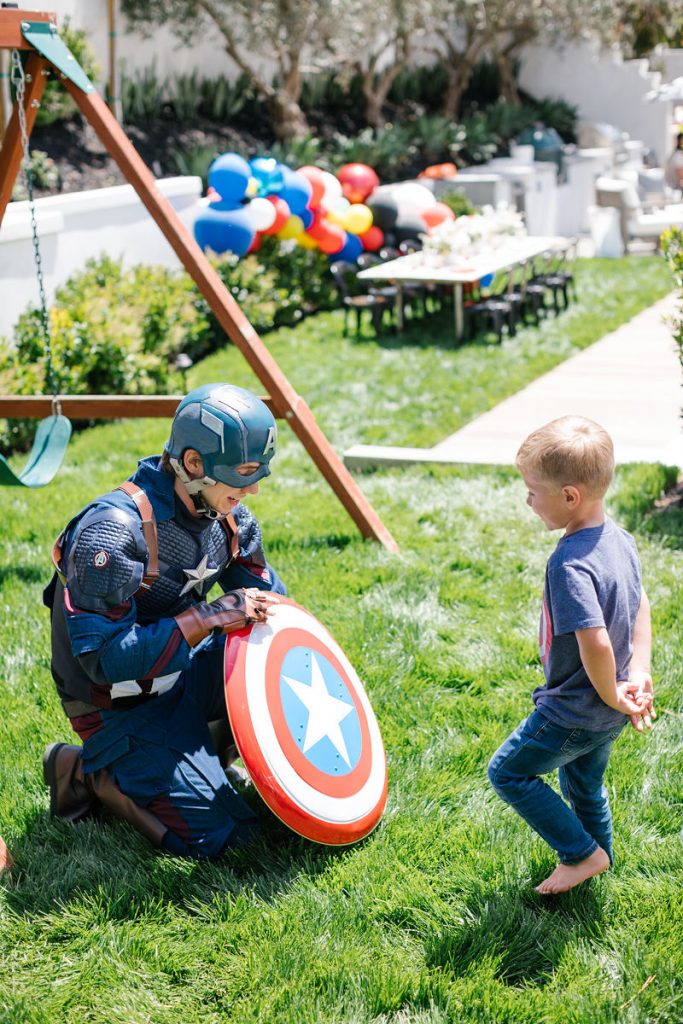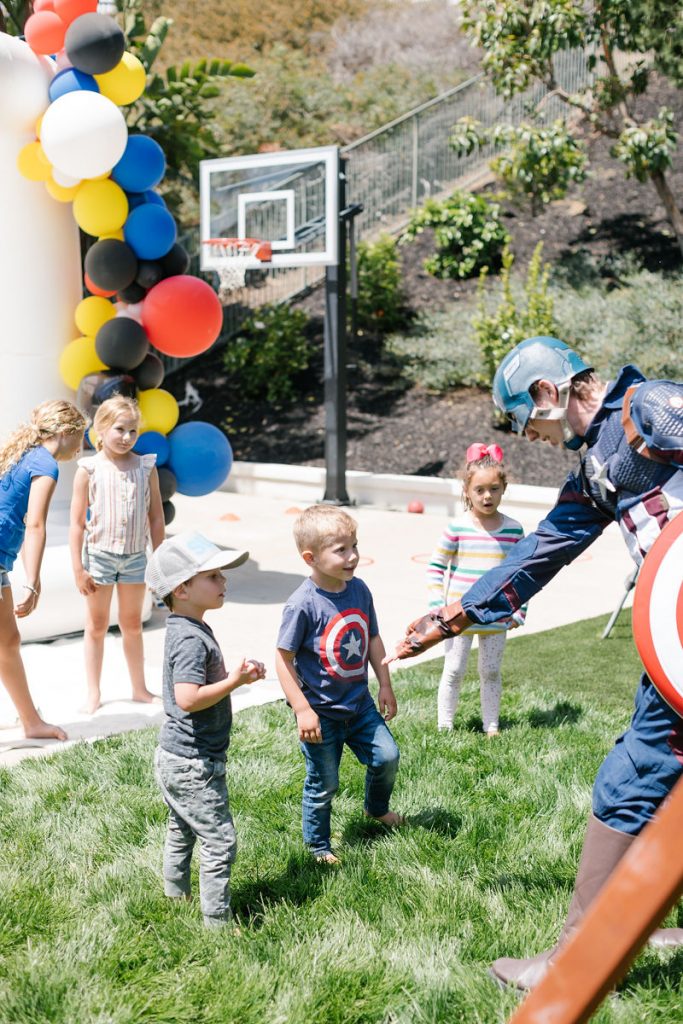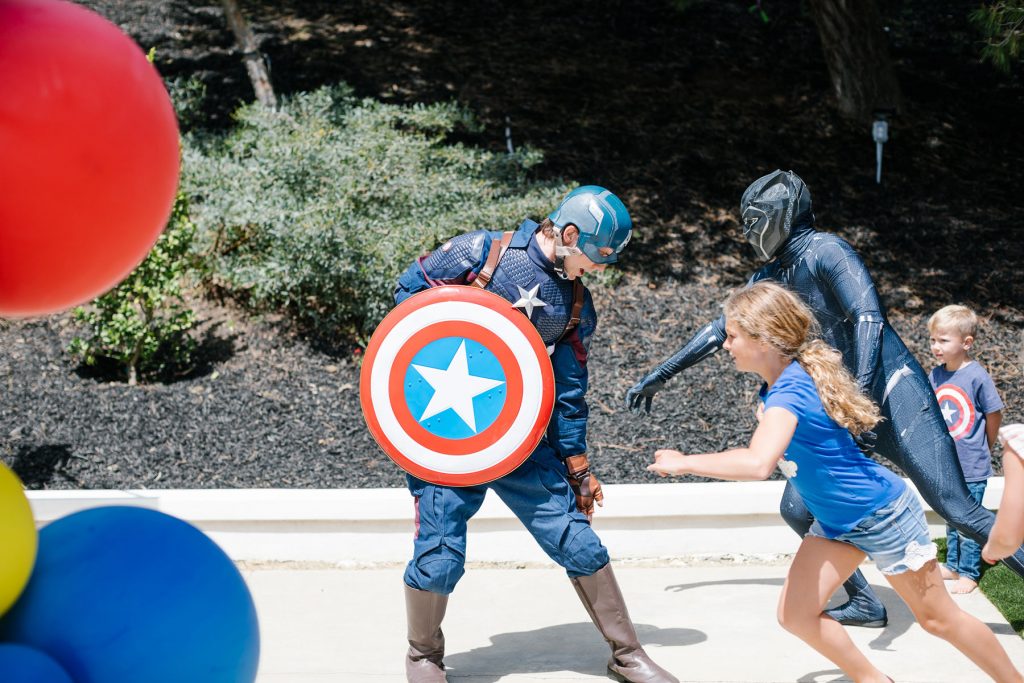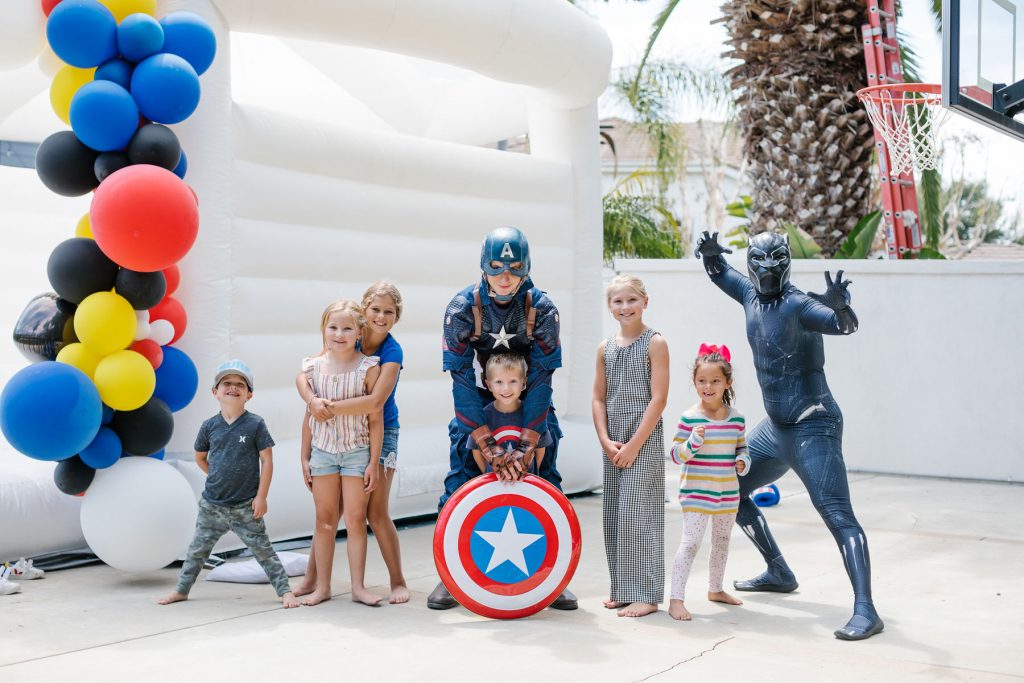 I love seeing photos like these below, it was a party and everyone was having a blast! From the kids to adults, it was a fun time had by all!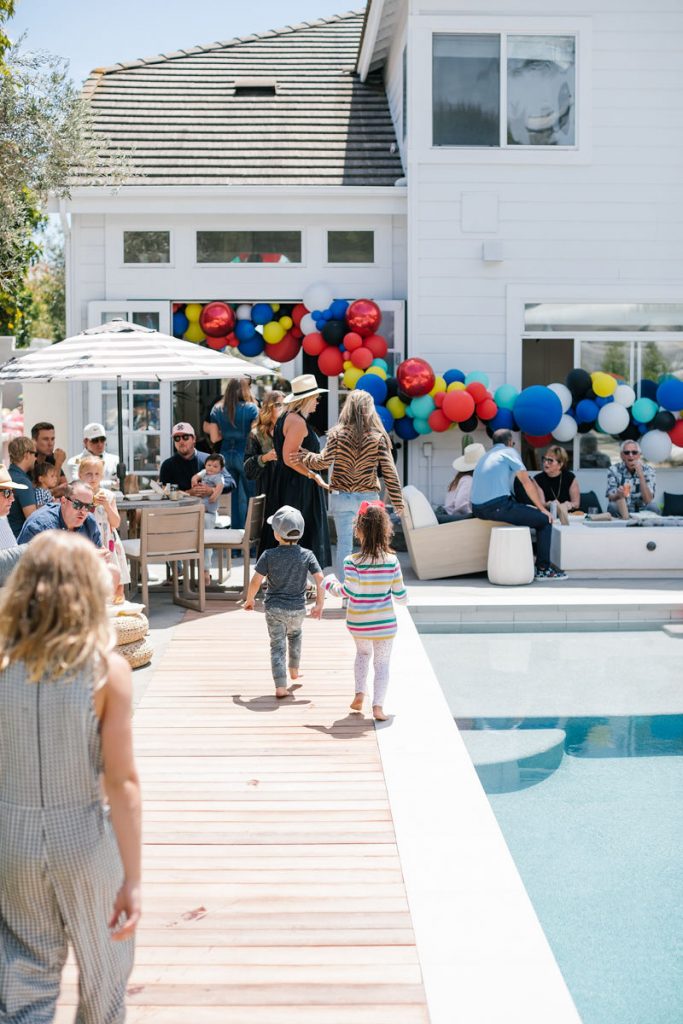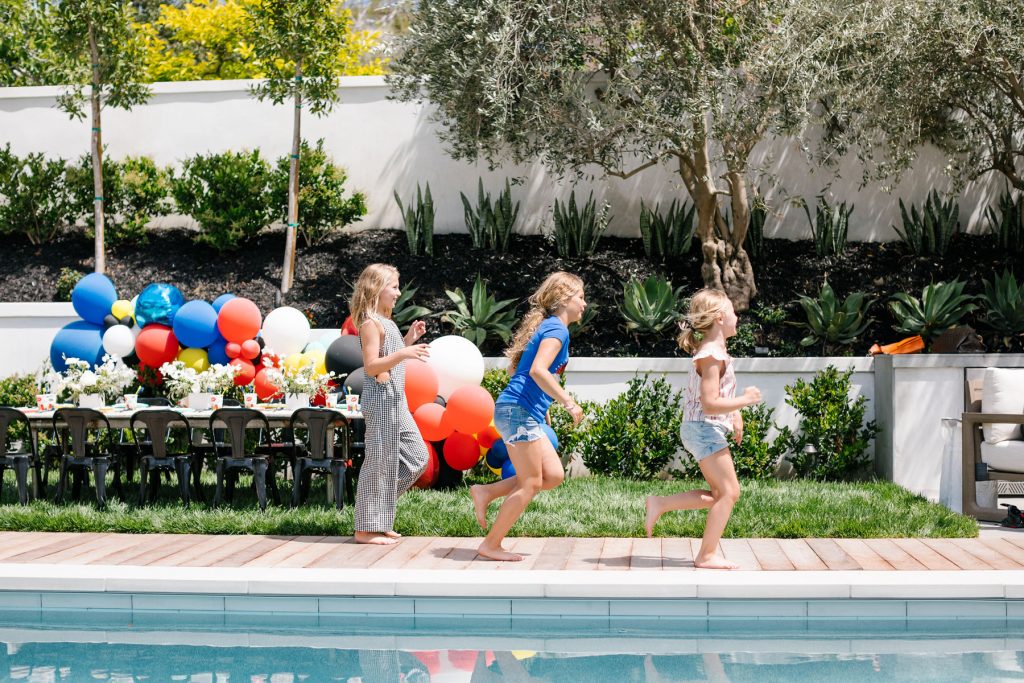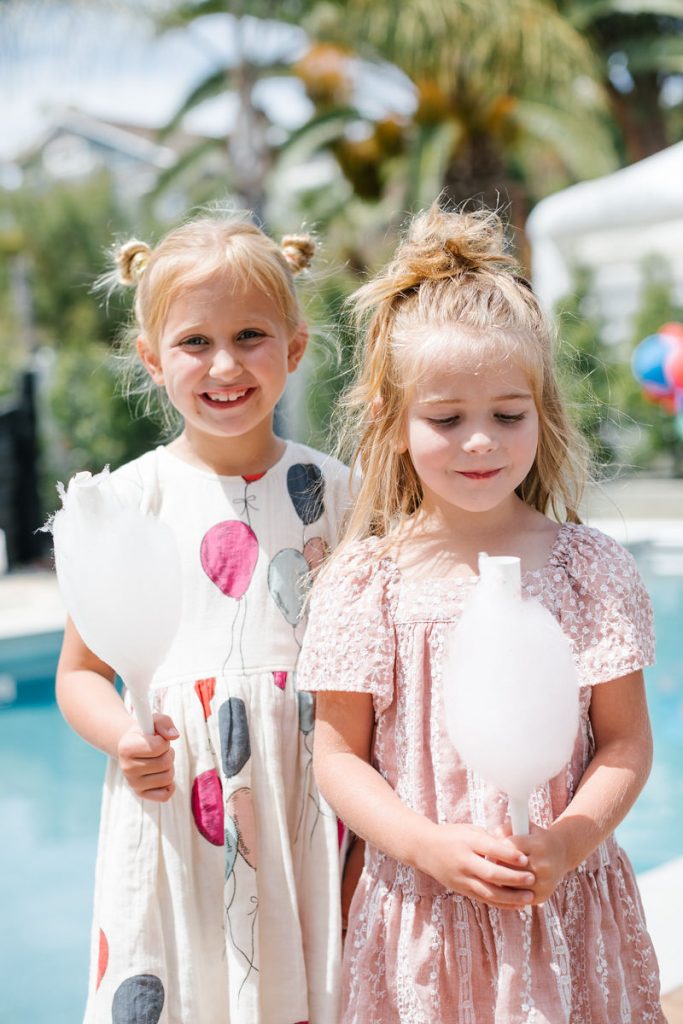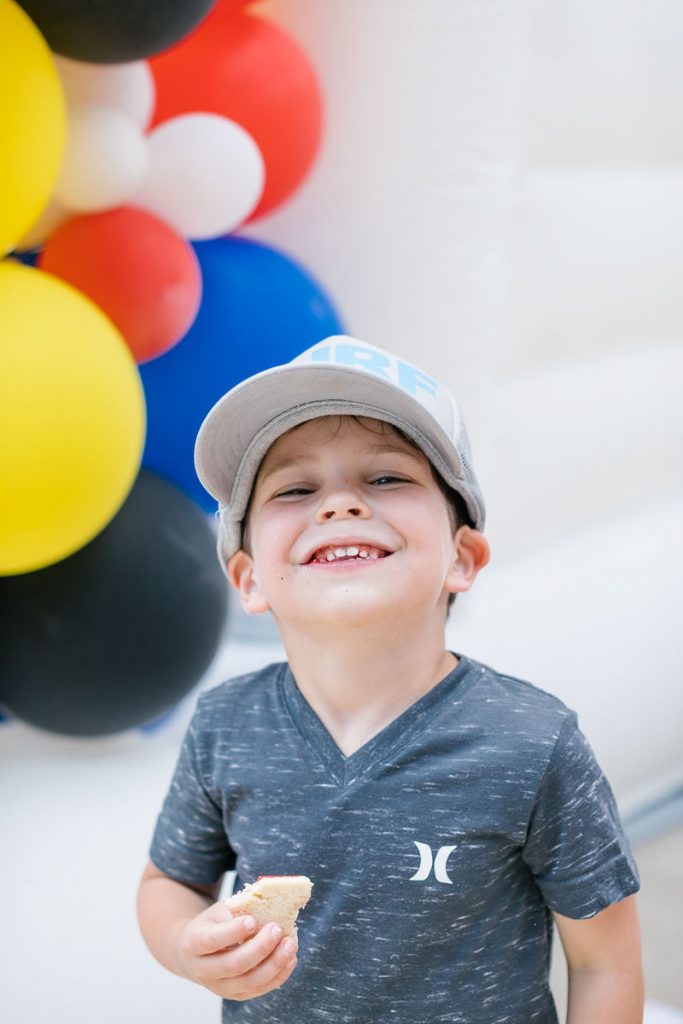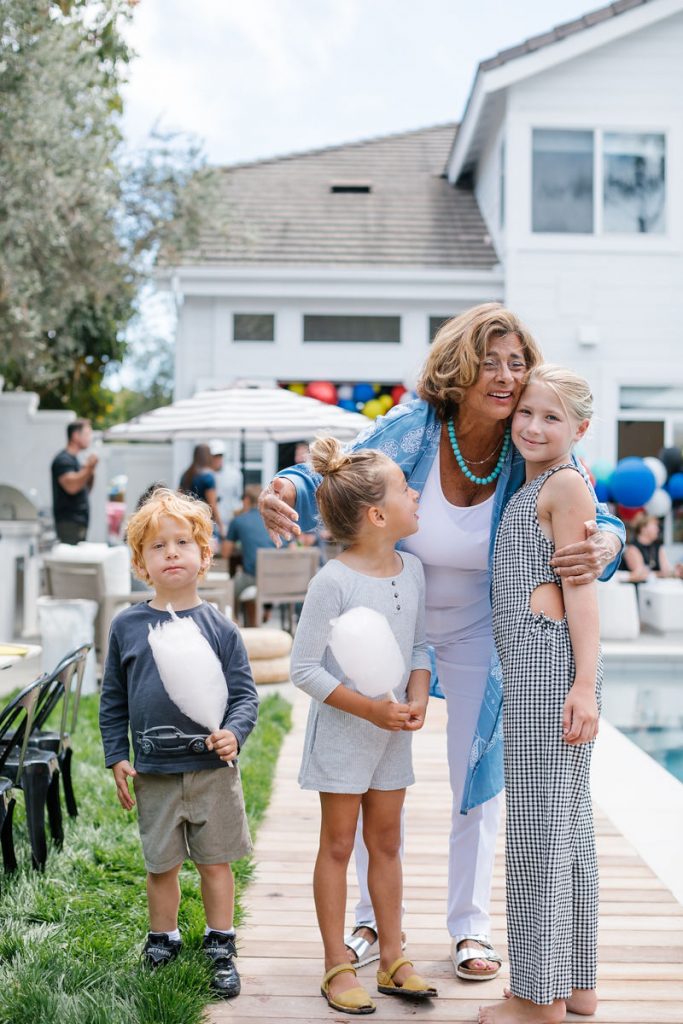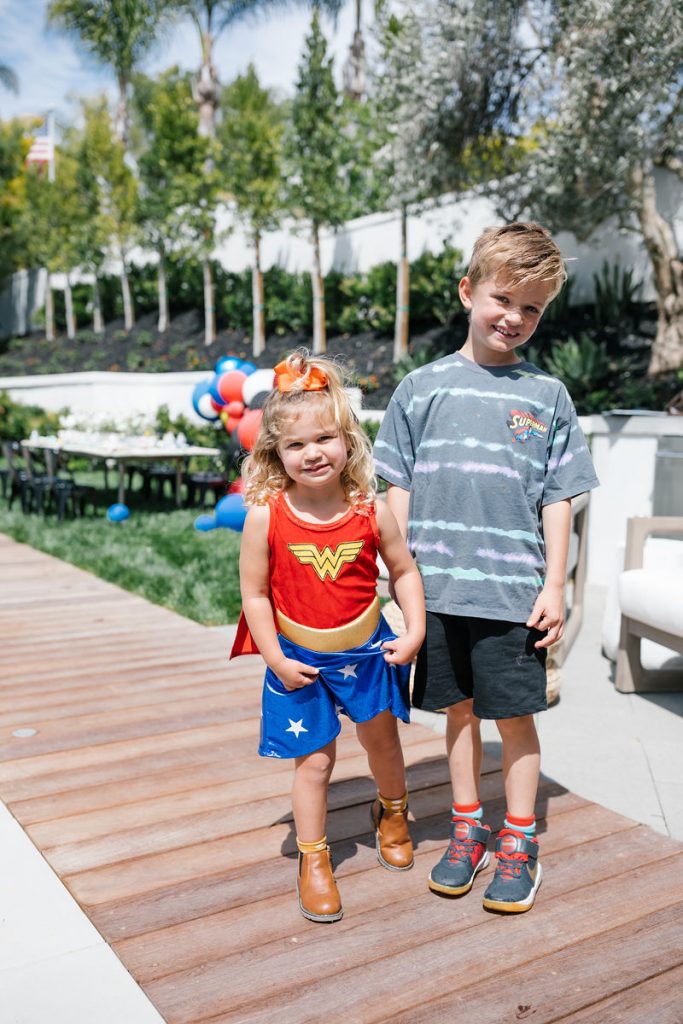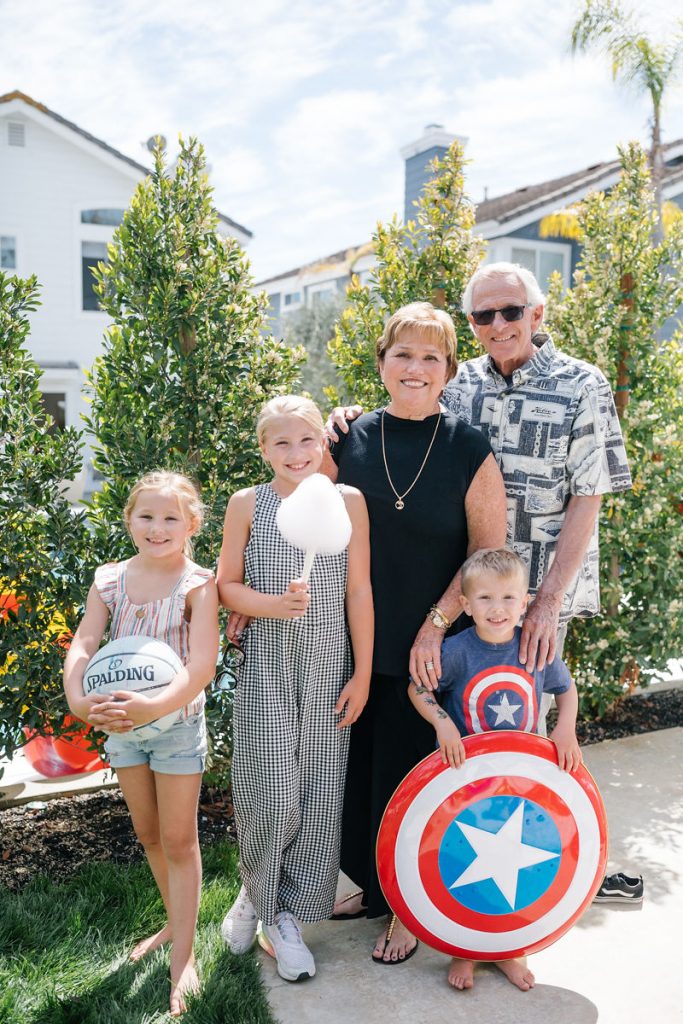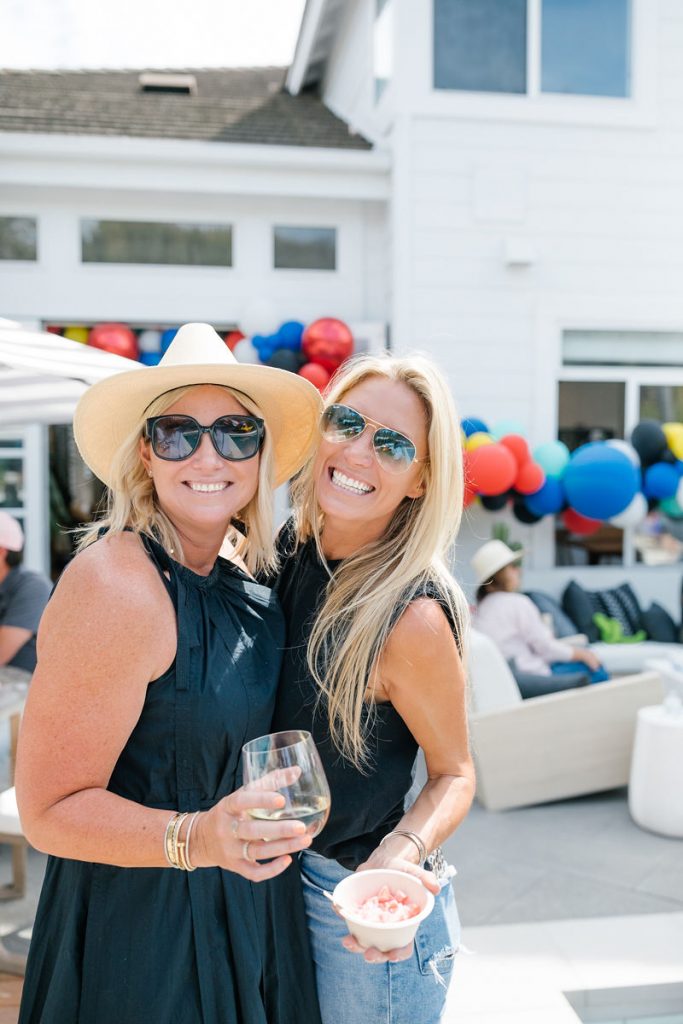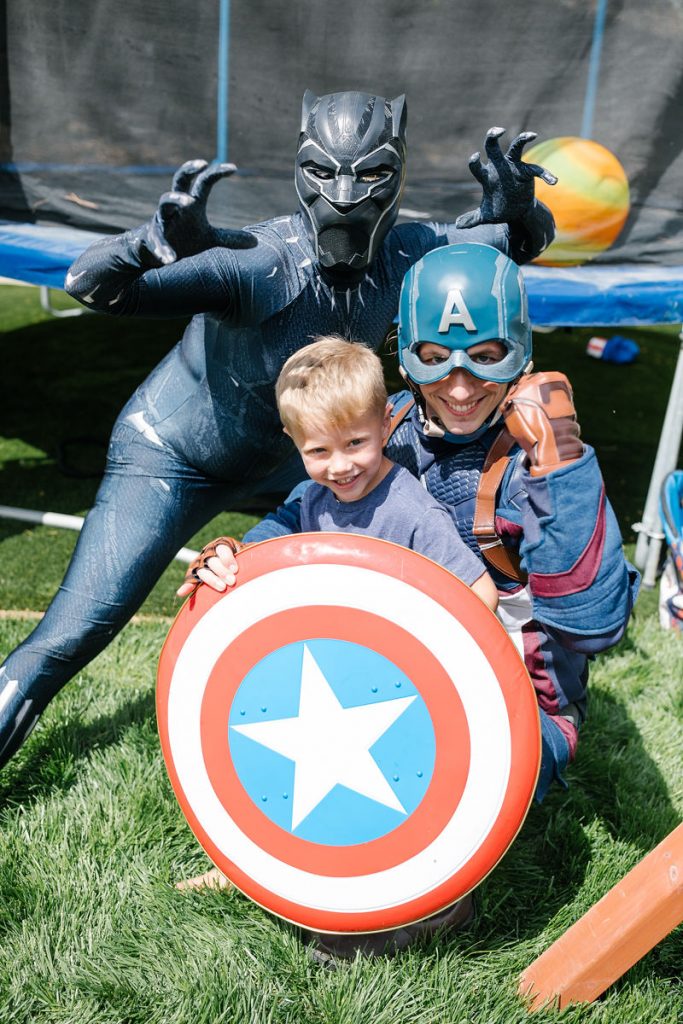 You may have though we were done, but dessert is always a must! This dessert set up is one of my favorites ever!! The balloon backdrop by The Pop Shop just makes it! I also loved all the incredible creations Sweet & Saucy Shop added from the cake, to cookies, to cupcakes, and more! Poppy Jack Shop's cake topper and dessert sign were the perfect details to finish it off!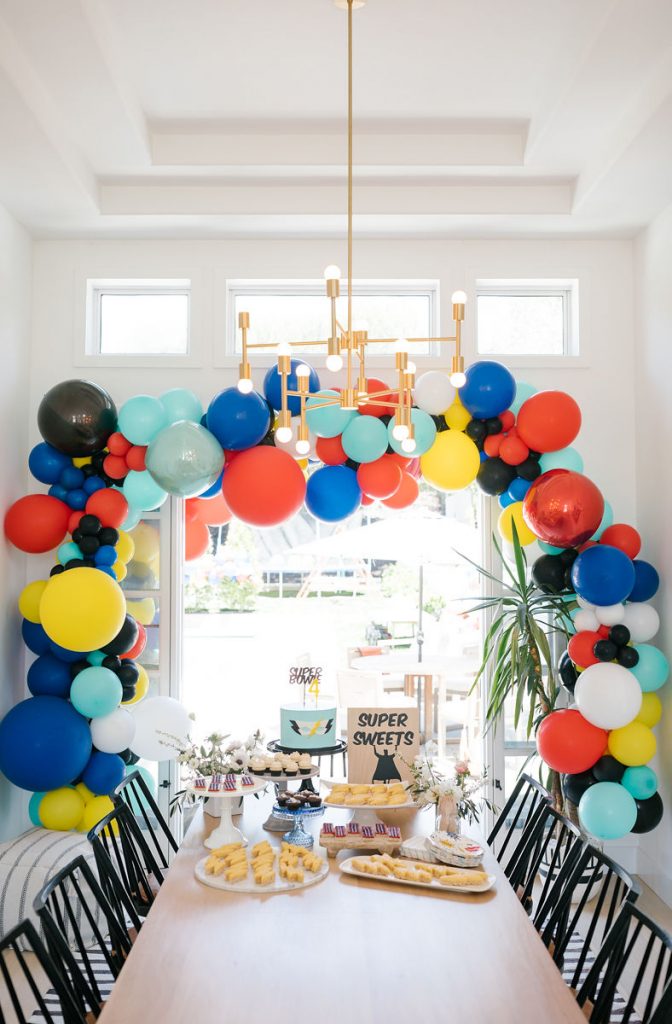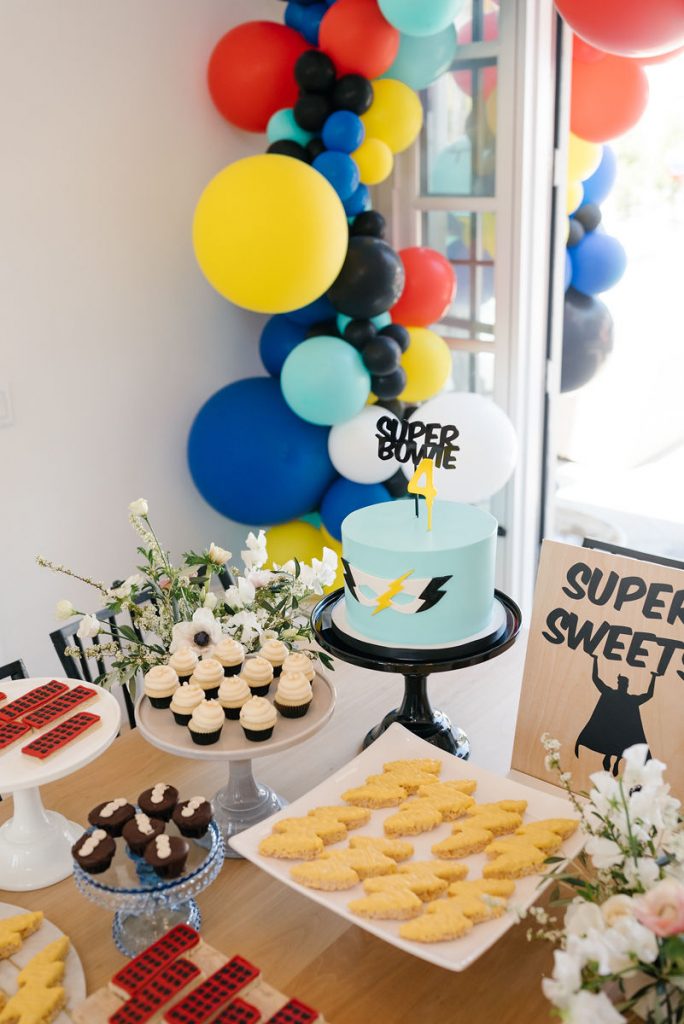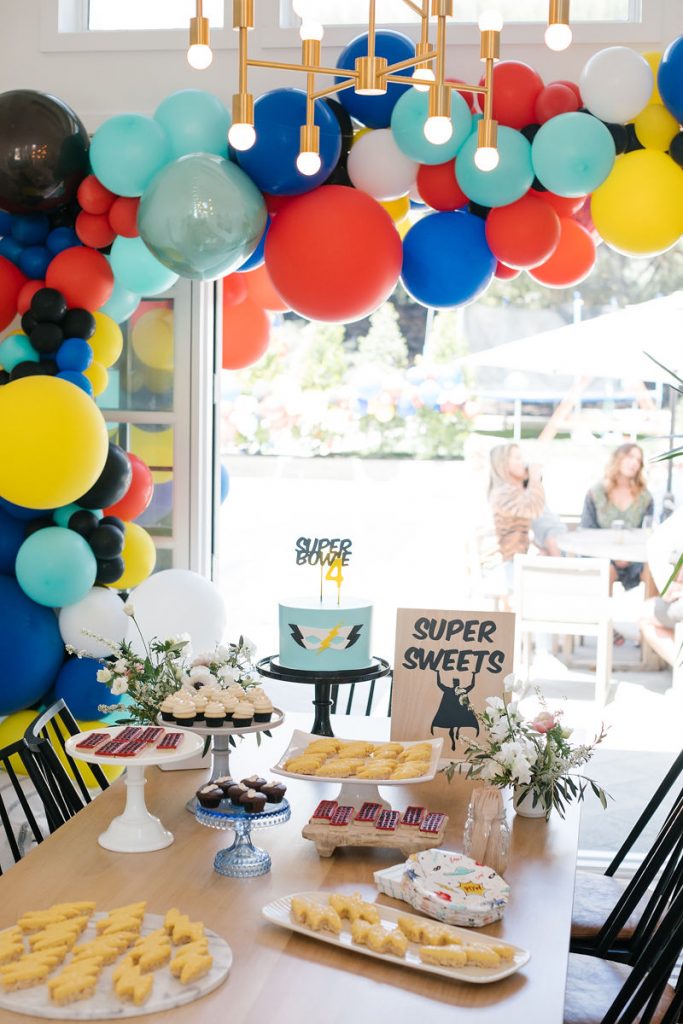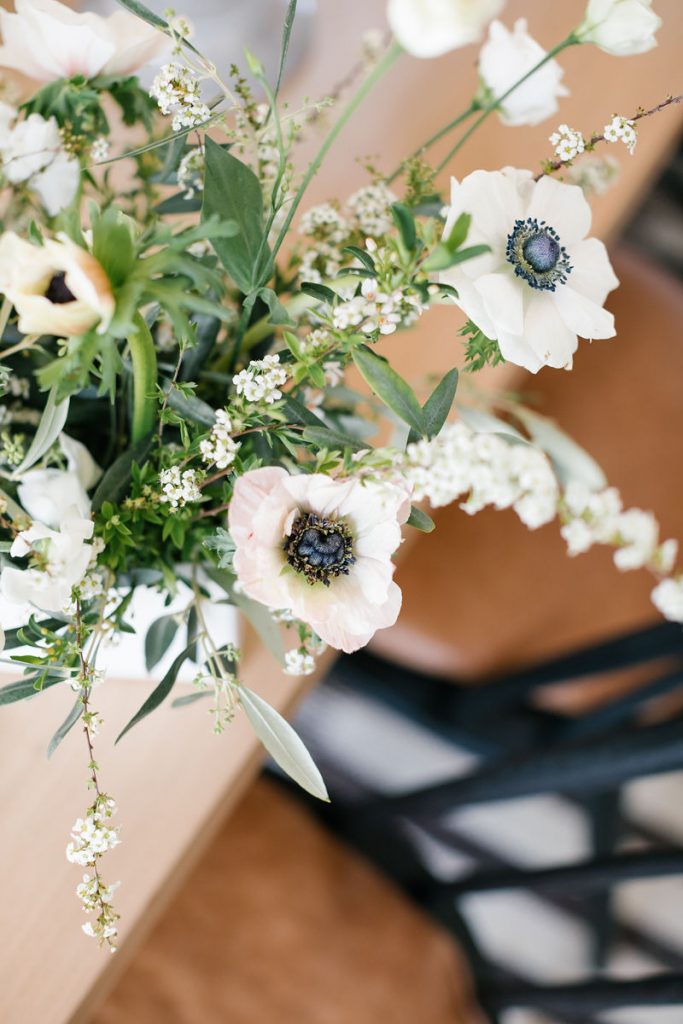 Pretty epic, don't you think?!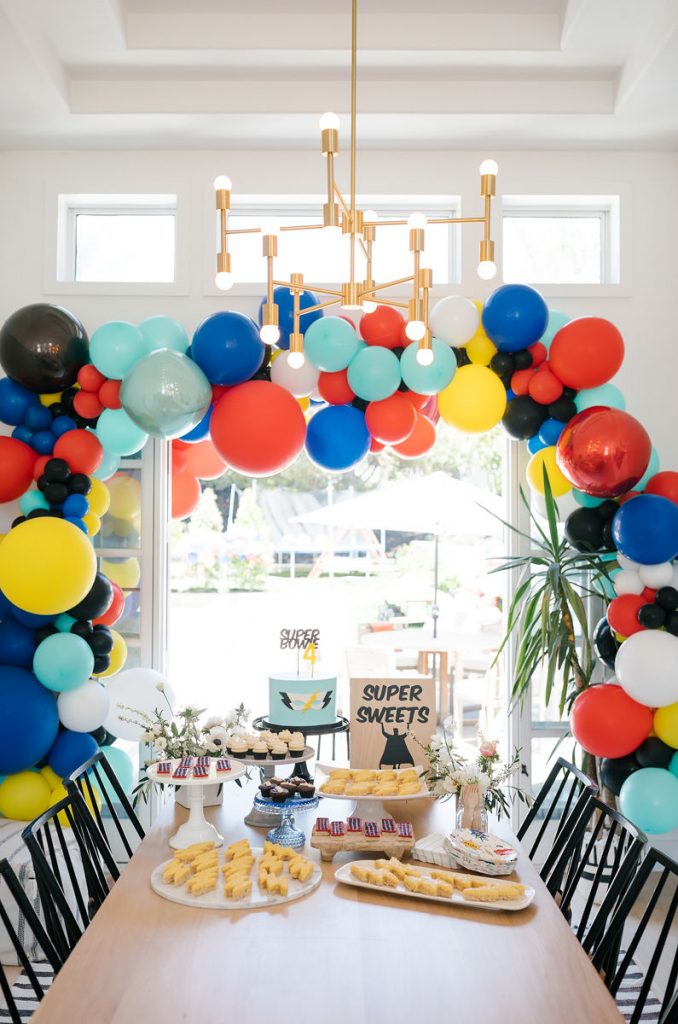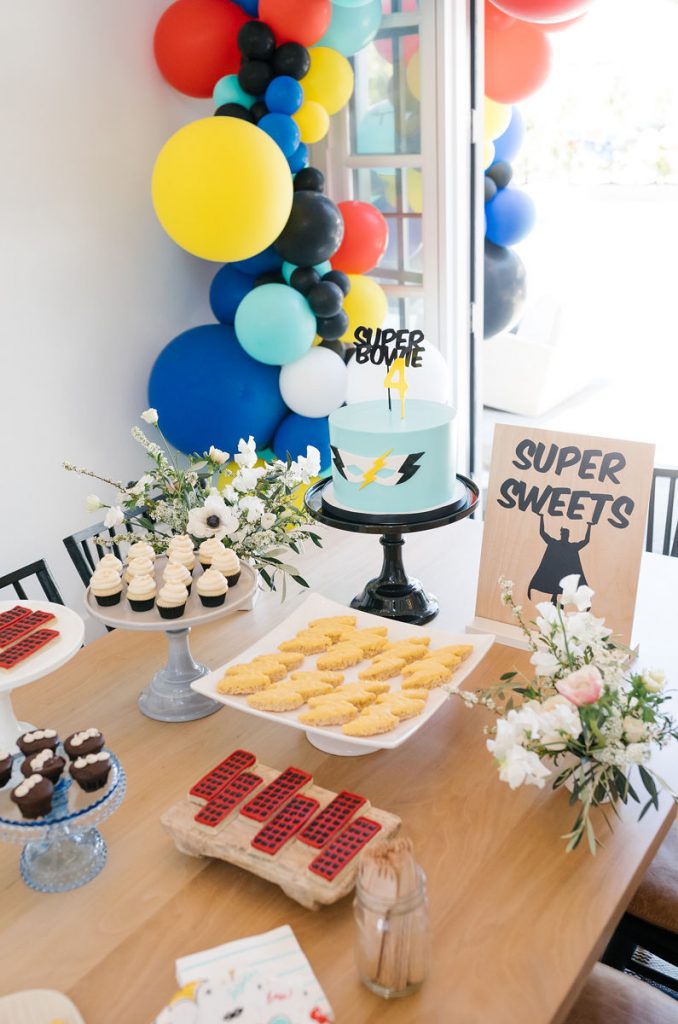 That's one happy birthday boy!!!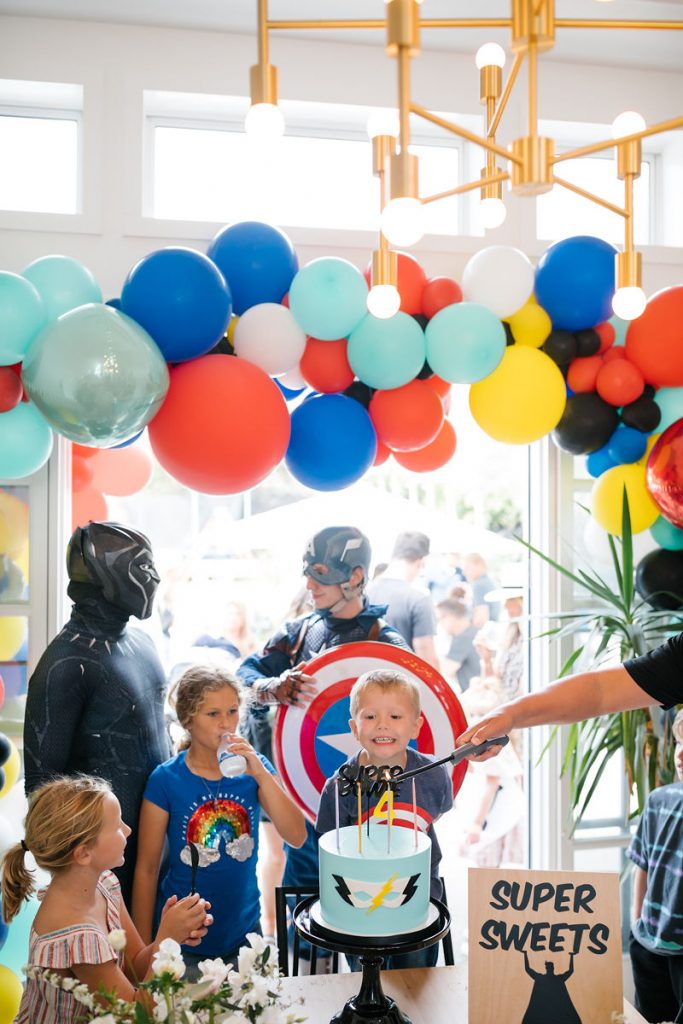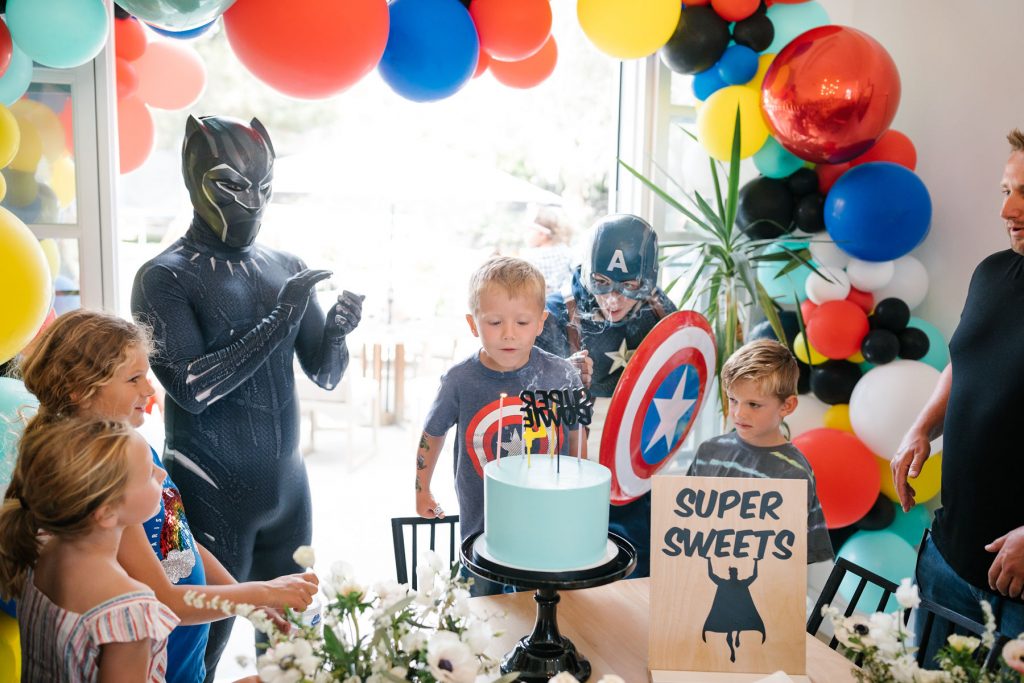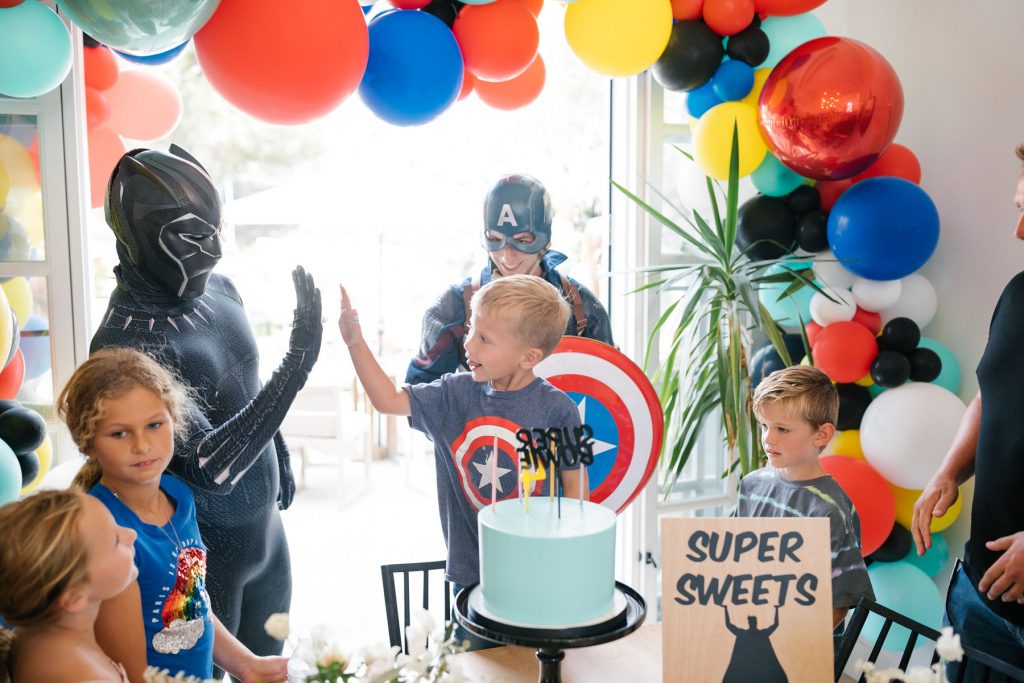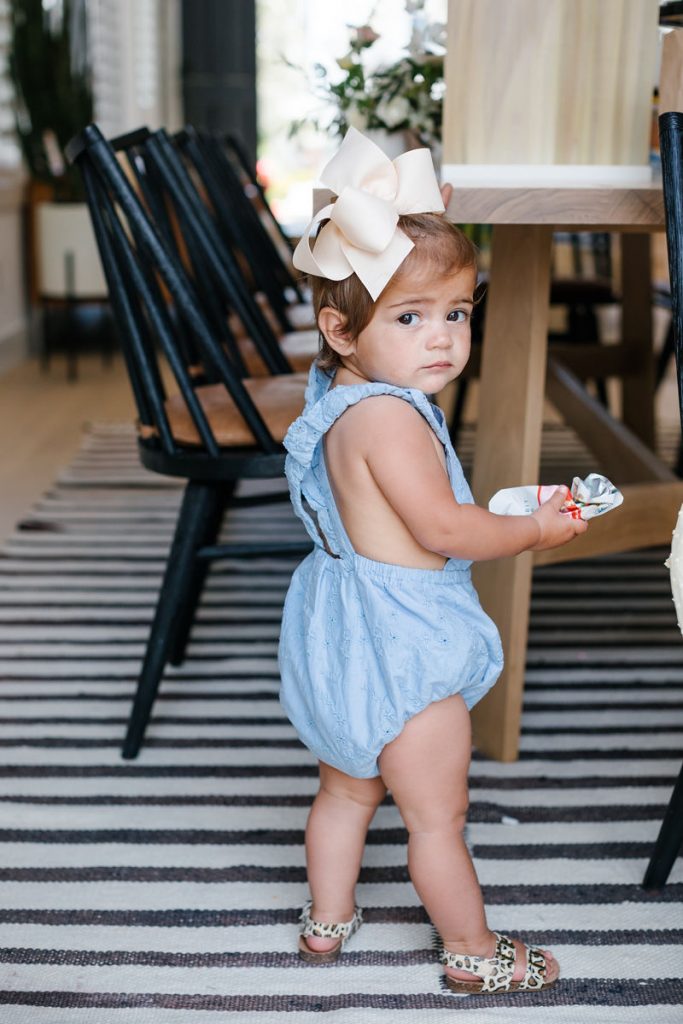 I'd say this crew had a SUPER day!!!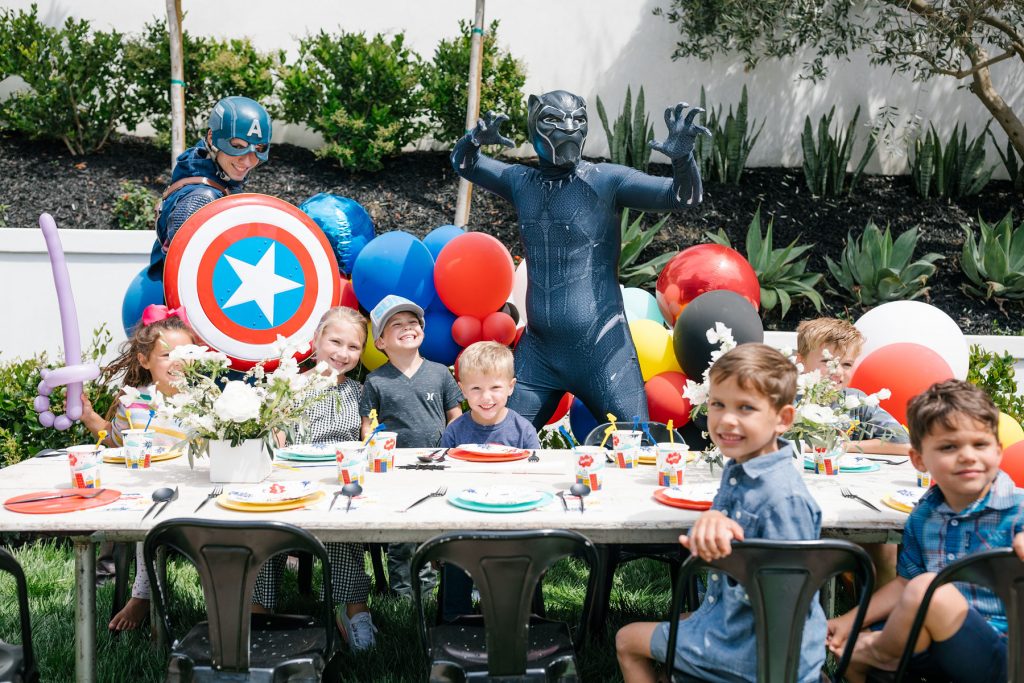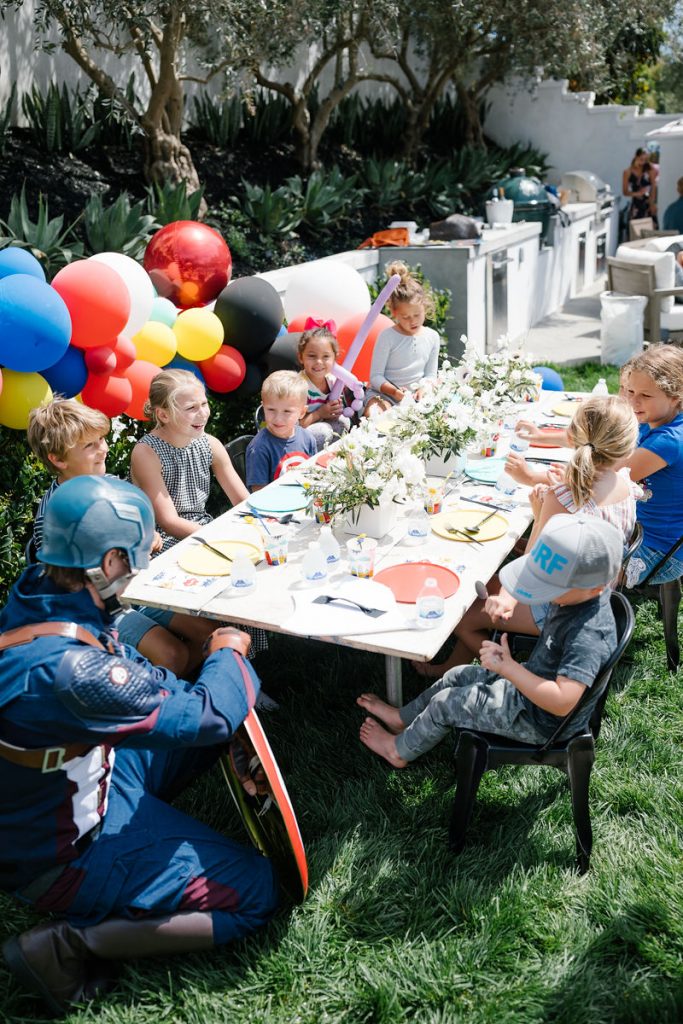 Happy Birthday Bowie!!! Thanks for having us!!!!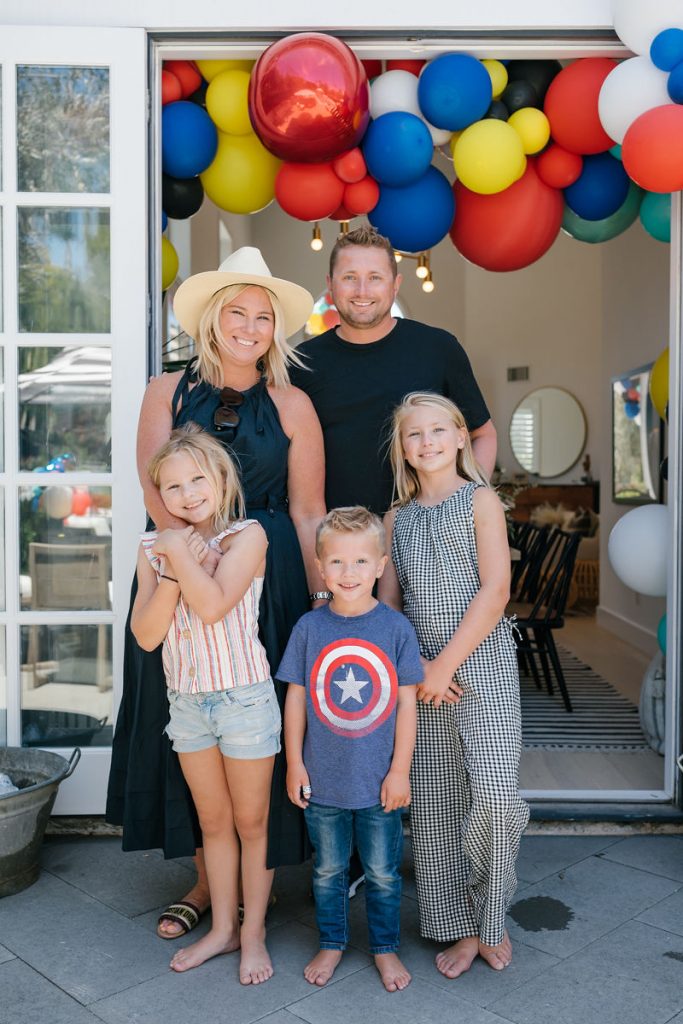 Shop this cute party below!!

xx
Jacquelyn