Continuing our love for interior spaces today. We love to get a chance to peek into industry friends own homes as seen yesterday in our spotlight home tour of Jesi Haack. We love peeking into our own homes as well.
Styling a piece of furniture doesn't have to be perfect. For myself, I often overthink styling parts of my home. Keep it simple, keep it stylish. I recently got my hands on a vintage sideboard that a neighbor was going to toss out. Crazy right?!?Here is how easy it is to style one: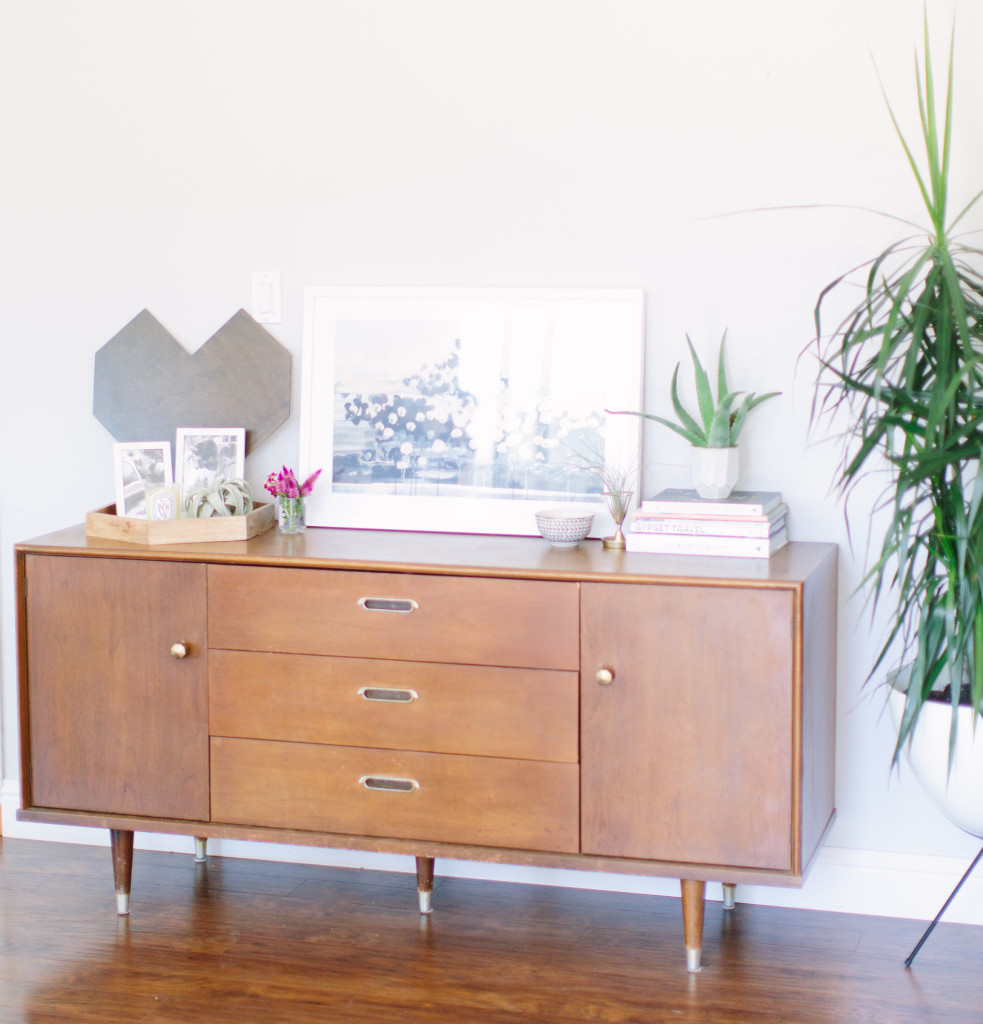 I first replaced the old knobs with these Facted Ory Knobs from Anthropologie to give it an updated look. They are a great place for knob selections!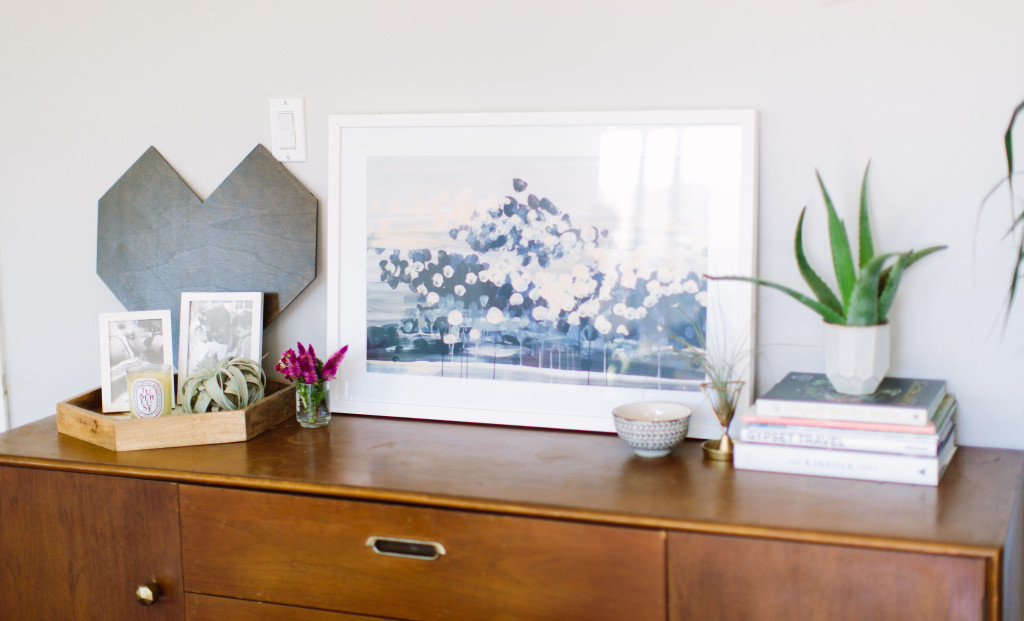 Add an art print. I picked a neutral colored one as throughout my home is mainly black, white, and mix of indigo + pops of colors. Play around if you should lean or hang the art print. I like the look of leaning art prints.
A tray that includes pictures frames of the family, a scented candle, and greenery. I love to add greenery details where I can in my home, may that be succulents, house plants, or flowers. You might recognize that geometric heart? We have used this The Duo Studio Geometric heart in many of our events, so of course you would find it in our own homes. You can actually find it in my home in a couple rooms. I love what we create so why would I not include some of our work in my home.
Adding a pop of color with some hot pink flowers in a simple vase. We have a sunday routine in our house to go to the farmers market, and find pretty flowers to add throughout the house. Its a fun tradition that we have been doing for a couple years, and the kids now expect it which I love.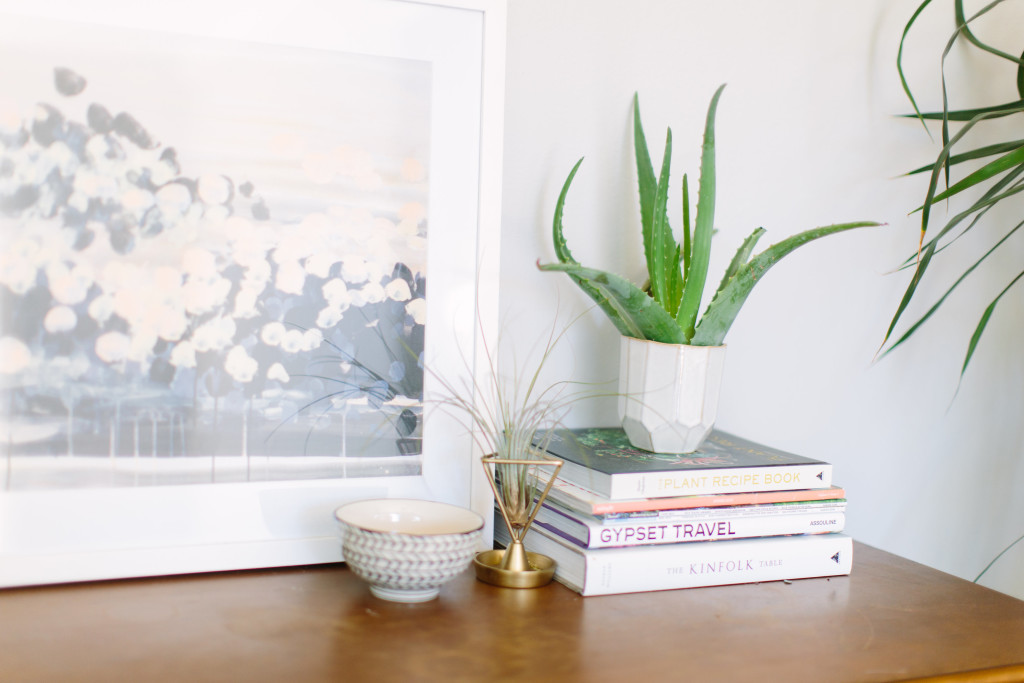 I created some height by stacking coffee table books, and adding a potted aloe vera plant on top. Mix up your greenery but adding contrasting textures. I keep wanting to add some hanging pots for more contrast so hoping to have an update soon on this! Styling never ends here in this house!
An airplant holder from West Elm (sold out), but I love this rocket geometric air plant holder as well found on Etsy.
Sketch Pattern Snack Bowl from Urban Outfitters add some decor on the table. Our bowl is filled with jelly beans right now, its potty training time in our house.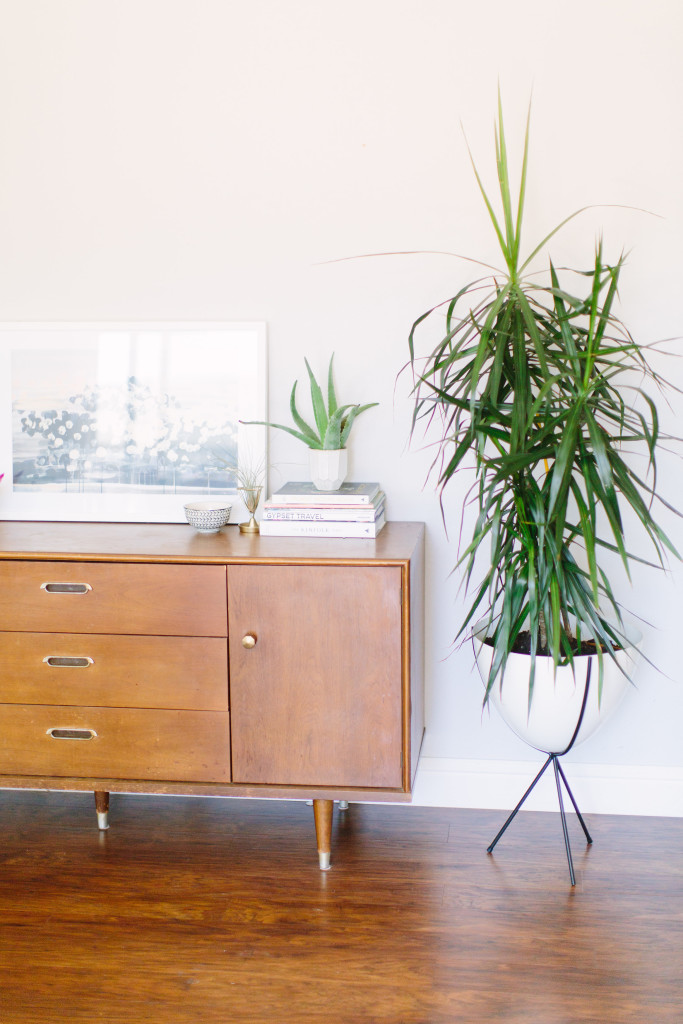 Lastly, a potted plant in the Retro Bullet Planter from Shop Pigment that is placed in the corner.  I just love potted plants. I could have them in every house if I could. Its a great way to fill an empty corner.
See how simple that is! I guarantee you have all these pieces in your house that you can create the same look today!
xoxo
Abby