With Superbowl a week away, I wanted to throw a little hoppy hour to get you inspired for the big game day! We are beyond excited for this year's Superbowl! Both Jacquelyn and I are from the Bay Area, so this is a Superbowl we won't dare to miss! Usually, for me, it's all about food, drinks, and commercials. This year, I wanted to throw a little thing I like to call, Hoppy Hour!
Photos by Dayna Studios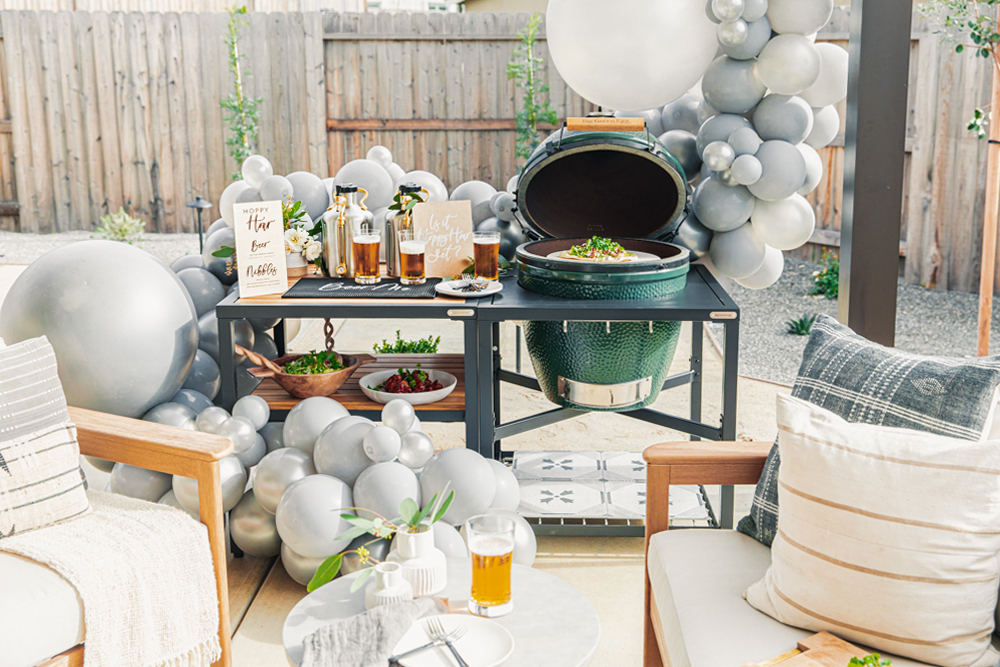 So what do you need for a hoppy hour?
Let's go through our checklist!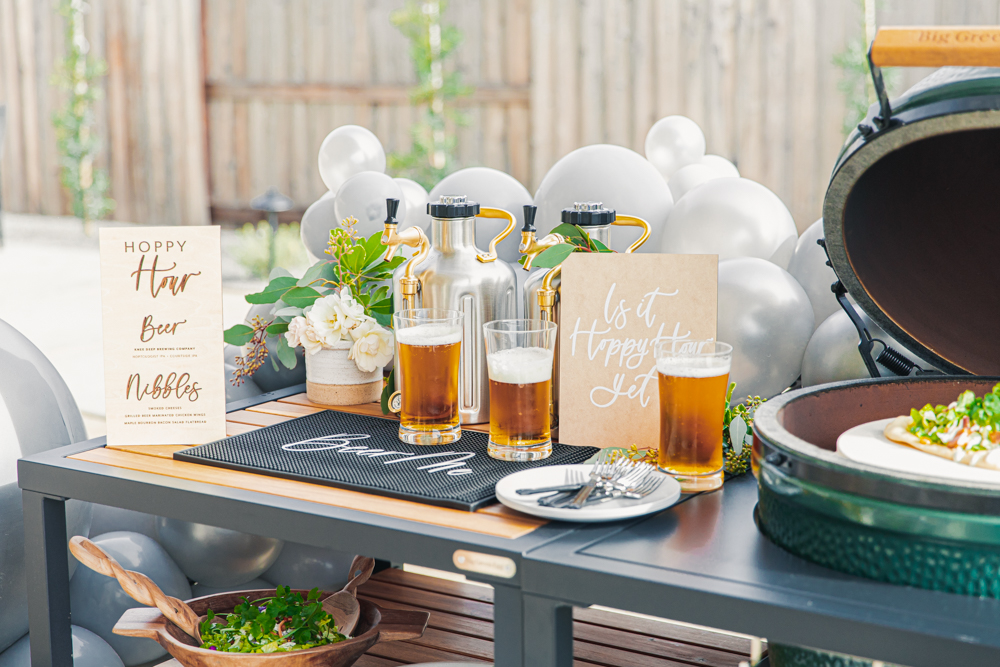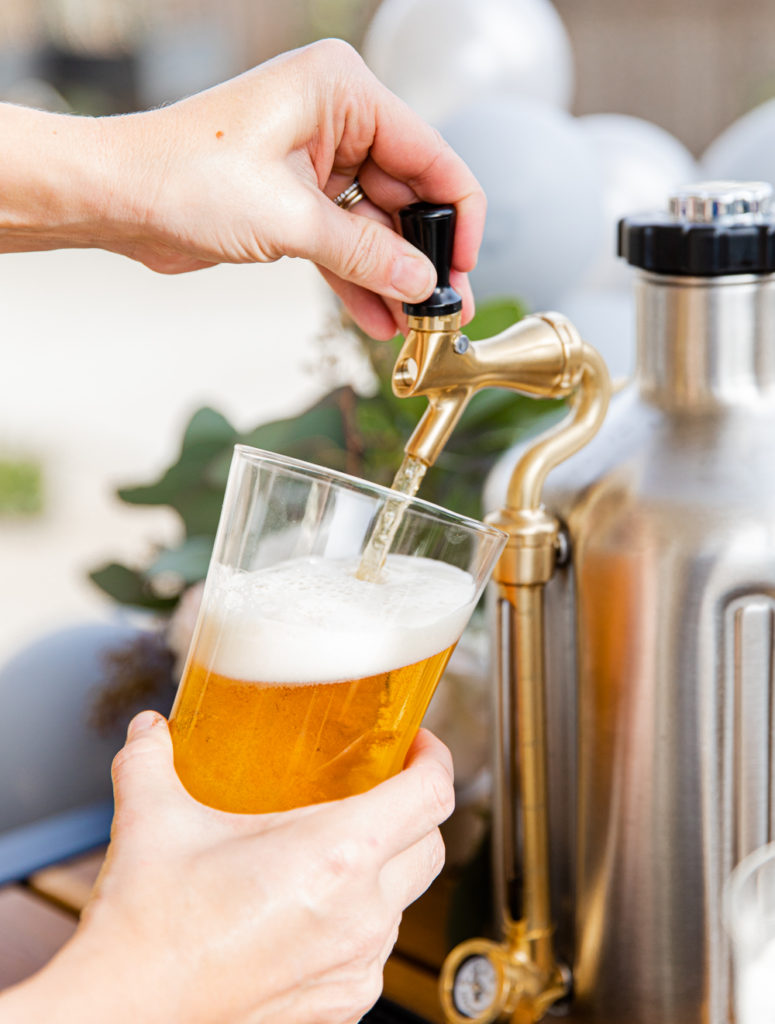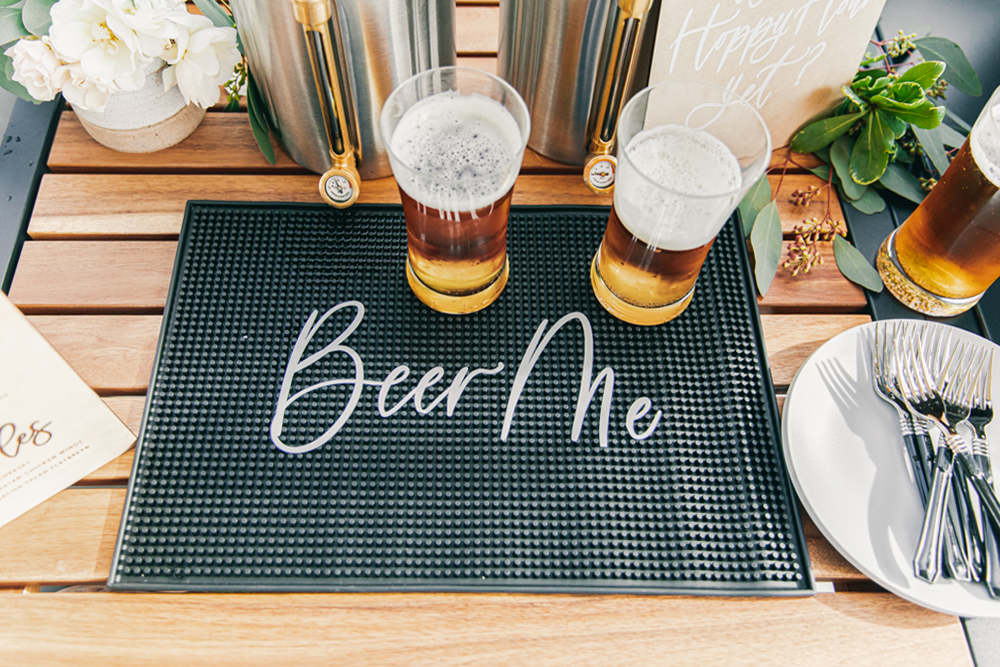 1. BEER STATION
It is hoppy hour! I found these amazing growlers from Growlerwerks! These babies are pretty rad! They are a pressurized growler that keeps your beer fresh, cold, and carbonated for two weeks. Best idea ever for any guy or girl that loves beer. You can also do cocktails too! Check these guys out here! They make setting up a beer station so easy. Along with the two growlers, I added a bartender mat that Proper Letter helped me "beijos-ify" using vinyl lettering saying "Beer Me."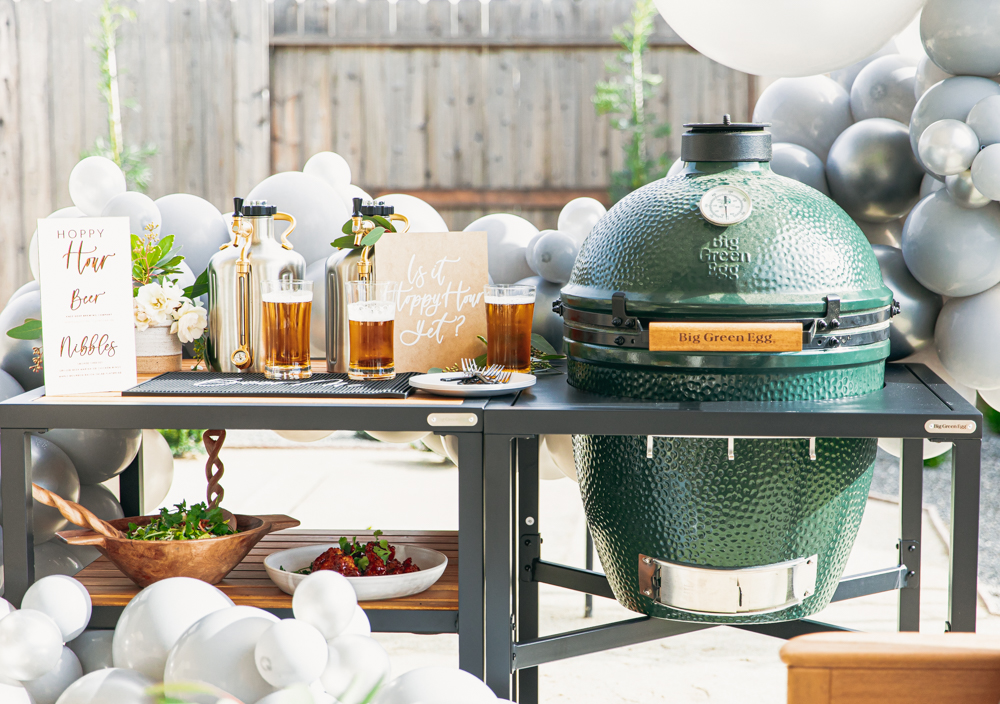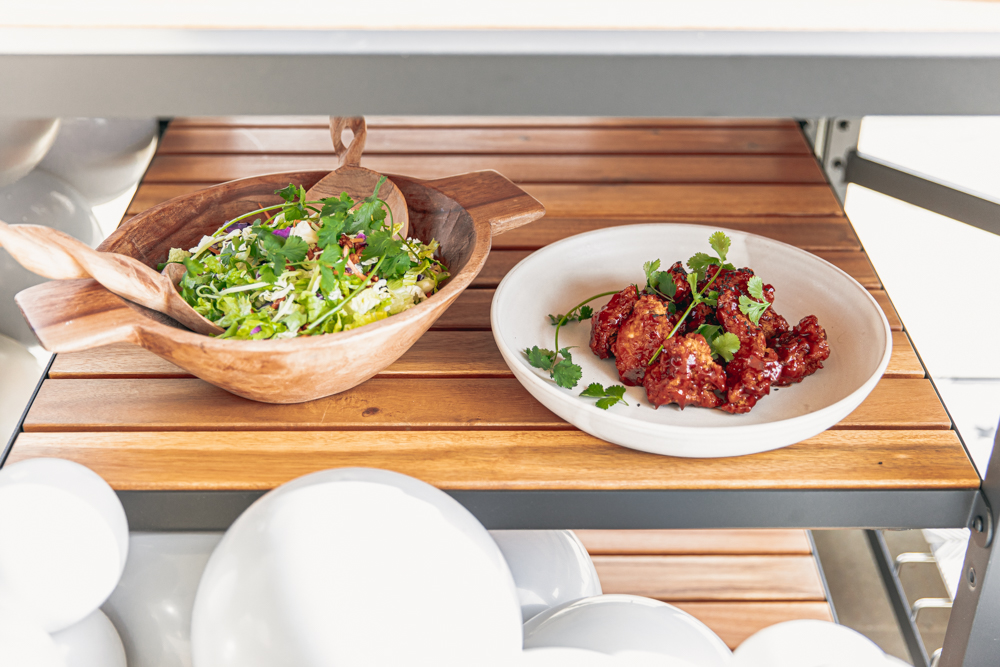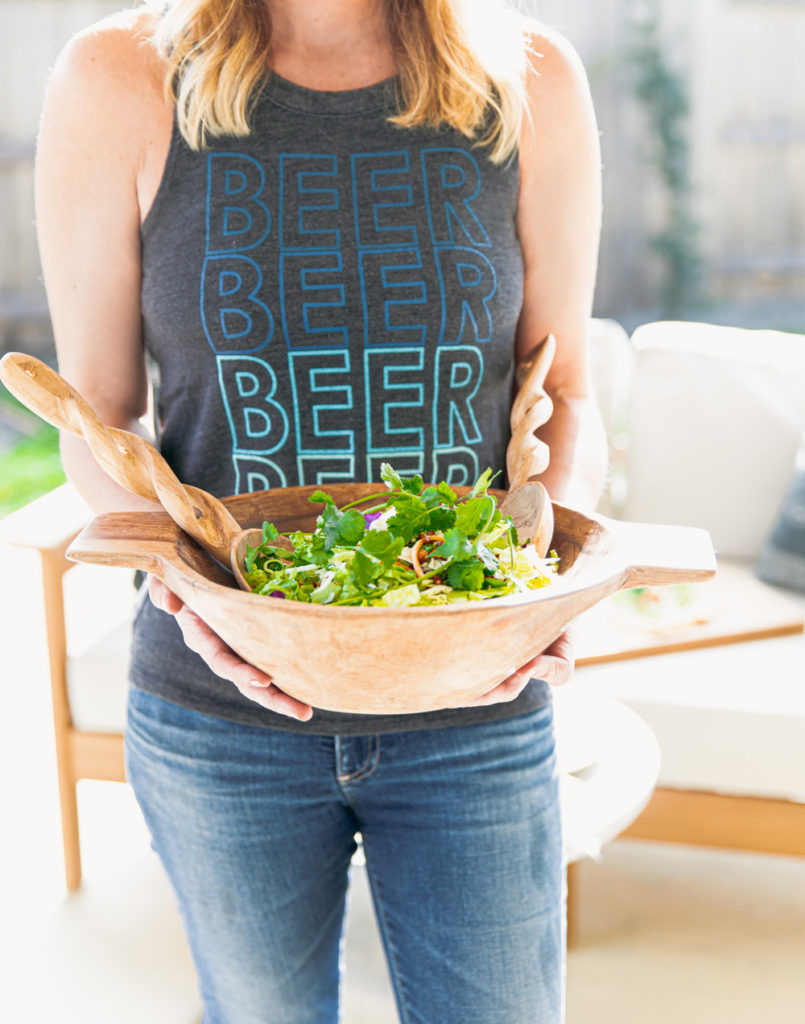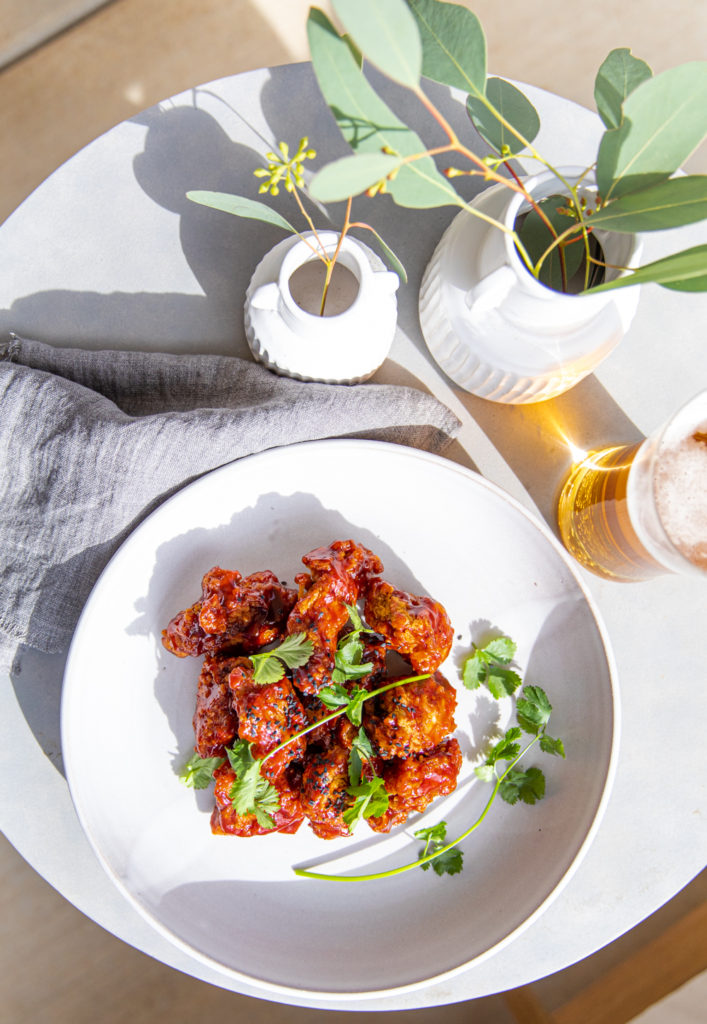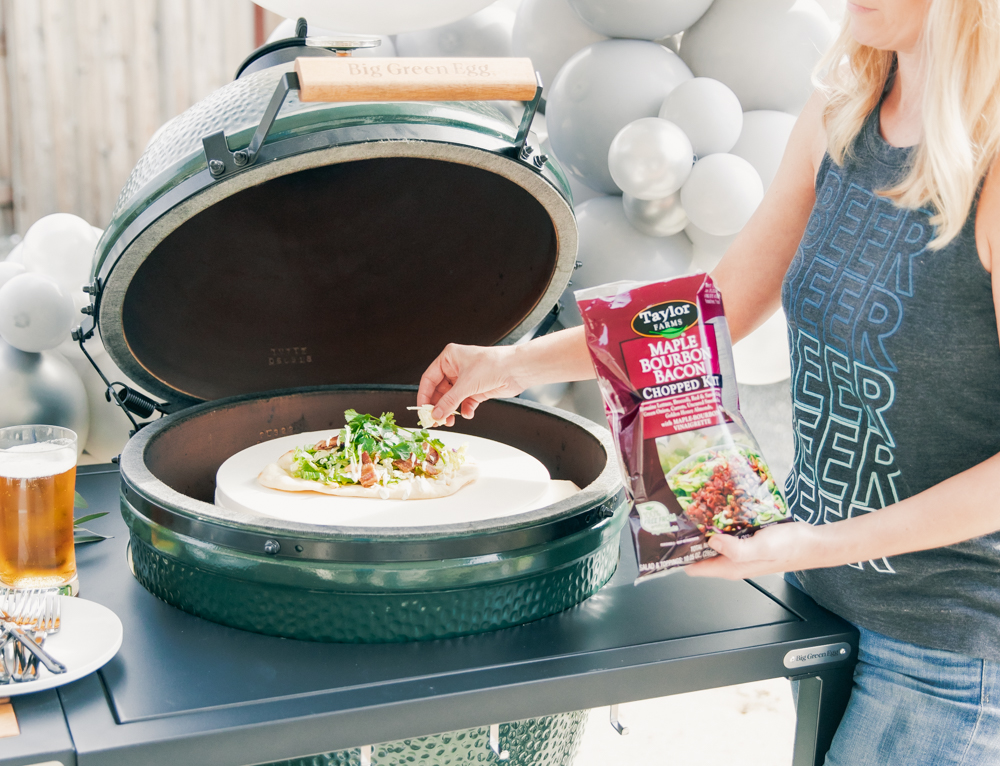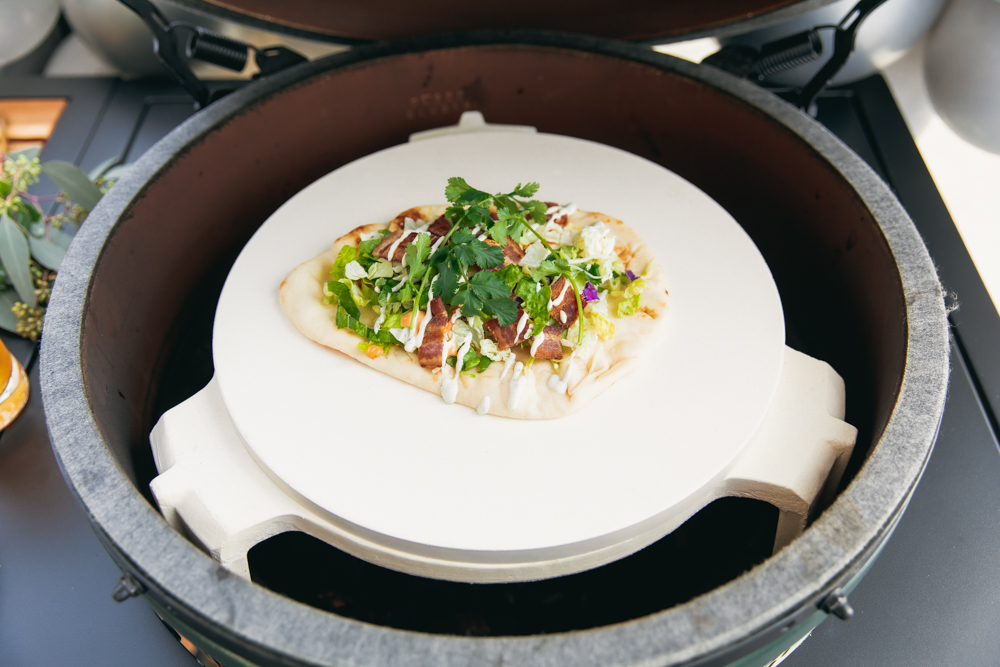 2. BBQ + FOOD
We are still obsessed with our Big Green Egg, so I knew I wanted to create a space around it so I can entertain and still be in the same area as our friends. The Big Green Egg has cool eggcessories and table layouts. They have this new modular nest system that has open shelving for endless ways of using it.
The appetizers for hoppy hour were done using our smoker. Scroll down below to get the recipes. I love the flatbread salad pizza I made using Taylor Farm's chopped kits. Easy and so yummy!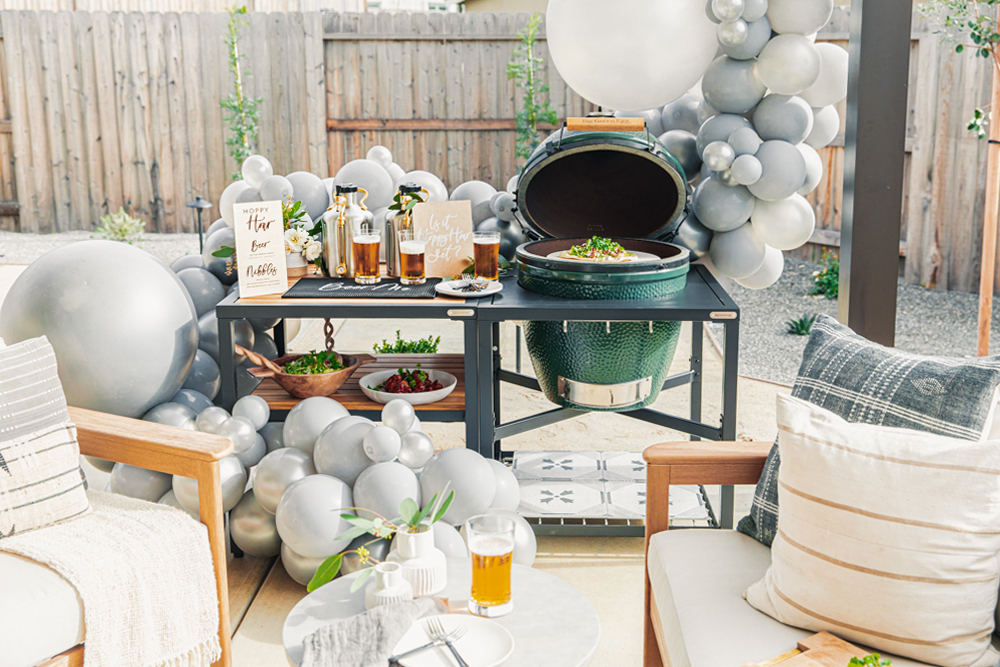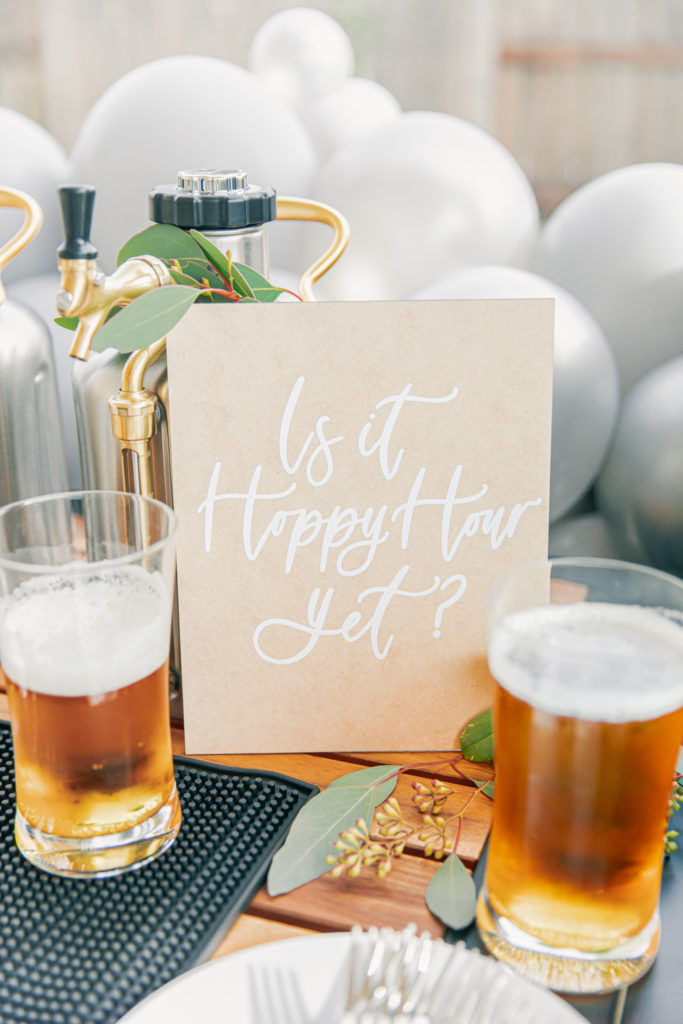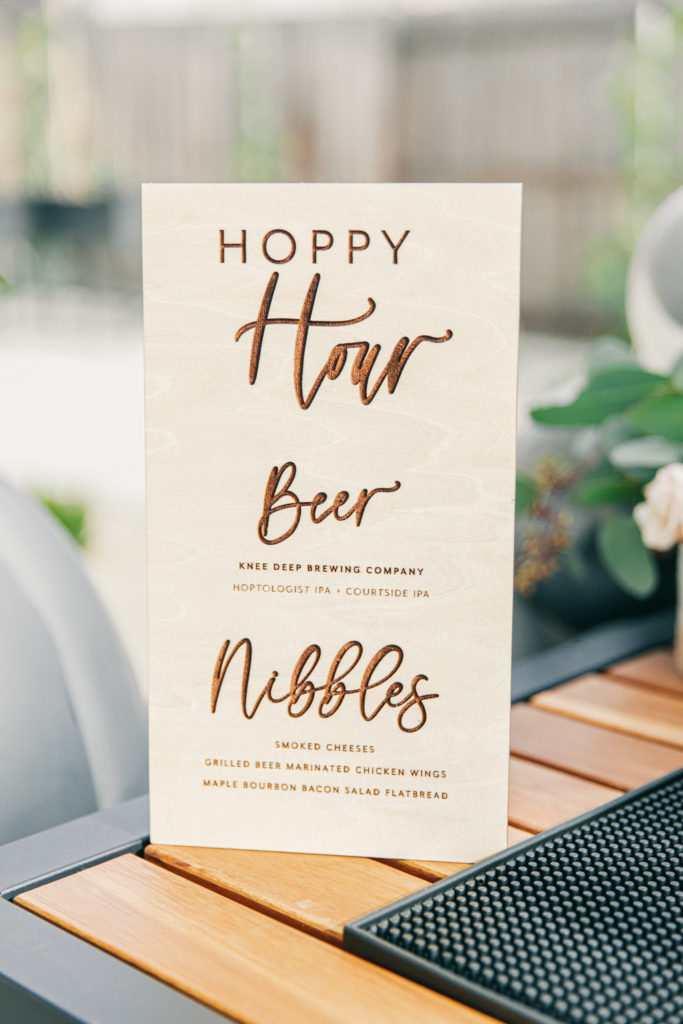 3. SIGNAGE + BALLONS
Any function small or large, its always fun to add extra little touches. One fun is adding ballons! It just makes the scene come alive! Jessica from Frosting and Fringe created this fabulous gray-toned garland that swept down from the pergola and wrapped around the table.
Add signage for a pretty touch, and to let friends know exactly what's up! Its hoppy hour and we are chowing down on some yummies today.
How cute are these from Proper Letter!?!
See below for the yummy recipes!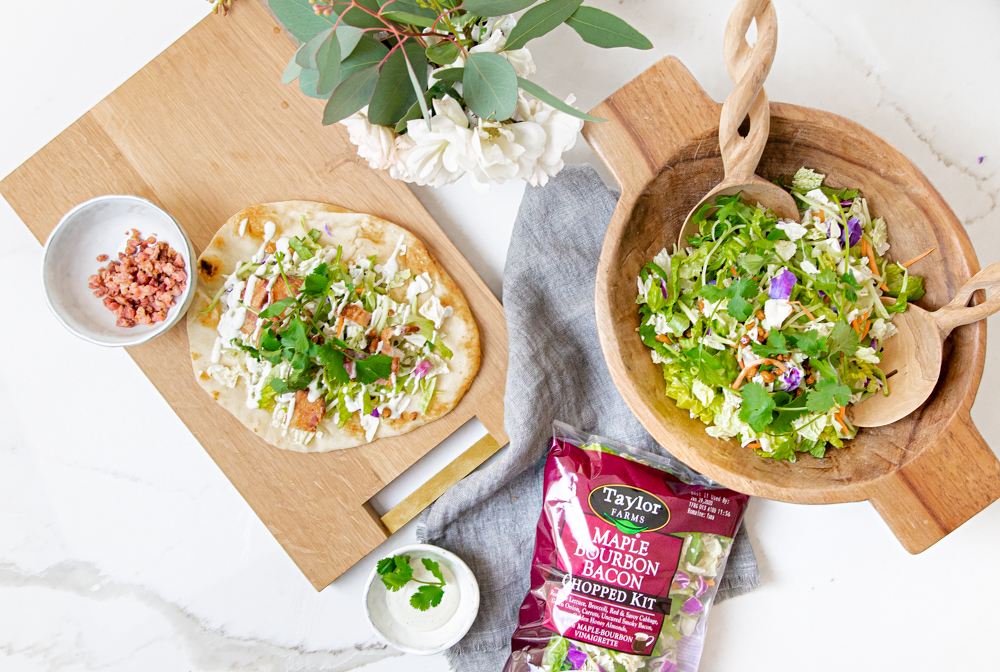 MAPLE BOURBON BACON SALAD FLATBREAD
W H A T Y A N E E D!
Taylor Farm's Maple Bourbon Bacon Salad Kit
Bacon
Cilantro
Flatbread
B U S T O U T:
Prepping Bowls
Pizza Stone for Grill
I N S T R U C T I O N S
I love Taylor Farms chopped kits! There are endless ways to use them. One fun way is to create a sala flatbread. It's healthy, easy to do, and is a crowd-pleaser.
You can choose to make your flatbread, or buy store-bought. I usually will always do mine from scratch, but when it's a busy event like Superbowl, no one will judge!
Place your flatbread on top of your bbq or smoker. Heat until warmed through. Heating it on the smoker gives it that smoky taste, which you will love! Note: This will need to be served up asap!
I prepared the Taylor Farm's Maple Bourbon Bacon Chopped Salad as usual. I double the batch, so my guests could enjoy the salad on its own and on the flatbread.
Once you are ready to serve, squeeze a little of the cilantro sour cream on the bottom of the pizza. This action will help the salad stay on top. To make the cilantro sour cream, simply chop up cilantro and mix with sour cream. I would do about 2-3 tablespoons of cilantro to a cup of sour cream. I have also seen this flavor in the store as well!  Then pile the salad on top of the flatbread. I cooked up some more bacon, cause everyone loves bacon. Sprinkle that on, along with another drizzle of the cilantro sour cream. Then garnish with some fresh cilantro leaves.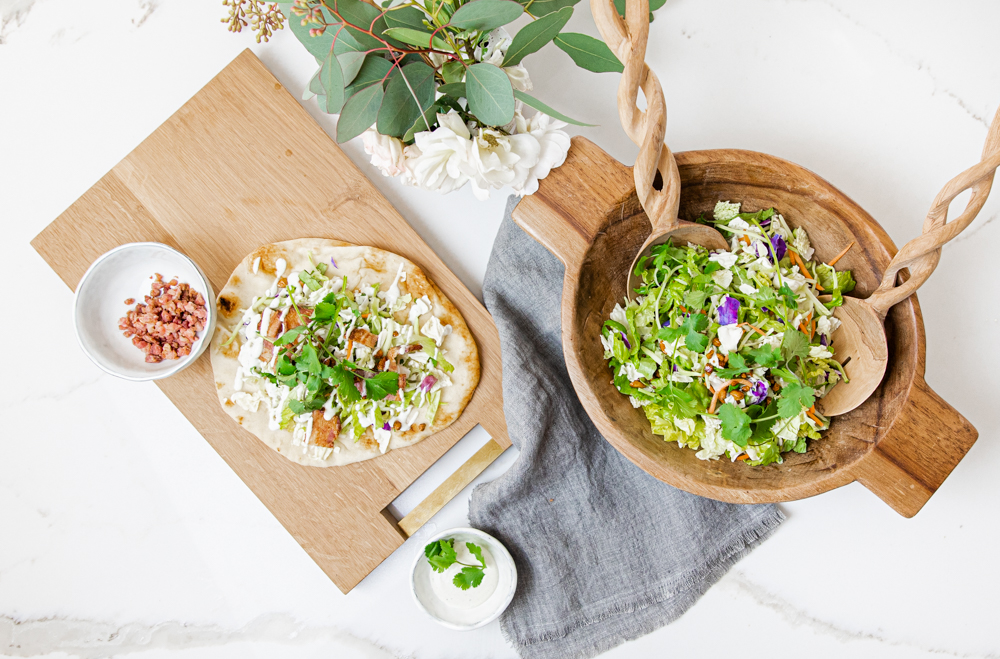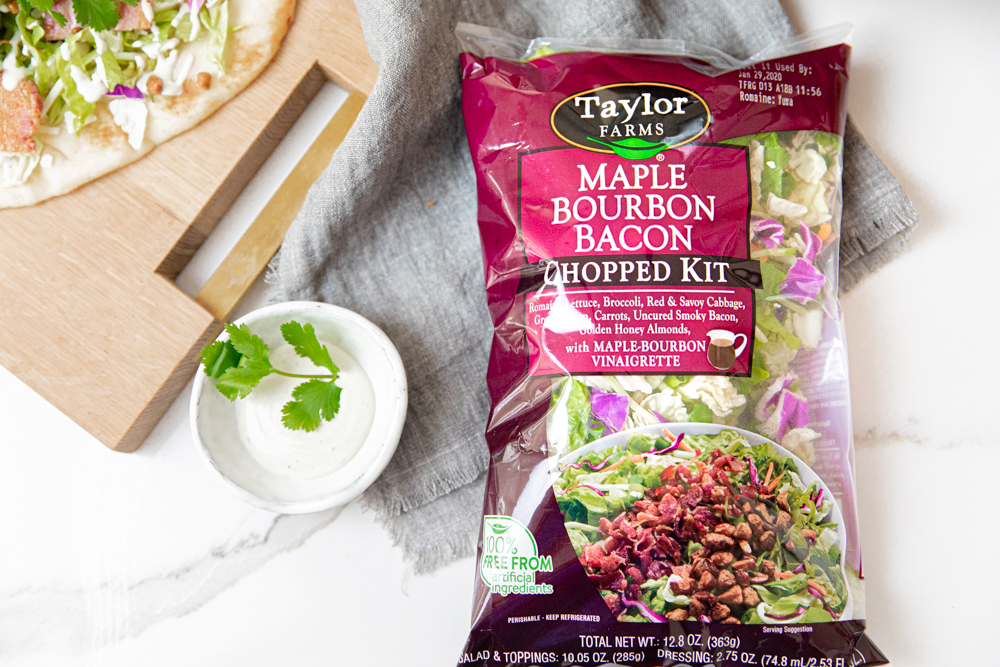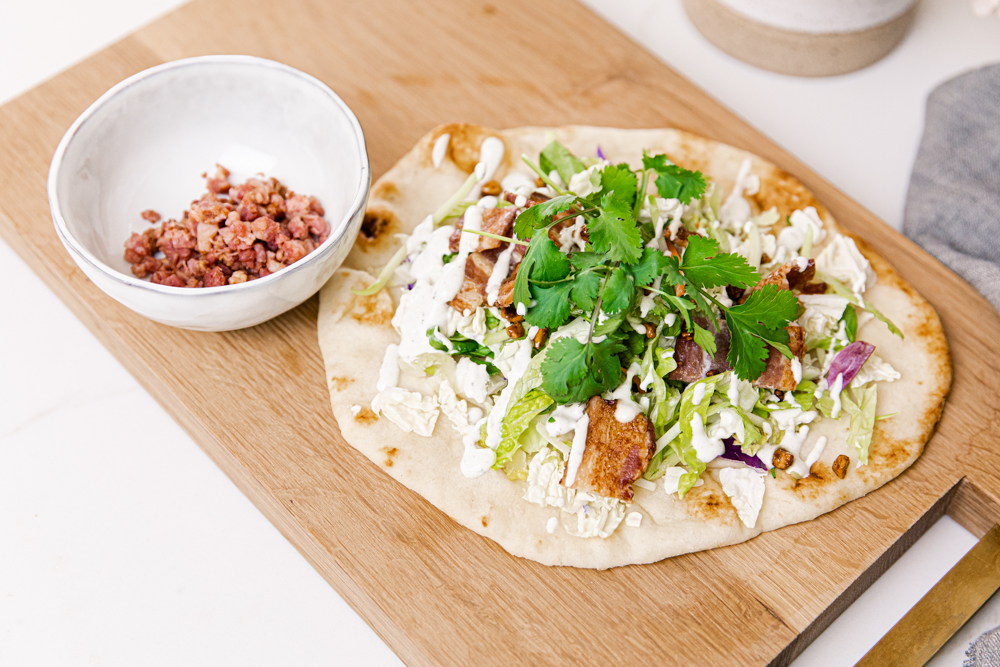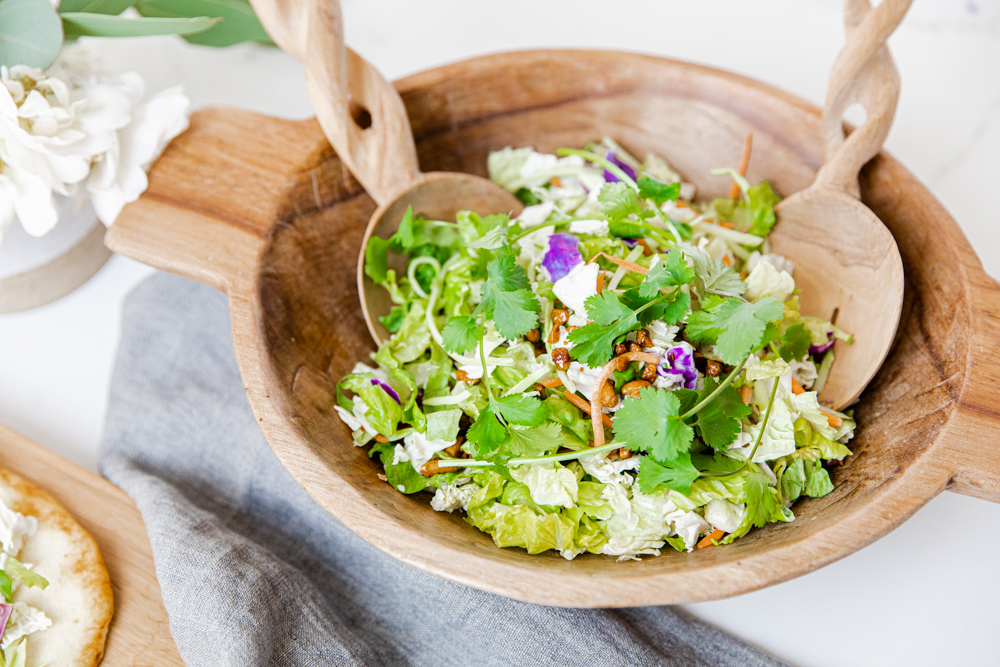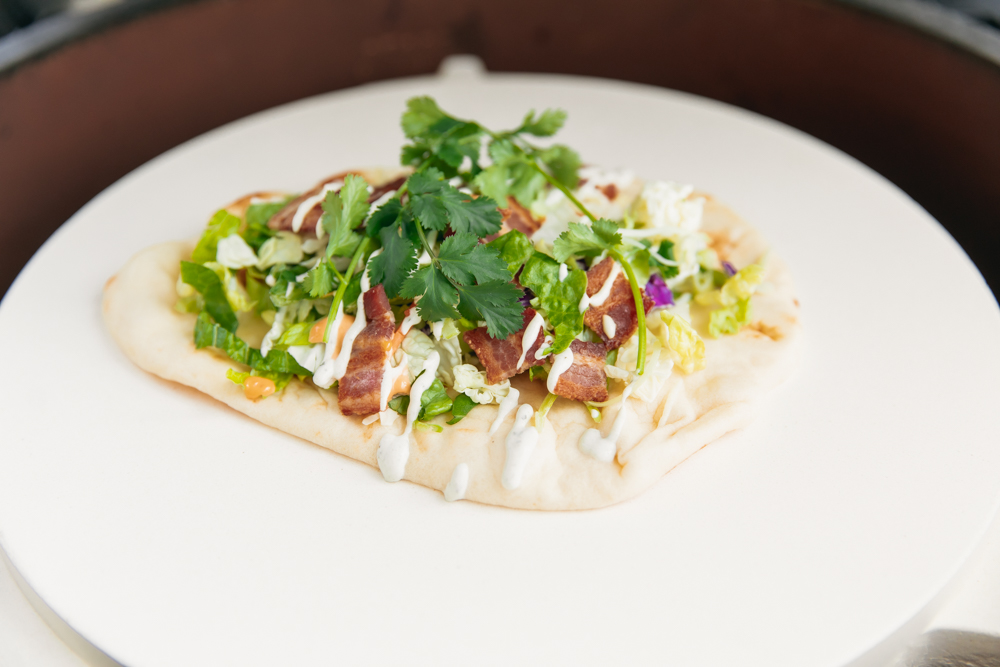 ---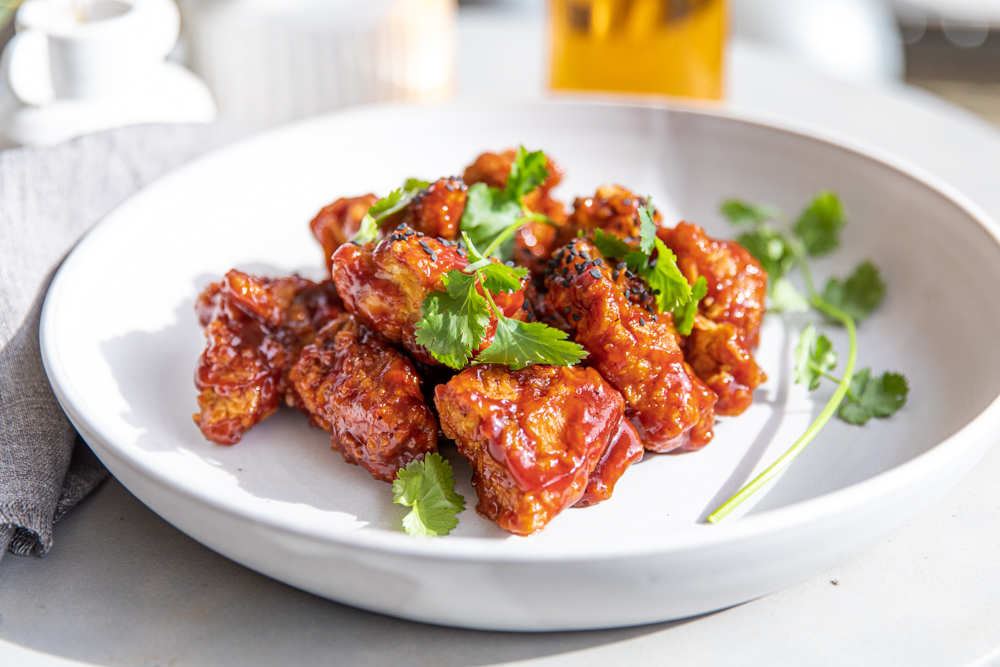 Grilled Beer Marinated Chicken Wings
W H A T Y A N E E D!
2 1/2 lbs chicken wings and drumsticks ( you can even use chicken tenders too for the kids!)
1/3 cup cornstarch
2/3 cup beer ( I used IPA since we are serving that for hoppy hour)
1/4 cup soy sauce
2 Tbsp honey
1/4 tsp onion powder
1/2 tsp smoked paprika
1/2 tsp chili powder
2 tsp Frank's Red Hot Sauce
1/2 tsp salt
2 tsp rice wine vinegar
2 cups of your favorite BBQ sauce
Freshly chopped cilantro for garnish
Black Sesame Seeds for garnish
B U S T O U T:
Smoker or Grill
Prepping Bowls
I N S T R U C T I O N S
What goes better with beer than chicken wings!
Rinse the chicken wings in cold water and dry thoroughly with paper towels. If you are using boneless chicken tenders, do the same.
In a medium bowl, stir together the cornstarch with salt and pepper. Add wings to the bowl and toss to coat evenly. Shake them to get the excess cornstarch off before adding them to the marinade.
In a separate bowl, stir together the rest of the ingredients except the bbq sauce. Add the cornstarch coated wings to the marinade. Marinate for at least 30 minutes in the refrigerator. I like to do mine overnight, one less thing to do the day of.
Over indirect heat, grill the wings for 20 minutes, lid down. Brush the wings with the BBQ sauce and grill for an additional 5 minutes or so until they are cooked through. Keep an eye on the chicken tenders, as they make go faster since there are no bones involved. Each grill works differently, so be sure to keep an eye on it.
Take the wings off the grill and place in a bowl with the remaining BBQ sauce. Toss to coat. Place your wings in a serving platter and sprinkle some black sesame seeds and cilantro sprigs on top.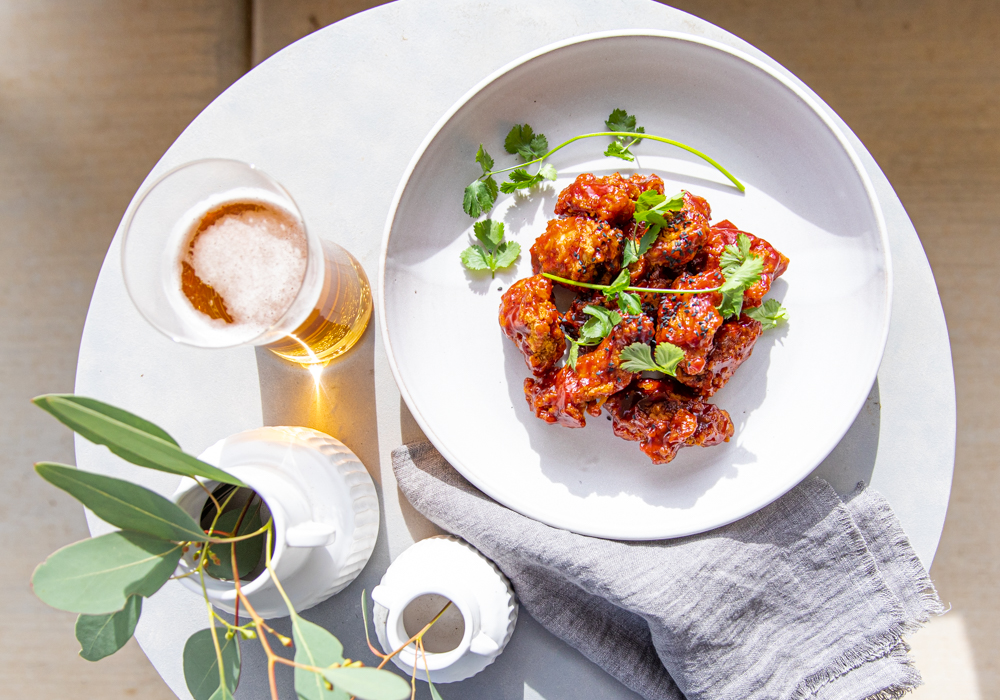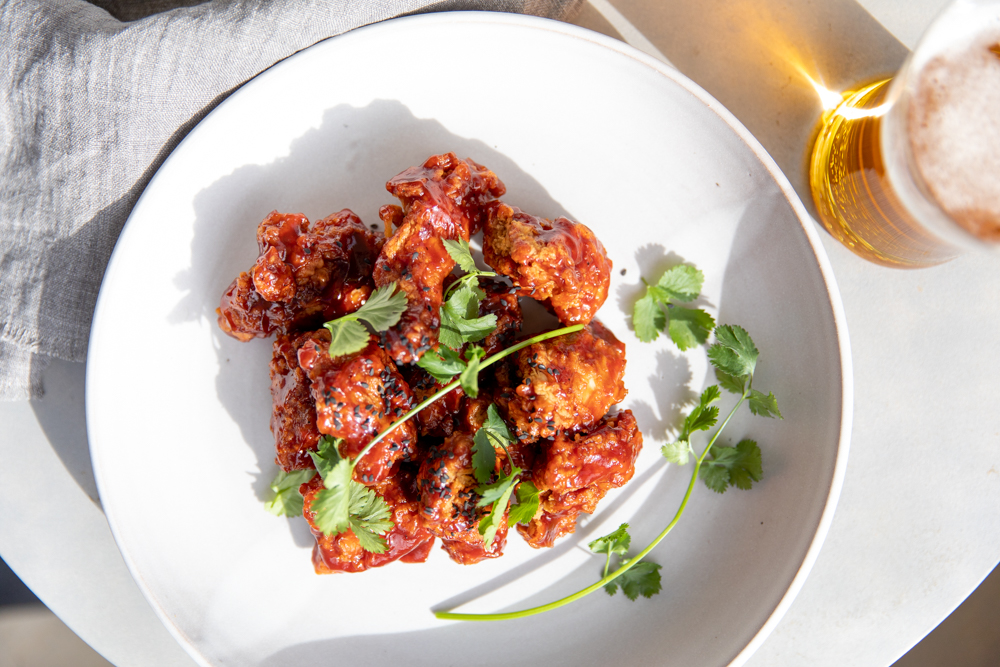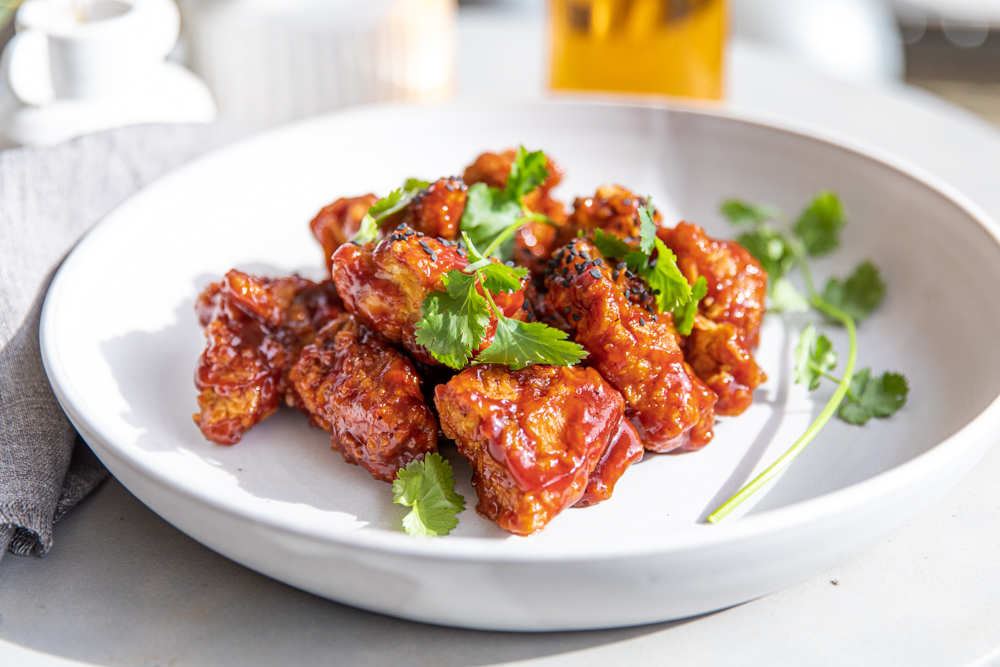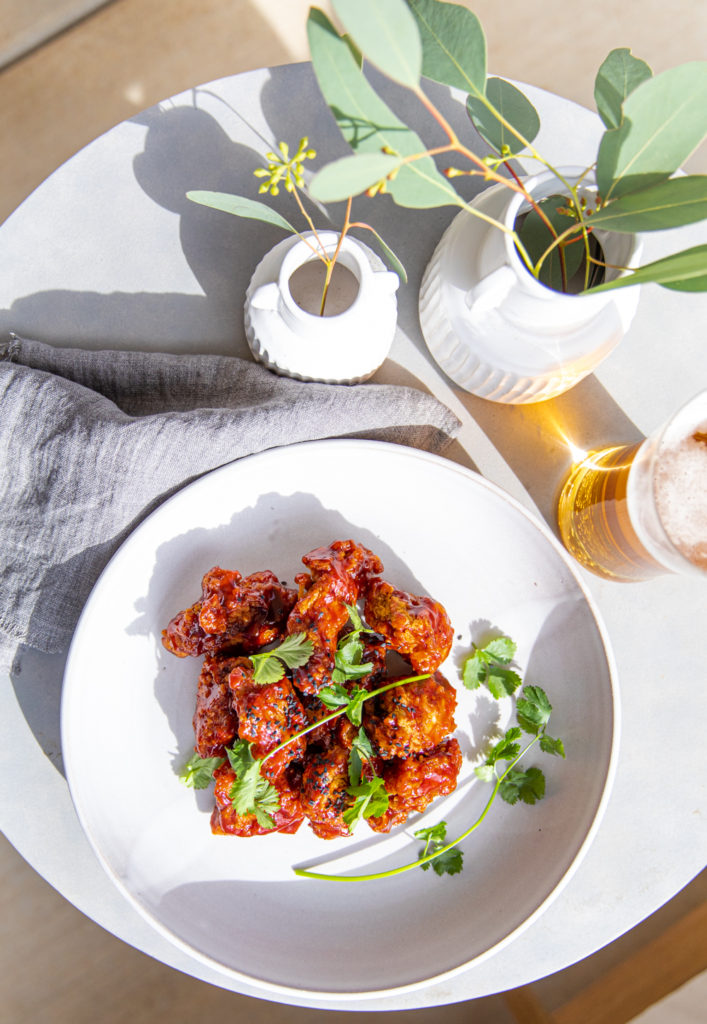 xx
Abby