In our house, there is a heavy competition of who is the better cook in the family. Clearly, we all know it's me, but I like to play along for the humor and fun! I do give my hubby credit; he does make a mean chili and Sunday gravy sauce. In the winter months, we do a lot of soup, chili, and pasta. With Superbowl coming up, the debate of who's chili are we making has begun. So, the only way to solve this dispute is with a chili cook-off!
It's Hunk of Burnin' Love Vs. Mean Mama Chili
Who will win?
Will it be Mean Mama Chili?
Will doing a non-traditional chili put her on top or is she making a risky move by not just sticking with a classic chili?
Or will it be Hunk of Burnin' Love with his firey packed chili? Going classic,  will that be too boring? Pour yourself some beer, and lets' get to cooking!
GIVEAWAY ALERT!
You know how much we love Le Creuset! So its time for another Le Creuset giveaway! You can win this Le Creuset White Cotton Cassadou !
Simply, follow our Instagram @beijosevents and @lecreuset. Then tag 3 friends, and tell us your favorite chili! Winner will be announced Monday, February 4th!
Photos by Dayna Studios
Any time spent in the kitchen, you gotta be comfy! I turn to my favorite, Chaser Brand. I love their tees and sweats! Not only are they super comfy and durable, but they are so cute! I'm wearing the Football Tee and Striped Pant. The hubby is wearing the Cozy Knit Zip Up Hoodie and  Cozy Knit Drawstring Jogger.
---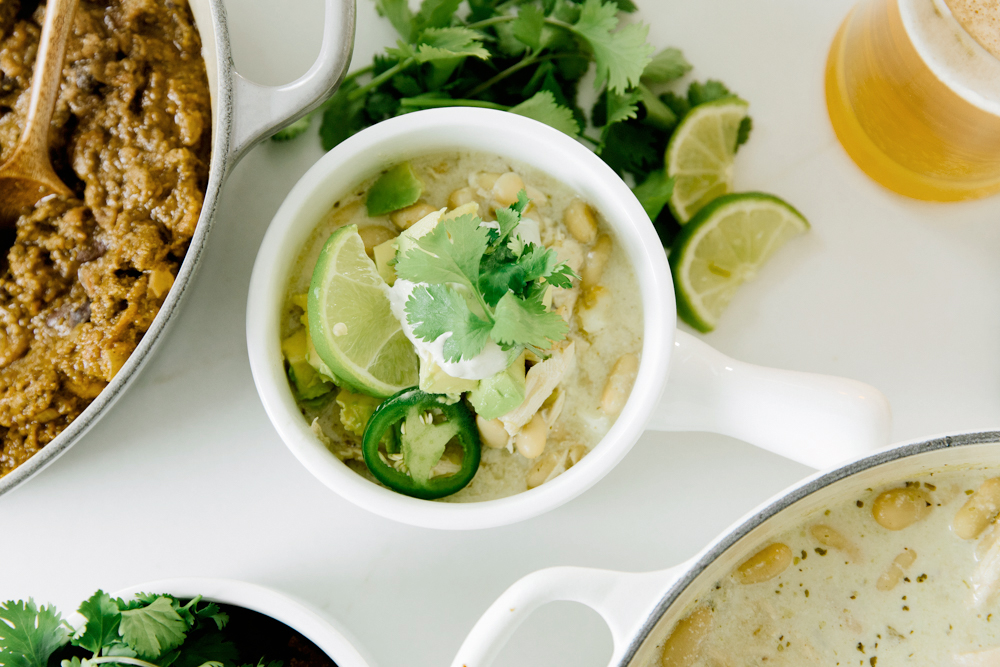 Team Mean Mama's Chili
WHITE BEAN CHILI WITH AVOCADO CREAM
SERVES: 12 | PREP: 30 MINUTES | COOK: 1 HOUR 10 MINUTES
My white bean chili is a non-traditional chili that is flavored loaded with chicken, roasted peppers, hominy, cannellini beans, and with pops of fresh lime juice and a yummy avocado cream.
W H A T   Y A   N E E D!
1 serrano chile
1 jalapeño pepper
1 medium onion, peeled and halved
4 cups unsalted chicken stock, divided
2 tablespoons all-purpose flour
2 (15-ounce) cans unsalted cannellini beans, rinsed, drained, and divided
5 1/2 teaspoons olive oil
8 garlic cloves, minced
1 tablespoon ground cumin
1 teaspoon dried oregano
3/4 teaspoon ground coriander
2 pounds skinless, boneless chicken breasts, cubed or you can cheat and use 1 pre-roasted store-bought chicken, shredded
3 cups white hominy
1 cup half-and-half
3/4 cup chopped fresh cilantro, divided
1/3 cup plus 1 1/2 teaspoons fresh lime juice, divided
2 3/8 teaspoons kosher salt, divided
1 medium ripe peeled avocado
1/3 cup light sour cream
1 can dice green chilies
---
I N S T R U C T I O N S
Preheat your oven broiler to high.
Place the serrano chili, jalapeno, and onion on a foil-lined baking sheet. Drizzle olive oil and lightly sprinkle with salt. Place pan on middle oven rack; broil 15 minutes or until charred on all sides, turning occasionally. Wrap peppers in foil; let stand 5 minutes.
Peel the peppers, and discard peels, stems, and seeds. Combine peppers, onion, 1/2 cup stock, and flour in a blender; process until smooth. Set aside.
Add oil to pan; swirl to coat. Add garlic to pan; sauté 30 seconds. Add cumin, oregano, and coriander to pan; sauté 30 seconds. Stir in onion mixture and remaining 3 1/2 cups stock. Bring to a boil; reduce heat, and simmer 20 minutes, stirring frequently.
Add chicken to pan; cook 5 minutes. Stir in the 2 cans of cannellini beans, white hominy; cook 7 minutes. Reduce heat to medium-low. Stir in half-and-half, 1/2 cup cilantro, and 1/3 cup juice; cook 3 minutes. Stir in 2 1/4 teaspoons salt.
To make the avocado cream, place avocado in a small bowl; mash with the back of a fork. Stir in sour cream, remaining 1 1/2 teaspoons juice, and remaining 1/8 teaspoon salt. Serve chili with the remaining 1/4 cup cilantro, avocado cream, tomatillos, and diced green chilies. For an added crunch add tortilla strips or just crush tortilla chips on top,
---
---
Team Hunk of Burnin' Love
Mike's chili is his adaptation on the classic chili. Its packed with all the classics, plus the addition of masa flour to leave a hint of corn on your tastebuds!
SERVES: 6 | PREP: 10 MINUTES | COOK: 1 HOUR 10 MINUTES
W H A T   Y A   N E E D!
1 tablespoon olive oil
1 medium yellow onion -diced
1 jalapeno, diced and seeded
1 pound 90% lean ground beef
2 1/2 tablespoons chili powder
2 tablespoons ground cumin
2 tablespoons granulated sugar
2 tablespoons tomato paste
2 garlic cloves, chopped
1 1/2 teaspoons salt
1/2 teaspoon ground black pepper
1/4 teaspoon ground cayenne pepper
1 1/2 cups beef broth
1 can pinto beans, drained
1 can kidney beans, drained
1 jalapeño, seeded and finely diced
1 can diced tomatoes and chilies (I use the Rotel brand)
¼ cup masa (corn flour, found in the Mexican food section of many supermarkets)
Garnish:
Shredded cheddar cheese
Chopped onion
Fritos
B U S T   O U T:
Large dutch oven
Meat drainer
---
I N S T R U C T I O N S
Start with a little prep work by measuring the spices: oregano, cumin, cayenne, and chili powder. Chopping the garlic, and opening up all the cans, and draining and rinsing the beans.
Place the ground beef in a large dutch oven and throw in the garlic. Cook the beef until brown, and then drain off the excess fat. I love using this silicon drainer I got off Amazon! Such a handy tool to have in the kitchen.
Pour in the tomato sauce. Followed by the spices and the salt,
stir together well, cover, and reduce the heat to low. Cover the pot and simmer for 1 hour, stirring occasionally. If the mixture becomes dry, add in ½ cup water at a time as needed.
After an hour, place the masa in a small bowl. Add ½ cup water and stir together with a fork. Dump the masa mixture into the chili. Stir together well. Taste, adjust the seasonings and add more masa paste and water to get the chili to your preferred consistency, or to add more corn flavor. Add the beans, jalapeño, and tomatoes.
Simmer for 10 minutes.
Serve it up with shredded cheddar, chopped onion, and Fritos.
---
---
B E I J O S  K I T C H E N  

xx
Abby