It's all about Christmas brunch today! A morning filled with family and laughter, kids playing with their new toys Santa brought them, a pretty table set up for brunch, and one festive Christmas brunch menu that your guests will love! This brunch has all the flavors of Christmas, in classic dishes but with a twist. Don't be stuck in the kitchen while all the fun is going on; you can make these dishes ahead of time so that you can join in all the memory making!
All the pretty tableware is from The Little Market
Photos by Dayna Studios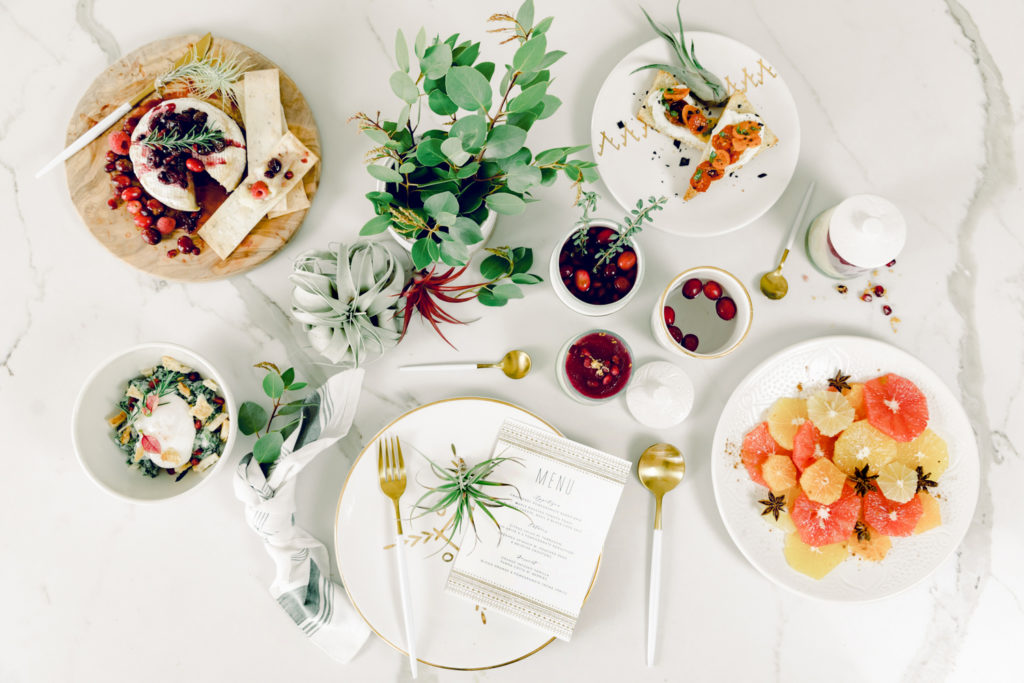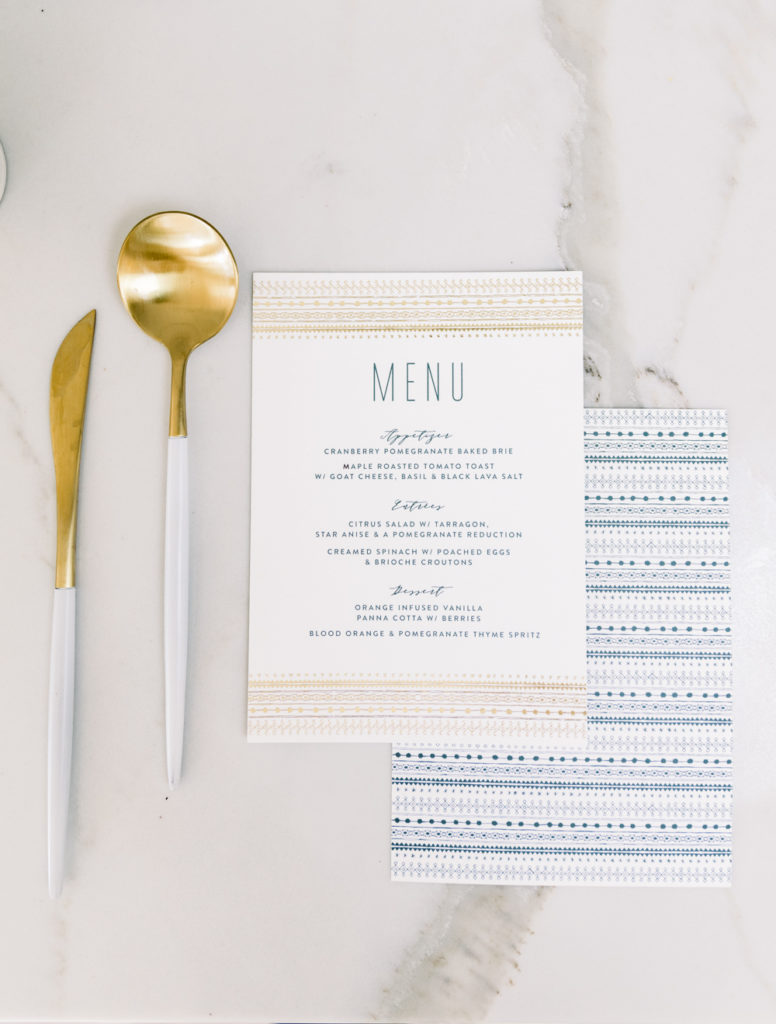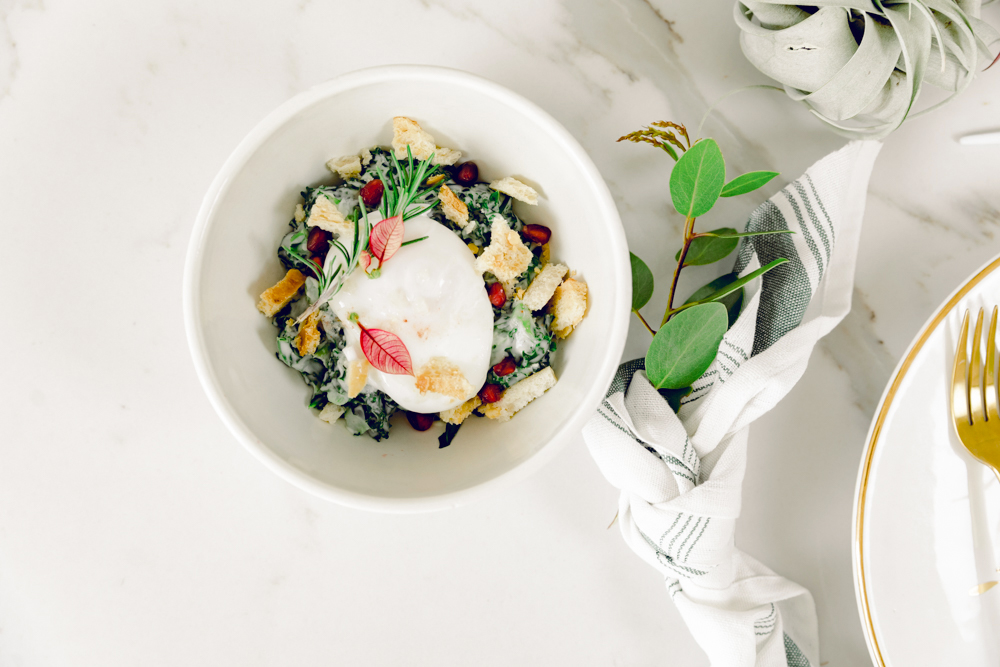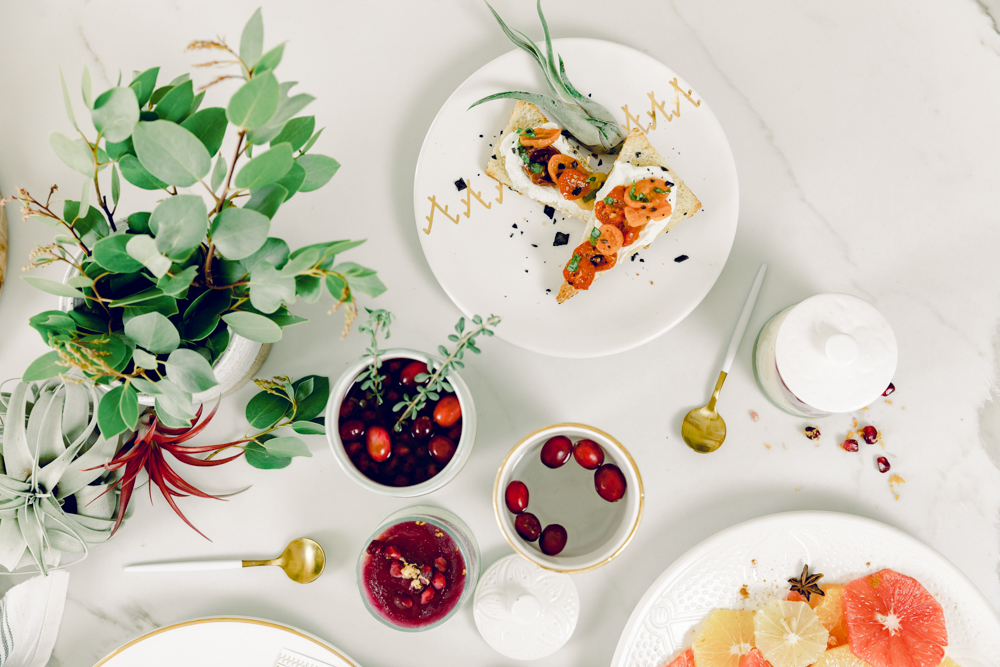 ---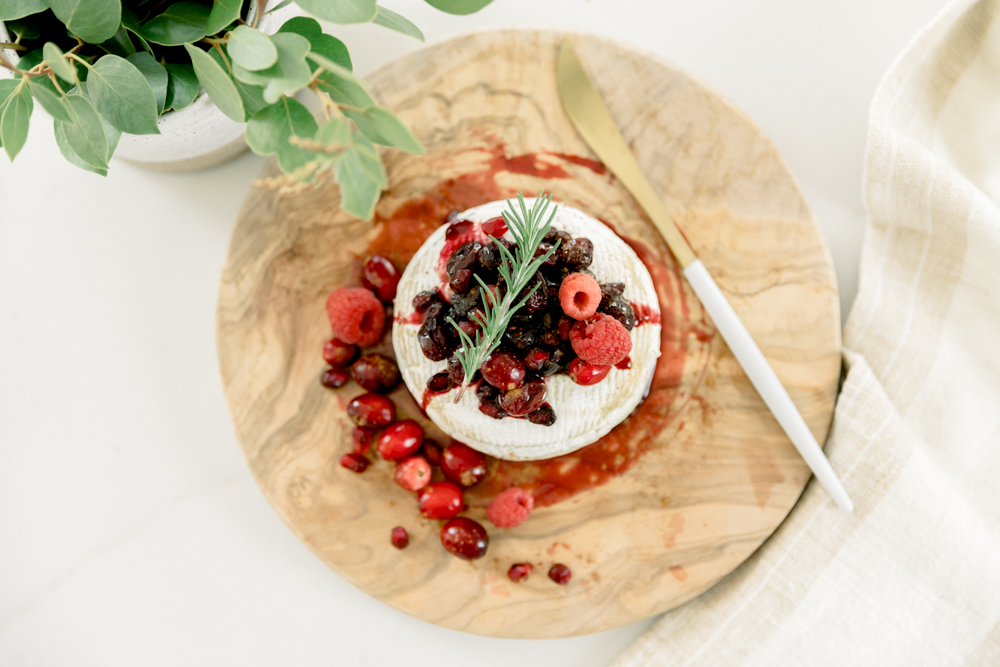 CRANBERRY POMEGRANATE BAKED BRIE
SERVES: 12 | PREP: 5 MINUTES | COOK: 15 MINUTES
This Cranberry Pomegranate Baked Brie is not only beautiful in appearance but incredibly easy to make; this simple appetizer is festive and holiday-ready.
W H A T   Y A   N E E D!
12 oz (about 3 cups) fresh cranberries
1 cup pomegranate juice
3/4 cup granulated sugar, more or less to taste
1 cup pomegranate arils
2 8oz wheels brie
1/4 cup honey
1/2 cup candied walnuts
rosemary, for garnish (optional)
crackers, for serving

B U S T   O U T:
Baking Dish or Cookie Sheet
Parchment Paper
Mixing Bowl
Saucepan
---
I N S T R U C T I O N S
In a small saucepan, mix the cranberries, pomegranate juice and sugar and place over medium-high heat. Bring the festive goodies to a boil, and then lower heat to a simmer, and let them create magic for about 5-10 minutes. They will be ready once all the cranberries have popped. Carefully taste to see if the sweetness is where you like it. Adjust by adding more sugar if needed. Stir in the pomegranate arils. Transfer to a glass container and let the berry mixture cool completely.
* Beijos Tip: You can make this a couple of days in advance!

Preheat oven to 350°F. Set the brie in ovenproof serving dishes or parchment lined baking sheet and bake for about 7ish minutes, or until you see the cheese starting to soften. Take out of the oven carefully, and top with the honey and cranberry pomegranate sauce. Return to the oven for about 2-3 more minutes, or until the brie is gooey and soft.
Remove from oven, top with candied walnuts and decorate that pretty brie with rosemary. Serve warm with crackers.
---
---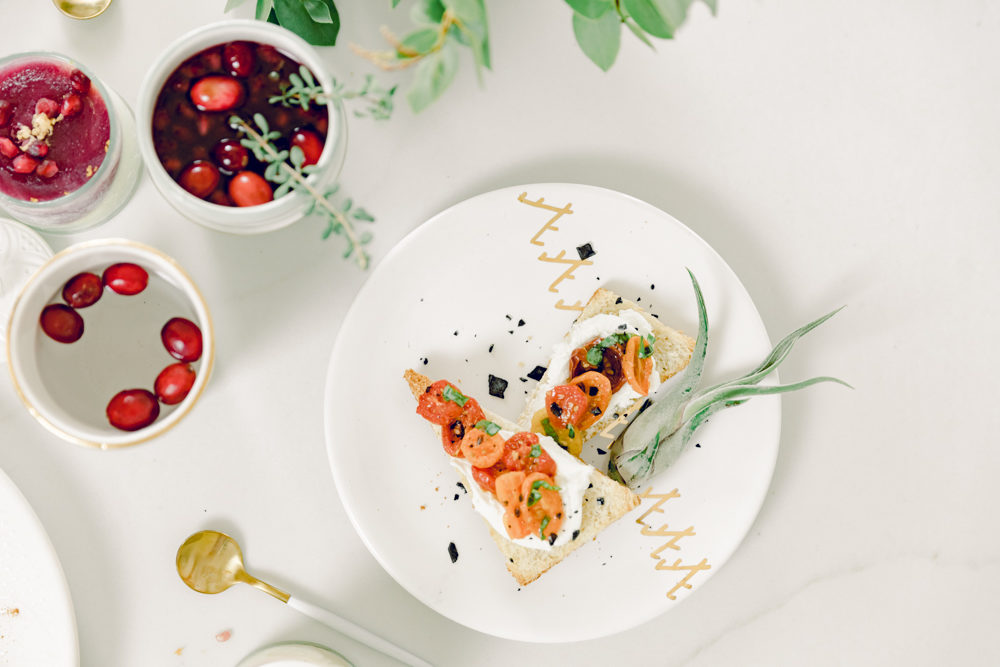 MAPLE ROASTED TOMATO TOAST WITH GOAT CHEESE AND BASIL + BLACK LAVA SALT
SERVES: 6 | PREP: 5 MINUTES | COOK: 30 MINUTES
By roasting the cherry tomatoes with maple syrup, you get a holiday sweetness that pairs perfectly with the tangy goat cheese. You will be eating these roasted tomatoes like they are candy!
W H A T   Y A   N E E D!
1 pound cherry or mini heirloom tomatoes
3 tablespoons maple syrup (the good kind, sorry Mrs. Butters Worth)
2 tablespoons extra-virgin olive oil
2 tablespoons chopped fresh basil + mint, plus leaves for serving
kosher salt
black lava salt
6 thick slices crusty white bread (such as country bread), toasted
4 ounces goat cheese
B U S T   O U T:
Mixing bowl
Cookie sheets
---
I N S T R U C T I O N S

Preheat oven to 350°F. Toss tomatoes, syrup, oil, and 2 Tbsp. mint +basil on a rimmed baking sheet. Season with salt and pepper. Roast tomatoes until caramelized and tender, 20–25 minutes. Pour off roasting liquid into a small bowl.
Drizzle each toast with roasting liquid, then spread with goat cheese and top with roasted tomatoes and basil and mint leaves. Sprinkle with black lava salt.
---
---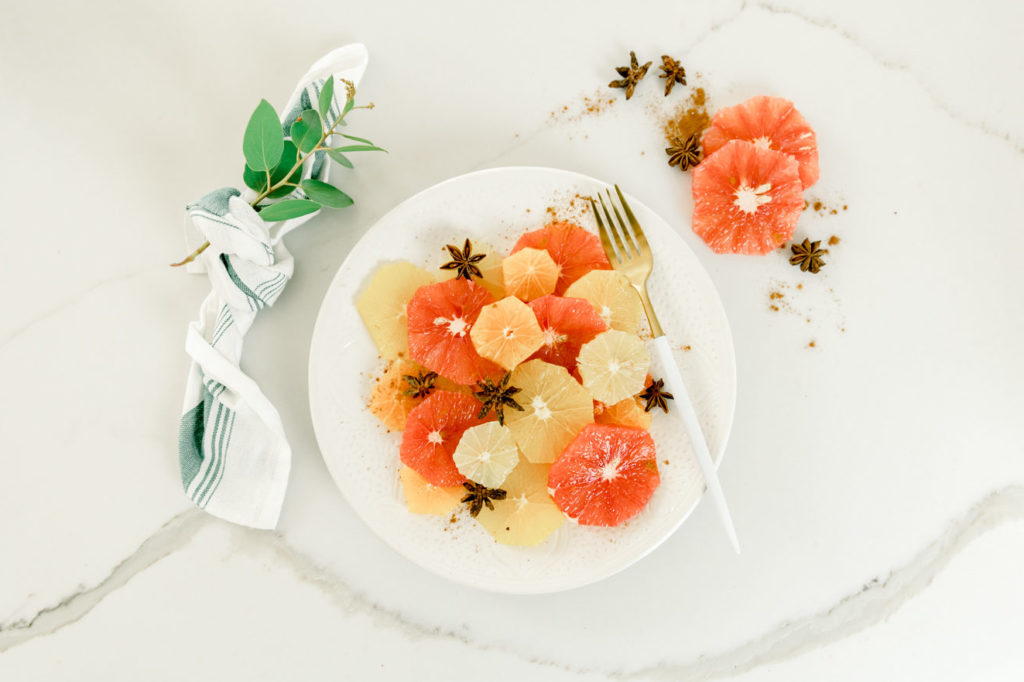 CITRUS SALAD WITH TARRAGON AND STAR ANISE WITH A POMEGRANATE REDUCTION
SERVES: 2-4 | PREP: 10 MINUTES | COOK: 0 MINUTES
Nothing screams a holiday brunch more than the festive holiday essentials like citrus and pomegranate with an aromatic splash of tarragon and star anise.
W H A T   Y A   N E E D!
1 pink grapefruit, peeled
1 orange, peeled
(use blood orange as well if you can find it)
2 or 3 clementines, peeled
1 pomegranate, remove arils
fresh tarragon
4-5 star anise
fresh mint, for serving
Pomegranate Reduction:
2 cups pomegranate juice
1 cup superfine sugar
1 cup Apple cider vinegar
B U S T   O U T:
a bottle or jar
large serving tray or large plate

---
I N S T R U C T I O N S
1st, let's make the pomegranate reduction. This is simple syrup with pomegranate and a splash of apple cider vinegar to give it a tangy taste. The best part about this syrup is unlike a reduction which is cooking something down to a thick consistency, all you have to do is combine and put in the fridge.
Add all ingredients to a large bottle or jar, seal tightly, and shake vigorously to combine. Store in the refrigerator for 2 to 3 days before using, to create a sweet and tart simple syrup. Flavors will continue to mingle and mature over time. Use within 6 months.
Cut the citrus into large slices and arrange on a large serving tray.
Sprinkle pomegranate seeds and fresh mint sprigs over the sliced citrus. Sprinkle a couple of star anise and tarragon leaves on top of the salad. Finally, lightly dress the salad with pomegranate reduction using a spoon. A lot goes a long way so don't overdress the citrus!
Serve.
---
---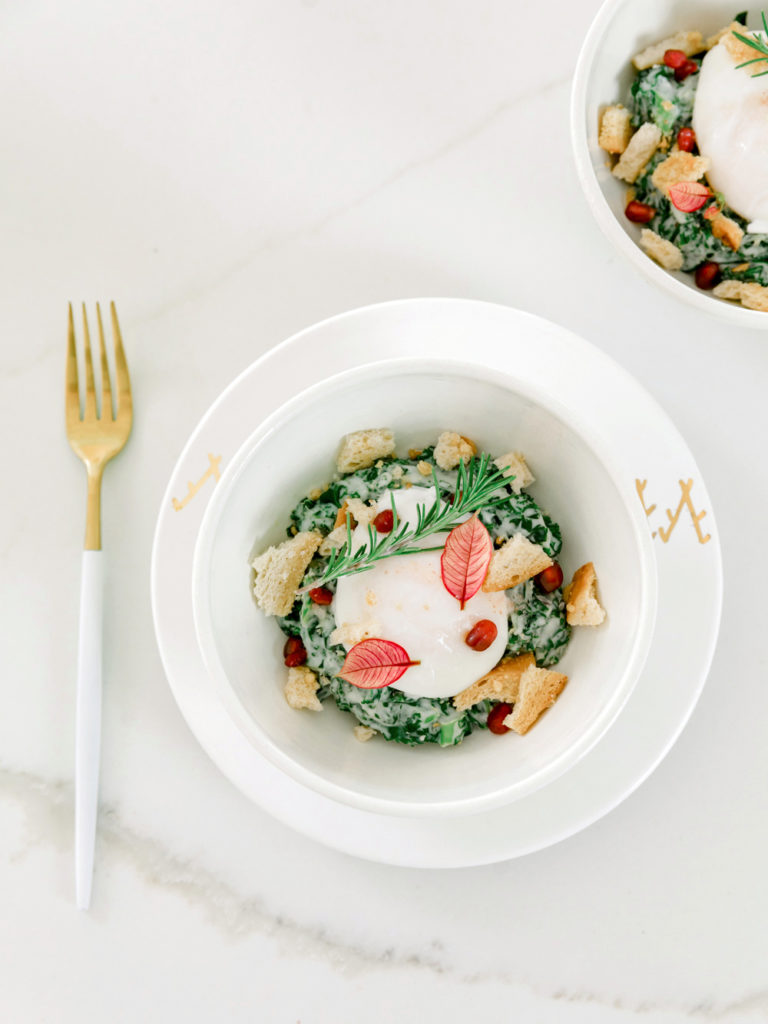 CREAMED SPINACH WITH POACHED EGGS AND BRIOCHE CROUTONS
SERVES: 12 | PREP: 1 HOUR 10 MINUTES | COOK: 1 HOUR 30 MINUTES
This decadent egg dish is worth the time to make as your guests will be delightfully full. The blend of sweet brioche croutons that are sprinkled on top of a perfectly poached egg with that thick, rich bechamel sauce mixed with spinach. A brunch dish that will be the star of the table.
*Beijos Tip:
To cut the prep time in half, substitute three 10-ounce packages of frozen chopped spinach for fresh. Thaw and drain the spinach, squeezing out as much liquid as possible, and stir into the bechamel. The creamed spinach and the croutons can be made two days ahead and stored in the refrigerator and at room temperature.
W H A T   Y A   N E E D!
7 tablespoons unsalted butter
1/2 loaf brioche, crusts removed, cut into 1/2-inch cubes (4 cups)
6 tablespoons all-purpose flour
3 1/4 cups whole milk
Coarse salt and freshly ground pepper
1/4 teaspoon freshly grated nutmeg
3 pounds spinach, thick stems removed, washed and drained, water still clinging to leaves
1 tablespoon distilled white vinegar
12 large eggs, cold
B U S T   O U T:
Rimmed baking trays
Large saucepan
Large cooking pot
Deep skillet
Ramekin or small serving bowls
---
I N S T R U C T I O N S
Preheat oven to 350º degrees. Melt 2 tablespoons butter when chilled, toss with brioche cubes, and then spread on a rimmed baking sheet. Toast until golden and crisp, about 8 minutes. Let the croutons cool entirely. These can be made a couple of days before.
Melt remaining five tablespoons butter in a large saucepan over medium heat. Add flour and cook, stirring, until golden, 2 to 3 minutes. Don't let the rue burn; you will have to start over if so. Slowly whisk in 3 cups milk and 1 1/2 teaspoons salt. Cook, stirring, until mixture is thick enough to coat the back of a wooden spoon, about 10 minutes. Remove from heat; stir in nutmeg and pepper to taste. Cover with parchment paper directly on the surface of bechamel to cover to prevent a skin on top.
Place half of the spinach in a large pot over medium-high heat. Cover and cook just until spinach wilts, about 2 minutes. Add remaining spinach, cover, and cook until it wilts, about 2 minutes more; drain. When cool enough to handle, place in a paper towel and squeeze as much liquid from spinach as possible. Coarsely chop and stir into bechamel. You can use frozen spinach here to save time! Just thaw and drain the liquid.
Bring 1 1/2 inches of water to a simmer in a large, deep skillet over medium-high heat. Stir in vinegar. Crack 1 egg into a small bowl. Holding bowl just above the surface of the water, gently pour the egg into skillet. Repeat with 3 more eggs. Poach eggs, adjusting heat to maintain a simmer, just until whites are firm and yolks are still runny, about 4 minutes (for firmer yolks, poach 1 to 2 minutes more). Gently remove eggs from water with a slotted spoon, allowing excess water to drain, and transfer to a plate. Poach remaining eggs in 2 more batches. Use immediately or move to a bowl of ice-cold water.
Uncover creamed spinach and heat with remaining 1/4 cup milk in a saucepan over medium heat, stirring, until warmed through. If necessary, transfer poached eggs to a large pot of simmering water with a slotted spoon and cook until warmed through, about 30 seconds. Divide spinach evenly among 12 small ramekins or bowls, top with poached eggs and croutons, and season with salt and pepper. Serve immediately.
---
---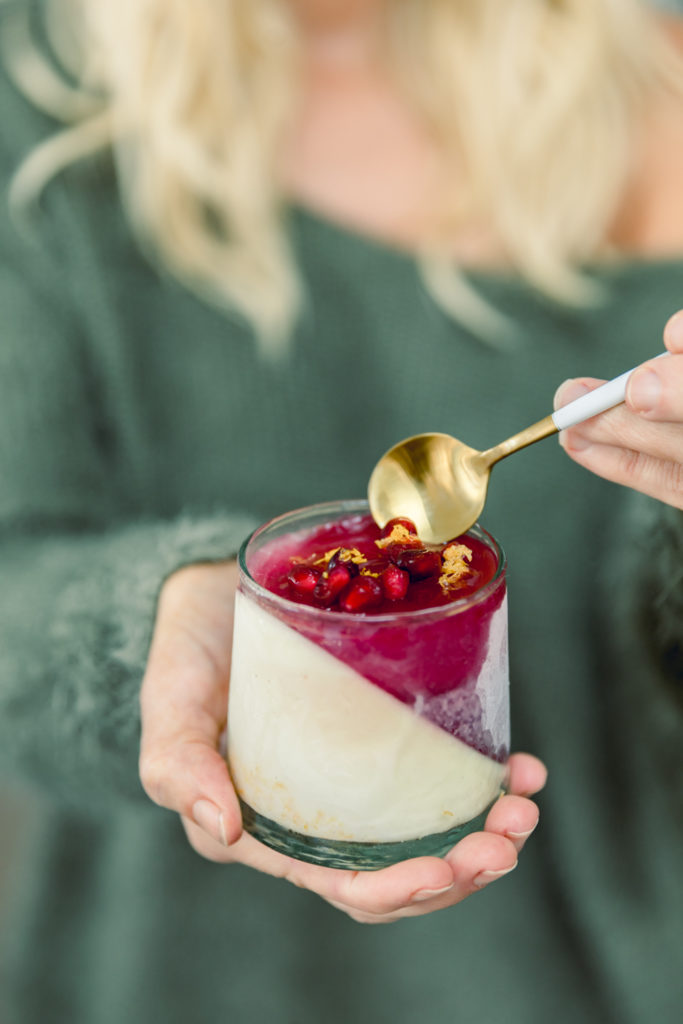 ORANGE INFUSED PANNA COTTA
SERVES: 8 | PREP: 2 MINUTES | COOK: 5 MINUTES
TOTAL TIME: 2 HOURS 5 MINUTES
This is Christmas in a glass! Fresh citrus taste from the oranges and tangy sweet notes from the pomegranate juice. Serve up in cute little dishes for your guests! I used Little Market's glass container that has a ceramic top. A sweet surprises for your guests as they take off the lid and see this orange-infused panna cotta with berries.
W H A T   Y A   N E E D!
1/2 cup heavy cream
Juice and zest of 1 orange
3 teaspoon superfine sugar
1/2 teaspoon good vanilla extract
1 1/2 cups whole milk
1 teaspoon powdered gelatin
1 1/2 cups pomegranate juice
1 packet gelatine
1 pomegranate seeds for garnish
B U S T   O U T:
Small ramekin or small glass container
---
I N S T R U C T I O N S
To a small saucepan add the cream, orange juice, and rind over medium heat. Add the 1 teaspoon sugar and bring to a simmer. Once simmering, add the vanilla.
To a small bowl, add the milk and sprinkle on the gelatin. Allow the gelatin to soften about 5 minutes. Stir the milk and gelatin into the cream until dissolved.
Divide the mixture between glasses, tilted in an empty egg carton or muffin tin, refrigerate until set at least 2 hours, overnight is best.
Meanwhile, add gelatin to pomegranate juice and allow to dissolve for 5 minutes in a measuring jug. Add to a saucepan with 2 teaspoons sugar and bring to a simmer. Allow to cool slightly, pour back into measuring jug and pour over the set pannacotta. Refrigerate until set. Garnish with pomegranate seeds.
---
---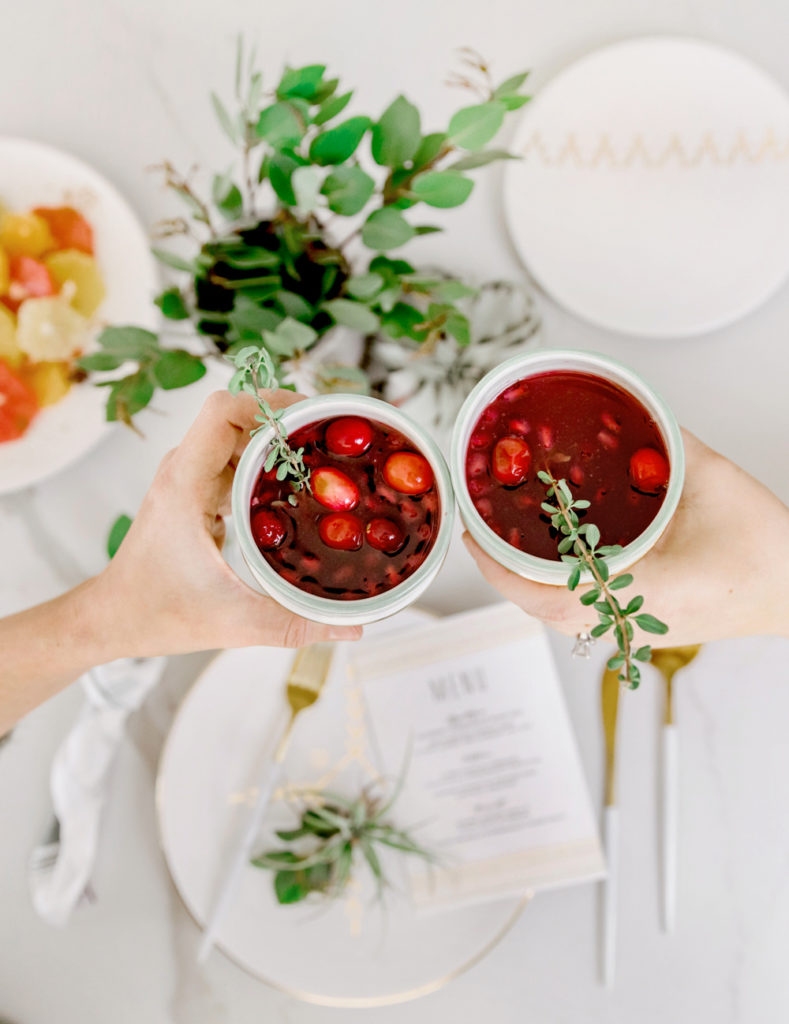 BLOOD ORANGE & POMEGRANATE THYME SPRITZ
SERVES: 4 | PREP: 10 MINUTES | TOTAL TIME: 10 MINUTES
This is a light and bubbly drink that the whole family will be sipping on all day long! Add your choice of booze if you like!
W H A T   Y A   N E E D!
Thyme syrup:
1/2 cup pure cane sugar
1/2 cup filtered water
5 sprigs of thyme + more for garnish
Cocktail:
Ice, for serving
12 ounces pomegranate juice
12 ounces blood orange Pellegrino water
B U S T   O U T:
small saucepan
The Little Market Glassware
---
I N S T R U C T I O N S
In a small saucepan, set over medium heat, combine the cane sugar, water, and thyme. Stir until the sugar has dissolved; bring to a simmer and then immediately turn off the heat, cover and allow to cool and steep, about 15 minutes.
Fill up four The little market glasses with ice. Add an ounce (2 tablespoons) of syrup to each glass. Top with about 3 ounces of pomegranate juice and then top with blood orange Pellegrino. Give it a light mix and then garnish with thyme sprigs.
---
---
B E I J O S  K I T C H E N  

THE LITTLE MARKET COLLECTION
Glassware | Plates | Linens | Bowls
xx
Abby