The chaos of the holidays is over, the decorations are slowly coming down, and thoughts of New Year's Eve plans creeps up on you. Ringing in the New Year is all about the bubbly, disco balls, and confetti! And that's all you need to throw a party, plus some Beijos must have decor elements, and you are ready to say oh hey, to 2019! 
So what are the must HAVES for us when throwing a party?  It's flowers, fun playful signage, and there always is some bubbly and desserts nearby! Last must have that we love, especially for New Years is confetti! Lots and lots of confetti! And of course, any chance to use disco balls, we are in! 
You might be saying, well that's great and all guys, but I can't afford a florist, custom desserts, and signage. And that's OK! I'm giving you some tips to DIY it up yourself!
So grab your besties and bubbly, cause it's a New Years slumber party! Even as an adult, there is always time for having a sleepover with your BFFs. That will never grow old. You bet we will be having sleepovers when we are 80! Plus, this way everyone can have fun, and not have to drive home.
Photos by Dayna Studios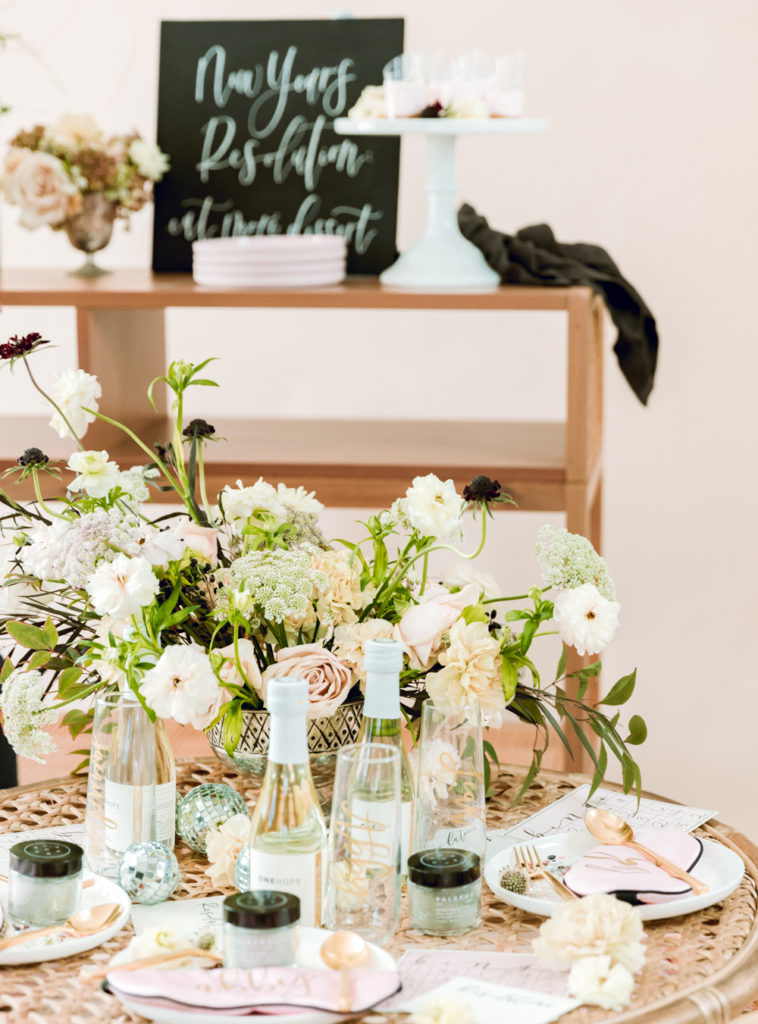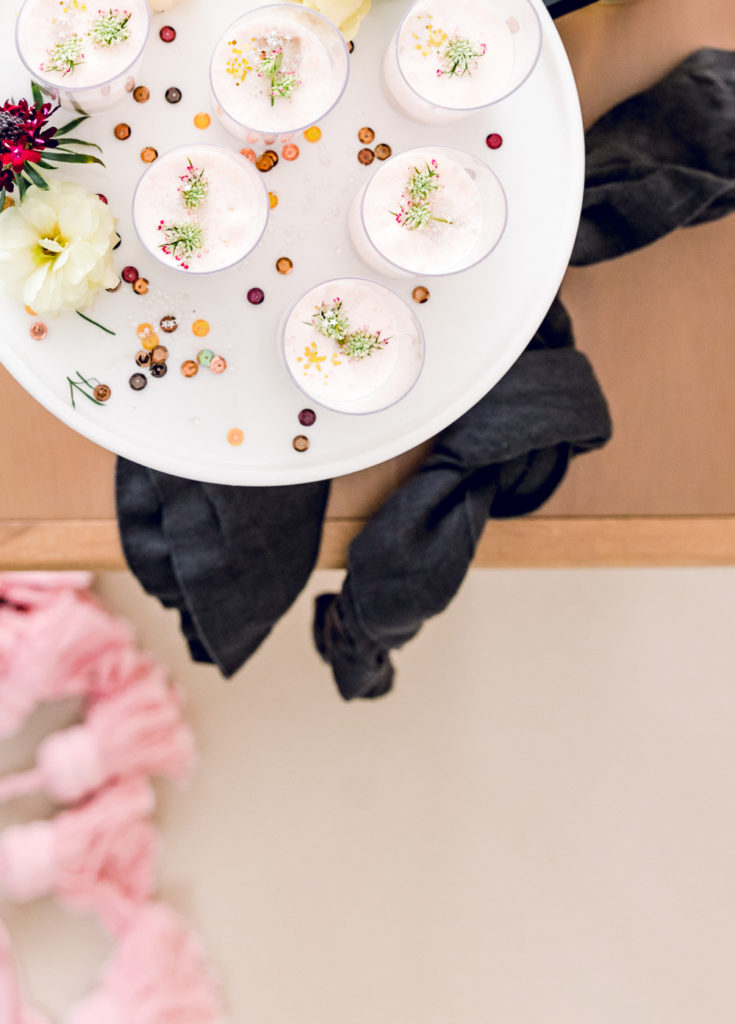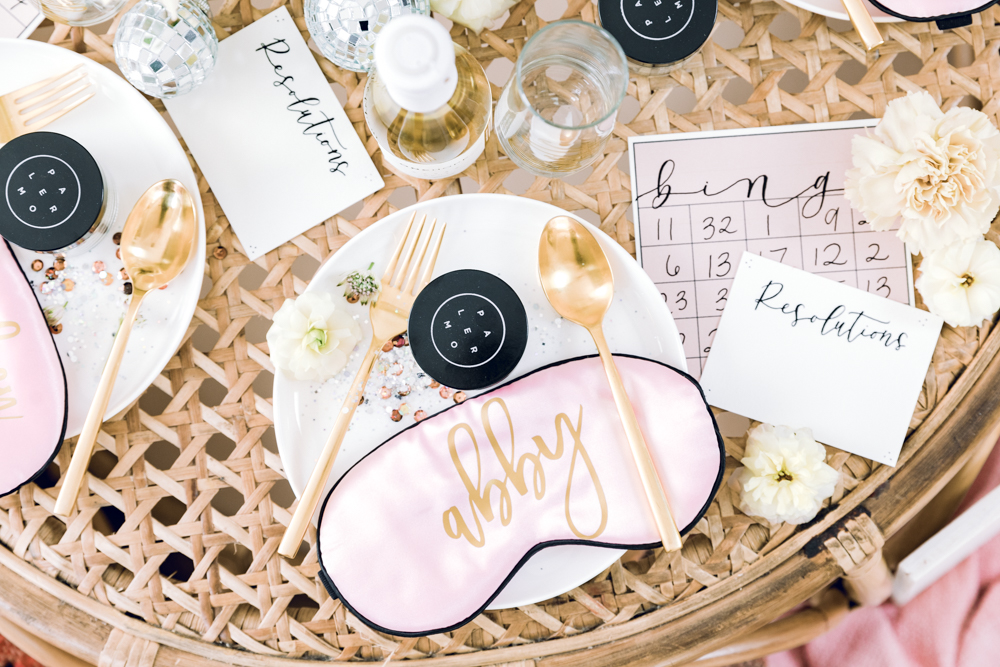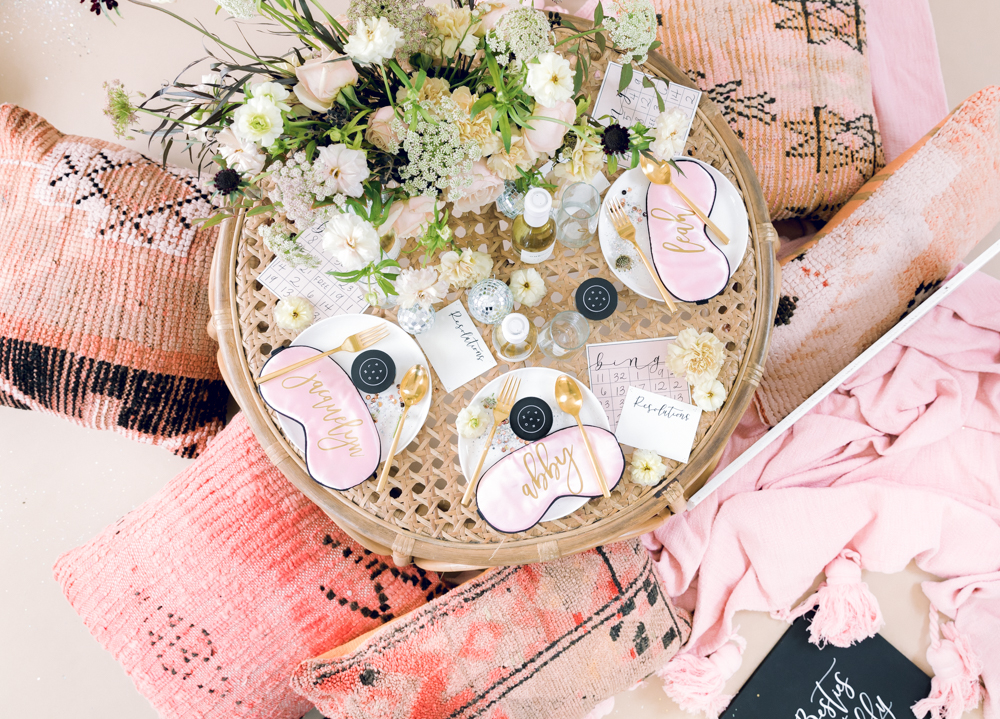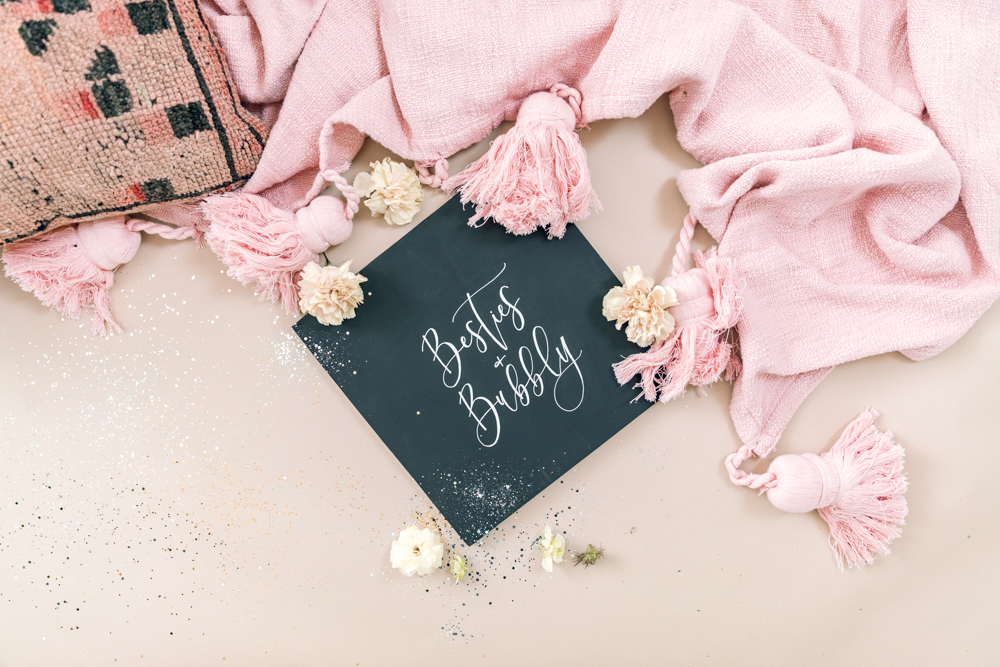 Let's start with this super cute invite from Proper Letter Co.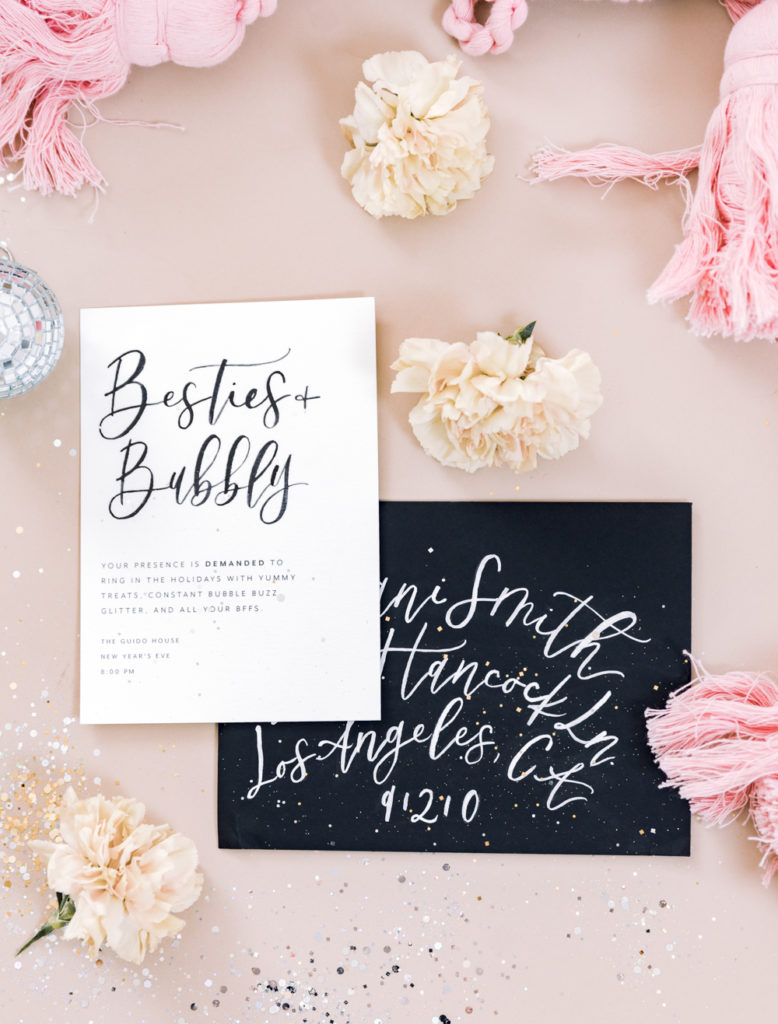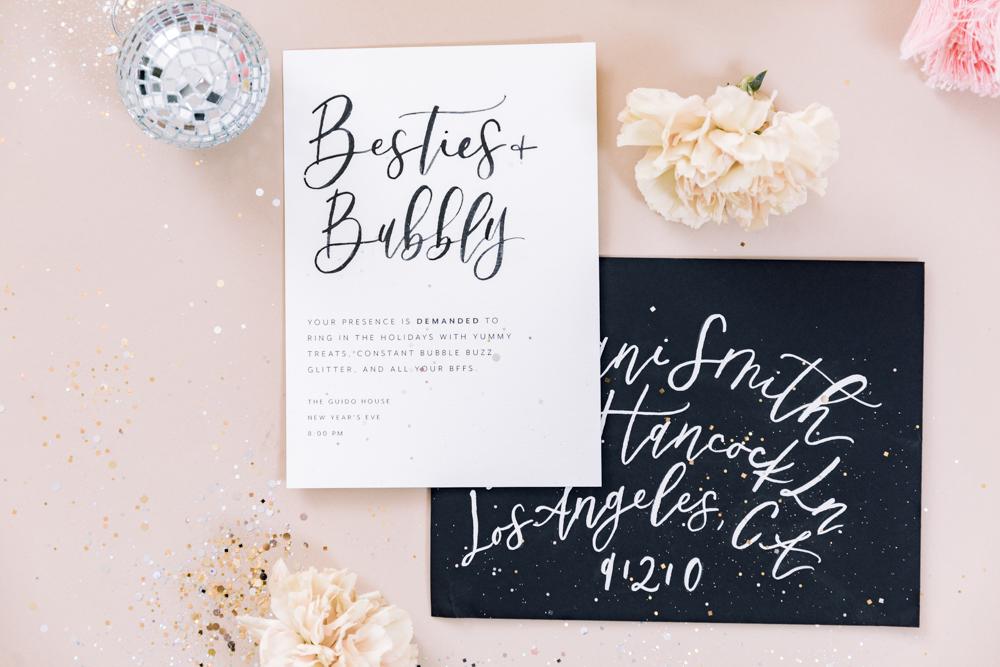 *Beijos tip: If it's time or budget, there are alternatives. Paperless Post has a great selection of online invites that you can send. I love to use them when it comes to online invites! The designs are trendy and stylish. 
Your BFFs have arrived, have a glass of bubbly ready to hand them as they walk thru the door.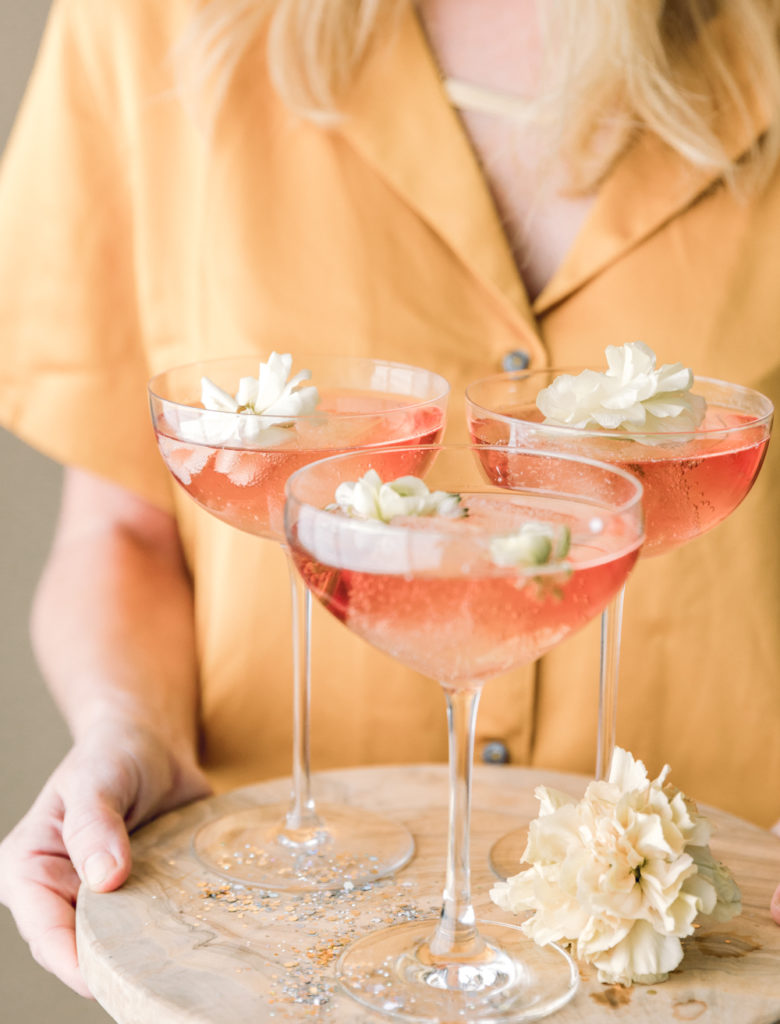 We love a good dessert table, and New Years is the time to not skimp out on the treats! Now, this is something you can do yourself. And doing it ahead of time is the key! I love individual small portions for desserts during a party. Easy to hold, and since they are little it's so ok to have more than 2! 
An easy dessert is a strawberry no-bake cheesecake, which I made the day before. I can't tell you how much it helps to do things ahead of time! It really gives you time to enjoy and not worry about things still left on your list. Then, Beijos it up with flowers and glitter confetti.
If there is a dessert table, you better believe there are drinks and fun signage nearby. Proper Letter Co. whipped up these dessert and drink signs. Signs are fun, playful, and really makes your party come alive!
*Beijos tip: You can do this at home too! Use your own handwriting, stickers, or if you have a cricket, you can print out lettering. Creative Market online has excellent fonts that you can buy and use your home computer to print out. You can frame it, print on sticker paper and adhere to paper or wood, or print out on thick paper and lean it against something.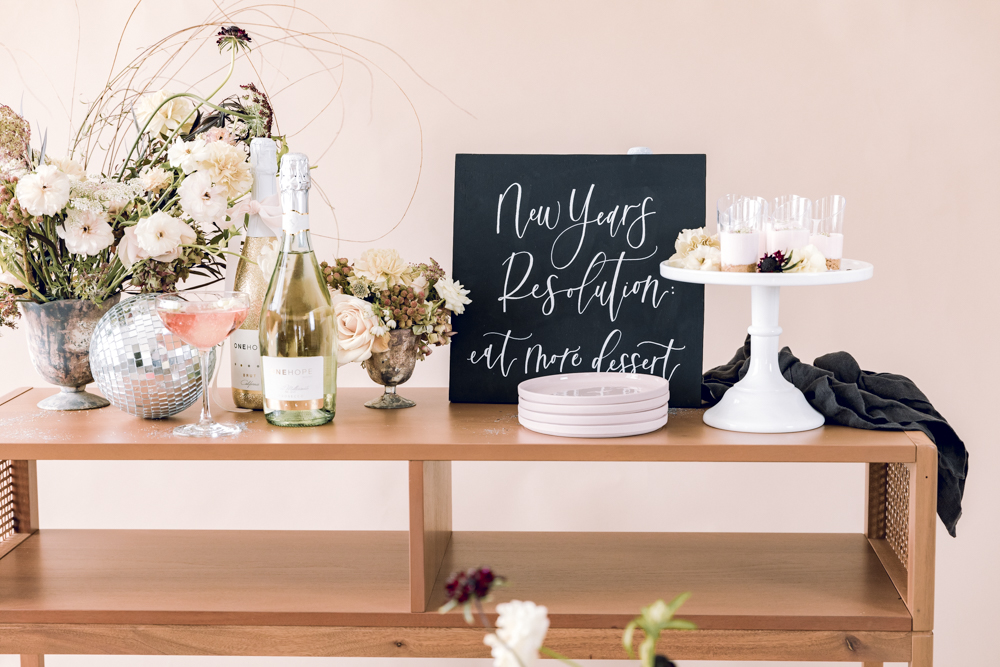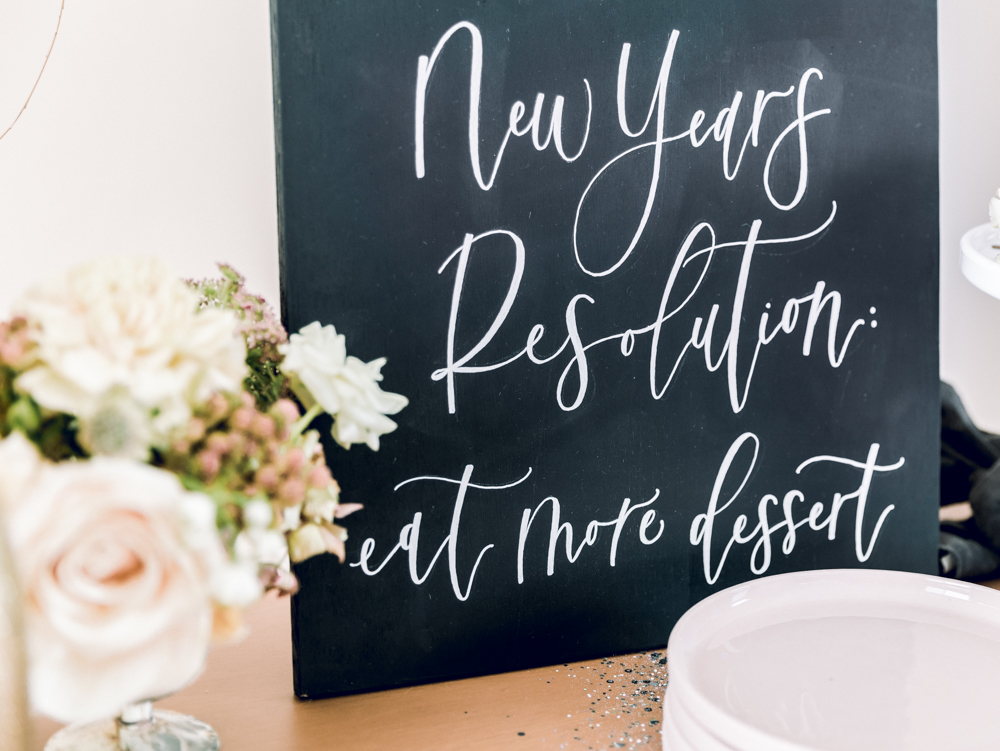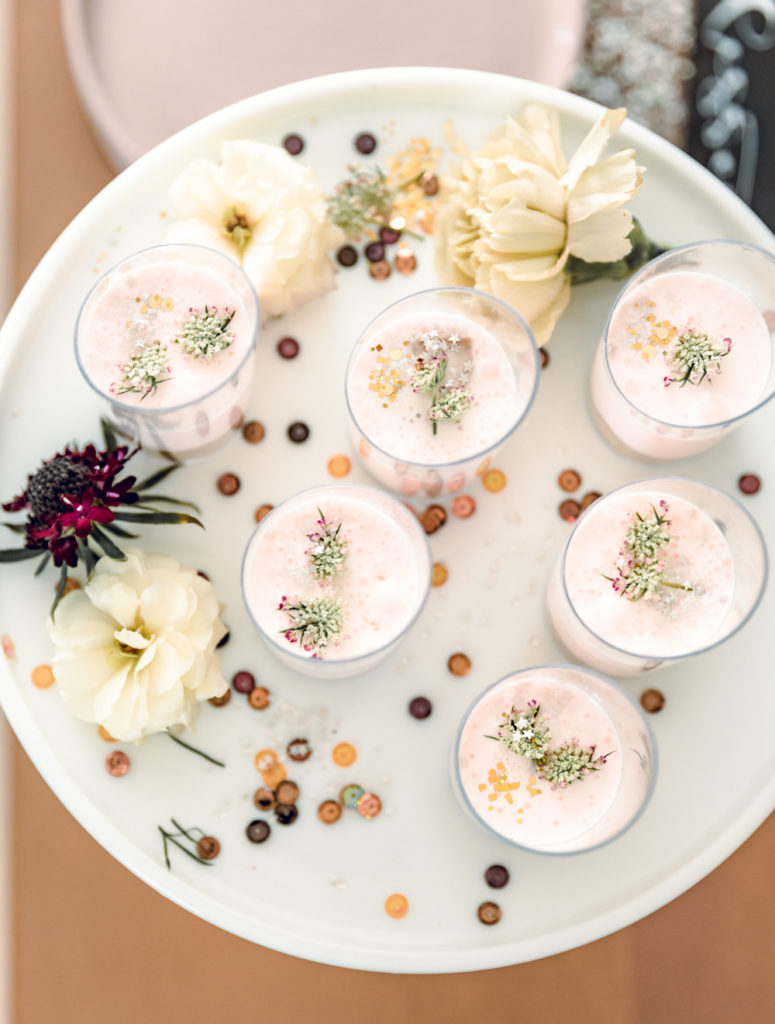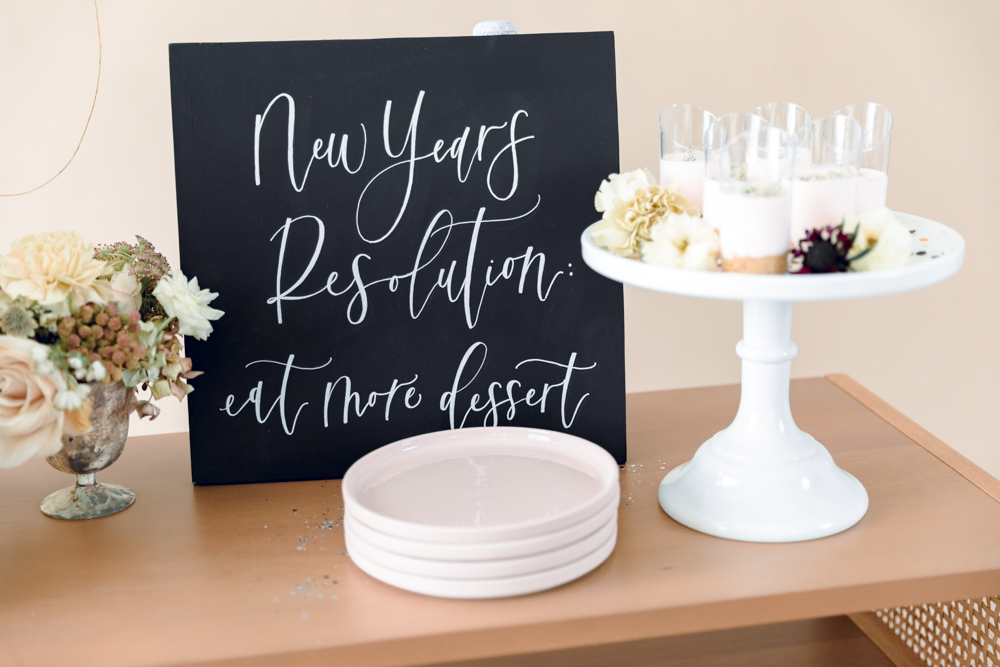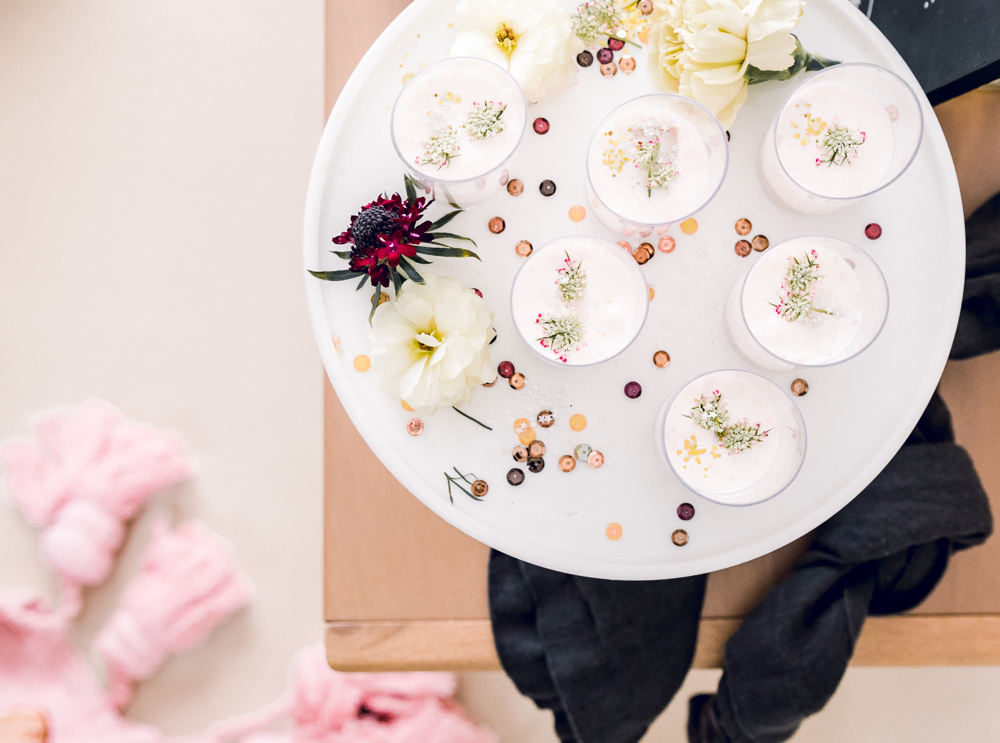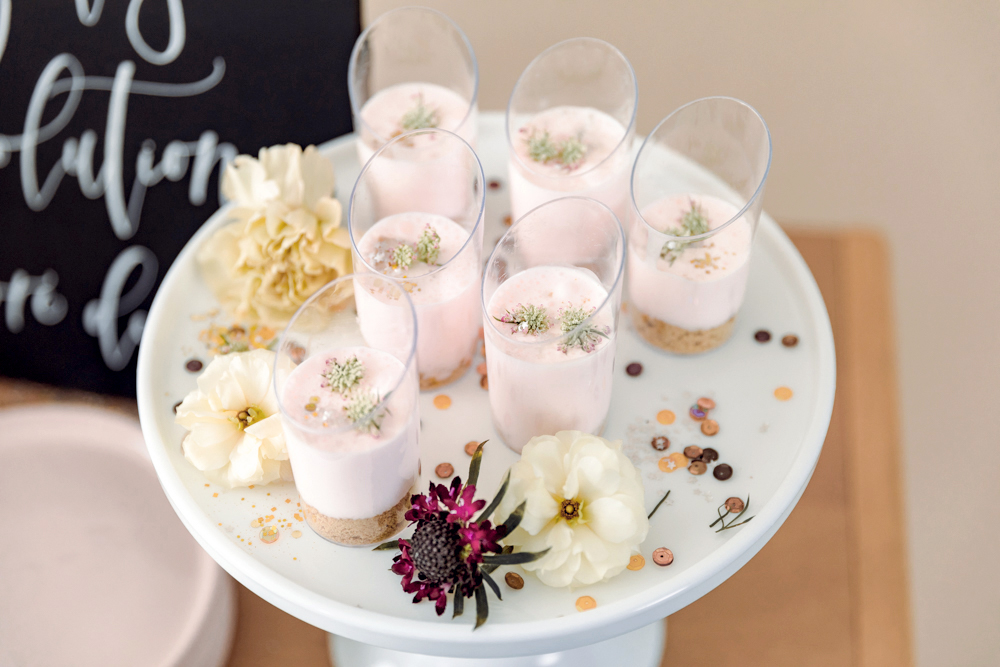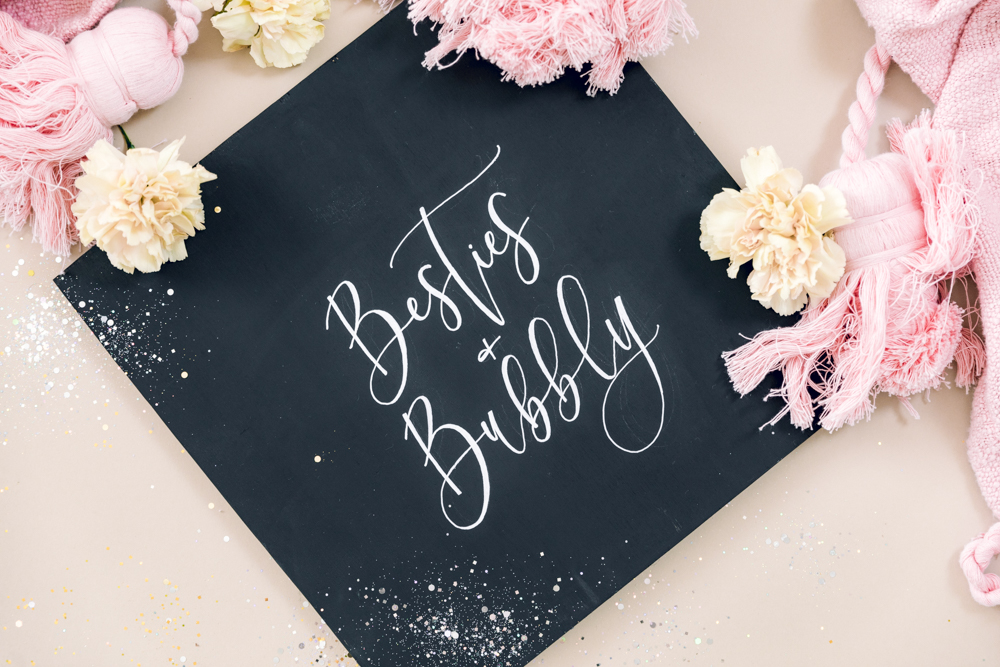 It's not New Years without some champagne. Of course, we had One Hope Wine! And, at the table, individual ones for my besties to take home.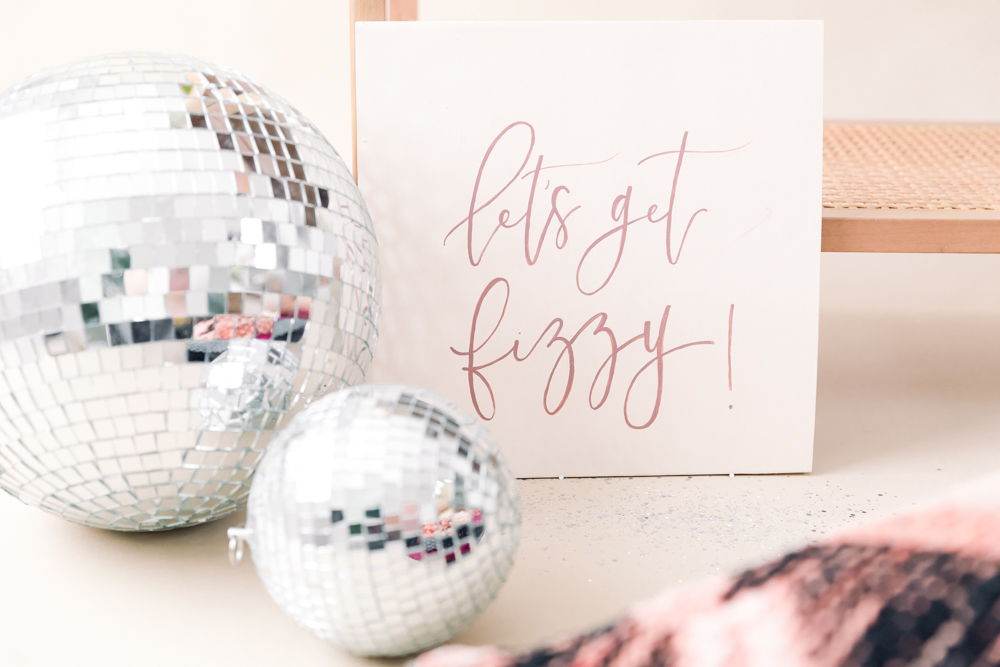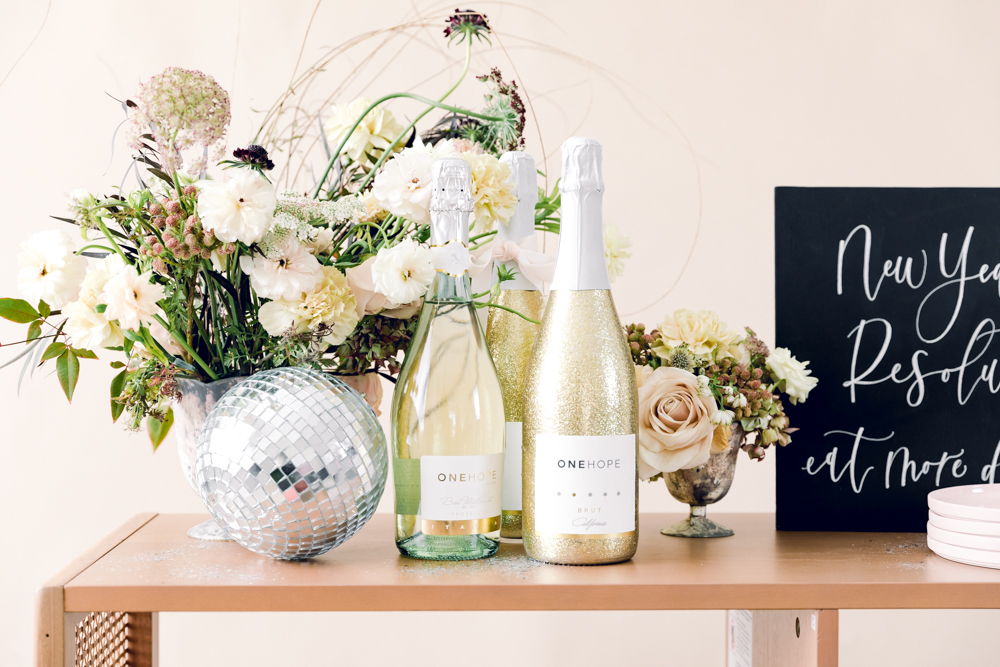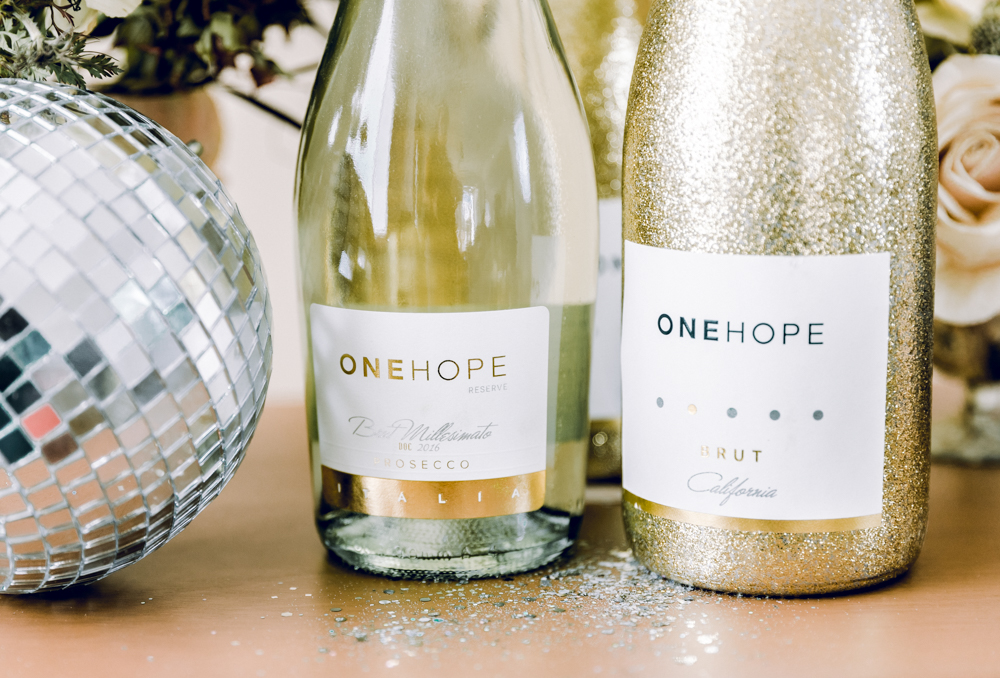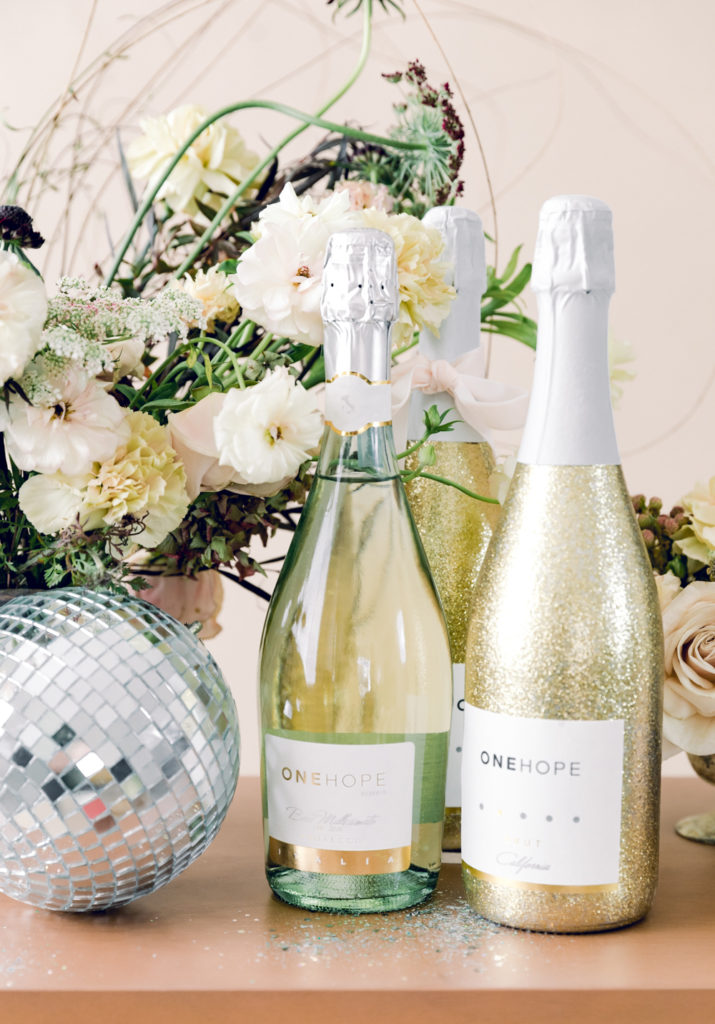 Slumber parties are a time to relax and chit chat all night long. I like to use my coffee table as the table. This way, we can lounge all night while still being able to sip and snack. I placed the table near the dessert table, so you don't have to get up and walk far. You never know what kind of gossip you will miss out on.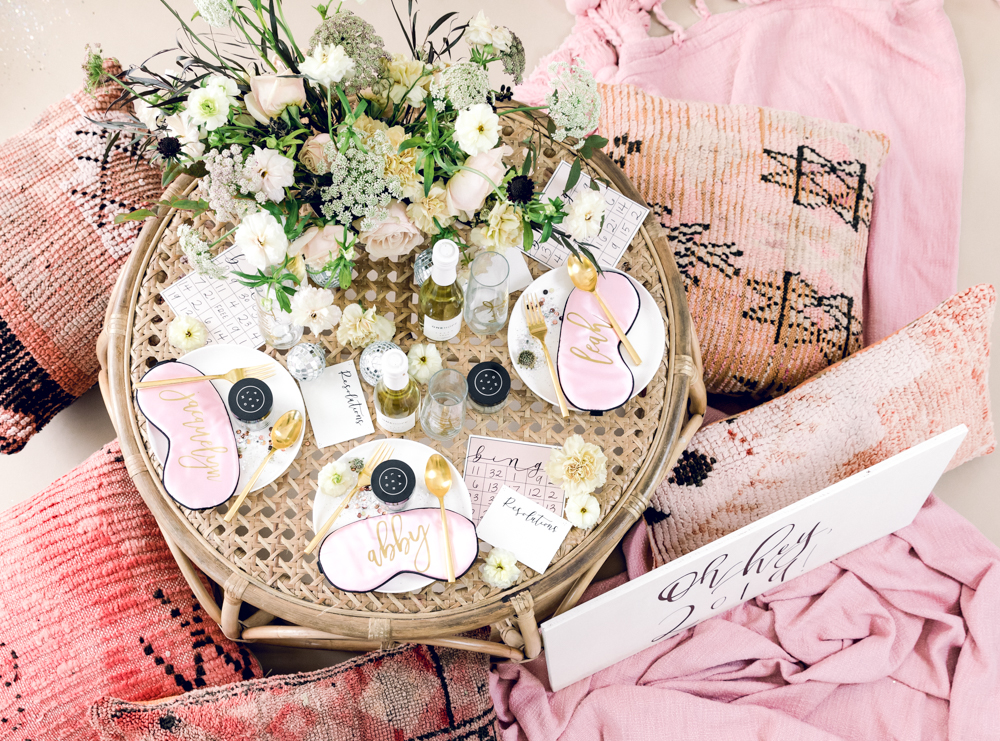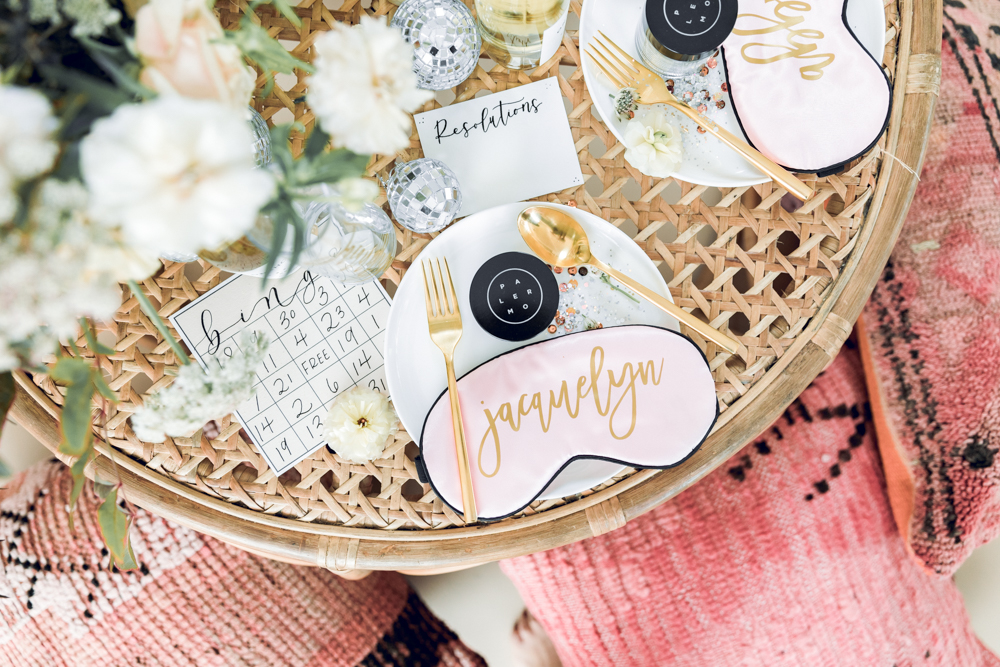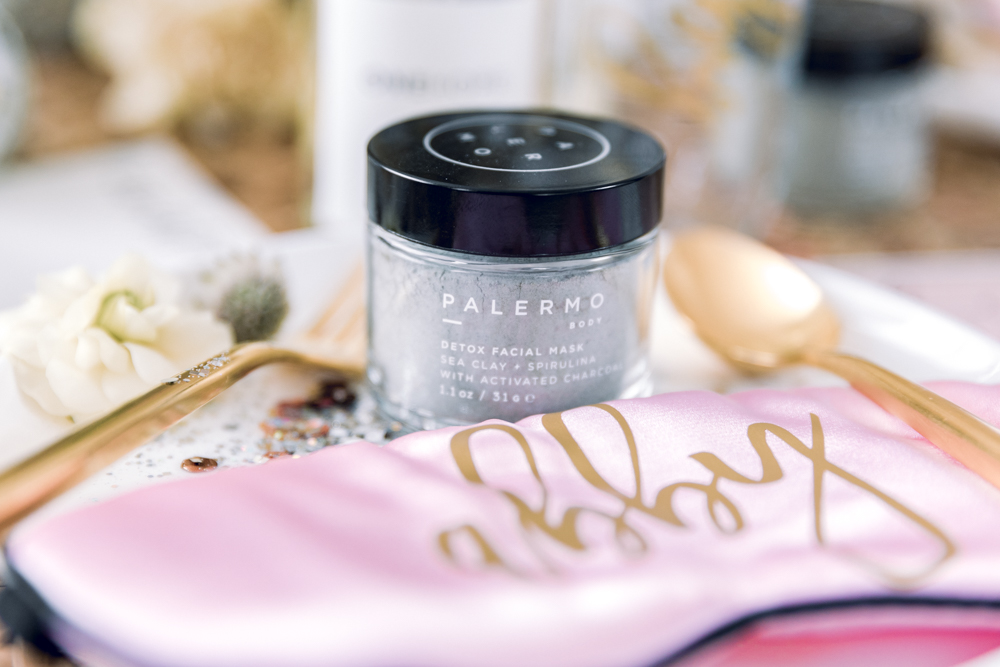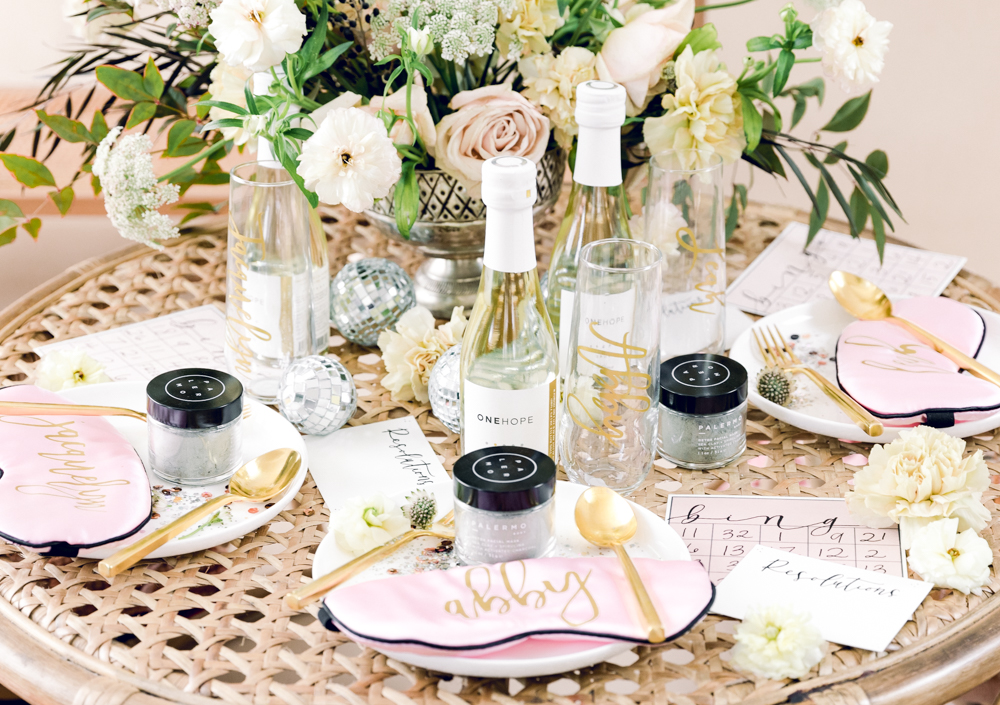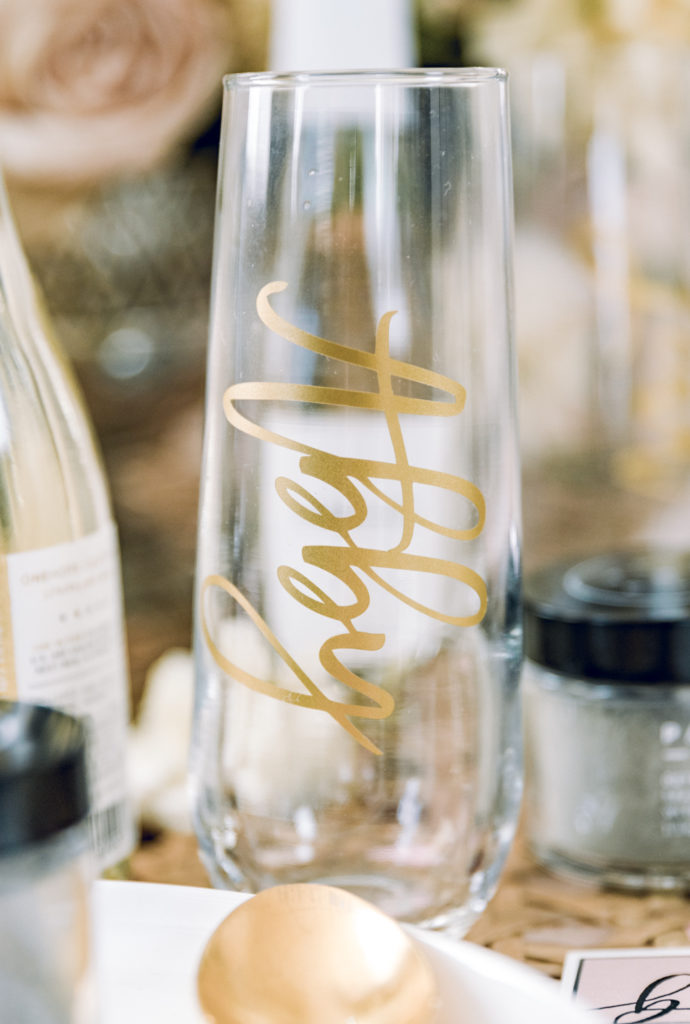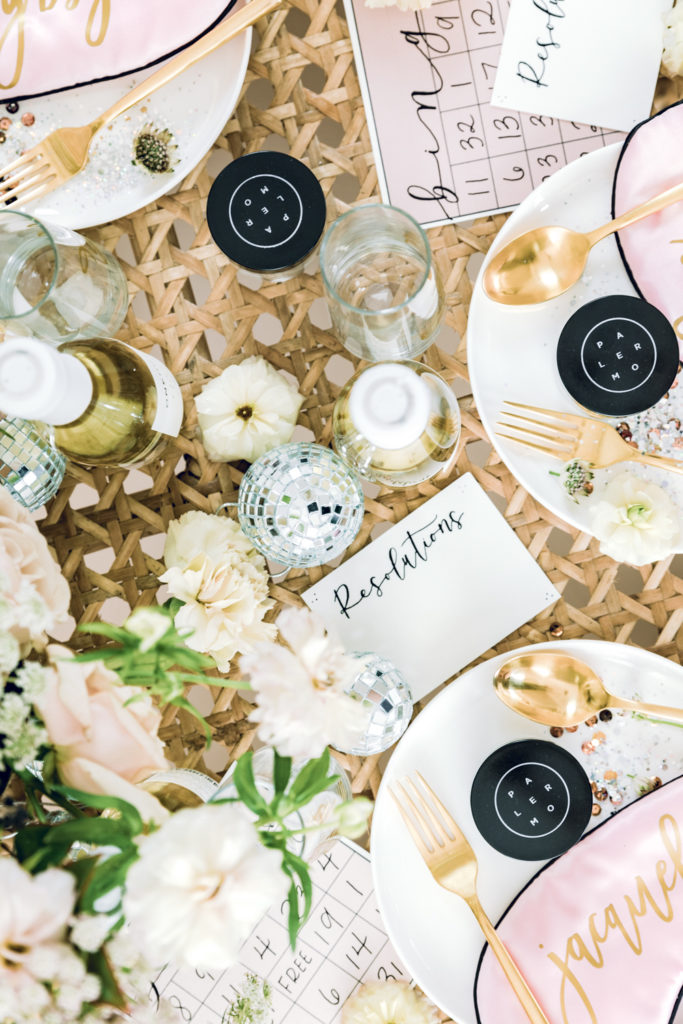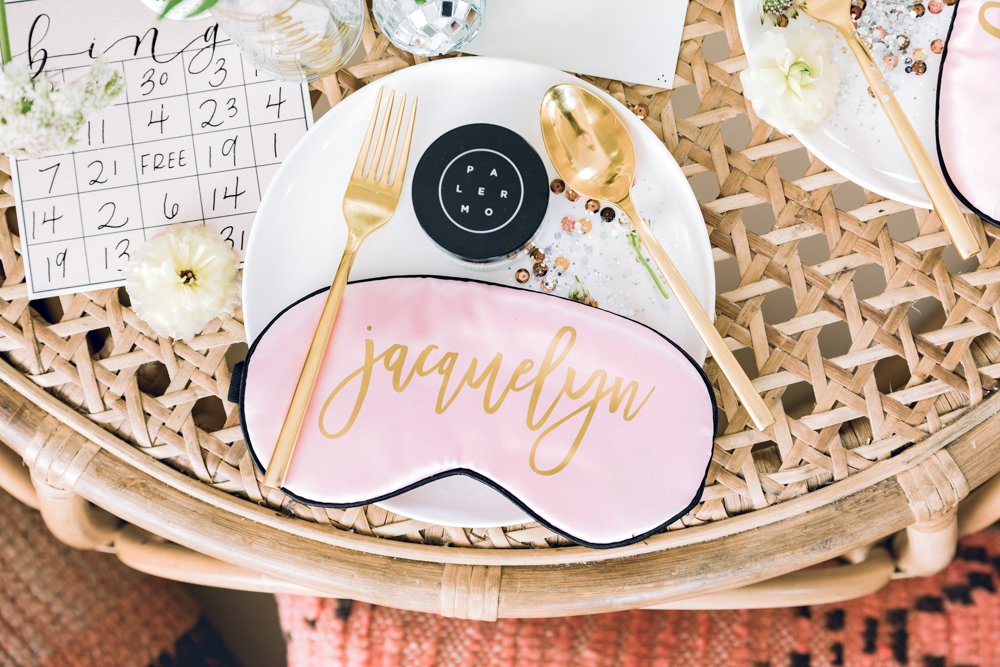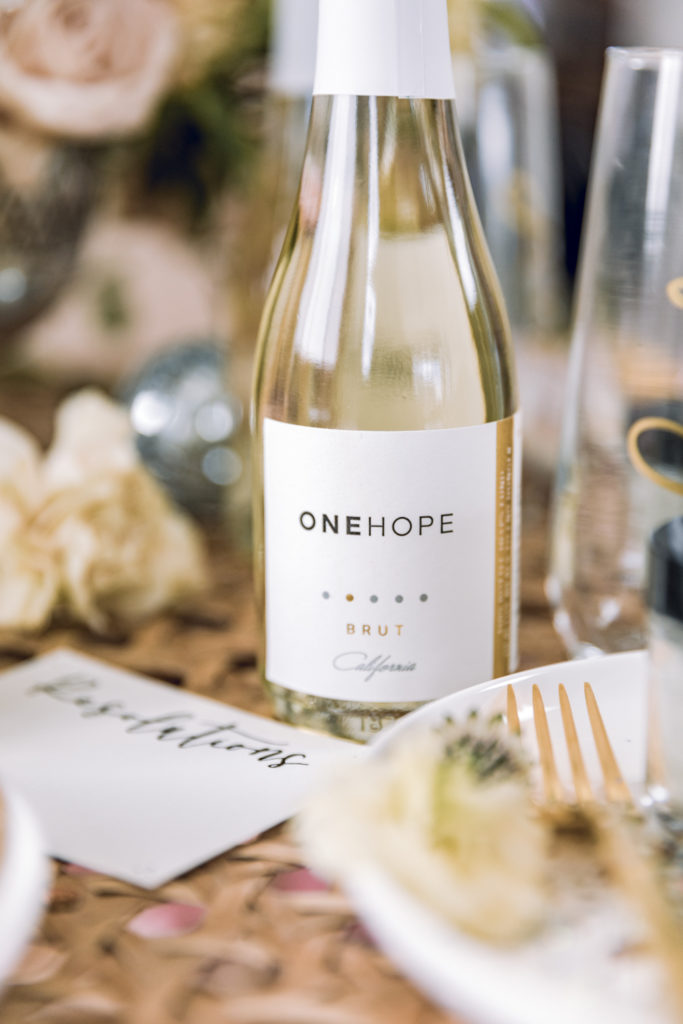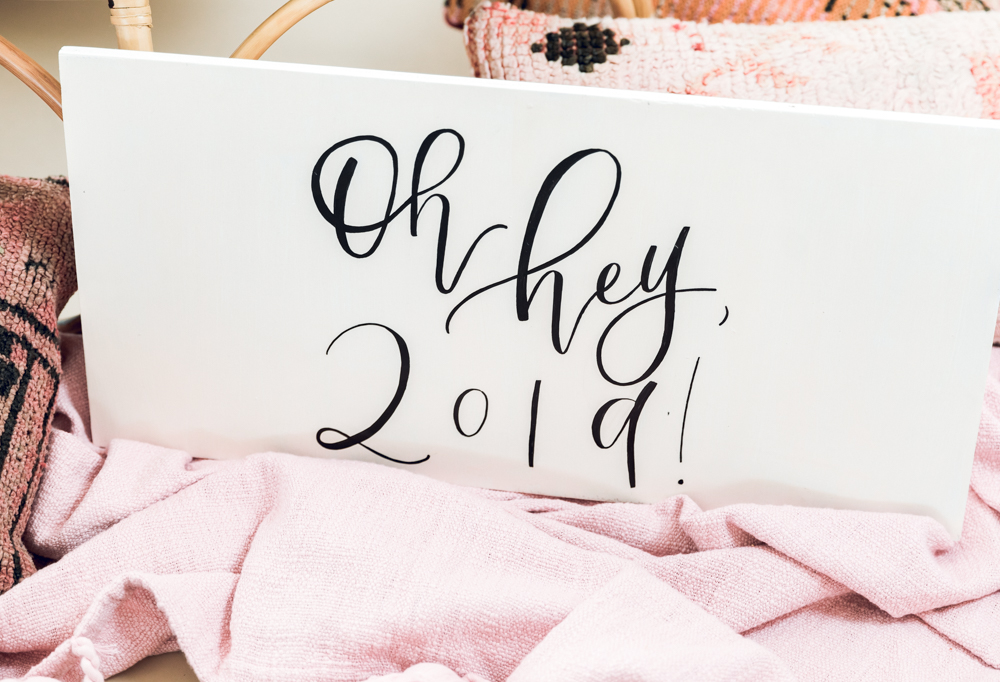 When it comes to flowers, it's the most important detail for us! It just makes any scene come alive. Having a florist is the best option, they are the pros! But, you can channel your inner florist. I had sweet Jones Flower Smith do the florals, and she did an amazing job! Pops of dark mixed in with natural toned colors fit right at home with all the pink and cream tones from the blanket and pillows.
*Beijos Tip: 1st, go onto Pinterest and look up some flower arrangements that you love. Hit up your local floral market or even Trader Joes, and Whole Foods with your inspiration, and grab a couple of bouquets that will go with your look. Pinterest is a great place to learn how to make your own arrangement. You can do this! Remember, to buy extra flowers to scatter around your table and dessert table. This detail is a must for any Beijos party.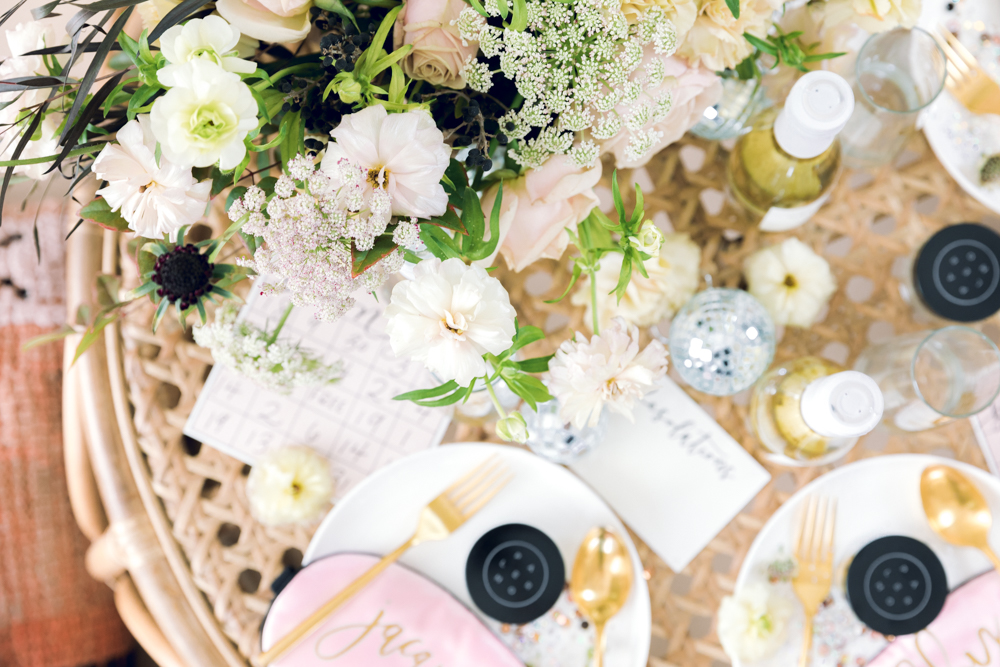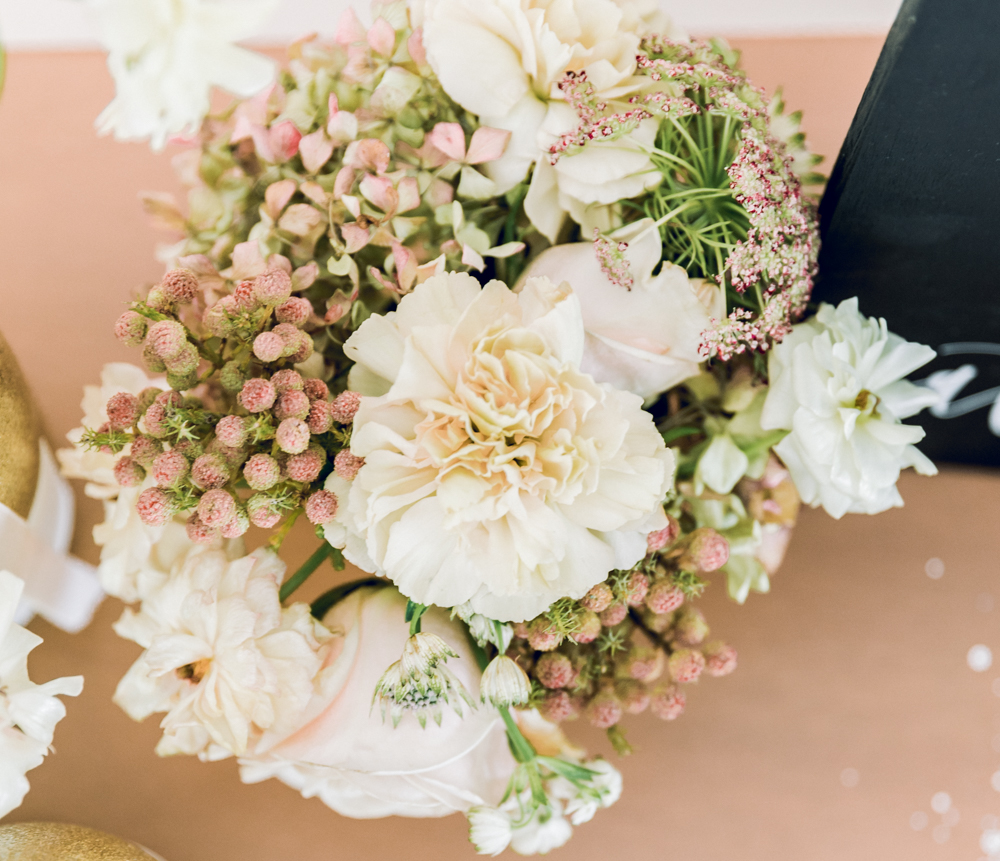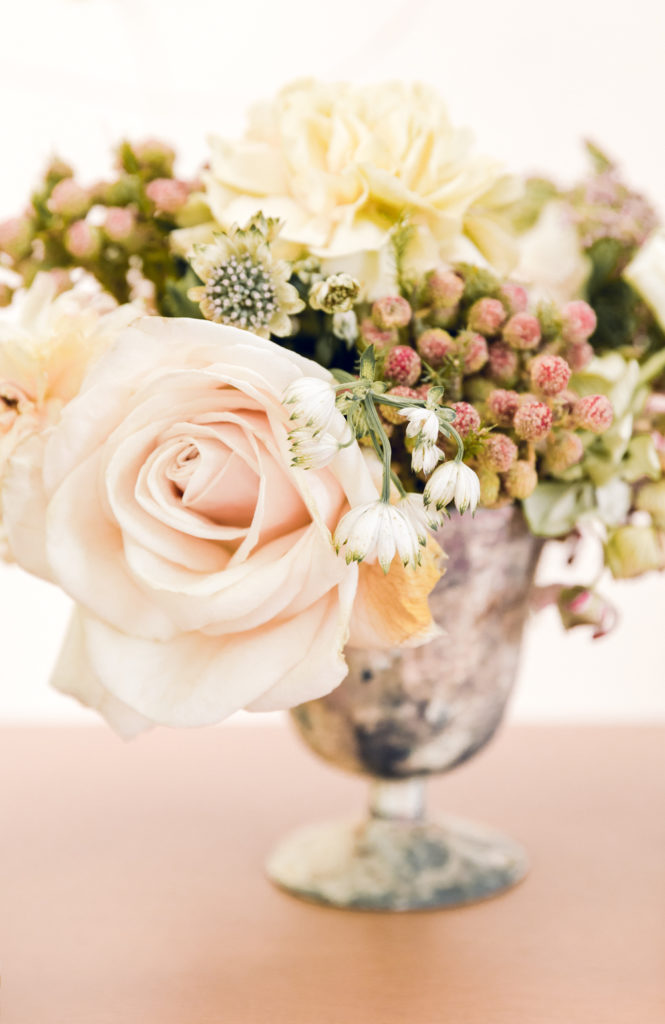 When I think of a slumber party, relaxation and lounging come to mind. So I like to give my guests a little something for them to take home. These cute silk eye masks personalized from Sprinkled with Pink and matching champagne flutes as well! SO cute right!?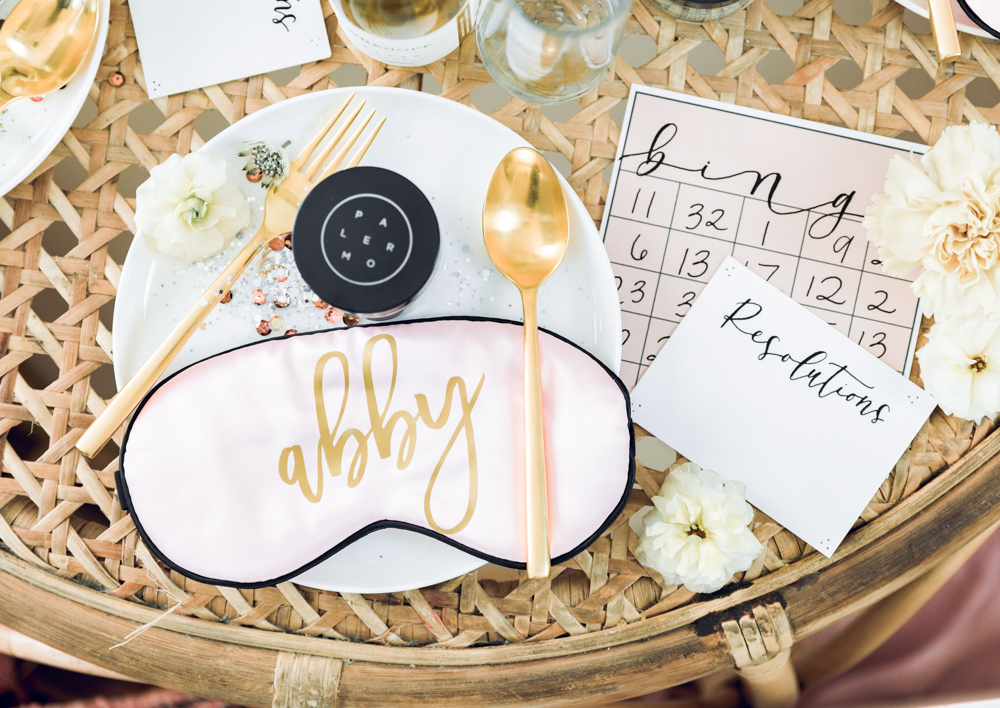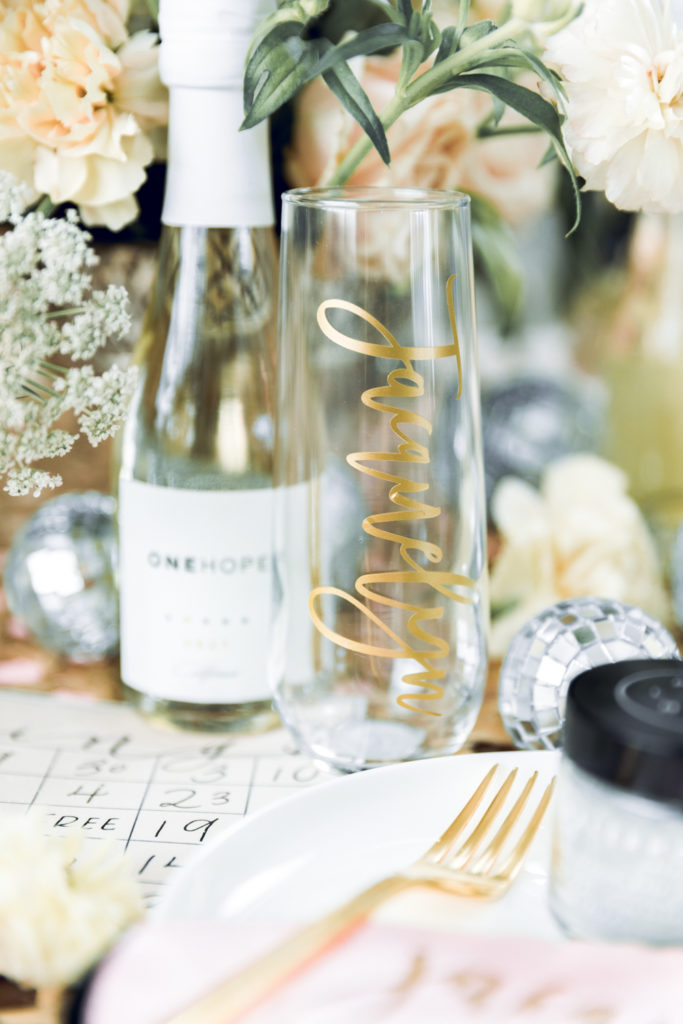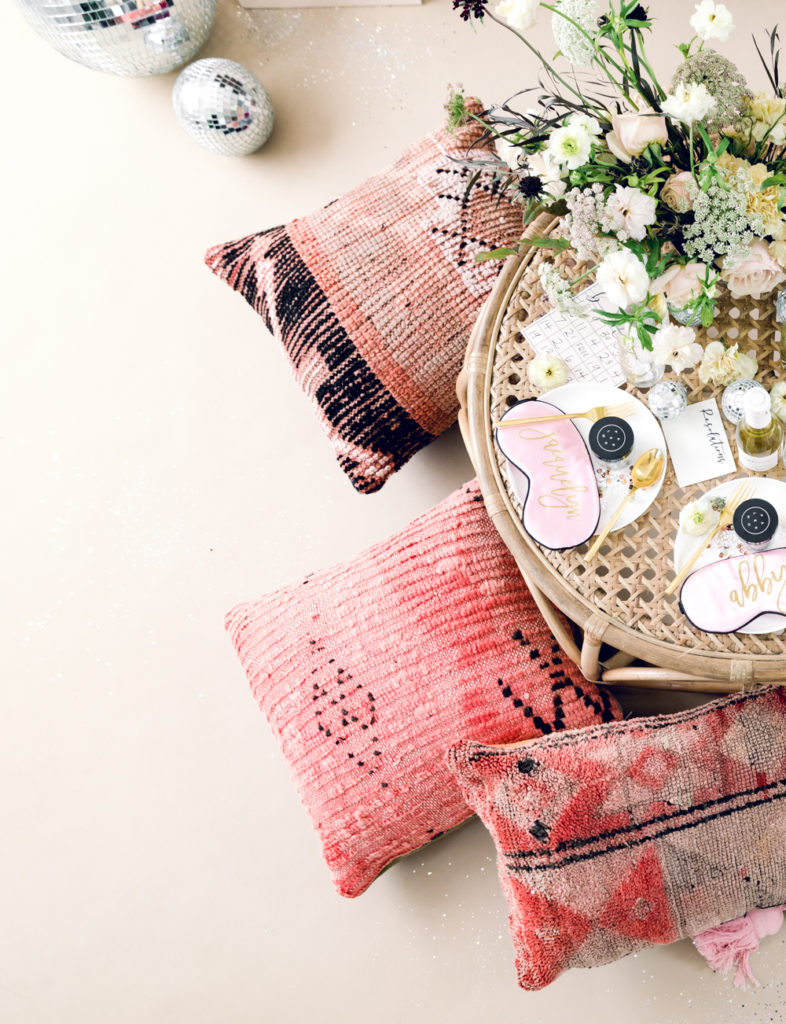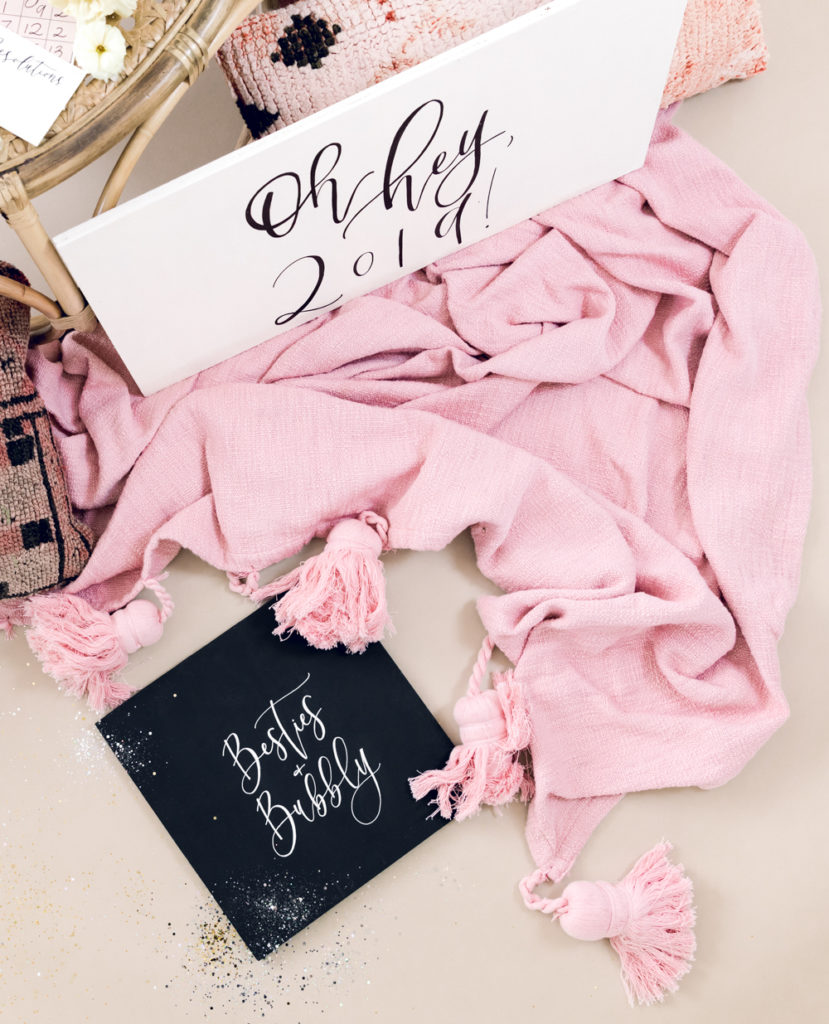 Nothing is more relaxing then Palermo's detox facial mask. Continue the relaxation at home!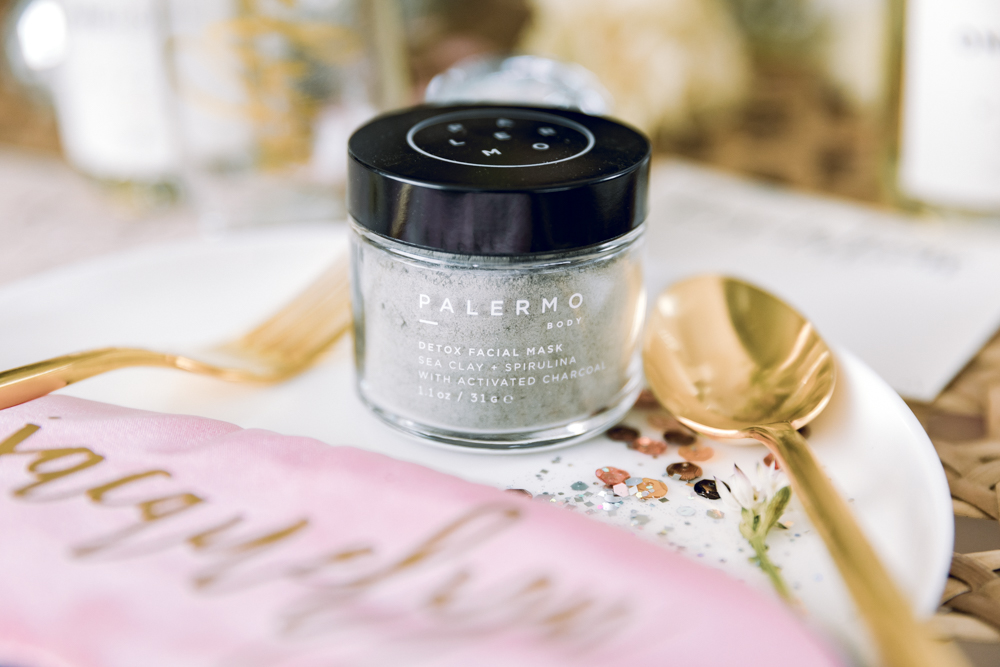 While all this relaxing is going on, a little game of bingo and writing down your resolutions for New Year is entirely in order. Proper Letter Co. made up these cute cards.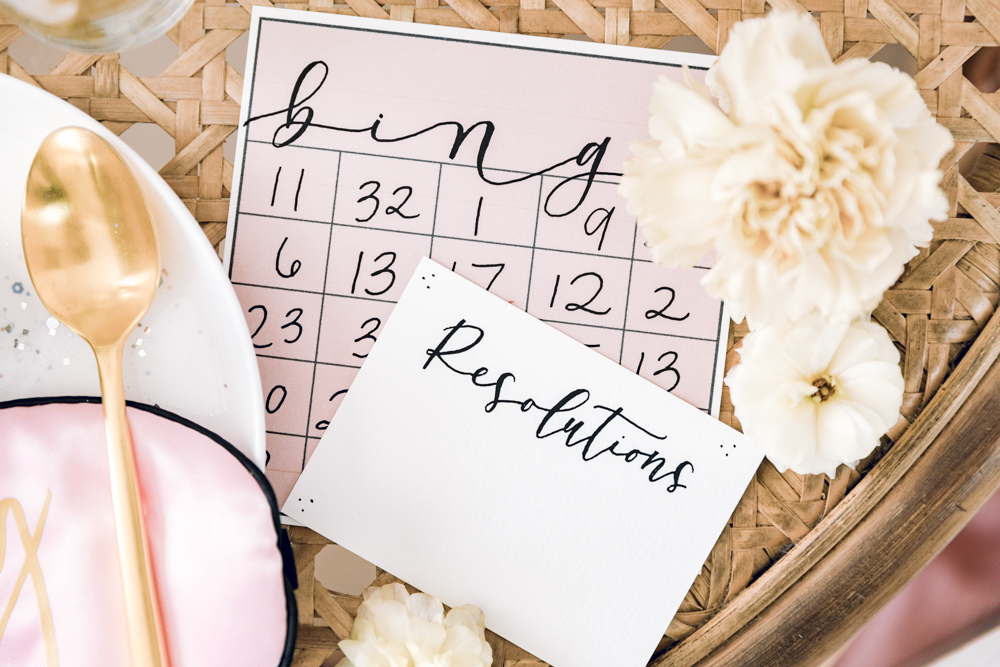 *Beijos Tip: You can make these yourself at home as well! On the computer or by hand.
Throwing a party can be fun and easy! It's all in the details for us! Hope this gave you some New Years inspiration!
xx
Abby