Do you wait till the last minute to wrap the gifts or are those guys under the tree the day it gets put up? I try, really hard, to be on the earlier side so I can sit back and enjoy all the pretty wrapped gifts under the tree. To me, wrapped presents under the tree, fall under tree decorating. They complete the scene. This year, I went with a green and pink theme. Lots of velvet, pretty name tags, fun accents like lollipops and greenery, and some glittery champagne for that extra sparkle!
Photos by Dayna Studios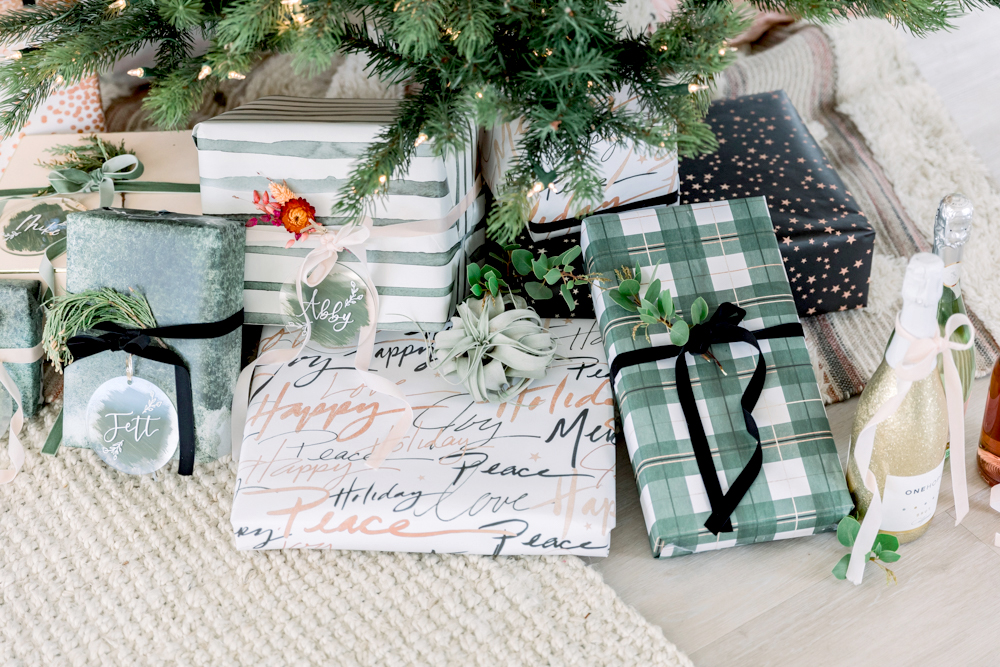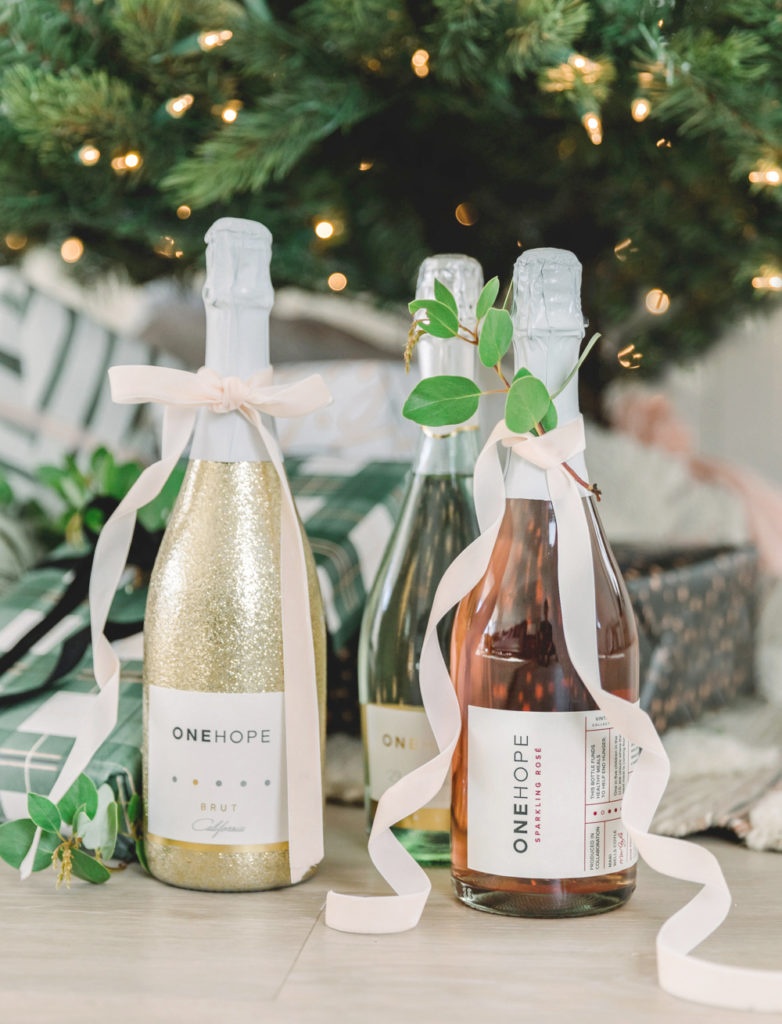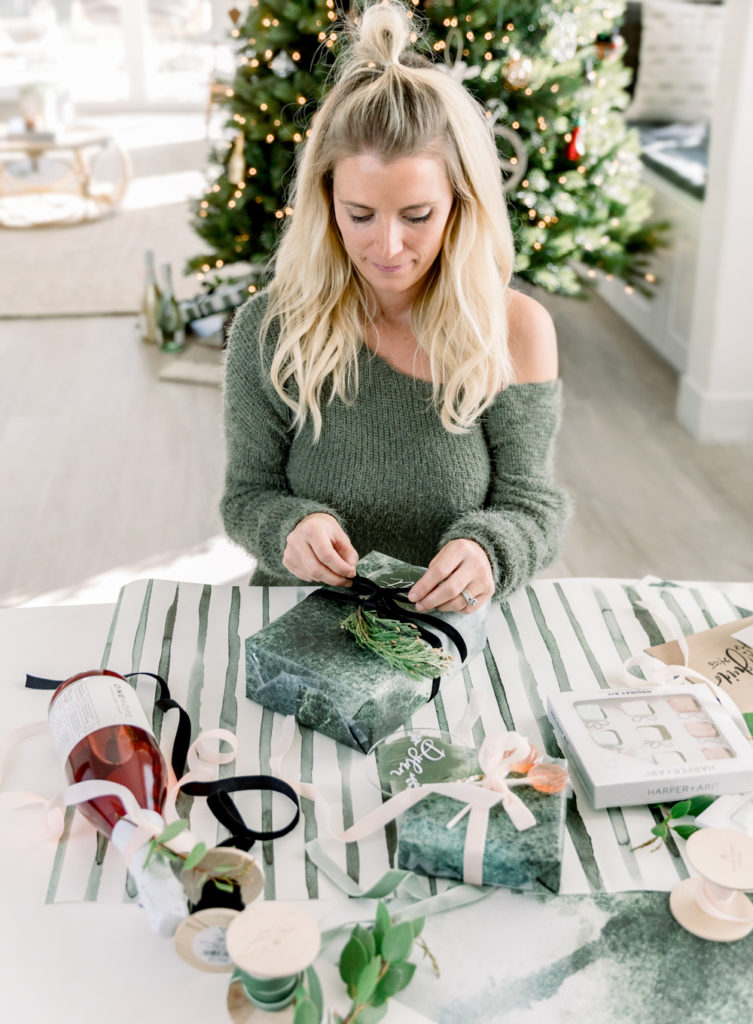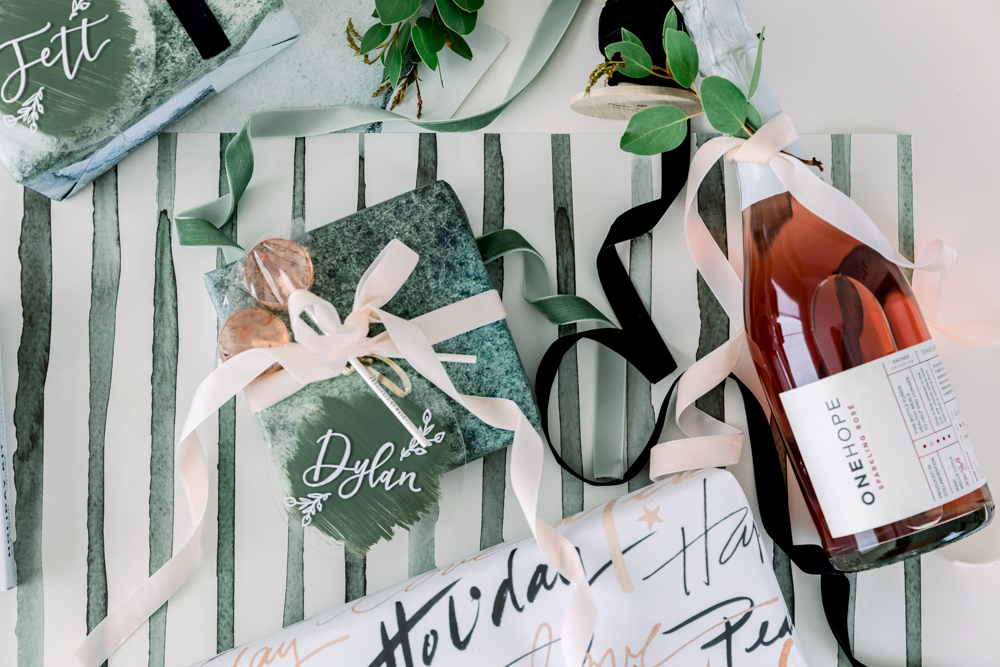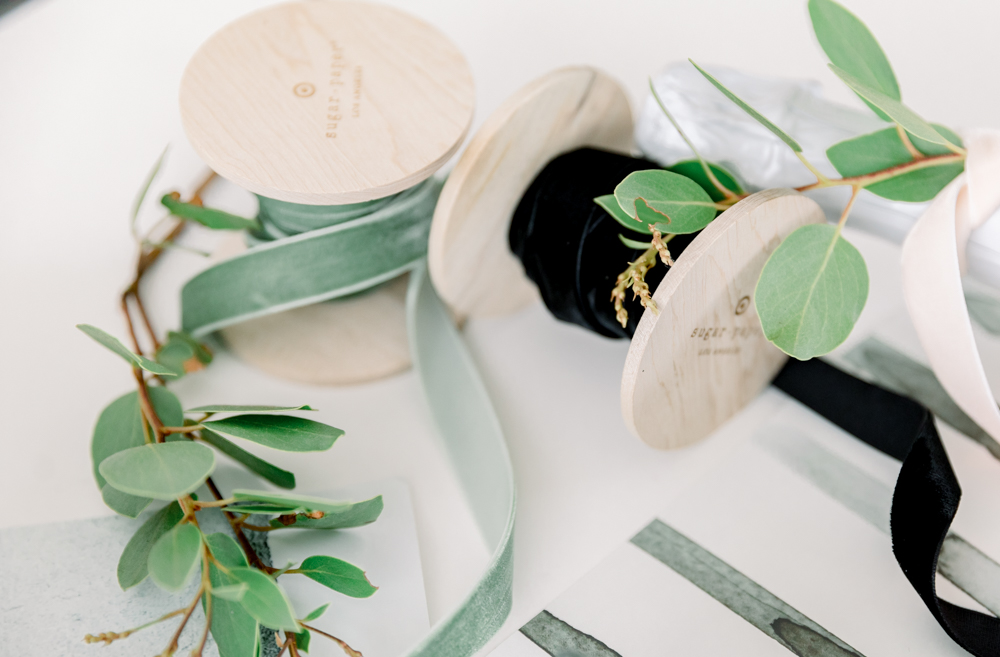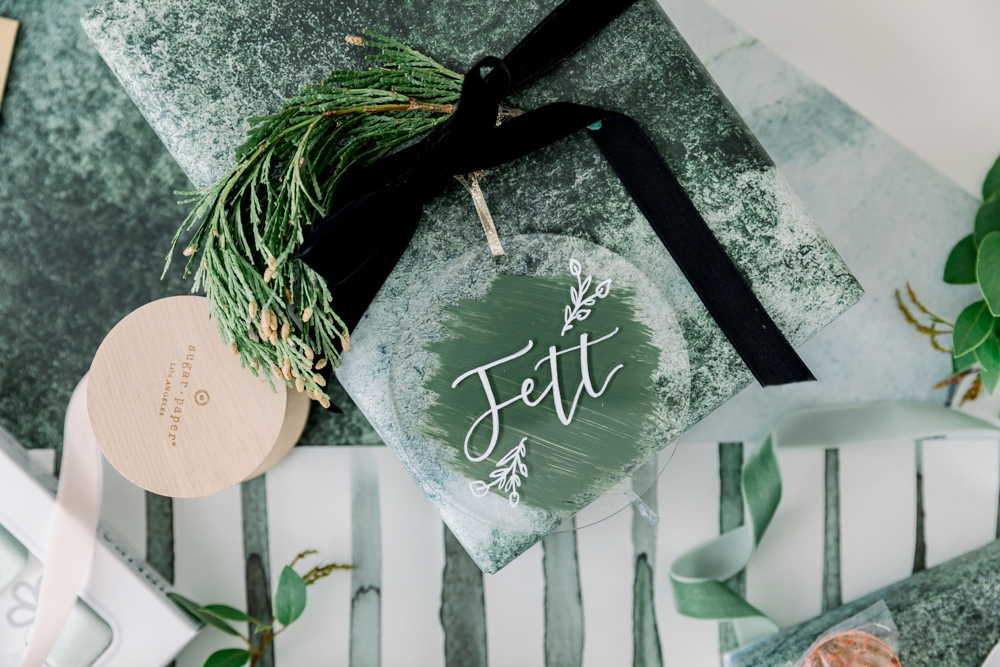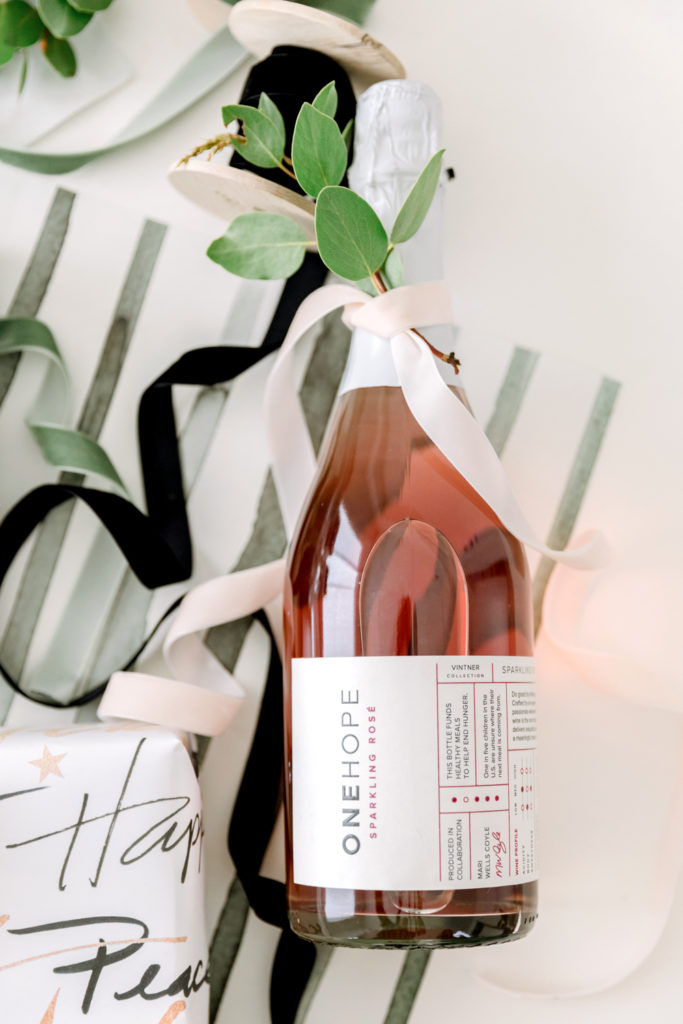 Our pals over at Hello! Lucky is our top pick for holiday greeting cards. They are everything from magical, to playful + funny, and whimsical. Check out my favorites this year below. Oh, and you have to see their Valentine's day selection too. There are some hilarious ones in the mix.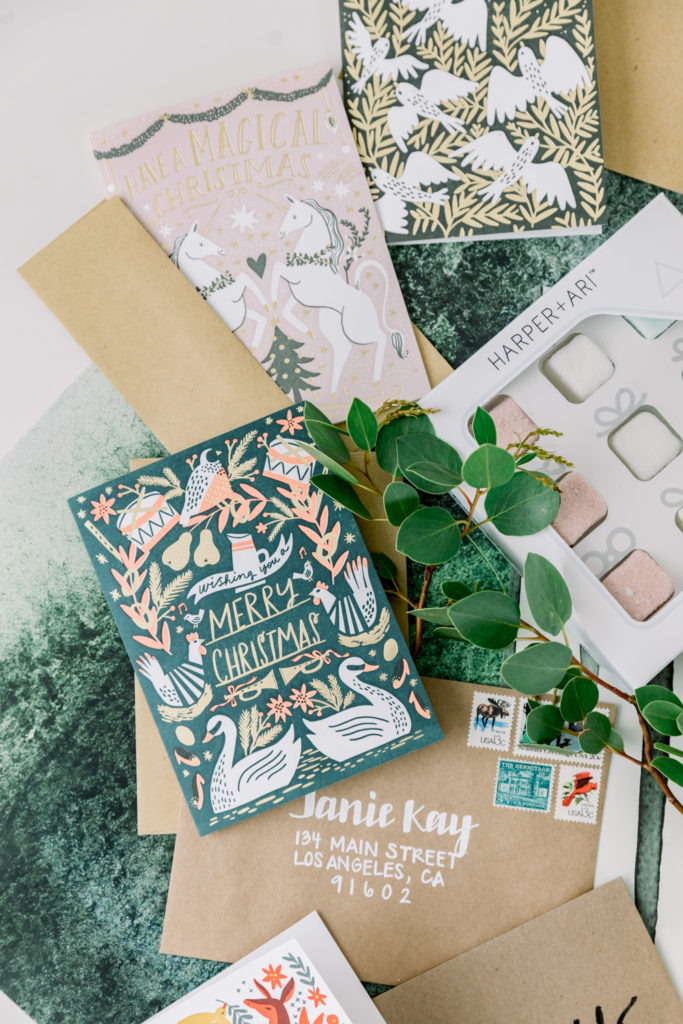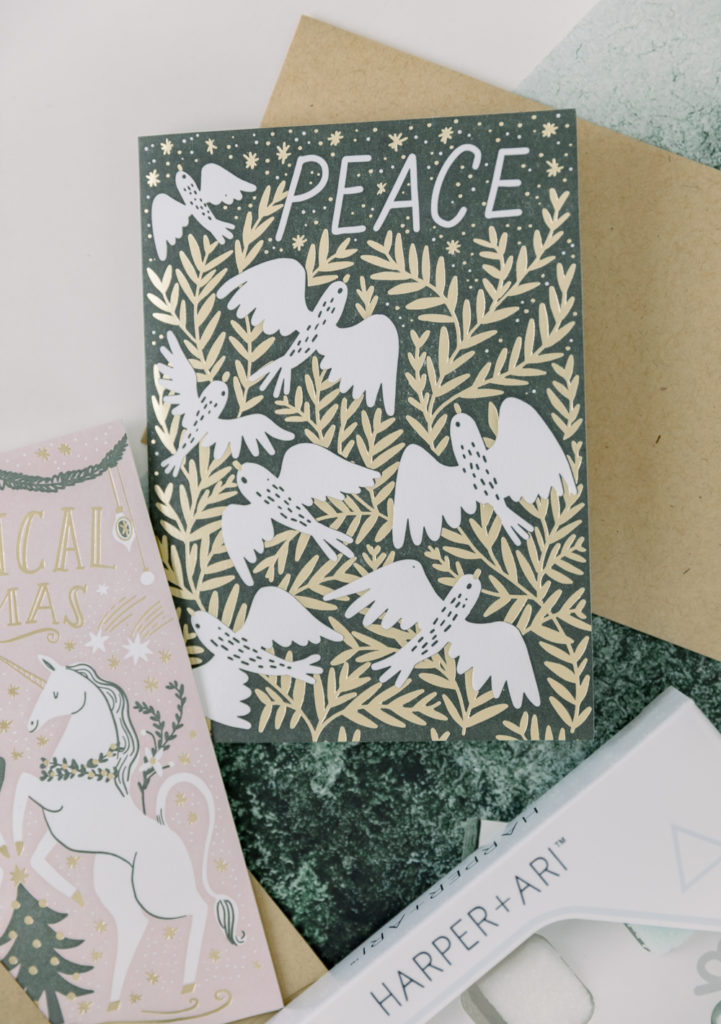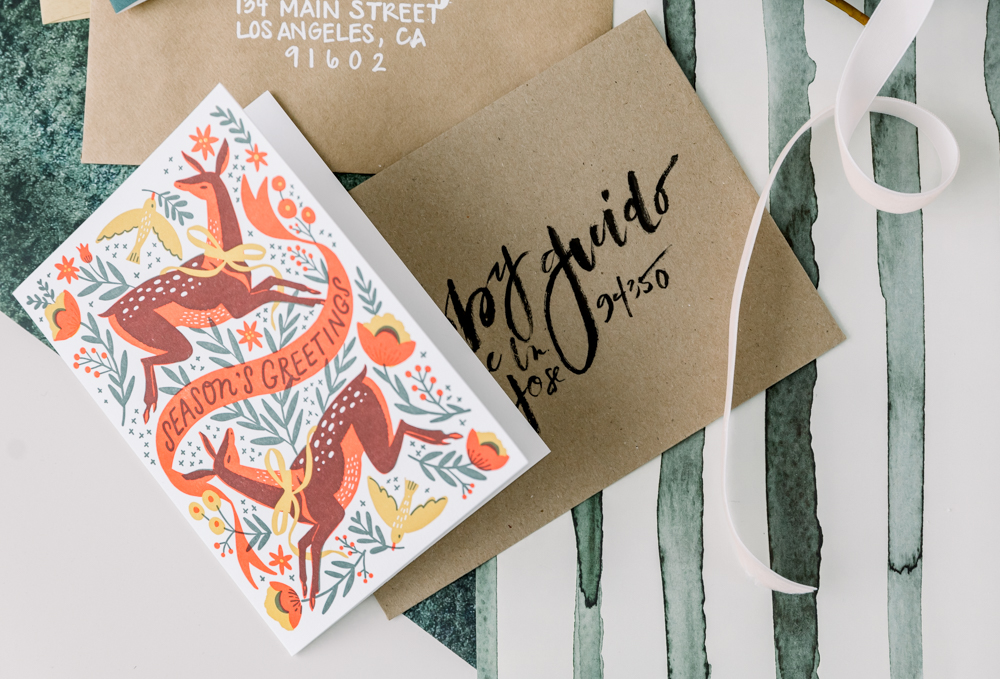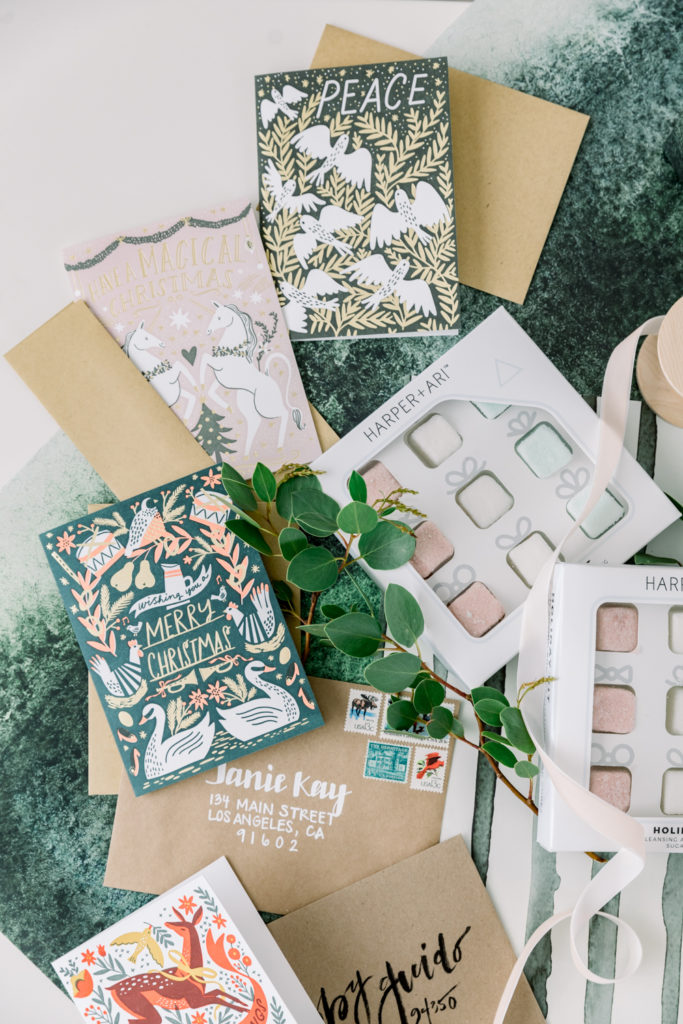 I adore looking on Etsy for EVERYTHING! There is just something more special about it being handcrafted and unique. I found two talented designers, Khristian A. Howell, and Jaye Bird, that are making you rethink what you use and how you wrap gifts! Both these sweet ladies are incredibly talented and creative. Its the next level up for gift giving.
Khristian A. Howell's wrapping sheets are chic and stylish, just like her! She has tons of different patterns to choose from, and for any occasion. My faves are the Rosey Holiday, Buffalo Plaid in Green, and the Rosy Twinkle. There are so many good ones; it's hard to pick just 3!
Her buffalo plaid wrapping sheets I paired with a black velvet ribbon and fresh greenery. This is an effortlessly classic holiday look anyone will love!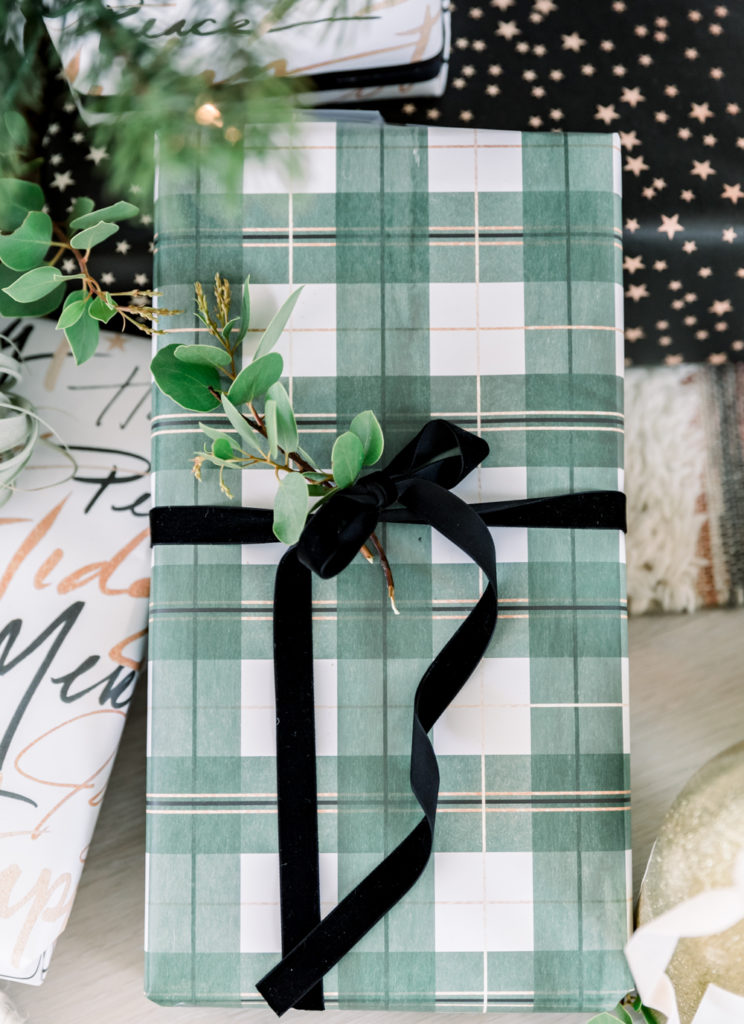 And her rosey holiday wrapping sheets, as she would say, rose gold for the win! I couldn't agree more! 
You remember those cute name tags from Proper Letter Co. from our holiday mantle post? I used them here too! A fun festive way that also is an additional gift for someone. More fun details to add are greenery of all types and unexpected things like lollipops. A sweet touch that any little lady, or adult for that matter will enjoy.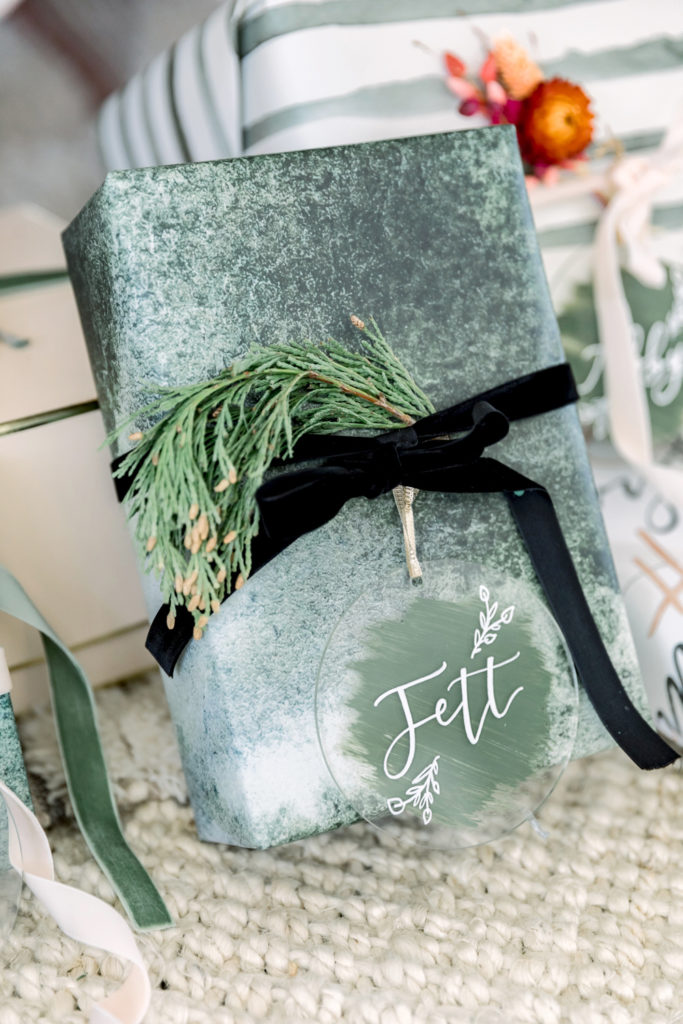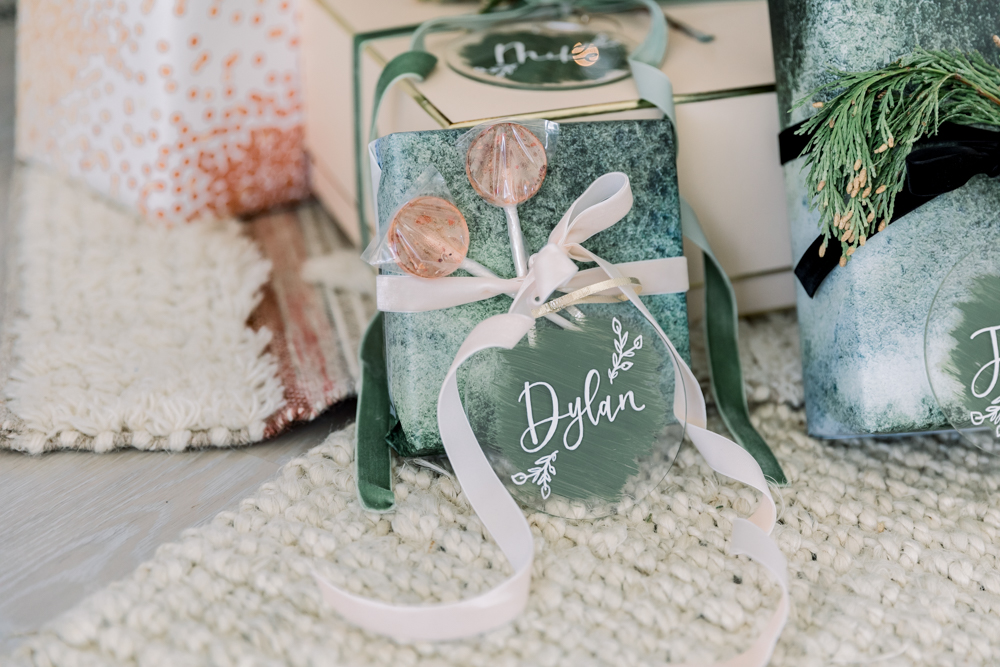 Another fun set of wrapping sheets are from Jaye Bird. Jaye Bird is a watercolor and design studio created by Jaye Whitehead, she specializes in original art prints, greeting cards, calendars, notepads, and watercolor wedding stationery. Her pale green and ribbons of watercolor, I adore! She also has matching gift tags that are super cute!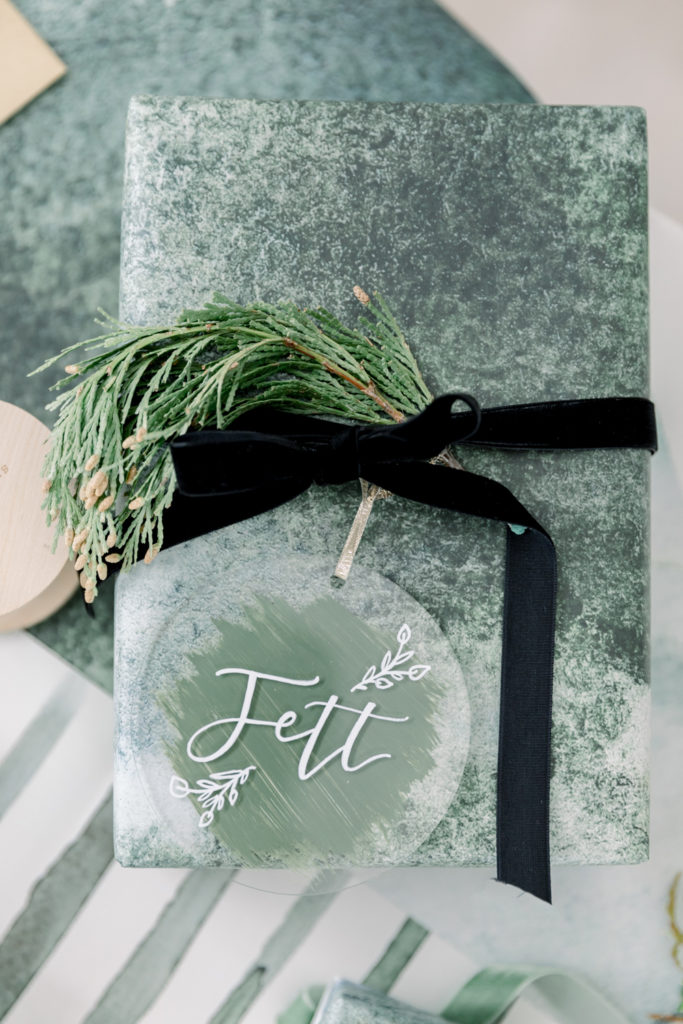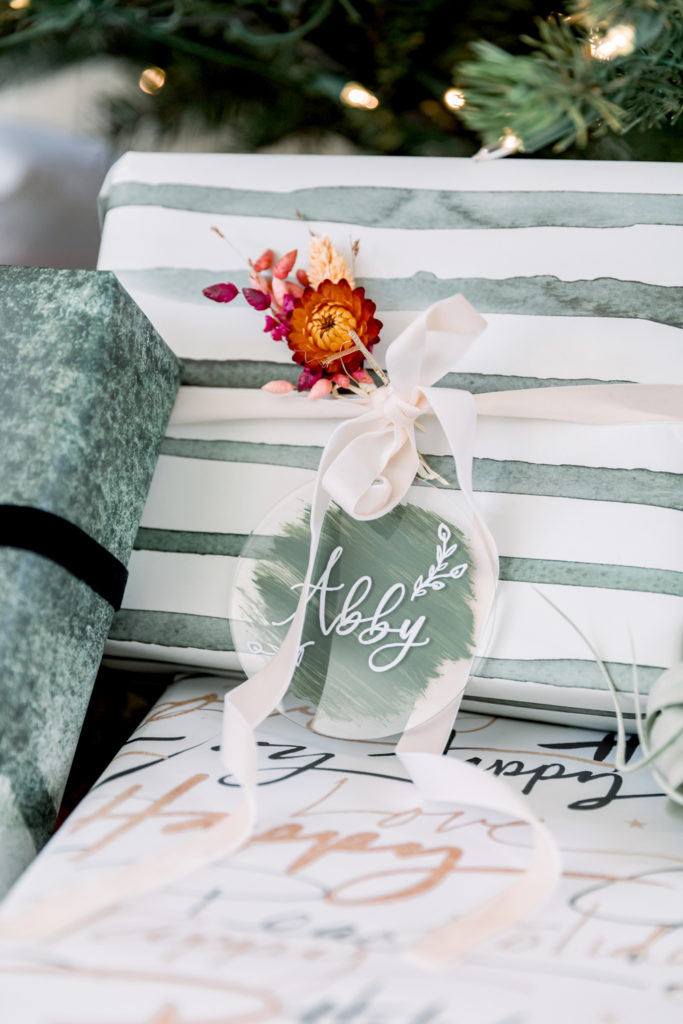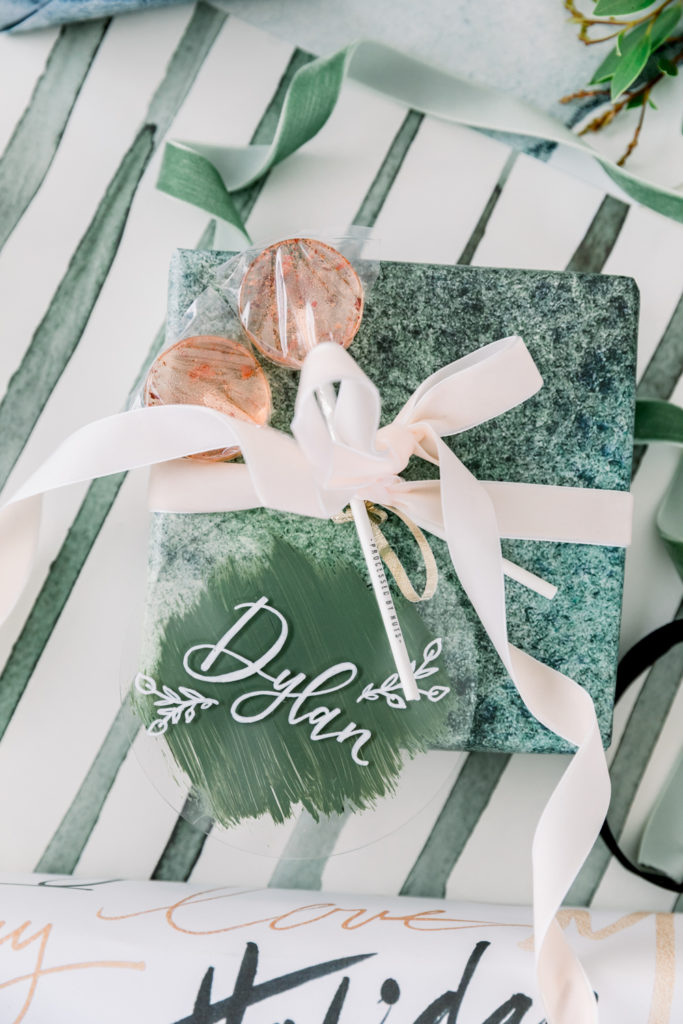 So adorable right?!?
Champagne and wine make great hostess gifts for the holidays. I like to wrap mine with velvet ribbon, and a sprig of greenery.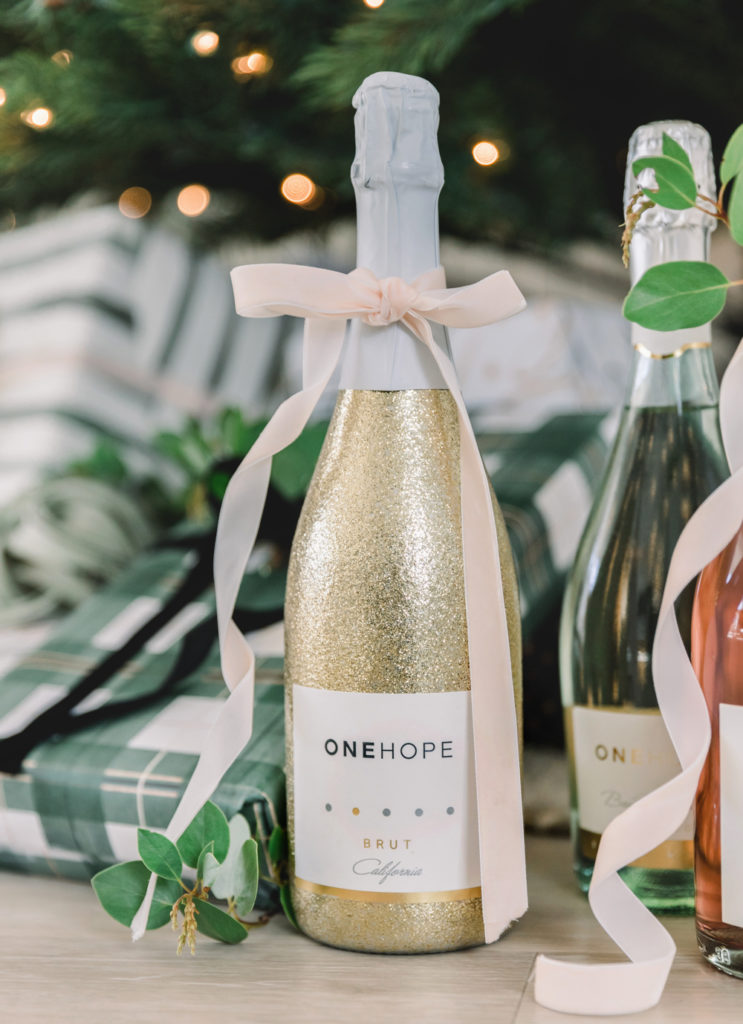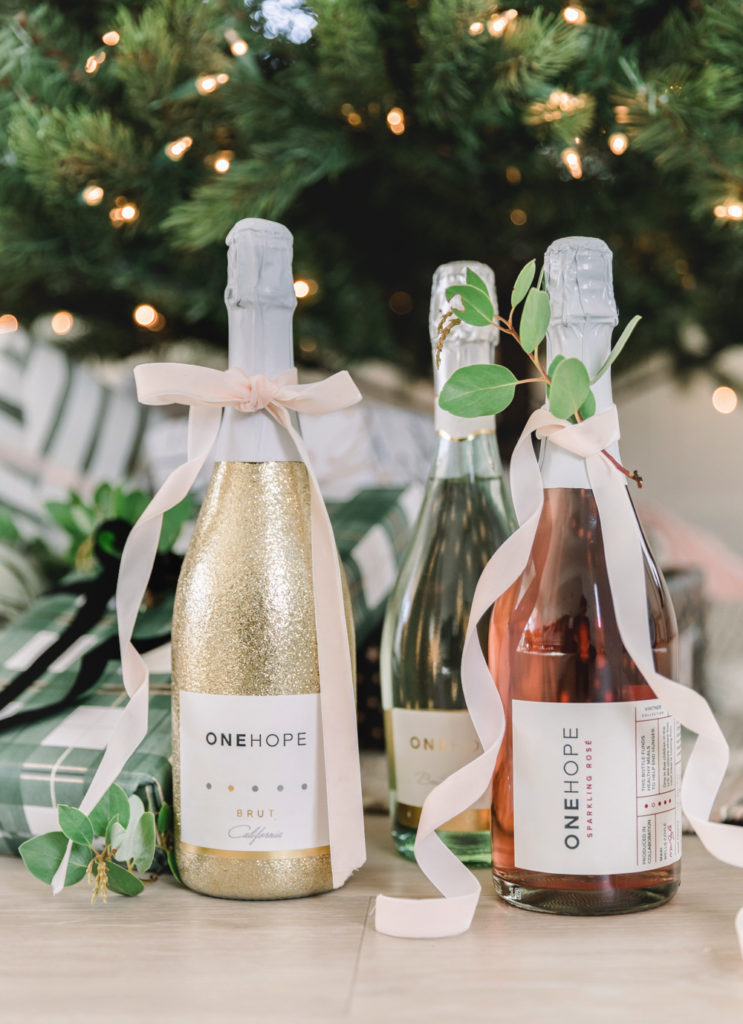 Hope this gives you some last minute inspiration!
xx
Abby