It's thyme! Ending our week off with what we may enjoy the most – cocktails! The weather is literally perfect outside for the three-day weekend. I know exactly where I will be. Outside and drink in hand. Lately, I've been obsessing over Mandarin oranges this month, and I'm adding this infused mandarin orange thyme cocktail to the summer arsenal. Seriously, you can't go wrong with citrus and fresh herbs. Perfection in a cup! So let's get to it, shall we?

Photos by Dayna Studios
---
---
FRESH CITRUS AND HERB COCKTAIL
serves: 1 cocktail
W H A T   Y A   N E E D
Candied Citrus
2 Cups Water
2 Cups Sugar
3 medium Citrus Fruits oranges, lemons, limes, or mandarin oranges
1 Cup Sugar to roll the candied fruit in (optional)

Citrus Thyme Cocktail
Simple thyme citrus syrup (see below for the recipe)
1/2 Cup Fresh Citrus Juice (mandarin and lemon combo)
1 Shot Vodka
Thyme (for garnish)
Fresh and Candied Citrus (for garnish)
Sparkling citrus soda or Sparkling Bubbles
B U S T   O U T
Baking Pan
Parchment Paper
Slotted Spoon
Cooling Rack
Dispense for Simple Syrup
Cocktail Shaker
---
I N S T R U C T I O N S
Citrus Simple Syrup
1st, let's start with making the candied citrus. Be sure to save the syrup from the pan to make your simple syrup. You can do this step a couple of days prior and keep them in the fridge.
Wash and slice off the citrus into thin slices, very carefully. Take out any seeds.
In a large pan, add the water and sugar and bring to a boil over high heat.  Add slices of citrus to the pan in a single layer, be sure not to overlap.  
Reduce heat slightly and cook at a low simmer for about 30 minutes, turning the slices over halfway. Keep an eye on them.
Meanwhile, spray a wire rack with non-stick cooking spray and set it inside a baking sheet.  Using a slotted spoon, remove the citrus slices from the hot simple syrup and place them in a single layer on the prepared cooling rack to drain for about 15 minutes.
Place about 1 cup of sugar in a side bowl and dredge each candied fruit slice to cover completely, and let rest back on the wired cooling rack.
Let the candied citrus dry for 12-24 hours at room temperature, flipping them over at least once to make sure they dry all the way through. 
Once completely dried, you may use them in cocktails, snacking, or on any desserts or ice cream. Store in an airtight container in the fridge for up to 1 month. Enjoy!
Very important!! Save the sugar syrup that is in your pan, this is now your citrus simple syrup. Put into a dispenser and add a couple of sprigs of thyme. And you know have a thyme-infused citrus simple syrup.

Citrus Thyme Cocktail
Gather your glass, and fill it with ice. Choose your desired ice, from floral ice to small spheres.
In a cocktail shaker, combine the fresh citrus juice, citrus thyme simple syrup, and ice. Start with about 1 tablespoon of simple syrup and add more as needed. It all depends on your taste that day. Then shake it all up!
Pour into your glass, and add fresh thyme and your candied, fresh, and dried citrus for garnish. Top off with some sparkling citrus soda or sparkling bubbles if needed. Some days I like lots of bubbles, others just straight vodka and fresh citrus juice.
---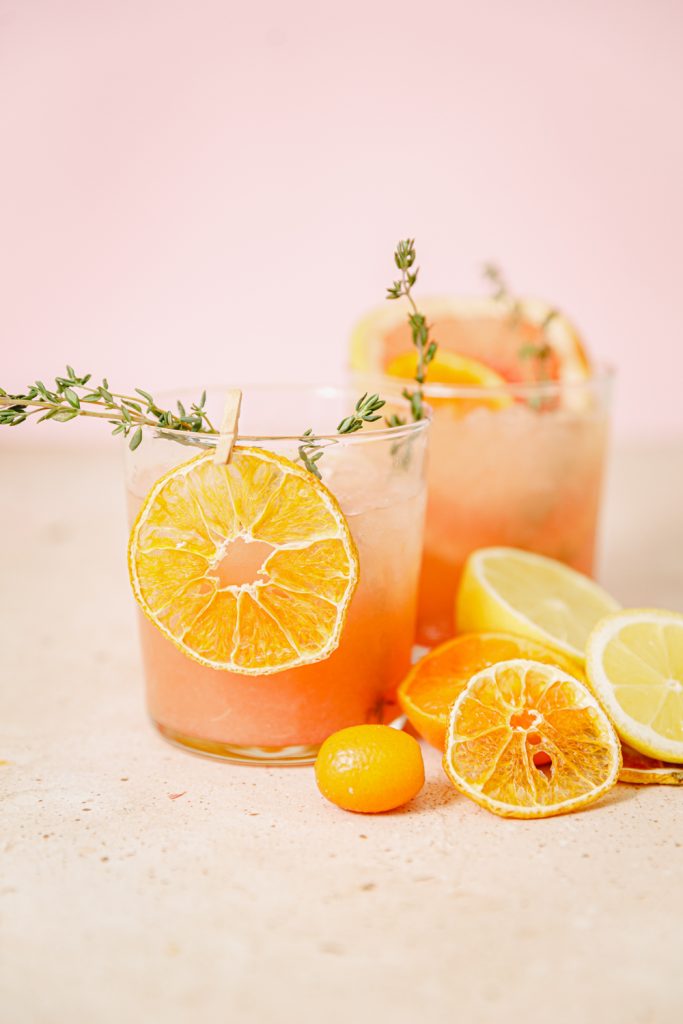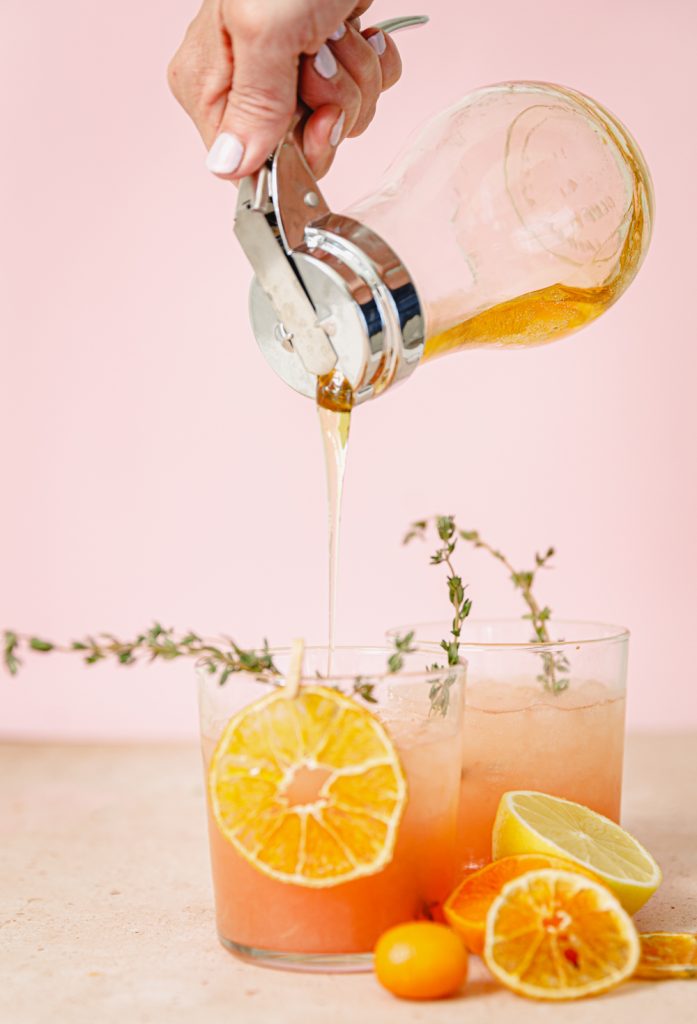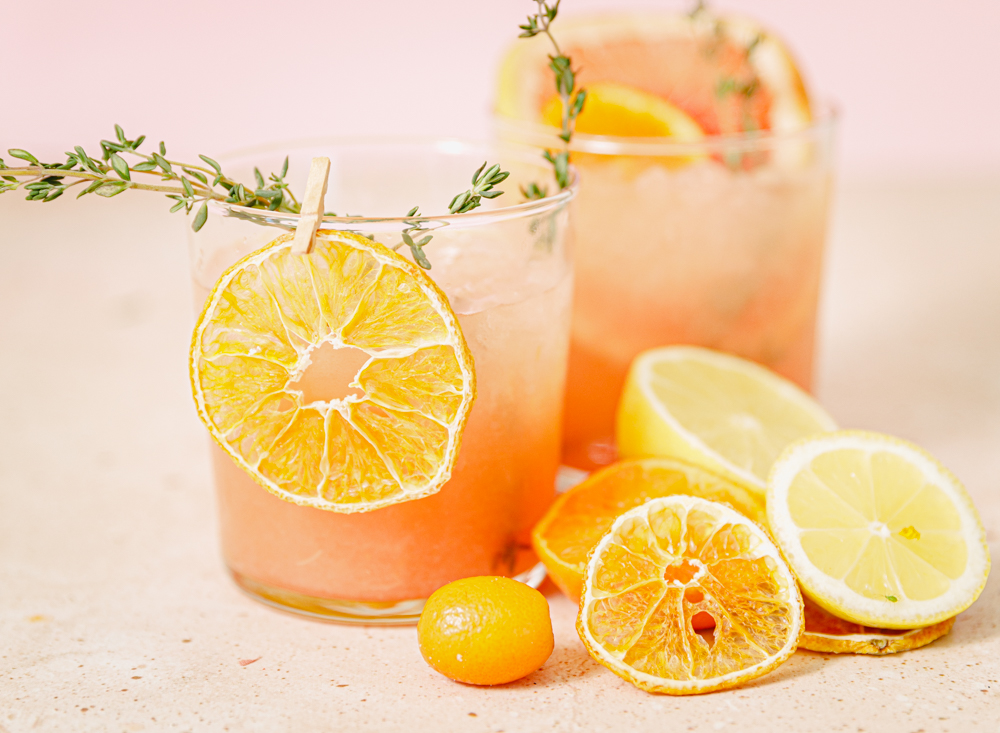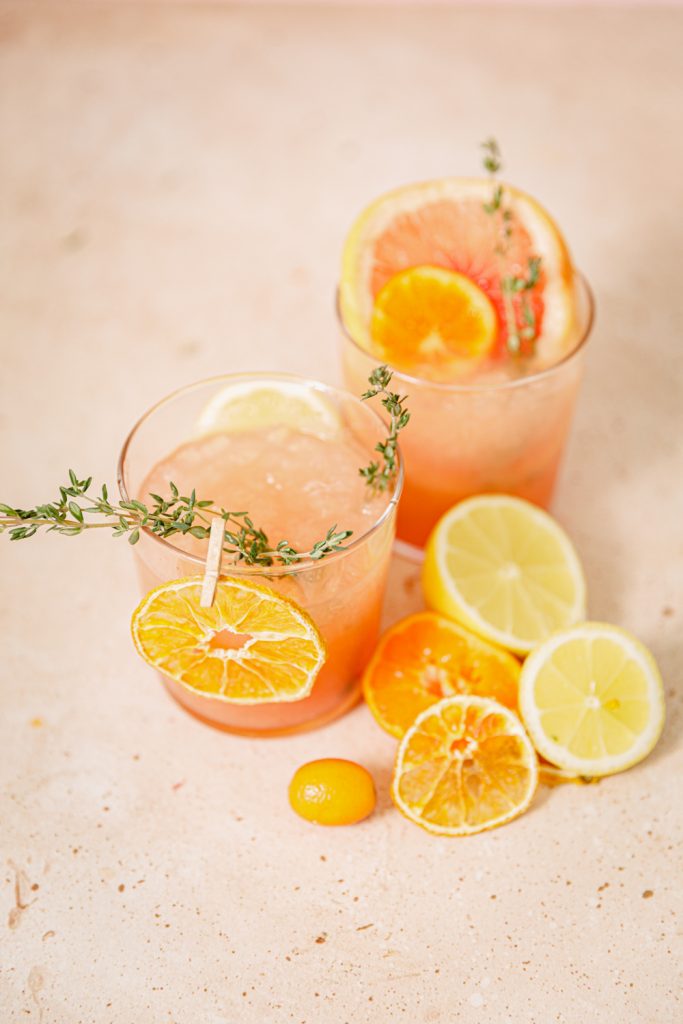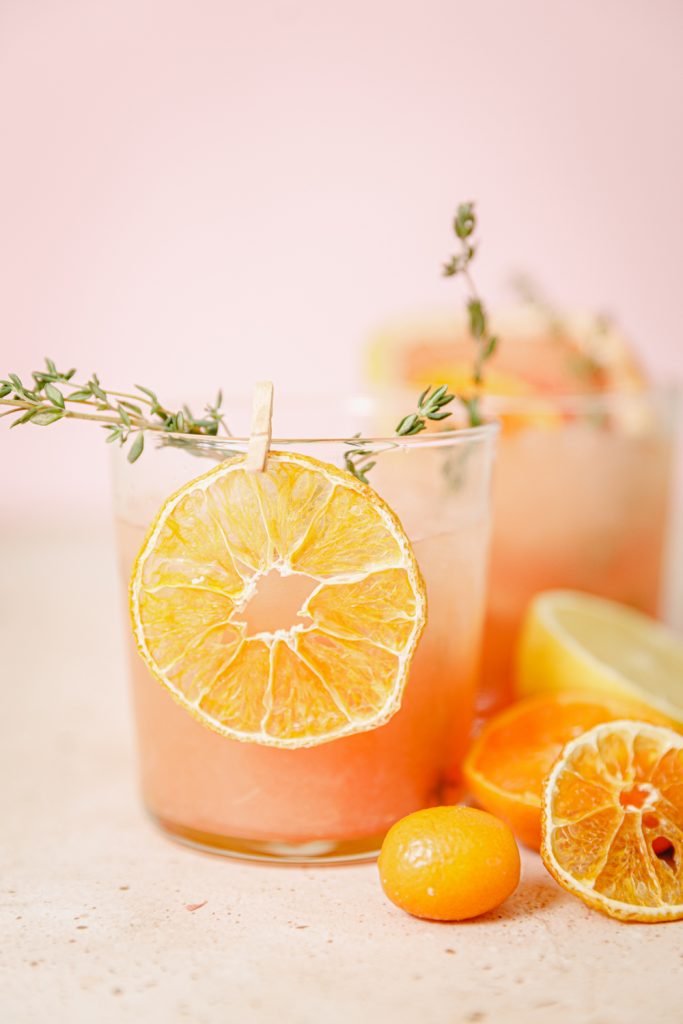 ---
B E I J O S B A R

xx
ABBY