This year's Valentine's Day content was so fun to create, I loved every post we did! But we couldn't let it go by without a true Galentine's Day party – Ladies only!! This year my inspiration came from French fries, yes you read that right! Le Fries before Guys!! Oui Oui, we are going a little bit French on this one mes amis!! Get ready, this one is le chic!!
Photos by the lovely Jessica Lynn Photo
Featured on 100LayerCake!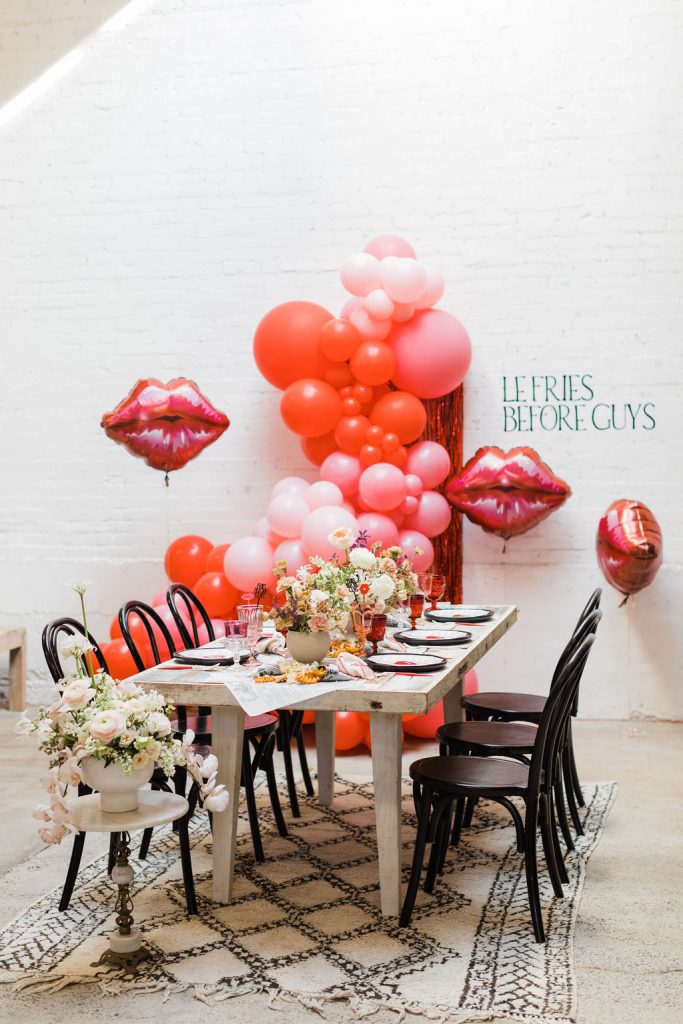 Always starting with an invite, you know how we roll! This one is oh so cute and all of these adorable details by David & Leanna are killing me!! We set it all out on cute newspaper and Jessica styled it oh so perfectly. Can't forget that pretty ribbon detail from Party Crush Studio. And as it says, we are celebrating friendship with French fries, is there any better way?!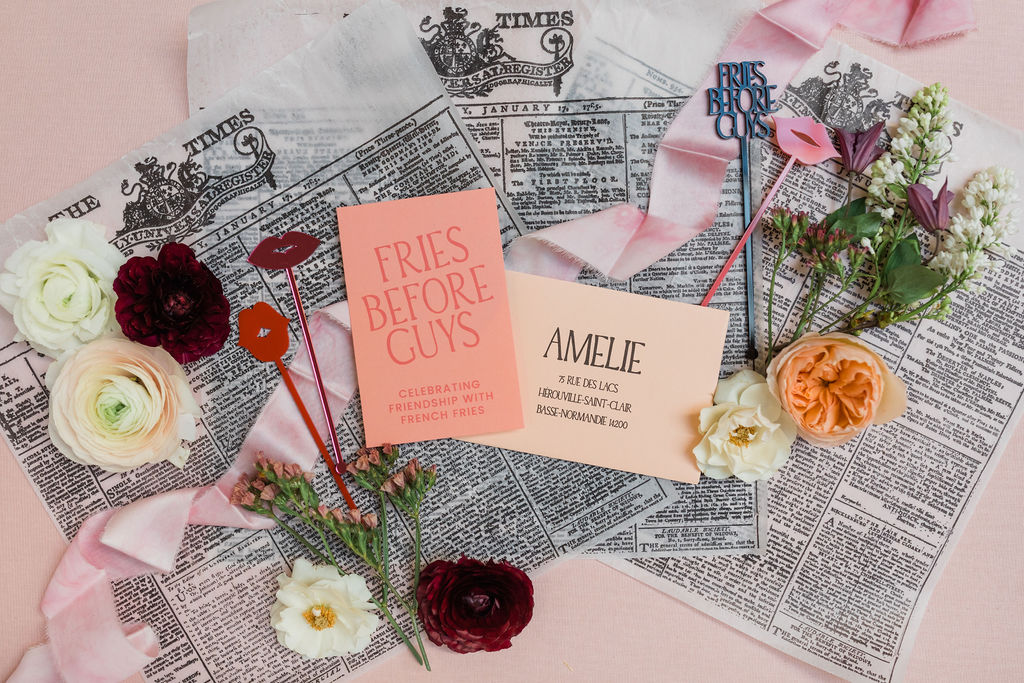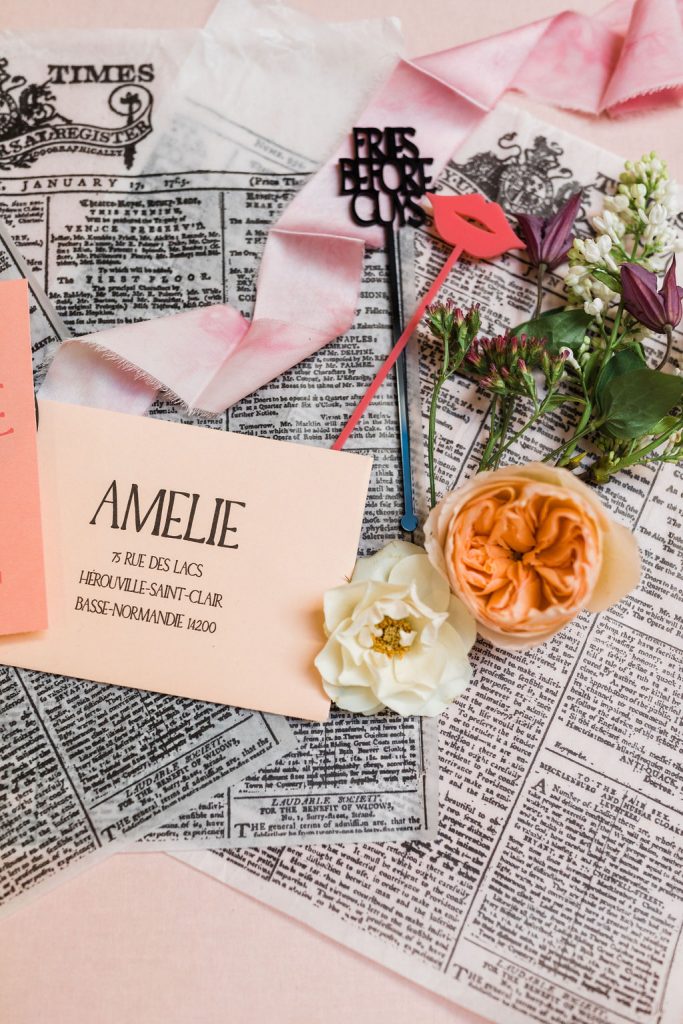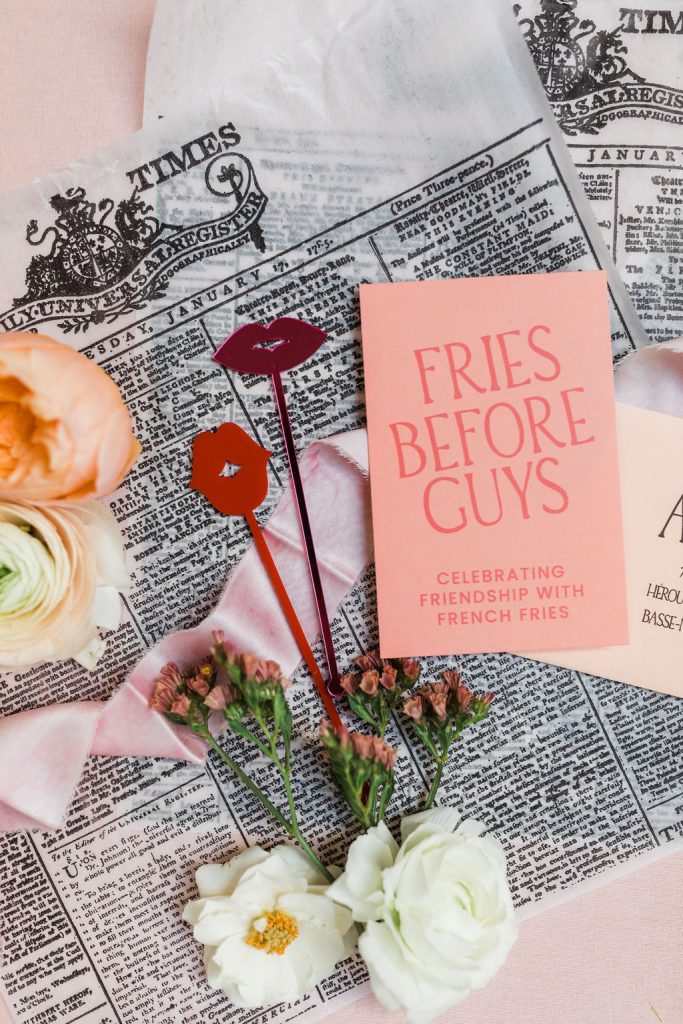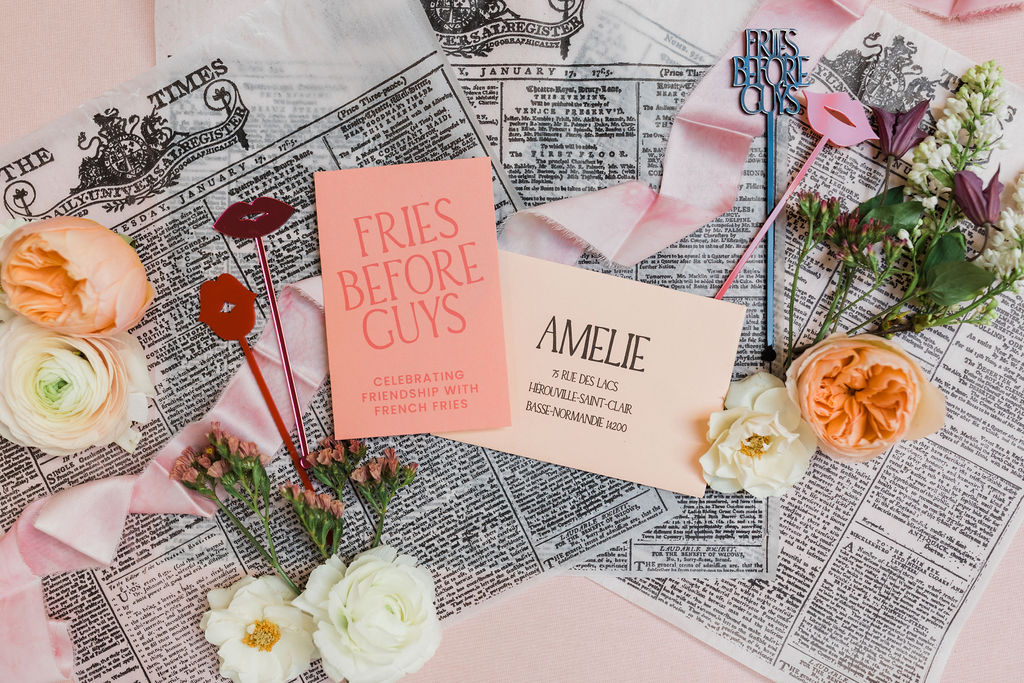 On to the party!! Our table was all dressed up and looking oh so pretty. I don't even know where to start there are so many cute elements!! Let's start with the amazing balloons by Ellen at The Pop Shop! She did the cutest install then we decided to add in the lips with helium, and I'm obsessed!
Next up, pretty rentals from Sweet Salvage Rentals. I love that white table and those black bistro chairs, they were perfect for our set up! Along with that pretty rug and our little bistro side table for our flowers. Speaking of flowers, The Lamb & Poppy did it again with her gorgeous floral arrangements. I can't get enough!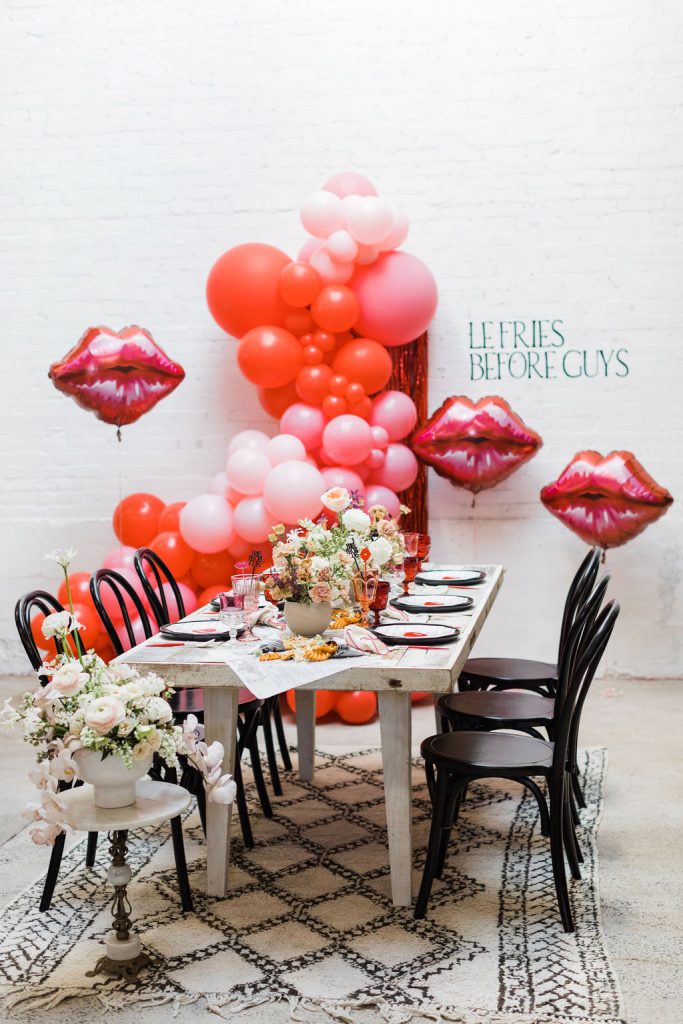 Our table was set with black plates and Daydream Society hot pink striped plates on top. The stripes were very French to me so I had to include them. Then we used Hostess Haven's cute napkins and Sophistiplate's Bella flatware, which we mixed and matched for something different! Lastly, Cherished Rentals red & pink glassware was a great pop to finish it off!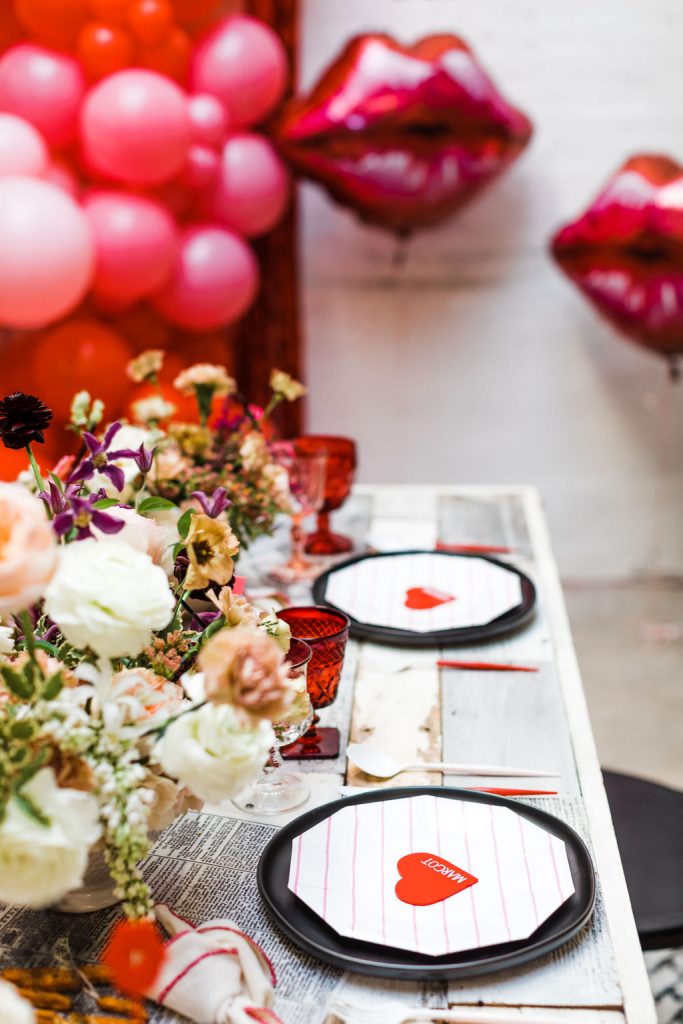 Those cutie heart place cards are by David & Leanna, love her!!!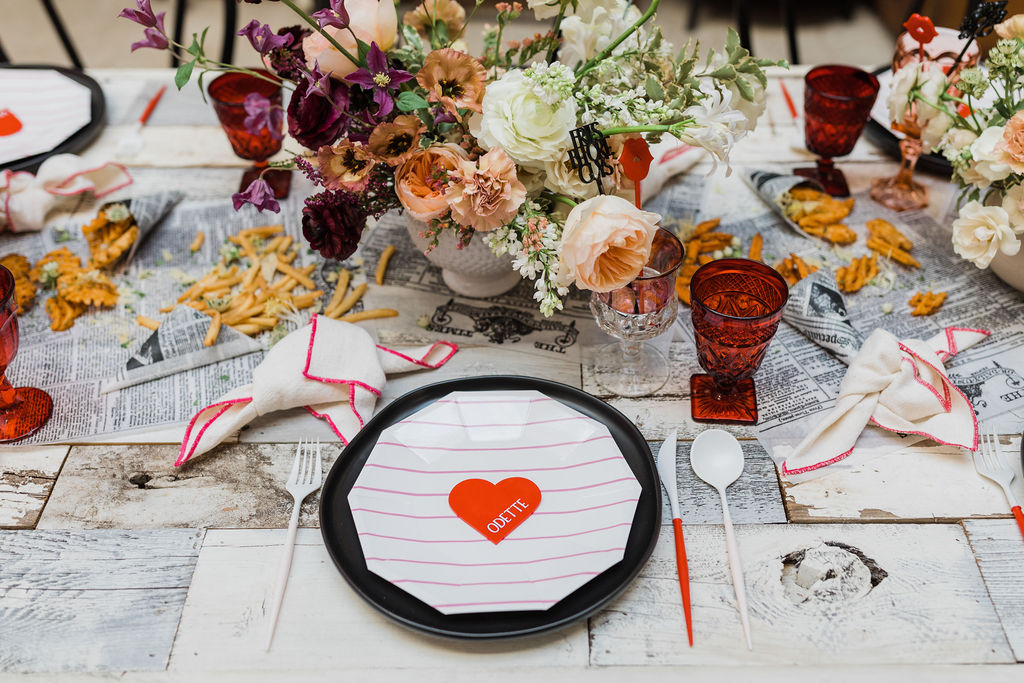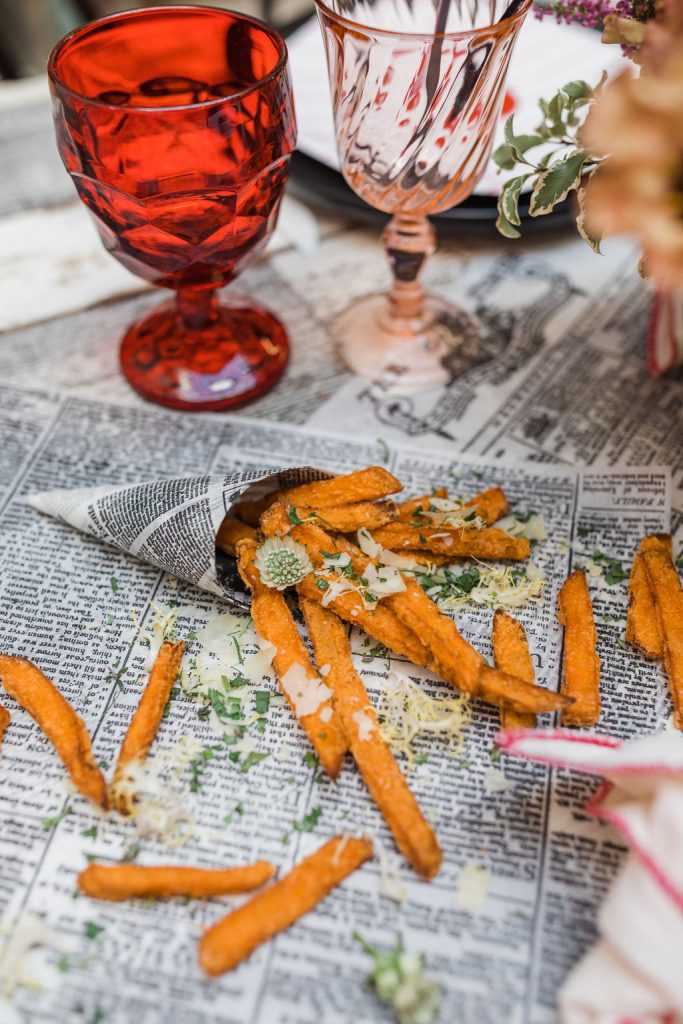 Again, my girl Leanna just killed it with ALL the details!! Every girl needs these!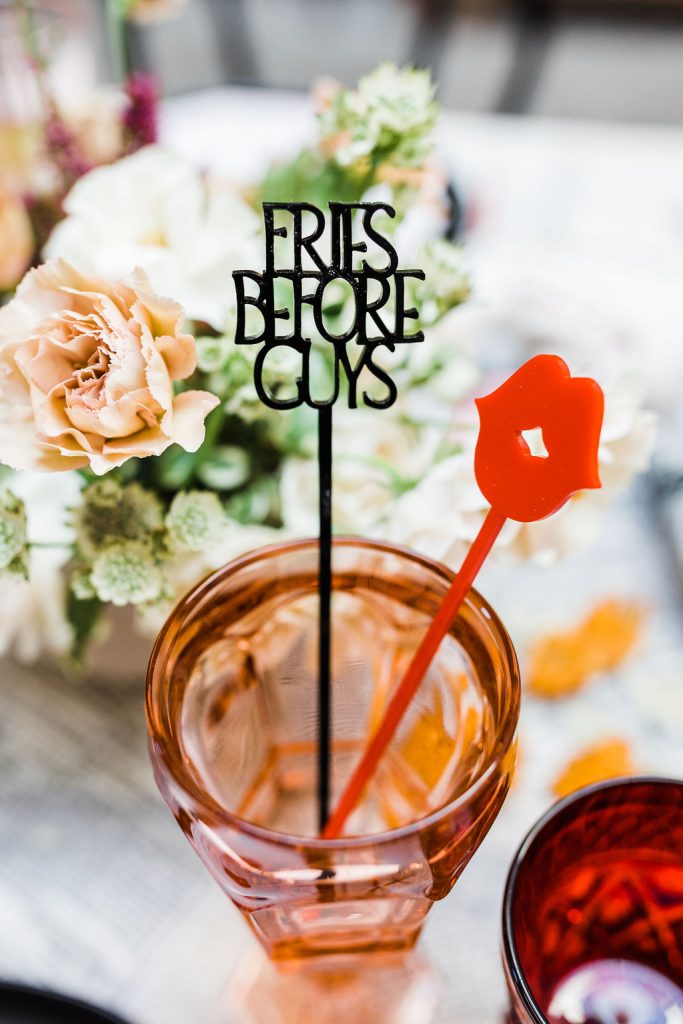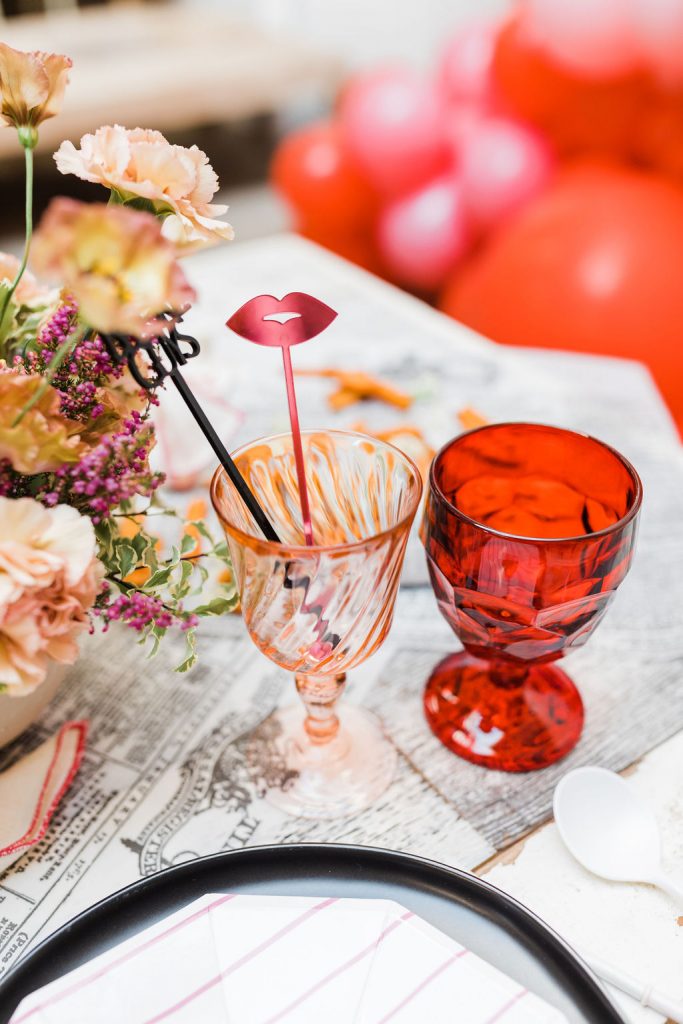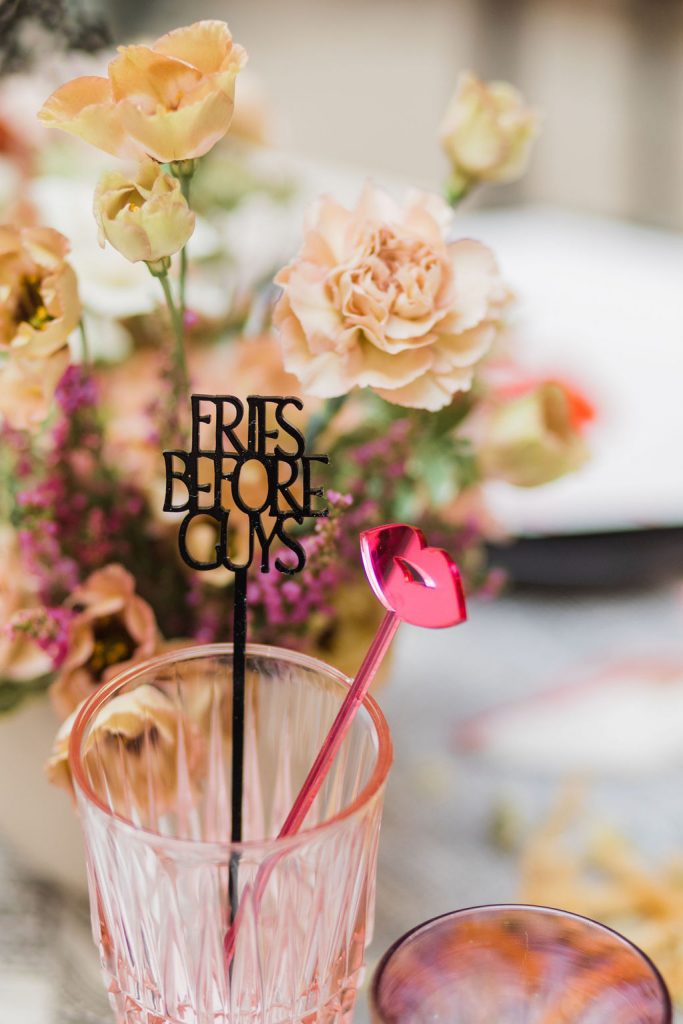 Our friends from Colette's Catering handled the fries, and boy did they! Classic, waffle, sweet potato, you name it we had it! We used our newspaper as a runner and laid them across the table. I like my fries salty, hot, and convenient!!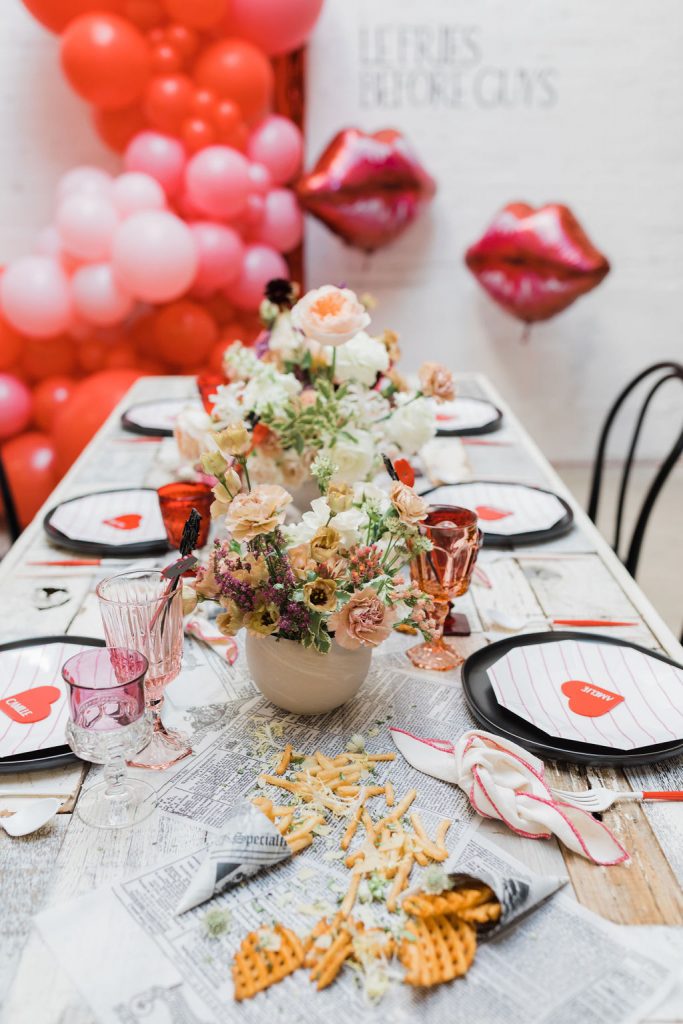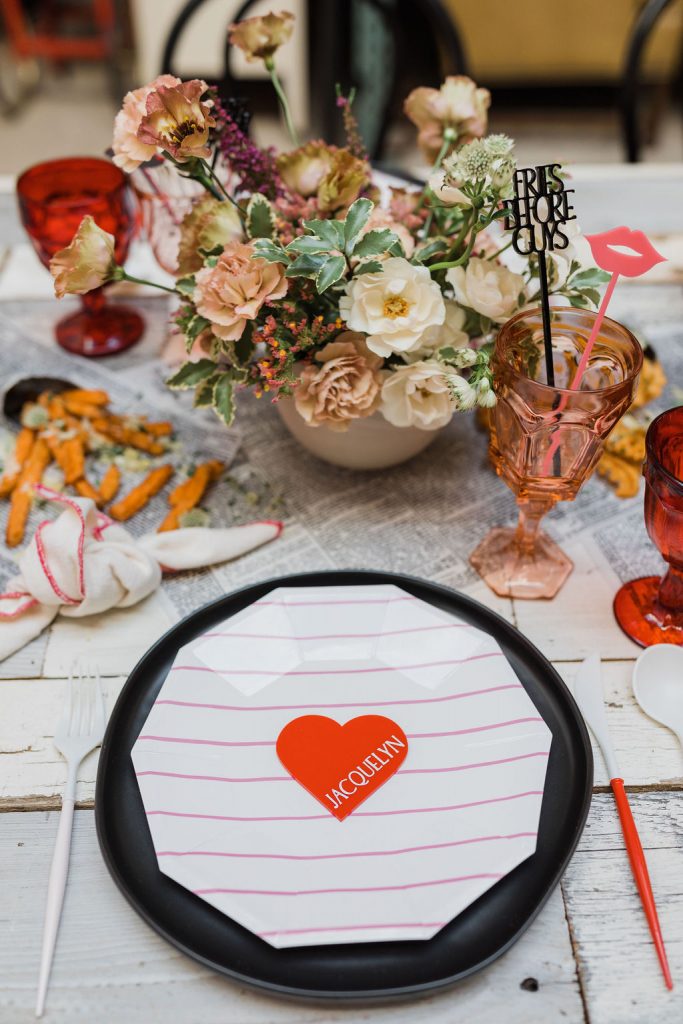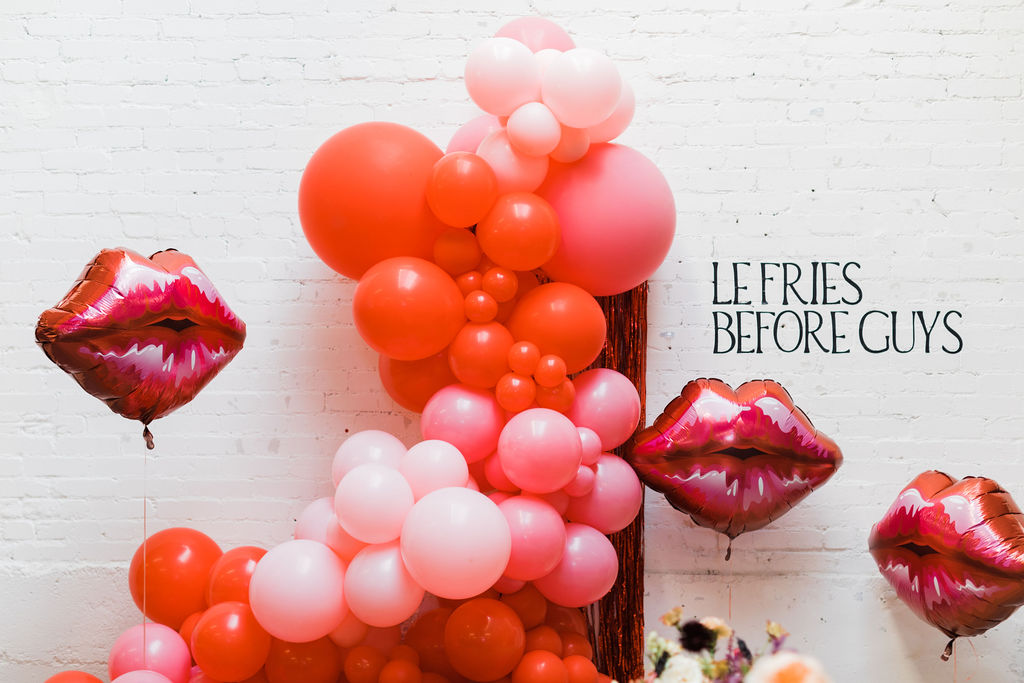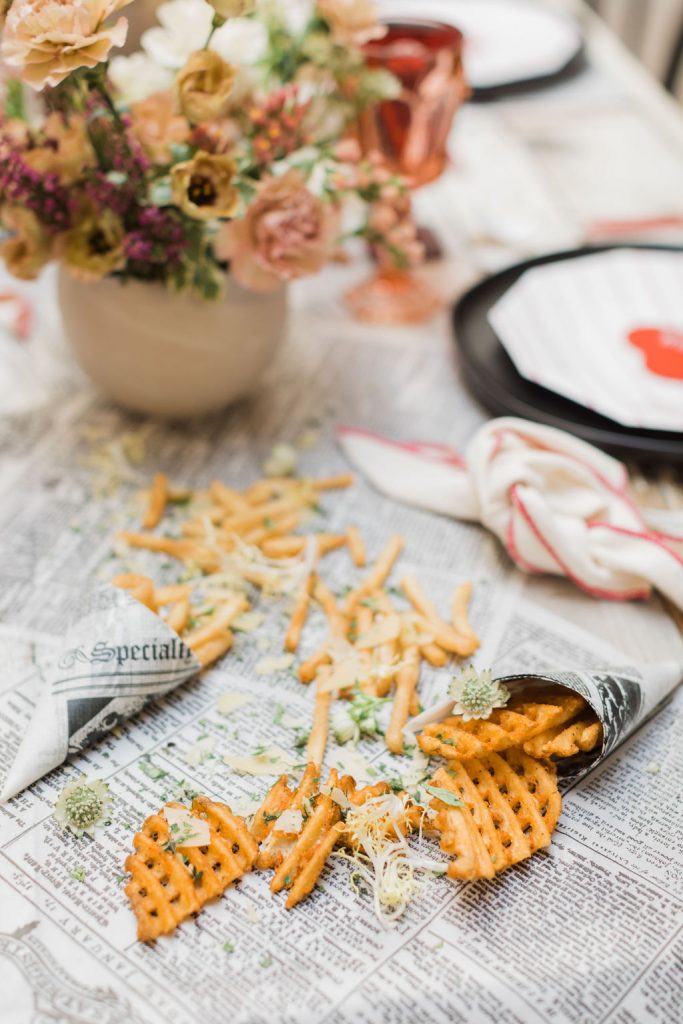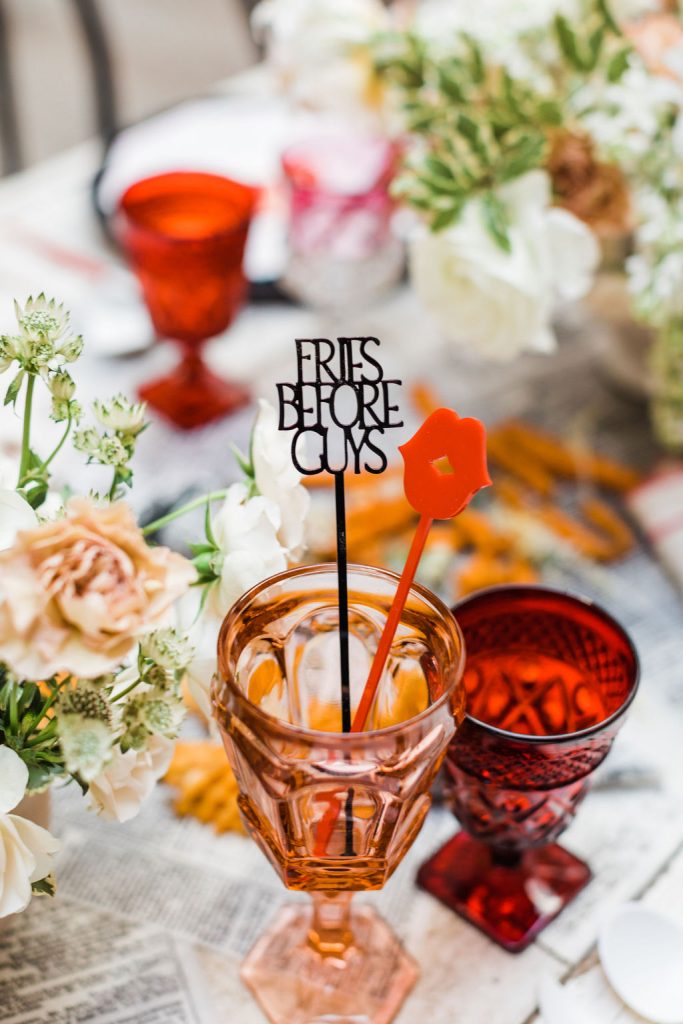 I can't get enough of these colors and this fun concept!! We all need a French fry party!!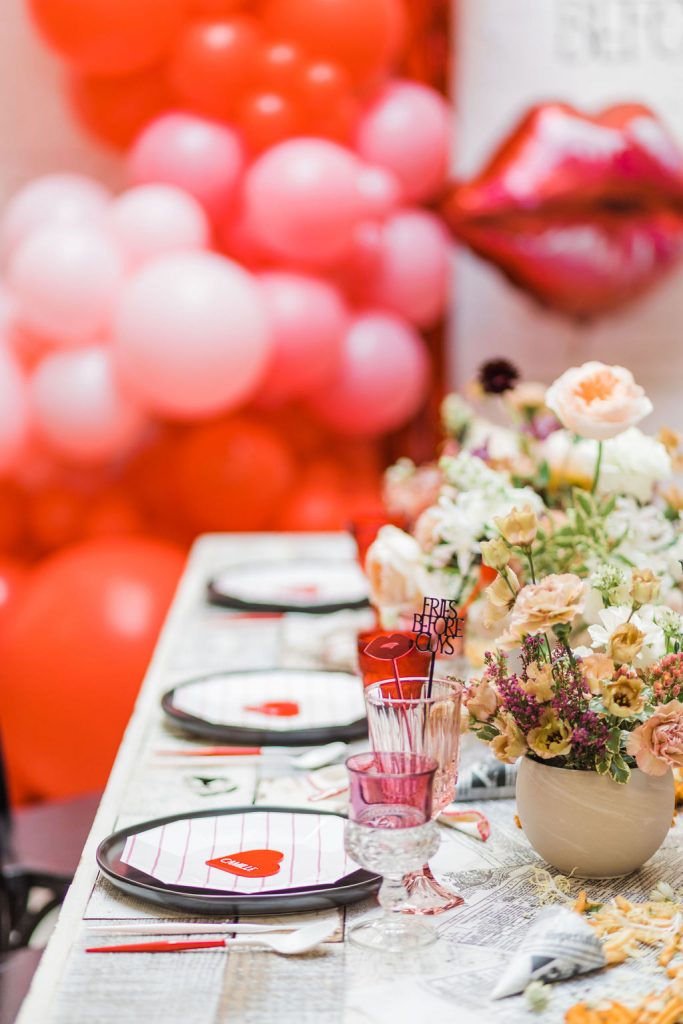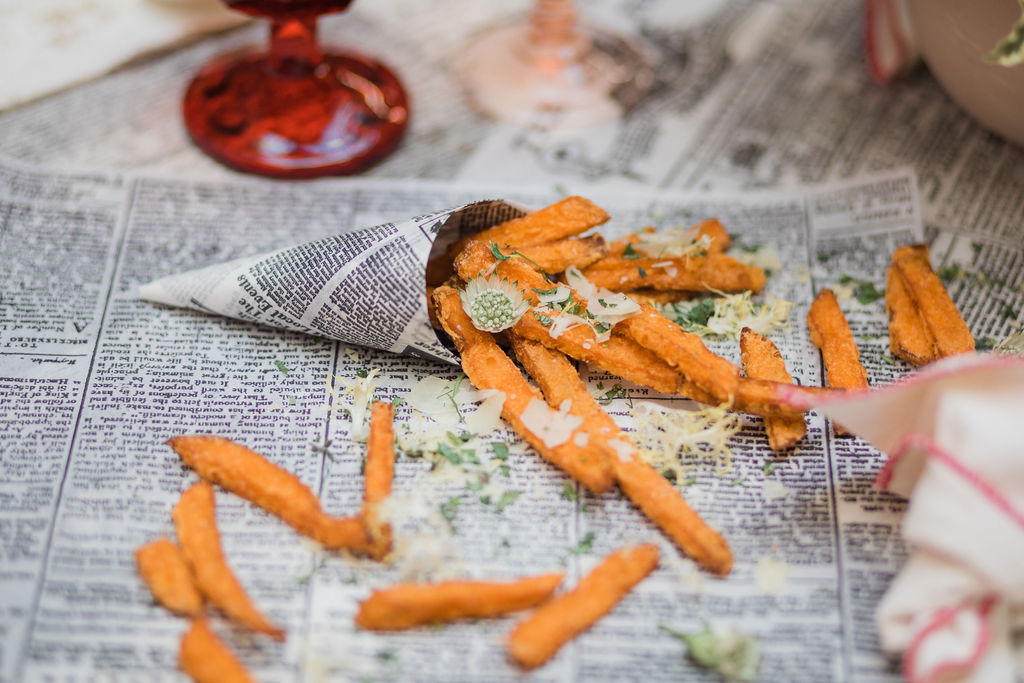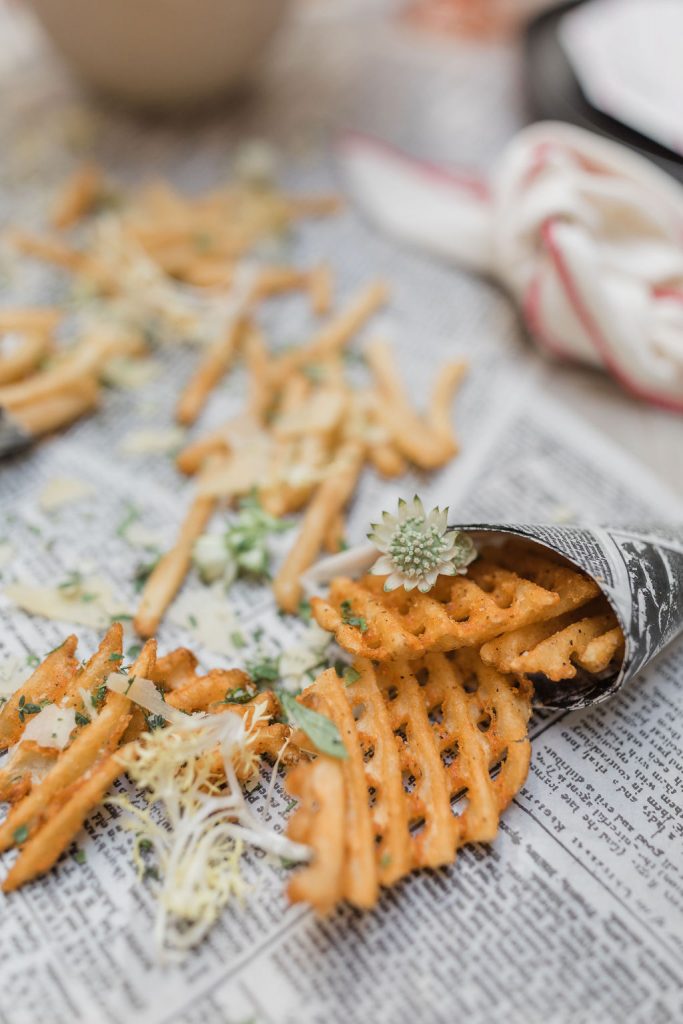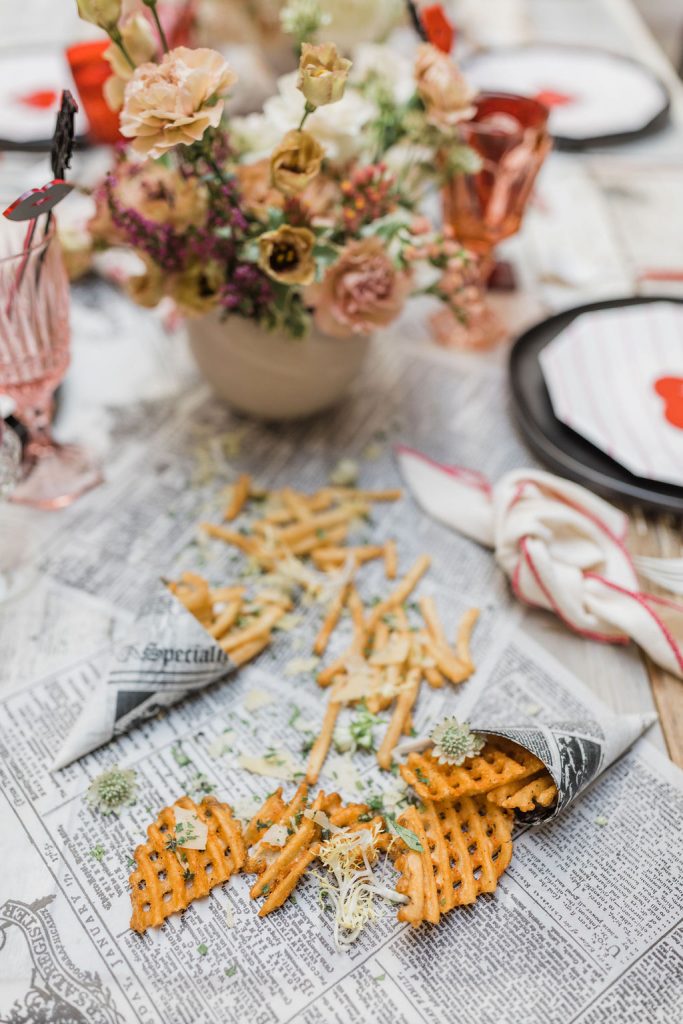 The Lamb & Poppy is just SO good! I love the different textures and colors in her arrangements.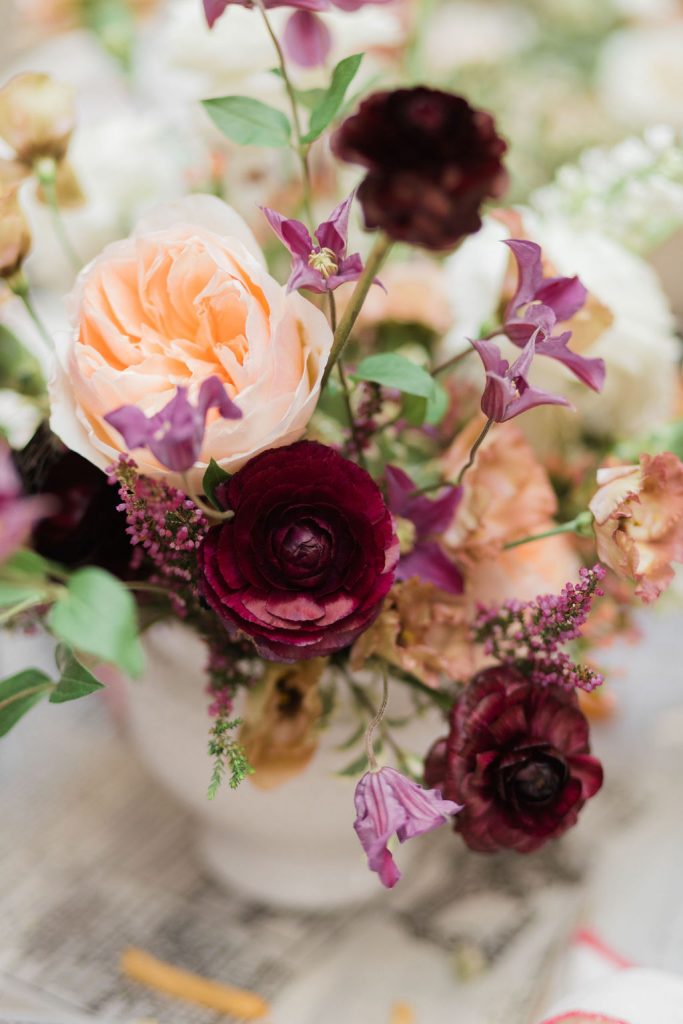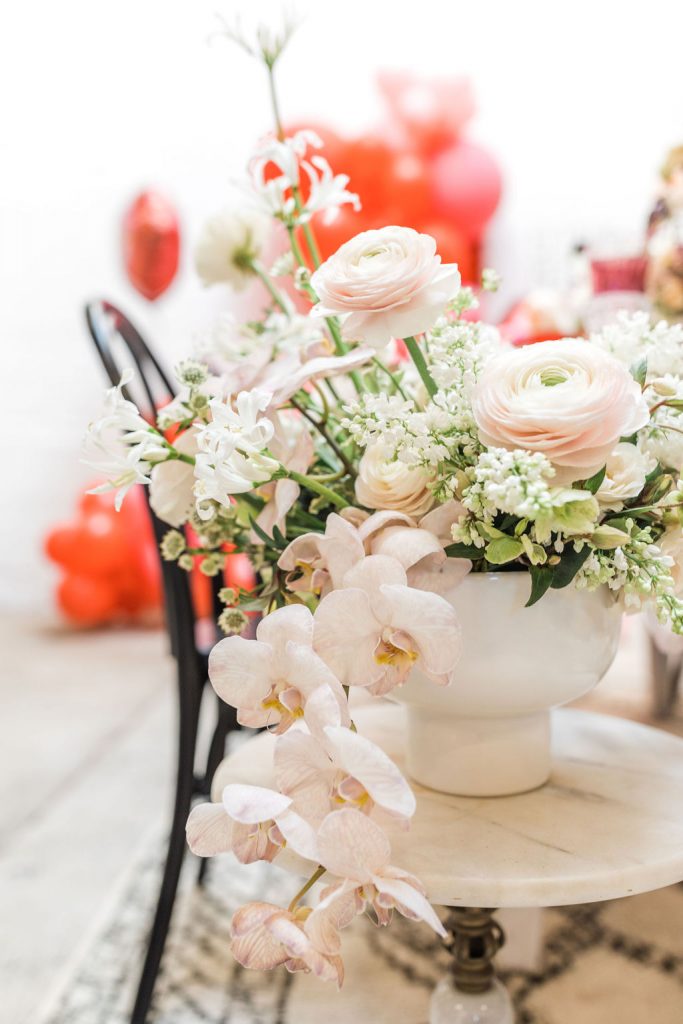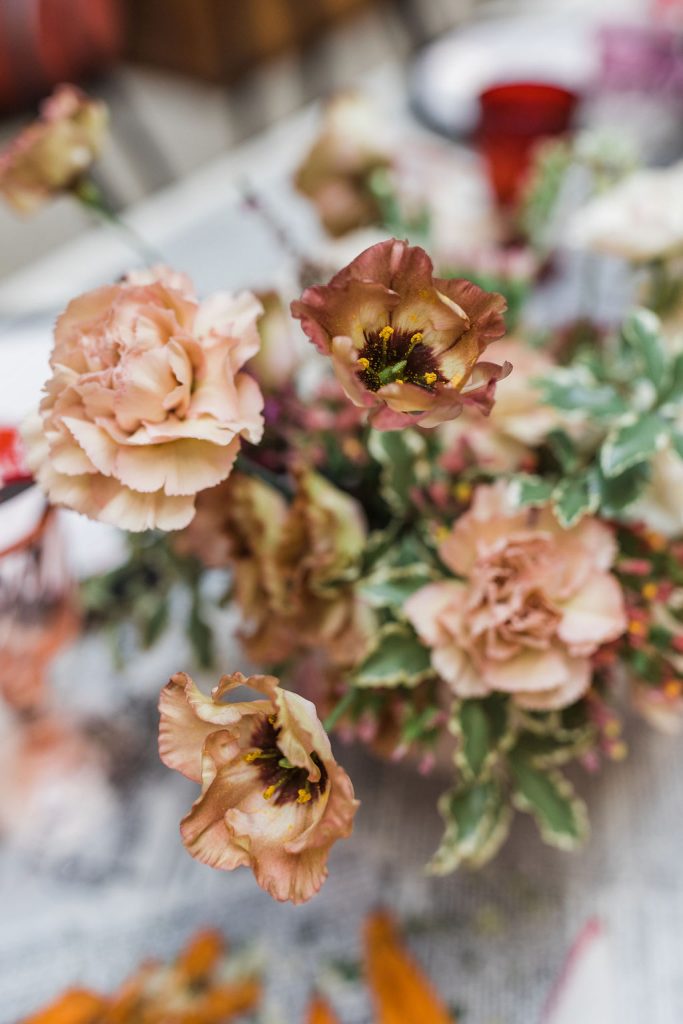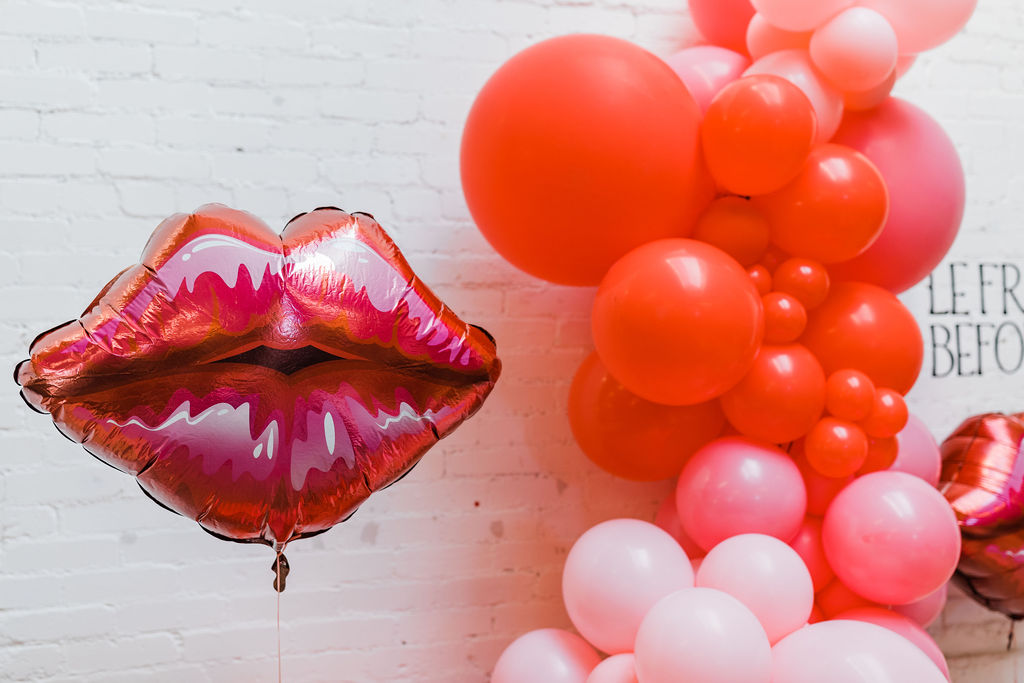 These overhead shots are always a favorite! And did you notice Leanna and I chose French names for the place cards?! Haha, always trying to get all the details just right!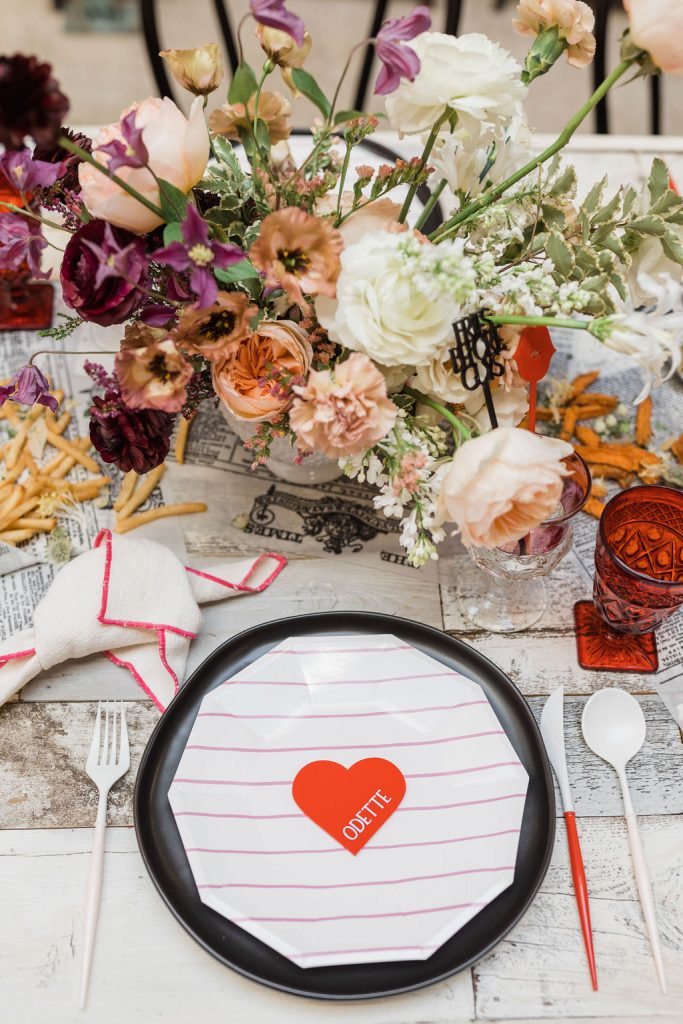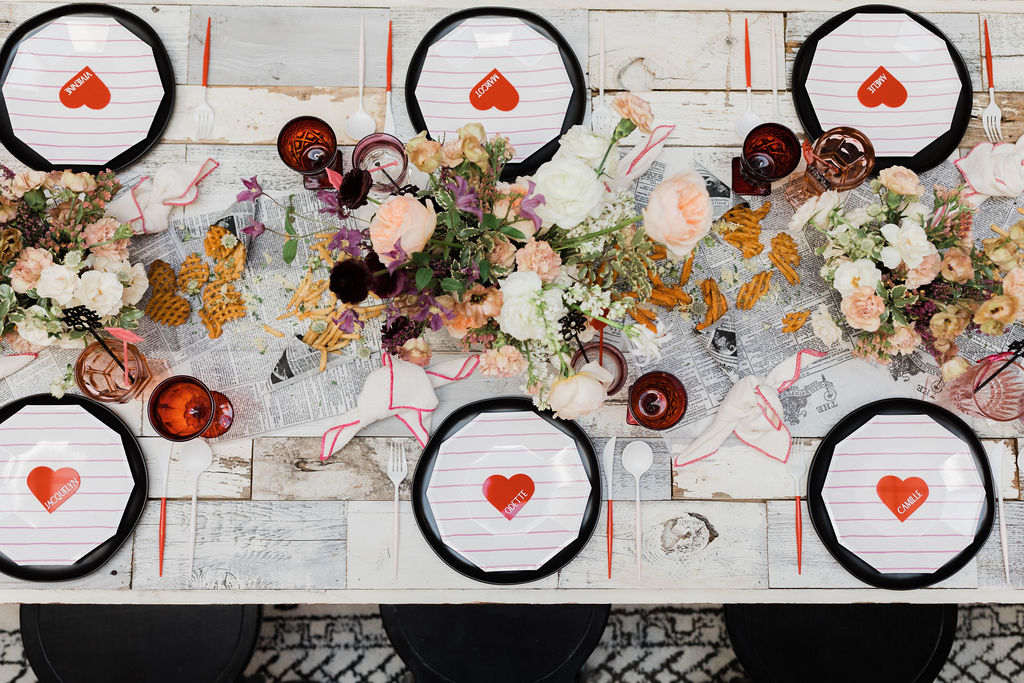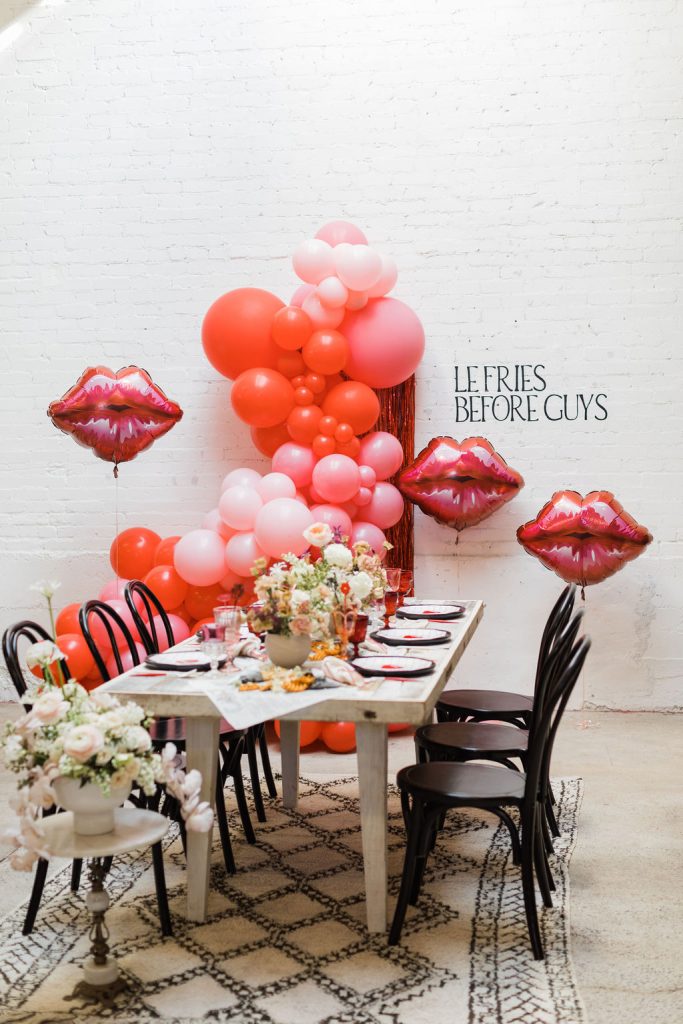 Moving on to the bar and the French fry bar! Because truly, you need both!! Colette's Catering did it again with all the fries and all the dips. Bottles & Blooms brought the delicious cocktails, and you know we have the recipes for ya! First, can we talk about how adorable that vintage dresser is as a bar from Sweet Salvage Rentals? Love it!!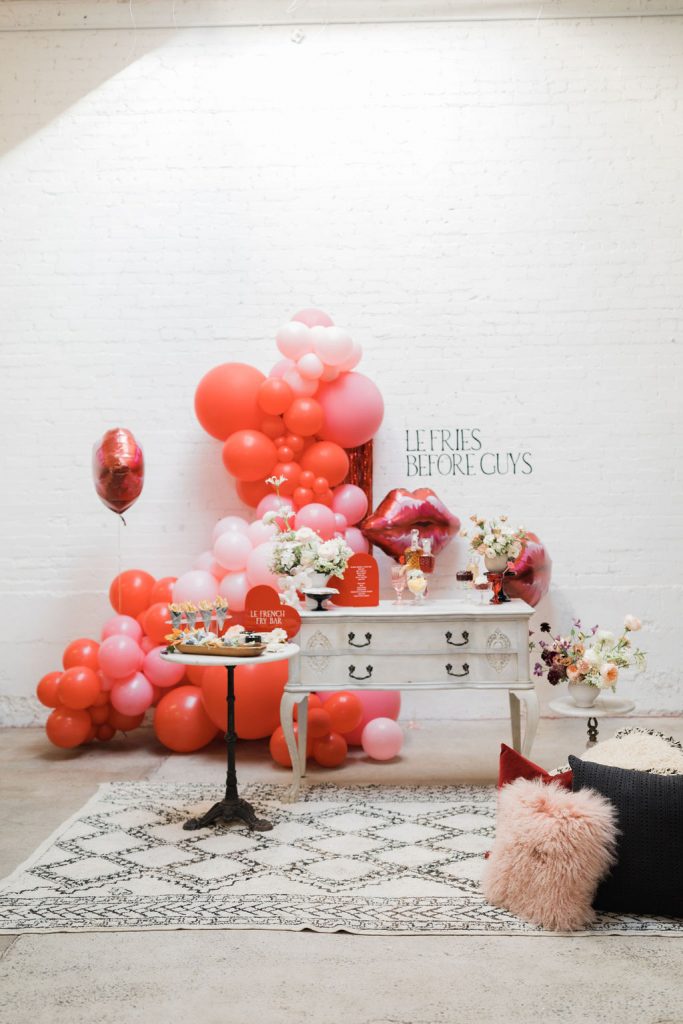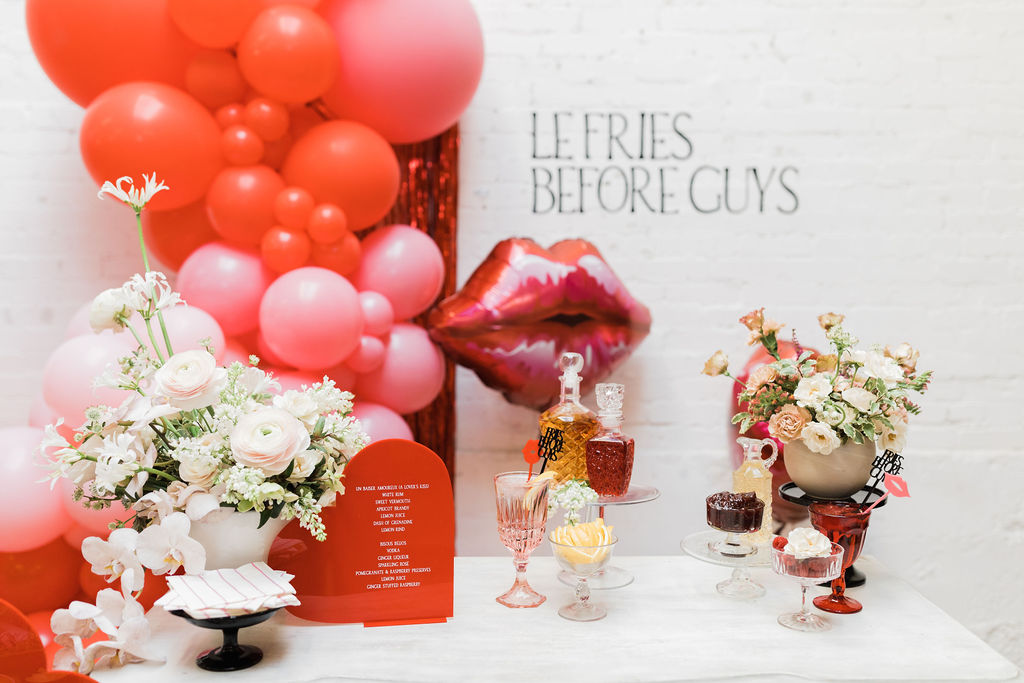 Loving the heart bar signage from David & Leanna along with those pretty blooms by The Lamb & Poppy.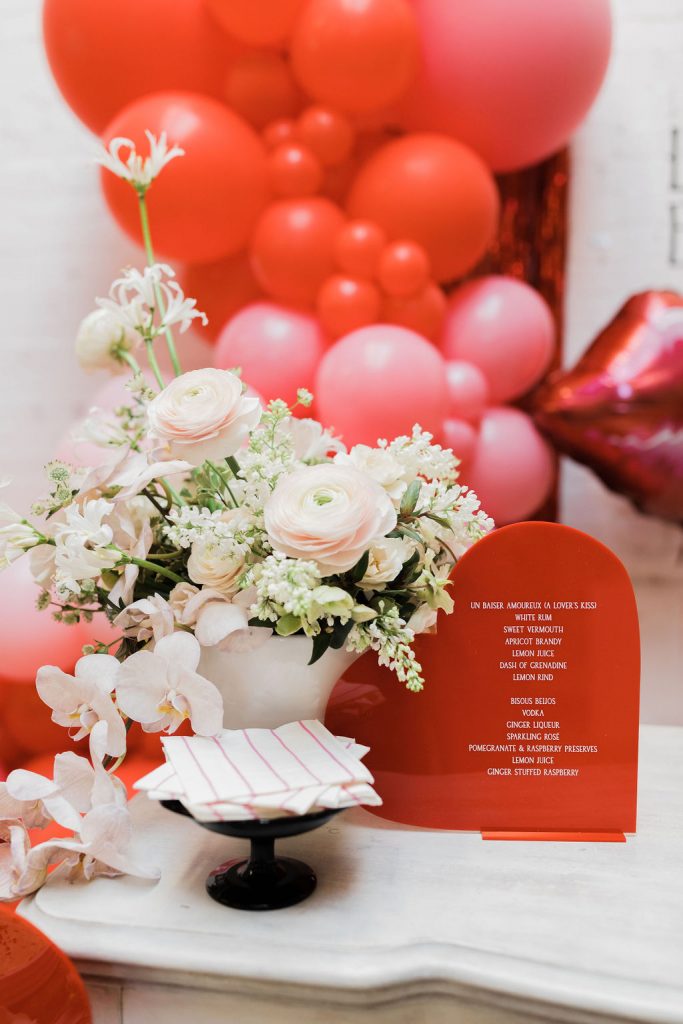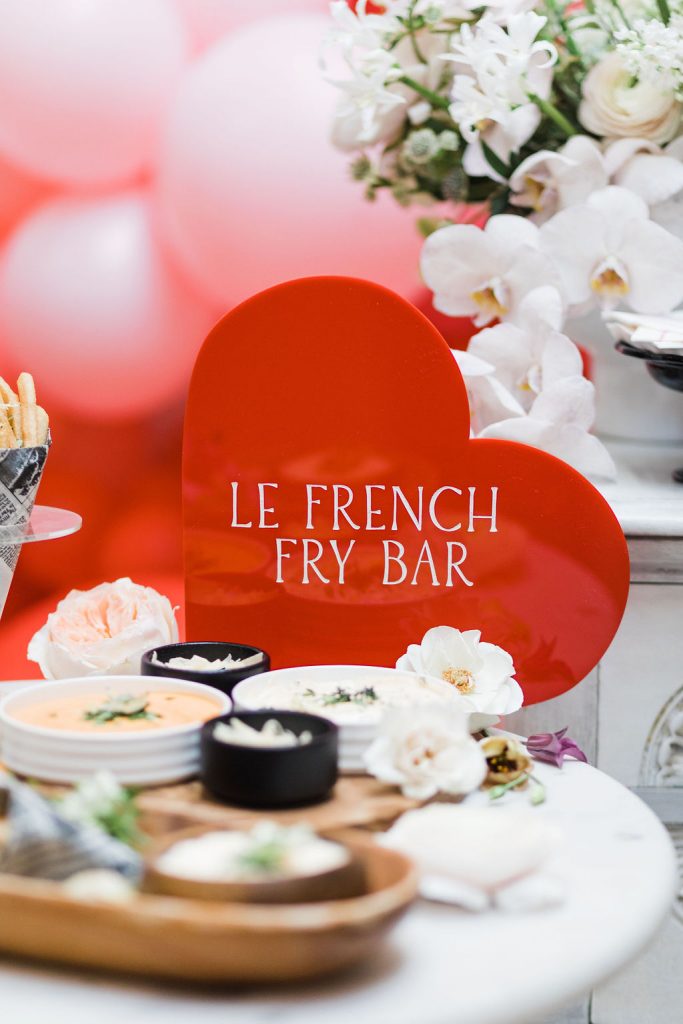 The French Fry set up couldn't have been cuter from Colette's Catering! I love how they had them in cones with the acrylic stands, so fun, right?! And the dips – you know if you have fries you need the dips!! They just make it!!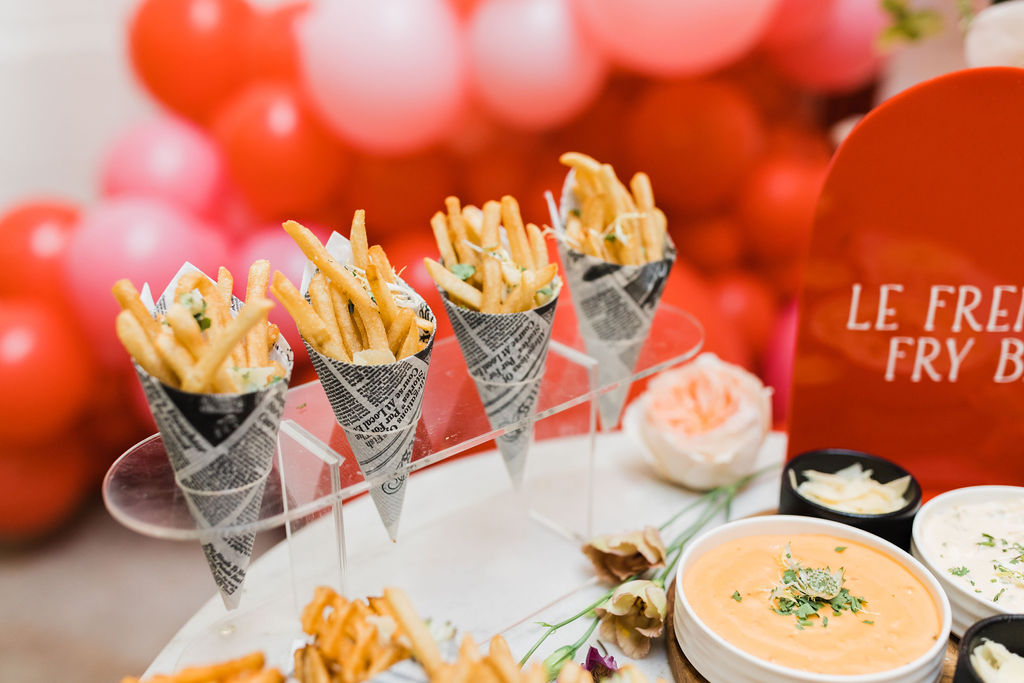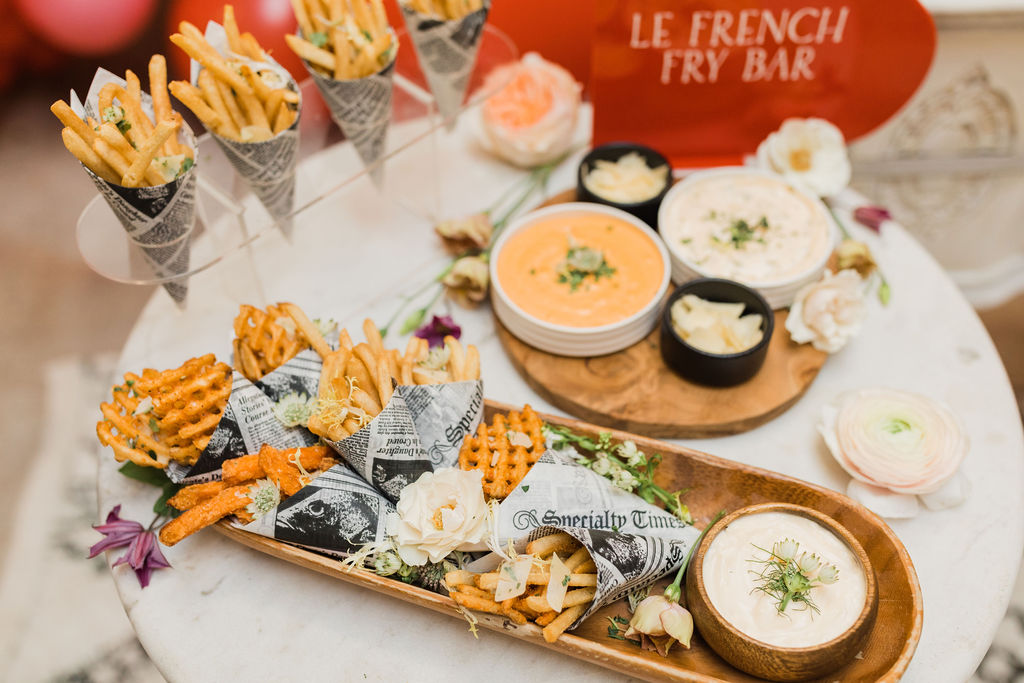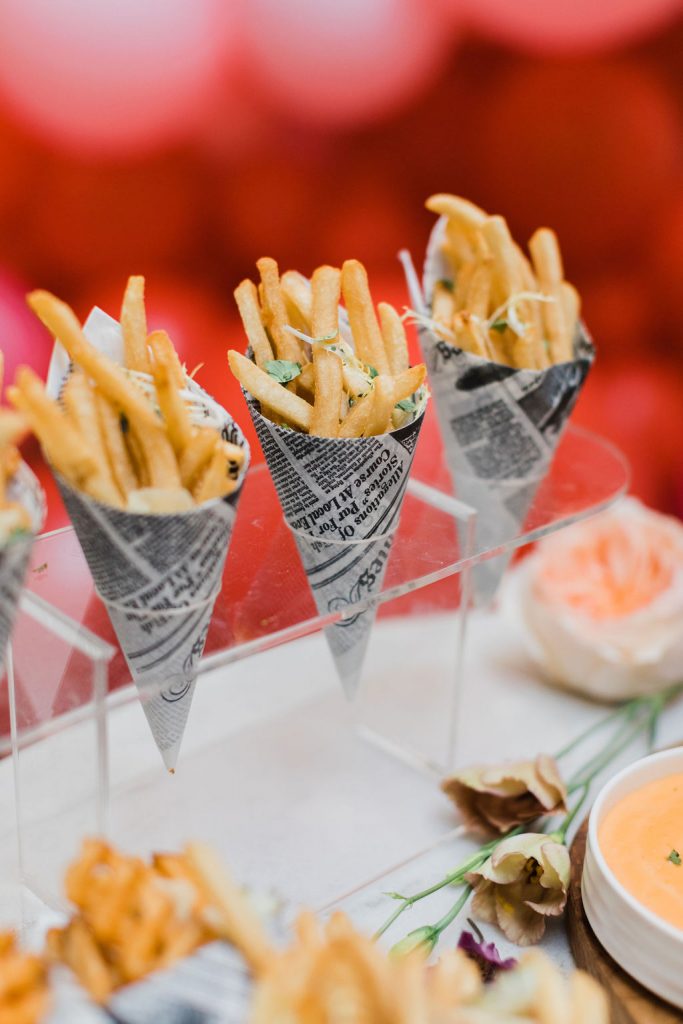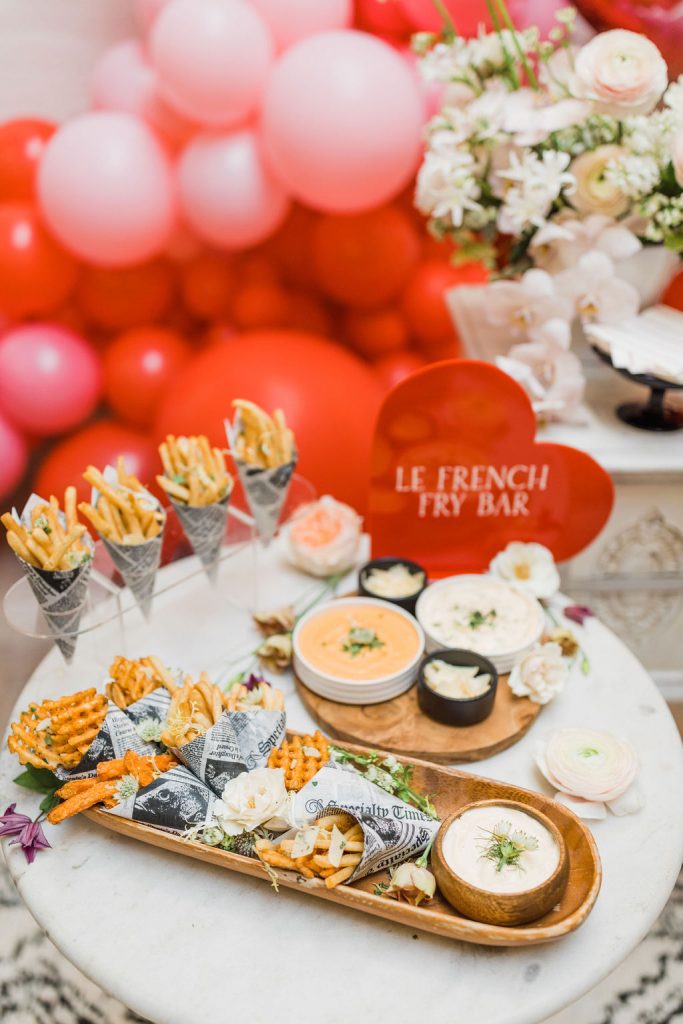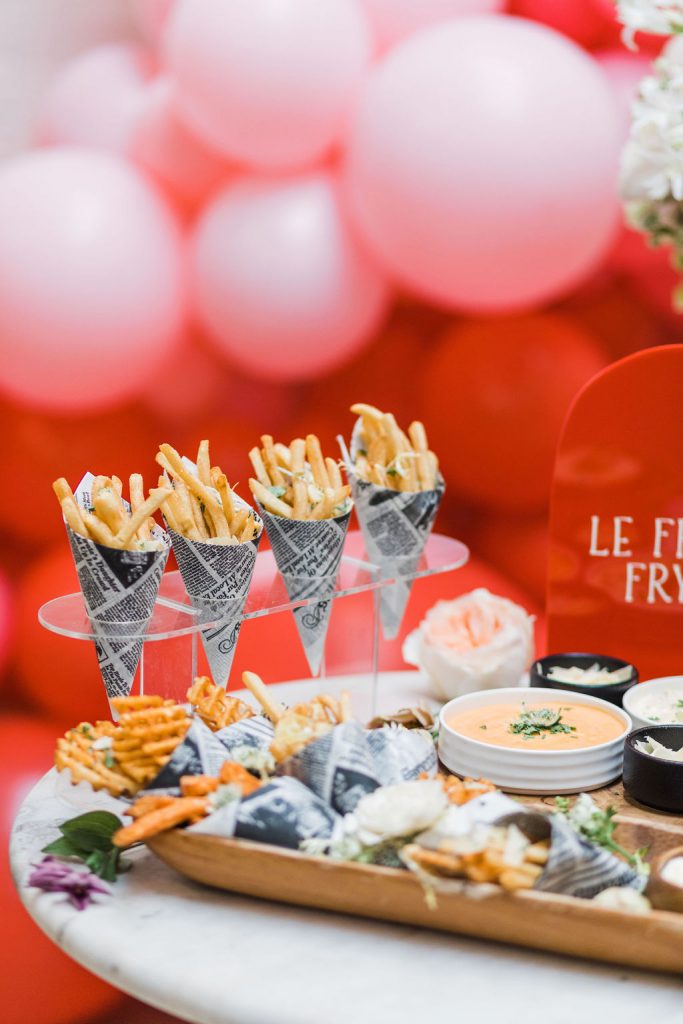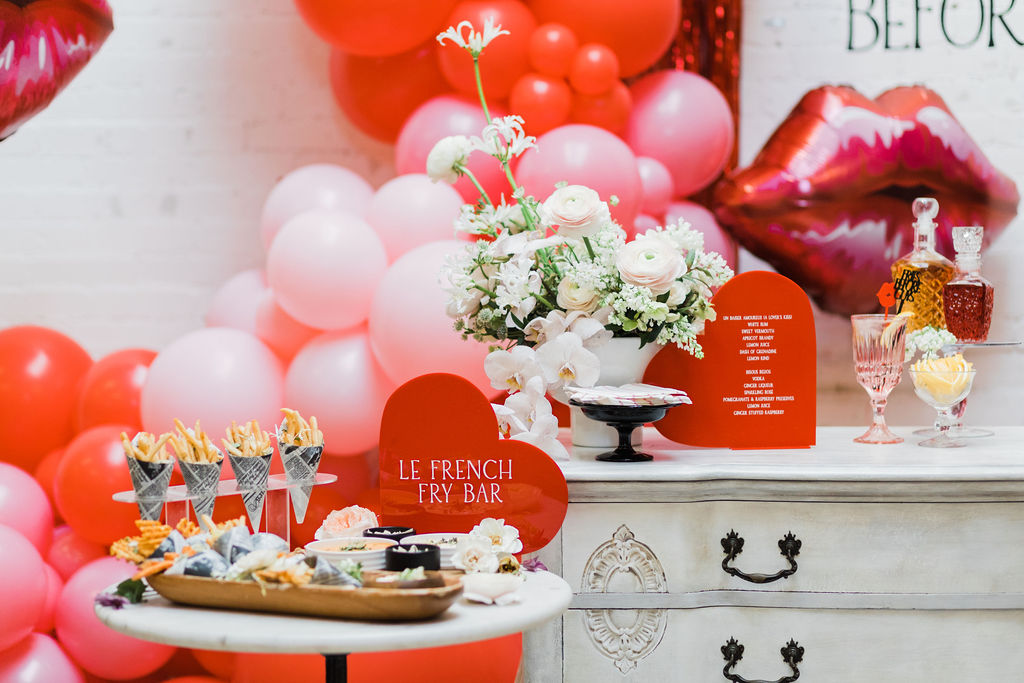 I haven't even touched on the vinyl wall sign by David & Leanna! I'm all about the wall signs, I just think they are so fun and set the tone!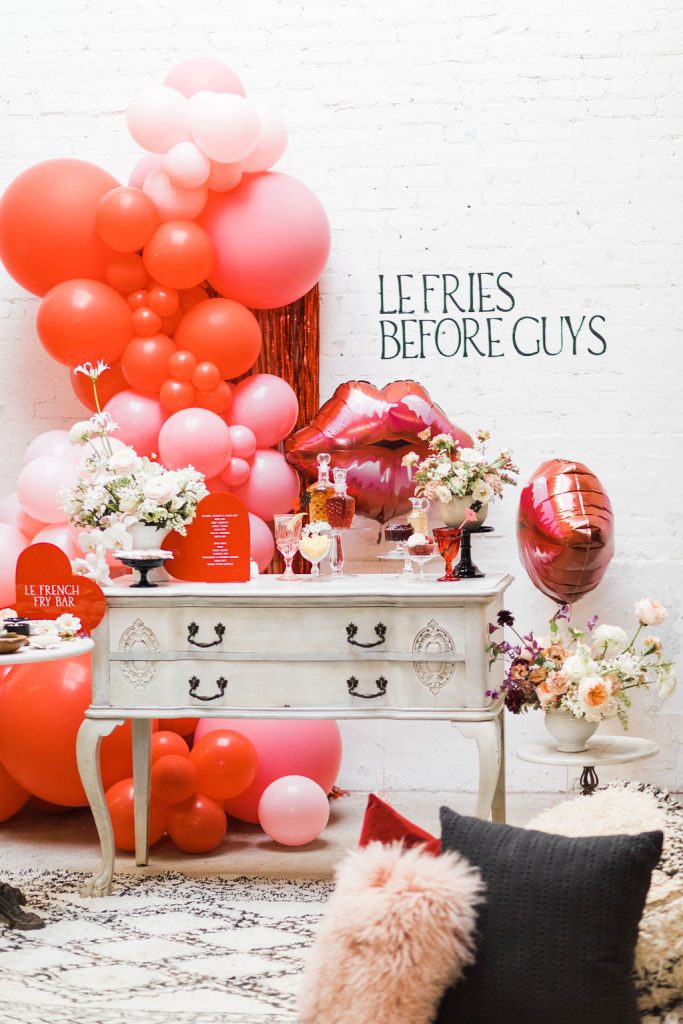 Time for our cocktail recipes from Bottles & Blooms!!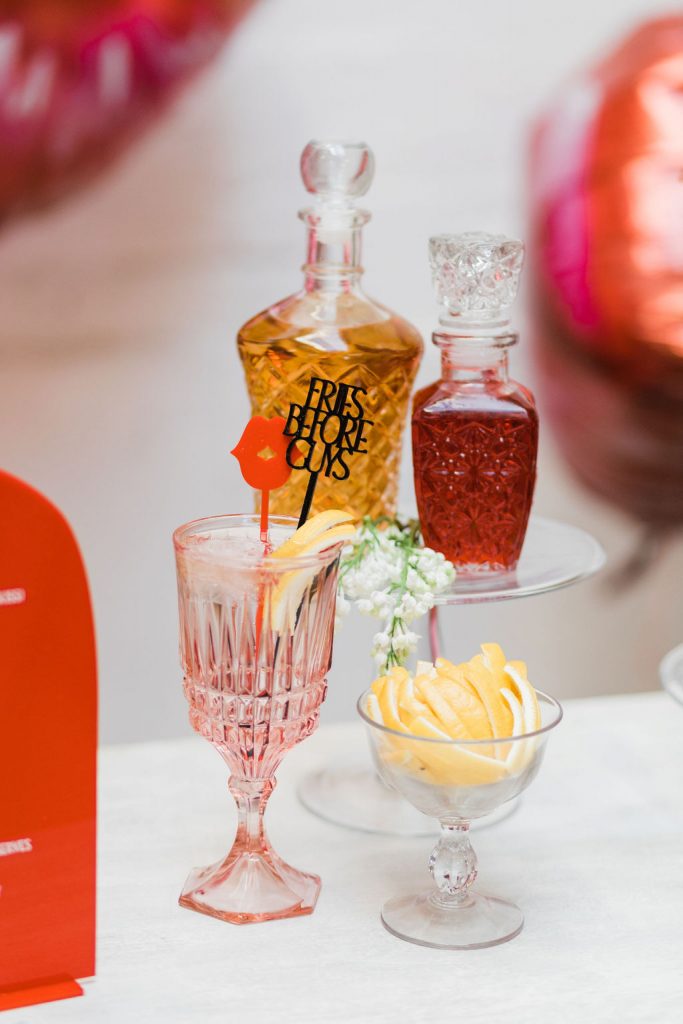 Un Baiser Amoureux – A Lover's Kiss
Served in a glass over ice
In a shaker with ice add:
1.5oz White Rum
.5oz Sweet Vermouth
1oz Apricot Brandy
.5oz Lemon Juice
.5oz Grenadine
Shake till combined.
Pour contents into glass.
Garnish with Lemon Rind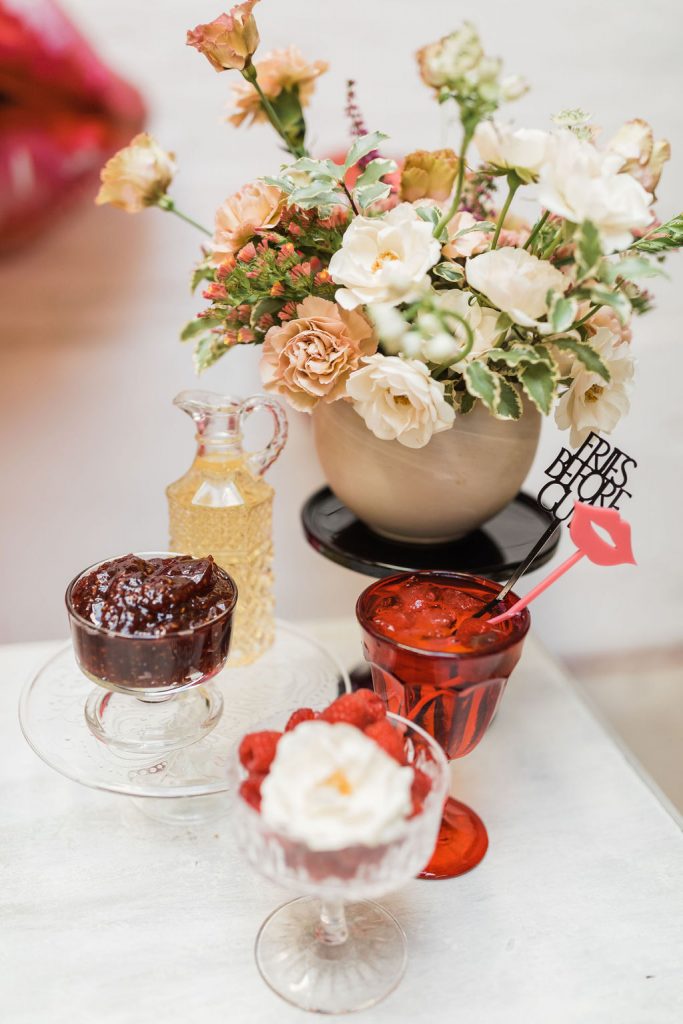 Bisous Beijos
Served up in a coupe
In a shaker with ice add:
1.5oz Vodka
1oz Ginger Liqueur
1oz Pomegranate & Raspberry Preserves
1oz Lemon Juice
Shake till combined.
Strain in to coupe.
Top with 2oz Sparkling Rosé.
Garnish with a candied ginger stuffed raspberry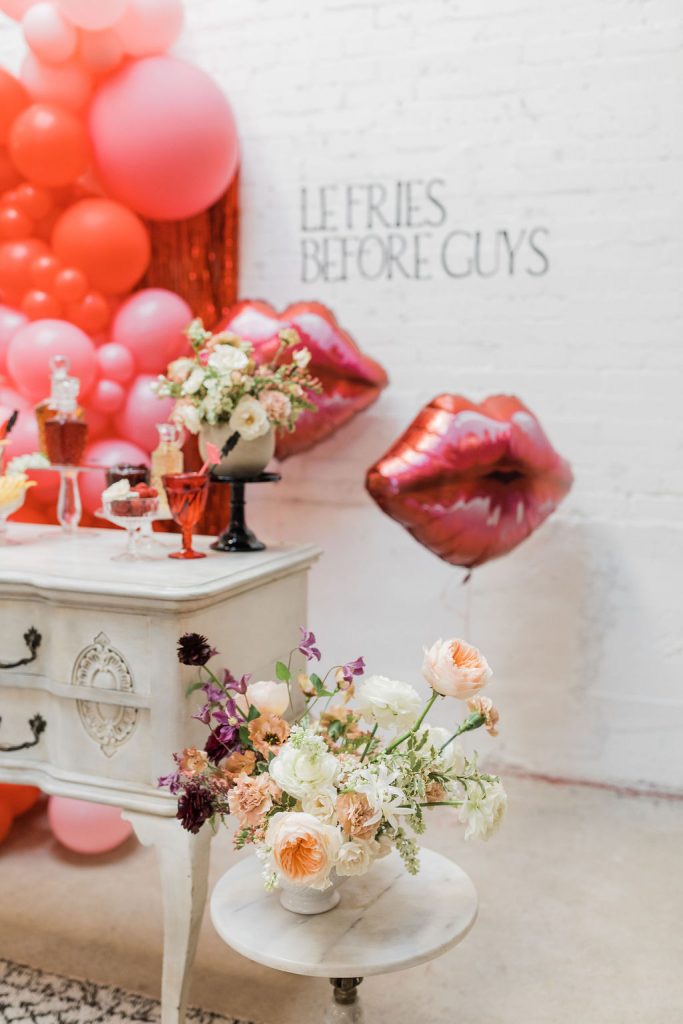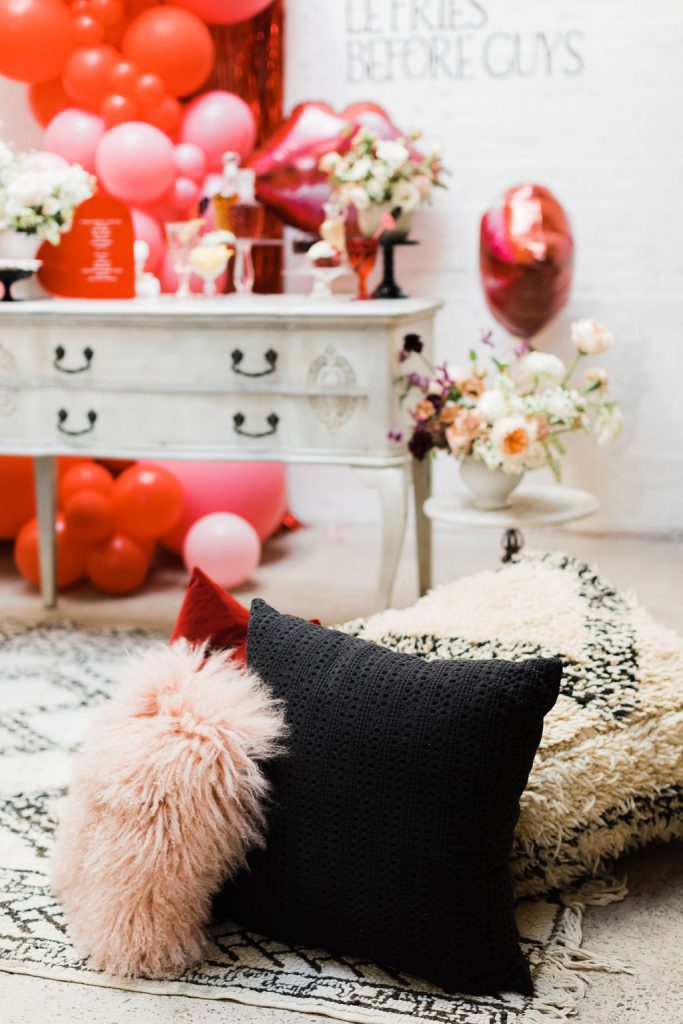 Cocktails and French fries, sounds pretty perfect to me!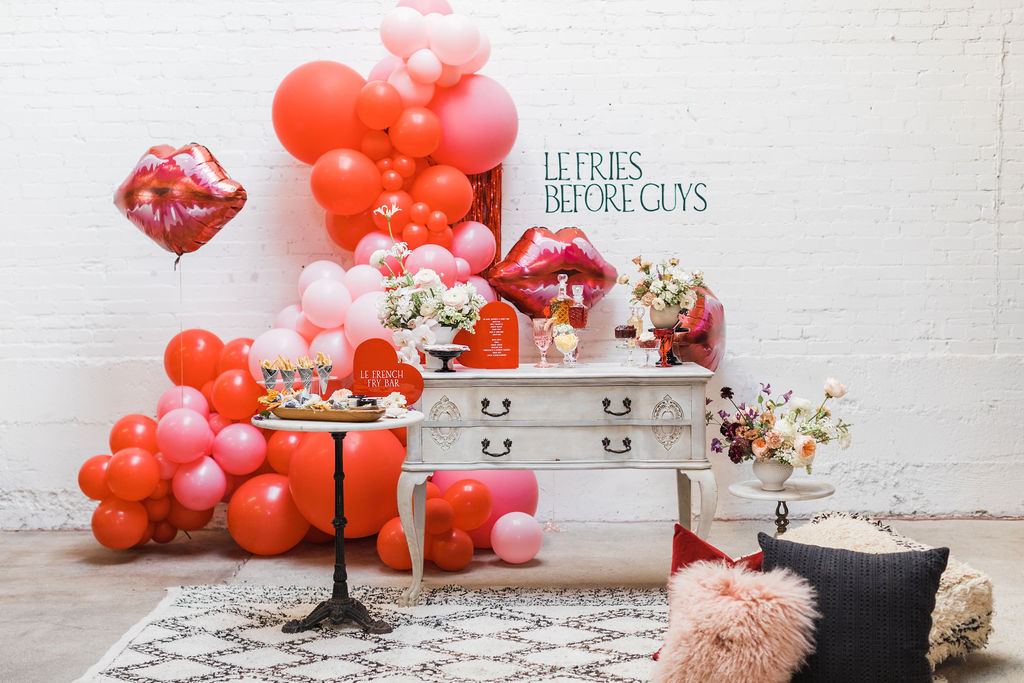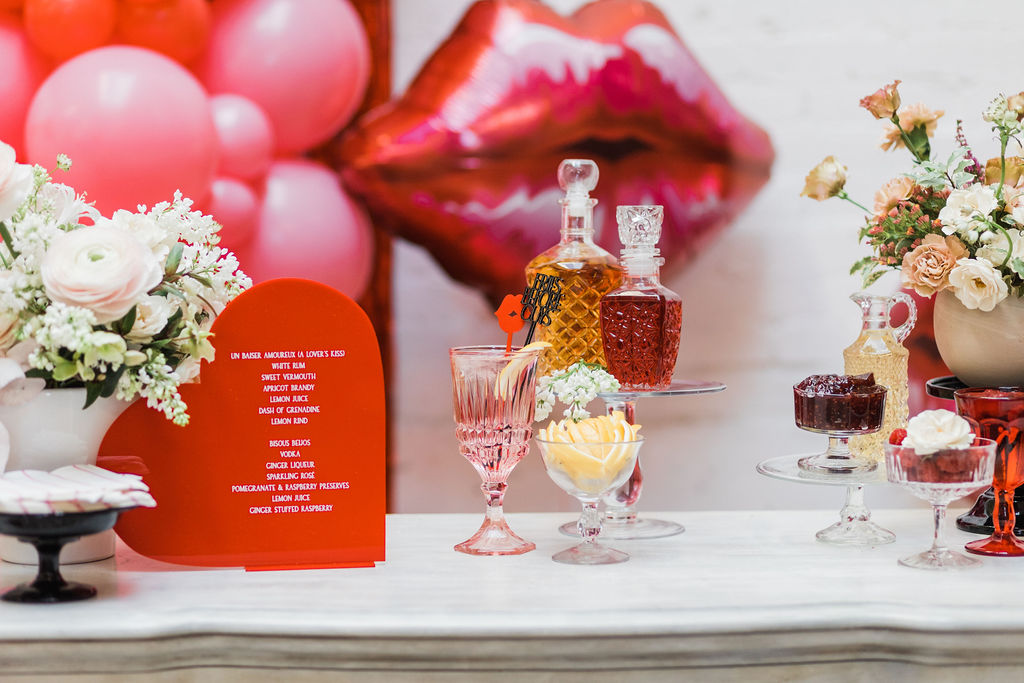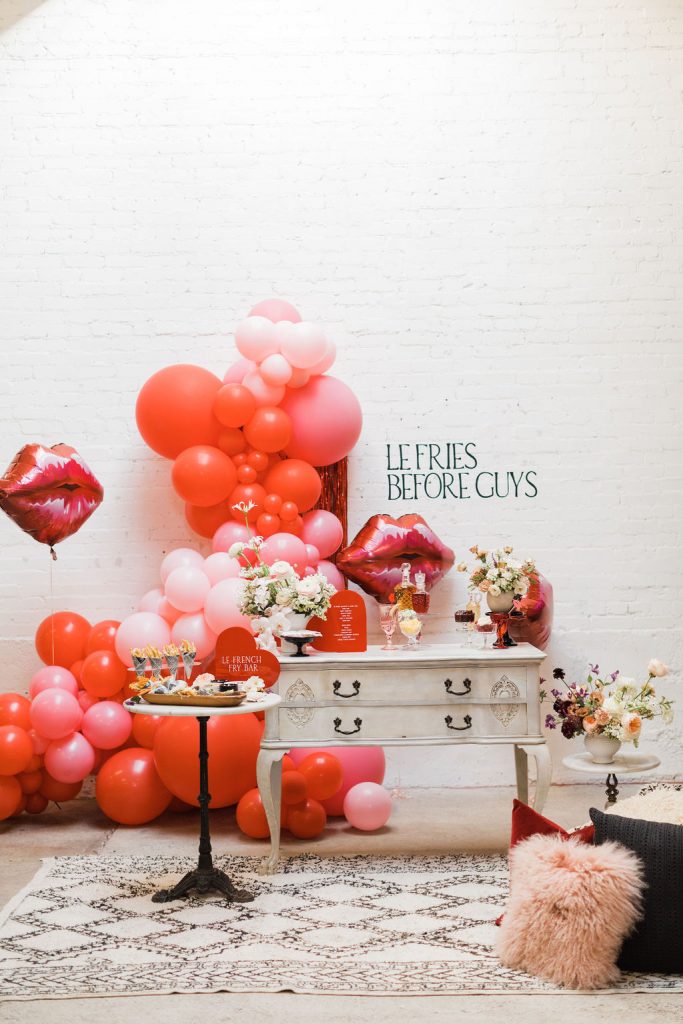 Loving these French fry flat lays!!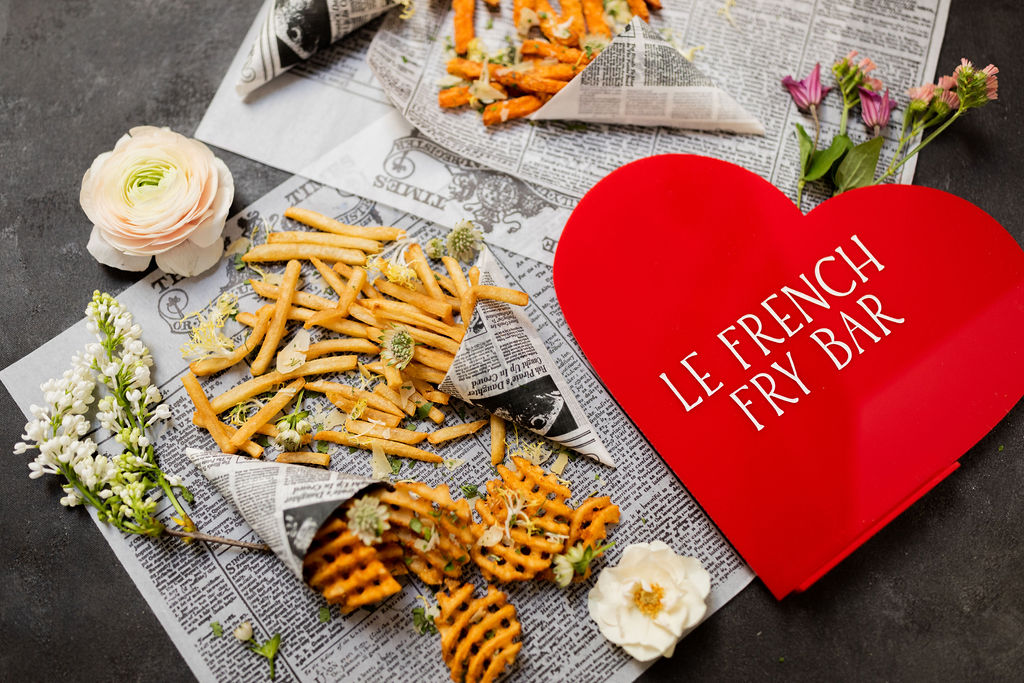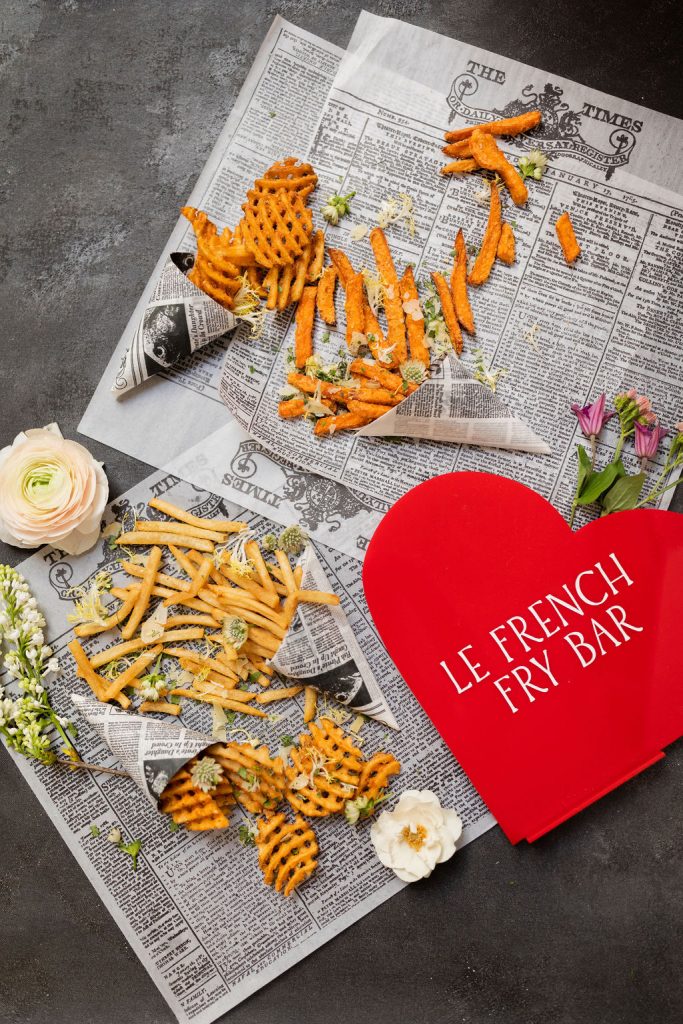 When I dip you dip we dip!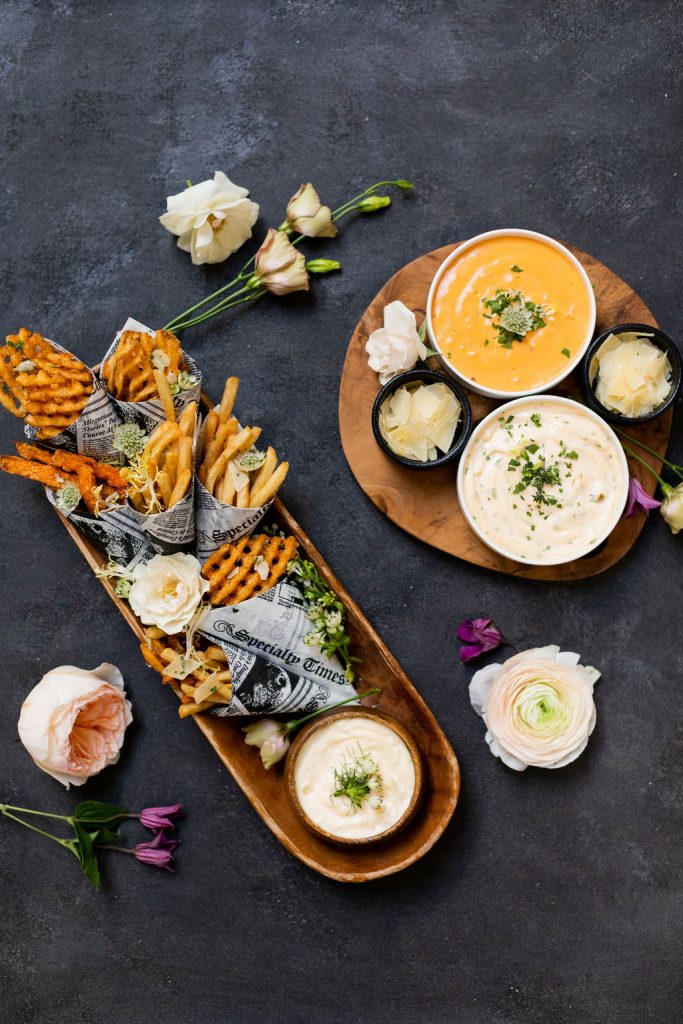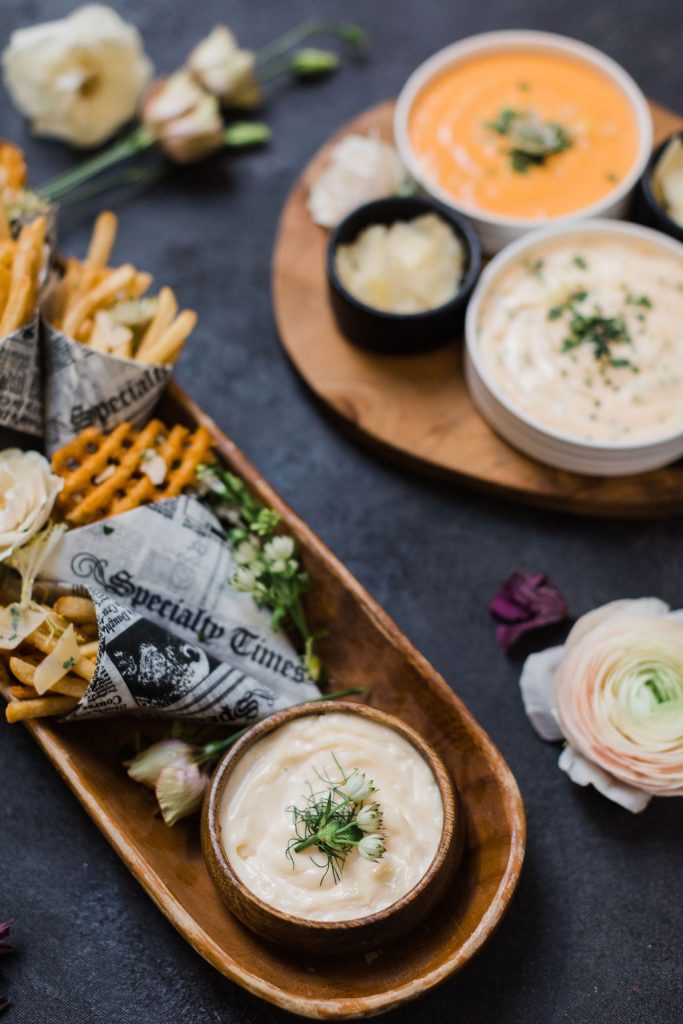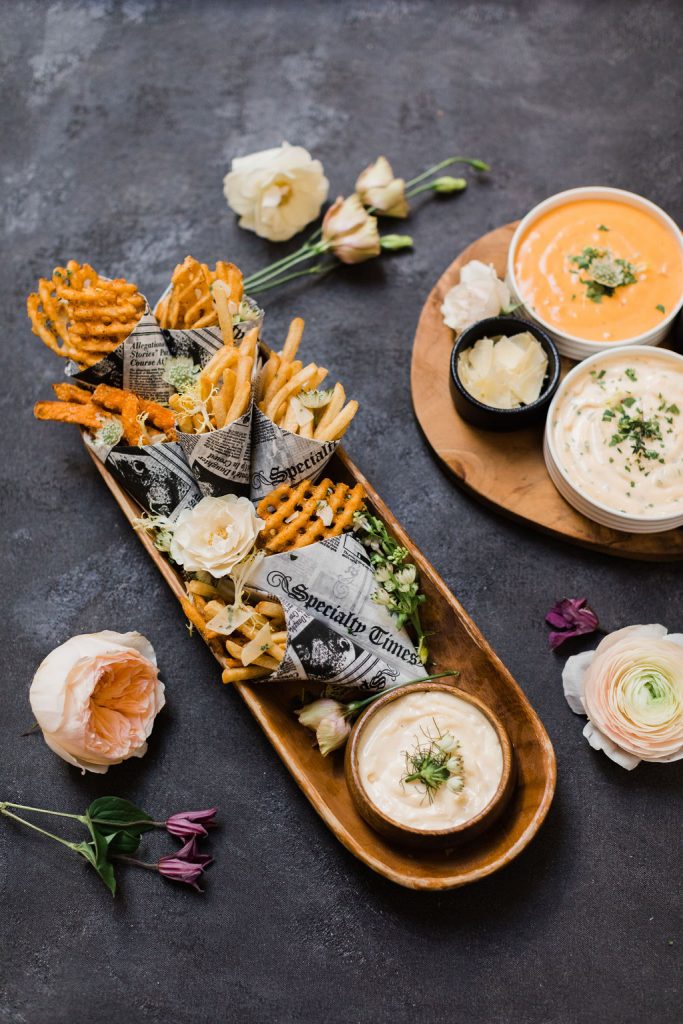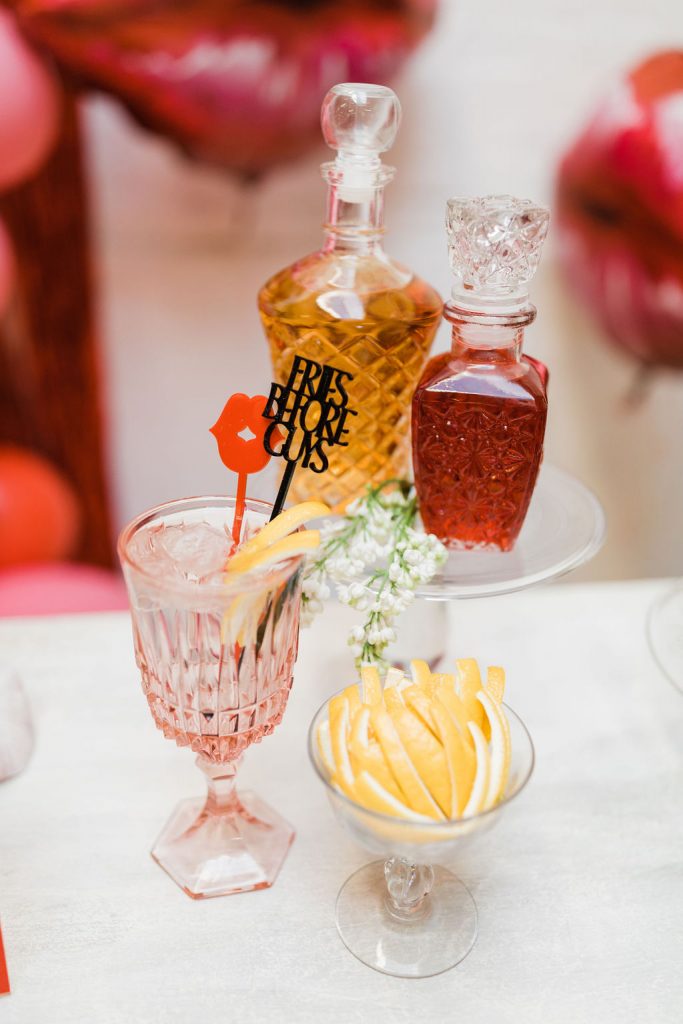 Last but never least, our pretty lounge!! And how about that yummy red couch…. Sweet Salvage Rentals has it all friends! The sweetest set up to end it right. And another great shop of those The Pop Shop balloons!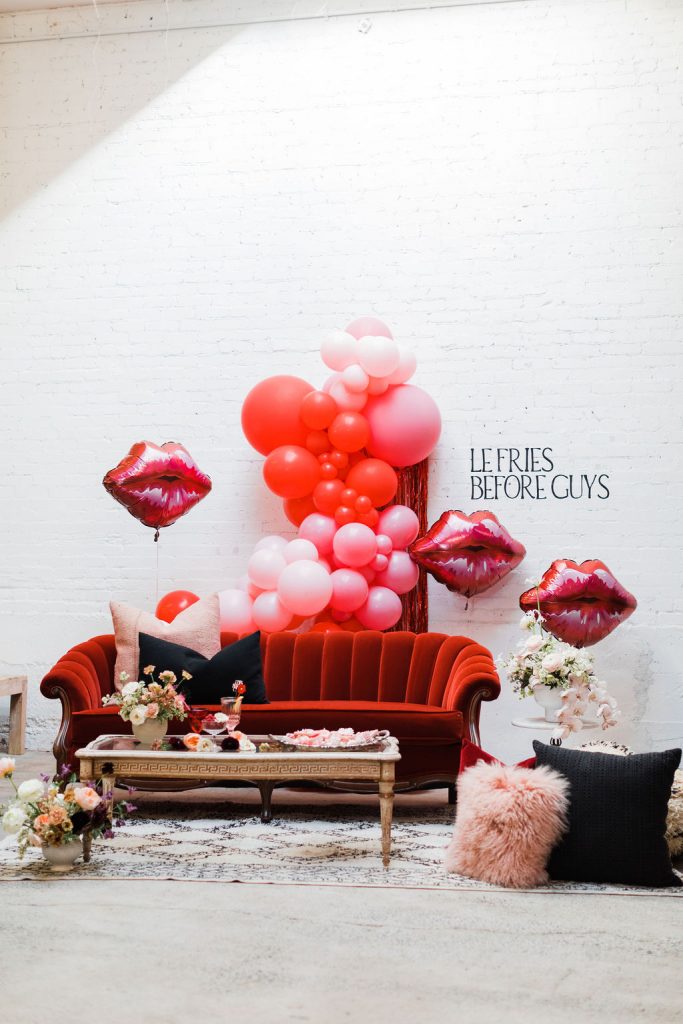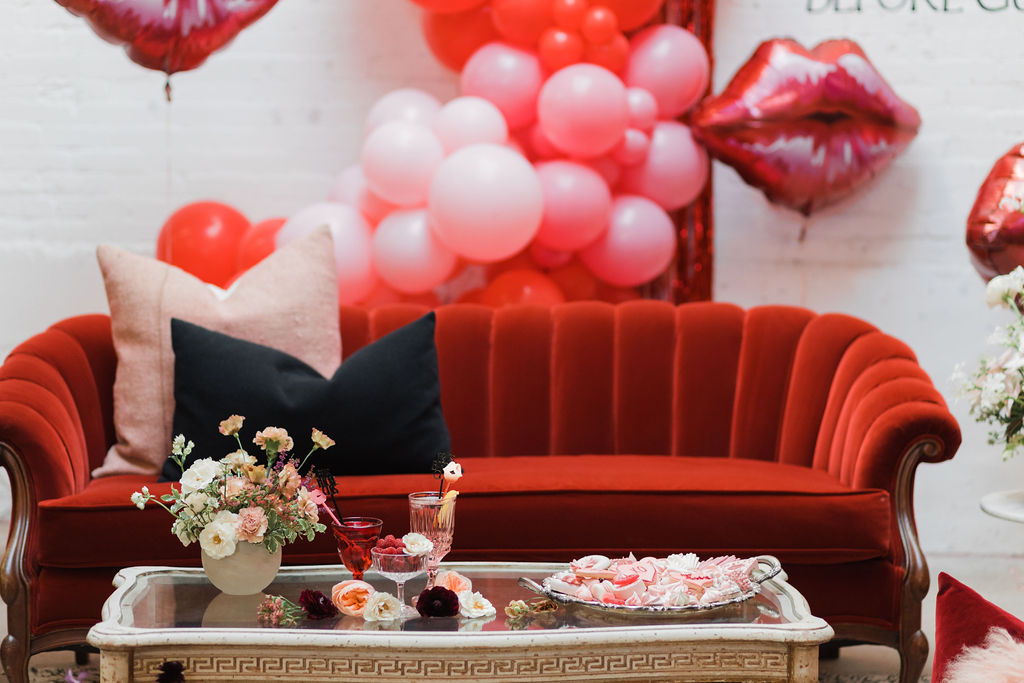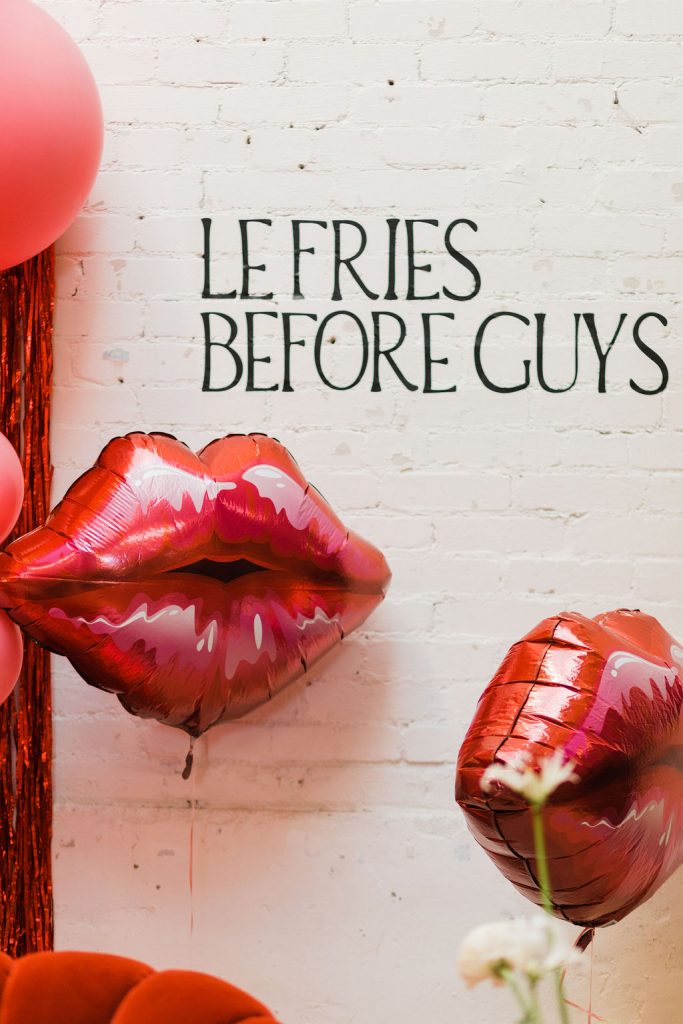 Gotta say, I'm a huge furry pillow fan!!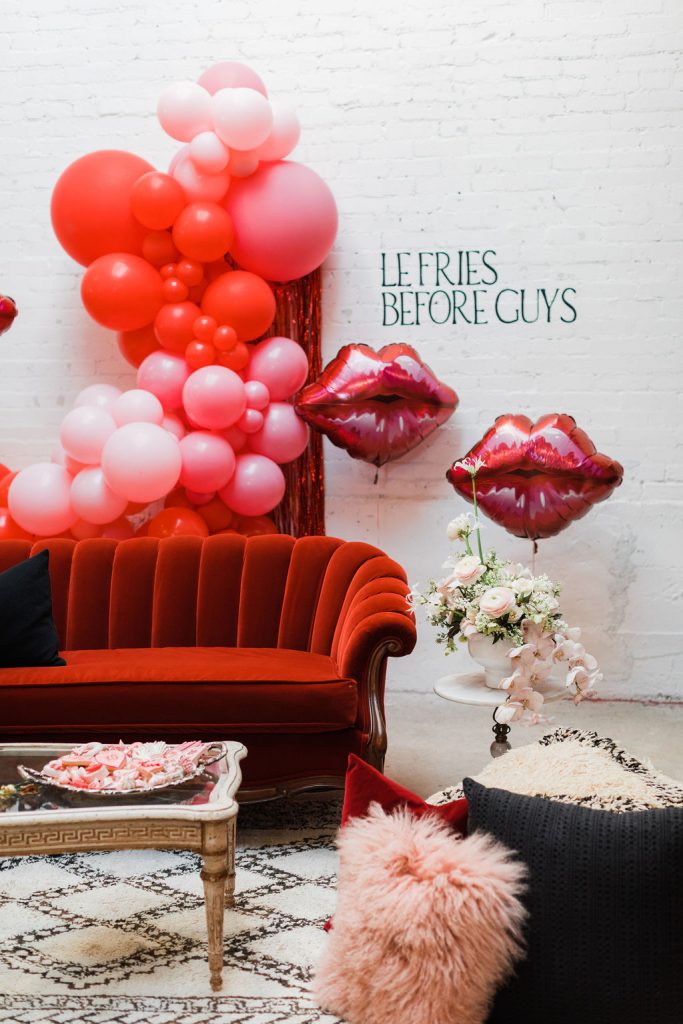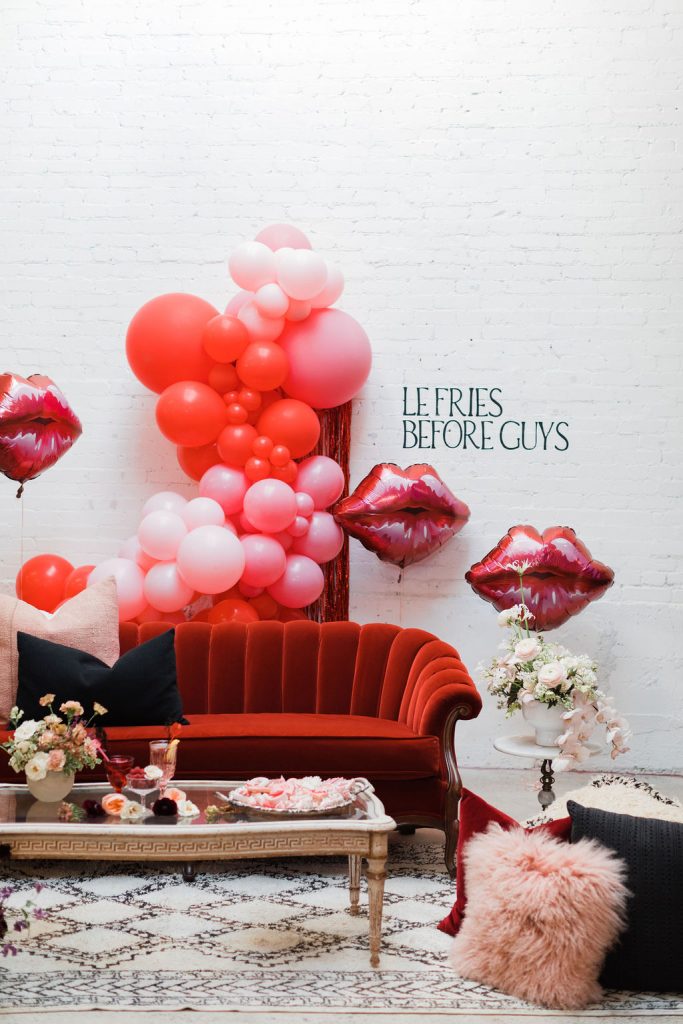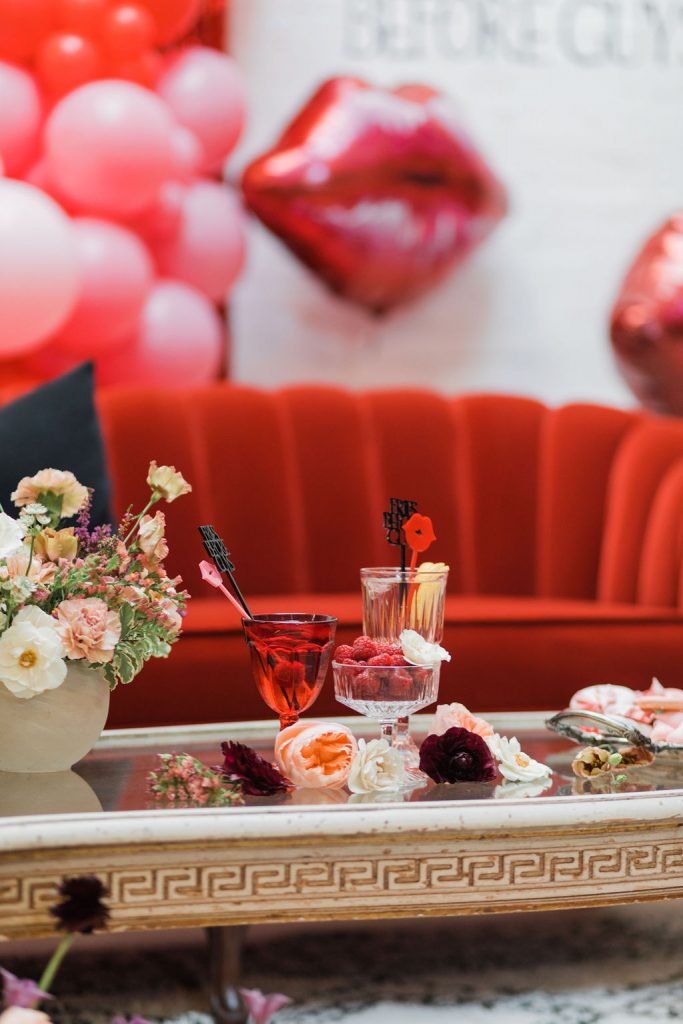 I could get used to this!!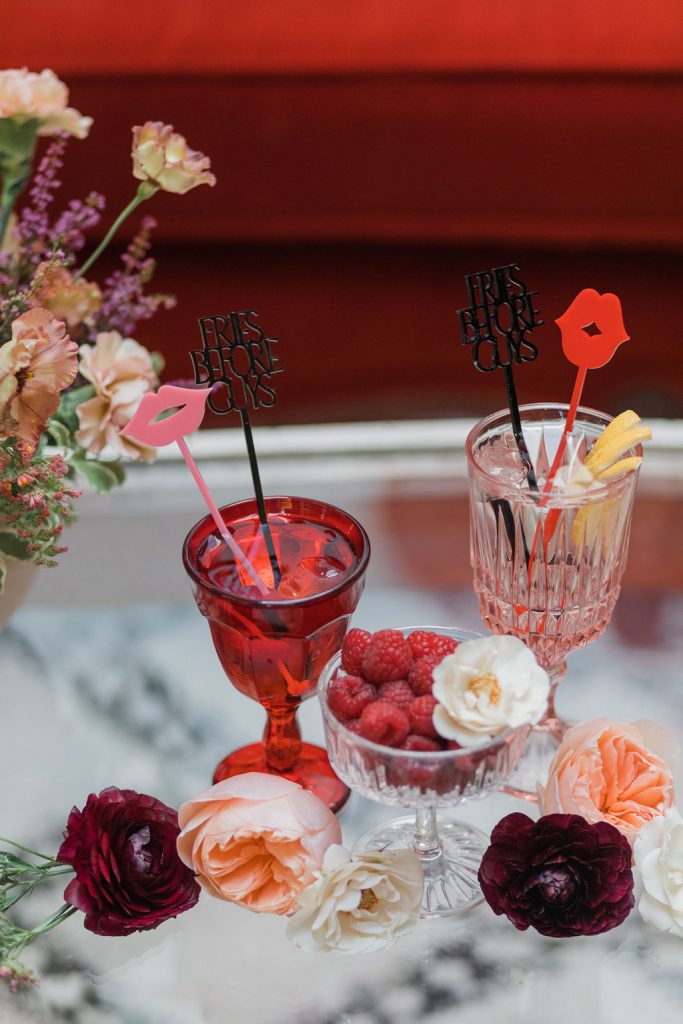 You know we had to have dessert! You're gonna need it after all those fries!! Sugar Crush Sweets does it again with this AMAZING dessert tray! I'm obsessed and want each and every little piece on there!!!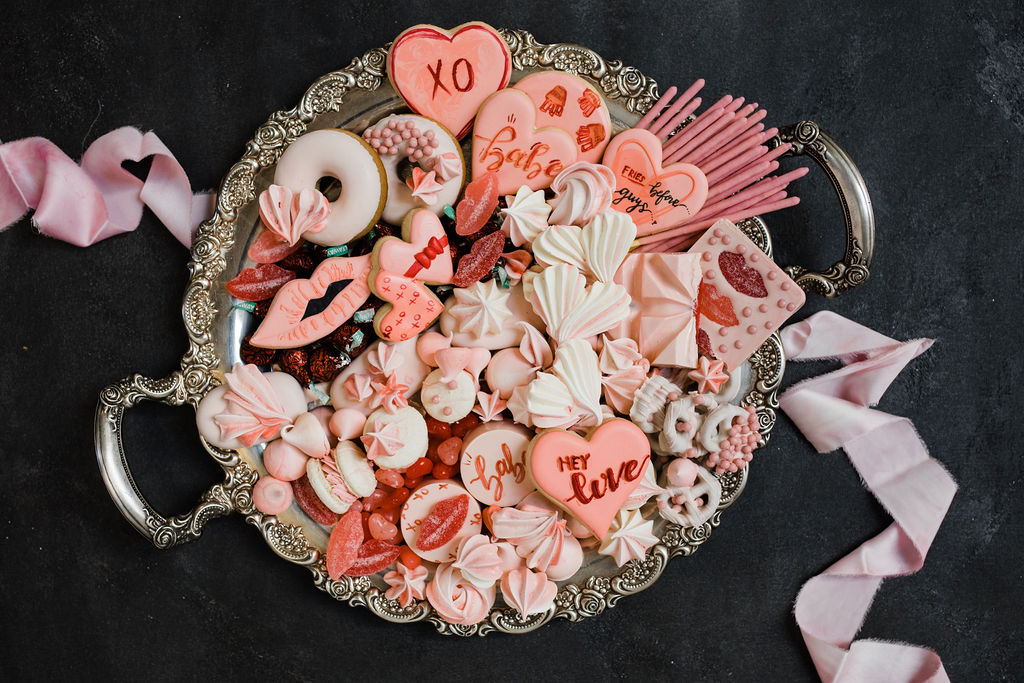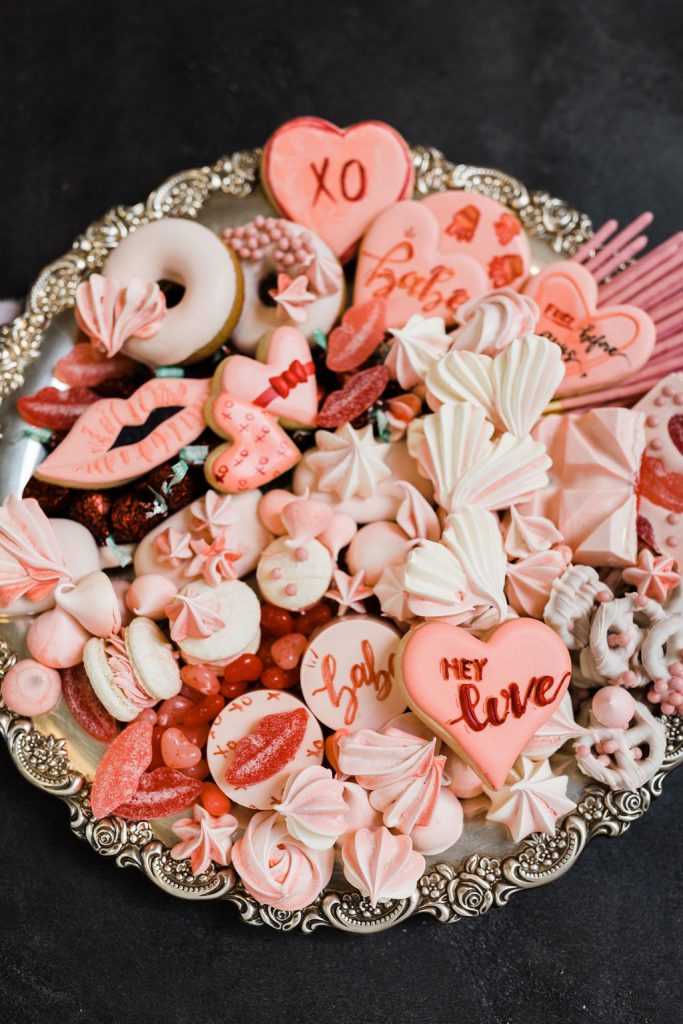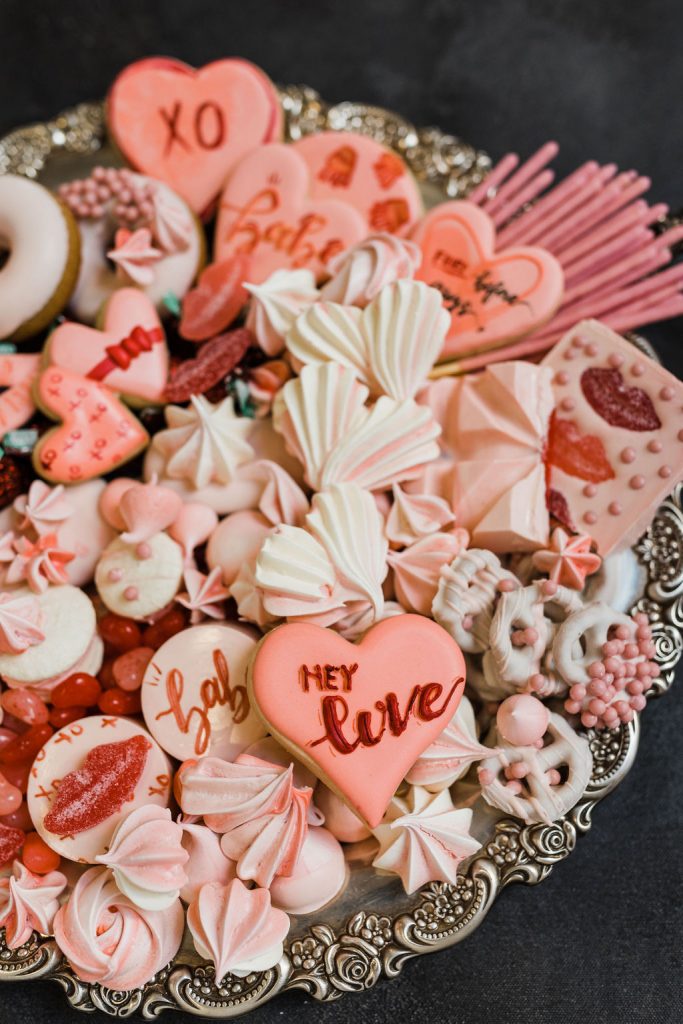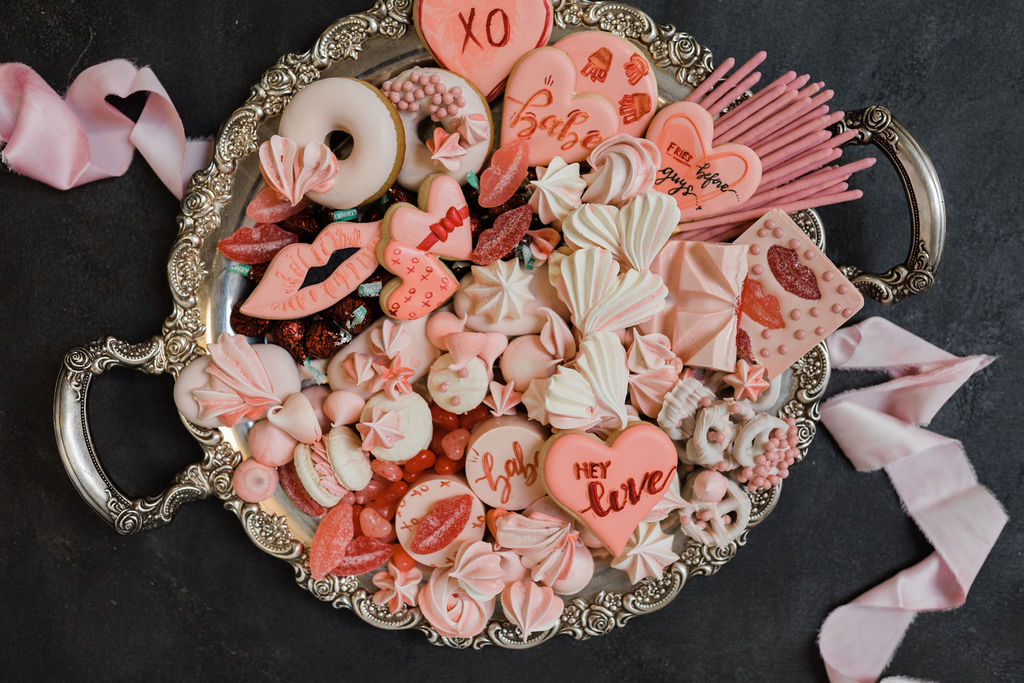 Adorable!!!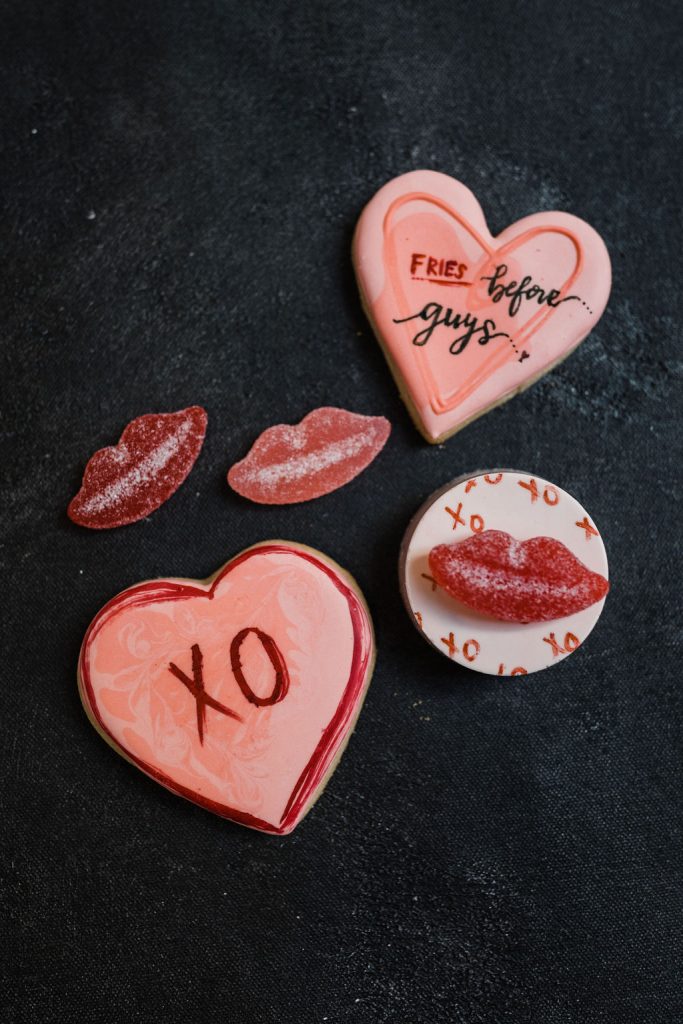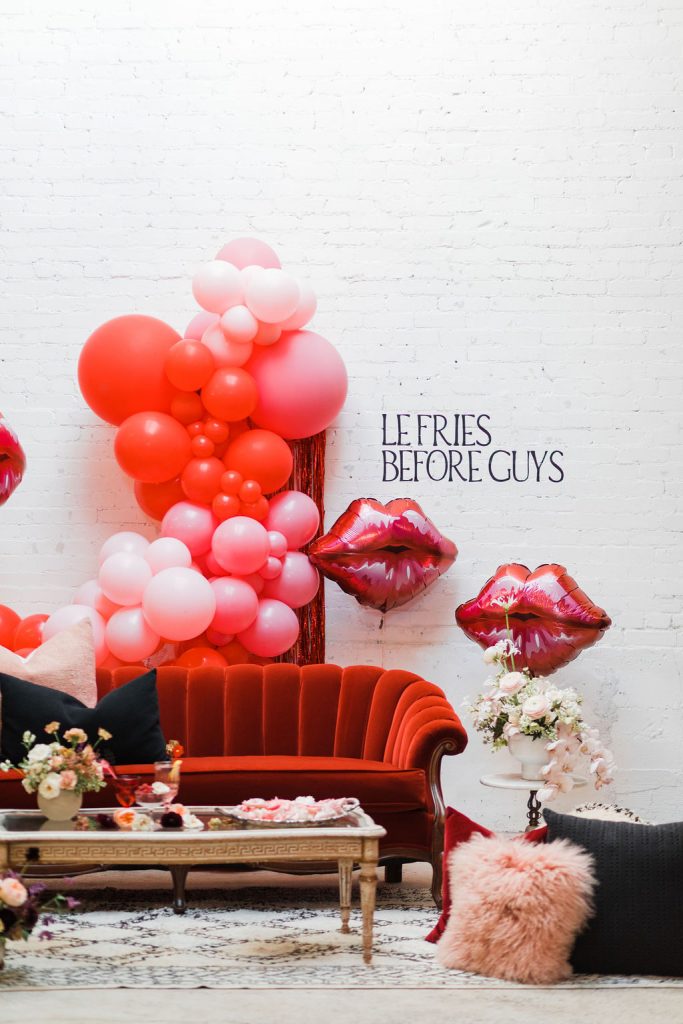 Hope you loved this one as much as we did!!! Wishing you all the happiest Valentine's Day!!! XOXO!!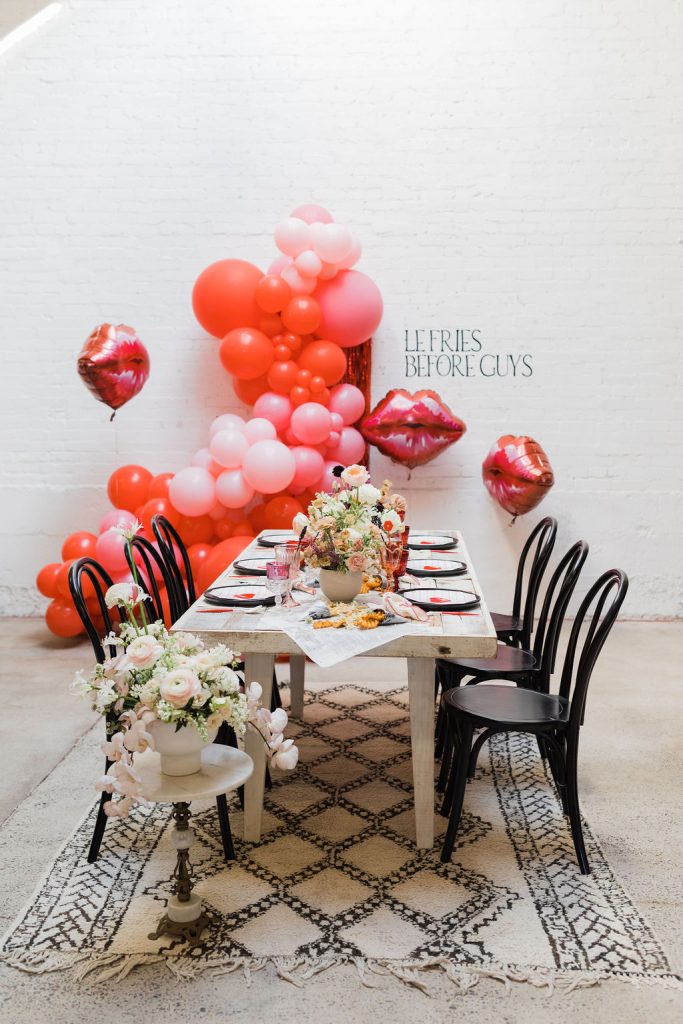 Shop this cute party below…

xx
Jacquelyn