Today we are going somewhere we've never gone before… We are celebrating Mardi Gras!! I've always been enamored with this holiday and how fun and festive it looks! Although I've never been to New Orleans, it's definitely on the bucket list. Since I've never been I thought, how fun would it be to host your own Mardi Gras at home?! So here are some tips on how to do it from yours truly! And let's just put it this way – you can leave the cheese factor at home, because we did it the Beijos way…
We are also featured on Green Wedding Shoes today!! Photos by the talented Corrie Lynn Photo.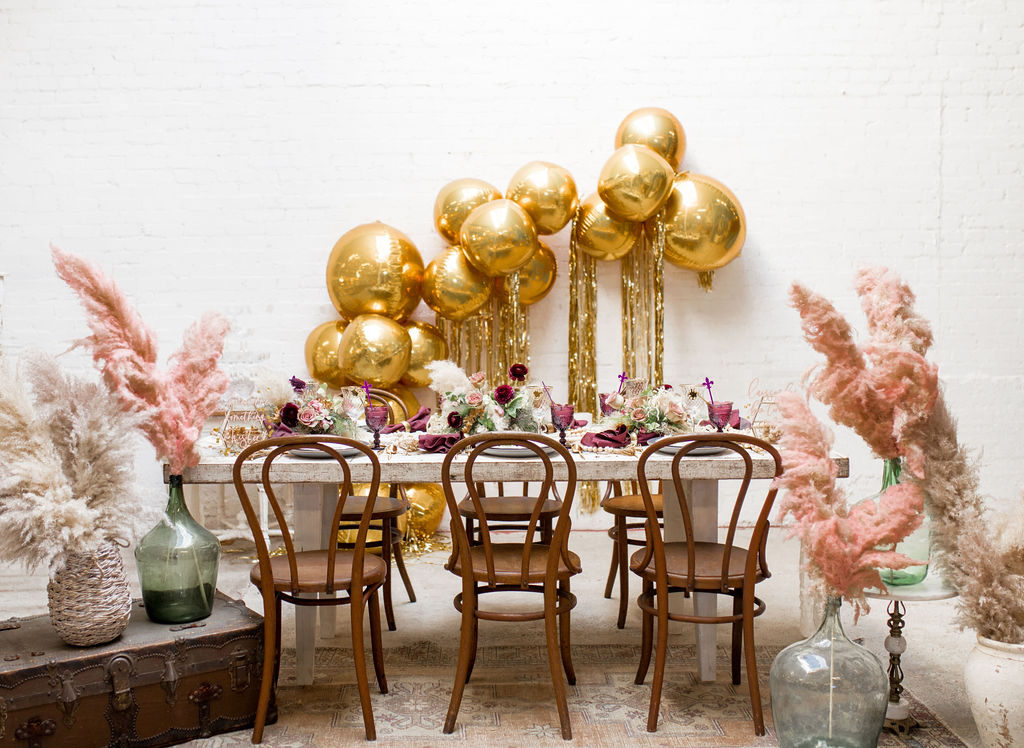 I'll start with the details, like our pretty invite and signage by Proper Letter and cocktail stirrers by Poppy Jack Shop. From the get go you want your guests to share in the festive fun, so start with the invite! I used fun sayings like "Throw me some beads Mister" or the traditional "Laissez Les Bons Temps Rouler" which is a Cajun French saying meaning "Let The Good Times Roll". For the cocktail stirrers we did masks and fleur de lis.
All the cute Mardi Gras details will have your guests feeling like they are in New Orleans celebrating away! We styled it all on Chasing Stone's Monteverde styling surface with pretty ribbon from Party Crush Studio.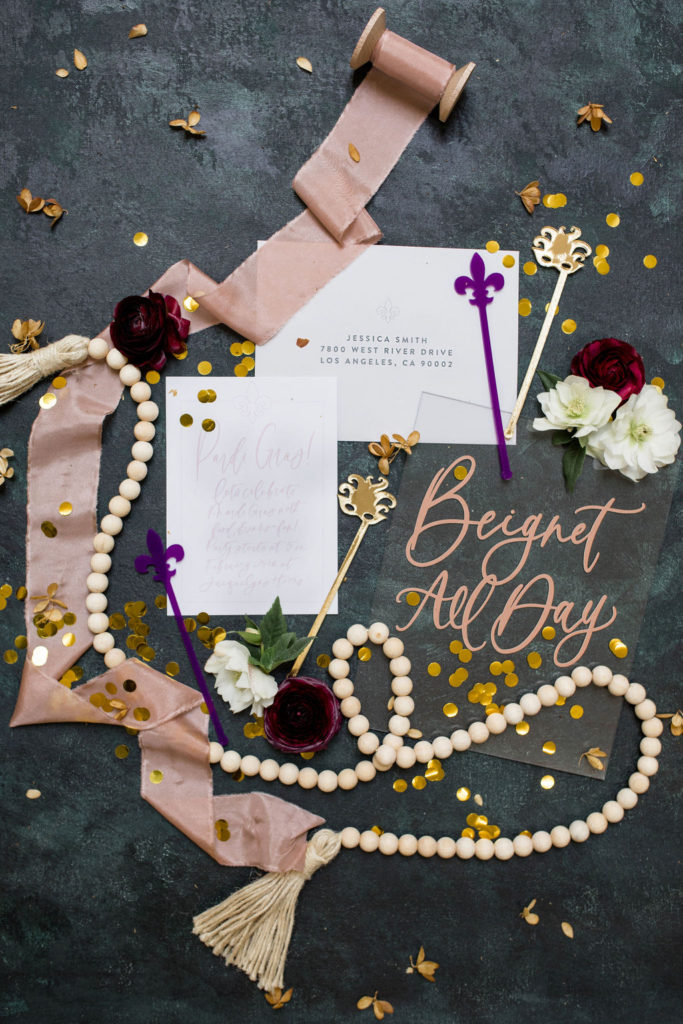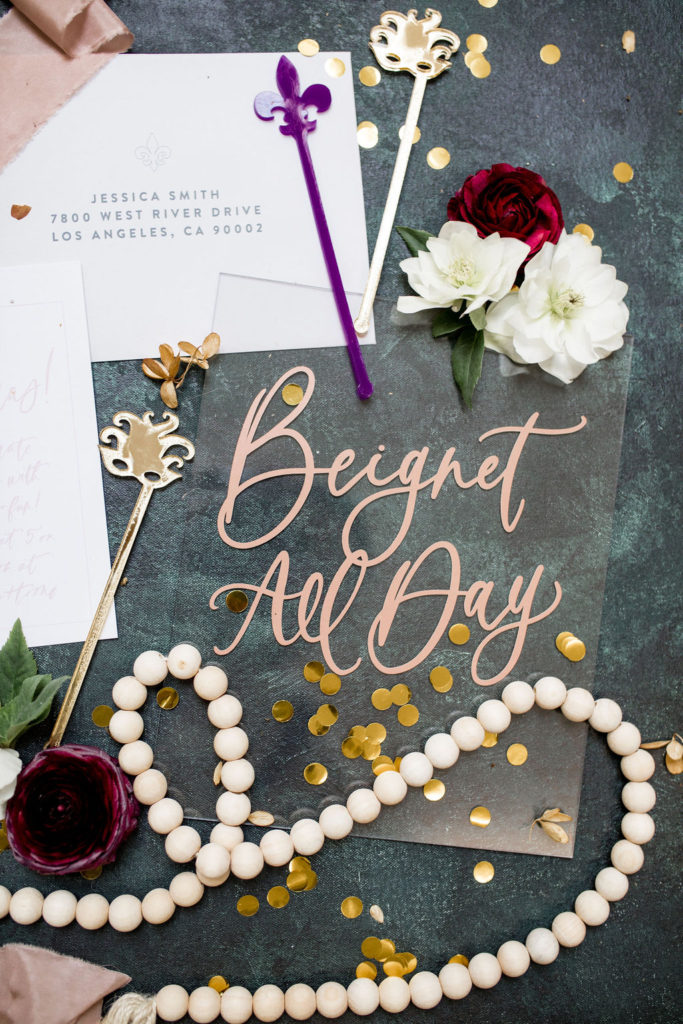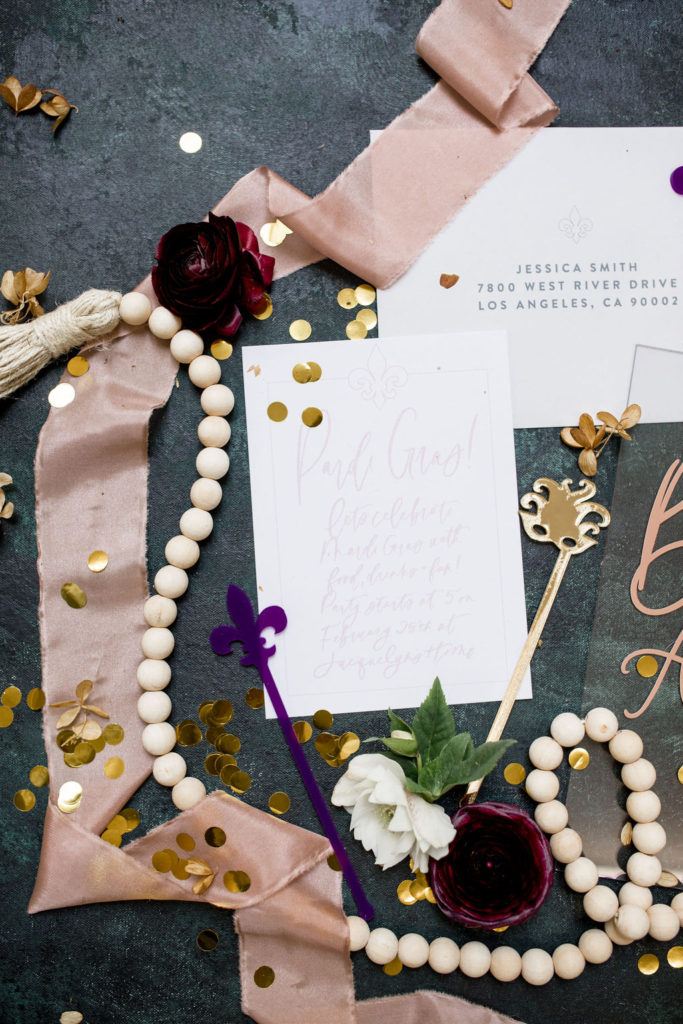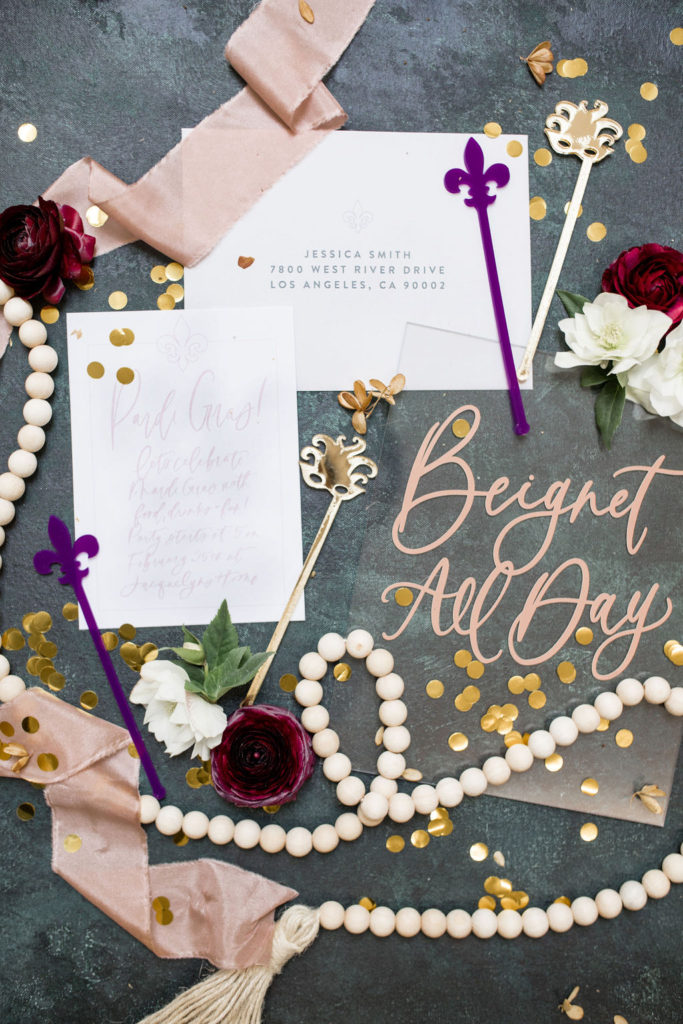 Now for our set up, talk about a wow factor!!!
For a color scheme, my advice is to go traditional green and purple, but in a subdued way. While researching ideas for a Mardi Gras party, I'd say most images I found were a little… well, flashy, haha! So I used the classic colors but in a muted tone, pretty green & purples but softer. I also added in some pops of blush pink and gold, which work so well together!
The rentals are from our friends at Sweet Salvage Rentals, they always have so many fun pieces to play with. The Pop Shop is responsible for that amazing balloon garland and Third & Park had her hands in the gorgeous florals. Wait till you see them up close!!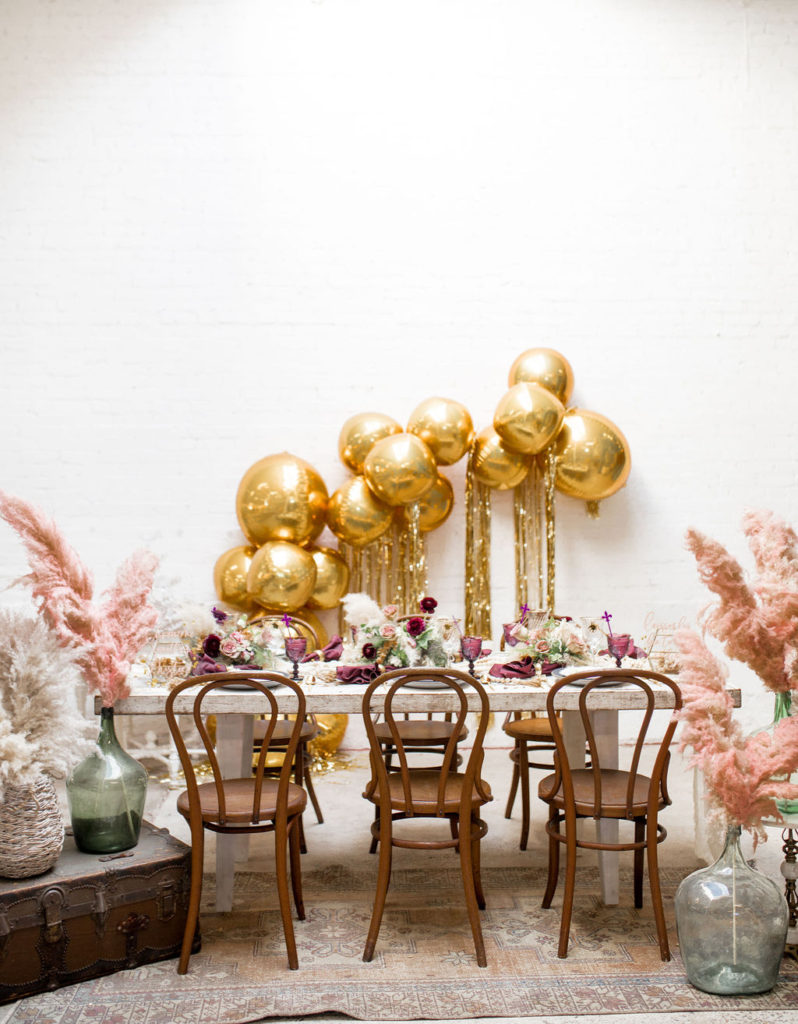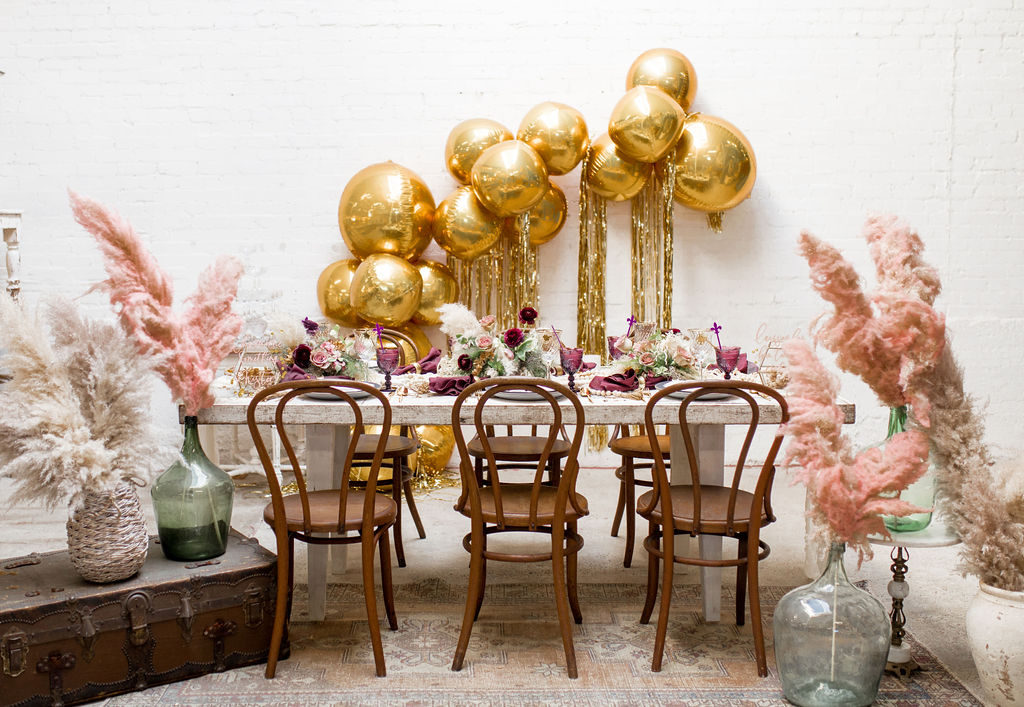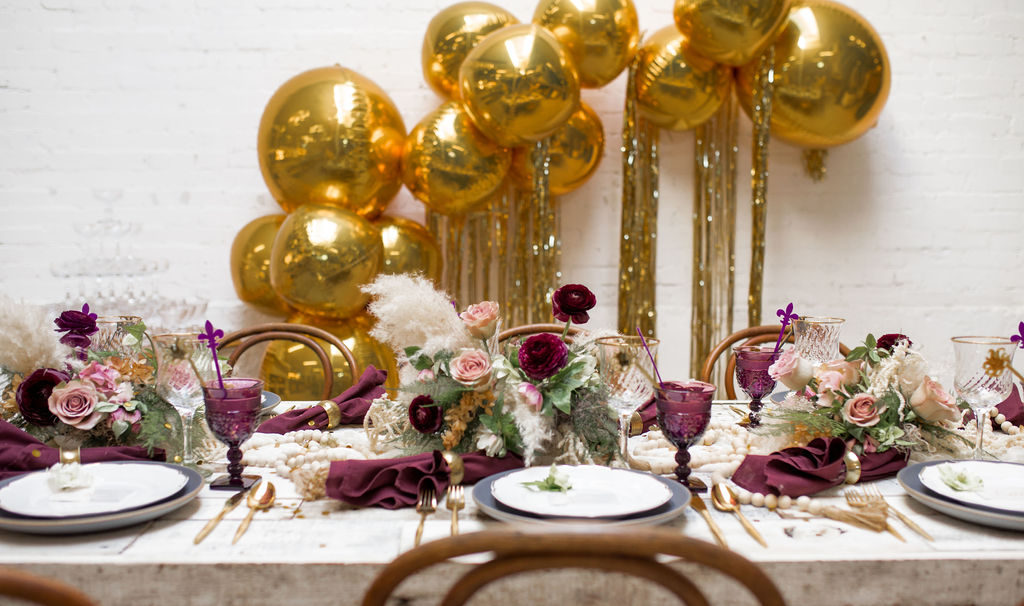 The tabletop is all from Cherished Rentals. I had fun mixing her Heath Ceramic black plates with her glam white and gold collection. Of course she had the perfect glassware for this one as well, with that gold rim crystal and deep purple goblet. Our napkins are from Hostess Haven, I loved using their mulberry colored napkin with the gold napkin ring.
Again, there's Proper Letter's pretty hand writing for place cards in a pretty blush tone. And yes, those cocktail stirrer details by Poppy Jack Shop just make it!!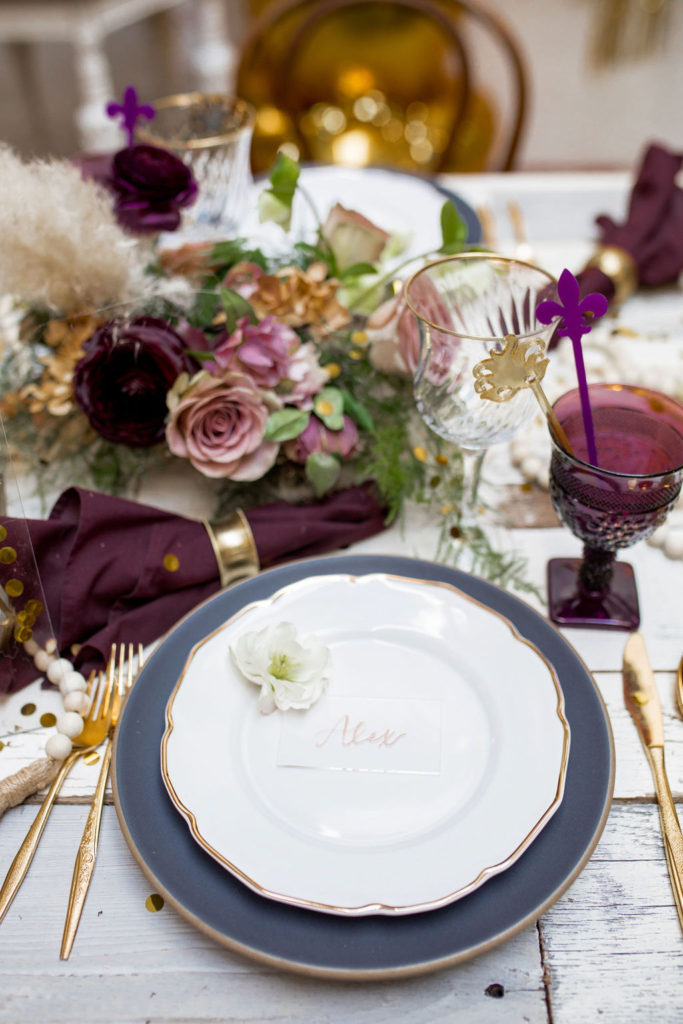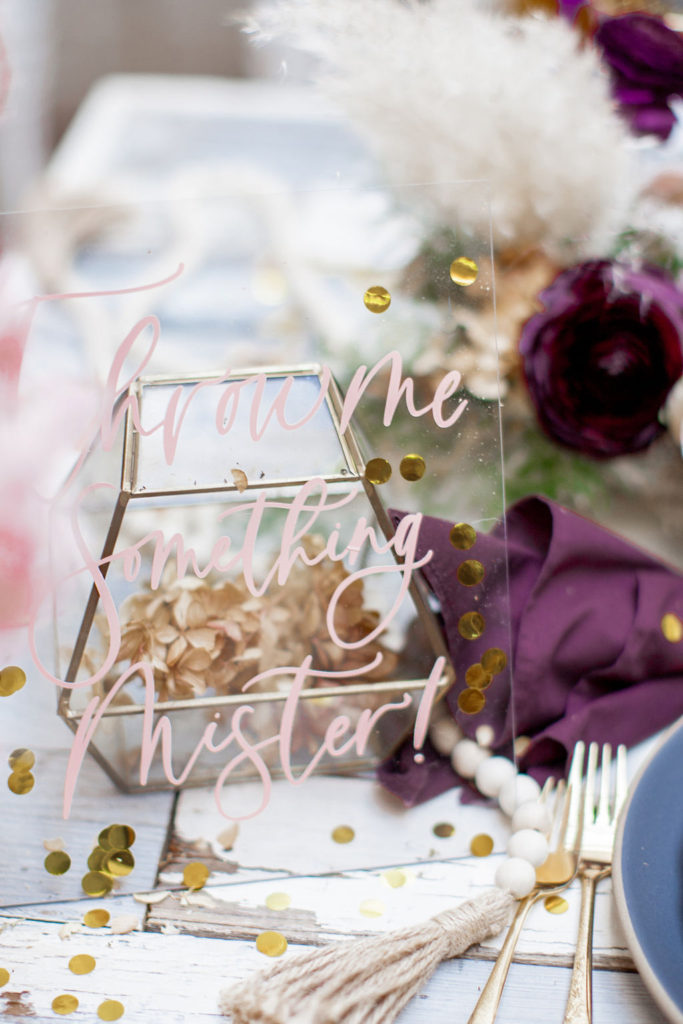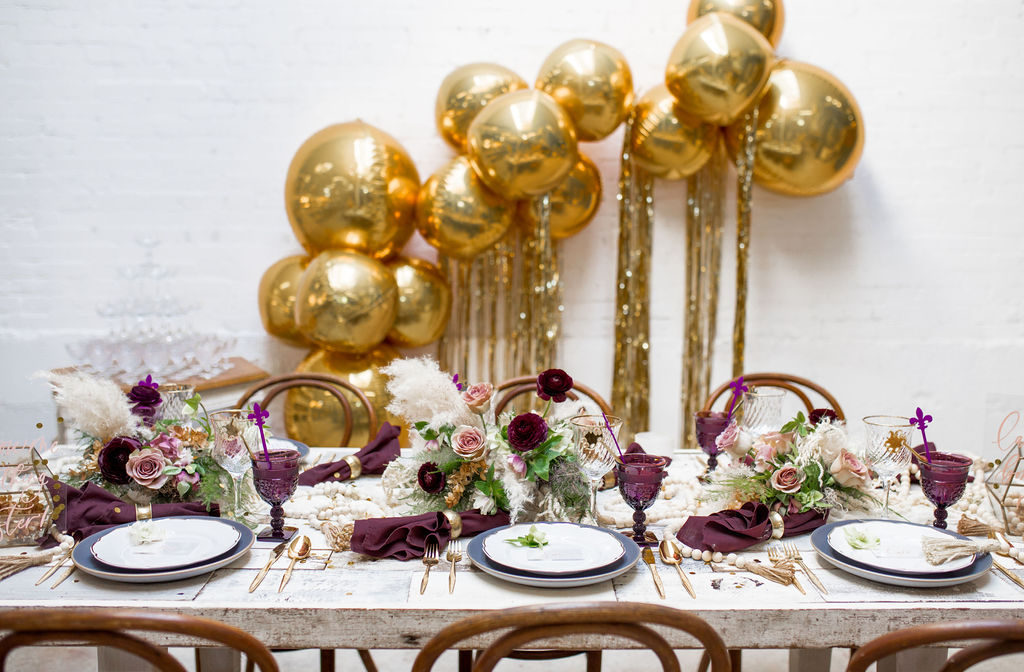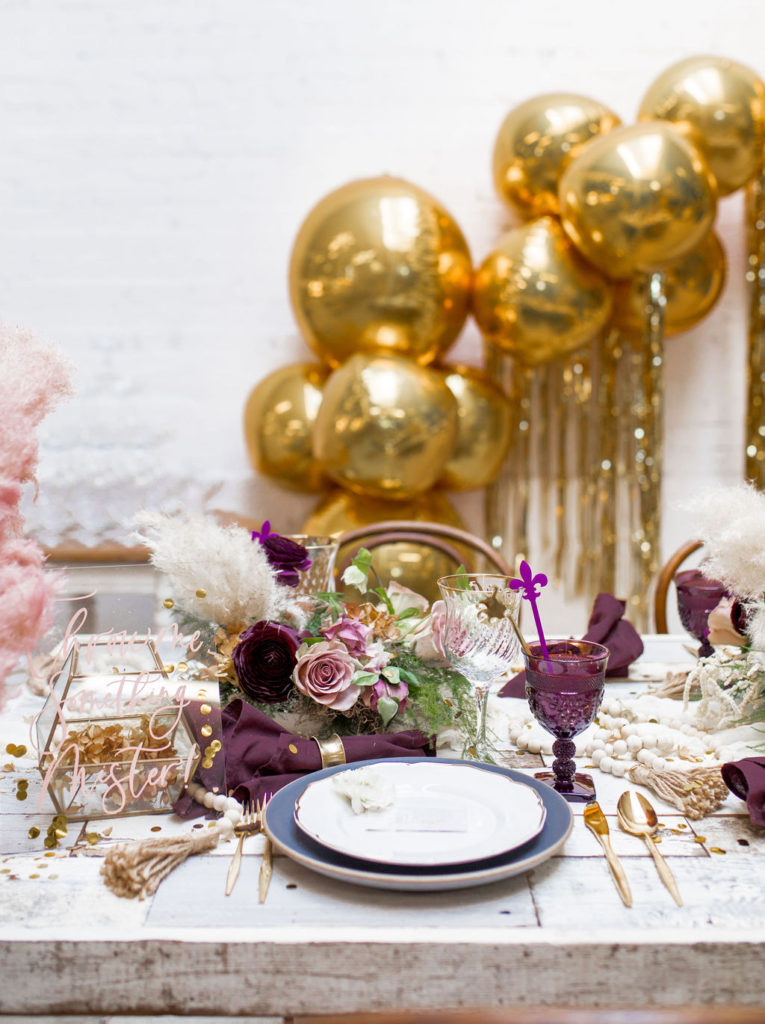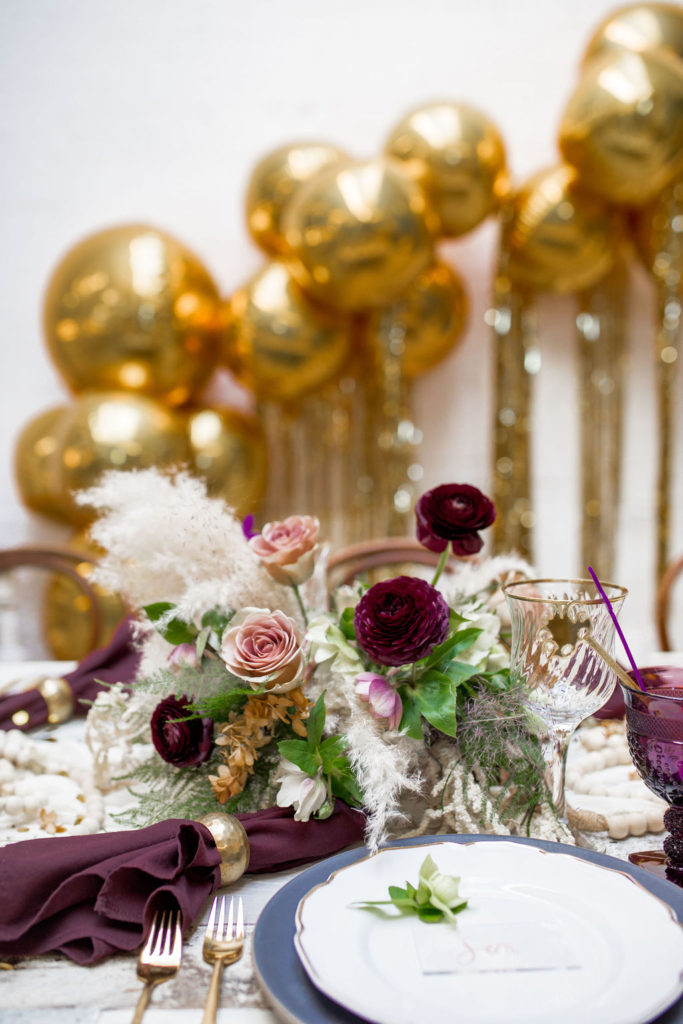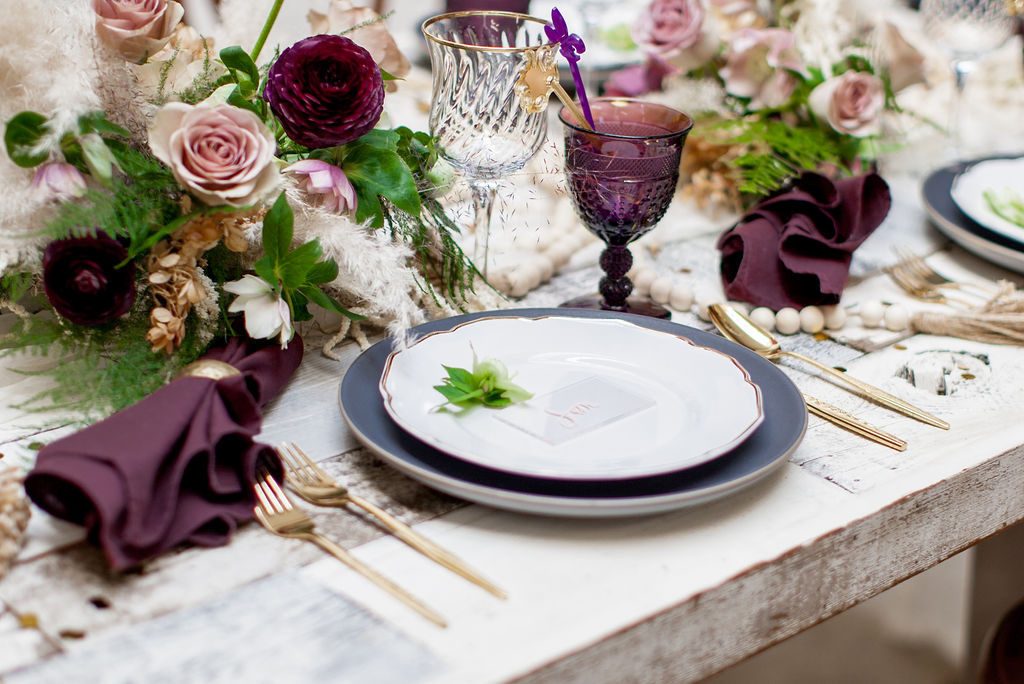 Those florals by Third & Park are everything!!! Love these fun colors!!! Would be so pretty for a wedding too!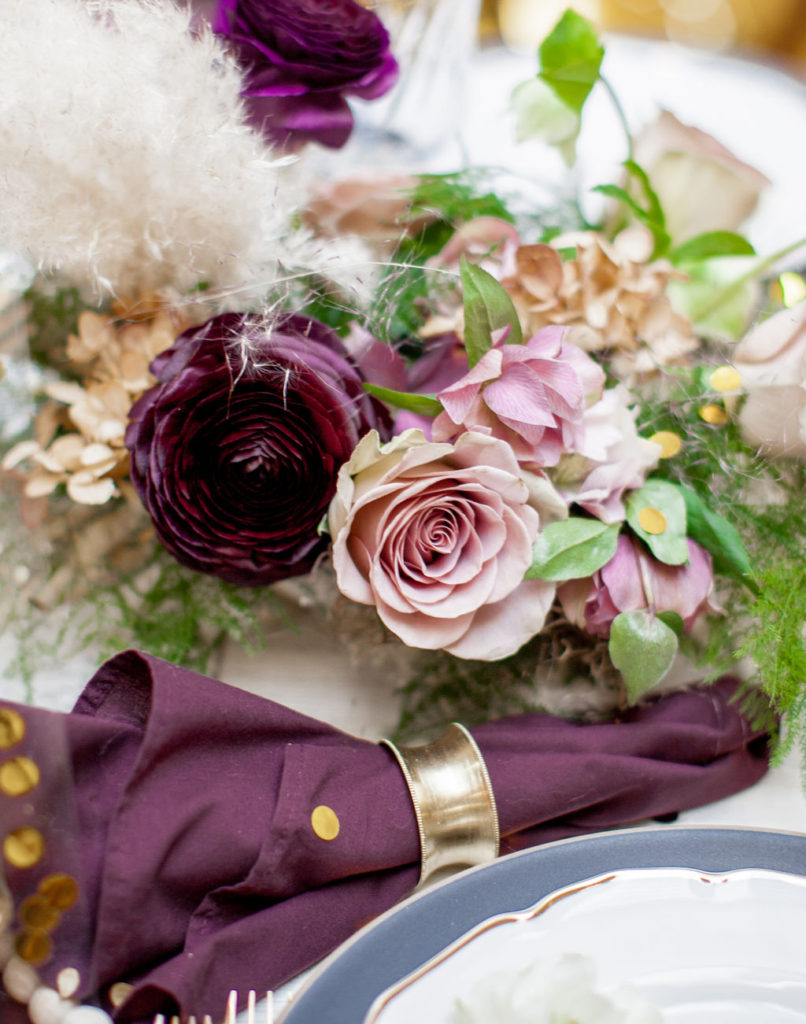 Throw me some beads mister!!
We all know that a big part of Mardi Gras are the beads…. Well, I didn't want to use the regular plastic beads on our table, so I went with a more modern, natural touch. I found these natural toned wooden beads that we used instead and I loved it!! We strung them along the table and it was just the best detail. I love the idea of taking a traditional element but putting a different spin on it, in this case a more boho Beijos touch!
And now I have the beads up as decor in my home and they look oh so cute!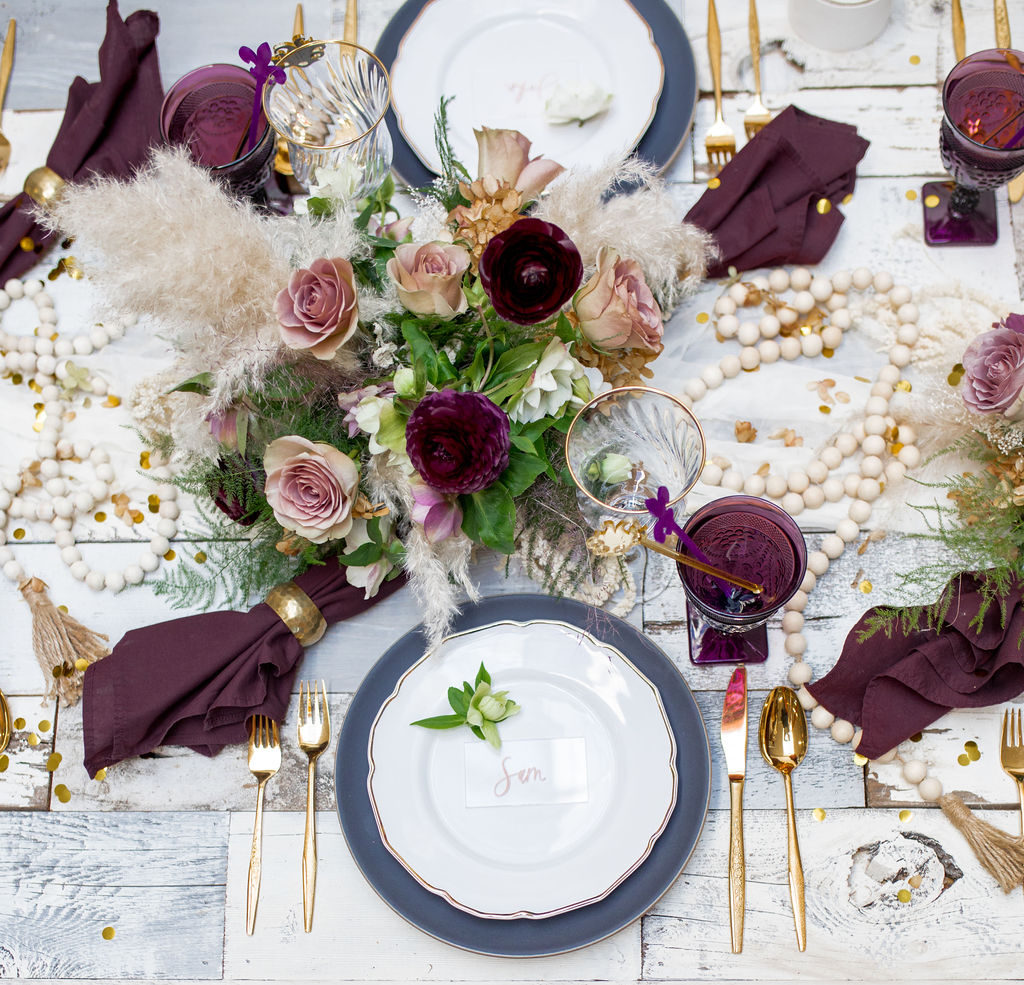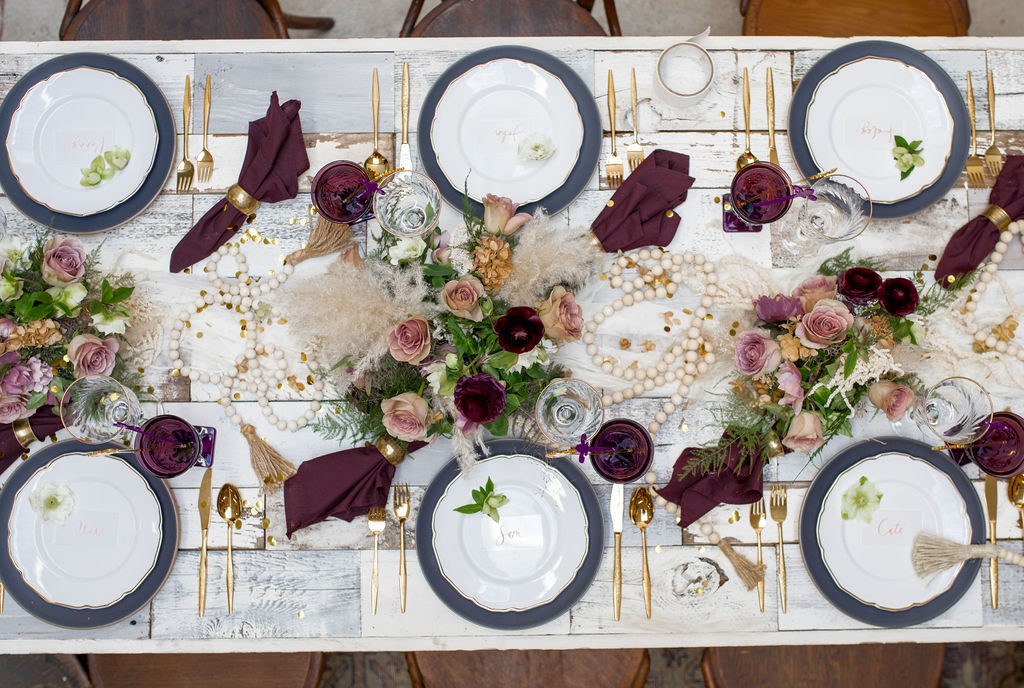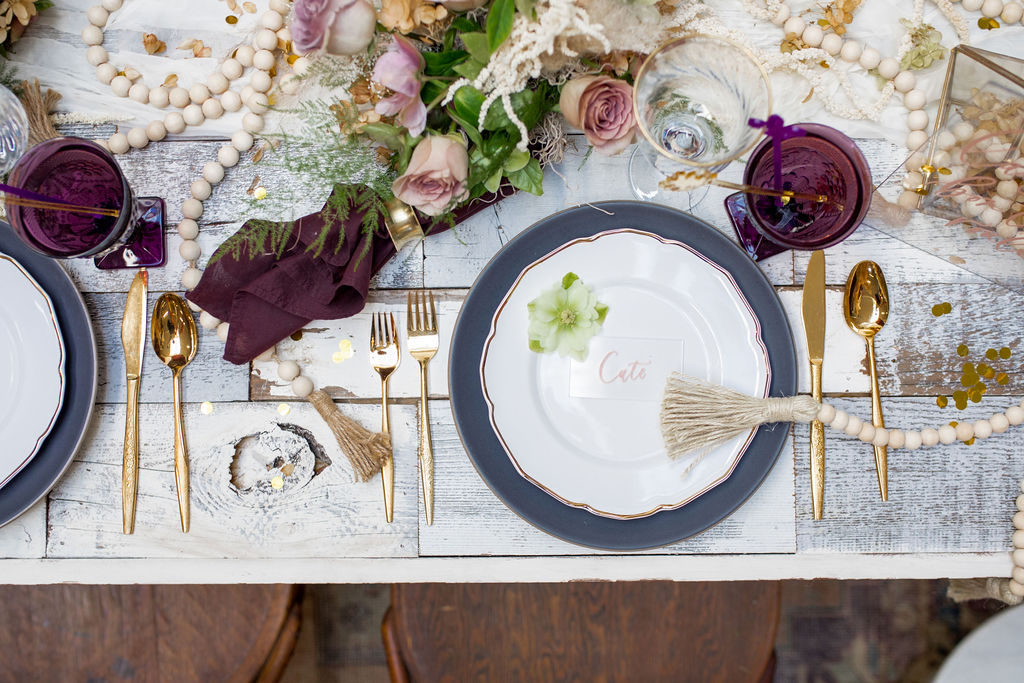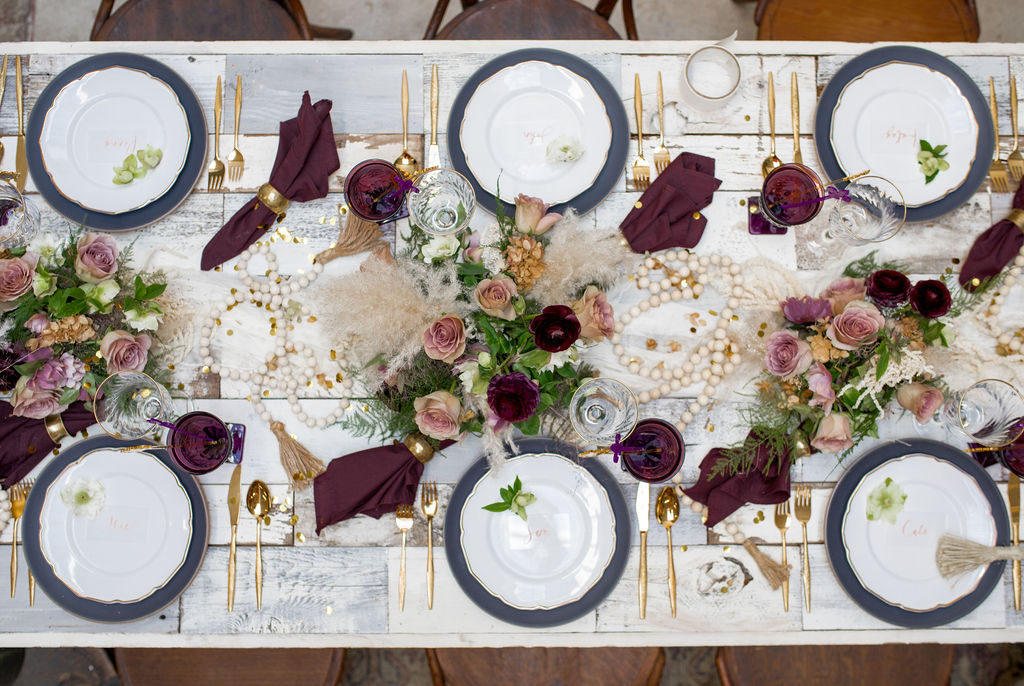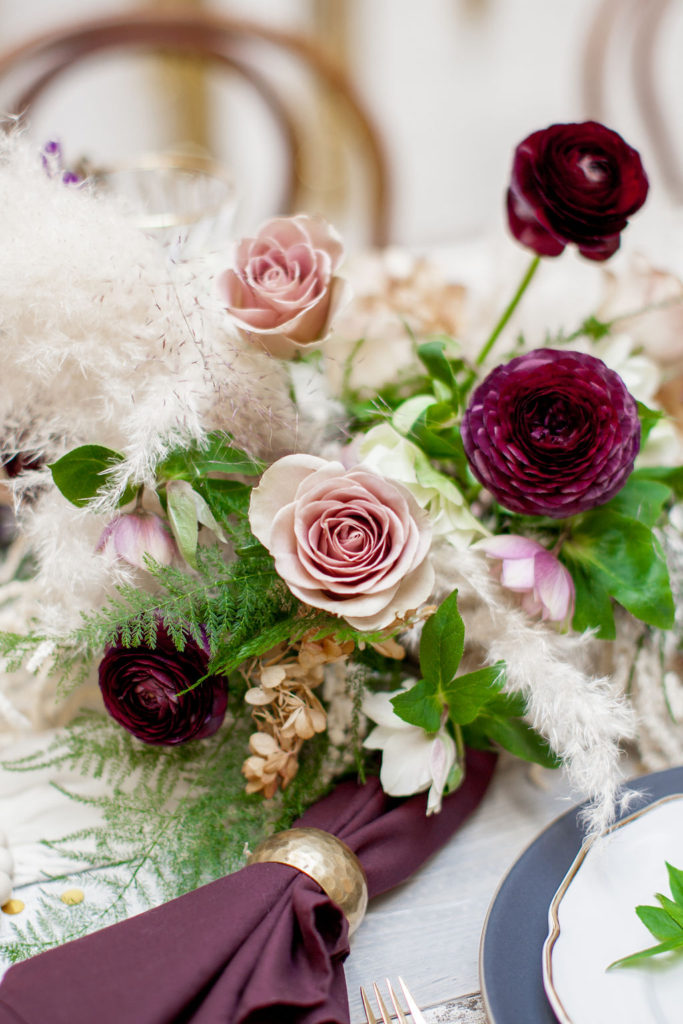 Don't forget to add some sparkle! We threw around gold confetti along our table and obviously had that AMAZING ballon installation from The Pop Shop! But we also added some sparkle with our fun gold shimmer champagne bottles from One Hope! So fun for any party!!!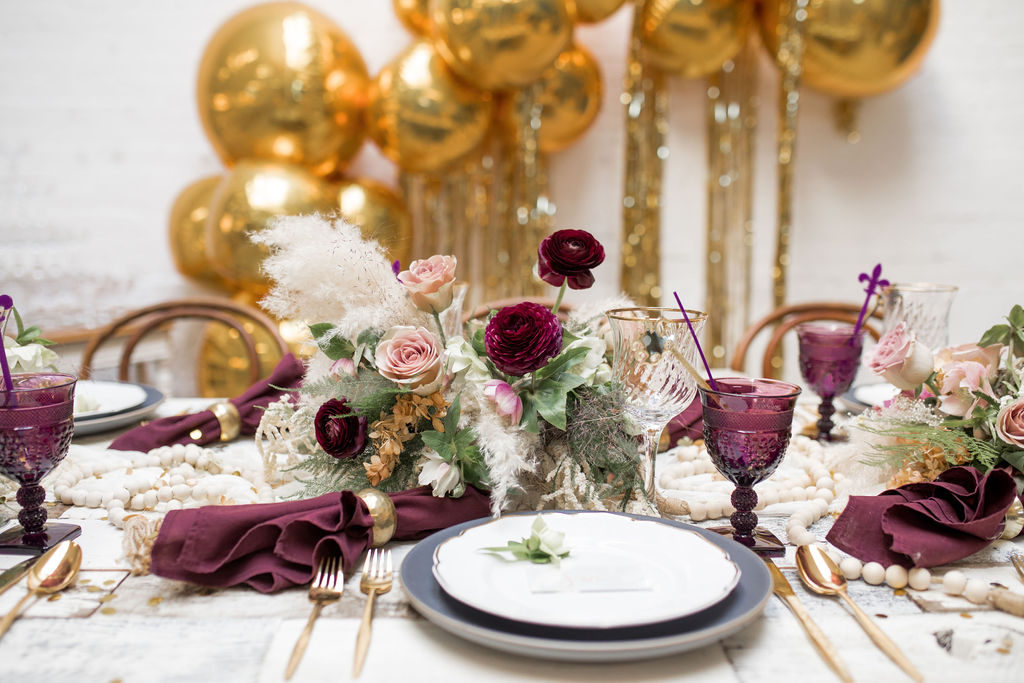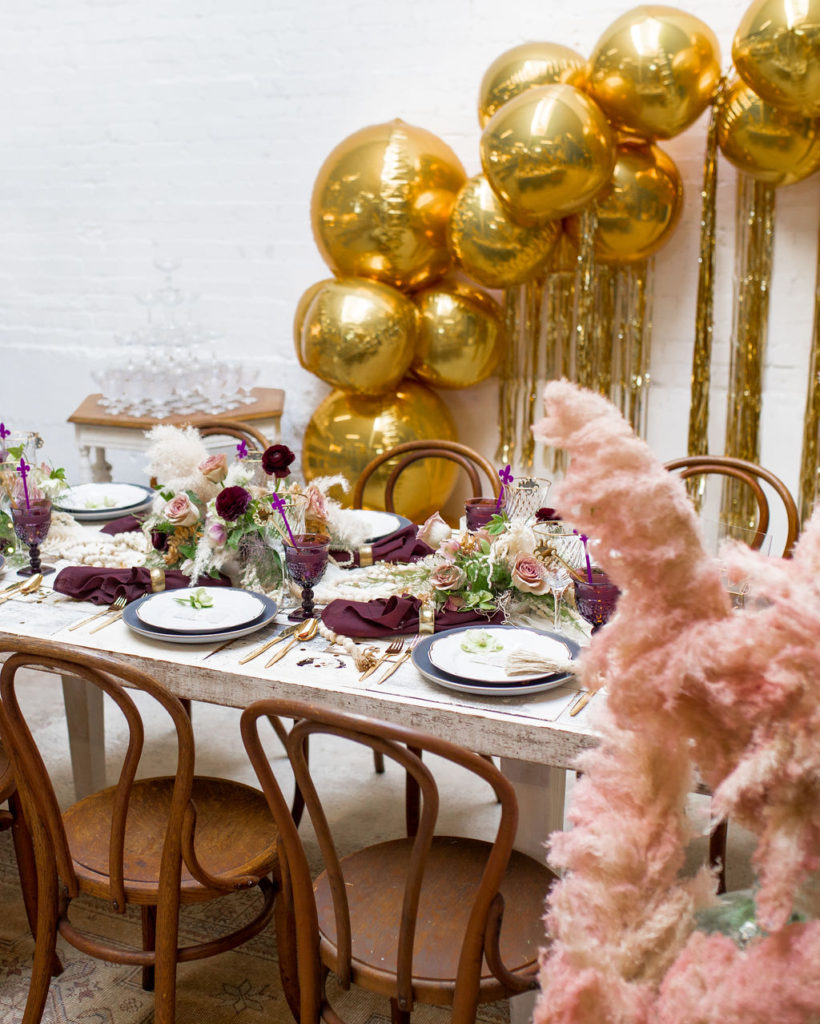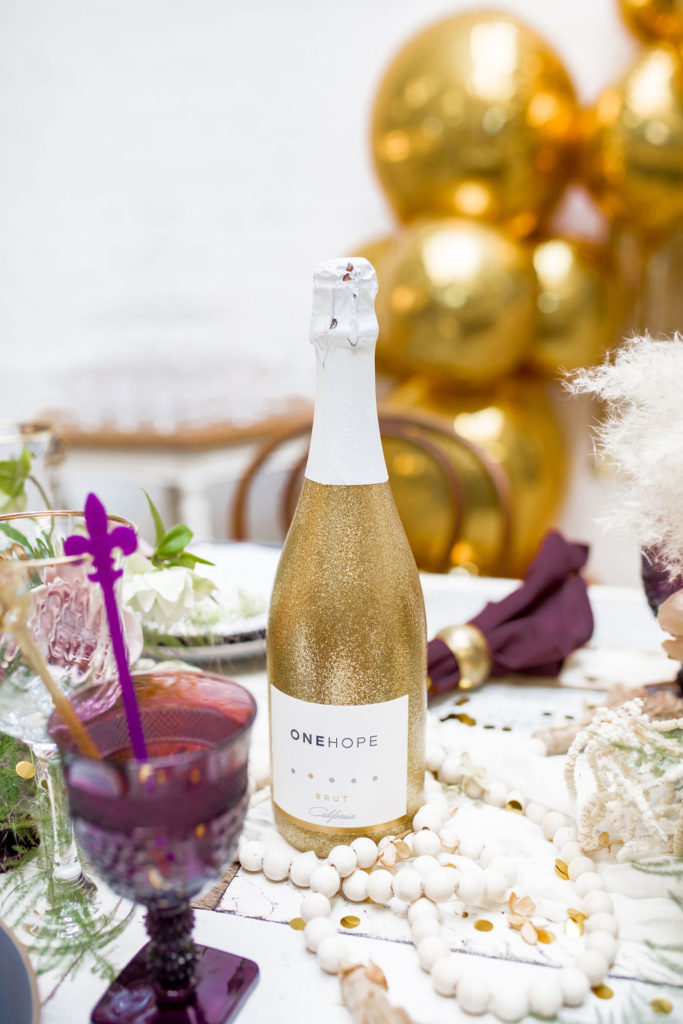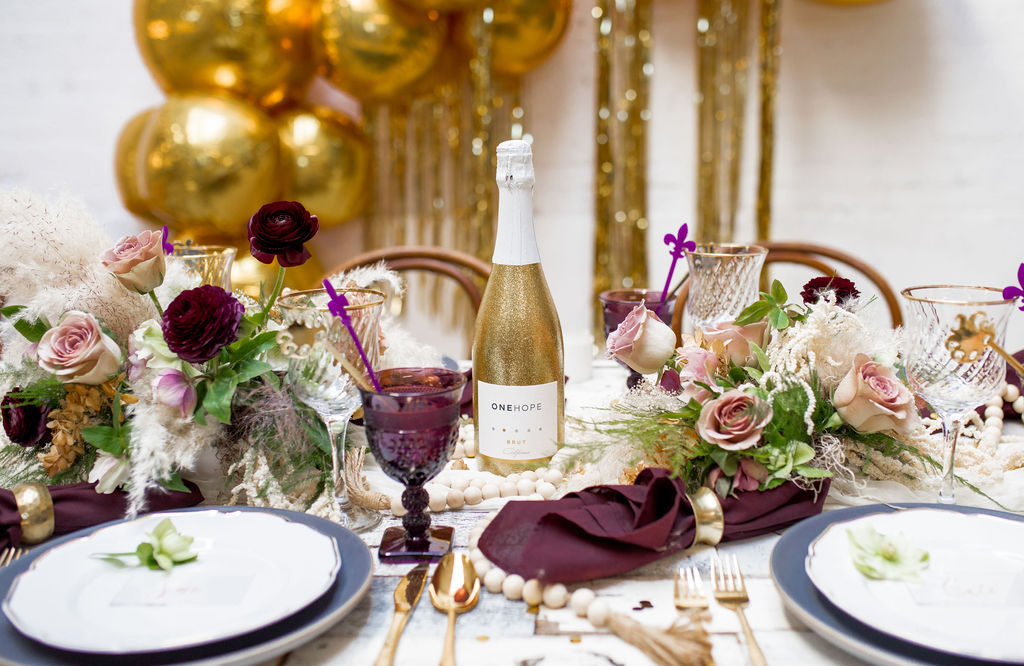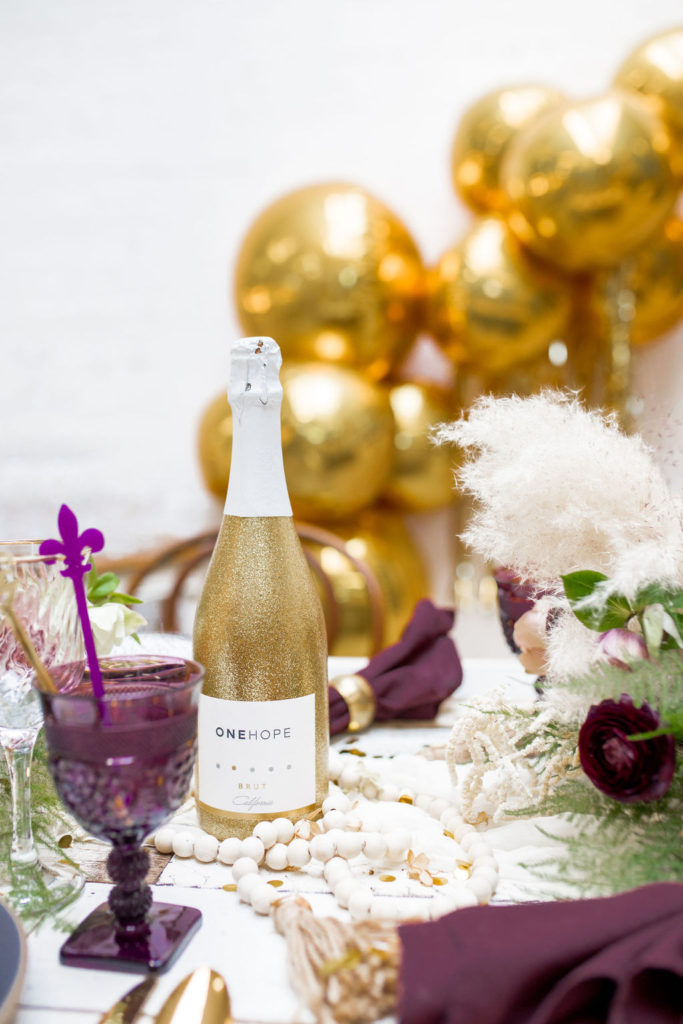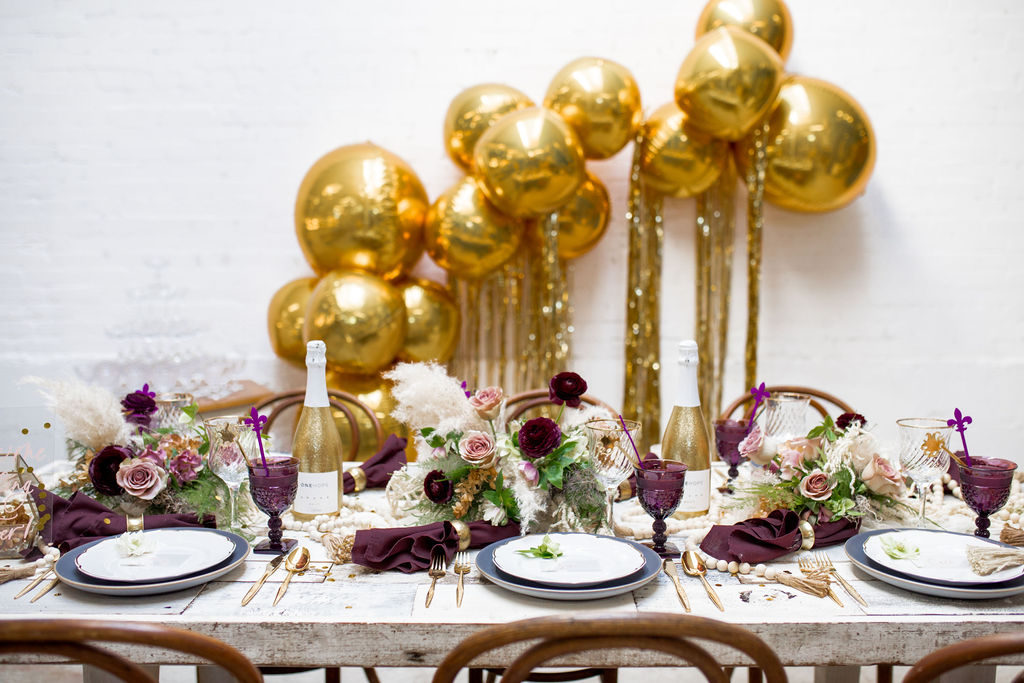 That cotton candy pink pampas grass that Third & Park brought still makes me so happy! Love that that pop!!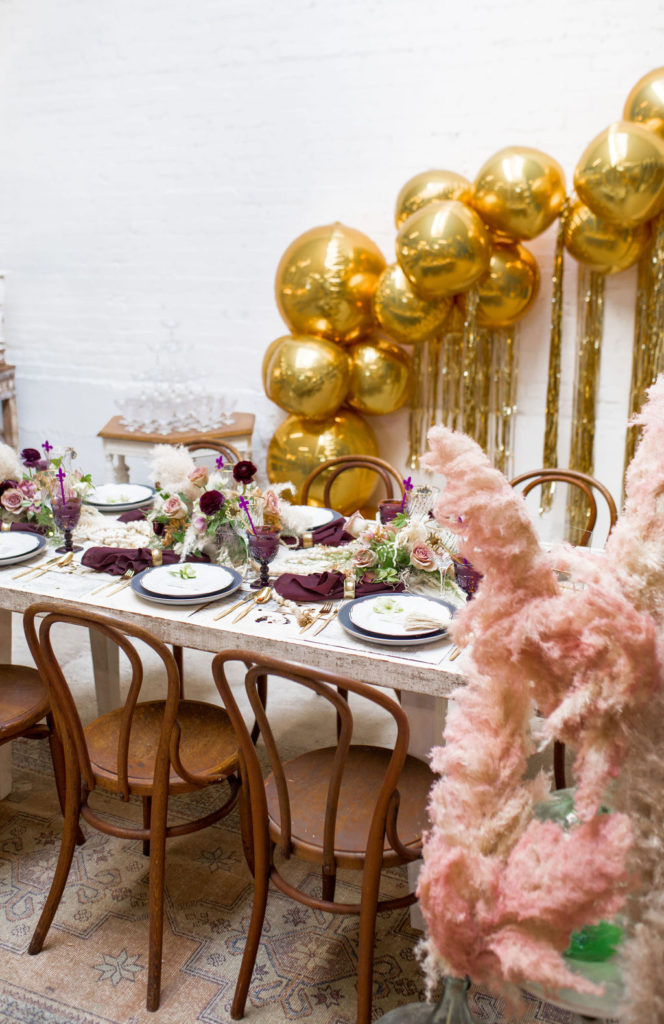 Now let's talk food… Serving some good Southern food is a MUST! There are so many amazing recipes to choose from, your guests would be thrilled with any of them! We went with beignets – and our signage says it all – Beignet All Day!!! Colette's Catering brought a beignet spread with three different dipping sauces, talk about wowing your guests! I'd say you'd have some pretty happy friends at your party with that spread!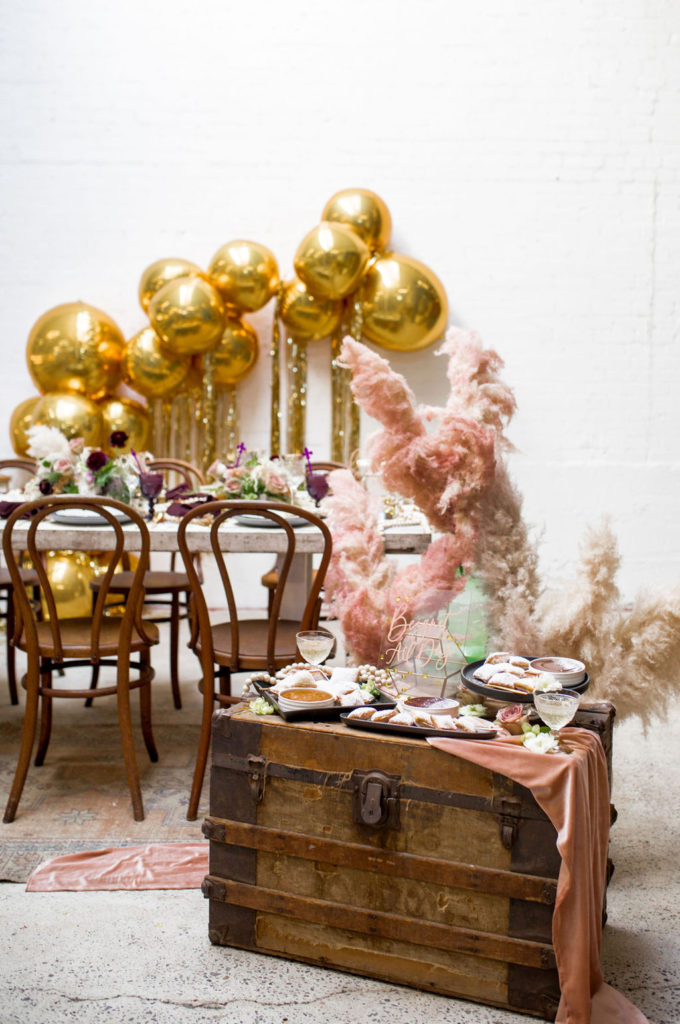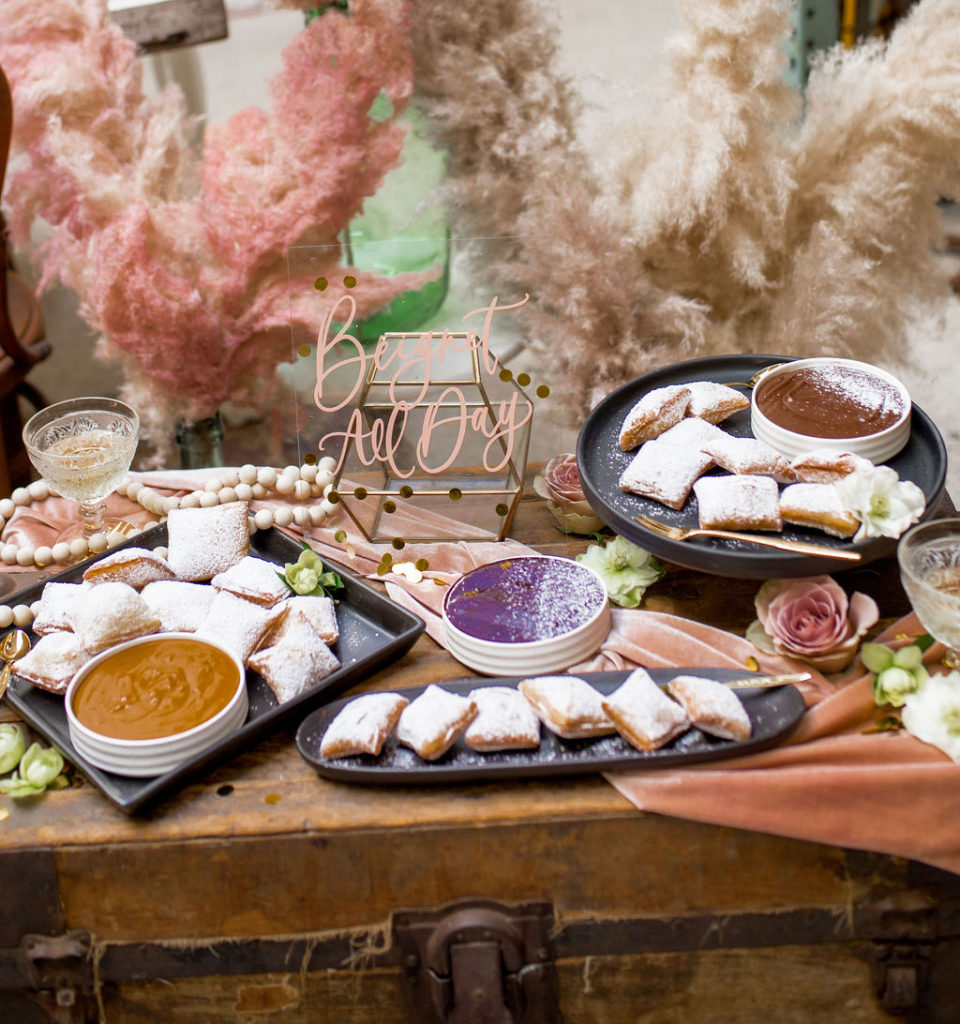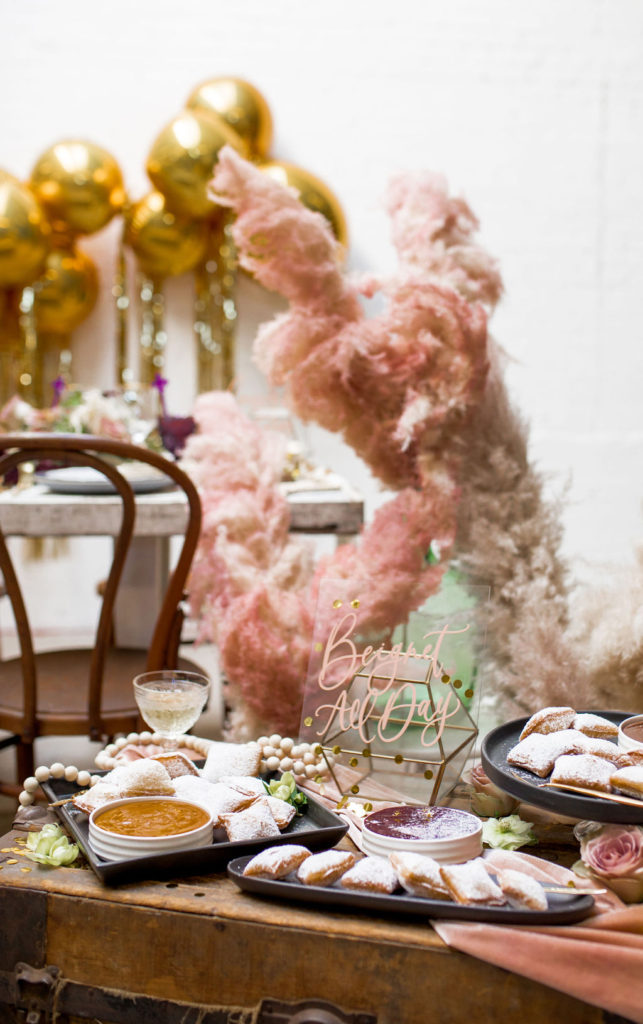 I love this pretty set up! We did it all on one of Sweet Salvage Rental's vintage trunks and strung a pretty blush velvet runner from Party Crush Studio over it. Of course we had our cute signage by Proper Letter and the beads!!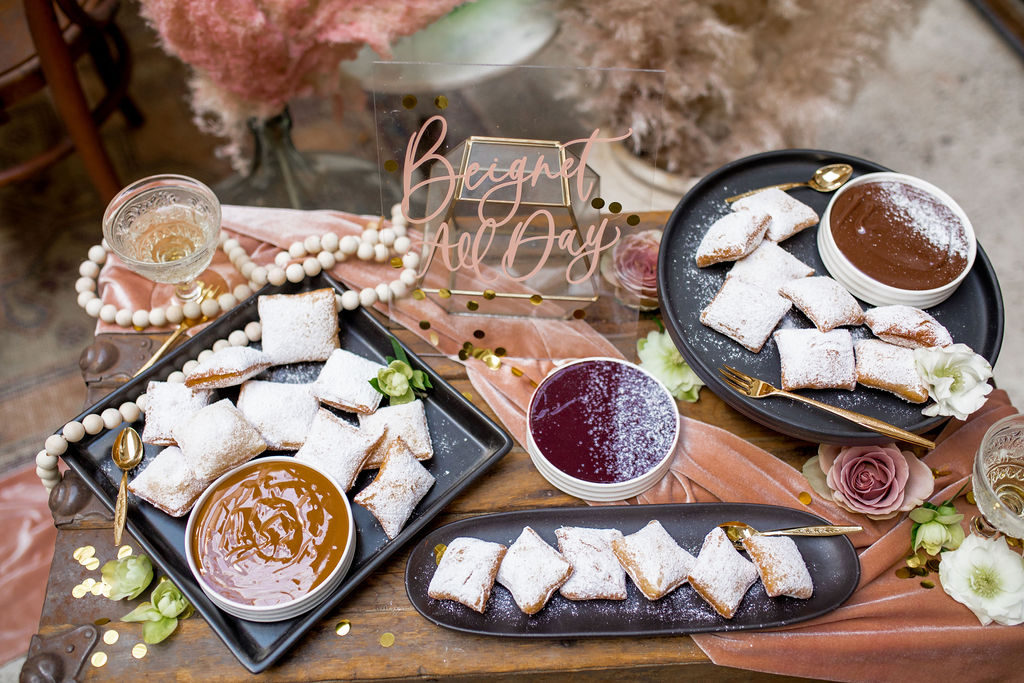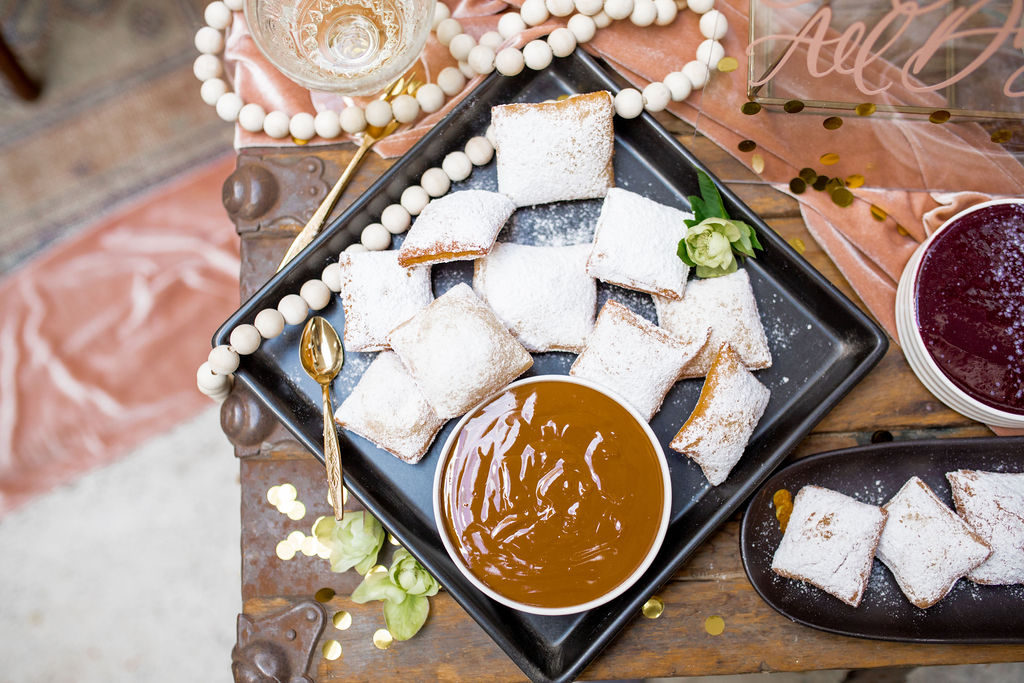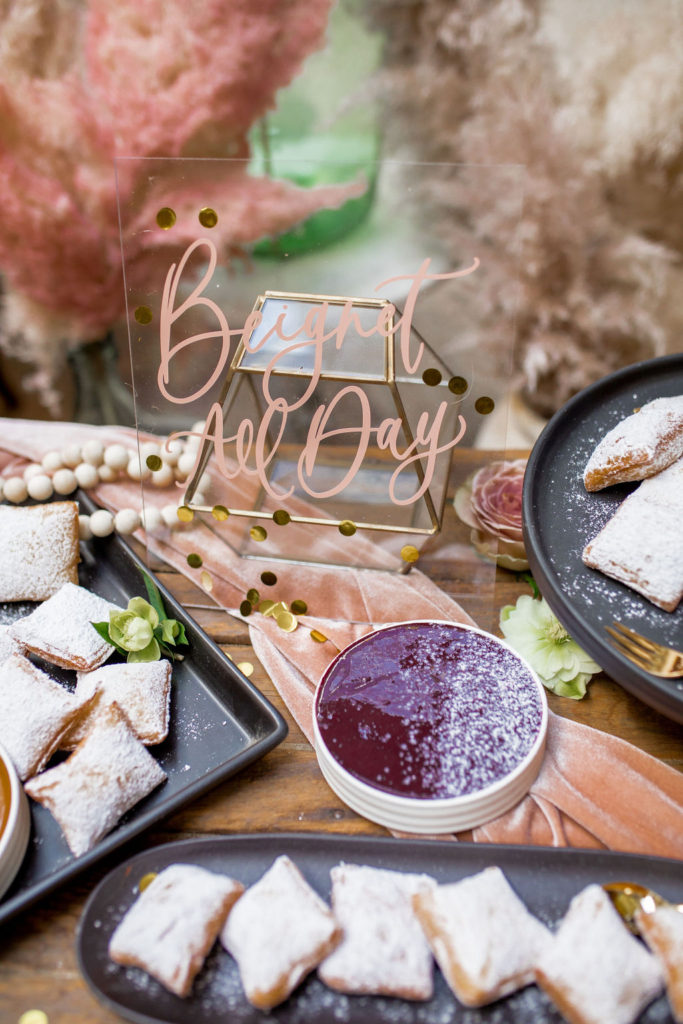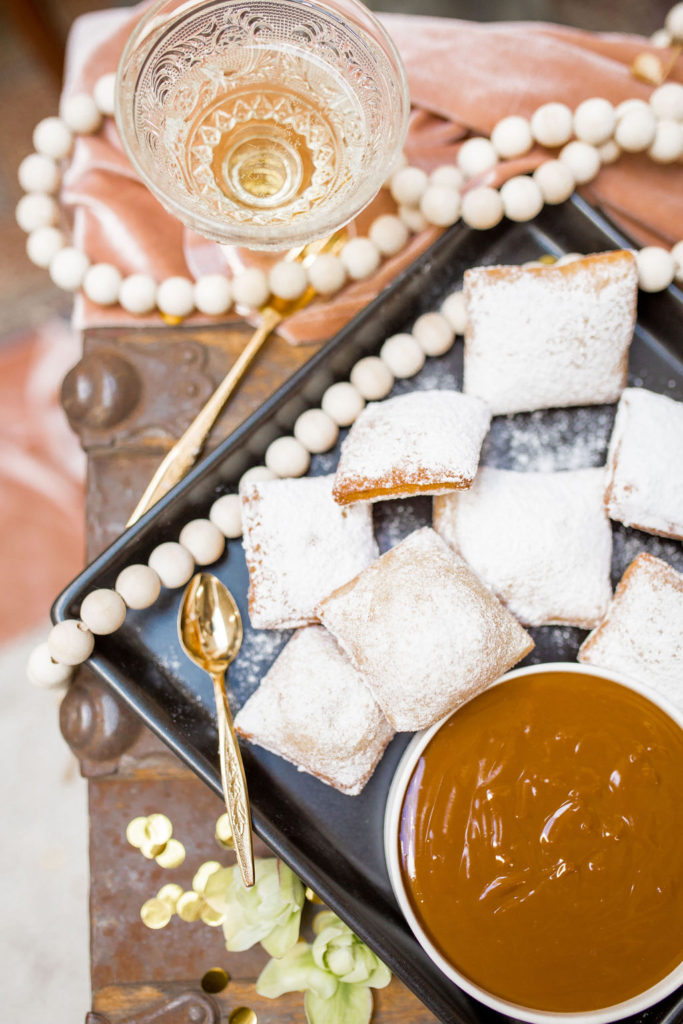 Last but not least, you gotta have a little champagne tower! Now, this isn't easy to set up but boy is it fun! We did ours with a regular champagne and a rosé champagne – both from One Hope – and the ombré effect it made was really pretty!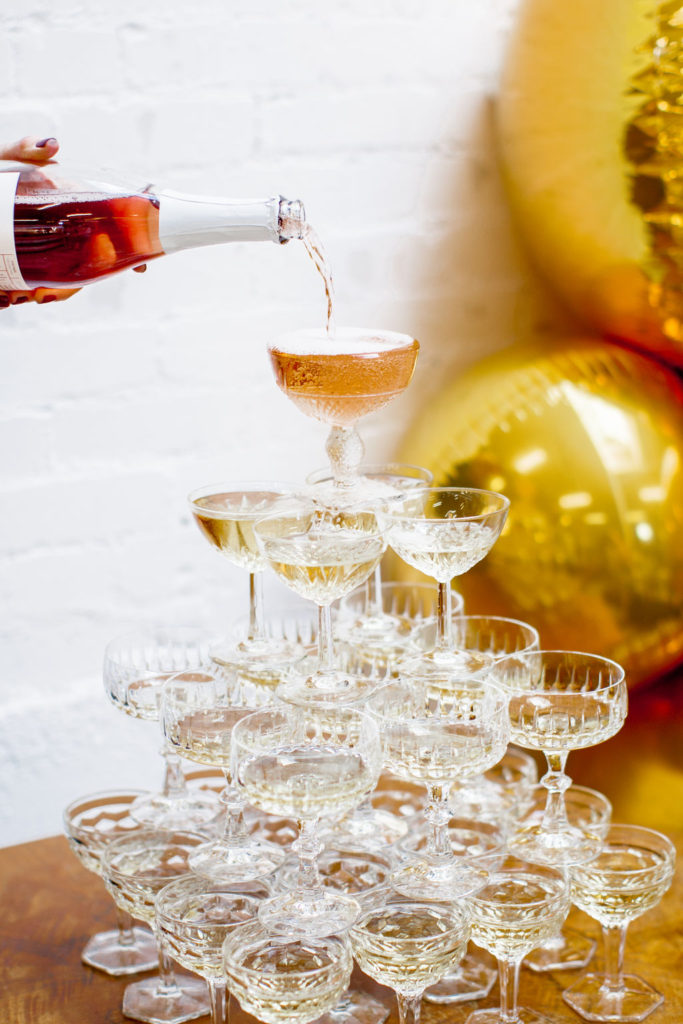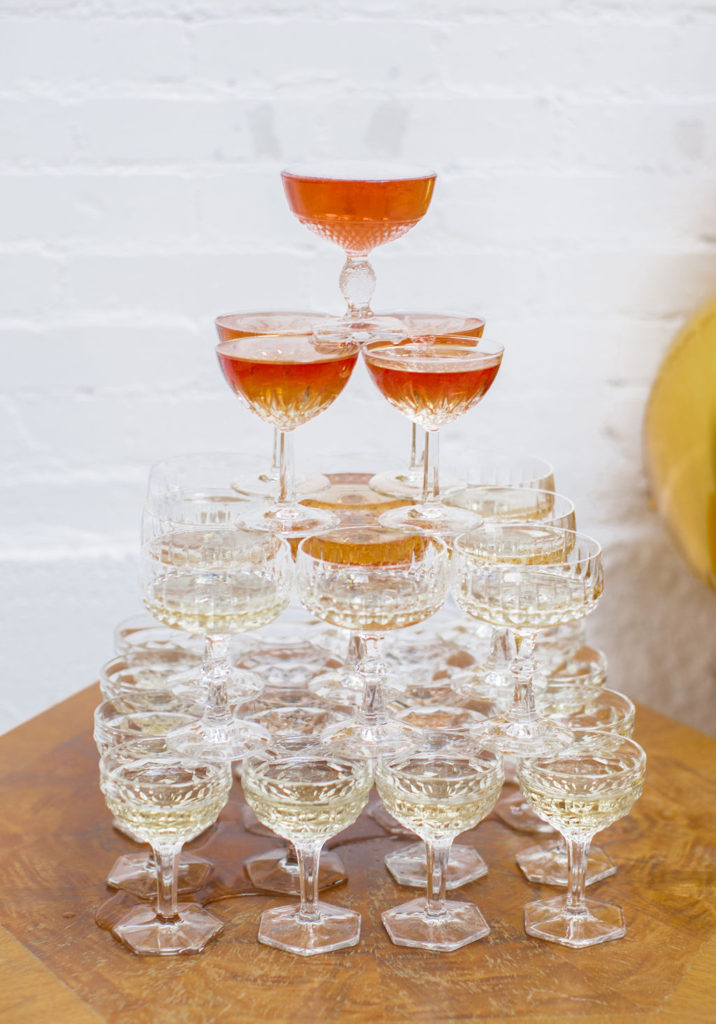 And there you have it!!! Mardi Gras done in style!!! Hope this inspired you to have a little party of your own!!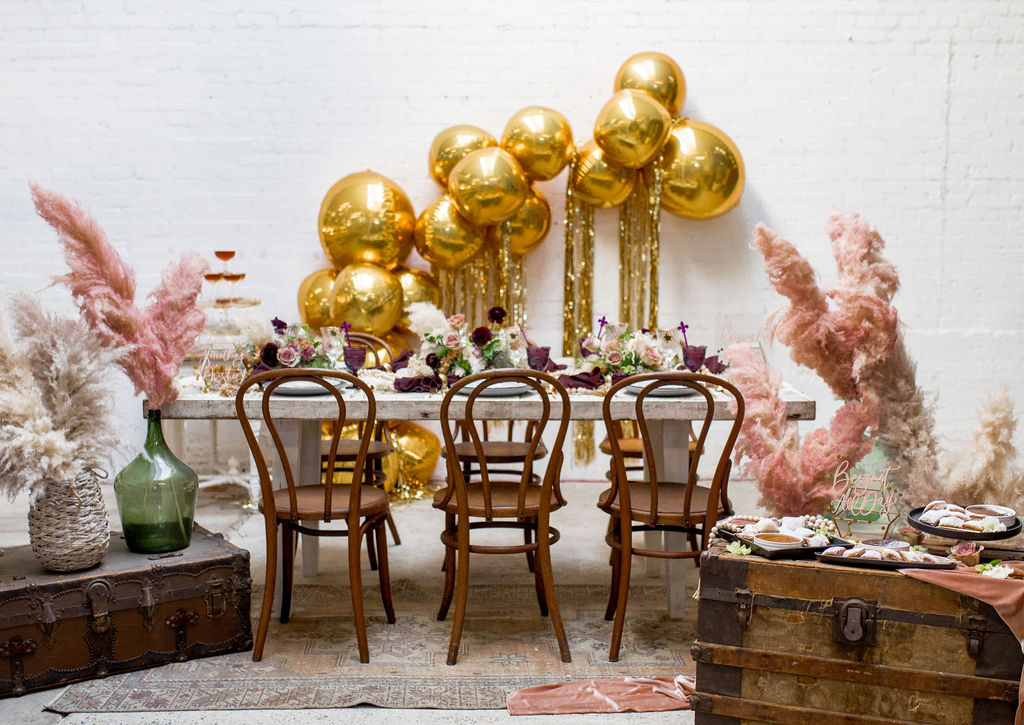 xx
Jacquelyn