Happy National Popcorn Day y'all!!  I for one LOVE popcorn.  There is rarely a night that goes by these days without my family and I enjoying a bowl of popcorn with a movie.  It's the perfect snack, and with so many varieties you just can't go wrong!  So why not celebrate it, I mean it does have it's own national holiday after all!  This one is super cute and would even be great inspiration for a movie night themed party!  Especially since the movie theaters are still closed.  So get your pin button ready and grab yourself some popcorn to snack on because we're poppin'!
Photos by the talented Corrie Lynn Photo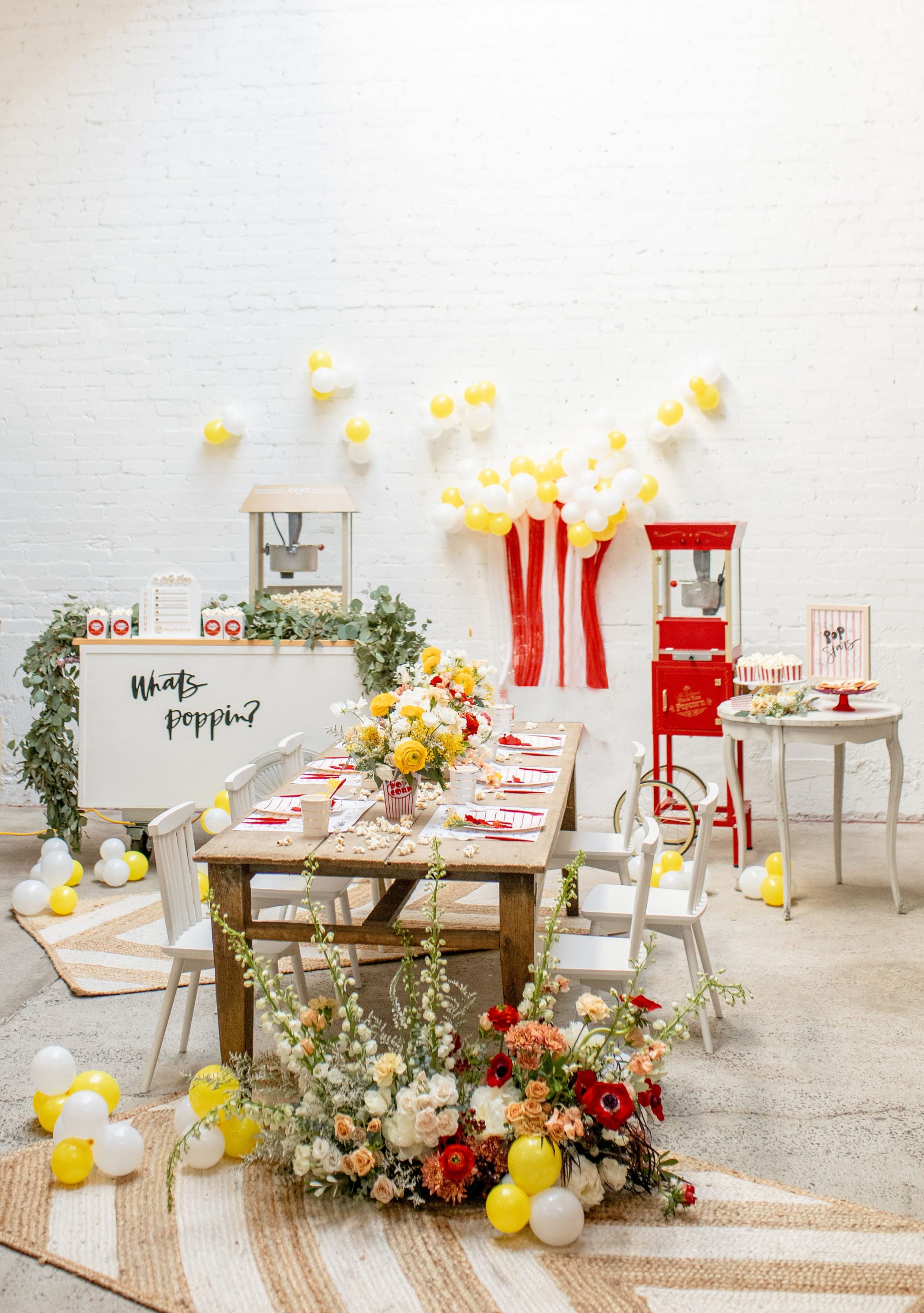 Kicking it off with a cute little invite by my buddy Meghann Miniello!  I always love her pretty handwriting…  She's a busy mama of three so I don't get to work with her quite as often as I used to but still love any chance I get!  Corrie styled it with cute stir sticks from David & Leanna, cookies by Really Cute Sweets, and of course Popcorn!!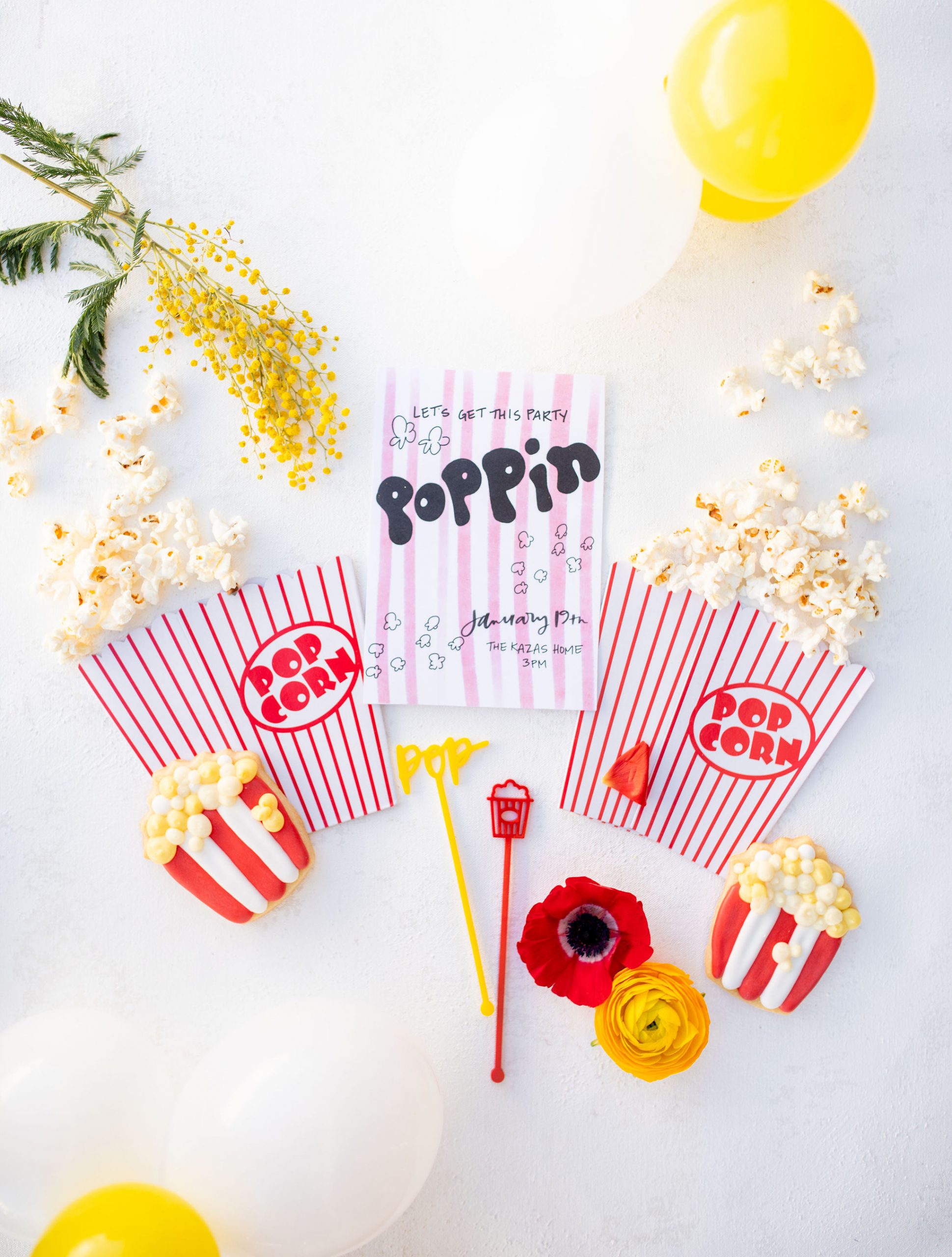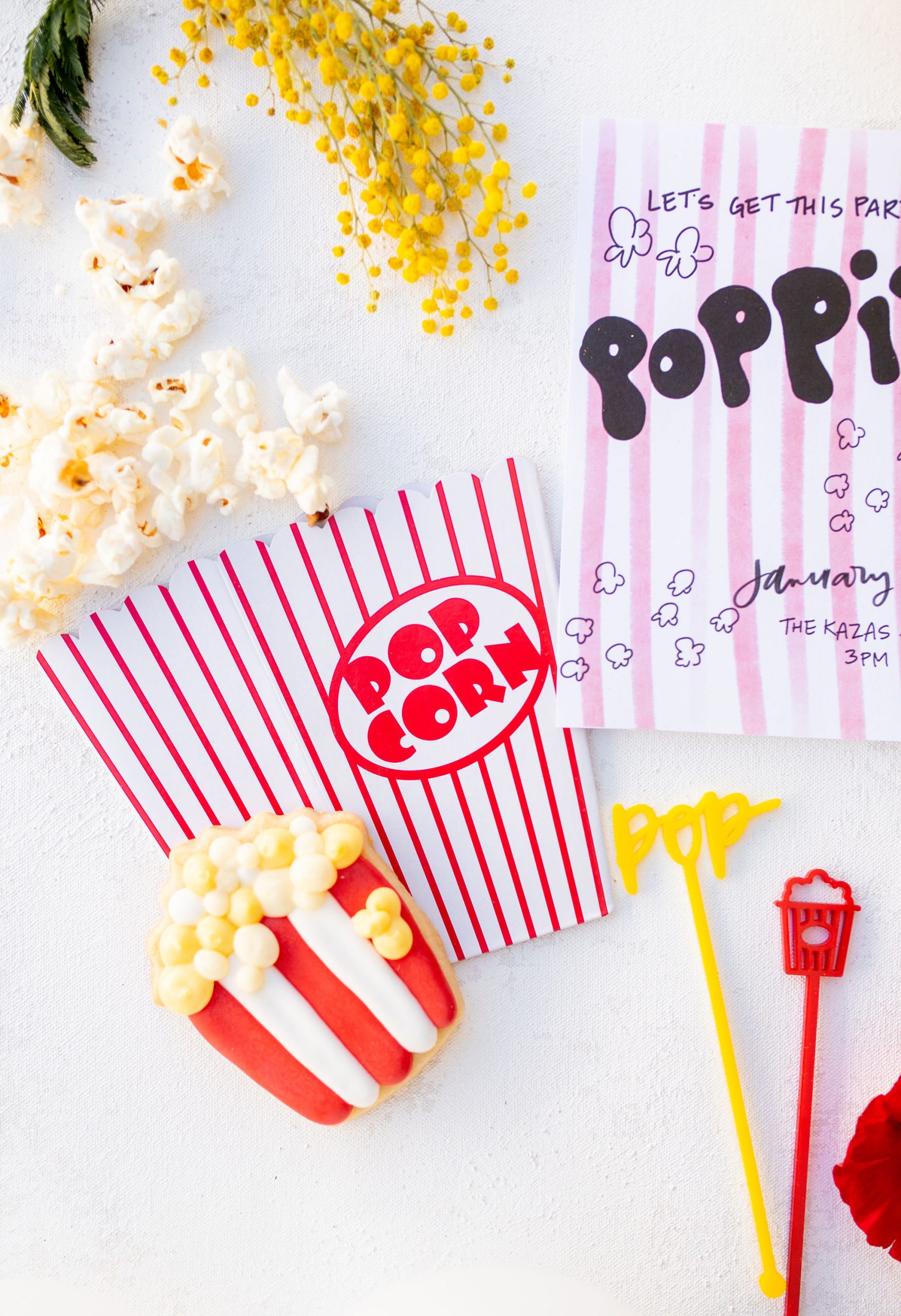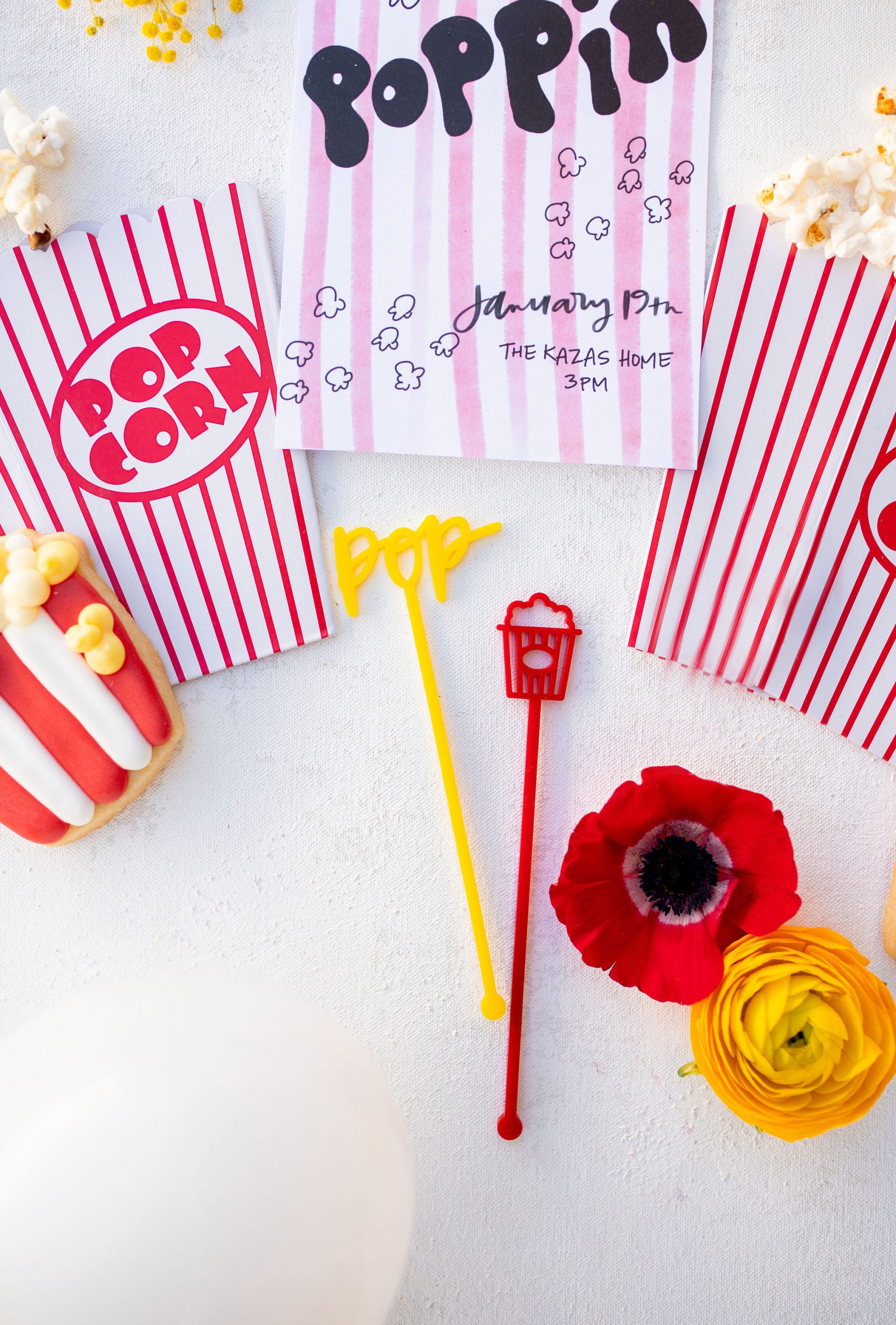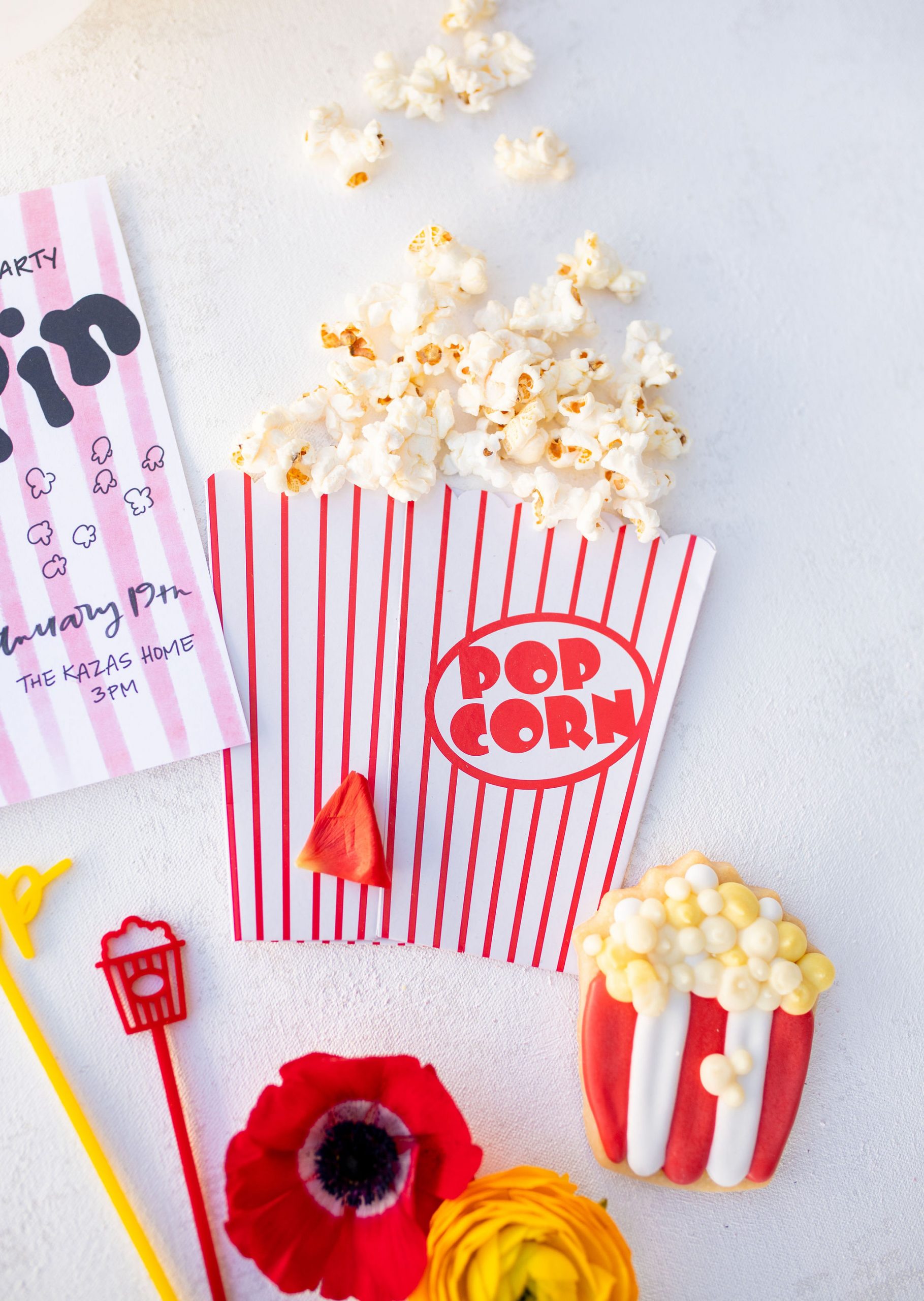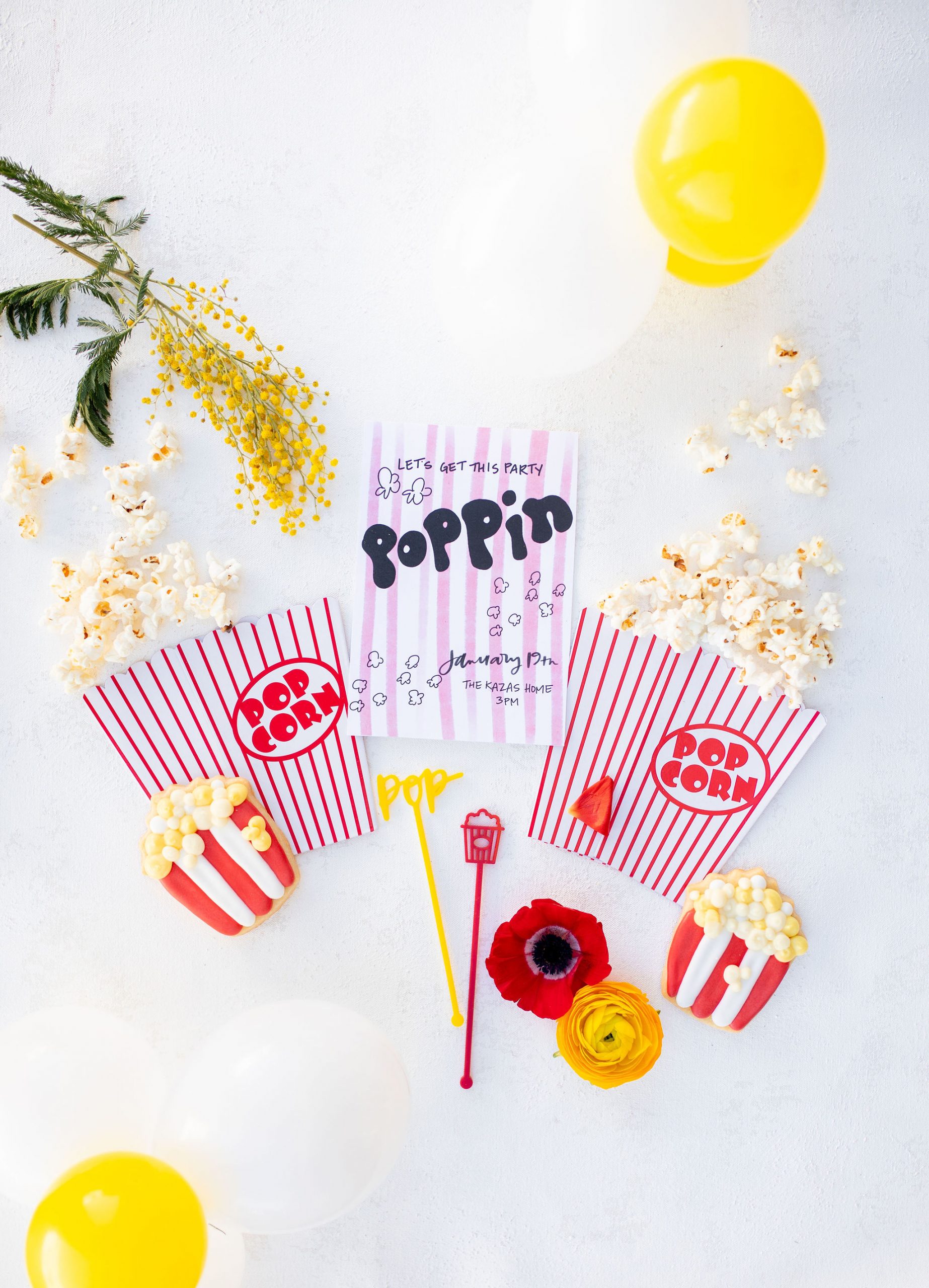 I had to use the classic popcorn colors.  Usually I'm not a fan of red, but it was just too perfect for this one!  The red, white and yellow was so nostalgic.  We had our friends The Jolly Sheep come and bring their cute popcorn cart that we dolled up AND had the vintage red popcorn maker from our friends at Nostalgia Products.
I added some pretty vintage inspired pieces from Sweet Salvage Rentals for furniture and decked out the table and other spots with florals from The Lamb & Poppy.  Of course we had to have some balloons!!  The Pop Shop created a popcorn box along with lots of popcorn everywhere!!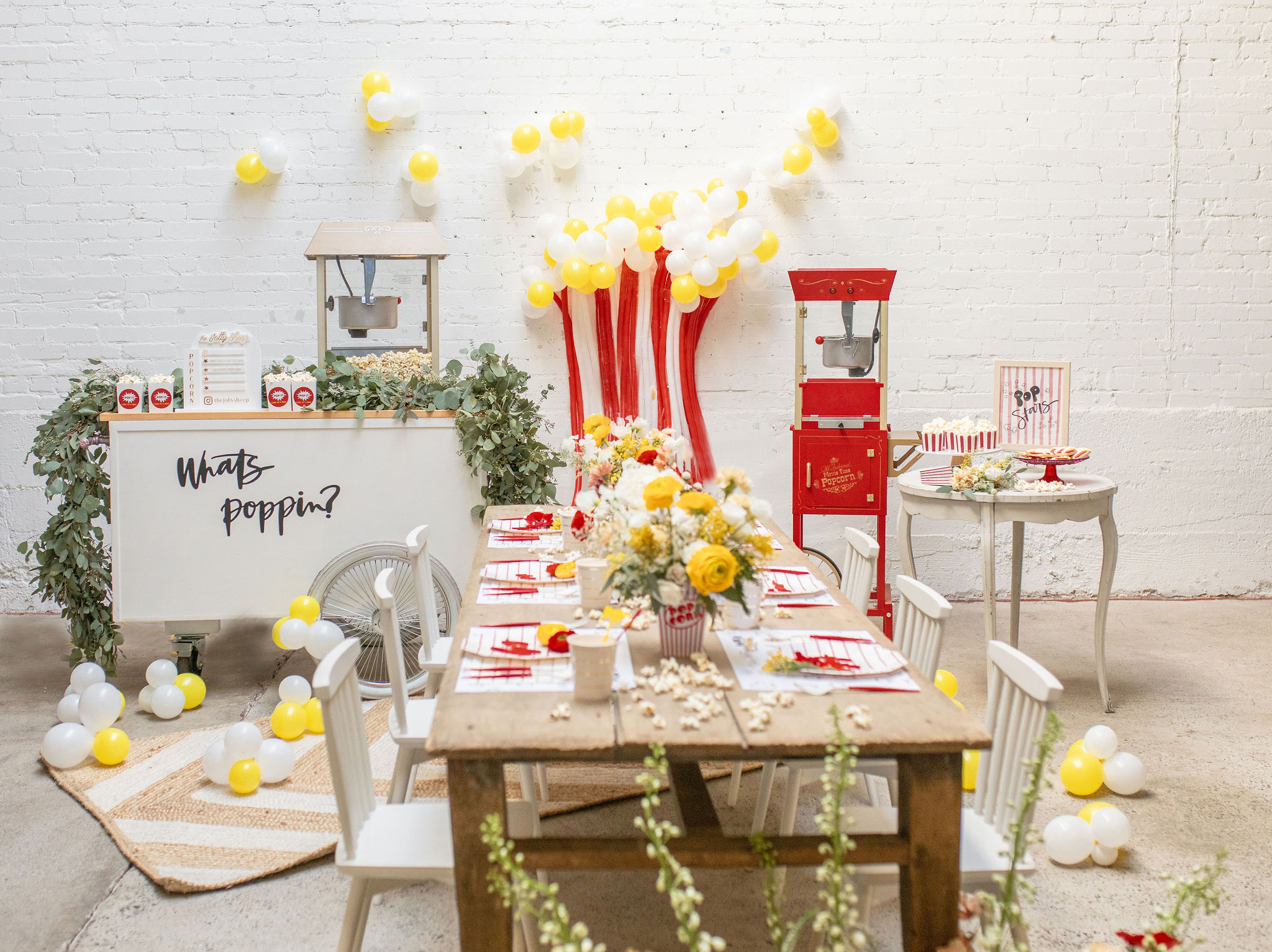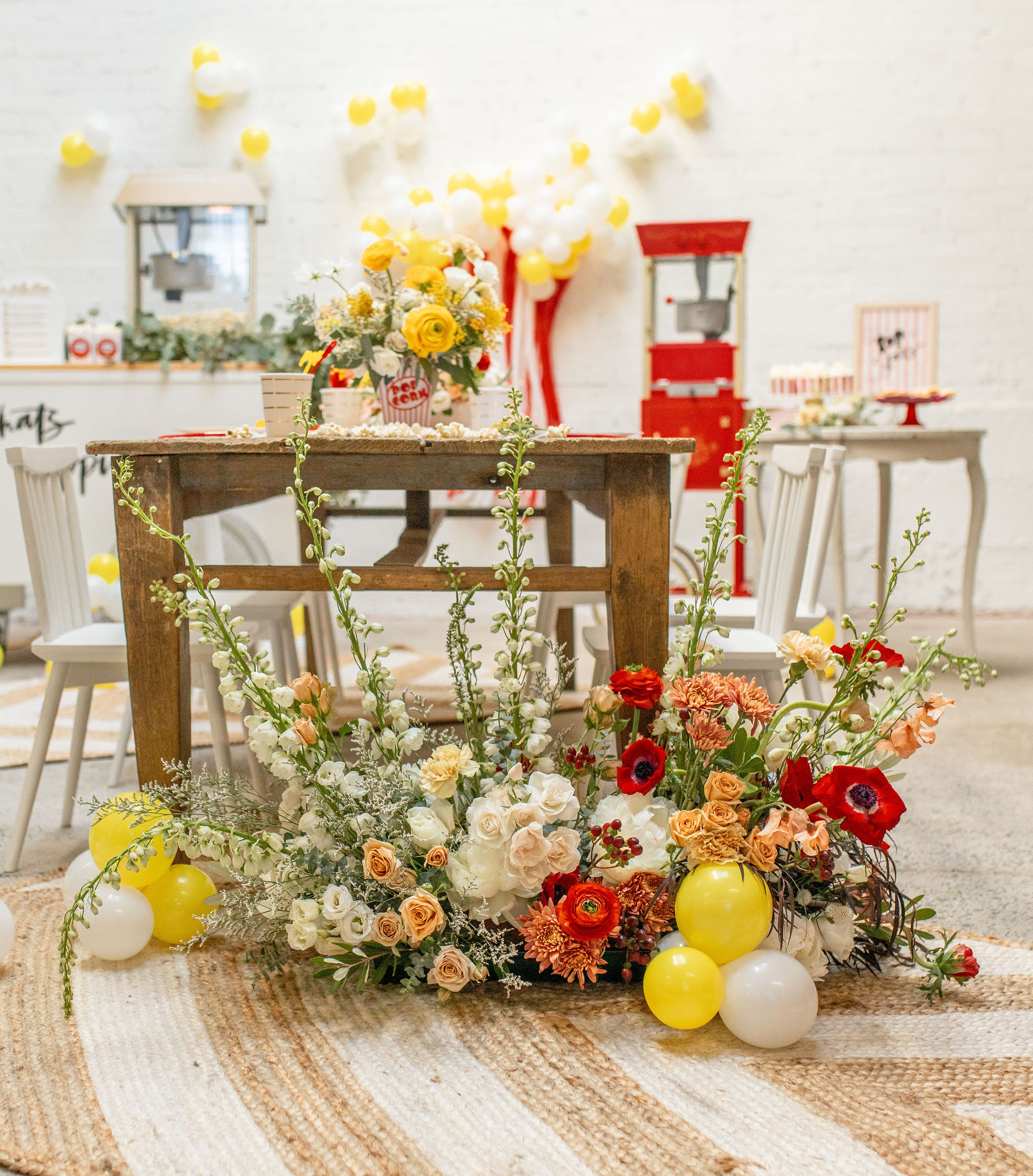 How cute are these floral arrangements by The Lamb & Poppy inside a popcorn box?!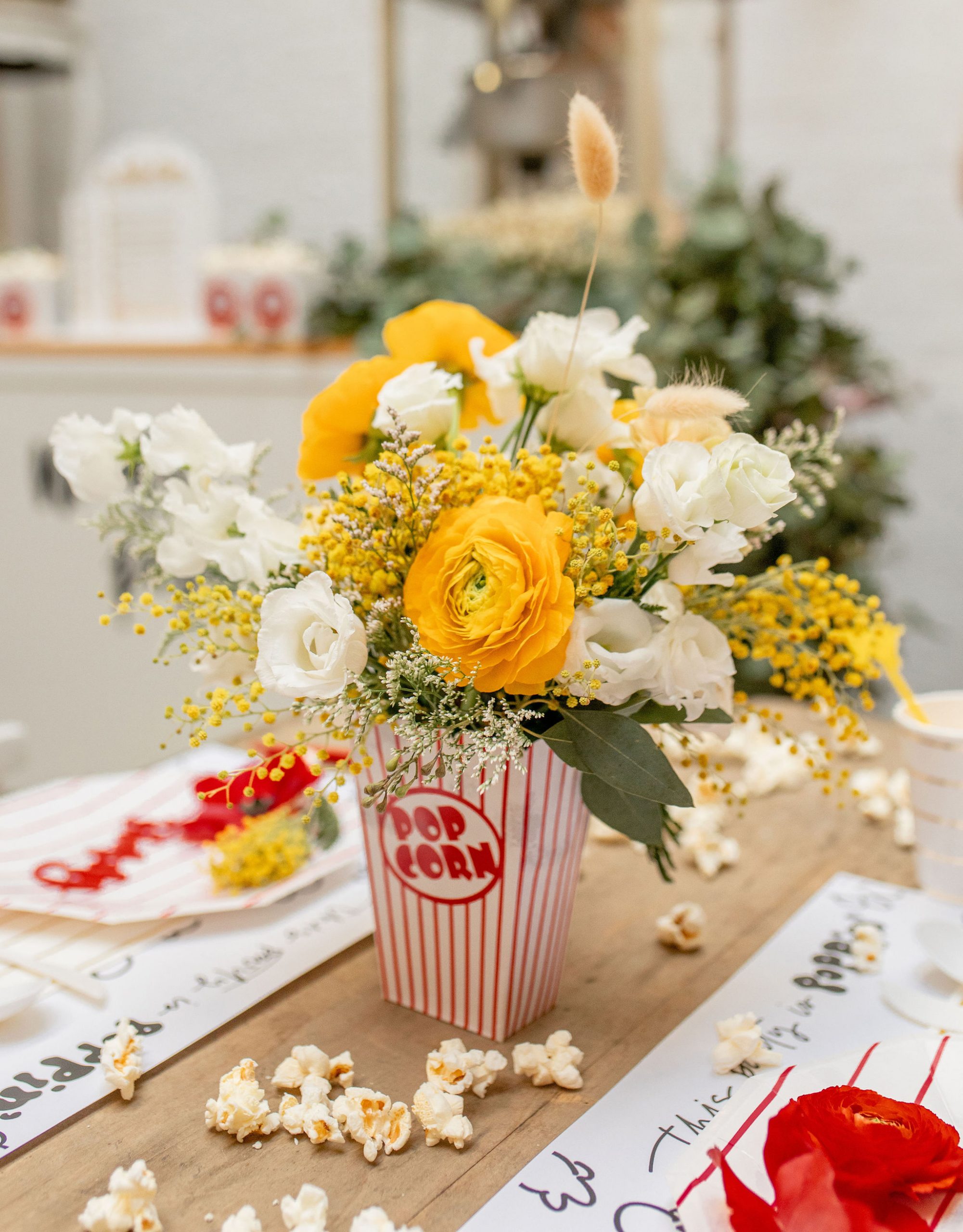 The place settings were equally adorable!  Popcorn graphic placemats by Meghann Miniello with Daydream Society's striped plates, napkins & cups make for one pretty picture.  Can't forget my favorite Bella flatware from Sophistiplate and those gorgeous florals by The Lamb & Poppy.  The place cards were cut by both David & Leanna and Creative Amme, who helped me out because I was short two!  Haha!  Oh, and the popcorn was thrown around by me… I know, it takes a genius ;)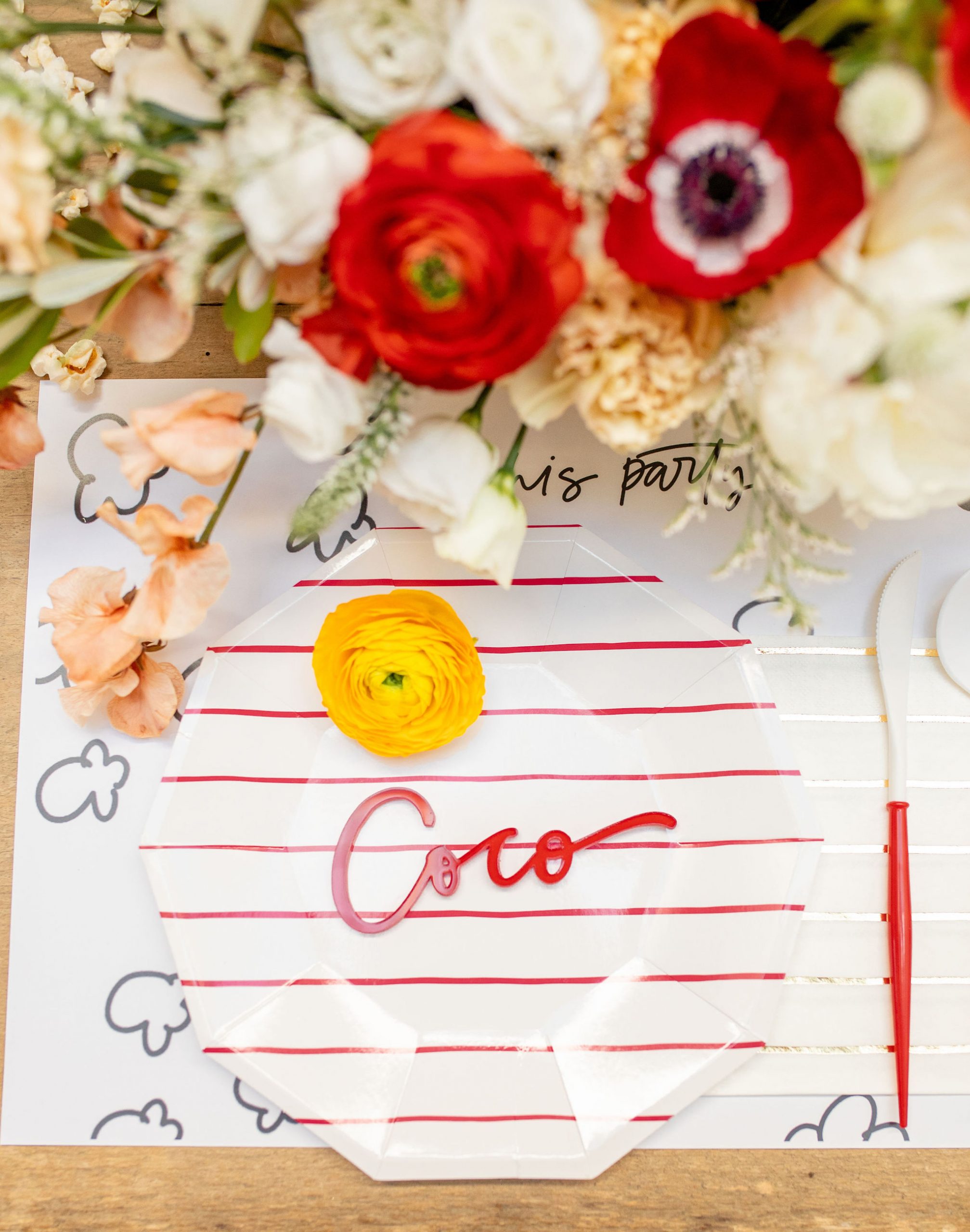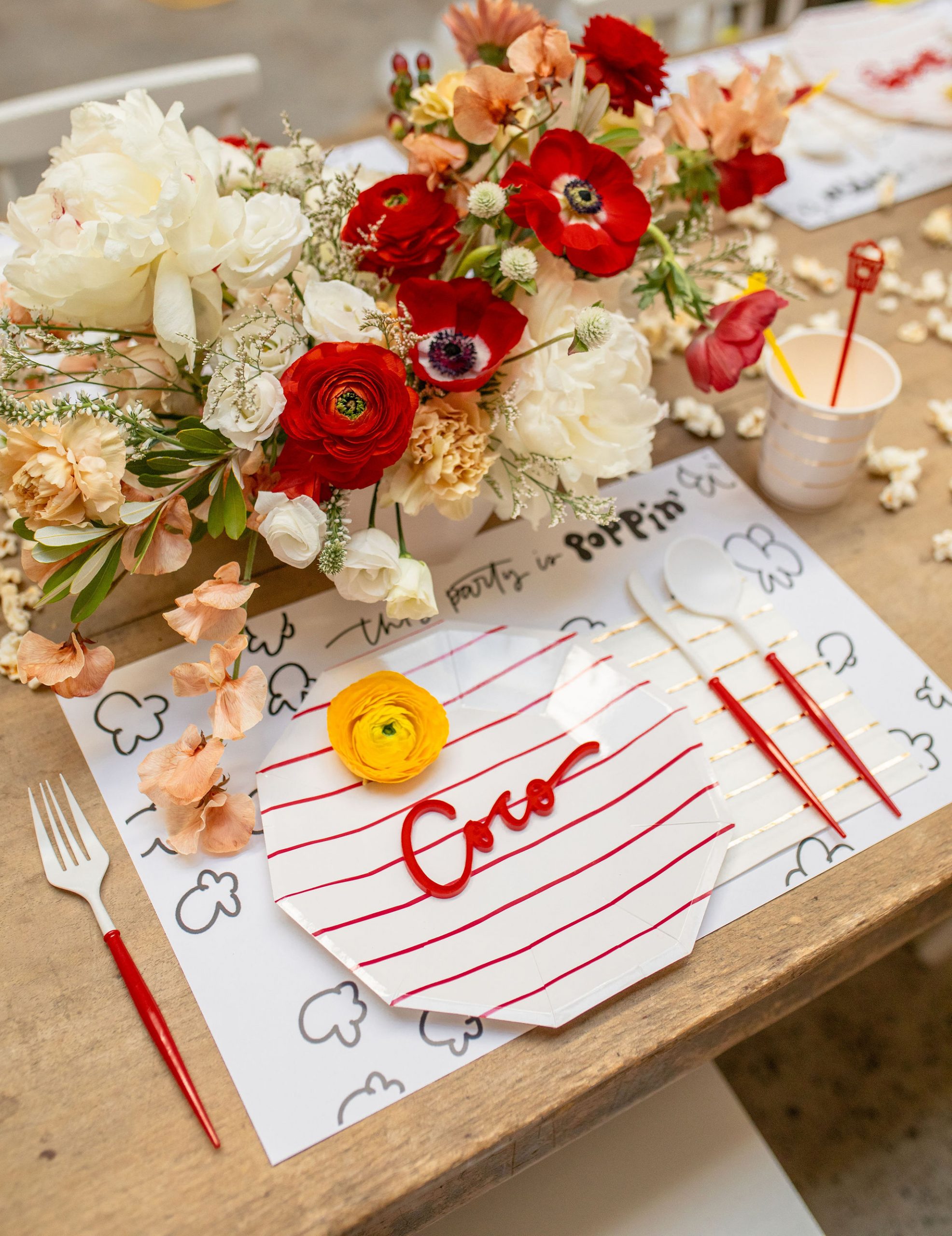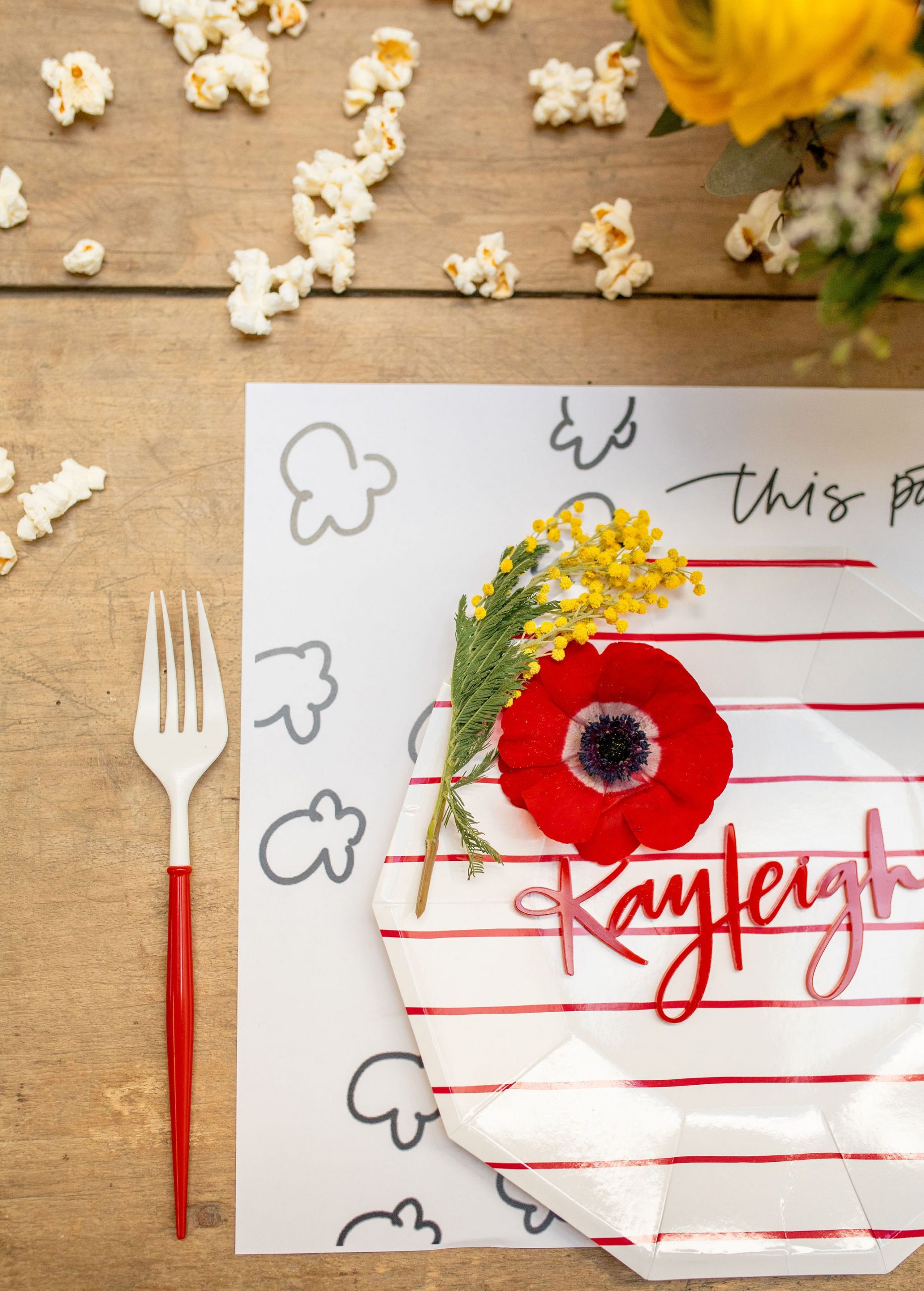 I love this whole set up!!!  So darn cute!!!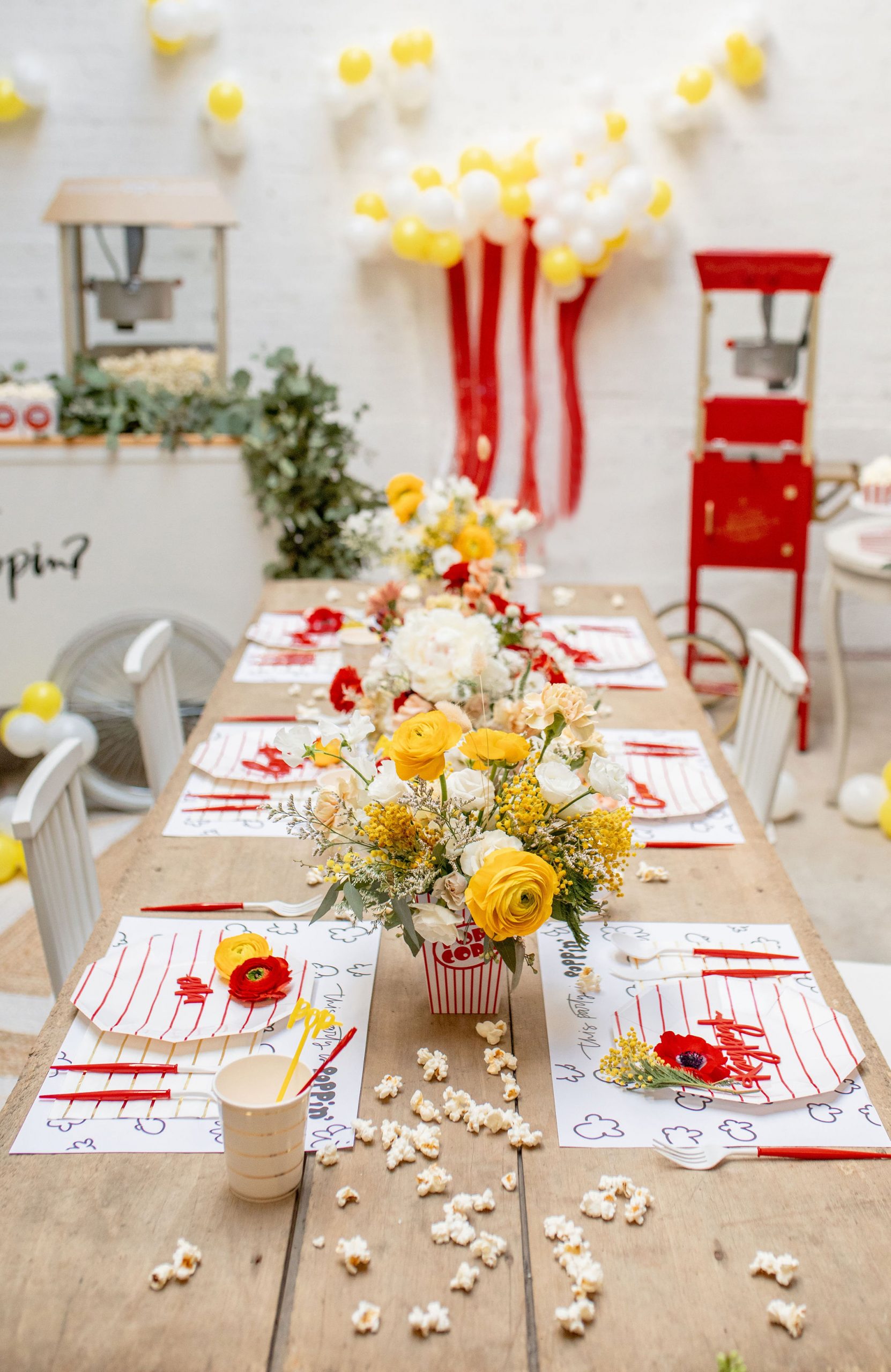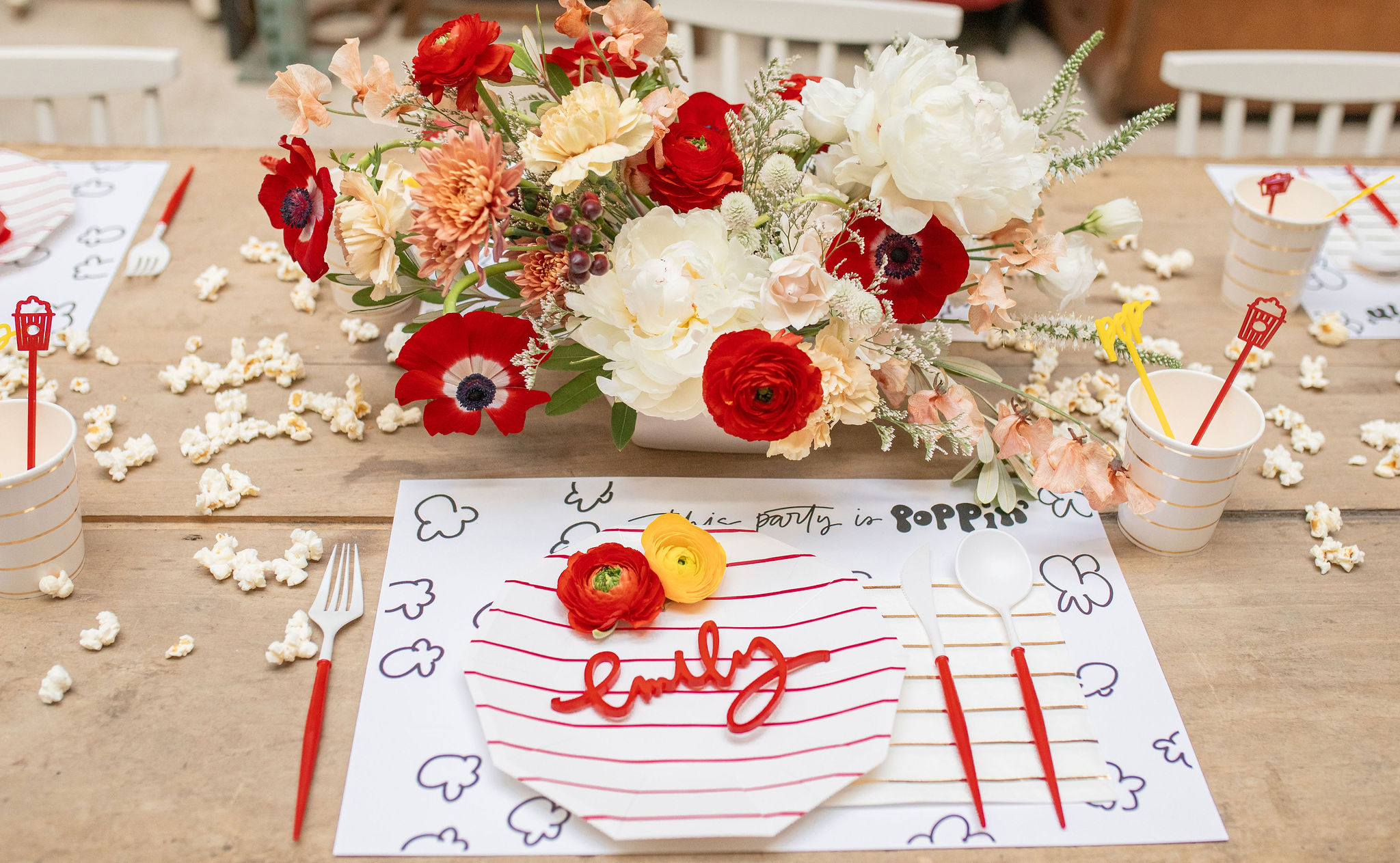 Loving those adorable stir sticks too!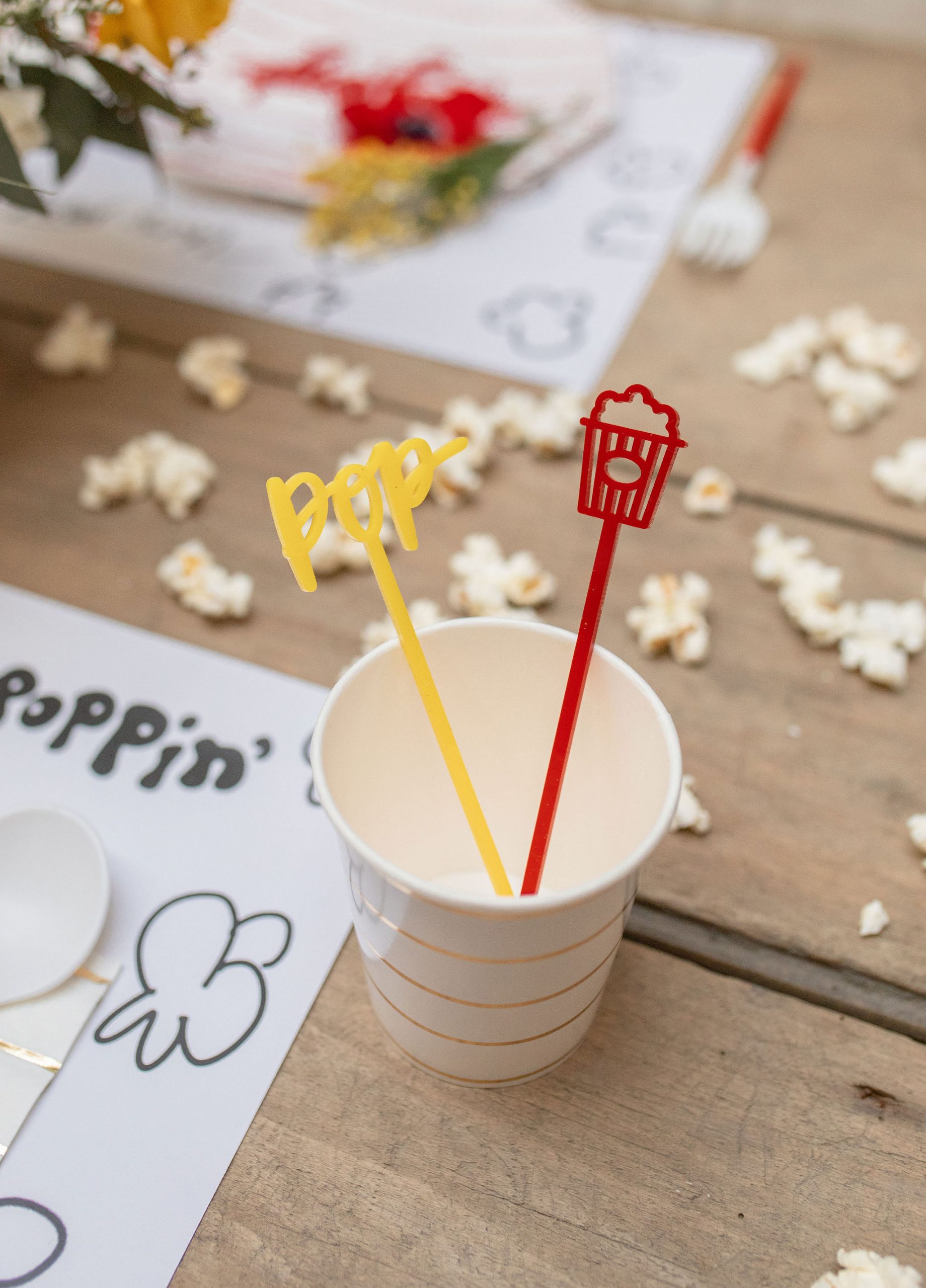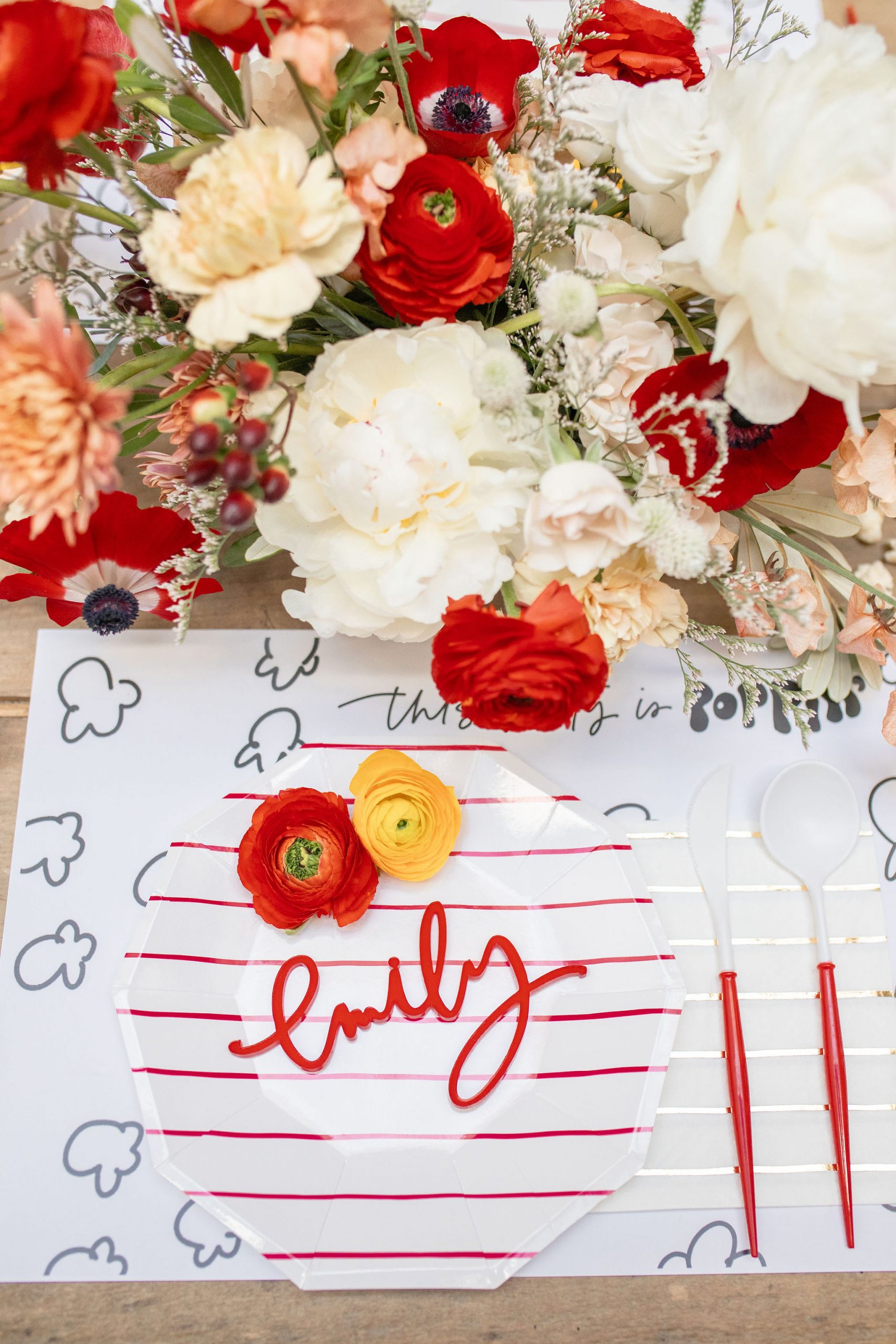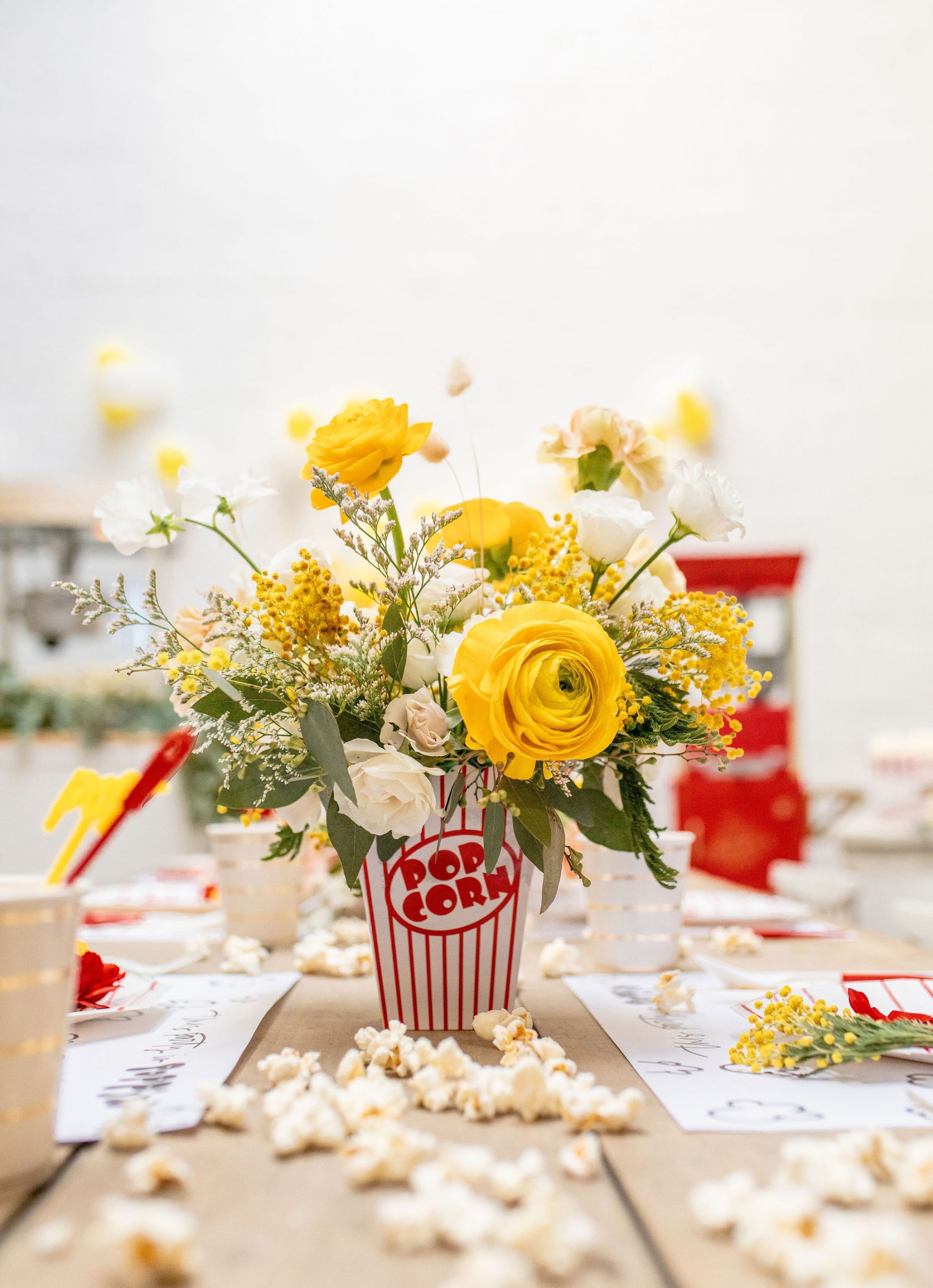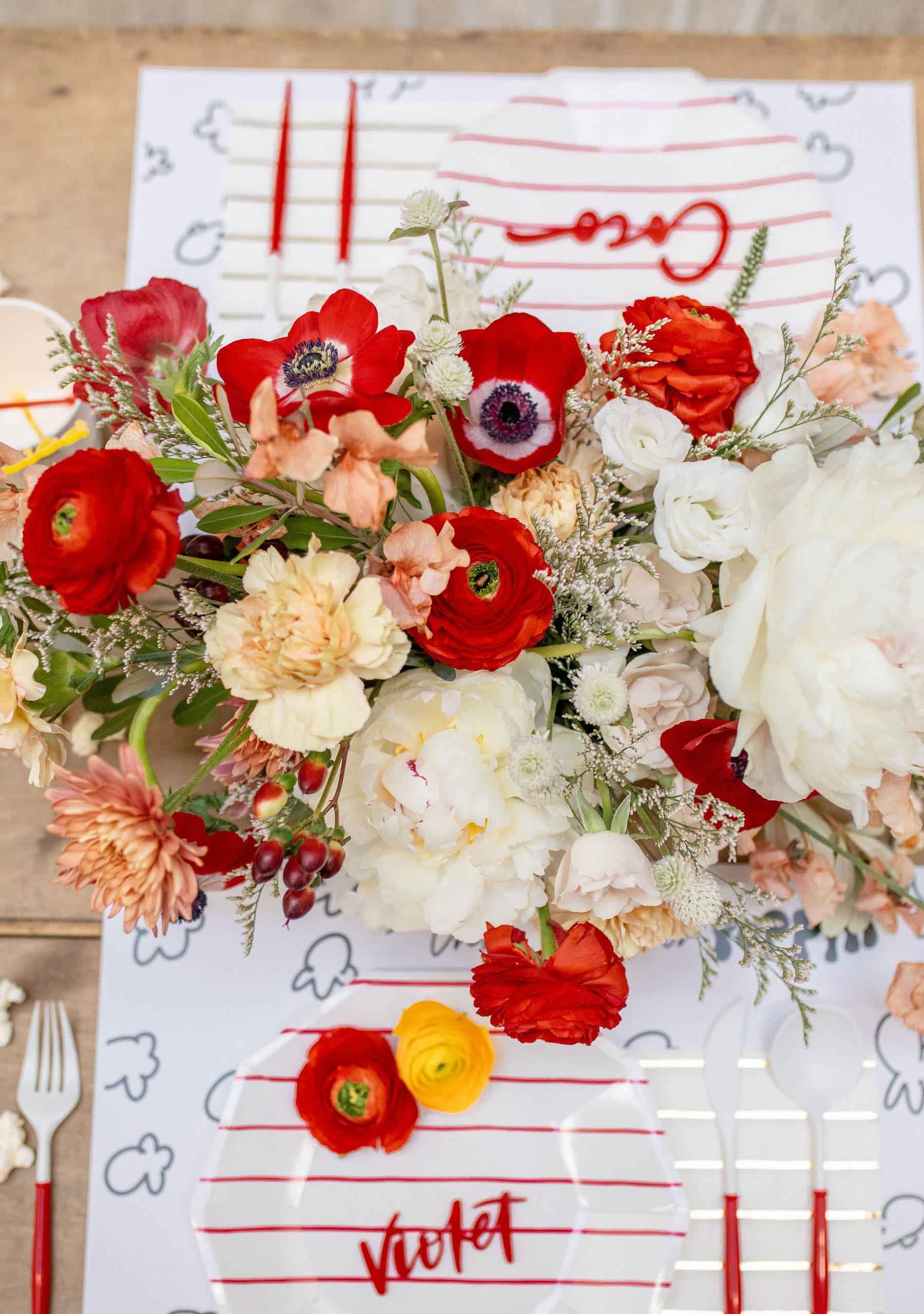 And I'm obsessed with these florals by The Lamb & Poppy!  This was the first time I worked with her and she blew my mind!!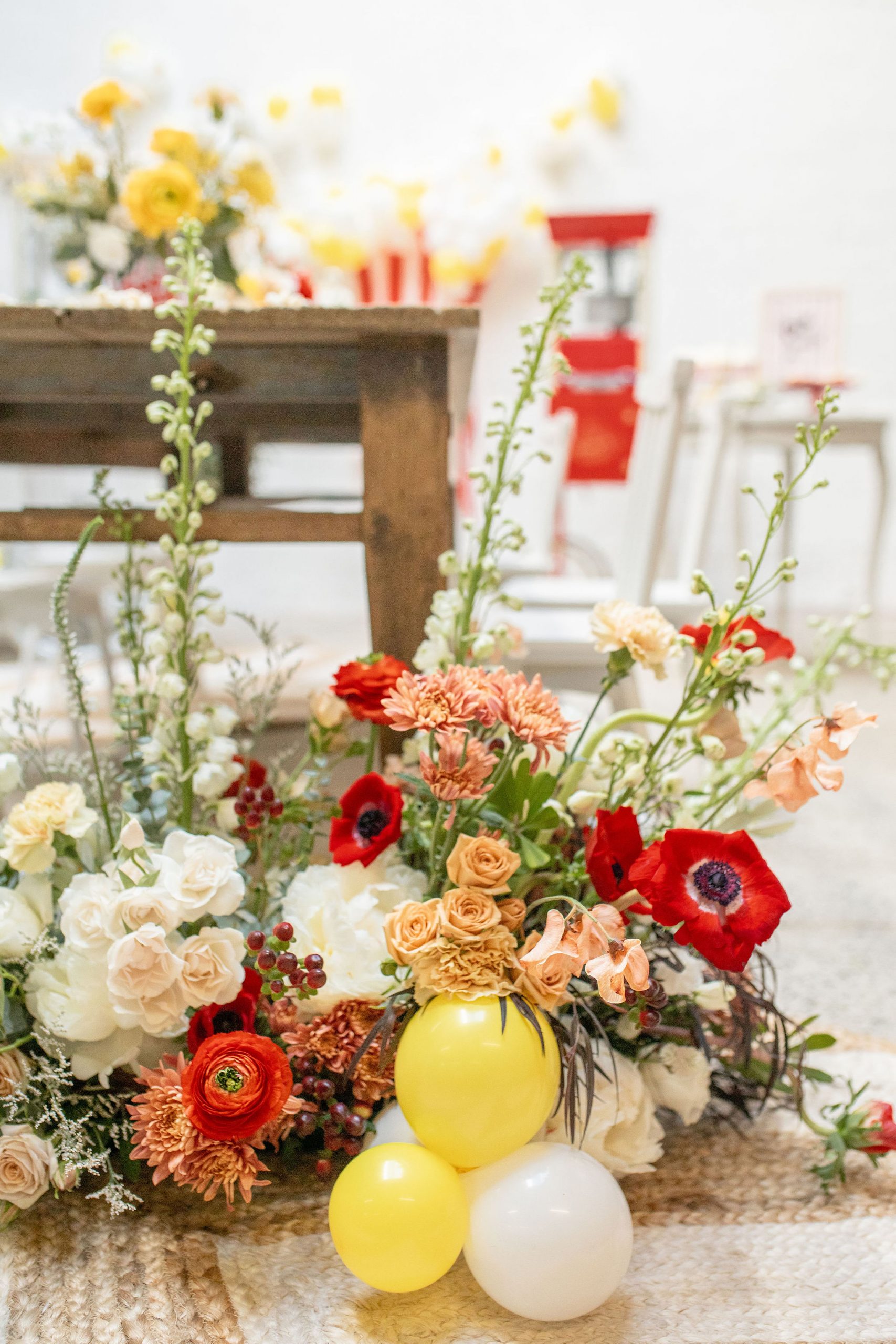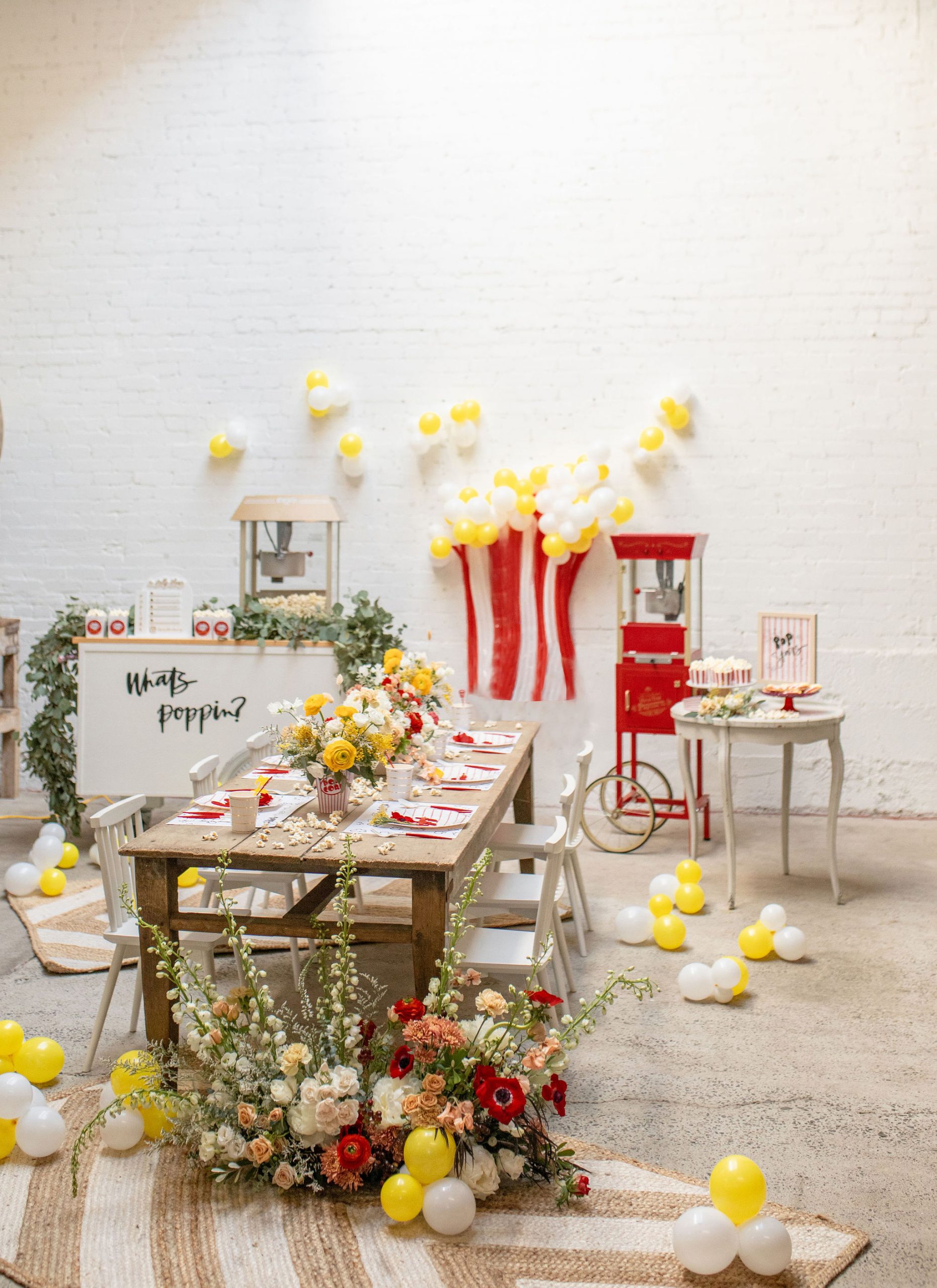 I have to share more of The Jolly Sheep's cute cart!  The Lamb & Poppy added a pretty greenery garland and we added a decal by David & Leanna in Meghann Miniello's hand writing.  Lots of cute little balloons from The Pop Shop make it so fun and festive!  Something I absolutely love about The Jolly Sheep is that they always go above and beyond.  They brought the cutest little popcorn boxes and always try to add a little fun flair for each of their clients.  Truly, they are the best!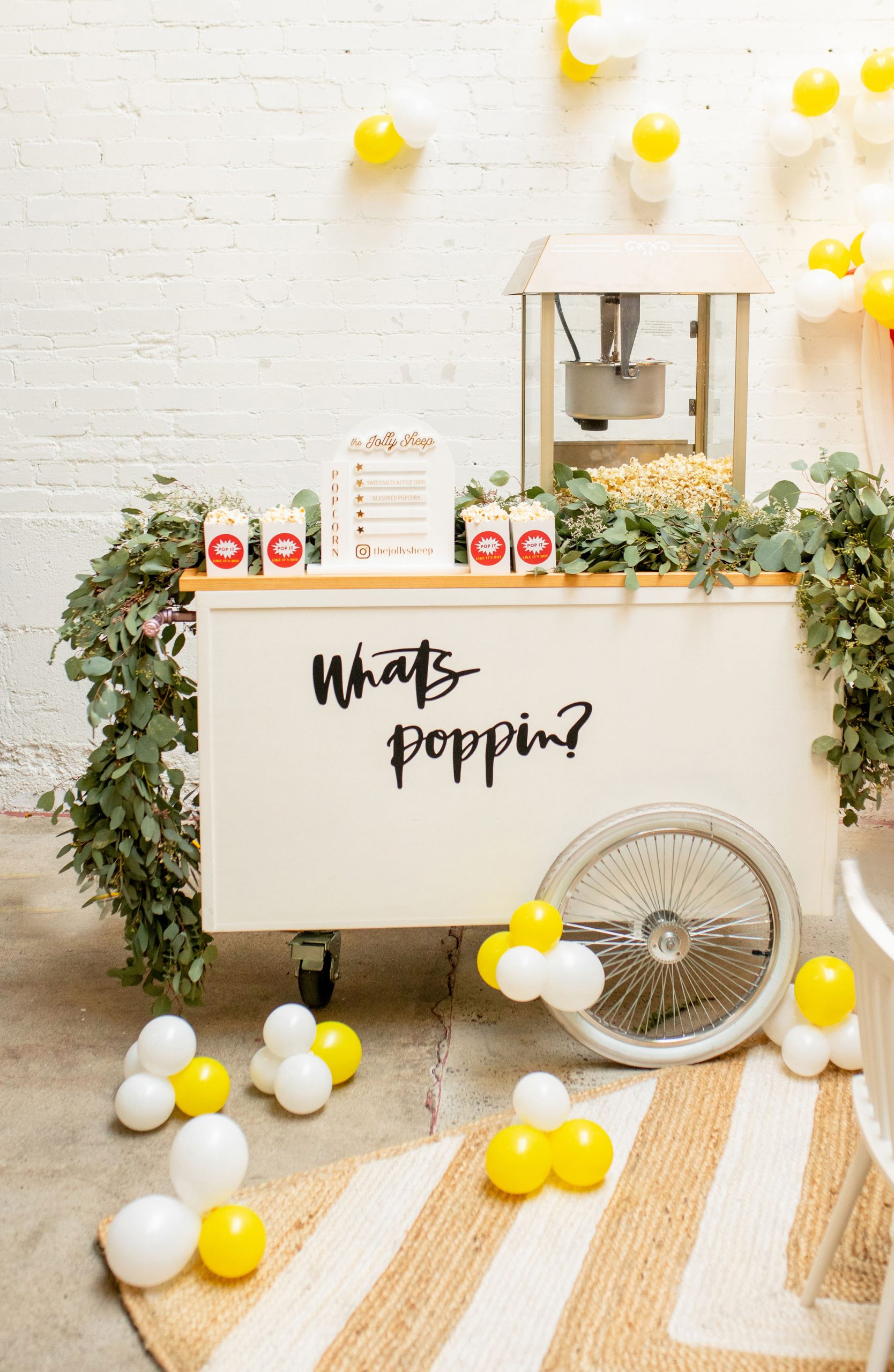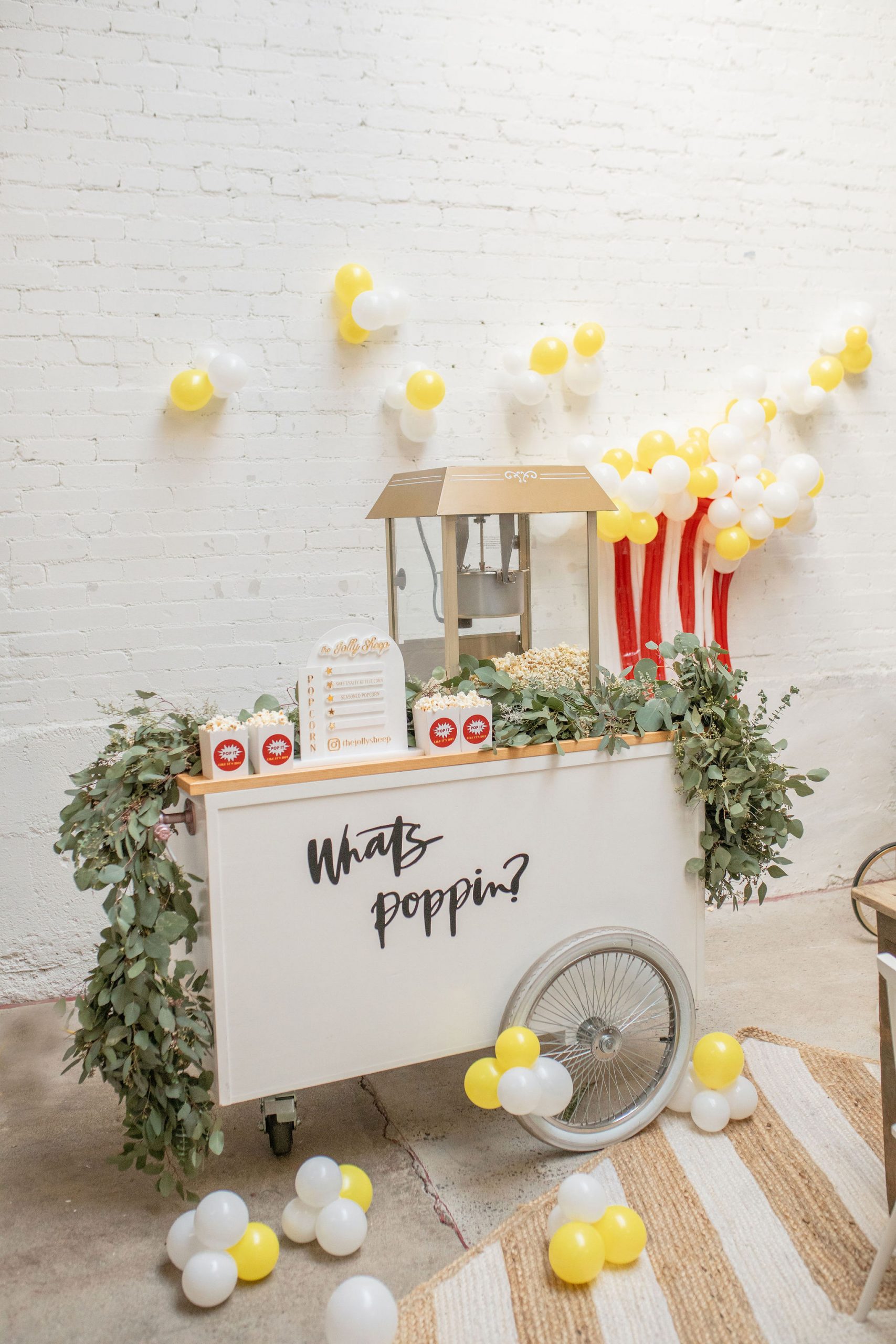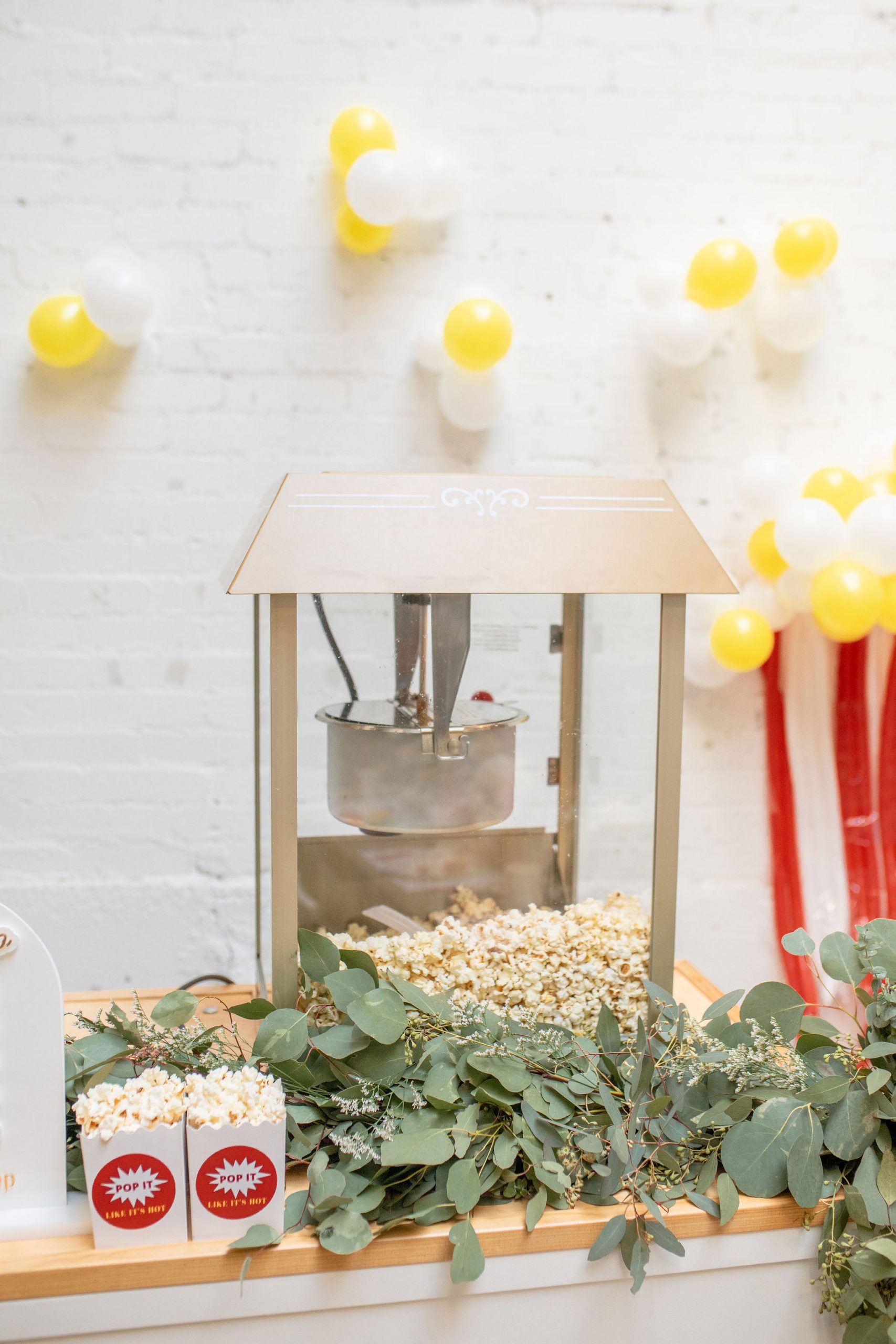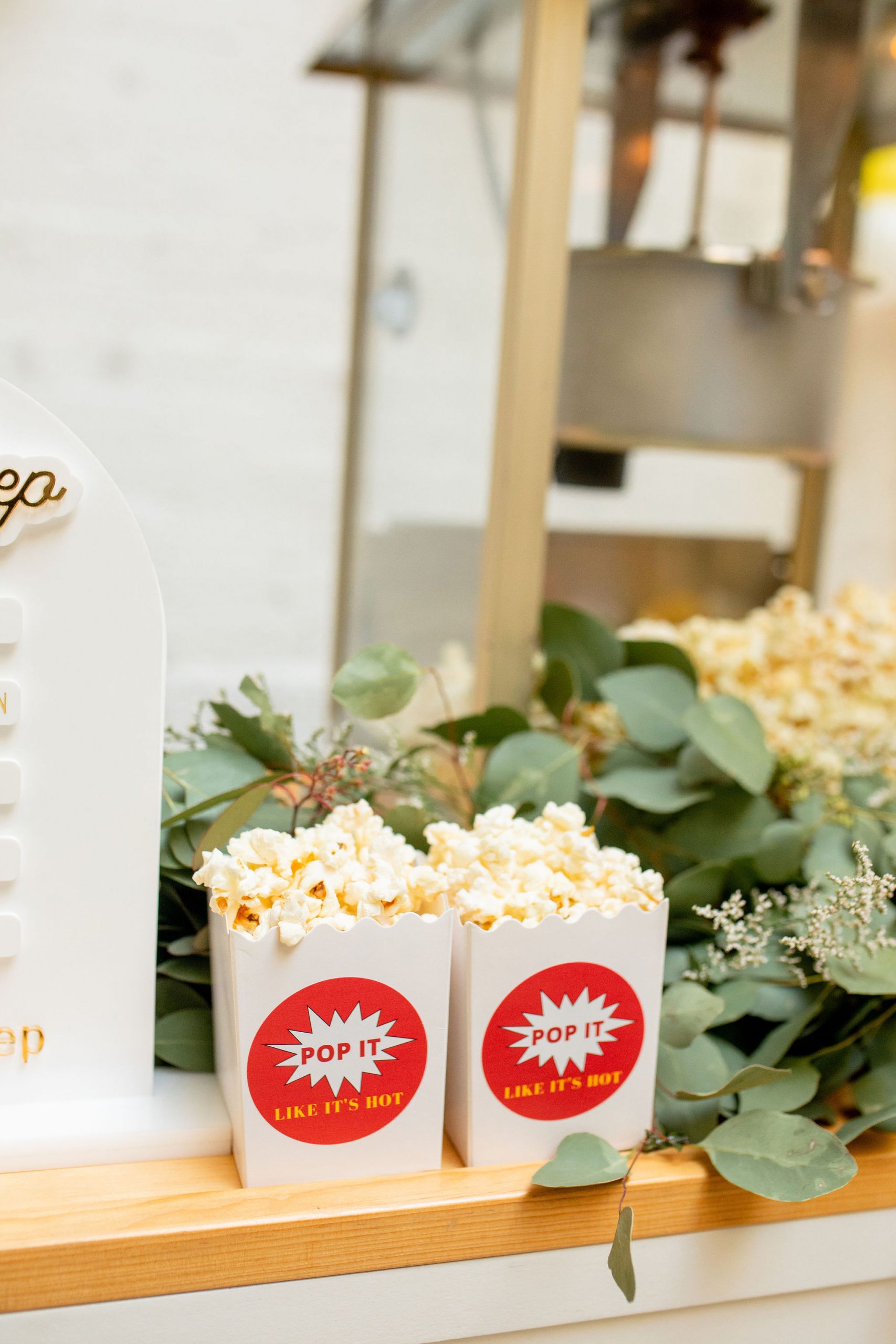 Now to add in some cuties!!!
All of these cuties are wearing clothes from Sweet Threads, and a few of them are wearing a new collaboration with Sweet Threads, Zooey in the City, and Paush Mini.  All of their accessories are by The Daydream Republic.  These little dolls couldn't have been any cuter, it was each of their first Beijos shoot!  And they did great!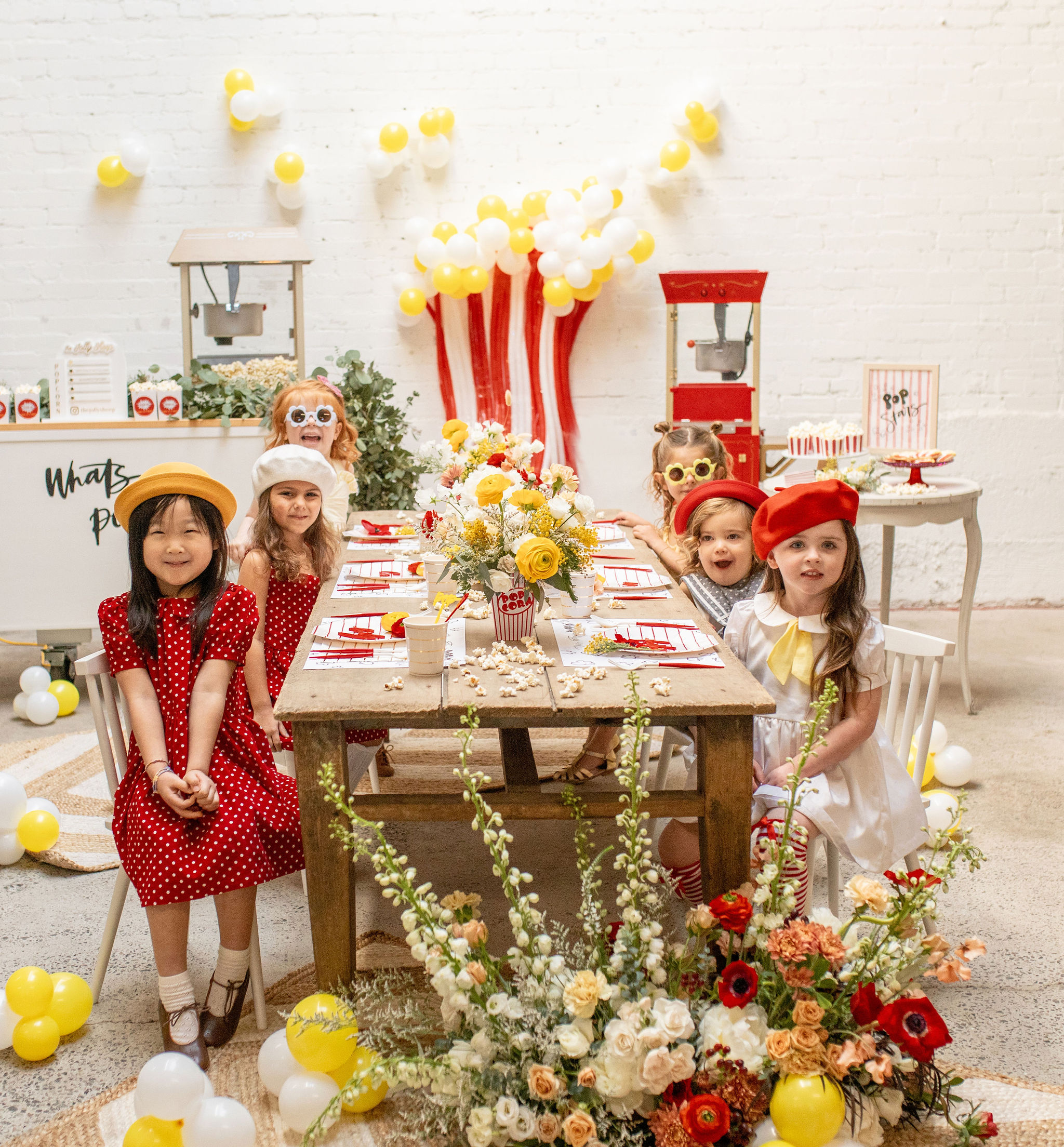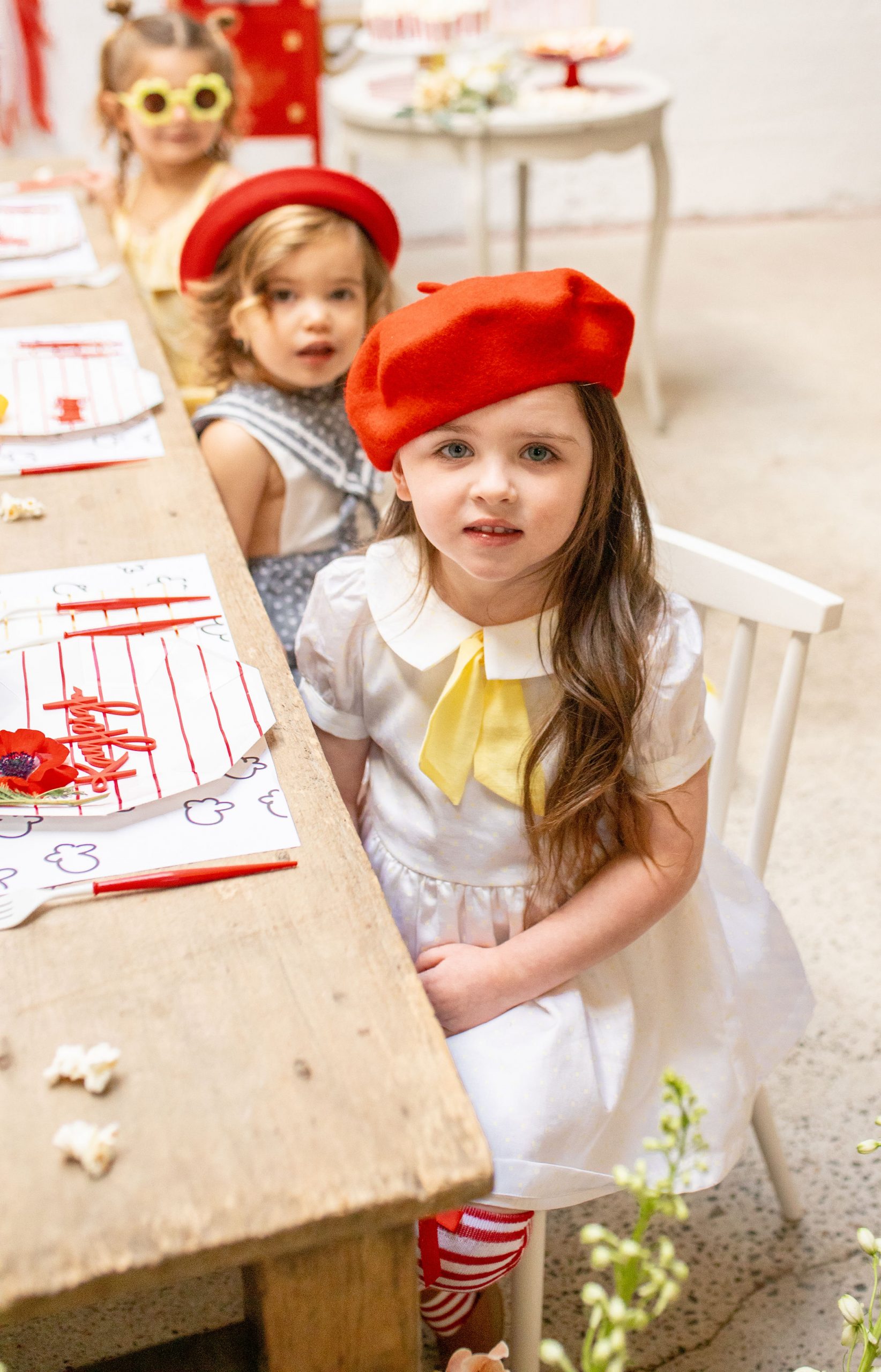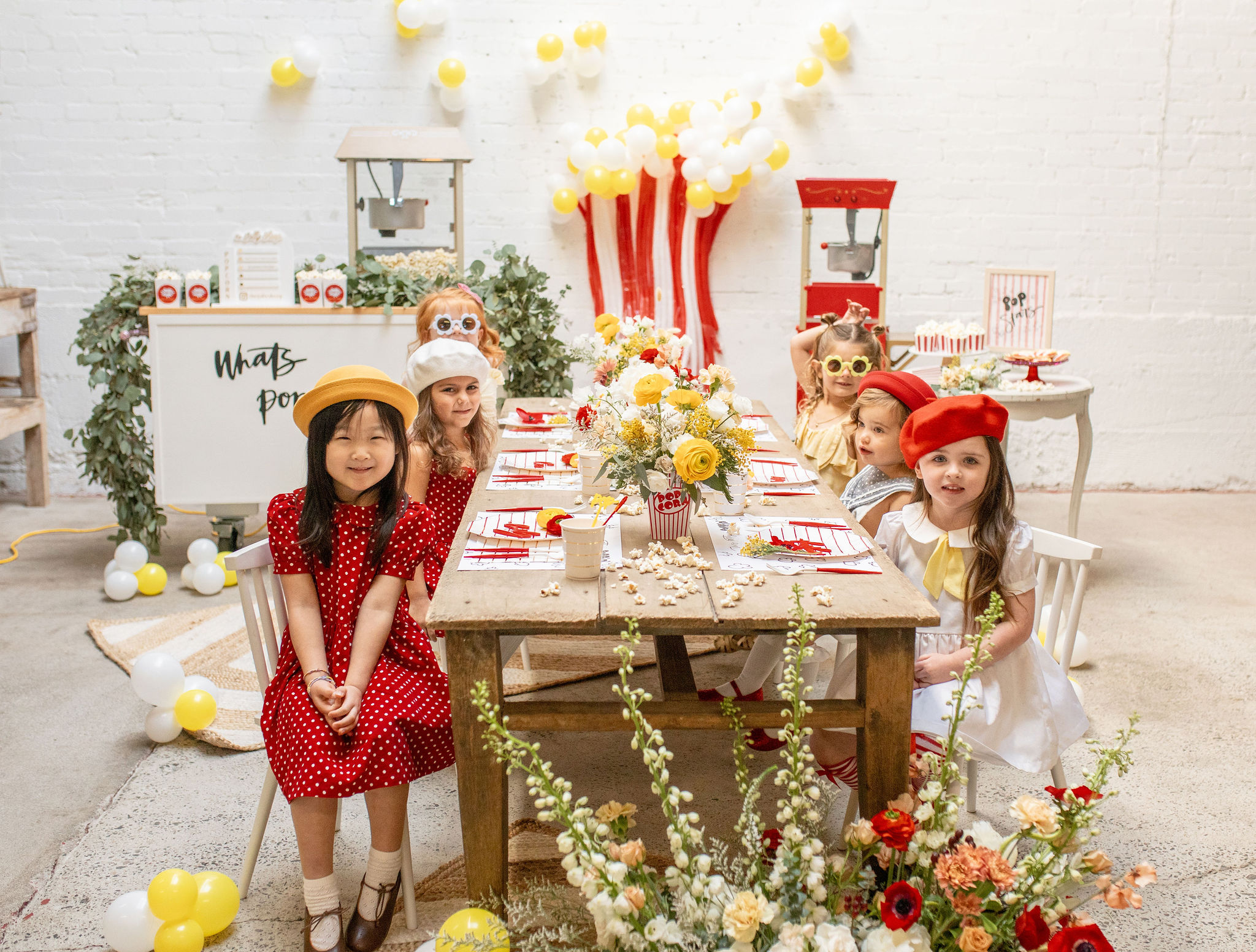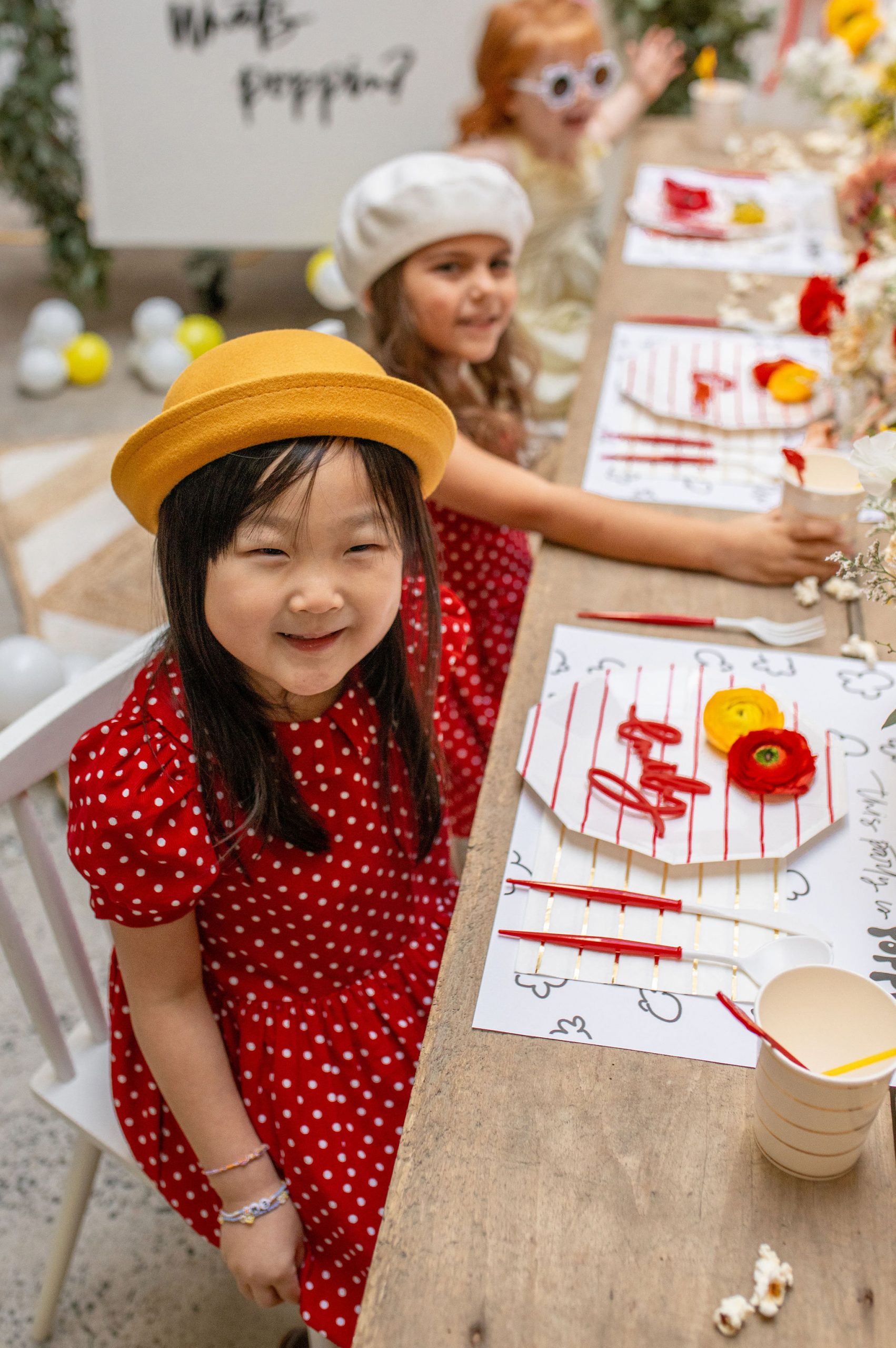 Butter together for sure!!!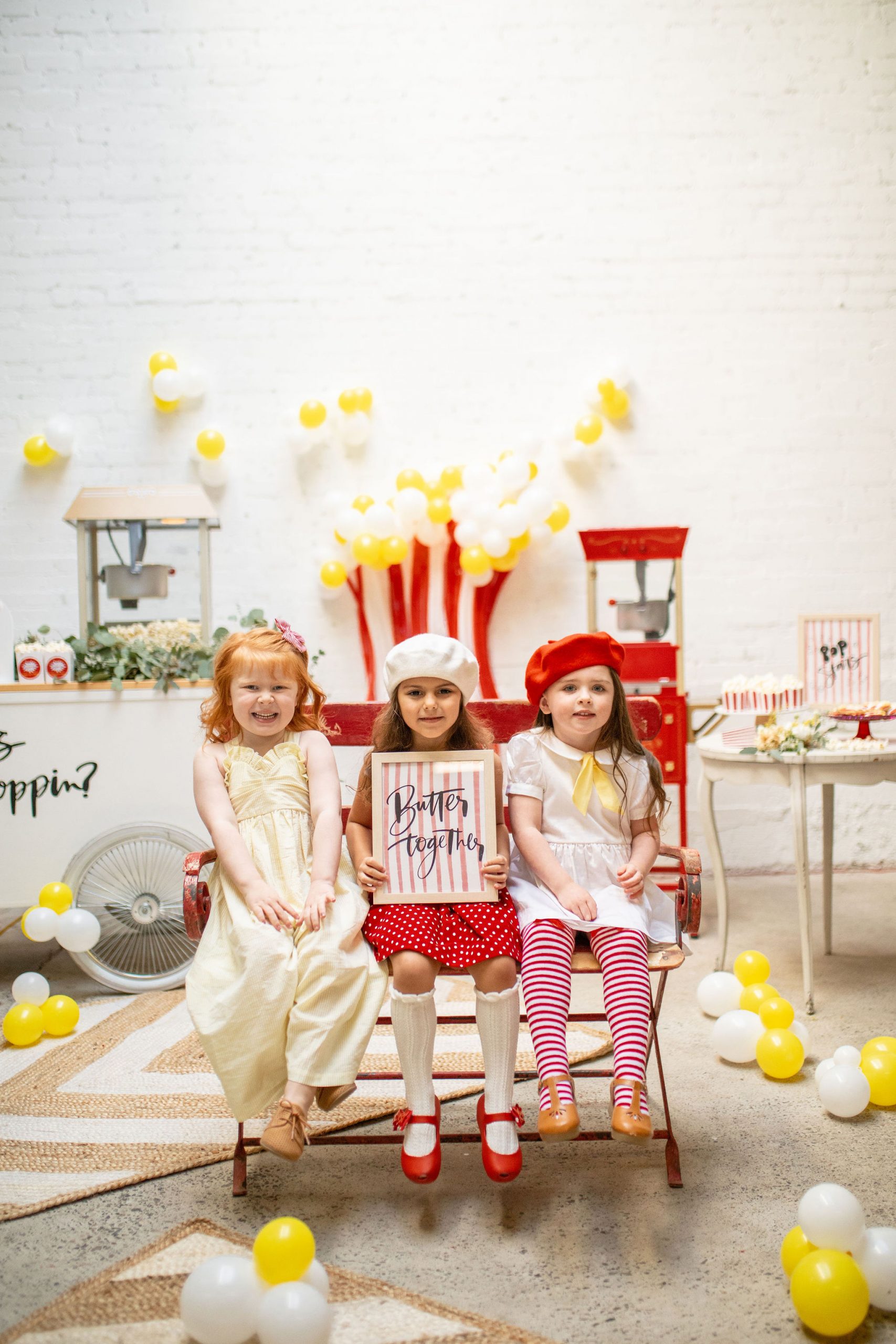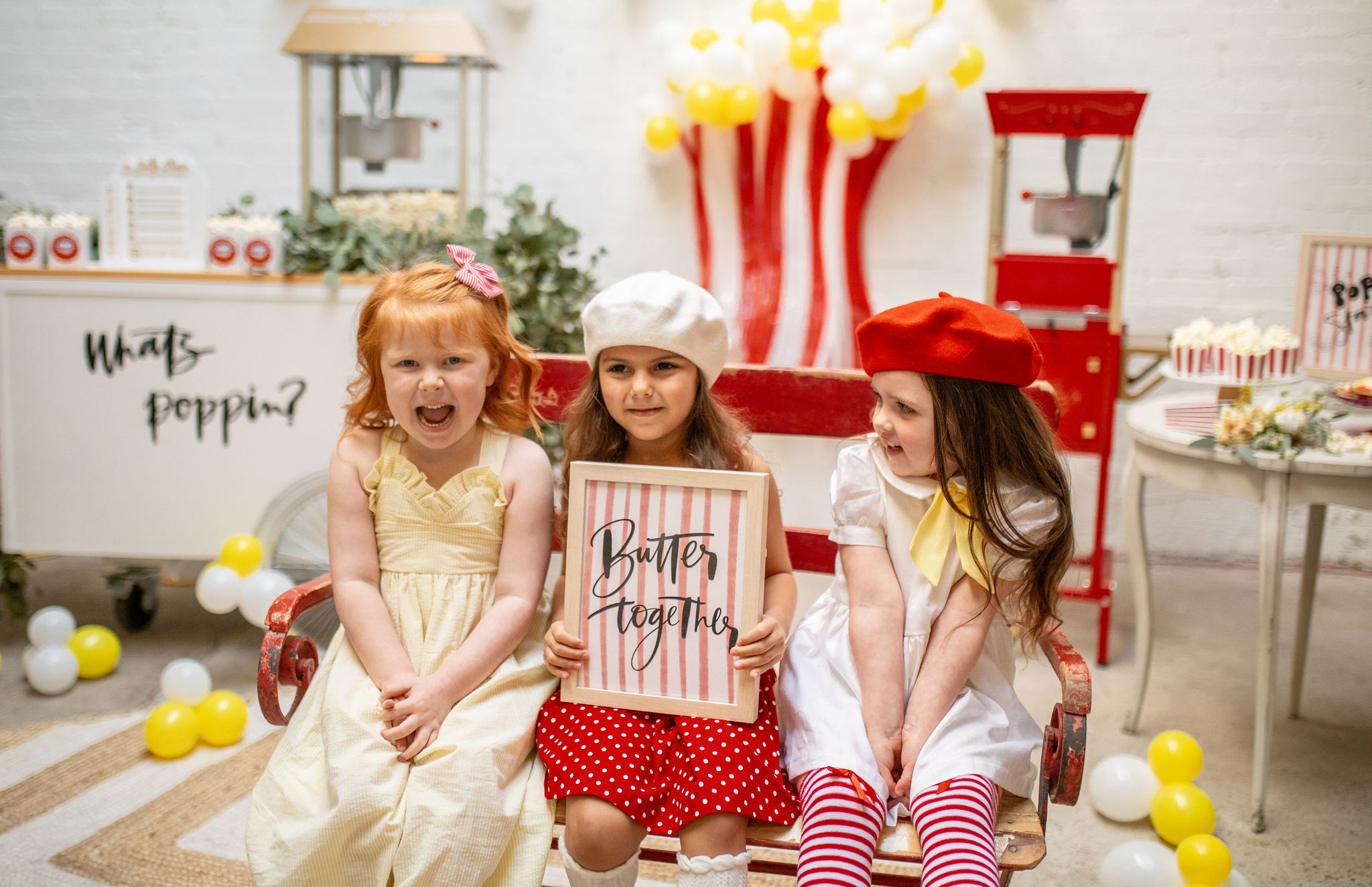 How sweet is little Miss Emily with those flowers?!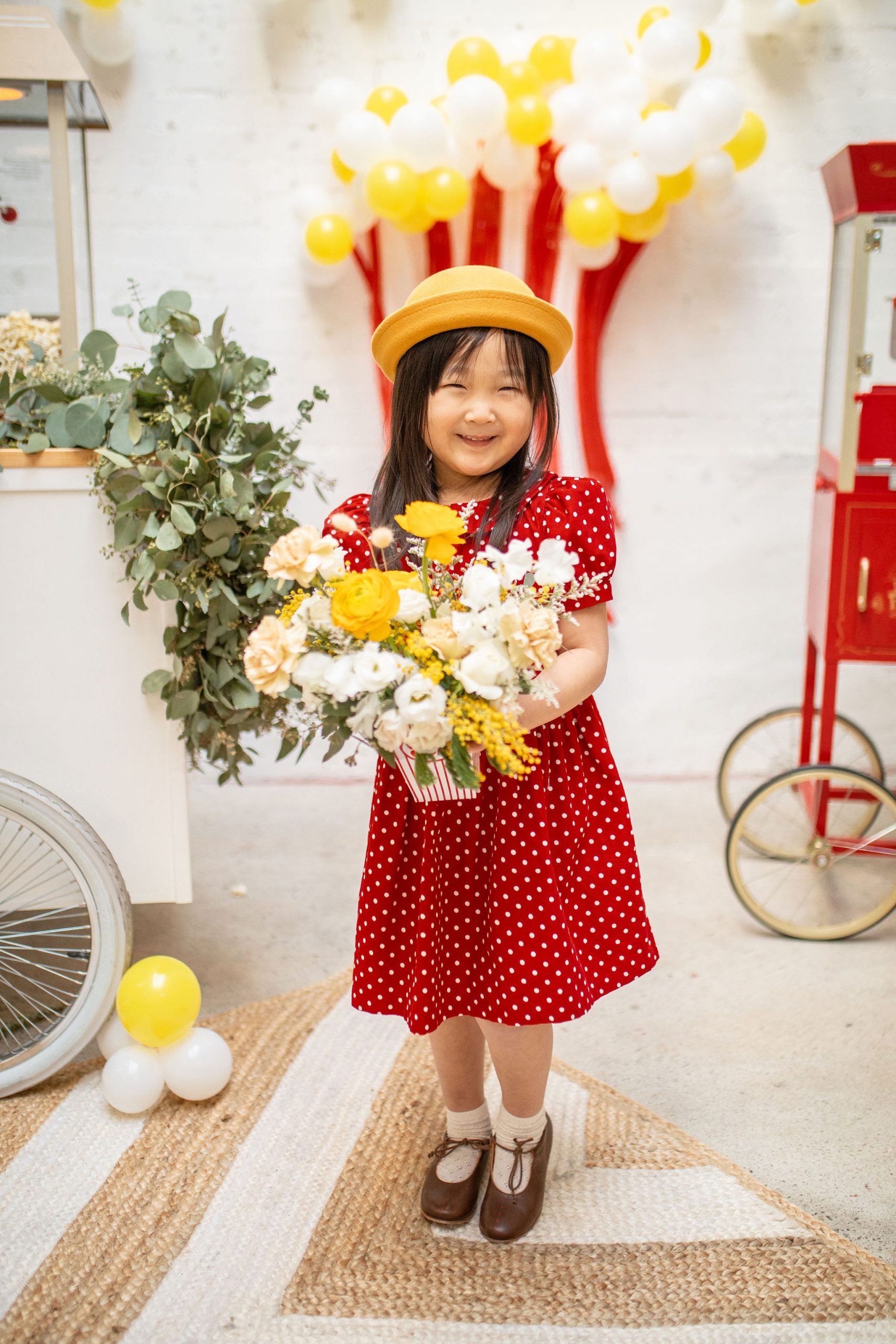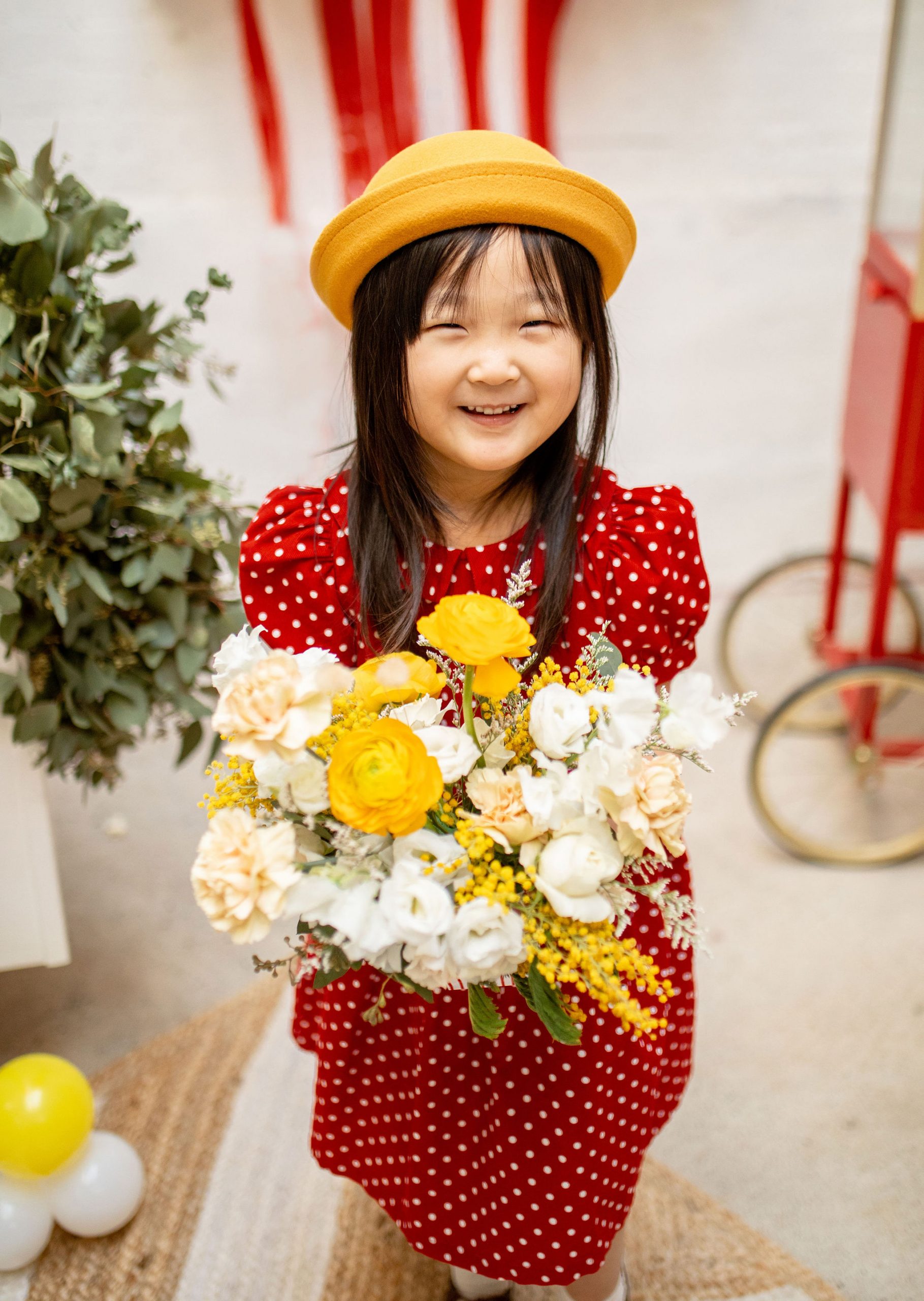 Cheers!!!  I'm loving that vintage bench from Sweet Salvage Rentals!  I always find something new at her warehouse and I couldn't pass on this guy for this shoot.  The red was too perfect!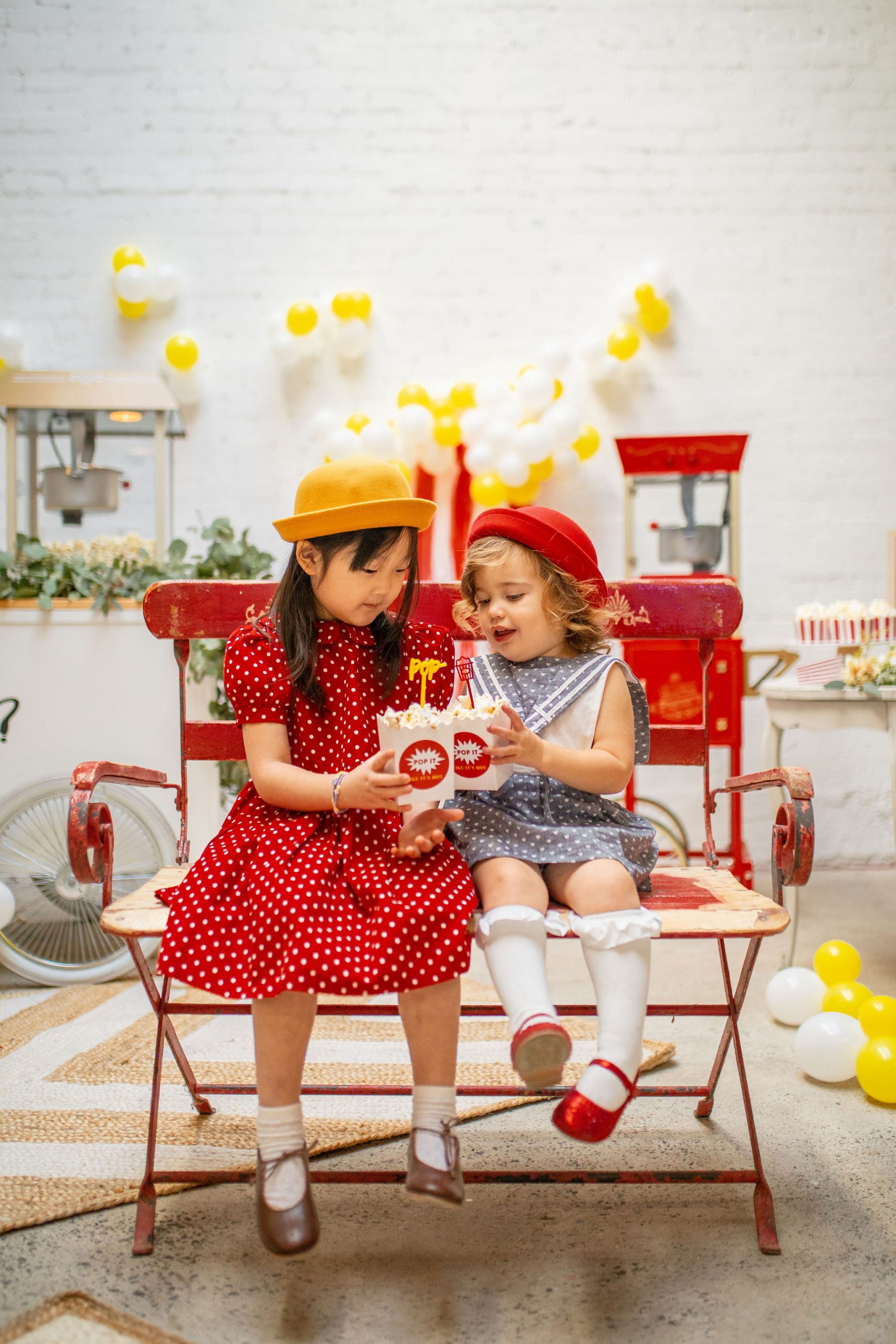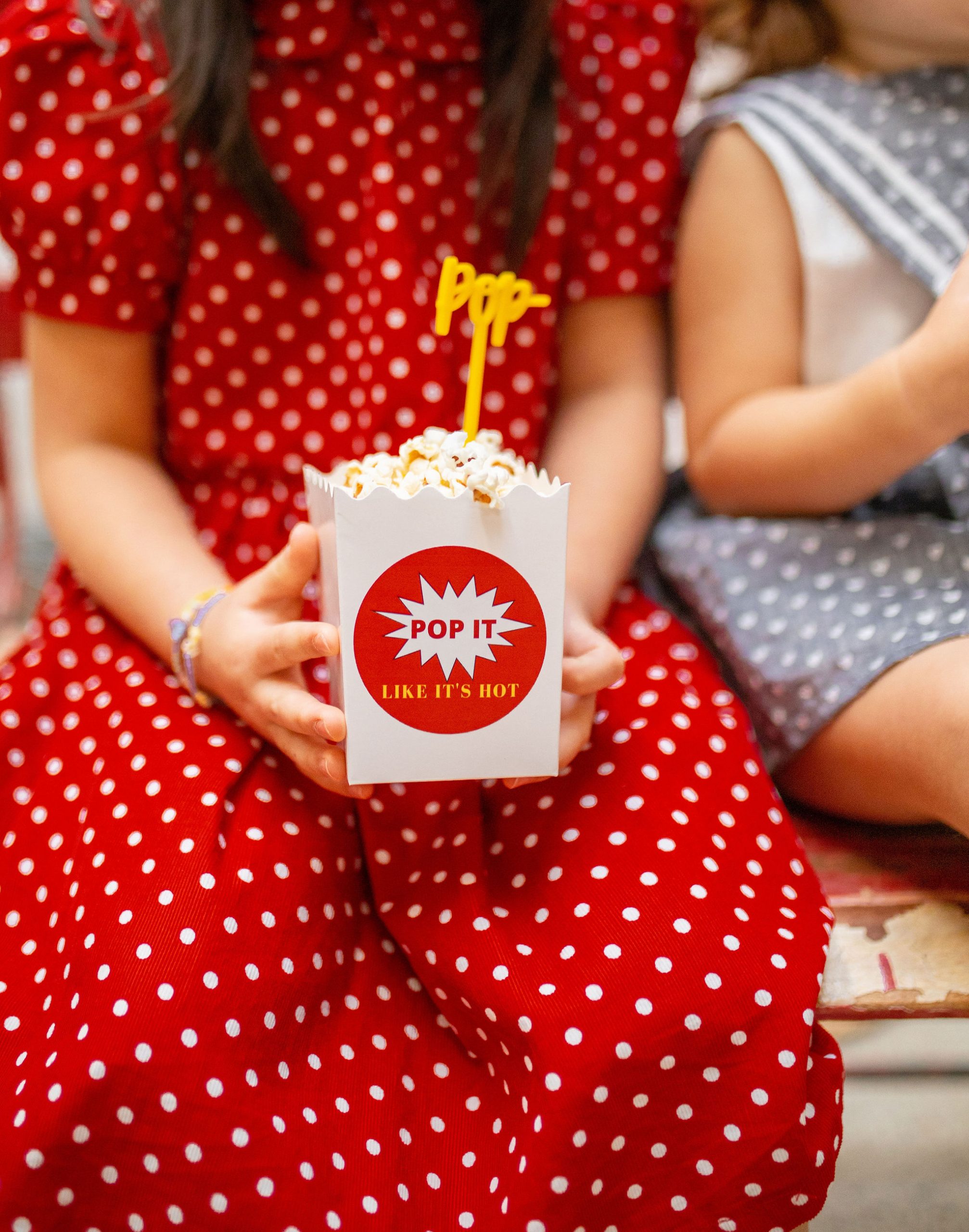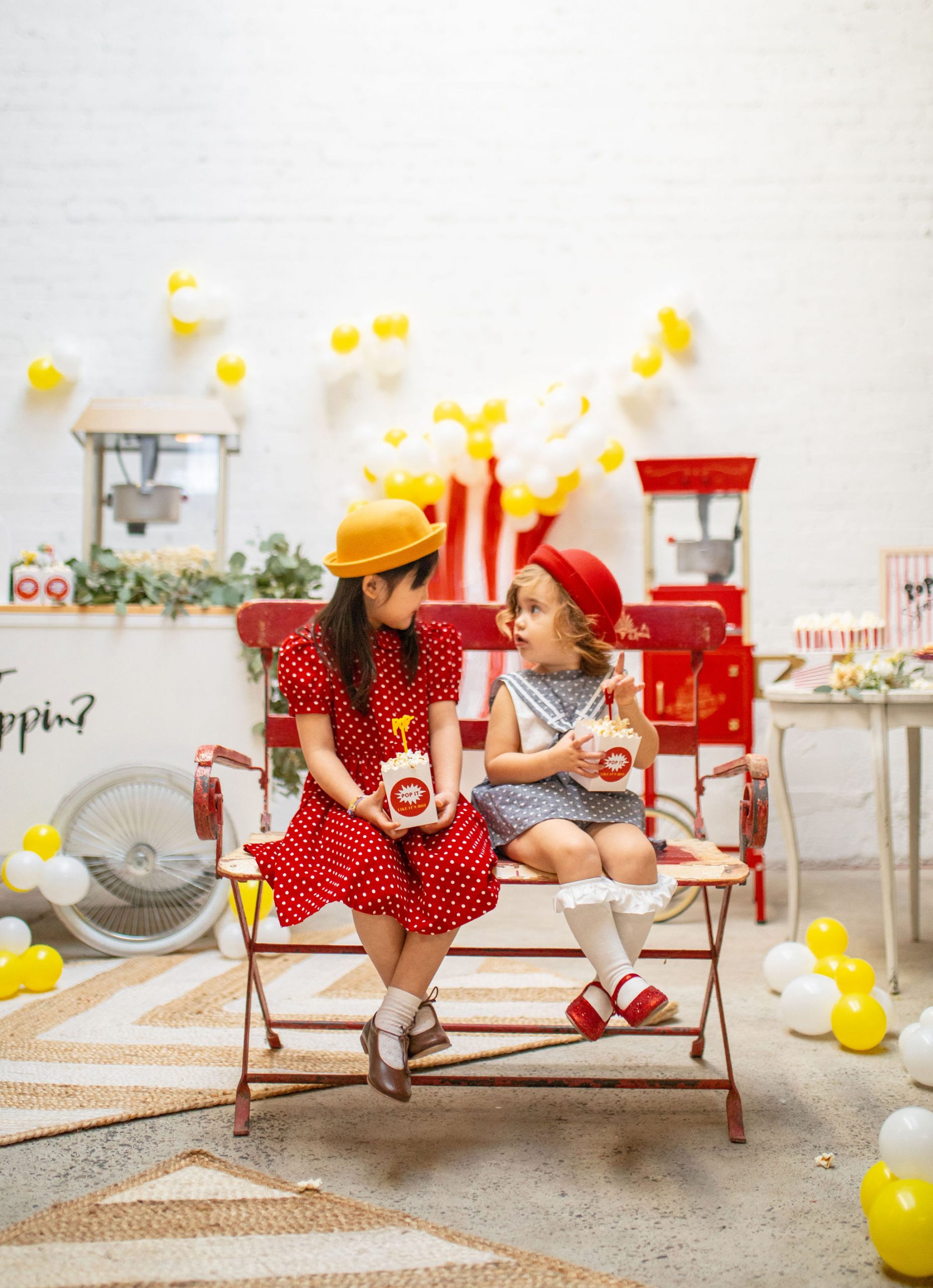 So many adorable outfits and so many adorable faces!!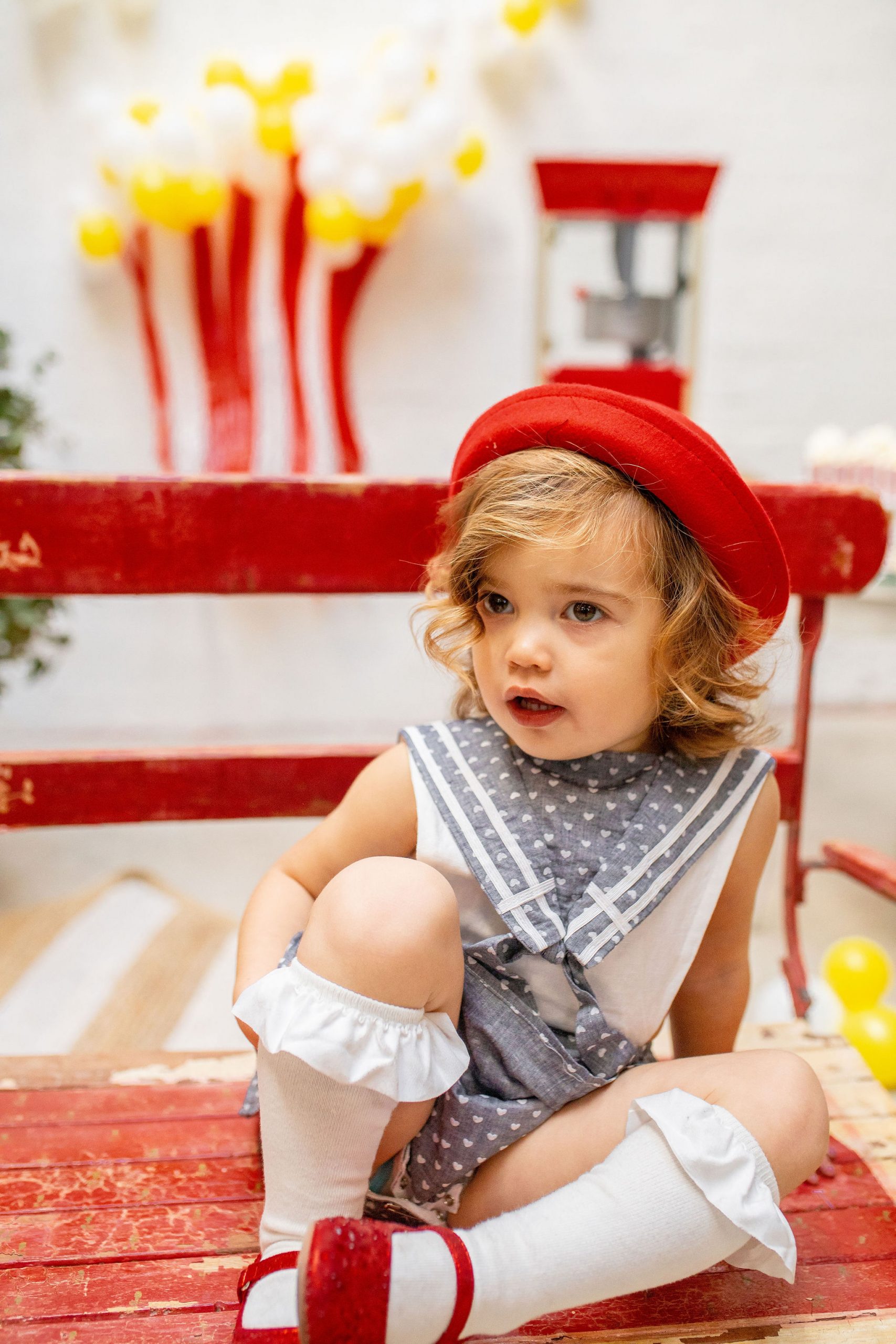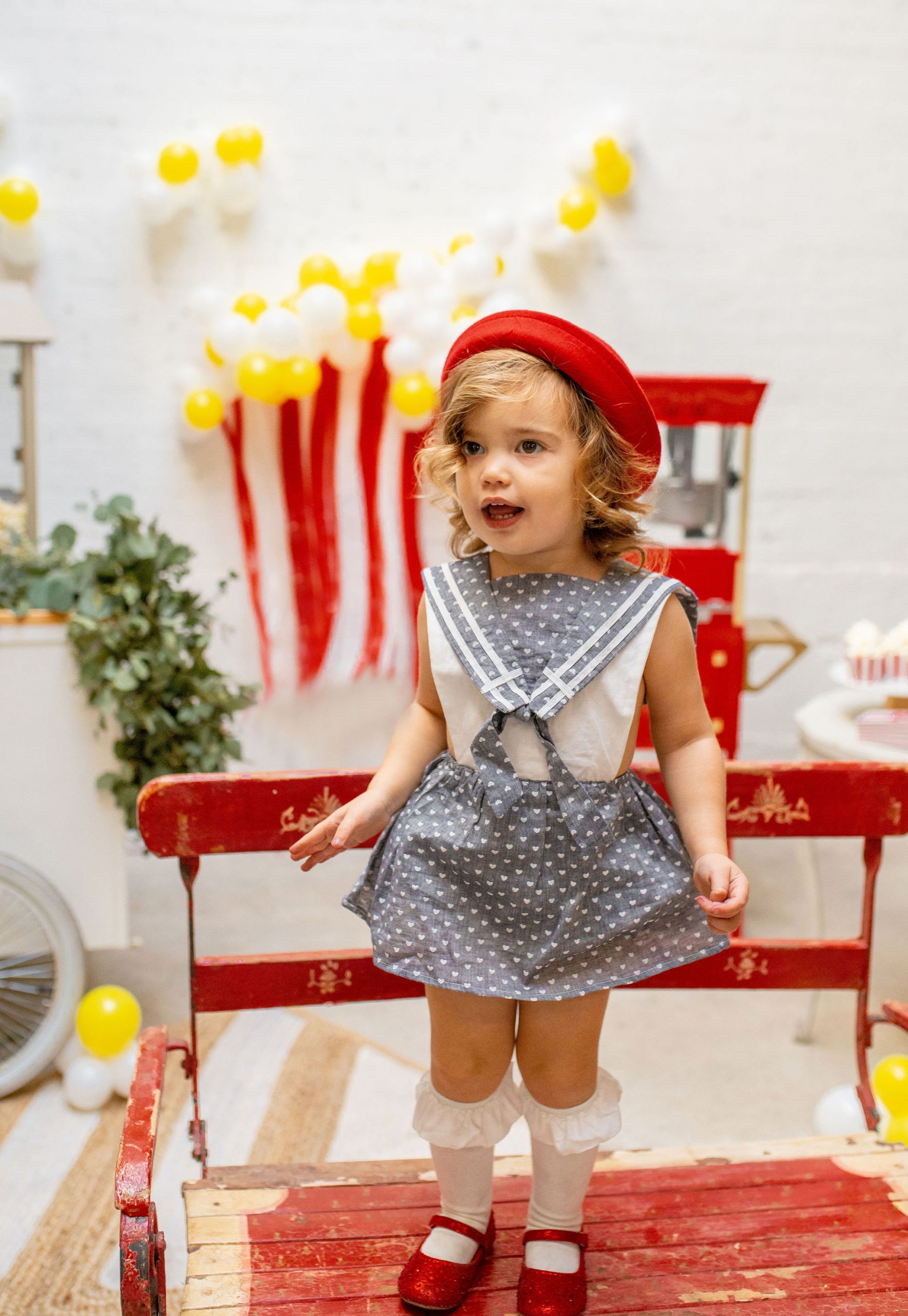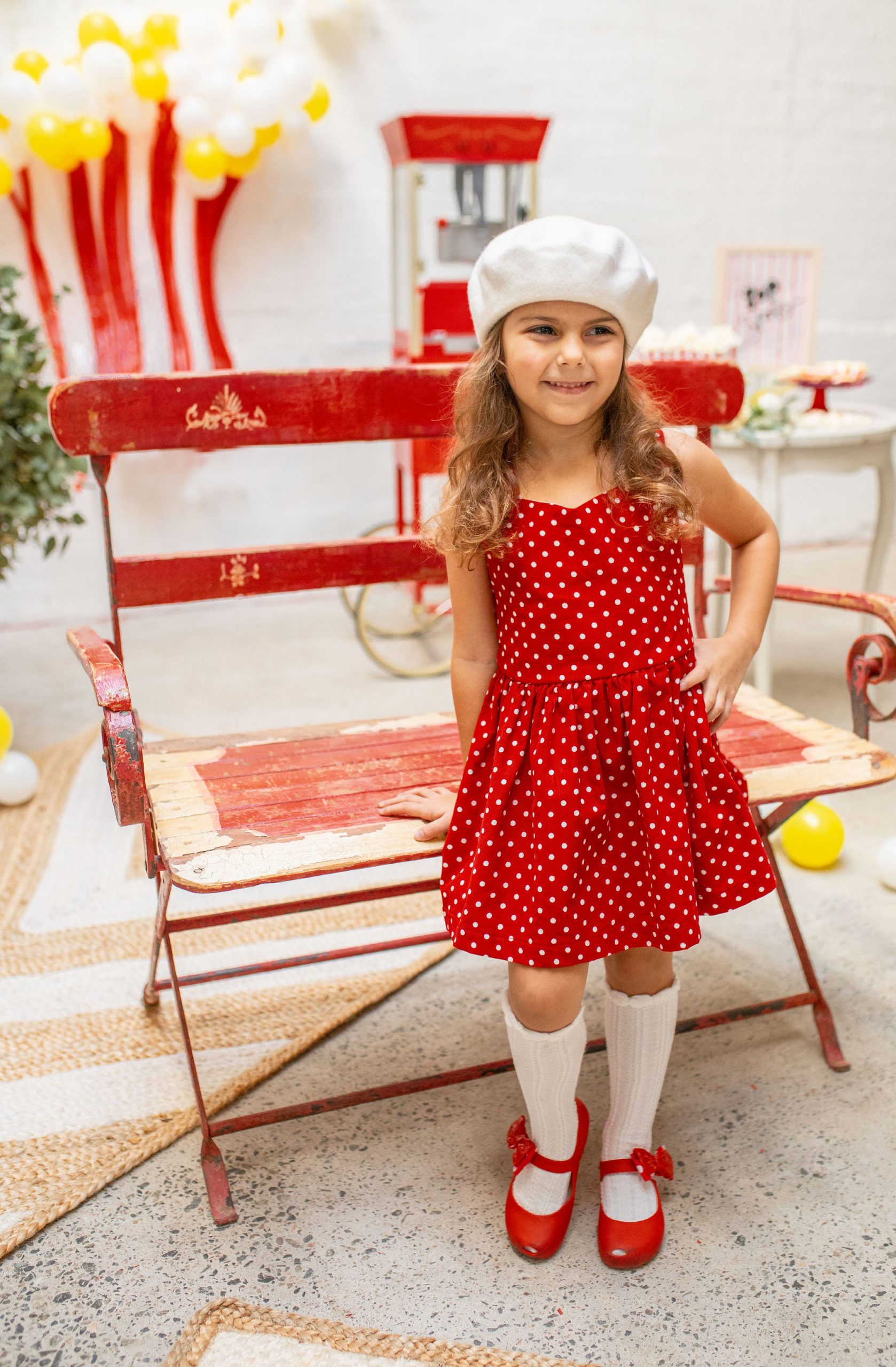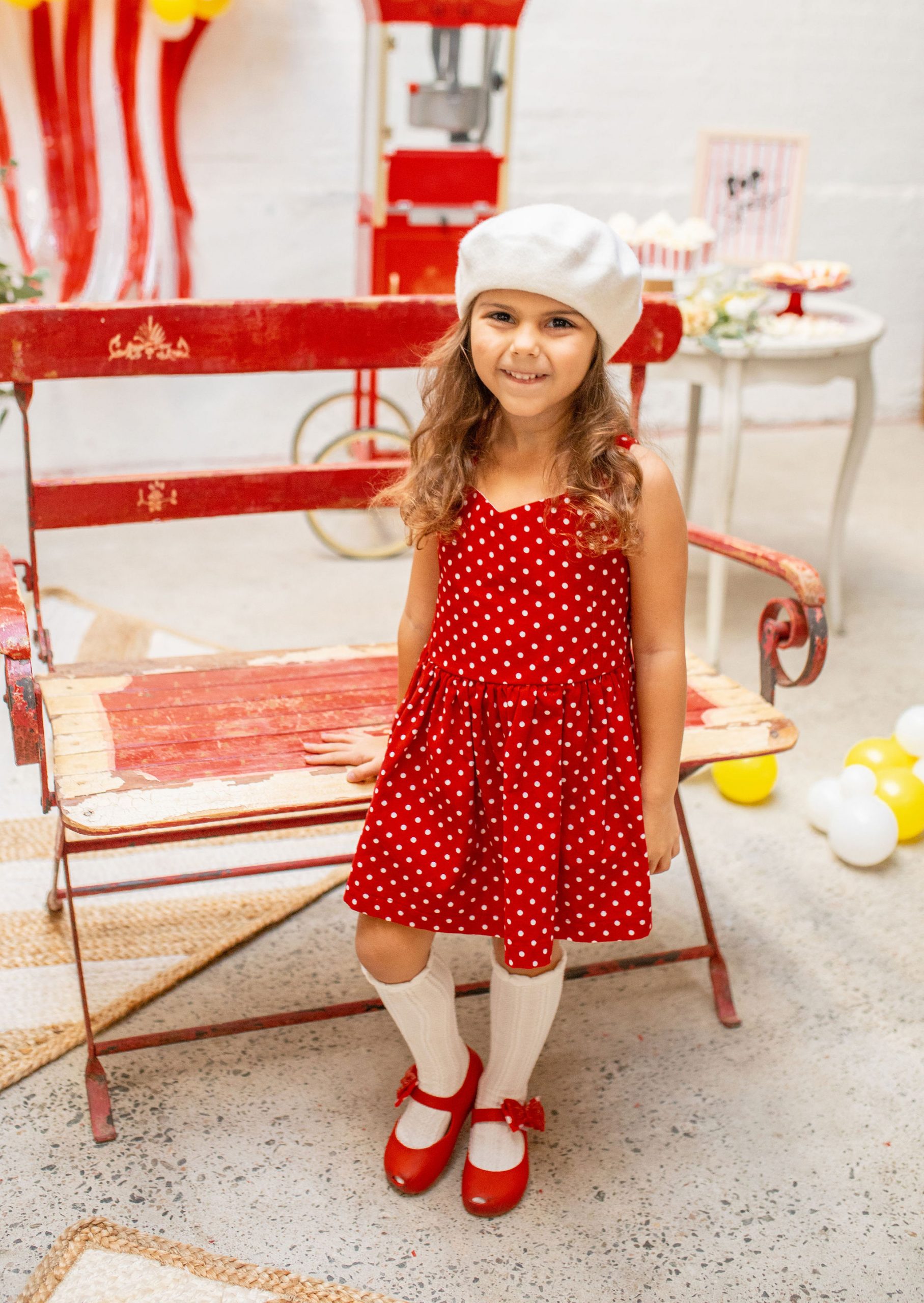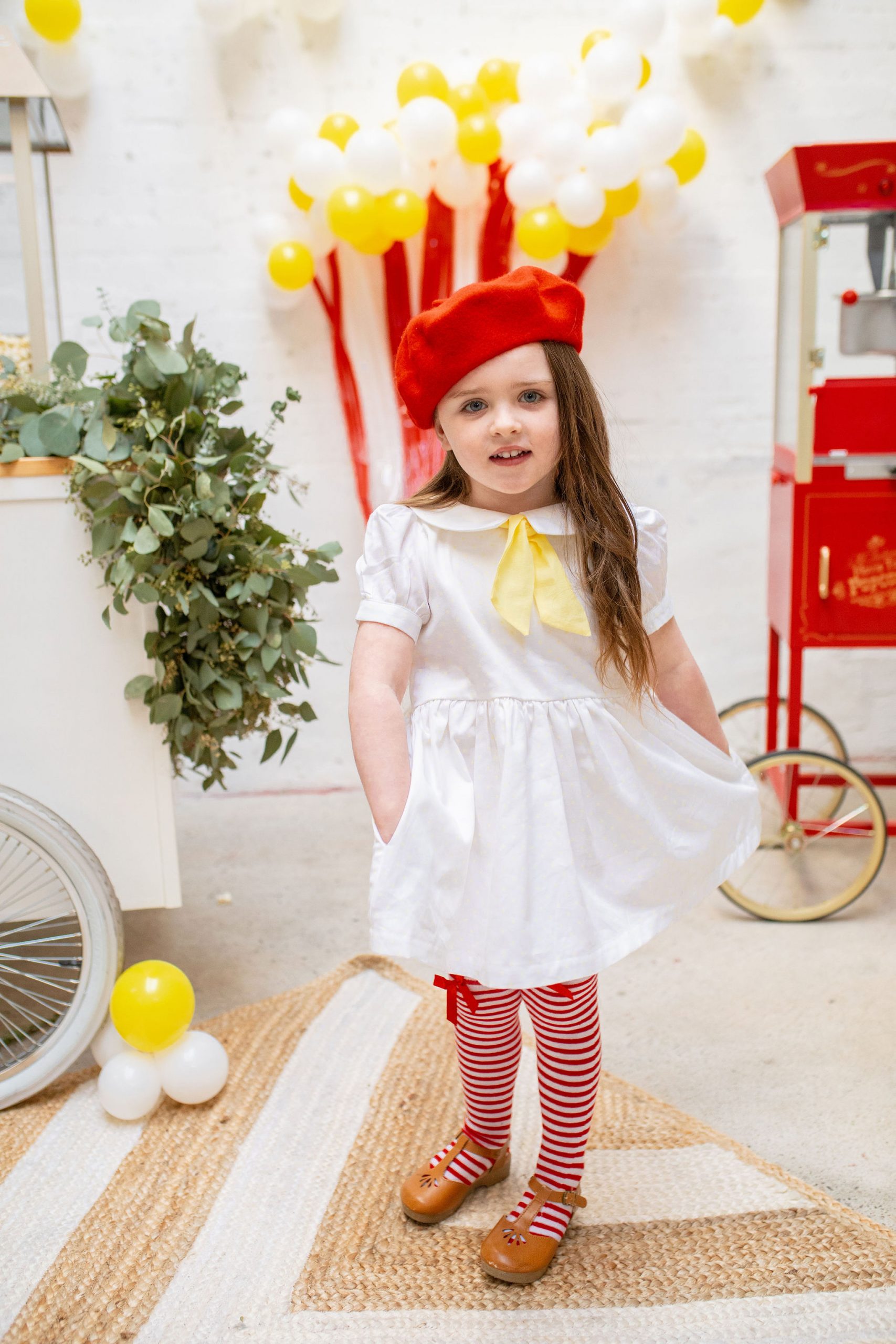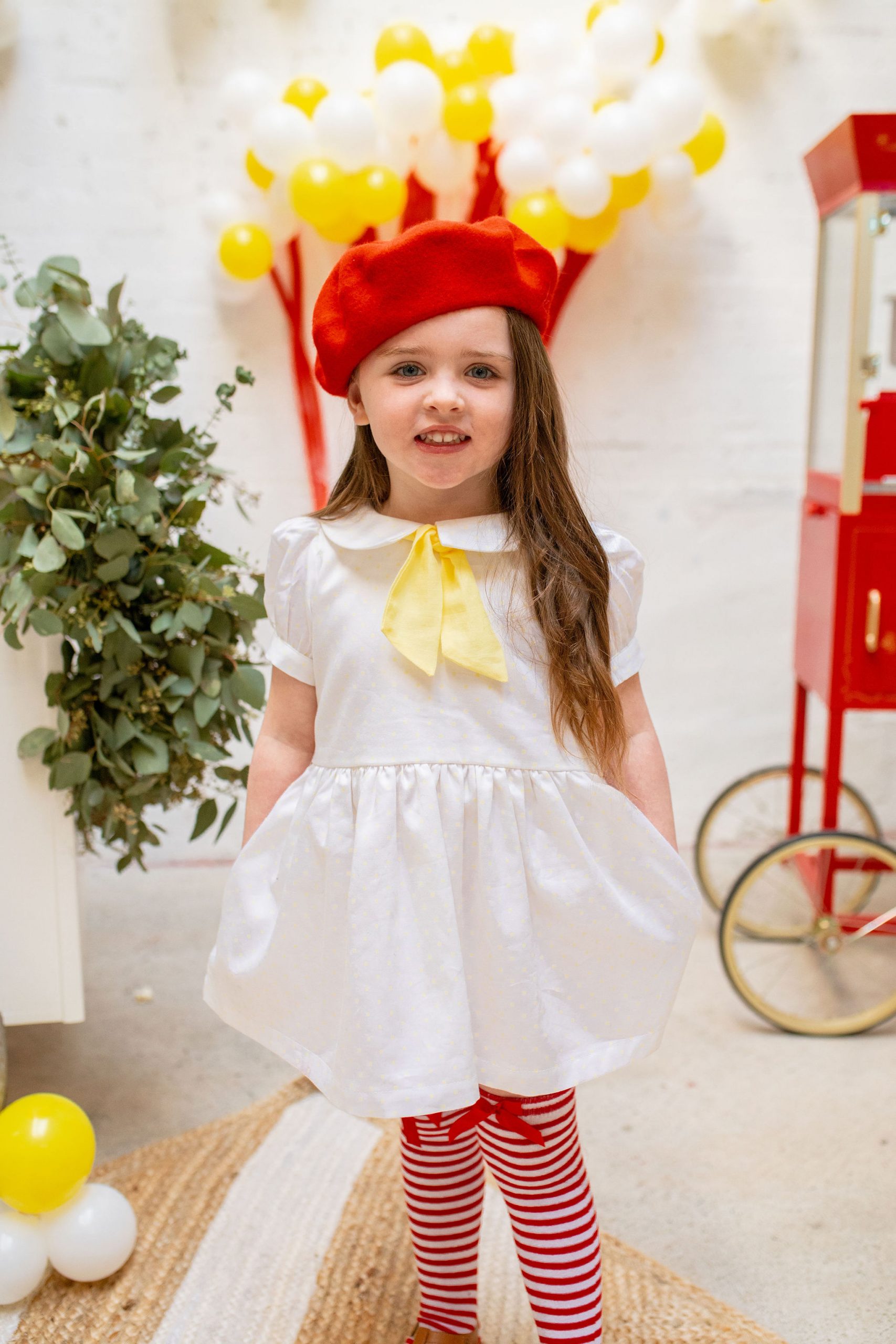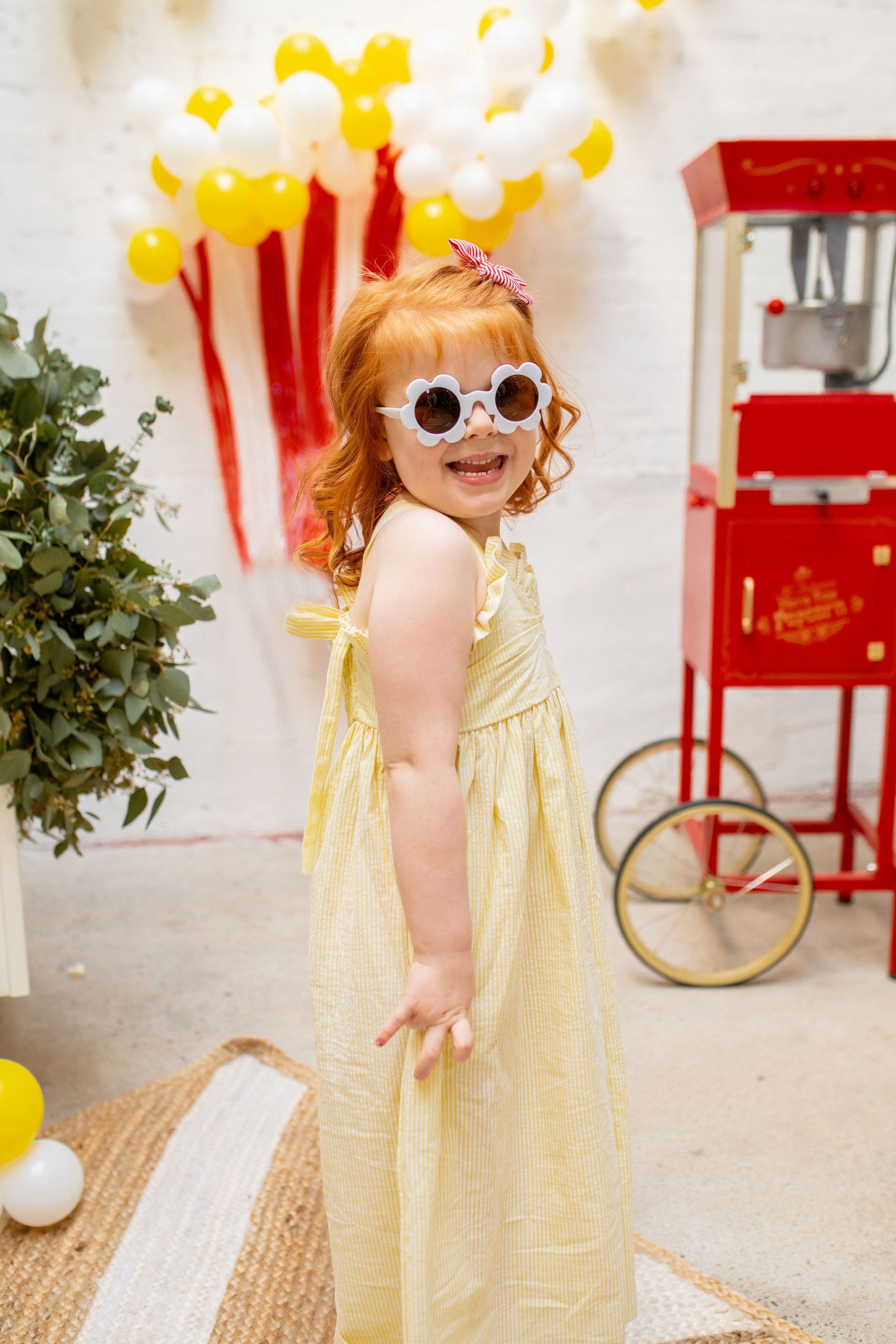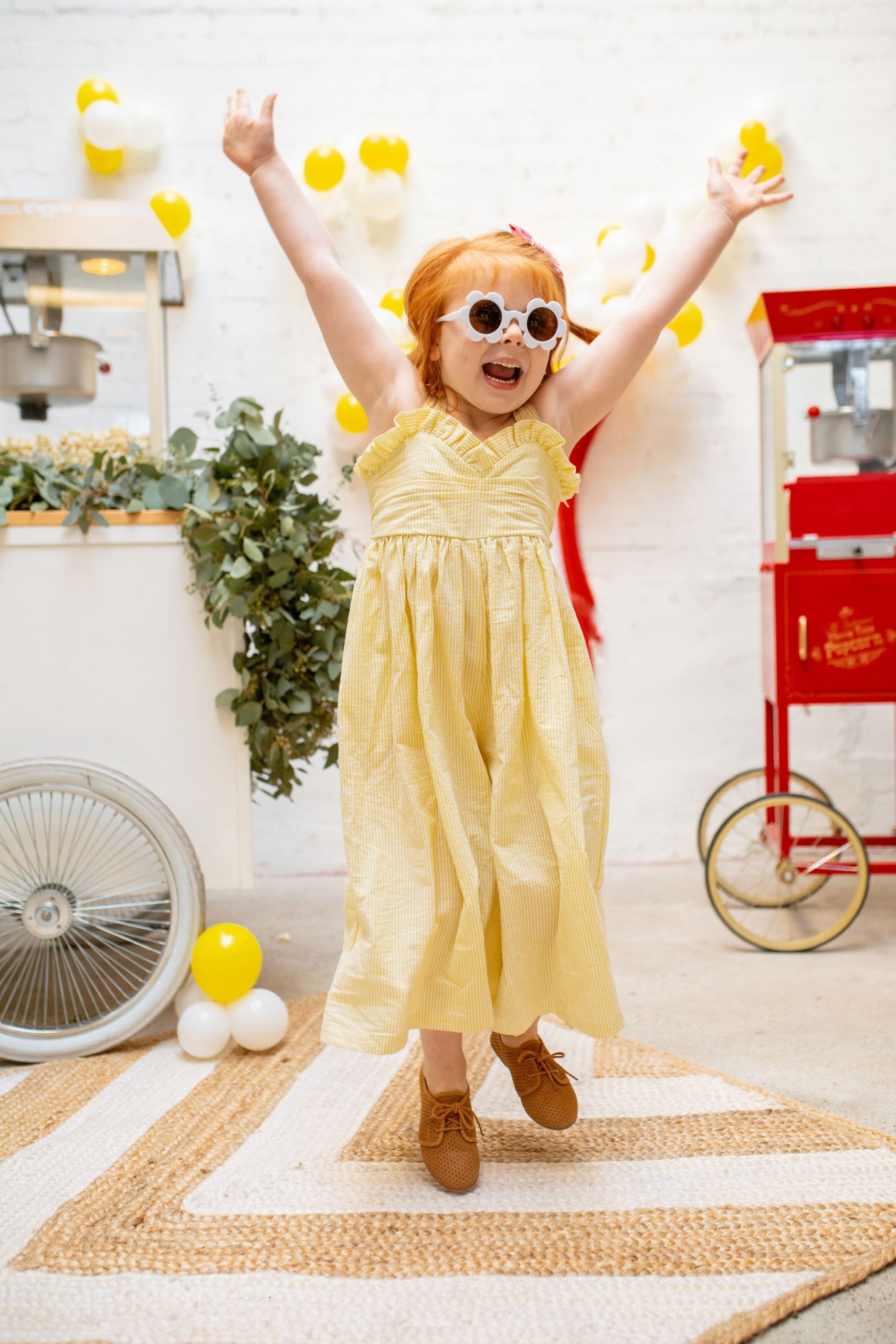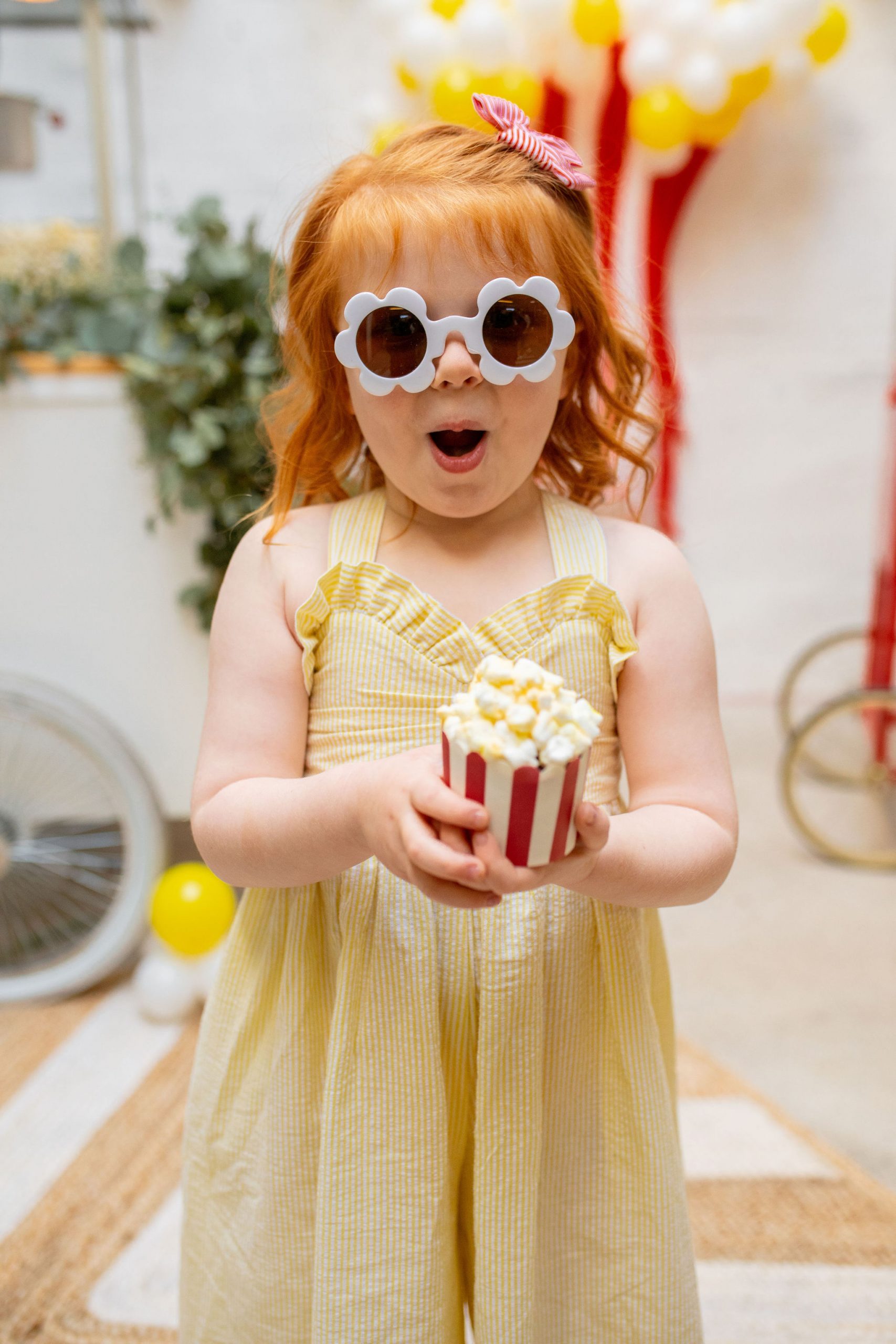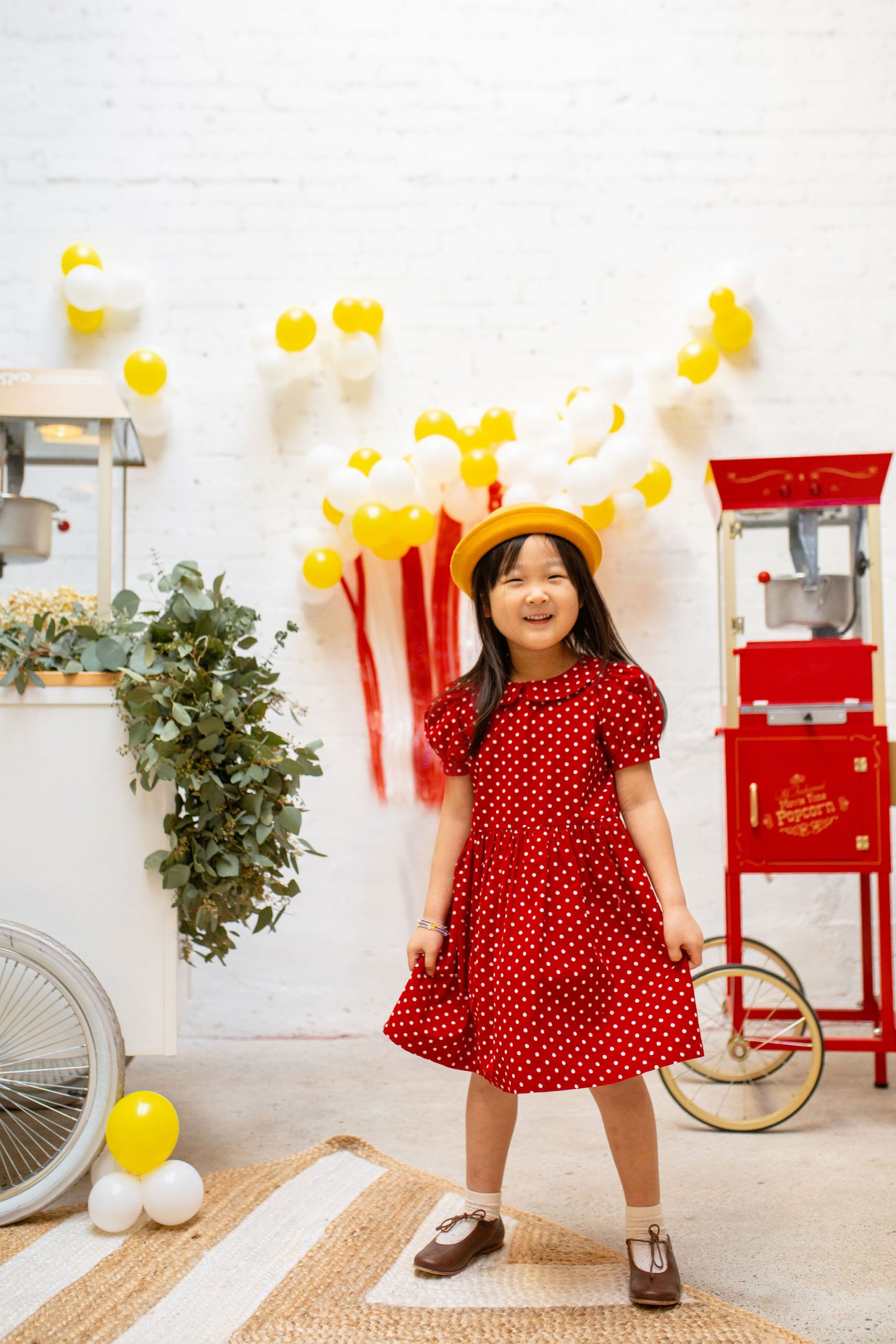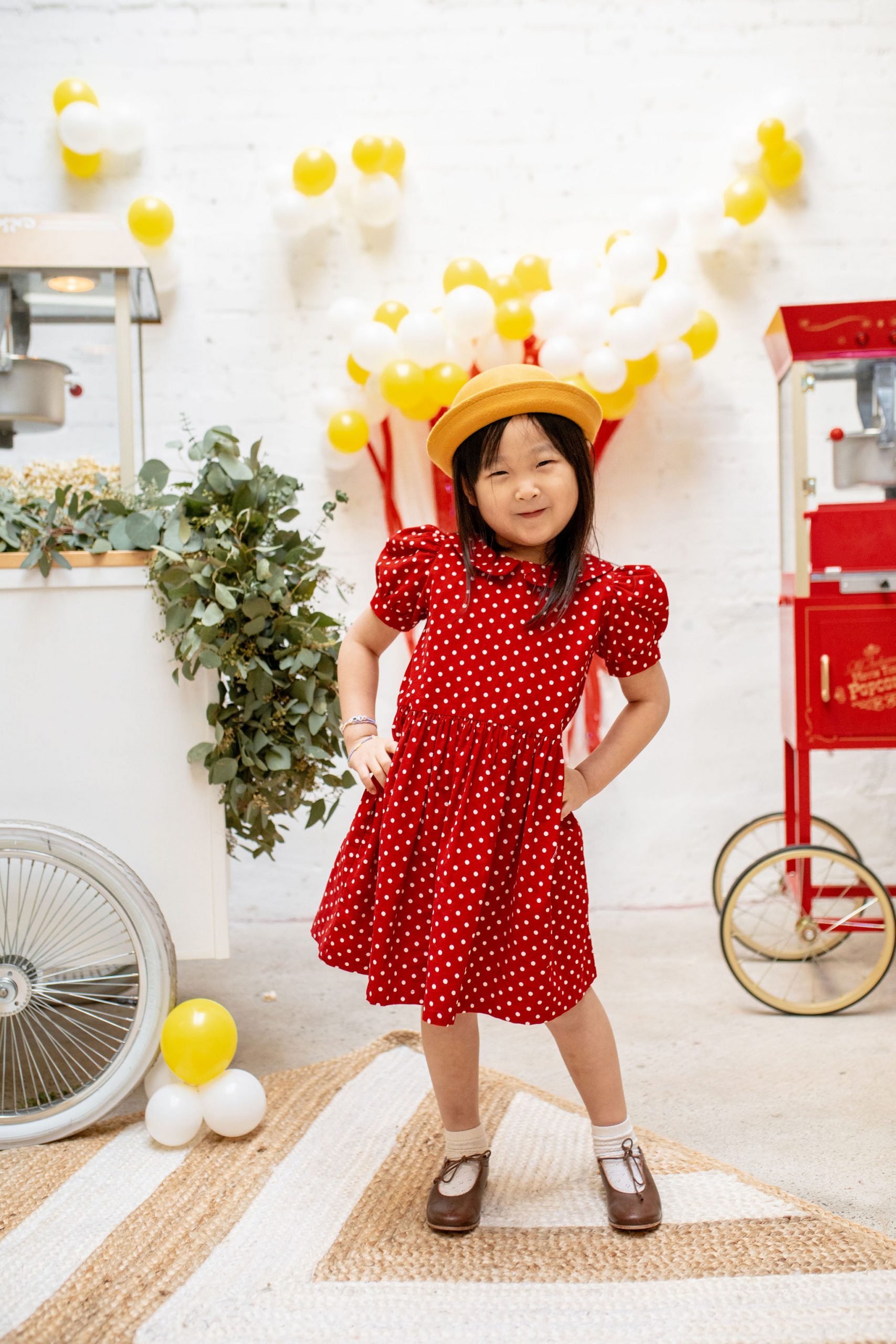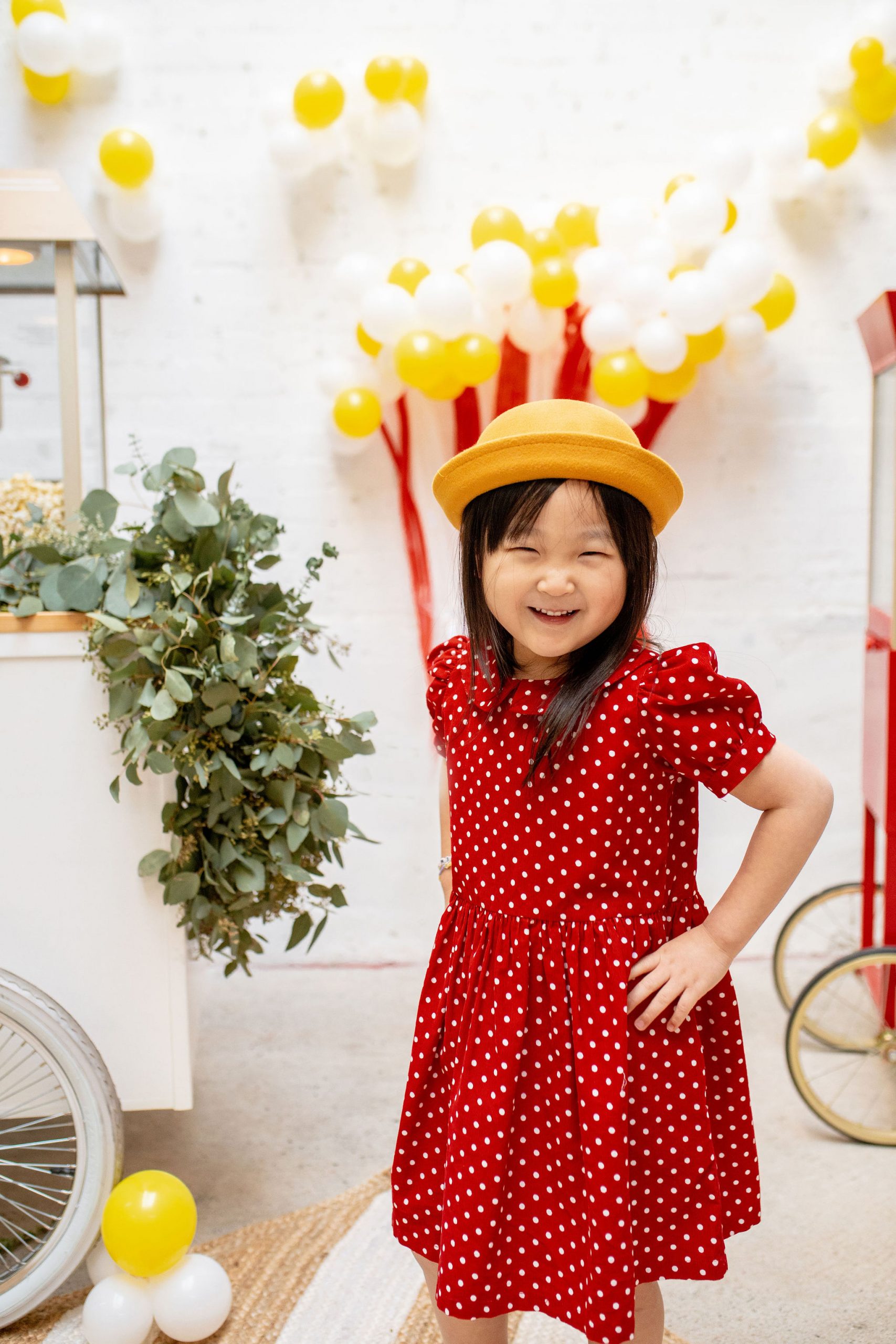 You bet we treated these hard-working cuties to some popcorn and treats!!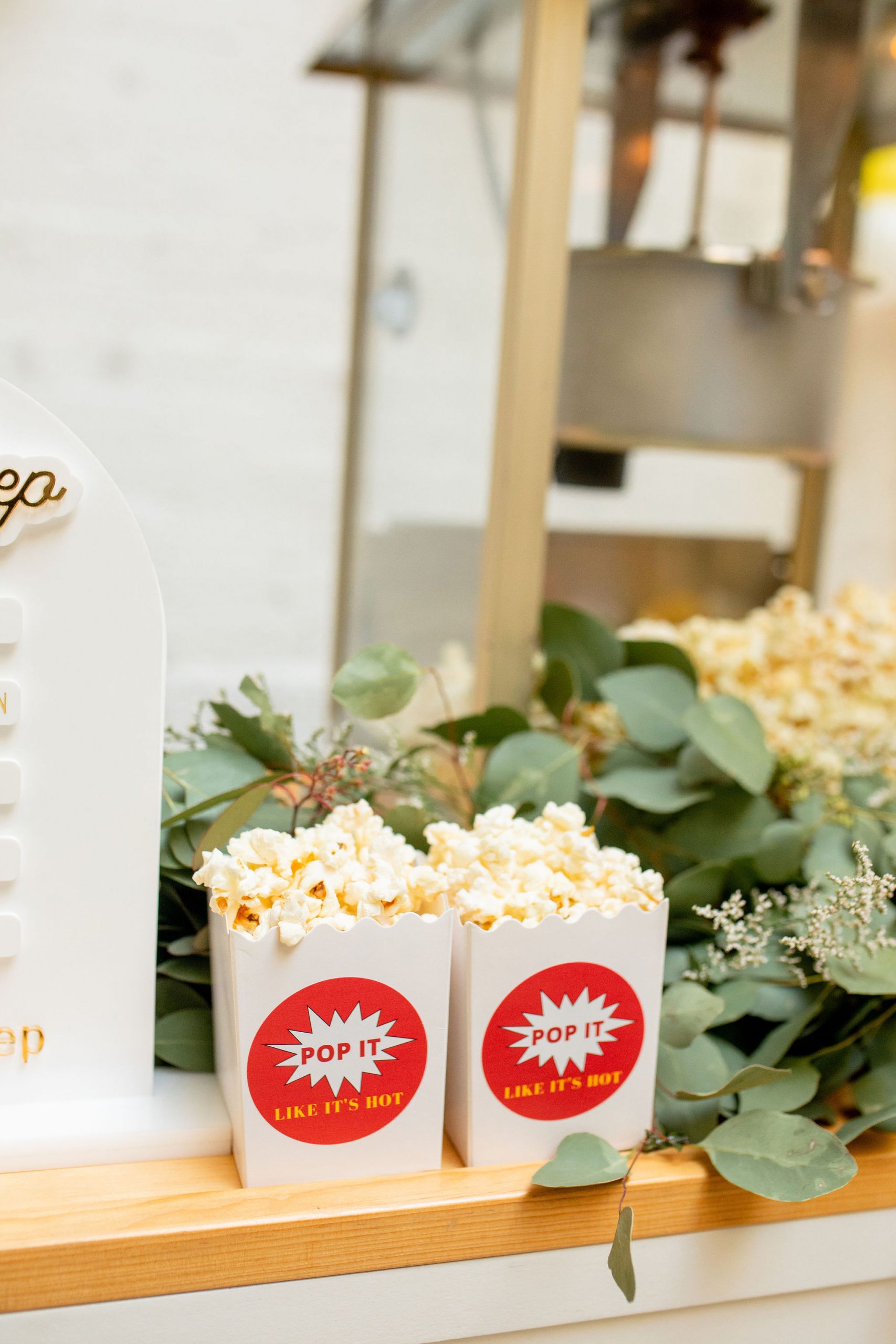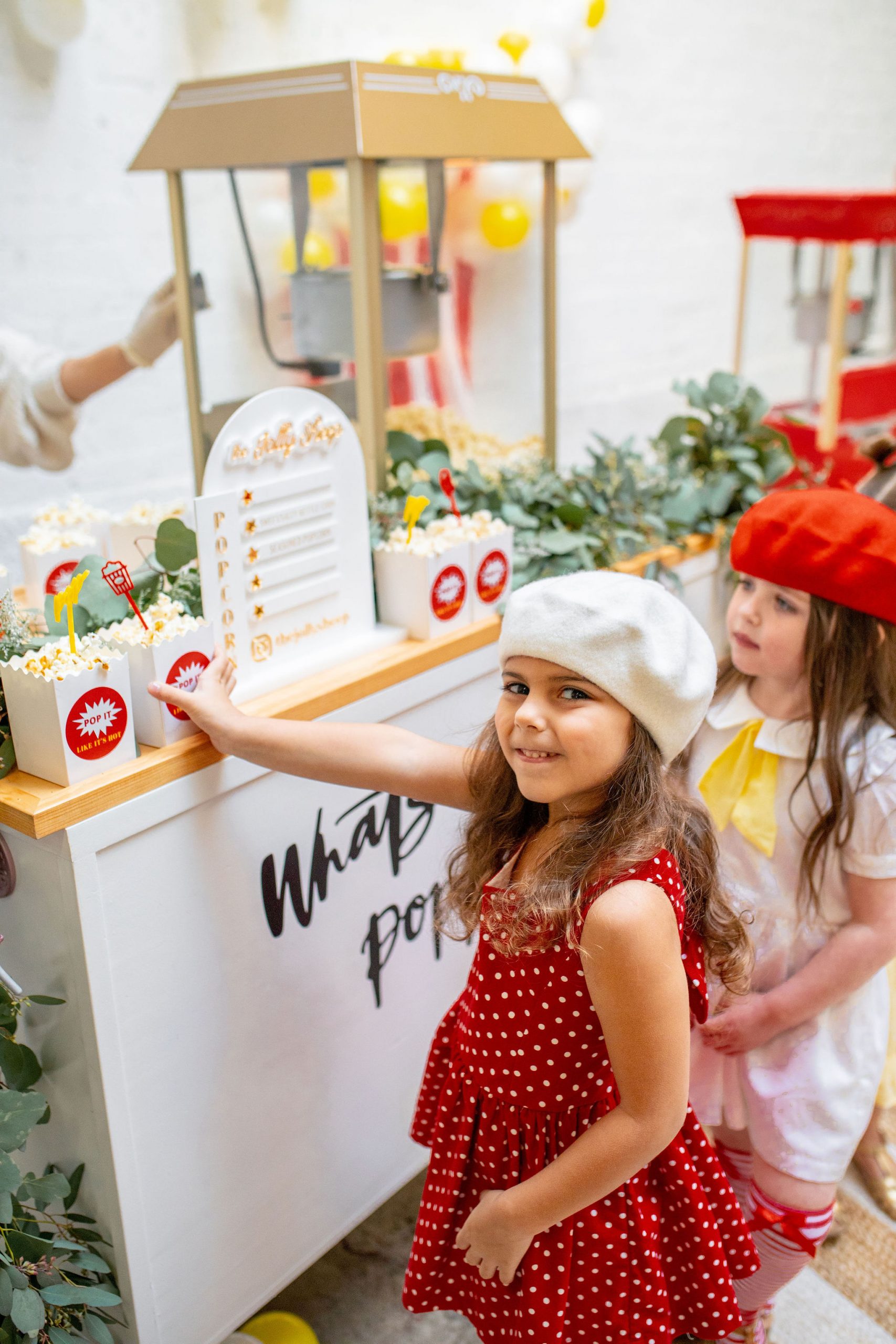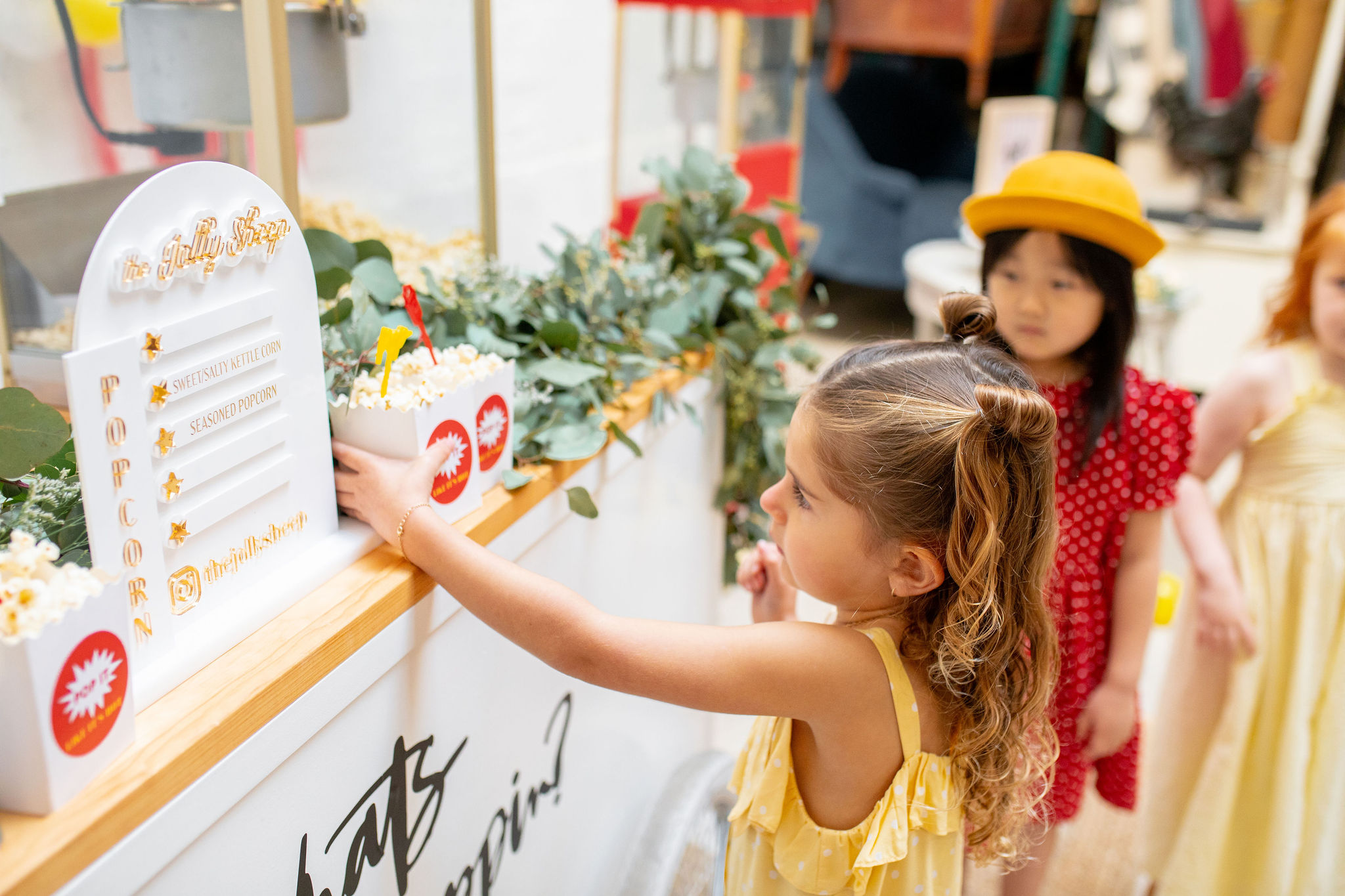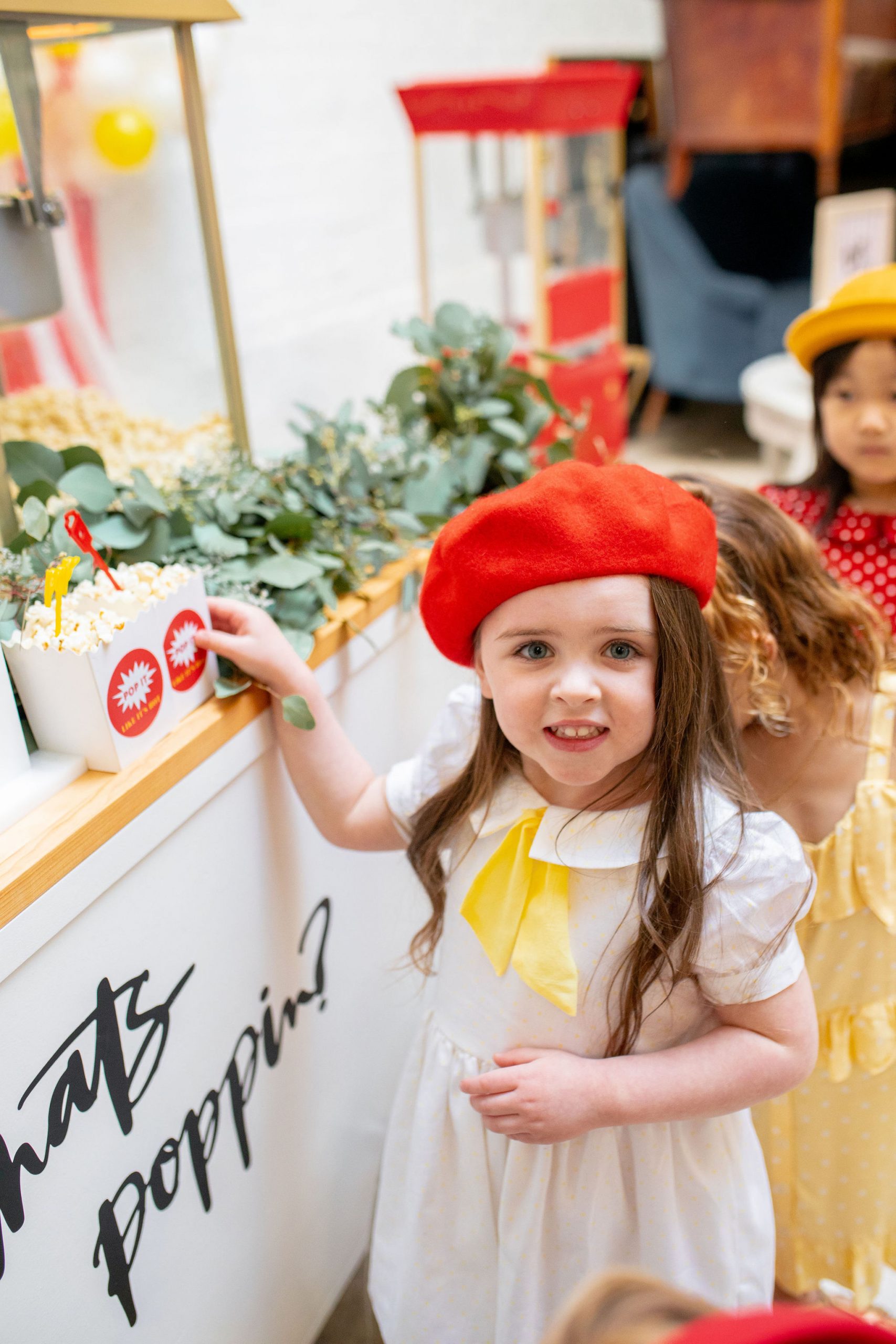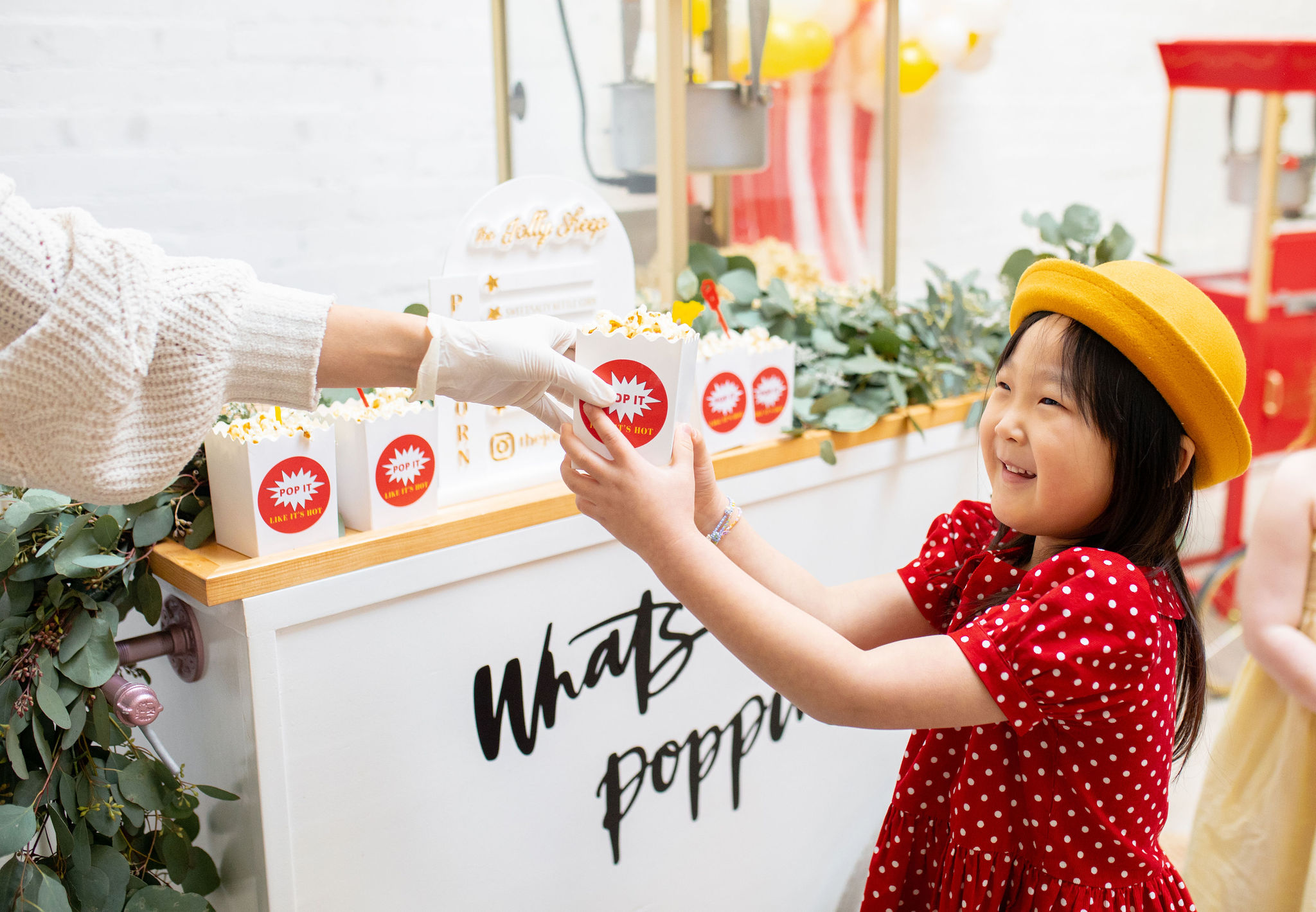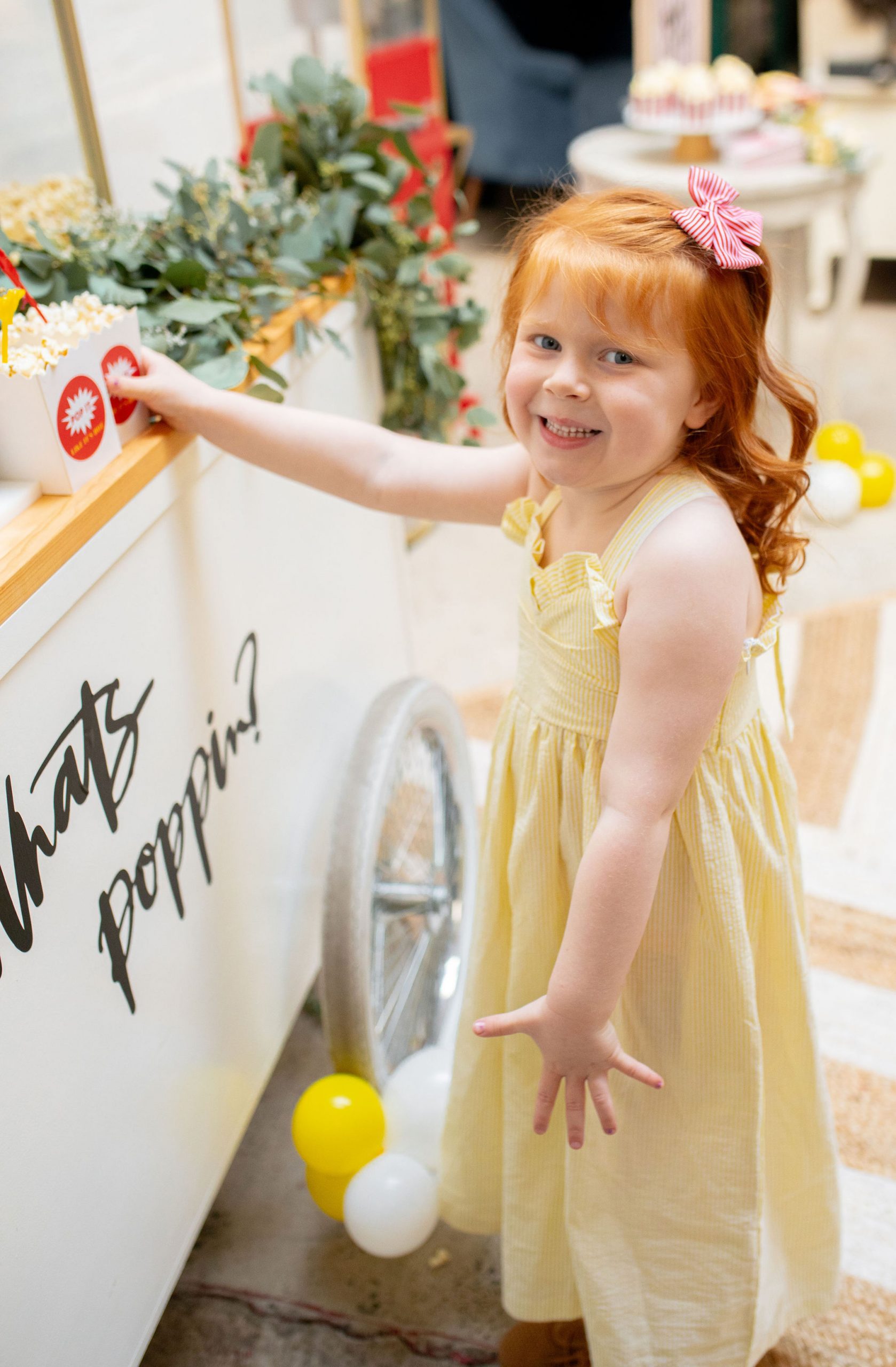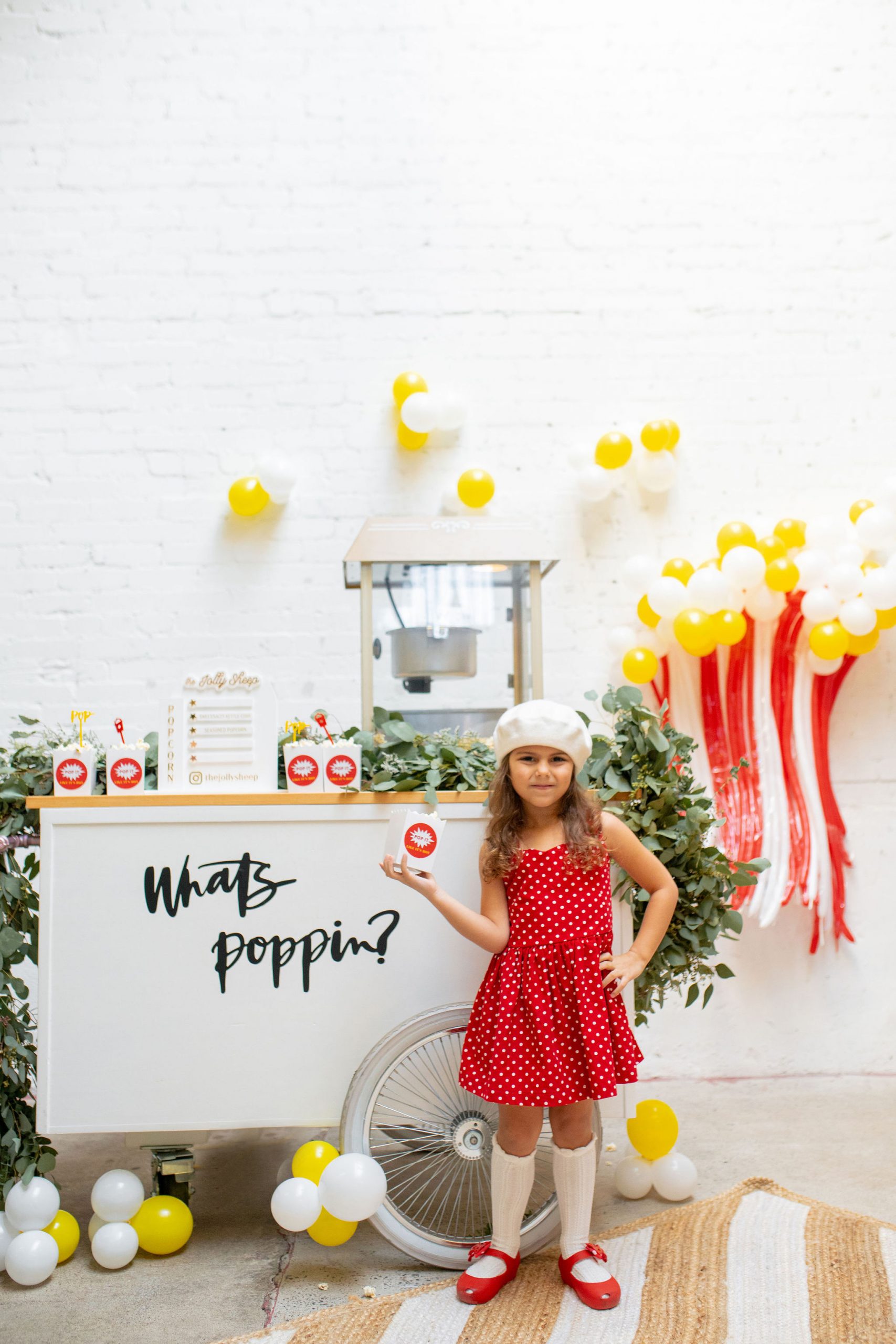 There were some really cute sweets made by Really Cute Sweets of course!  Haha!  Her name really fits her business!  She did the most adorable red velvet popcorn cupcakes and popcorn sugar cookies!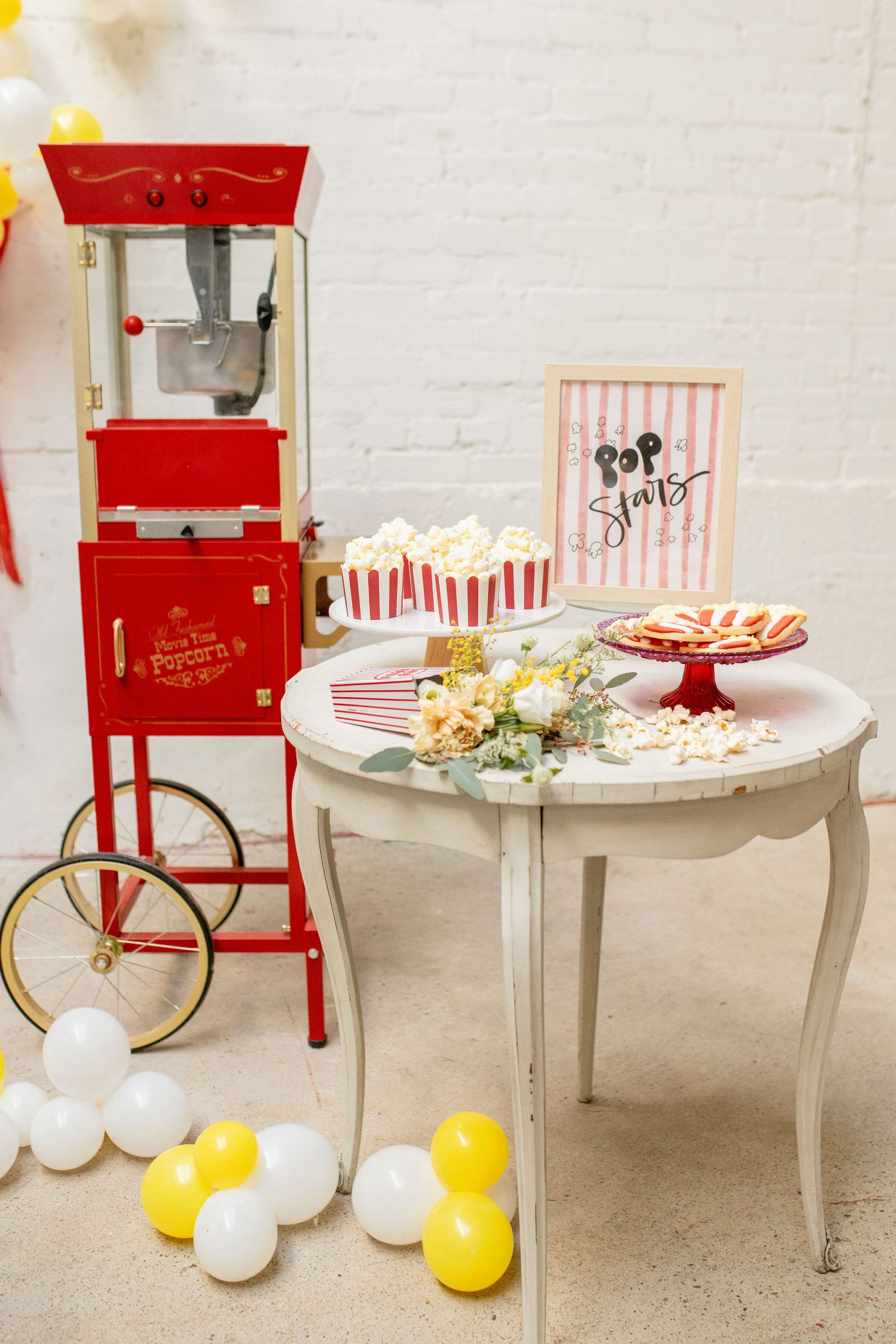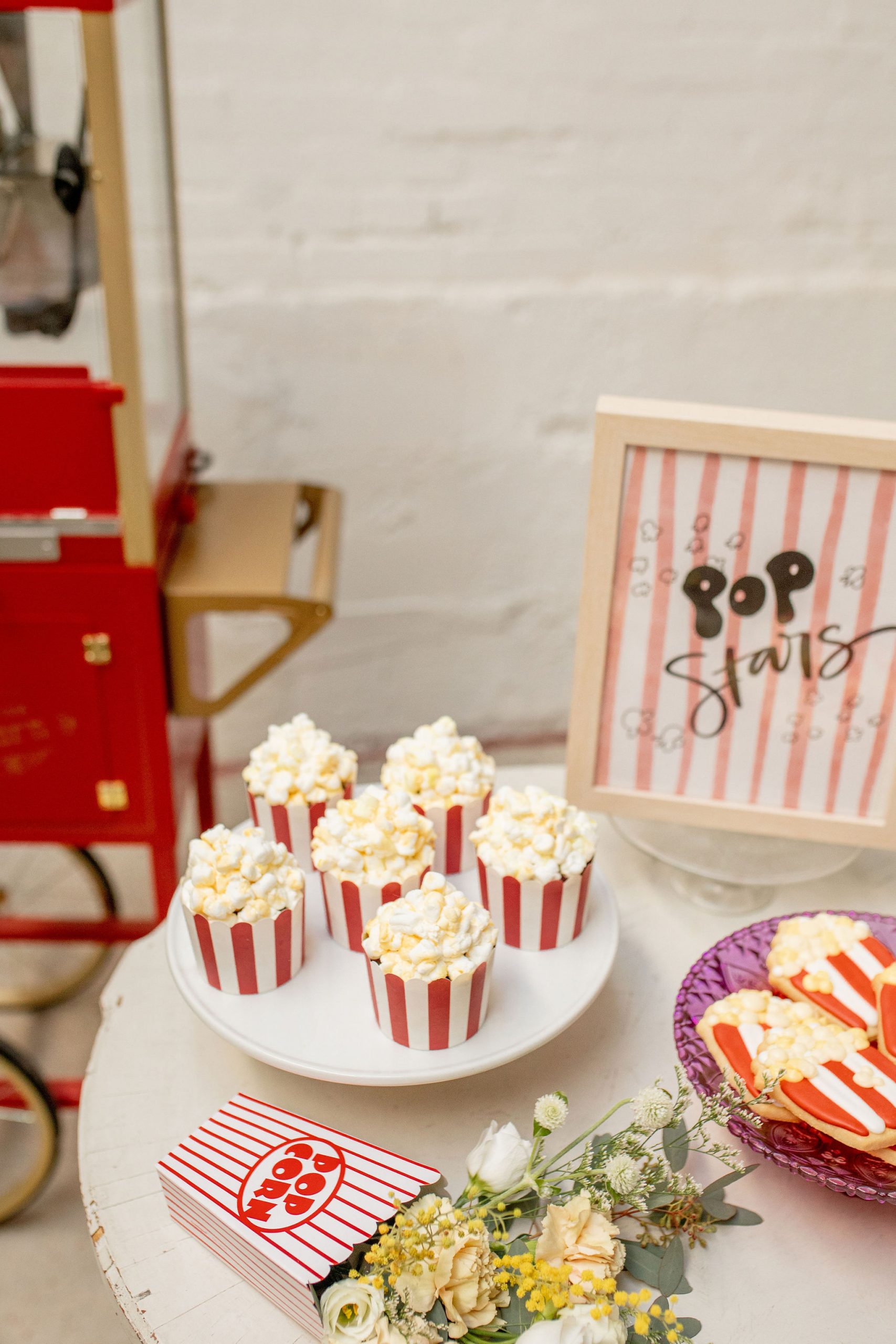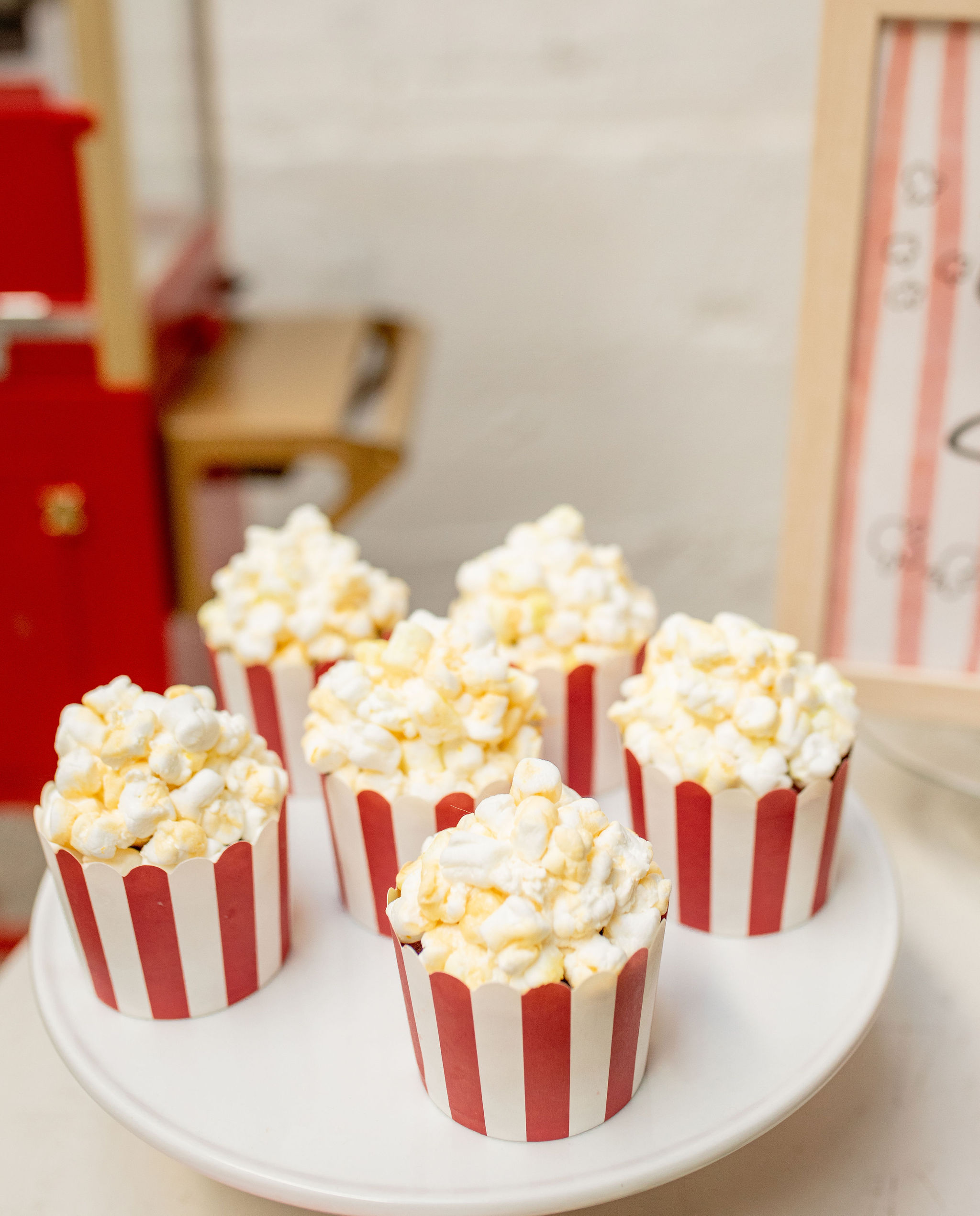 Little hands sneaking treats!!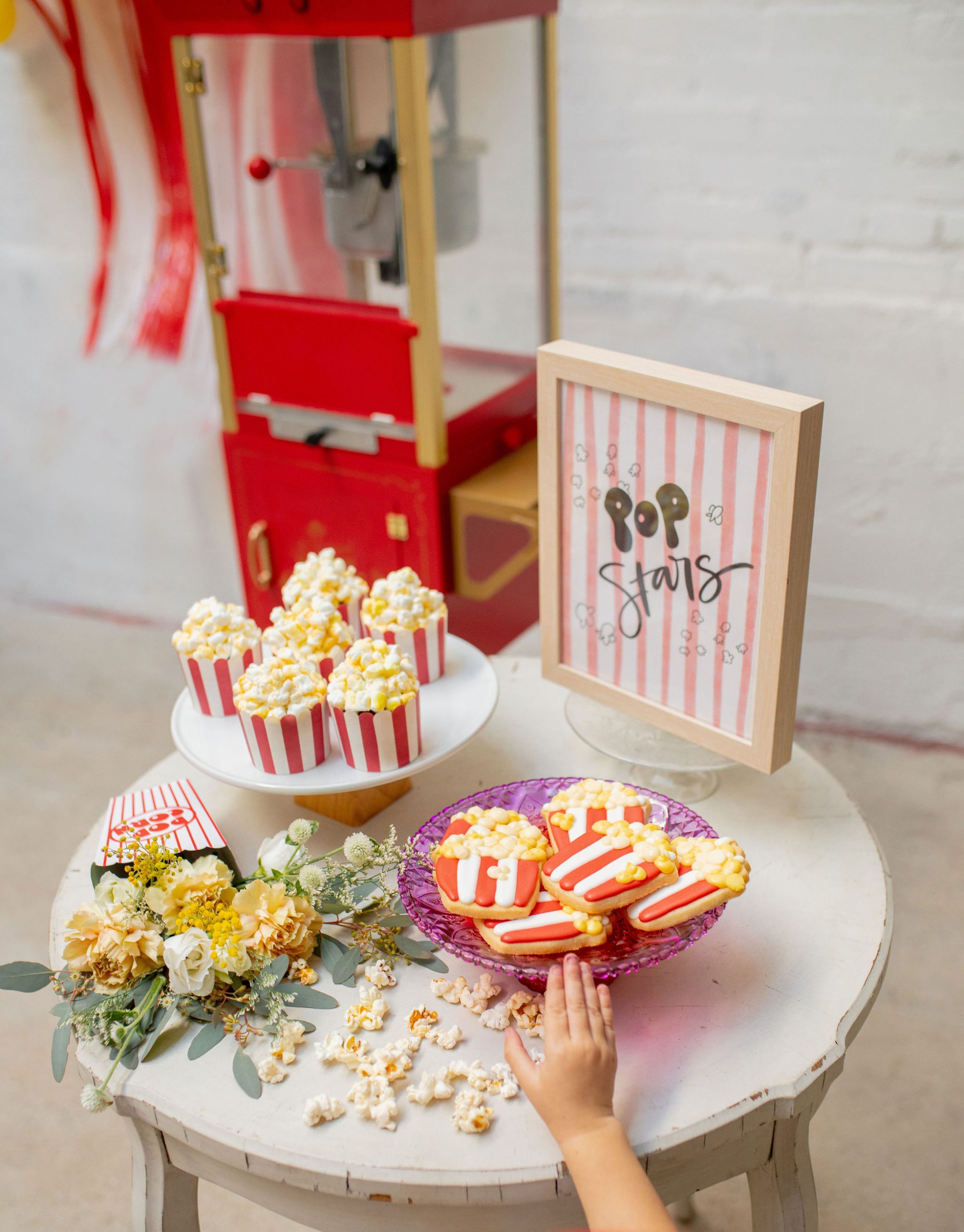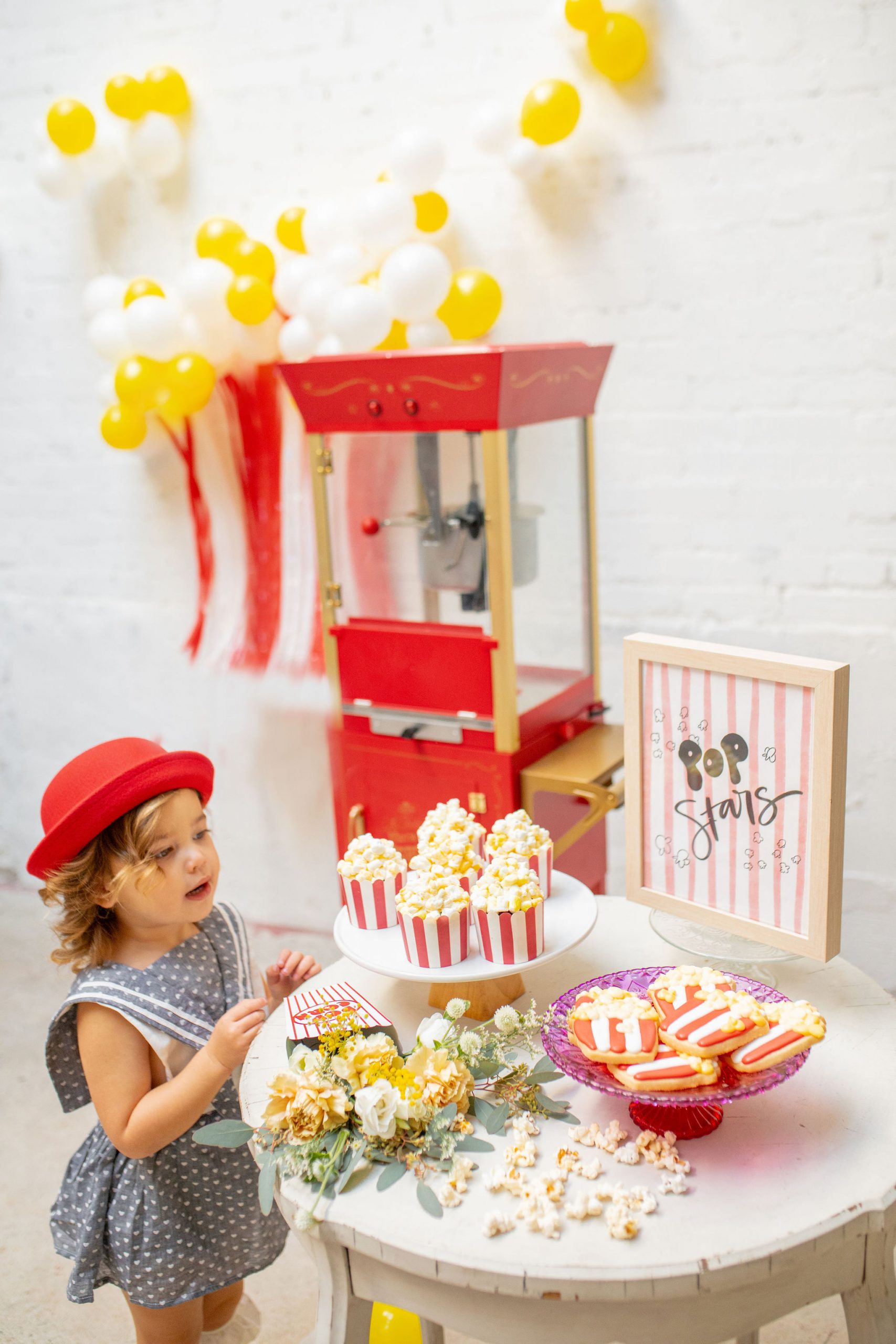 Those cookies are just too much!!!  So darn cute!!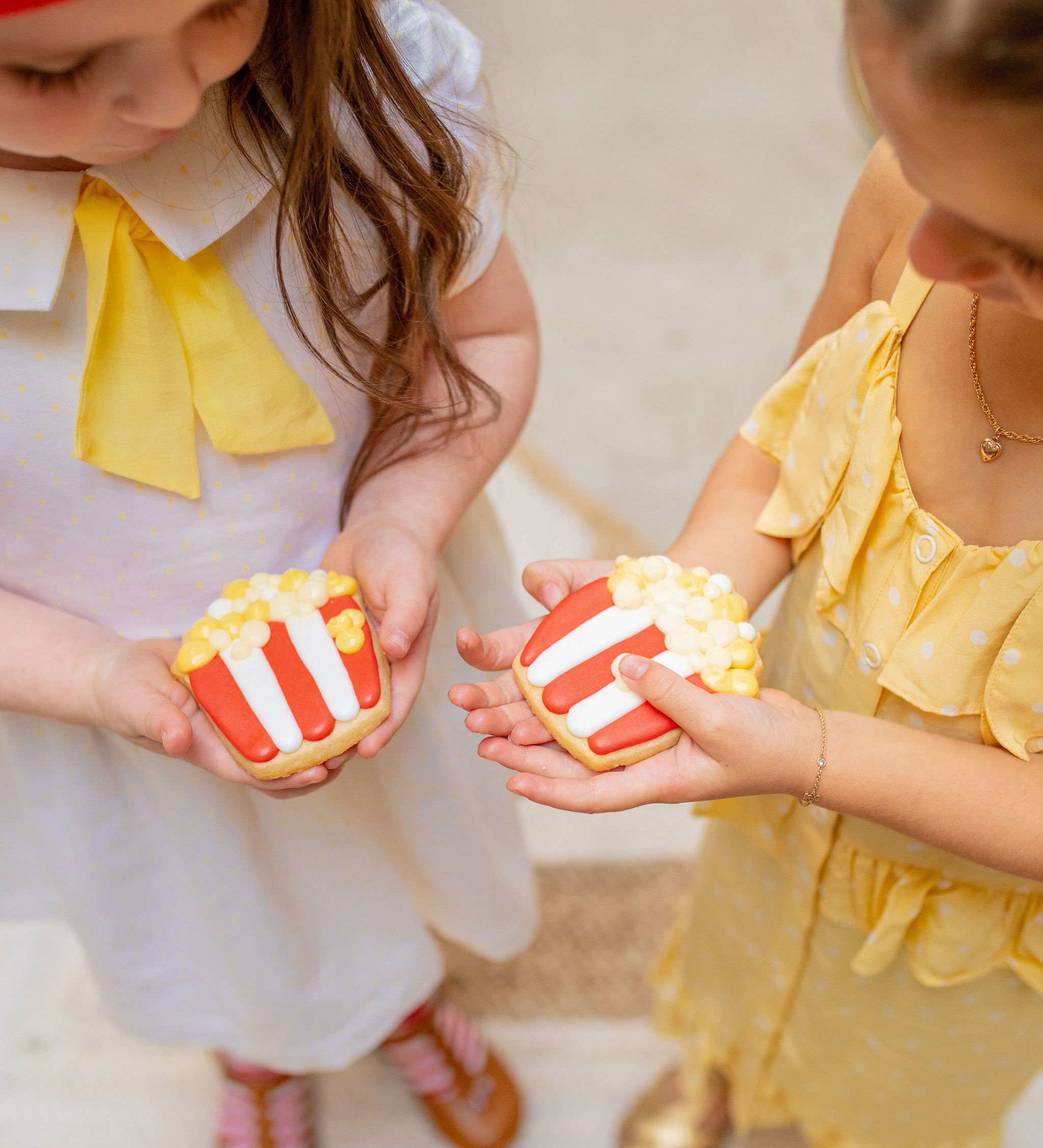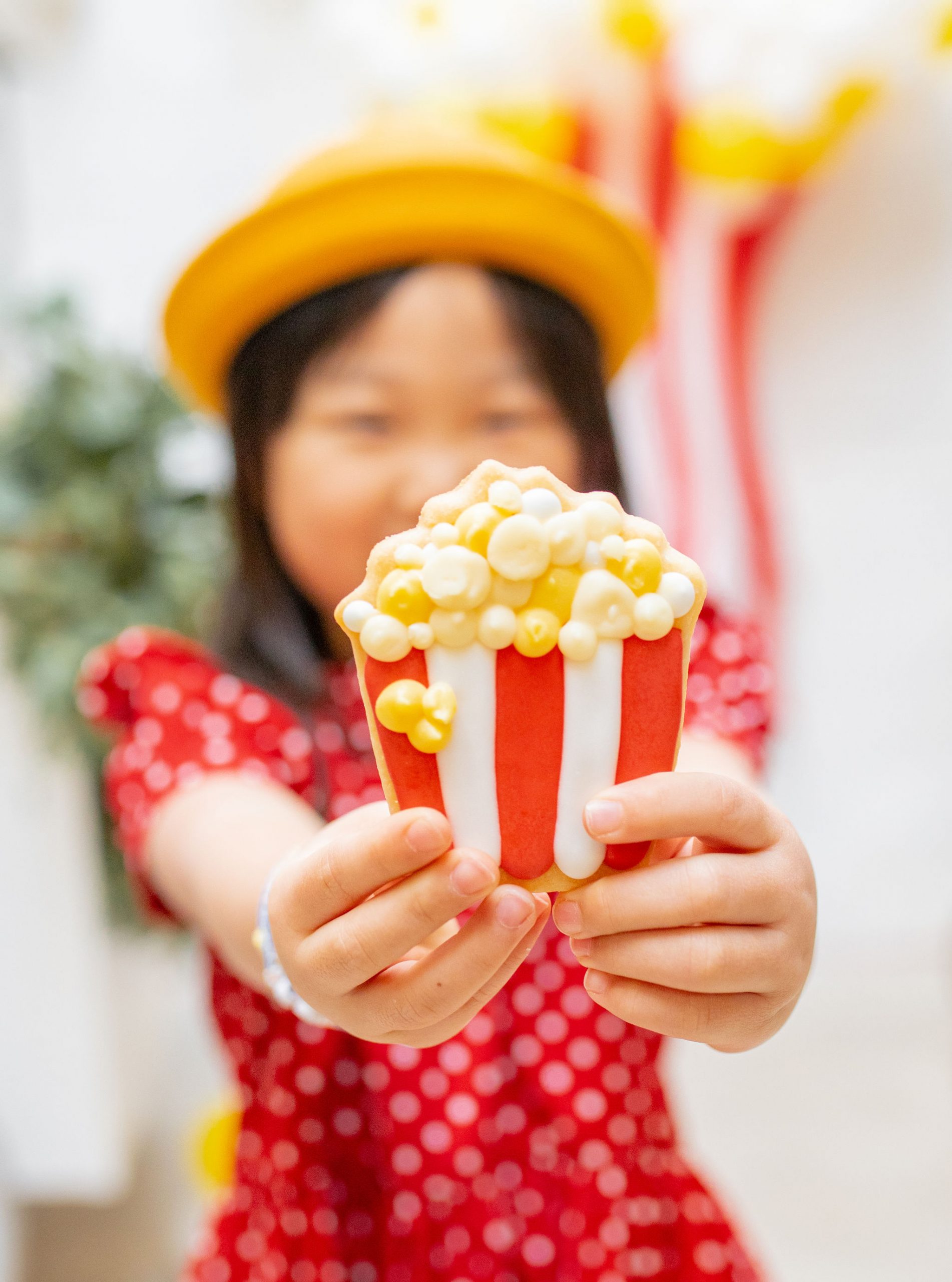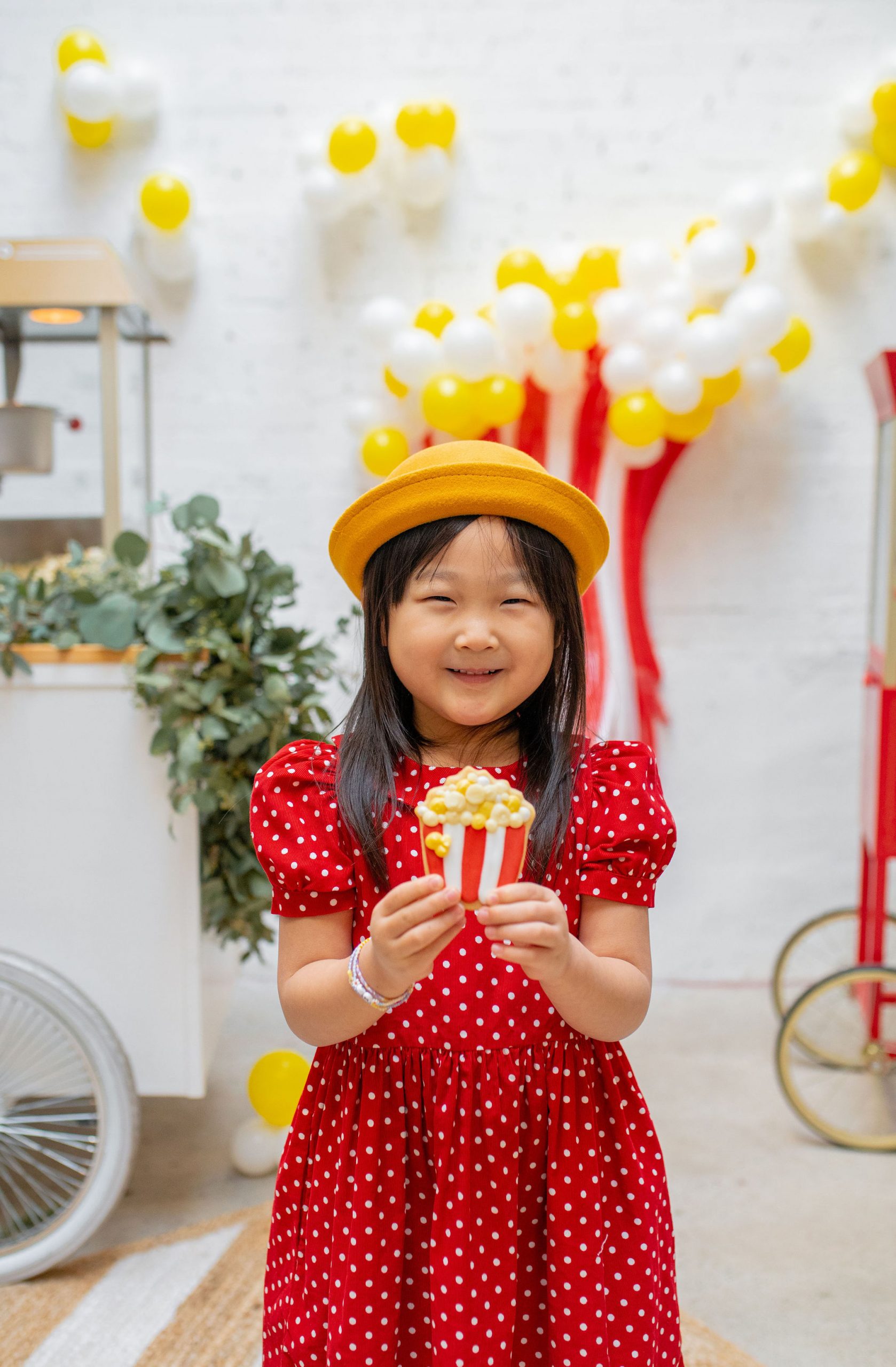 Now that's how you celebrate National Popcorn Day friends!!!!
Shop this party below!

xx
Jacquelyn