Cue Shania Twain! Let's Go Ghouls! Do we have a fun Halloween party for you today! Grab your gear and your guitar but add some pumpkins and disco balls because this Halloween, we've gone country! A unique and different take on our favorite holiday. The chance for black and white gingham, cowhide and sunflowers to add a glam & ghostly touch. I can't get enough of this one and am so excited to share it with you today! We are also featured on Inspired By This today, so be sure to check us out there! Now giddy up and see. more below…
Photos by my gal Jessica Lynn Photo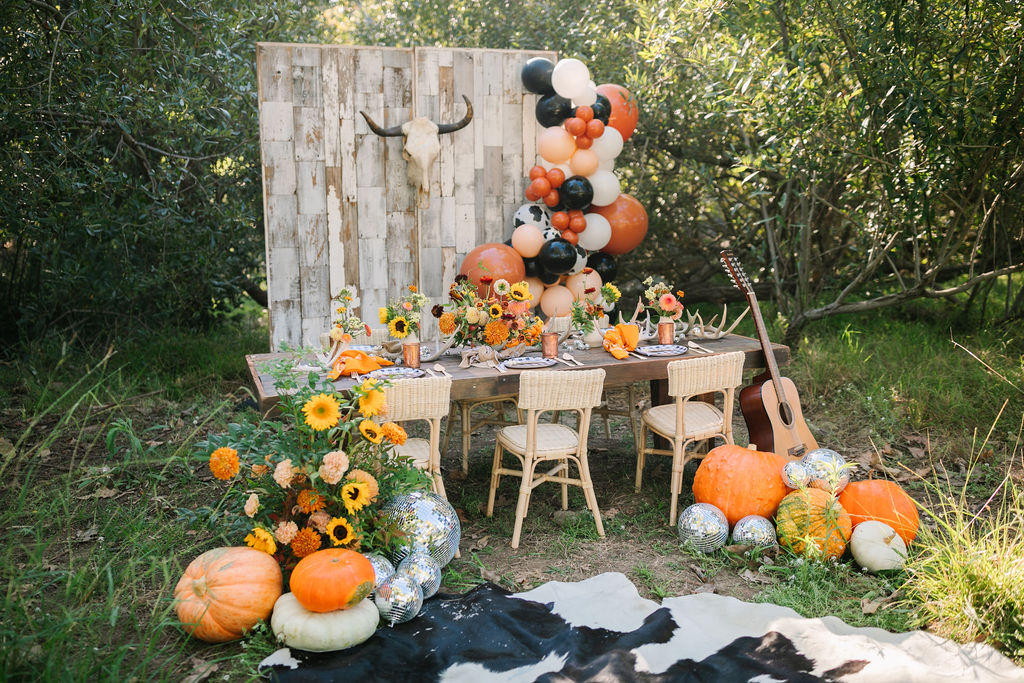 Kicking things off with a cowgirl invite! Chelcea Creative came to the rescue and designed this one for me a little last minute. I'm so grateful for her and her amazing talent! How cute is this little guy and those place cards? More on the cutest desserts made by Sugar from the Heart a little later but it's all looking real pretty on that Chasing Stone mat, don't you think?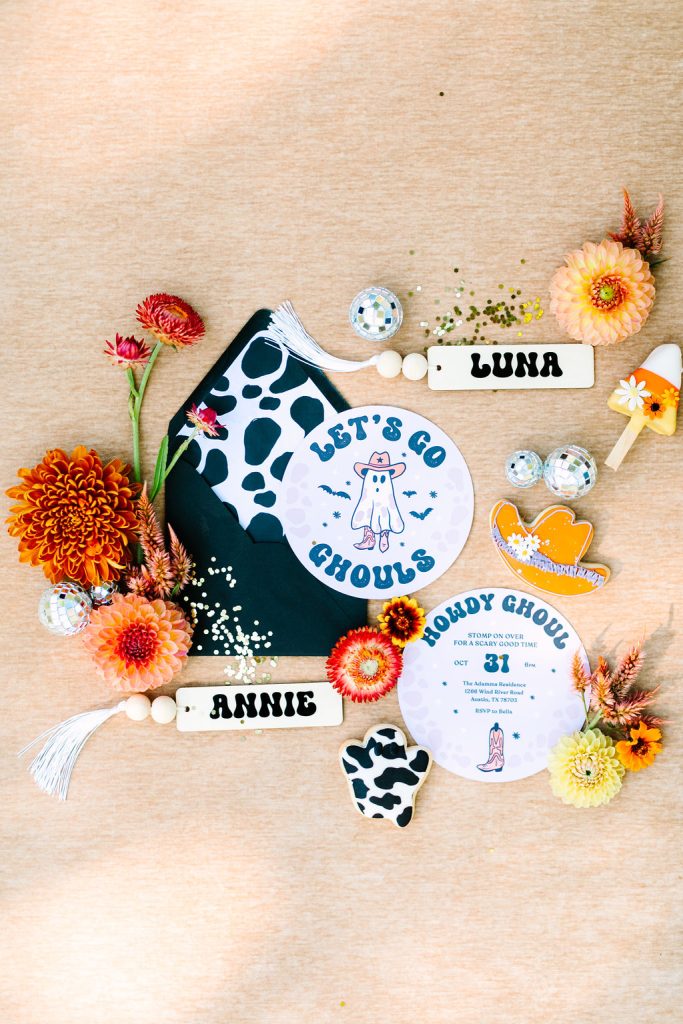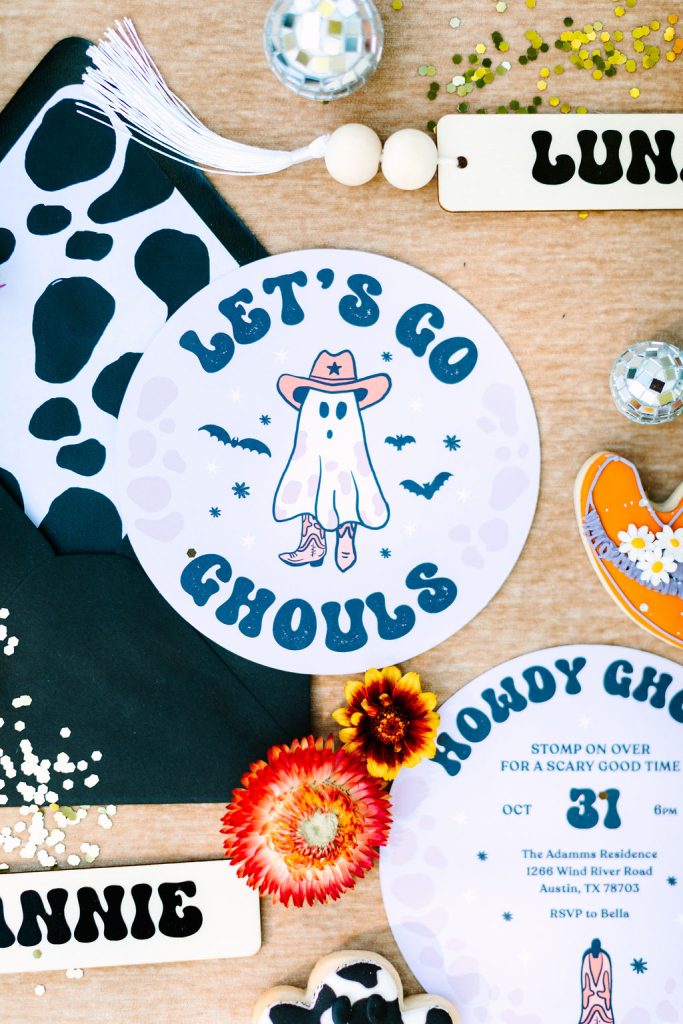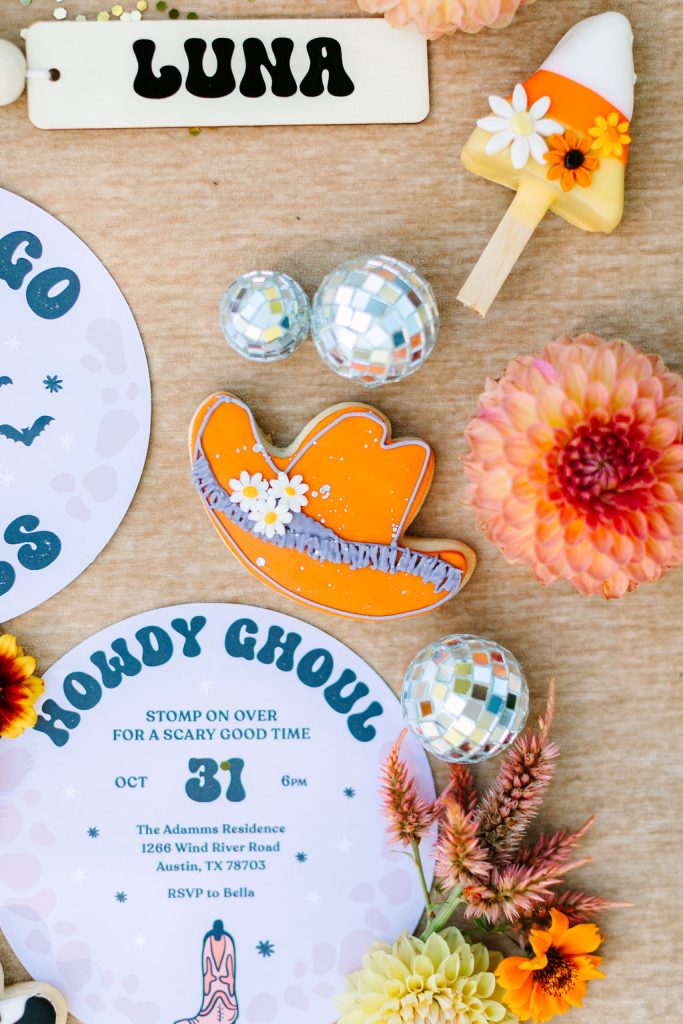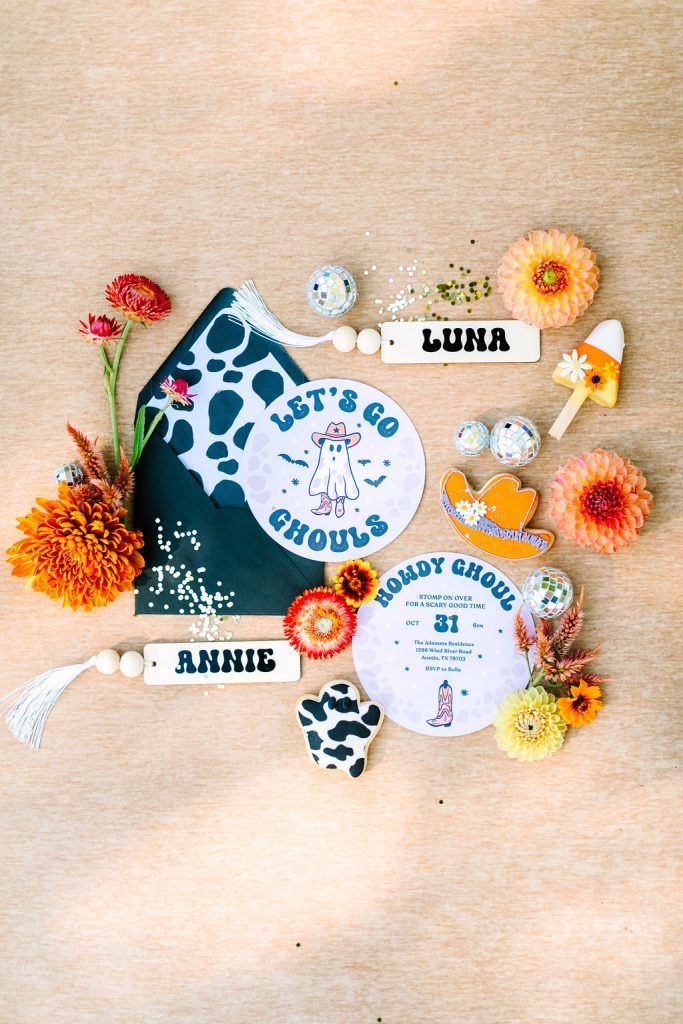 Onto our little party!! The perfect rustic rentals were brought in by Sweet Salvage Rentals. That wooden table with the adorable chairs along with the amazing backdrop, cowhide, and skull are all theirs! The Pop Shop adorned the backdrop with her amazing balloons adding in some cow print of course! I added my own personal disco ball collection and my husband's guitar. Full blown country glam for this little hoedown!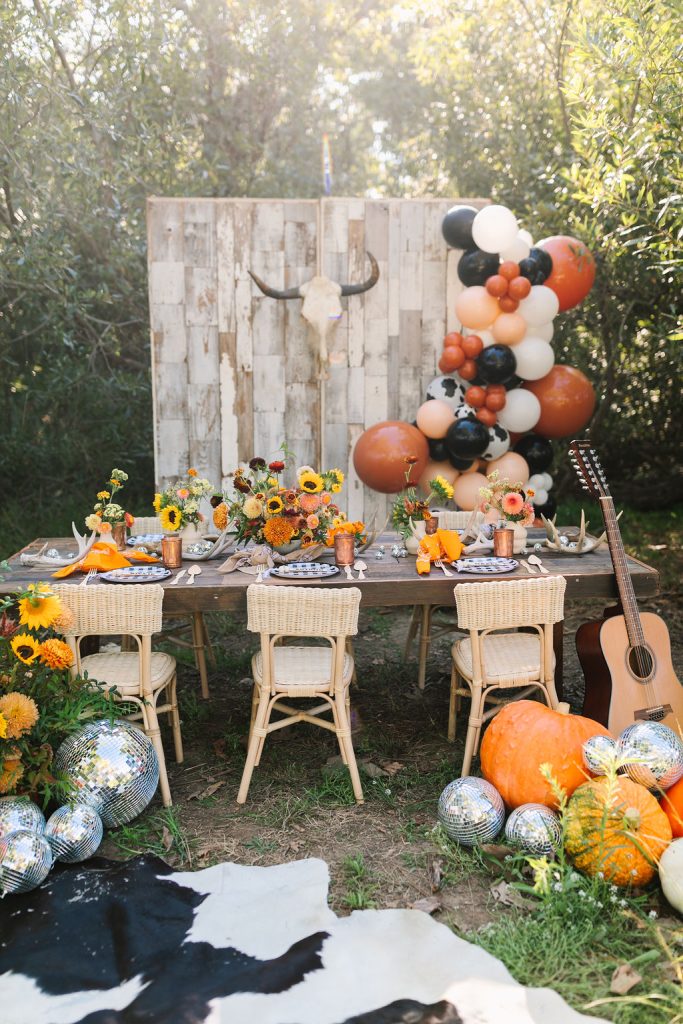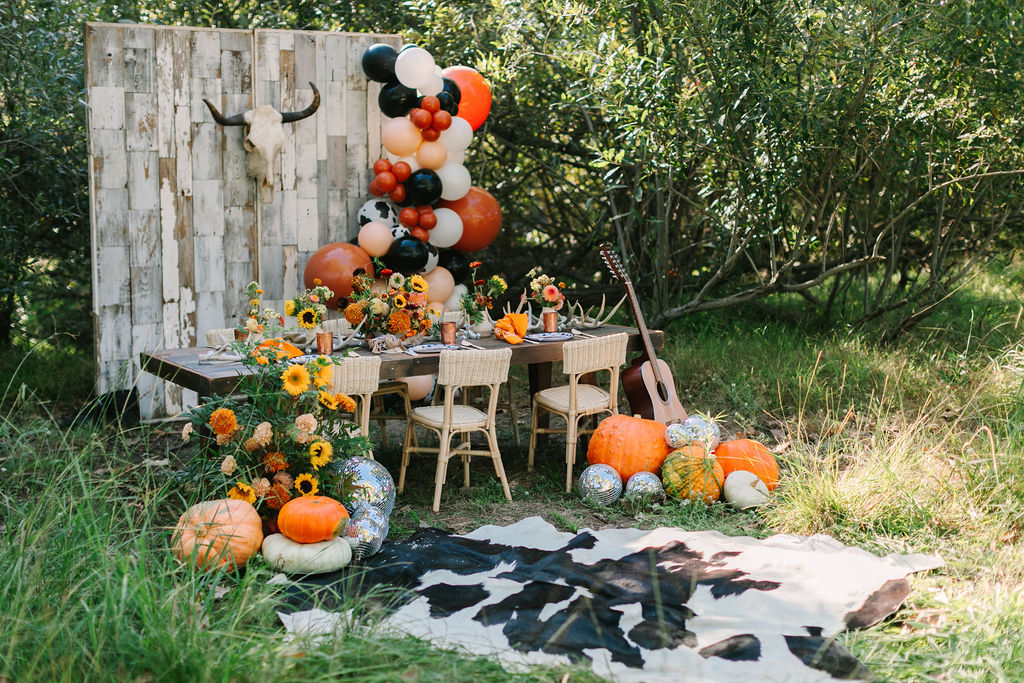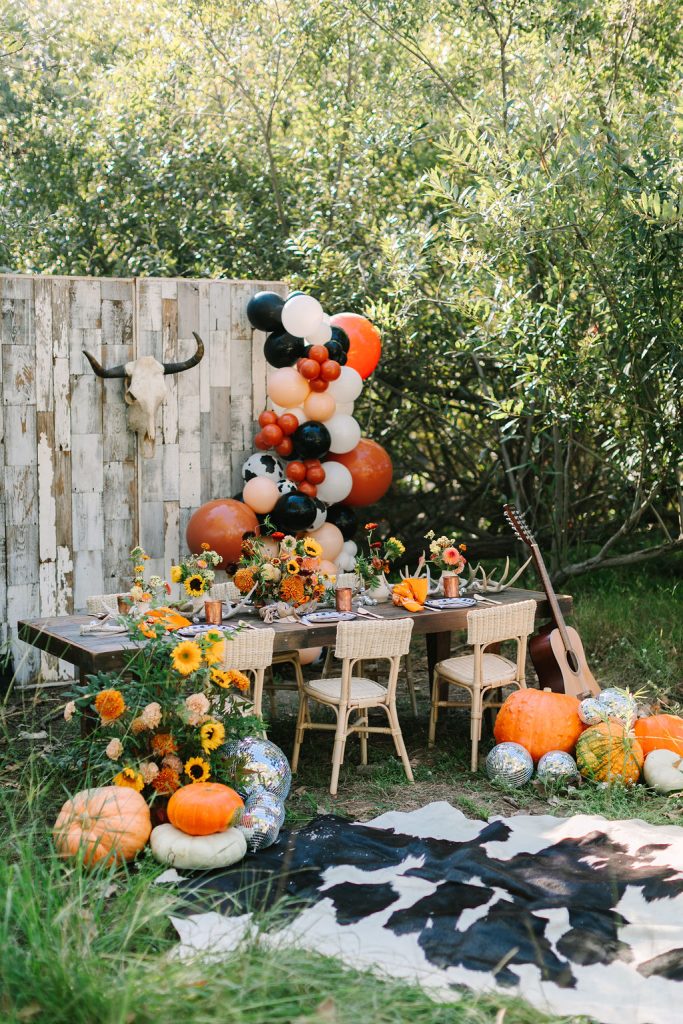 Onto the sweetest little place setting in all the land! Black Gingham plates from Jollity & Co, flatware and bandana napkins from Amazon, and my own little copper tumblers. Not Just in Novels sunflower filled floral arrangements make my heart happy and Chelcea Creative's adorable wooden fringed place cards complete it all!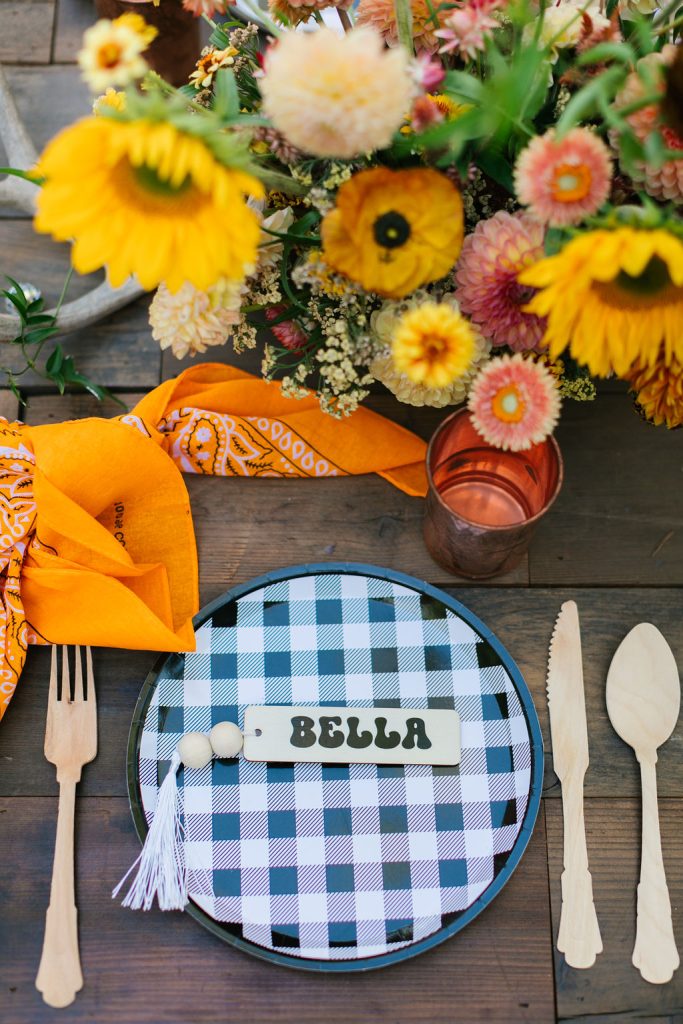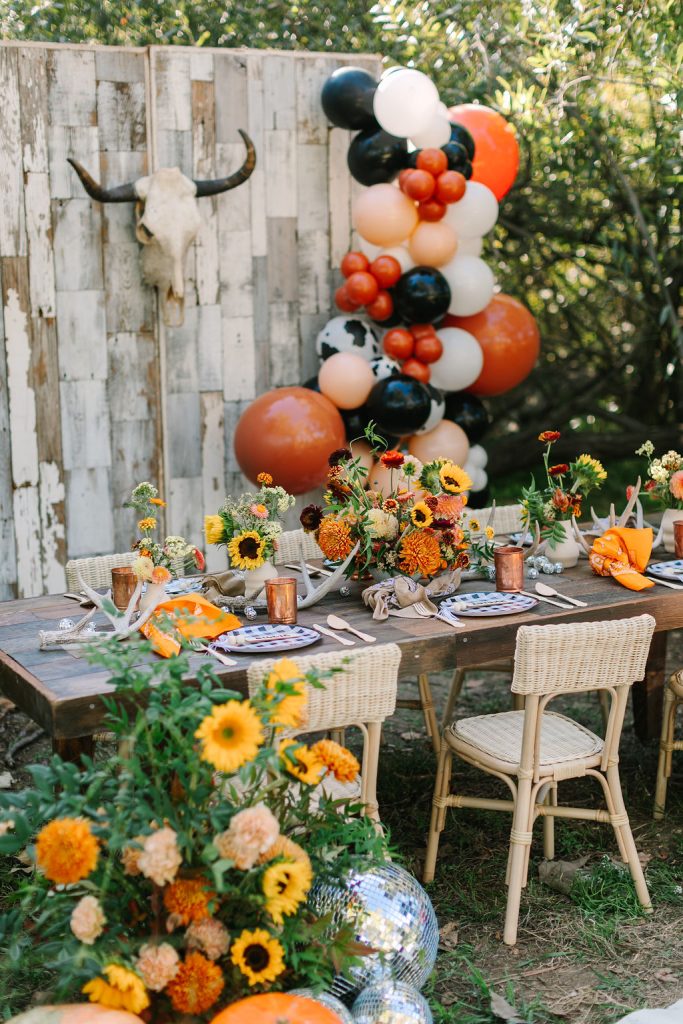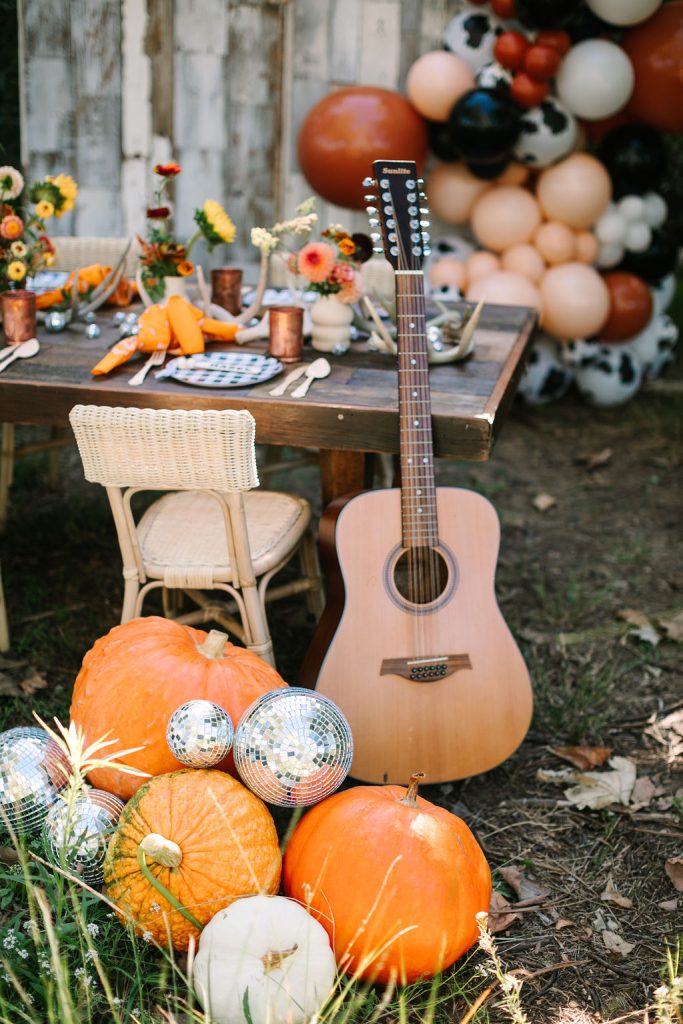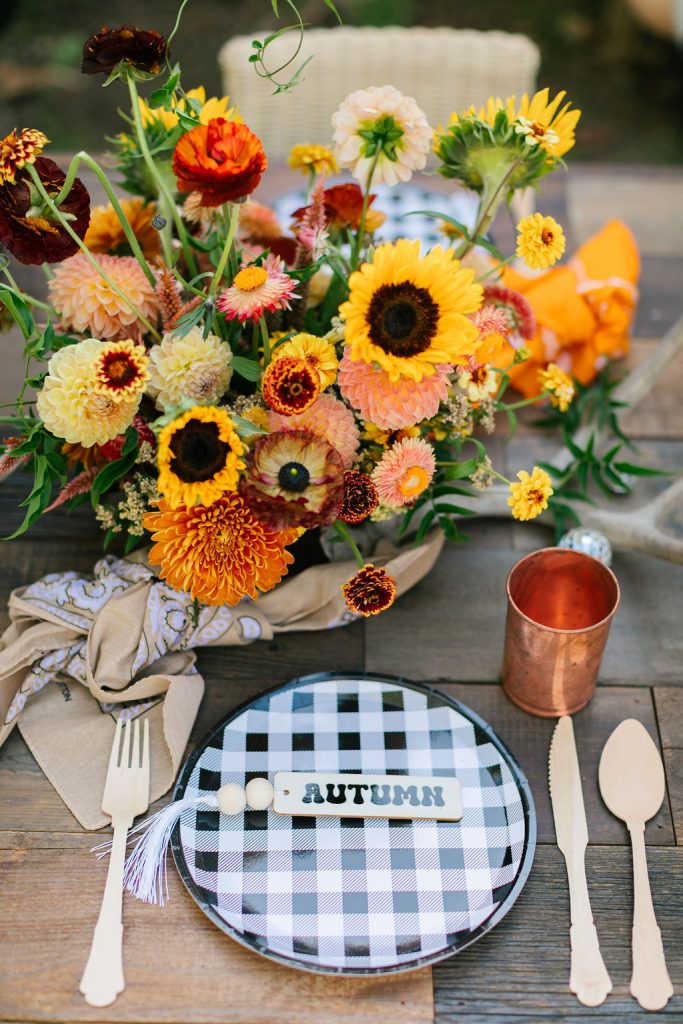 Fall florals at their best!!!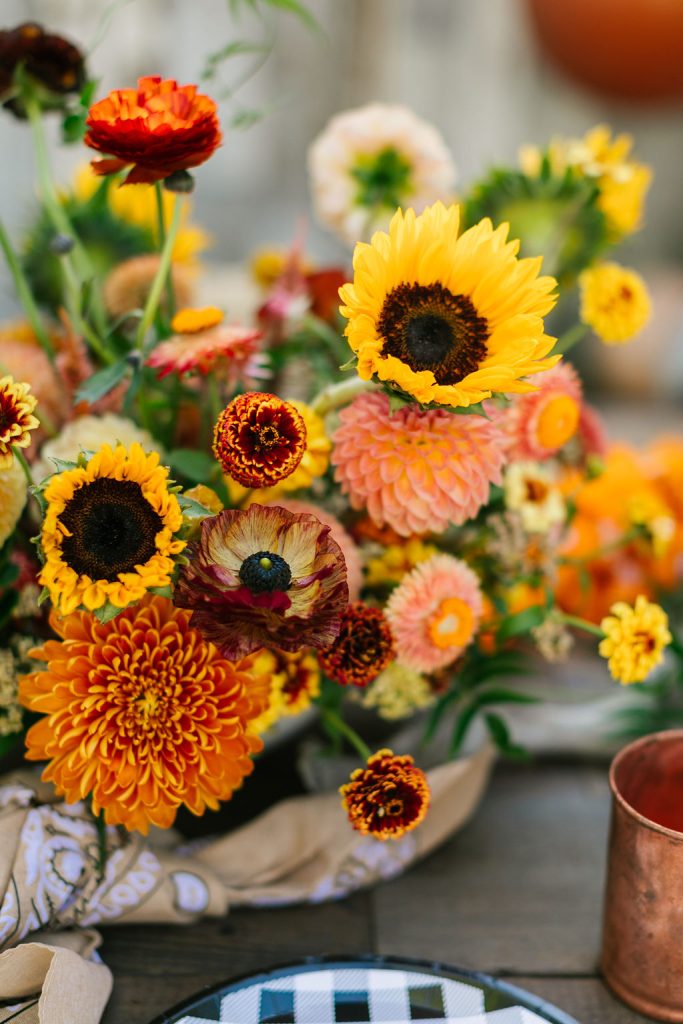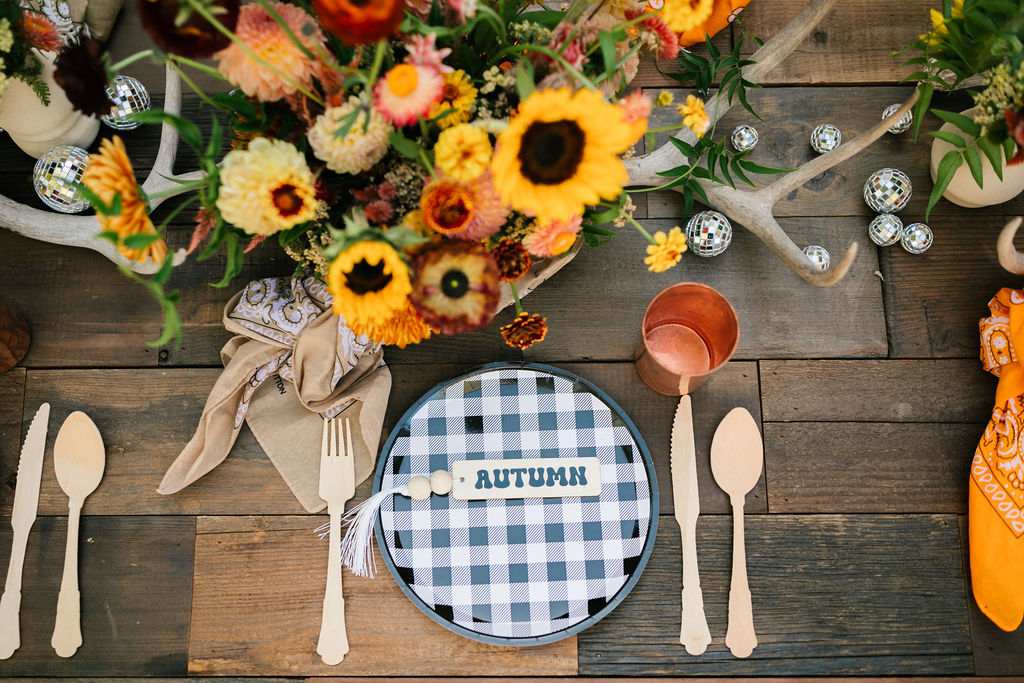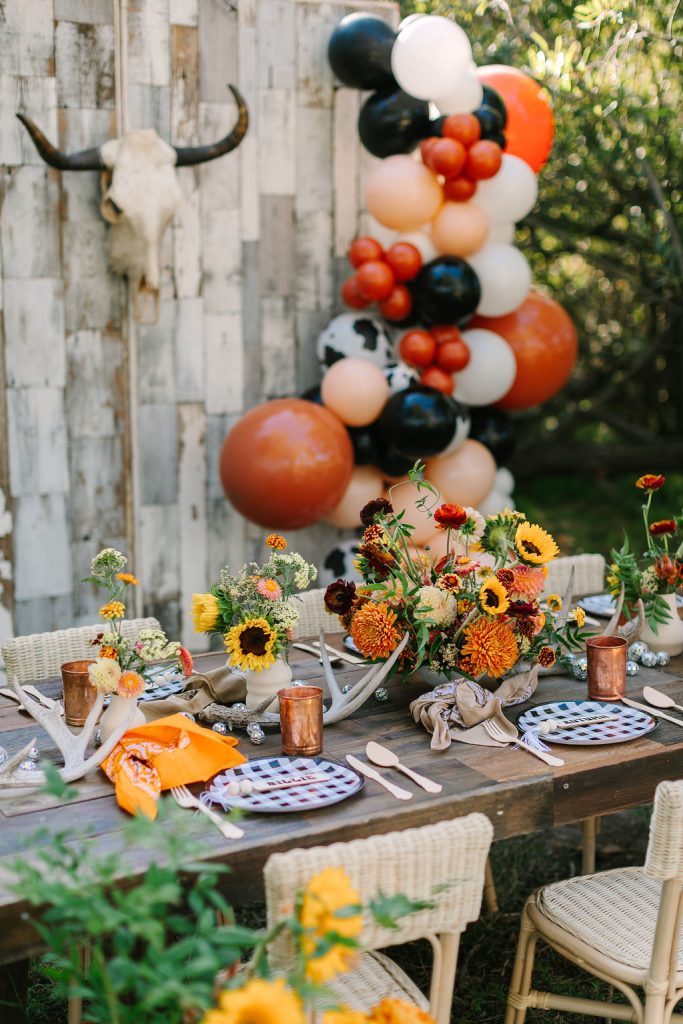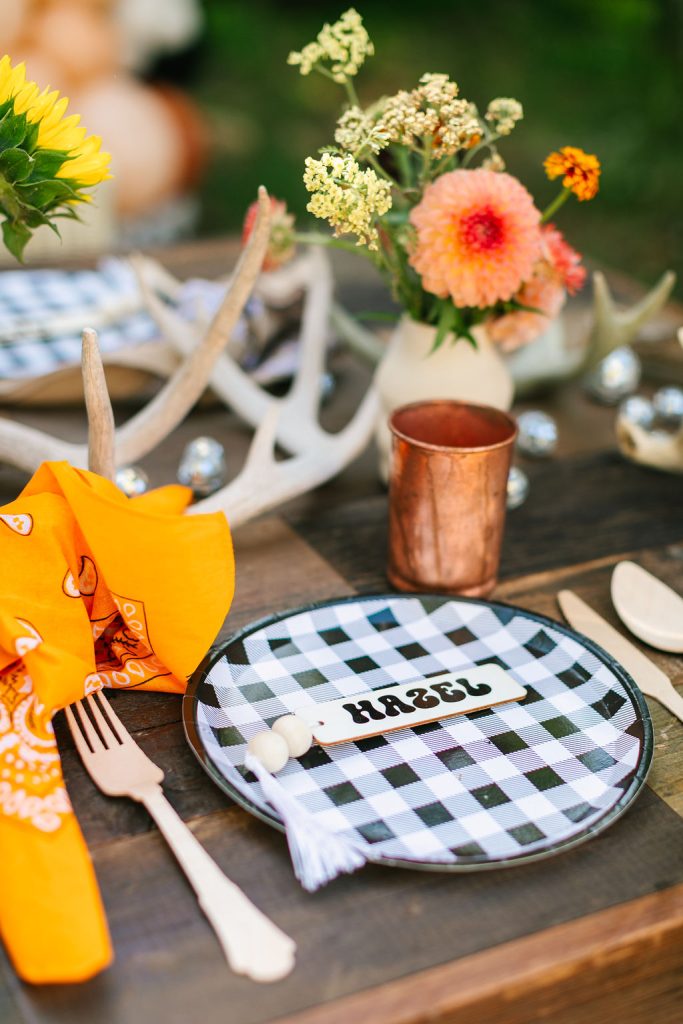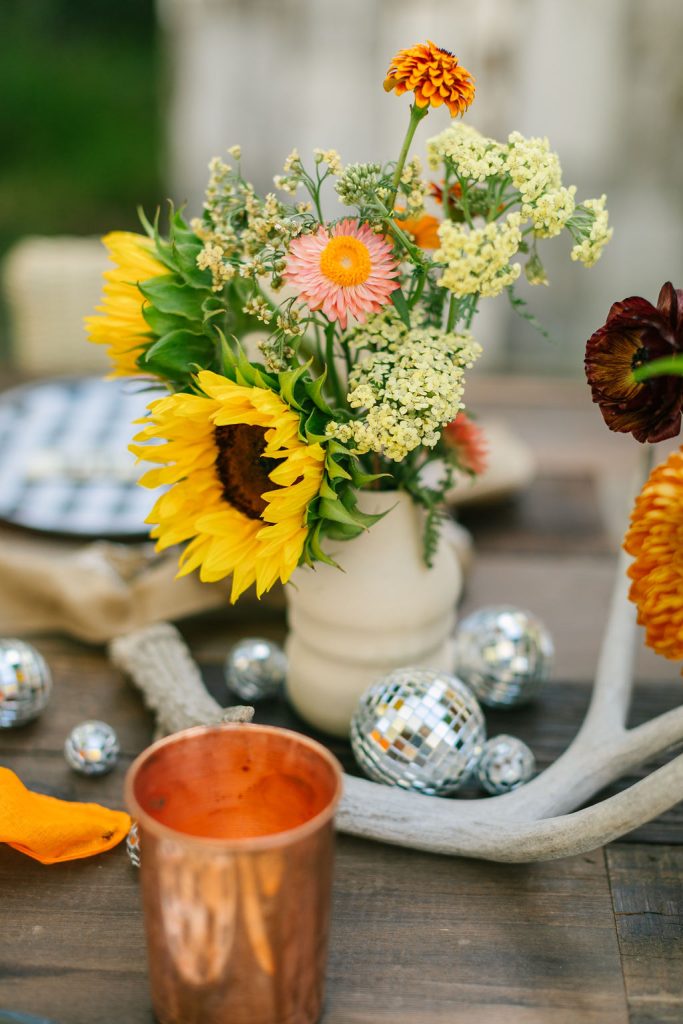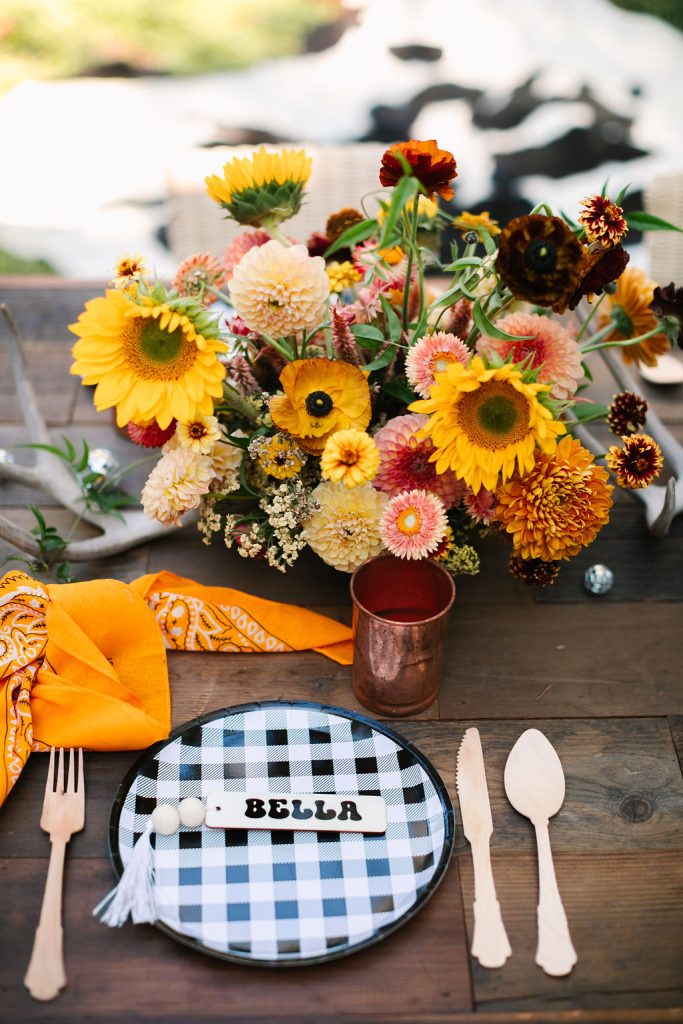 So much cuteness! But just wait, we've got some cowgirls all styled up to add in!!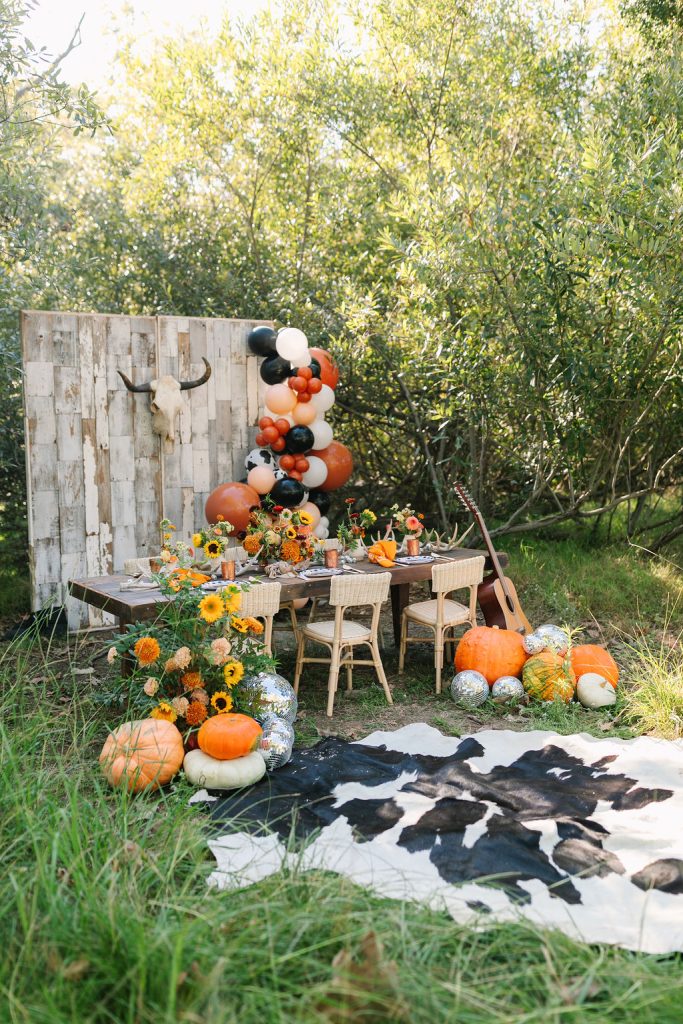 And just like magic, there they are! These sweet girls were styled by my gal pal Carissa, owner of The Daydream Republic! She is always up for a fun shoot and this one was the perfect chance to see her styling skills and her amazing accessories come to life! Just wait till you see all the details of these outfits…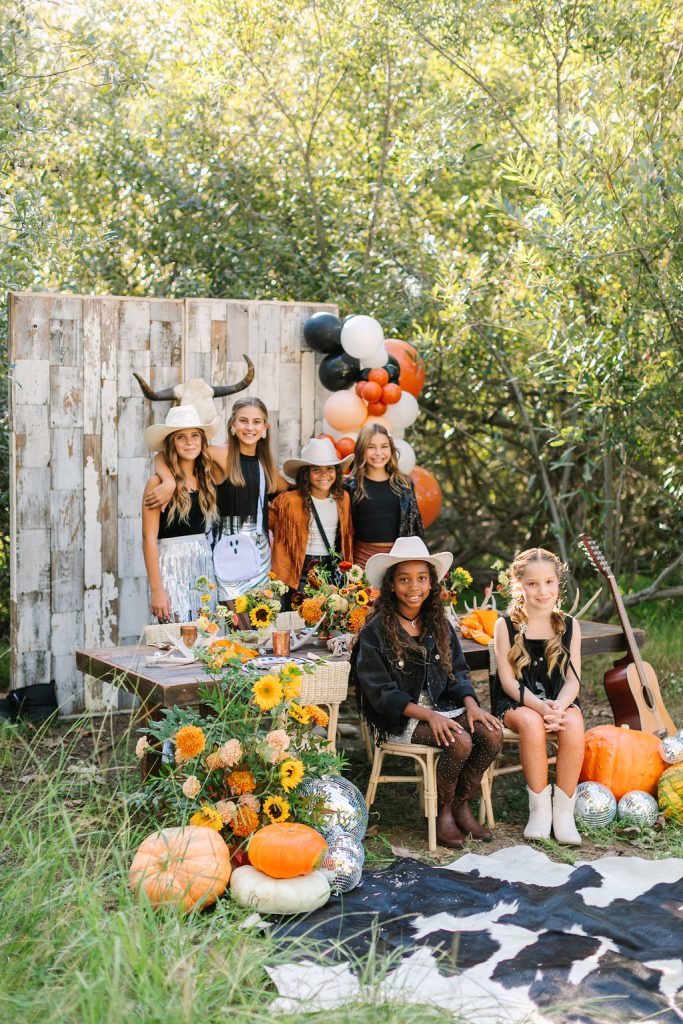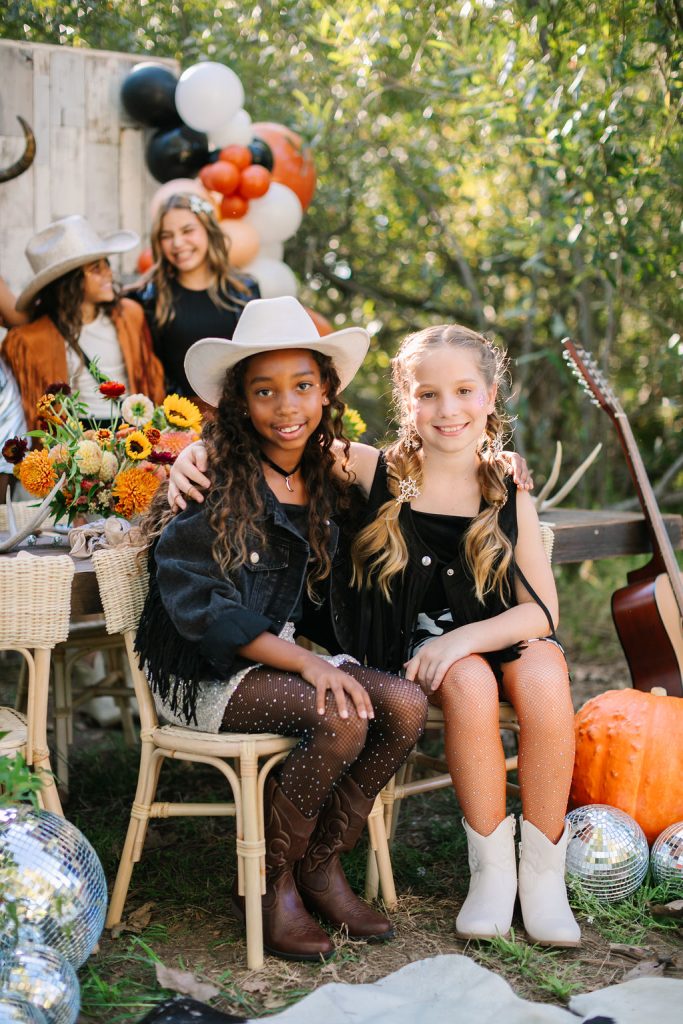 Sparkly tights and boots, a definite cowgirl must have!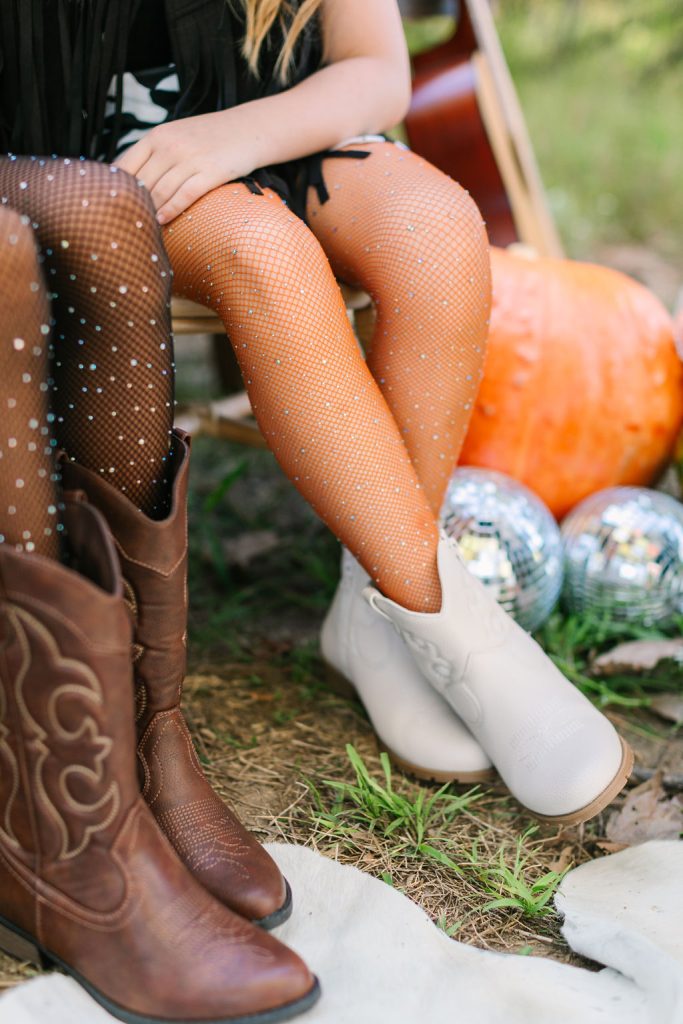 Plus all the fringe and all the sparkle!!!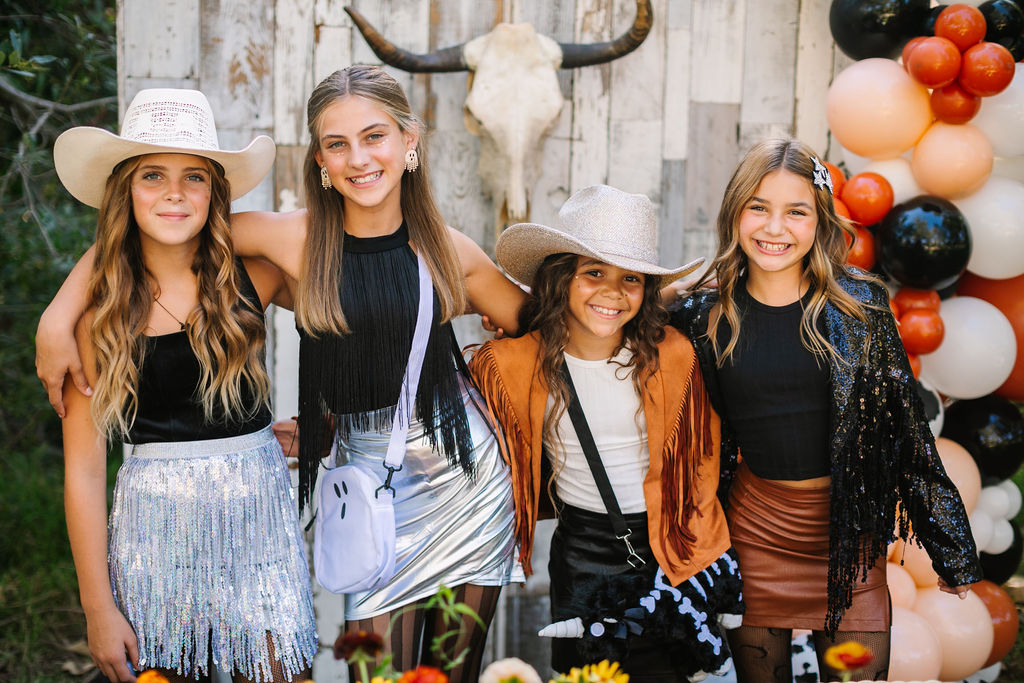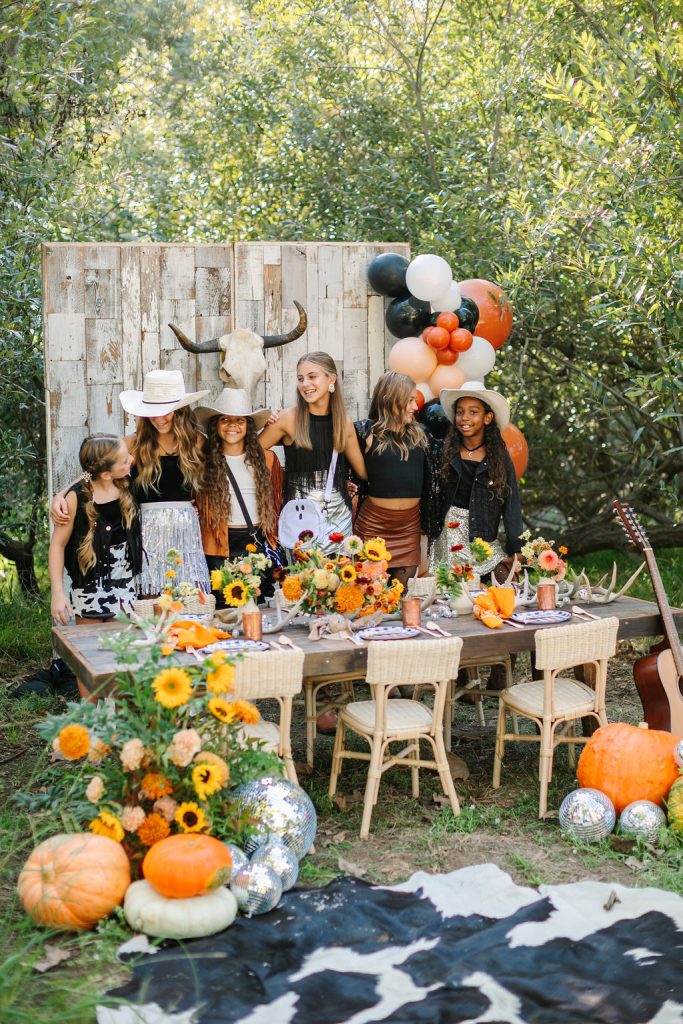 Let's Go Ghouls! Time to check out all of these pretty gals…
River is first, my sweet neighbor River! Seems like just yesterday she was itty bitty and she's growing up into such a beauty!!! I can't get enough of her in this outfit!! Cowgirl perfection!!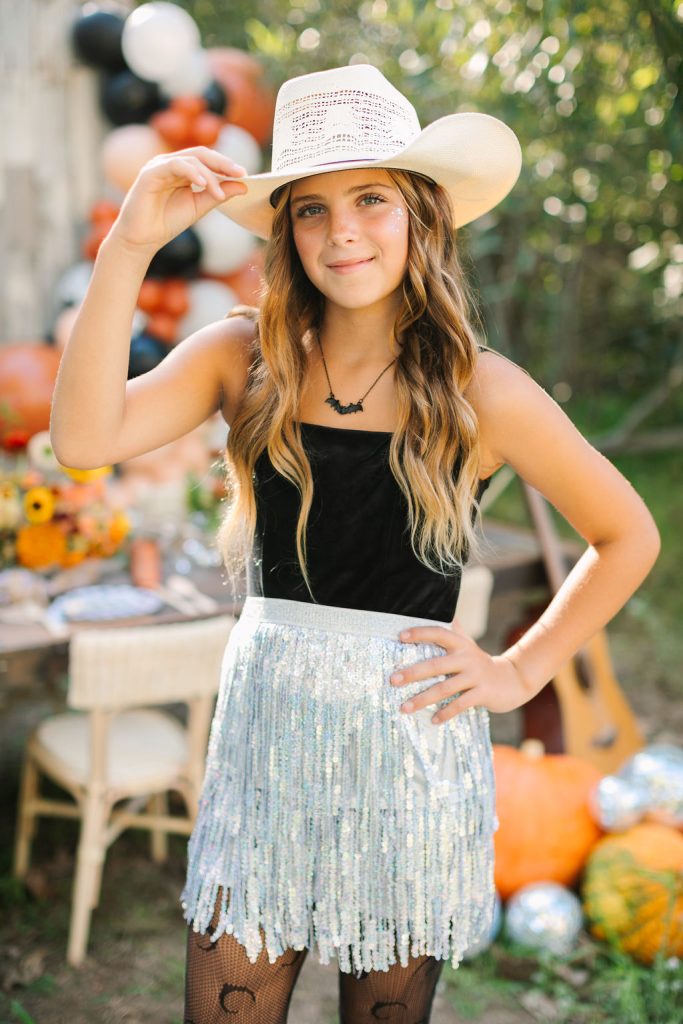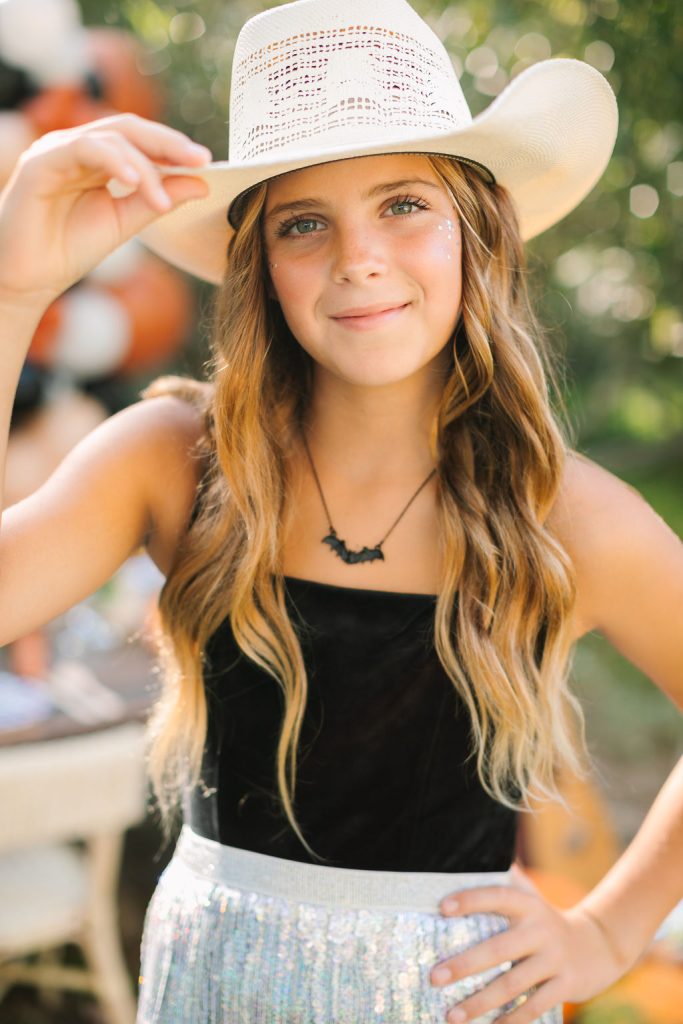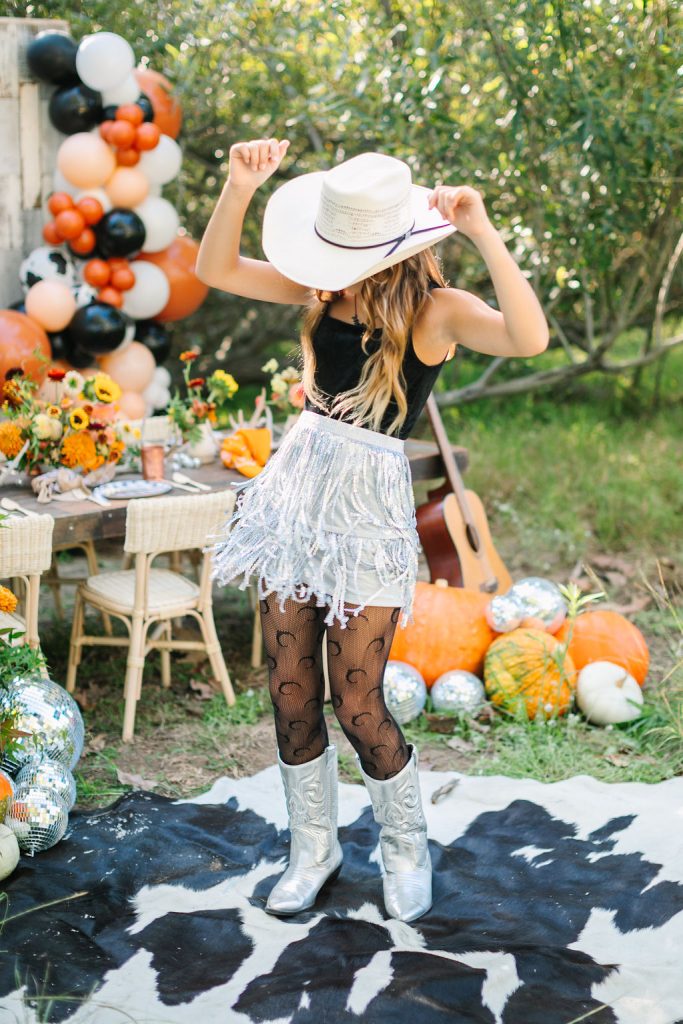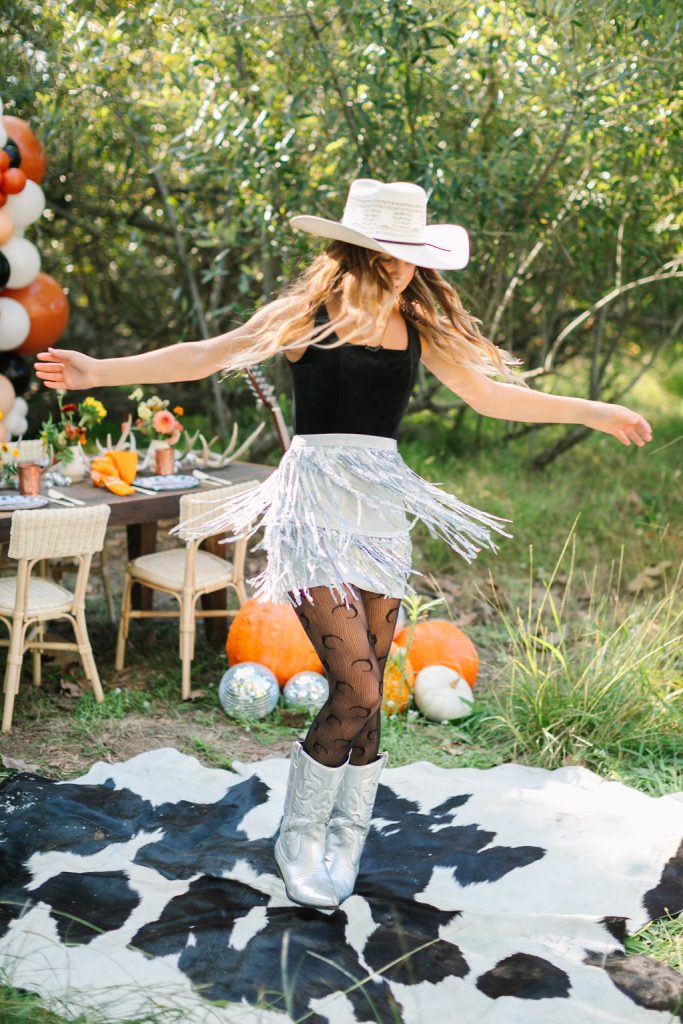 Next is Reese, River's bestie! They both look so cute in their outfits, I want to be them, haha! Both of the tights with the minis is just perfection!!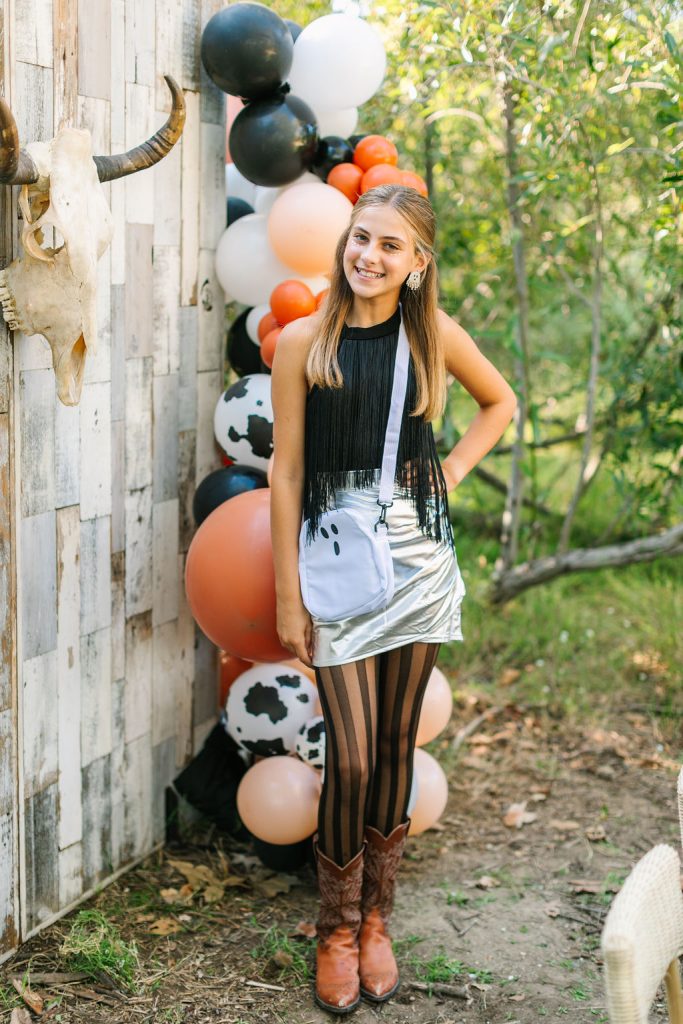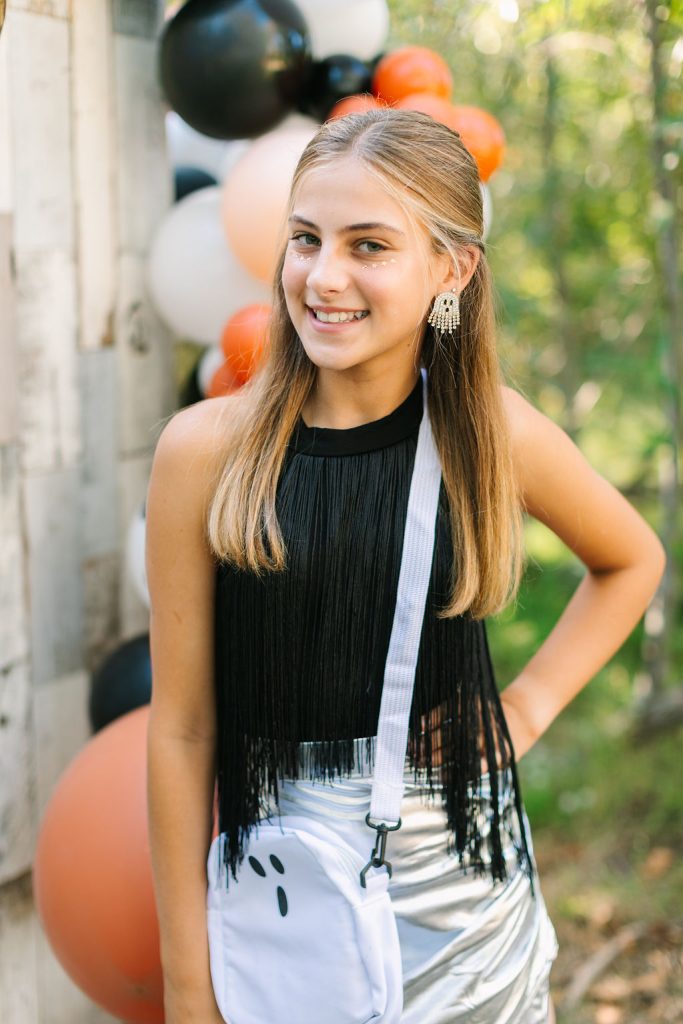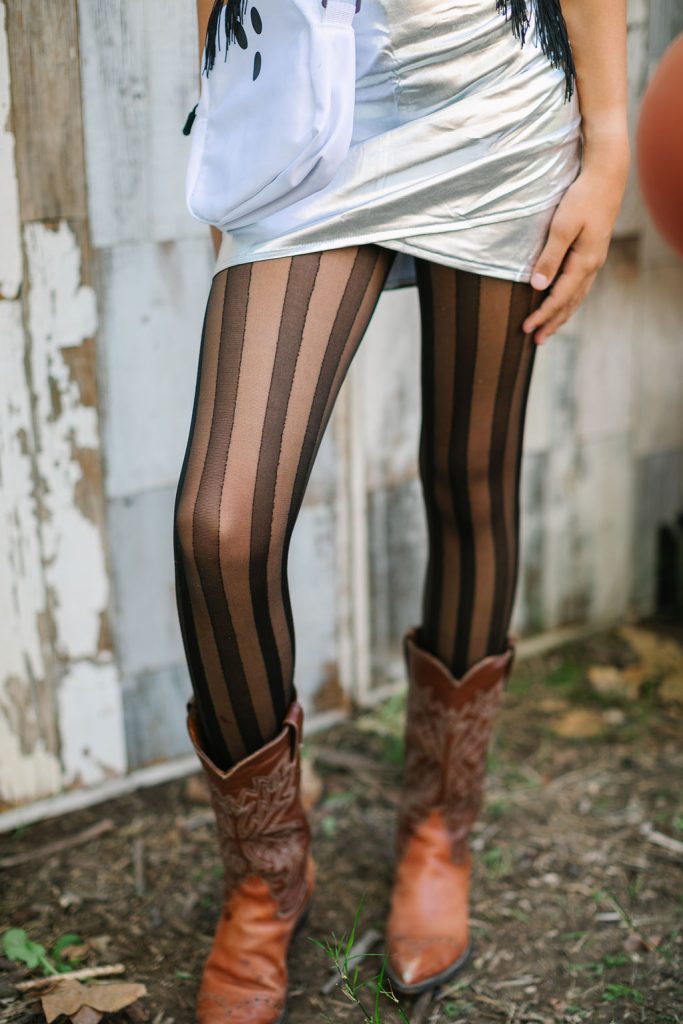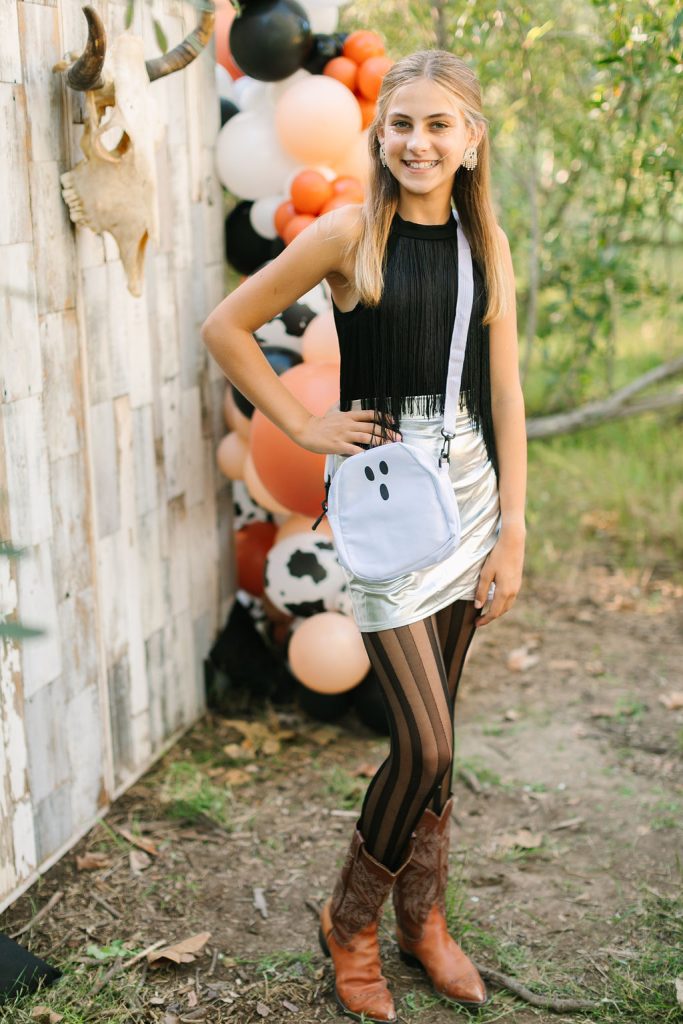 Adorable Shia and her fringe jacket with the sparkly cowboy hat is cowgirl goals!!! That smile of hers lights up a room!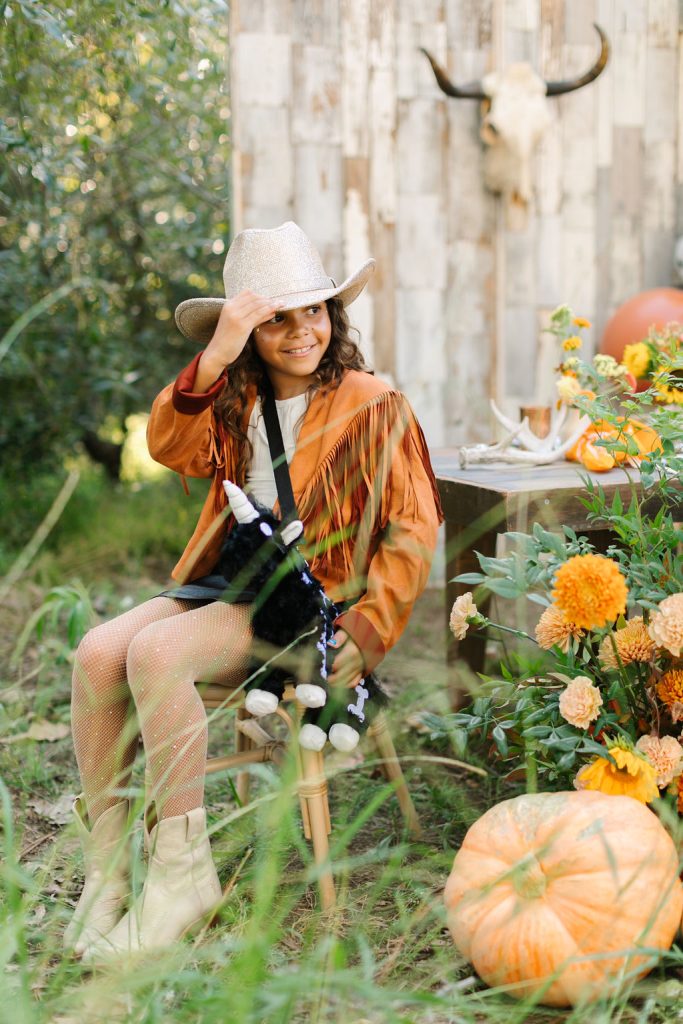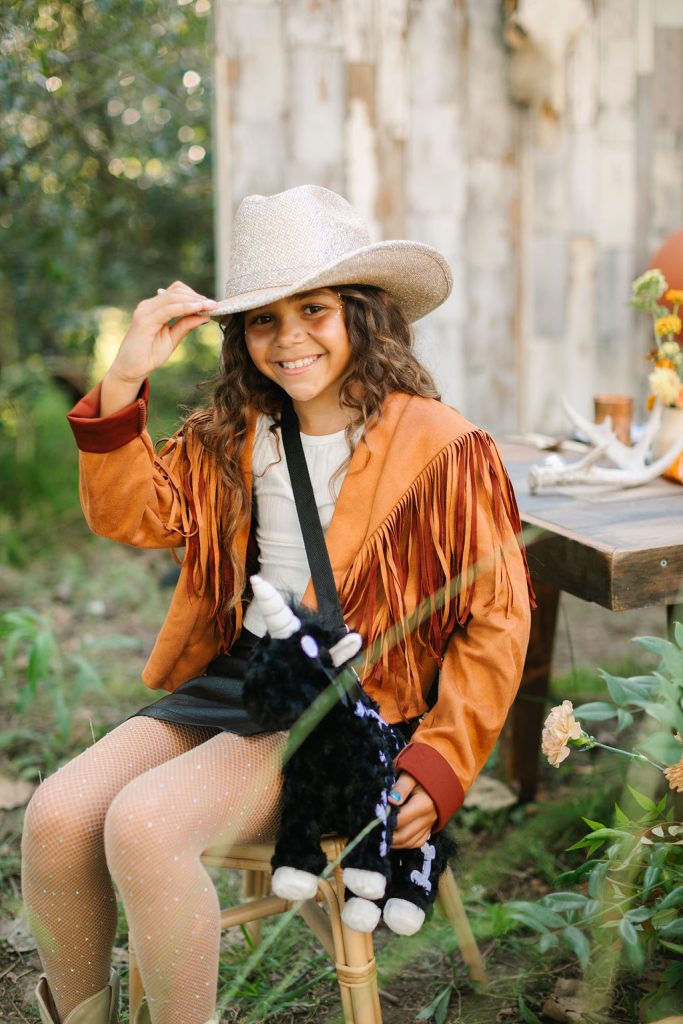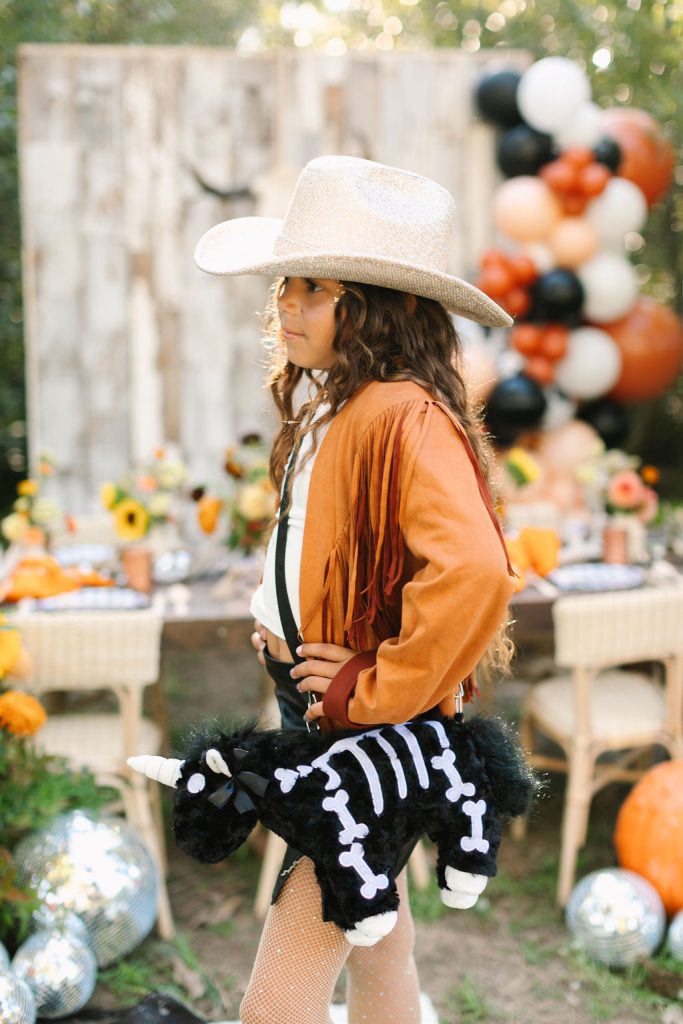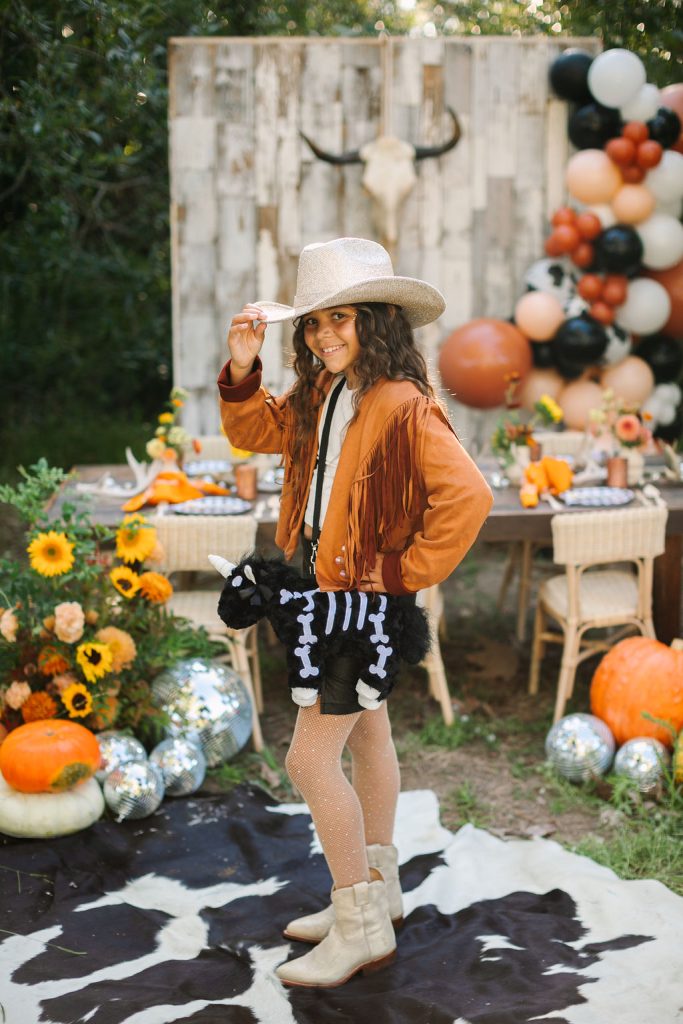 My sweet little Mila!!!! Every year we get to have this little gem in a few shoots and I love seeing her grow and get hugs from her every single time. Her hair in braided pig tails with the clips is just so pretty here!!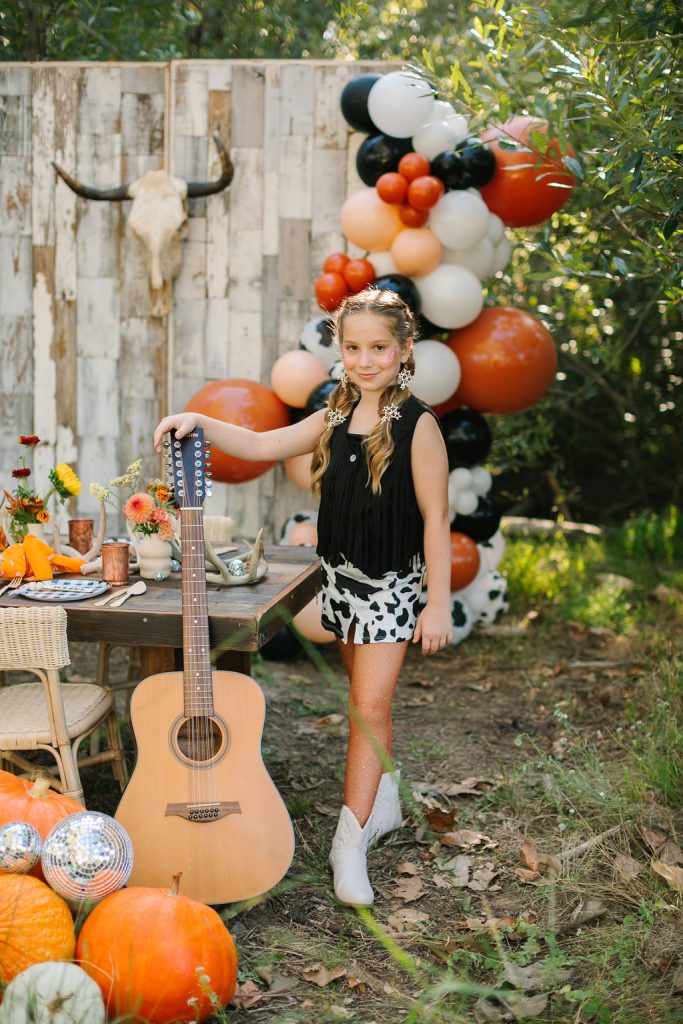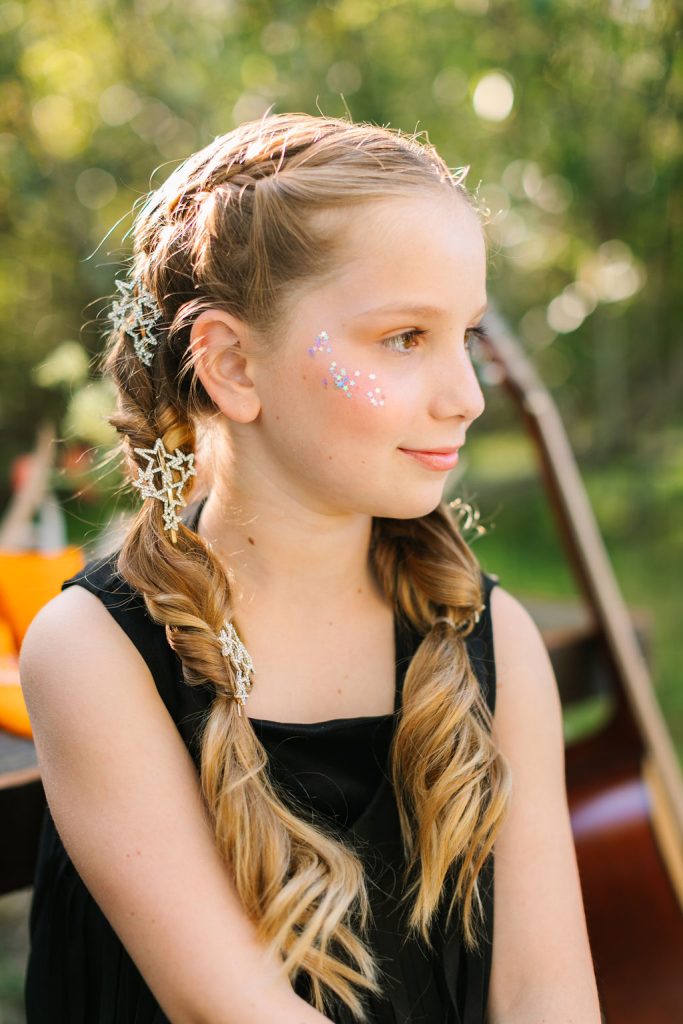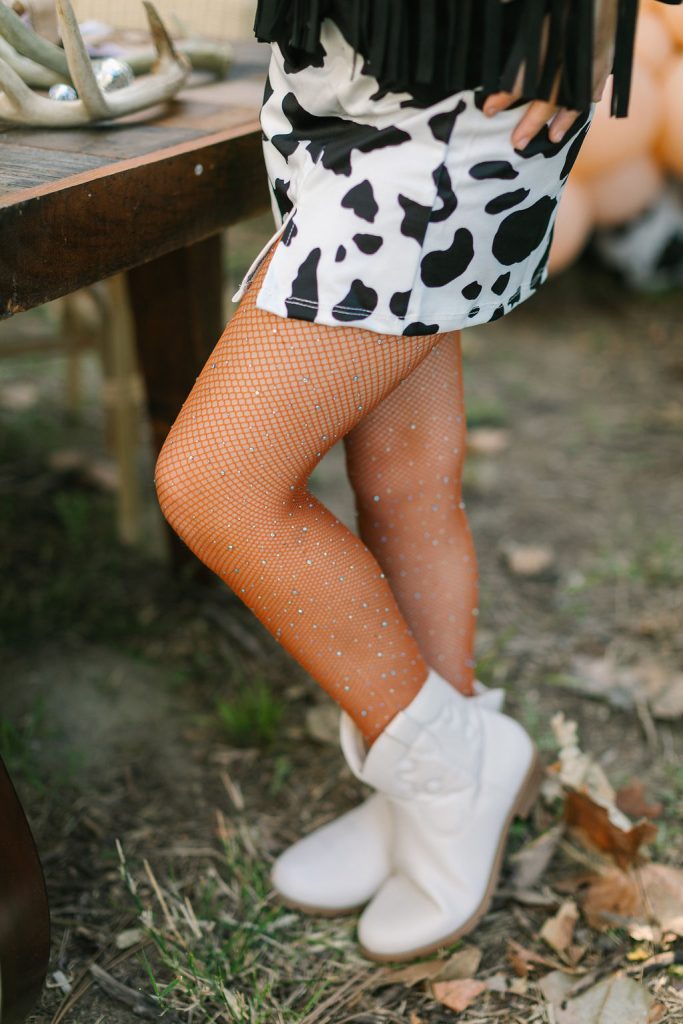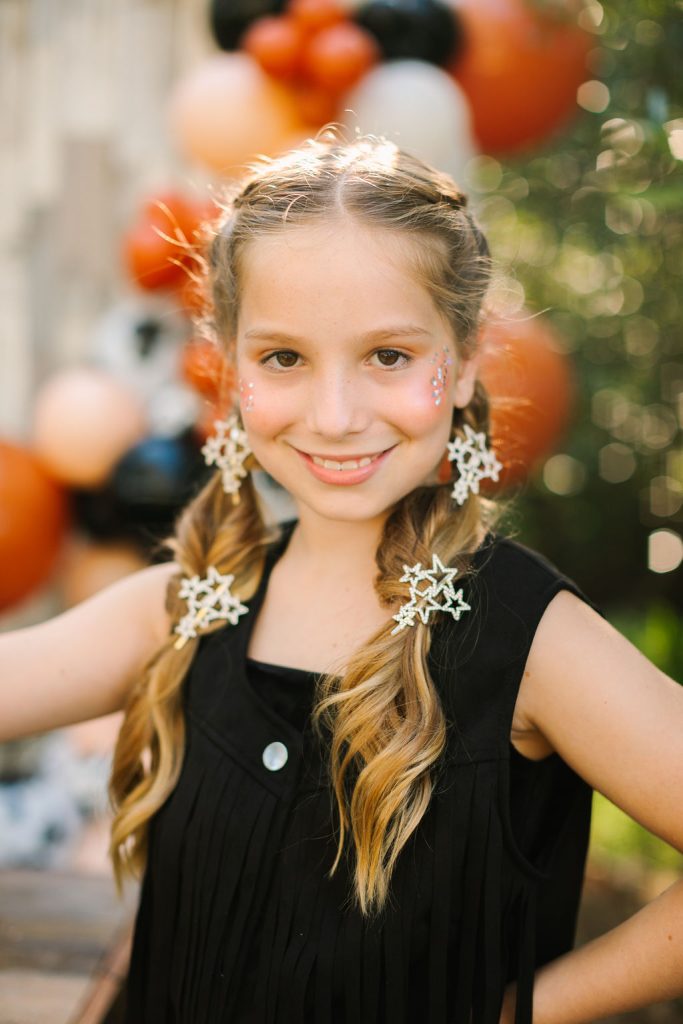 Another Beijos gal! Thalia has been doing our shoots for years now and she's always stunning and sweet! I love watching these girlies grow – but they are growing too fast!!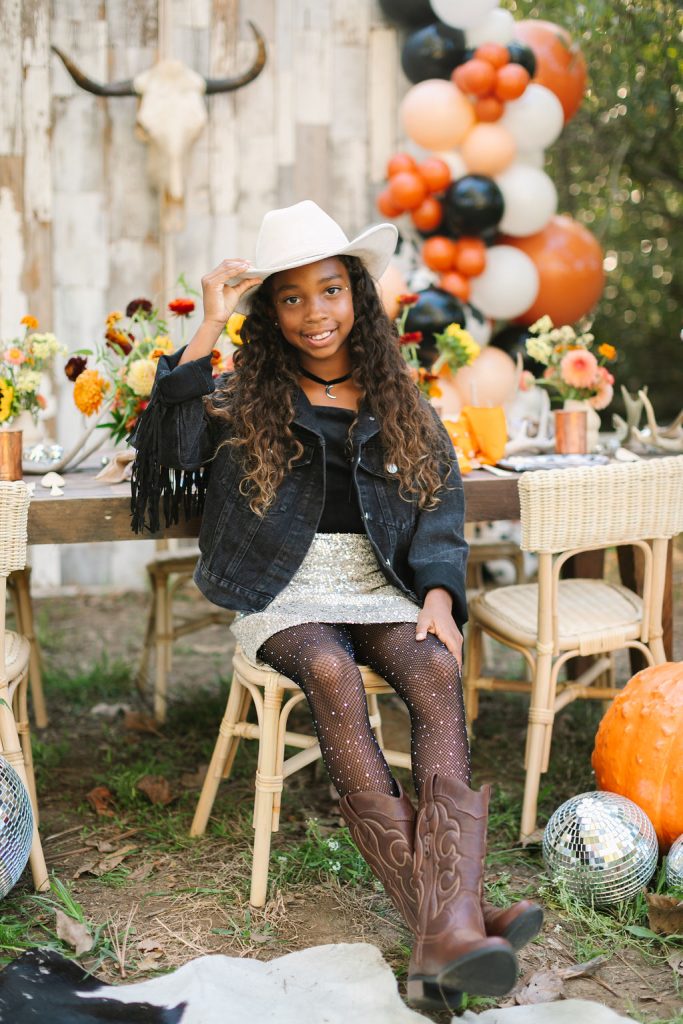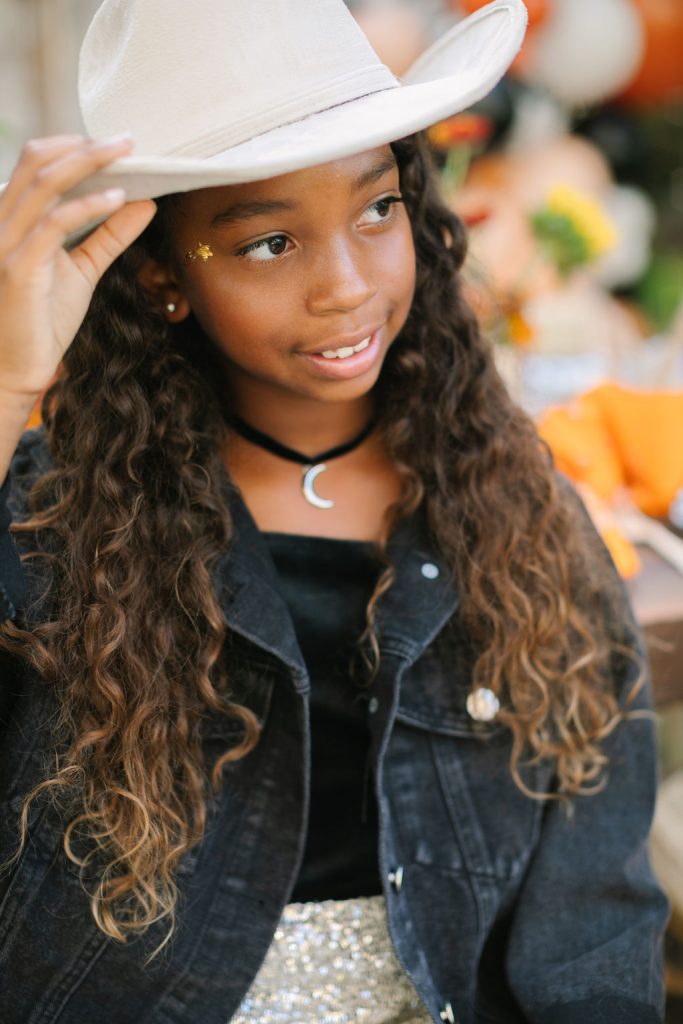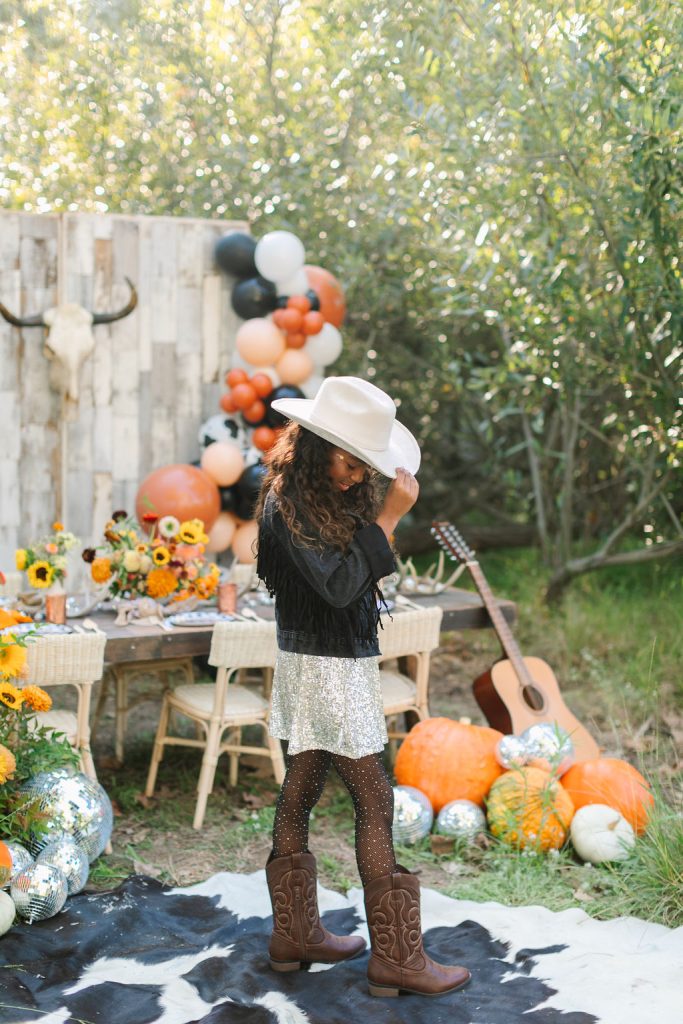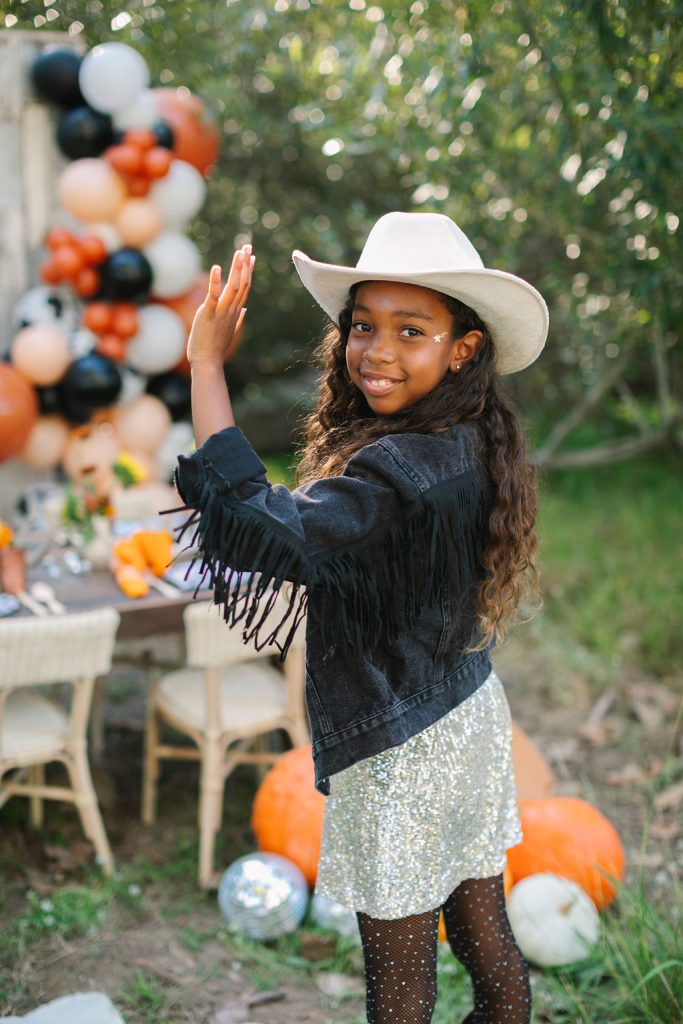 Last but not least this little ray of sunshine! Piper, bless her heart! The biggest smile and cheekiest little laugh! All of these girls have become little besties and their friendships are so fun to watch!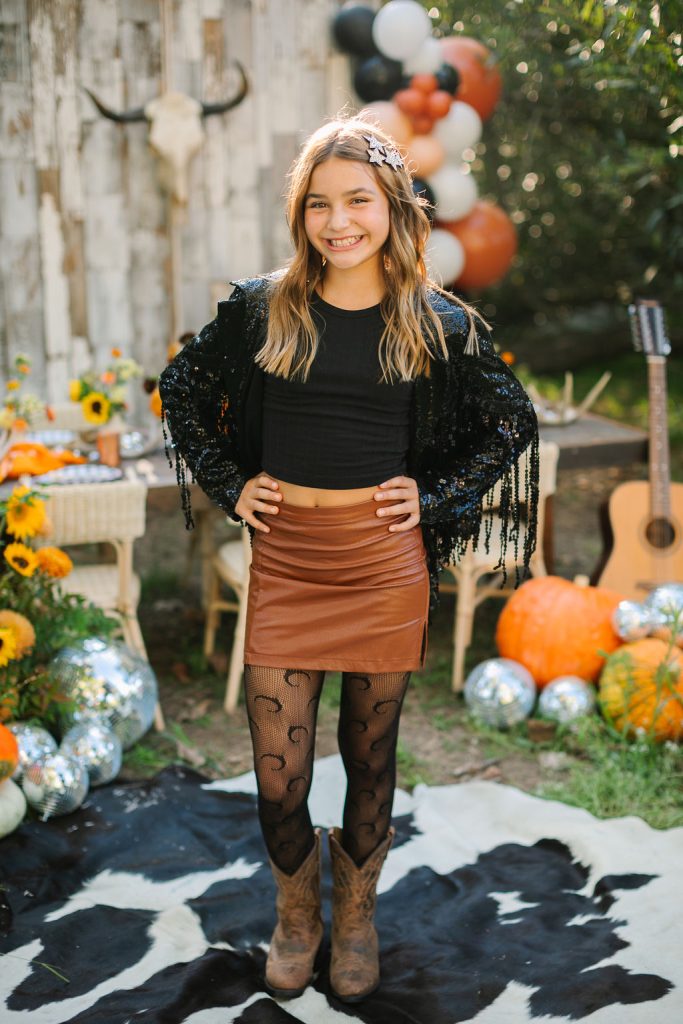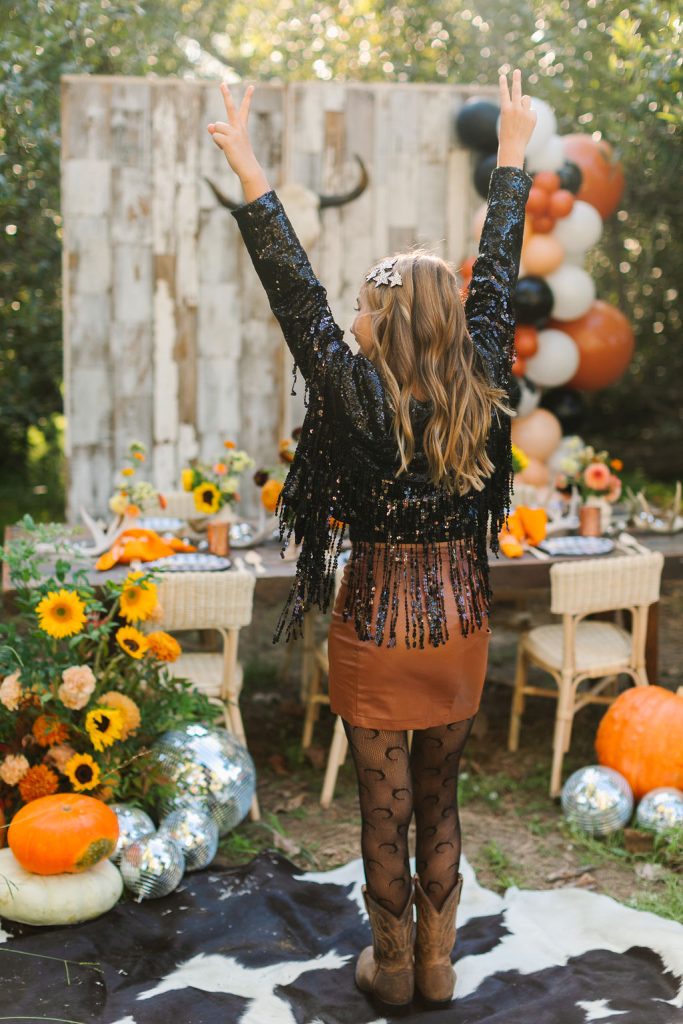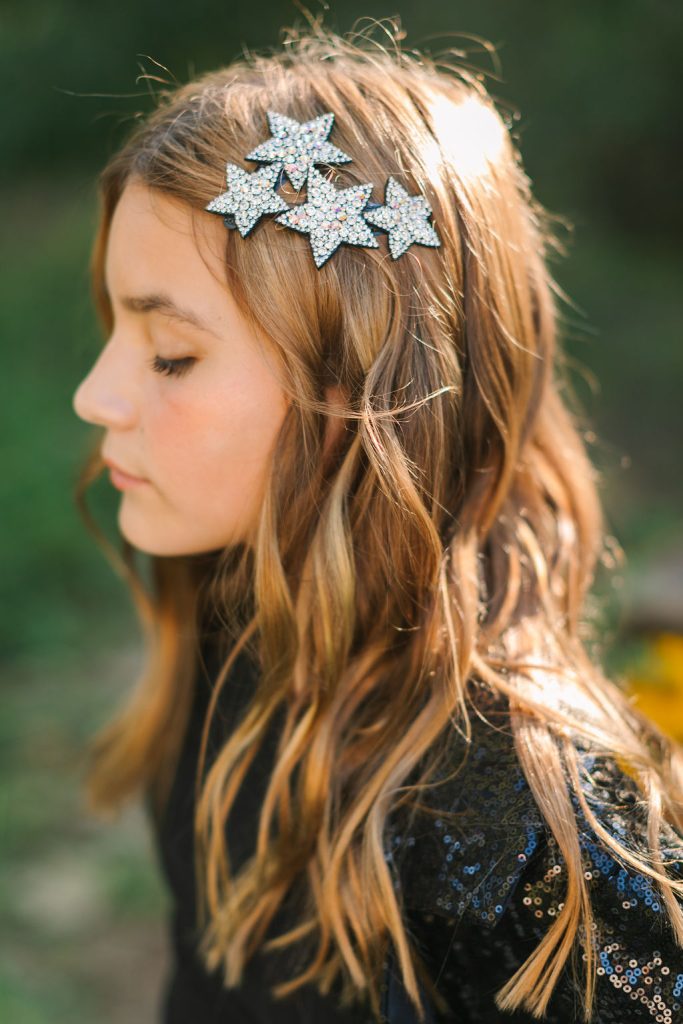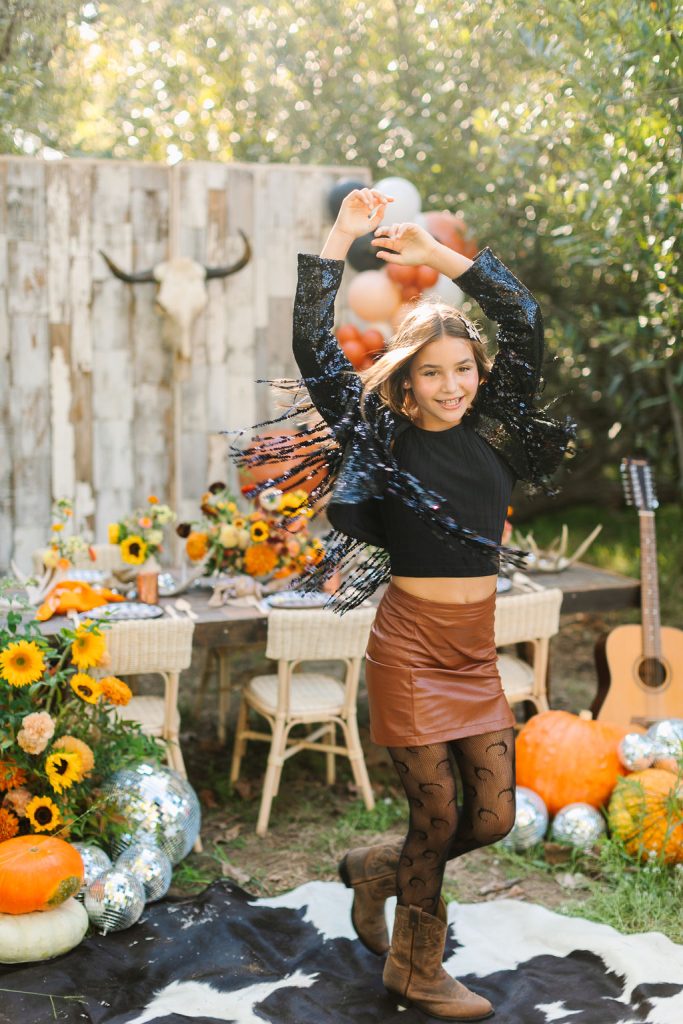 More of these cuties!!!!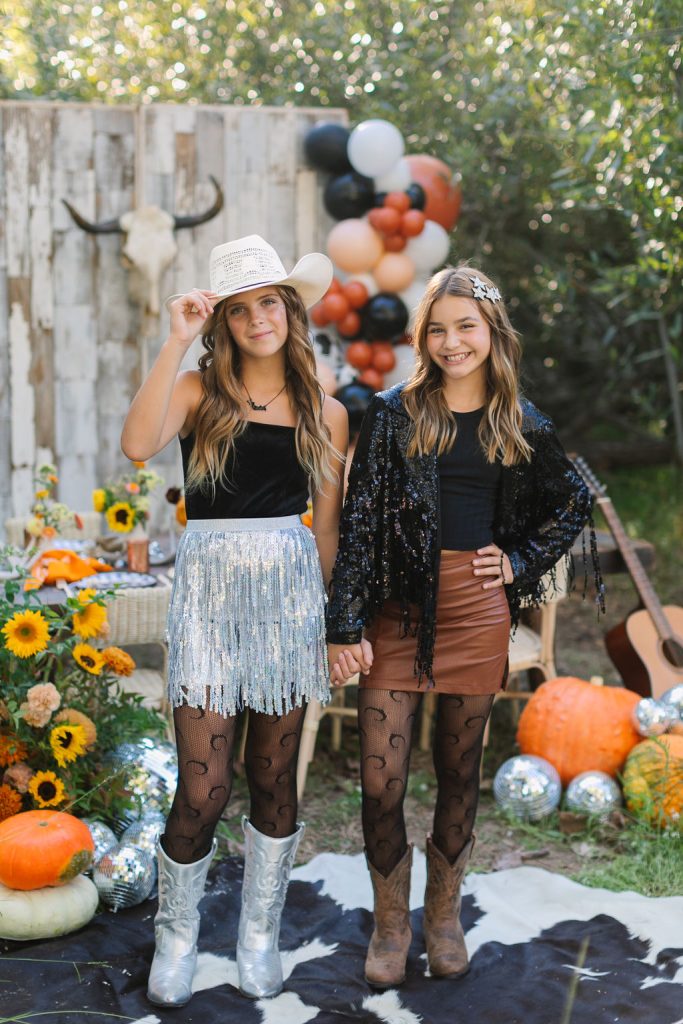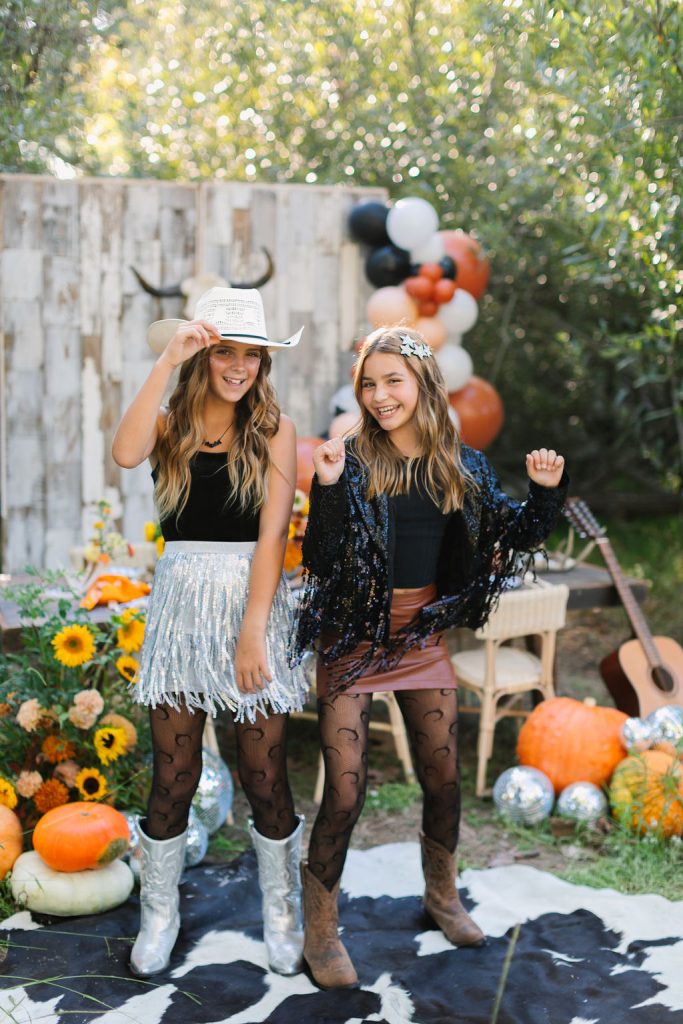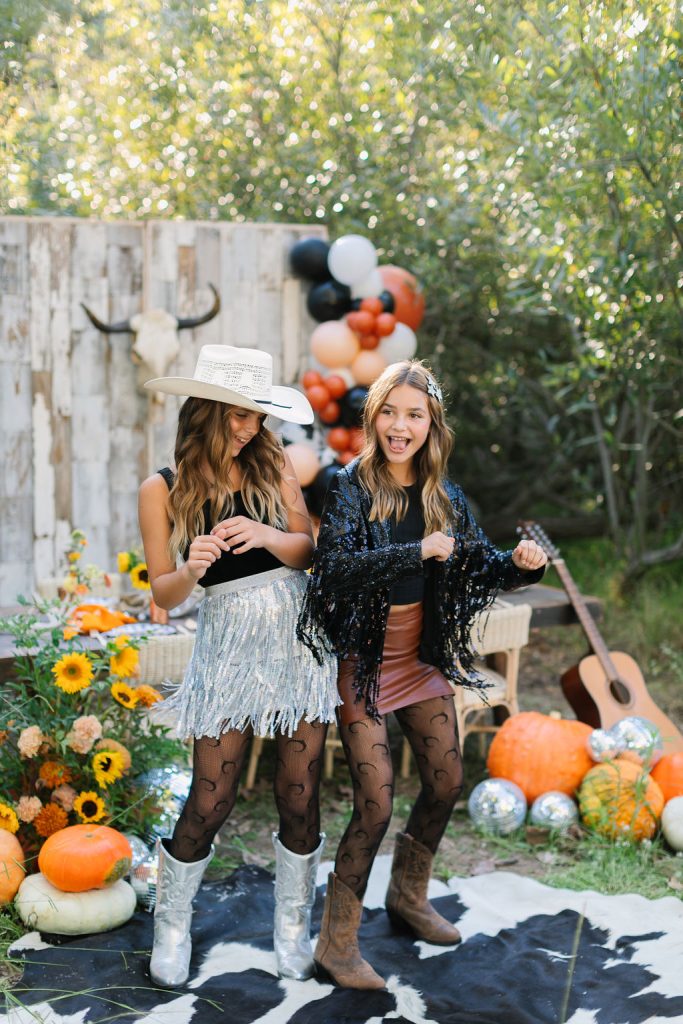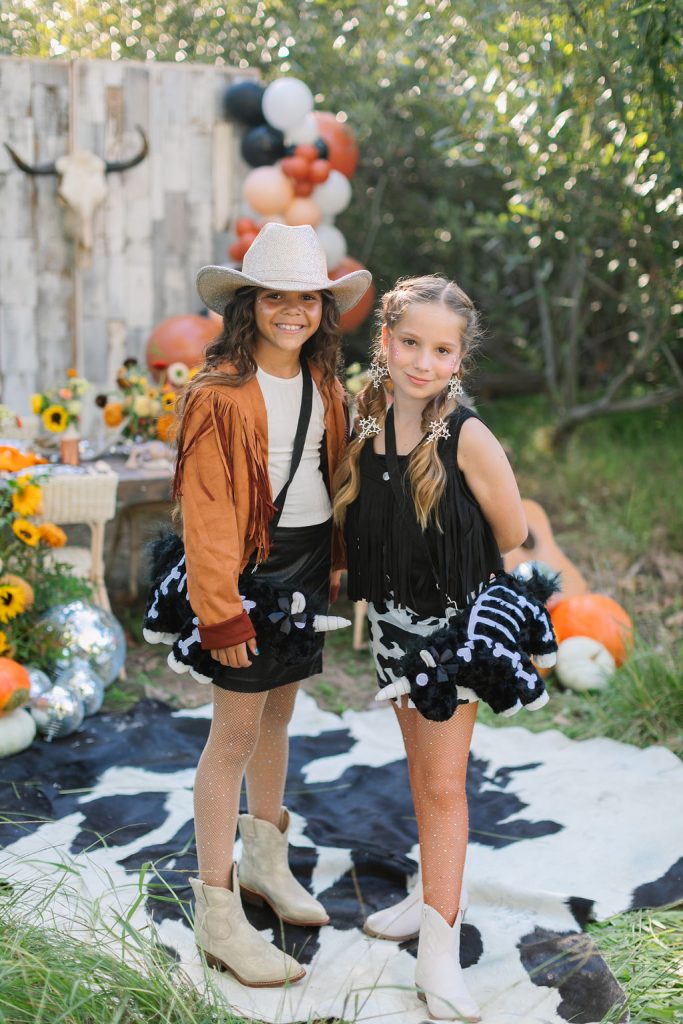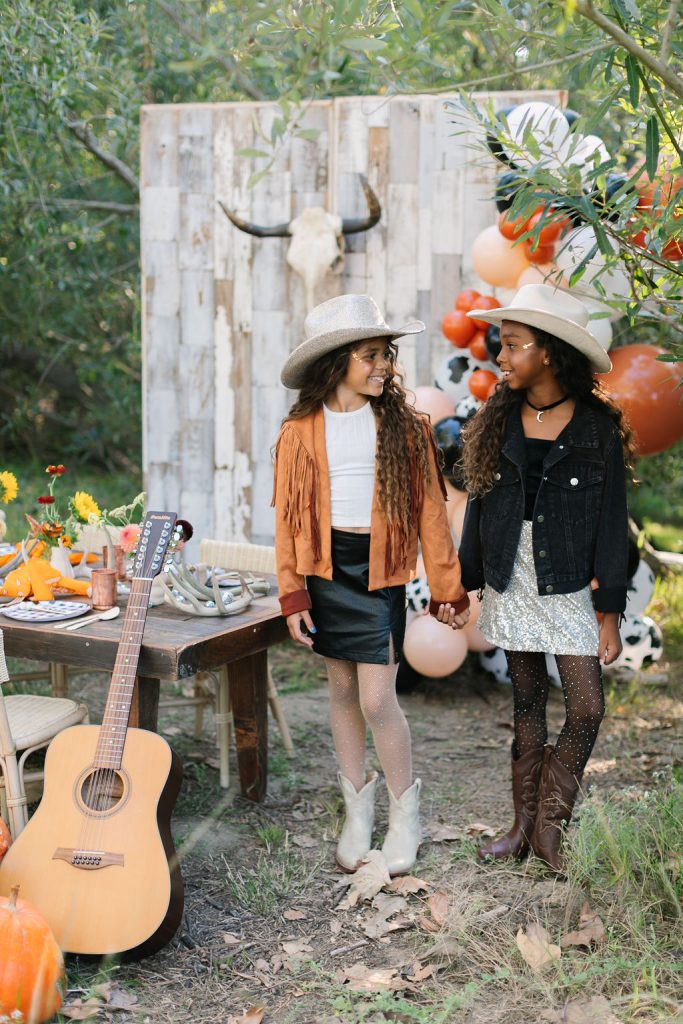 No country gal would let a party go without dessert! Sugar from the Heart Bakeshop delivered the sweetest spread full of Halloween treats with a southern touch. I'm especially in love with the ghostly cow cake that has a little bit of fringe… Can you even with that guy?! Too cute!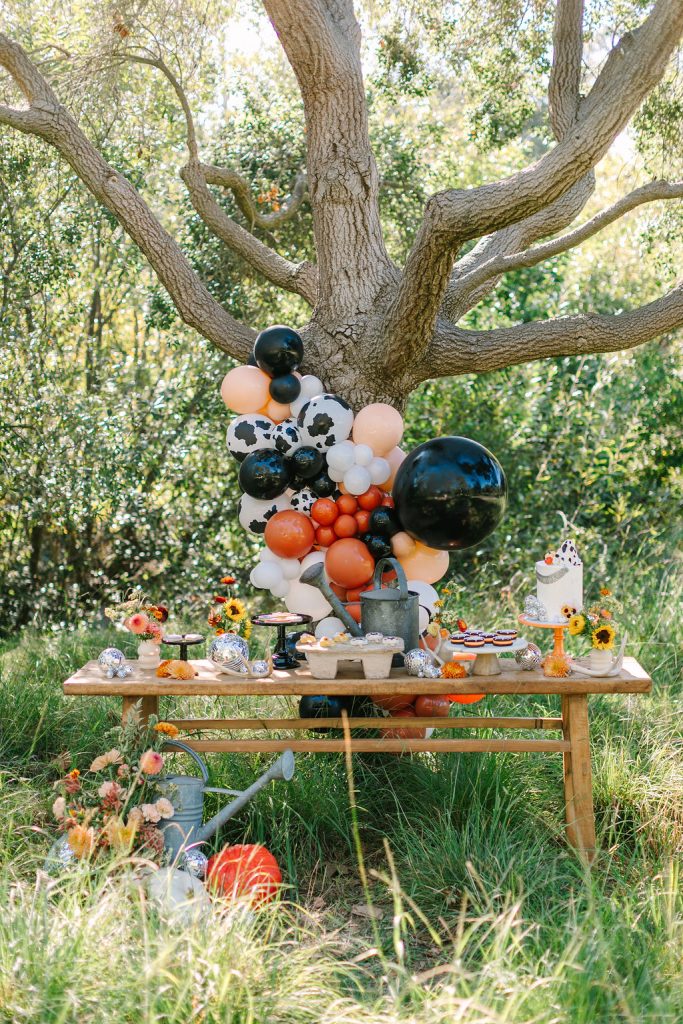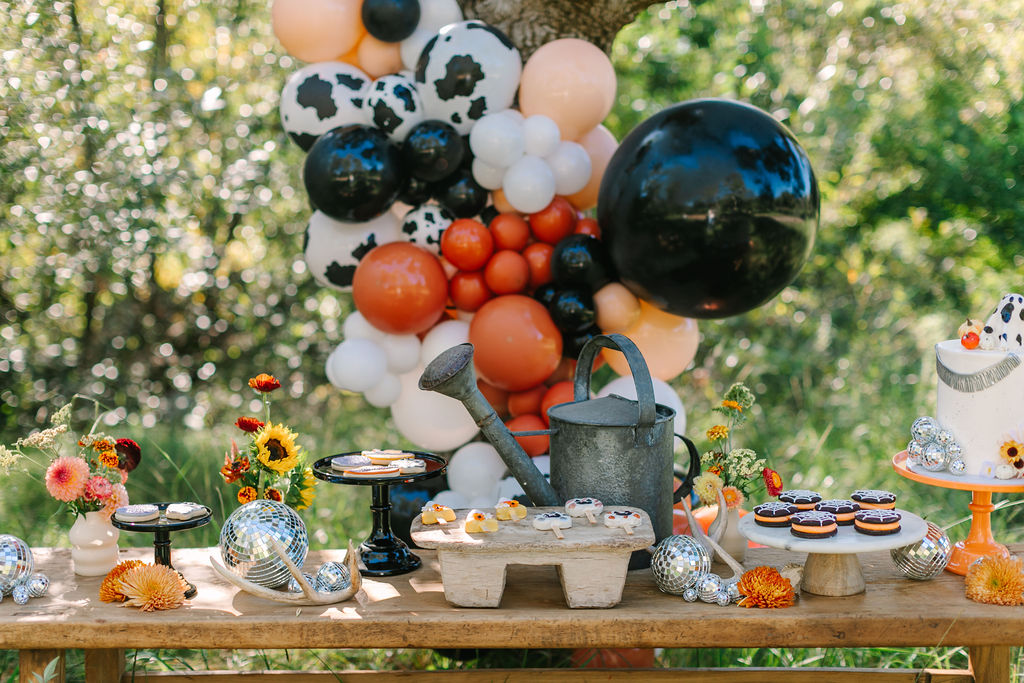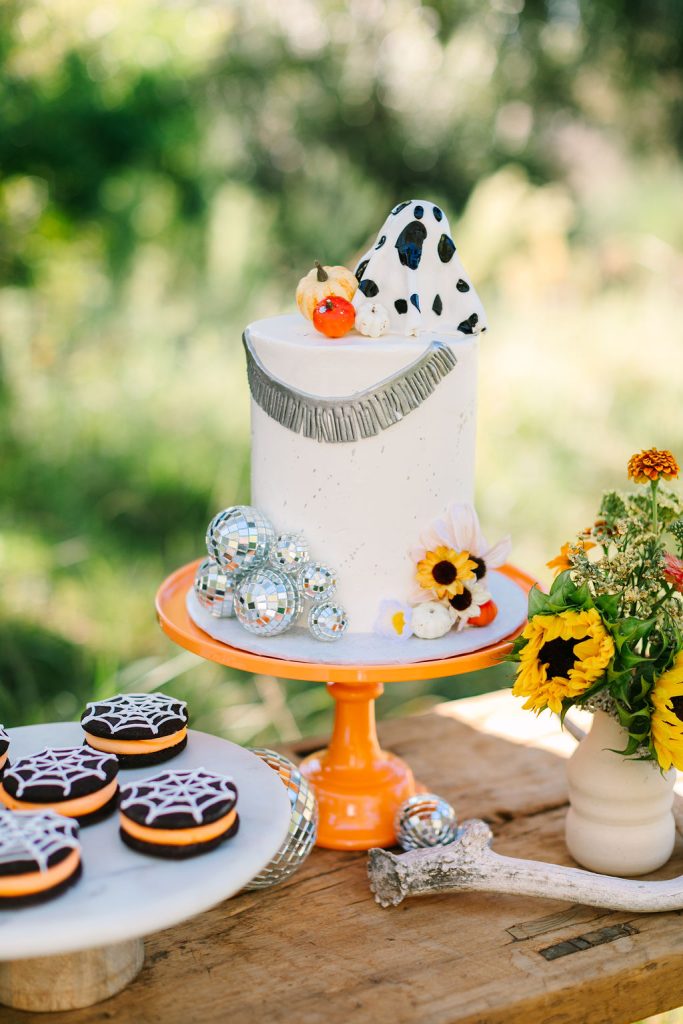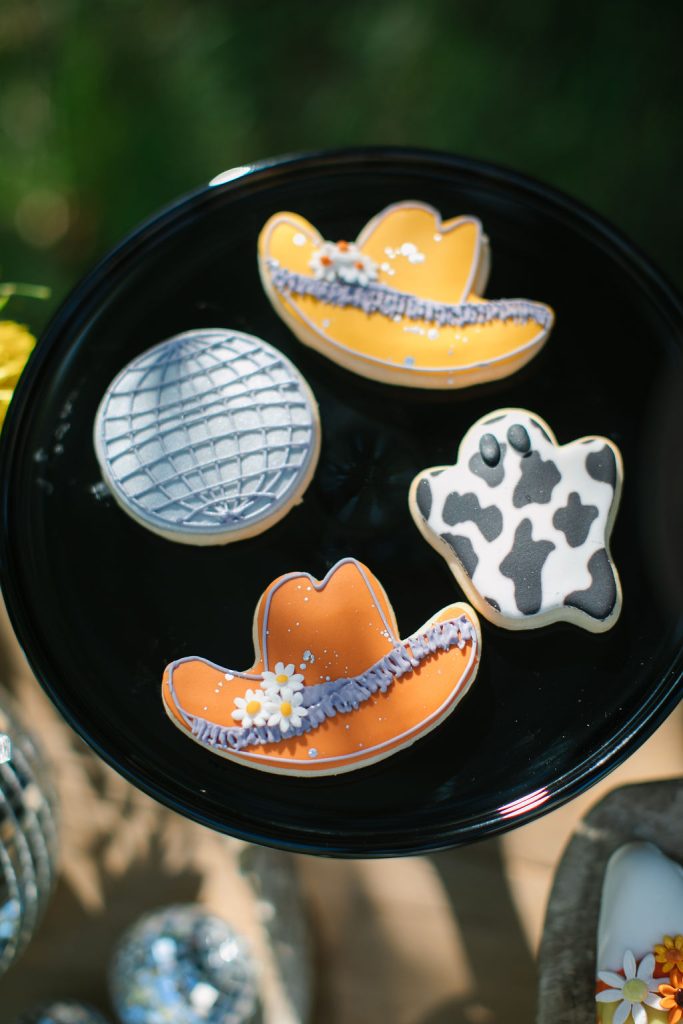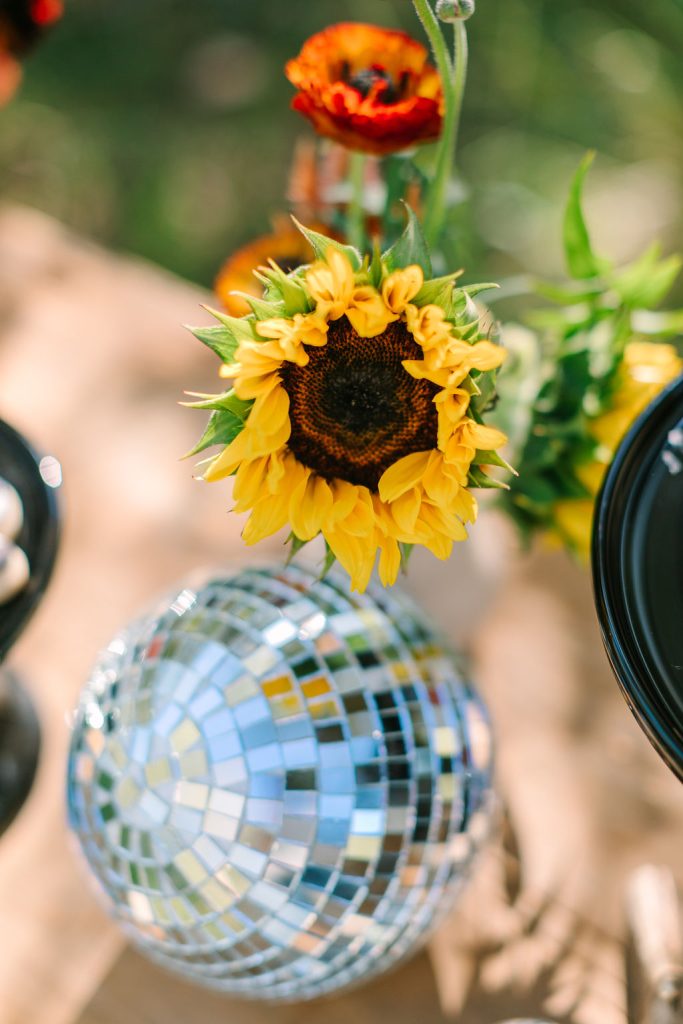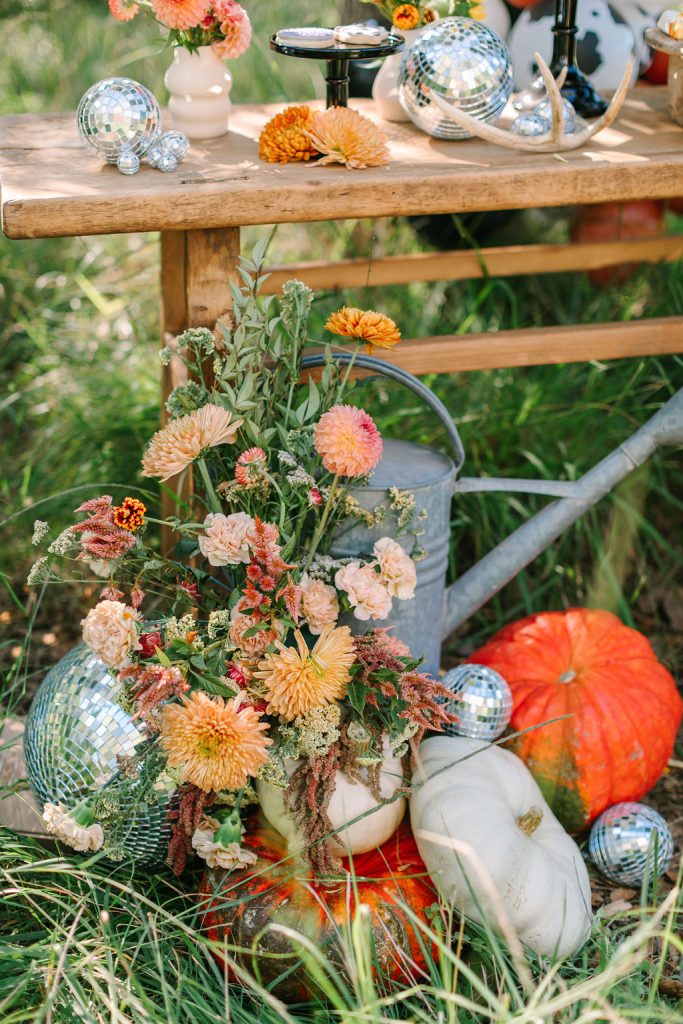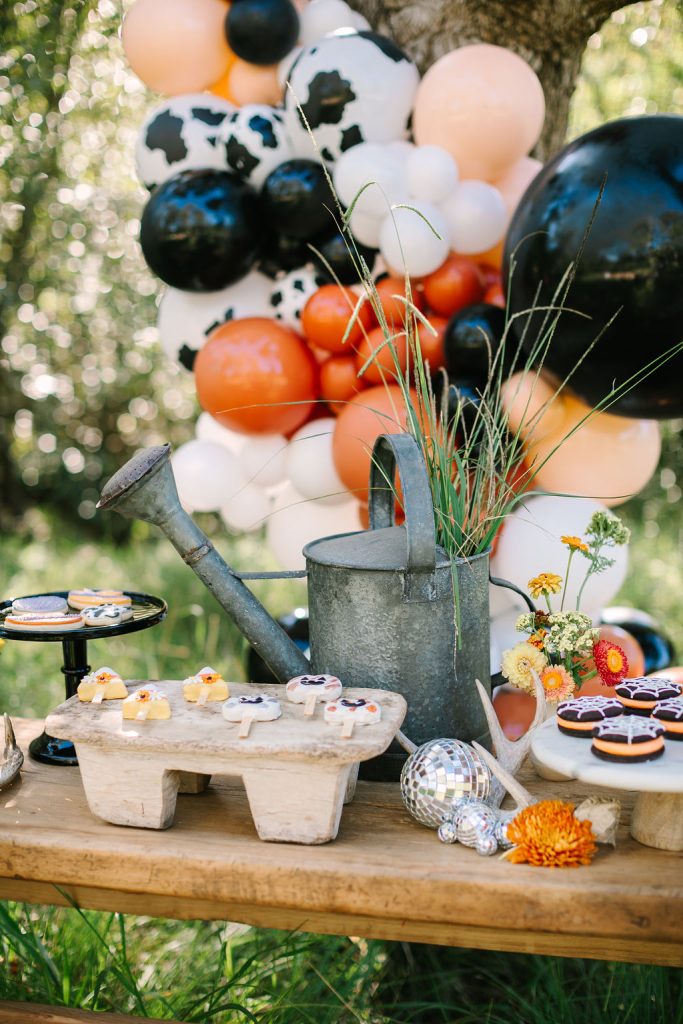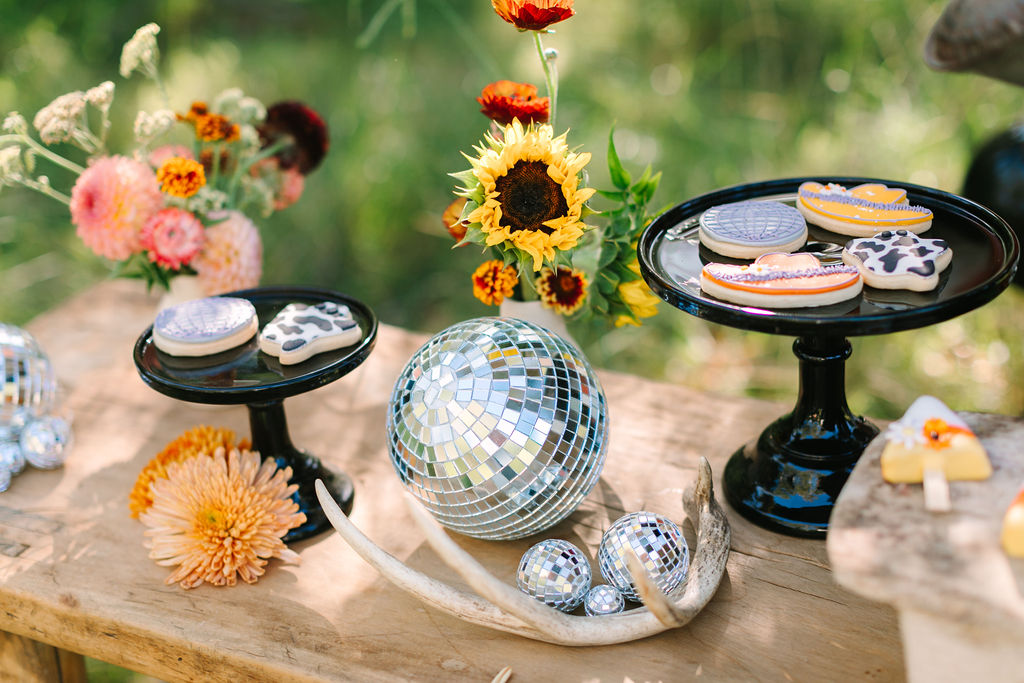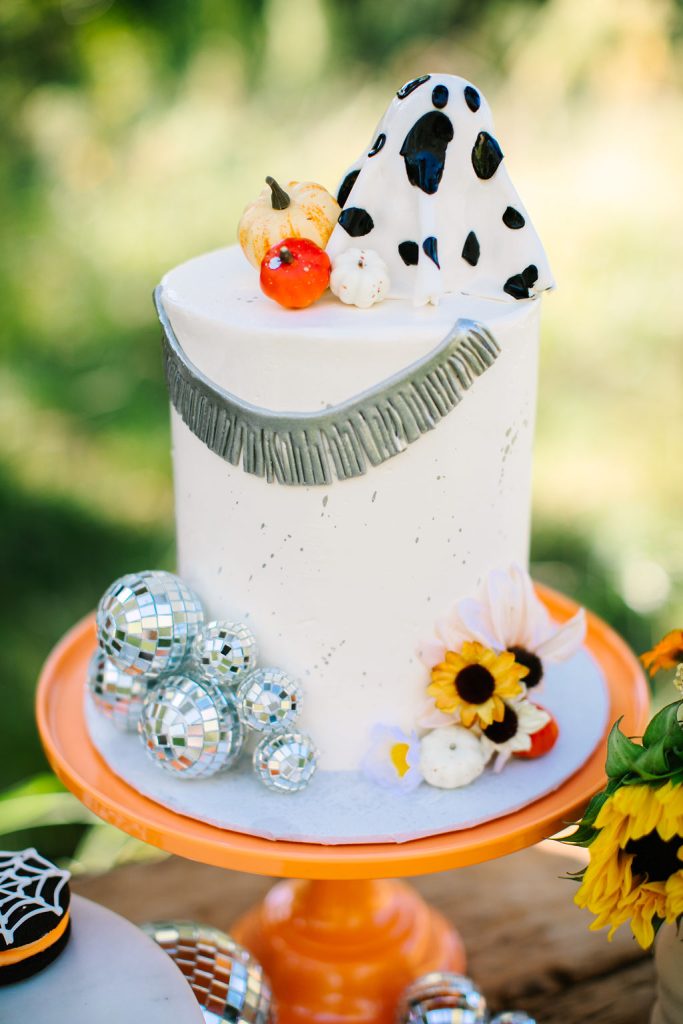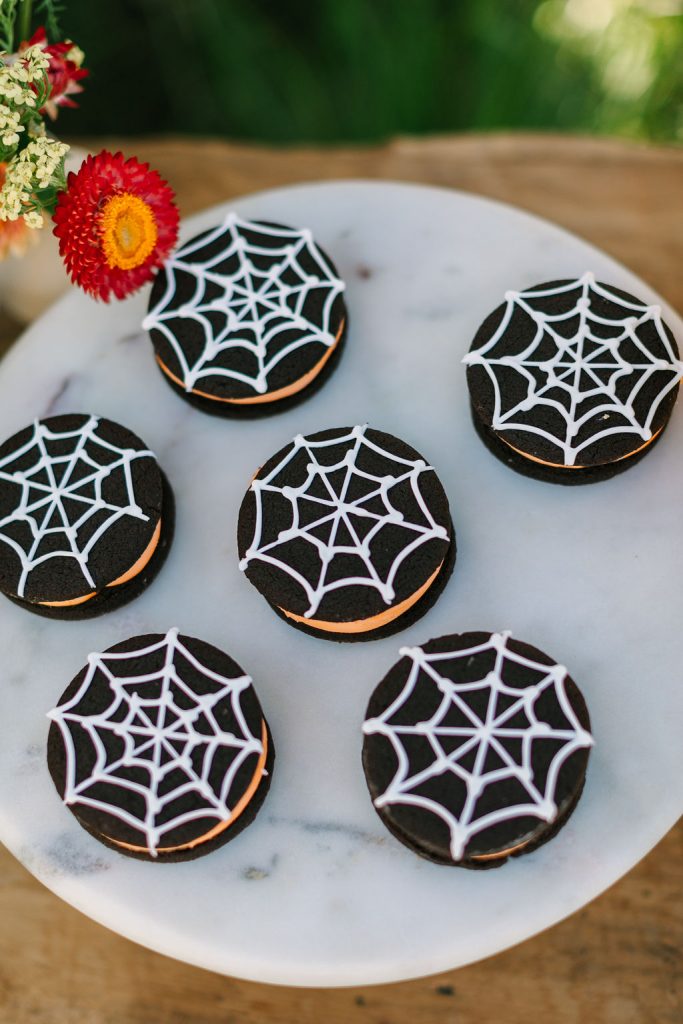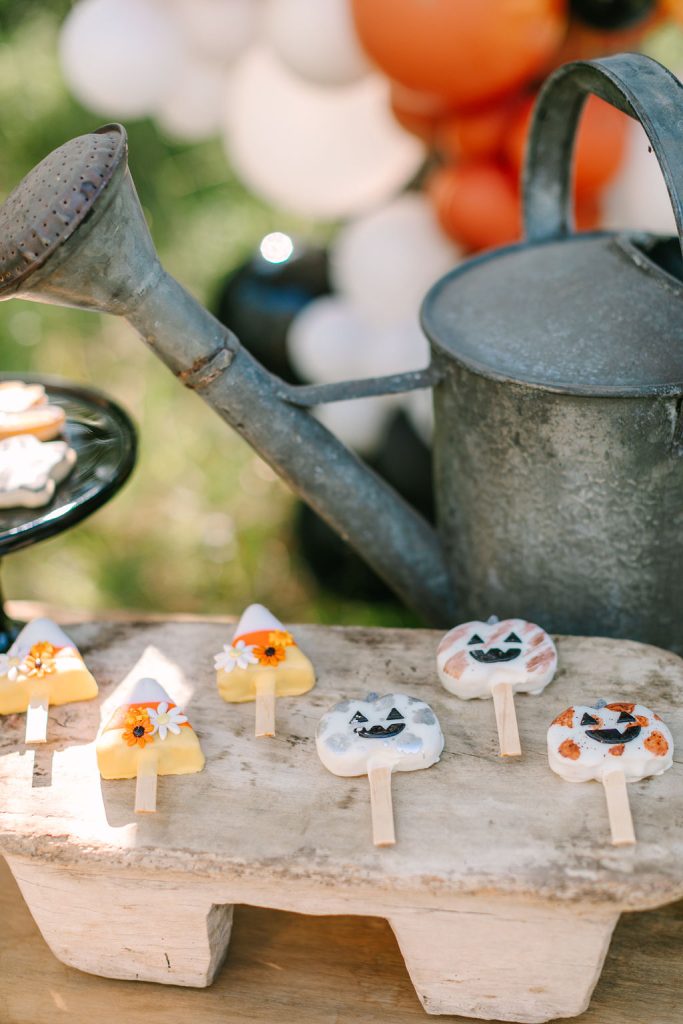 Just obsessed with every single detail on this one!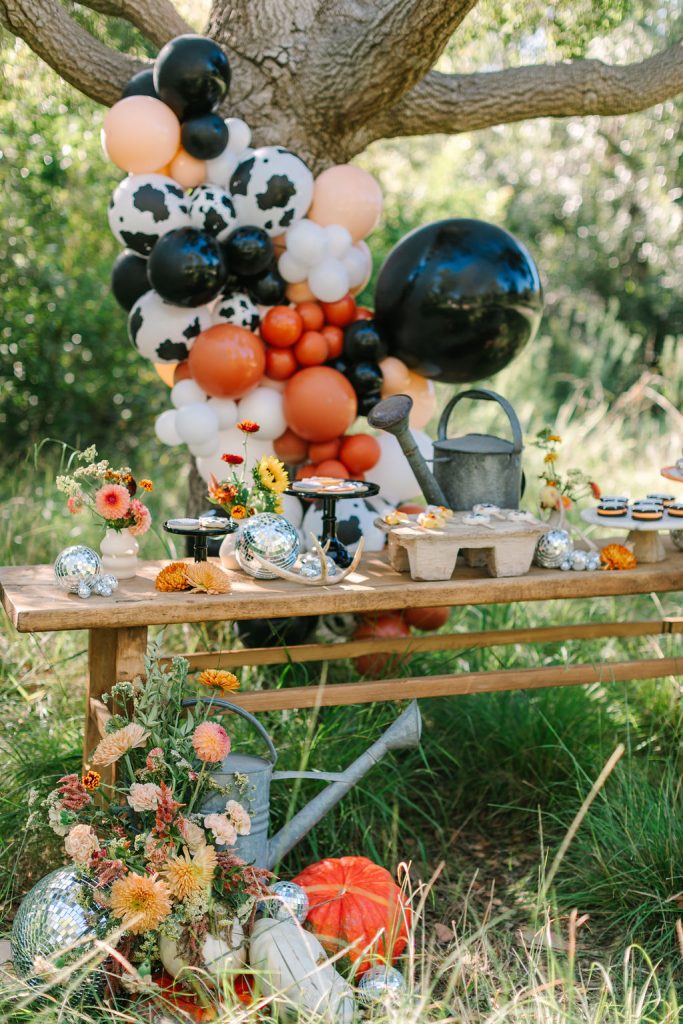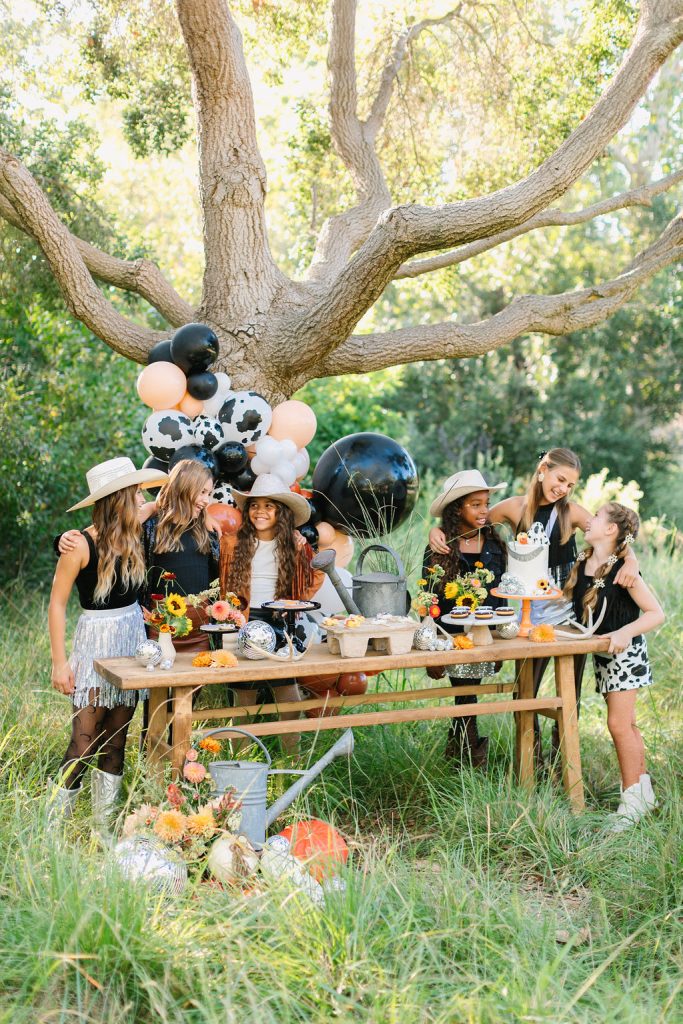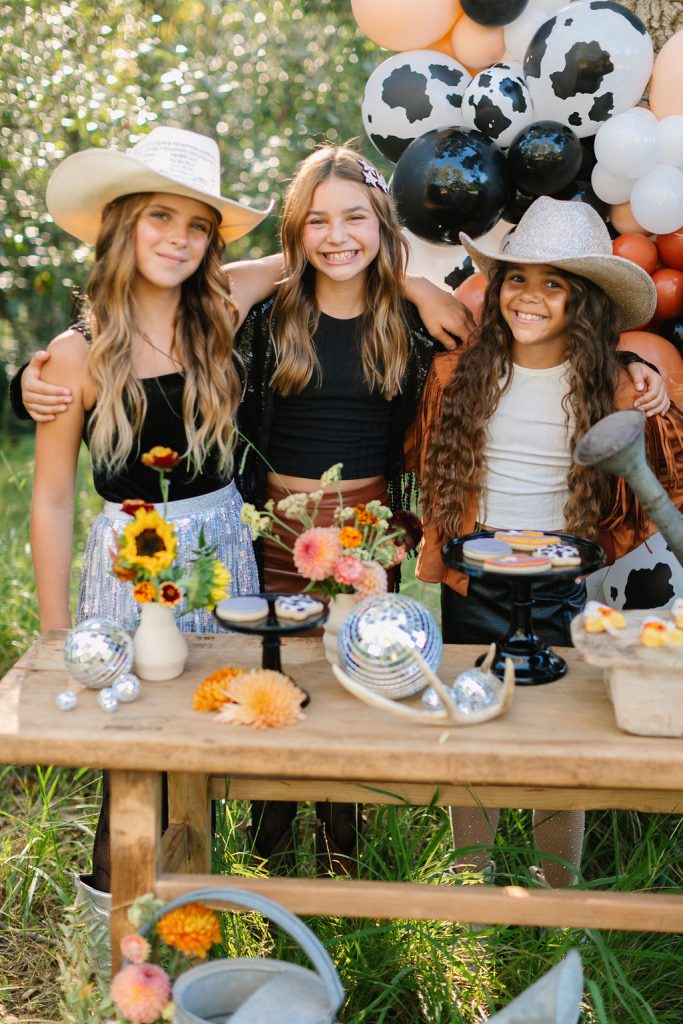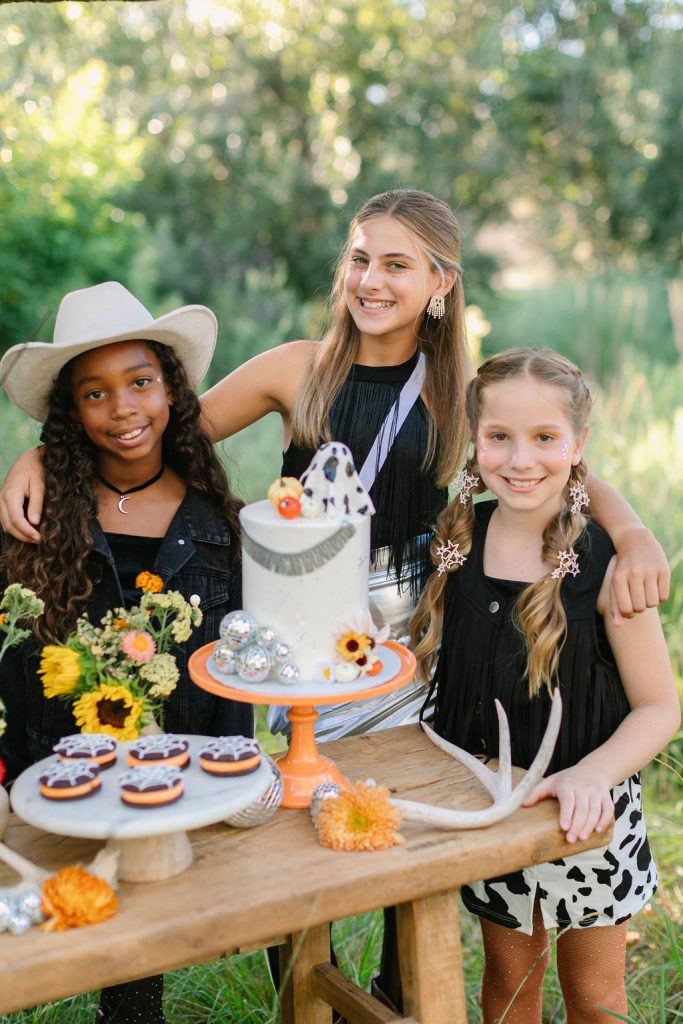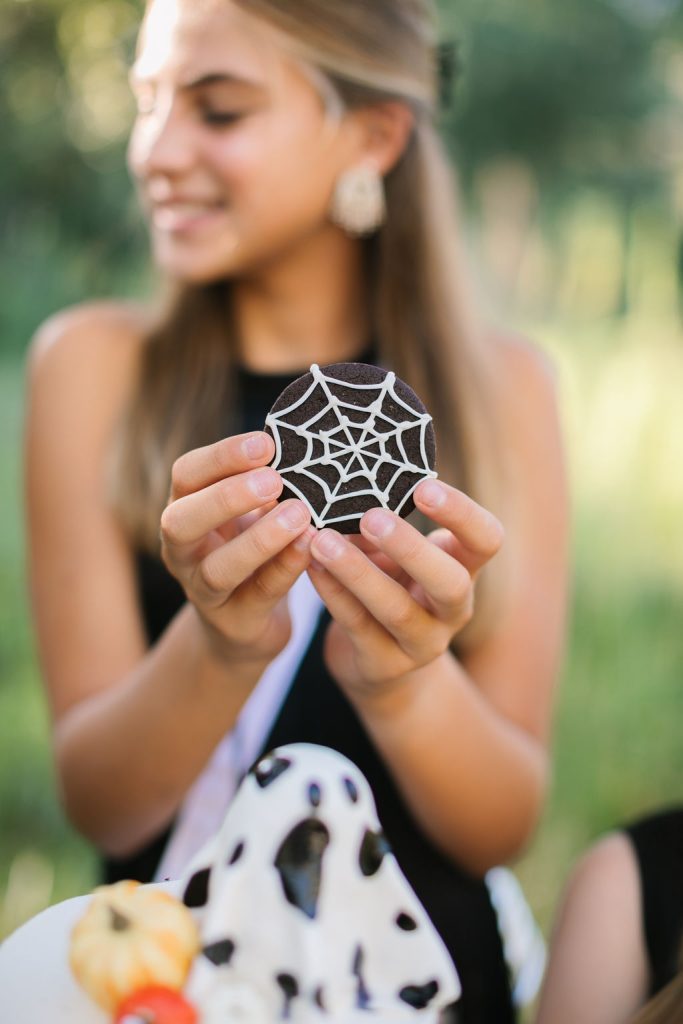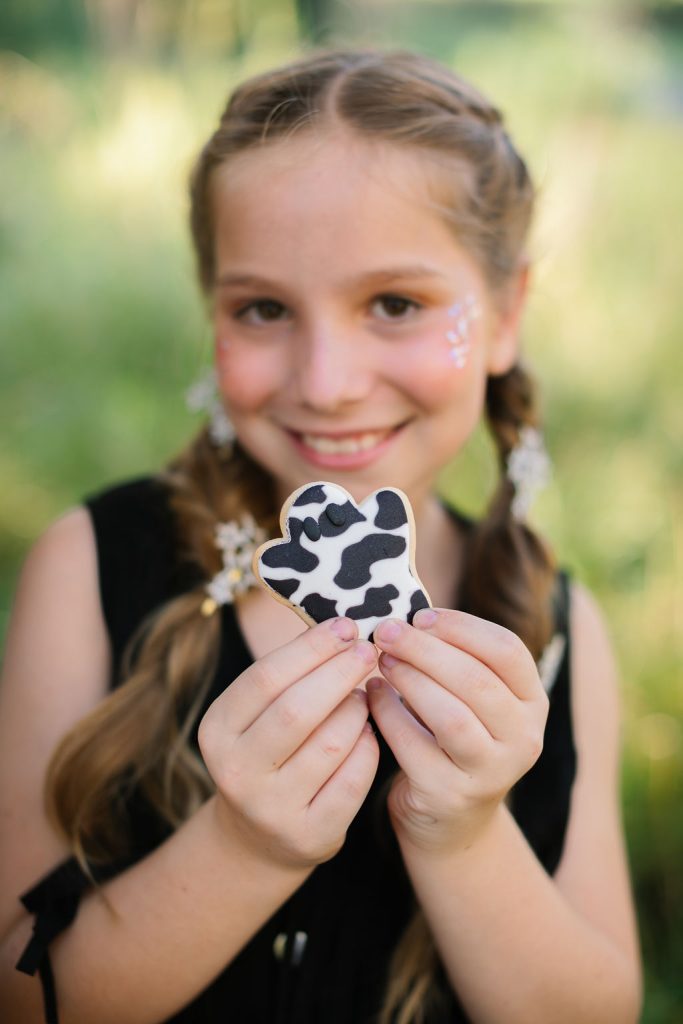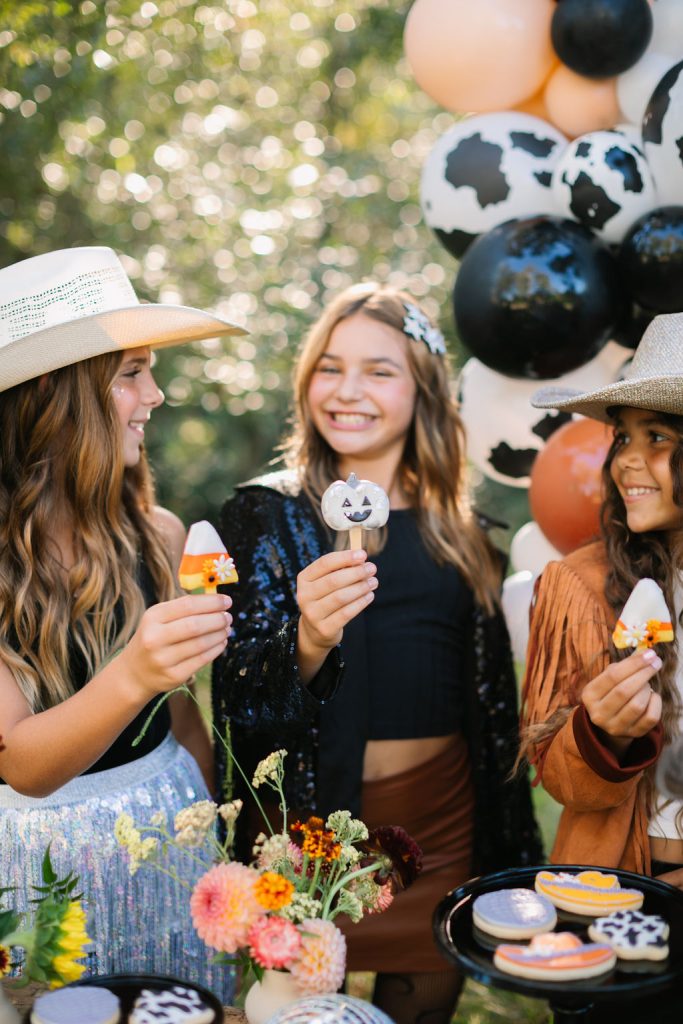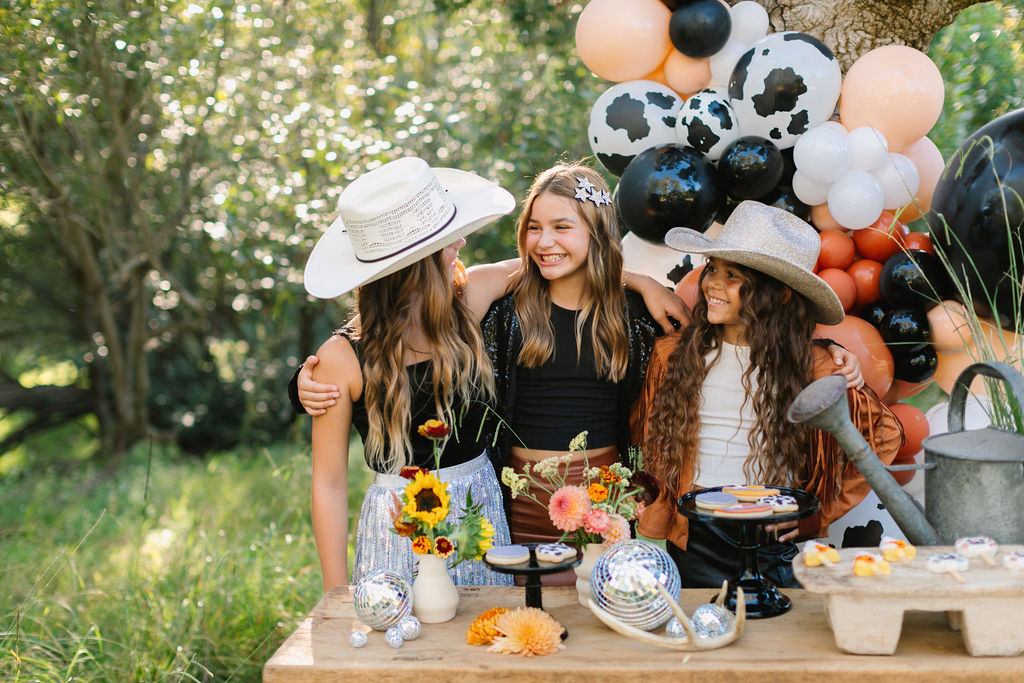 I say this a lot but…. Another favorite added to the long long list!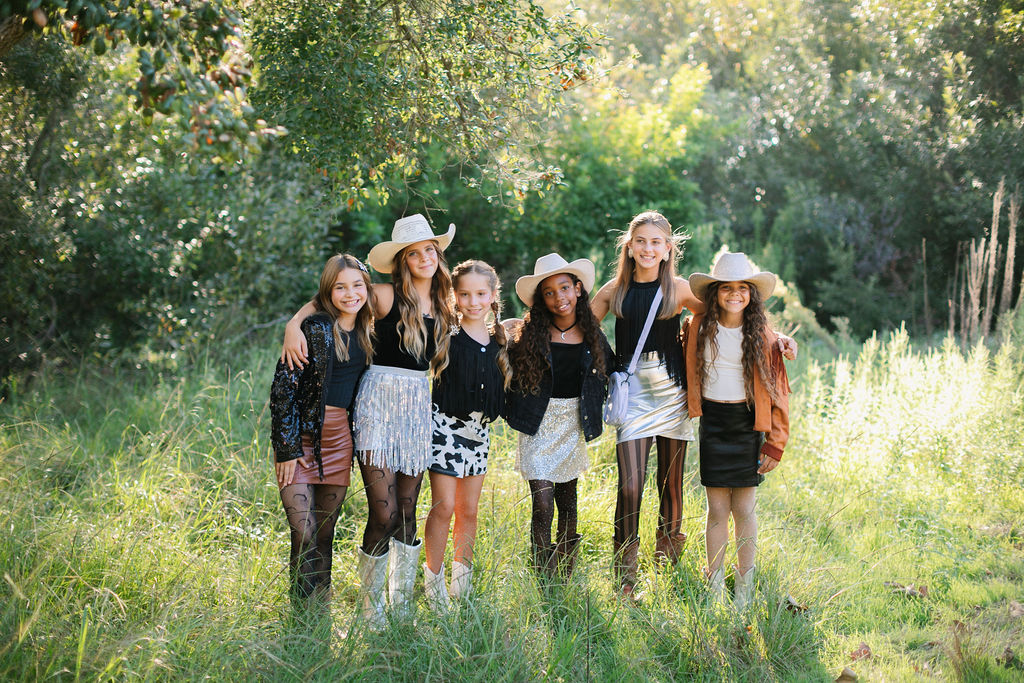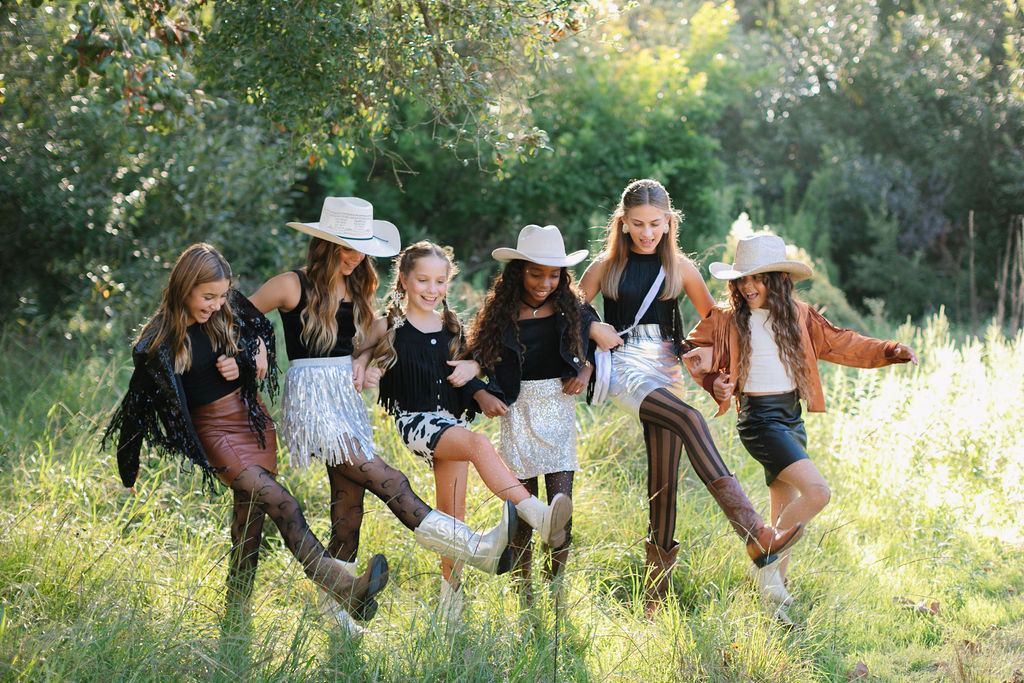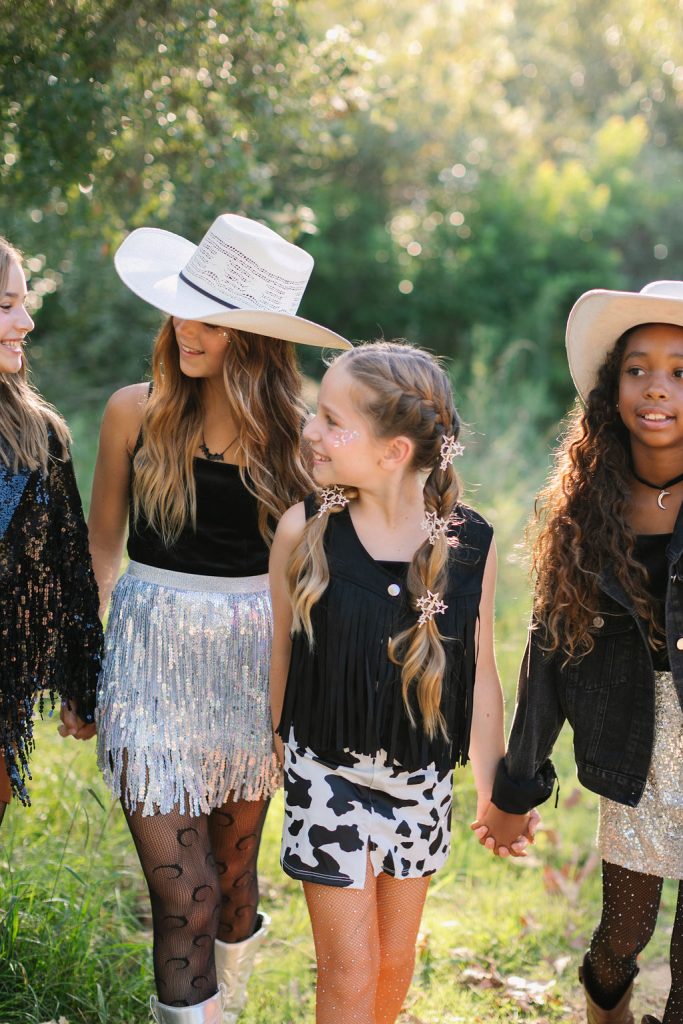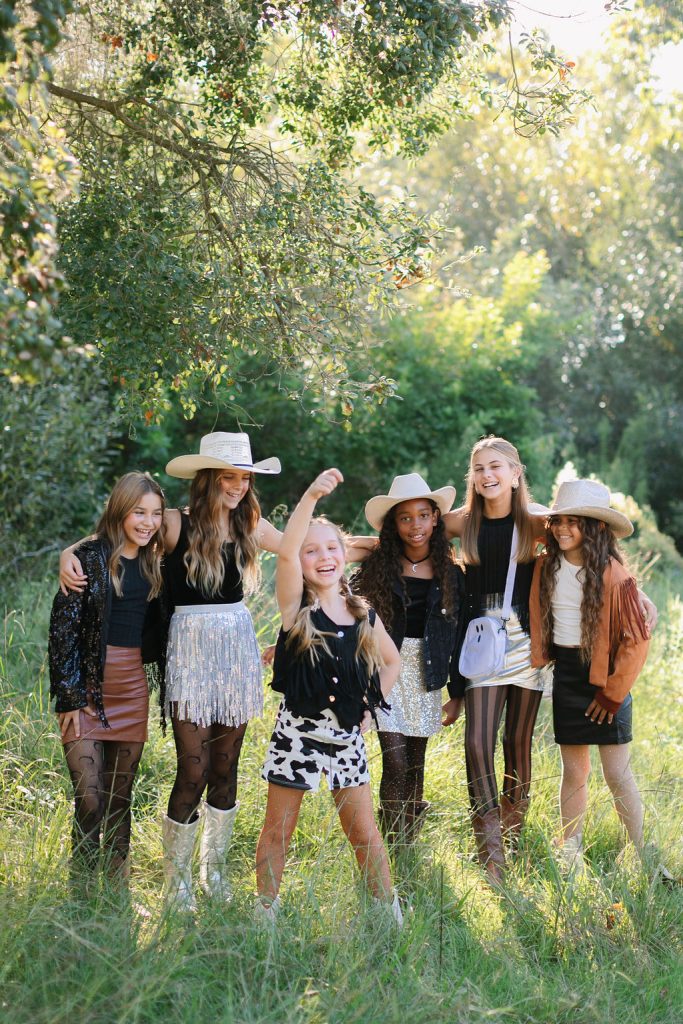 Every good hoedown has some guitar playin!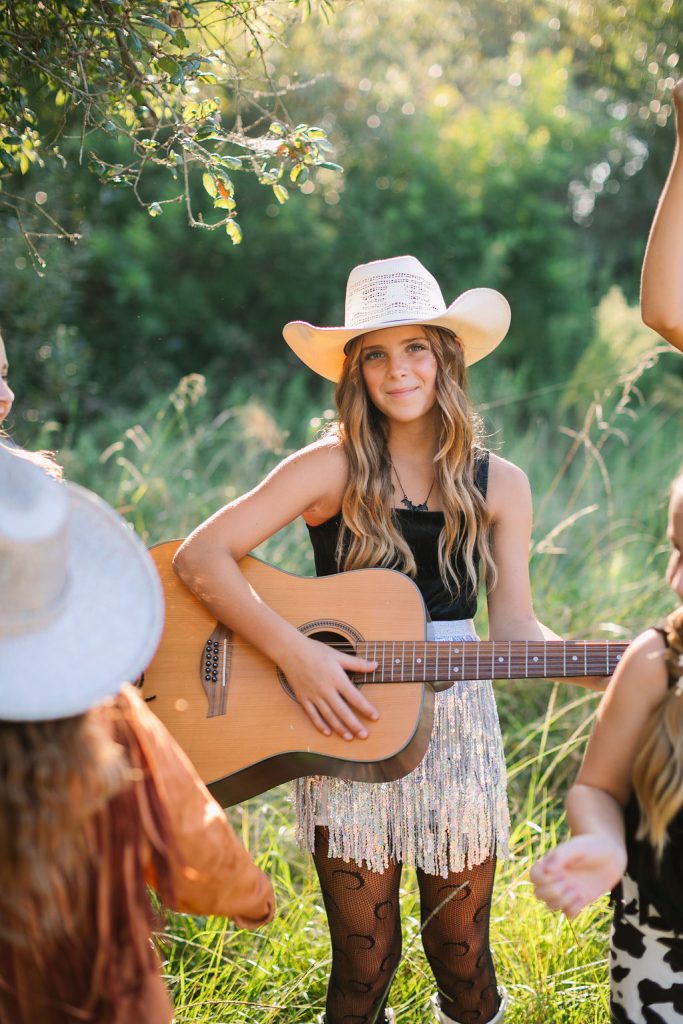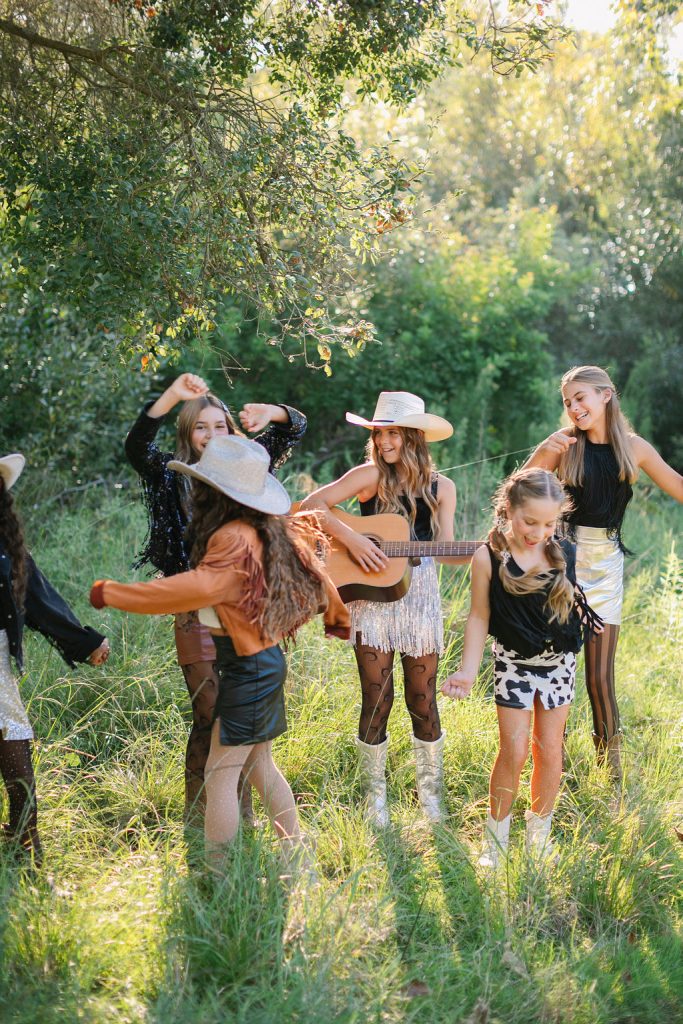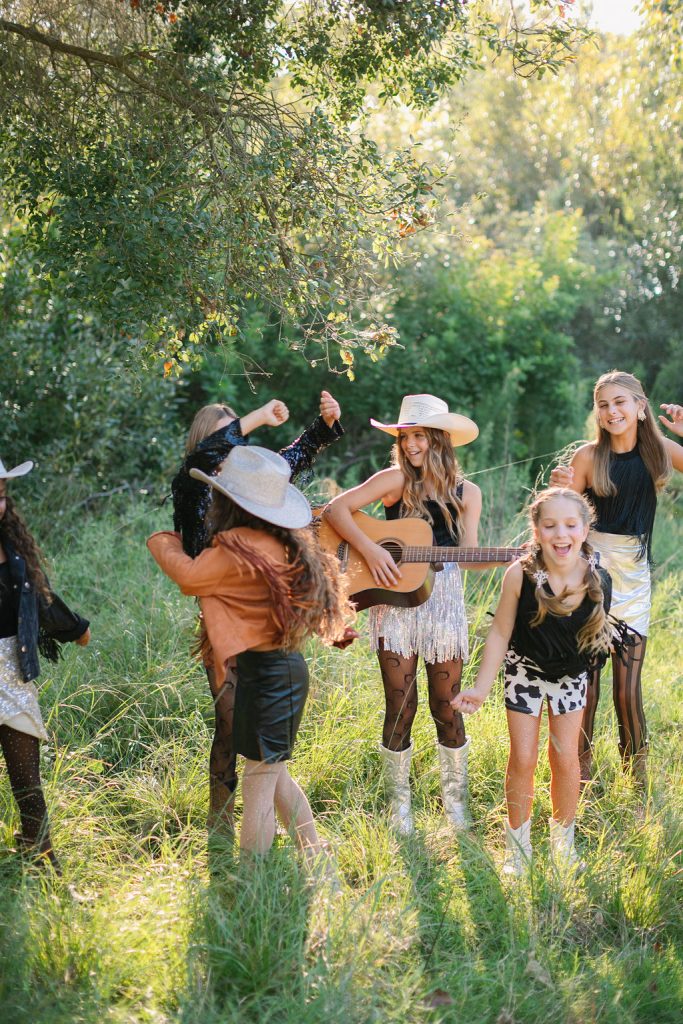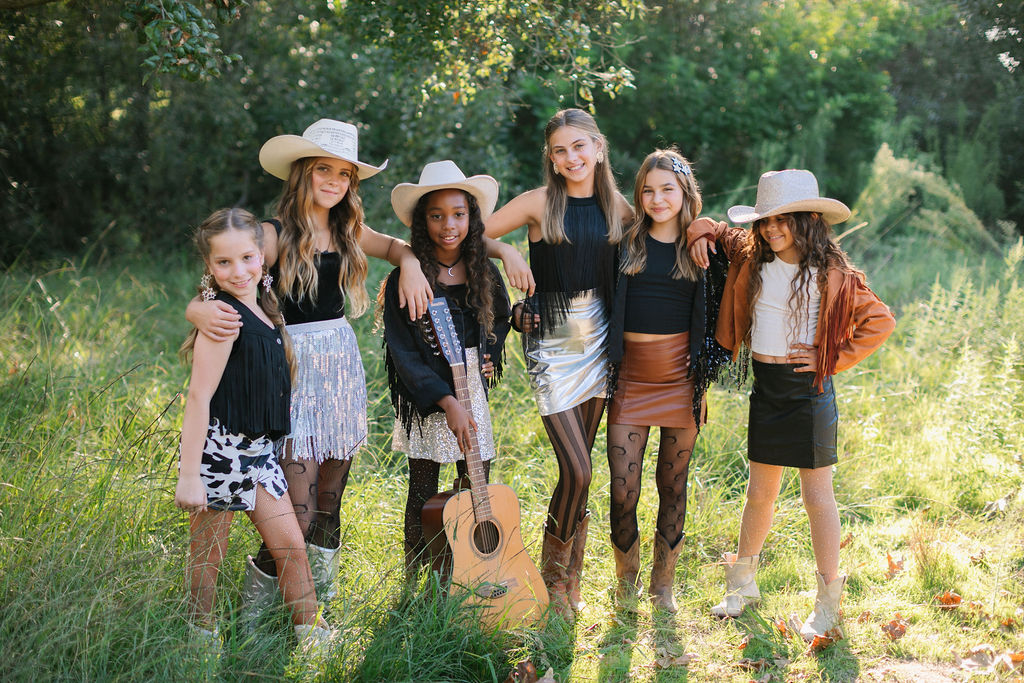 Shop this adorable party below! Yee Haw!!

xx
Jacquelyn