Attention all shoppers! There is a sale at the fashion boutique!

We couldn't have our 90's week without going back and playing around with the popular board game that you have should remember. Mall Madness! This shopping game was a daily hit in my house. My two sisters and I are shopping pros now due to this fun interactive game. I found an original game on eBay! It still works, it's fantastic to go down memory lane and play with my kids now. You can buy an updated version of this game on Amazon (see it here), but if you find one on eBay, (see it here) the experience is just way better!

This is a cute way to do a waffle board. Have a girls birthday party coming up, or a ladies brunch? Do a shopping inspired board and bring your favorite waffle items to play.

Attention all shoppers! There is a waffle board over at the Beijos blog!

Photos by Dayna Studios
---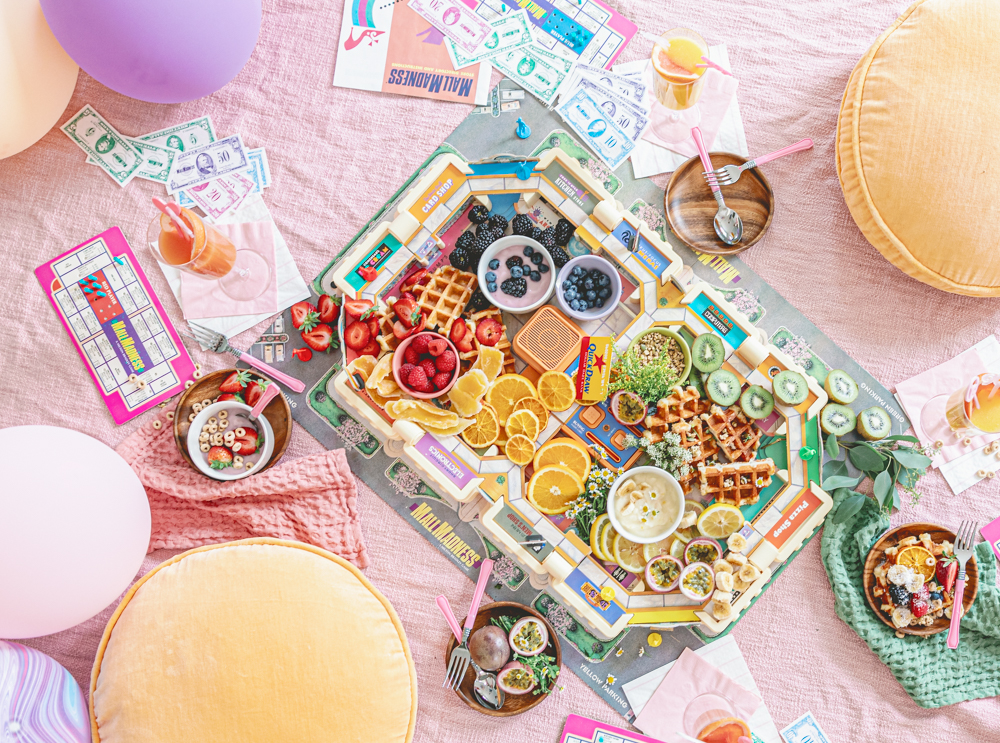 ---
TIPS ON MAKING WAFFLE BOARD
Bring out your favorite items— There is no wrong way to make a waffle board. Bring out all your favorite items—everything from fruit, nuts, and cereal.
Use parchment paper —Use parchment paper to place on the top of the board game. This will protect it from being dyed from fruits, and any sticky items to get on the board. No one likes a sticky icky game board.
Color coordinate it— This game has color coordinated shoppers for the players. Pair your fruit and toppings with each player, and place in that section. It will create a stunning rainbow effect.
---
Waffle Game Board
SERVES: 4-8 | PREP: 10 MINUTES | COOK: 0 MINUTES
W H A T Y A N E E D
Waffles (I used pre-made Belgian waffles)
Fruit
Cereal
Dried Fruits
Yogurt
Granola
Mimosas (for the mamas)
Florals for garnish (optional)
B U S T   O U T
Plates
Servingware

---
I N S T R U C T I O N S
I started with placing any bowls I would have on the board that was filled with yogurts. I placed those in the designated player's section. For example, the strawberry yogurt, I placed in the red player section. Then I picked a color to do 1st, which was yellow. I layered the waffles 1st and then worked my way around them layering fruits around them. A good tip is to use parchment paper or napkins placed on the bottom prior to laying down your fruit. This will prevent the game board from being destroyed by anything wet or sticky. The fruit will hide the paper from being seen. I added some florals in there to fill empty spots. Then move on to a color next to it, and simply work your way around the board.

Don't forget to add some mimosa fun if this is for the moms!
---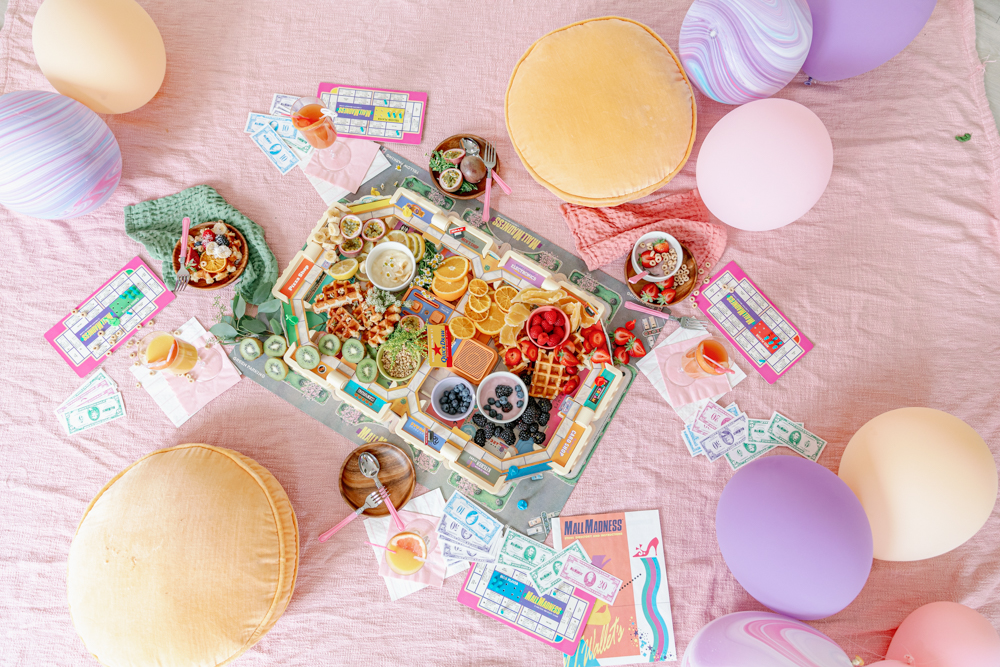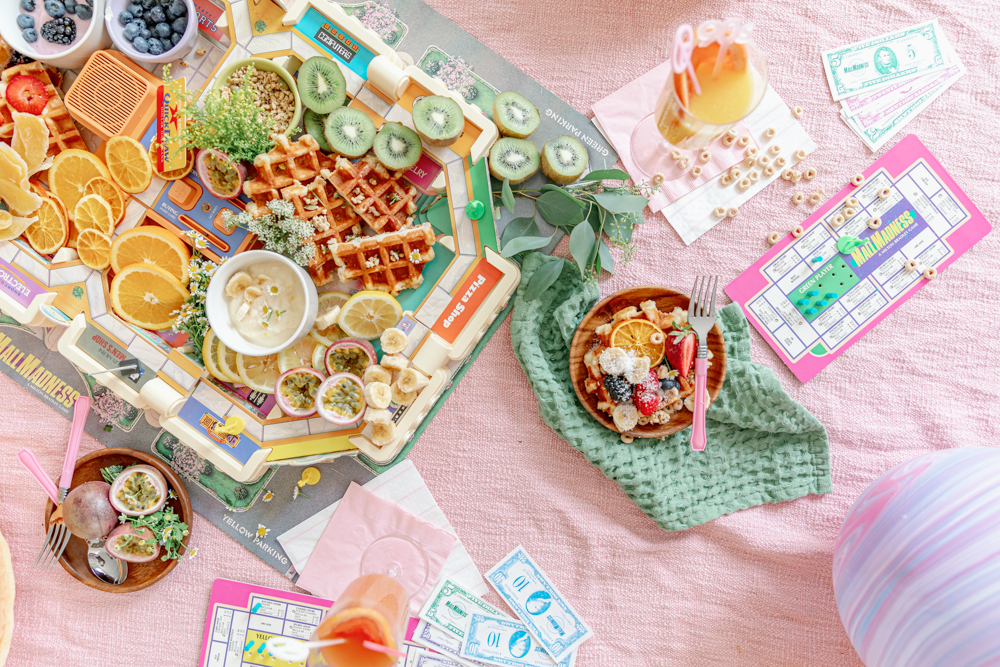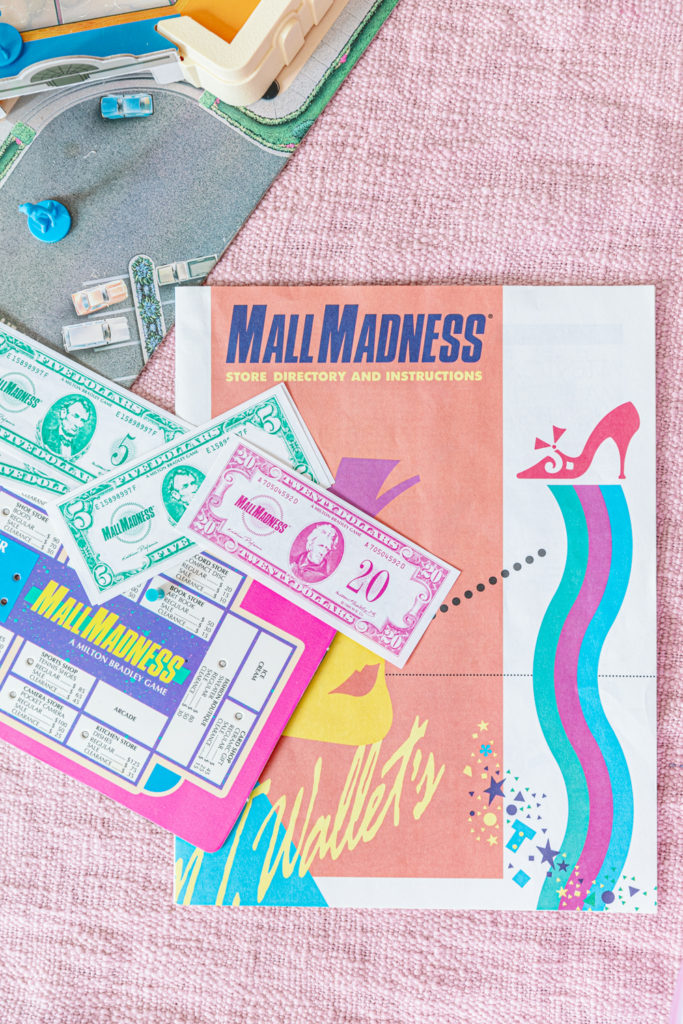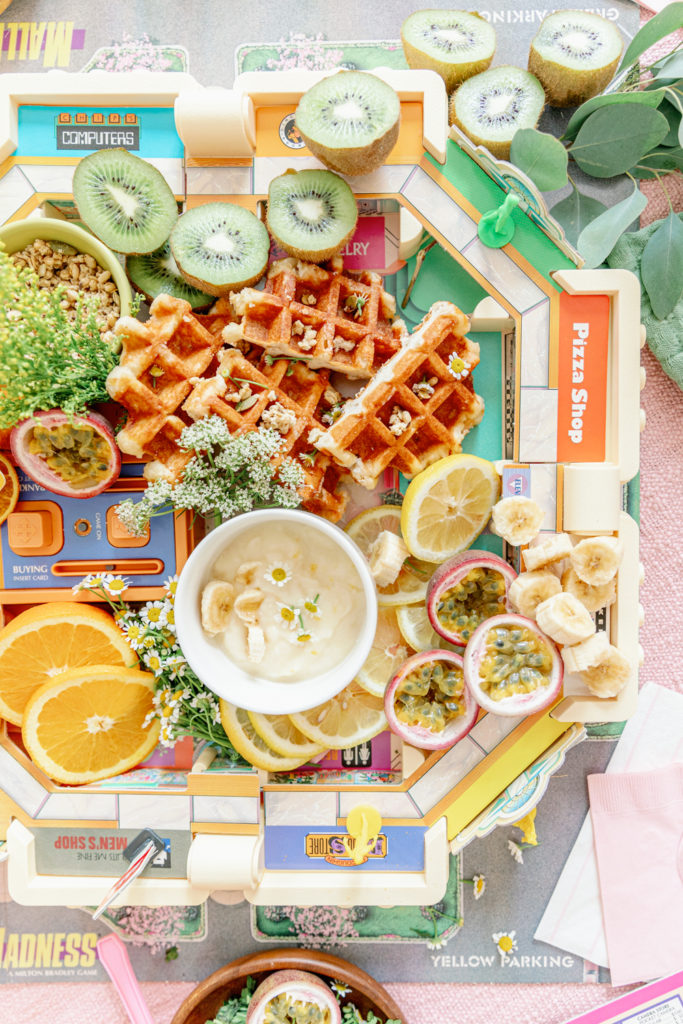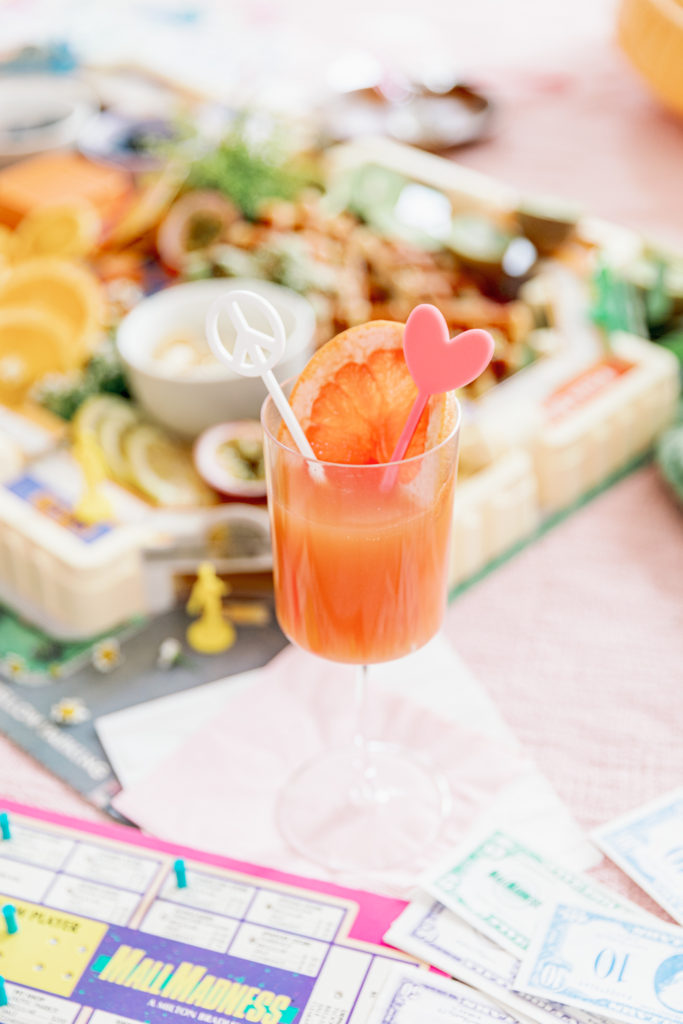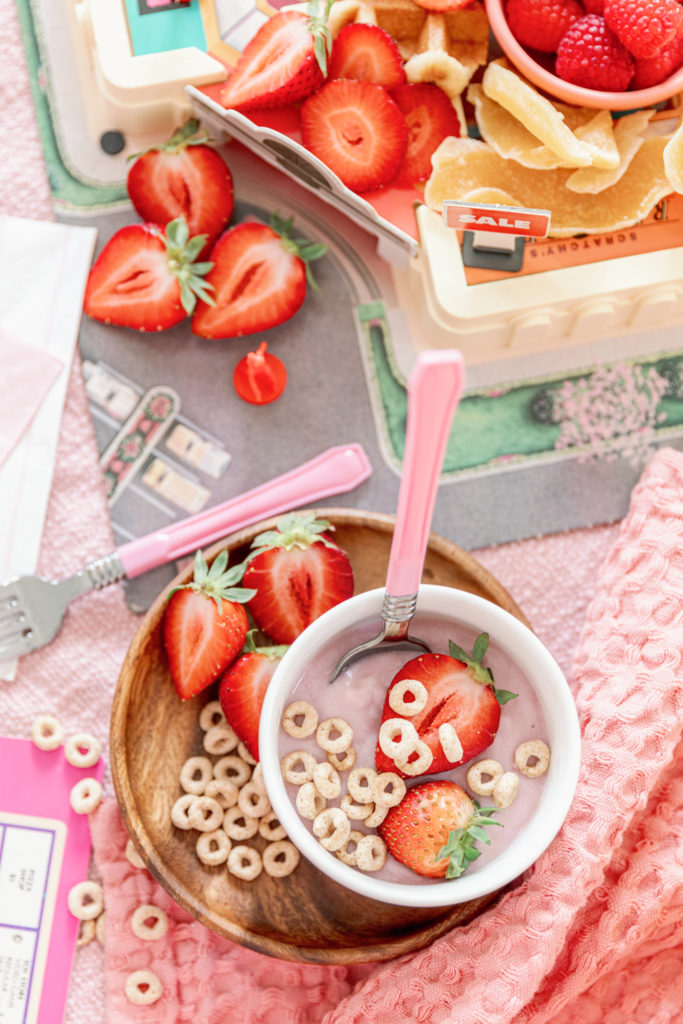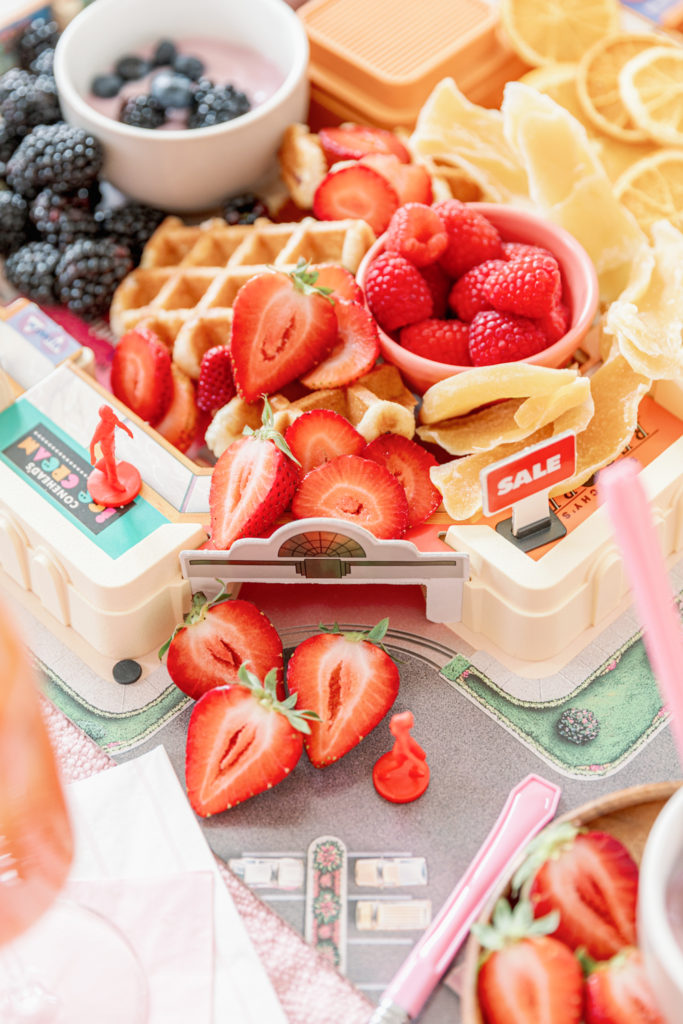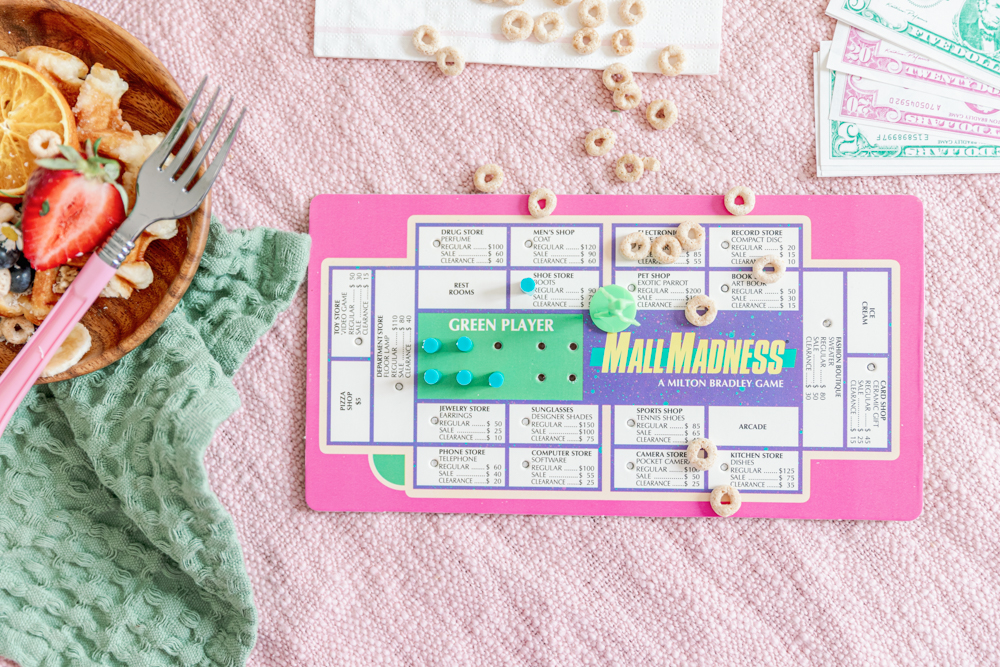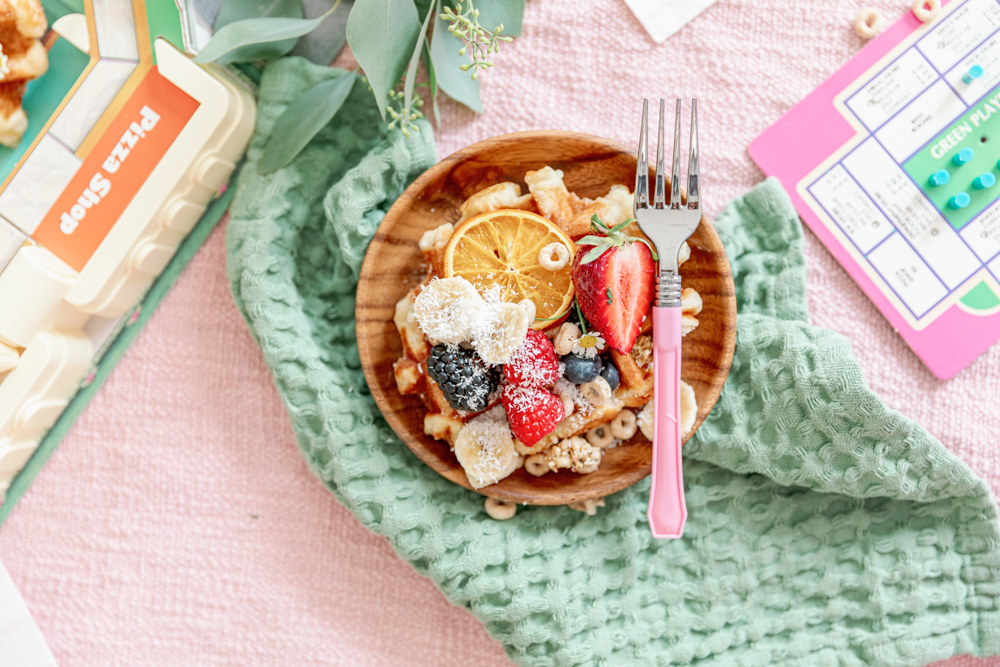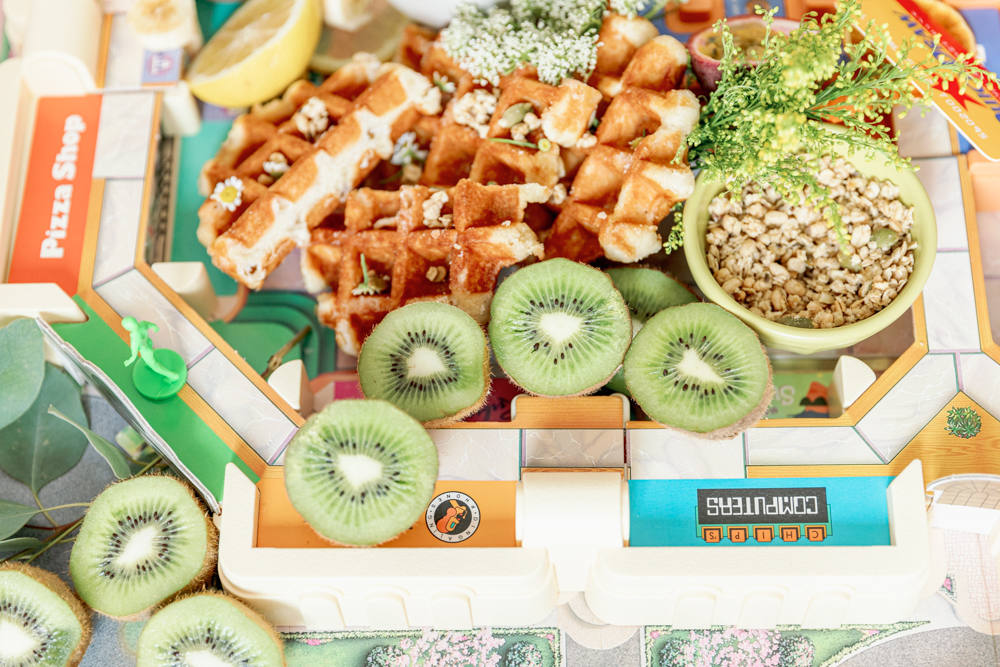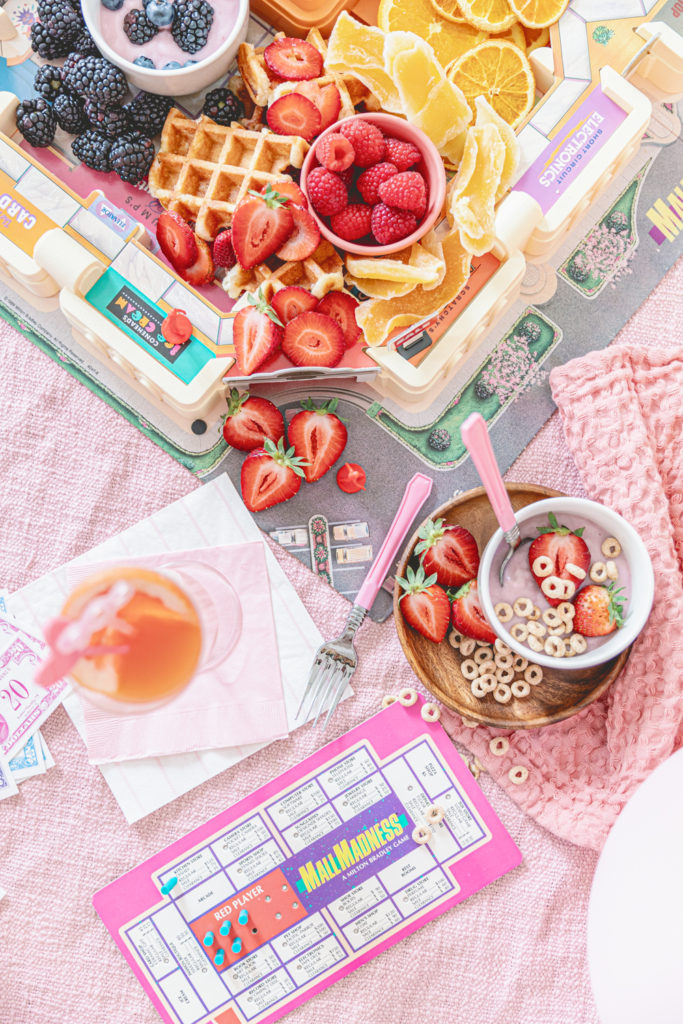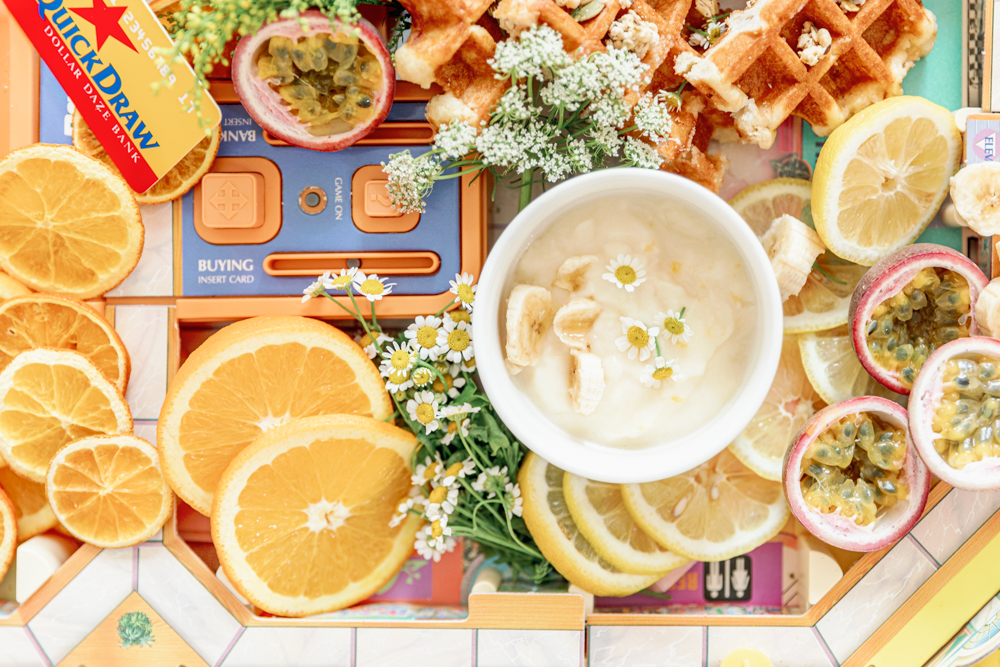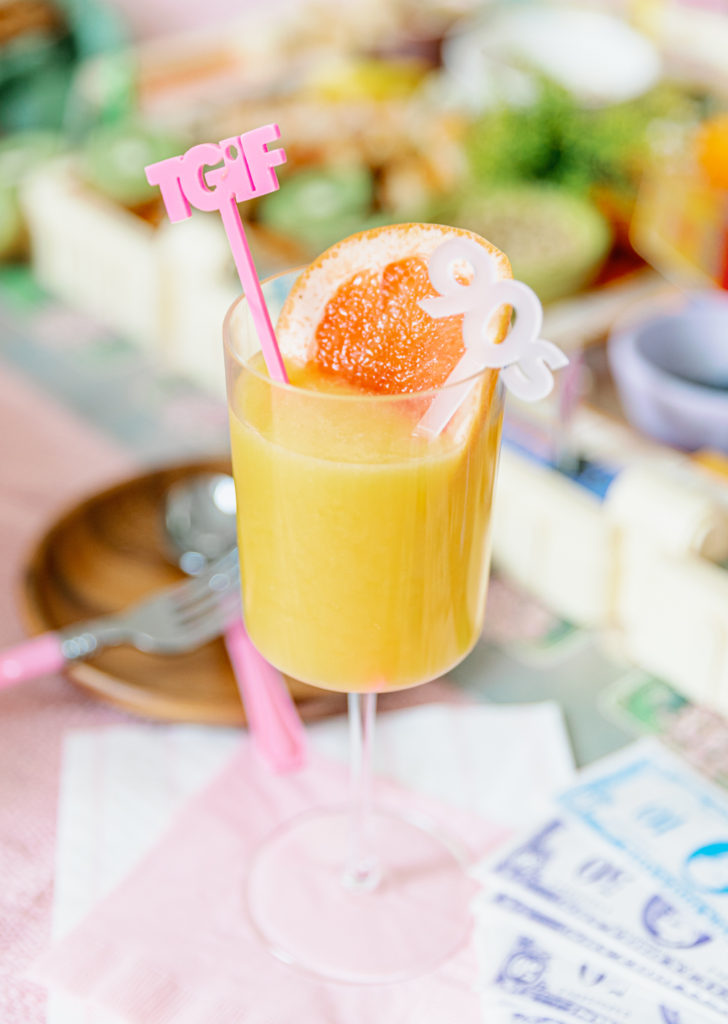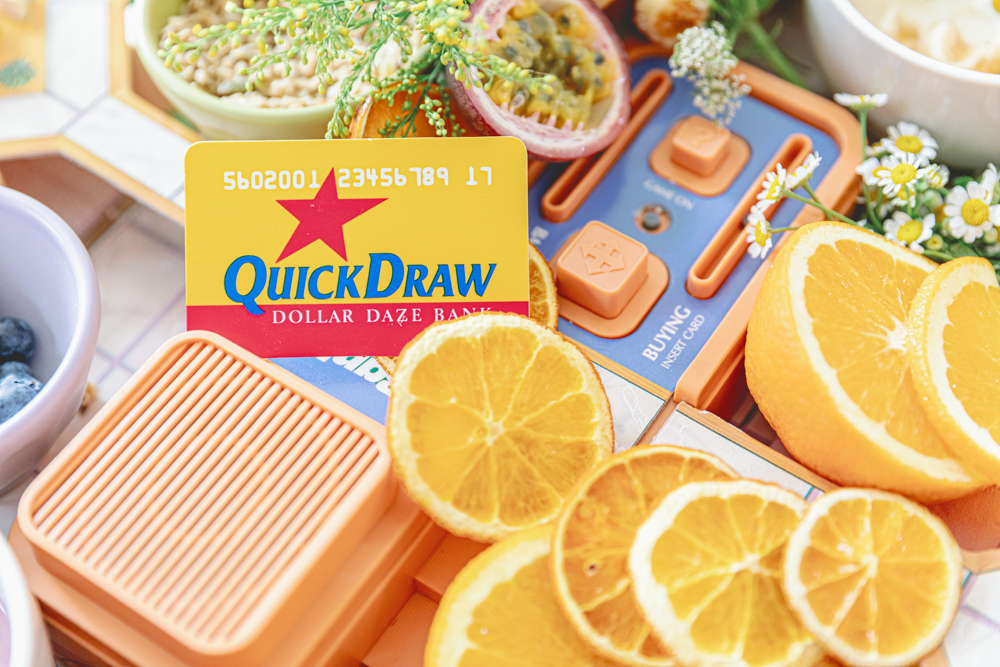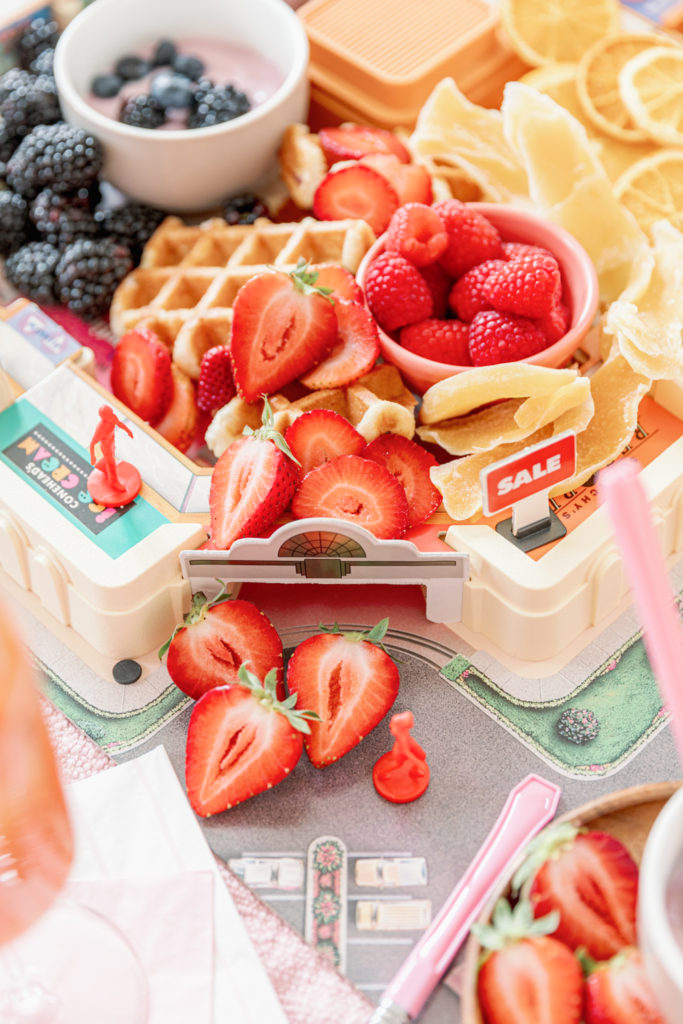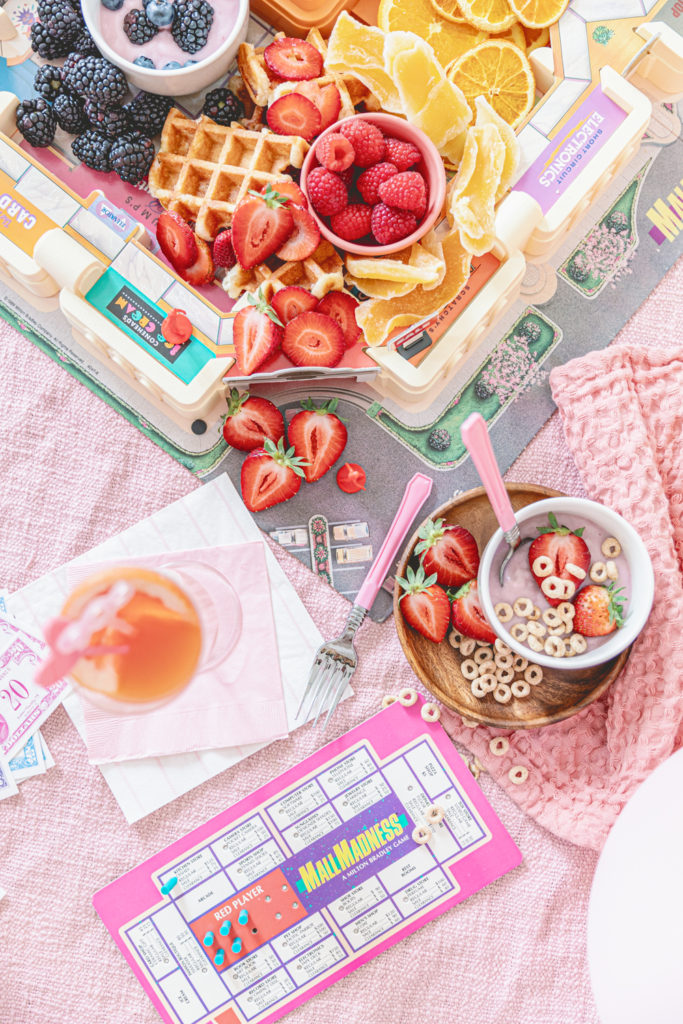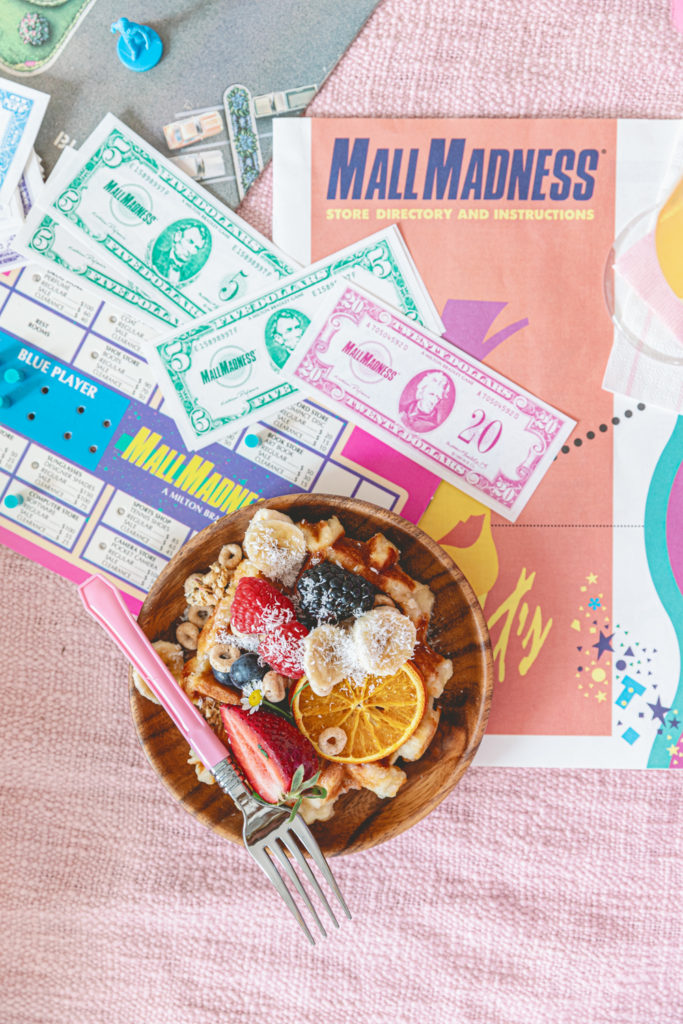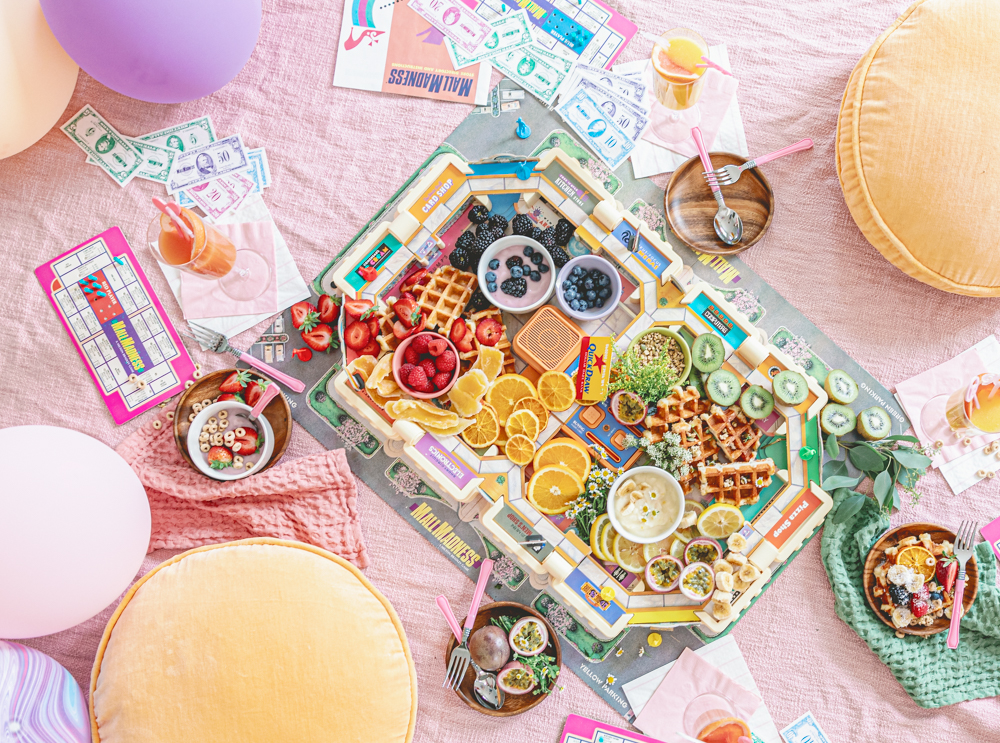 ---
B E I J O S K I T C H E N

xx
Abby