One of our most talented friends, Leanna Retterath of David & Leanna, threw her son an epic 90's inspired party this year. The minute I saw it I reached out and begged her to let us feature it during our 90's week we had planned.
She was inspired by that infamous 90's cup you'd often see at the mall. How genius is that?! This lady is beyond creative and one of our main go-to vendors for all things party fun. So keep reading to hear all about this amazing party for her son Duncan – a true Threenage Wasteland!!
Photos by Leanna herself!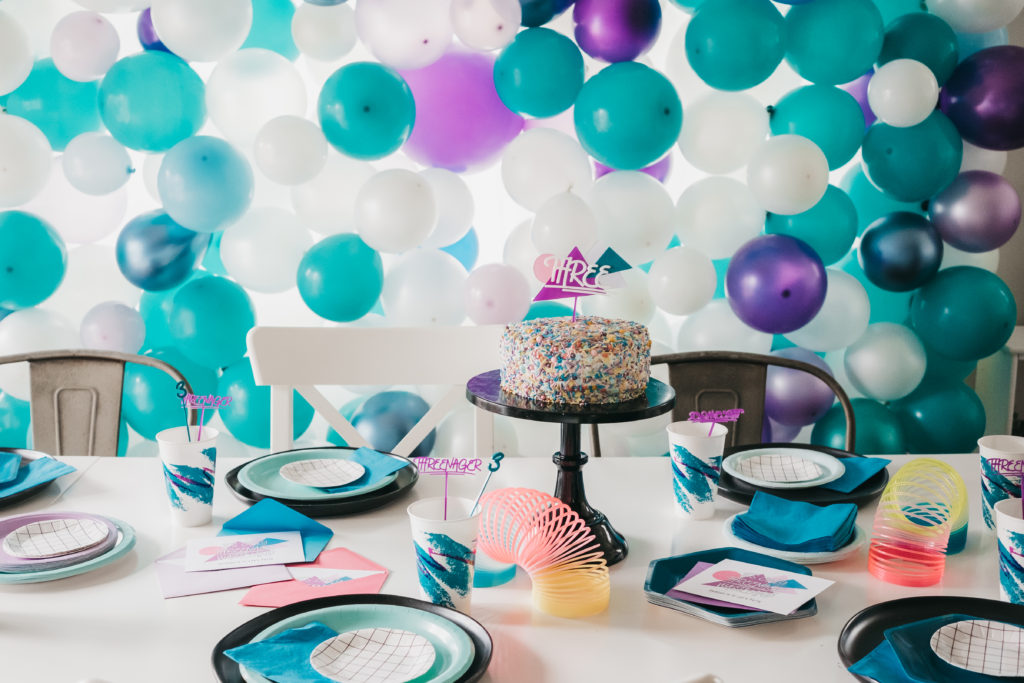 How did you get the idea for this cute party theme?!
We've been lovingly referring to Duncan as our little "threenager" for awhile. He's got all the sassy attitude of a classic teenager trapped in a three year old's body. He's full of personality and he knows what he wants, so "threenager" really sums up the stage of life he's in.
When we settled on the "threenager" theme I felt like vaporwave aesthetic really fit the vibe of a modern teenager party. It was fun to work with so much color, especially such bright, vibrant colors for a boy's party. Usually, people feel stuck in the blues, greens, reds, and blacks for a boy's party, but I loved going outside of that box with purple and turquoise. I think it really worked!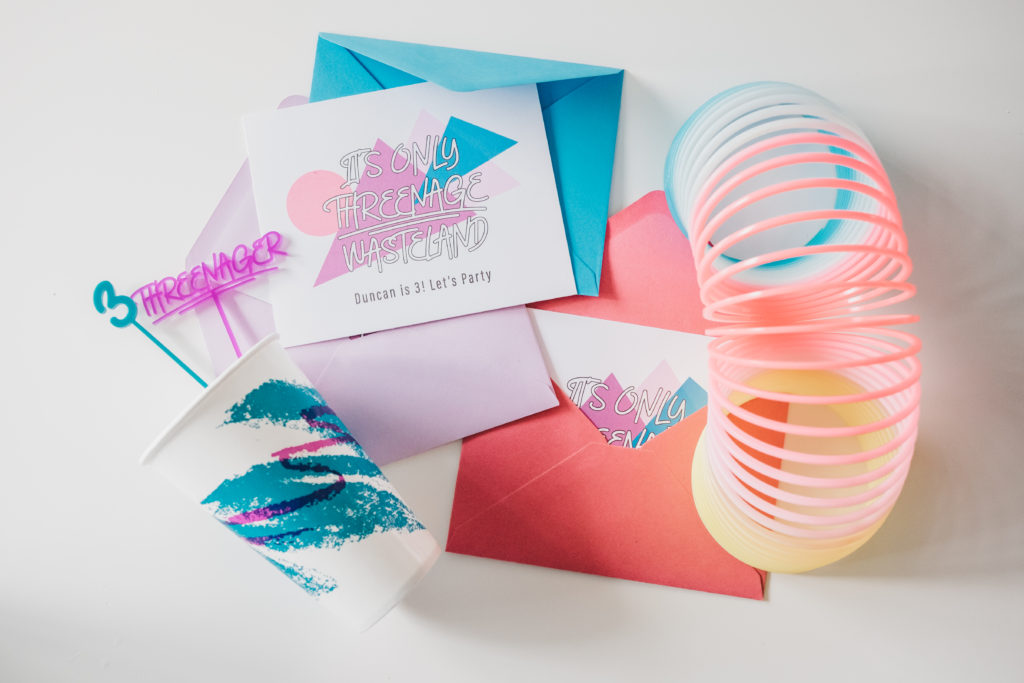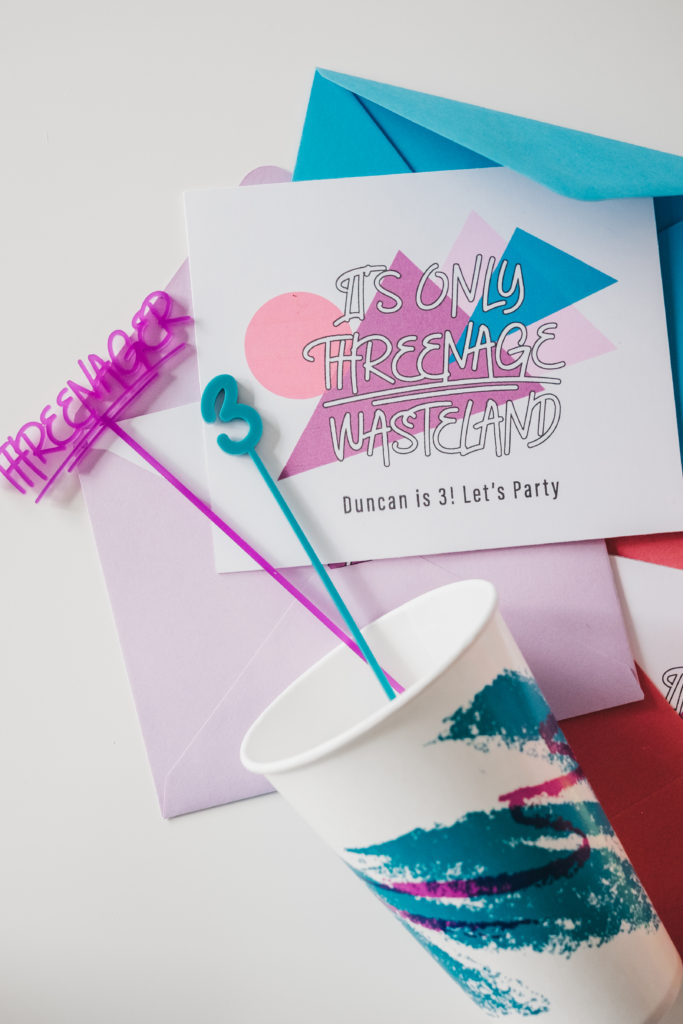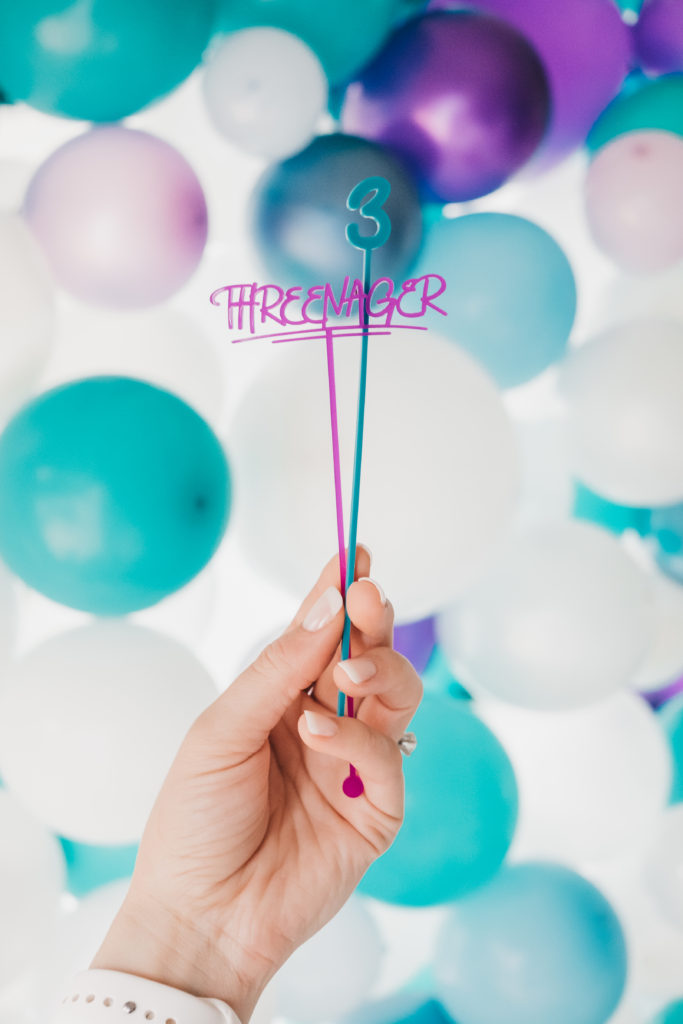 What were some of your favorite elements of the party?
My favorite elements of the party were the 90s "jazz" themed solo cups and the giant balloon wall. Both were incredibly easy but such fun statements. The 90s "jazz" cups were just straight off amazon. And the balloon wall I blew up and hung the night before the birthday party while watching Schitt's Creek. This was also my first multi-layered acrylic cake topper, so it was so fun to learn a new skill for my shop, and create something so fun and unique.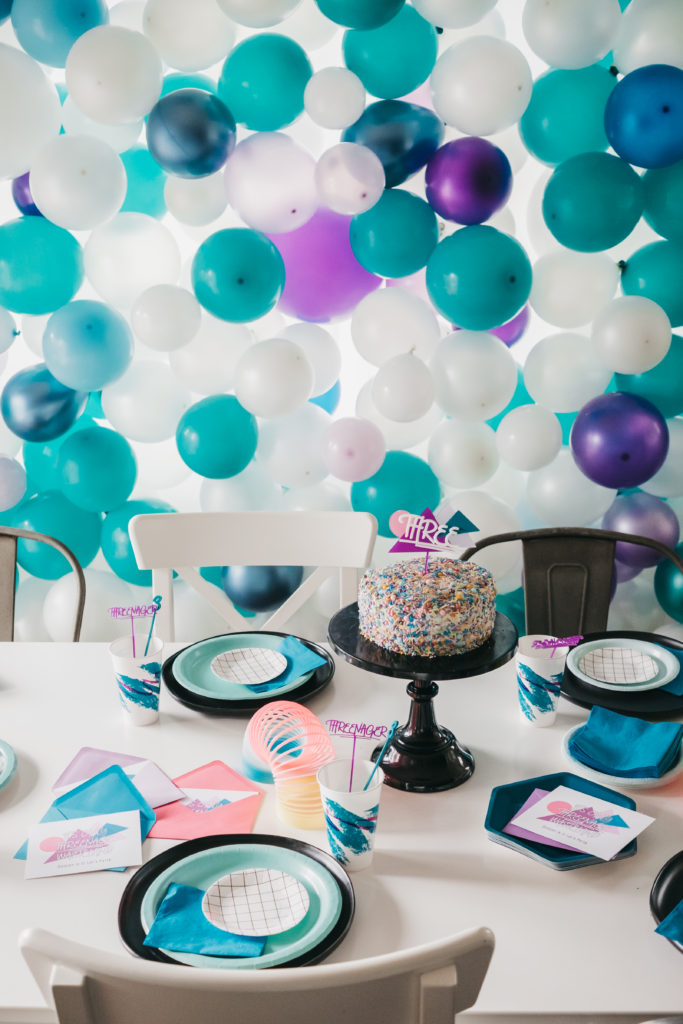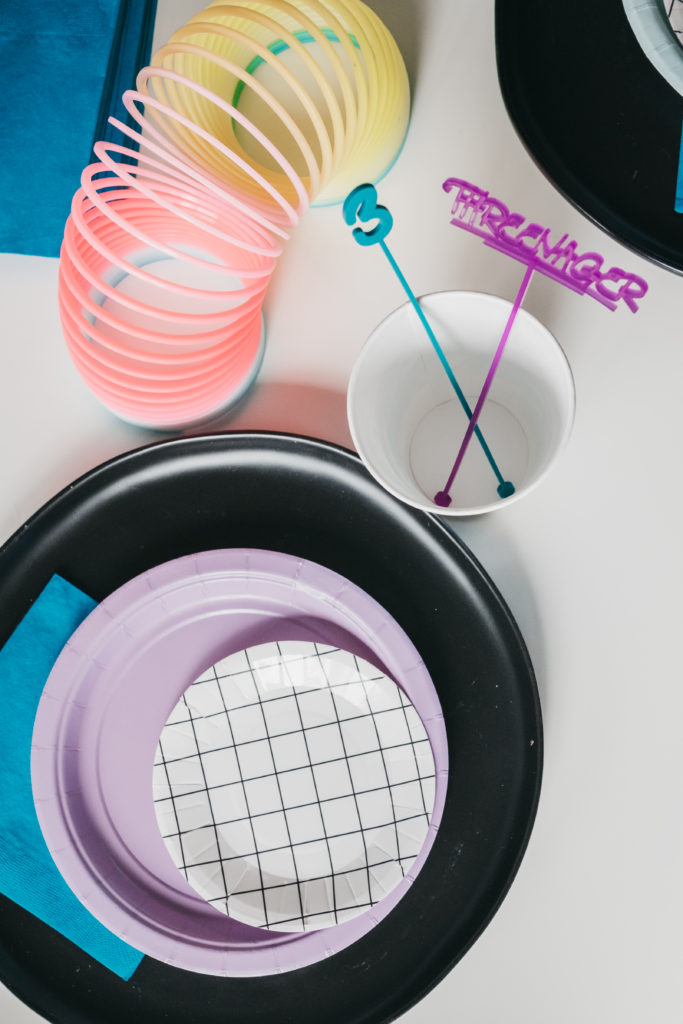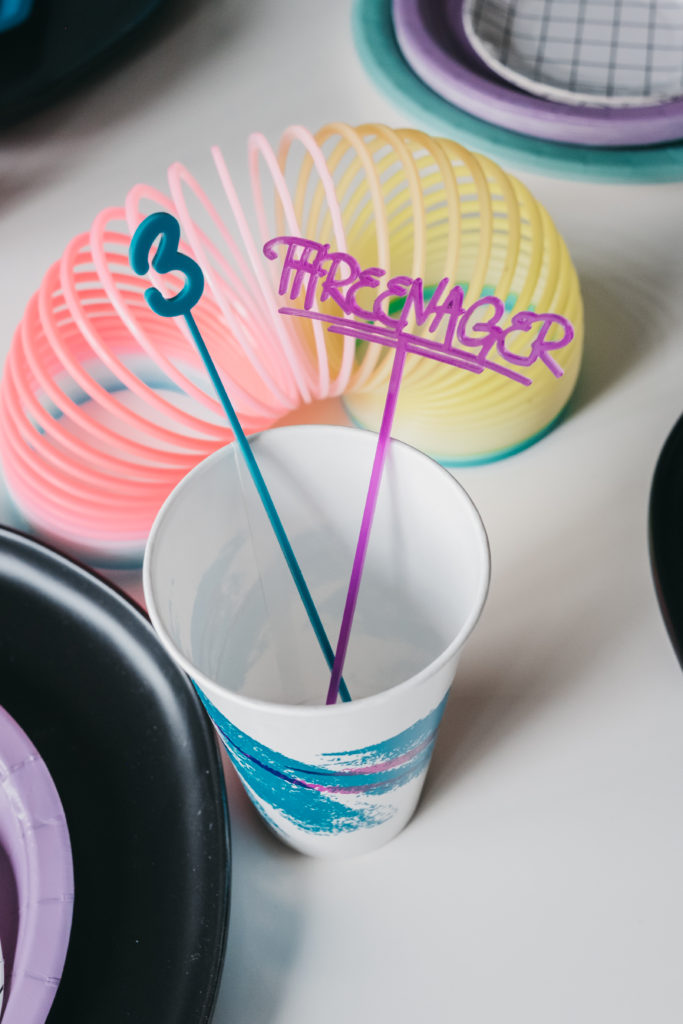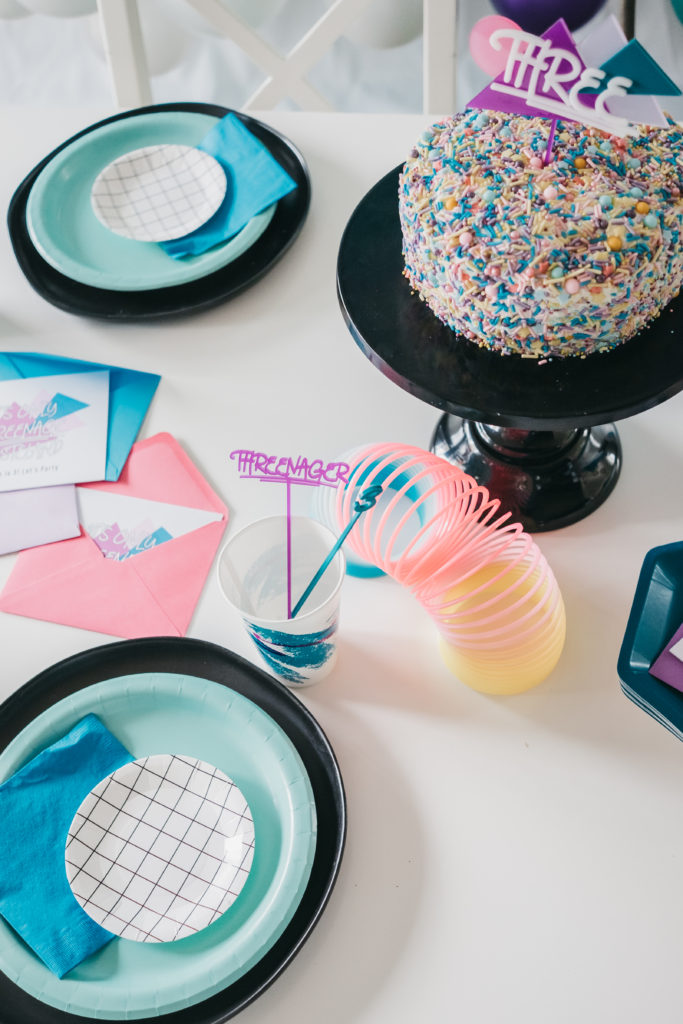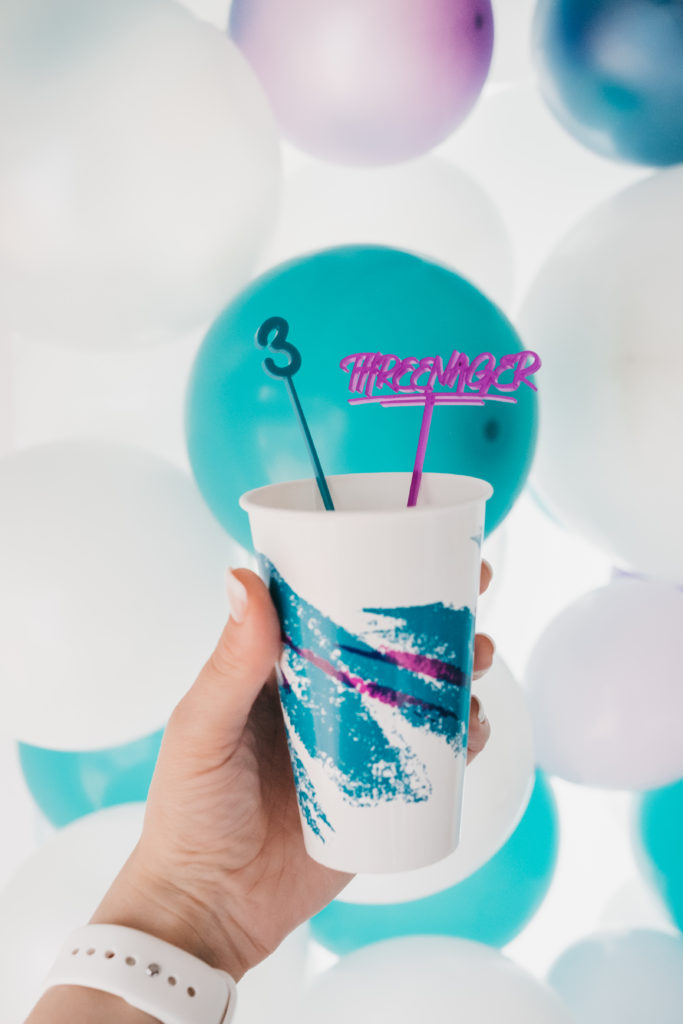 You miraculously did this entire party on your own, talk to us about that, and any advice you have to mamas out there doing it all themselves…
Whenever I do parties for my family, it's something I usually start thinking about at least a month in advance. I do a lot of ordering online, so I want to make sure I have plenty of time for things to arrive. It also let's me pull things together slowly, instead of feeling rushed the week leading up to the party. If you're really crunched for time you can always blow up your balloons a day or so in advance and just keep them in a spare room. Also you can also bake a cake slowly over the course of a week. Bake the cake early in the week, and freeze it until you're ready to frost.
I also am a HUGE proponent of hiring it out when you can! If it weren't for my kids' food allergies I would hire my friend who runs a bakery to bake the cakes! I would have had my friend photograph the party if it were outdoors (but due to Covid things are a bit limited). I think we put a lot of pressure on ourselves to be able to do it all, and really you can make your life a lot easier if you can hire talented friends and vendors. And bonus, you get to support a small business when you do so!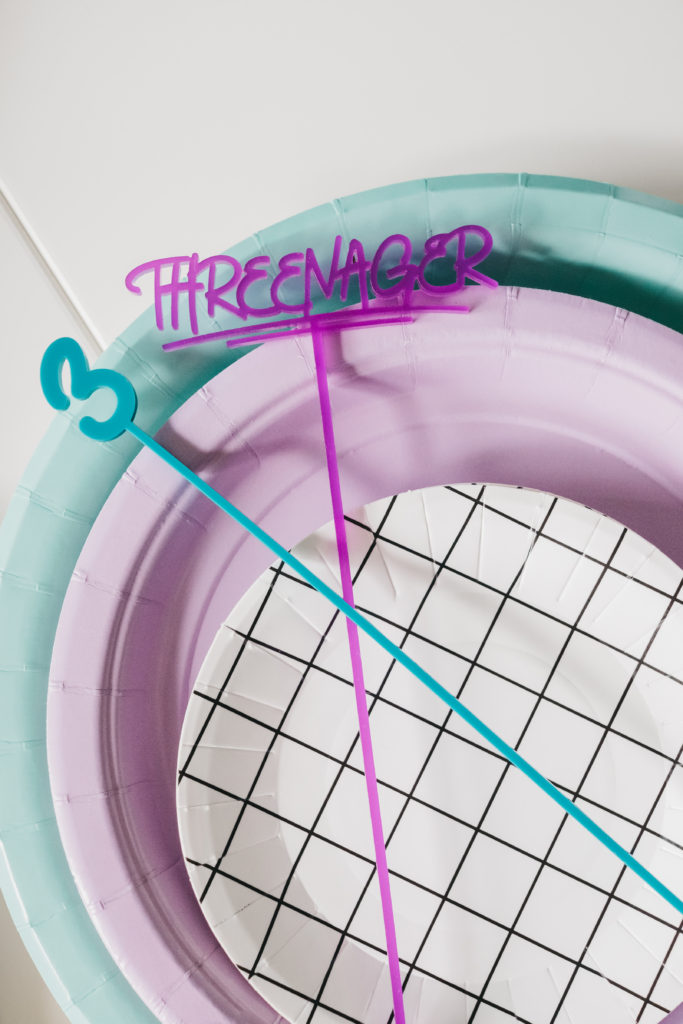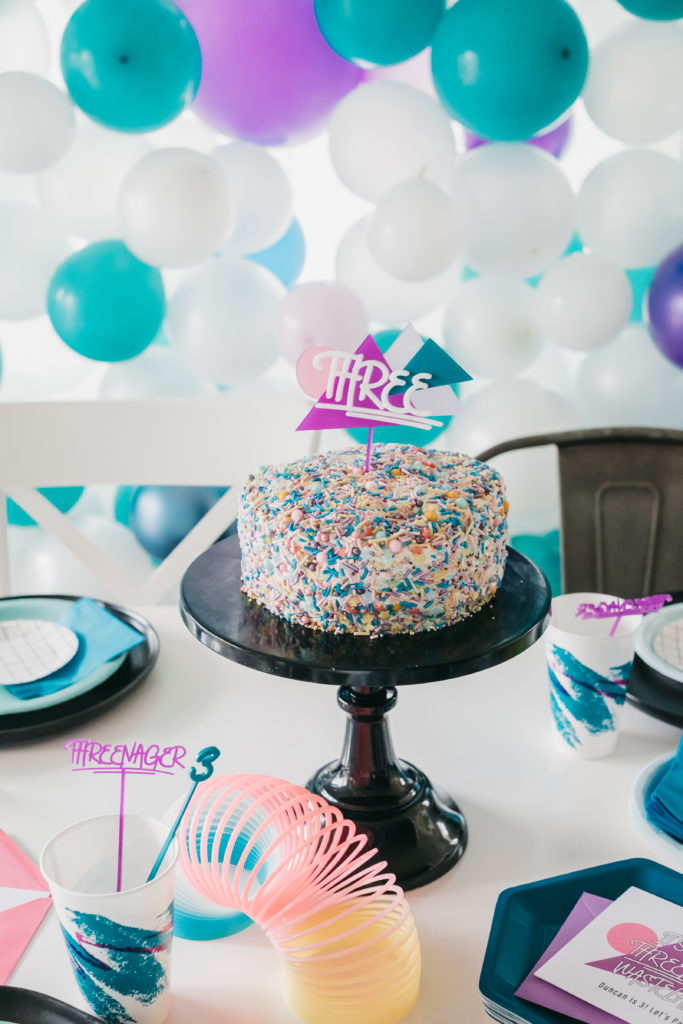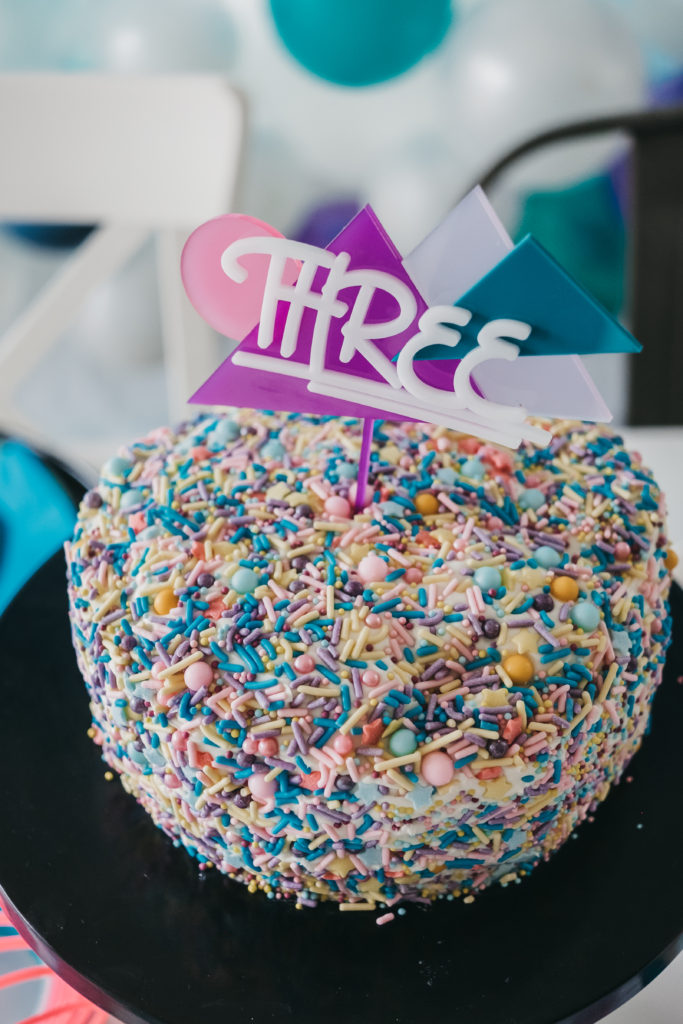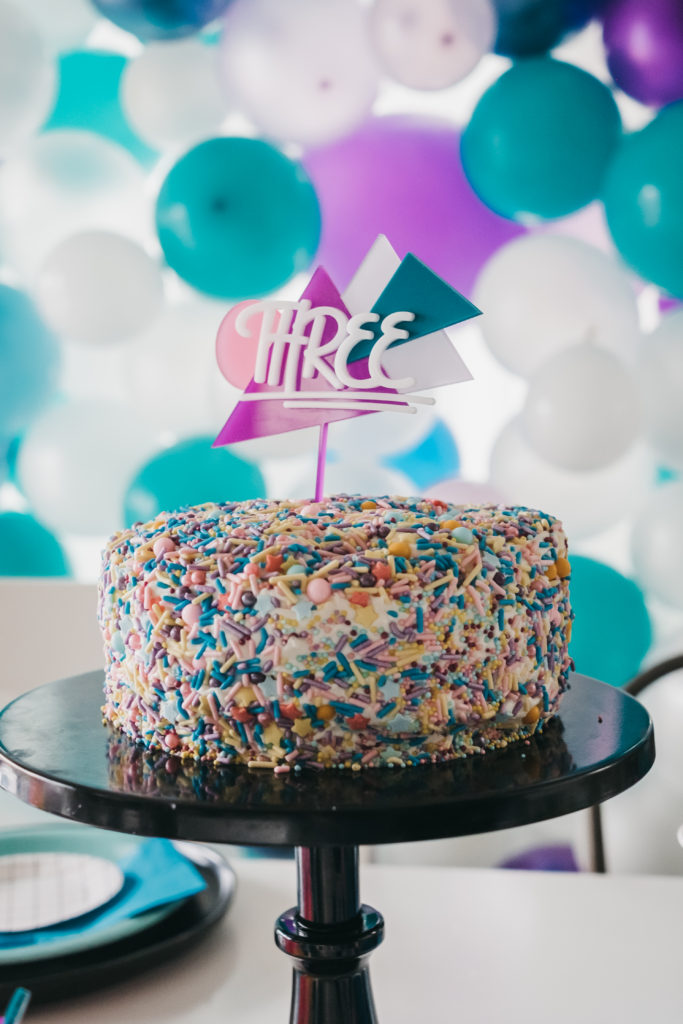 Being a creative in the industry do you feel pressured to have these amazing parties or do you just have fun with it?
I actually got into the industry that I am in, because I just love throwing parties. I can't get enough of it. Any time there's an opportunity to go over the top for some event, I'm bound to do it. I totally understand how there could be a lot of pressure for someone like myself in the party industry to feel like I have to go all out, but I haven't ever personally felt pressured to do so.
My kids let me know if they want a big party or not, and we respect what they ask for. In fact the handful of times we've tried to do a lower key party, my kids call us on it! They love the big balloons and funny themes. As long as our kids love it, we'll keep doing it!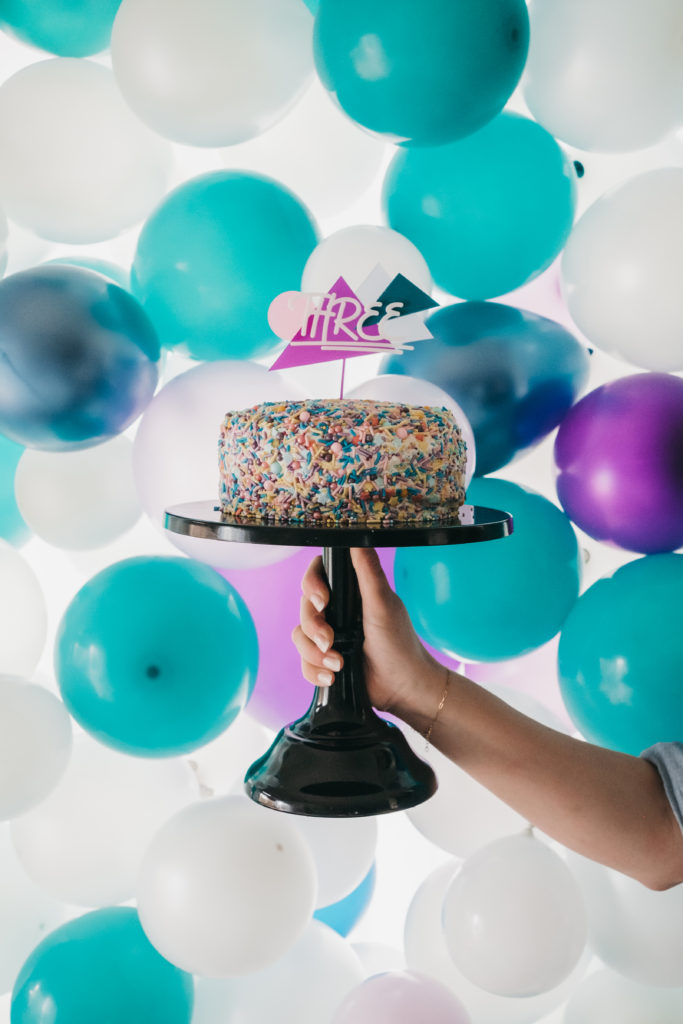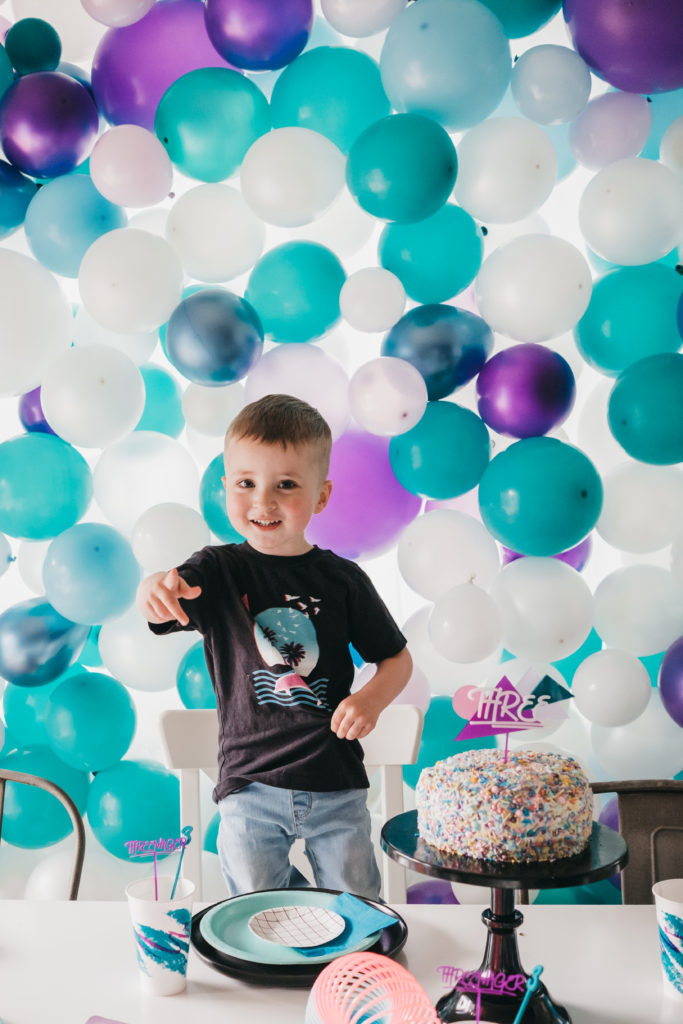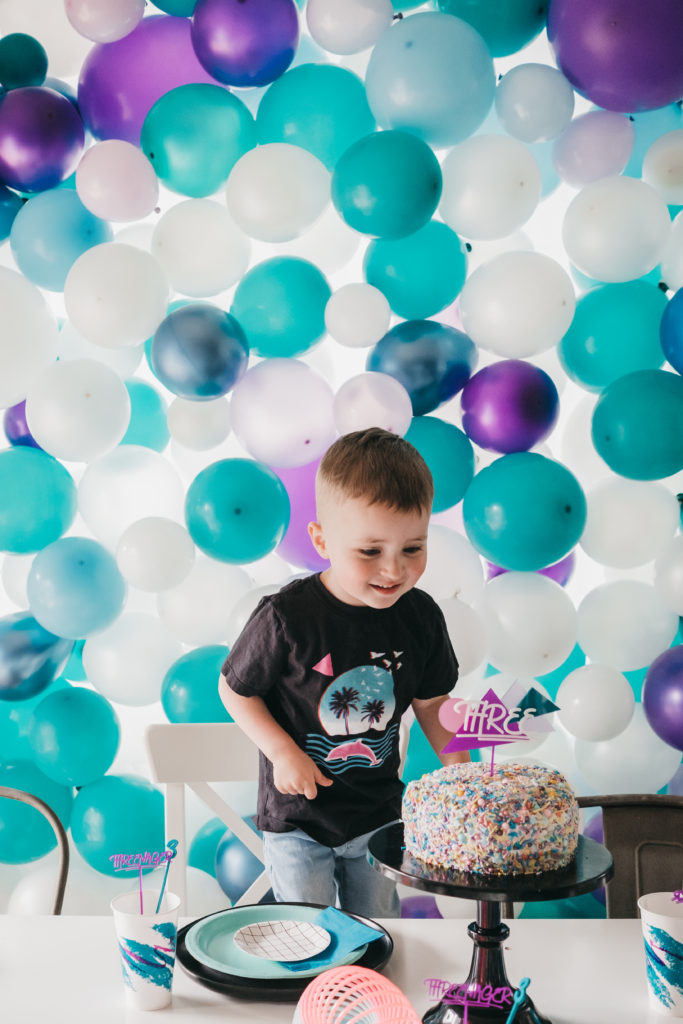 What's the next big celebration in the Retterath home?
The next big celebration is Archer's first birthday! We've gone all out with a Daft Punk "One More Time" theme. We came up with the theme while listening to the song and it seemed more than fitting to theme our fourth son's first birthday after the lyrics "one more time, we're gonna celebrate". Just a little tongue-in-cheek nod to having to come up with four different boy's first birthday party themes in a row! Excited to share that one once we've got all the photos edited!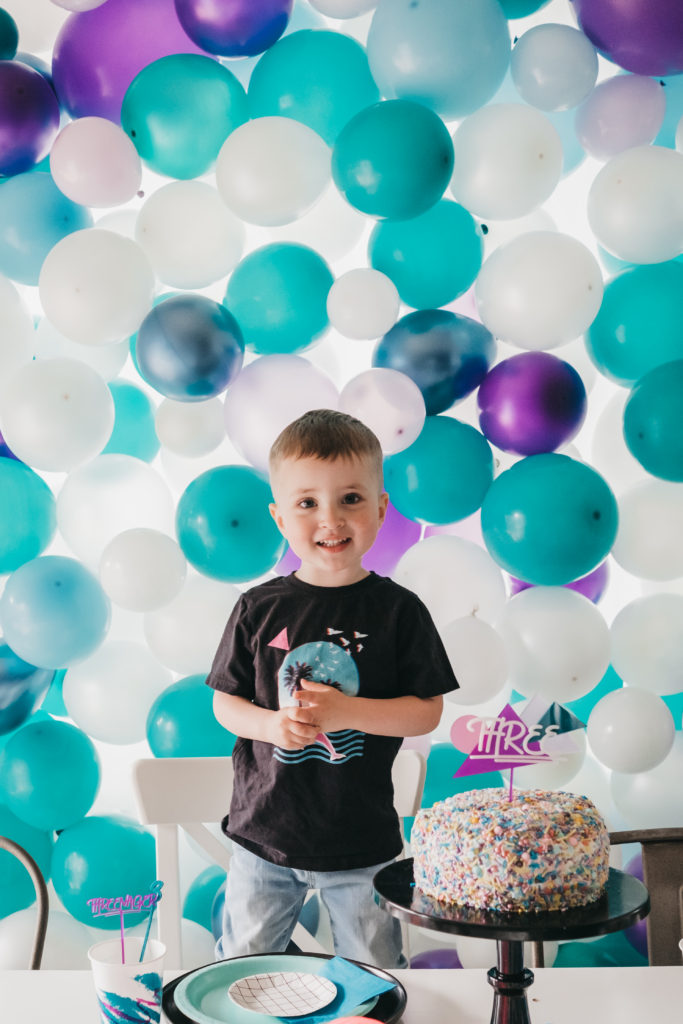 How fun and creative is Leanna?! That's just a taste of why we love working with her so much, she's also the nicest every!! And how cute is Duncan?! Happy birthday buddy, and can't wait to see Archer's birthday!
Shop all the goodies from this fun party and throw one yourself below!

xx
Jacquelyn