Mele Kalikimaka is the thing to say on a bright Hawaiian Christmas day! Last week we took you to Mexico, today it's Hawaii! We were dying to take a trip and for some warm weather this holiday season, but 2020 had other plans. So we brought the tropics to us!
This beach gathering is what we all need this Christmas, and it's outside which is perfect for what's happening in the world right now. If you live in sunny Southern California like us, you can make this a reality! It was so fun being transported to Hawaii in our own fun way, and it all took place outside, so Covid friendly? Doing the best we can over here!!
We are featured on Inspired By This today, be sure to check it out! All the gorgeous photos are by Jessica Lynn Photo.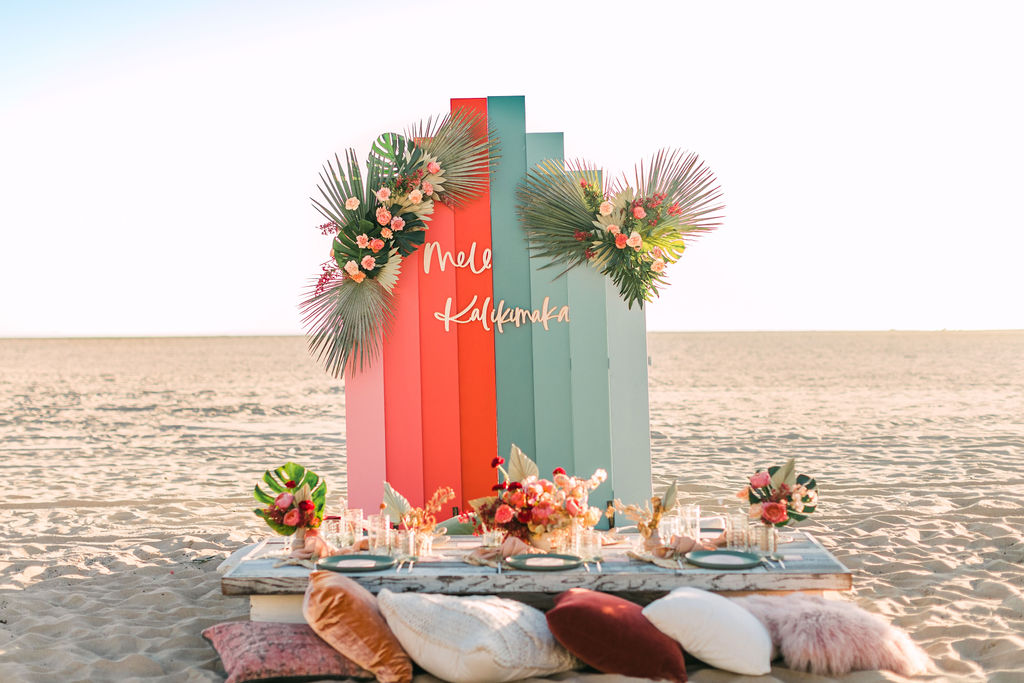 An event always starts with a gorgeous invitation and this one was a stunner. Bare Ink Co blew us away with all of her details, with a little help from David Leanna who did all the laser cut pieces you'll see throughout the shoot. Isn't this invite suite beautiful?! Of course, Jessica Lynn Photo styled it to perfection!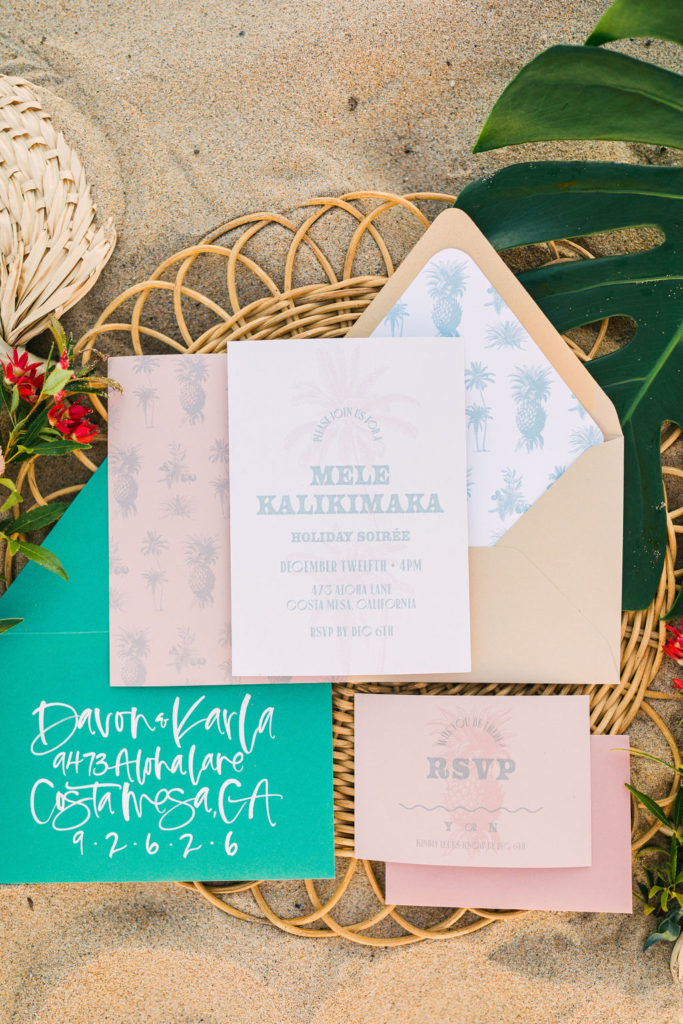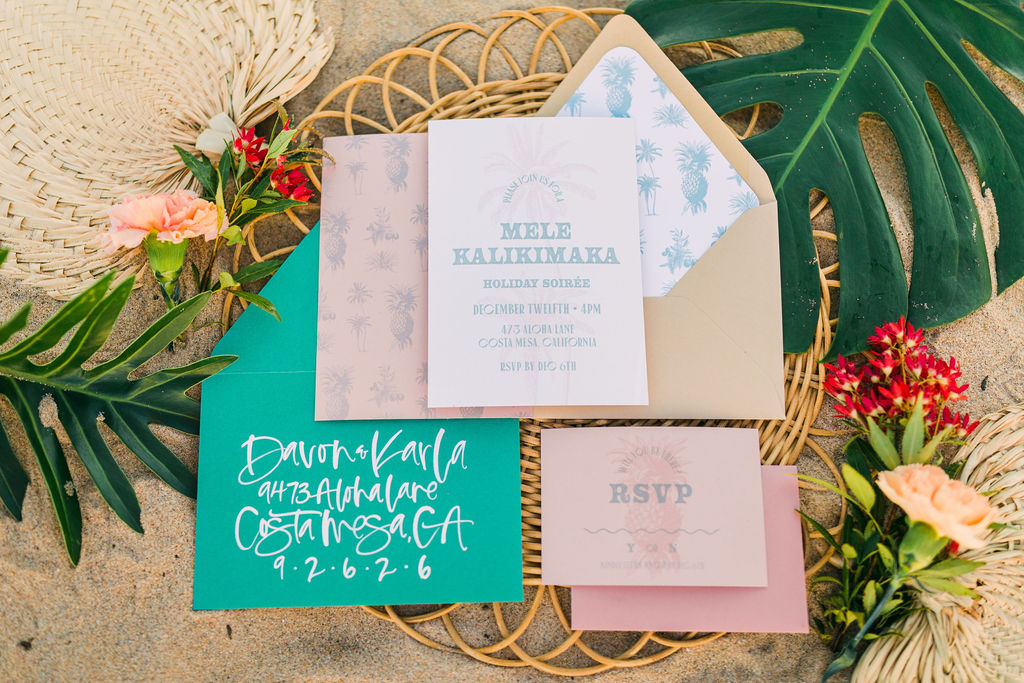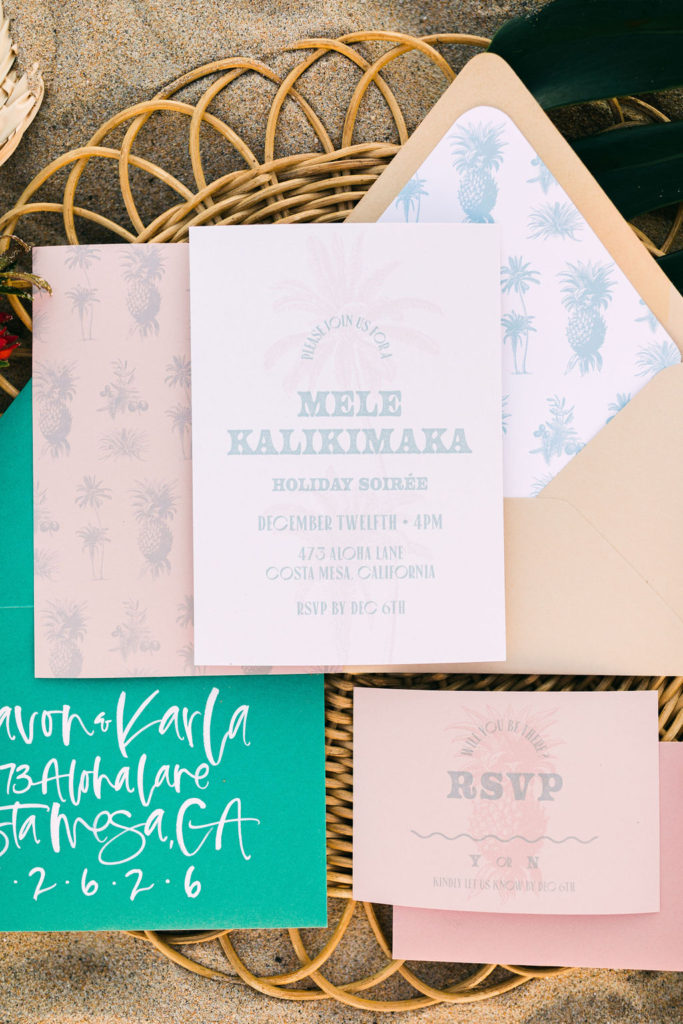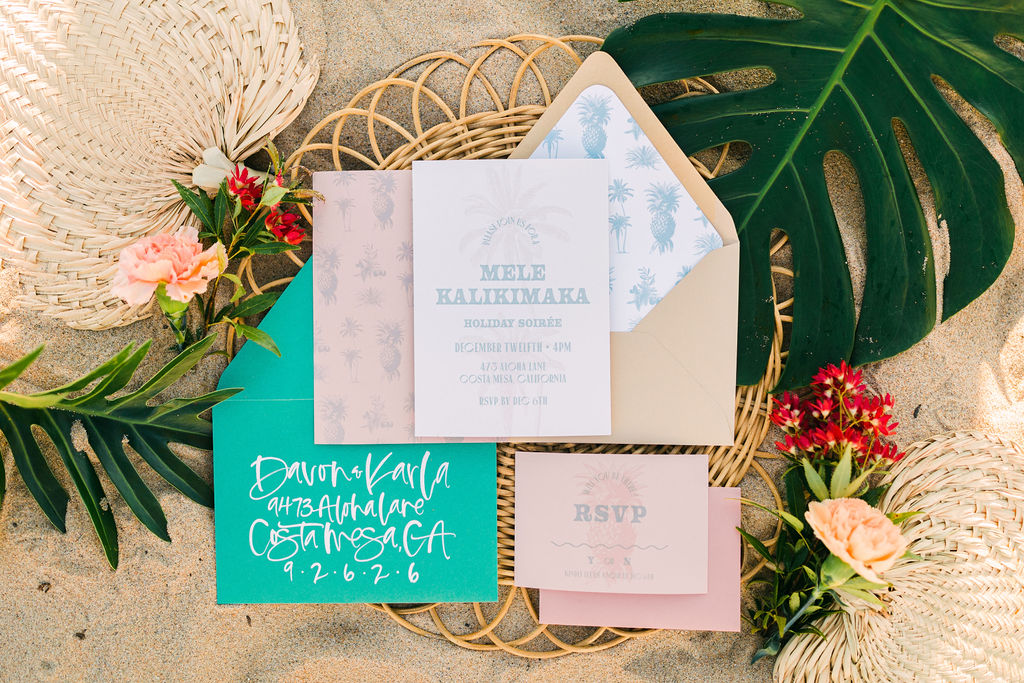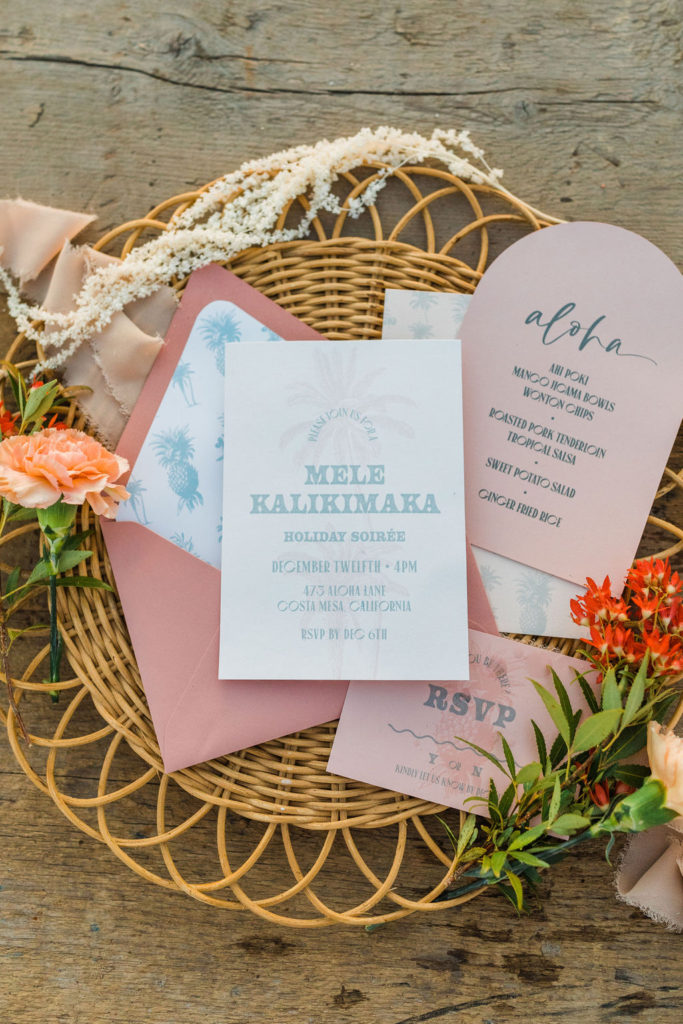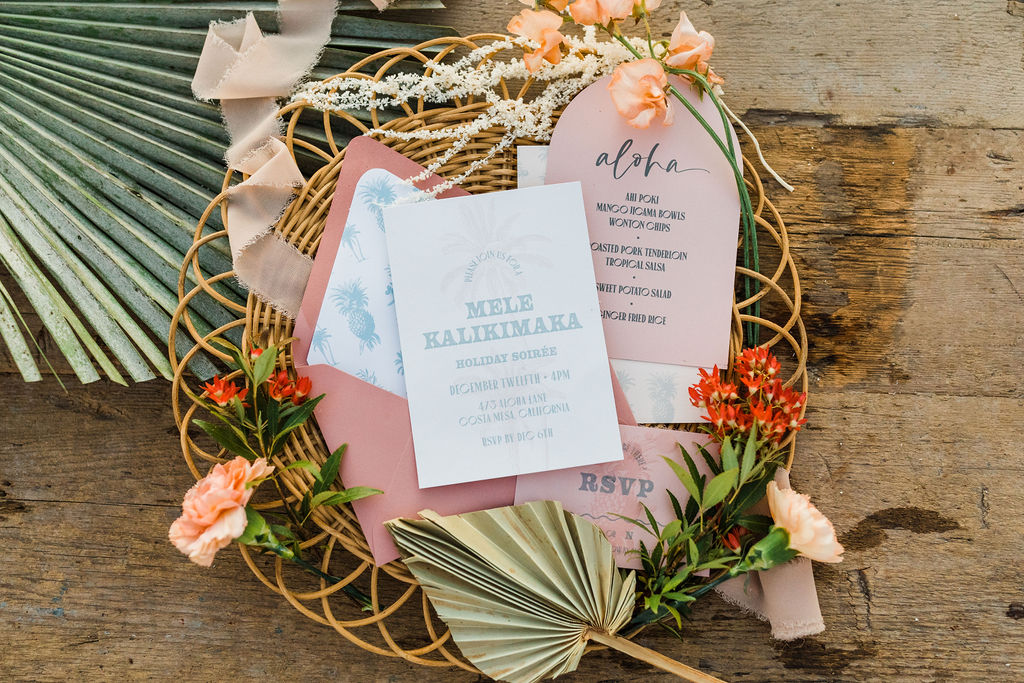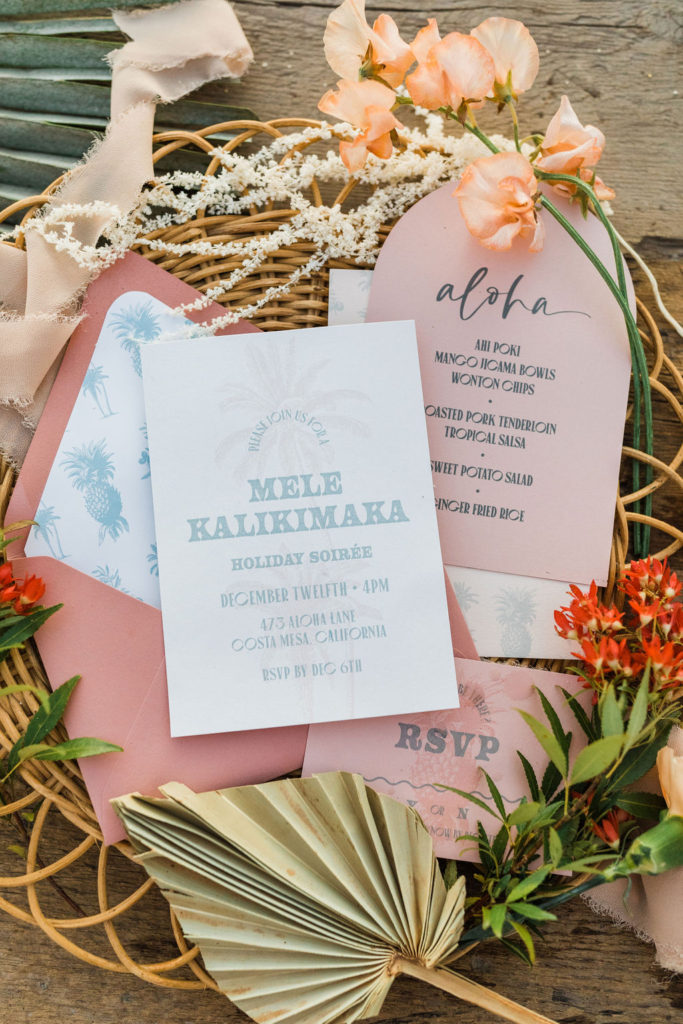 Onto our amazing setup, if I do say so myself! Let's start with that backdrop, I had a vision and shared it with Marnie from Sweet Salvage Rentals and she said "we can make that happen!" Don't you love that kind of attitude?! It really made the shoot to me and I love how we added tropical foliage and blooms from Not Just in Novels along with David & Leanna's cut out of Mele Kalikimaka. It just sets the tone!
We set up a low beachy table with pillows from Sweet Salvage Rentals and adorned the table with Not Just in Novels beautiful floral arrangements. The colors are all muted and deep tones of reds and greens with natural dried elements. So you get that Christmas feel in a different way!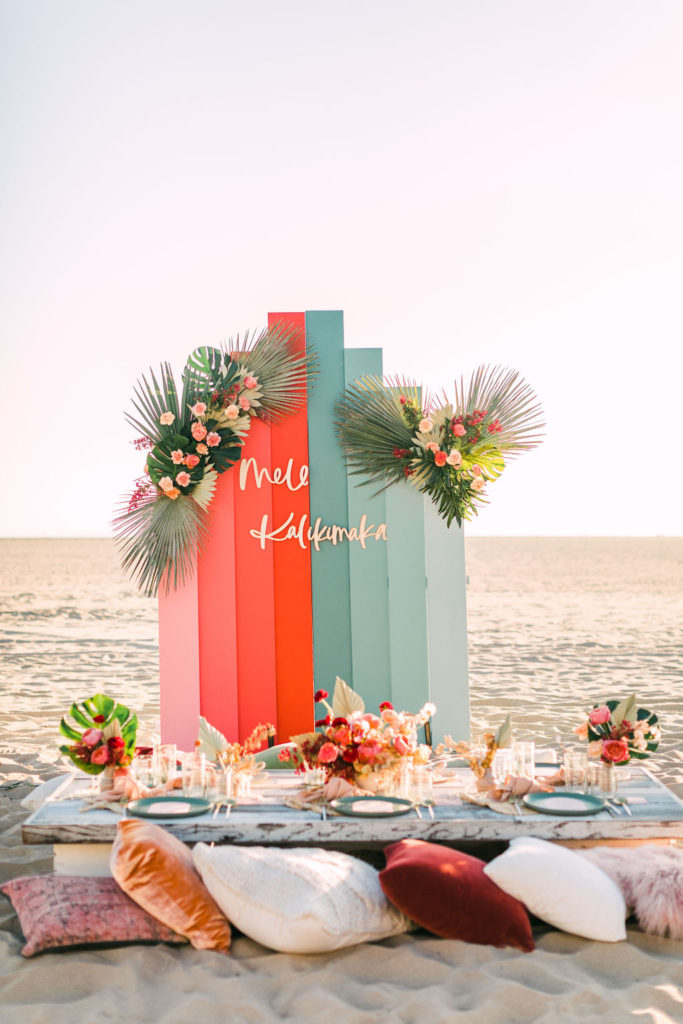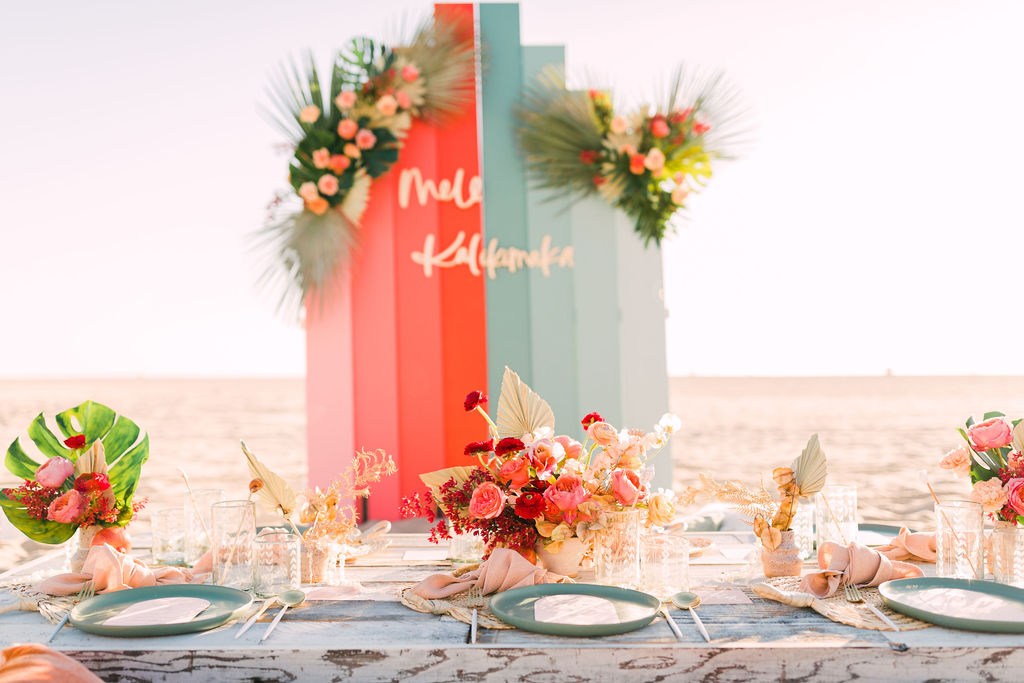 The tabletop was a mix of my own pieces, Serena & Lily chargers, Hostess Haven napkins, and The Little Market glassware. Bare Ink Co added her pretty calligraphy to the table with the arched menus and place cards. The palm leaf fan was a nice touch and continued the pretty tropical vibe!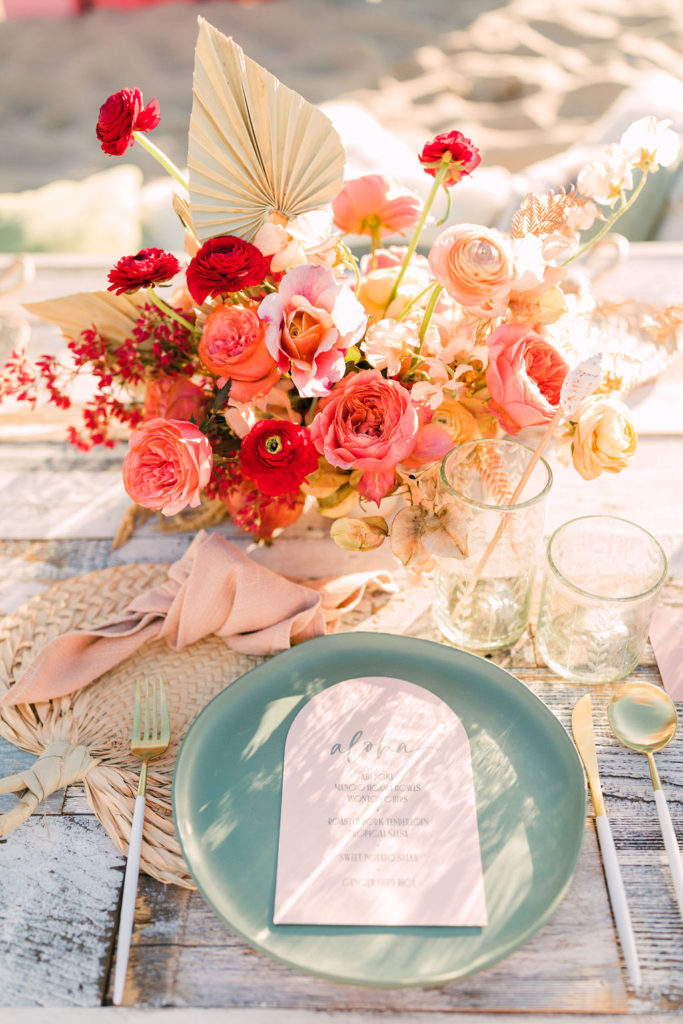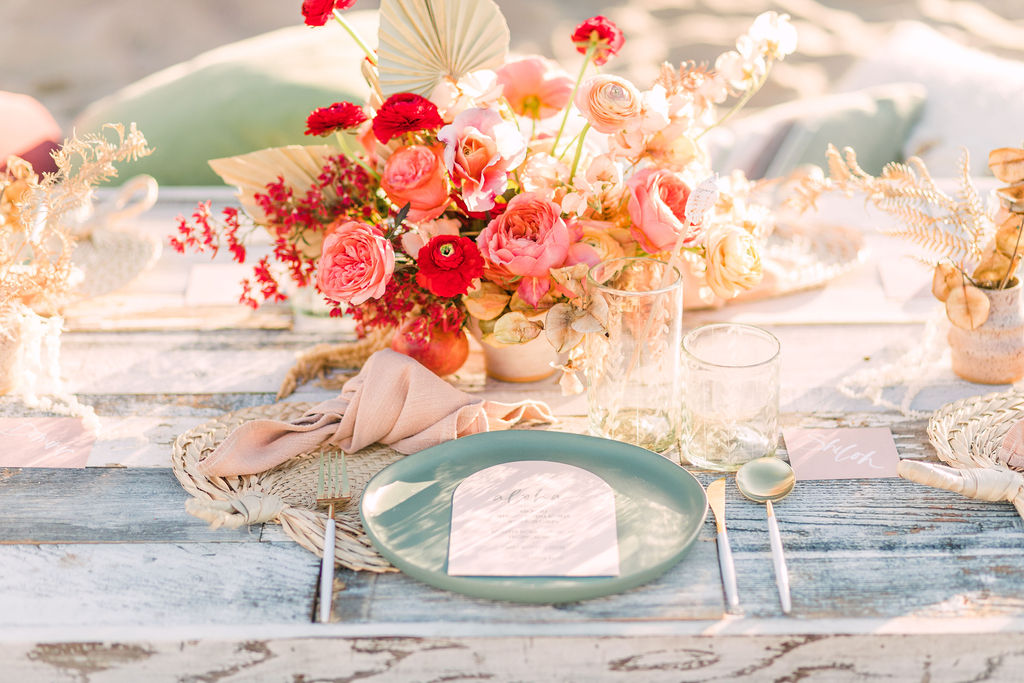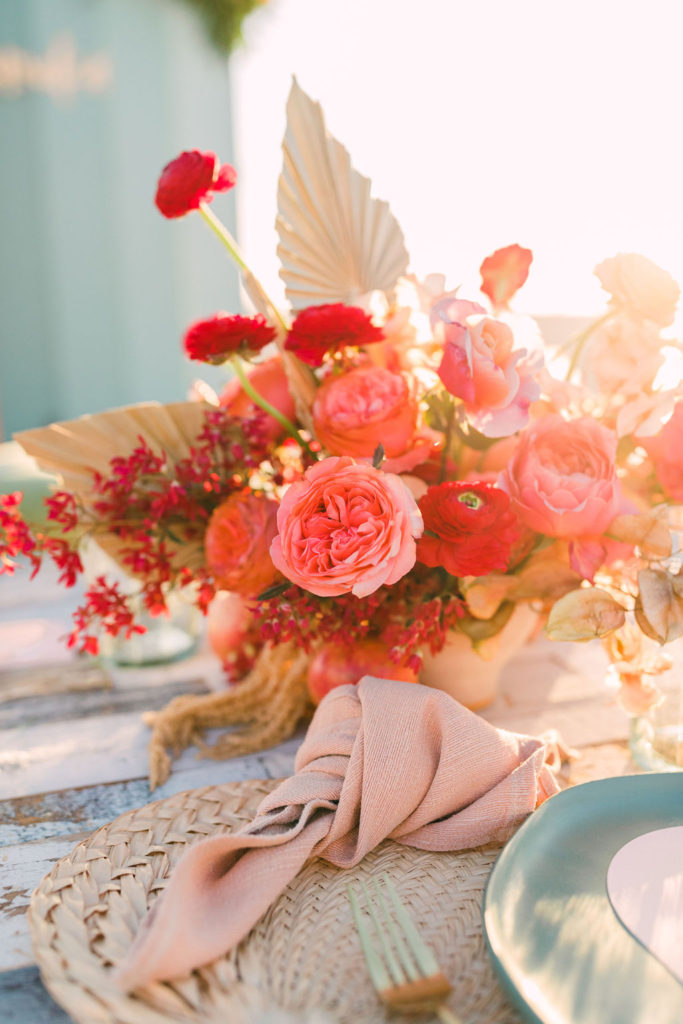 Don't you love this version of Christmas floral?! I love all of the textures and colors Not Just in Novels used!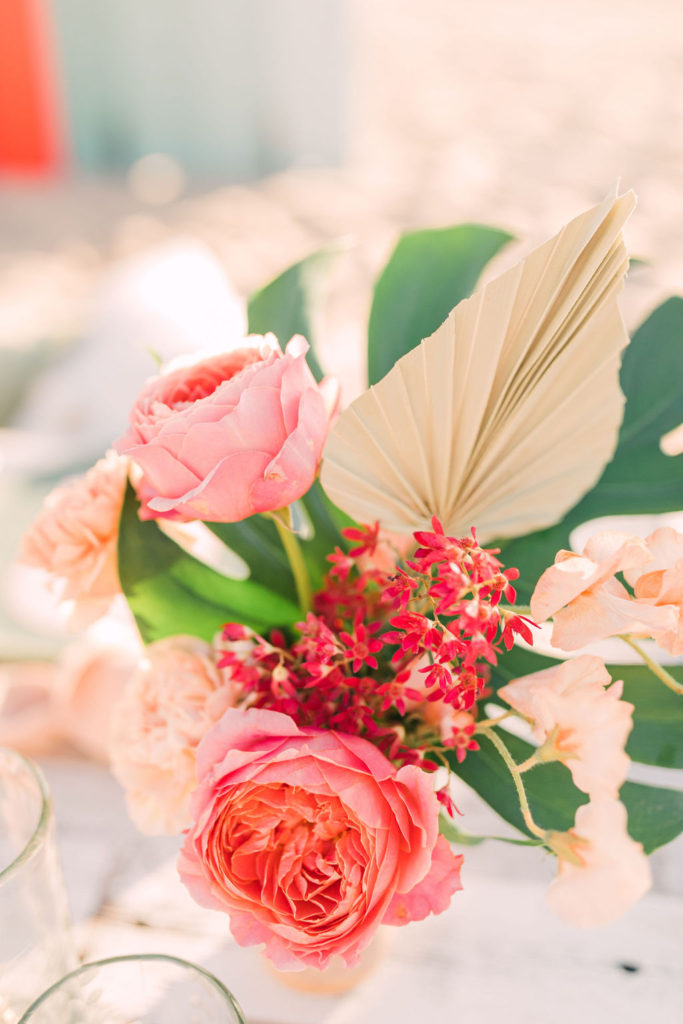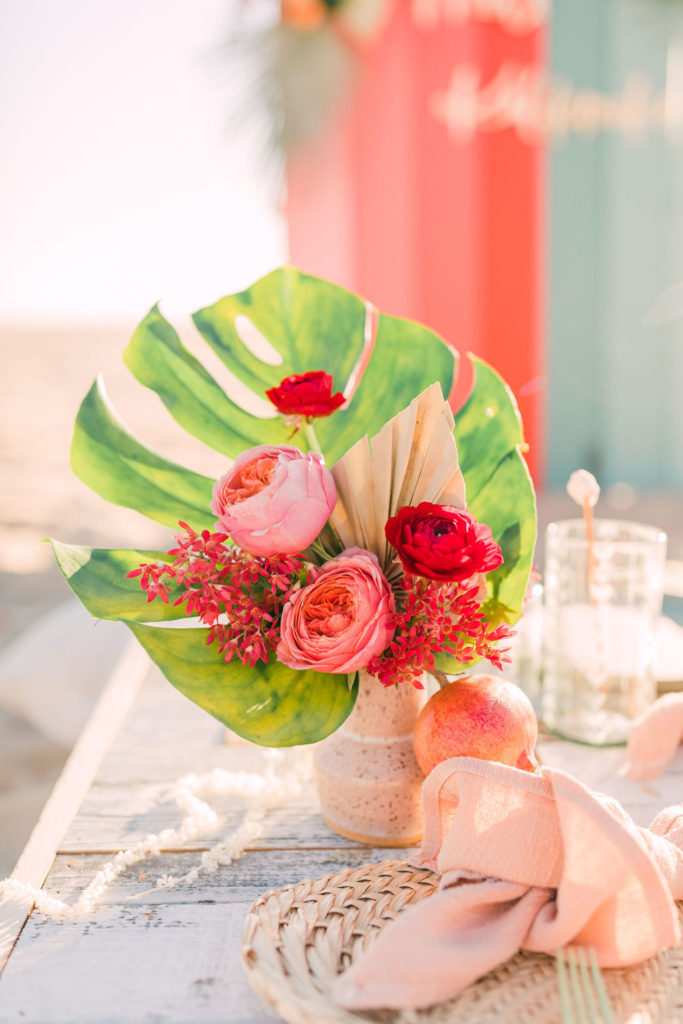 The tabletop items were a bit of a hodgepodge with all the different companies, but together it really worked. I love it all!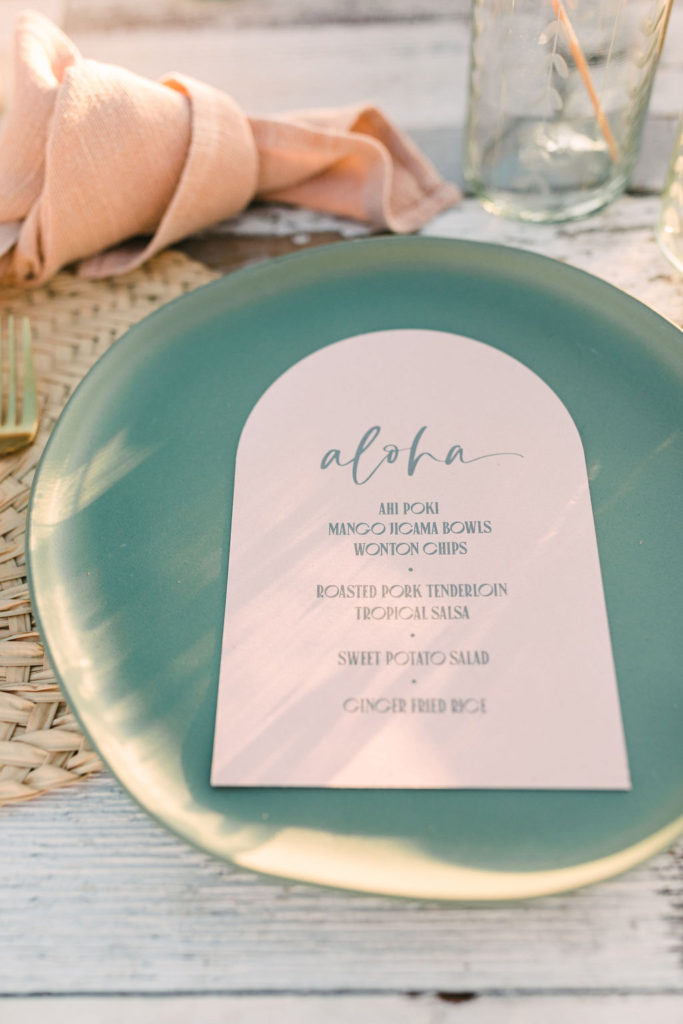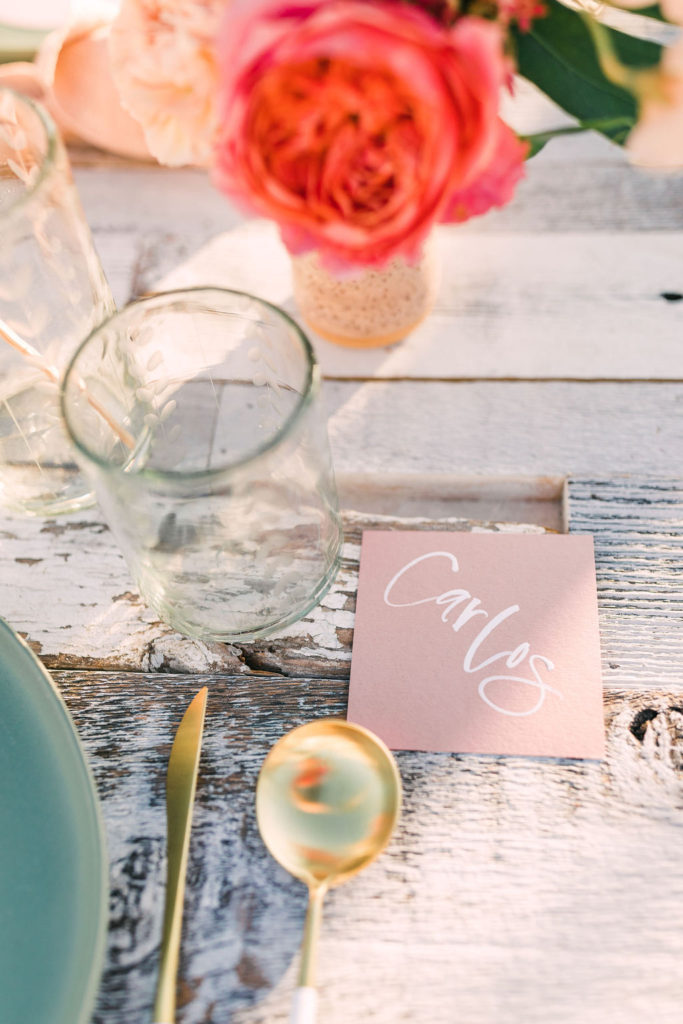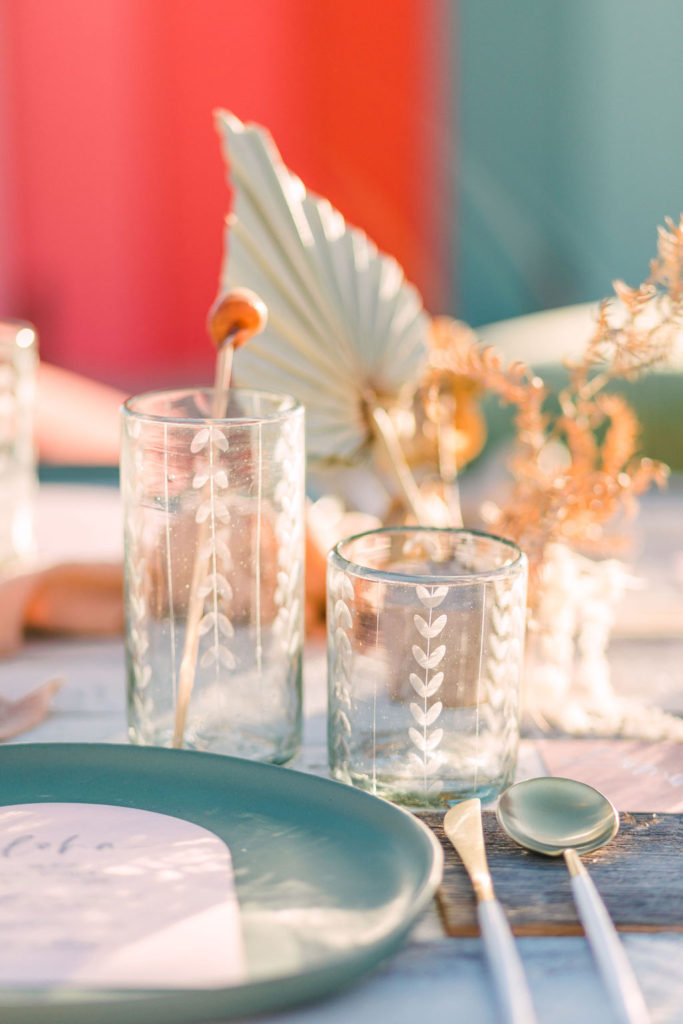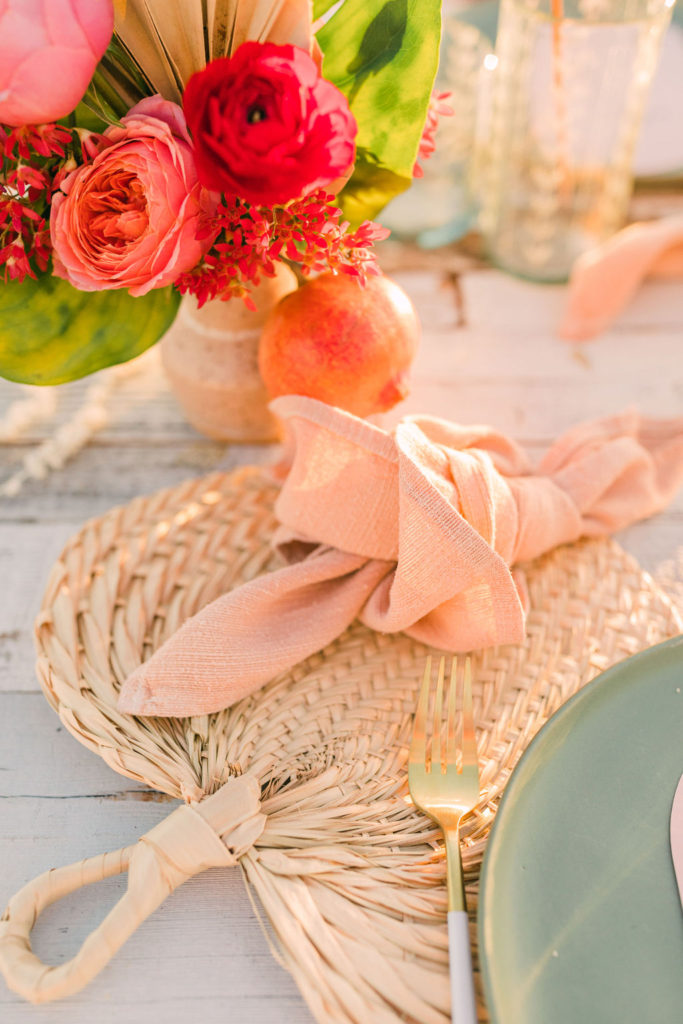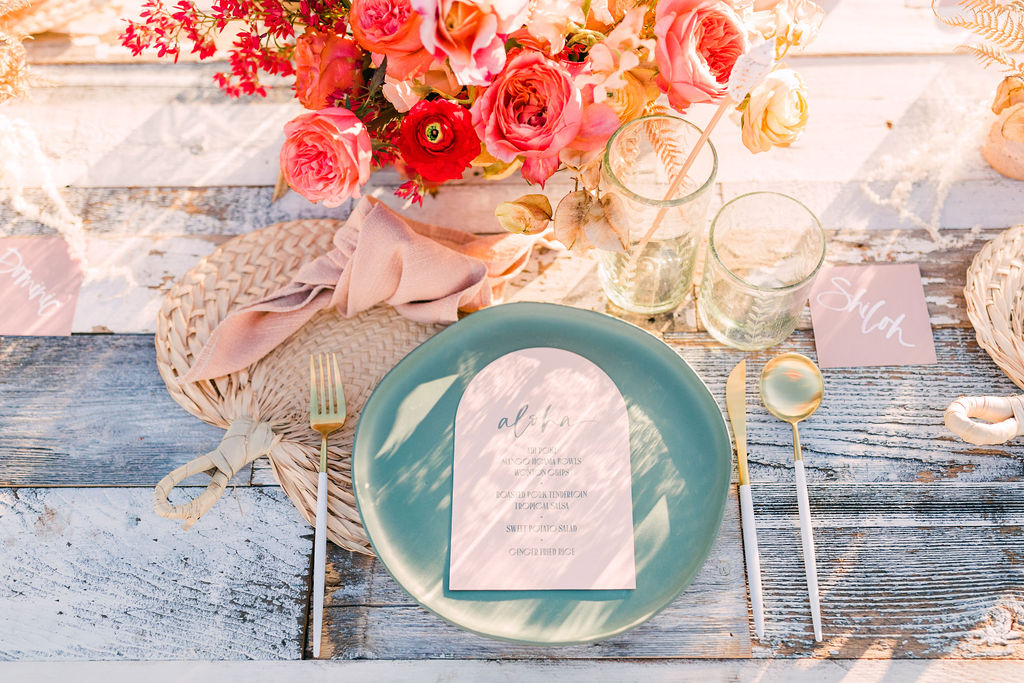 I hope you love this one as much as I do! We were all pretty smitten when we were shooting it, and so was everyone going by on the boardwalk! Haha! Sorry in advance, but Jessica just took so many beautiful photos, I kind of went overboard…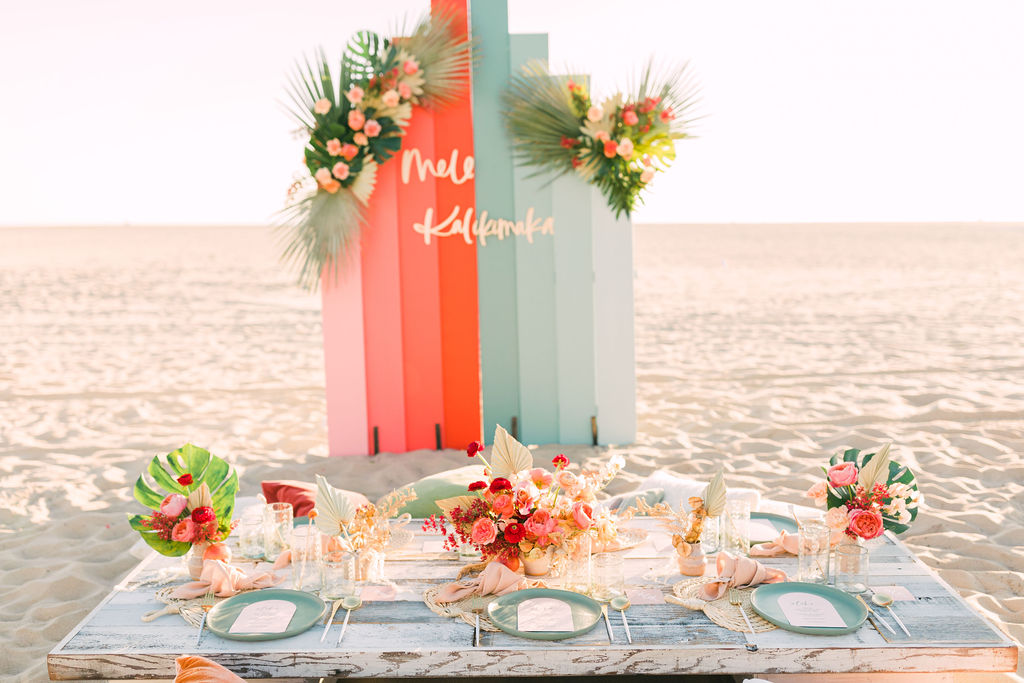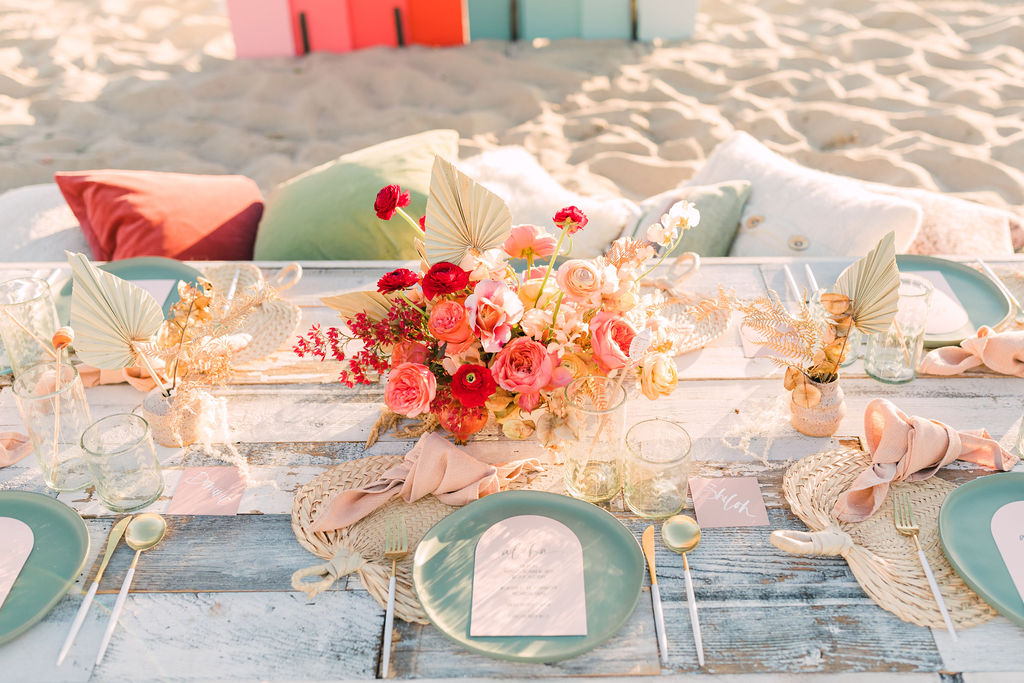 I just can't with those flowers… I mean, come on!!!!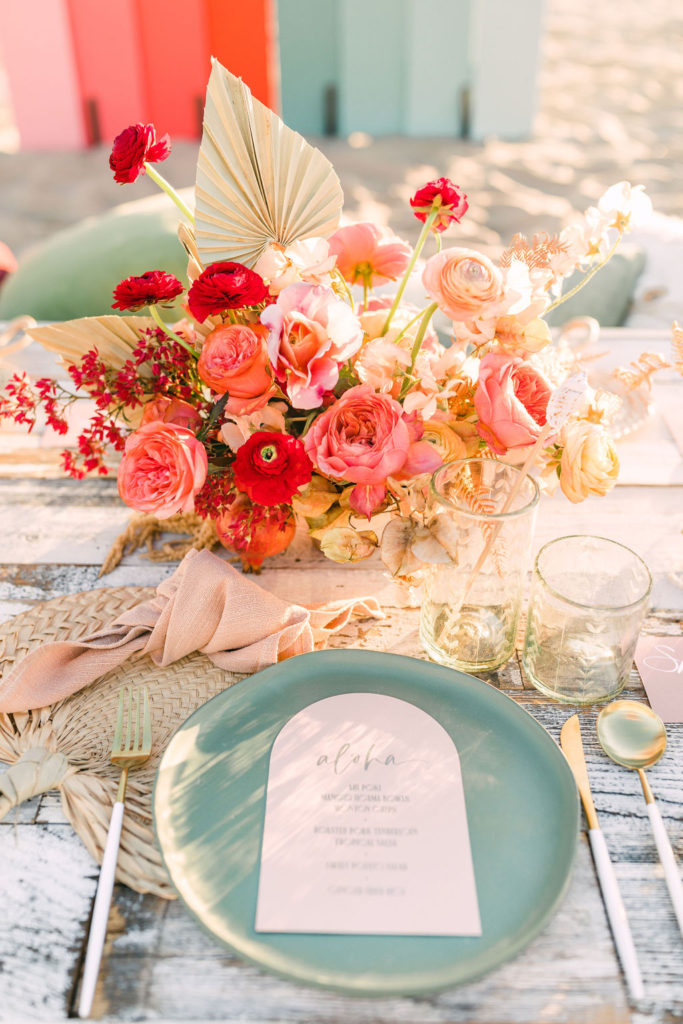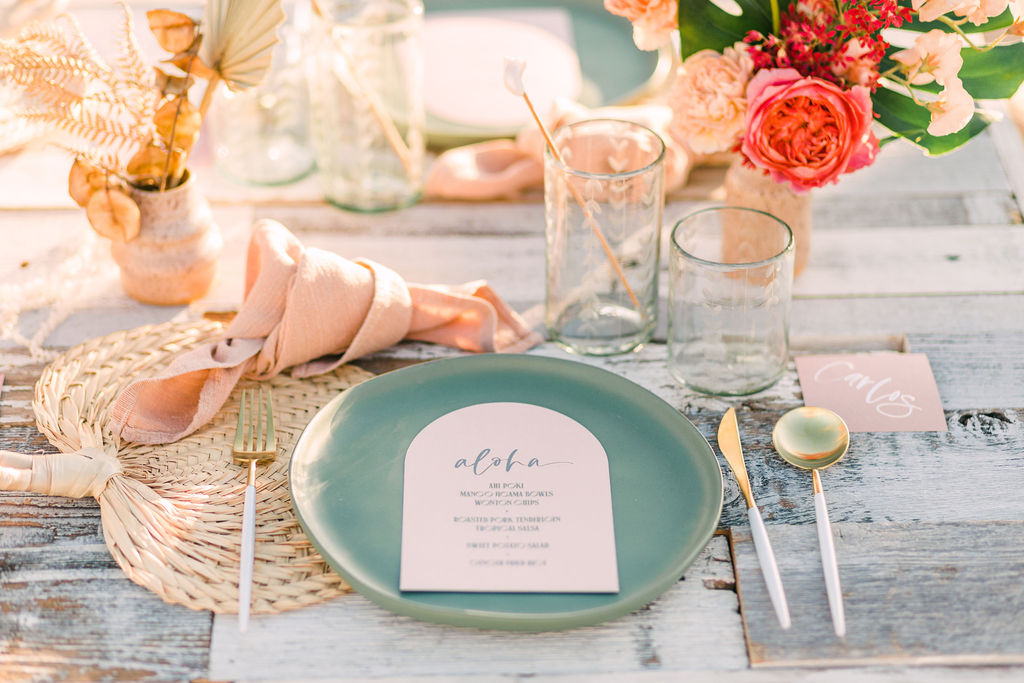 We've always gotta get that pretty overhead shot!!!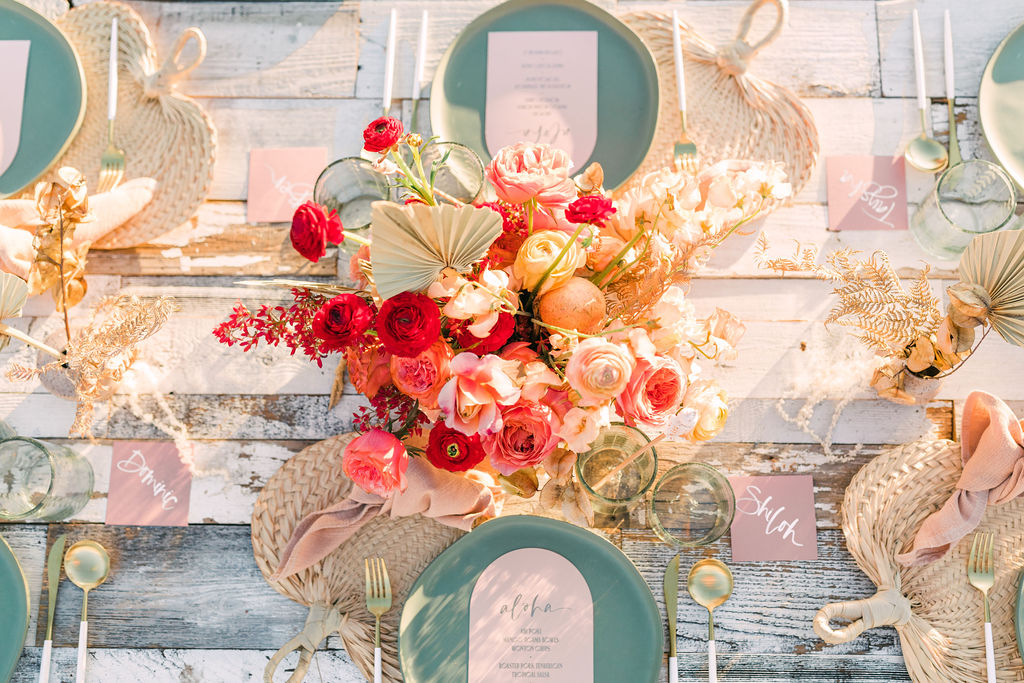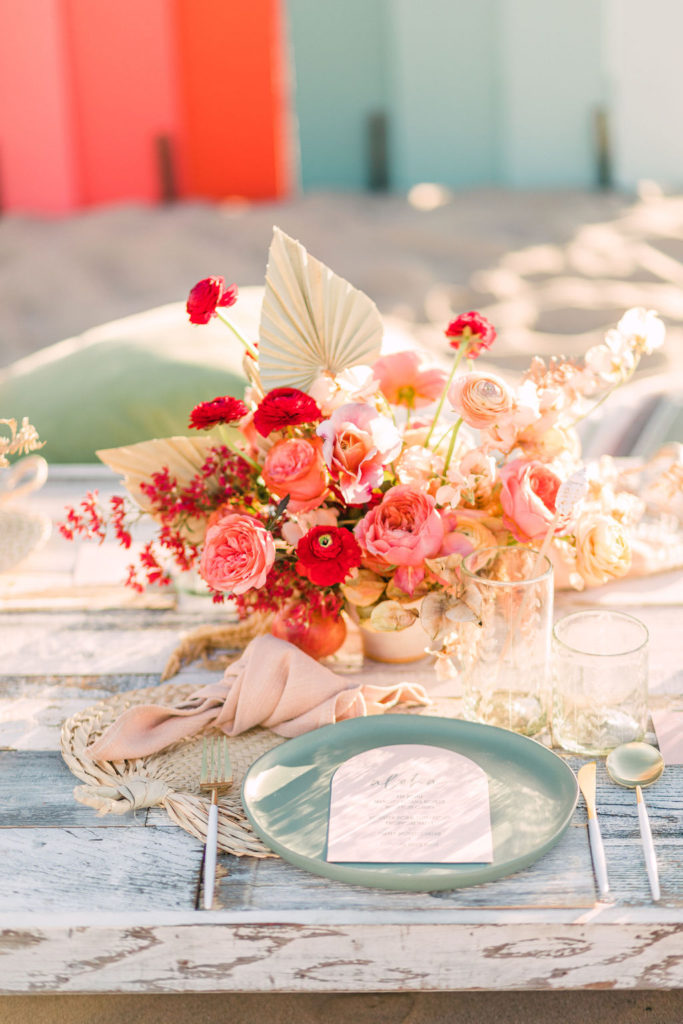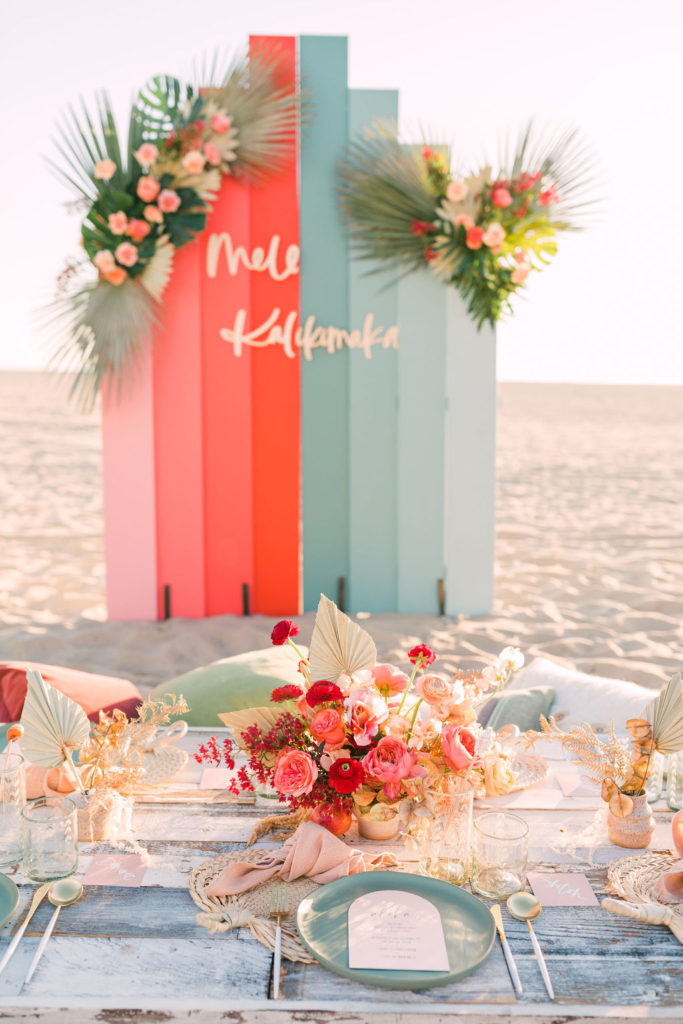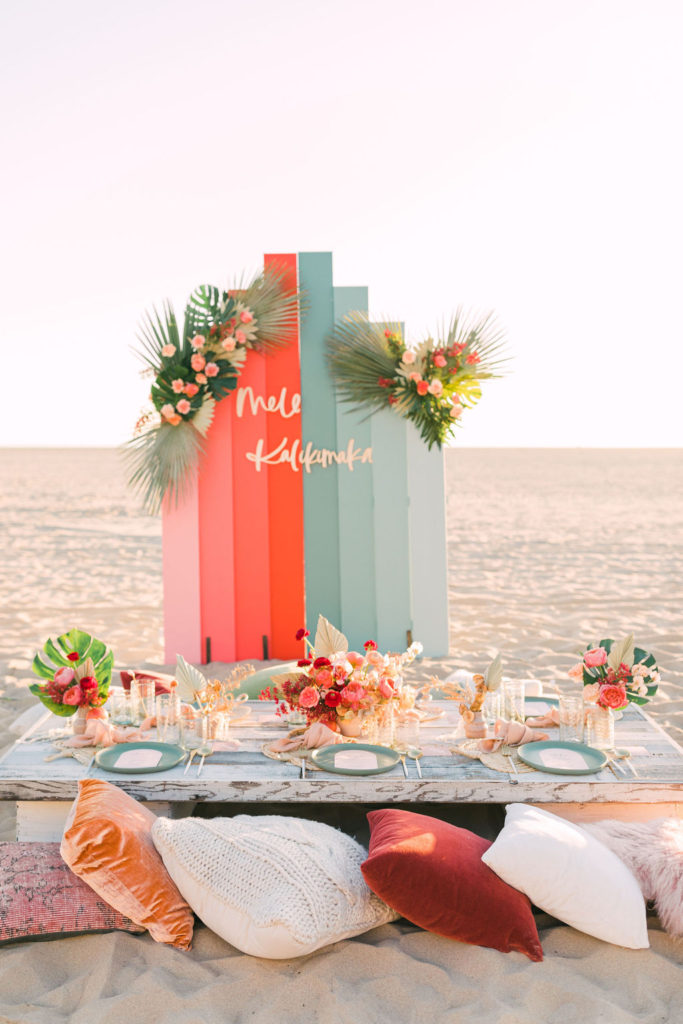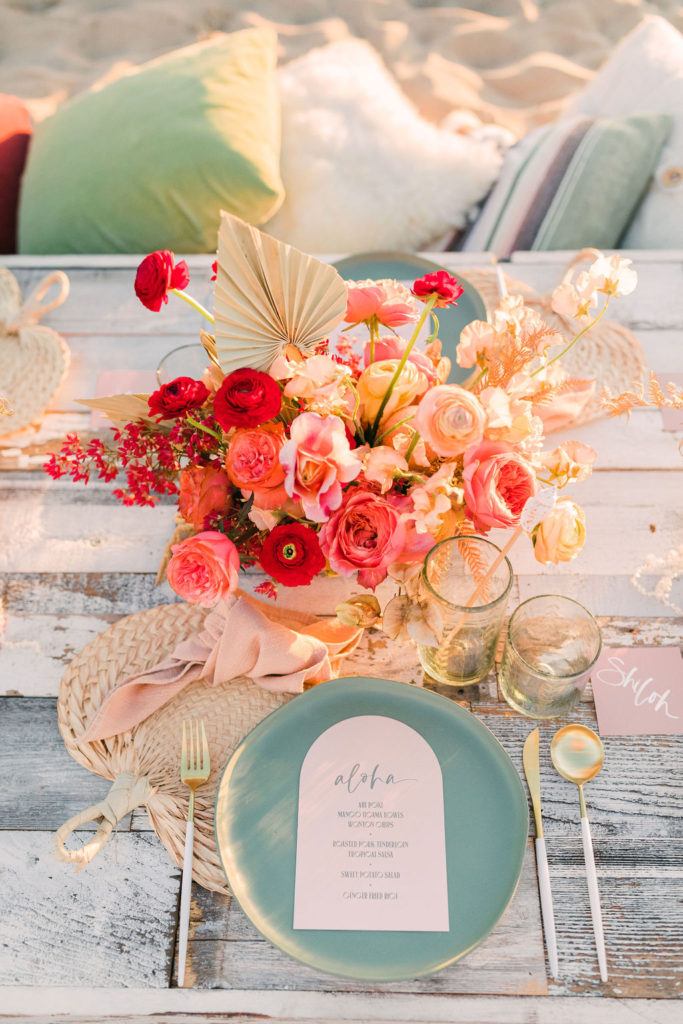 Let's give that pretty backdrop from Sweet Salvage Rentals the attention it deserves!!! Aren't the colors fun that we painted it with? I love the variance of holiday colors!! And boy did Krista from Not Just in Novels do a gorgeous install! And well, you can never go wrong with that pretty sunset beach light…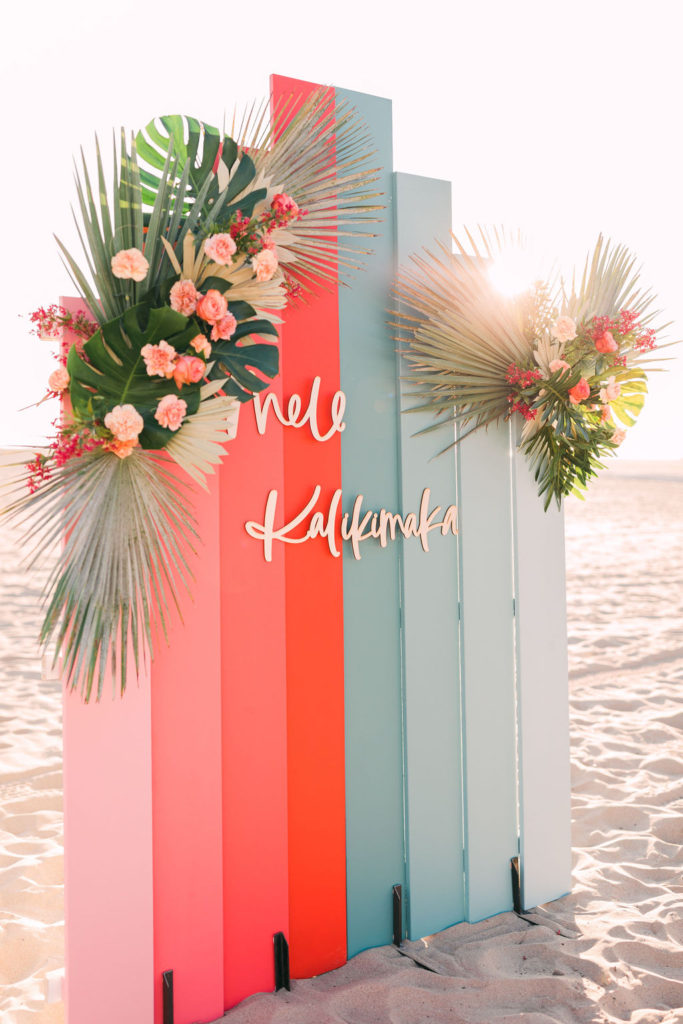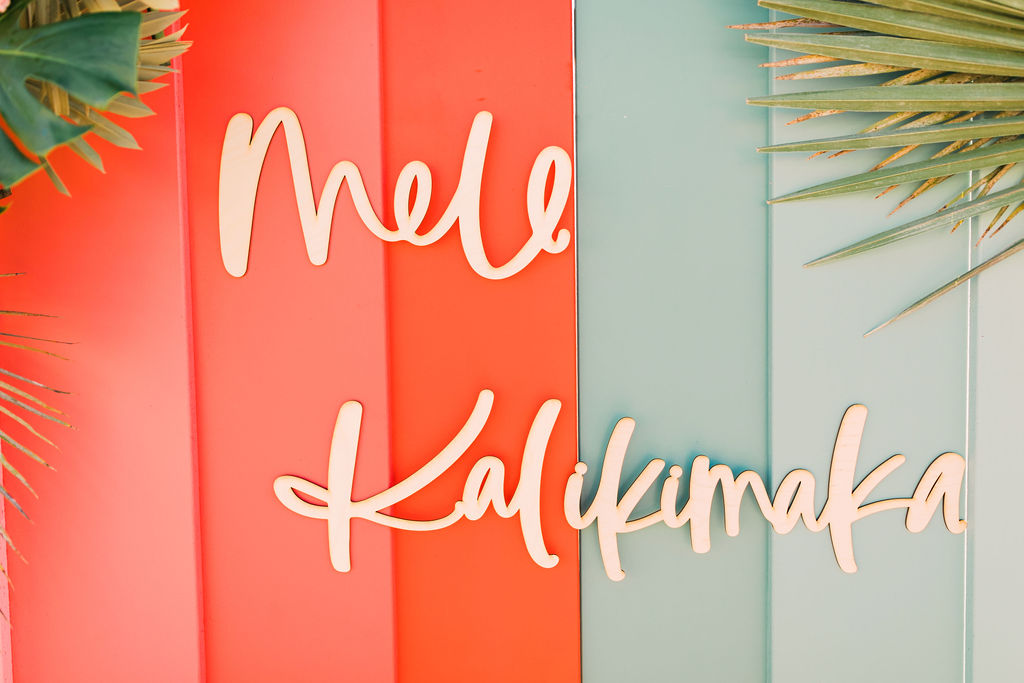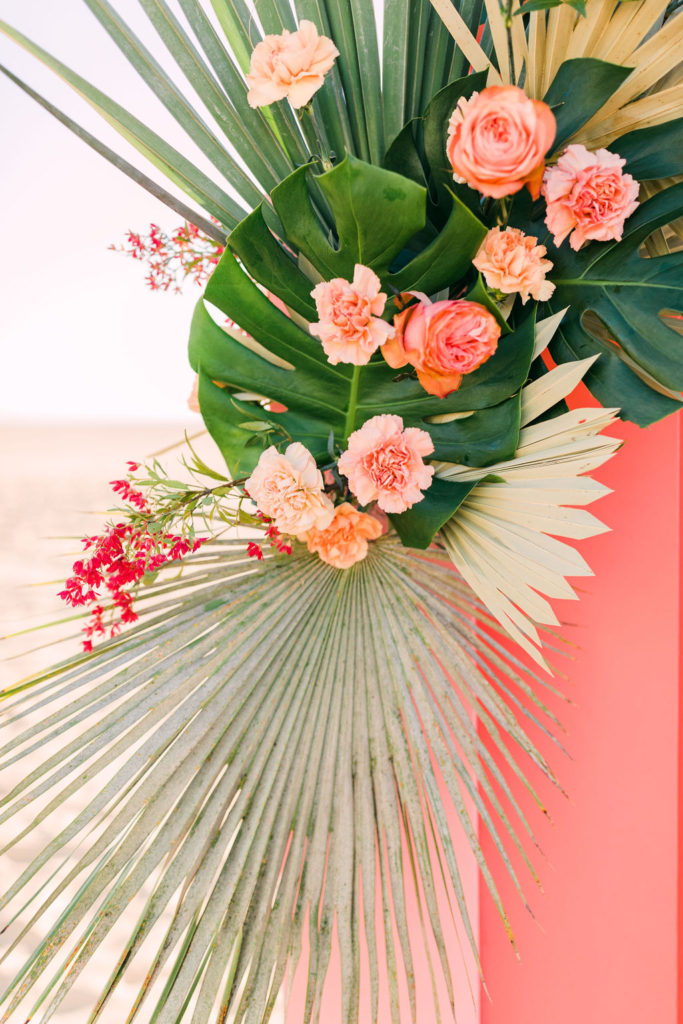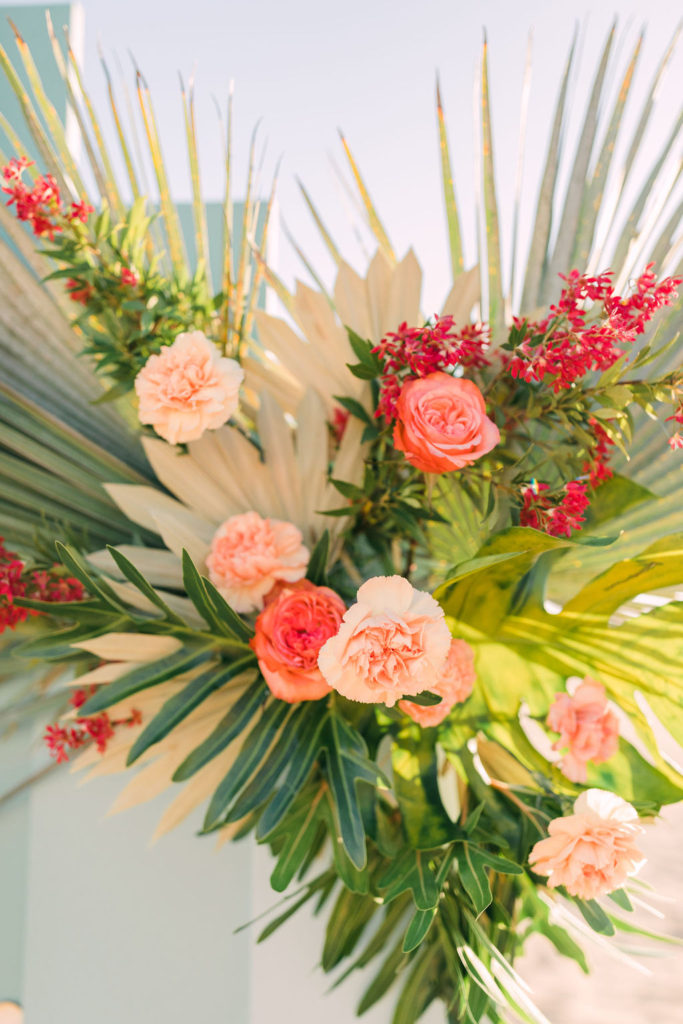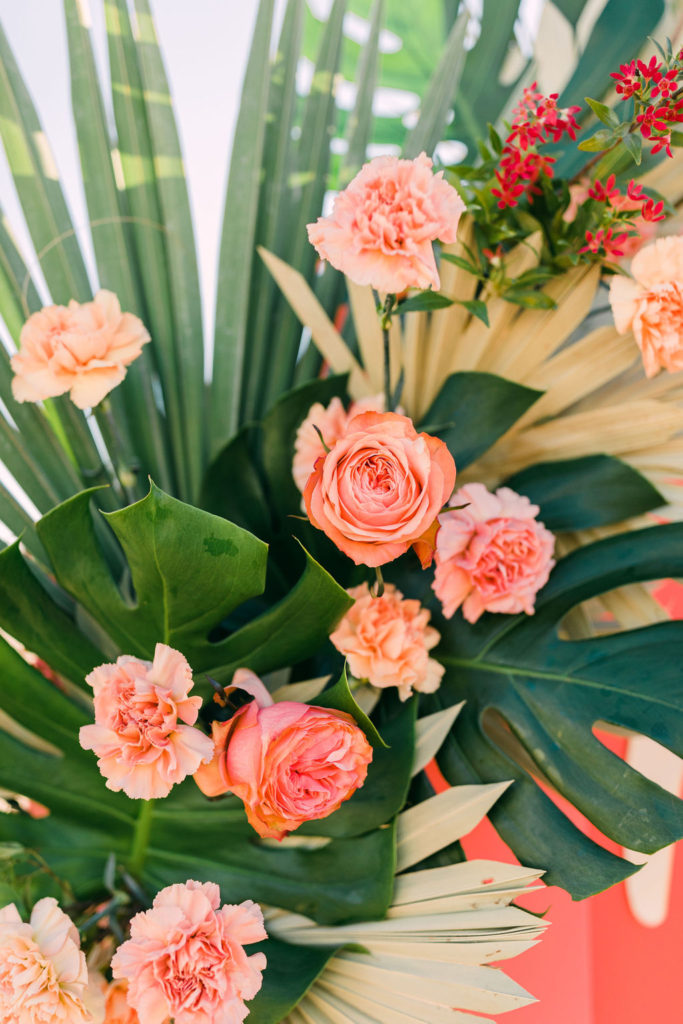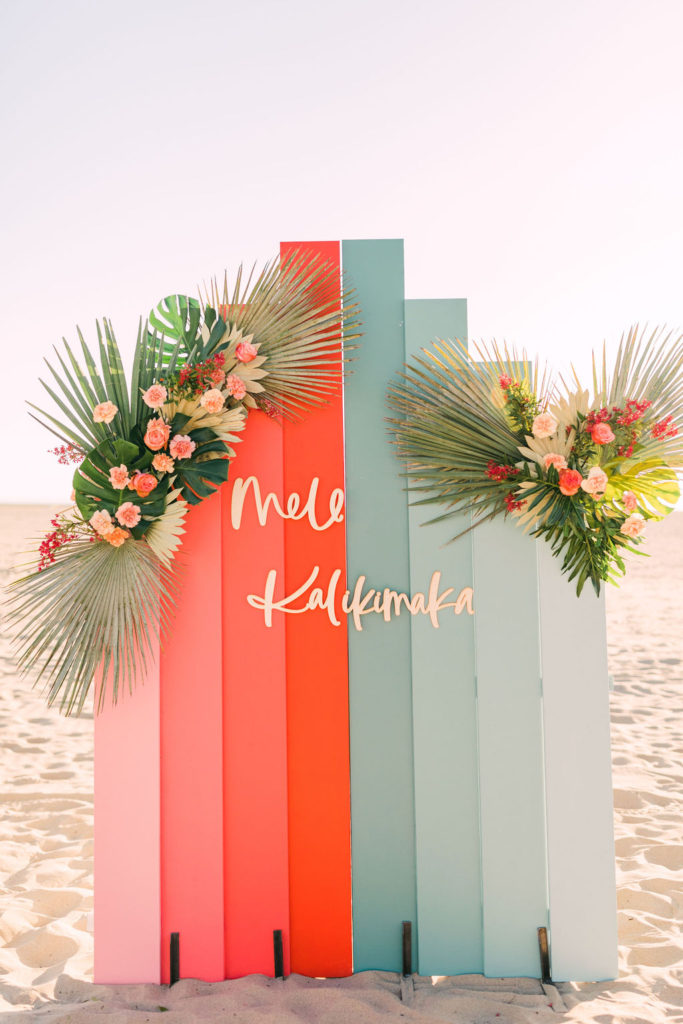 You didn't think we'd stop at just a set up, did you?! We are not minimalistic when it comes to throwing a party, haha! You better believe there was a pretty lounge, bar, cocktails and delicious food involved!!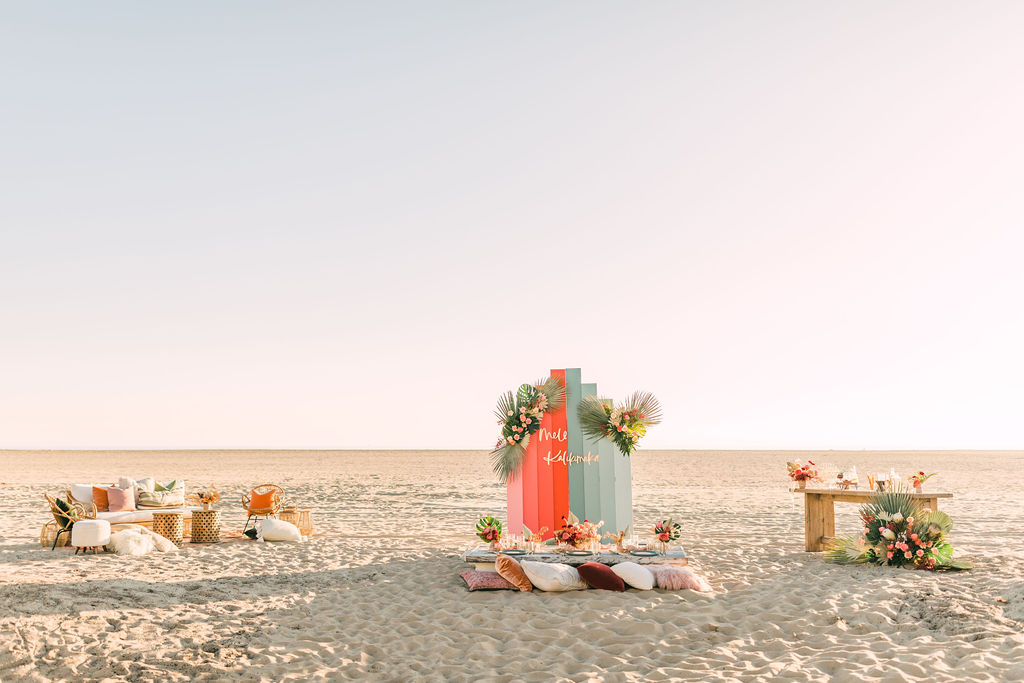 Sweet Salvage Rentals does it again with her amazing lounge styling. Plus, she used all of her pretty rattan pieces, and you know how we feel about rattan over here… We LOVE it!!! She also added different textures and colors via all her amazing textiles. To sum it up, this lounge is perfection!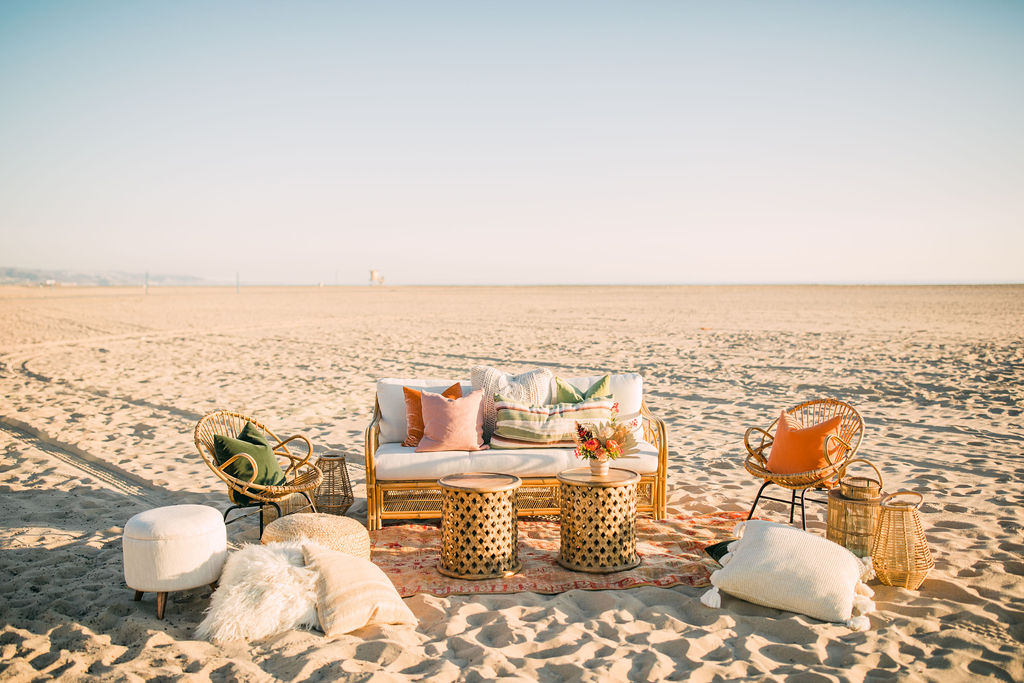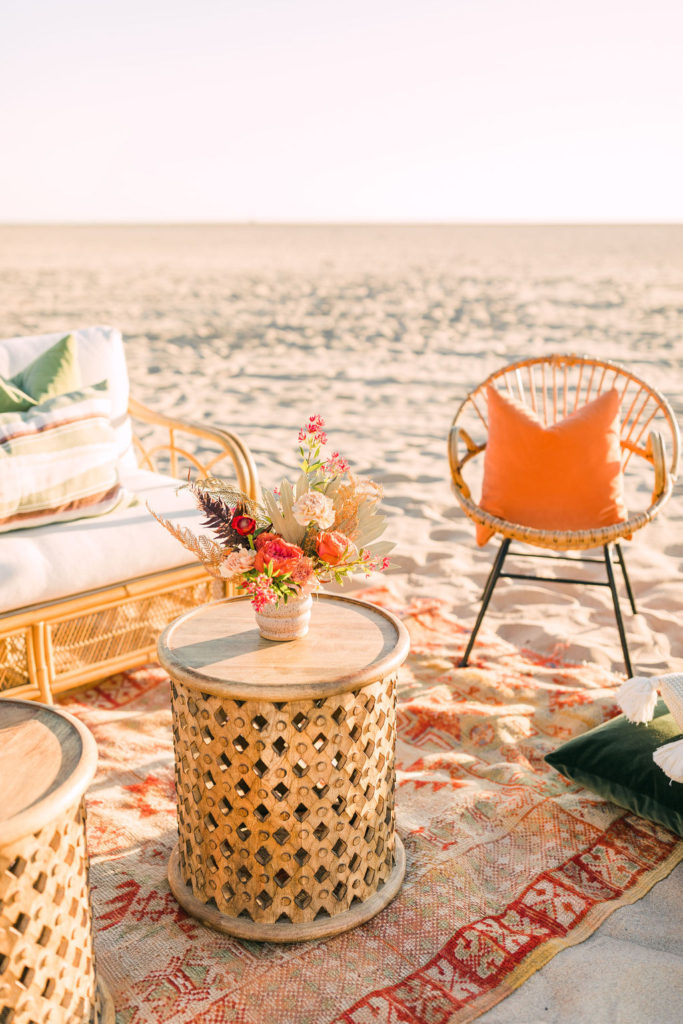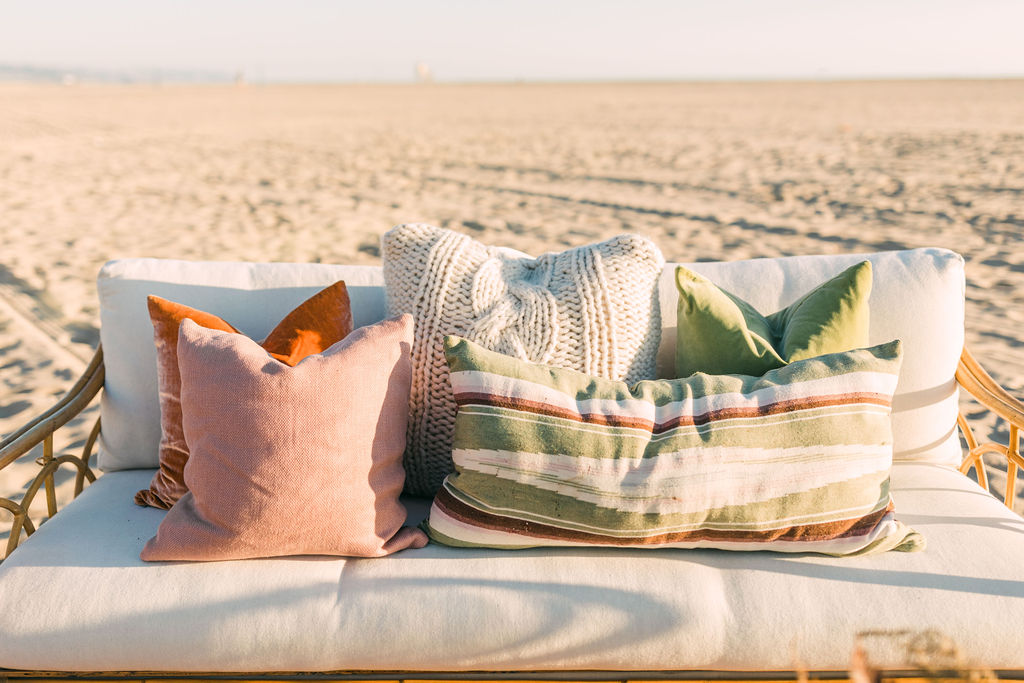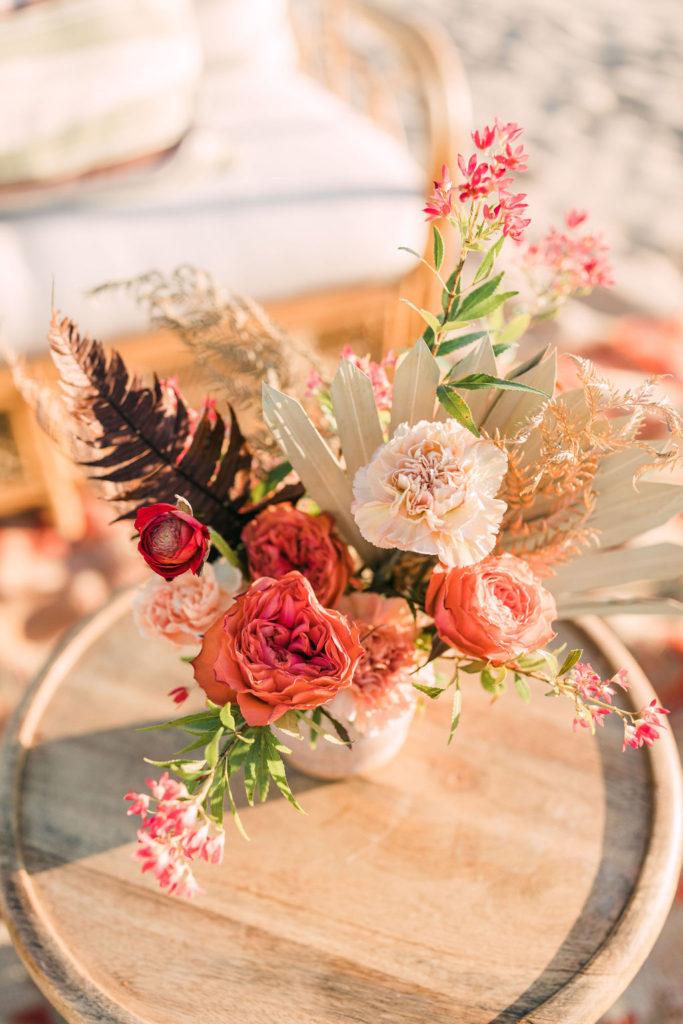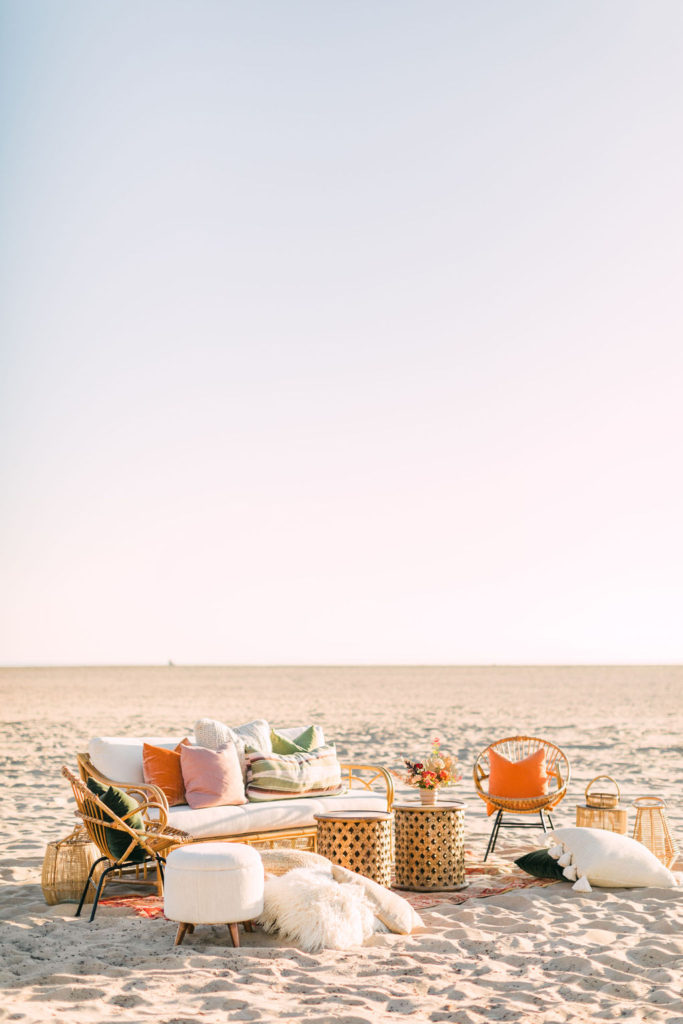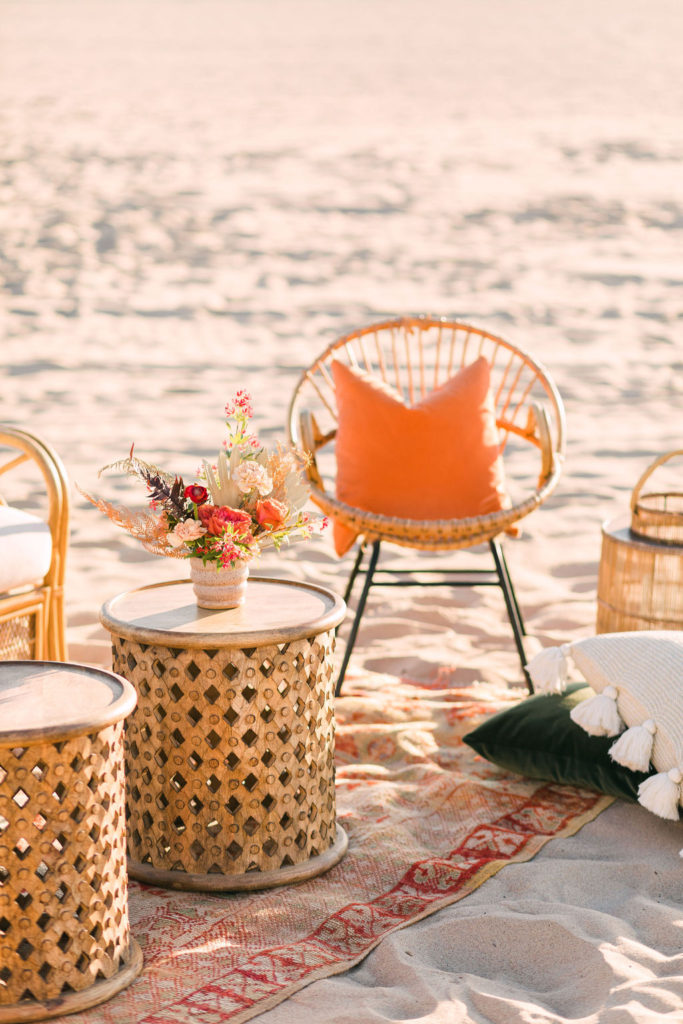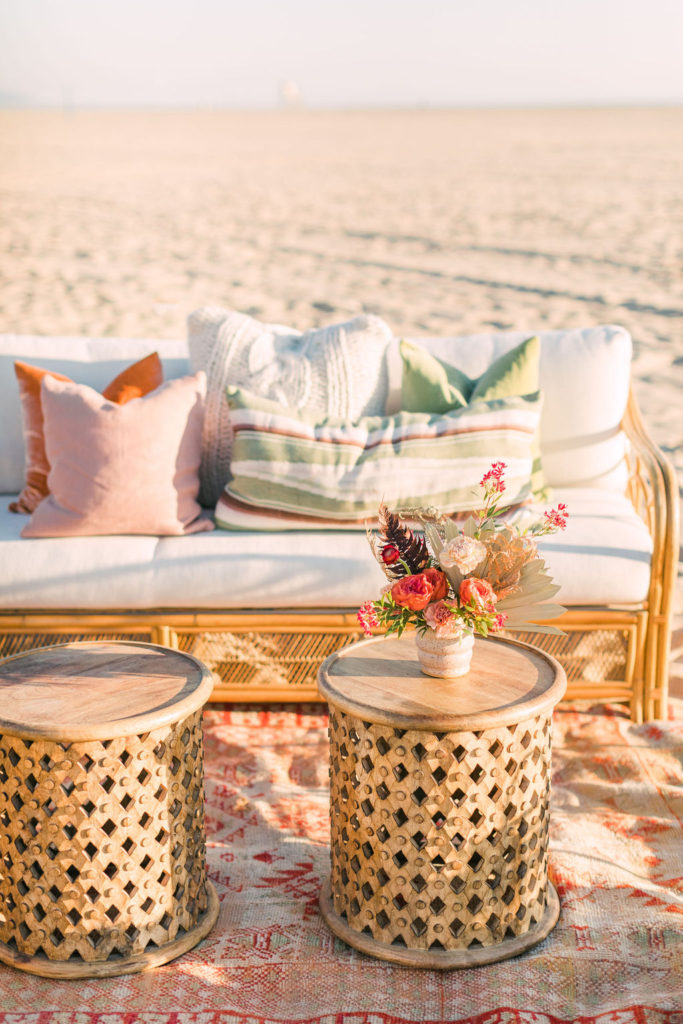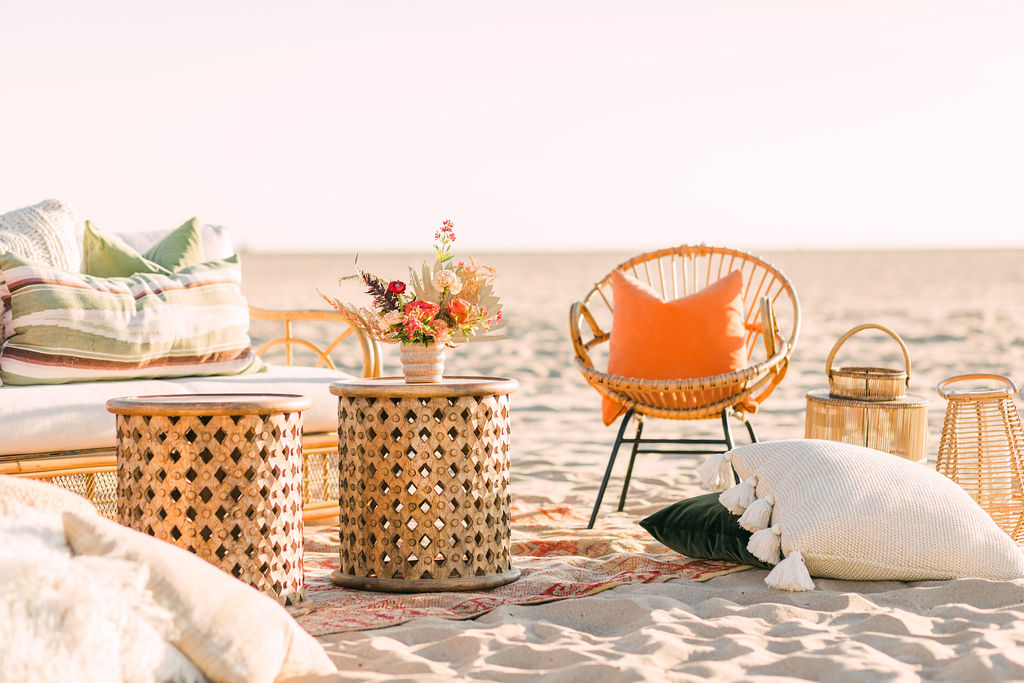 Now for the bar! This is exactly where you'd find me, friends! The holidays call for all the fun, and this is the right place to start! Plus, the girls at Bottles and Blooms more than took care of us for this one! Don't worry, recipes are below! But first, we need to take a moment for how pretty this set up is, including that gorgeous floor arrangement by Not Just in Novels.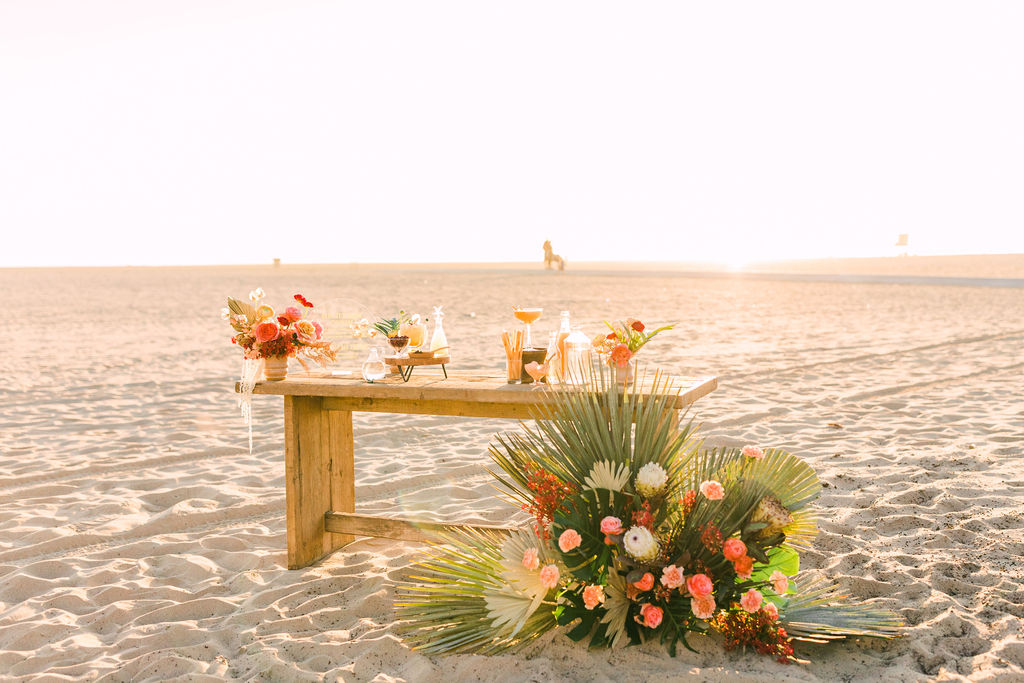 Isn't this bar sign by Bare Ink Co so cute?! I love the unique shape and that you can layer the florals behind it.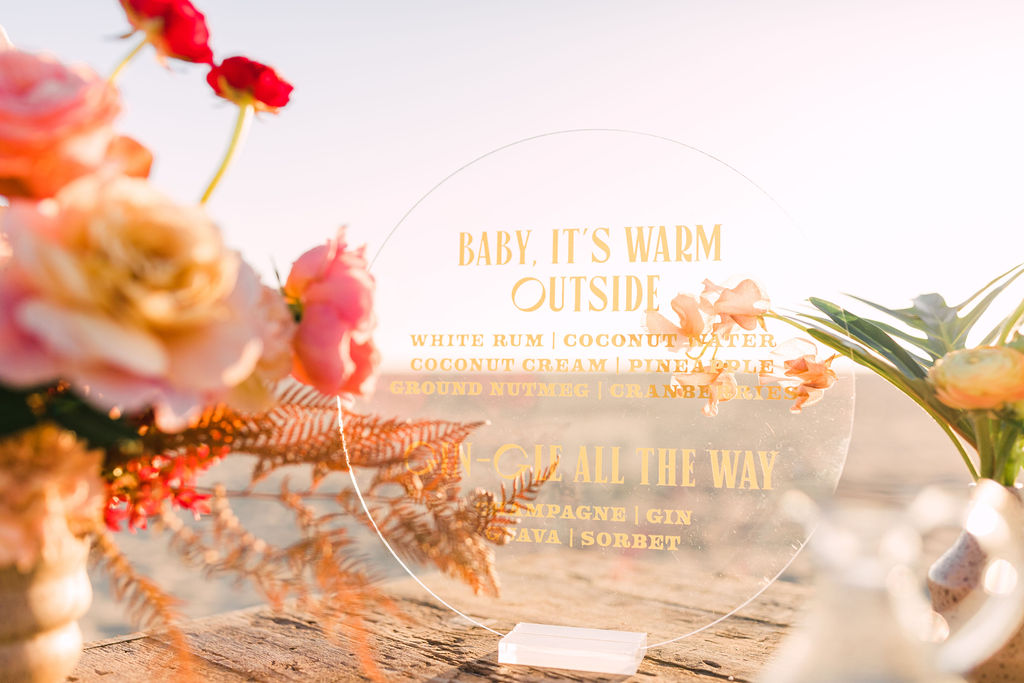 Not only do Bottles & Blooms create delicious cocktails but they also style their bars so beautifully!!!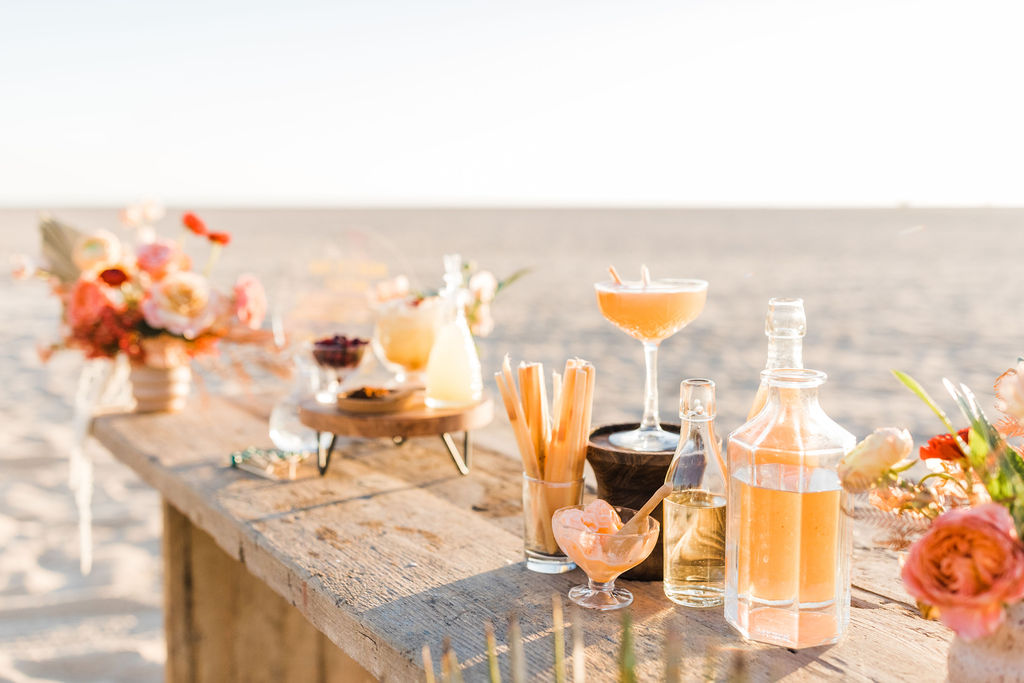 Let's get down to the recipes… You know you want to make these! They have just the right touch of festive and tropical, they were absolutely delicious!! Bottles and Blooms, never stop spoiling us!!
Gin-gle all the way
In a shaker with ice add:
1.5oz Gin
2oz Guava Juice
Shake until content are combined
Strain contents into a coupe
Top with 2oz of Champagne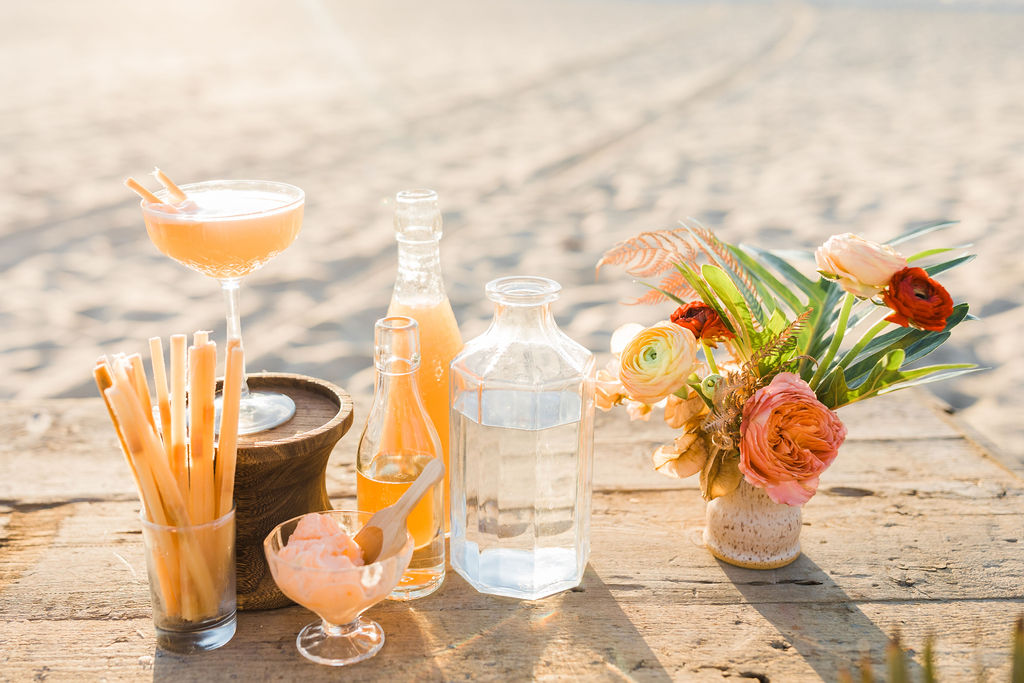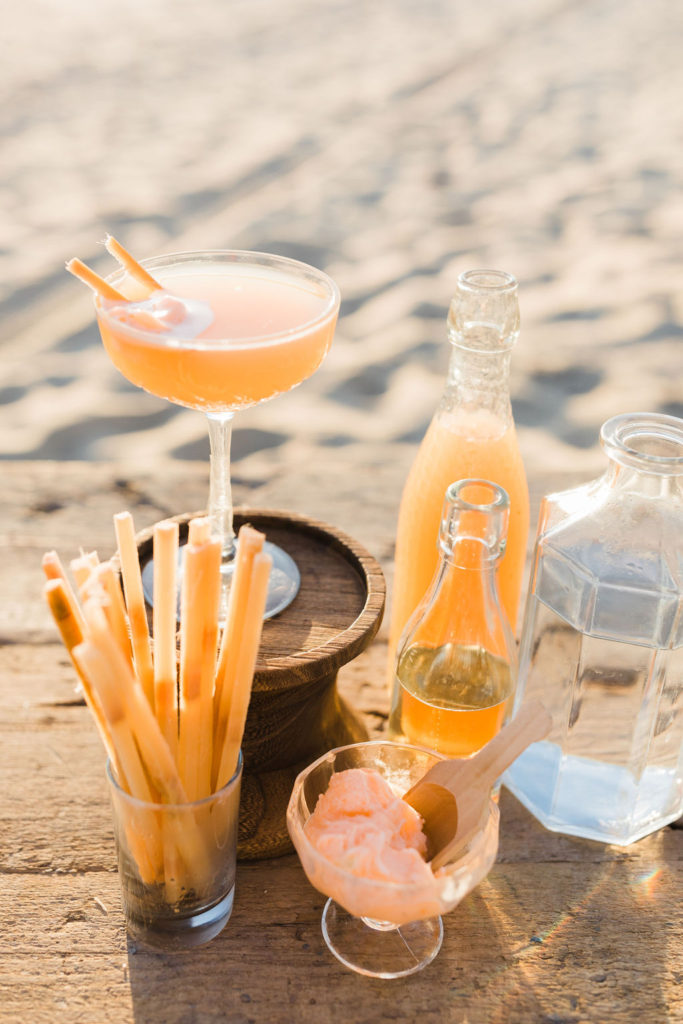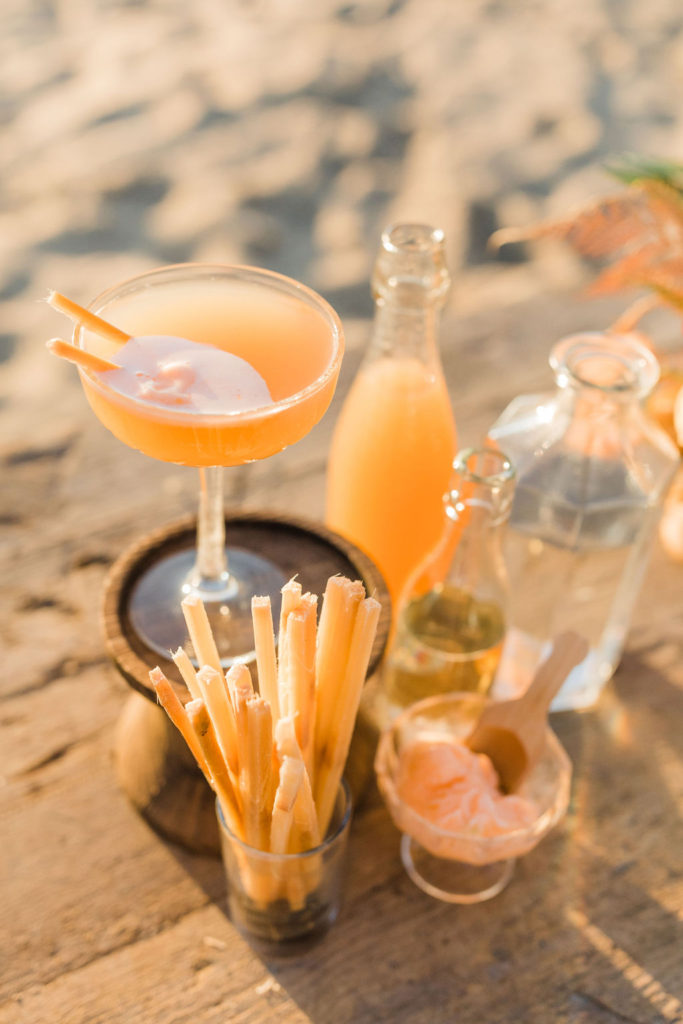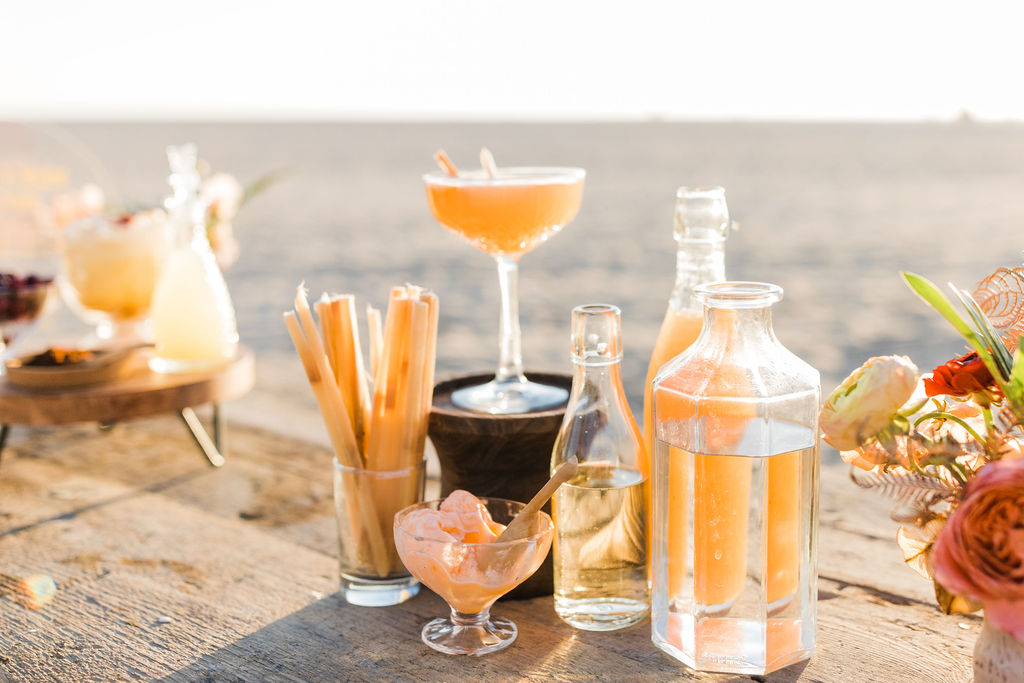 Baby, it's Warm outside
In a shaker with ice add:
1.5oz White rum
.5oz Coconut cream
2oz Pineapple Juice
Pinch Fresh ground nutmeg
Shake until contents are combined
Pour contents into glass
Top with 2oz Sparkling Coconut water
Garnish with a sprinkle of Cinnamon
& Fresh Cranberries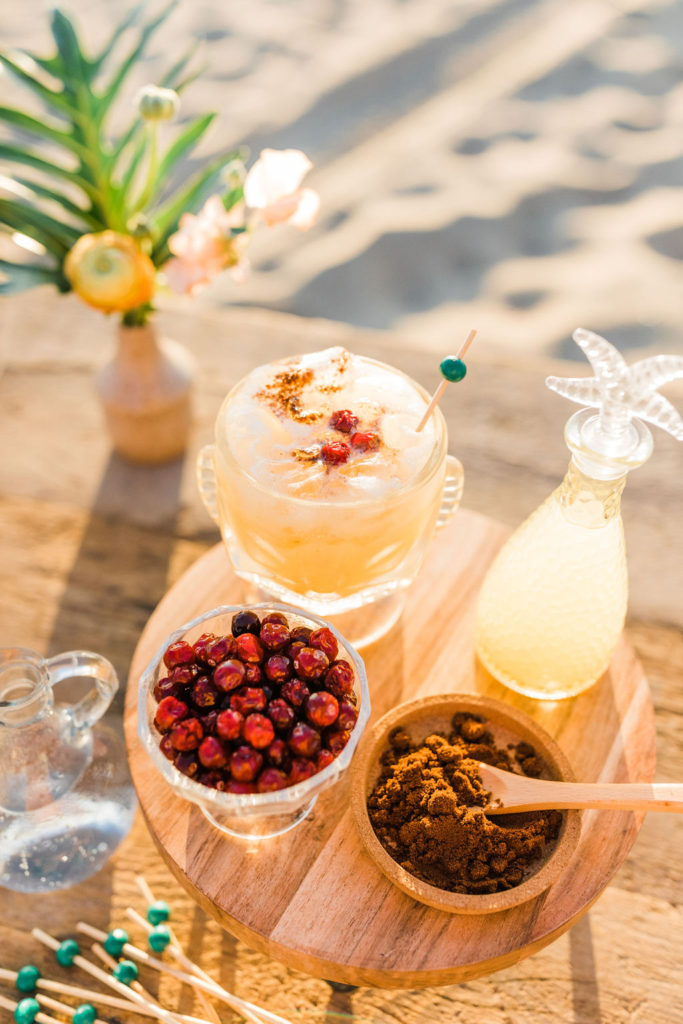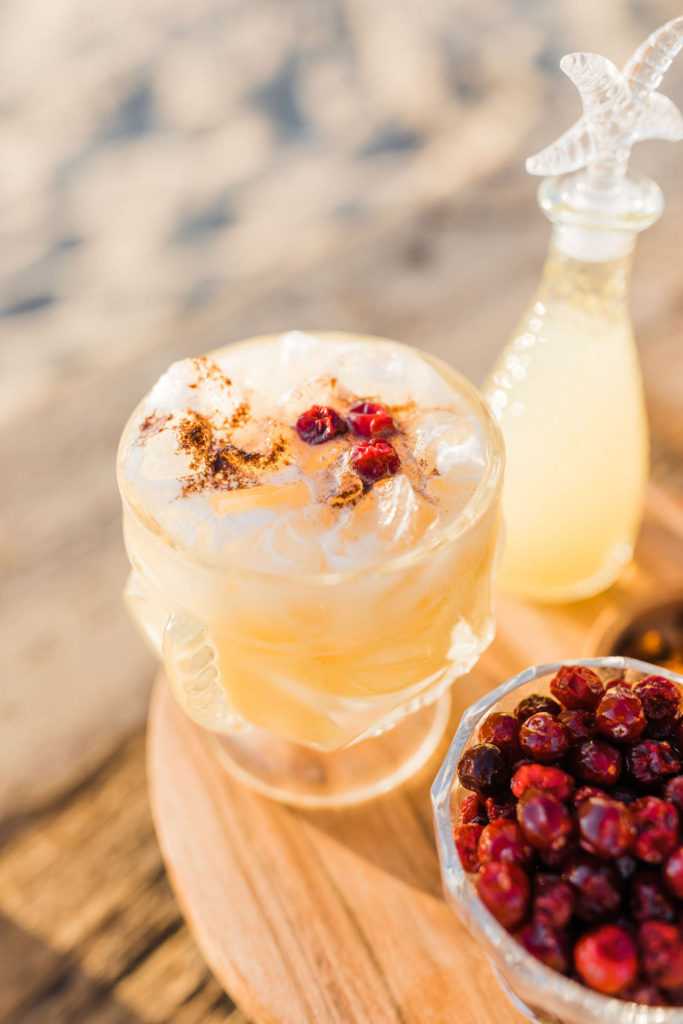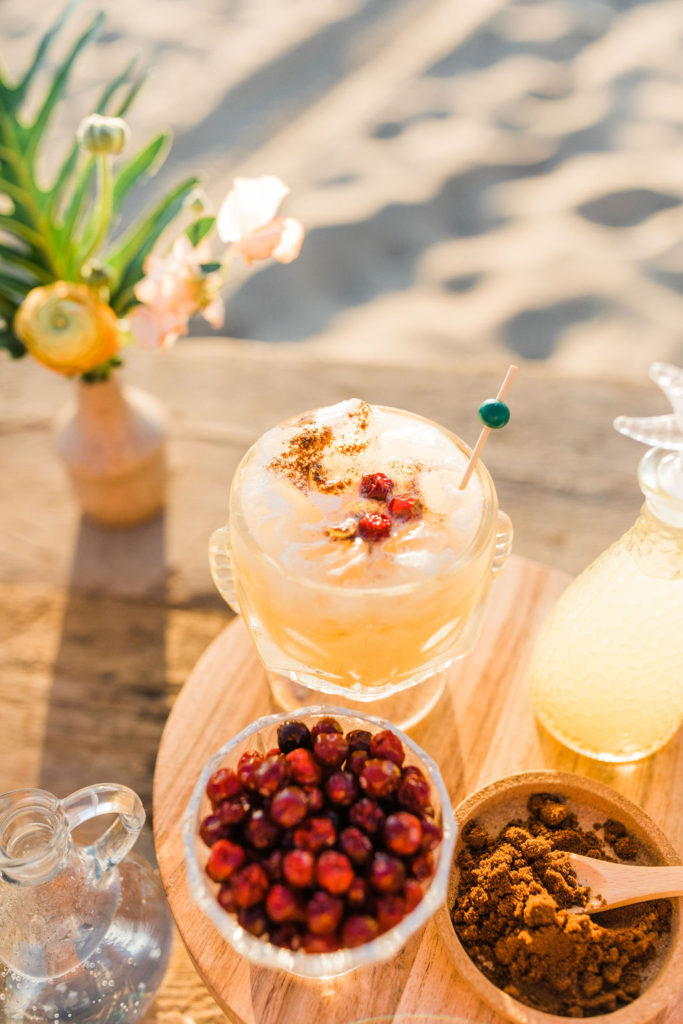 Cheers to that! If you don't try these cocktails at home, you're missing out friends!!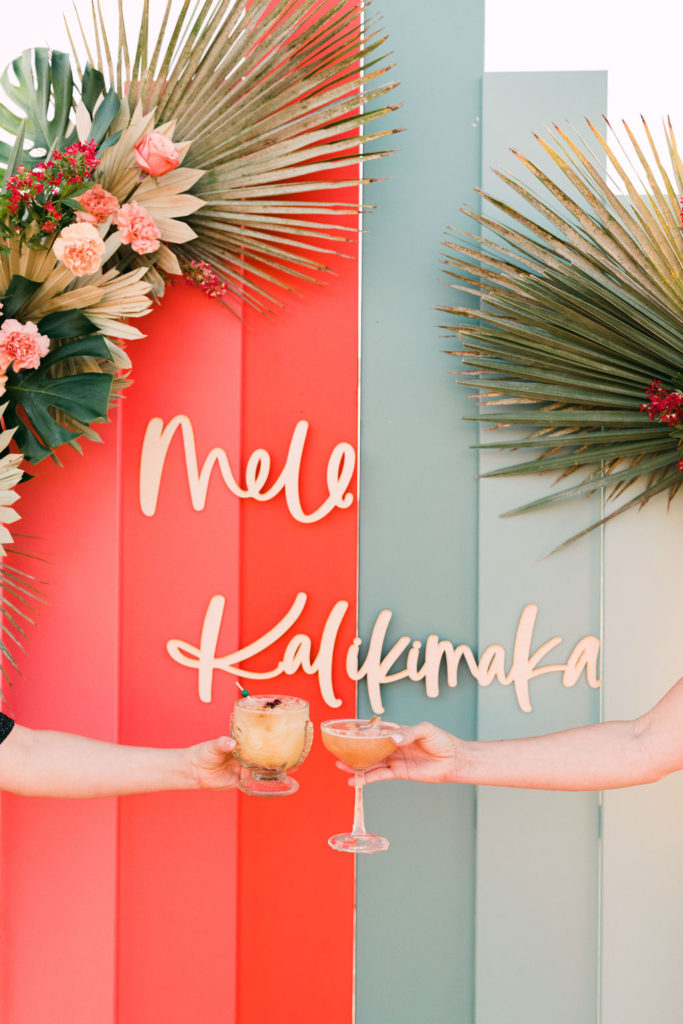 Onto the yummy bites by our friends at Colette's Catering! They created the perfect tropical menu for us to nosh on. Not only was it delicious but it was also very colorful and pretty. Don't you love when your food just works with your aesthetic??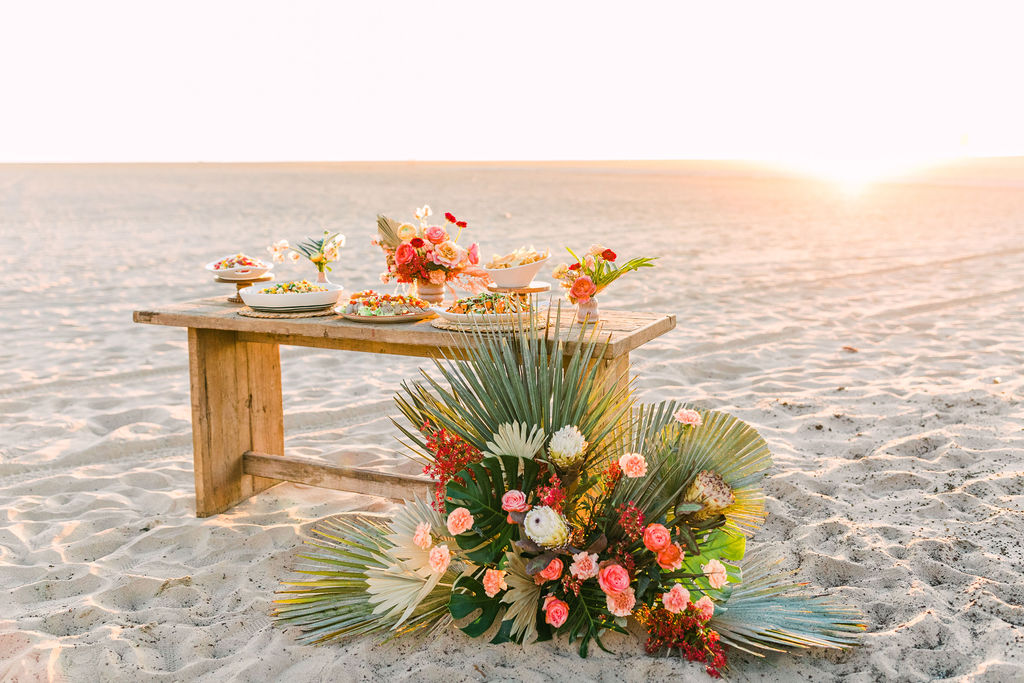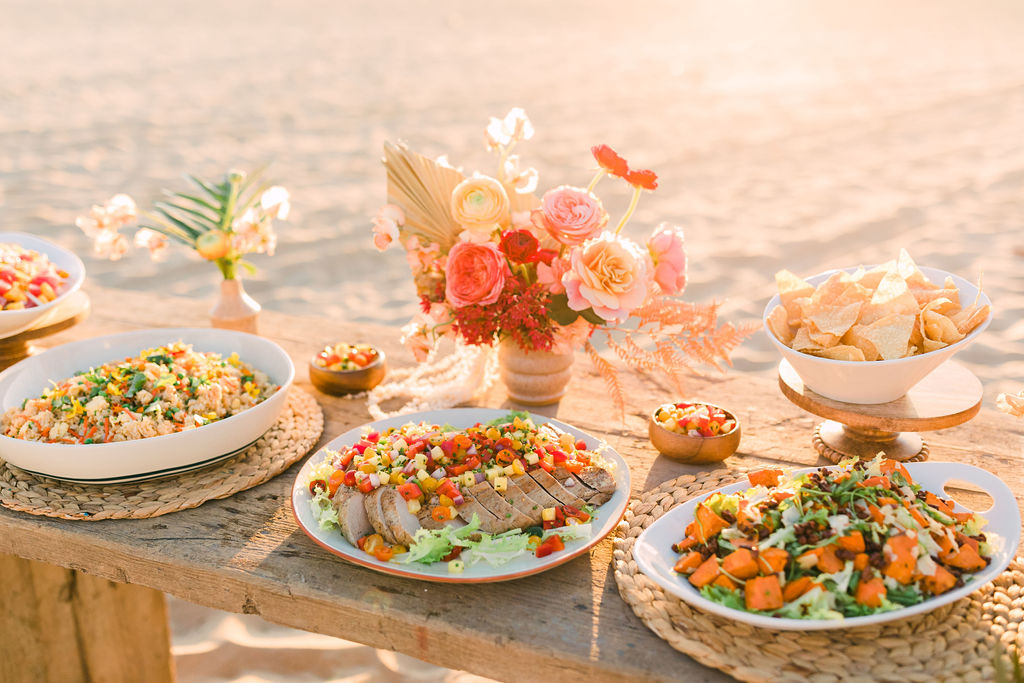 I love how fresh and yummy everything looks!! Makes me feel like I'm at a luau!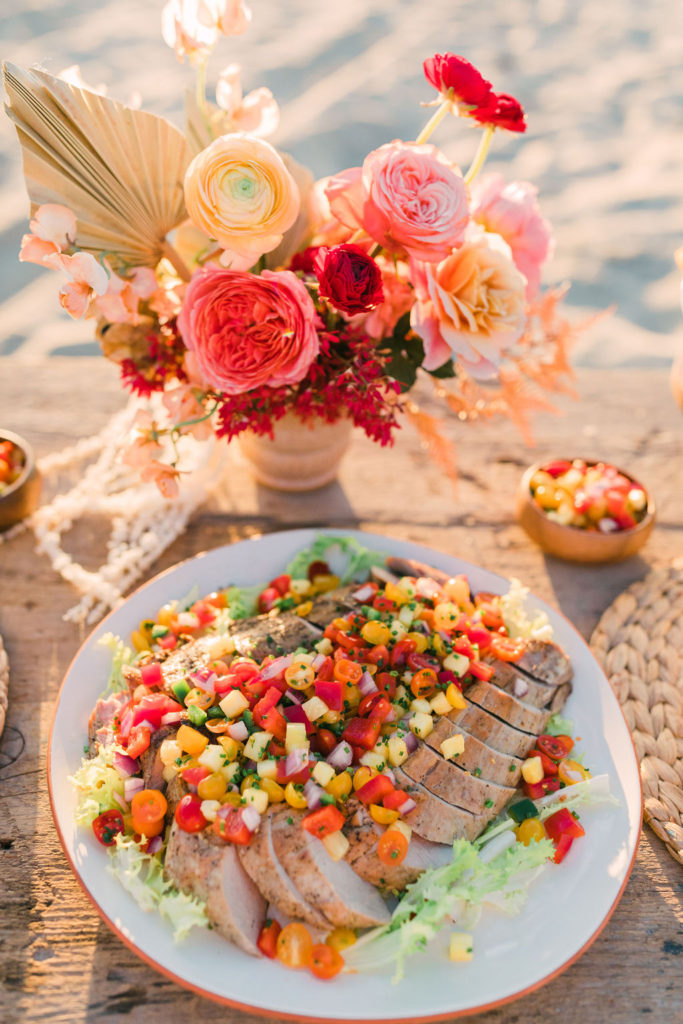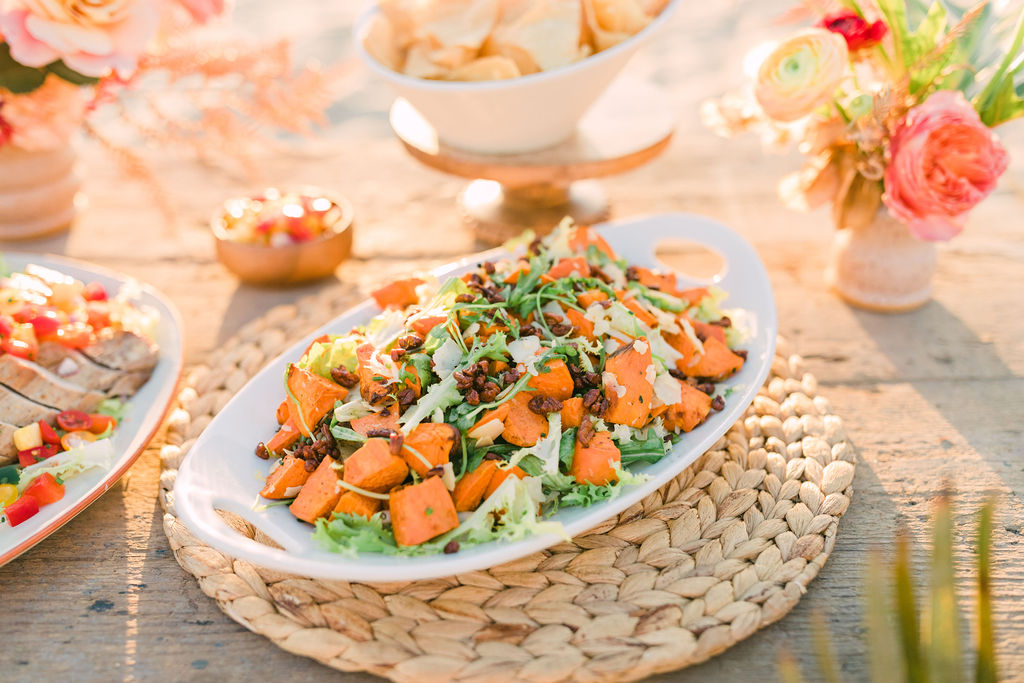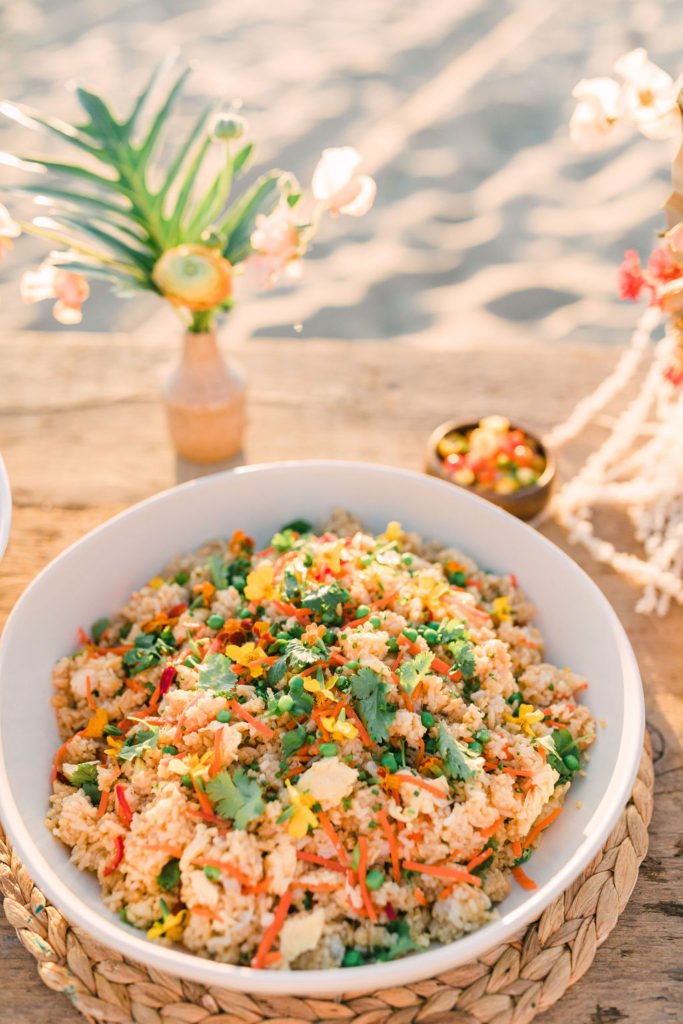 Fresh poke is one of my favorite snacks…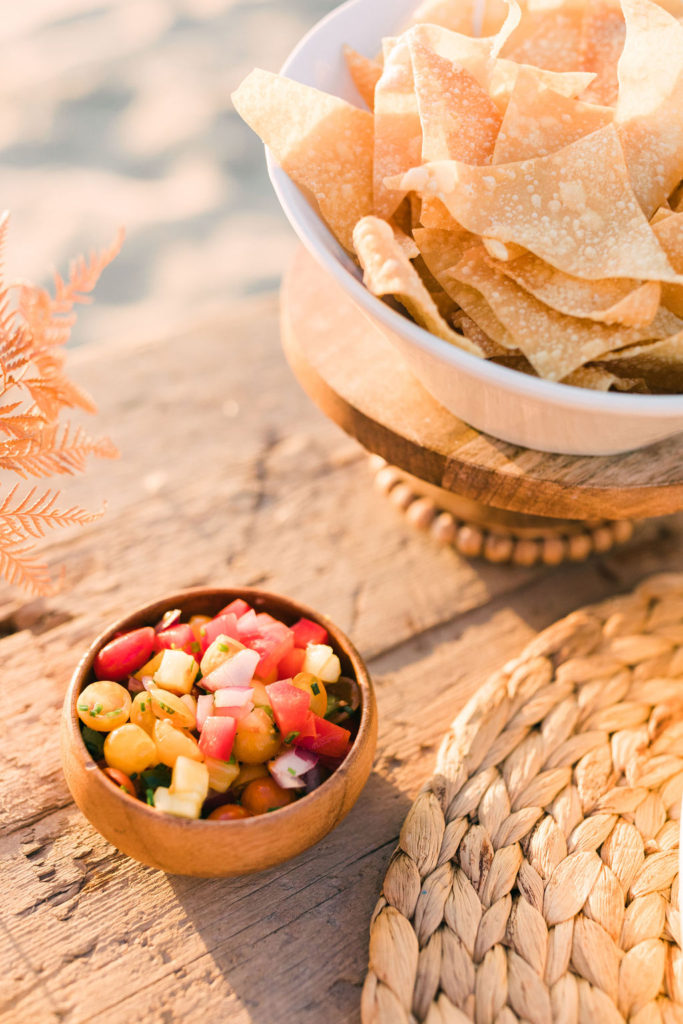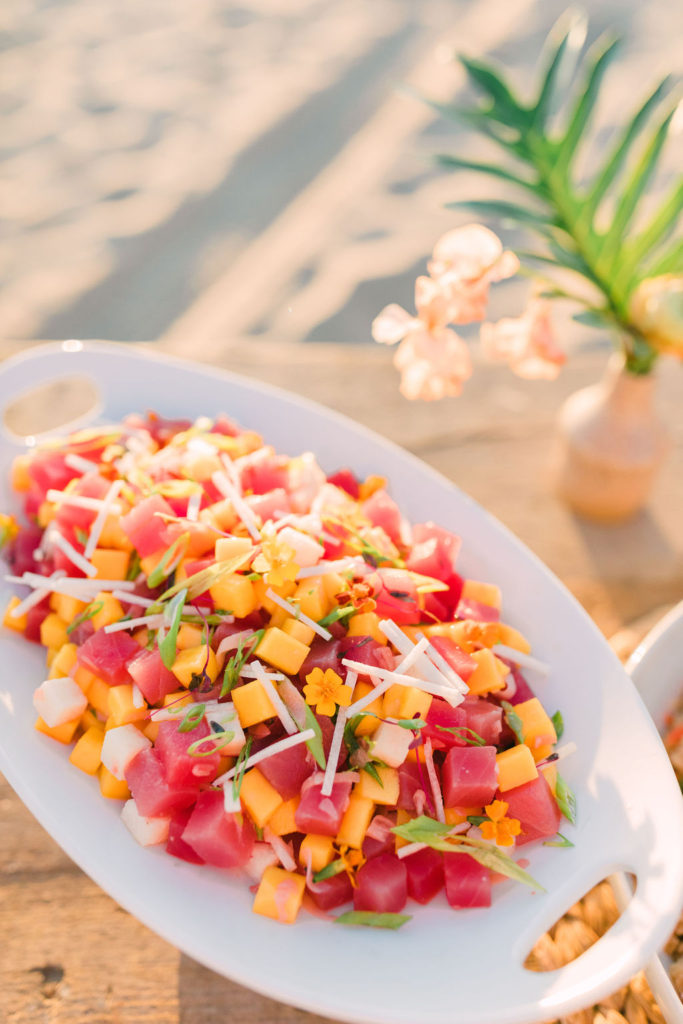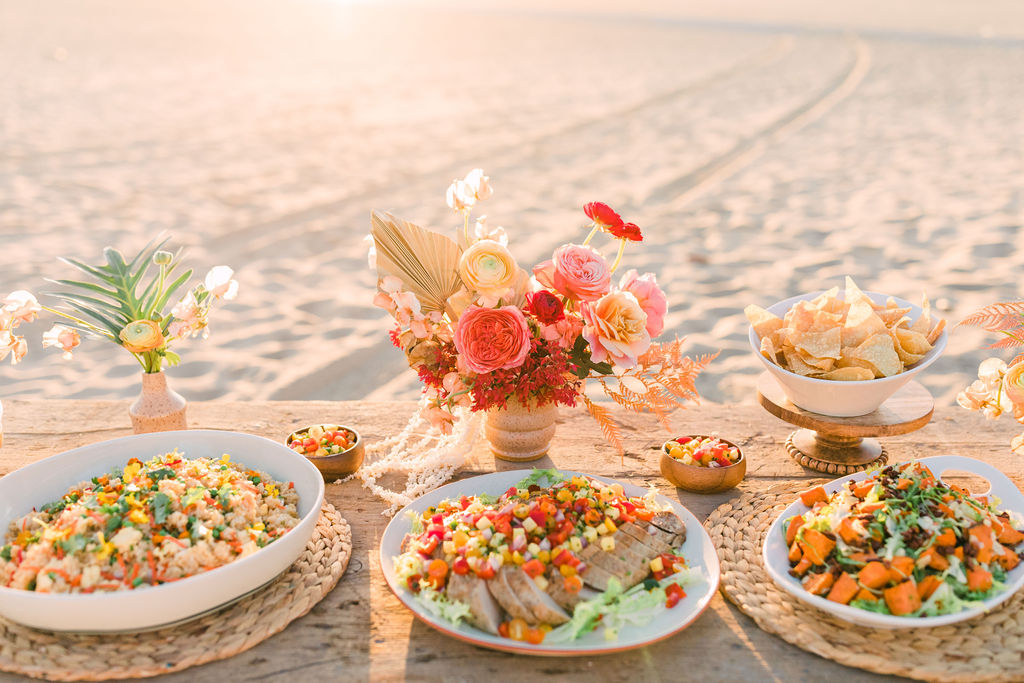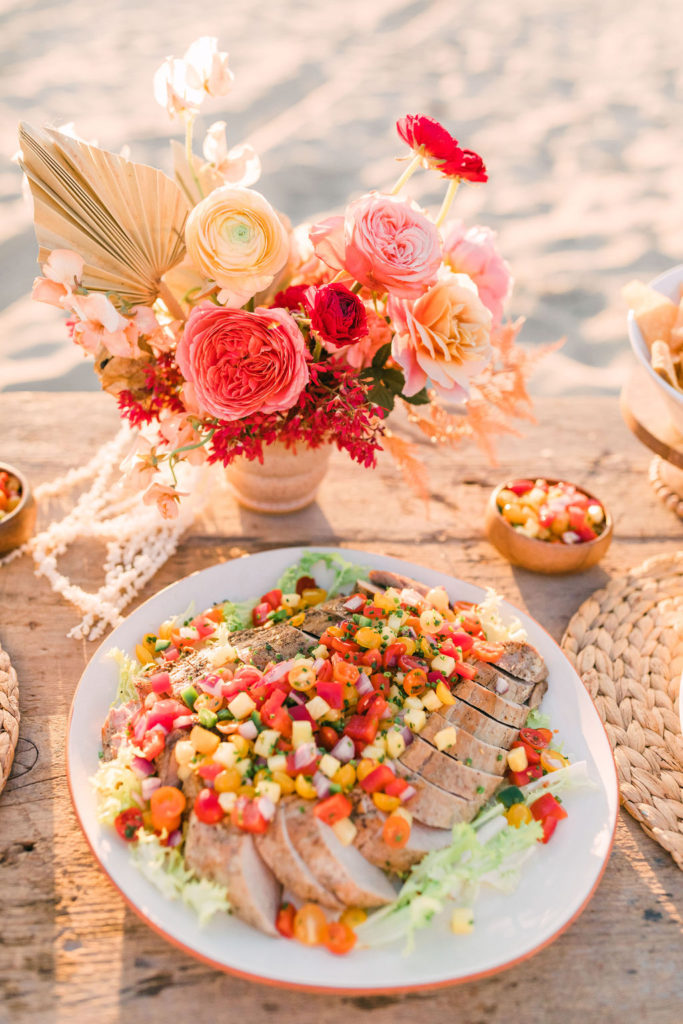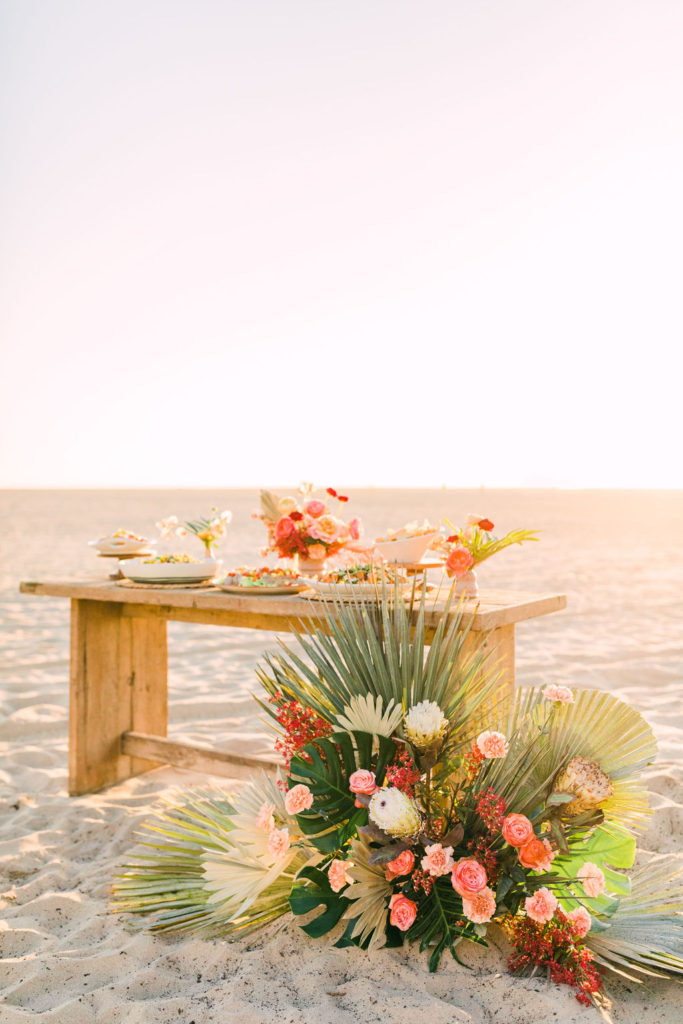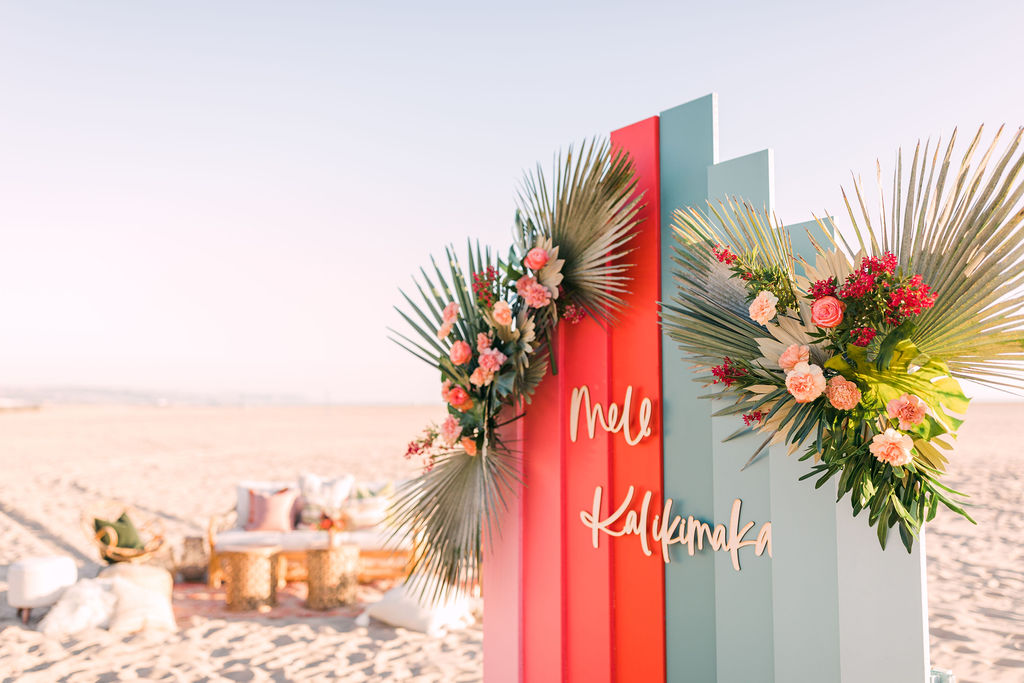 How about some apps and cocktails in our pretty little lounge?! Don't mind if I do!!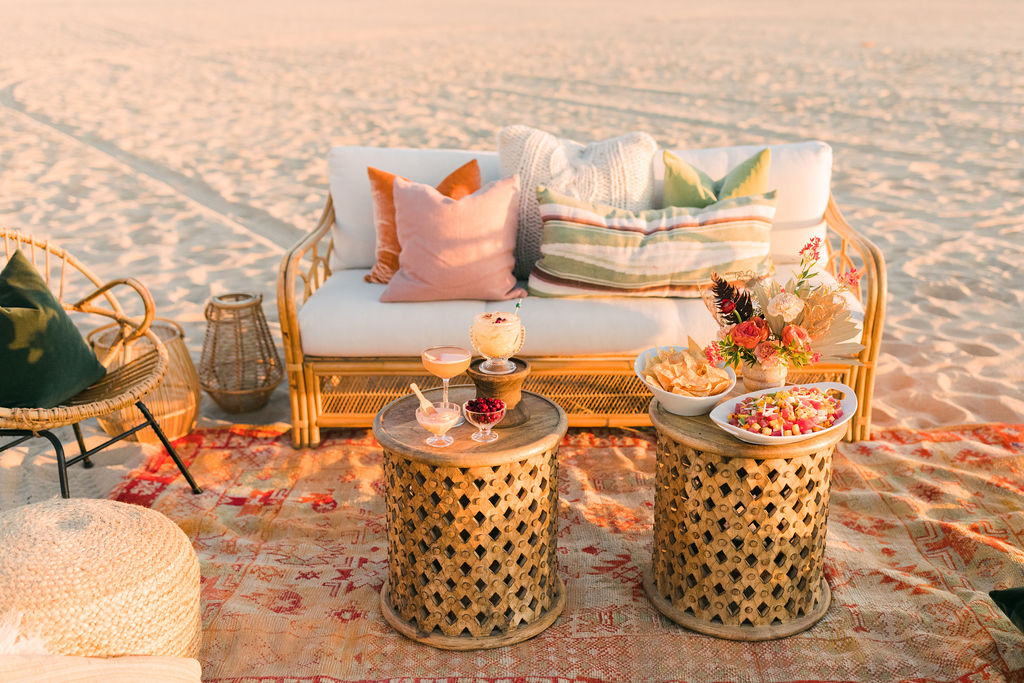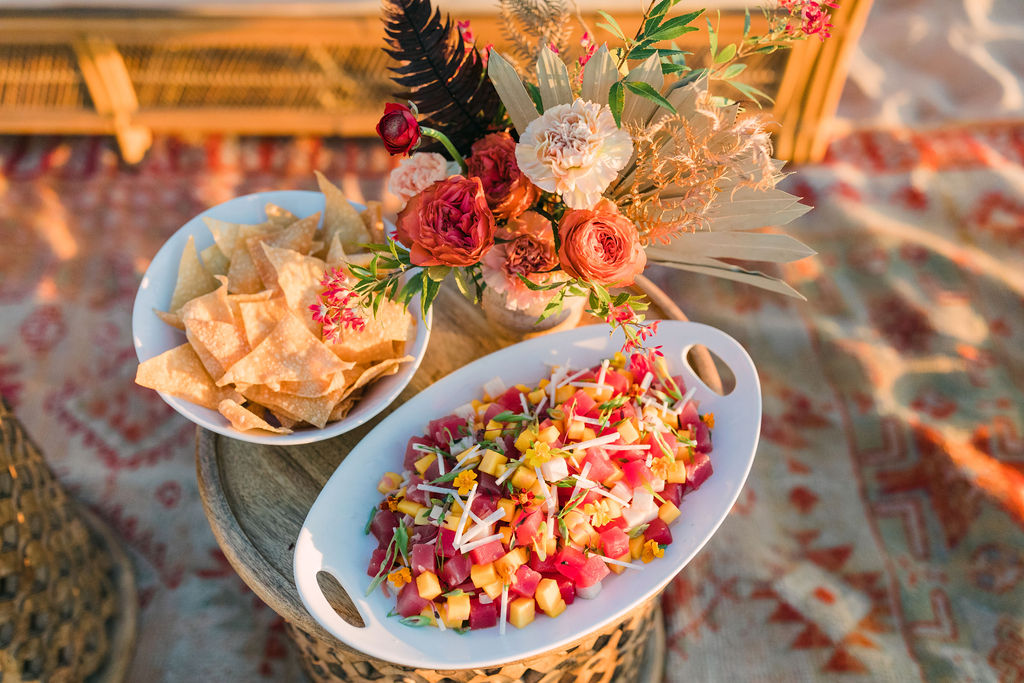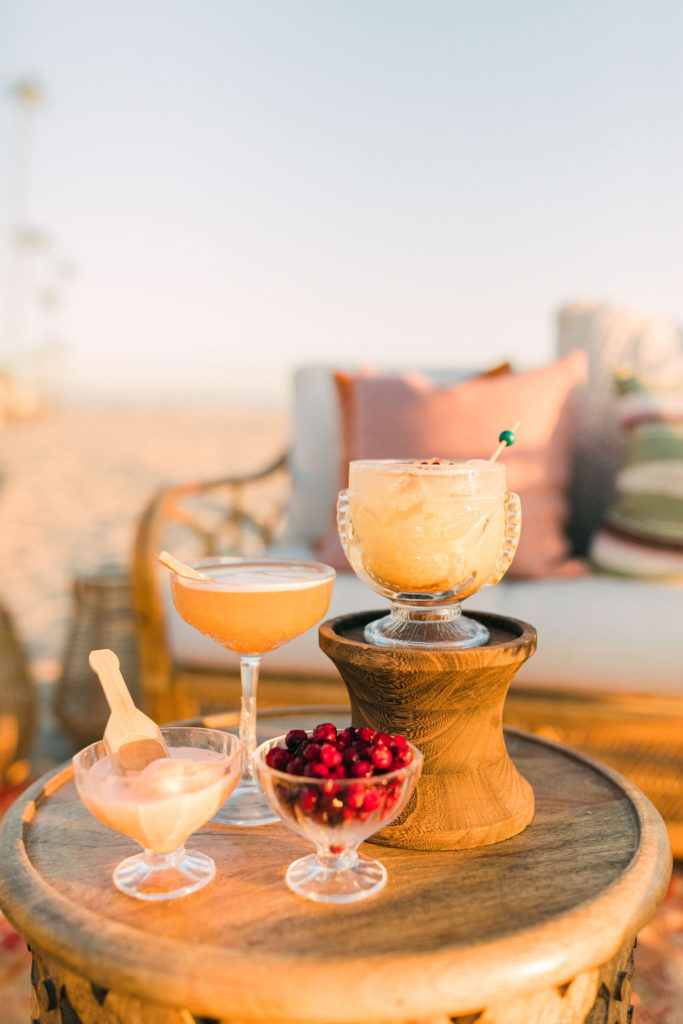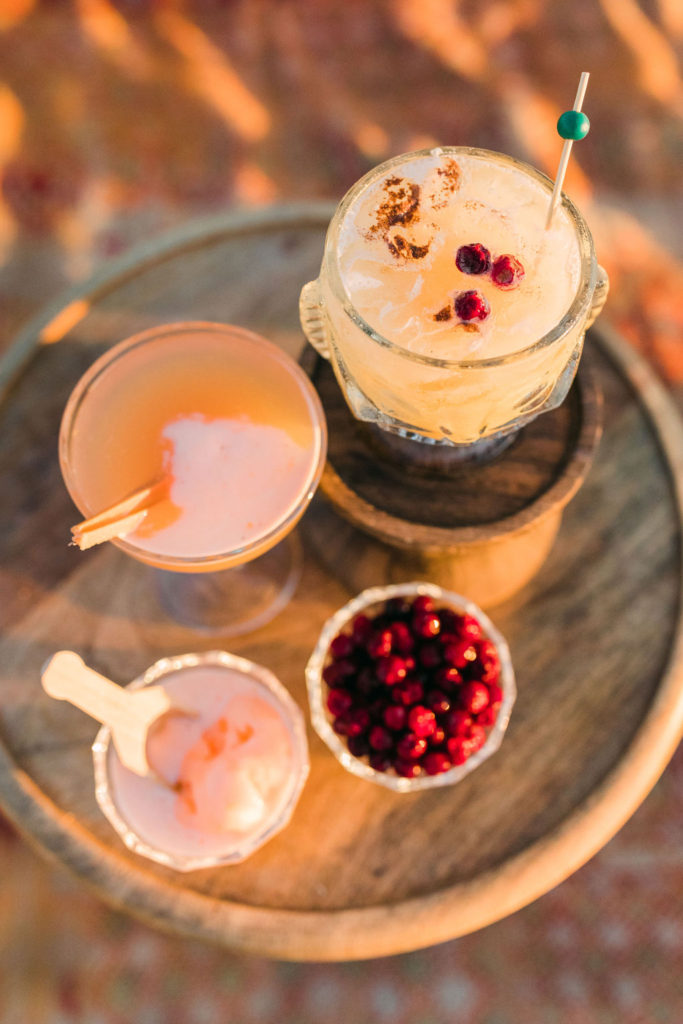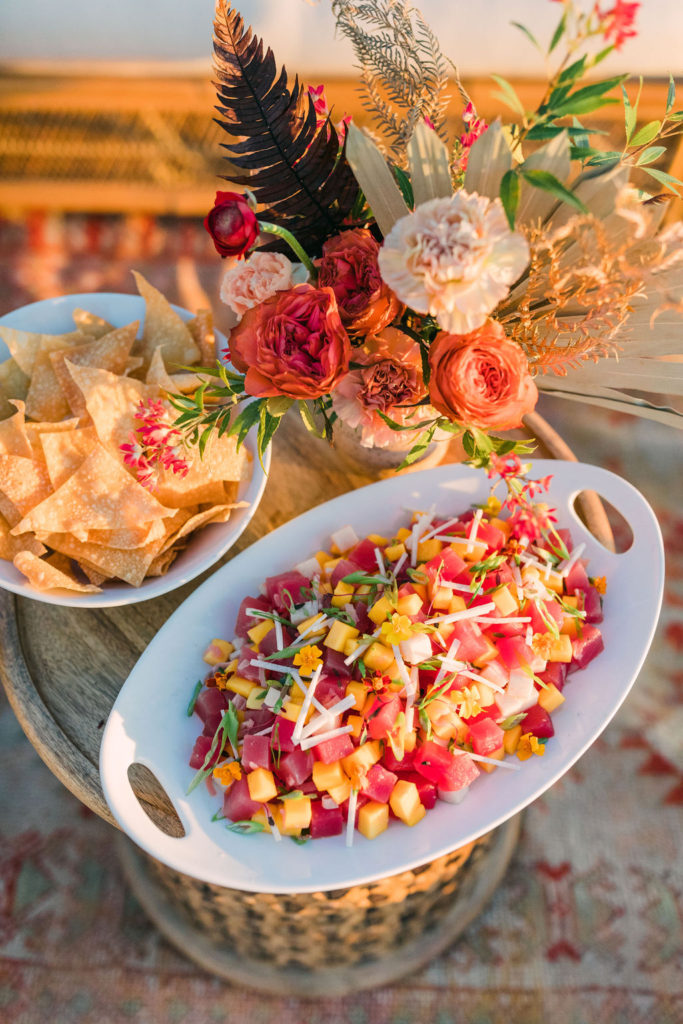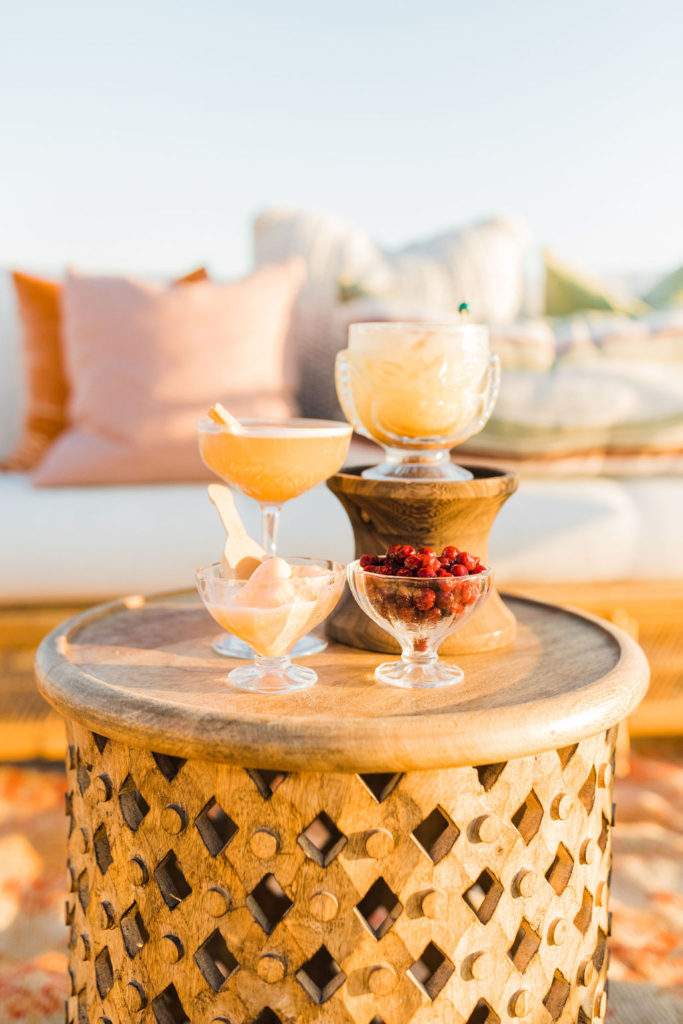 I love this shot by Jessica Lynn Photo, had to include that palm tree!!! She captured this entire shoot so perfectly!!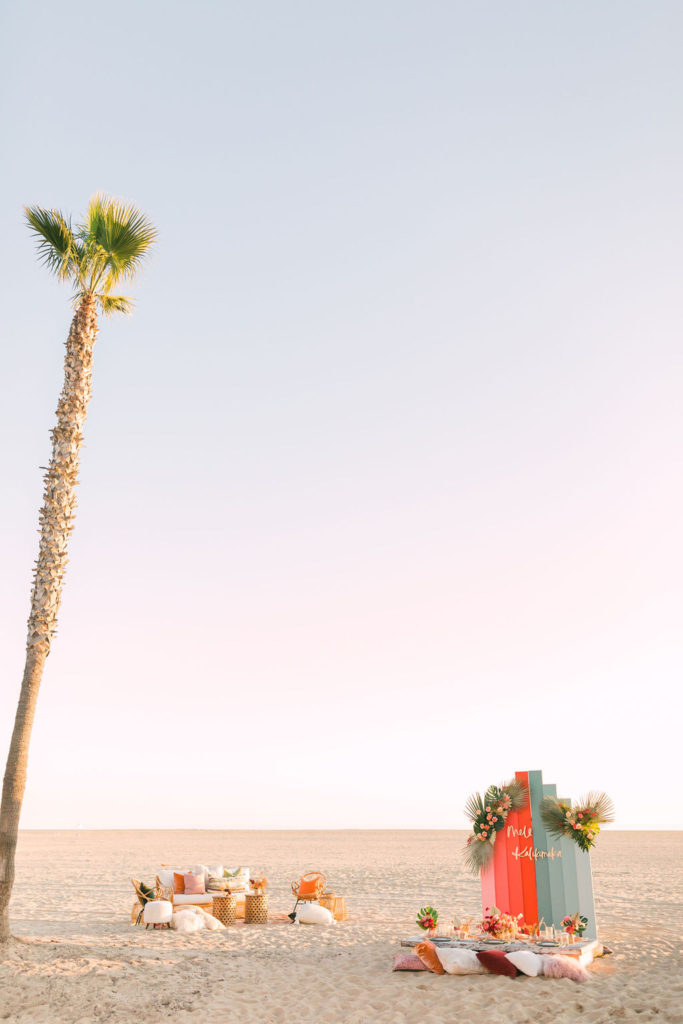 Mele Kalikimaka is the thing to say
On a bright Hawaiian Christmas Day
That's the island greeting that we send to you
From the land where palm trees sway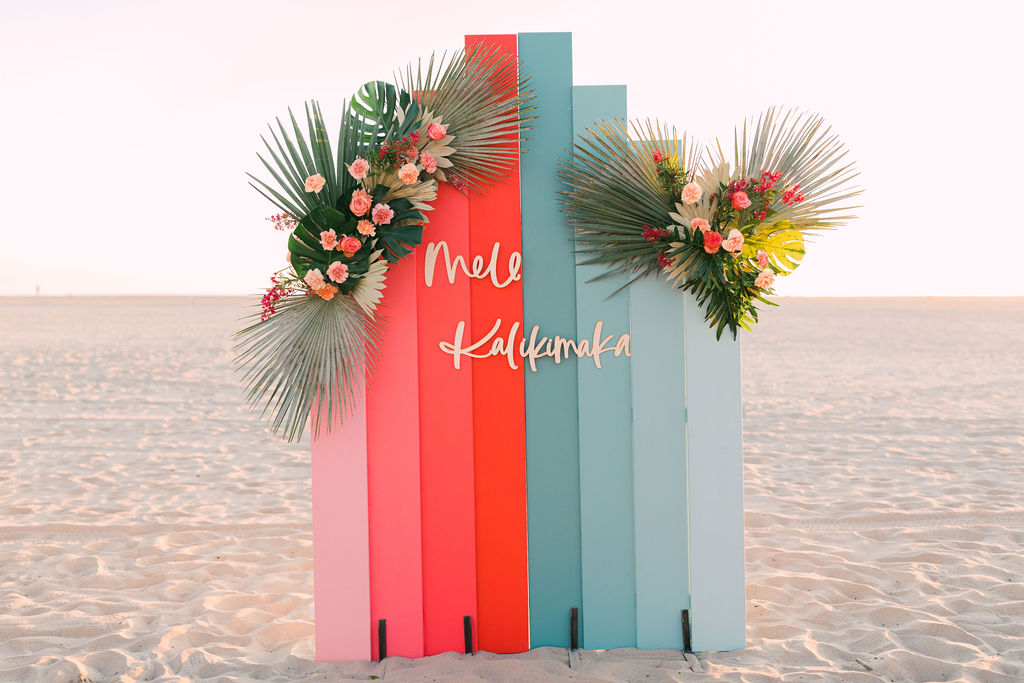 Here we know that Christmas will be green and bright
The sun to shine by day, and all the stars at night
Mele Kalikimaka is Hawaii's way to say Merry Christmas to you
Mele Kalikimaka is the thing to say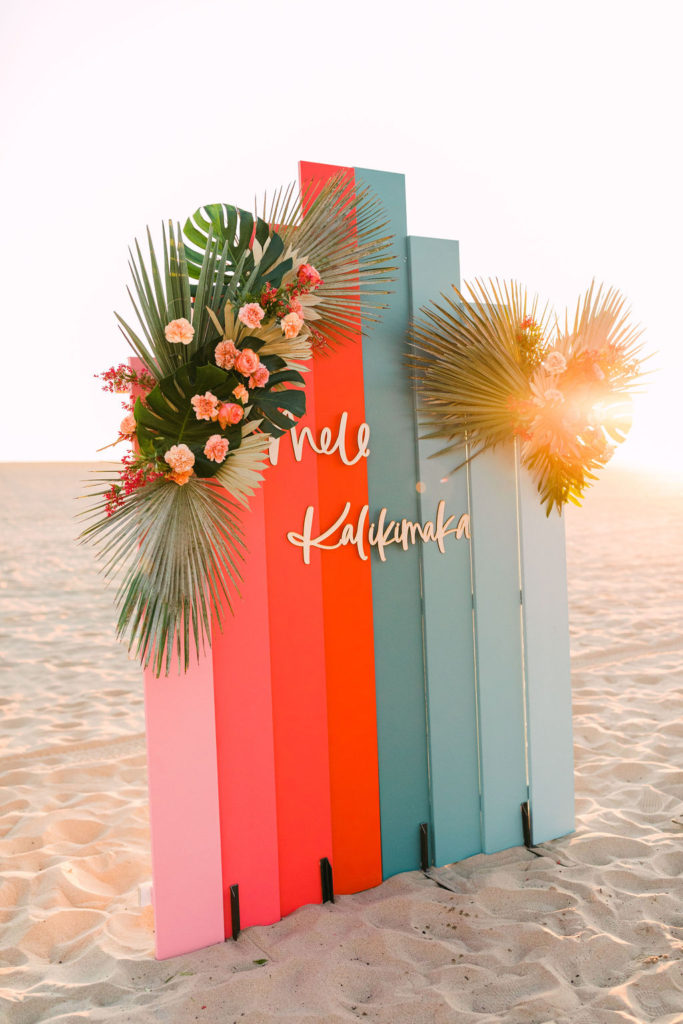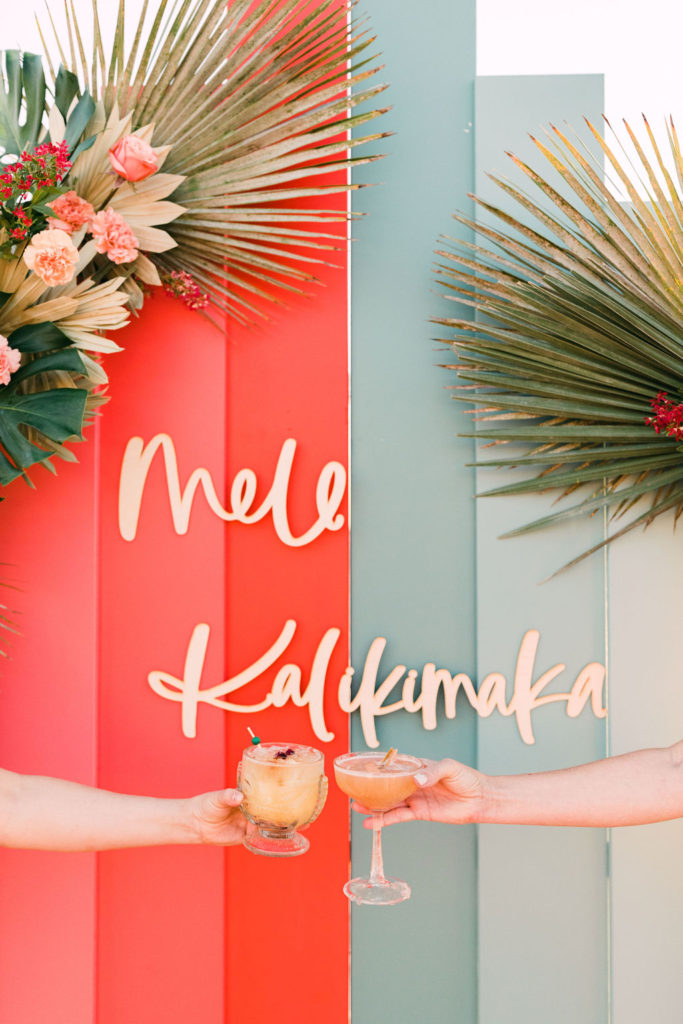 Cheers!!! And there you have it, I hope you enjoyed your trip to the tropics!!! Mahalo for traveling with us!
xx
Jacquelyn