Spring just screams carrot cake time in my eyes. There is just nothing better than a fresh out of the oven, super soft + moist carrot cake with yummy creamy cream cheese frosting. To top it off, make the mini to be the cutest little things around. Plus, you don't feel bad if you shovel a couple of them into your mouth. We don't judge around here. And, finally, the cherry on top is making them with Pineapple Collaborative's olive oil. I fell in love with this brand for not only their beautiful packaging but the community they created for women—and all others—who love food. They believe food is at once a form of self-expression and a tool for social change; through it, they uplift, support, and empower each other. This is something we truly love! They recently launched a collection of pantry staples, and today we are using their olive oil in these yummy mini carrot cakes. Let's get to it!

Photos by Dayna Studios
---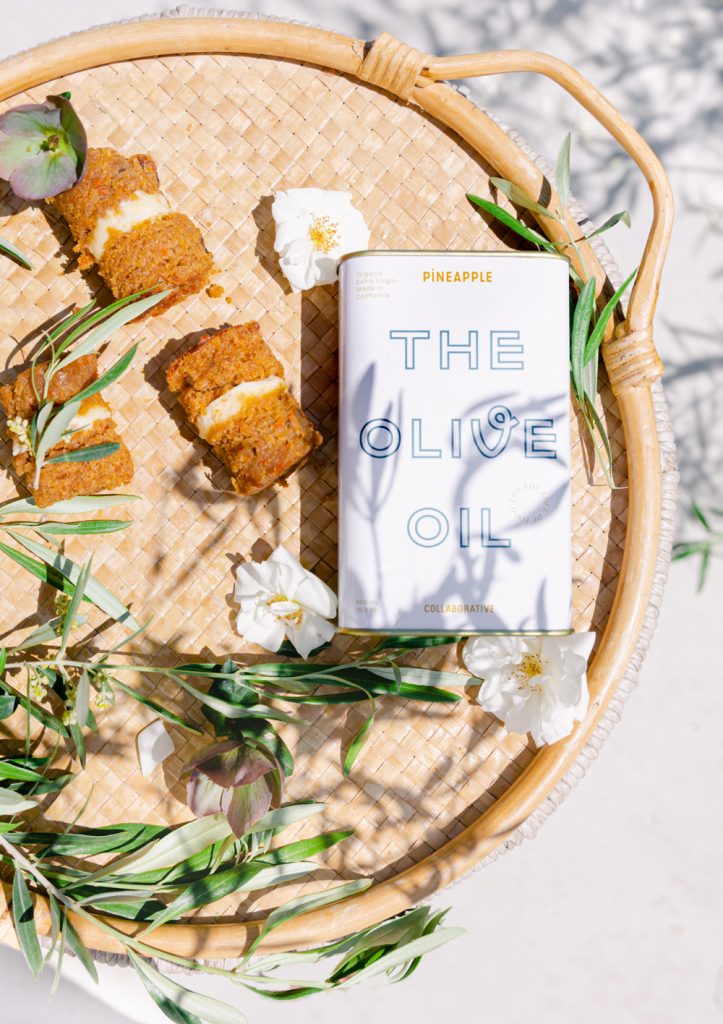 ---
MINI OLIVE OIL CARROT CAKES WITH CREAMY CREAM CHEESE FROSTING
SERVES: 10 MINI CAKES | TOTAL: 1 HR 30 MINUTES | COOK: 30 MINUTES
W H A T Y A N E E D

CARROT CAKE

1 ¼ cup Coconut milk
1 TBSP Lemon juice
½ TBSP White vinegar
2 cups unbleached all-purpose flour
1 Tsp Baking powder
1 Tsp fine sea salt
3 large eggs, at room temperature
1 ½ cup Raw sugar
1 Tsp Vanilla extract
1 cup Olive Oil
2 cups Shredded carrots

CREAM CHEESE FROSTING

4 TBSP (1/4 cup) Butter, softened
12 oz (1 ½ box)Cream cheese, softened
Coconut milk – 2 to 3 TBSP
1½ cups Powdered sugar, sifted
B U S T O U T

9" x 13" sheet cake
Stand mixer or handheld mixer
Large bowl
Small cookie cutter
Baking Spray/ Parchment Paper
Rubber spatula/ Wooden spoon
---
I N S T R U C T I O N S

CAKE
Preheat oven to 350°. Spray your cake pan with baking spray. In a small bowl or a measuring cup mix the 1 ¼ cup of coconut milk with the 1 tablespoon of lemon juice and the ½ tablespoon of vinegar. Using a hand whisk mix the 2 cups of flour, the teaspoon of baking powder, and the teaspoon of salt.
Place the 3 eggs, the 1½ cup of sugar, and the teaspoon of vanilla in the bowl of a stand mixer with the whisk attachment and whisk at high speed (level #8 in the Kitchen Aid) for 5 minutes.
With the mixer running, start drizzling slowly the cup of olive oil in a thin stream. Mix for 2 minutes. Decrease speed to the lowest (level #1 in the Kitchen Aid) and add the coconut milk mixture. Gradually add the flour mixture and run the mixer just until you add the last of the flour mixture. Remove bowl from mixer and with a rubber spatula or wooden spoon gently mix the 2 cups of shredded carrots and the cup of chopped pistachios, making sure there are not any visible streaks of flour when you finish mixing.
Pour batter evenly into your cake pan. Bake for 20 to 25 minutes, until a toothpick comes out clean after you insert it through the center. After it cools down for a few minutes, invert the cake into a large plate or a tray and invert it again on a rack to cool down completely.
If doing the mini cakes, cut the cake using a small cookie cutter. Cut them as close as you can so you can get the most disks.
CREAM CHEESE FROSTING
Place the 4 tablespoons of butter in the bowl of a stand mixer with the whisk attachment or in a large glass or metal bowl to whisk with a handheld electric mixer and whisk for 30 seconds in medium-low speed (#2 in the Kitchen Aid) to make it lighter. Add the 12 ounces of cream cheese and whisk for about 4 to 5 minutes, scraping the whisk wires and walls of the bowl if necessary to make sure everything is mixing well. Add the two tablespoons of coconut milk halfway thru the mixing.
Decrease speed to the lowest and gradually add the 1½ cup of sifted powdered sugar. Increase speed one notch and mix for 3 to 5 minutes, until frosting is super creamy and smooth.
To assemble the cakes:
Spread a bit of the cream cheese frosting on the layer. Top with another mini cake and spread more cream cheese frosting on top. Then serve immediately!
---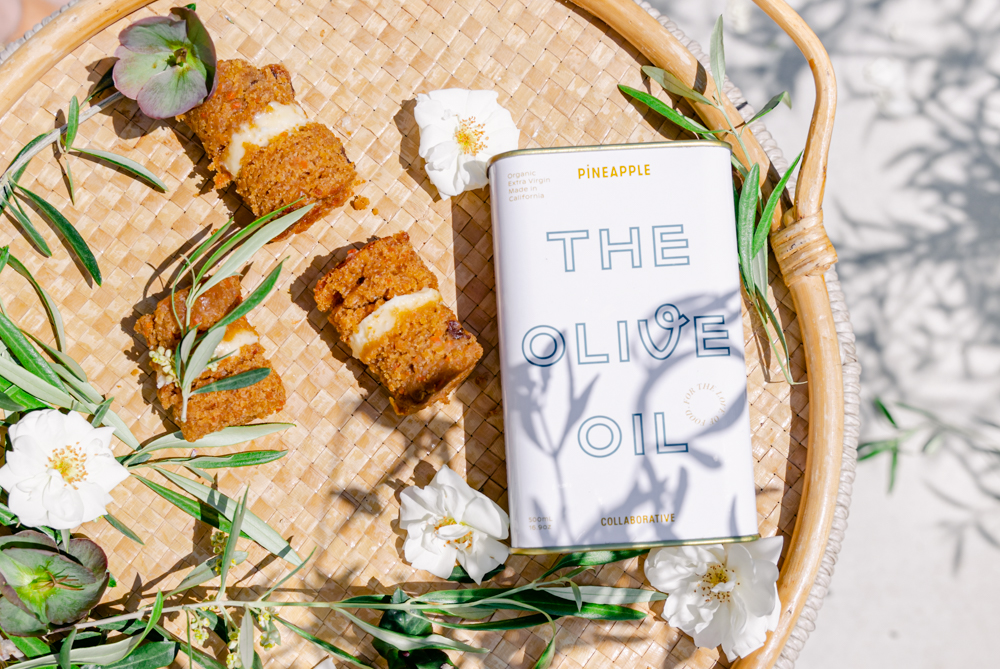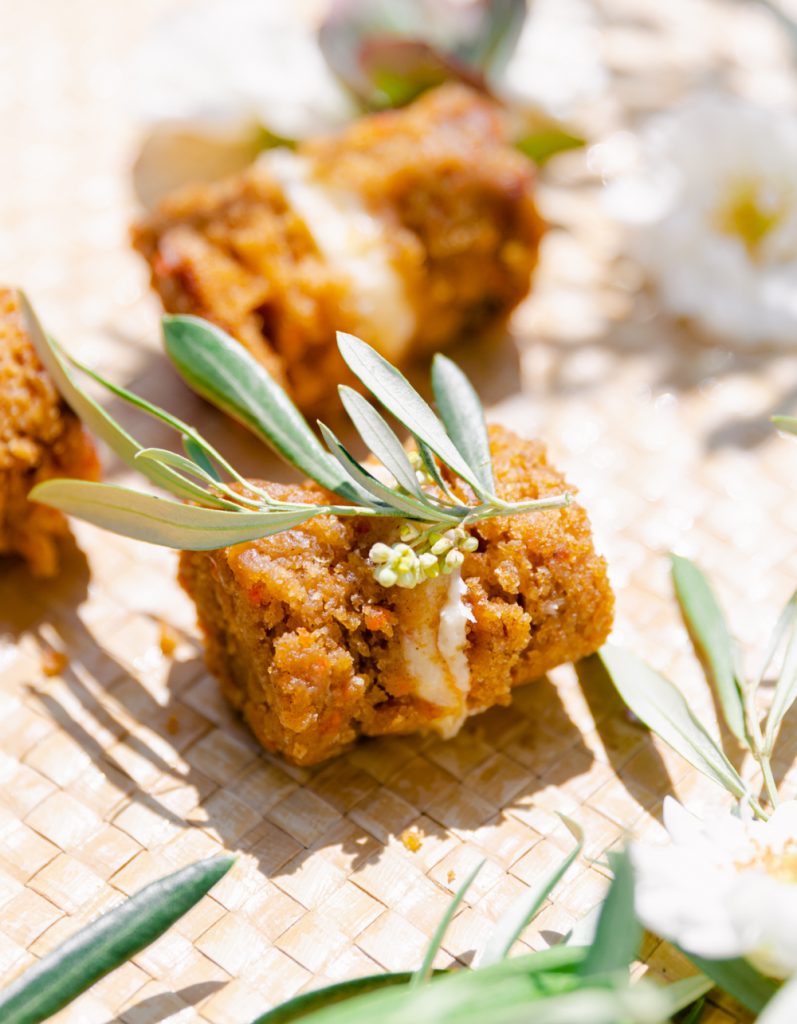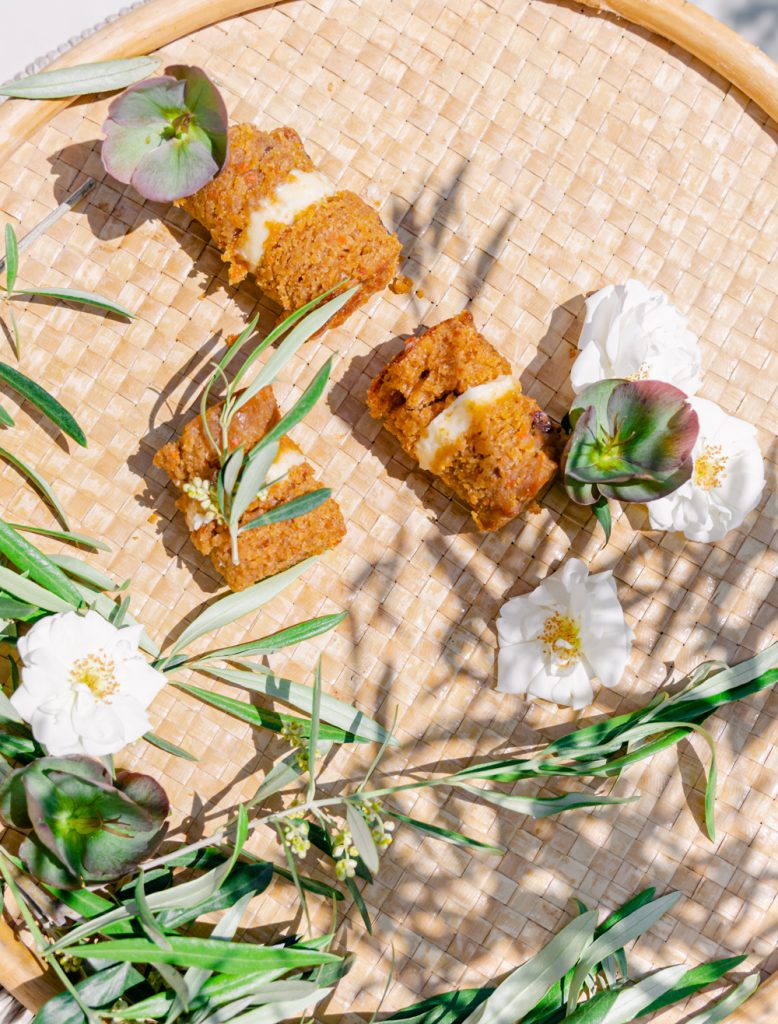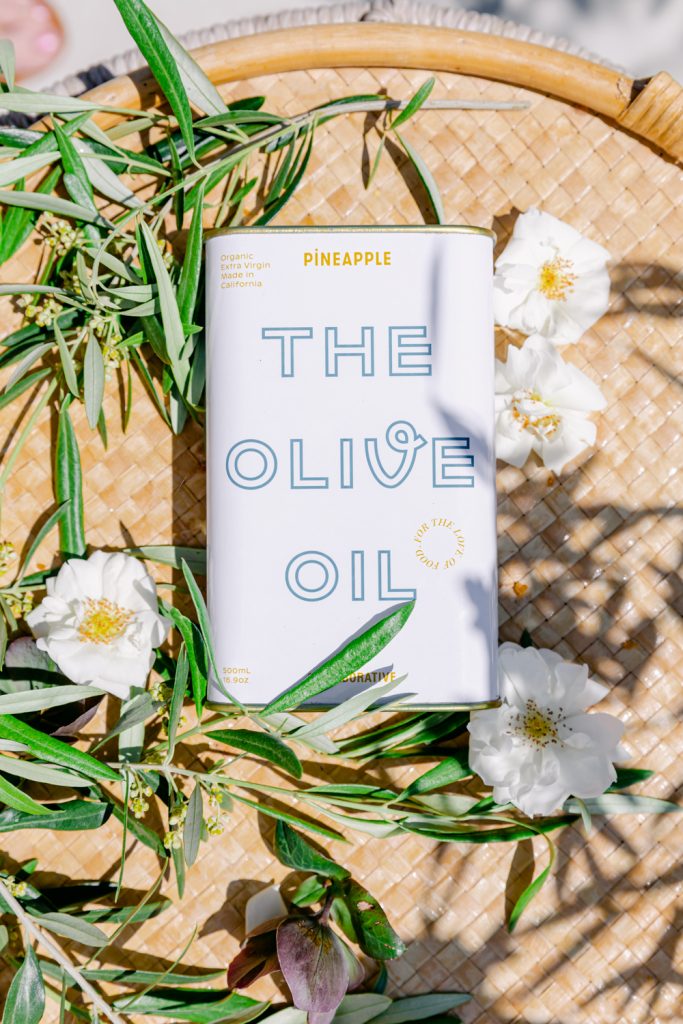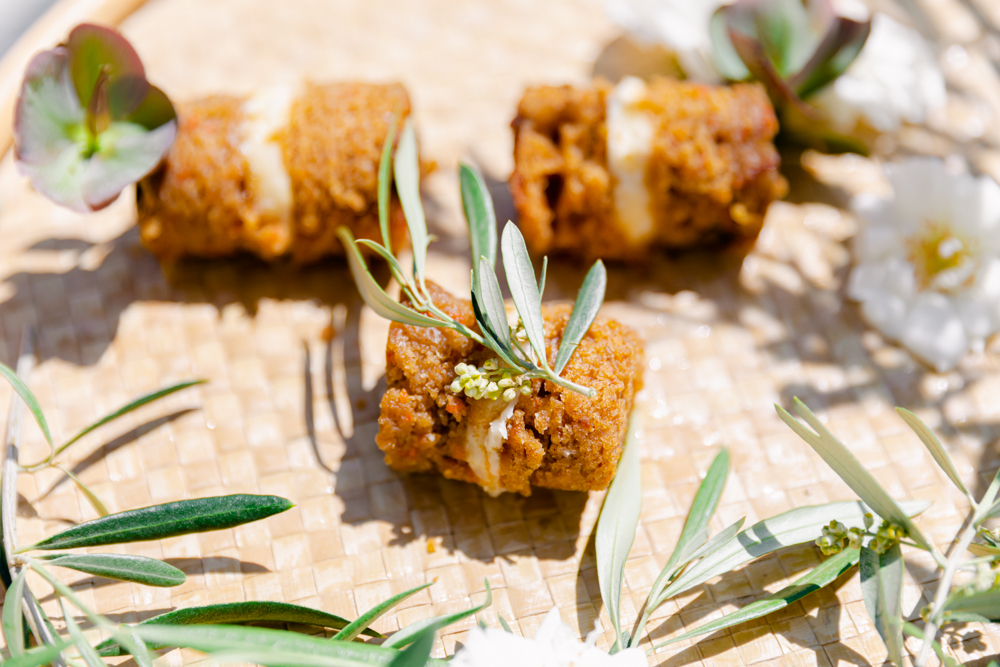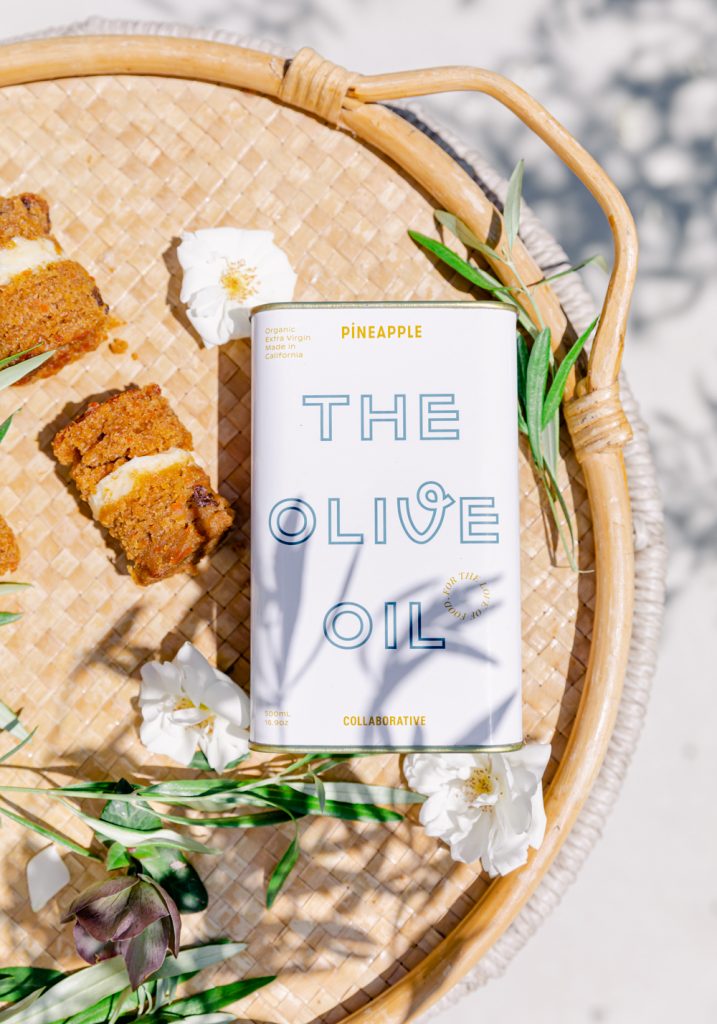 ---
B E I J O S K I T C H E N

xx
Abby