In honor of Earth Day I was inspired to create a shoot inspired by nature, and who better to celebrate than honey from bees?! Bees are extremely important to our environment and ecosystem, they work to pollinate plants that produce many of the seeds, nuts, and fruits that serve as a food source for local wildlife. With pollination, they basically make food production possible. Additionally, bees' pollination efforts allow flowering plants to flourish, creating a more colorful and gorgeous environment for all who live there. Let's give those bees a hand!!
We decided to pay tribute with a honey-inspired shoot! It's full of fun details, lots of gorgeous florals, and delicious food! All in those pretty spring tones we love so much! Keep scrolling to see it all but also check us out on Inspired By This today!
Photos by the talented Lorin Kelly Photo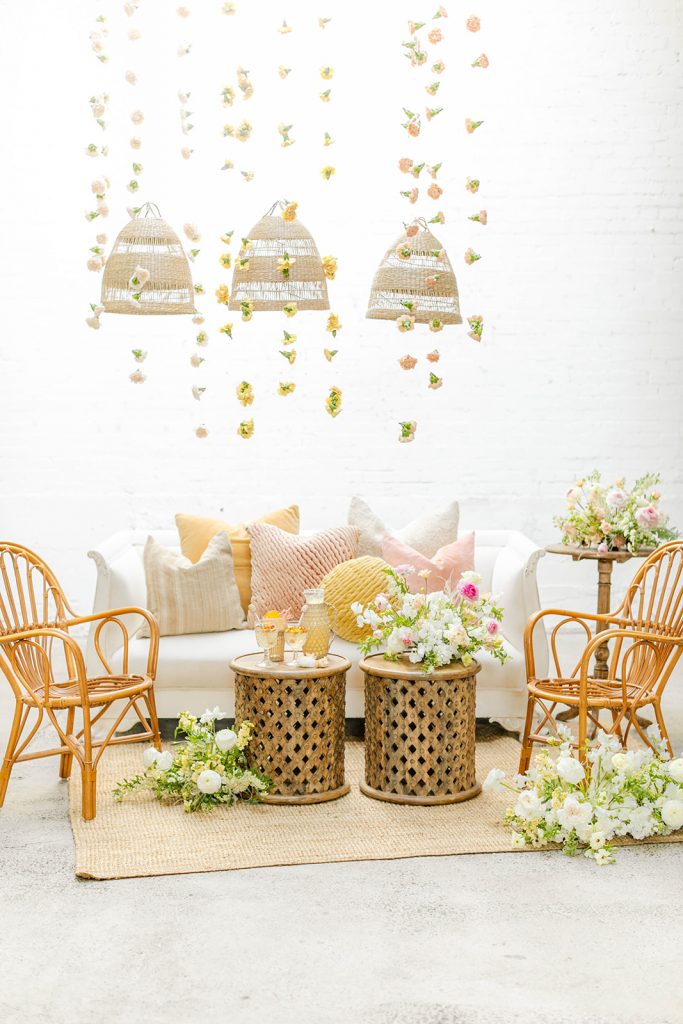 As usual, we have the prettiest little invite, styled to perfection by Lorin I must say! The invite and all of the details are by our friend Aislinn at Proper Letter, she never disappoints! We gathered some of our pretty tabletop pieces from Signature Party and Hostess Haven, along with all the pretty natural elements like flowers and honey of course! It's all gathered together on the beautiful Chasing Stone mat.
You can't get much better than this!!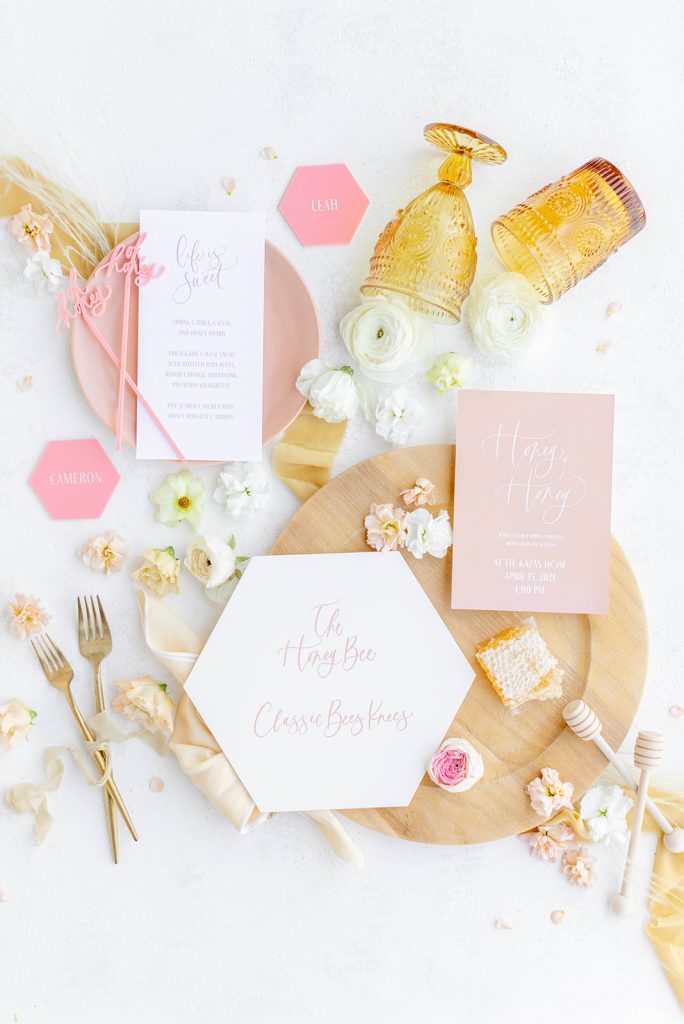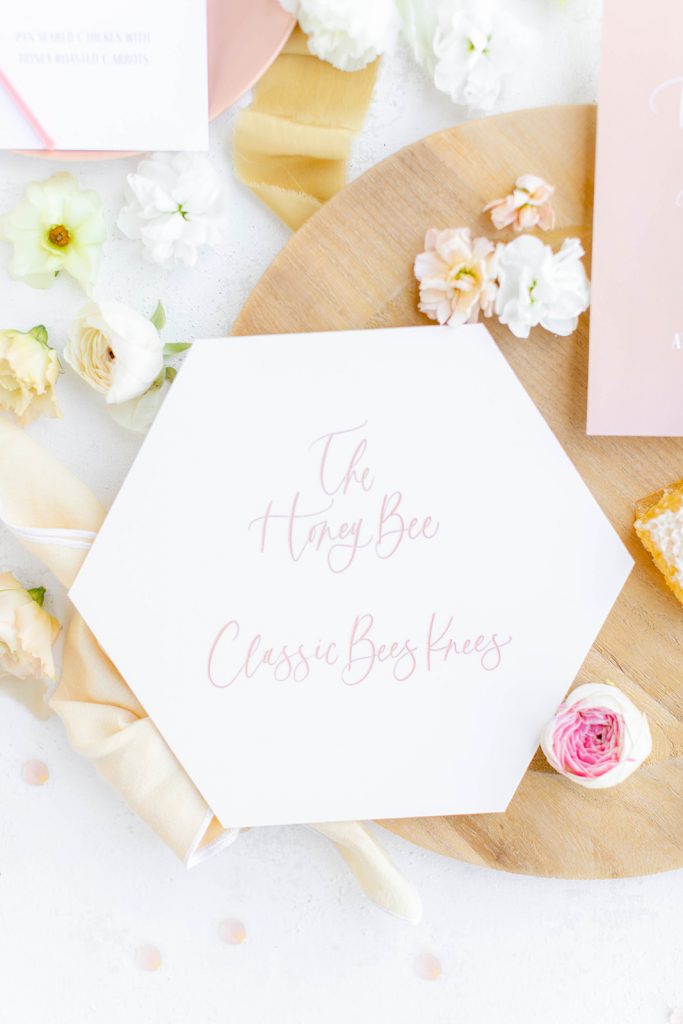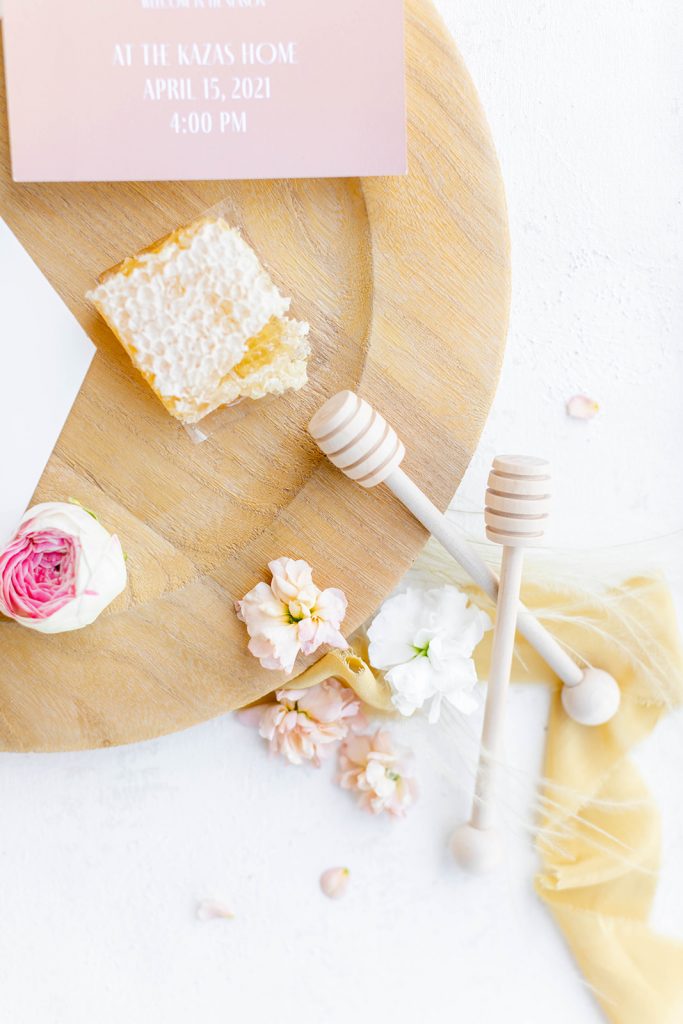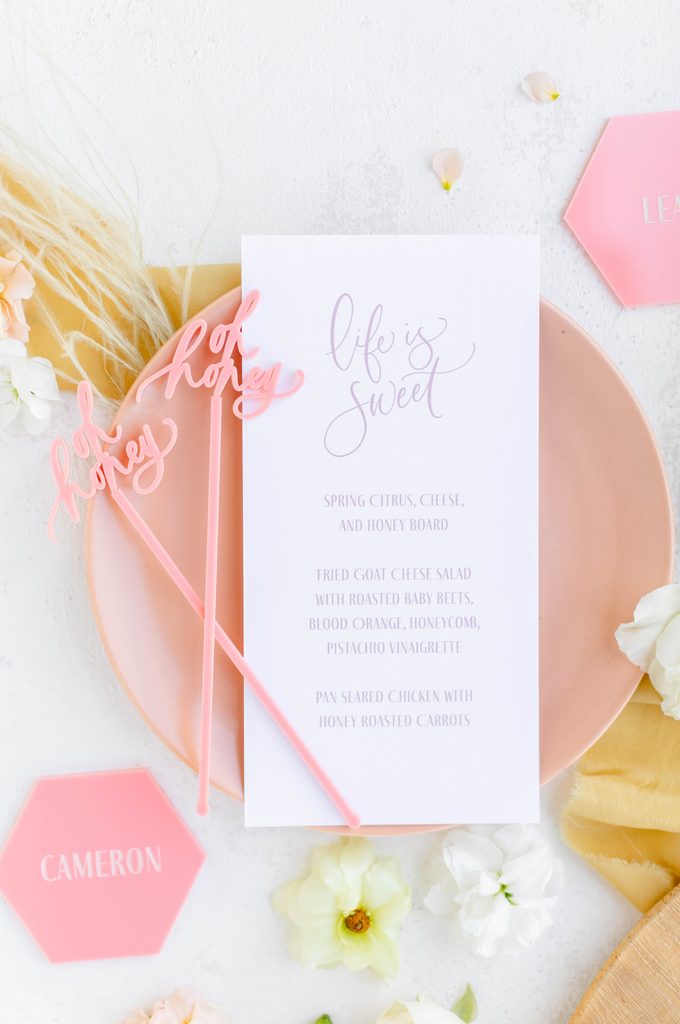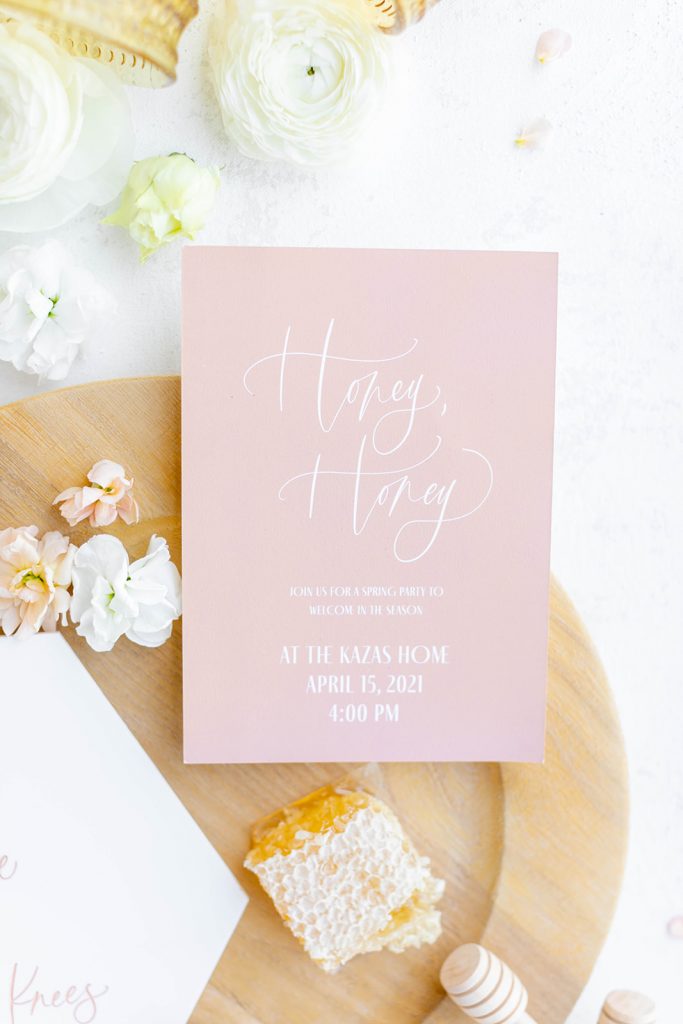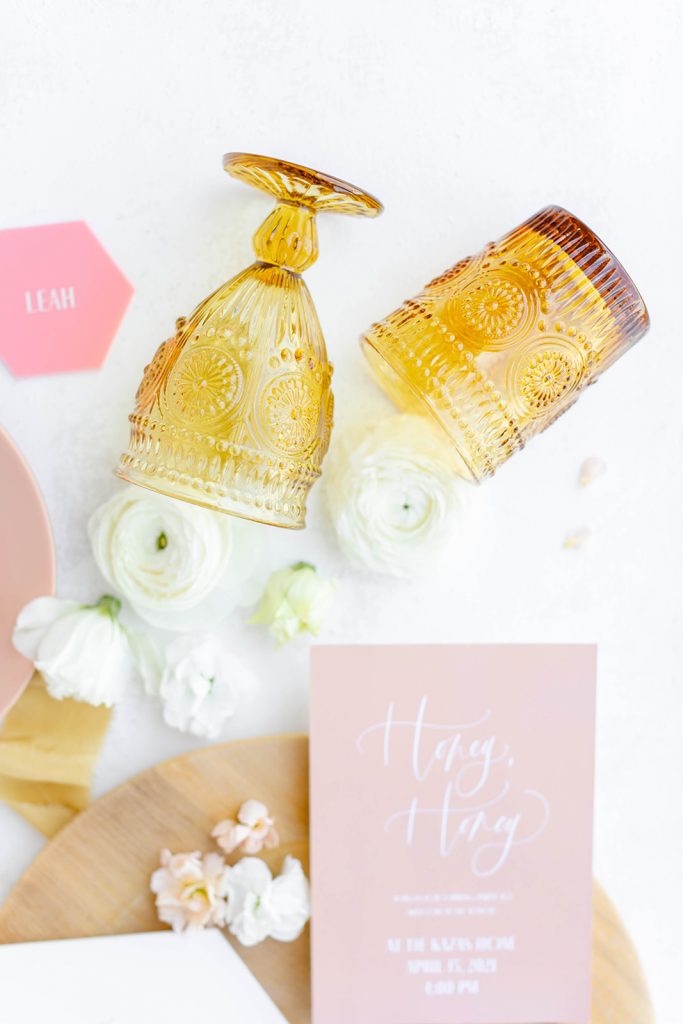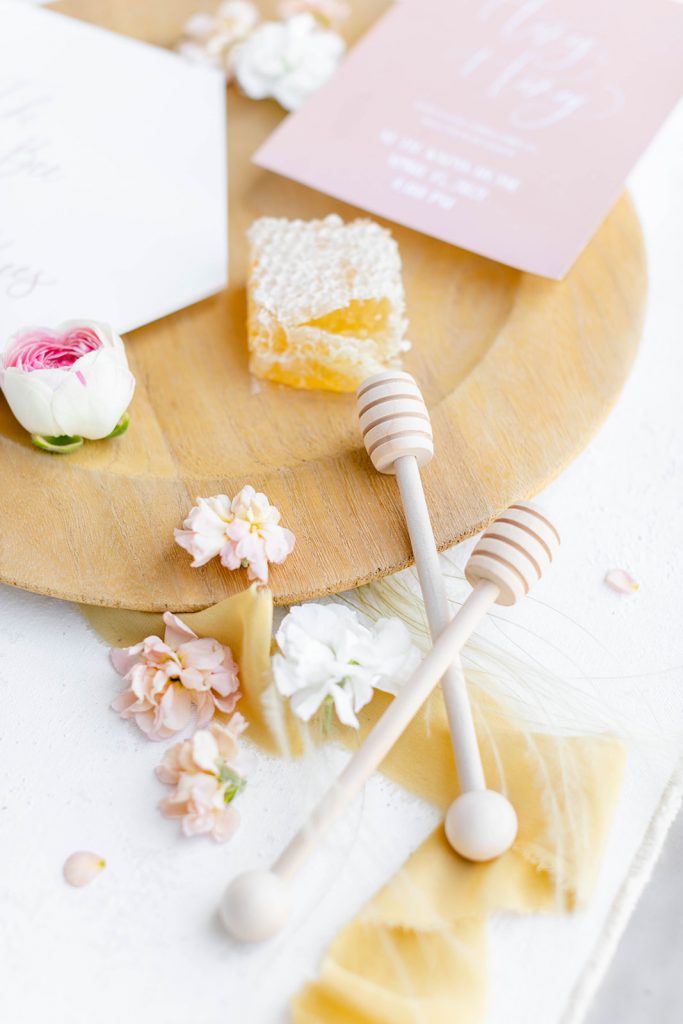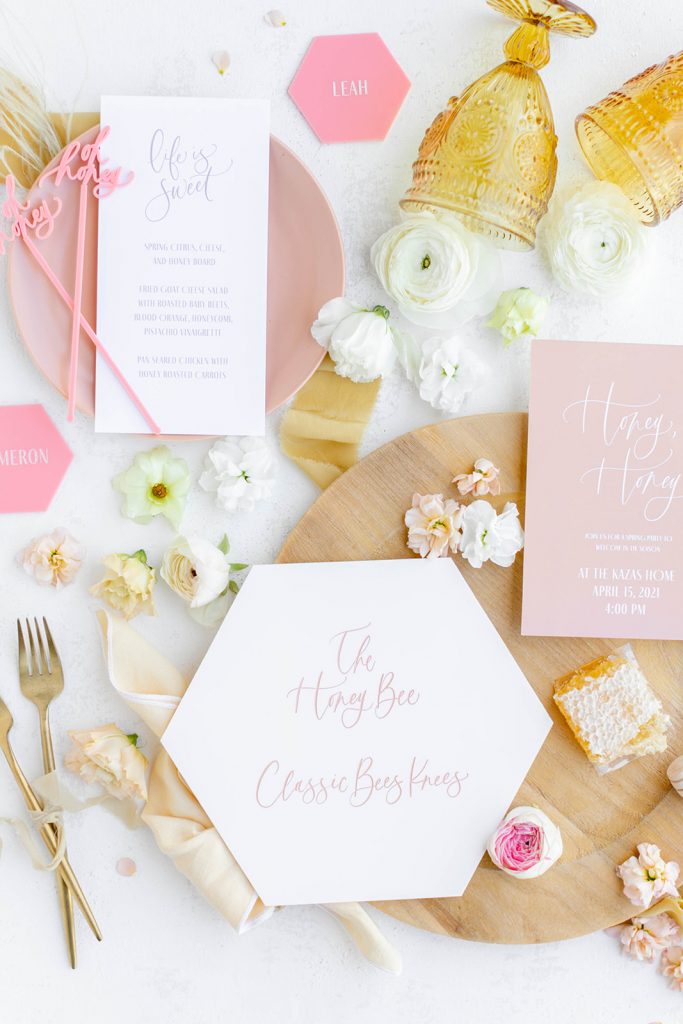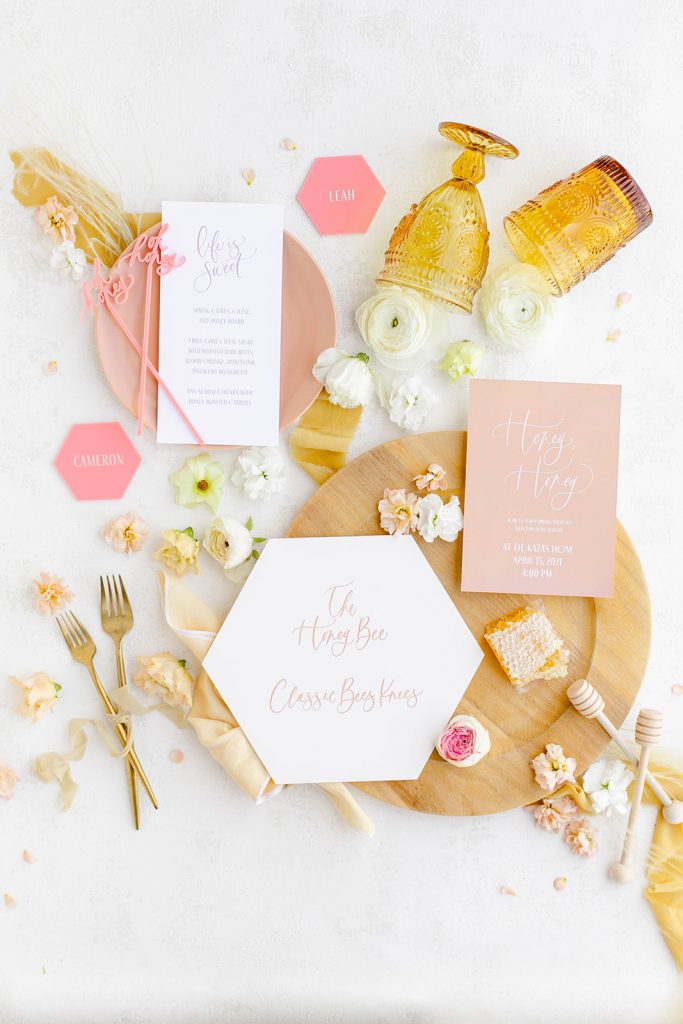 Isn't our table so pretty! Third & Park handled the floral design and I love what she came up with! That fun hanging installation using Sweet Salvage Rentals' beautiful chandeliers along with that gorgeous floral runner, it's all just stunning! It's like Spring just brought out all the best in one setting! I think our friends the bees would love this one!!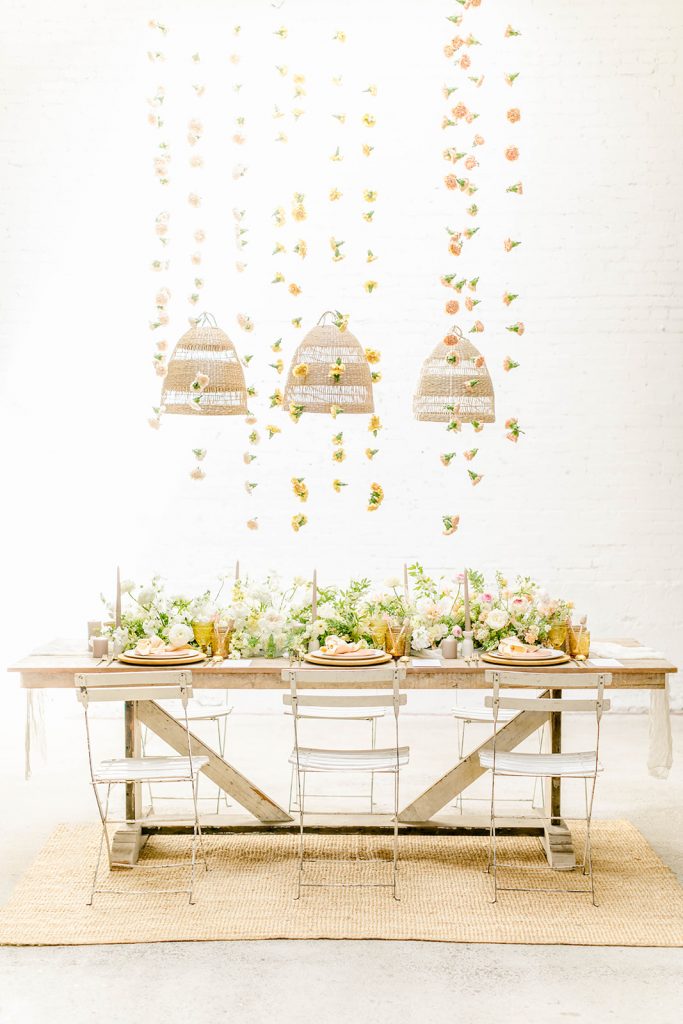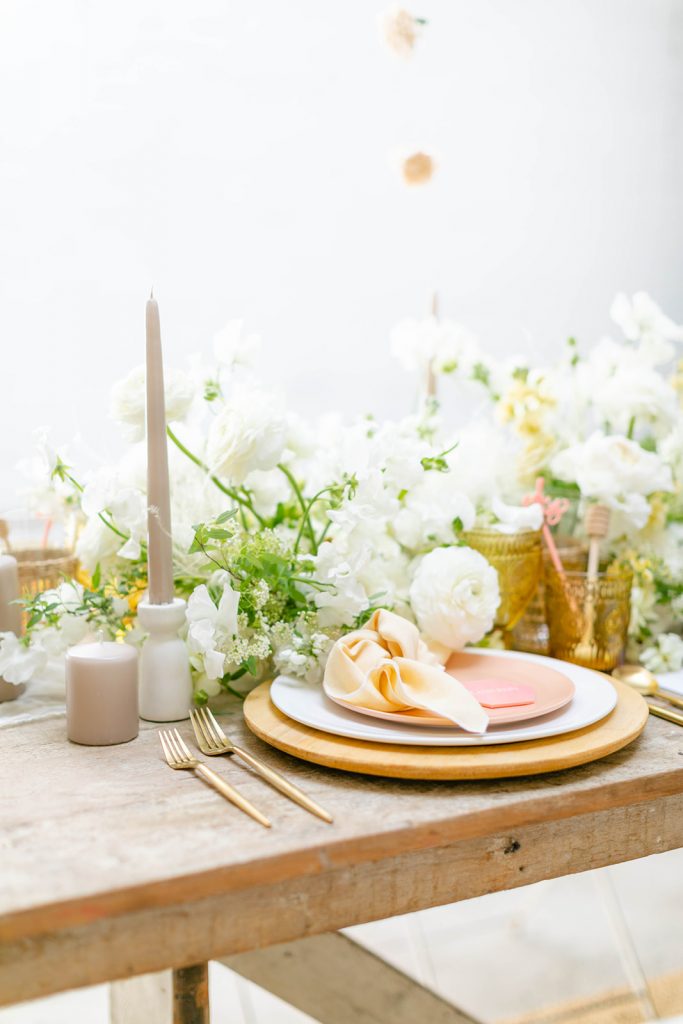 Our color scheme was so fun and I especially loved all the pretty details. We had honeycomb-shaped place cards and honey stir sticks as stir sticks along with an "Oh Honey" counterpart. Gotta love those details by Proper Letter, it's the little things, right?! Plus, those pretty pink plates, gold flatware, and butter yellow napkins just make my heart so happy! Thank you Signature Party and Hostess Haven!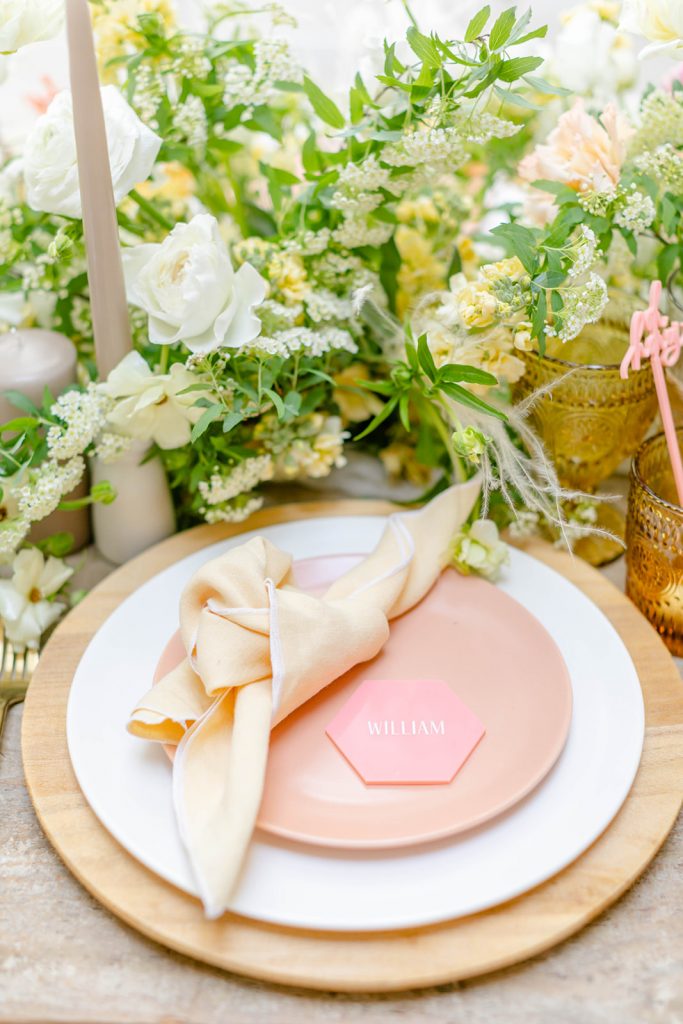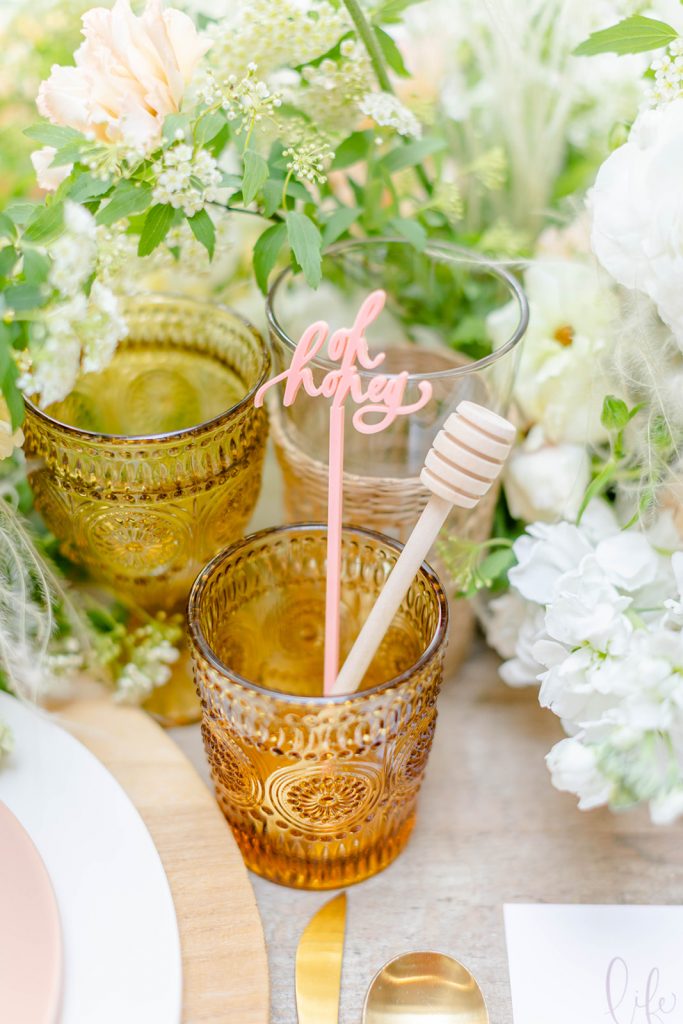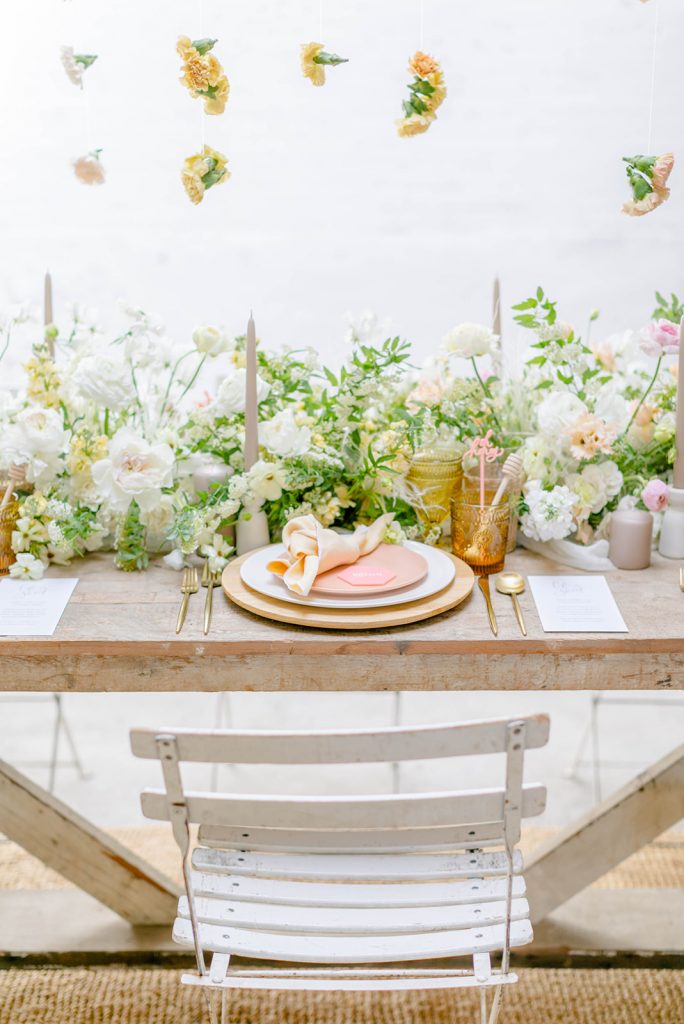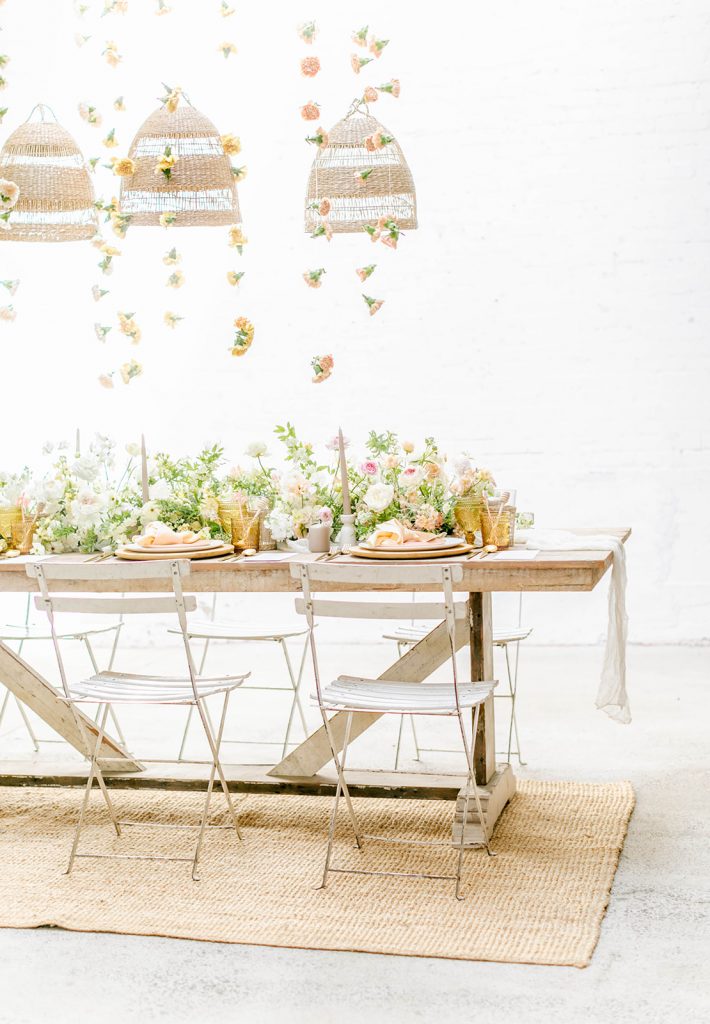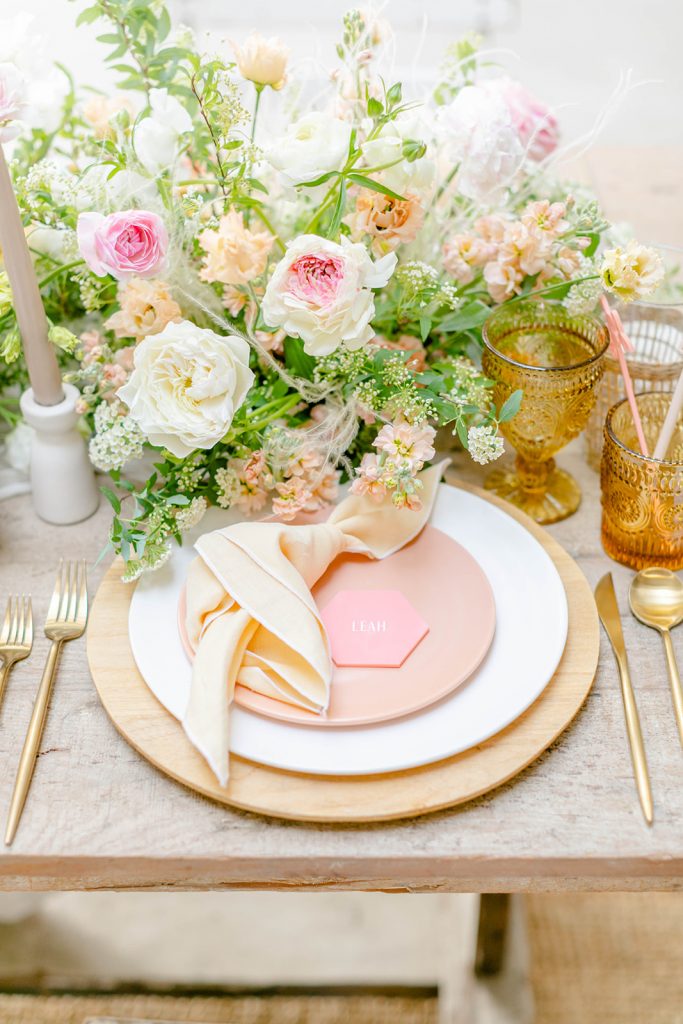 Love these overhead shots where you really see all the details! Third & Park used a runner of the most gorgeous spring blooms in neutral tones from white to soft blush to yellow. I loved using all of the different textures and soft spring colors to create this stunning setting.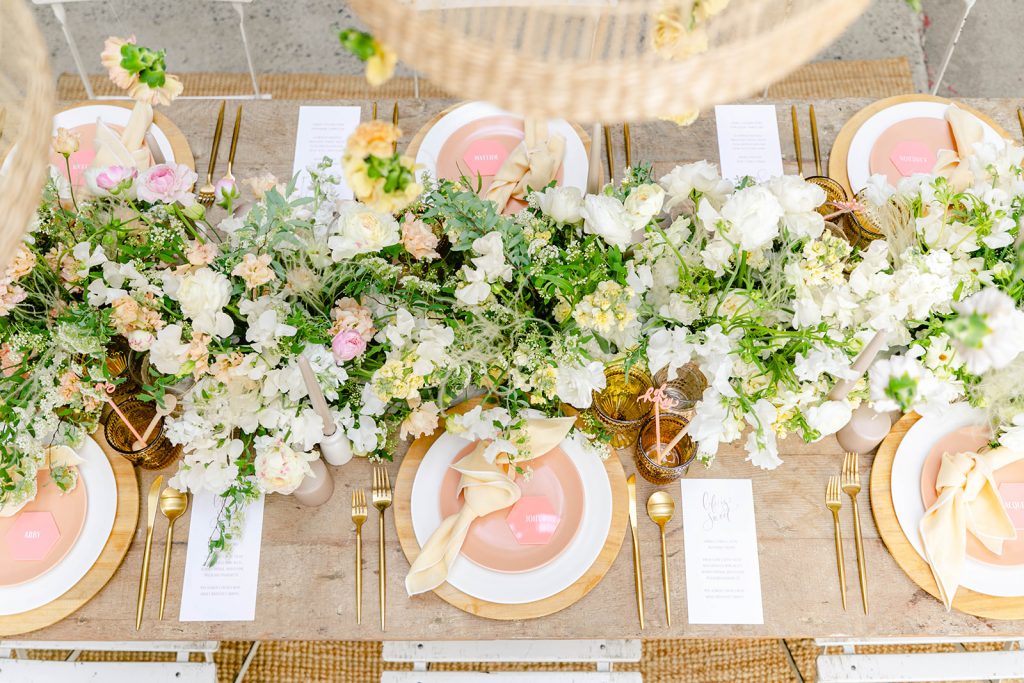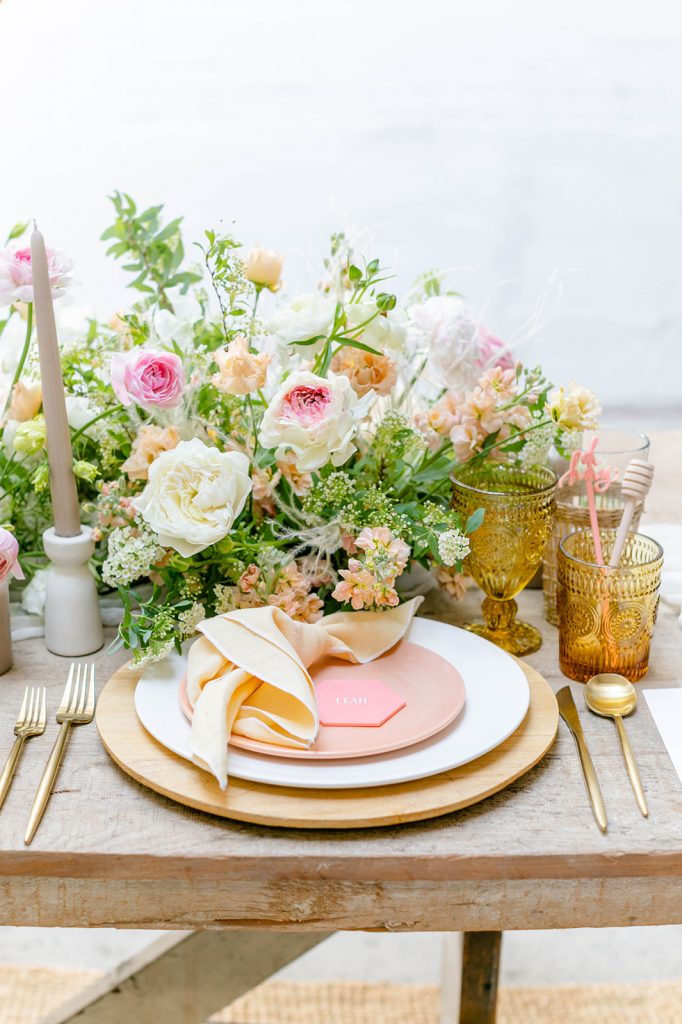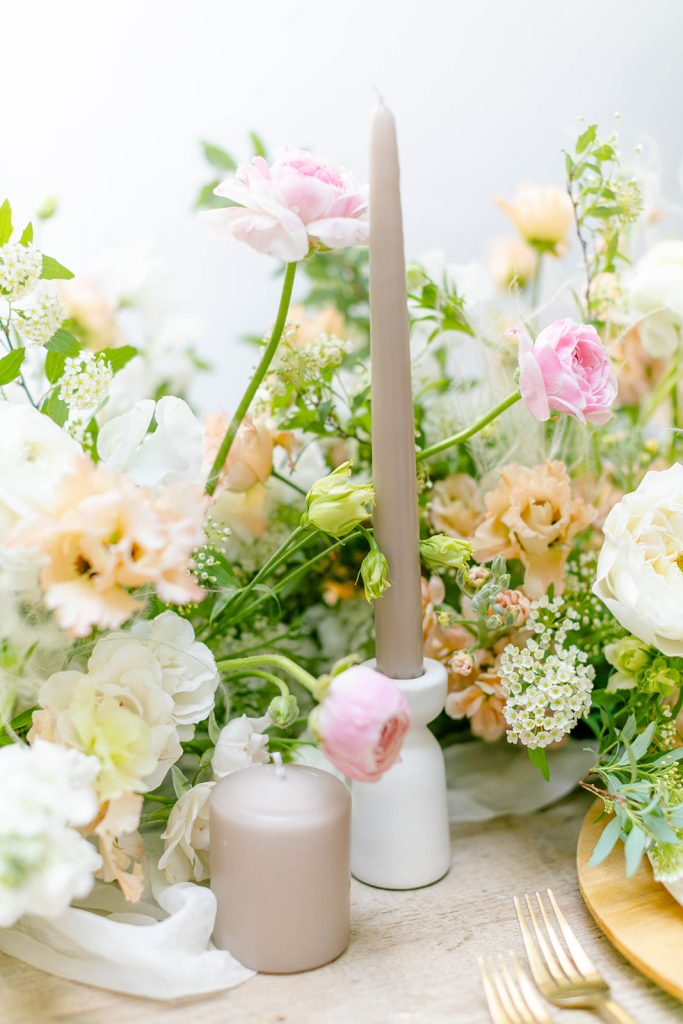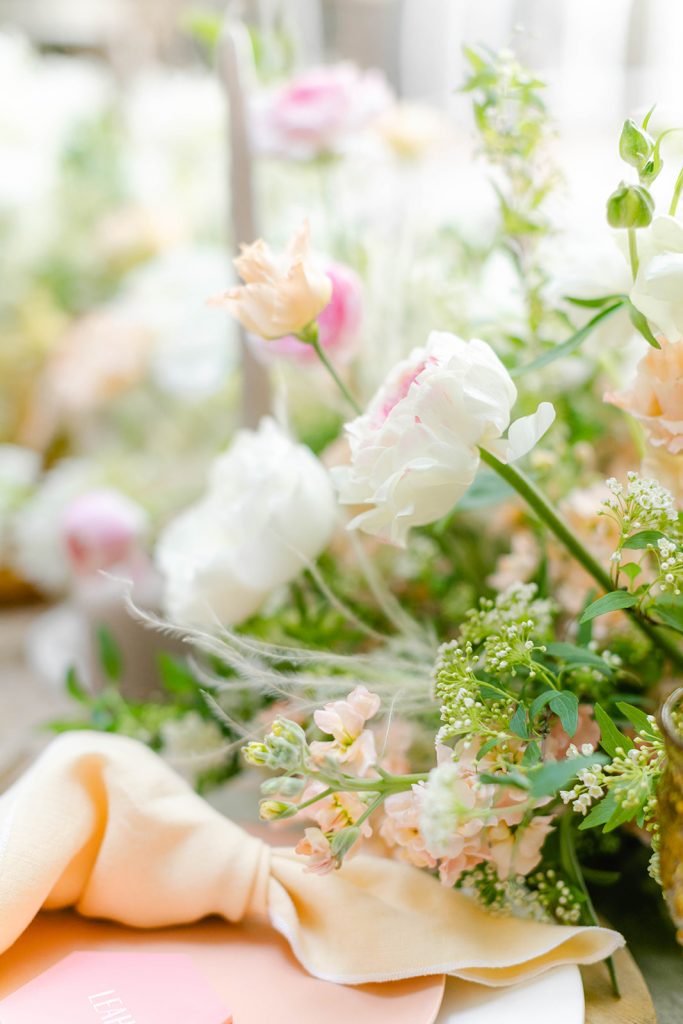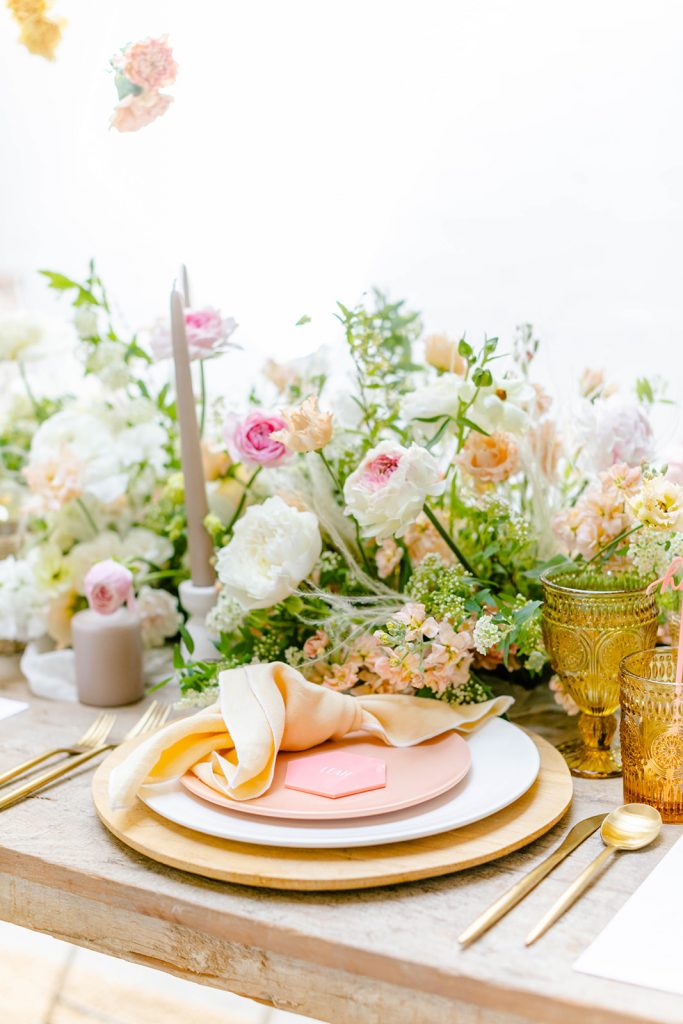 So much pretty in one place! I can just picture the little bees flying around living their best life here… And me being scared, haha!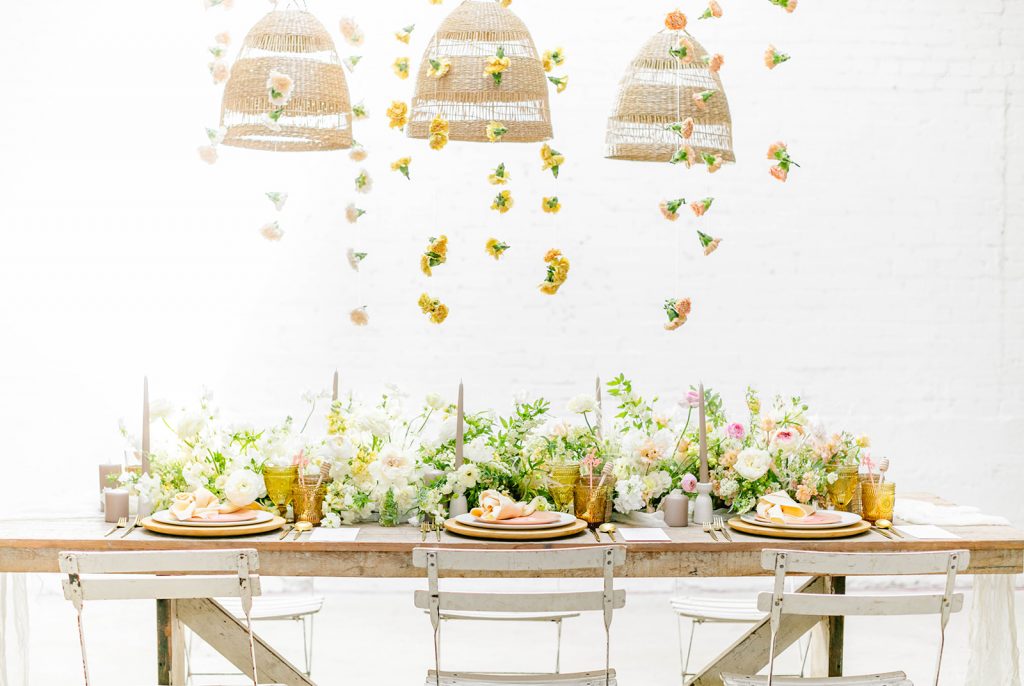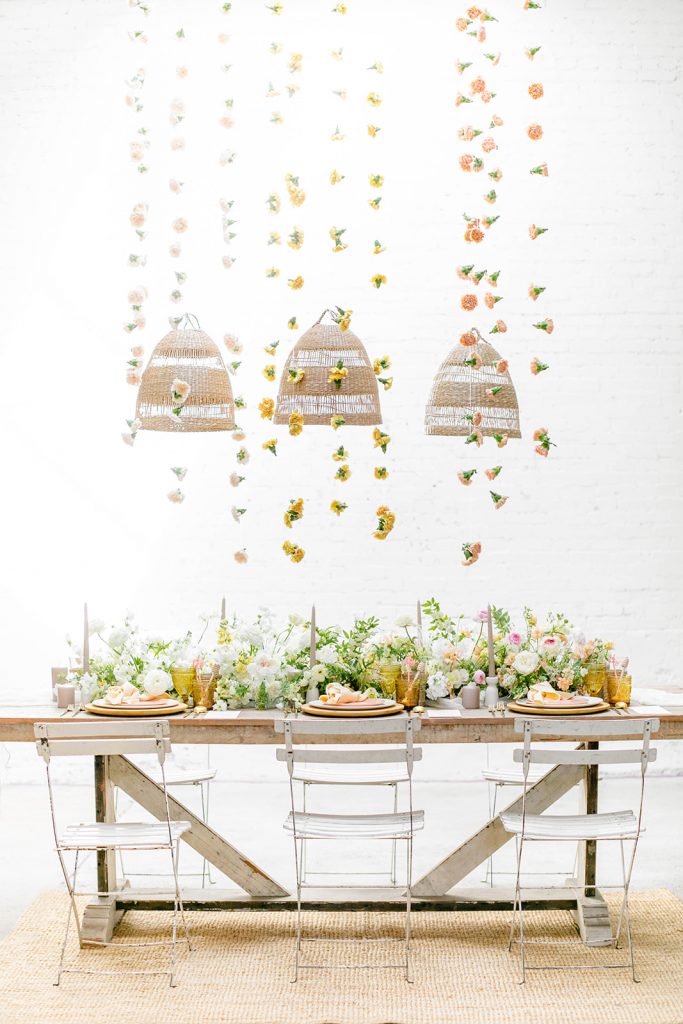 Moving on to our delicious food spread! Which included honey, of course! Colette's Catering always brings the yum, and this time in form of food and cocktails! This included a Spring citrus, cheese, and honey board, Fried Goat Cheese Salad with Roasted Baby Beets, Blood Orange, Honeycomb, and Pistachio Vinaigrette, and last but not least Pan Seared Chicken with Honey Roasted Carrots. Scrumptious!!! For cocktails, we had a Classic Bee's Knees with gin and The Honey Bee with tequila. Everything was amazing!!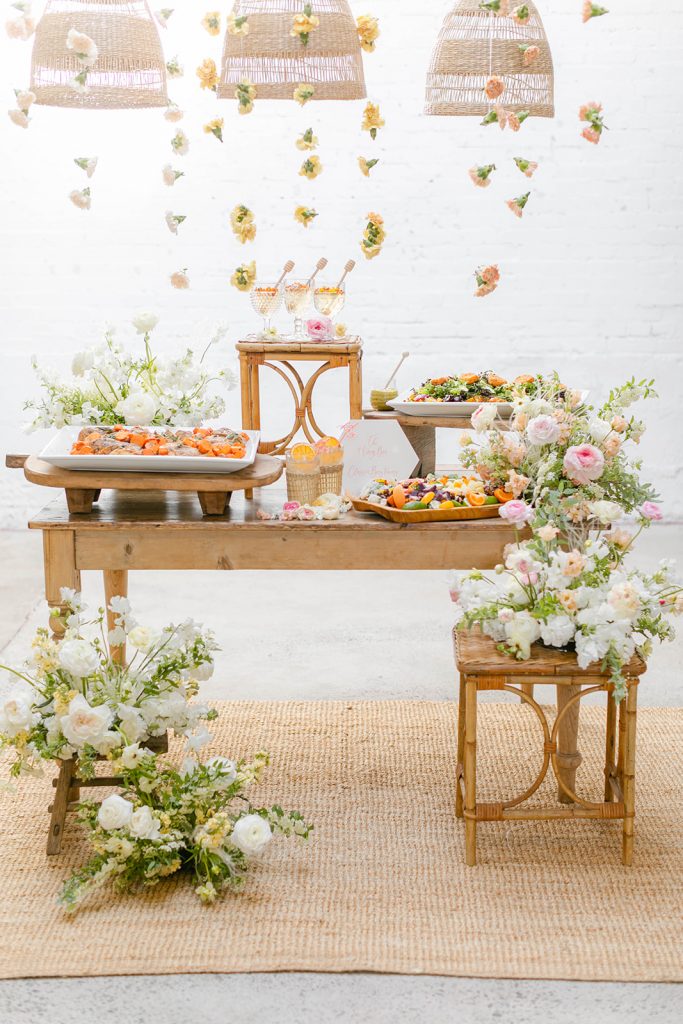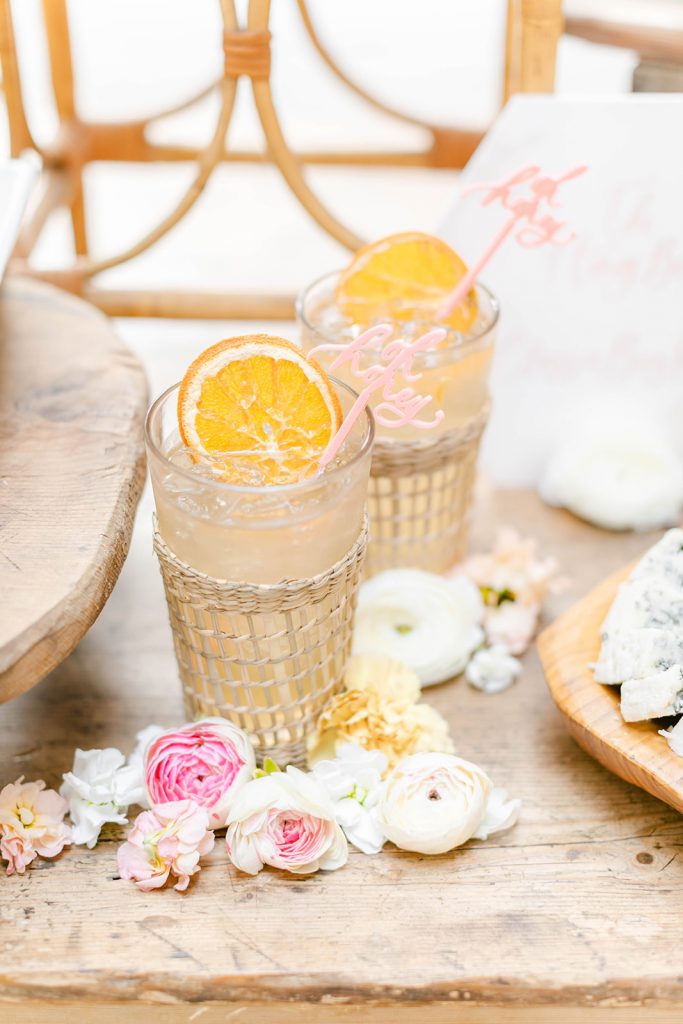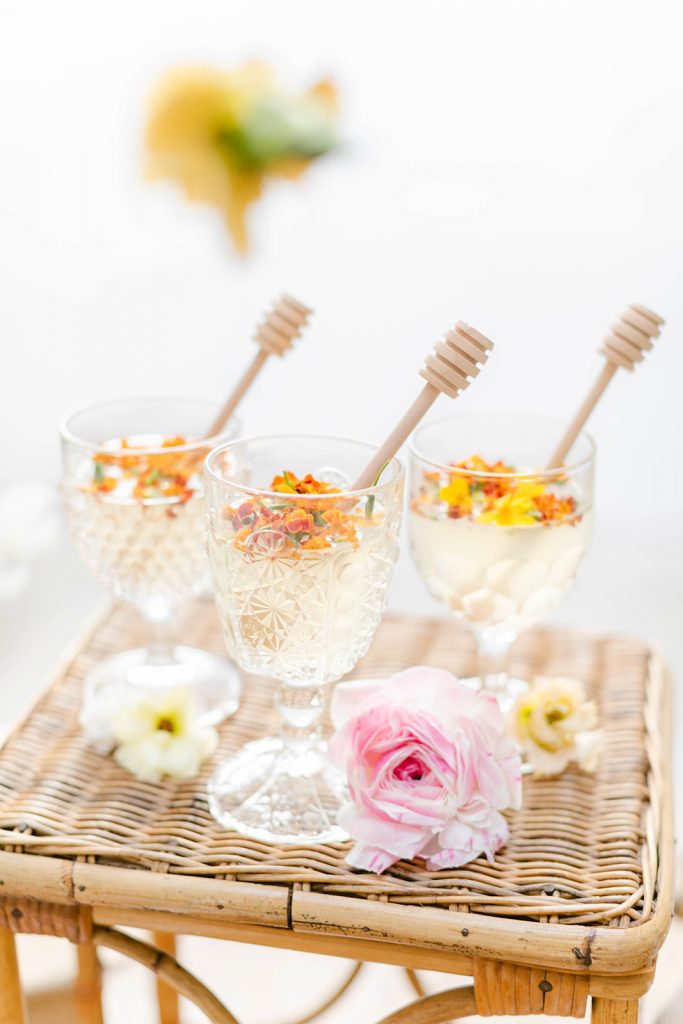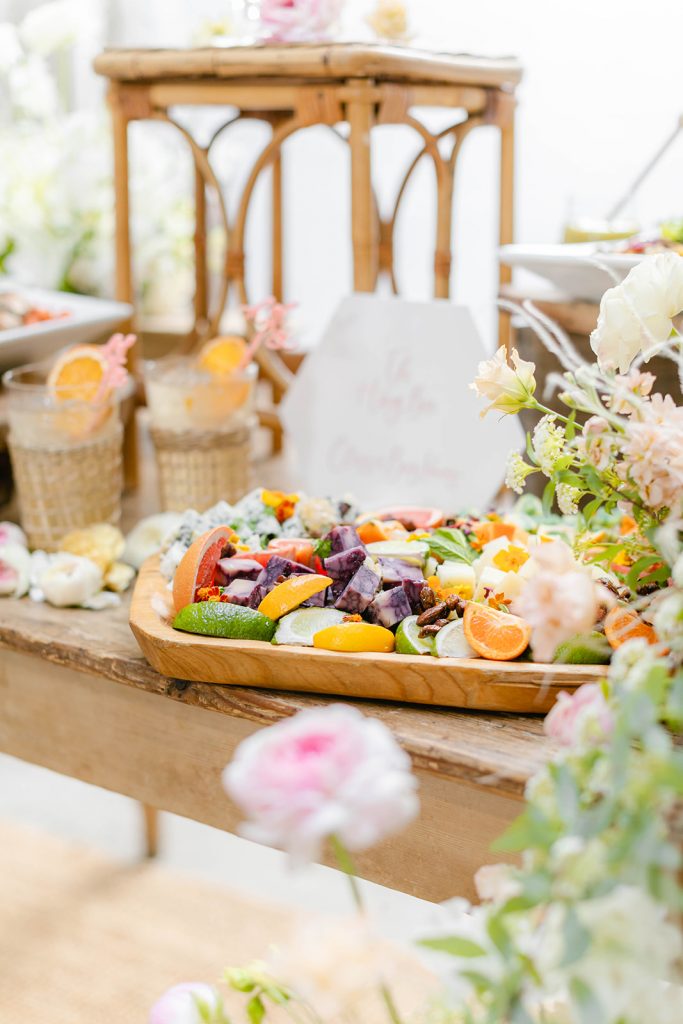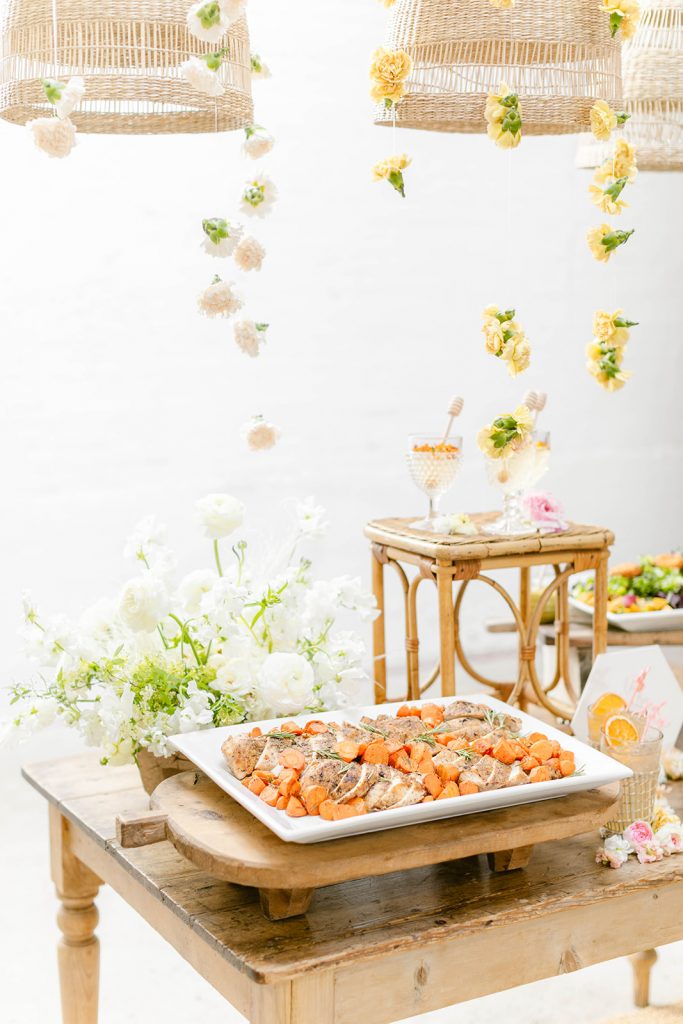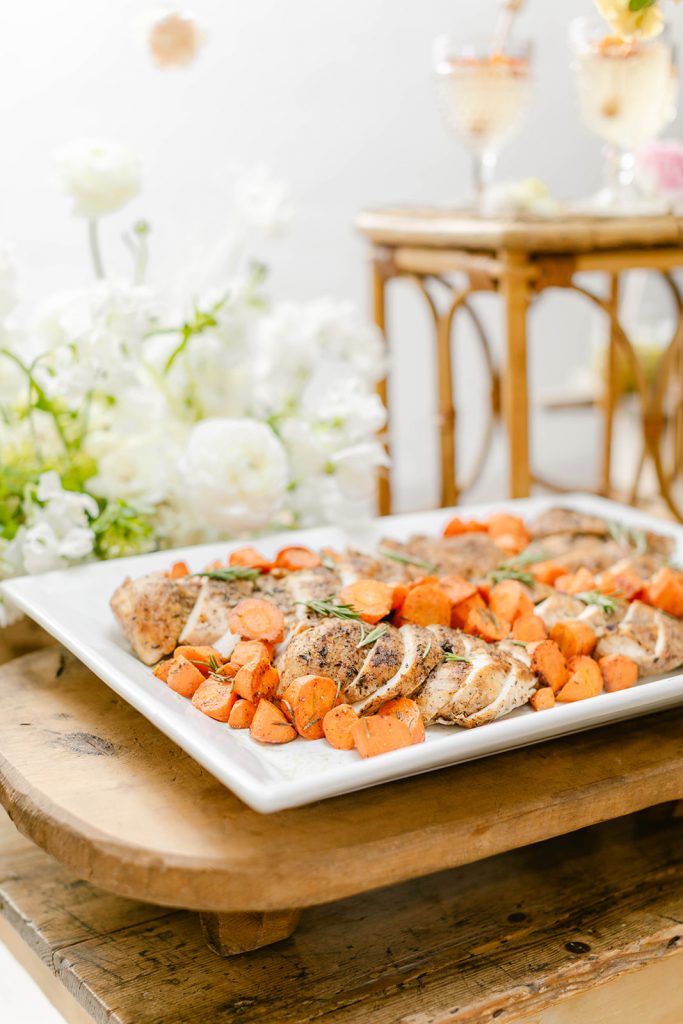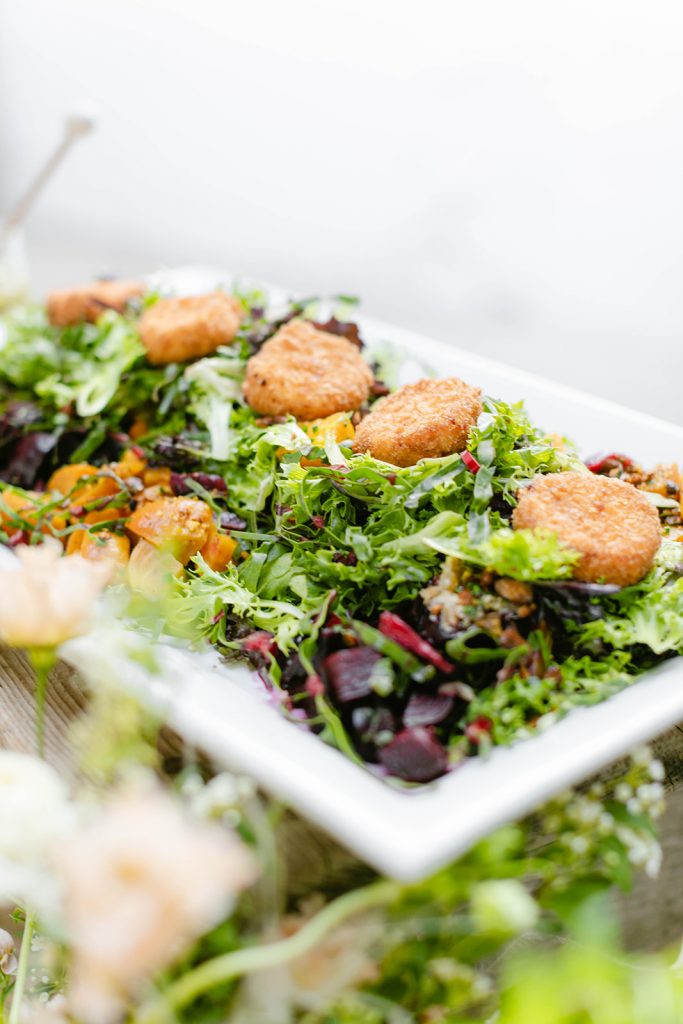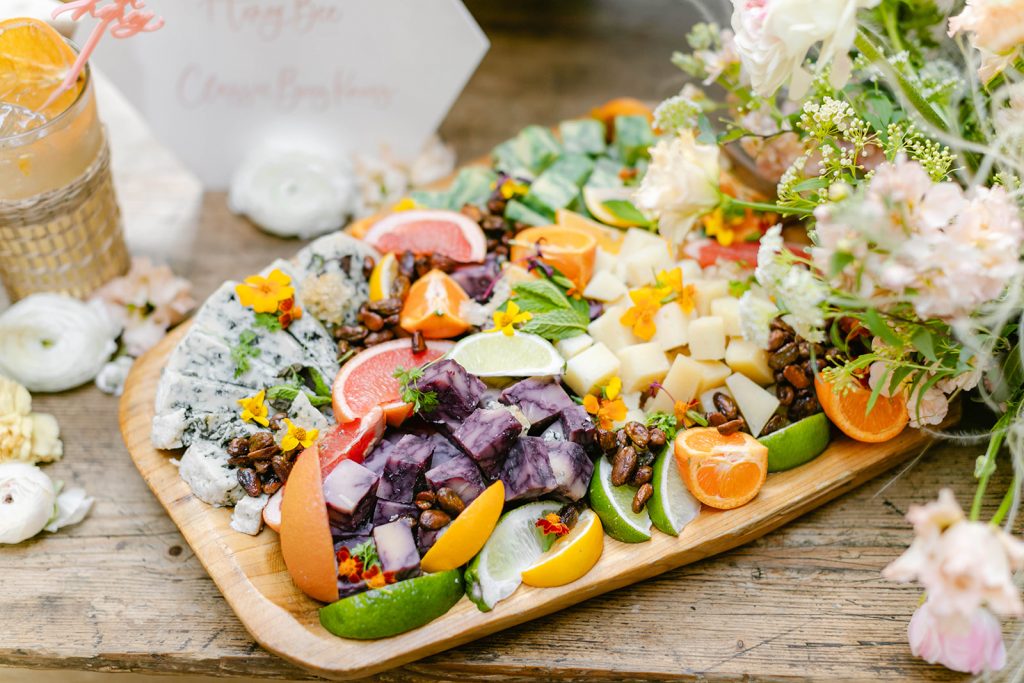 Gimme all that color!!!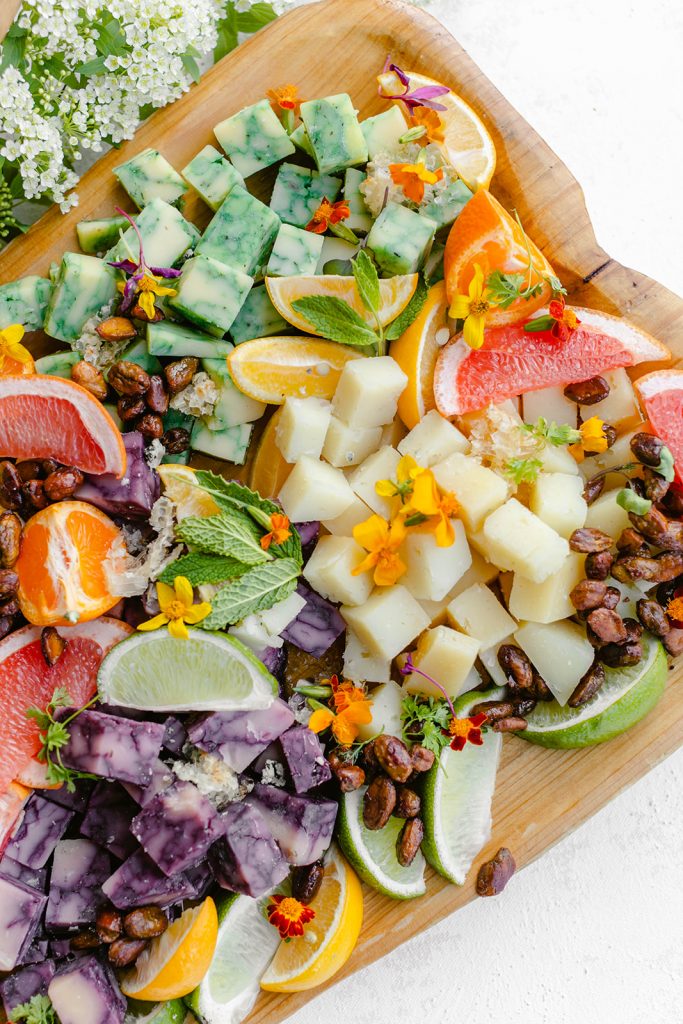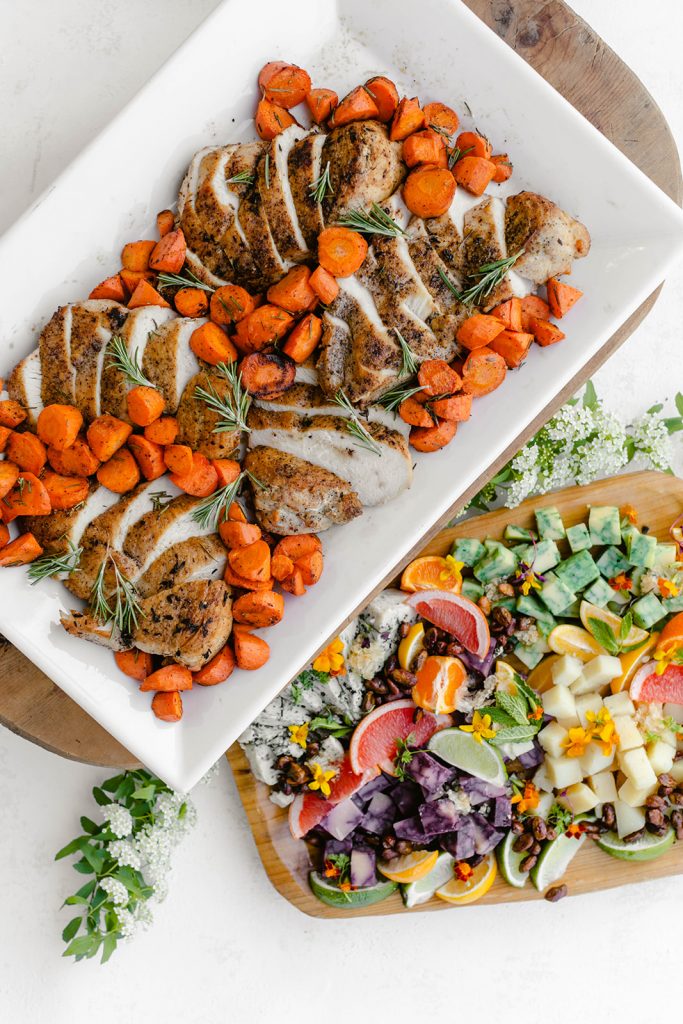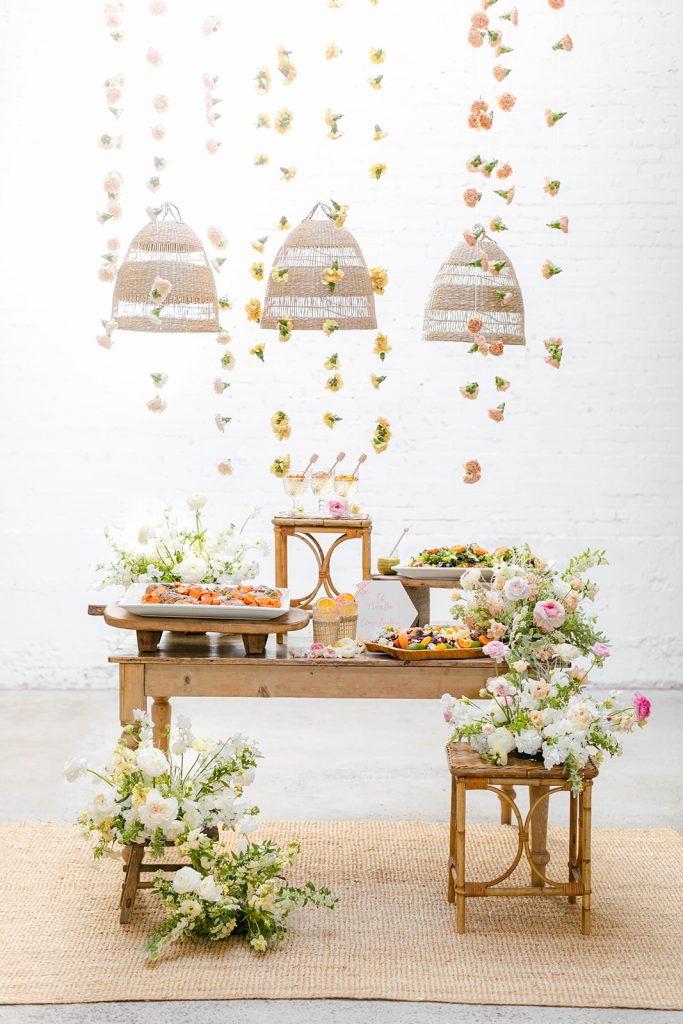 Onto my favorite, this stunning lounge!! You know I love Sweet Salvage Rentals' amazing collection, but especially her rattan pieces (which she just got a ton more of!!) It just all looks so pretty together under Third & Park's hanging installation. I definitely wouldn't mind enjoying a cocktail or two right in this spot!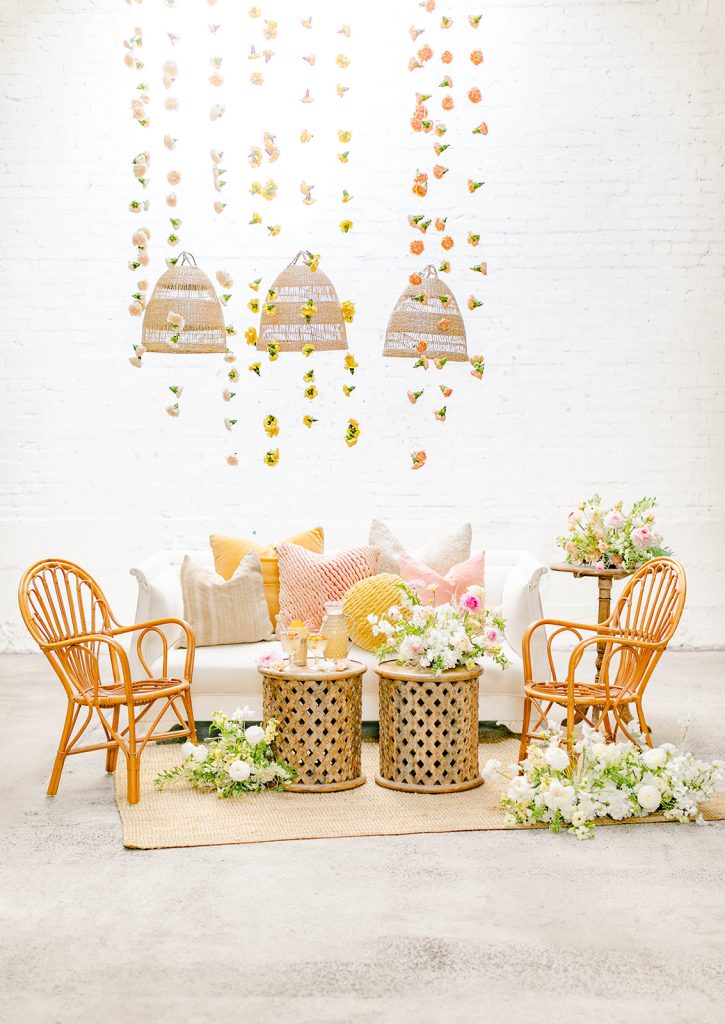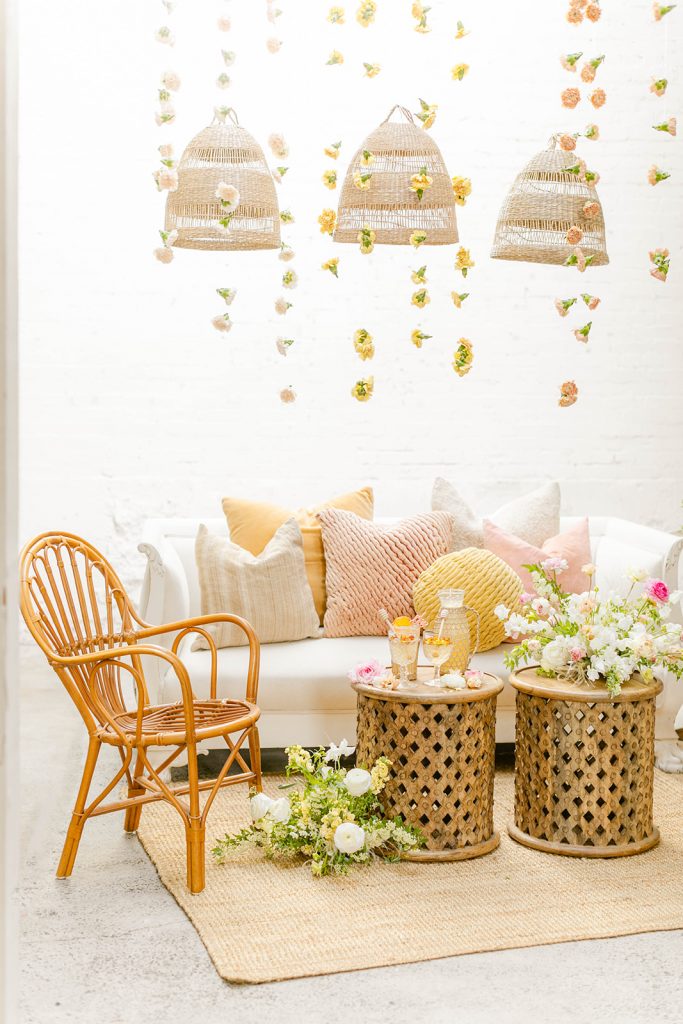 Who doesn't love a cocktail with fresh flowers in it?!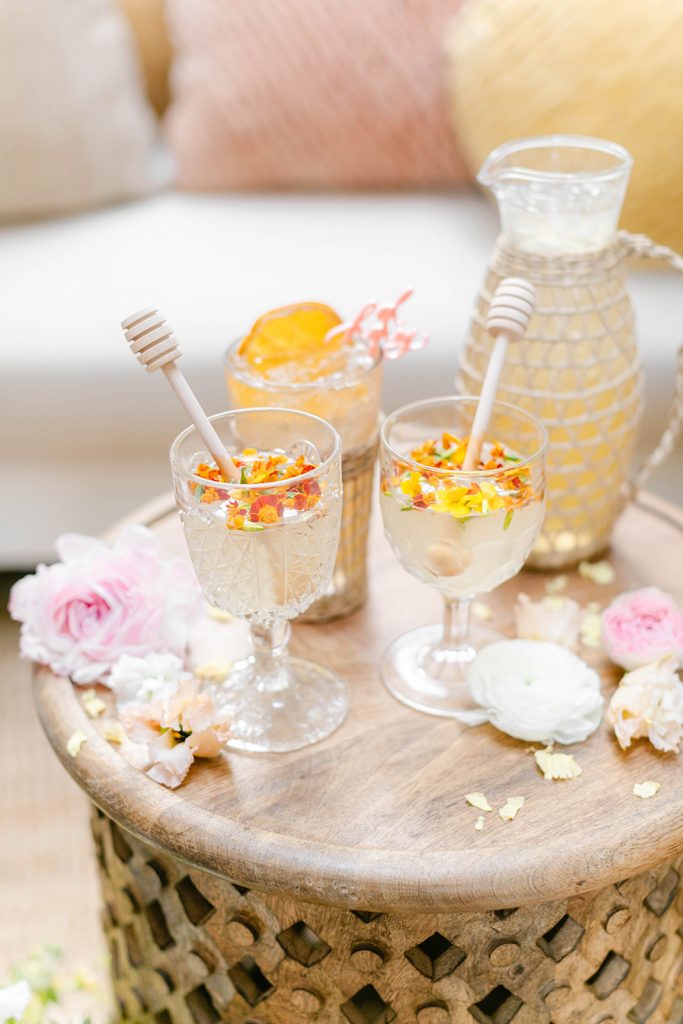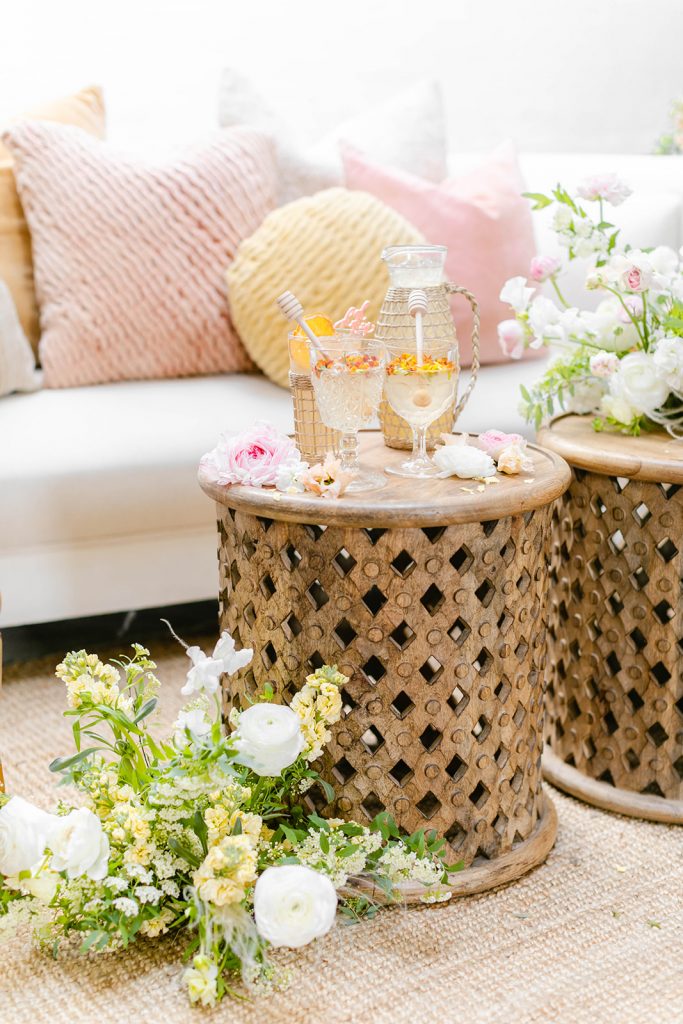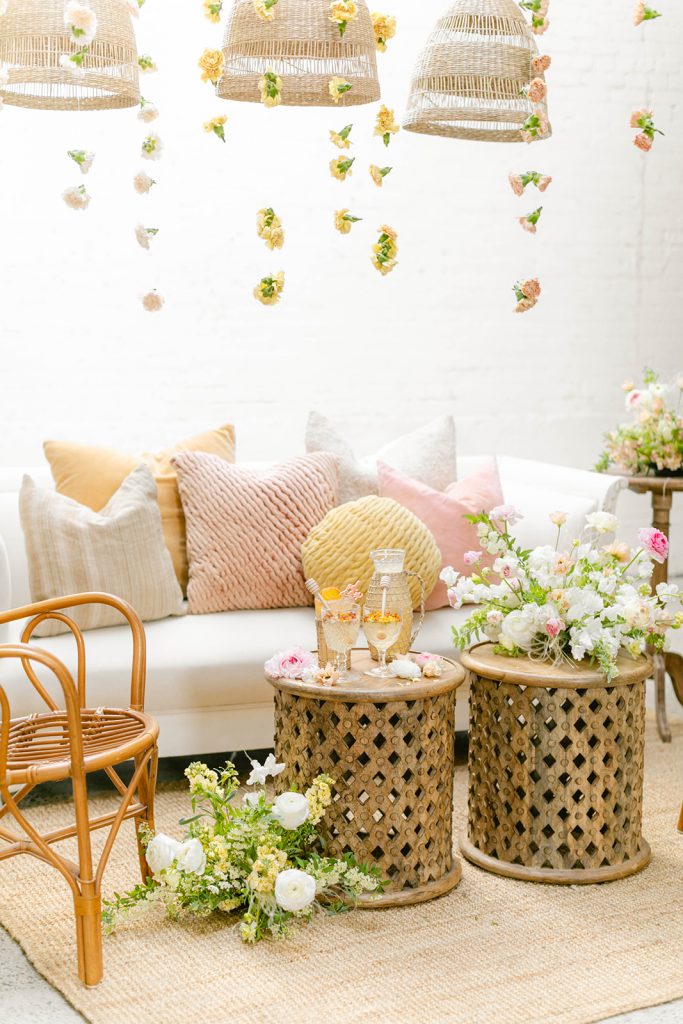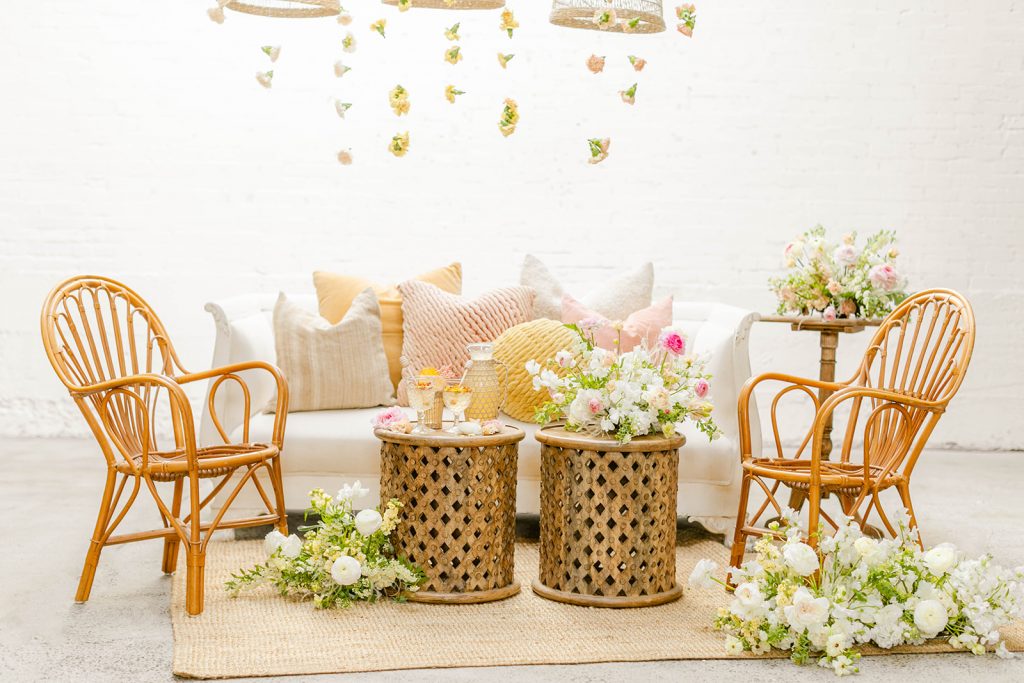 Pretty gosh darn BEE-autiful if I do say so myself! How will you be celebrating Earth Day?! I wouldn't mind celebrating it just like this!
xx
Jacquelyn