---
Raise your hand if you like Mai Tai's? I pretty much had you there huh? My cocktails usually always have a back story as to why I choose our Beijos Cocktails. Of course, this one took place in Maui a couple of months ago while I was doing a wedding there. The bride insisted we visit the Monkey Pod. They are known for their Mai Tais. Well, it was the 1st stop we made from the airport. I'm not a hard liquor kind of girl, but when in Maui, you do Maui. So, Mai Tai, it was. They pretty much had me at the Honey Liliko'i Foam which was a passionfruit foam on top. Three Mai Tai's later, and it was Monkey Pod for the win. We tasted a few more Mai Tai's around the island, but Monkey Pod shined over all of the other places. It was that Honey Liliko'i Foam!
My husband and I always try to recreate cocktails that we have had our past trips our just a dinner out. He is a past bartender, so its fun to try to recreate this at home with him. This time I surprised him with making them this past weekend. Wife points!
You are probably asking what orgeat is? Orgeat is pronounced "OR-ZHA" or "OR-ZAT and not "OR-GATE." It's a French word originating from the Latin "hordeaceus" which means "made with barley." So, what is Orgeat Syrup? To put it simply, Orgeat syrup is almond syrup with a decent amount of sugar and a touch of orange flower water.
*The original recipe called for macadamia nut orgeat. If you can't find the macadamia nut orgeat, then you can substitute an almond orgeat or use macadamia nut syrup. Myself, I went ahead and made the macadamia nut orgeat from scratch. A bit more work than opening a bottle, but I wanted to get that flavor! I included the recipe below.
Enough chit-chat!
---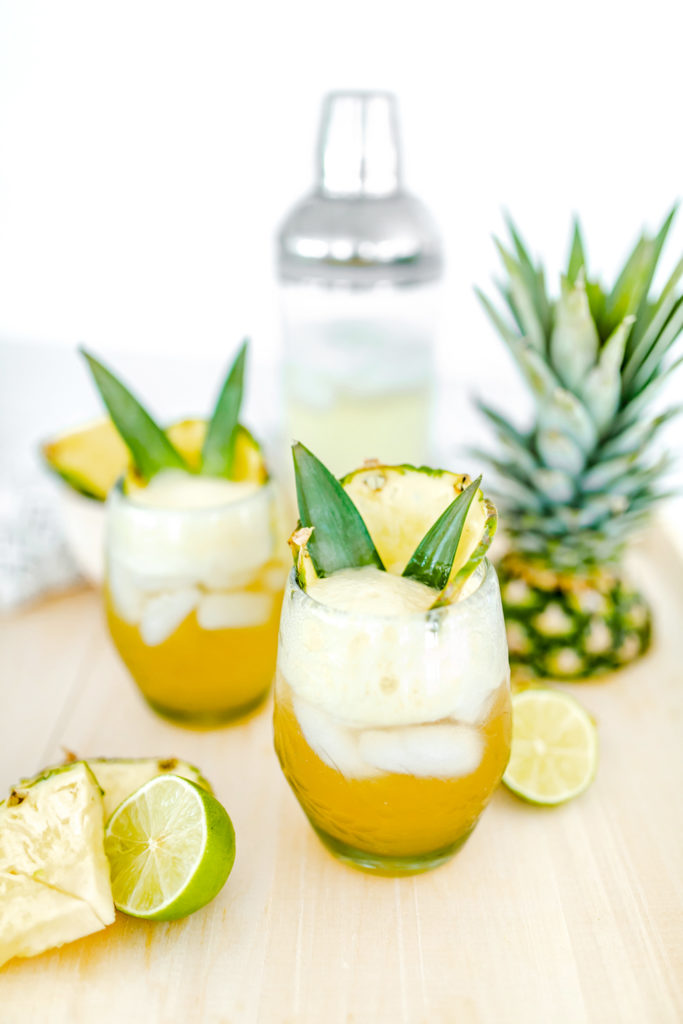 I N G R E D I E N T S
Monkey Pod Mai Tai Cocktail
1 oz. Light Rum
1 oz. Dark Rum
1/2 oz. macadamia nut orgeat (recipe below)
or
1/2 oz. macadamia-nut syrup 
or
almond orgeat
1/2 oz. Orange Curaçao
3/4 oz. fresh lime juice
pineapple
ice
Honey Liliko'i Foam
1/2 oz. honey
1 oz. liliko'i purée (passionfruit)
1 oz. simple syrup
1 oz. egg whites
1.5 oz. cold water
Macadamia Nut Orgeat
500 grams raw macadamia nuts
800 ml water
700 grams granulated sugar, organic
1-ounce vodka
Two teaspoons orange flower water
Y O U   W I L L   A L S O   N E E D…
Nitrous-oxide (NO2) Infuser
Cocktail Shaker
D I R E C T I O N S
Mix foam ingredients well and put in a nitrous-oxide (NO2) infuser* to half capacity. Use four charges for a liter-sized infuser. (Or blend ingredients on high speed till foamy.) Add lime juice, orgeat, orange curaçao and Light Rum to mixing glass. Shake with 1 cup cubed ice about 30 seconds and pour into highball glass. Float dark rum. Top with honey-liliko'i foam and garnish with pineapple half moon.
Now, if you want to get that OG monkeypod cocktail, you will need to make that macadamia nut orgeat yourself. I know it is a lot of work, but in the end, homemade is way better! Plus, hostess of the year serving this to your friends and family!
Macadamia Nut Orgeat 
Start by roasting the macadamia nuts. Preheat your oven to 350°F. Lay macadamia nuts out in a single layer on a baking sheet. Roast them in the oven for 15-17 minutes until golden in color. If your oven runs hot, start checking around 12 minutes to make sure they don't burn. Macadamia nuts are expensive, and you don't want to waste them.
Cool the nuts and place them in a bowl. Fill with water to cover them. Soak them for 30 minutes. Drain and place them in a freezer or Lewis bag, and crush them with a meat tenderizer (I found this work much better than with a rolling pin, and I didn't feel like busting out the food processor).
Place the crushed nuts in a large bowl and add the 800 ml of water to it. Let stand for two hours. Strain the nuts and water into another large bowl through a layer of cheesecloth, squeezing the cloth to extract all liquid. Add the nuts back into the strained water and let stand for another hour. This removes the oils from the nuts.
Strain the liquid into a saucepan and set aside the nuts for another use (I recommend making chocolate bark because… chocolate). Add the sugar to the pan and stir over medium-high heat until sugar is dissolved (scrape the bottom occasionally with a spoon to remove any sugar that sticks). Remove from heat and let cool 15 minutes, then add the vodka and orange flower water. Stir and store in a clean glass bottle or airtight container.
xx
Abby