Mother's Day is this Sunday and we really can't think of a better holiday, I mean celebrating motherhood is so important and necessary considering all that they (we, haha) do.  We reached out to a few of our favorite mamas to find out their favorite moments or things about being a mom or the best advice they could give.  It was so powerful and inspiring to read everyone's responses, we hope you are as moved as we were with these thoughts on Motherhood and advice…
Leah Carriger of Beijos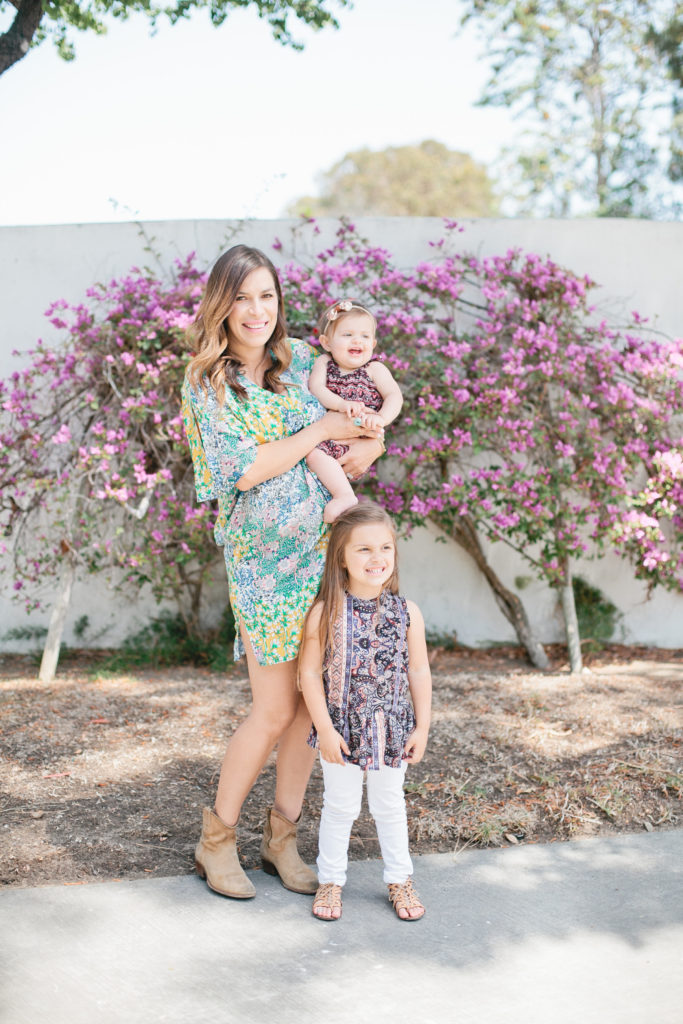 I haven't been a mom for very long in the grand scheme of things, I just turned 4 last month in mom years, but I have to say I'll never forget what my parents told me when I told them I was pregnant with Edie.  They were over the moon with joy and the first thing out of my dad's tearing up eyes was, "Mija, having children is the best thing you will do and experience in life".  In my own emotional state of pregnancy, it made me tear up too.  Plus my dad had never showed his emotion to me like this before, so it was a great moment.  But I really didn't understand the scope of the statement even then.  Today when I think about being a mom, I reference what he said to me that day, because it's so simple, and so true.  No matter what I do I always go back to those powerful words.
Abby Guido of Beijos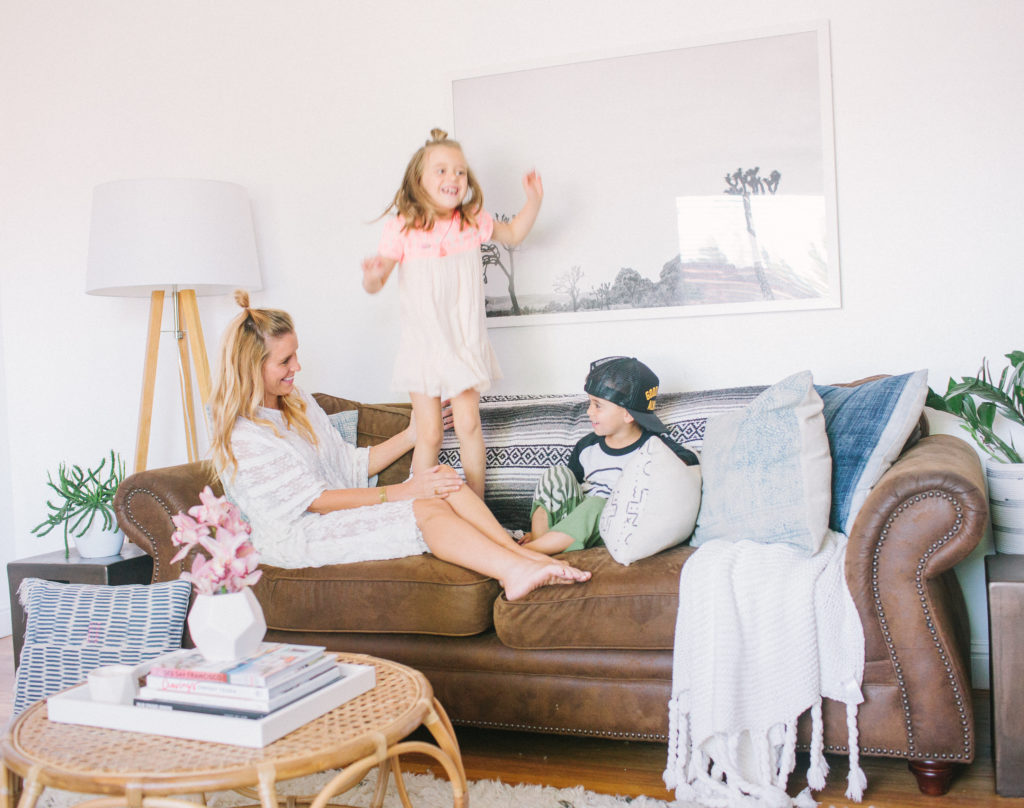 I'm still in awe that I was blessed with being a mom to both a daughter and son. They are such opposites, and are truly little mini me's. Its amazing to see parts of you and your husband in these two little souls. I will often stare at them, and not because they said something funny or did something wrong, its realizing the amount of love I have for these two, and that I get to be their mom. They probably think I'm a tad nutty, cause they will ask often, "mommy why are you staring at me like that?" One day they will realize the mommy crazy stares, and kiss attacks they get every day. I strive everyday to be the best version of myself for them.
Jacquelyn Kazas of Beijos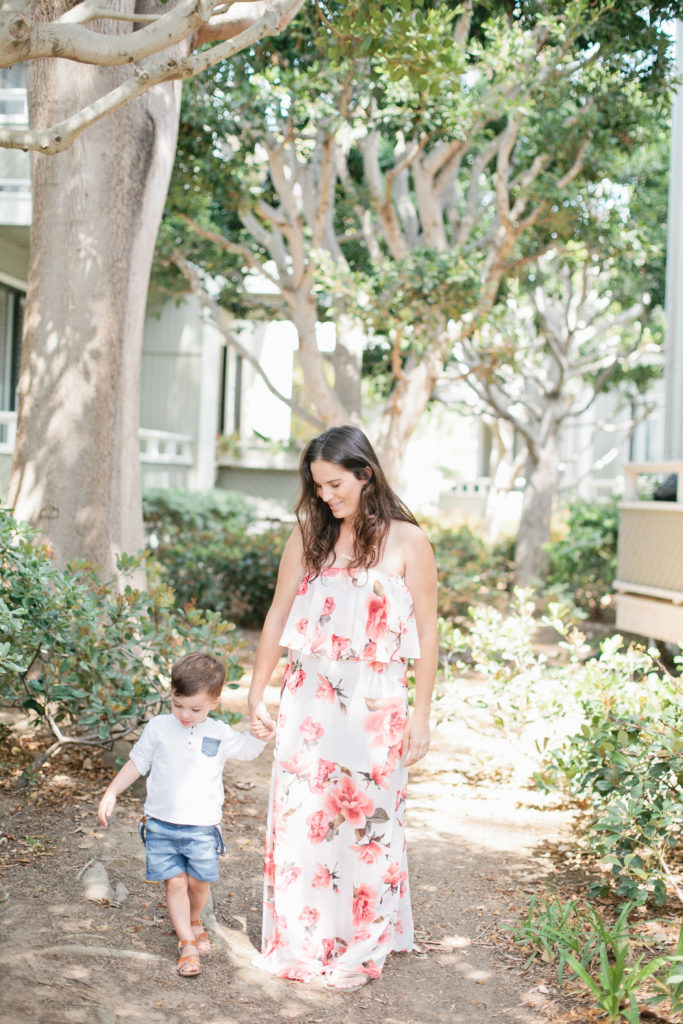 Every day as a mother to Court amazes me… It amazes me that my body grew this amazing little person, it amazes me that I could love him so much it hurts and he amazes me every day with his eagerness to learn, his hilarious sense of humor and his endearing love.  Court has a way of always making me feel great about myself, even when I have no makeup on and there are dark circles under my eyes, he looks at me like I am the best and most beautiful person he's ever seen… I wish I could see myself through his eyes, and I hope that I live up to everything he thinks of me.  One of my favorite moments of the day is putting him to sleep at night, he always hugs and kisses his daddy and his doggy Dolly and then we go to lay down together in his bed for a bit…  I'll always ask him if he had a good day and he says "Yes Mama" and squeezes me really tightly.  Being a mother isn't easy, it's the hardest job I've ever had… There are days that are tough, especially with a  toddler, but I try my best to be patient and loving just like my parents were with me and I know as long as I'm giving it my best, I'm doing a great job.
Taylor Sterling of Glitter Guide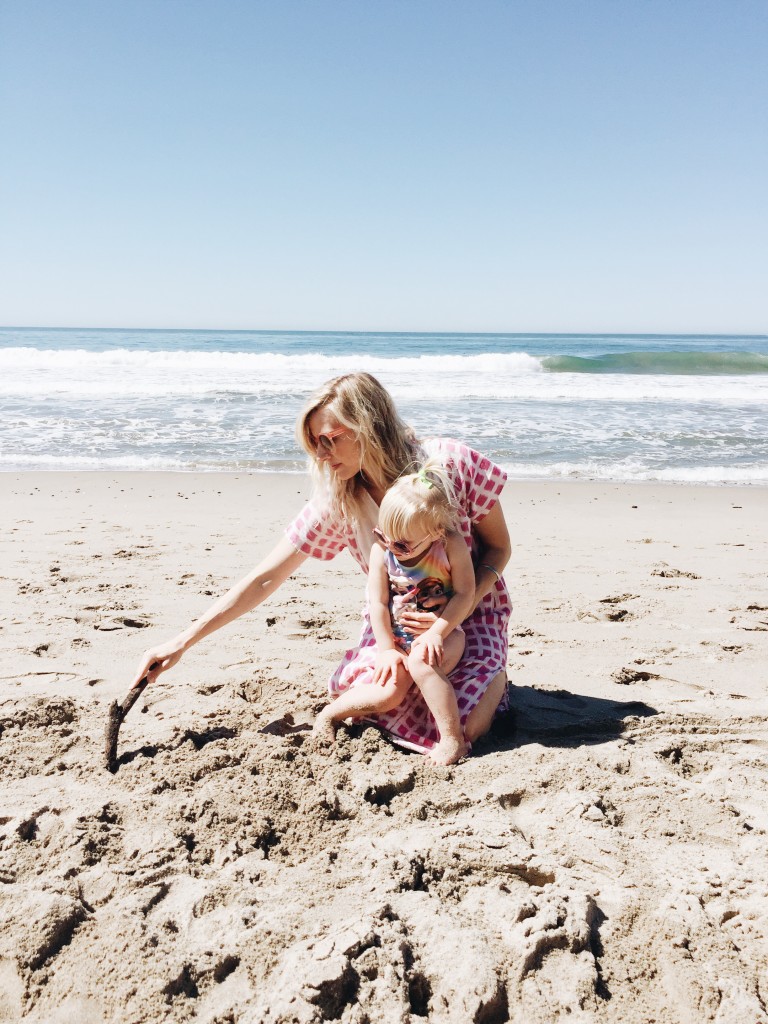 Motherhood teaches me so much every single day. I find it fascinating how much having a child teaches you about life and who you are and who you want to be. I love those small moments where my daughter says something funny, surprising or just looks at me with so much love I could burst. Those moments make all the hard parts melt away and makes you want to bottle that feeling up forever.
It's not only children who grow. Parents do, too. As much as we watch to see what our children do with their lives, they are watching us to see what we do with ours. I can't tell my children to reach for the sun. All I can do is reach for it, myself. —Joyce Maynard
Julia Wheeler of Gunn & Swain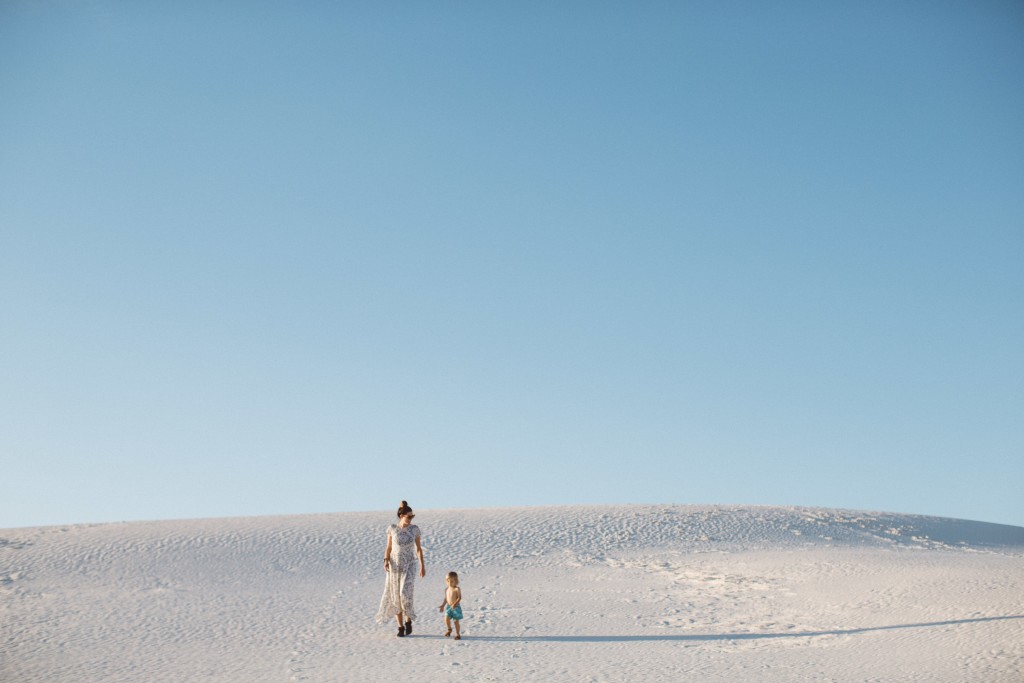 My favorite moments with Gram are slow mornings when we head to the beach for breakfast with just the two of us and play in the sand with nowhere to be, in no rush, just hanging out and spending time together. It's not always easy to stop and just be present and it's easy to get frustrated with a needy or whiny toddler, but in those quiet moments, it's when I remember that this all goes by so fast and I want to soak up as much of this time with him as I can.
Meg Perotti of Meg Perotti Photography and Little Meg
Being a mother is full of so many heavy moments. It's not just the physical literal weight you carry by growing your children and then hoisting them onto your hip for years but it's the weight of raising a human, of being everything for them all the time. But, motherhood is also full of a lightness- a take your breath away, sock me in the gut I love you so much, this is the meaning of everything lightness. For me, it's the answer to all of my questions about purpose and these moments are my favorite thing about motherhood. This heavy stuff- the weight? It's hard to ignore – and on some days it's easy to get buried under- but what makes motherhood so special to me is how it brings back the ability to enjoy simple things in big ways. The way you can look at your child doing something as mundane as using a spoon and cry because, "Look! She is using a spoon!" or how you get to enjoy things like peanut butter and jelly sandwiches again and how watching your child see the beach for the first time- seeing her run through the waves with wind in her hair makes you want to take her to the beach every day. Being a mama has given me a lust for living like I have never known. It's a gift to be given the ability to feel my heart swell every day and to find beauty and love while carrying a weight so big as a life.
Erica Beukelman of 1011 Makeup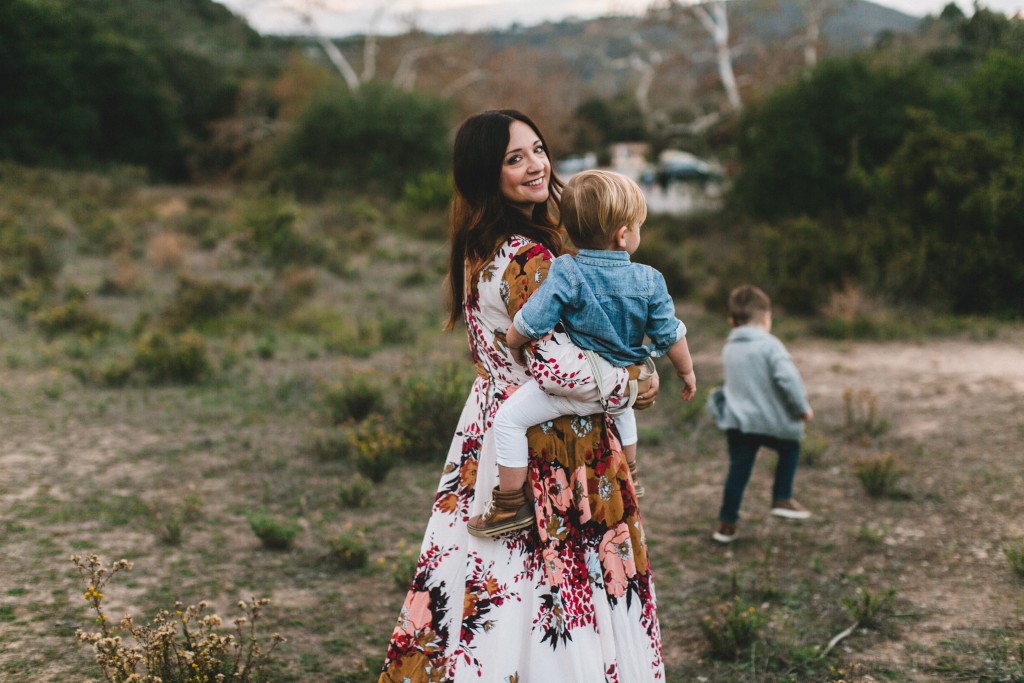 I would say the most unexpected thing, and one of my favorites about being a mom, is how much I am the one that actually learns from my kids. Momming is hard, and they have taught me so much about grace, and love… and I love their love for discovery and endless questions: Like when my four year old asked me "how did you and daddy make the baby in your tummy" I panicked and said "Um, it's hard to explain buddy", and he responded with "Im pretty sure you used a cotton ball"… their little minds are just the best. It is an honor to be a mom of all boys and to teach them about chivalry. As a mom of boys, I have also planned ahead and told my hubs I will be buying my daughter-in-laws wedding dresses in order to ensure my spot at the fittings :)
Delbarr Moradi of Delbarr Moradi Photography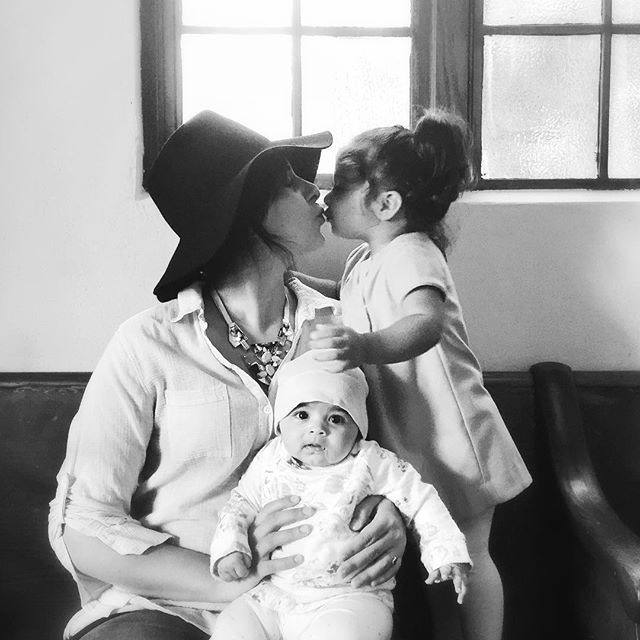 I ran down the stairs in an effort to get Delara (my 3 year old) out the door for school and when I looked behind me, she was no where to be found.
"Delara???", I called out.
"Yes, Mom?"
"Where are you? We're going to be late!"
"I just hugging and kissing Aria!…coming!!"
and then my heart exploded.
Delara loves her sister more than I could have ever hoped for at this stage. They are 2 years apart and as crazy as life can be at times, the moments I see them interacting and Delara loving on her little sister makes me melt and reminds me this is ALLLL worth it. Crazy mom hair and all.
**photo was when Aria was a lot smaller, she's 9 months now. I just love this so much though because its my heart and soul in a pic. I love being a mom to these two girls.**
Jesi Haack of Jesi Haack Design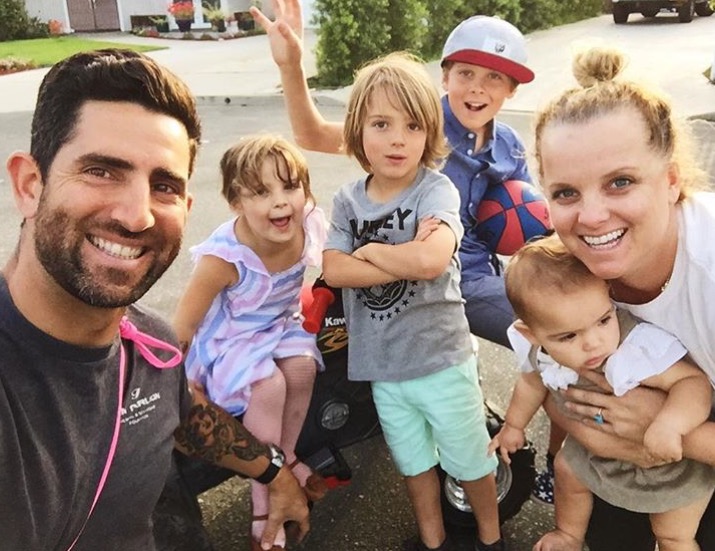 Have grace for each other. It takes a village. So use your village. And be someone's village. Tell random moms you see how good of a job they are doing. Refrain from judgement. Like, REALLY try and refrain. No one TRIES to be a crappy mom. So give the benefit of the doubt. Give a smile instead of a disdainful glance. Be each others teammates rather than each others competition. There are many successful ways to raise a child. Be open. Be cheerful. Be in it together.
Yasmin Sarai of Yasmin Sarai Photography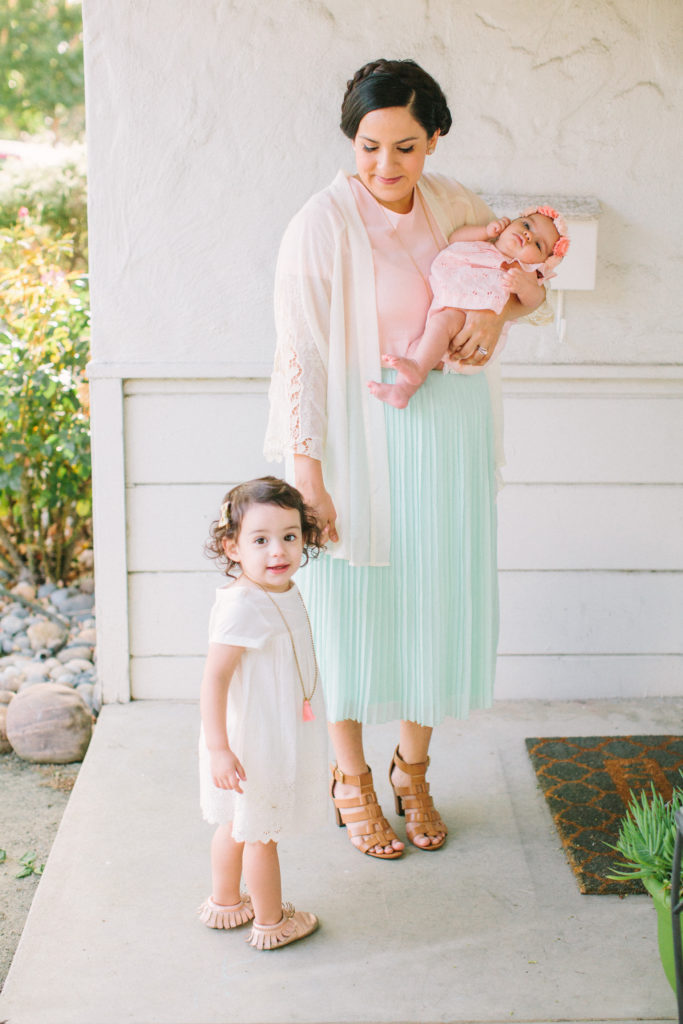 Motherhood is hard, messy, and requires so much sacrifice; but it is such a grand calling and children are a blessing. I truly try to keep this perspective in my day-to-day life as a mom, during the challenging, not-so-pretty moments, when my toddler is throwing a fit or my newborn is fussy. Most importantly, my faith keeps me anchored and reminds me that all the sacrifices are worth it because my girls are my greatest legacy in this world. Both God and my husband help me to be a better mom and show me so much patience and grace, so my best advice to any mom is to nurture and invest in those important relationships, as well as friendships with other women, both young and old, who you admire and respect, to support you and help you keep a healthy perspective on motherhood and life. I'm so thankful to be mama to two of the sweetest girls around, Gwendolyn May (age 2) and Evangeline Roux (age 2 months). A few of our favorite things to do together are walking to church every Sunday and working in the garden. Gwen likes to help me water the plants and, like most kids, likes to get her hands dirty. Reading books, tea parties, and of course, impromptu dance parties in the living room are some of our favorite go-to fun activities. We also love getting cozy and curling up on the couch to watch British kid's shows… the accents and music on those shows make them less mind-numbing and much more pleasant to watch, haha!
Amber Thrane of Dulcet Creative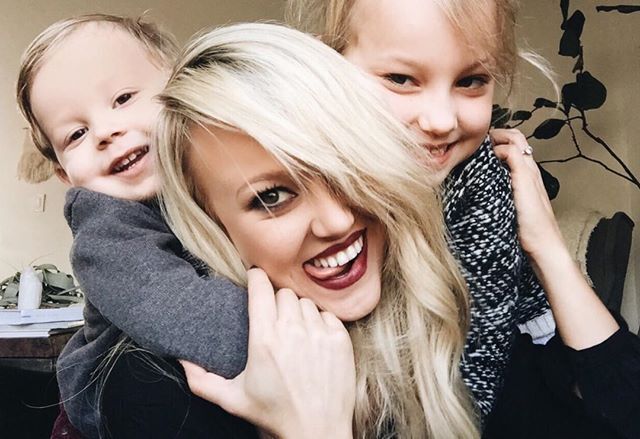 My favorite thing about being a mom is getting to be around the BEST little teachers at all times. They have taught me so much through their love. They've literally LOVED me into a better person. At this point they don't have any other mom to compare me, no social norm to judge me against, so I am free to be my weirdest, most "real" self without any judgement. That is powerful. It heals the deepest parts of you. I can get too hopped up on coffee and sing in the car at the top of my lungs and force them to join me in a three part harmony to a song they probably shouldn't even be learning, teach them funny dance moves just so I can laugh at them attempt them or sit on the kitchen floor eating a tub of ice cream with them for dinner because I'm too lazy to make dinner and they think its all AWESOME. I can do no wrong. Someday they will be teenagers and think I'm SO embarrassing but I'm soaking up all these lessons in self-acceptance and self-love while I can! And if you think about it, maybe through all my failing and learning along the way I'm teaching them a lesson too: Its OK to be you.
Hope you all have the happiest of Mother's Days
xx
Jacquelyn