We are kicking off the Halloween fun today on the blog, after all – it is October!! We've had a little bit of Halloween fun already here and here, but the rest of this month is going to get pretty fun! For this one, I teamed up with one of our favorite companies over at Beijos – The Little Market.
We have loved this brand for years. They are a nonprofit fair trade shop featuring ethically sourced artisan-made products. I truly admire what they do for artisans around the world and also love every single piece on their site. I got inspired for this one by those pretty black and white baskets you see on the wall, wanting to create a boho Fall/Halloween type tablescape.
Keep scrolling to see the pretty we created and kick off the Halloween fun with all the gorgeous photos by Caitlin Alohilani. We are also featured today on Lauren Conrad's blog!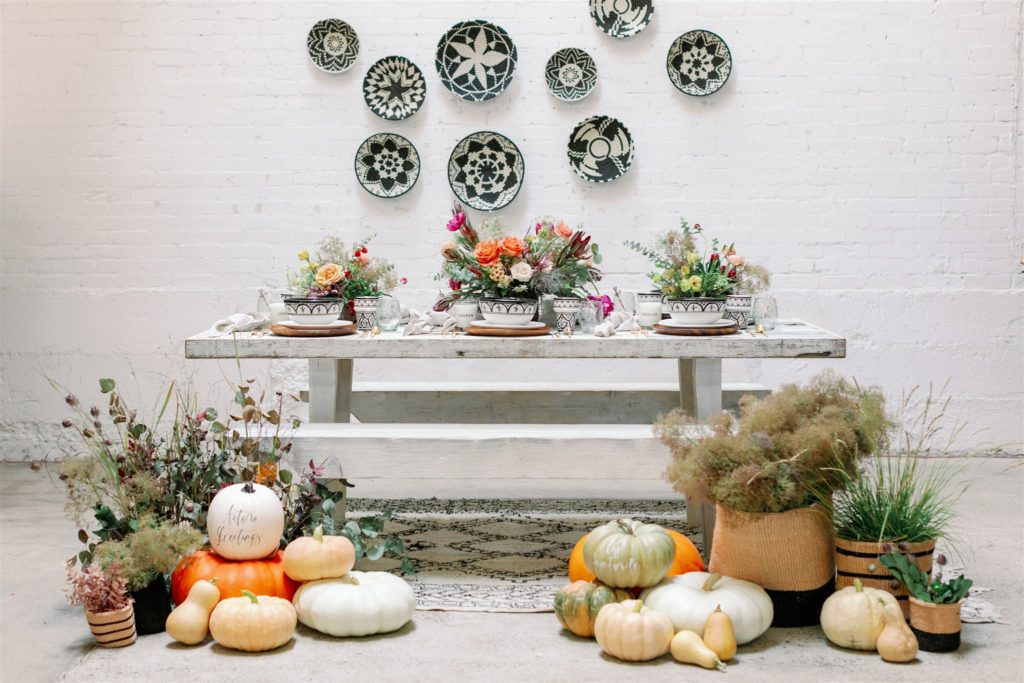 My friend Aislinn from Proper Letter created the perfect invite and all the fun details for this one. Her it's Fall Y'all statement is one of my favorites and is the perfect sentiment to get your friends to gather. Why not celebrate a new season?! Especially one as great as Fall!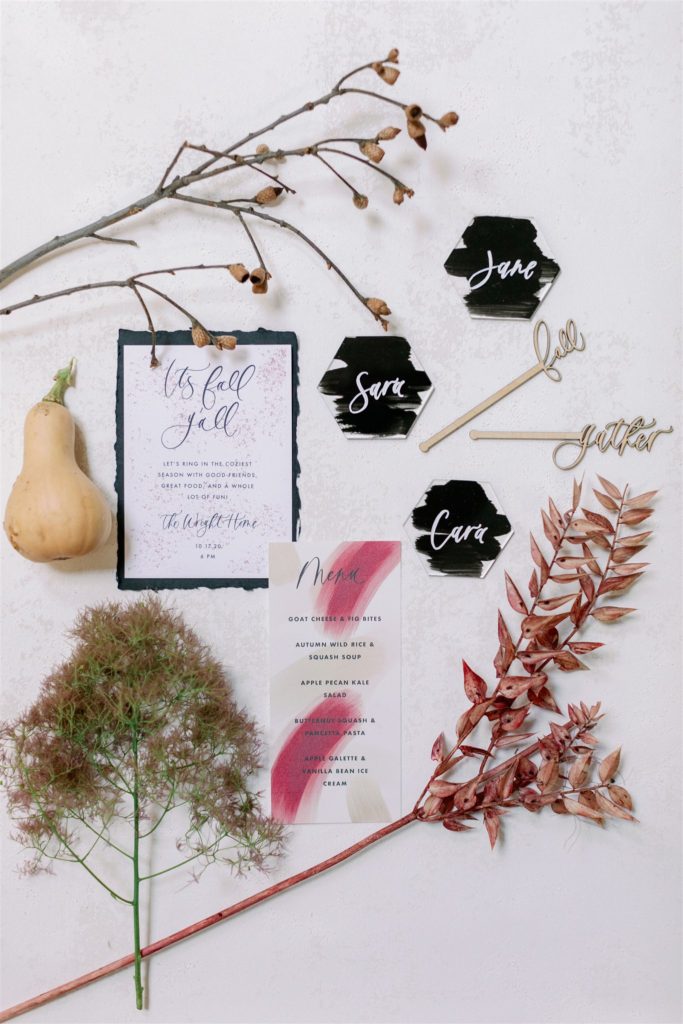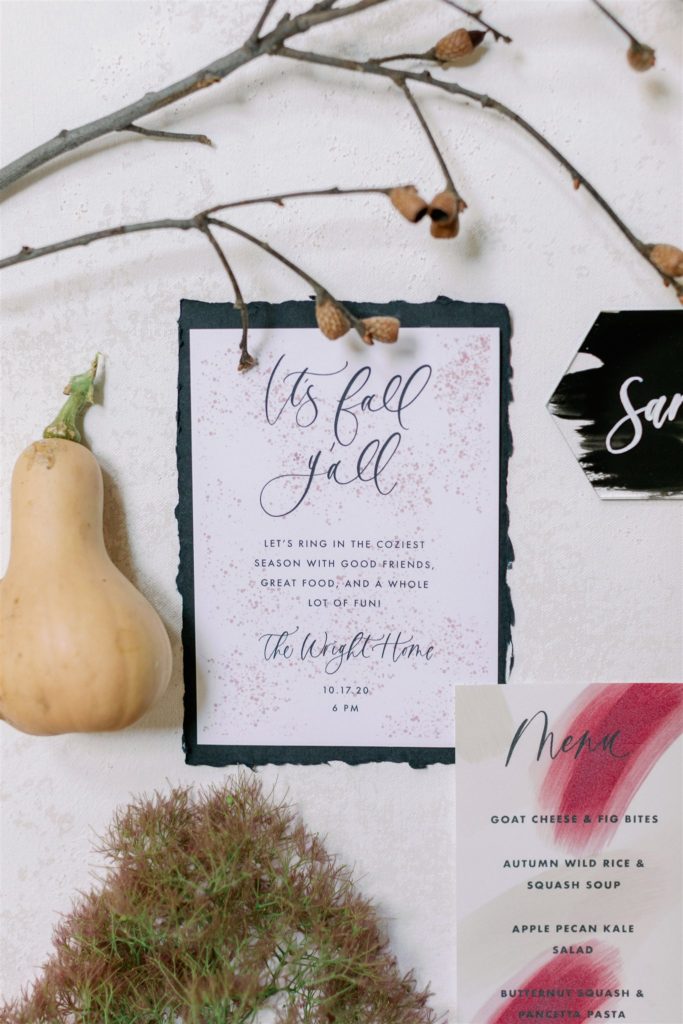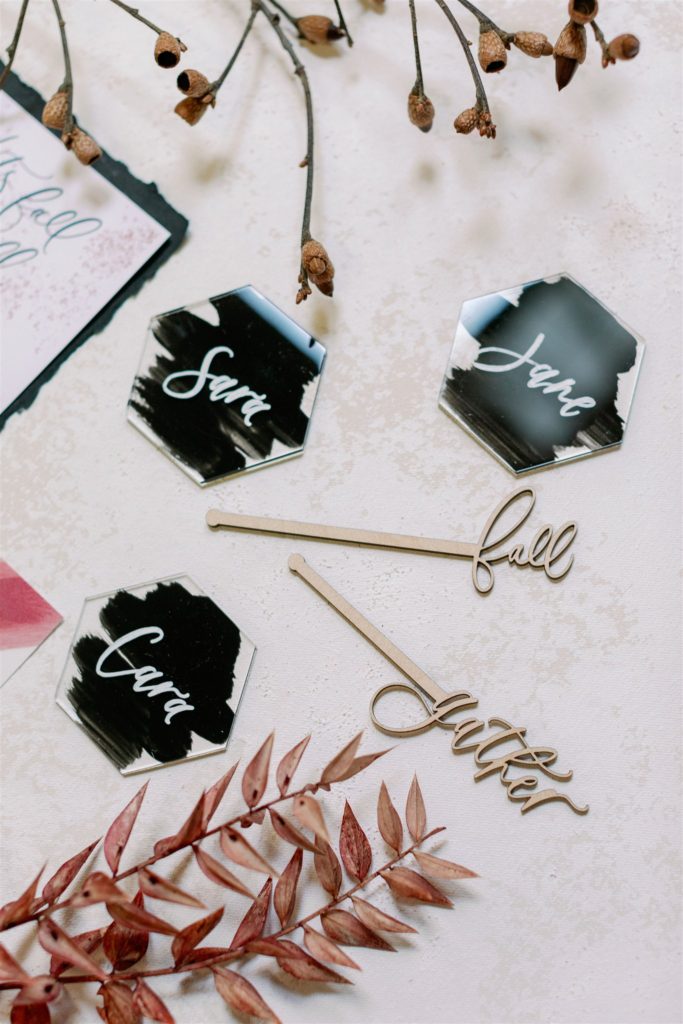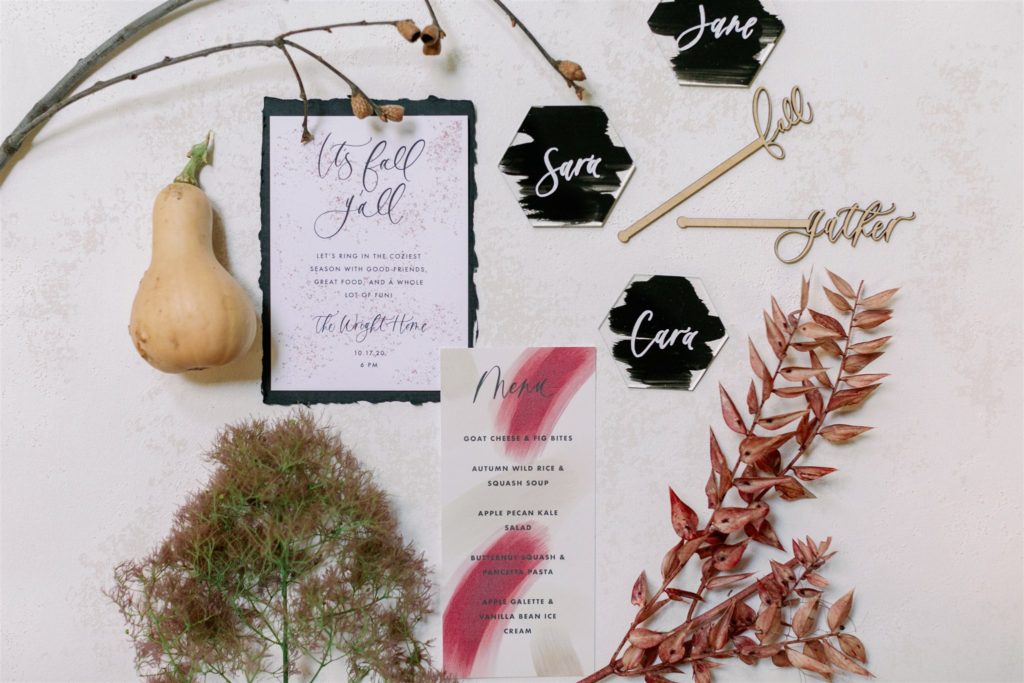 I for one love Fall, it may be my favorite season… But I think I say that for each season when it arrives, haha!! However, this whole setup just screams Fall to me! From the decor top to bottom! Our pretty rentals – table, benches, and rug – are from Sweet Salvage Rentals. I love the idea of a good bench moment among friends, especially in Fall when you can get all cozy together!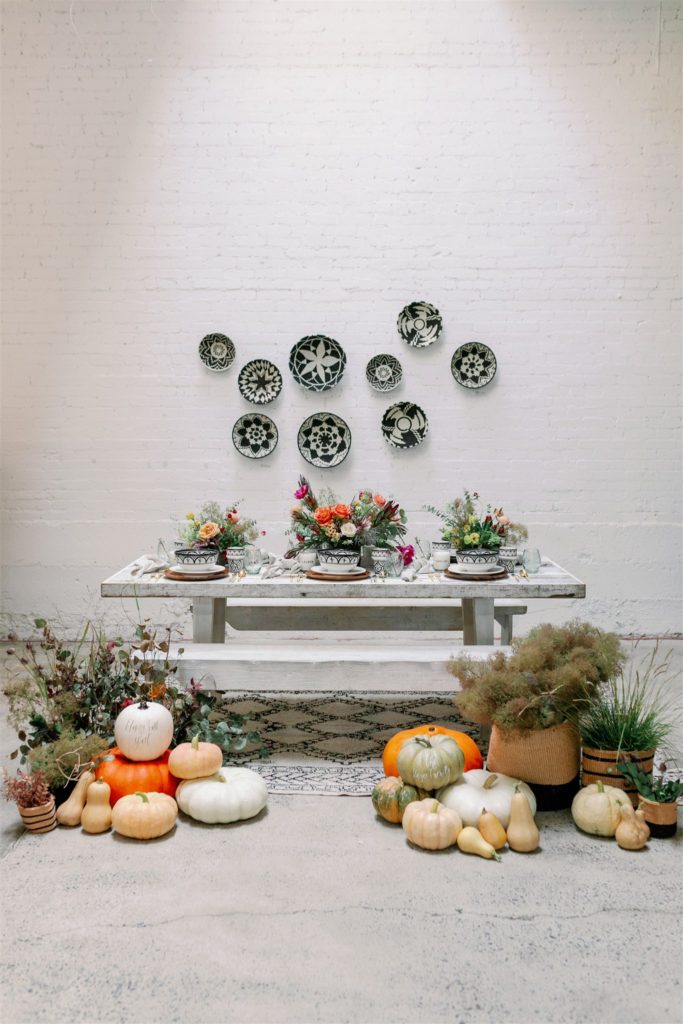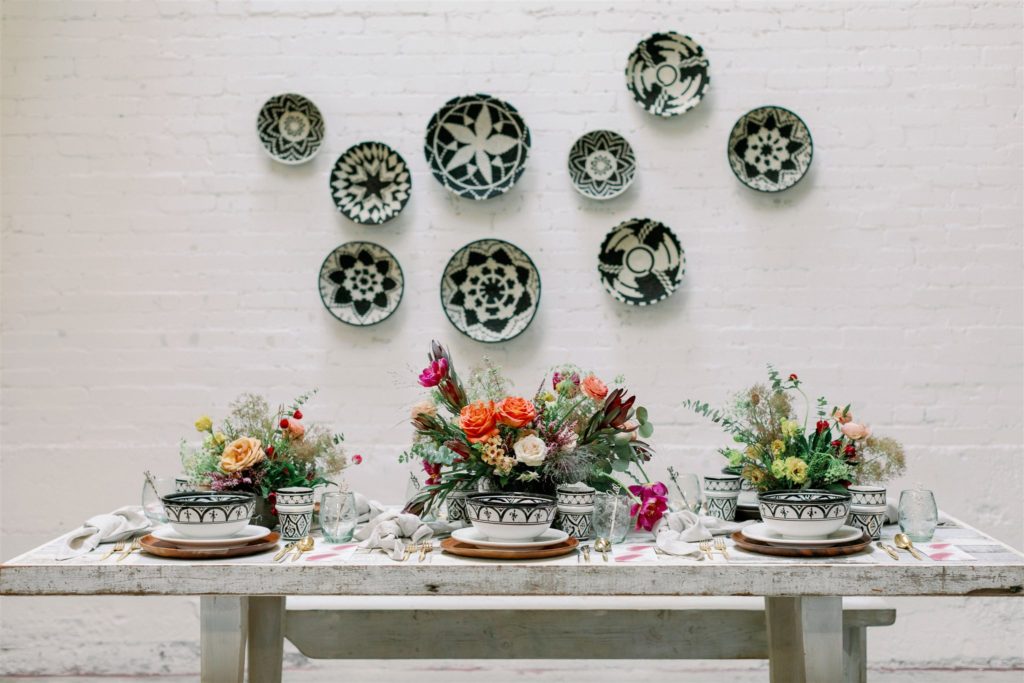 As I mentioned earlier, I was inspired by The Little Market's baskets that I used on the wall. Then I took that black and white scenario to the table as well with their beautiful black and white dinnerware collection! Isn't it so pretty?! I want it in my home!! I also used their classic floral stemless wine glasses, pretty white ceramic dinnerware plates and acacia wood chargers. A big thanks to Jenny at Cherished Rentals for letting us use her pretty gold flatware to go alongside this table setting.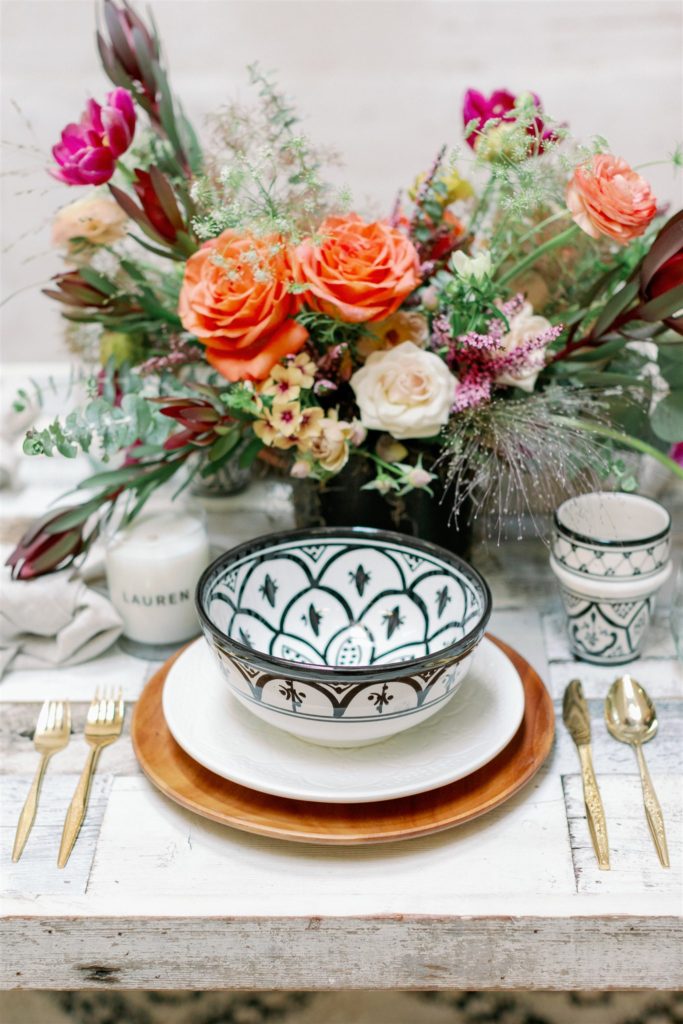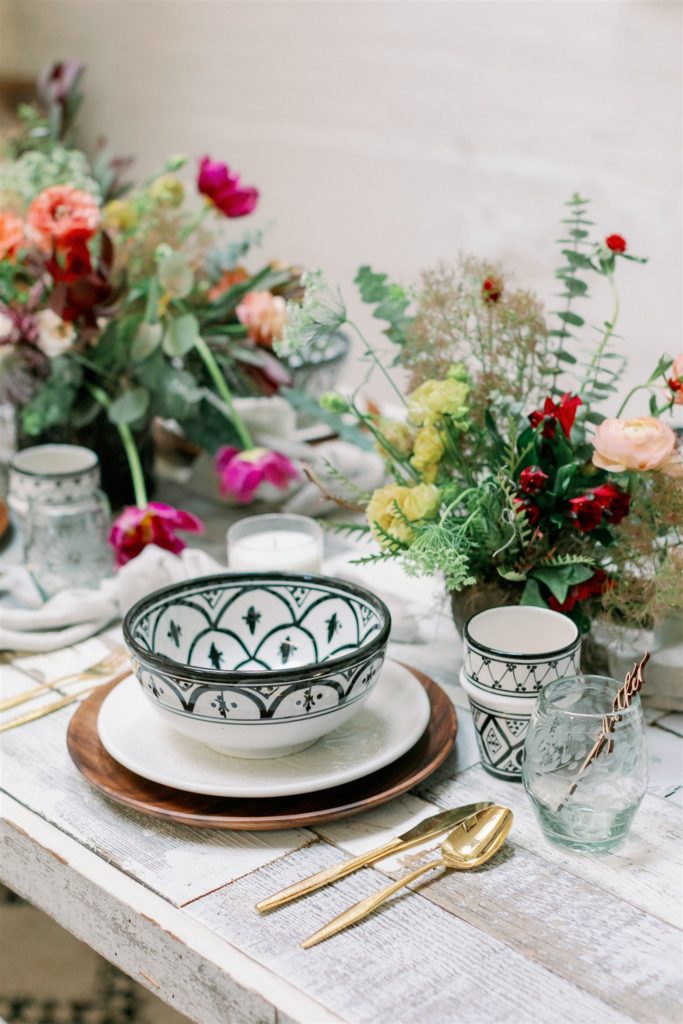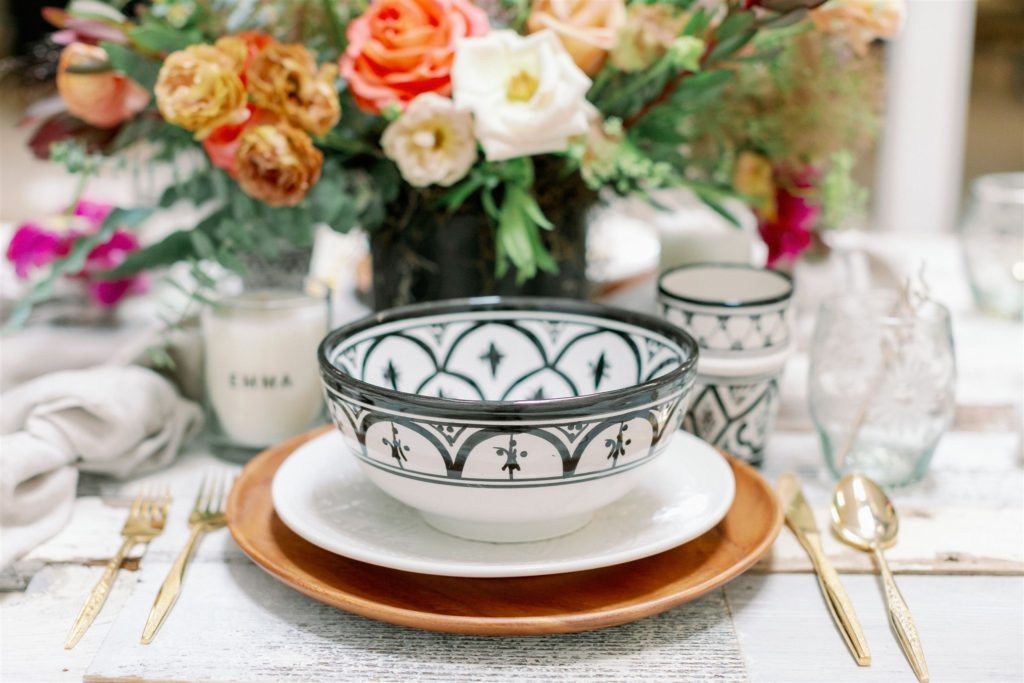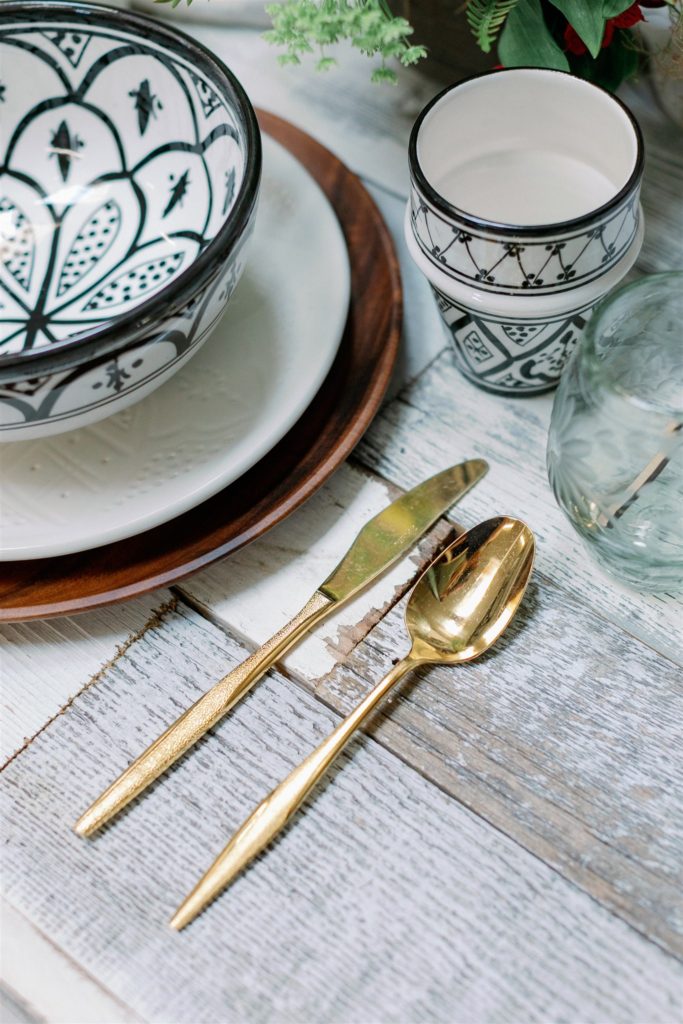 I'm sure you noticed those stunning and vibrant florals by French Buckets on the table. How could you not?! I love her arrangements and always get happy when I visit her flower stand at Lido. She knows how to make all my floral dreams come true!! These were all the pretty colors and textures of Fall rolled into one.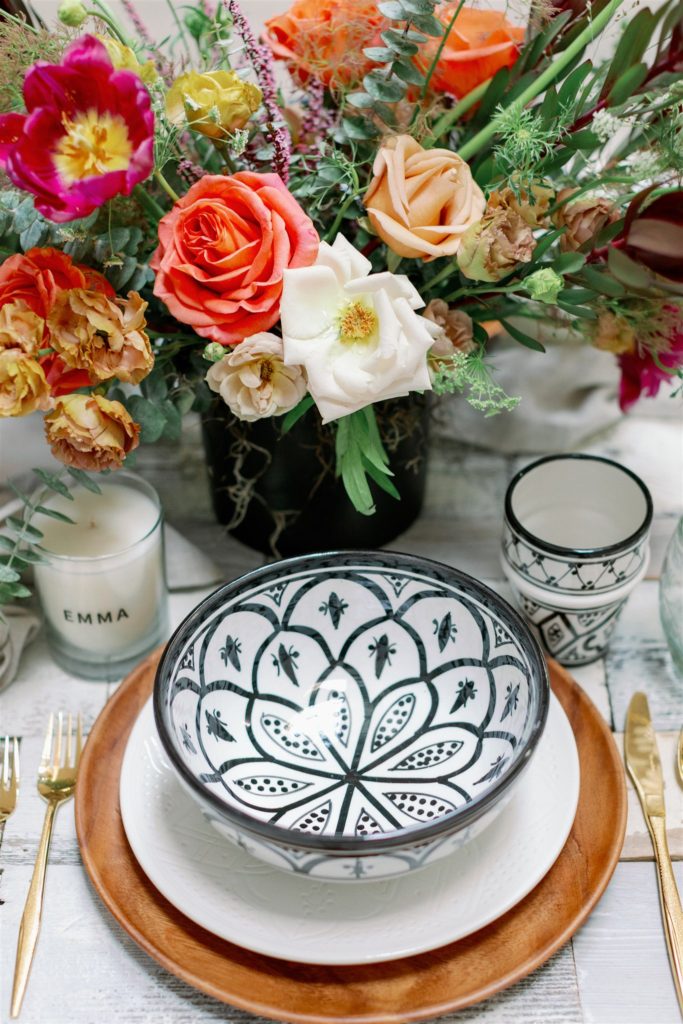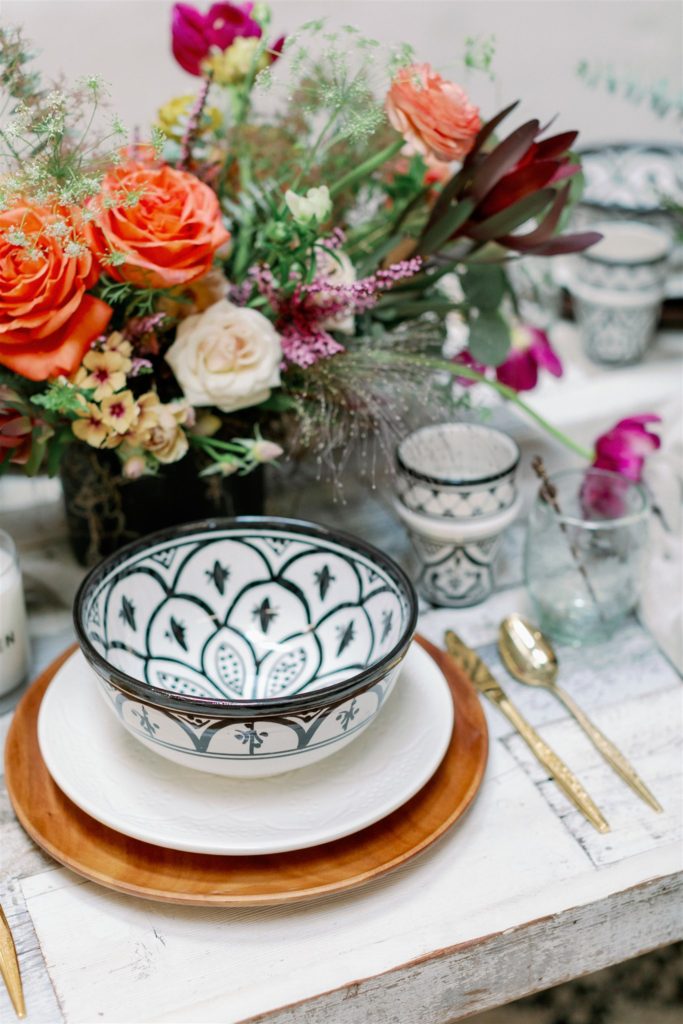 Here's some more Fall goodness for you! The prettiest florals, homegrown butternut squash, and a lovely bowl from The Little Market…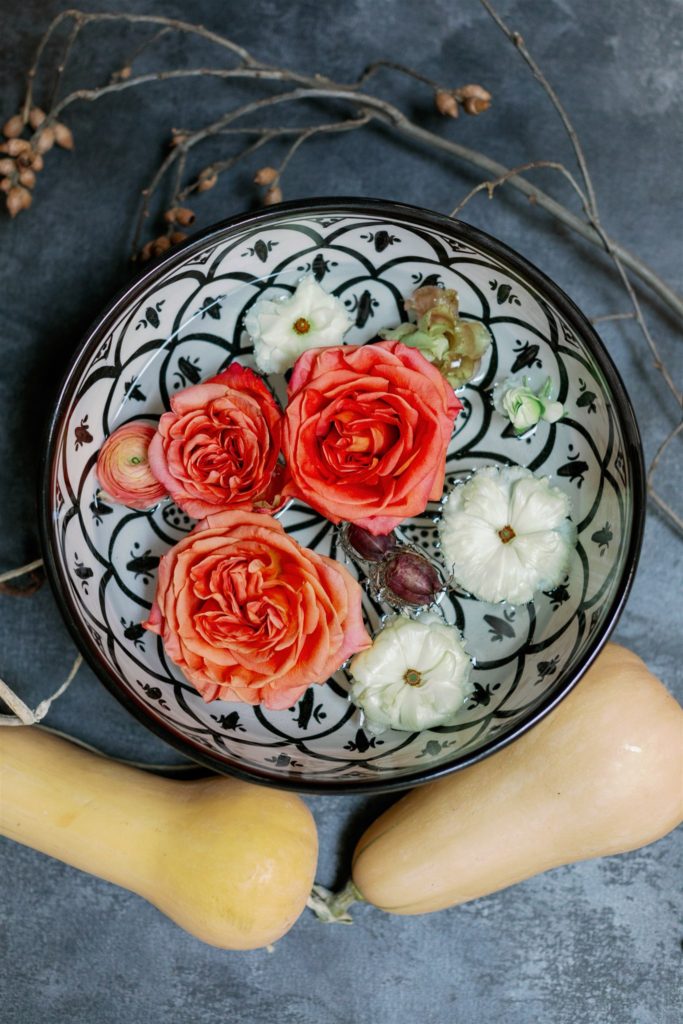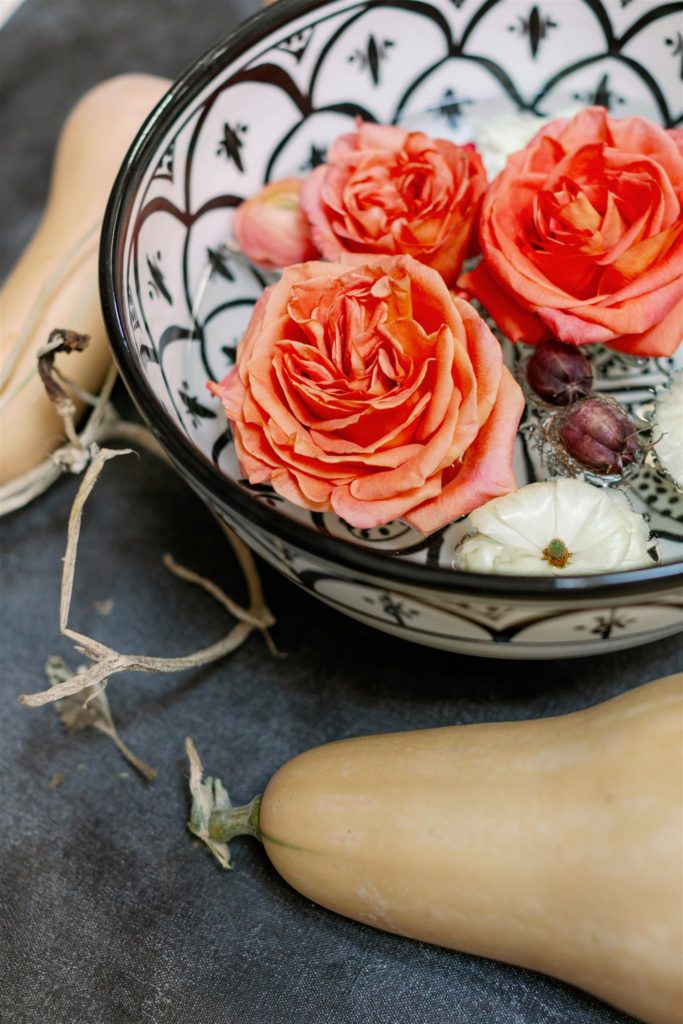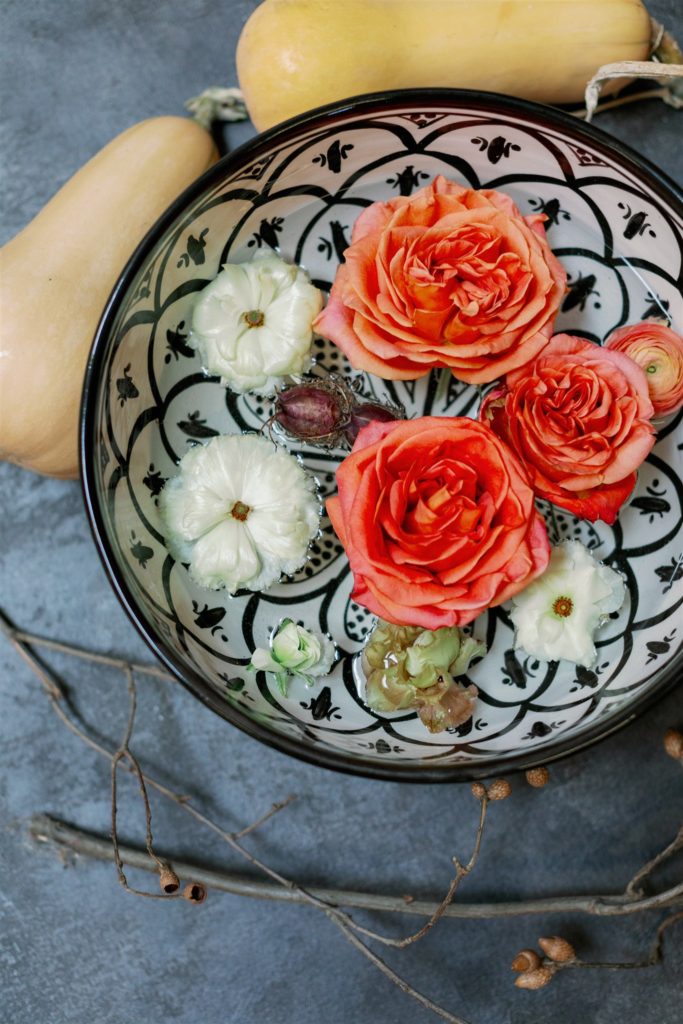 Have you ever smelled one of The Little Market's candles? If you haven't you are missing out my friend! They are THE BEST!! We even did a round-up of a few of their Fall candles a few years ago here.
Well, did you also know that they can customize their candles? I did it here using the guest's names! Such a fun idea for a favor and double use as a place card! Who wouldn't love to go home with one of these?!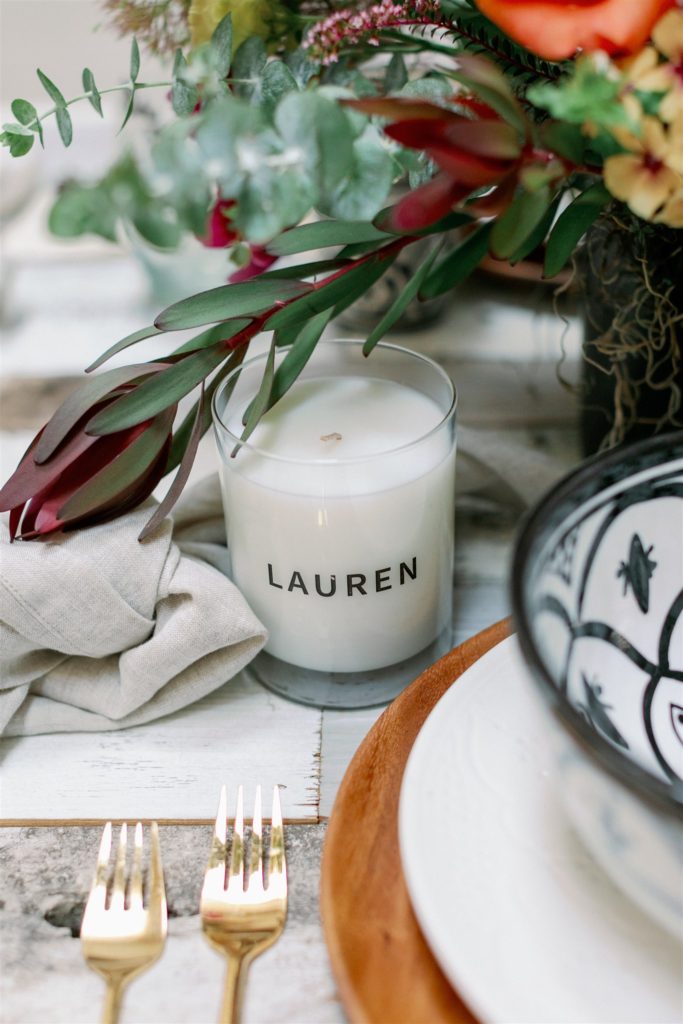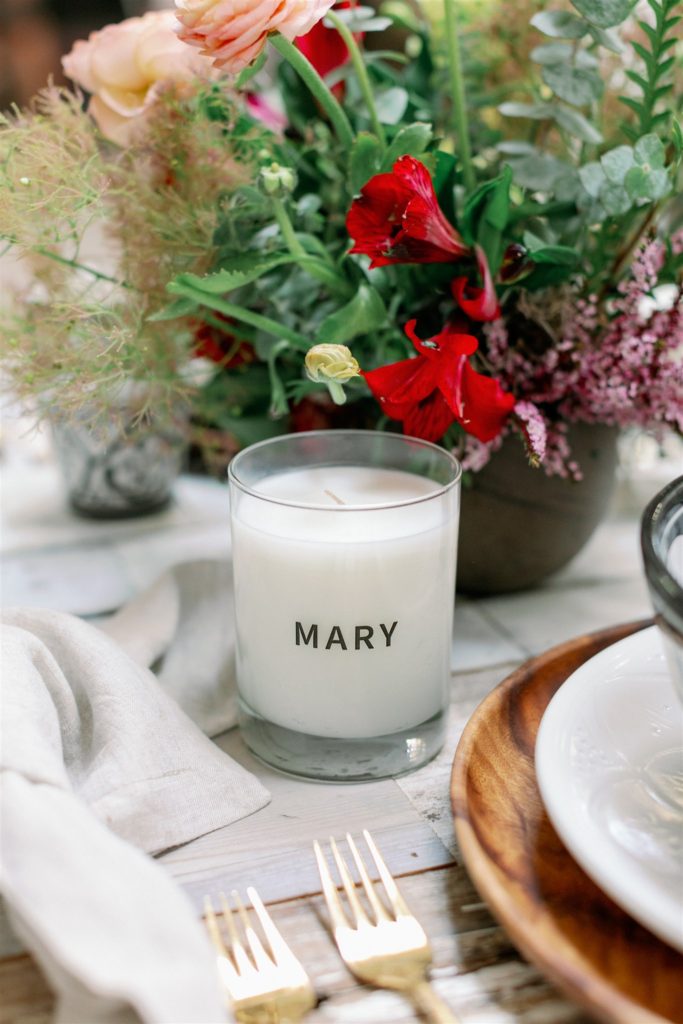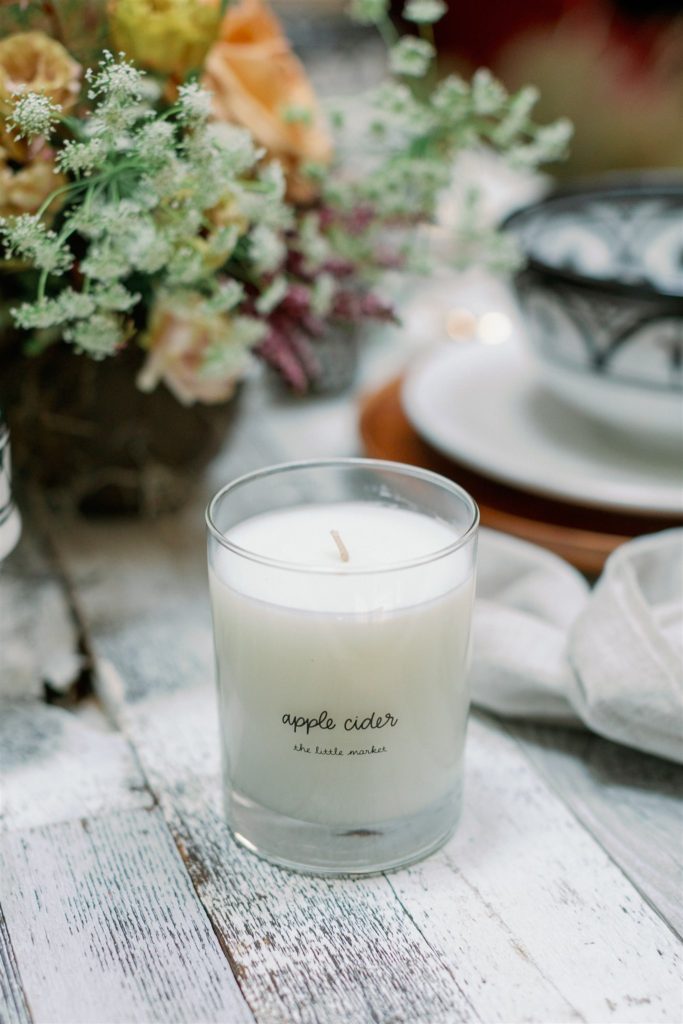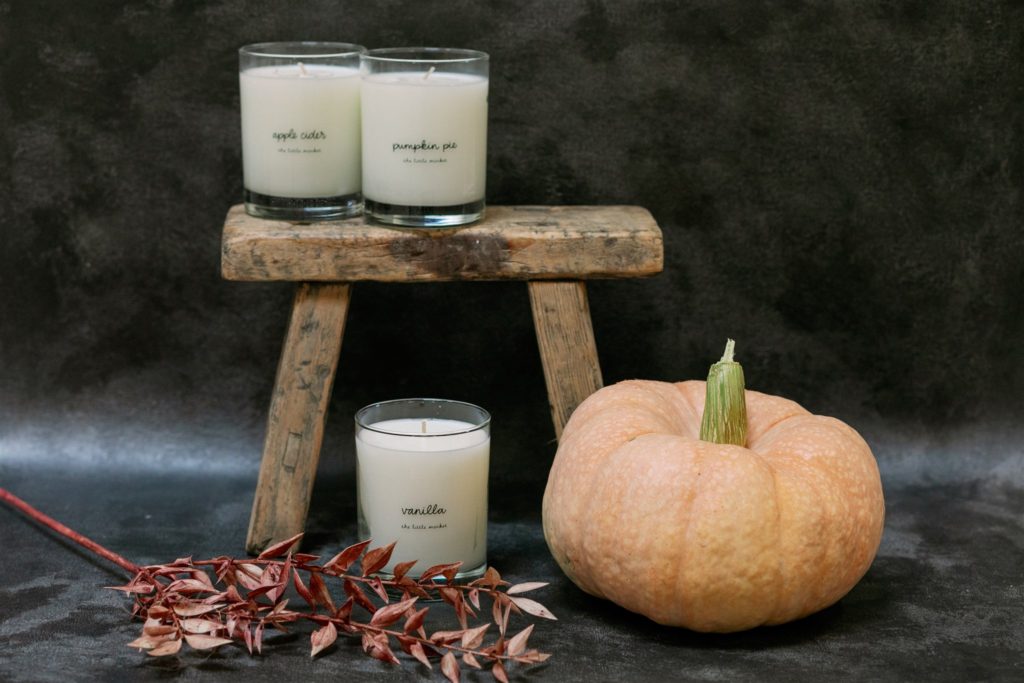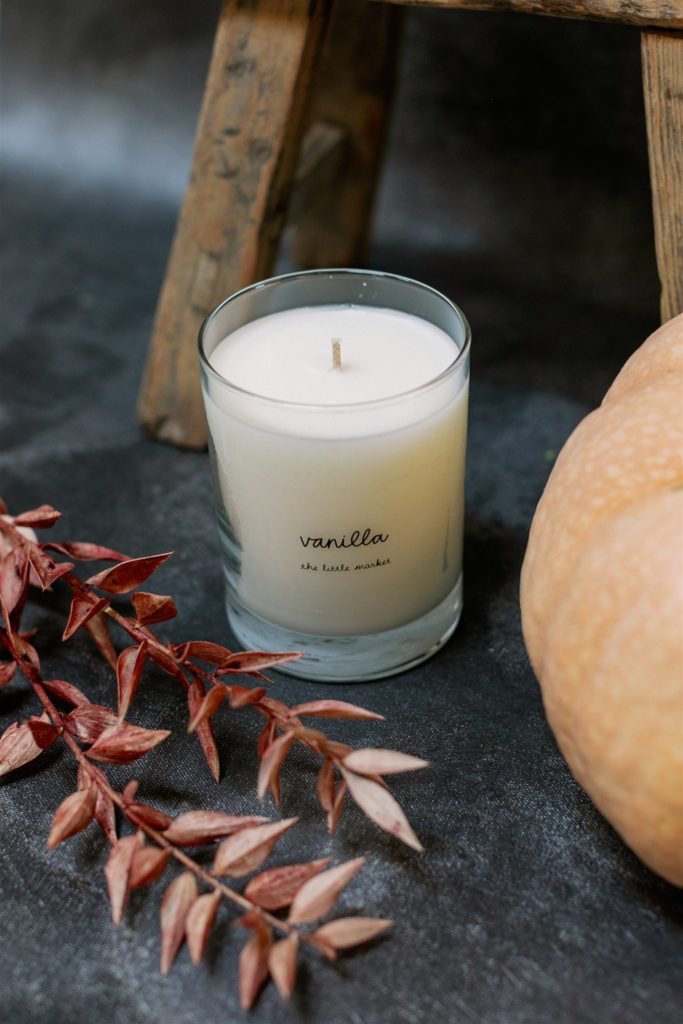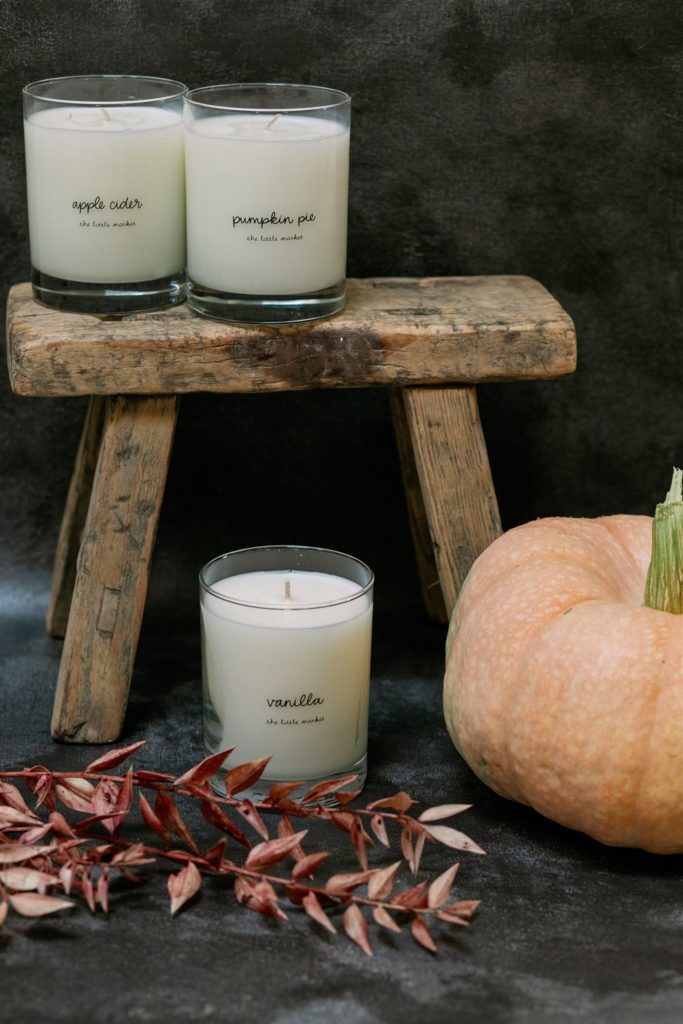 Let's take another look at our gorgeous tablescape and all of the pretty little details I love so much from Proper Letter. Like these cute stir sticks! You know we love us a good stir stick!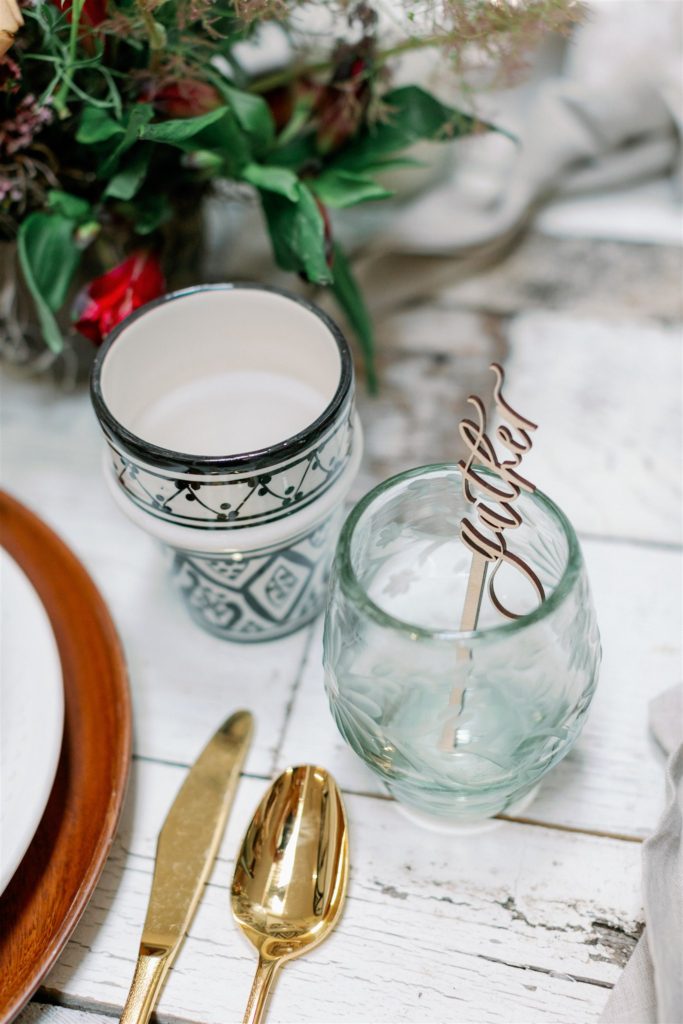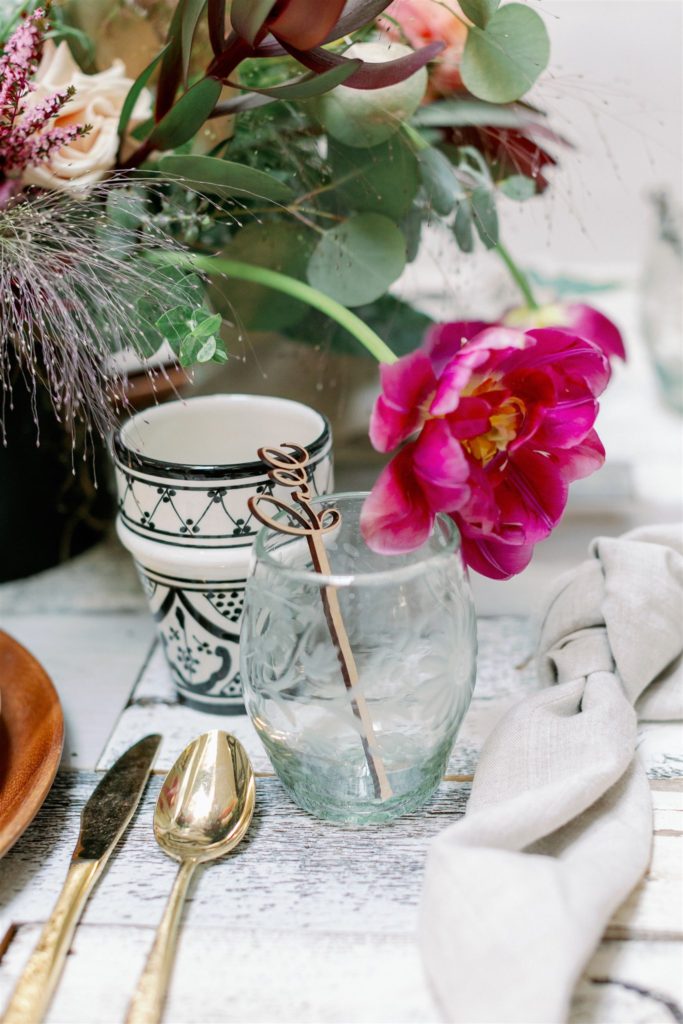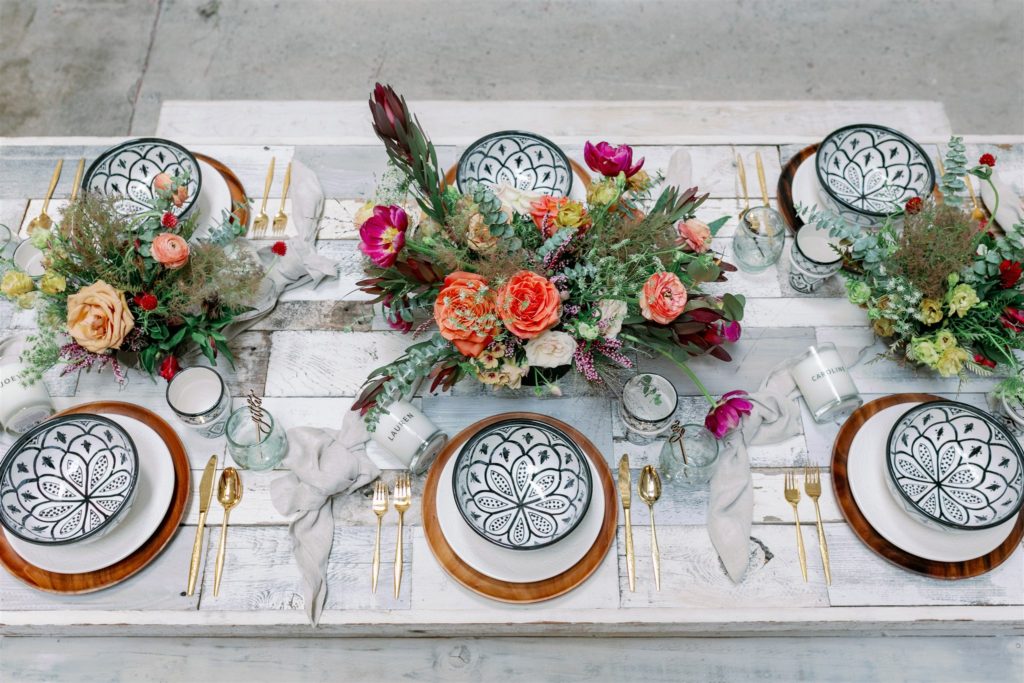 I love this pretty overhead shot and all the colors!!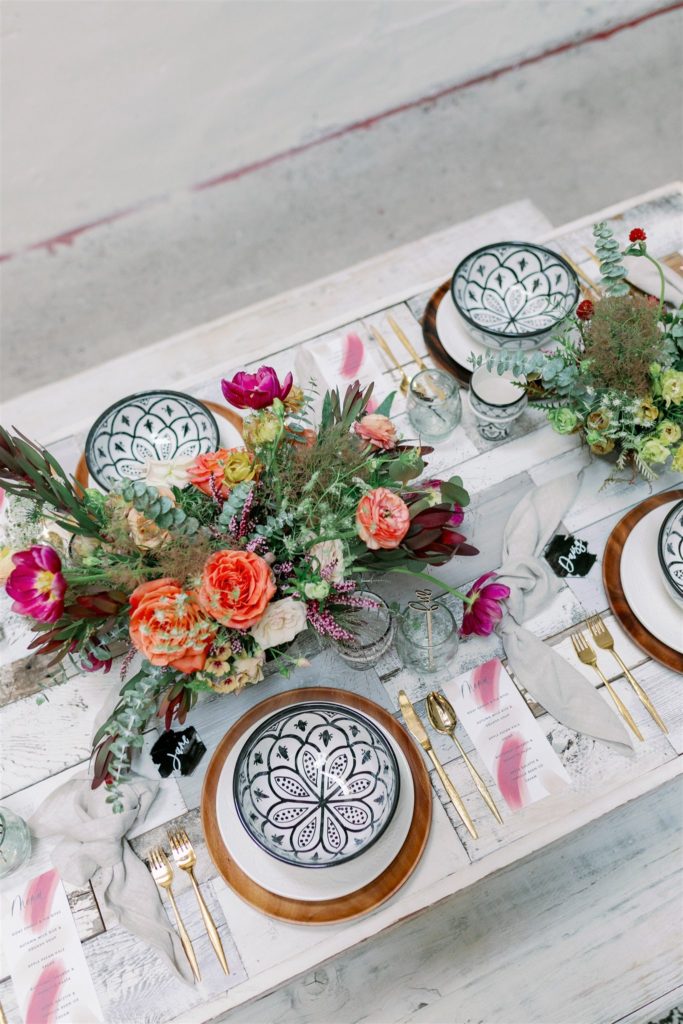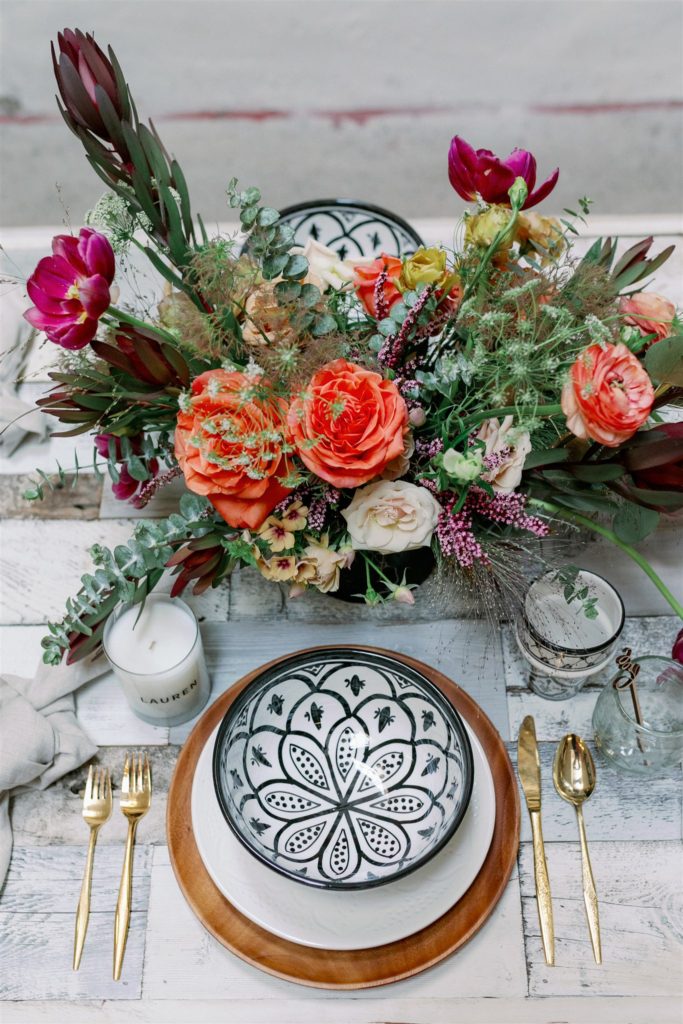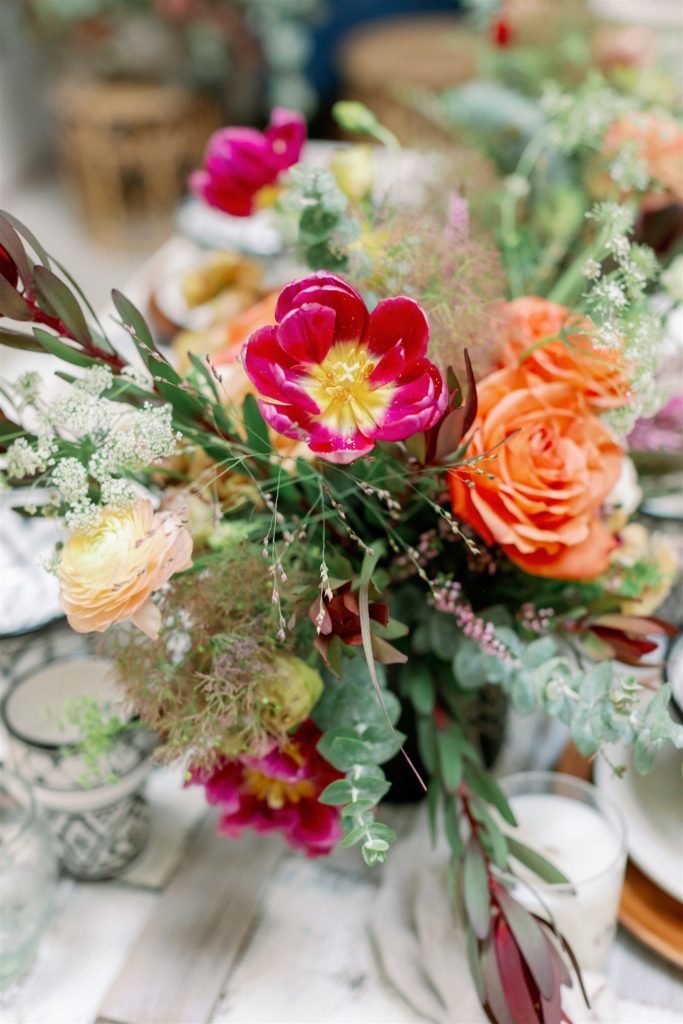 And of course these menus that go perfectly with that pretty flower leaning in this shot!! Just wow!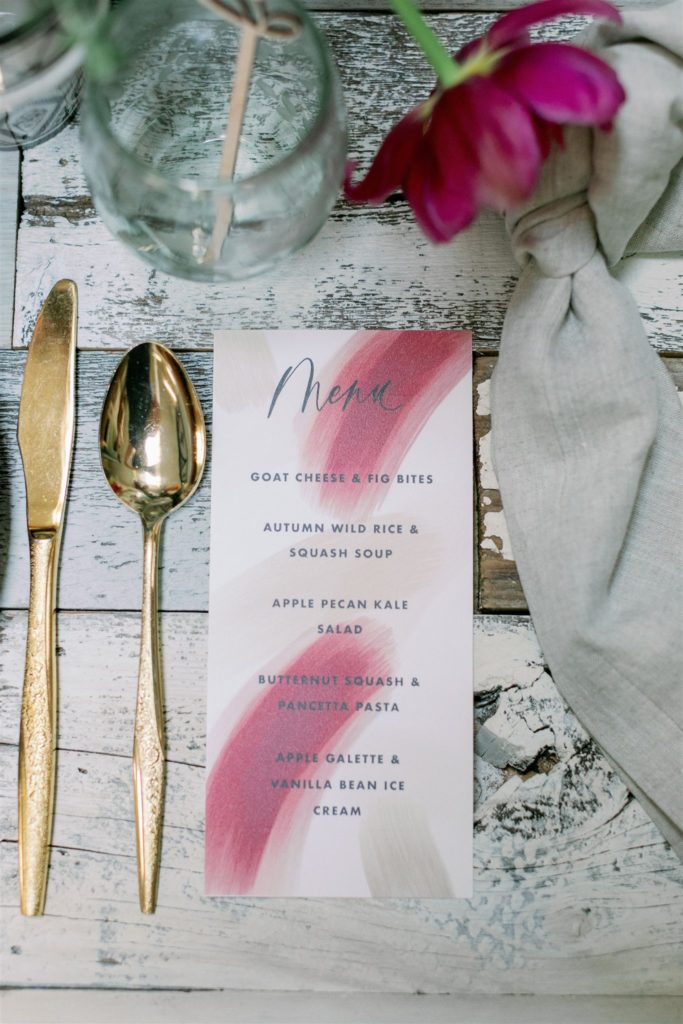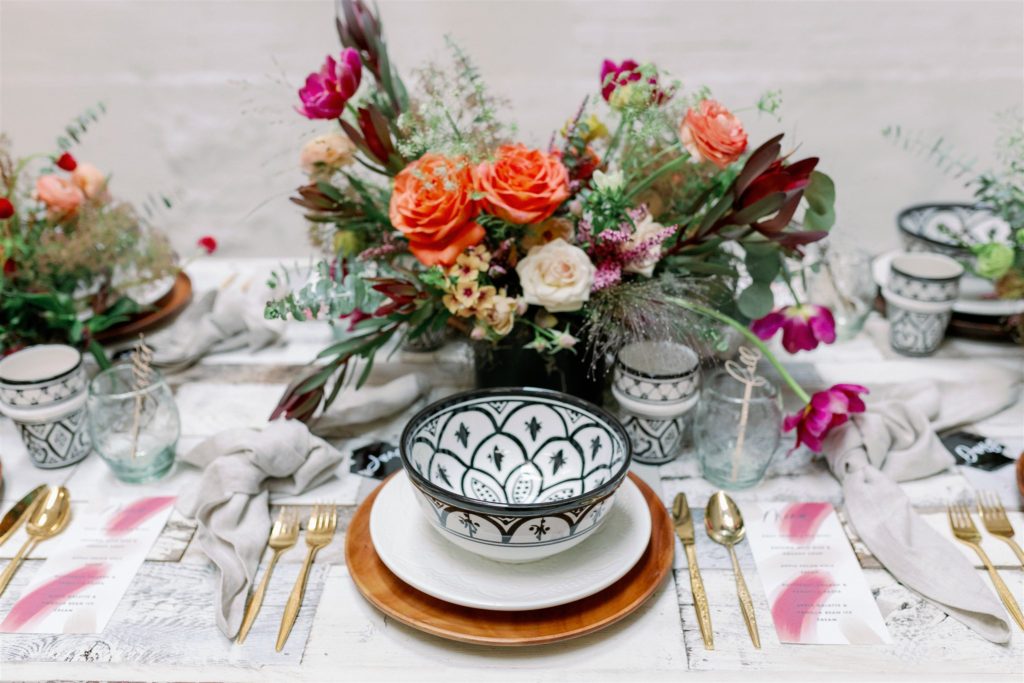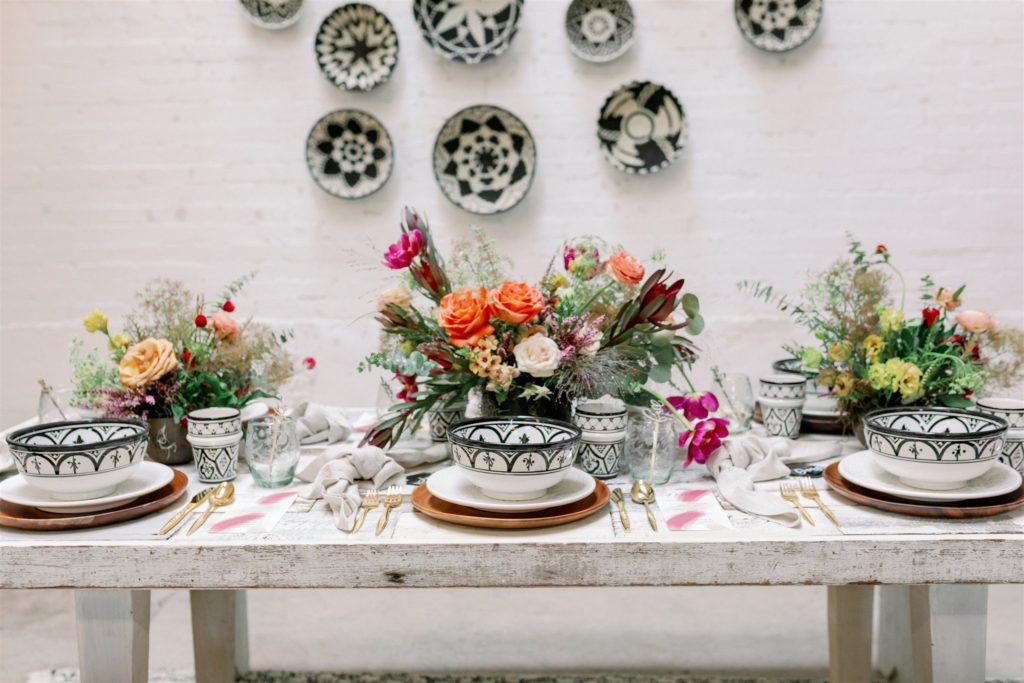 So much pretty in one place!!!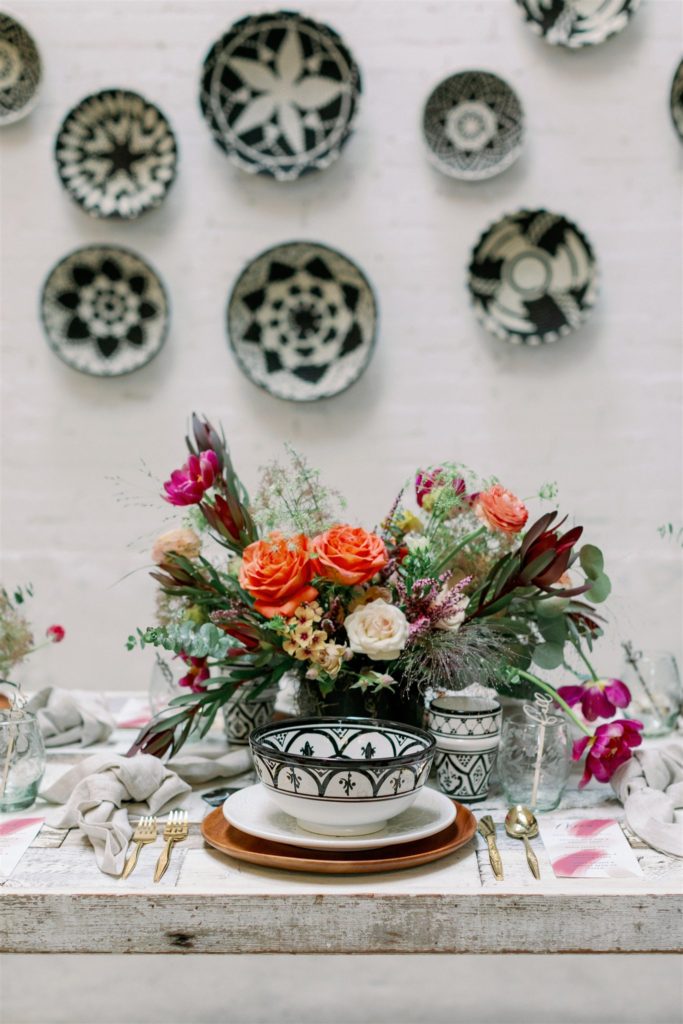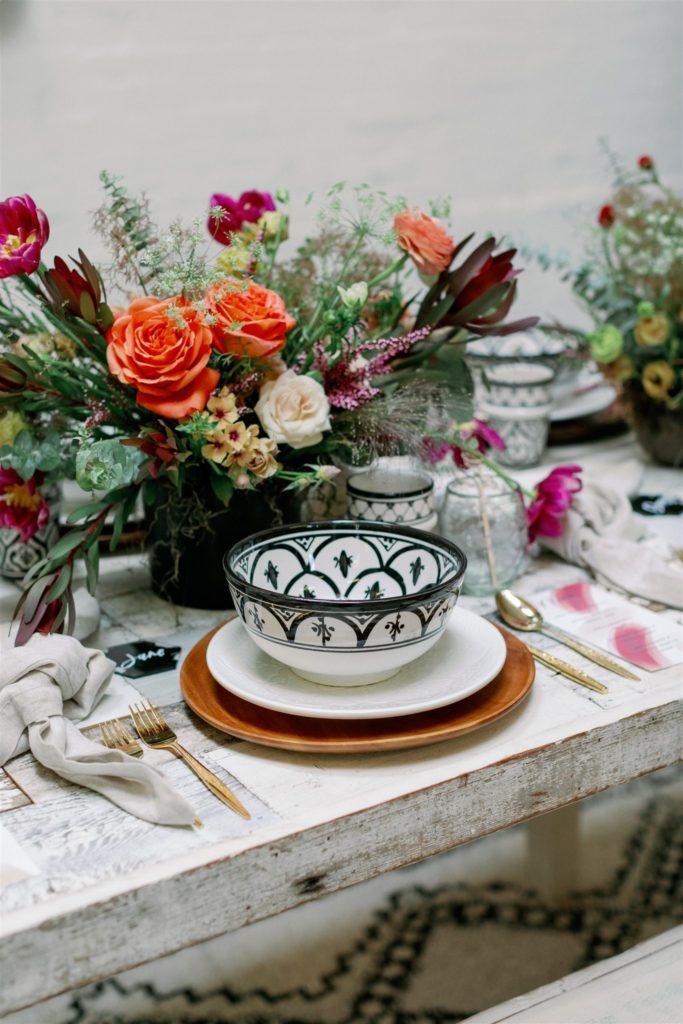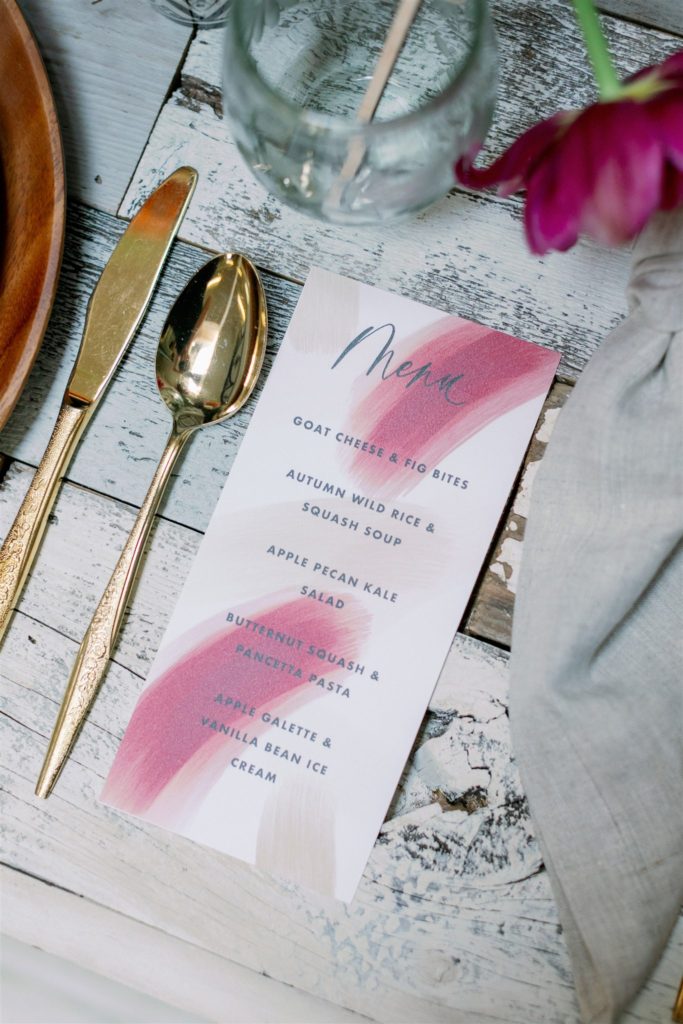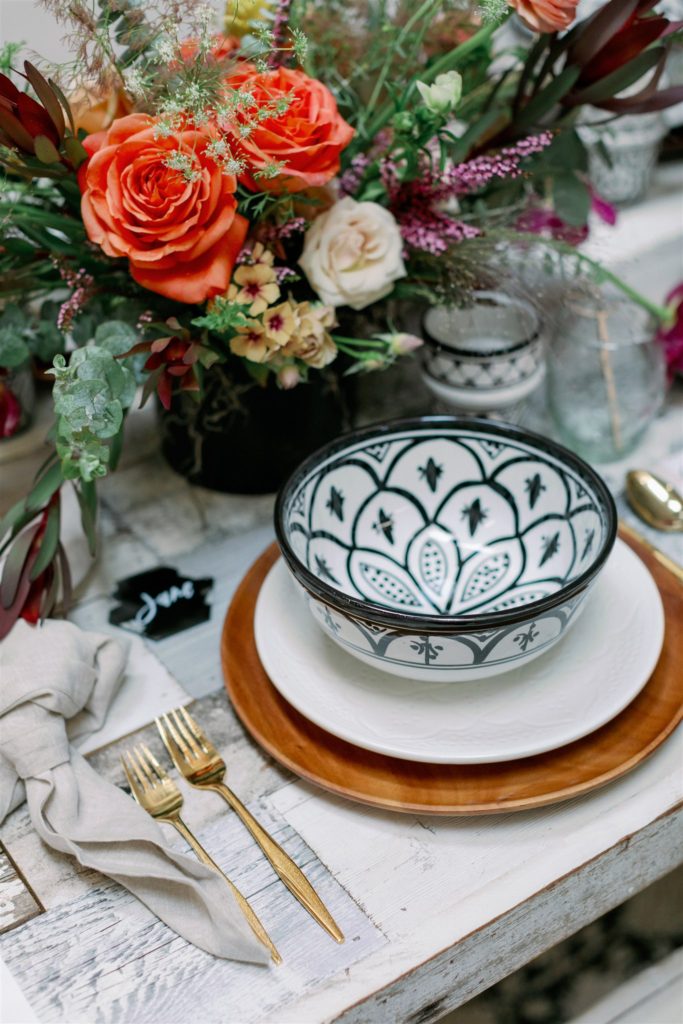 When one place setting isn't enough! Proper Letter also did these pretty black place cards that go so well with those black and white bowls!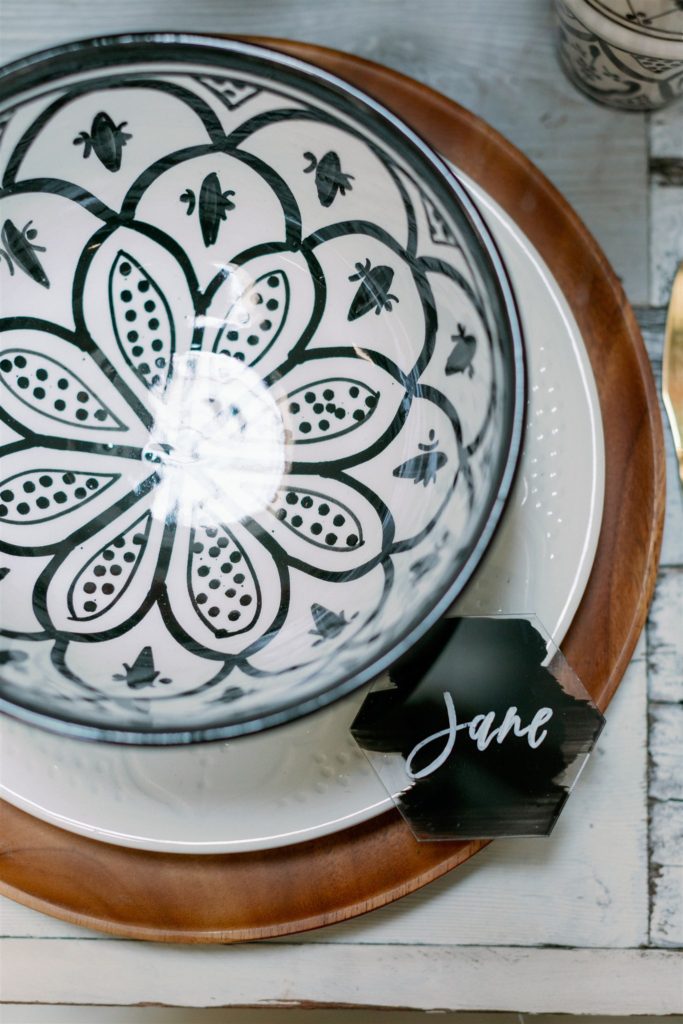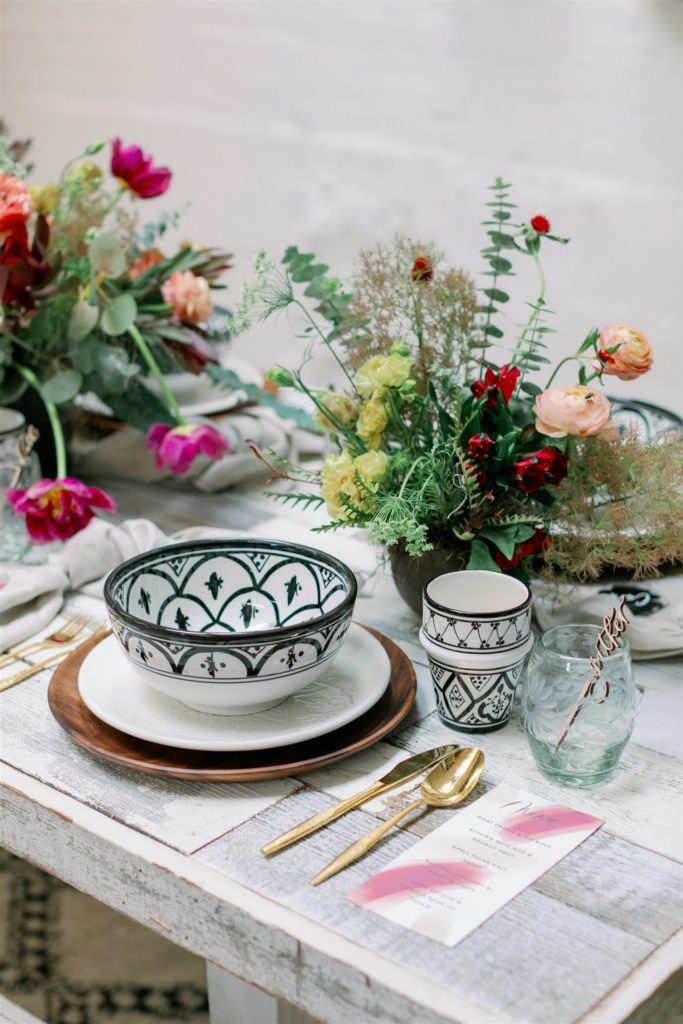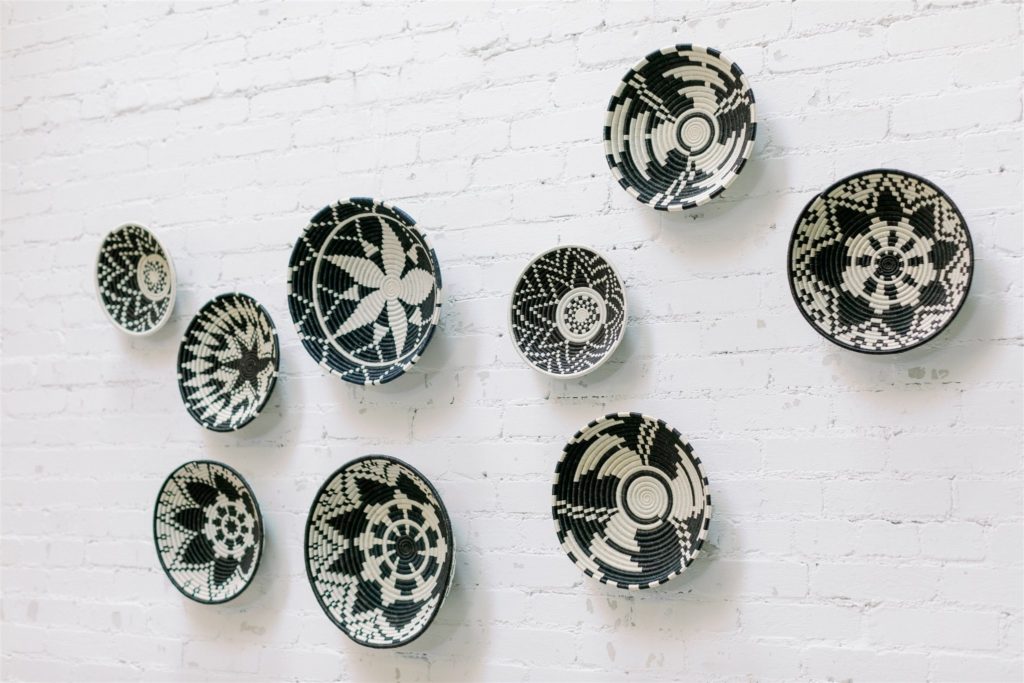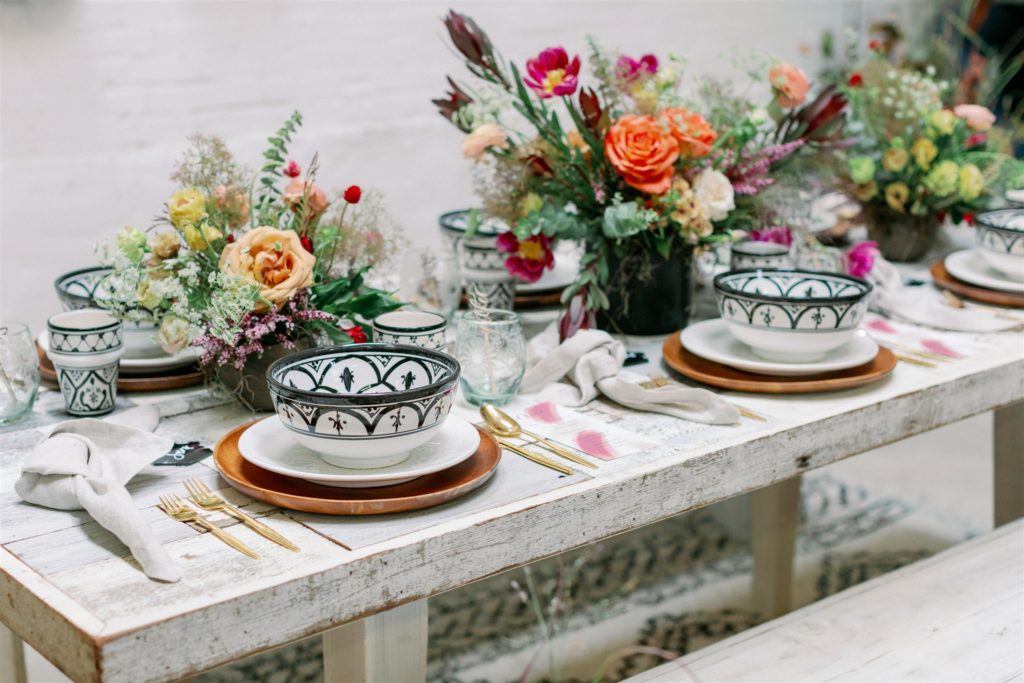 Still swooning over here!! And we aren't even done yet!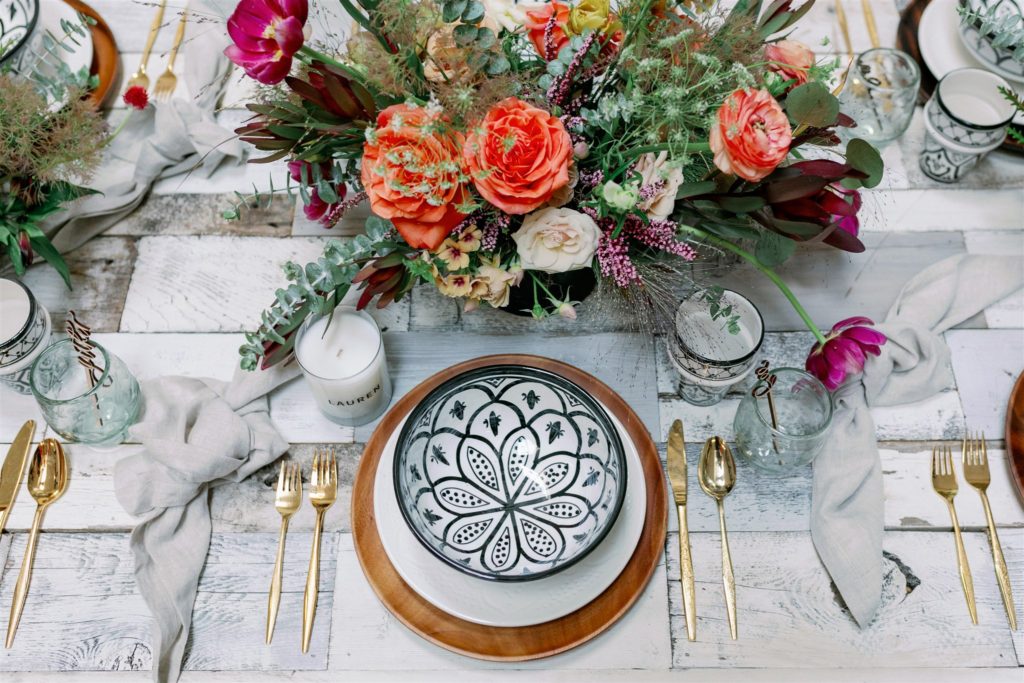 Aislinn from Proper Letter is known for her customized pumpkins, so we just had to feature them here! These would be so fun on a front porch or even inside as decor. She does all kinds of fun sayings or even family names! They are a must for Fall decor in my opinion!!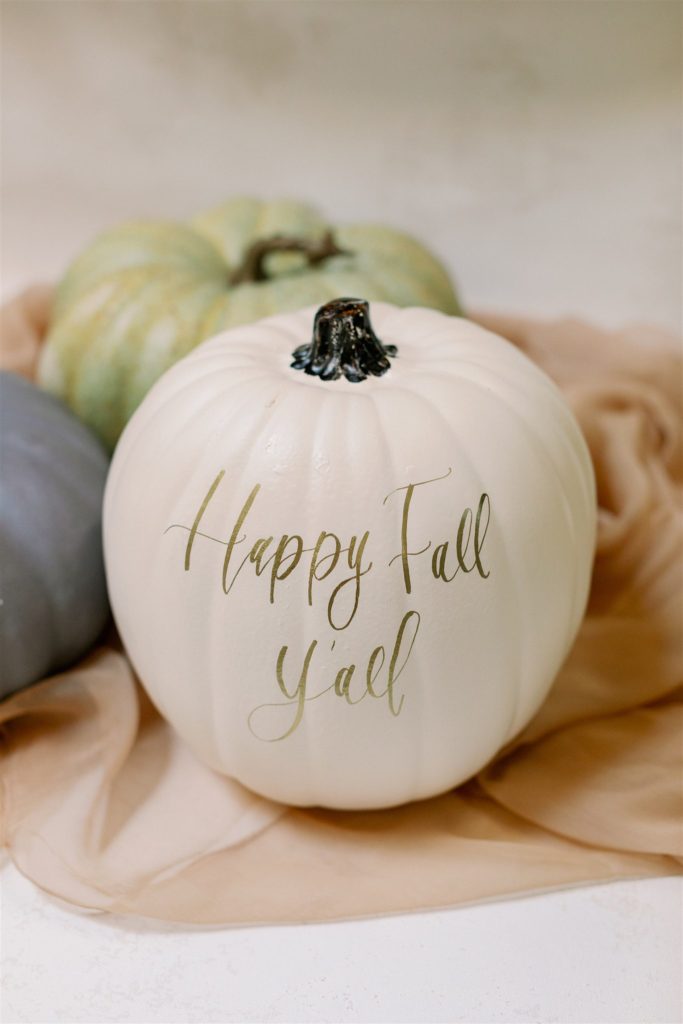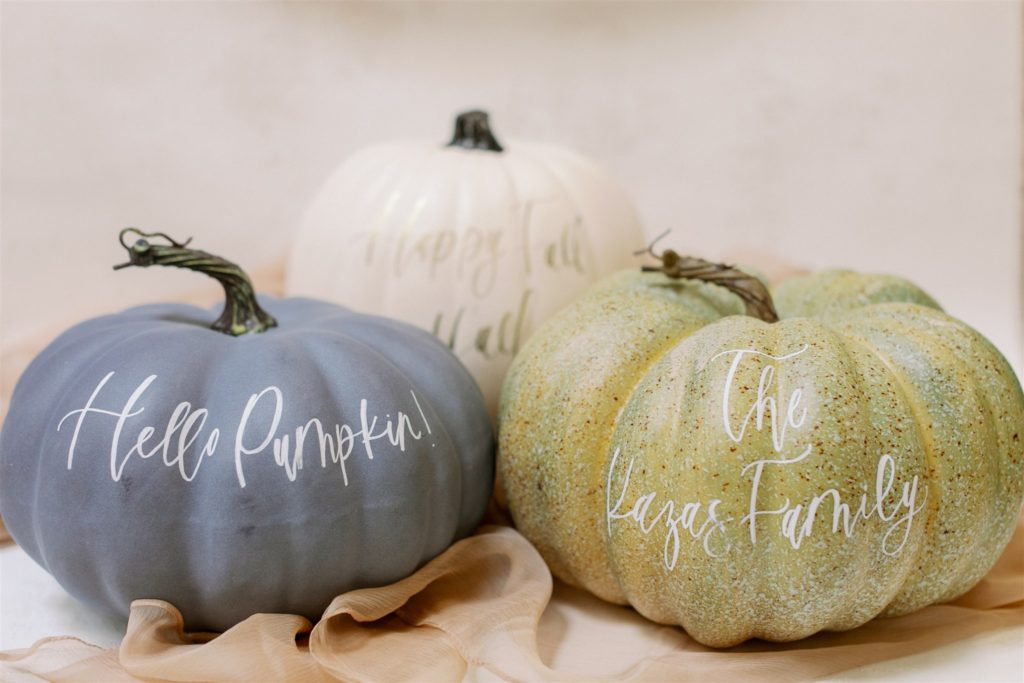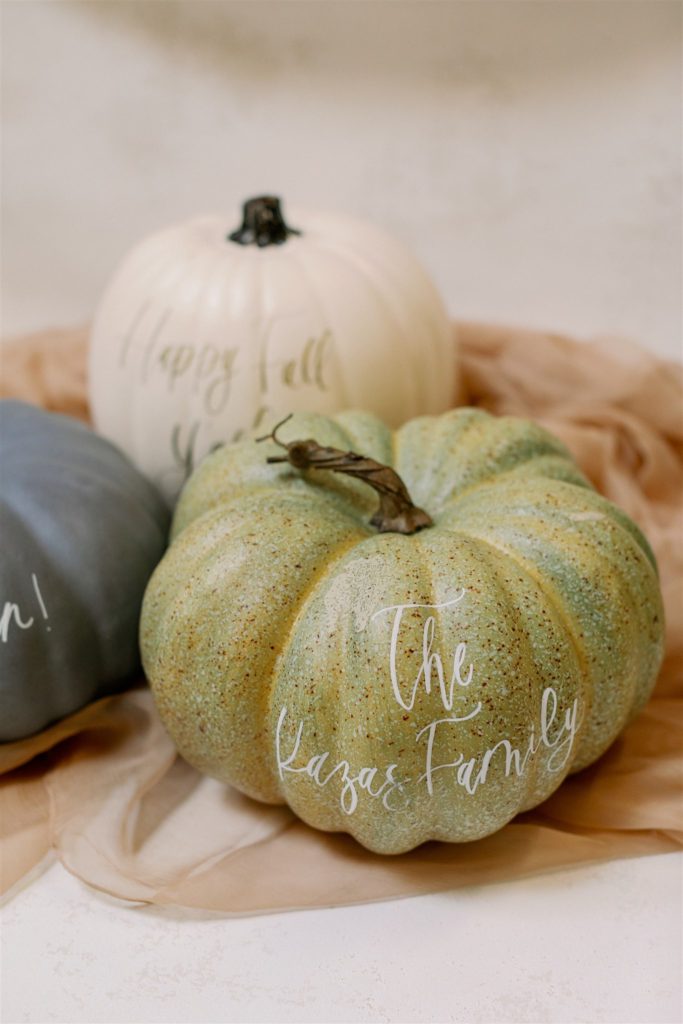 I added Aislinn's cute pumpkins with all the real pumpkins we could find! Luckily Marnie from Sweet Salvage Rentals had a good stash! Alongside the pumpkins are all of those pretty baskets from The Little Market with pretty Fall foliage from French Buckets. I love the look we achieved here and want it all over my house!!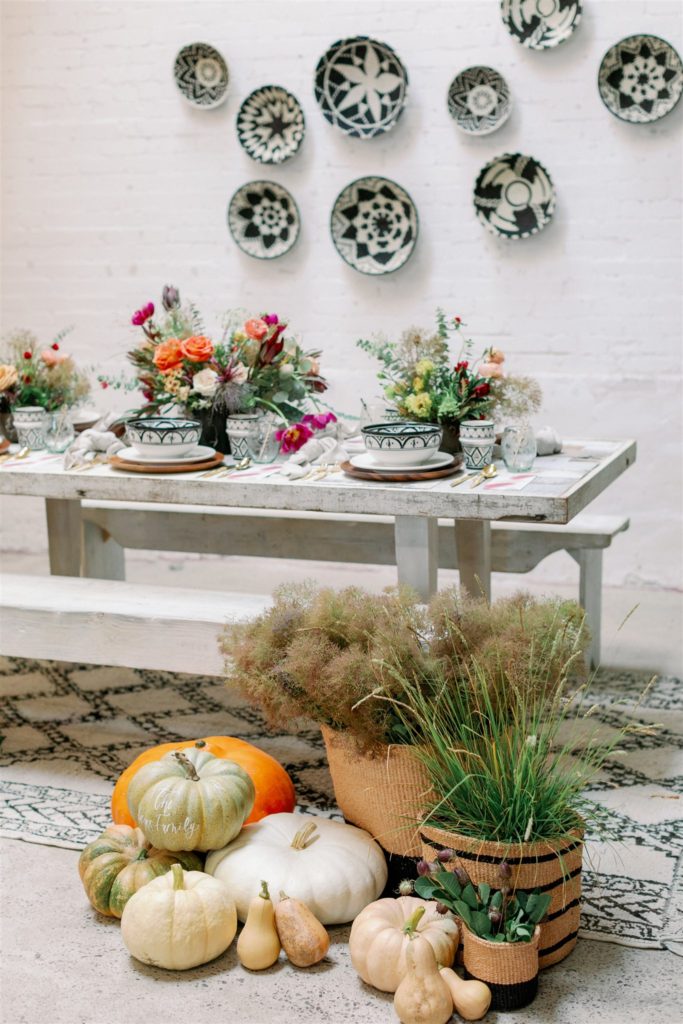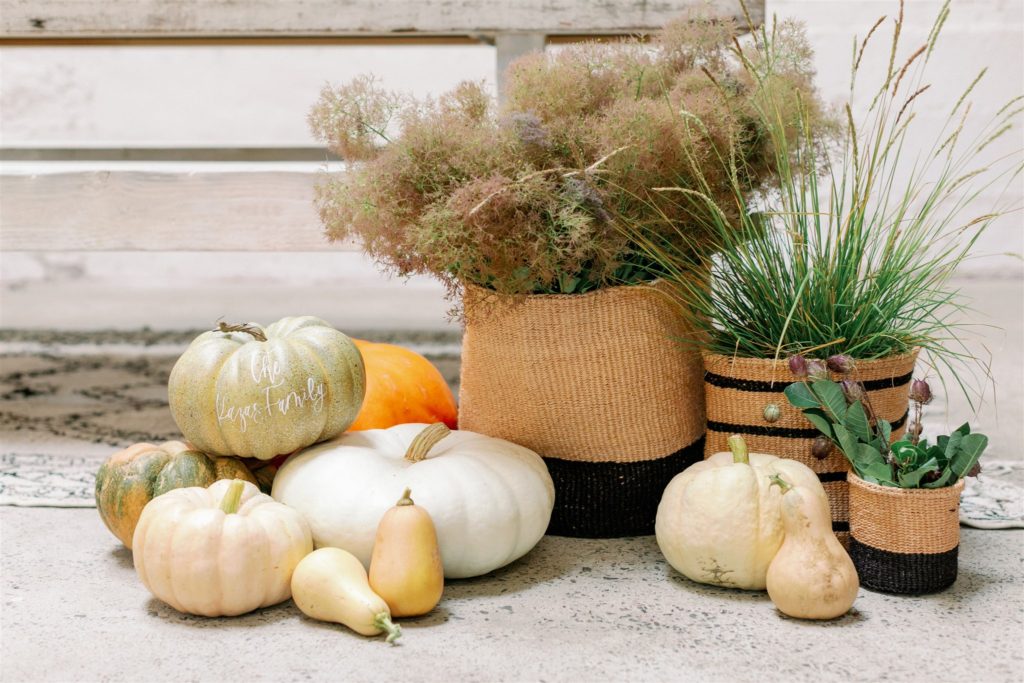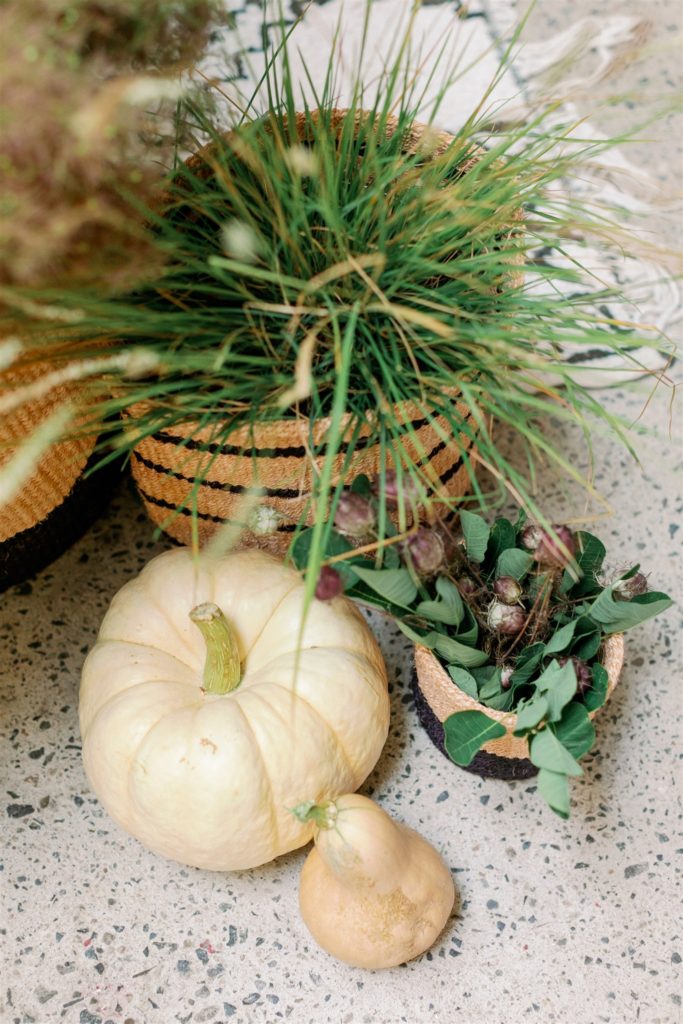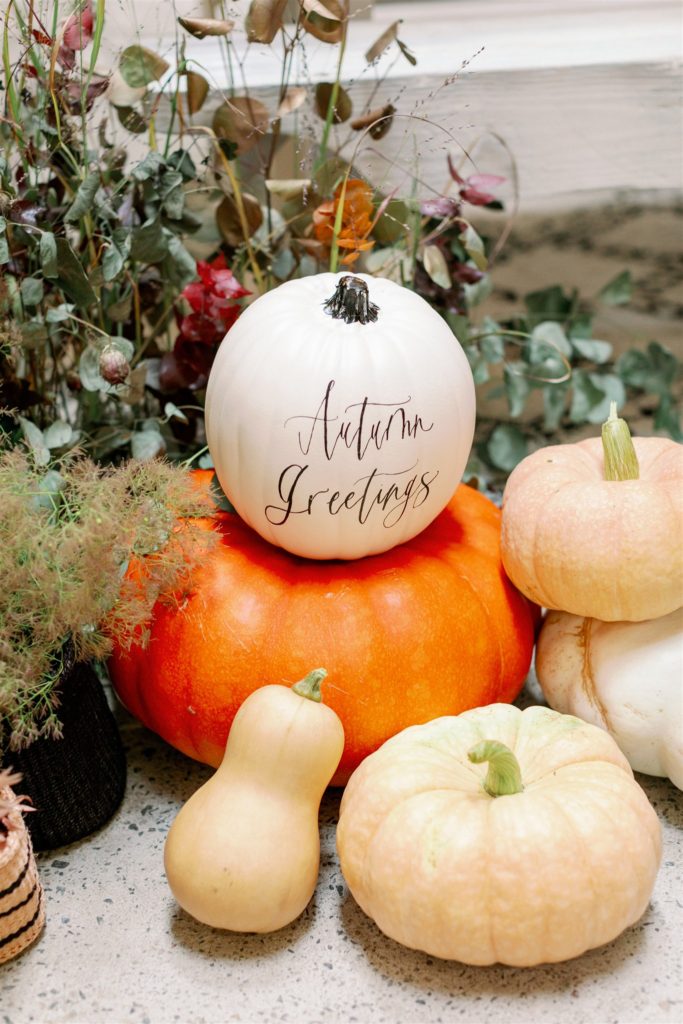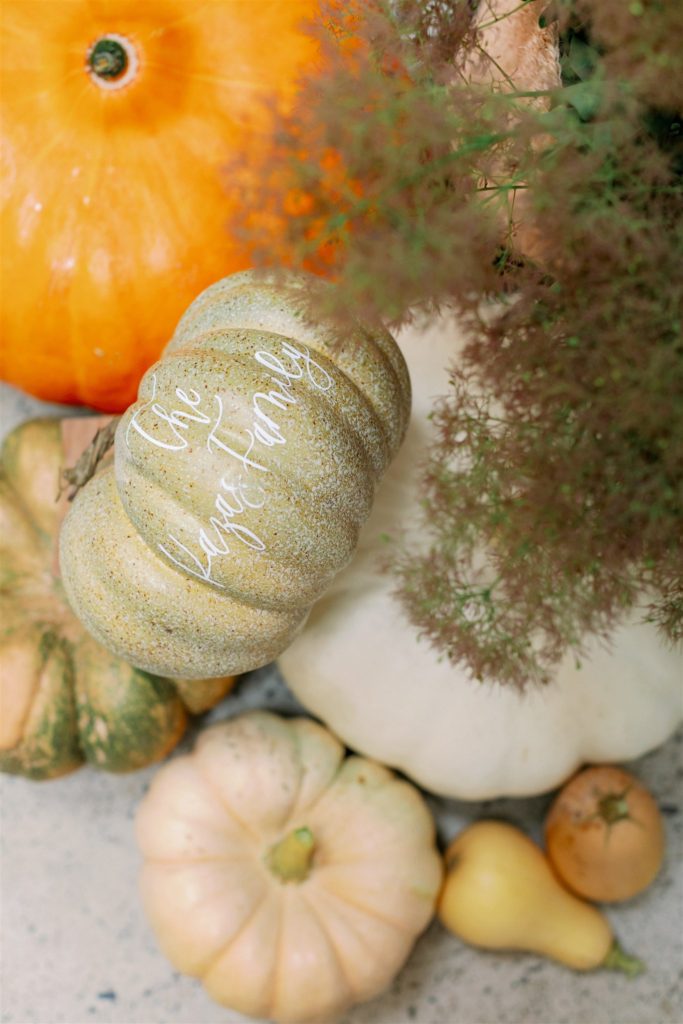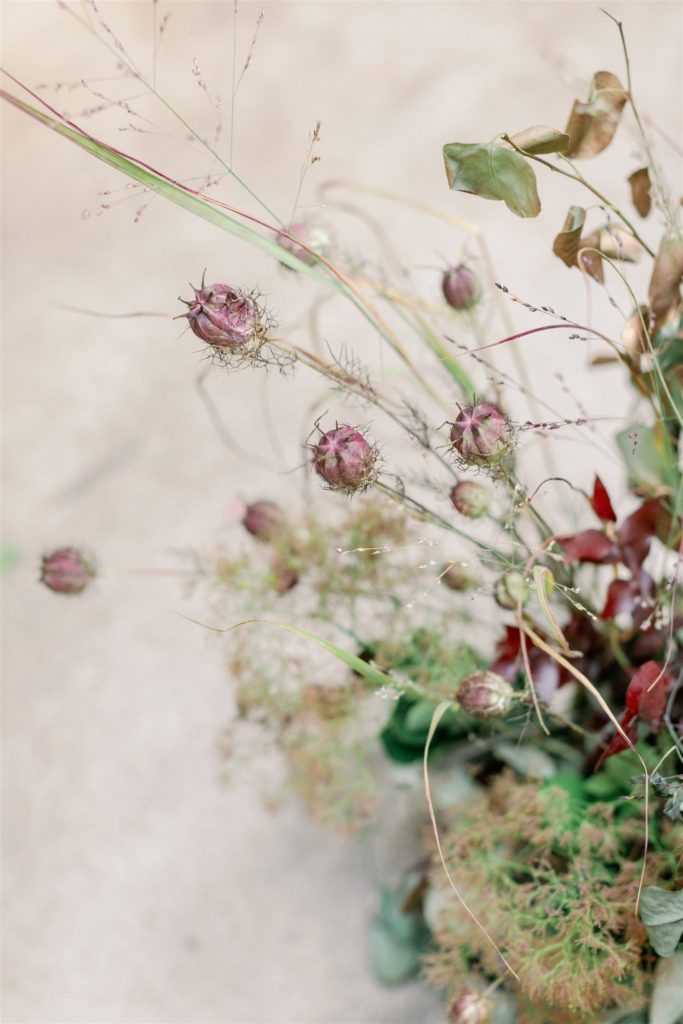 And that my friends is our gorgeous Fall boho table… but wait, there's more!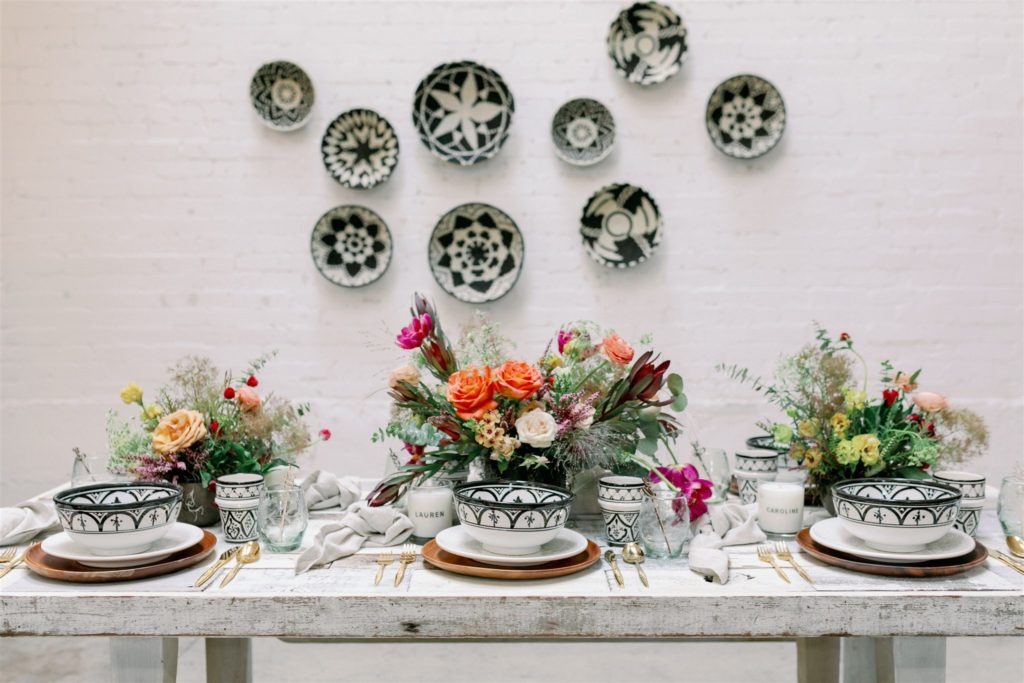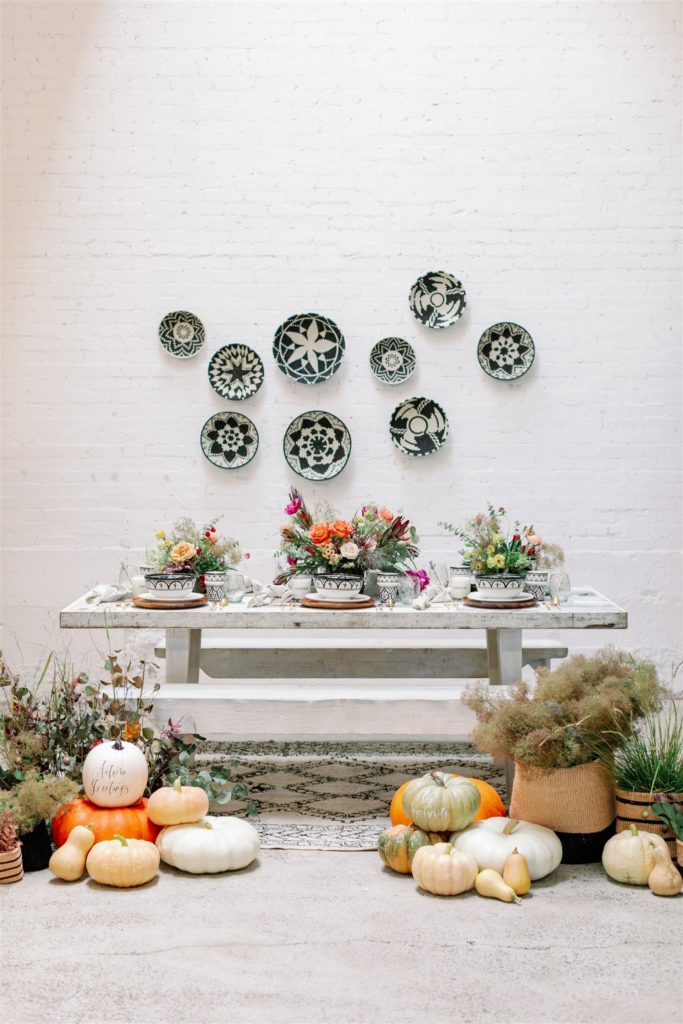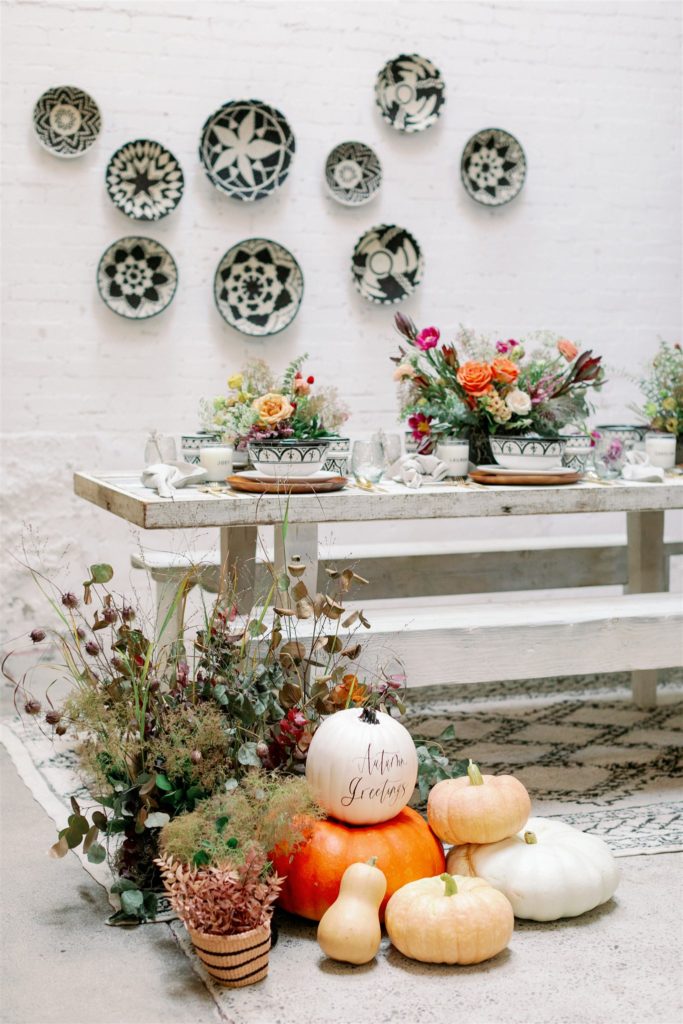 With every gathering, you need a bar and lounge! And we weren't going to forget those very important aspects… Plus we made it as pretty as ever! Thanks to Sweet Salvage Rentals' gorgeous collection. I'm in love with that black velvet sofa!! And the pillows!! Can I just live in this moment right here?!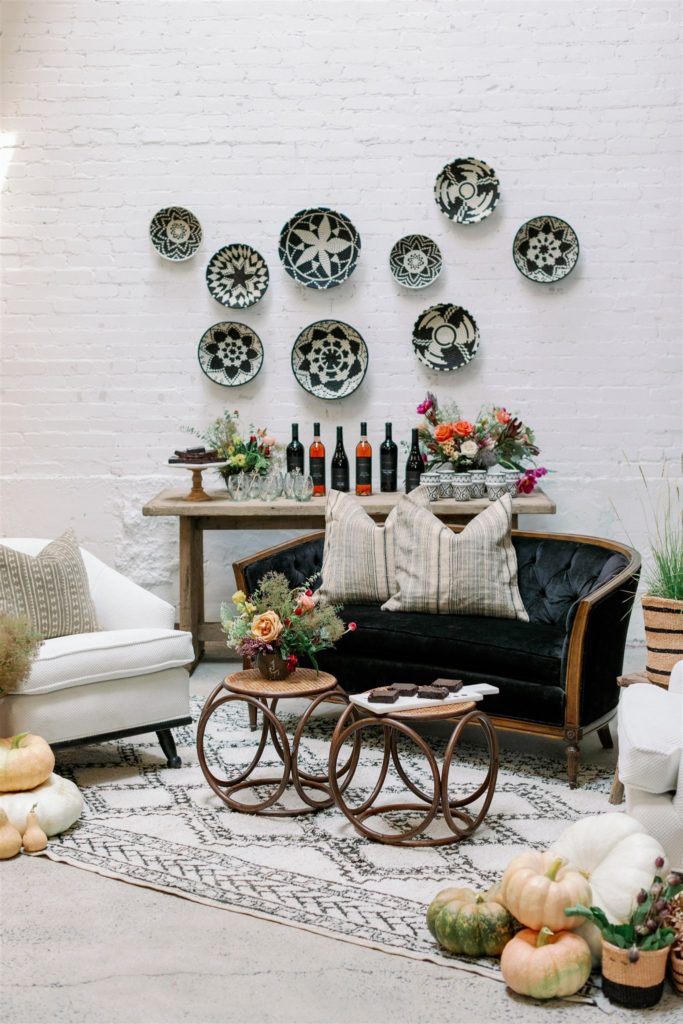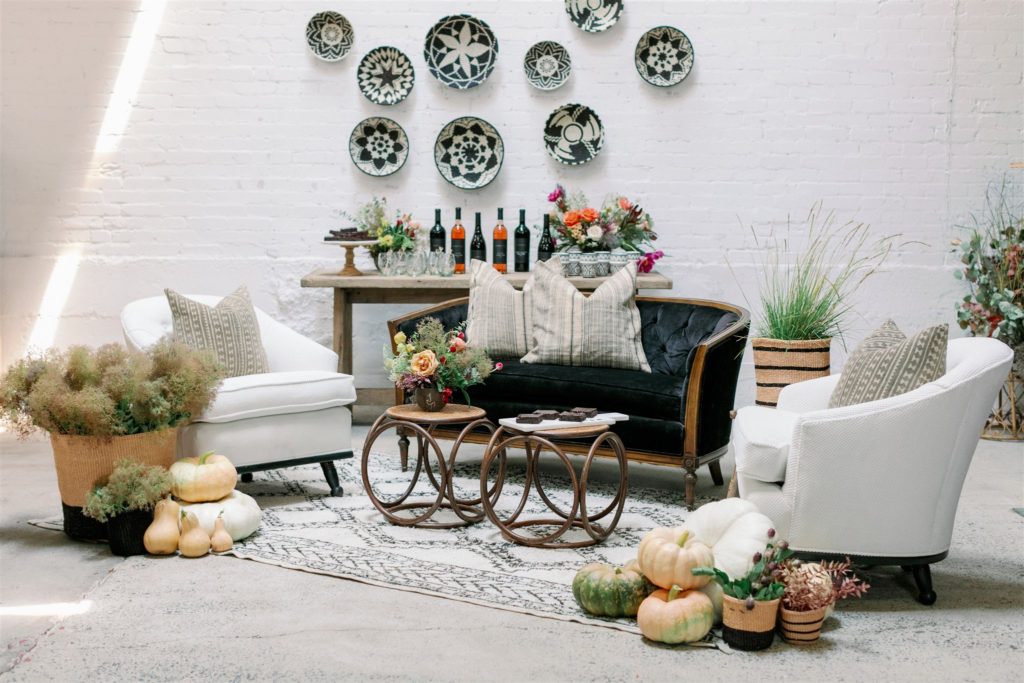 Our bar was stocked with all of One Hope's pretty reserve collection. All the pretty black bottles look perfect with our set up, and tastes even better! Pretty glassware and florals complete it!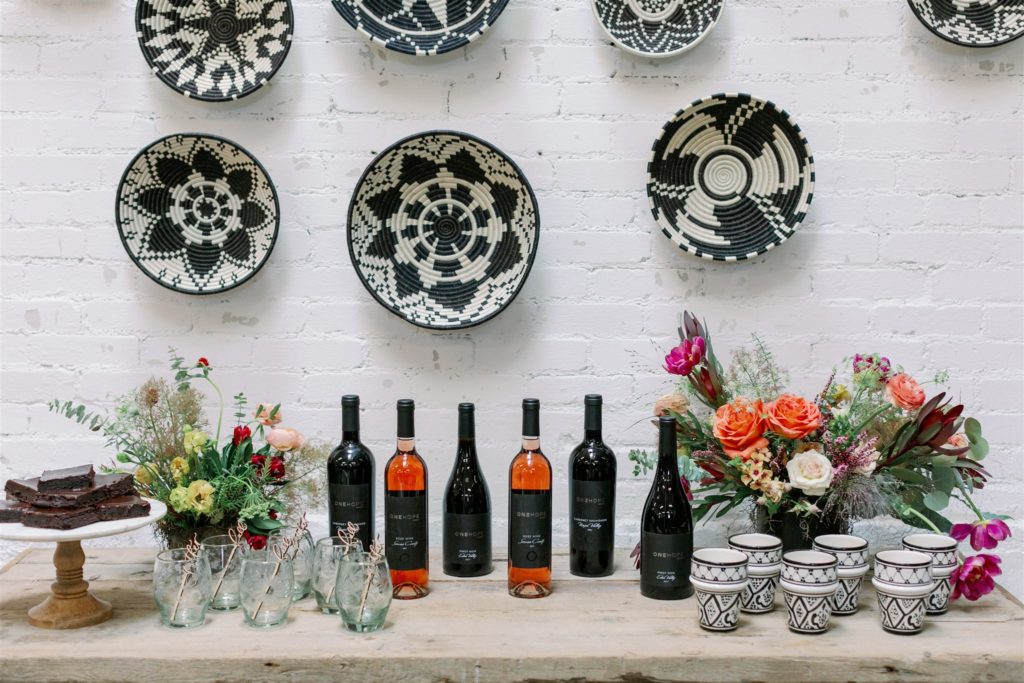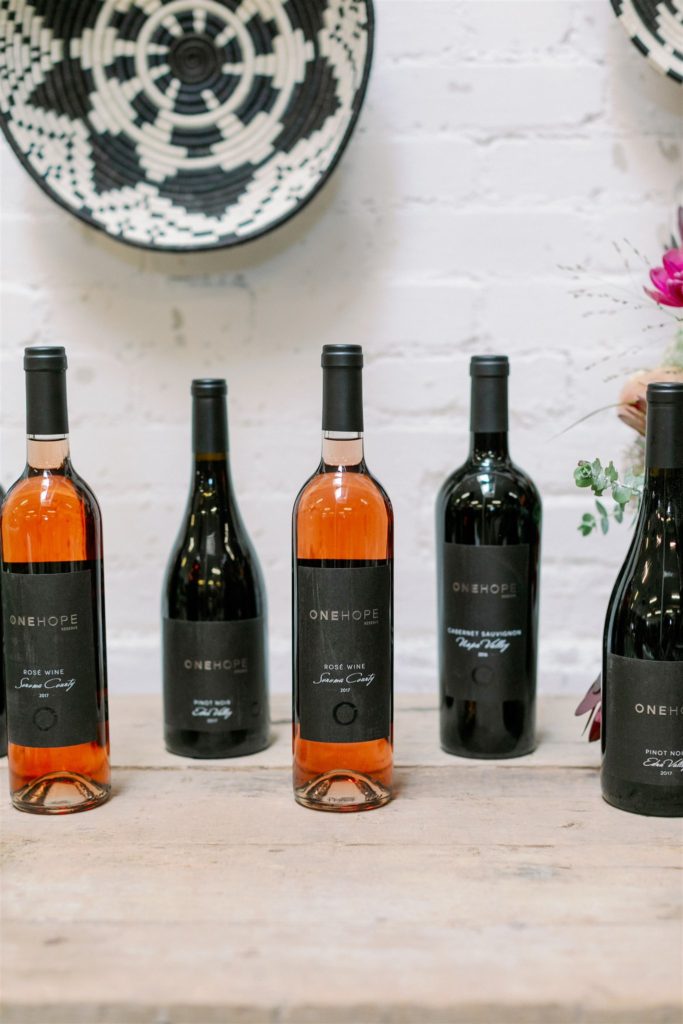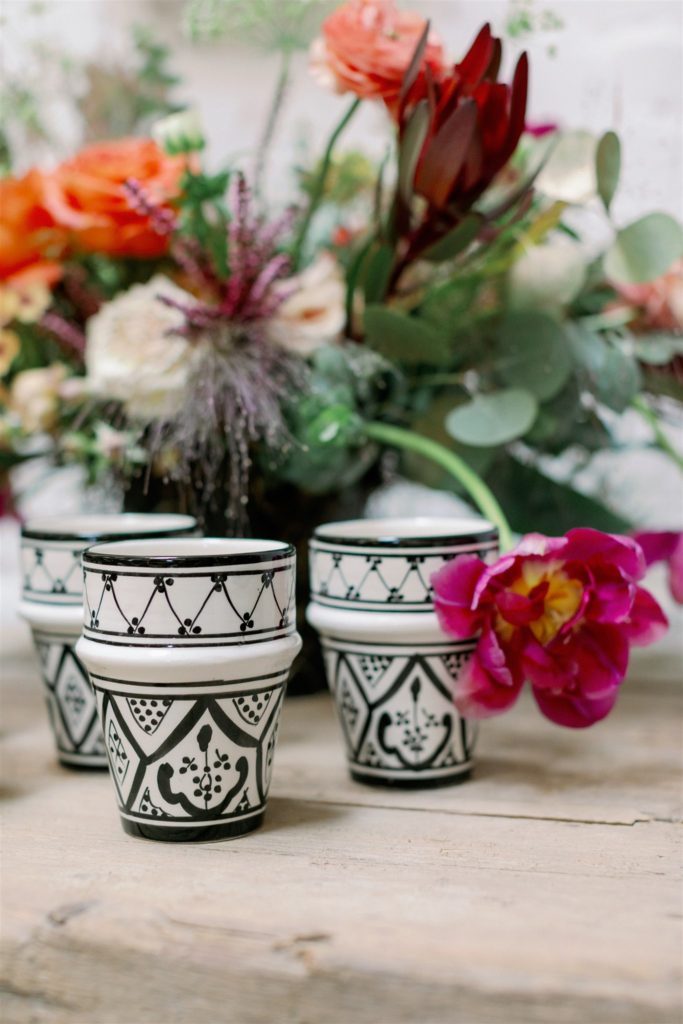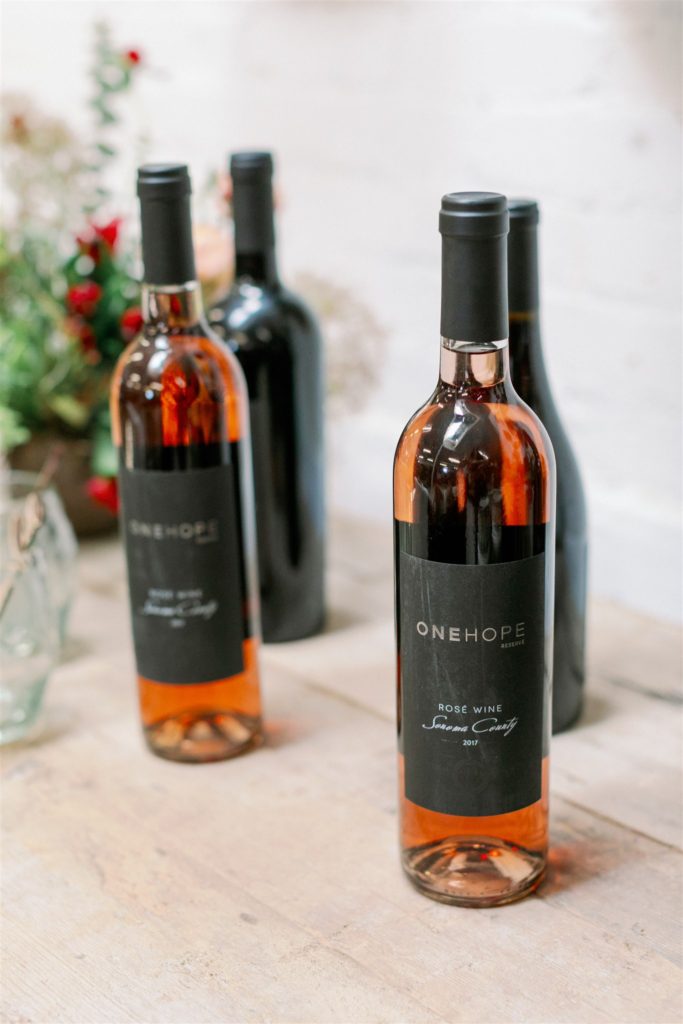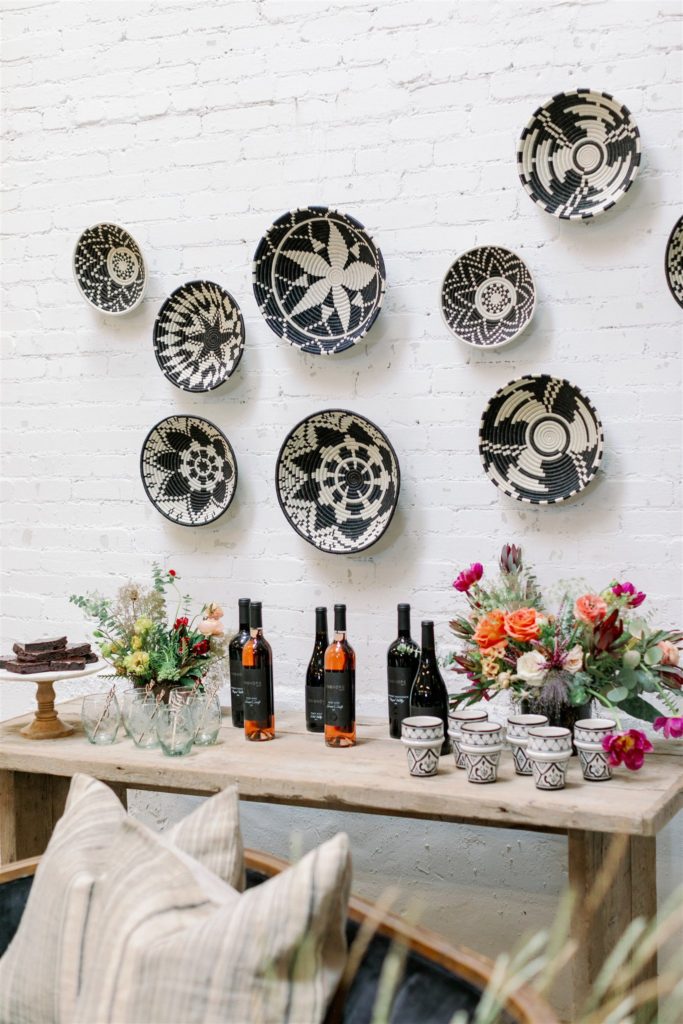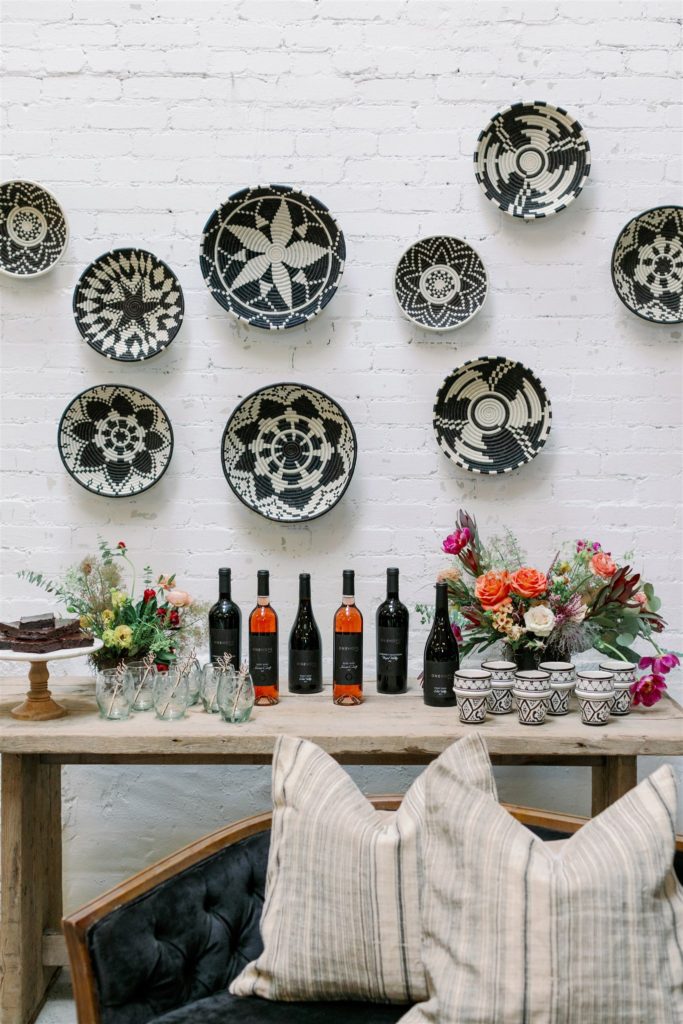 Again – gimme all the stir sticks!!!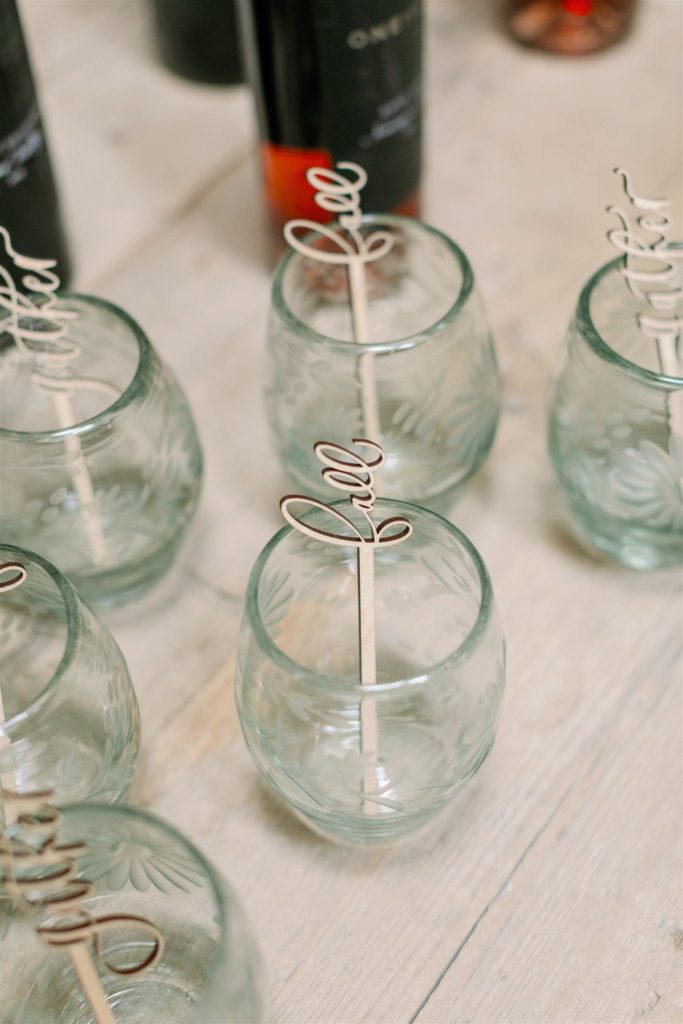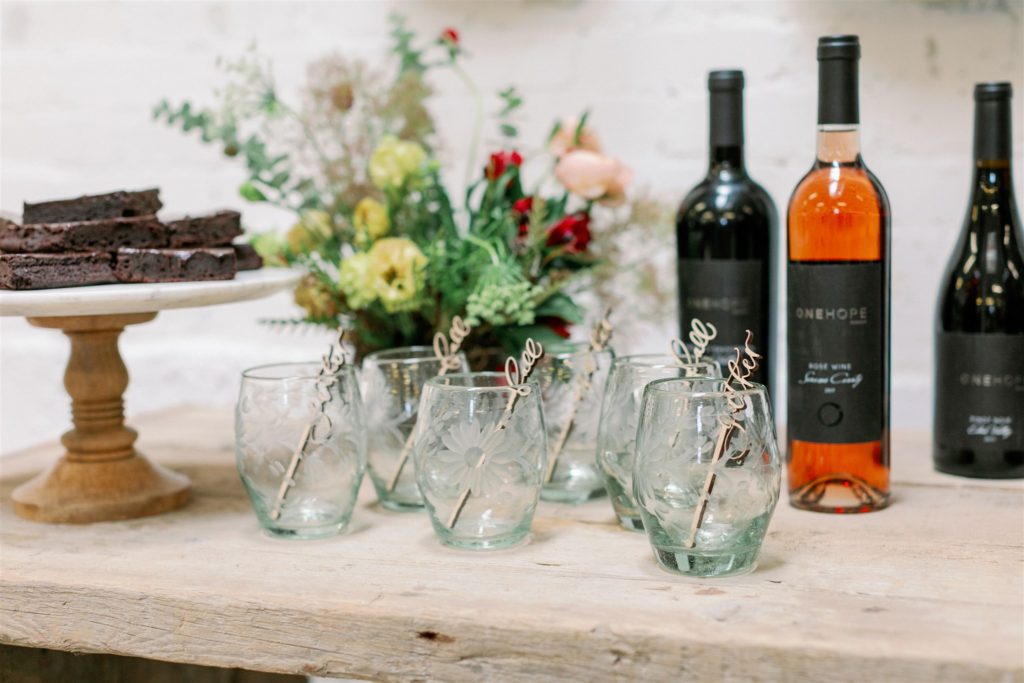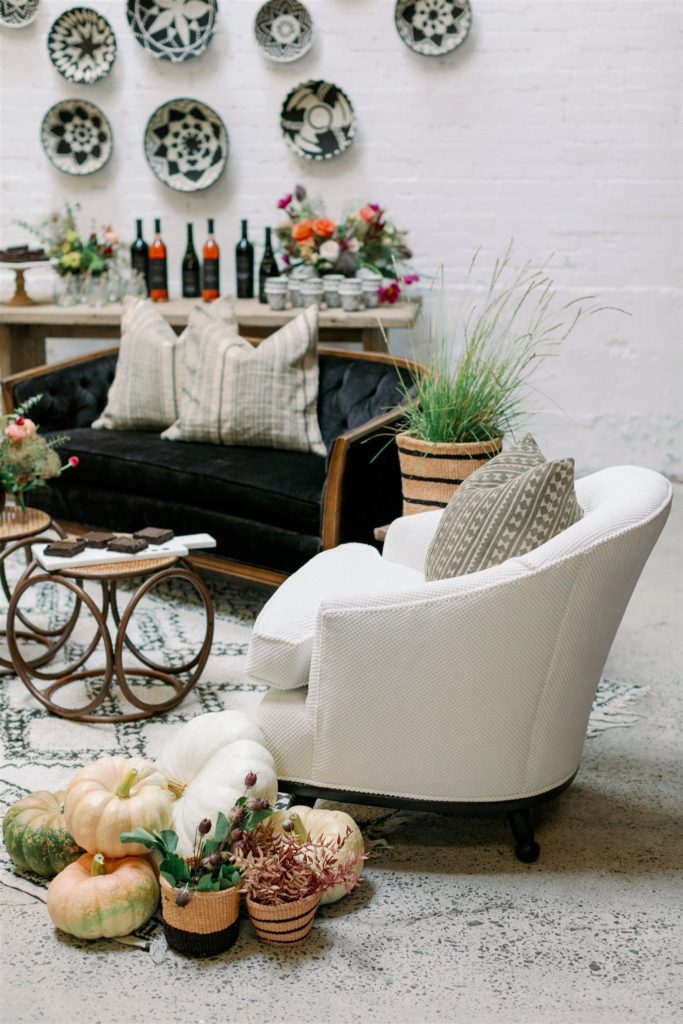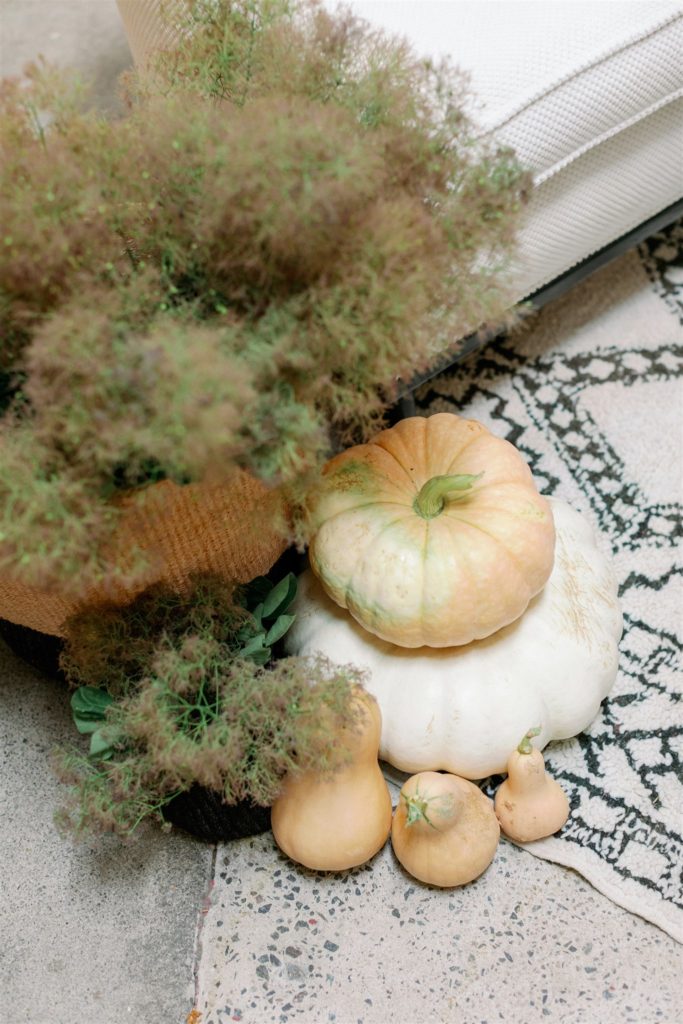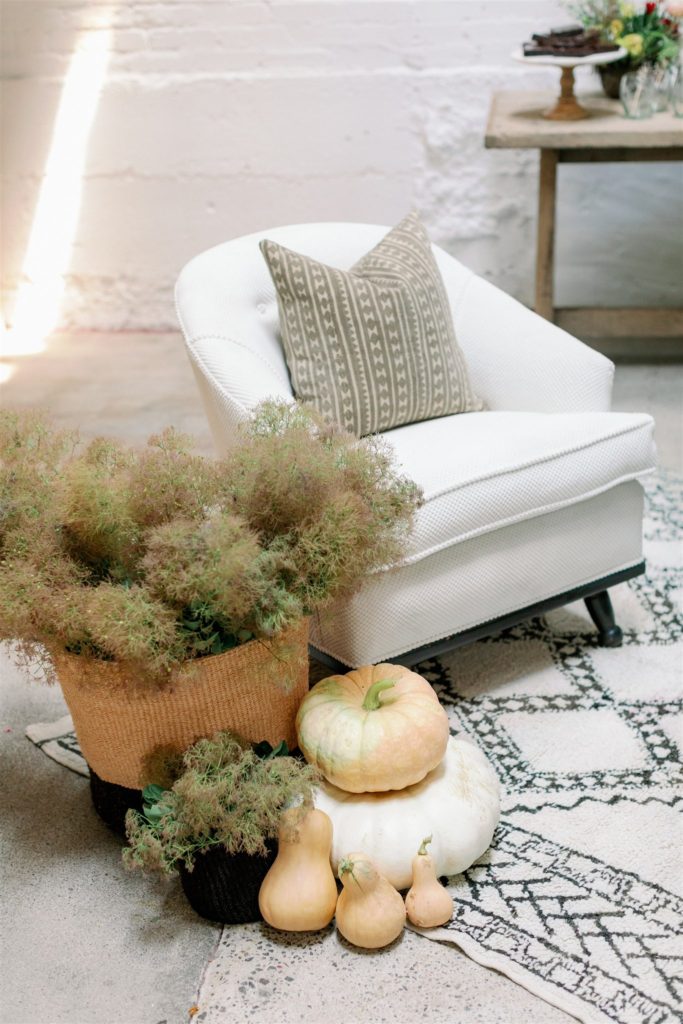 Did you notice those scrumptious brownies?! They are as delicious as they look! These yummy bites are from Homeboy Industries via The Little Market. You guys, these brownies are next level!! So so yummy, a big hit in my house! And would be at any party!!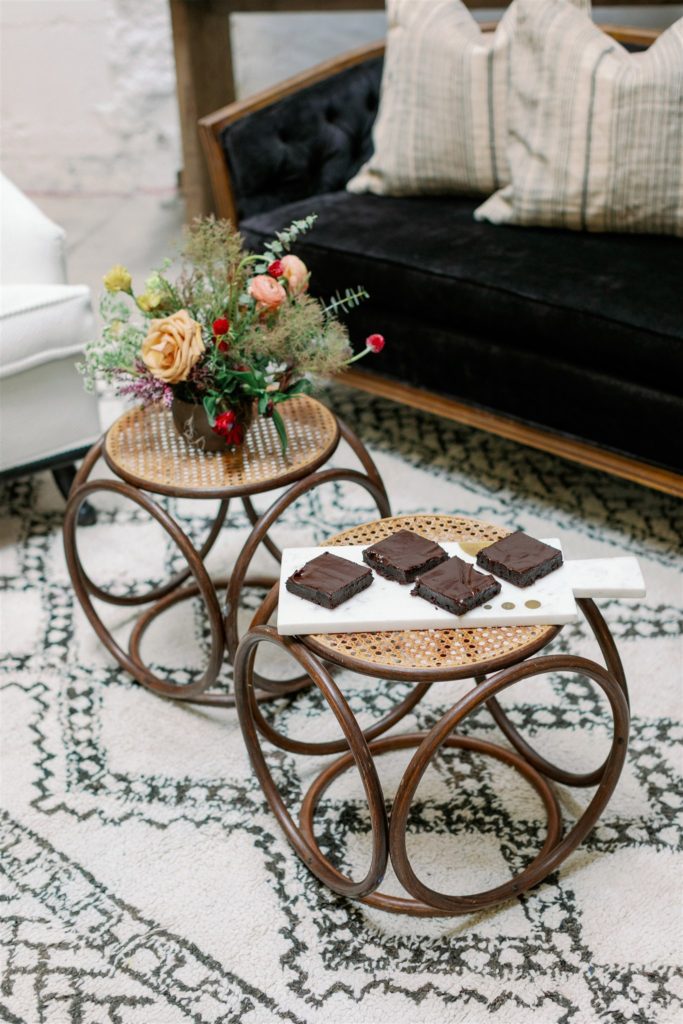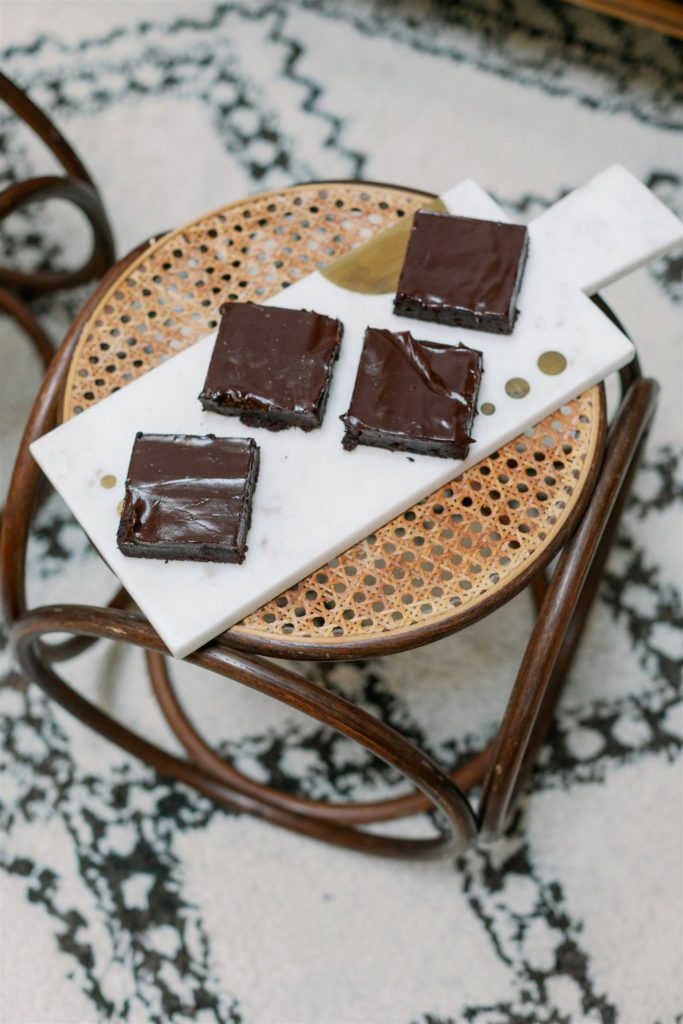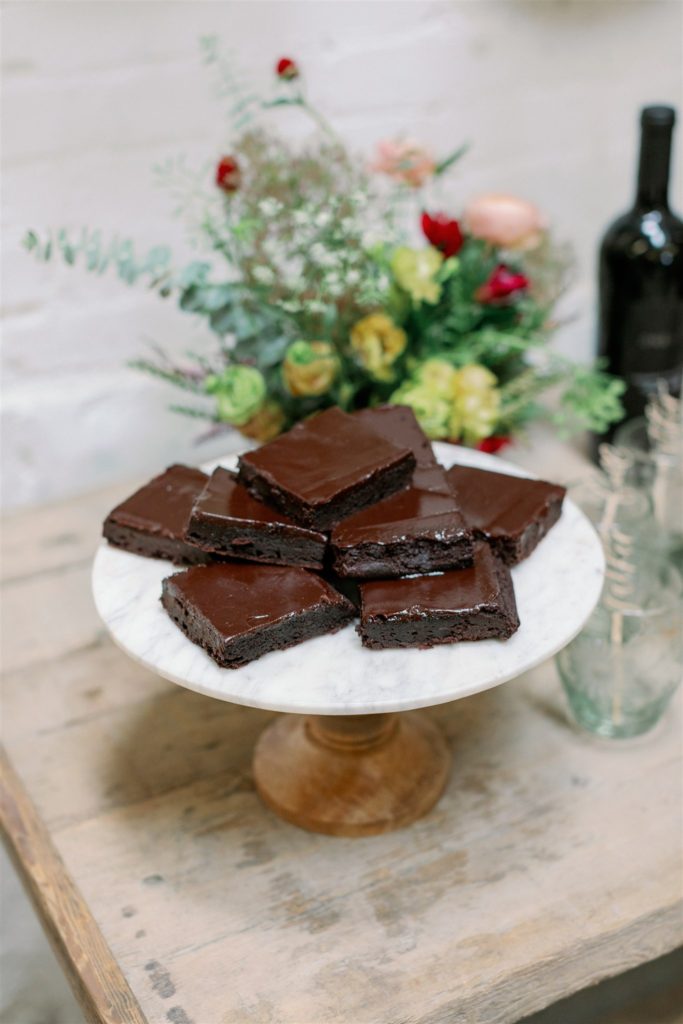 And that's how you throw a perfect Fall or Halloween party – no, we didn't include a PSL – but we made it work ;)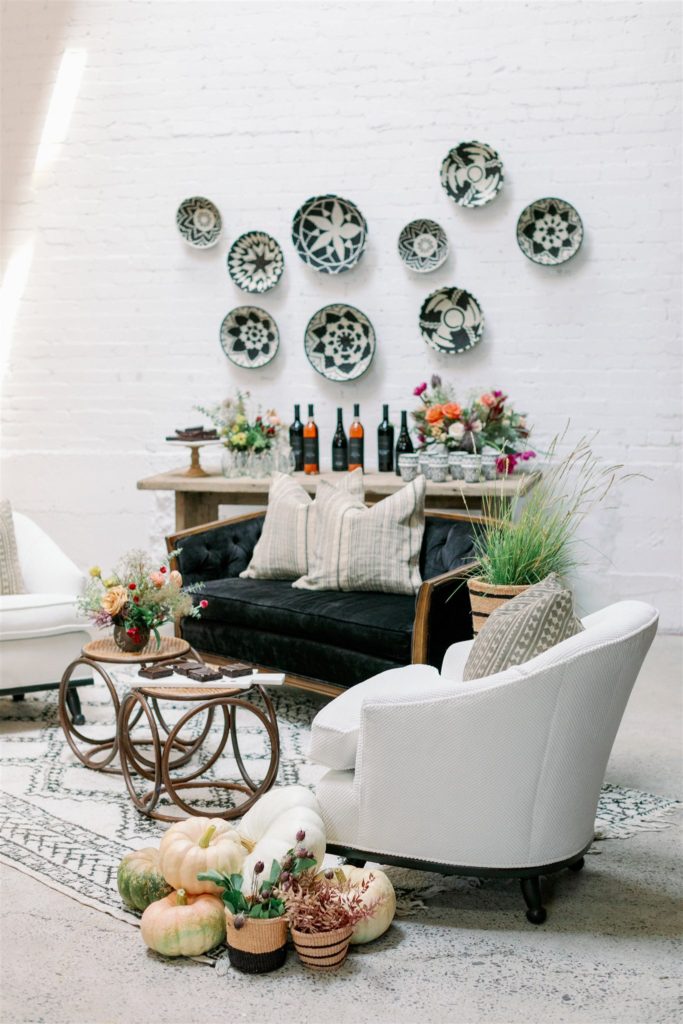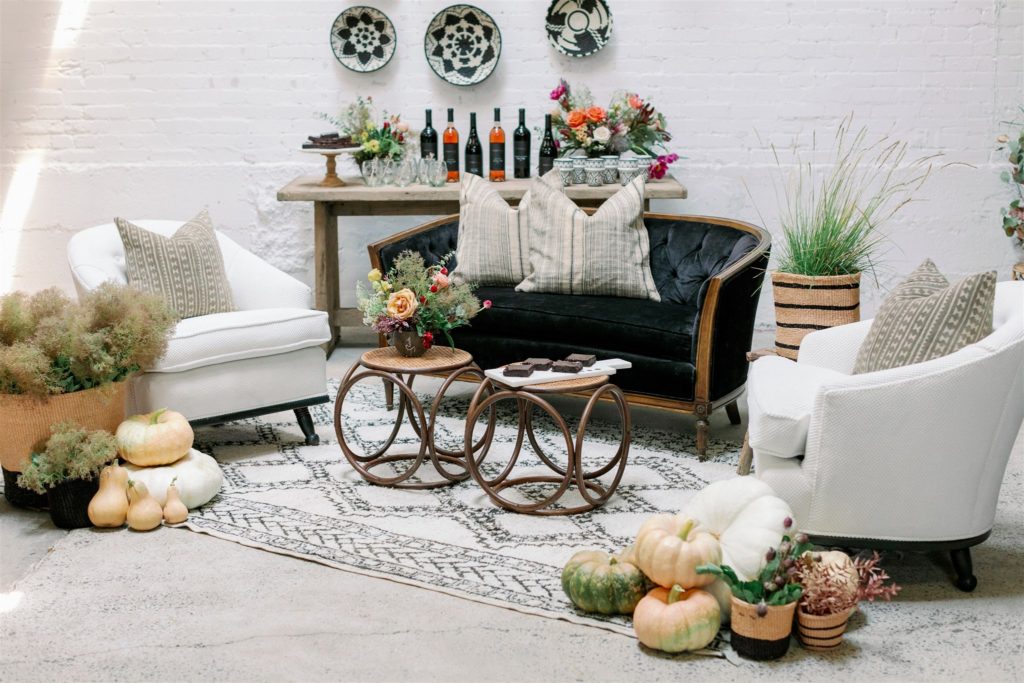 Stay tuned for lots more Fall/Halloween goodness!!!
xx
Jacquelyn