It's been awhile since we did some of our Beijos eats. So lets get back on track with a goodie! National hot dog day! Mark your calendars for July 23rd. Who doesn't love a good ol' hot dog topped with all your favorite fixings especially on a warm summer day. Sometimes I like my dog dressed up with fancy toppings, but most of the time I like to keep it pretty classic. A good ol' fashion ballpark dog wrapped in foil with ketchup, mustard, and most of all that yummy relish is a way to this girl's heart. Hot dogs are one of those iconic foods that remind you of the days at the ballpark, carnivals, movies, and those summer bbqs. Yup! I do in fact partake in the movie hot dog whenever I get a chance. Delish! Bring on the processed encased meats!
In honor of some of the classic dogs, we are bringing you three recipes to get your hot dog fix. So grab your dogs and lets get grilling!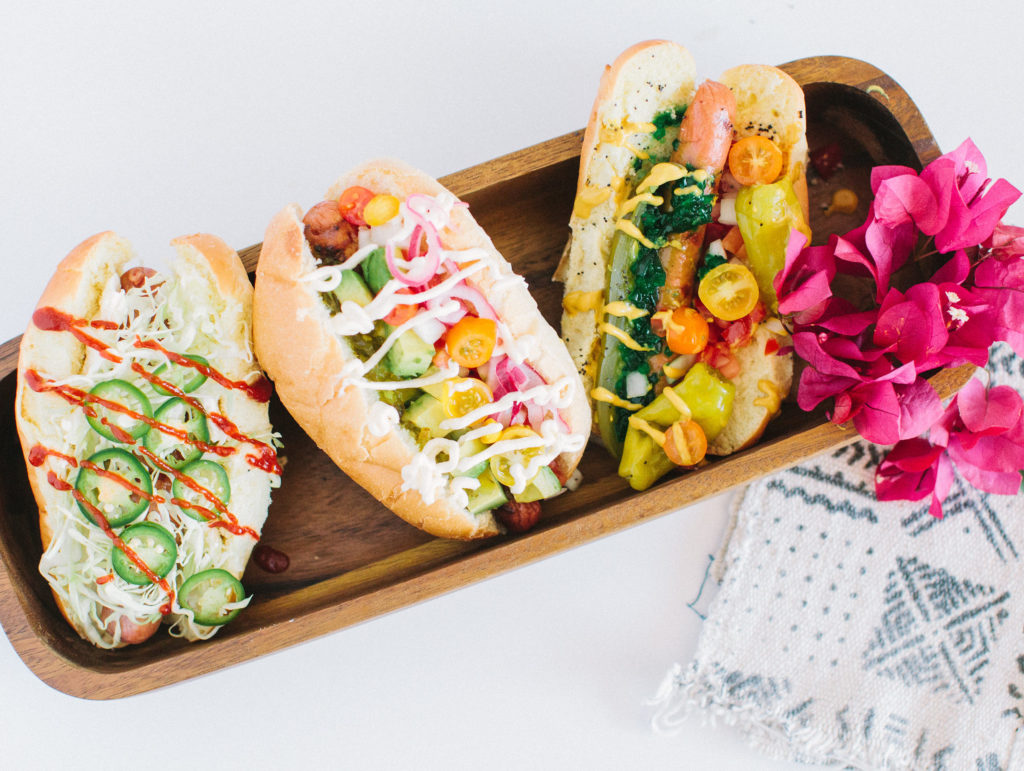 Photos by Yasmin Sarai
 These yummy hot diggity dogs were made by Chef Isaiah Aranda.
1st on our tour for National Hot Dog Day is the spicy Seattle Dog…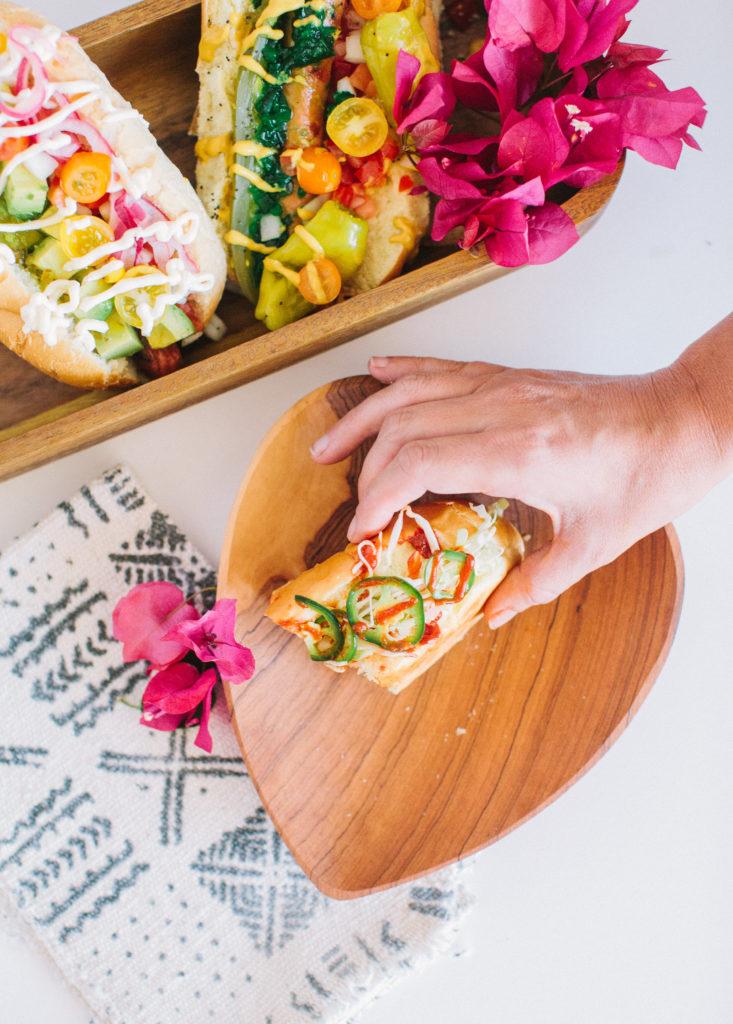 Ingredients
Bratwurst
Cream Cheese (room temp)
Jalapeños
Shredded Cabbage
Sriracha
Hot Dog Bun
Assemble
Grill the bratwurst to get those pretty grill marks. Spread a good portion of your room temperature cream cheese on your buns. NO! Not your own buns! The hot dog buns. Geesh! Place your grilled bratwurst on the bun, and then assemble your cabbage and jalapeños on top. Add as much or as little as your taste buds will allow for the sliced jalapeños. Drizzle with sriracha as the final step.
Caution: Be careful while touching the jalapeños, maybe wear some rubber gloves because jalapeños in the eyes are NOT fun.
Up next we got the Sonora Dog…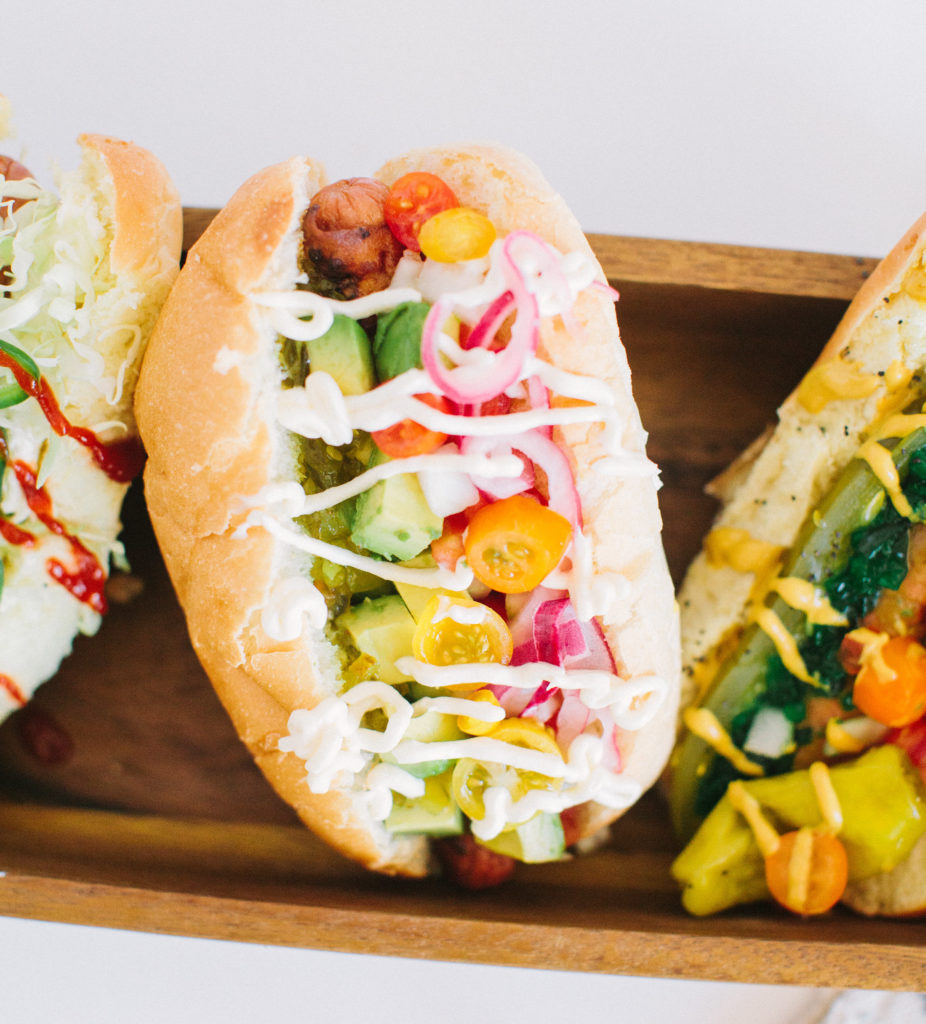 Bacon wrapped hot dog (plus extra bacon)
Relish
Tomato
Onion
Avocado
Mayonaise
Soft Roll
Assemble
Wrap your hot dog with bacon and then grill. While your dog is grilling, cook your extra bacon. When the bacon is cooled, pick up, and munch away :) Place the bacon wrapped dog in the bun and top with all your toppings. Lastly, drizzle the mayonnaise on top. To drizzle easier, place in a ketchup or mustard bottle to achieve a thinner drizzle.
The final dog of the day… the Chicago Dog!
We save the best for last. Proceed with caution, this guy gets messy! Therefore, napkins or a wet nap are highly suggested or just your shirt. Whatever you have.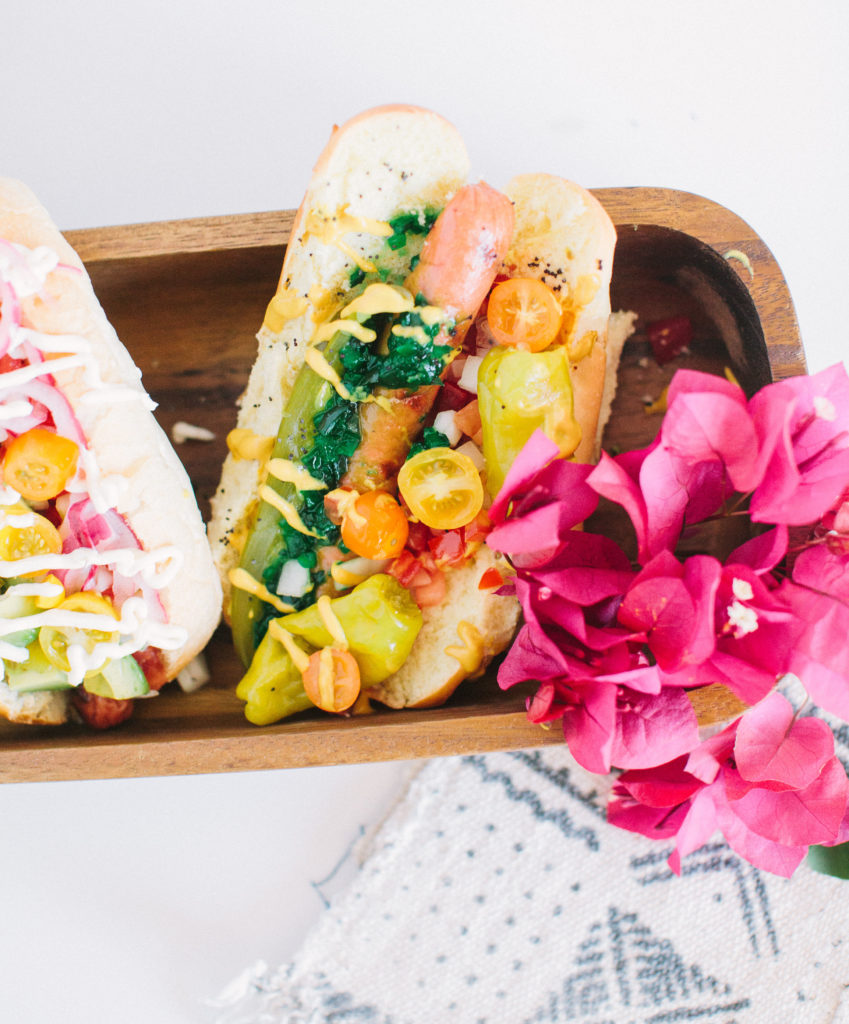 Ingredients
Hot Dog
Pickle spear
Tomato
Onion
Neon Green Relish
Pickled Peppers
Mustard
Celery Salt
Poppyseed Bun
Assemble
Grill the dog, and then place in the poppyseed bun. Place the pickle spear on one side of your dog. Maybe you like a lot of pickles, then add another spear on the other side. Get Crazy! Assemble the toppings on top in the same alignment of your dog. As a result, this will allow you to get more goodies on your bun and it also looks pretty! Finally, drizzle with mustard and then sprinkle with a tad of celery salt.
Caution: Watch for people with cameras to get a glimpse of your sexy face smothered in your Chicago dog. As a result, you will have lifetime of embarrassment to deal with.
Happy National Hot Dog Day!
xx
Abby