For New Years Eve we don't want to always deal with the hustle and bustle and the obvious over priced night out, sometimes we just want a nice night in with the ones we love!  This year, instead of styling a wild party we decided to do something more intimate, a NYE at home!   It's definitely more low key, but you can make it your own and style it up as much as you like… It is a beautiful cozy night in that anyone can make happen!
Keep reading to see how we created and styled this adorable dinner party, also featured on Inspired By This today!
Photos by Megan Welker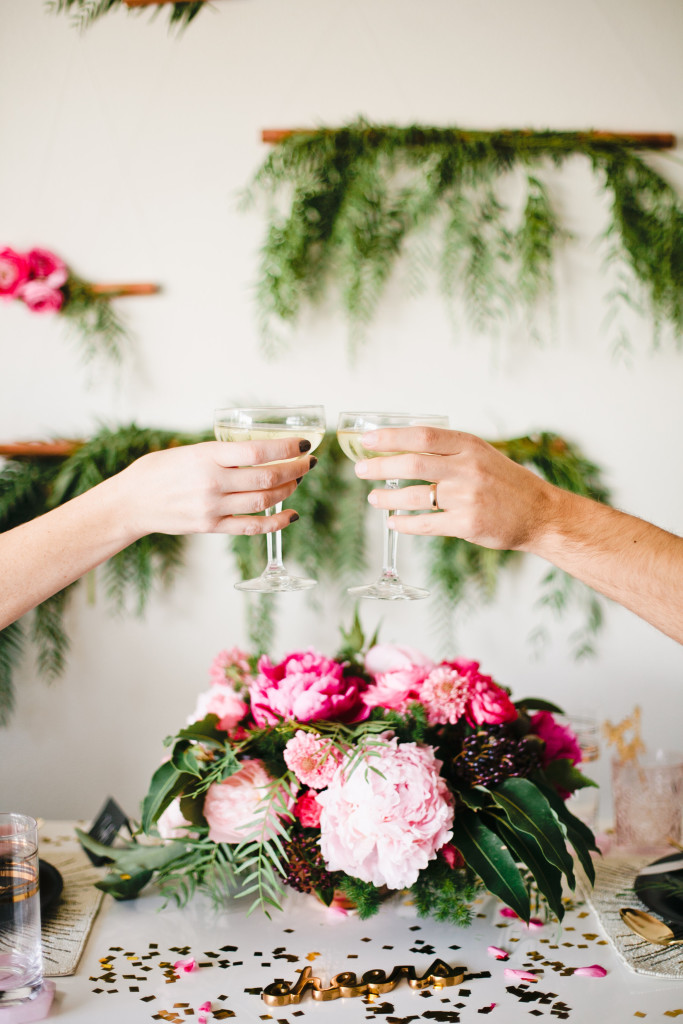 Now, you may not need an invite if you're just doing a cozy night in for two, which we think is amazing, but if you are having a few close friends over an invite is always nice!  We listed the help of the lovely Laura Hooper Calligraphy, who created this simple yet stunning invite.  We love her style of calligraphy, and wait till you see what other goodies we got from her online shop!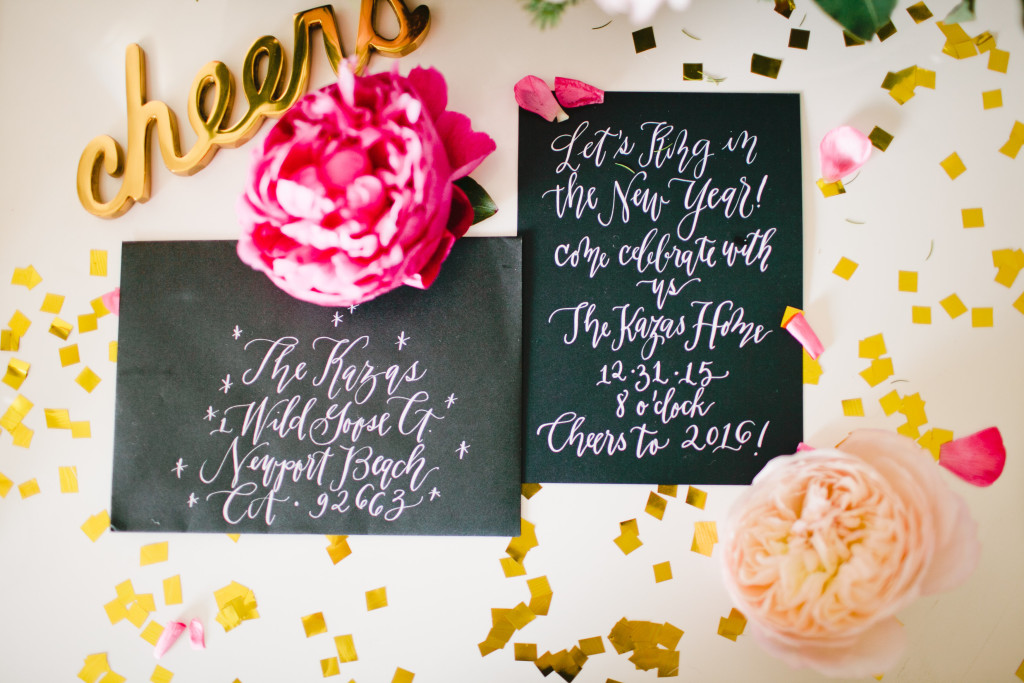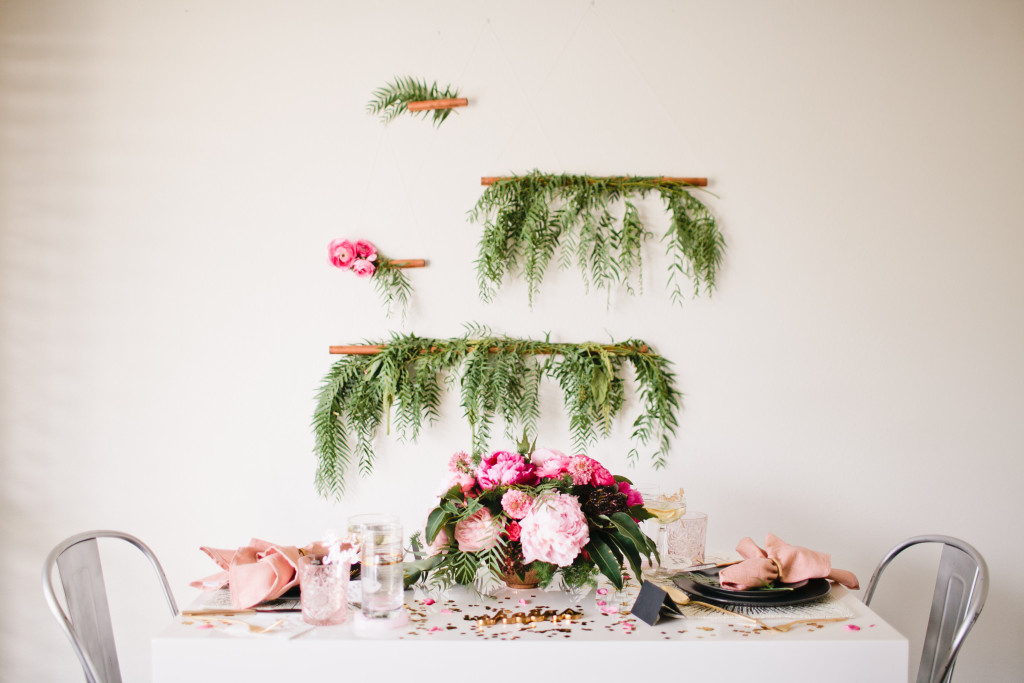 For all of the tabletop we used one of our favorite go to stores, West Elm!  We can never leave that store empty handed and found such amazing items to create this perfect NYE styled look!  We loved the mixture of the black plates with the pinks and golds of the napkins, glassware and flatware.  They also had the most amazing starburst placemats and gold napkin rings that would jazz up any table!!  Really, every detail was taken care of with their awesome inventory.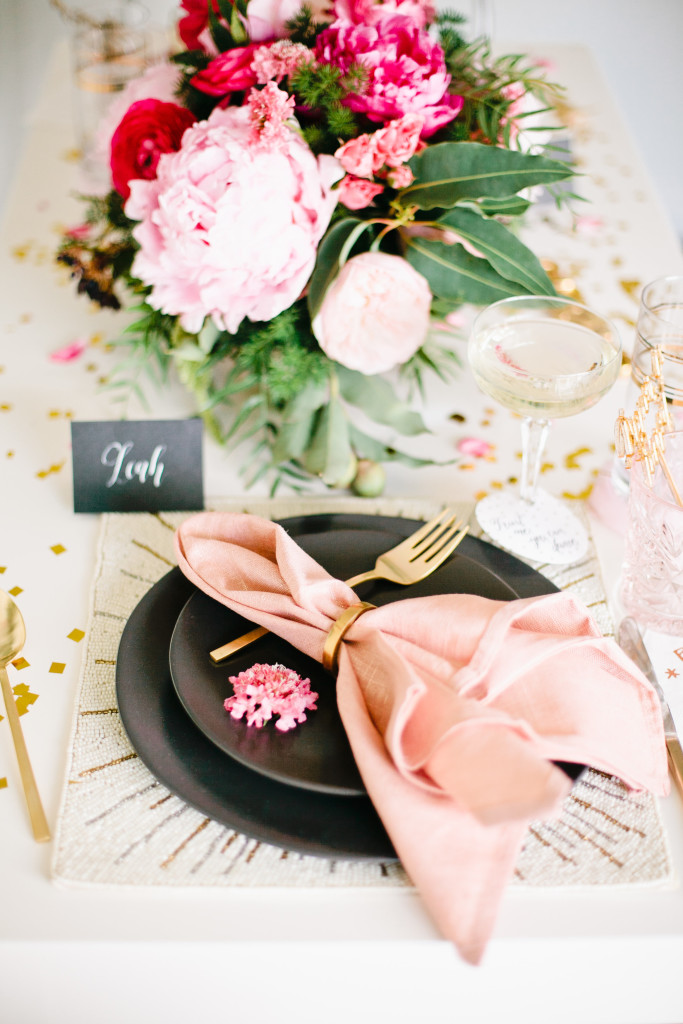 Remember how we said Laura Hooper had great stuff in her online shop?!  Well this drink stirrer is basically our new motto, and new favorite thing ever!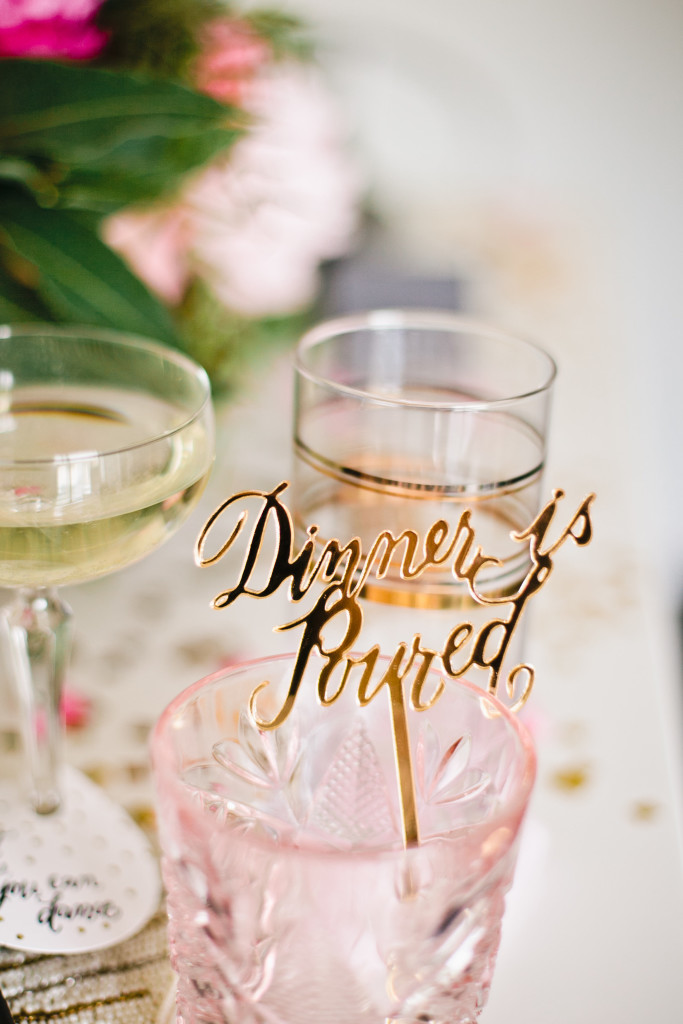 She also did custom place cards for us!  And how cute are these little drink tags?!  Gotta love that liquid courage on the dance floor!  Ha!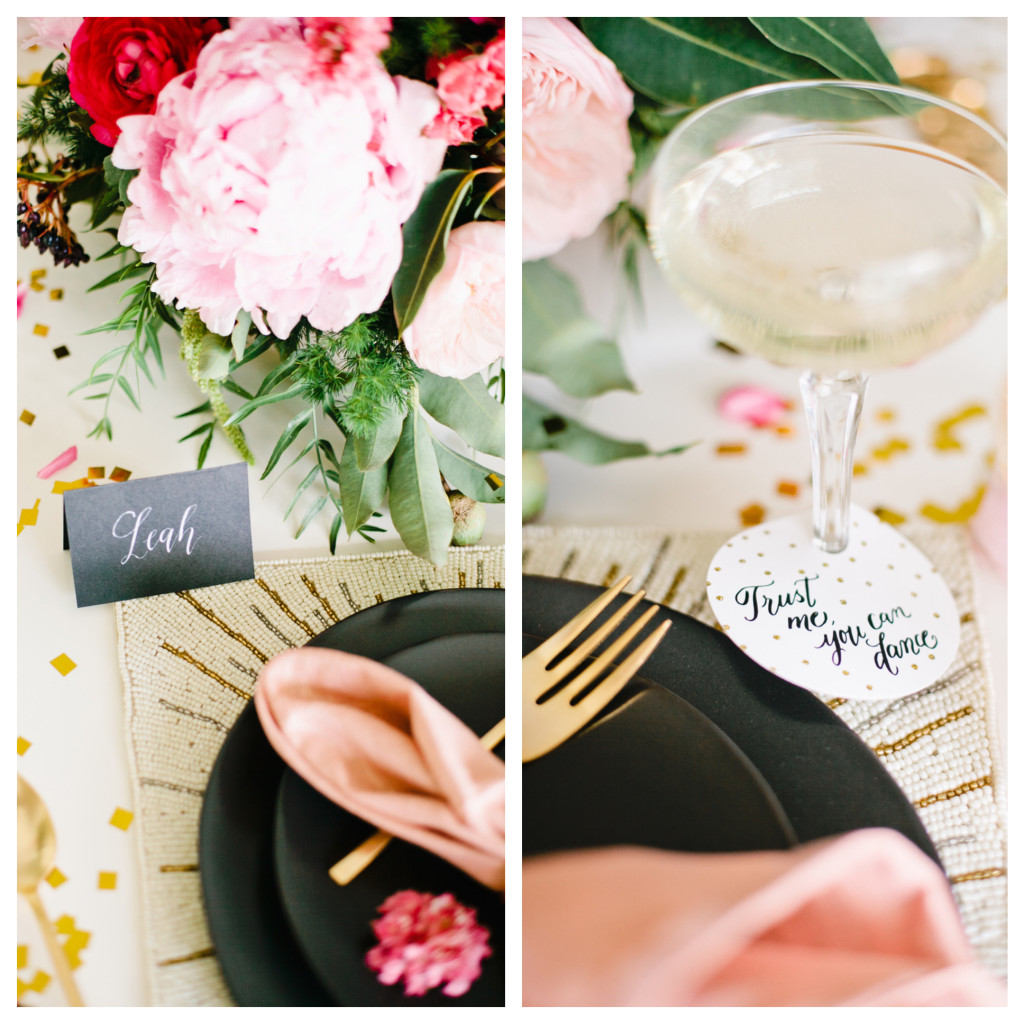 The backdrop was pretty easy to create with the help of our gal Meagan from MV Florals!  We had some copper piping lying around that she attached some greenery to, then we hung it to our wall with fishing wire and added a few blooms!  Voila!  Super easy and makes a gorgeous statement.  Meagan didn't stop there, she created the most beautiful pink center piece for our table, we couldn't stop saying how stunning it was!  We love using metallics like gold and copper mixed with black and white for New Years, but to brighten this one up and make it a little different we decided to mix in some pretty pinks and greenery… MV Florals really did an amazing job with these gorgeous blooms!!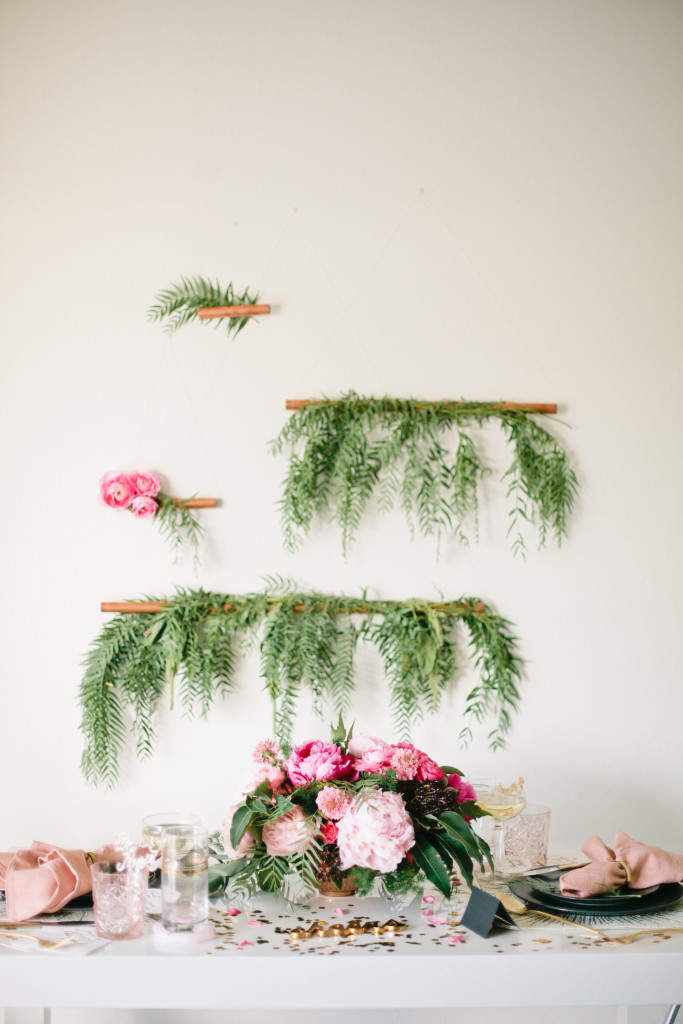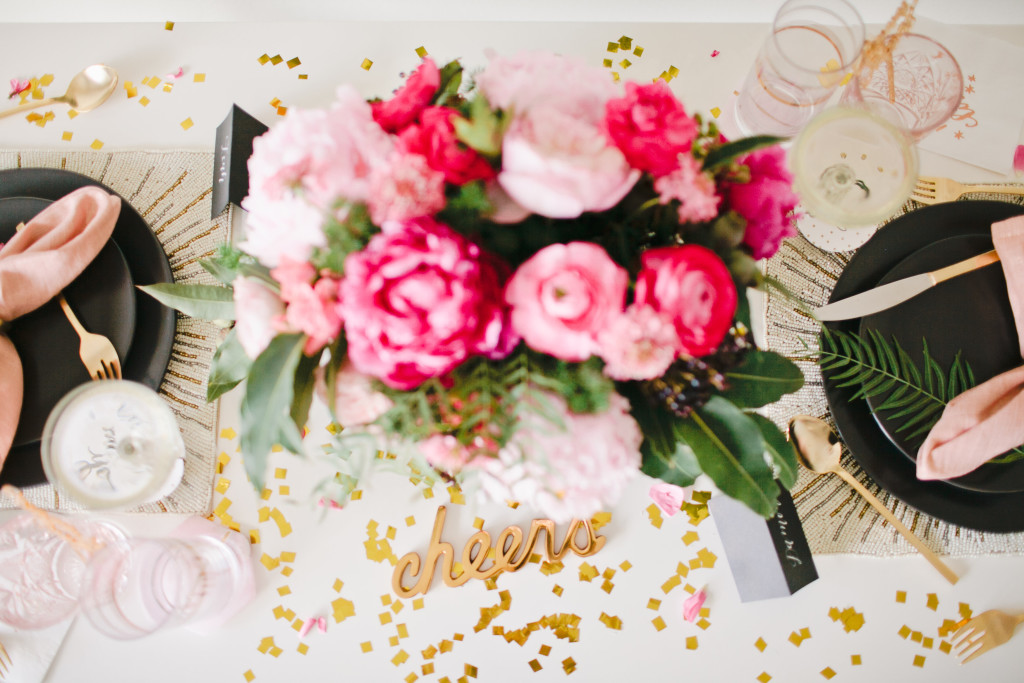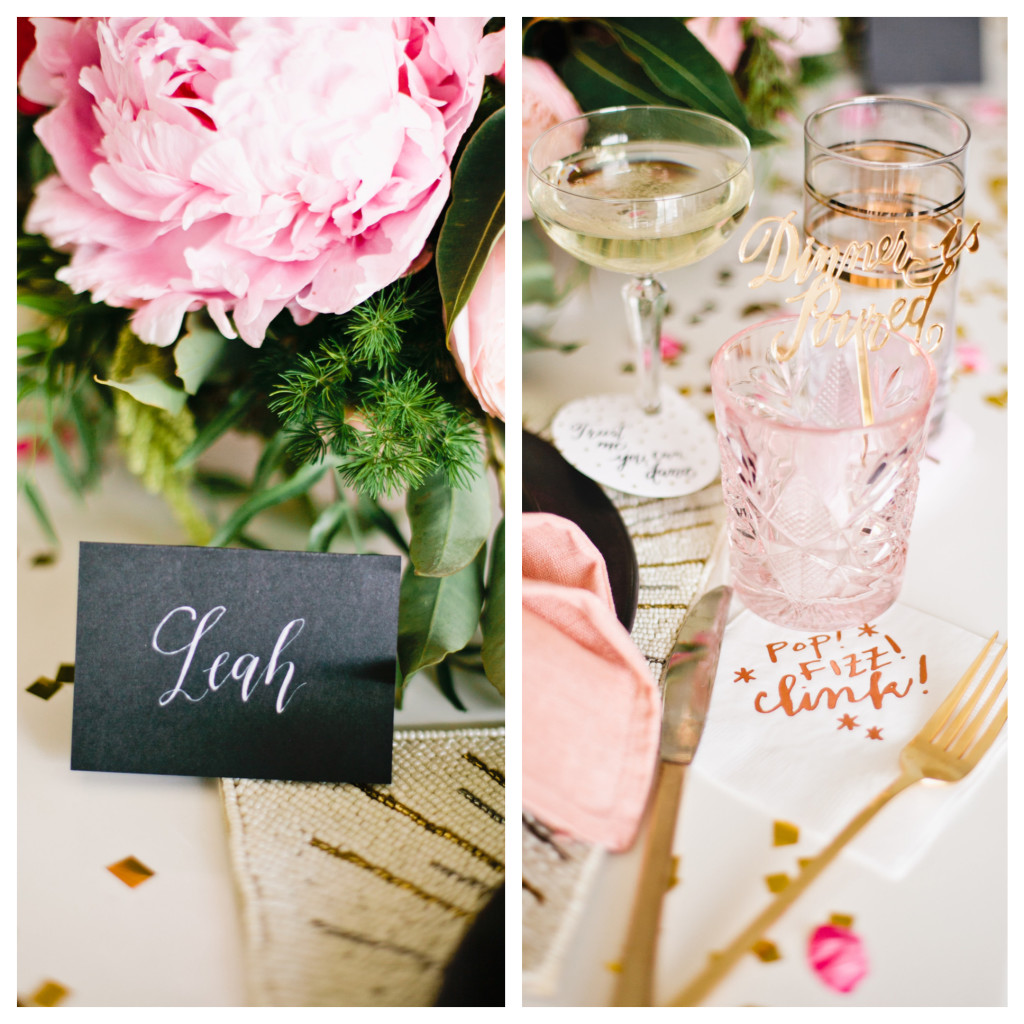 There's our favorite drink stirrer again that we can't get enough of!  Ha!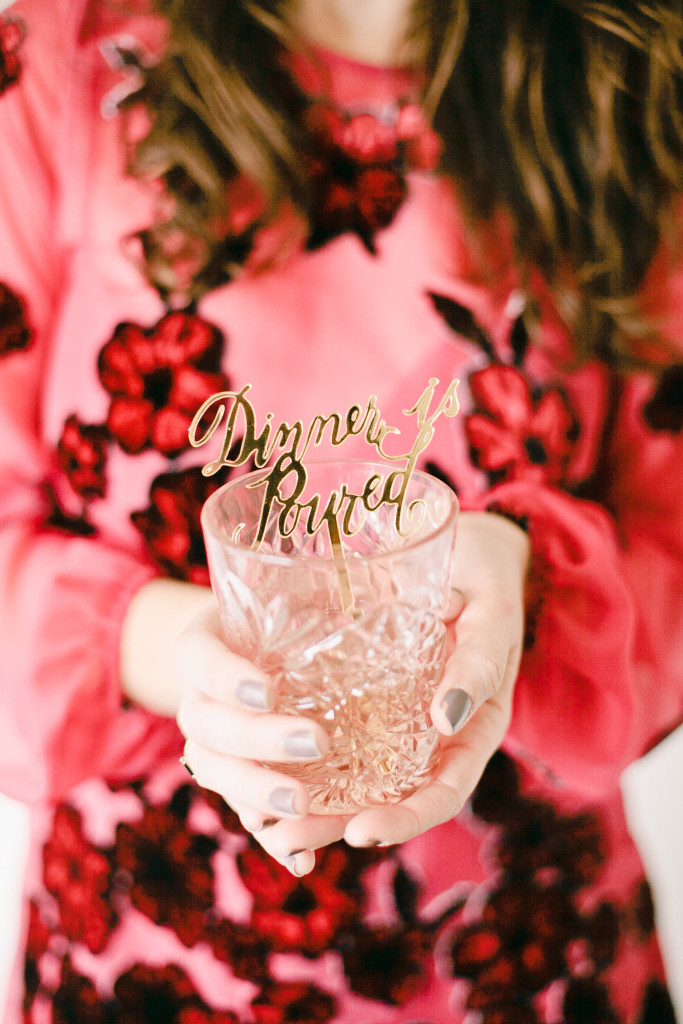 Now it's NYE, so we naturally gotta have some cocktails going on!!  Don't forget about your bar set up, we kept ours simple on a pretty tray from World Market and used all of West Elm & Laura Hooper's pretties to liven it up!  Oh, and of course some flowers and confetti, everything is better with flowers and confetti!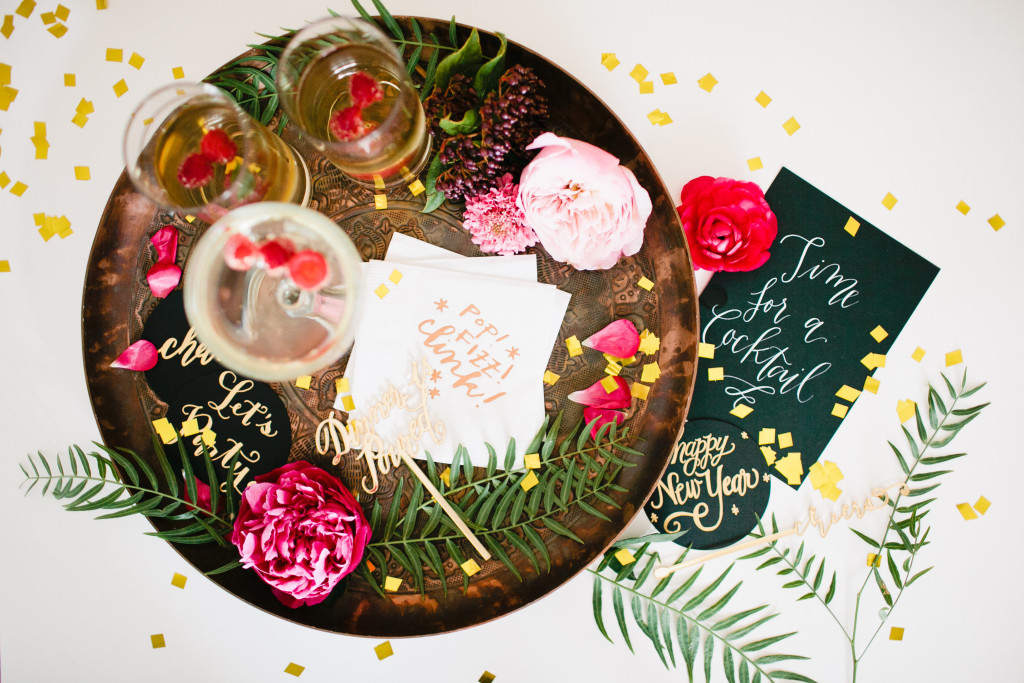 It's all about the details for us, and these copper Pop! Fizz! Clink! napkins add the perfect touch to any gathering!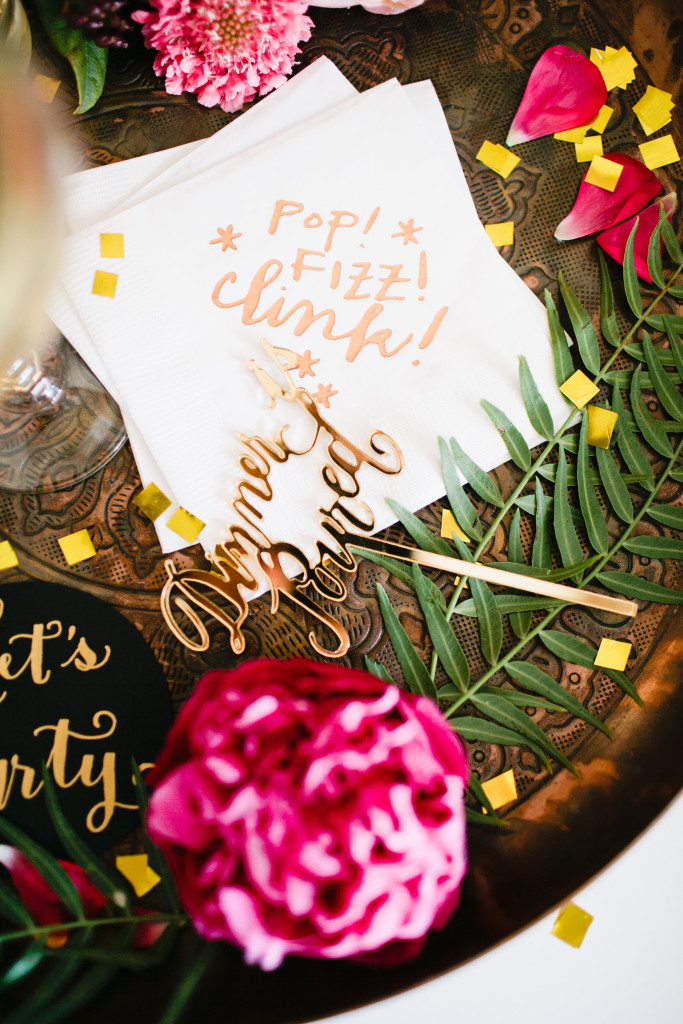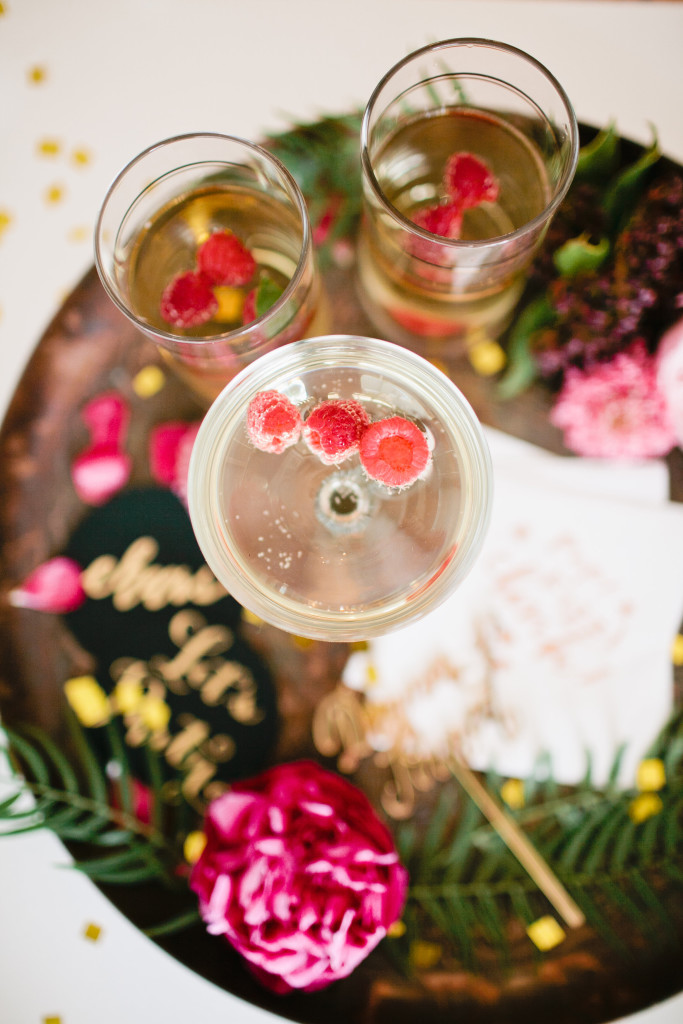 More fun coasters for your guests to use, along with a reminder about what time it is ;)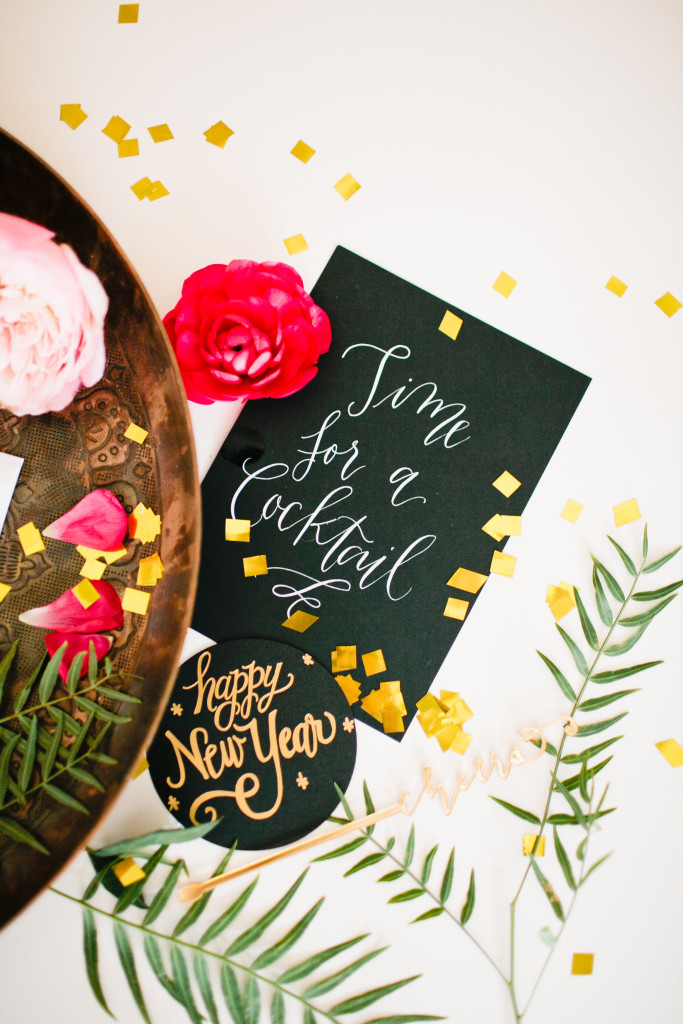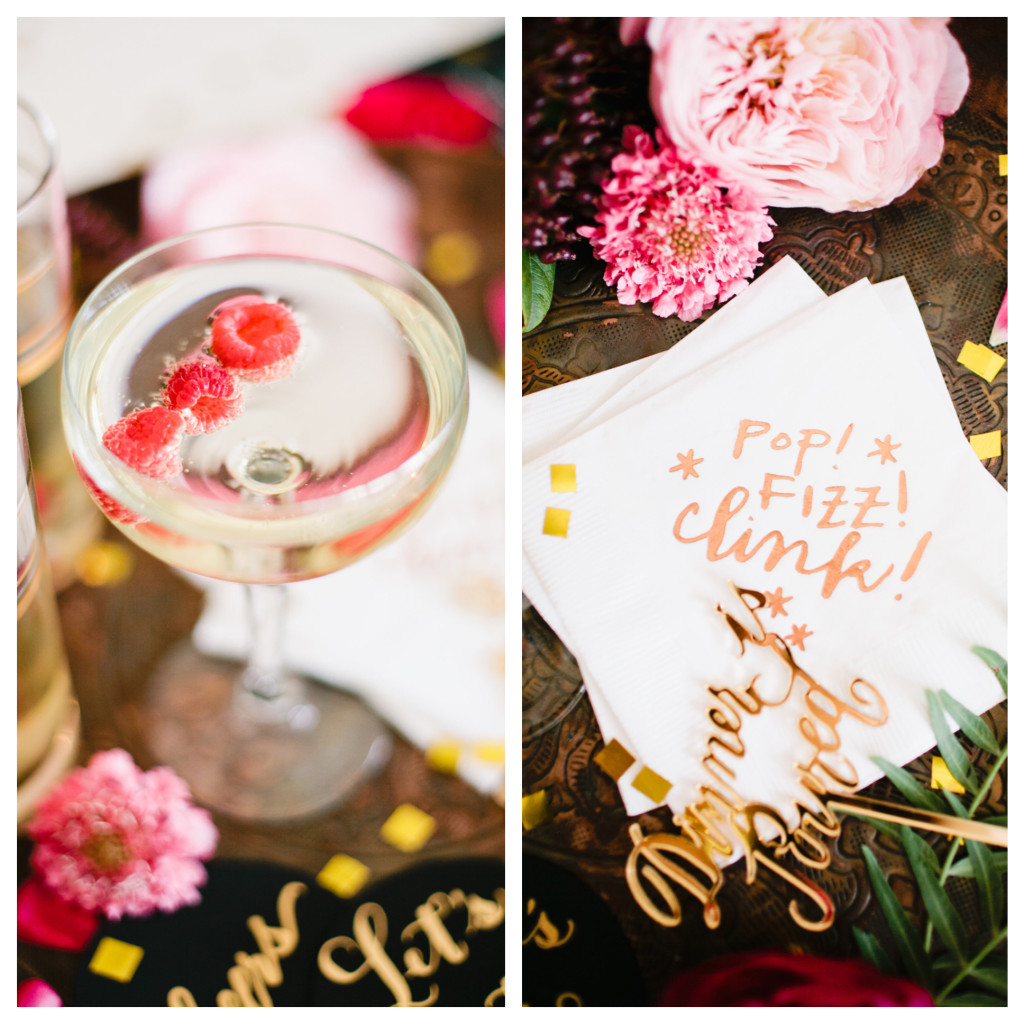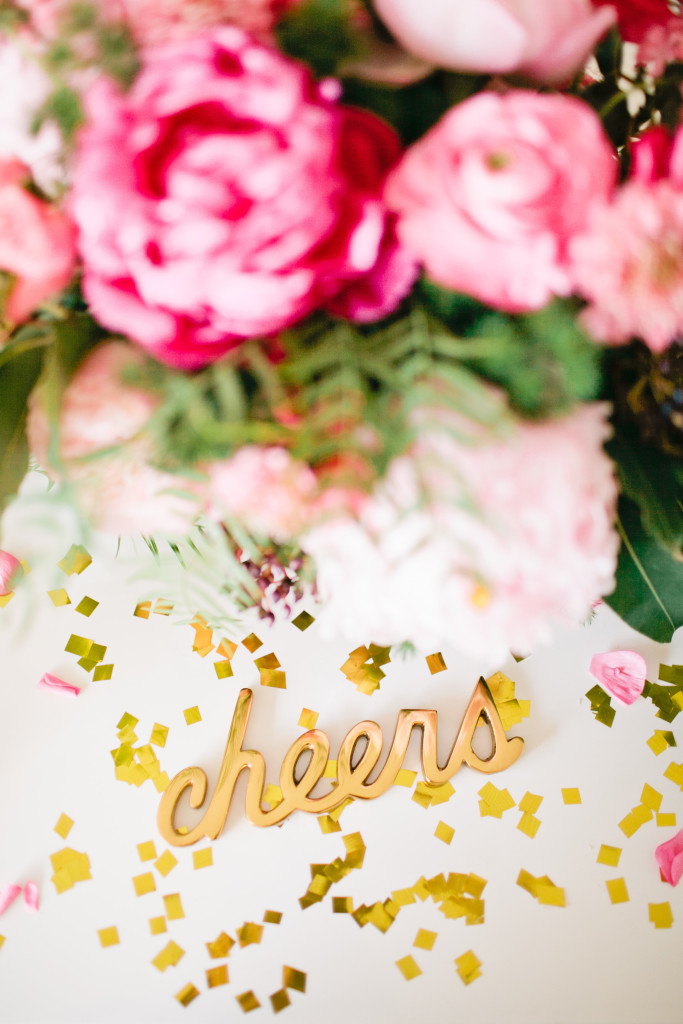 A nd that's a wrap!  We hope you all have a lovely New Year and ring in 2016 with the ones you love in style!!
Cheers!
Jacquelyn