What's better than a movie night with your girl friends?! Even though movie theaters aren't open and we are still social distancing, we still want to hang out with our friends! Well, we found the perfect solution! An outdoor movie night styled to perfection and completely socially distanced.
Of course, we had to Beijos this baby up with the prettiest setup! We teamed up with our friends Marnie from Sweet Salvage Rentals (who was also our hostess), Alex from Third & Park, Ellen from The Pop Shop, Tarsia from Bubbles & Brew, and more!! keep scrolling to see all the details and how we had a fun night out/in!
We are also featured today on Green Wedding Shoes, be sure to check us out there…
Photos by the talented Caitlin Alohani Photography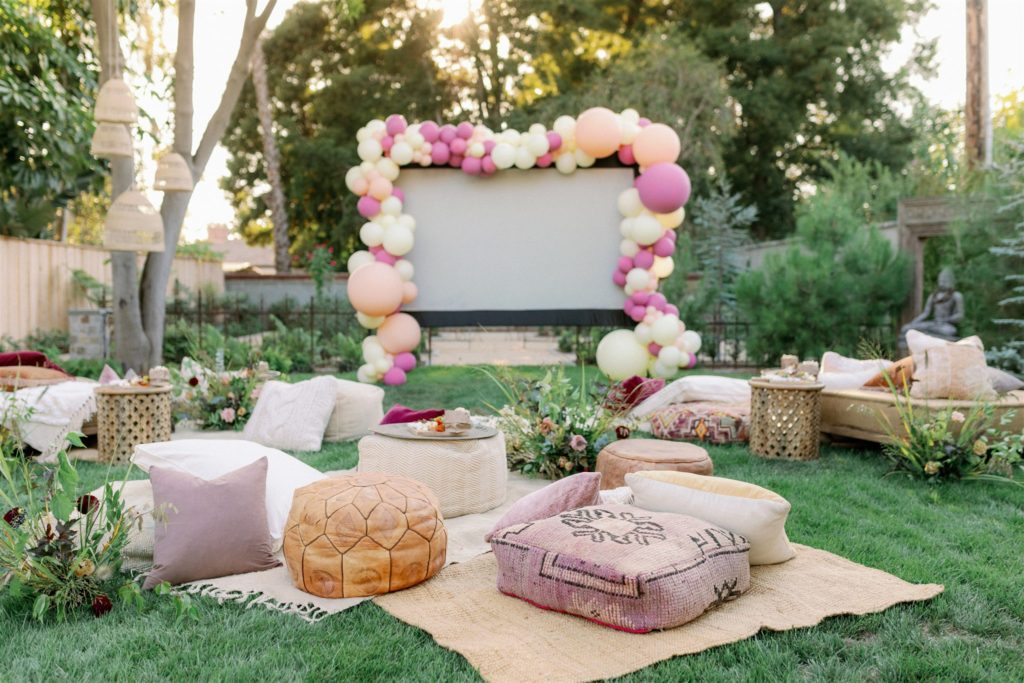 As with any event, we started with a pretty invitation! This one from David & Leanna is perfectly modern and boho all at once. and I love how she used the prettiest colors of Fall! Caitlin styled it so well on a Chasing Stone mat with pretty florals and our favor for the night, macrame key chains from The Neutral Knot.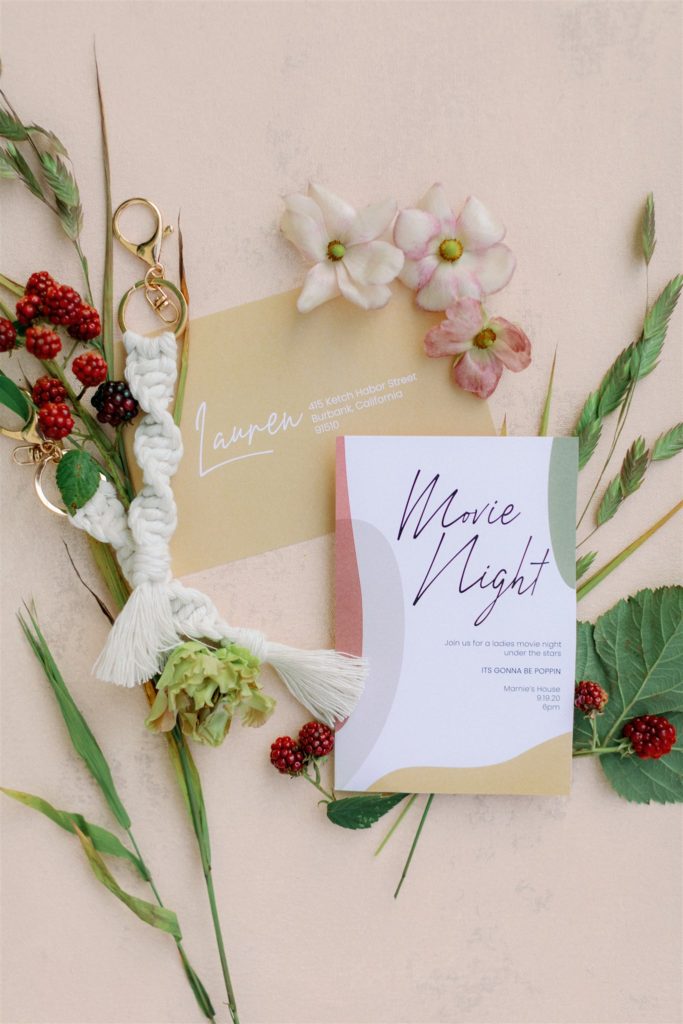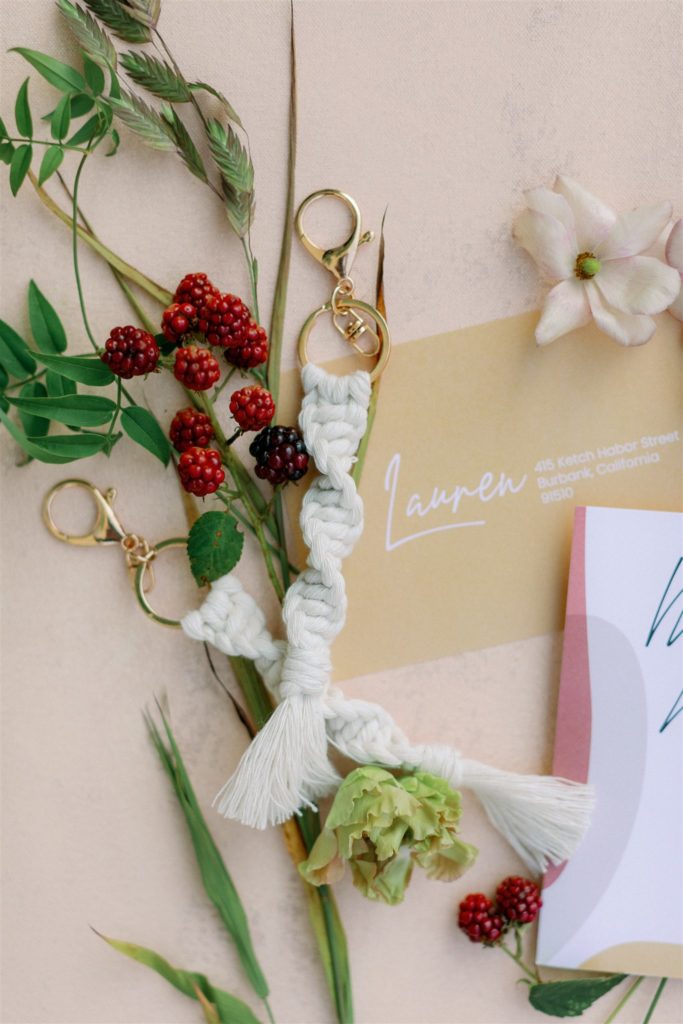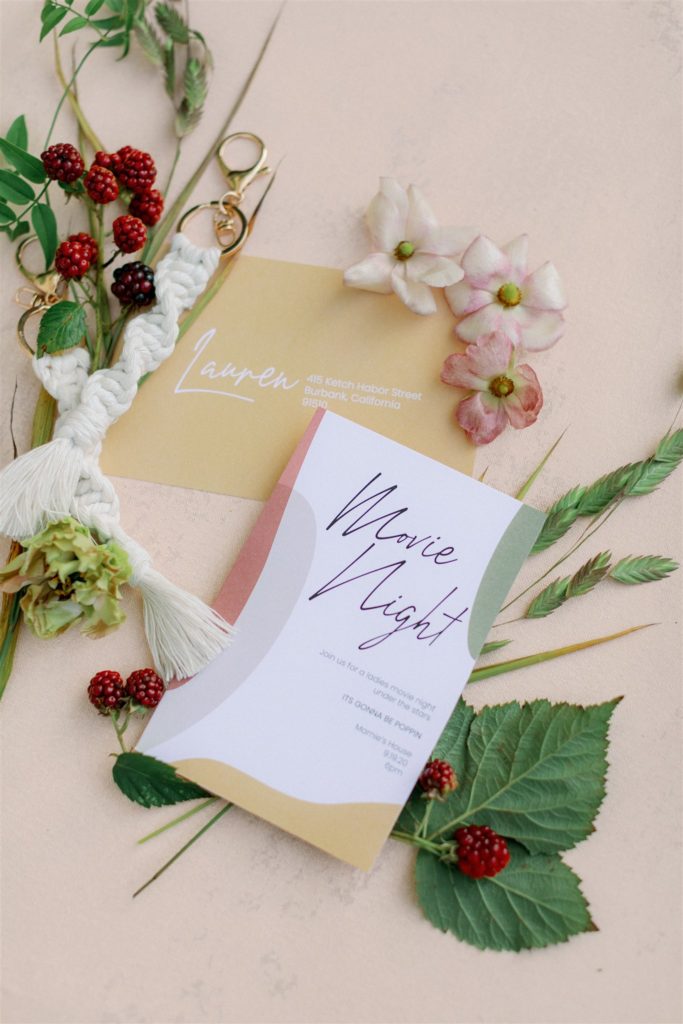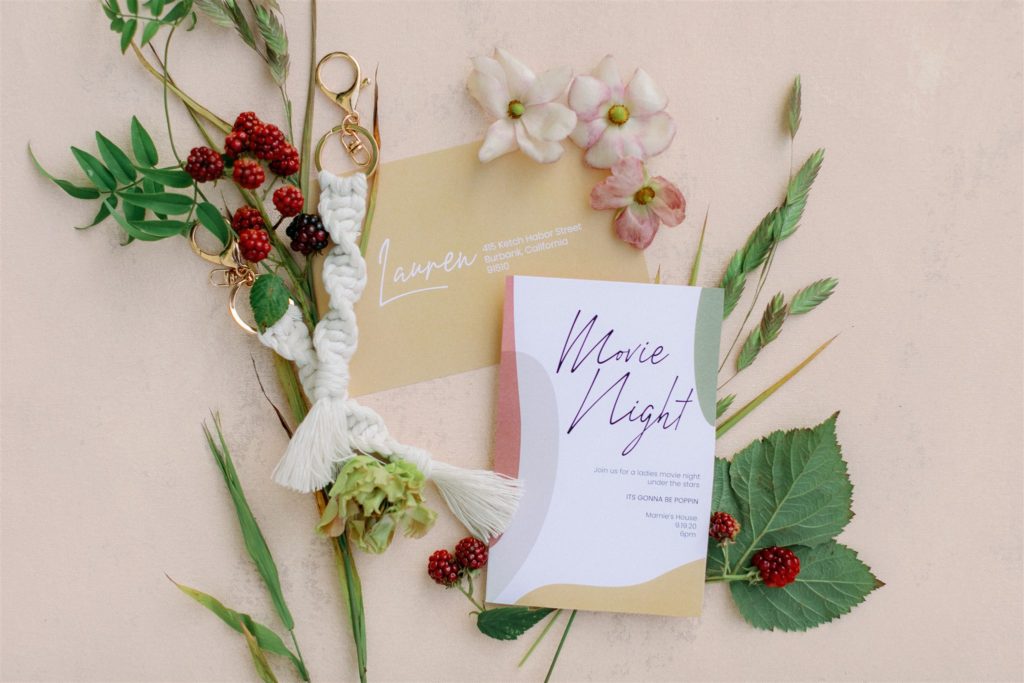 Everything was set up in Marnie, owner of Sweet Salvage Rentals, back yard. She has the most beautiful home, I'm dying to do a home tour there soon!! She also has the most beautiful rental collection and she pulled out all the stops for this one! I love our color scheme of Fall warm tones and mostly pinks!!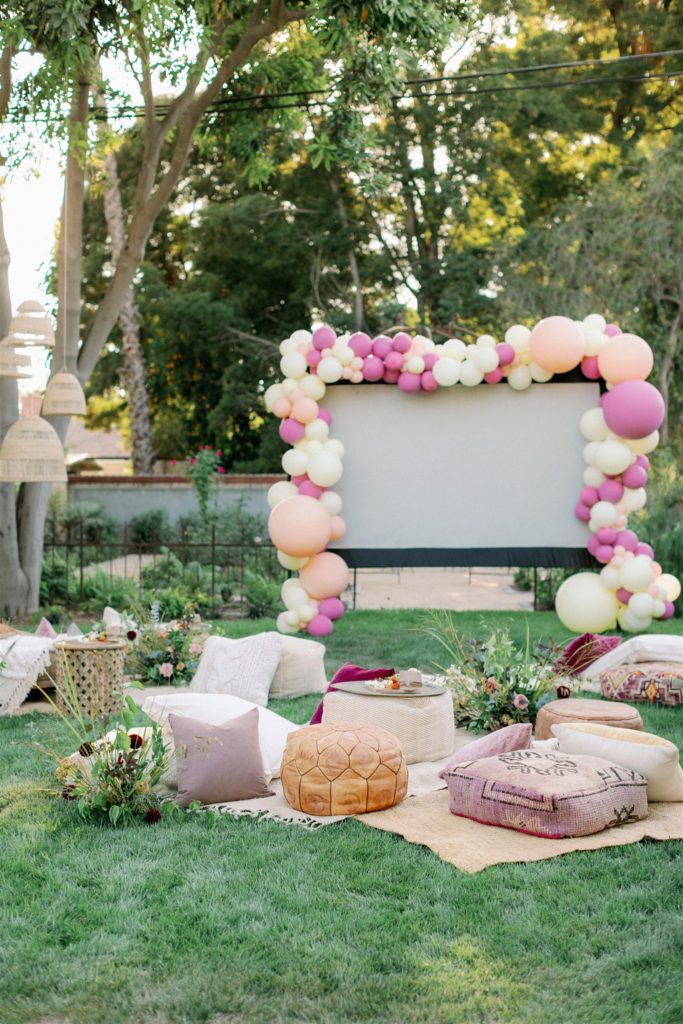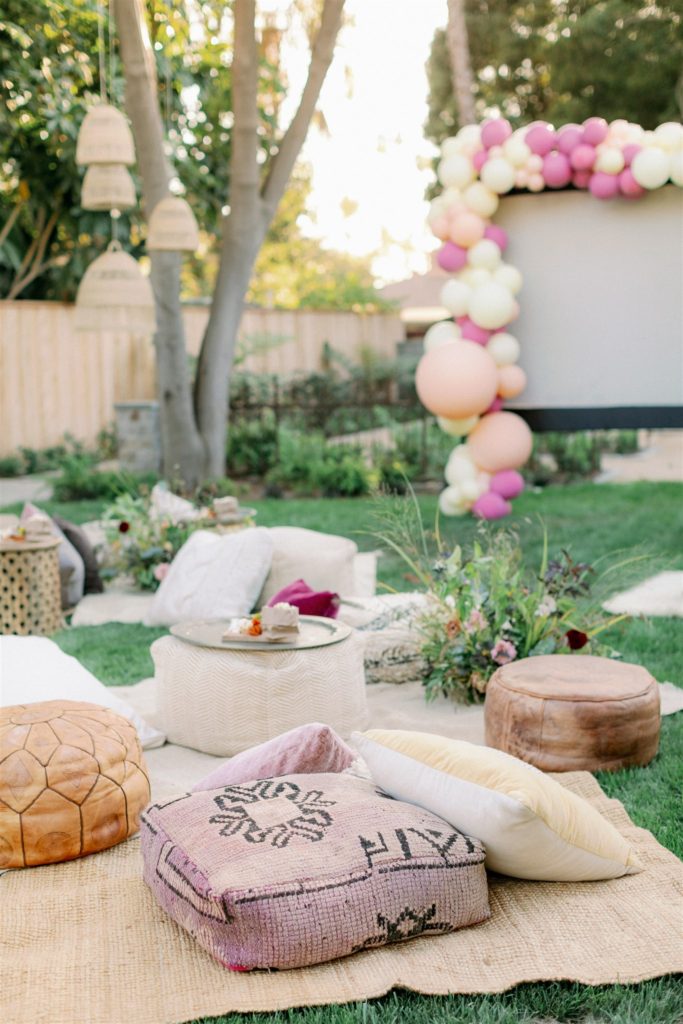 Alex from Third & Park wanted to make our little soiree look like a meadow with her flowers, and I said – "Yes Please!!" Don't you love her vision and how it turned out? She really is such a floral genius!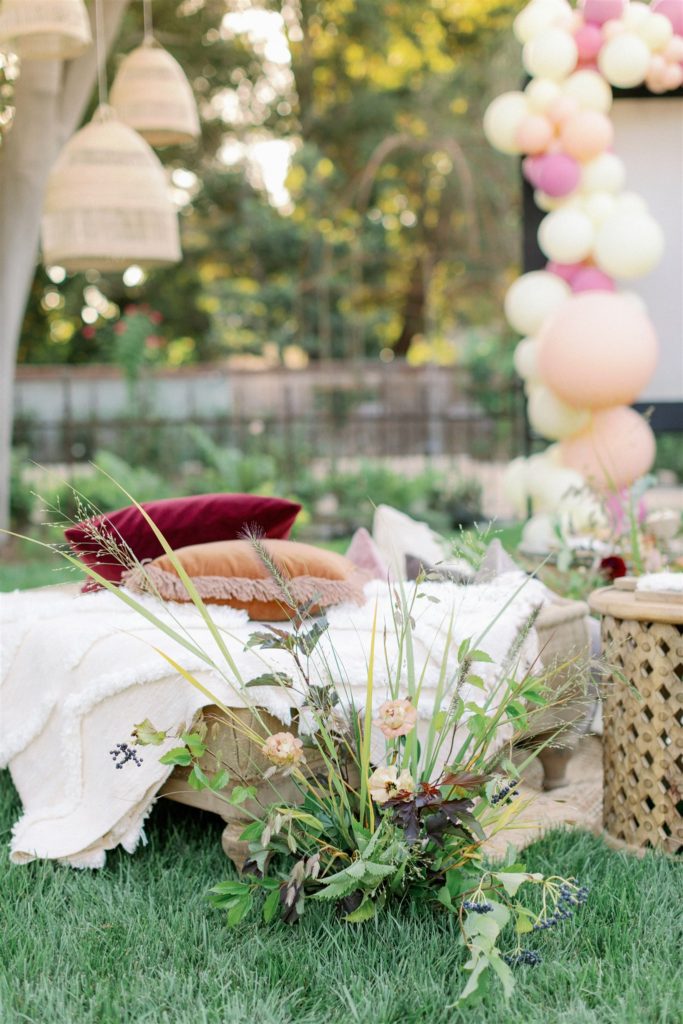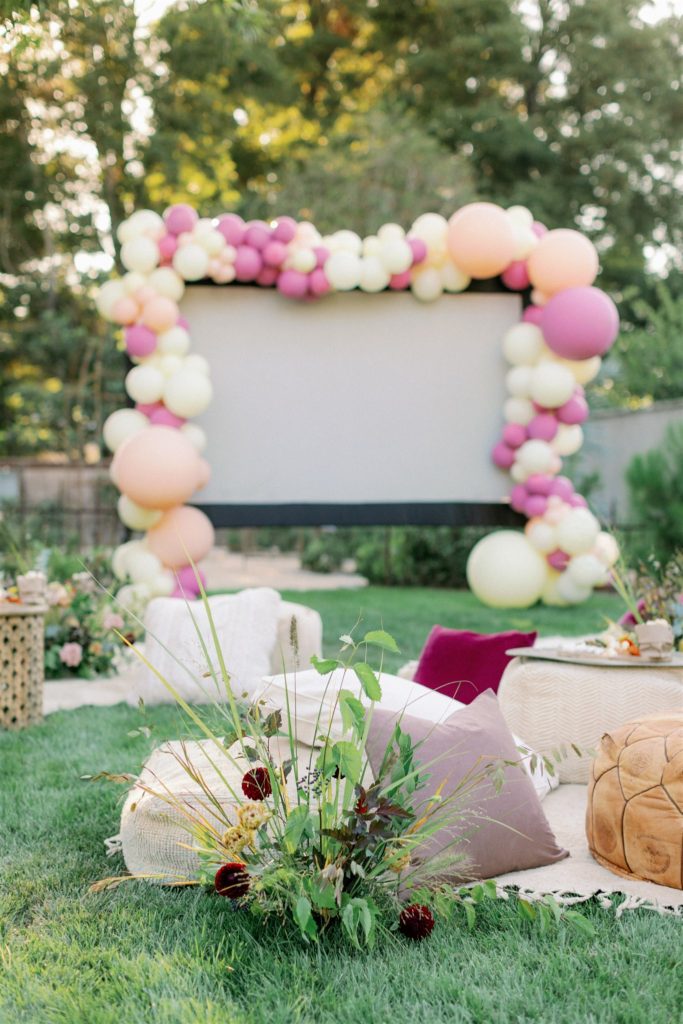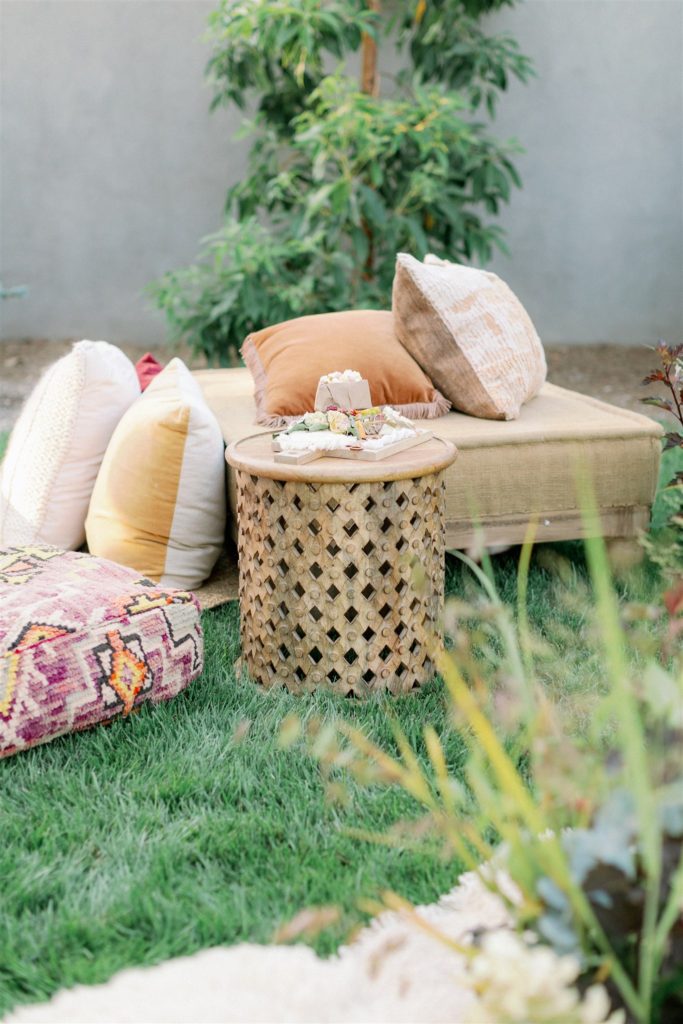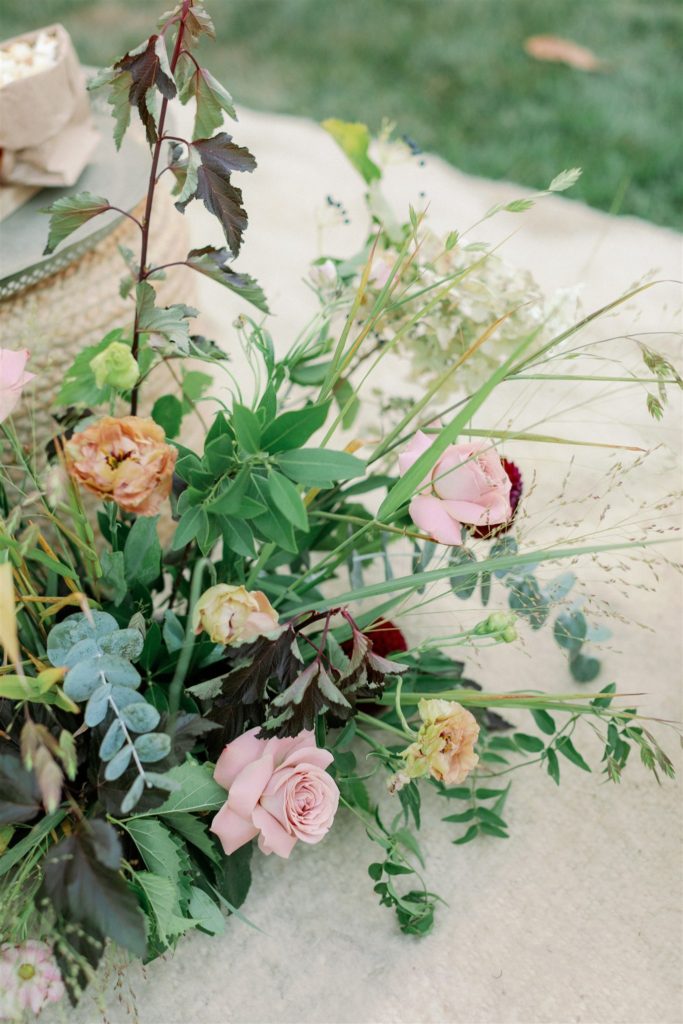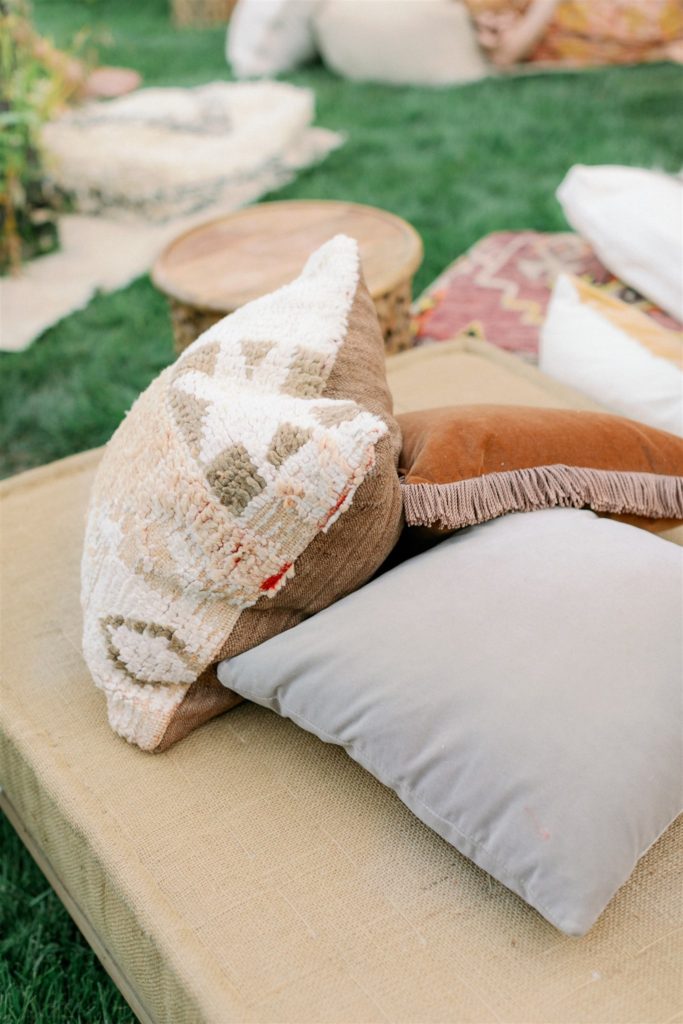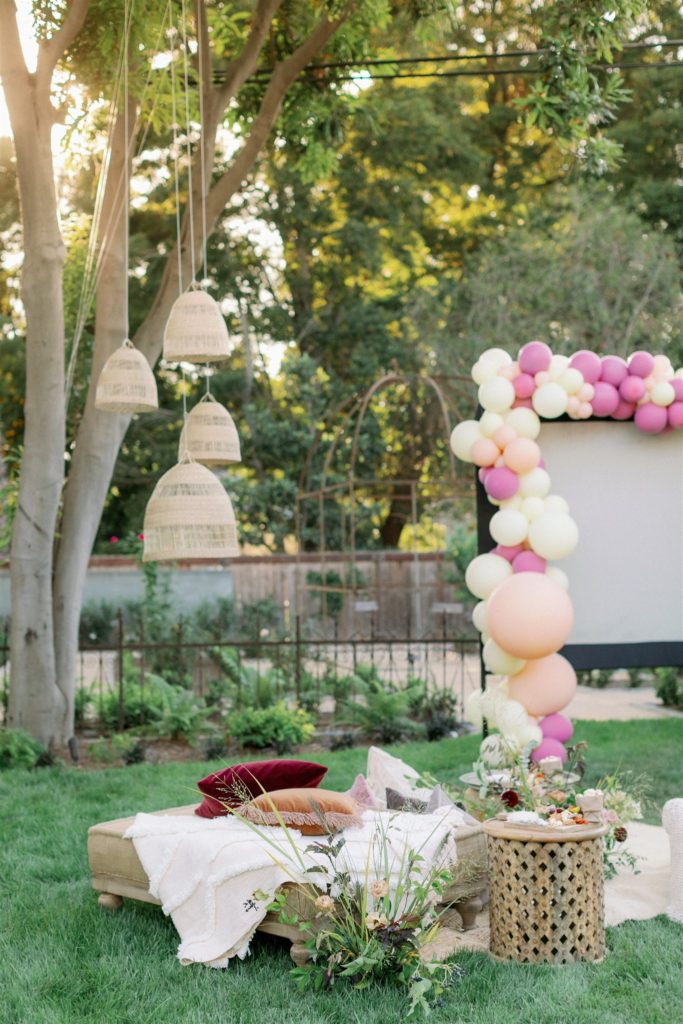 Of course, my buddy Ellen from The Pop Shop had to work her magic with the screen! Such a statement for ladies night, and it adds so much to the setting! Who wants a plain old screen when you can have one covered in the prettiest balloons?!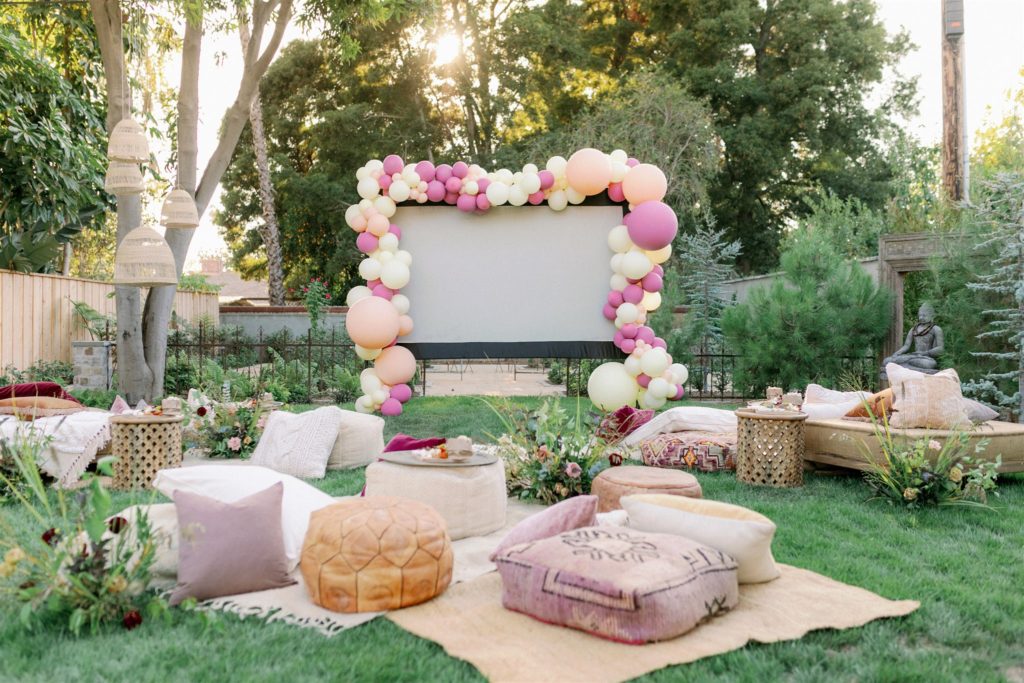 And that my friends, is how you do an outdoor movie set up! But, now we need the little details to make it even better…
Well, an essential has to be the snacks!! How many of you go to the movies and just go ape at the concessions? Well, then you'll love this!! Jenny from Graes Provisions made individual snack boards that were all kinds of pretty and yummy! Think classy movie theater snacks – and that's the only way we go in Beijos Land!!
We added everyone's The Neutral Knot keychain, a coaster for their cocktail, and name cards by Creative Amme. Don't you love the personalized touch? I do!!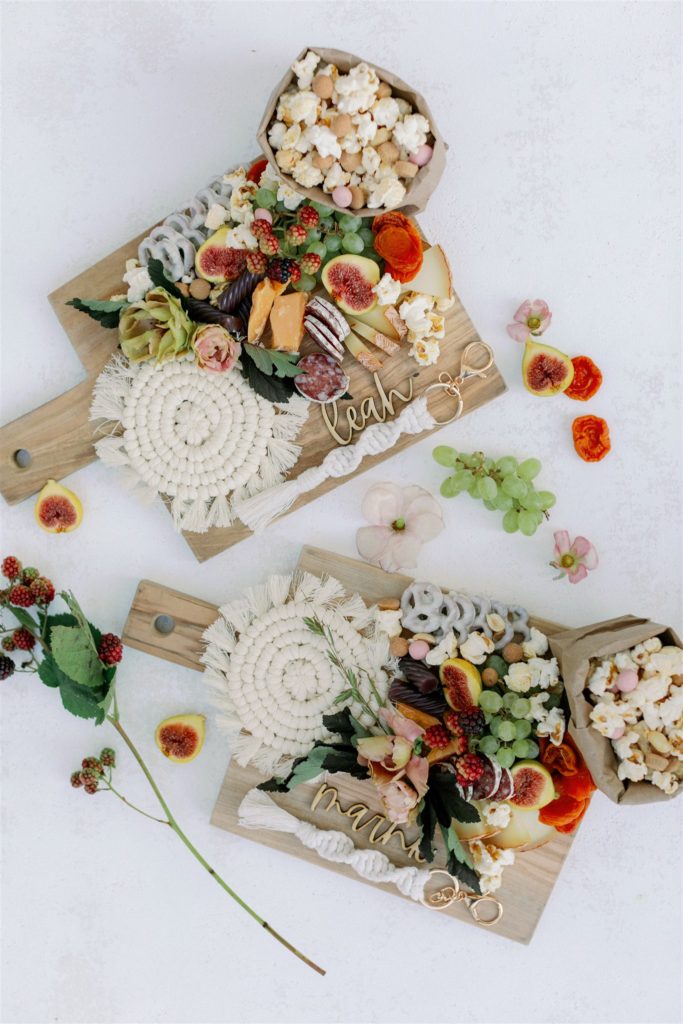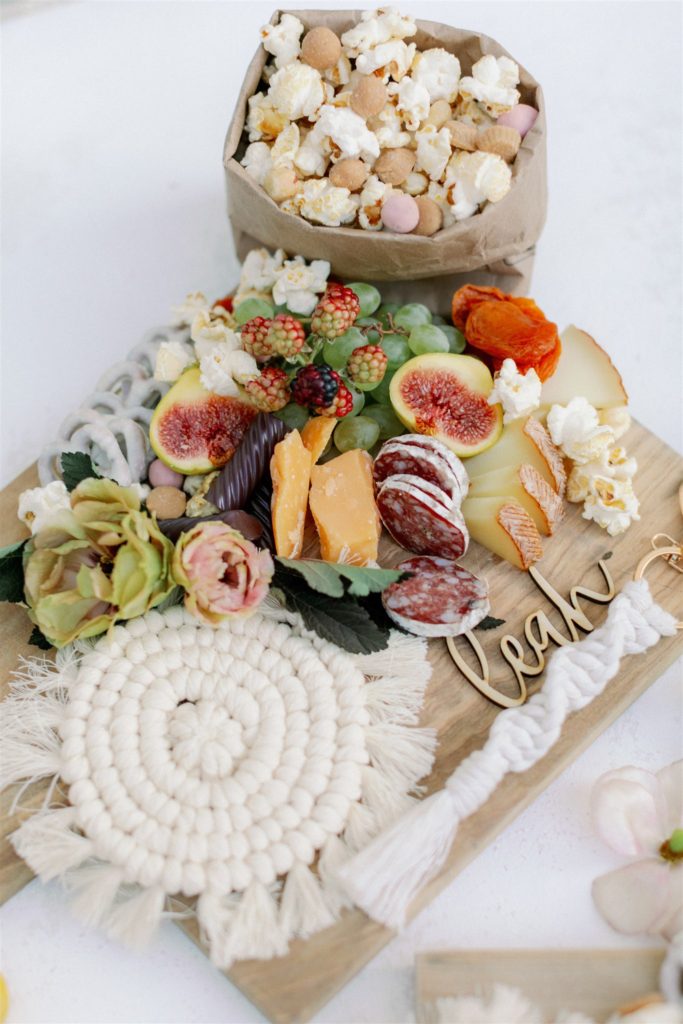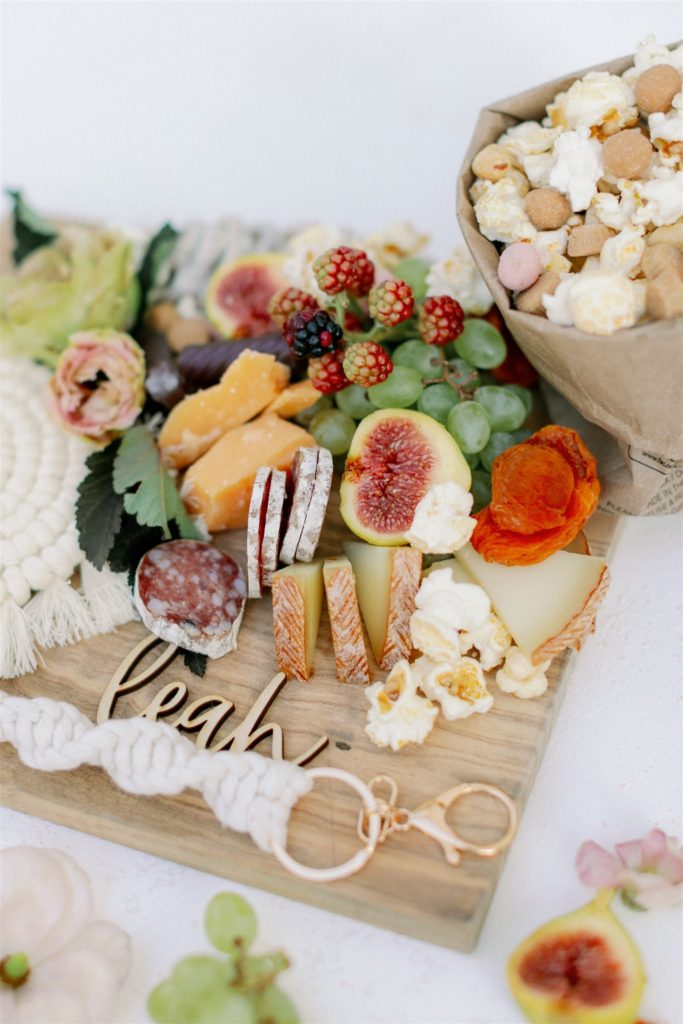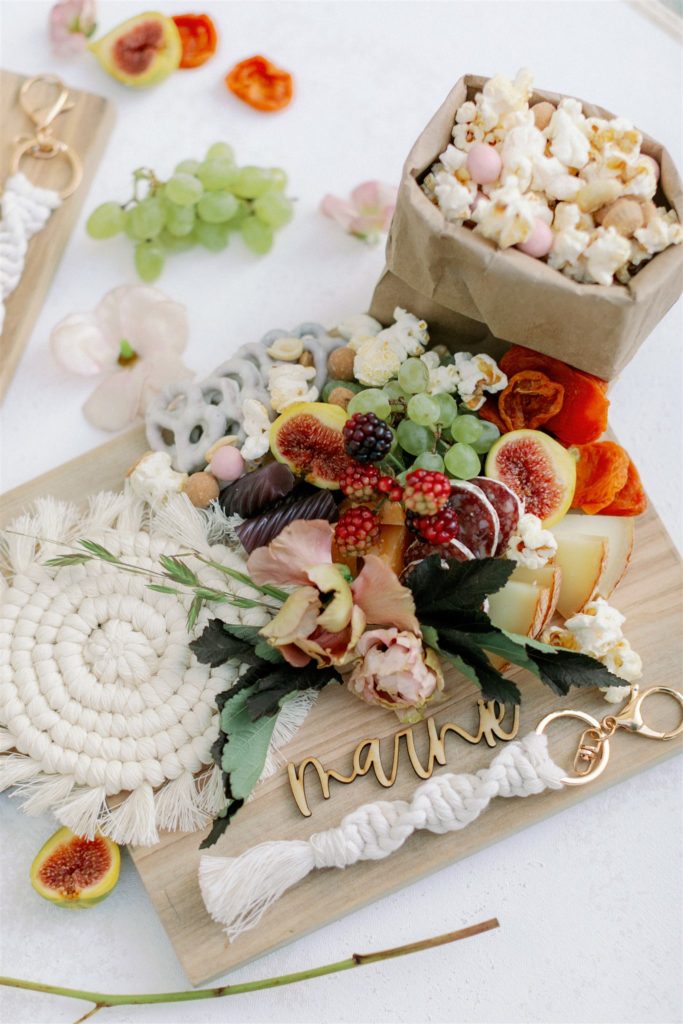 For drinks, our friend Danielle from Batch Mead brought some tasty mead and hard cider. When I was asked if I had ever heard of mead, I said "you mean like from the Middle Ages?" Haha!
If you don't know what mead is, it is an alcoholic beverage made of fermented honey usually with different fruits and spices. And well, it's delicious! Batch Mead makes all of theirs with local Southern California ingredients and they even have a tasting room in Temecula!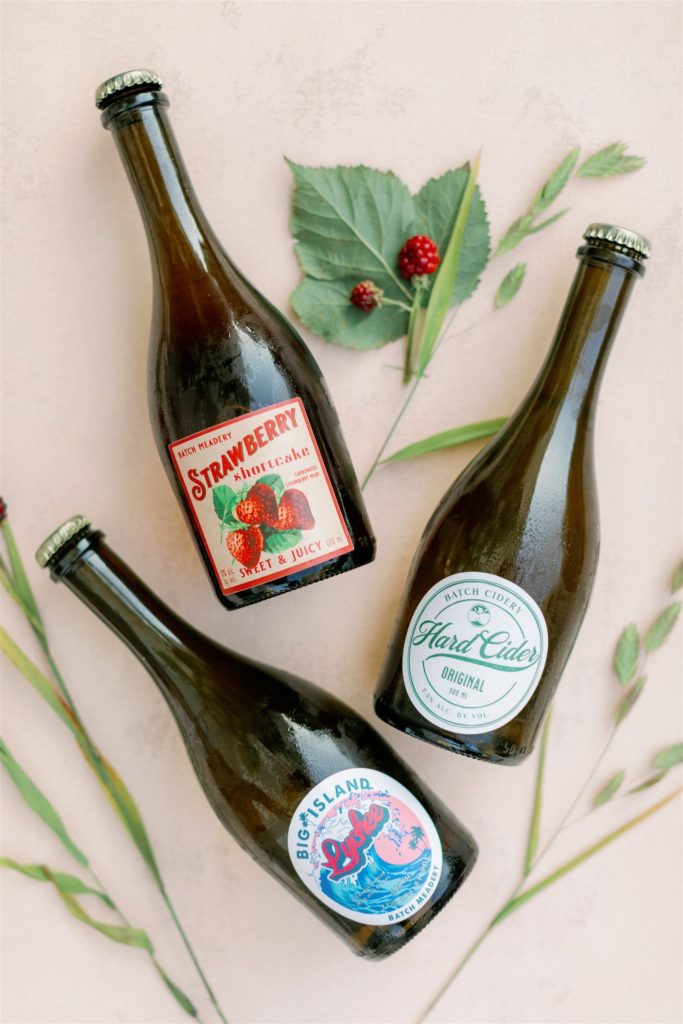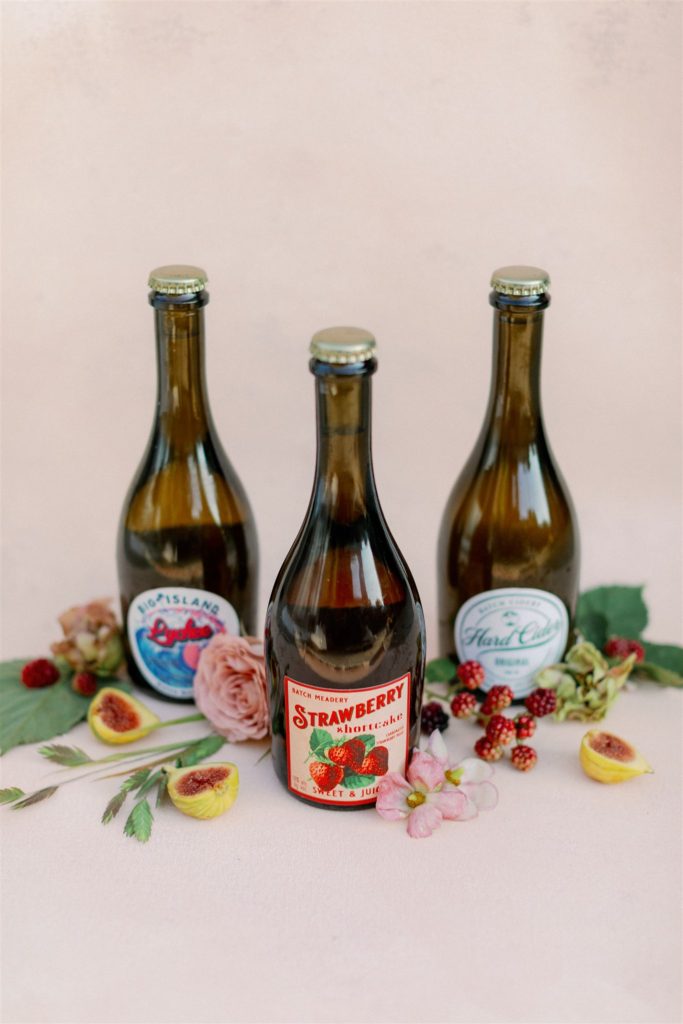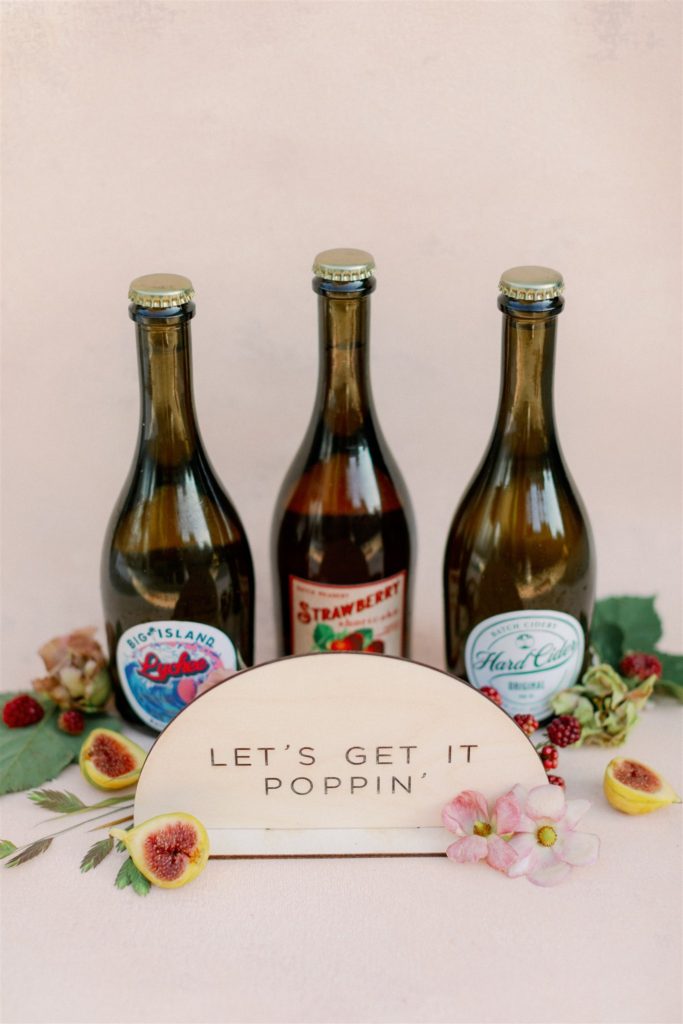 Of course, the way we served the mead had to be just as cute as the rest of the party!!! Tarsia from Bubbles & Brew brought her adorable mobile bar for us, isn't it the cutest?! It's definitely one of my favorite additions to any party!!
Ellen decked that cutie out with balloons and we also had fun signage added in by Creative Amme. You better believe glassware was in order, thanks to Cherished Rentals we had a pretty ombré variety of colors to choose from.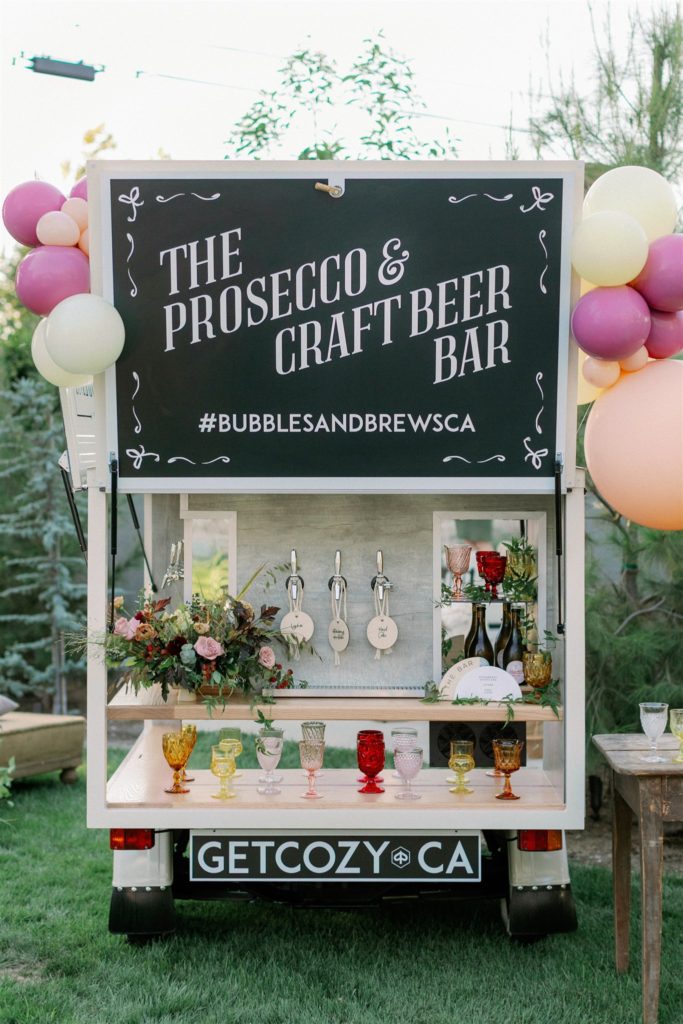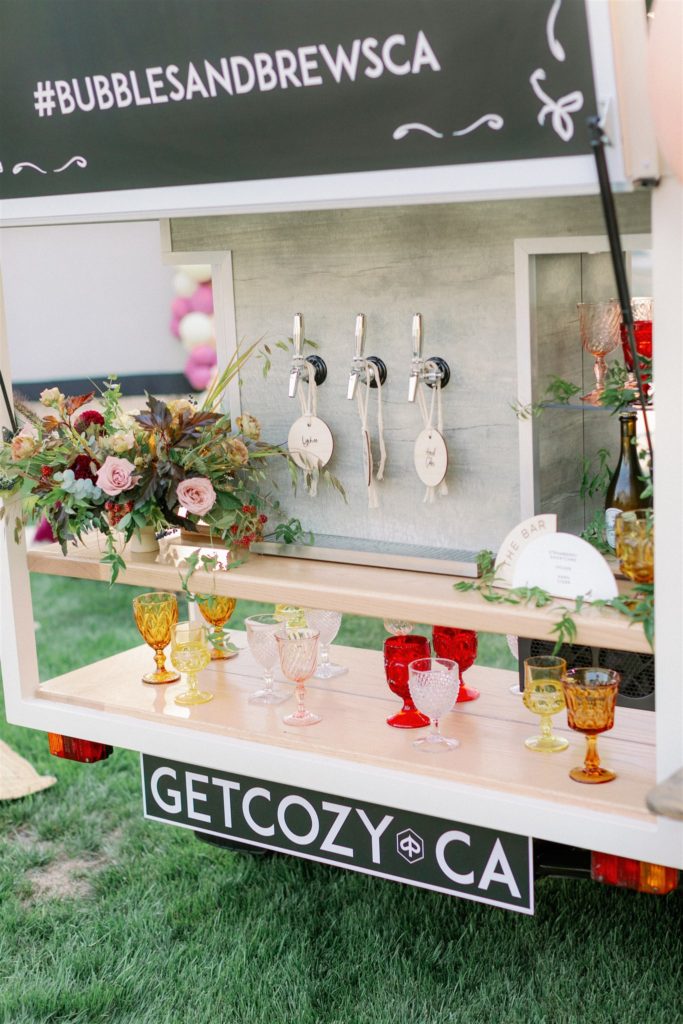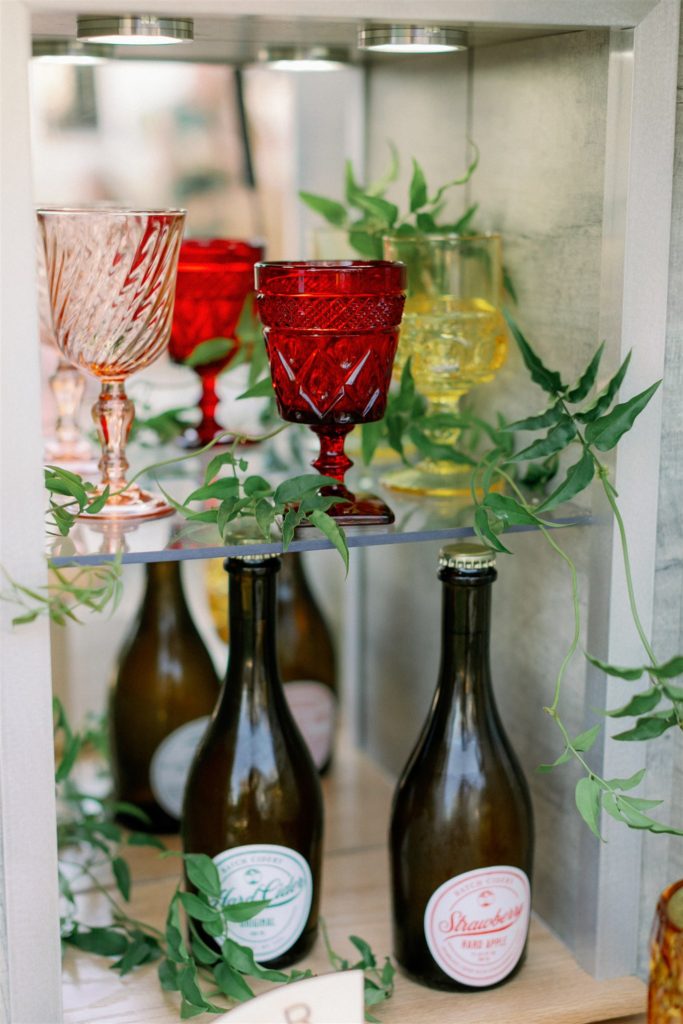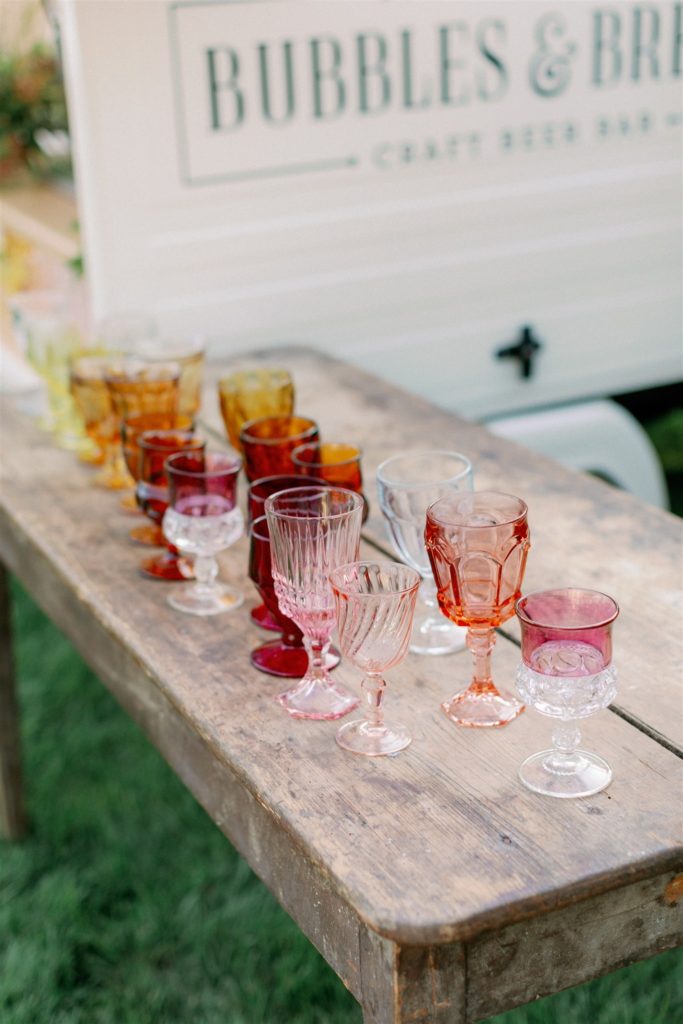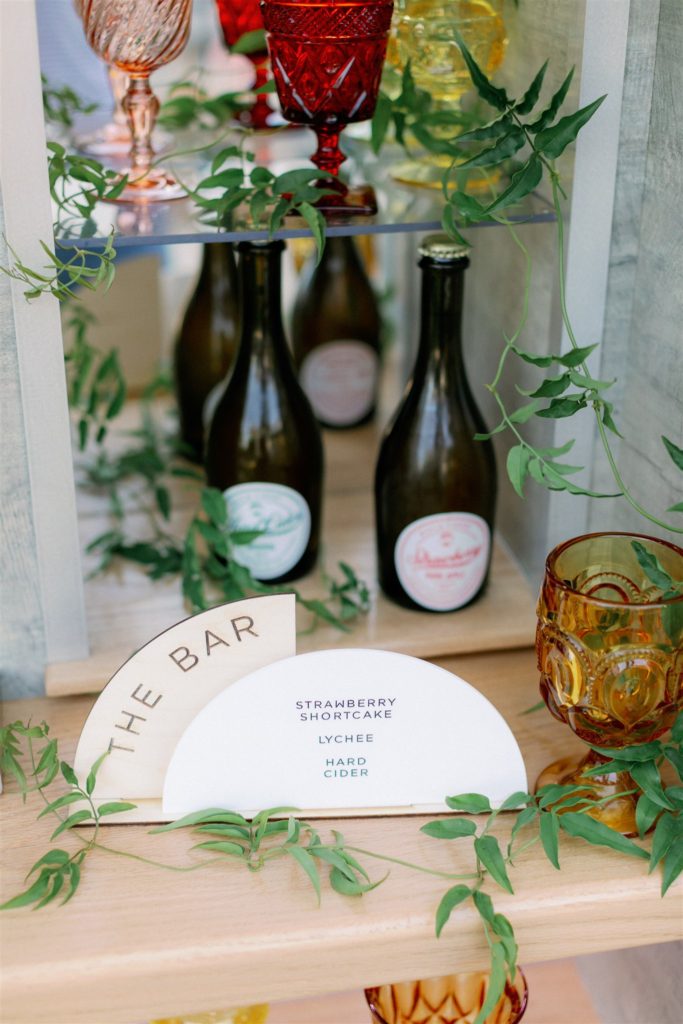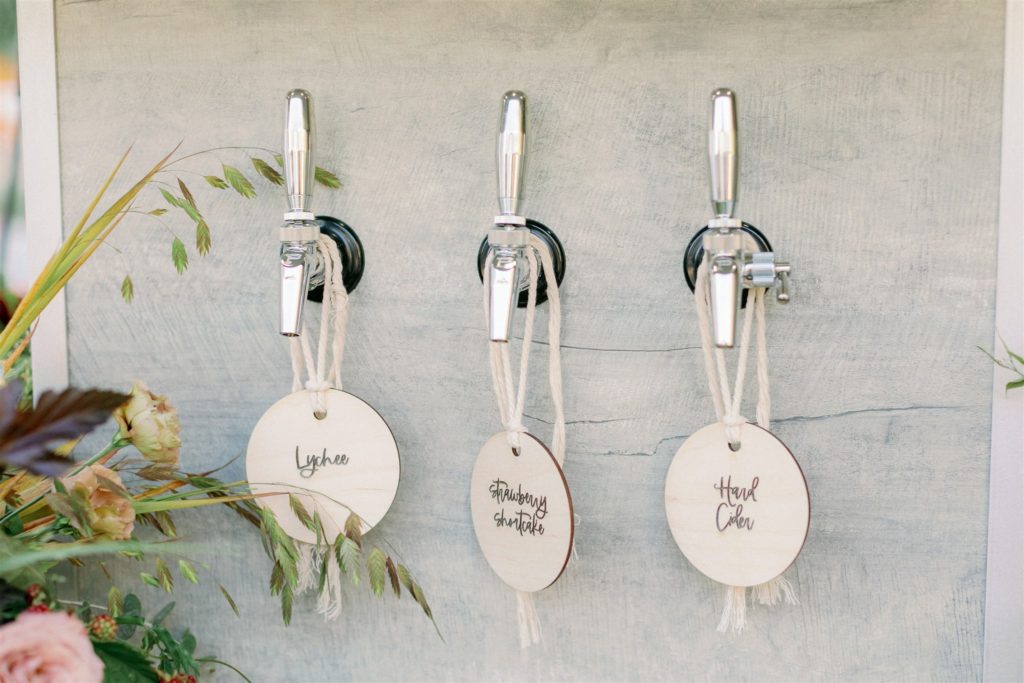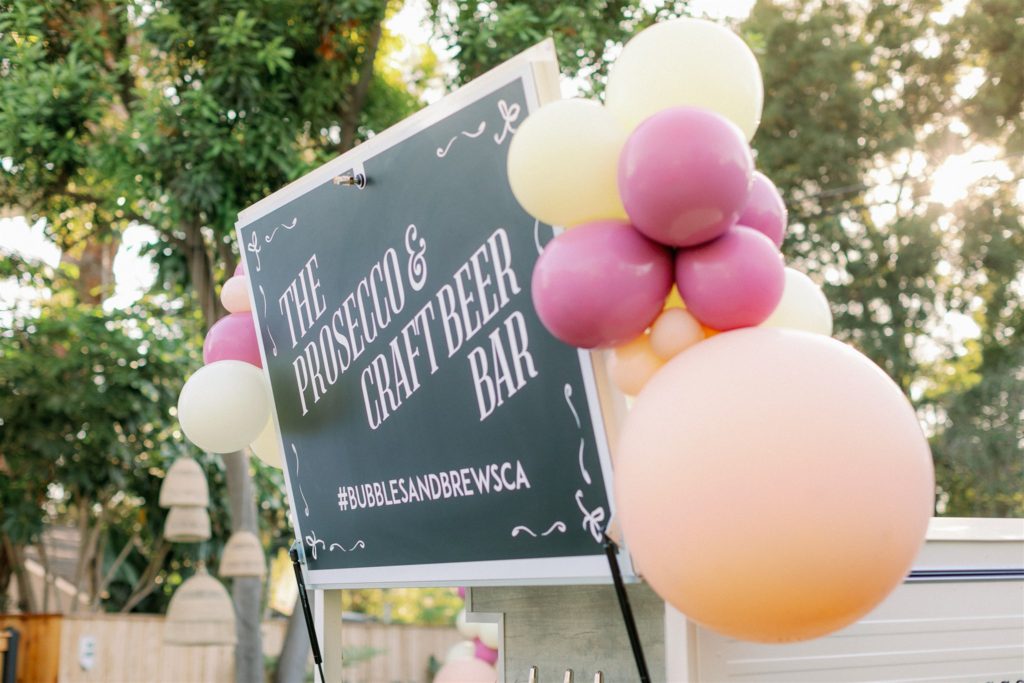 Such a fun setup!!!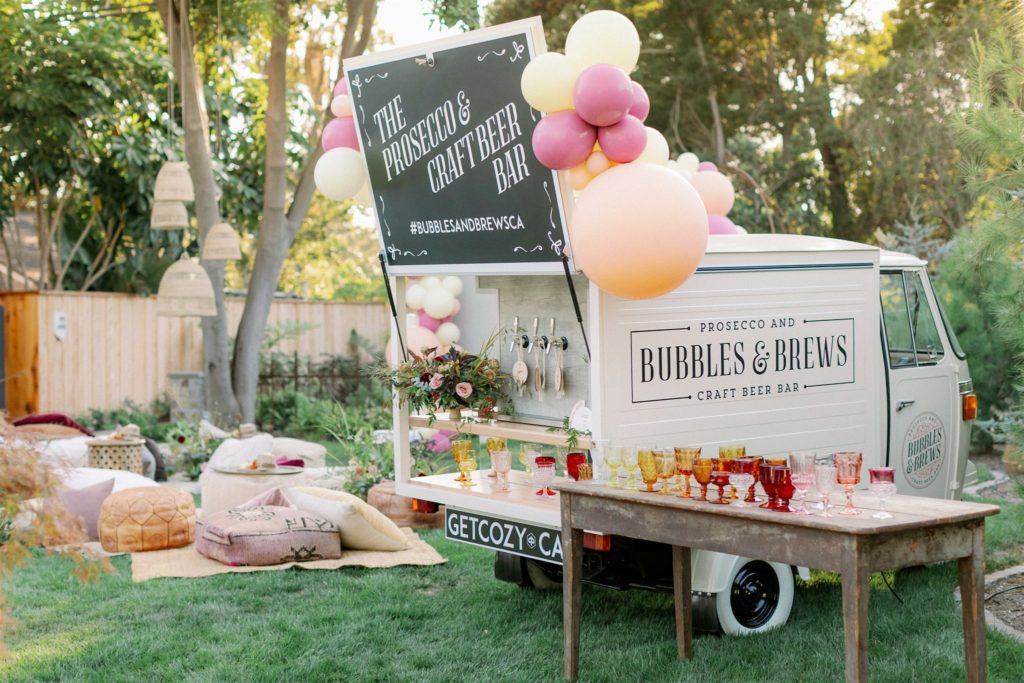 And so cute seeing our little Graes Provisions boards in the wild, haha!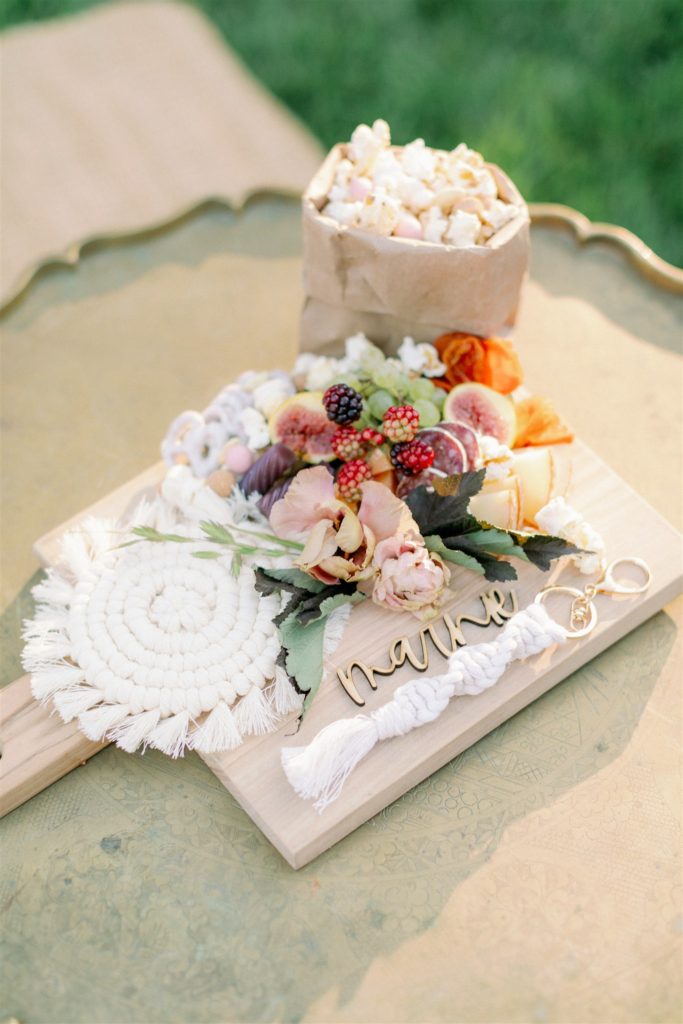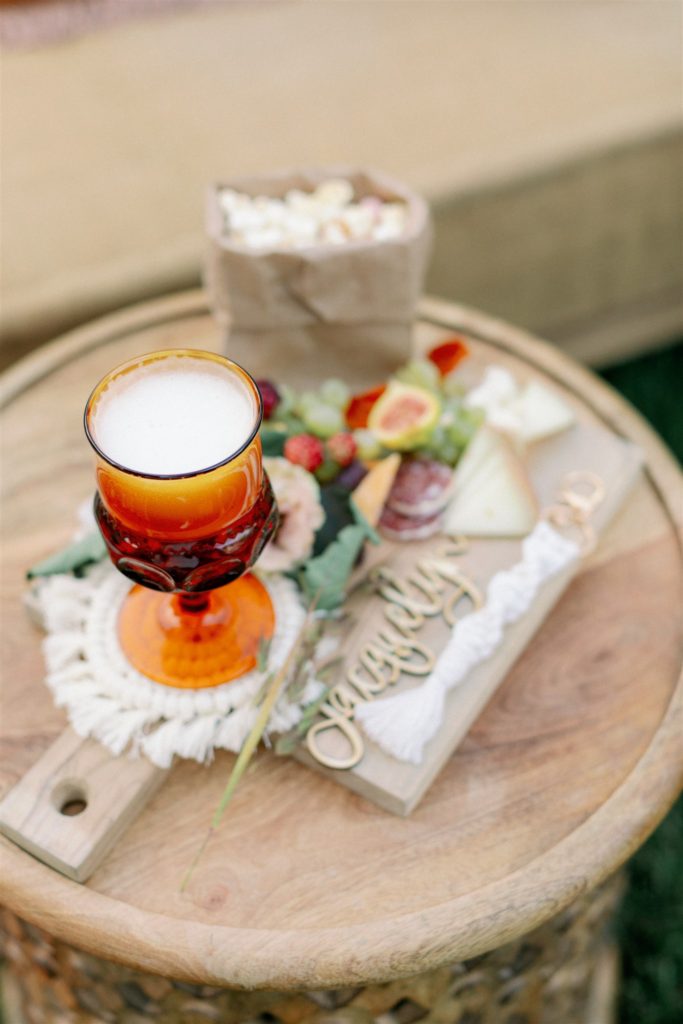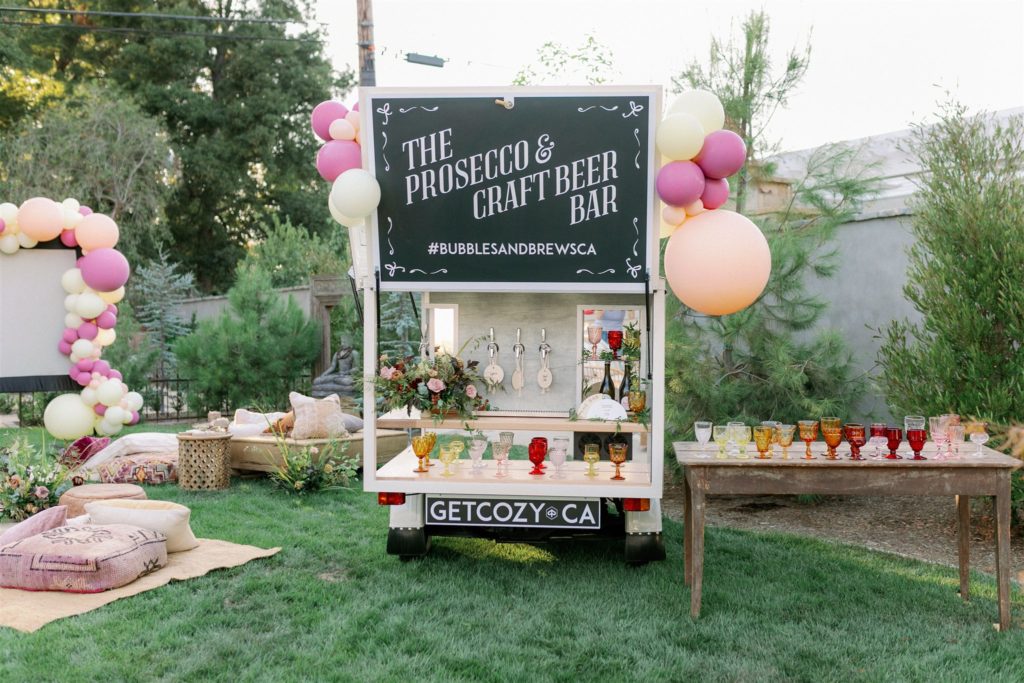 If you had to pick a movie to watch with your girlfriends what would it be?! My top choices are Pretty Woman and Steel Magnolias!! I may have to do a poll on Instagram!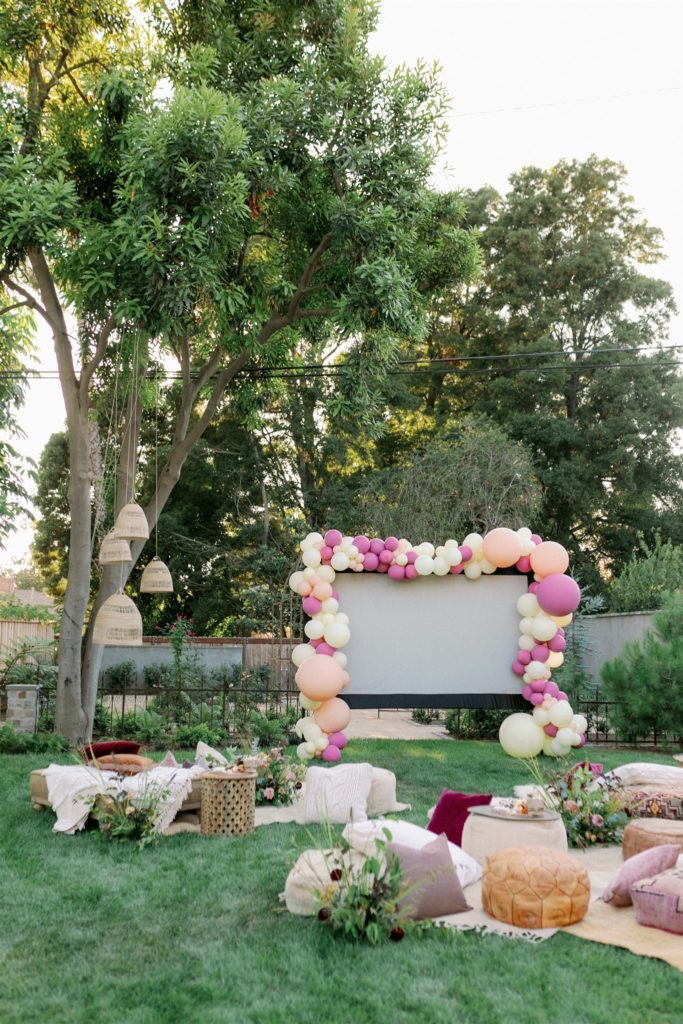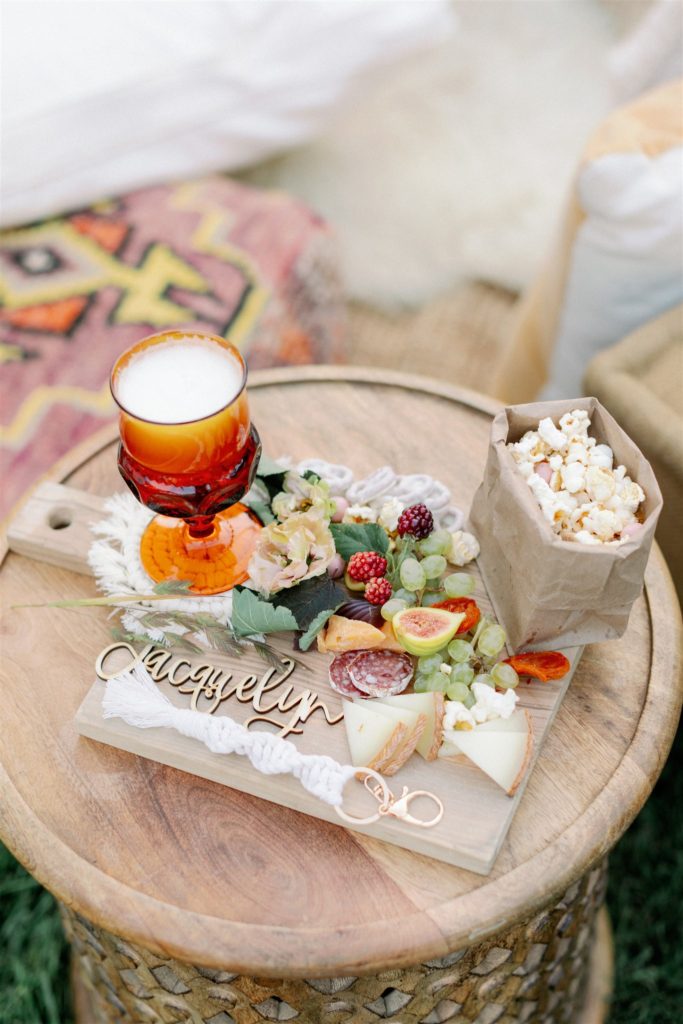 There's pretty Tarsia!! It's time to start serving ourselves a cocktail and get going on this party!!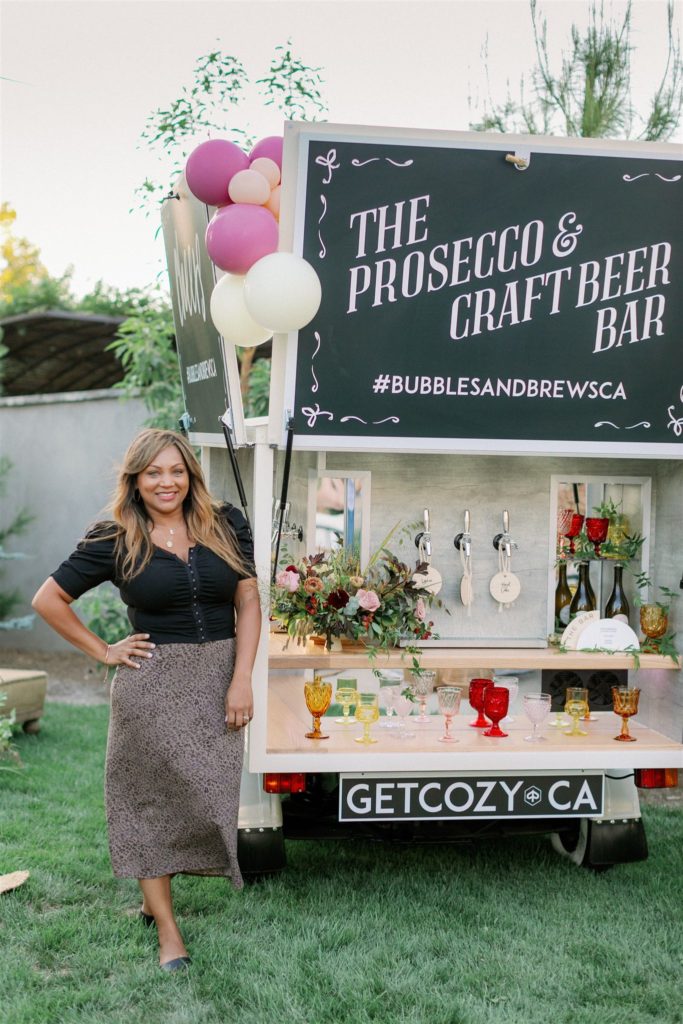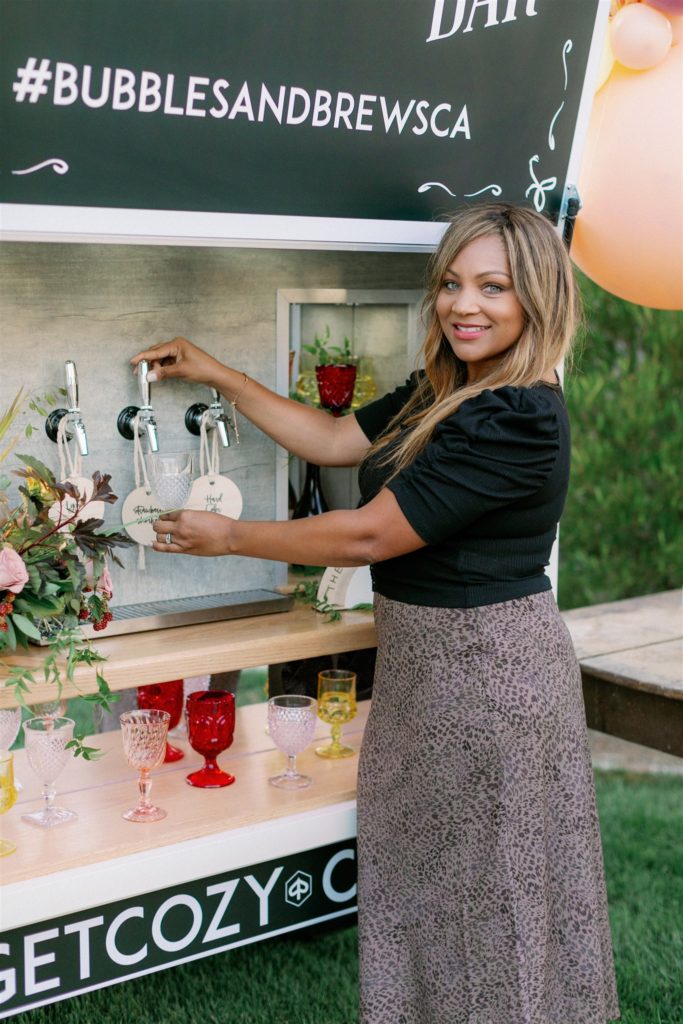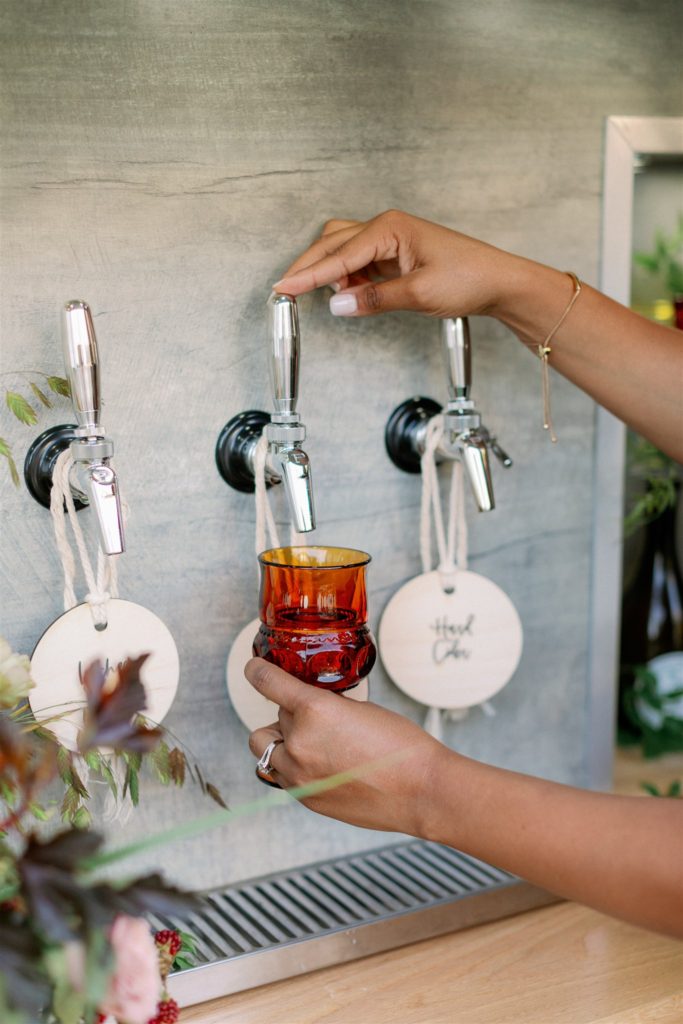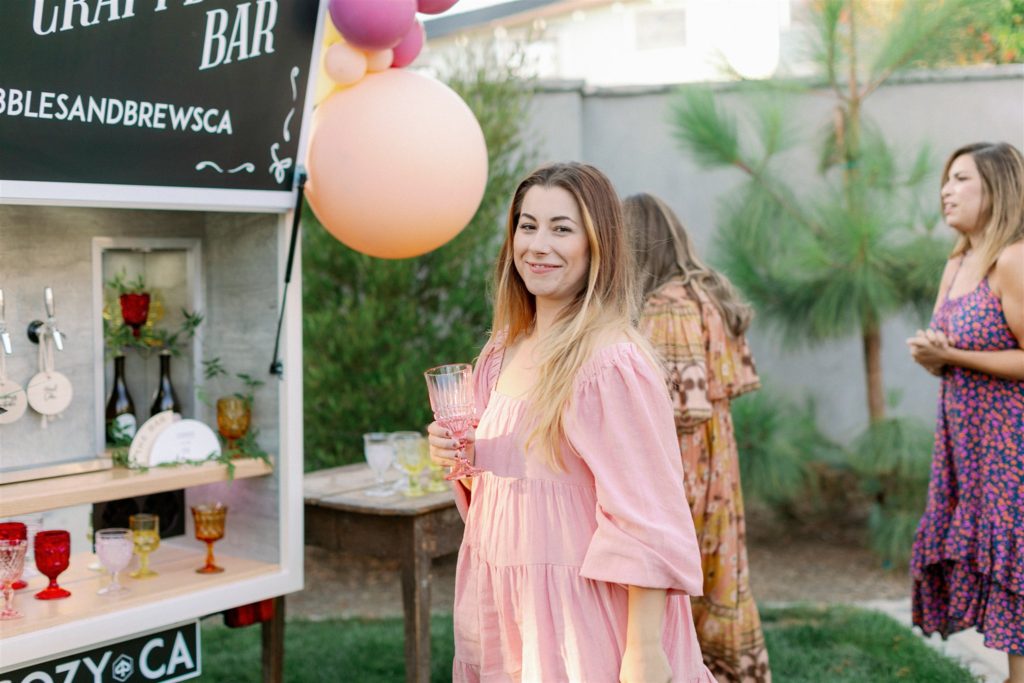 There I am with those cutie boards!! My cute dress is from Saltwater Luxe – always a go-to for us Beijos ladies!!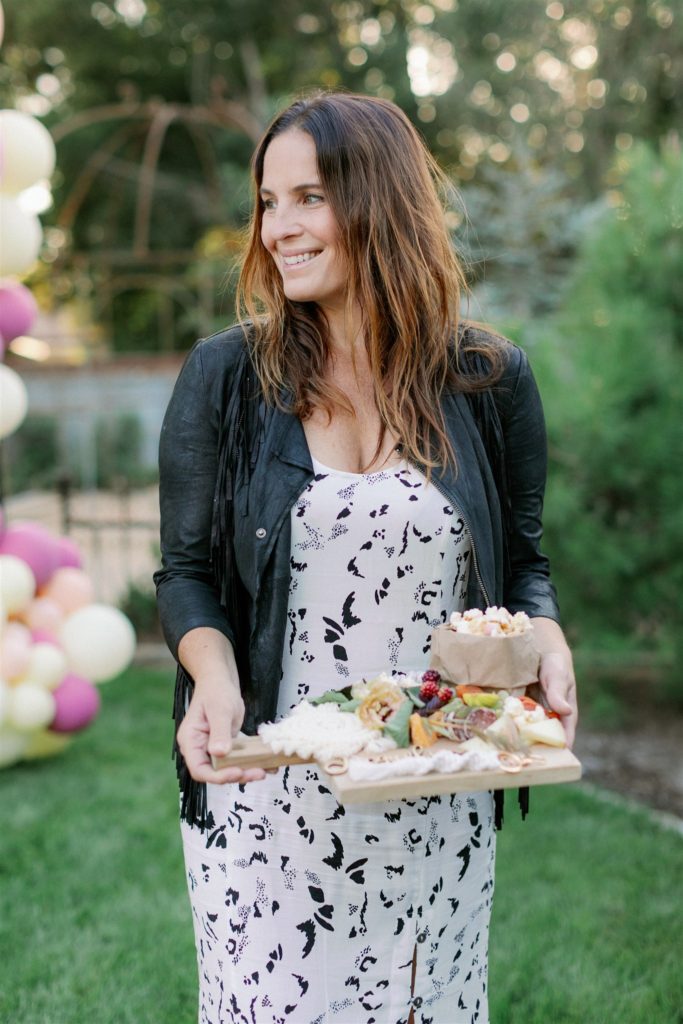 Cheers to girls night!!!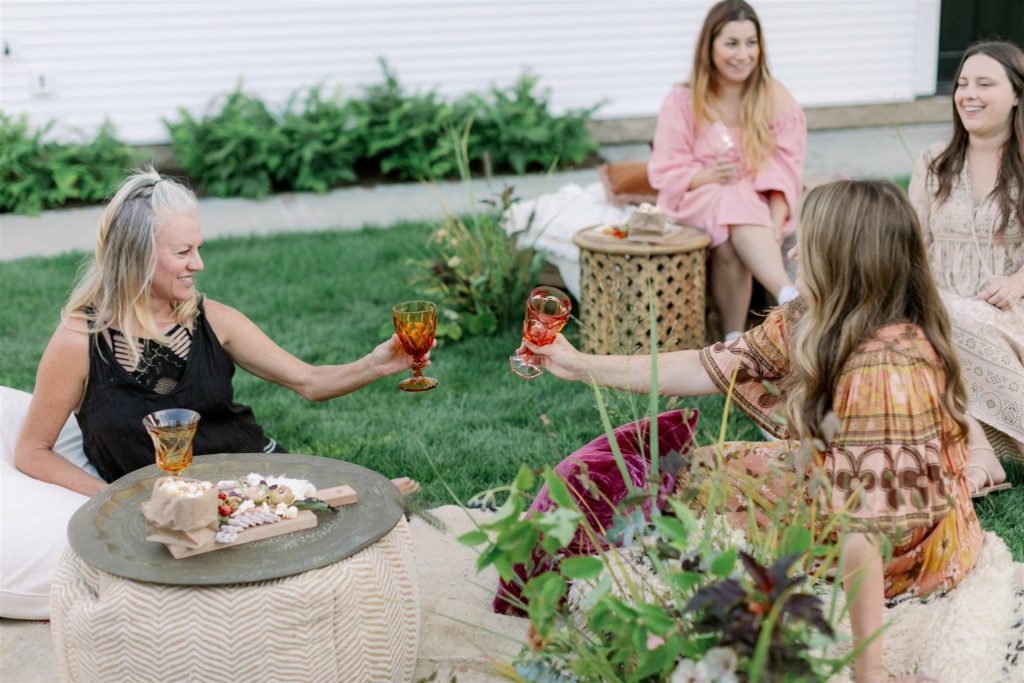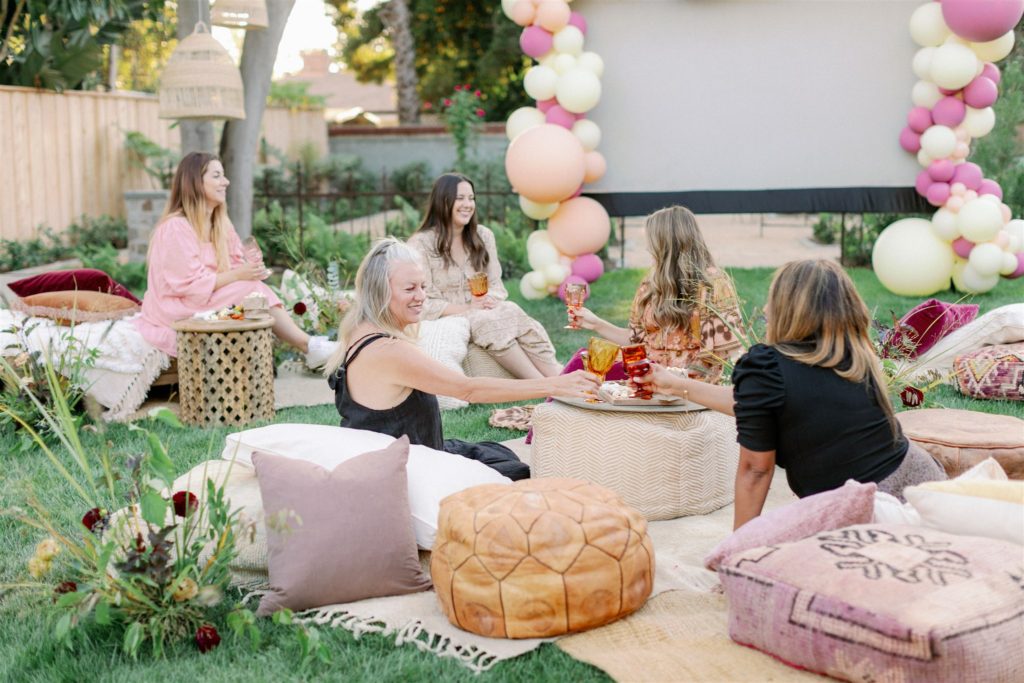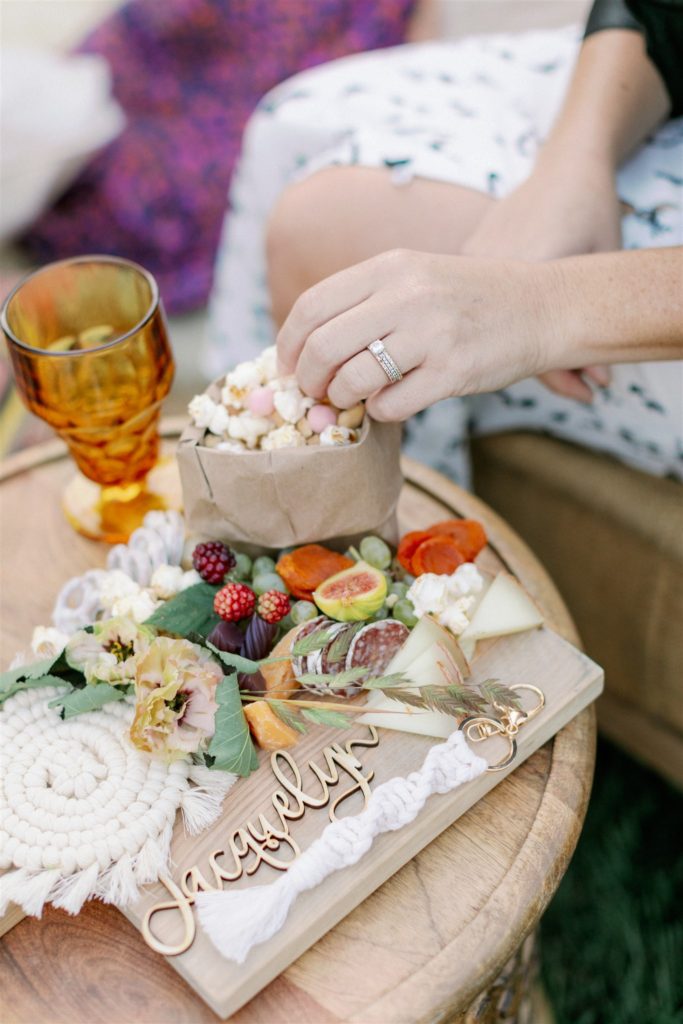 There's cute Ellen from The Pop Shop and right after her, Nicole from The Neutral Knot. The babies of the group, keeping us young, haha!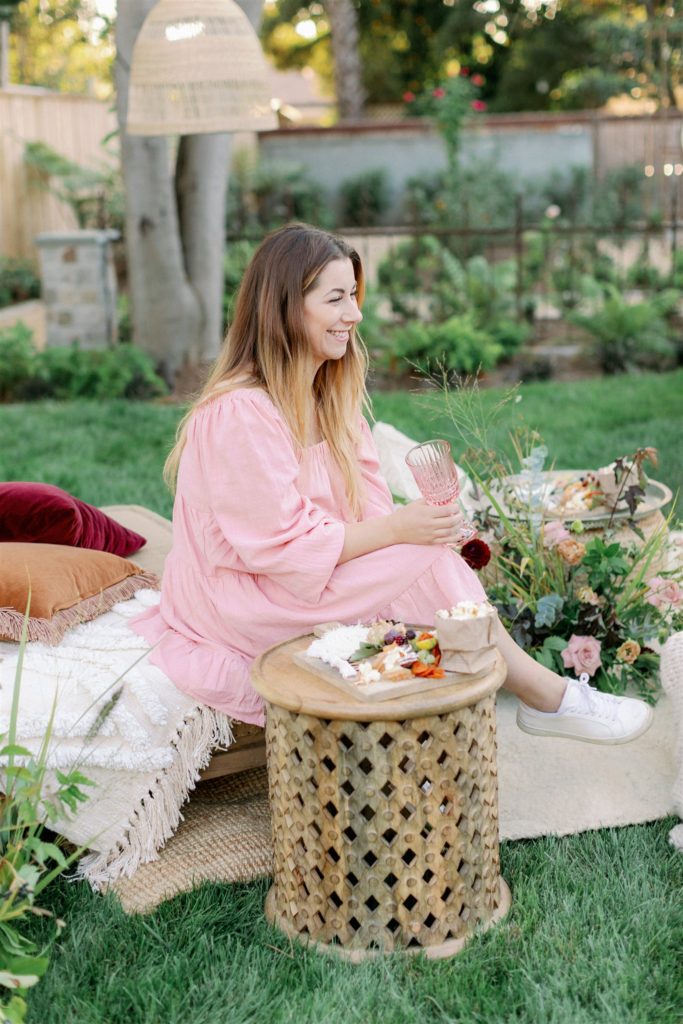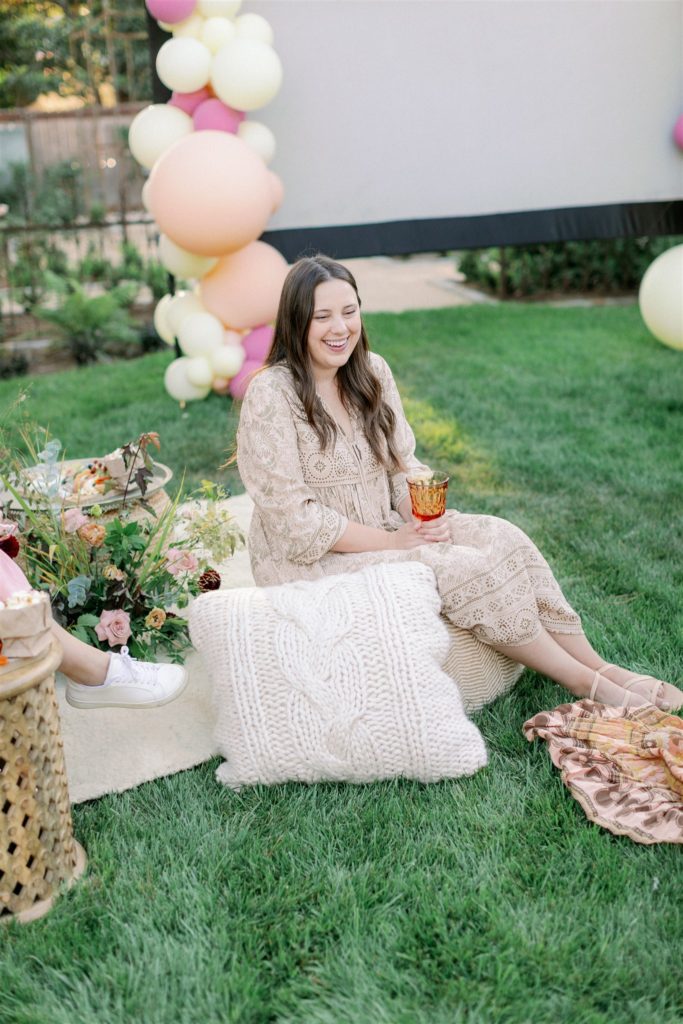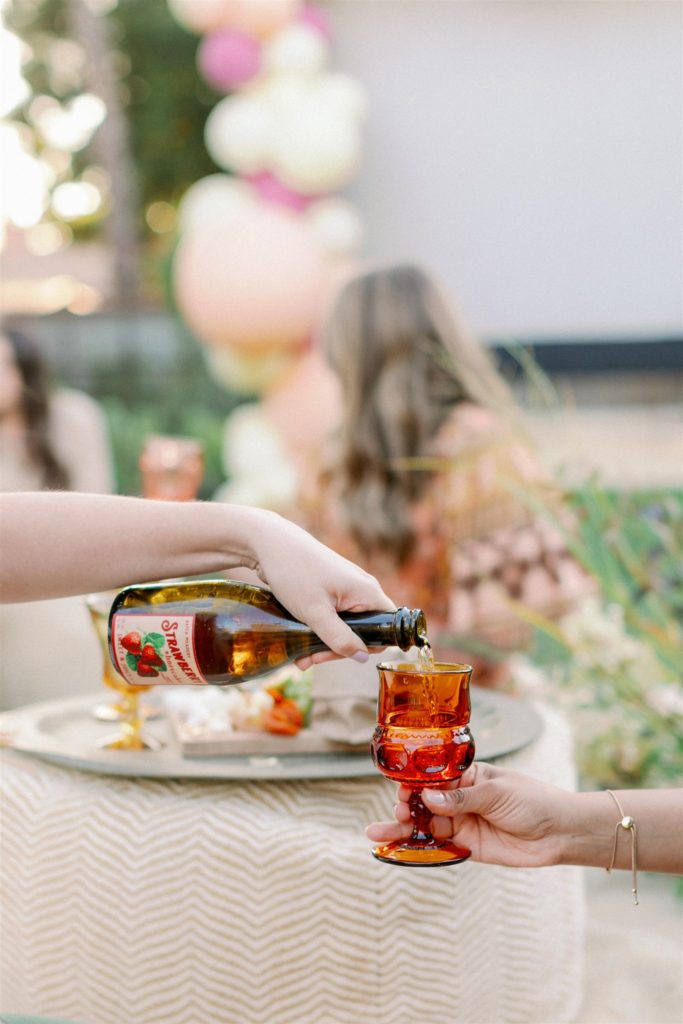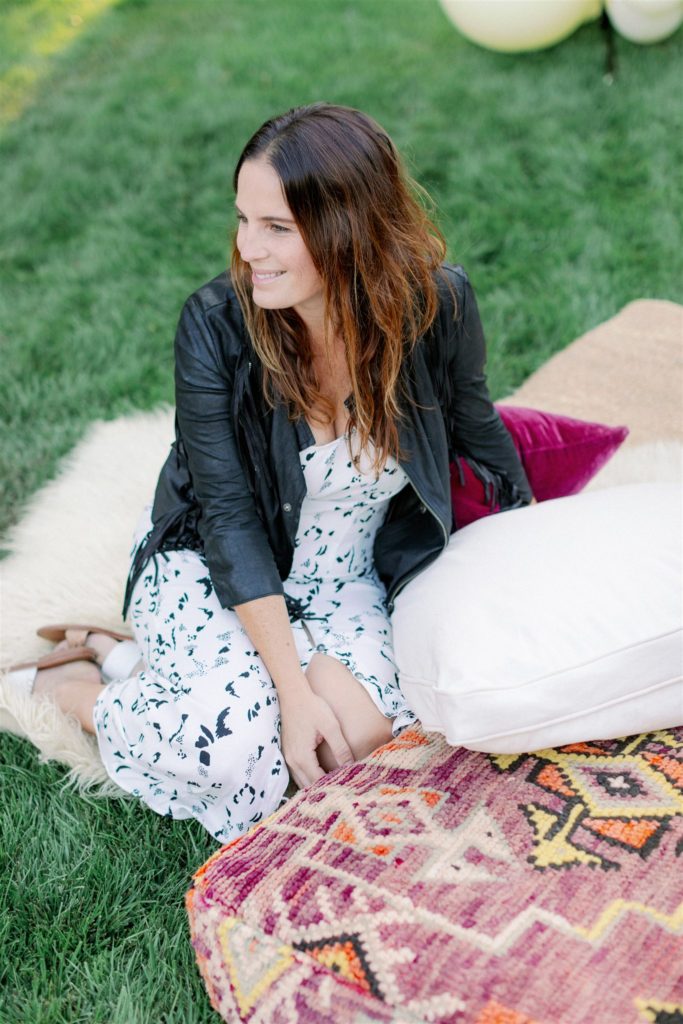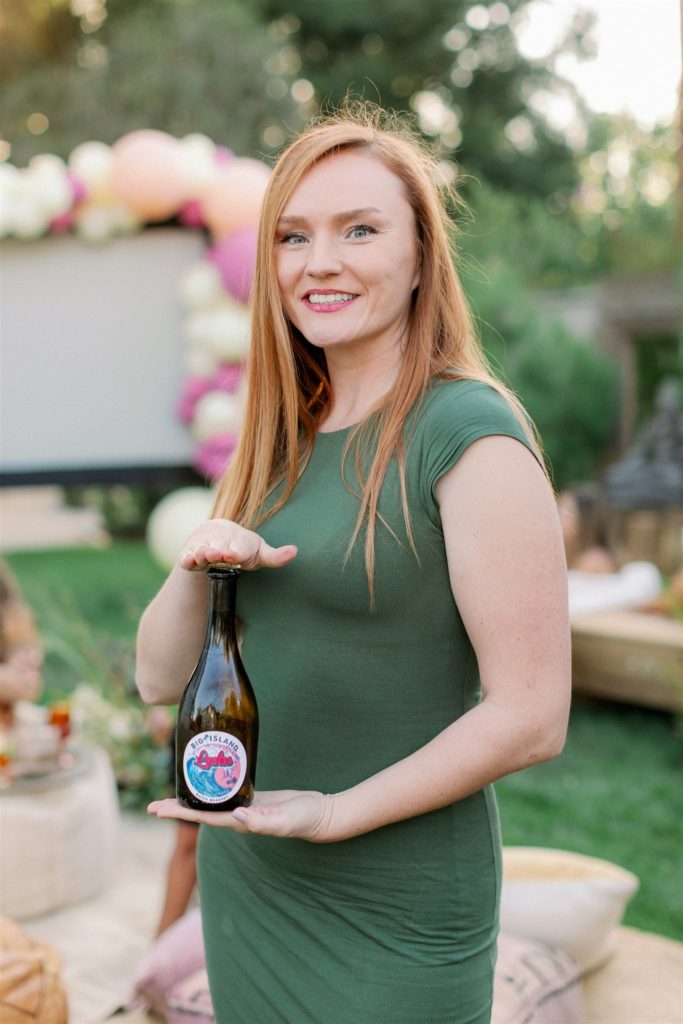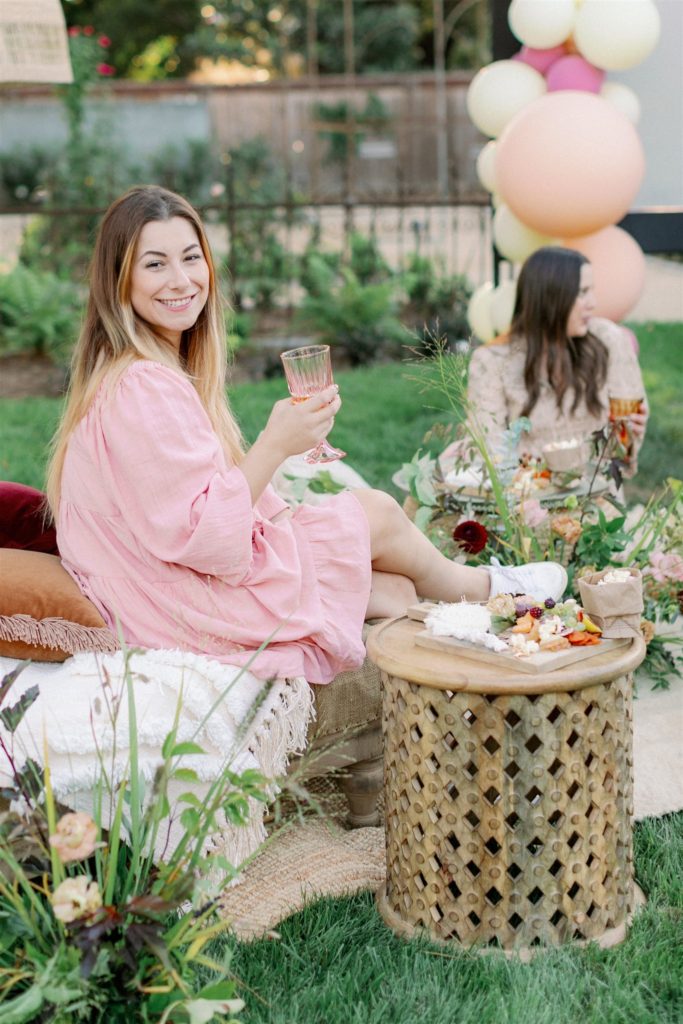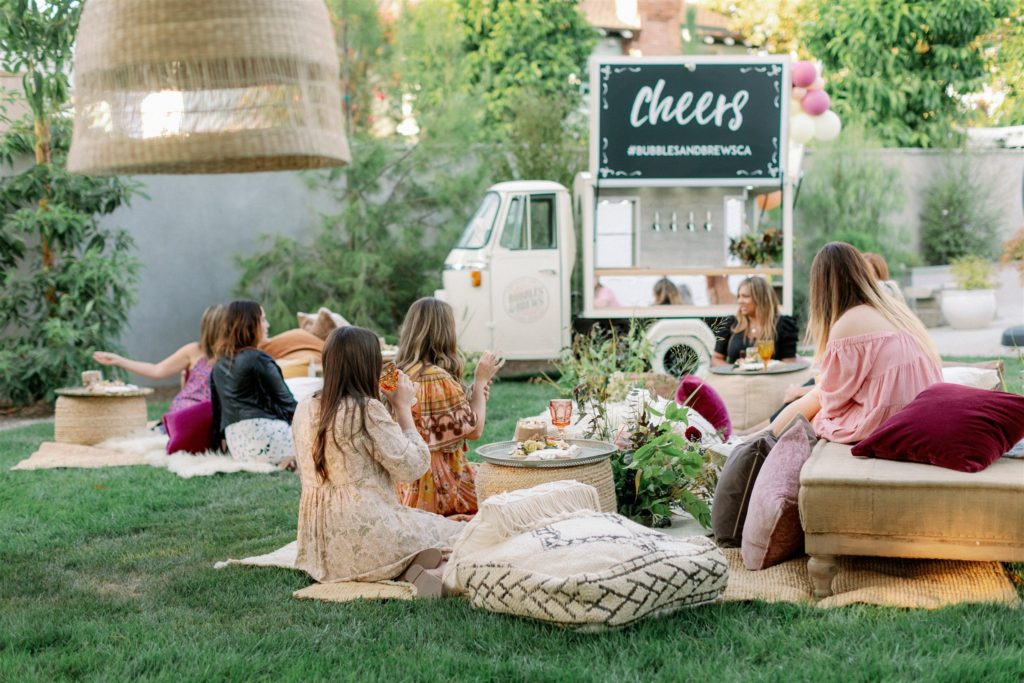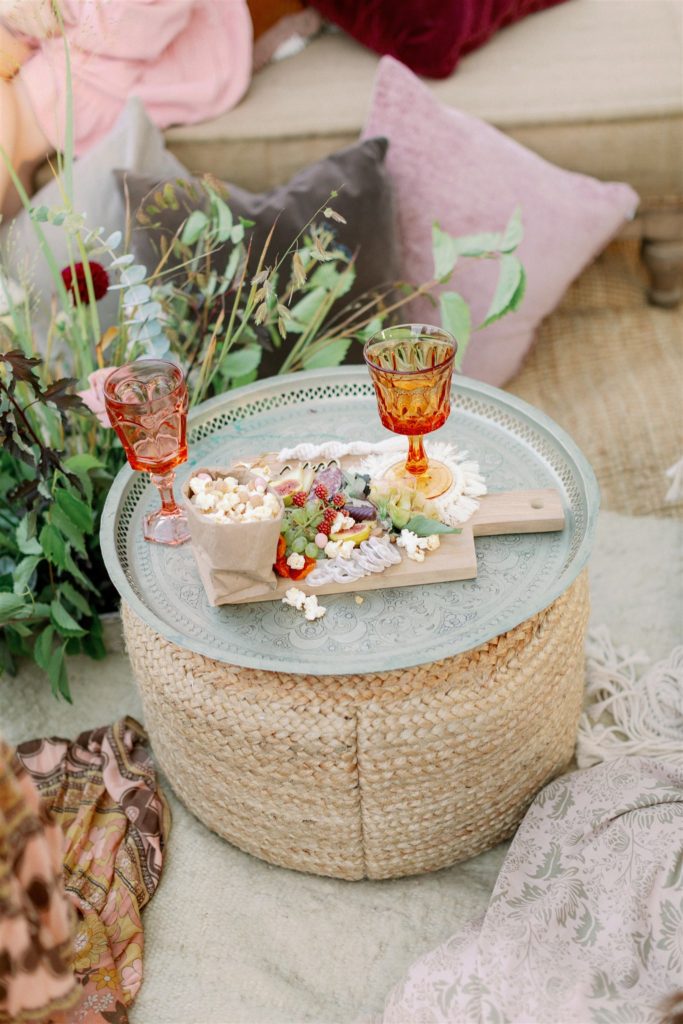 There's my girl Alex doing what she does best, filling her glass!!!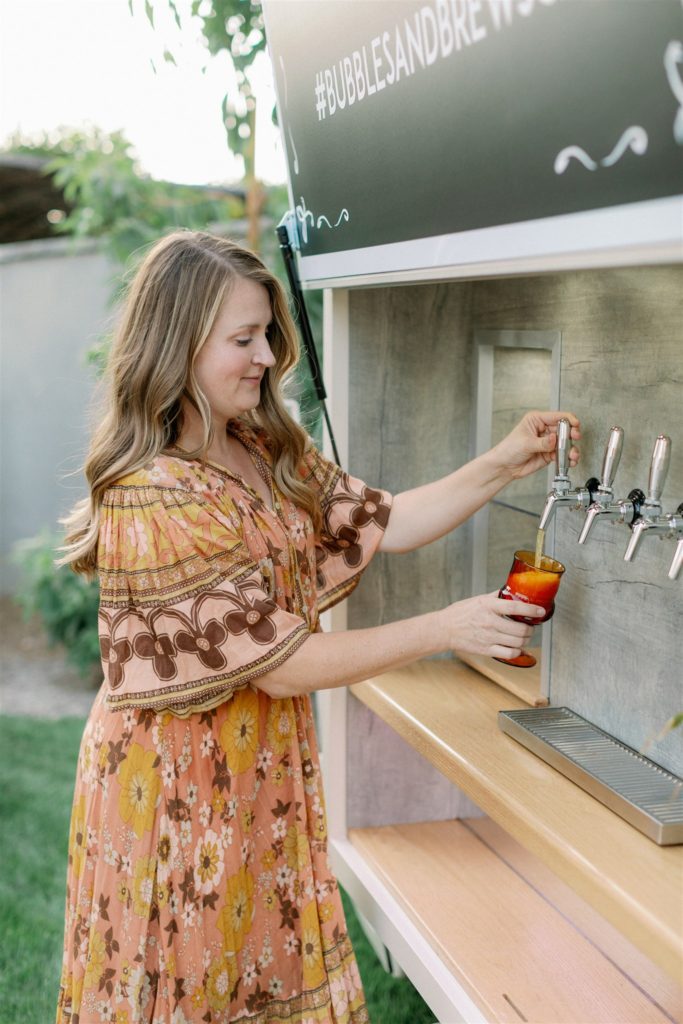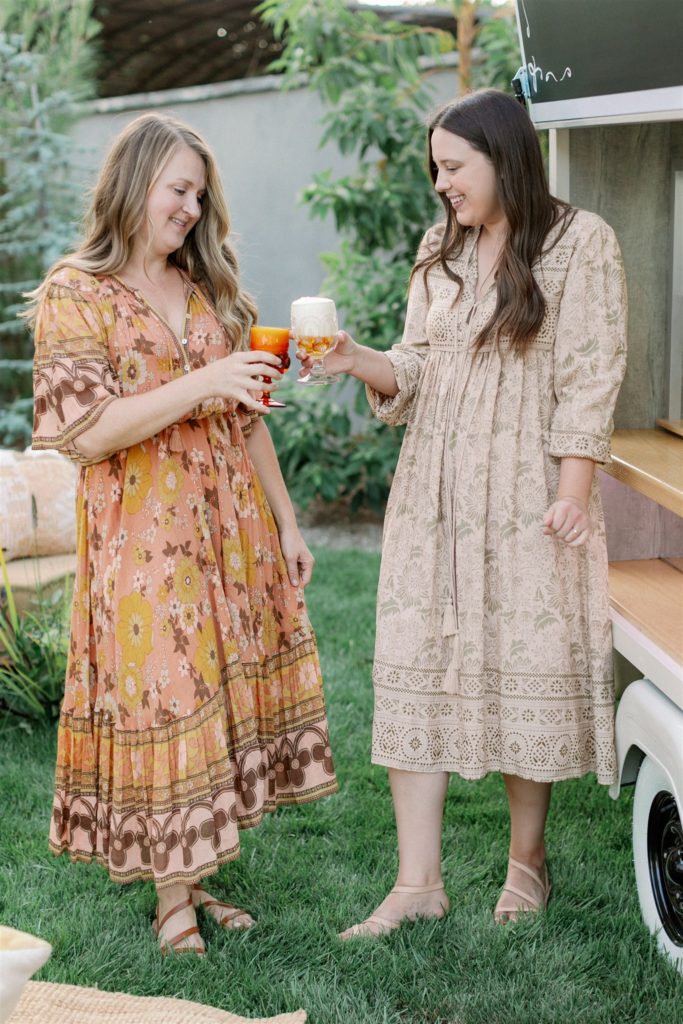 All the ladies!!!! We have no fun together whatsoever…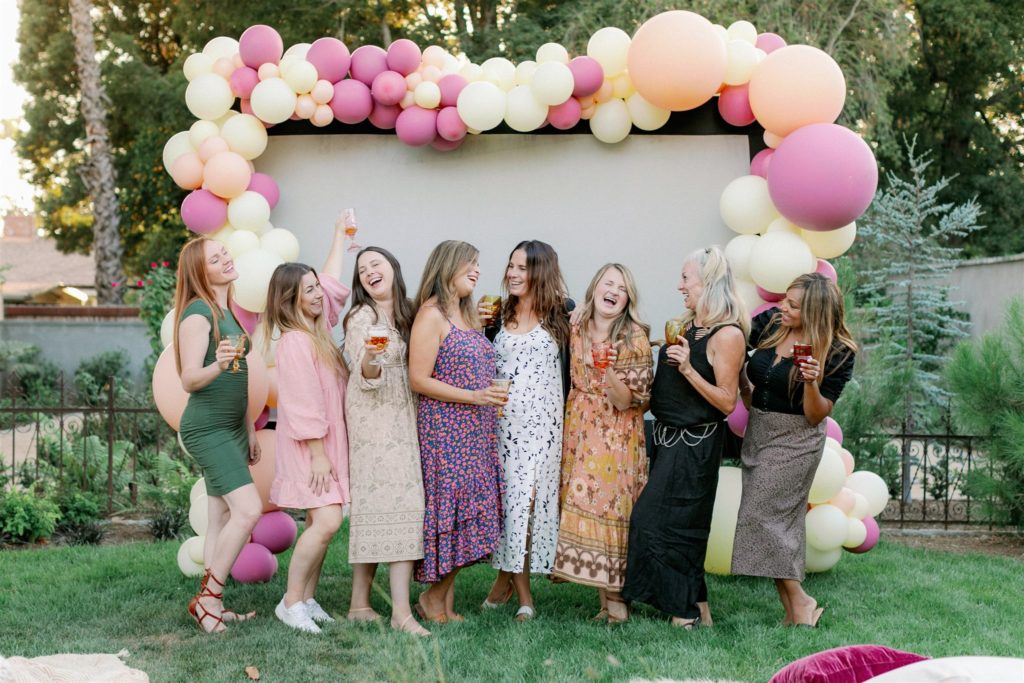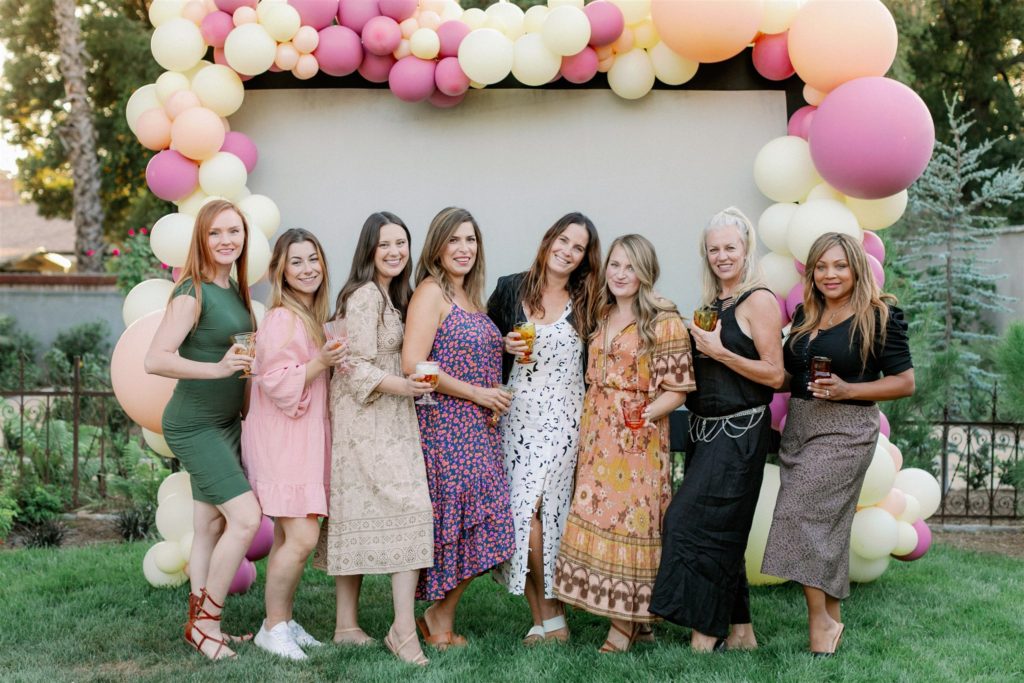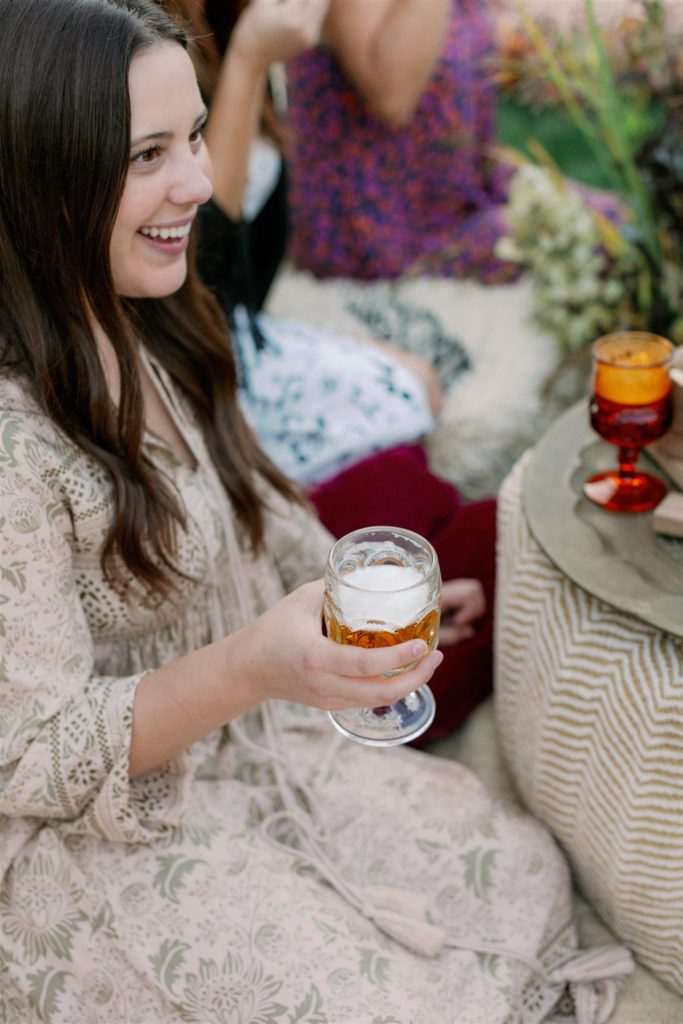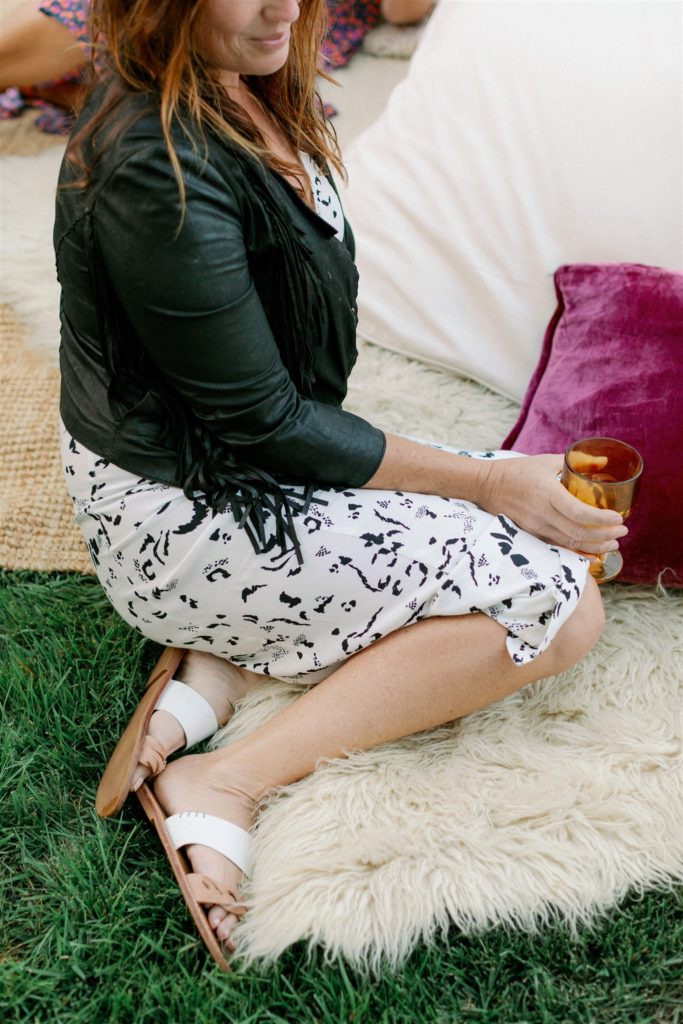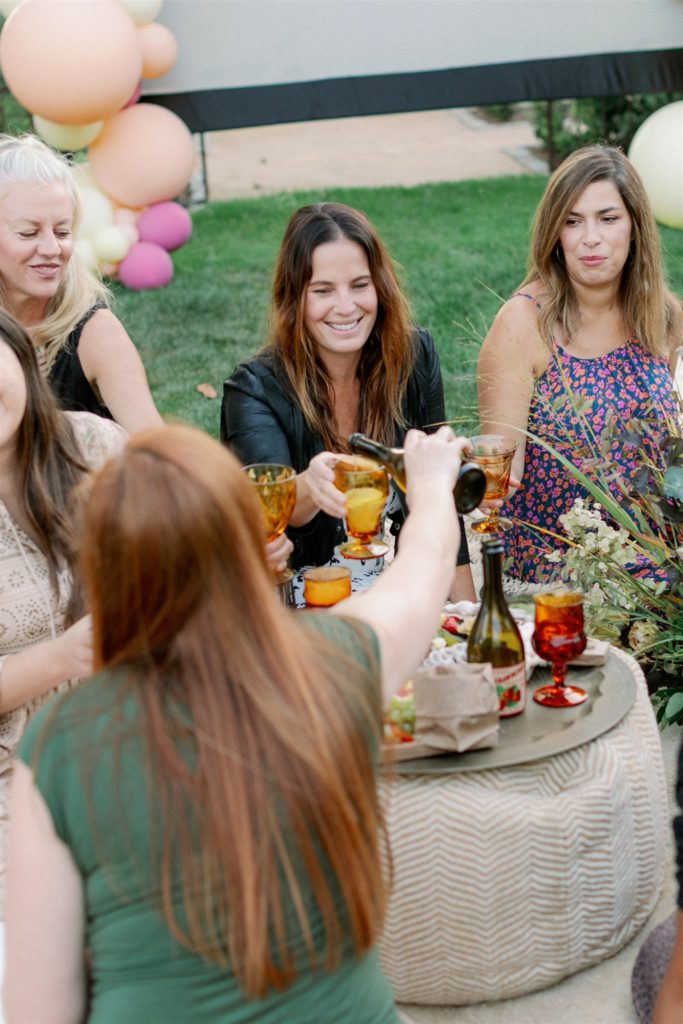 One last cheers before we start this movie!!!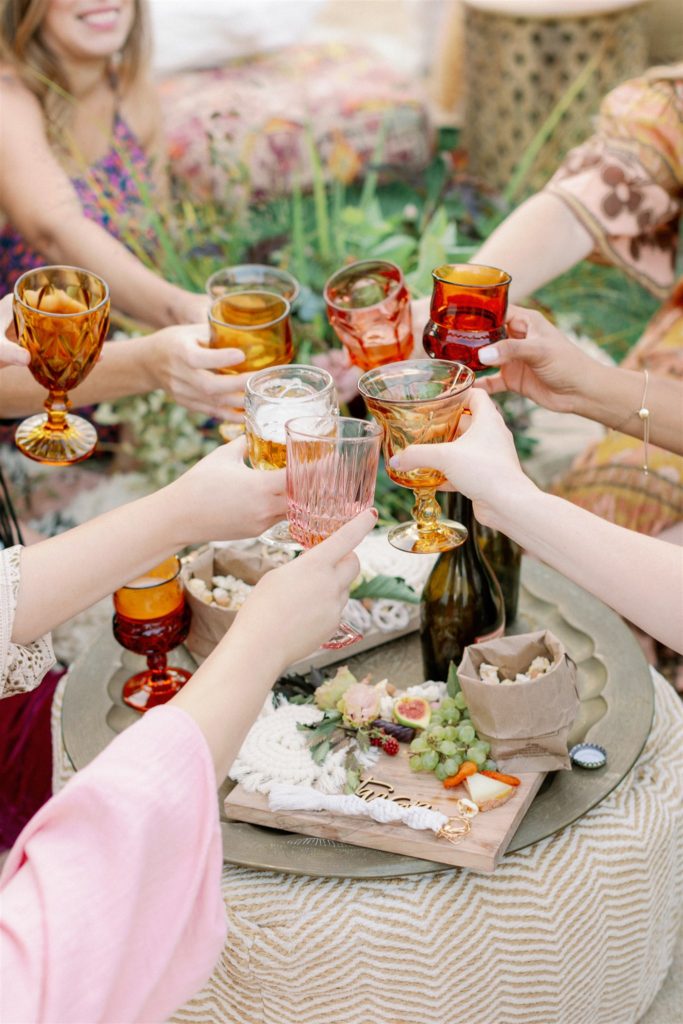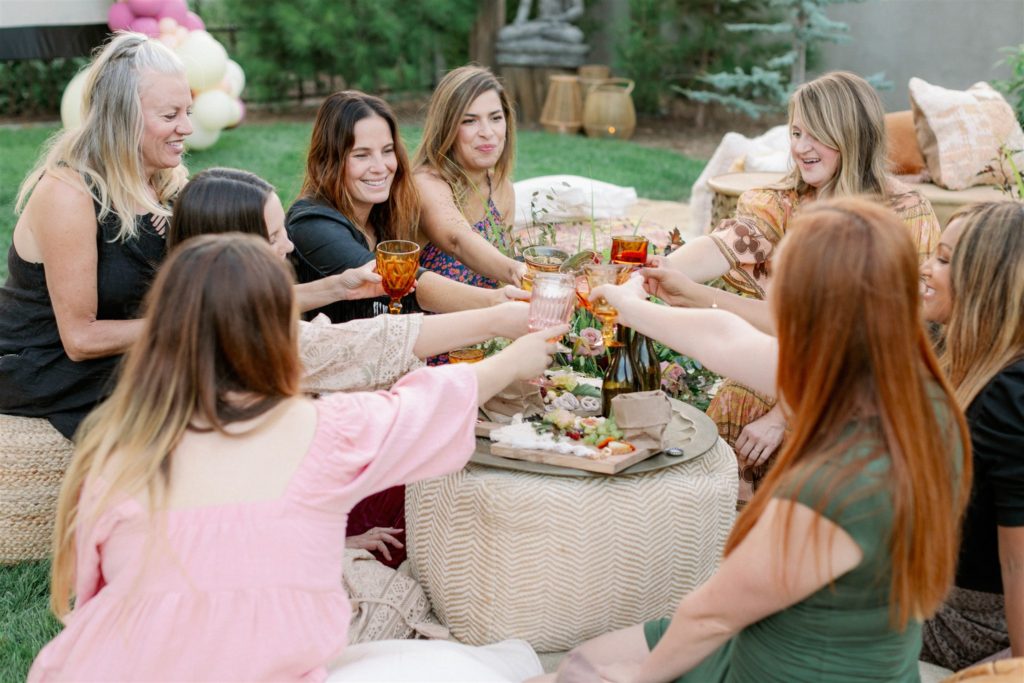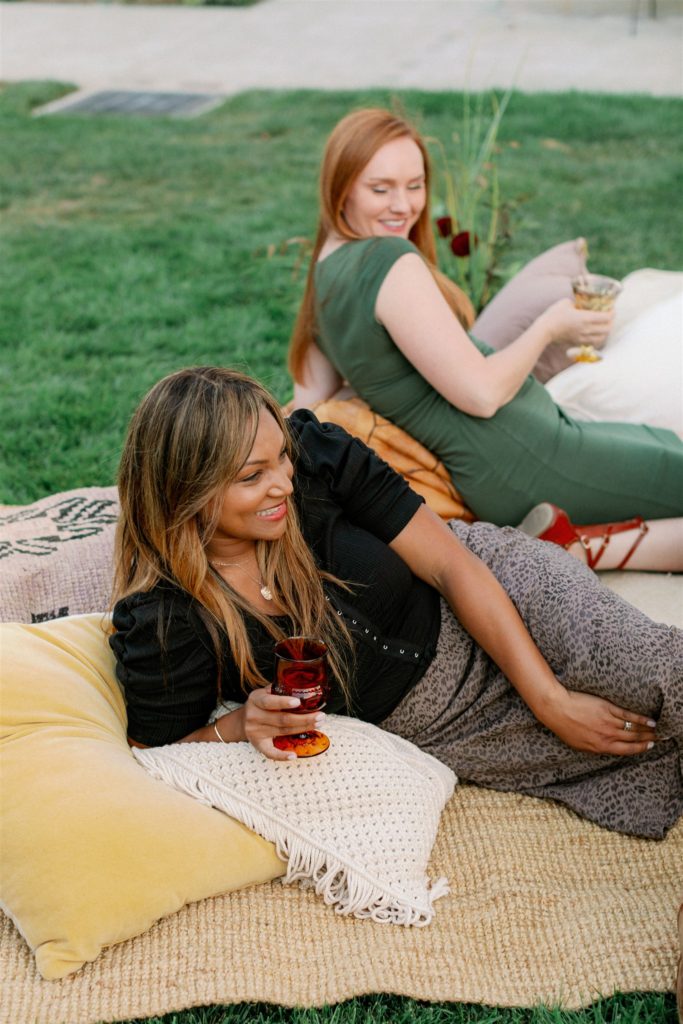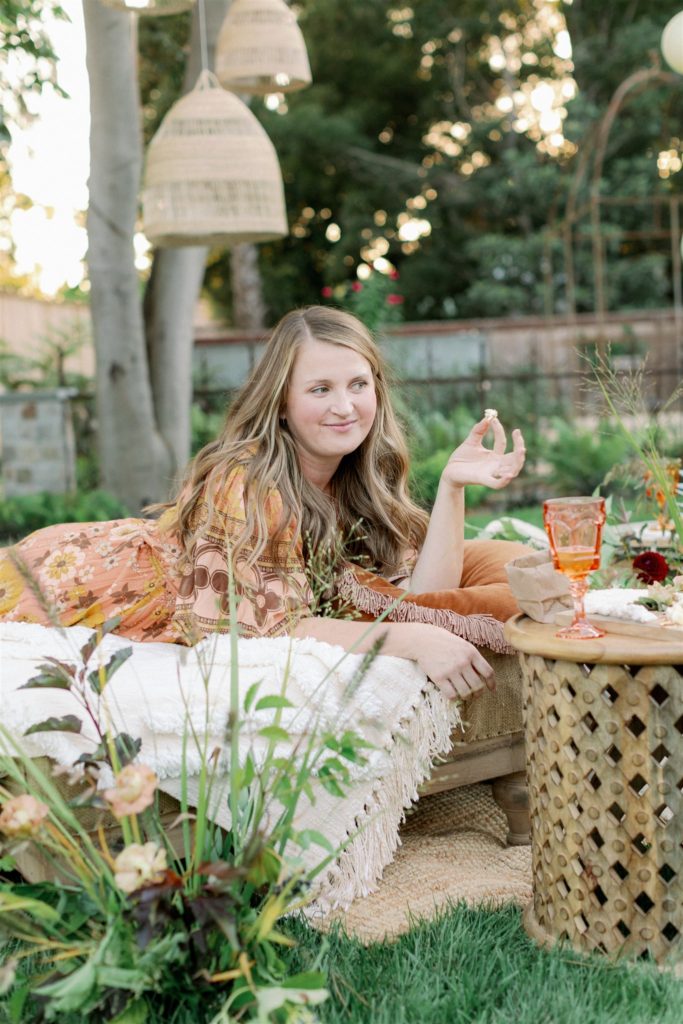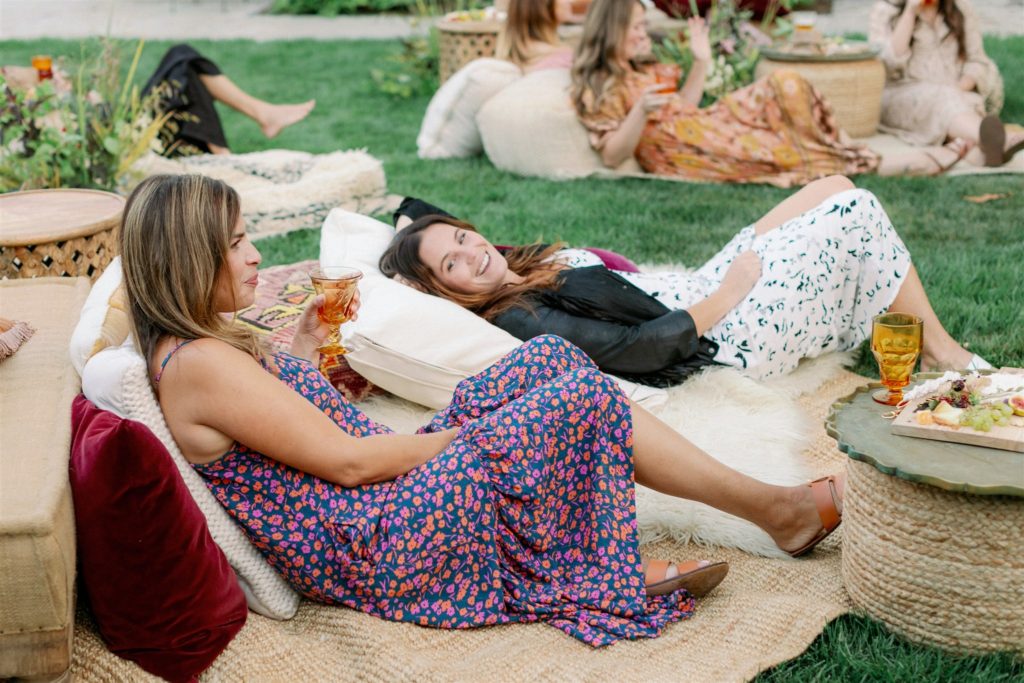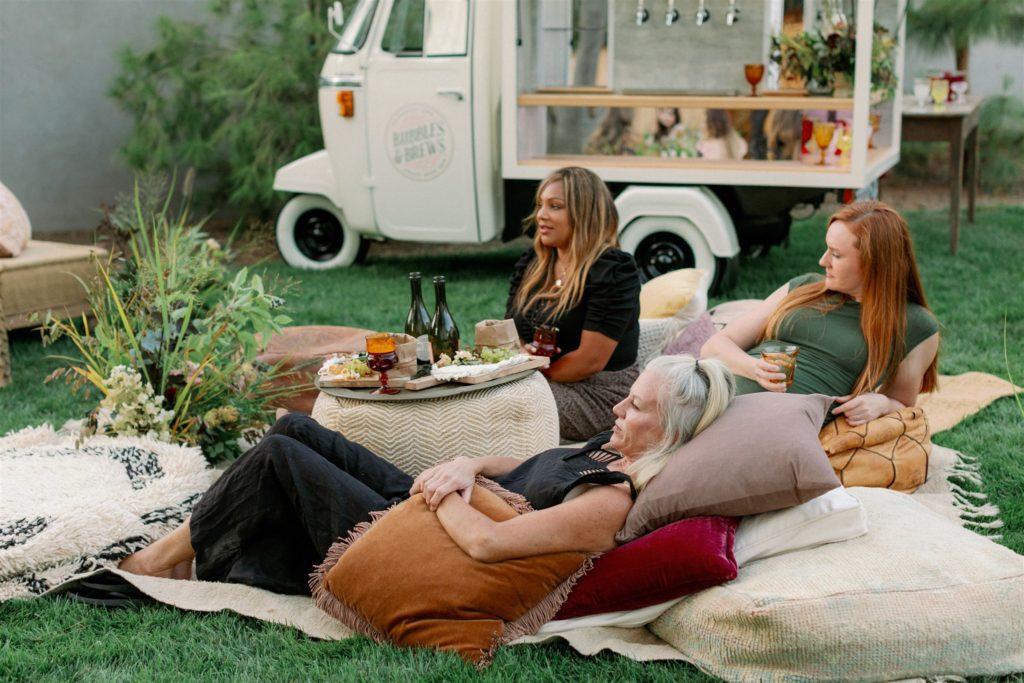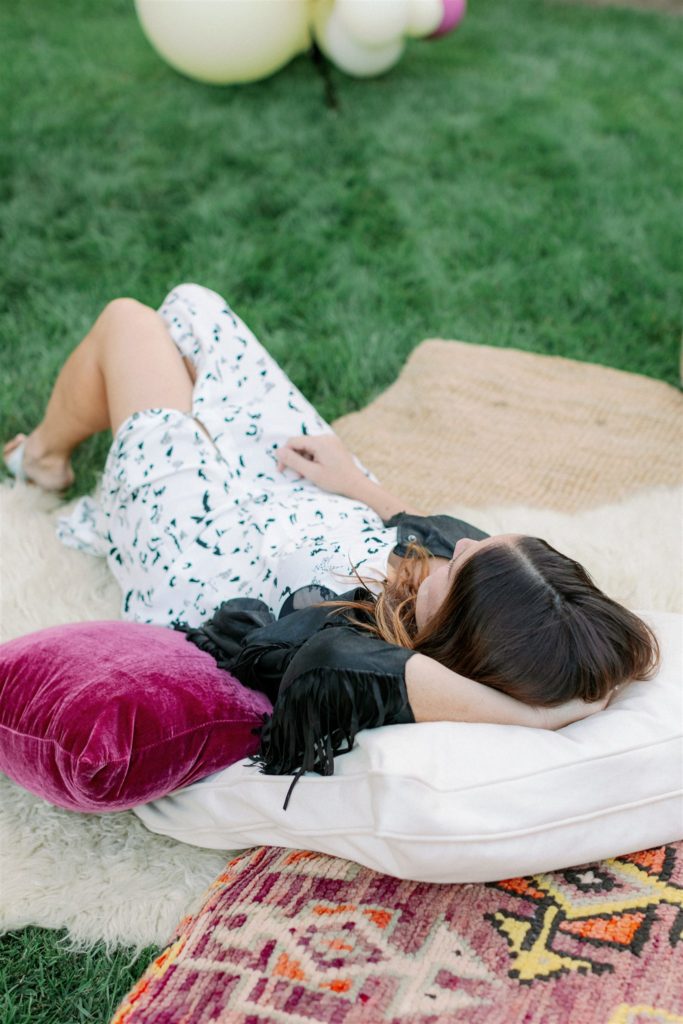 Such a fun night!!!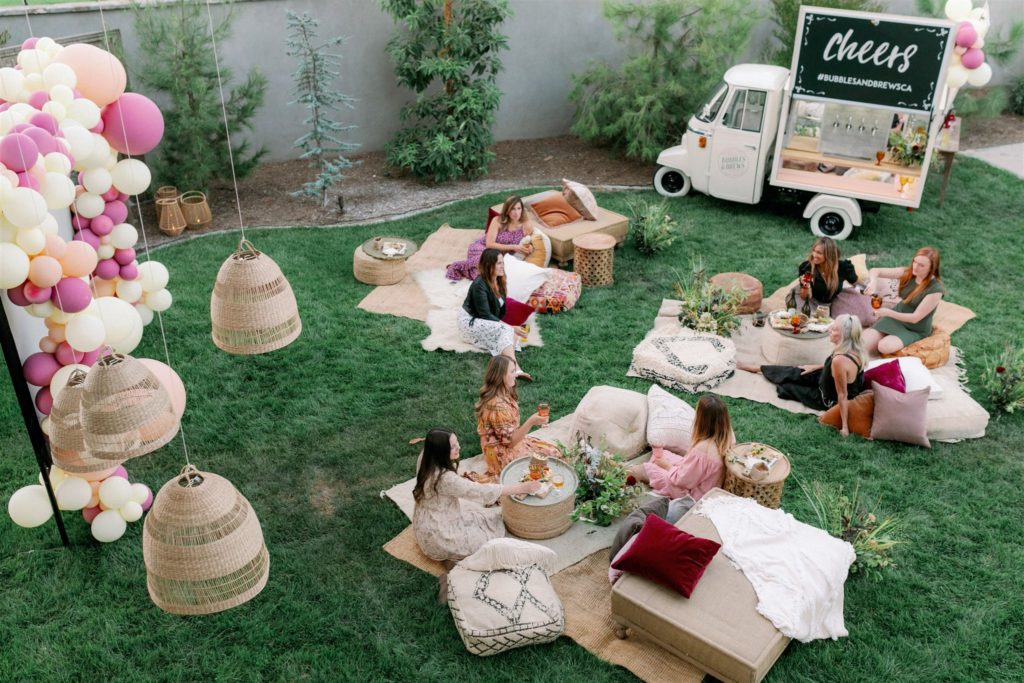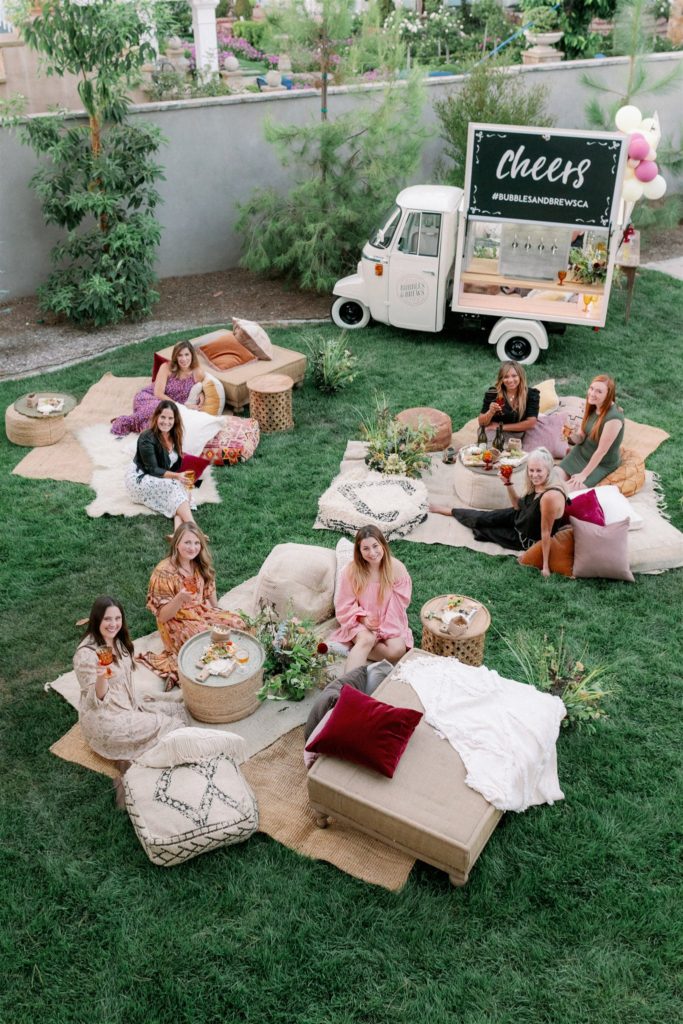 Doesn't this look like such a magical girls night?! We'd love to recreate it for any of you gals out there!!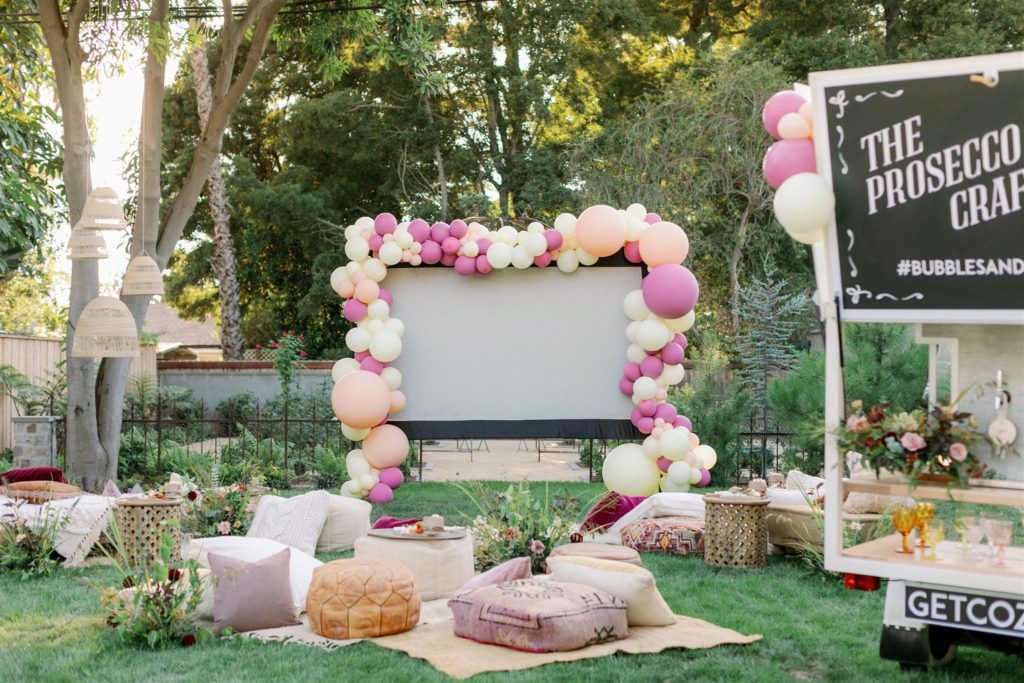 Hope this inspired you to have a ladies move night of your own!!
xx
Jacquelyn