When one of your favorite "friendors" asks you to help style and design her 40th birthday party in Palm Springs, you say YES! Carlie Statsky is one of the most talented photographers we've been lucky enough to work with. She was actually one of the very first photographers we collaborated with for a styled shoot when Beijos was in the beginning stages. We've always loved how sweet and kind she is and have admired her beauty and generosity.
She reached out to us last year saying that she was ready to start planning her big 4-0 and had her heart set on Palm Springs… We knew it was a match made in heaven right then and there. She gave us a little inspiration of what she wanted and we created a mood board that we all fell in love with… Add a few of our favorite vendors to the mix and this party has become one of our favorites. Plus, it was at the Junipero, one of the most amazing spots in the desert. Keep scrolling to see Carlie's White Hot Party and how she celebrated her 40x around the Sun….
This party was also featured on Green Wedding Shoes yesterday, head on over to see more…
All of the gorgeous photos are by Jenn Rodriguez, we love what she did!!!
And can you believe this babe is 40?!?!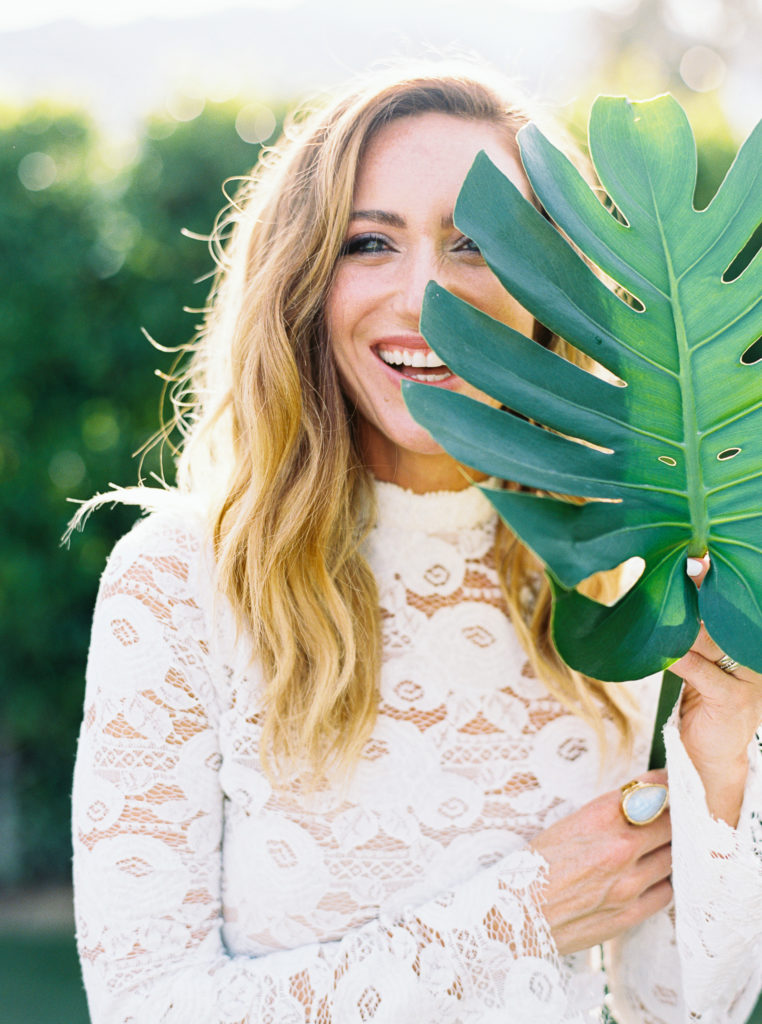 Let's start with the pretty invite by Meghann Miniello, who you know we love, but is also one of Carlie's personal friends! We worked off of a blue ombre theme inspired by the vibe of the Junipero which you'll see below… We love everything Meghann did, just look at those amazing blue palm frond cocktail stirrers!! And just wait till you see the place settings… Miss Meghann was not only involved behind the scenes but she got to be in on the fun as a guest!! You'll see her in a few photos below, she's the gorgeous prego!!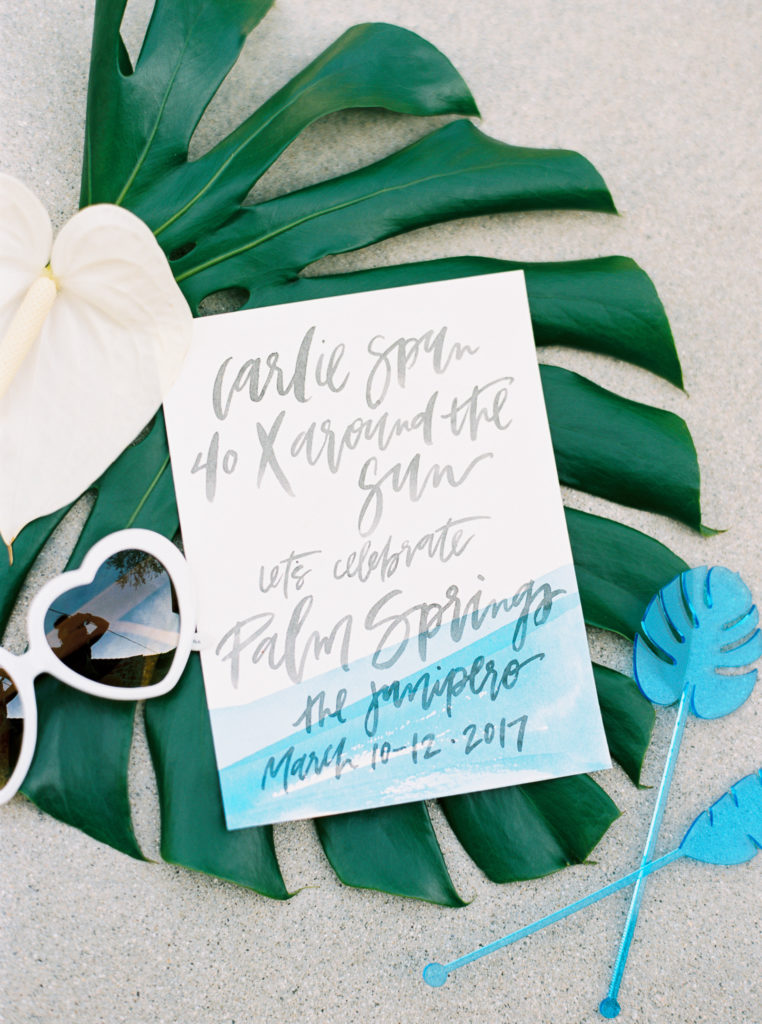 There is our gorgeous table!! I'm so proud of this one! When in Palm Springs you must go modern and that's just what we did, with a slightly tropical touch! Like I said, I was inspired by the venue, the Junipero and a photo of a blue smoke bomb I saw on Pinterest. It all canon balled from there and resulted in this beauty! I reached out to my girls the Bloom Babes who never disappoint and really nailed it with a simplistic take on the tropical trend. I love the way they incorporated palms, white florals and succulents.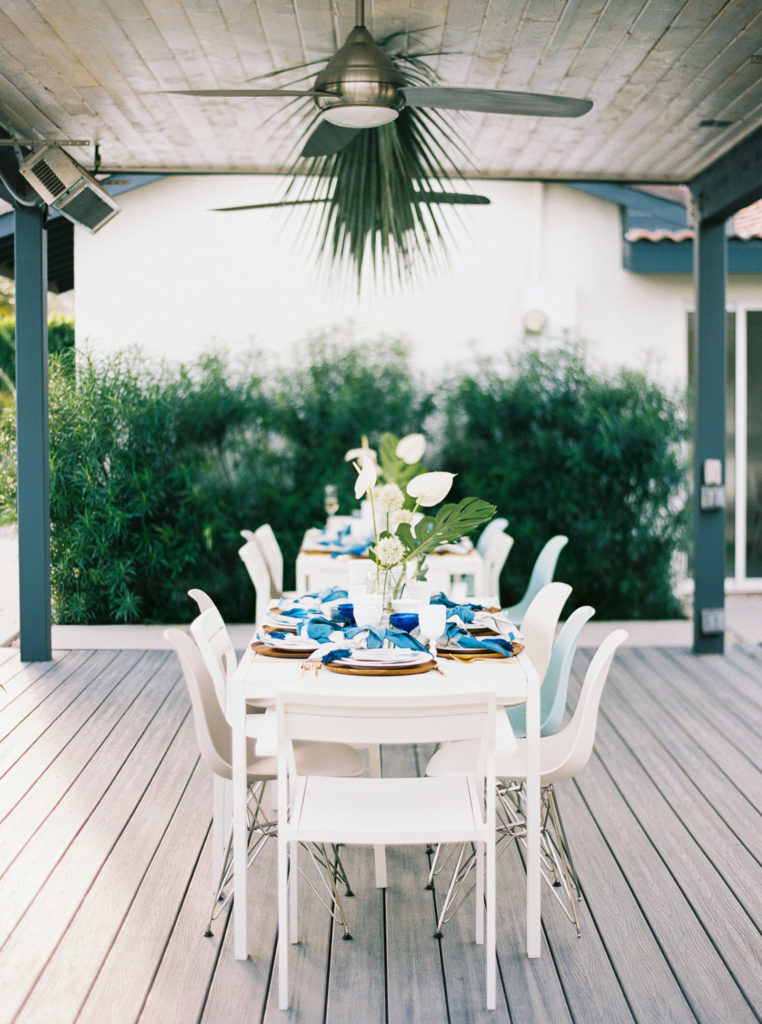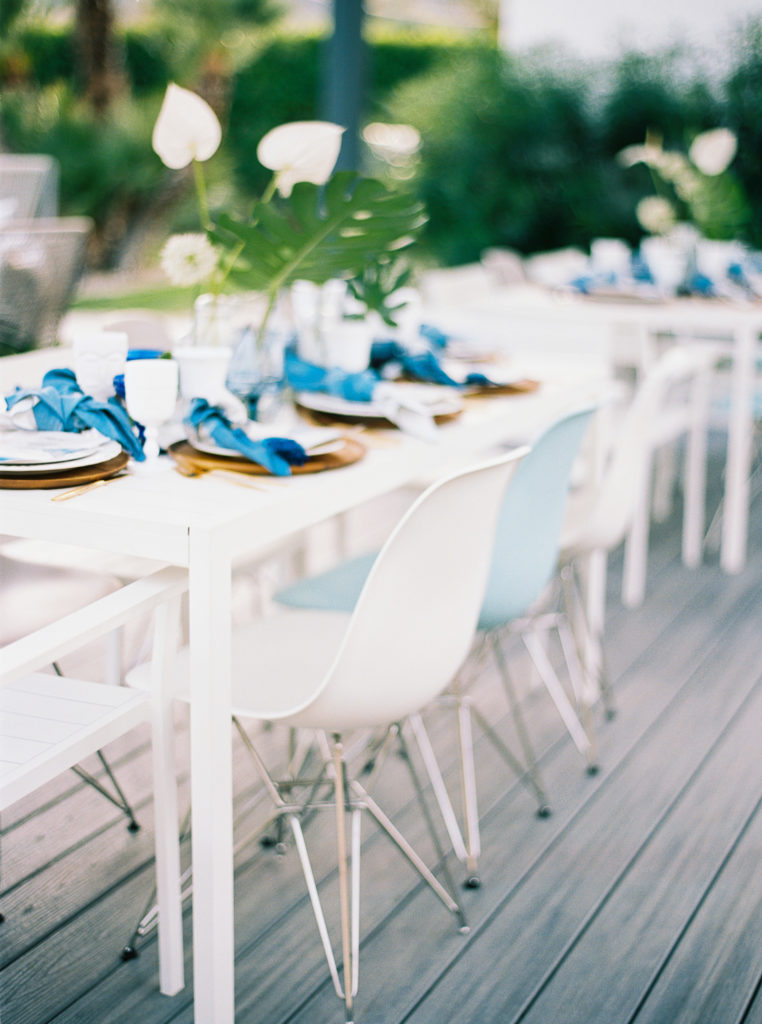 Meghann handmade each and every place setting so the slight ombre effect was seen down the entire table. We took that to the gorgeous glassware from Hostess Haven as well. And how perfect are those dip dyed napkins from their amazing collection?! They completed the place setting!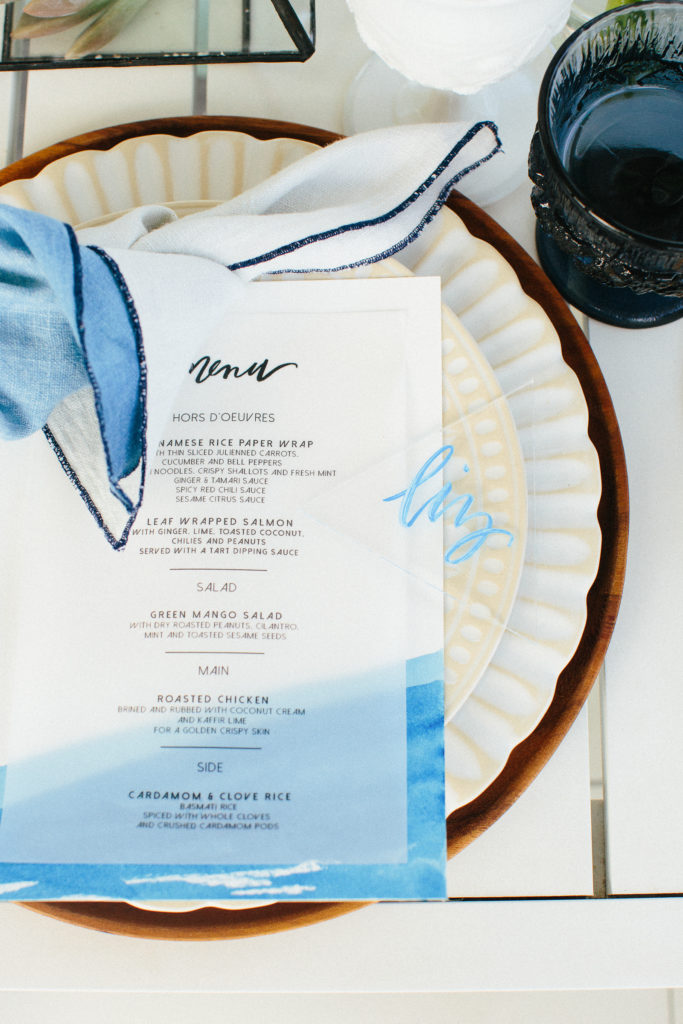 How cute are those little dip dyed tassels that Carlie's other talented friend Julie Howard, owner of Shop Leo Kids, created. When you have that many talented friends you better hit them up for a party like this!!!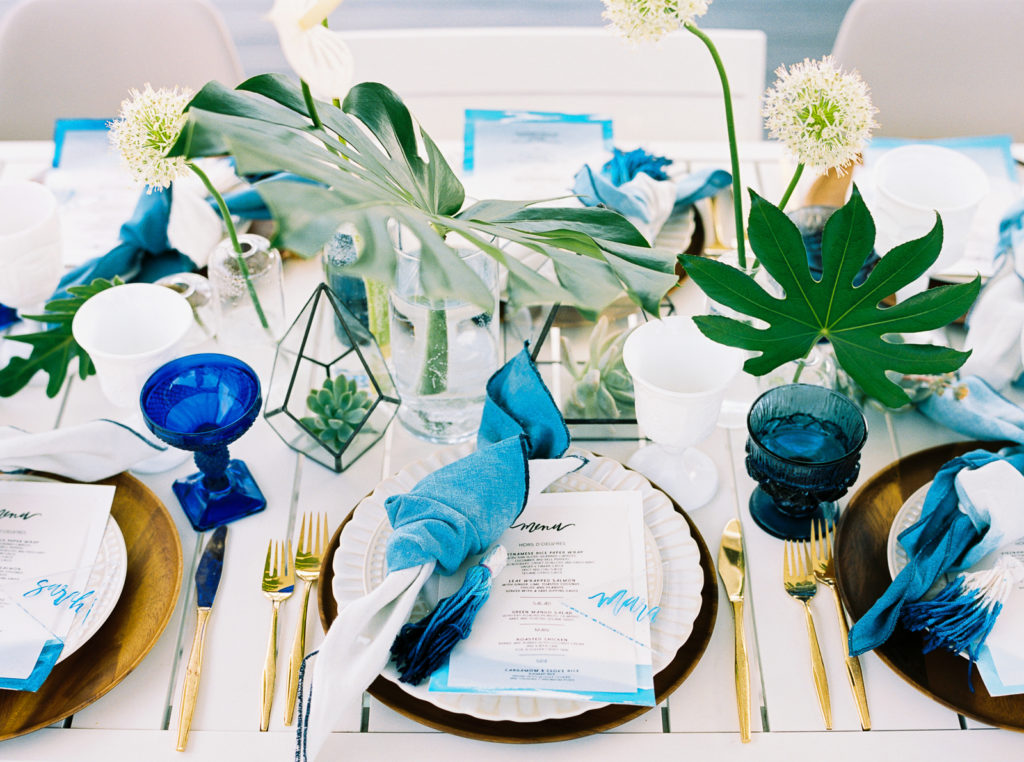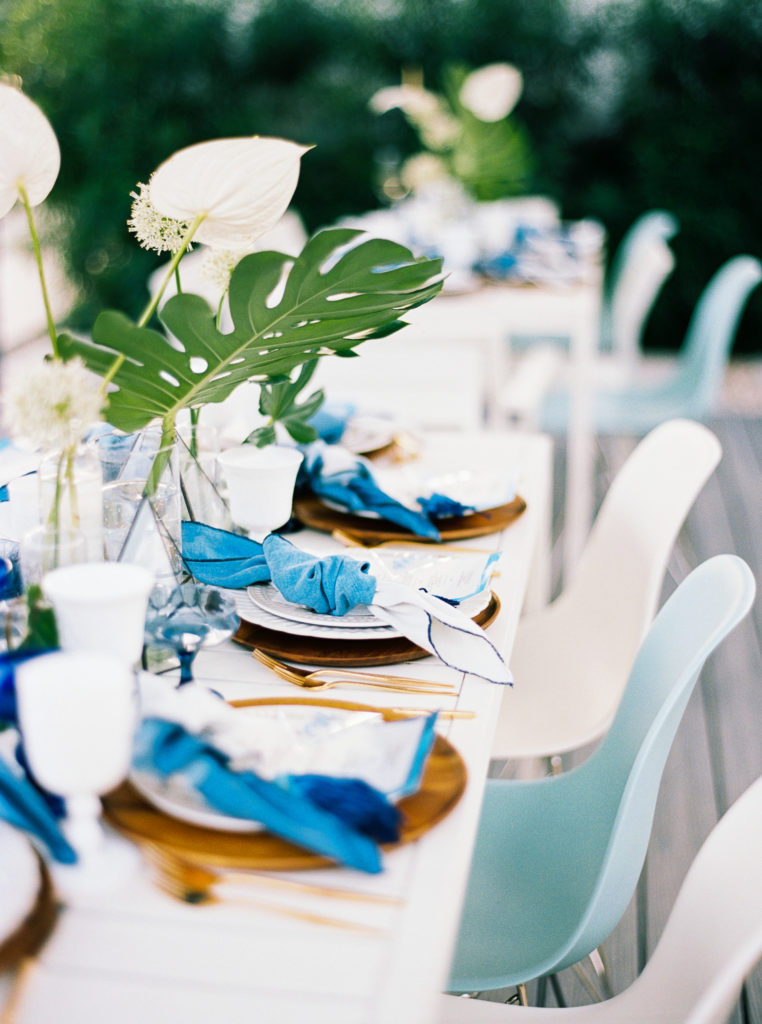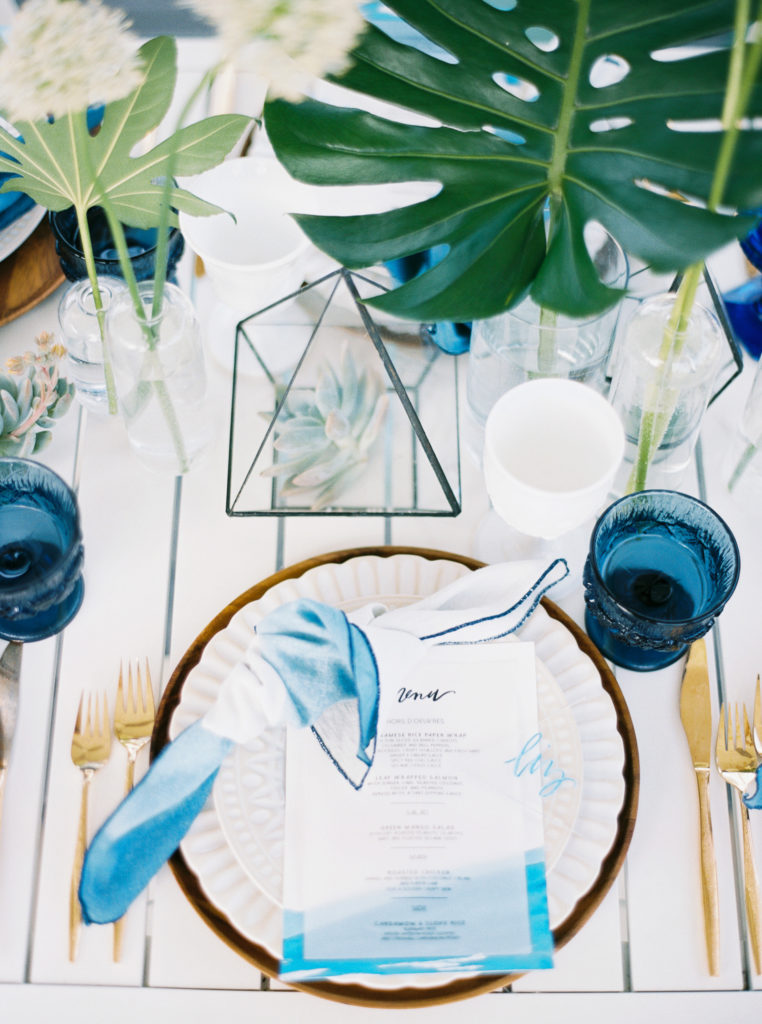 Just so you can see what I'm talking about when I say that this place inspired me… It not only inspired me to design this party but it also inspired me to take a vacation!! Now I just have to find a free weekend…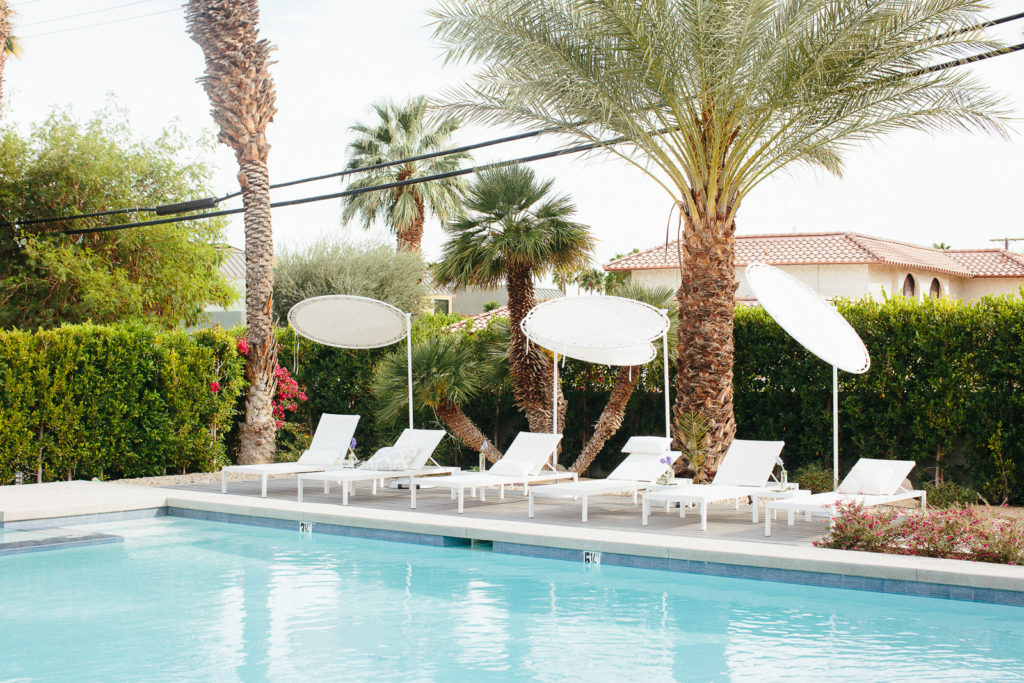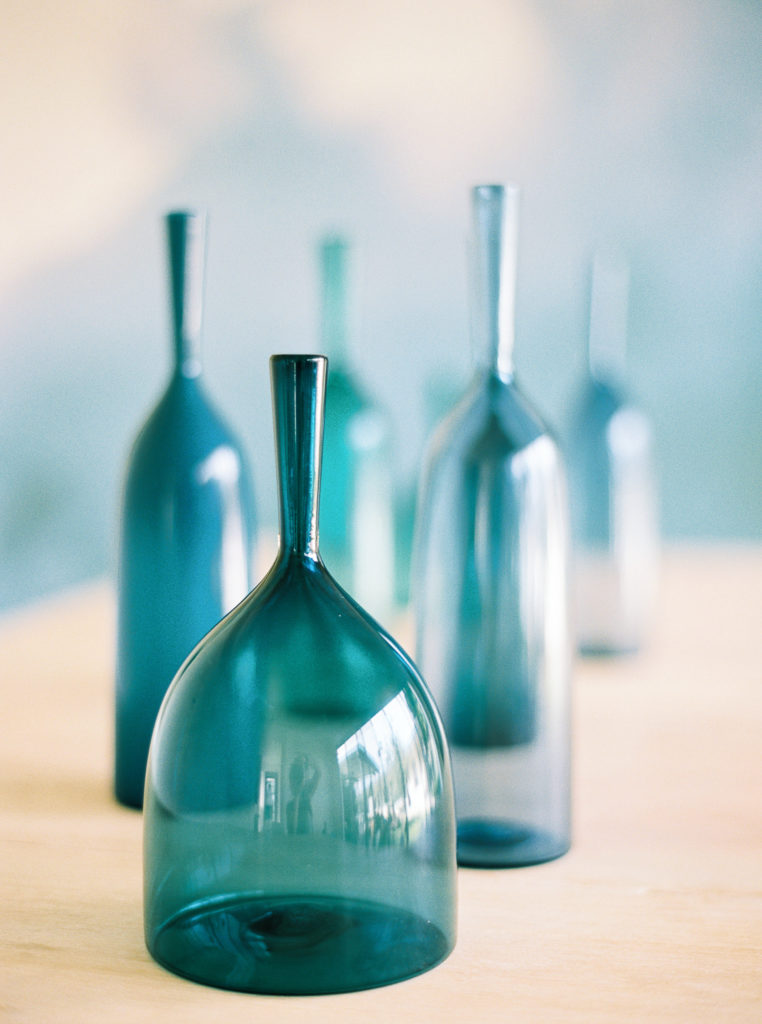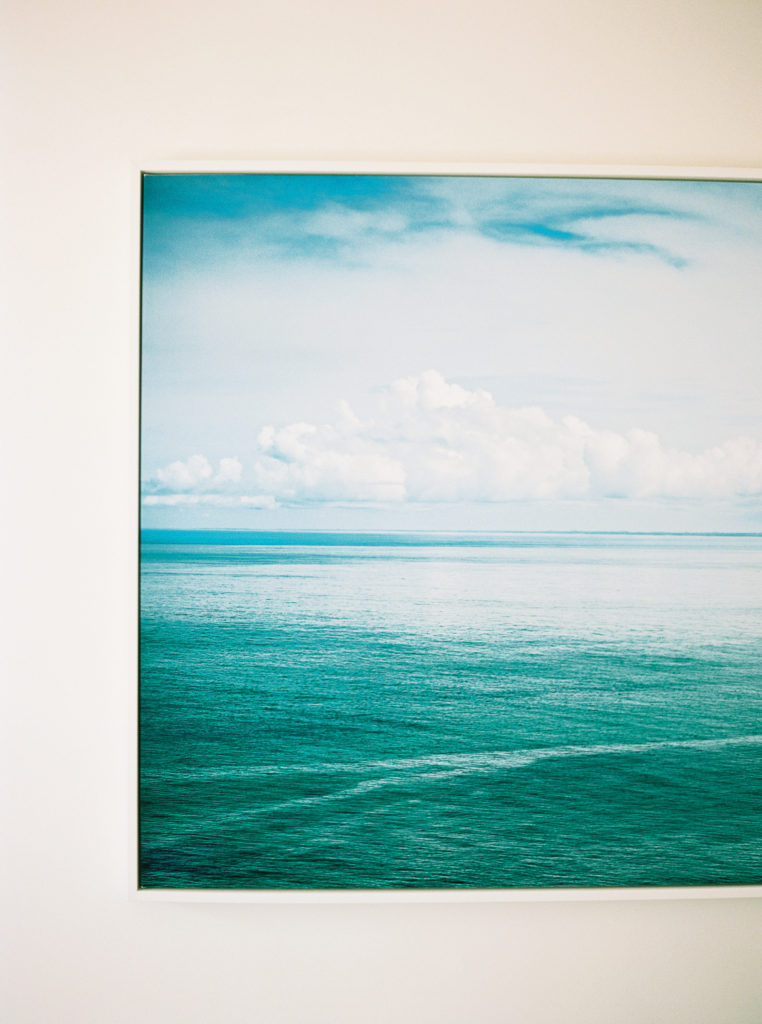 We loved this little lounge area the Junipero has that overlooks the pool, so the Bloom Babes jazzed it up a bit! How fun to sit around the fire pit enjoying your friends with a cocktail in hand…. Carlie, we are definitely copying your whole party FYI!!!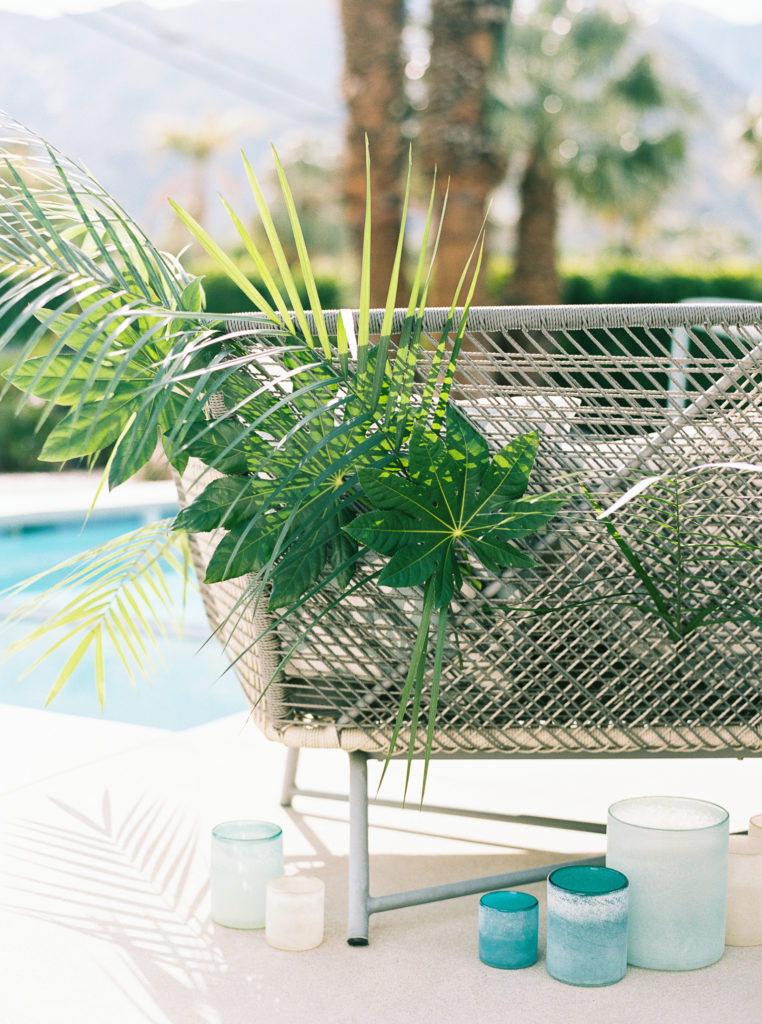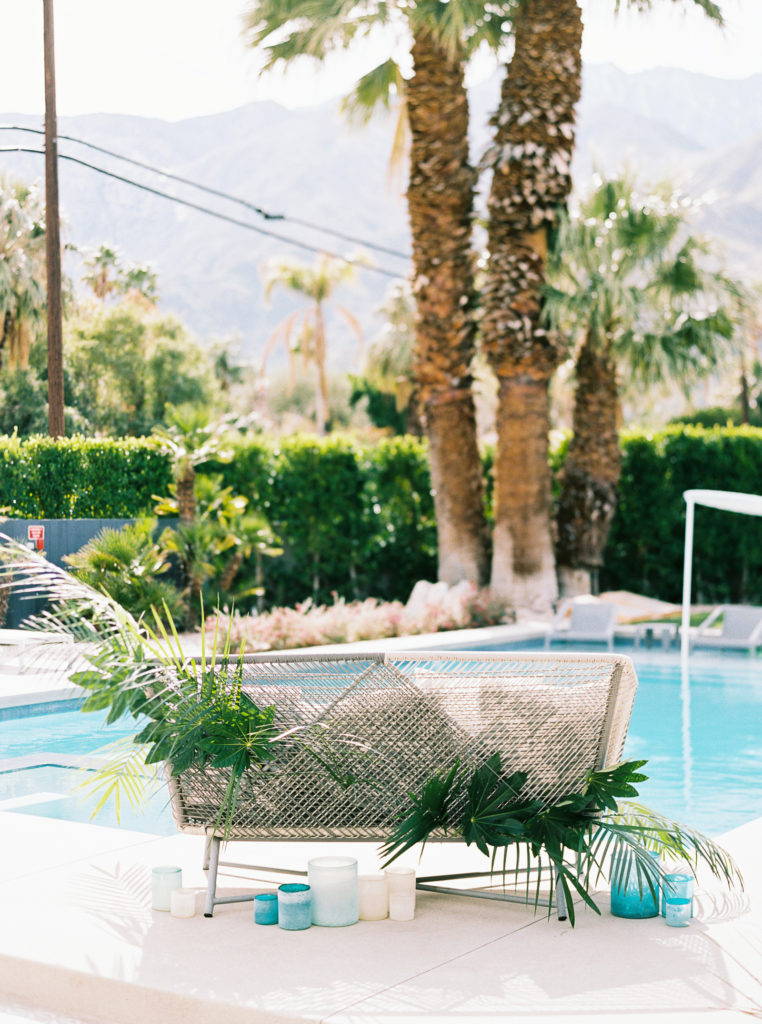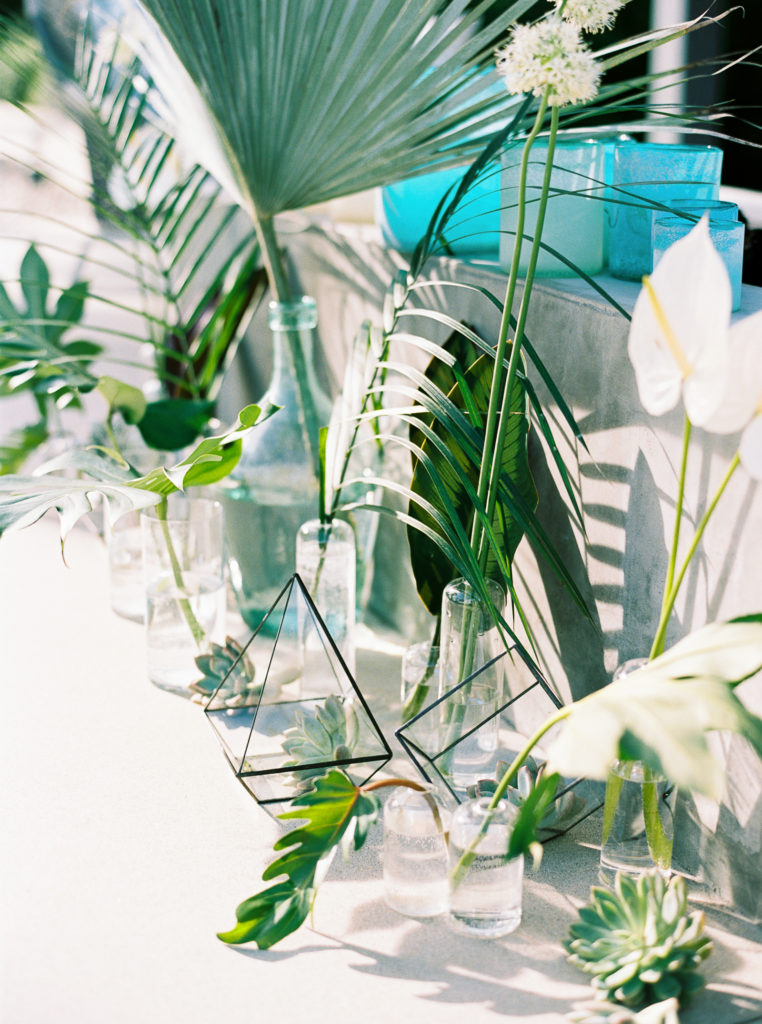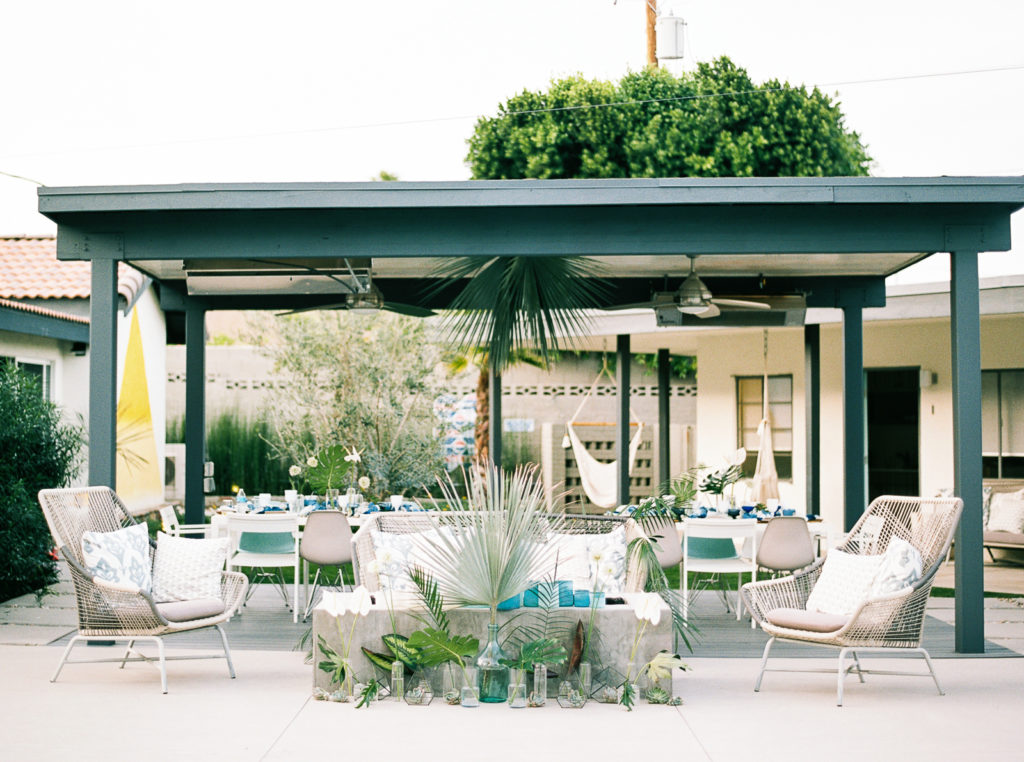 The One Hope wine & champagne was flowing, Stephen Lee created the most amazing Asian infused dishes and Beverly's Bakery nailed it with the most gorgeous cake!! The birthday girl looks as happy as can be, which is exactly what we wanted!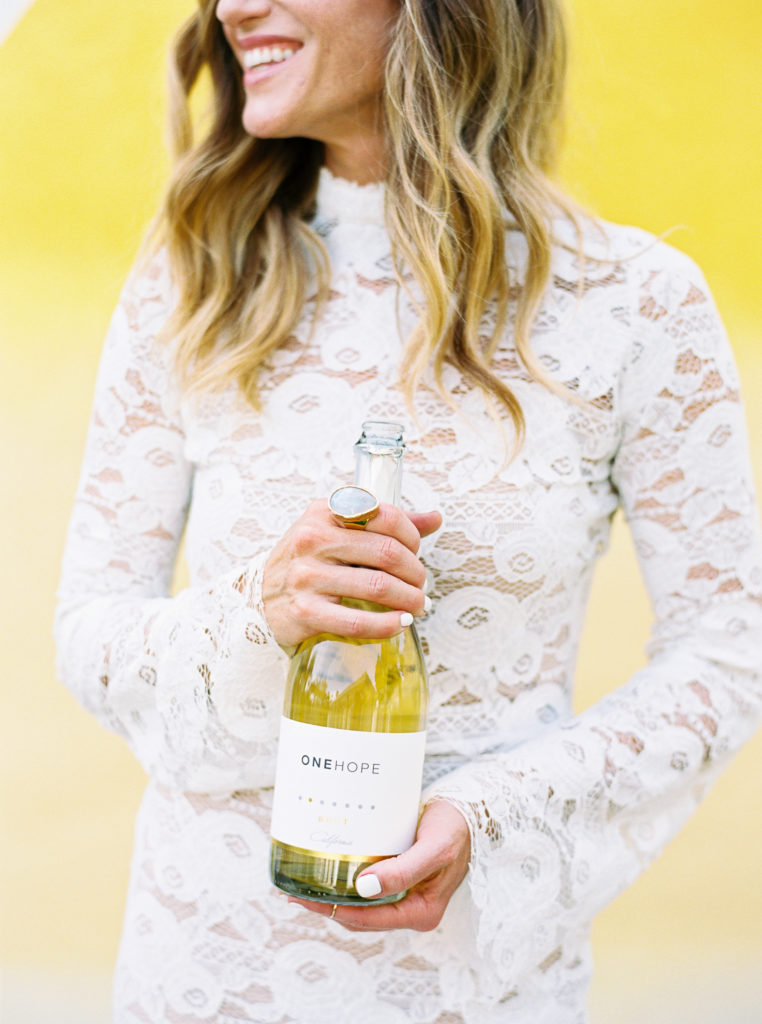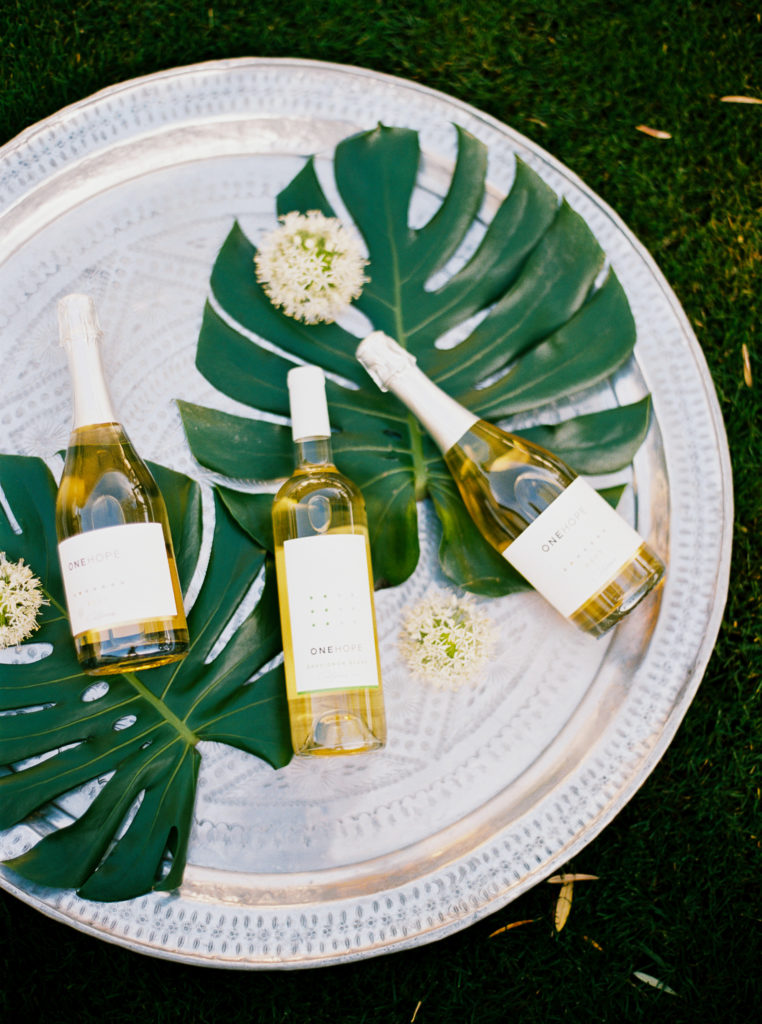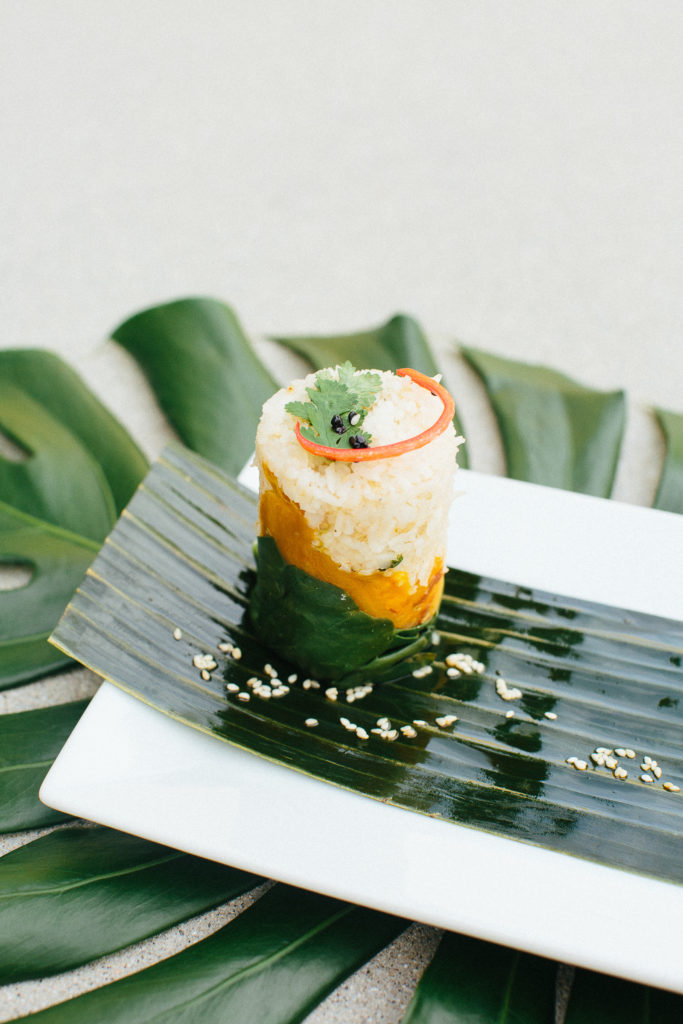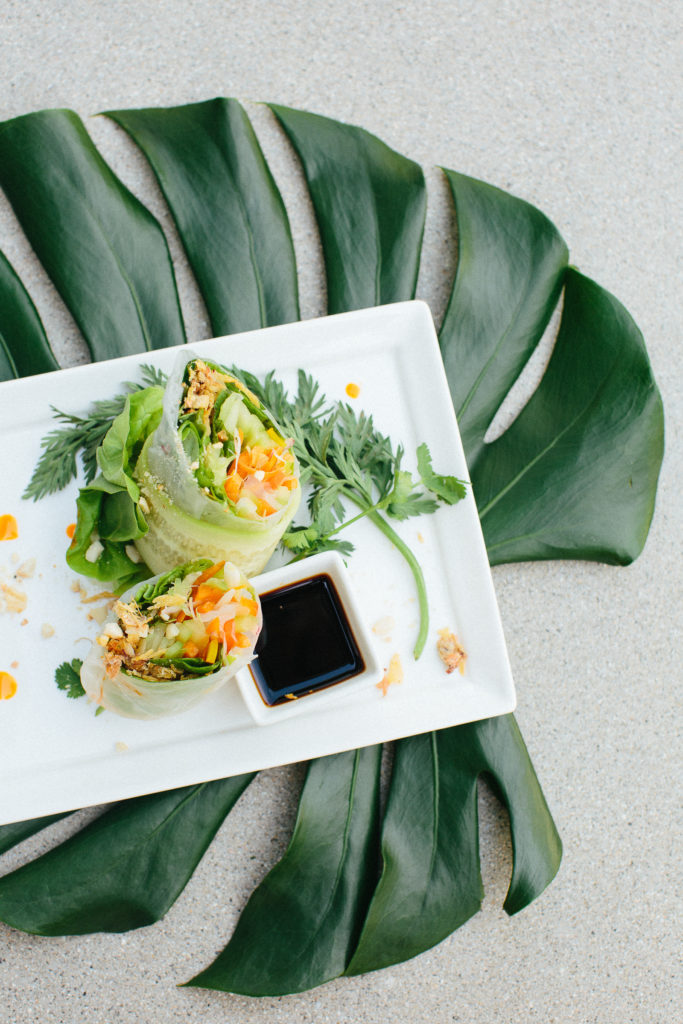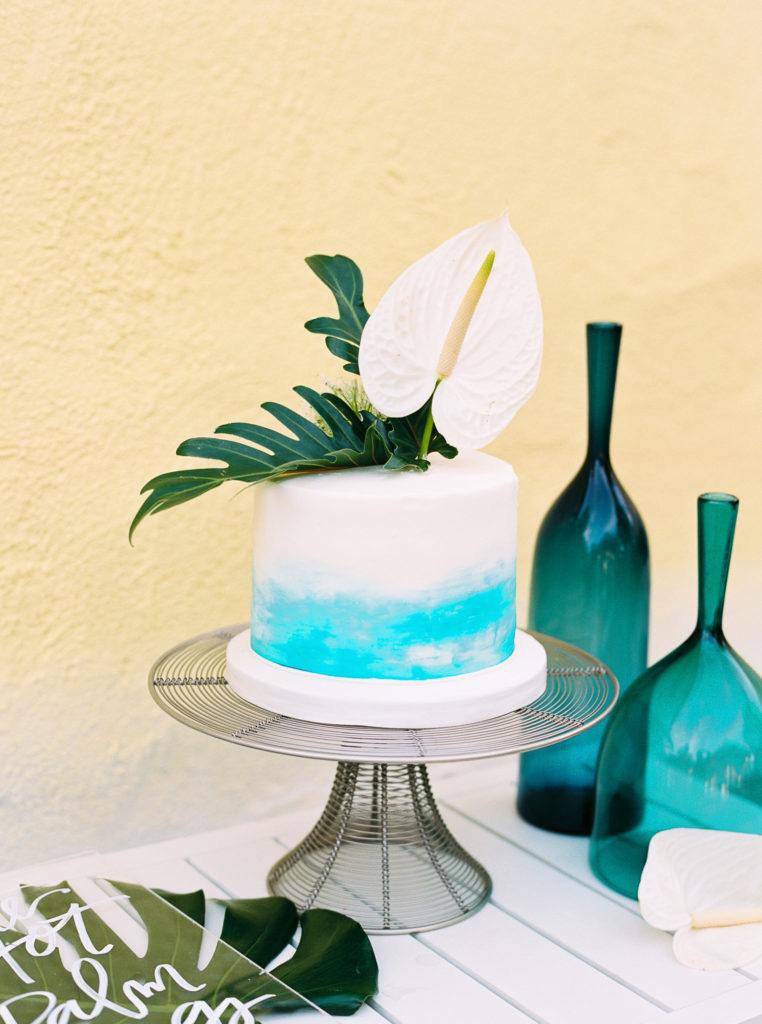 Here's our gorgeous birthday girl with her hunk hubby Gabe and all of her close friends… We love that smile and that girl, she's truly one in a million!!! Here's a little bit more from her….
"All I wanted for my birthday was to be warm with a bunch of my nearest and dearest, so Palm Springs seemed like the perfect place to go. After researching airbnbs in the area I fell in love with
The Junipero
, (from the Desert Collective) especially since we could rent out all of the rooms and have the whole place, (and pool) to ourselves, (all 13 of us!) We used the style, vibe and colors at
the Junipero
as the inspiration for the party, incorporating lots of whites, blues, greens and some bright yellow too.
Jacquelyn and Leah from Beijos Events
did the most amazing job designing and planning the whole event, and went above and beyond in creating the look and feel that I was dreaming of. I feel so lucky to have some ridiculously talented friends like them, as well as a bunch of others who not only contributed their creations to the event, but were also there to celebrate with me too.
Meghann Miniello
, (the beauty sporting the cutest baby bump) totally outdid herself making the watercolor invitations and menus, the acrylic signage and place cards, the gift prints that say 'I love you more than Palm Springs' (on one of my palm photos) and the cutest custom laser cut palm swizzle sticks, and Julie from
Shop Leo
made the rad dip dyed tassels at each place setting. The
Bloom Babes
brought the modern boho vibe to life by adding greenery and texture to every space, and I love how they even wove palms into the outdoor furniture. :)"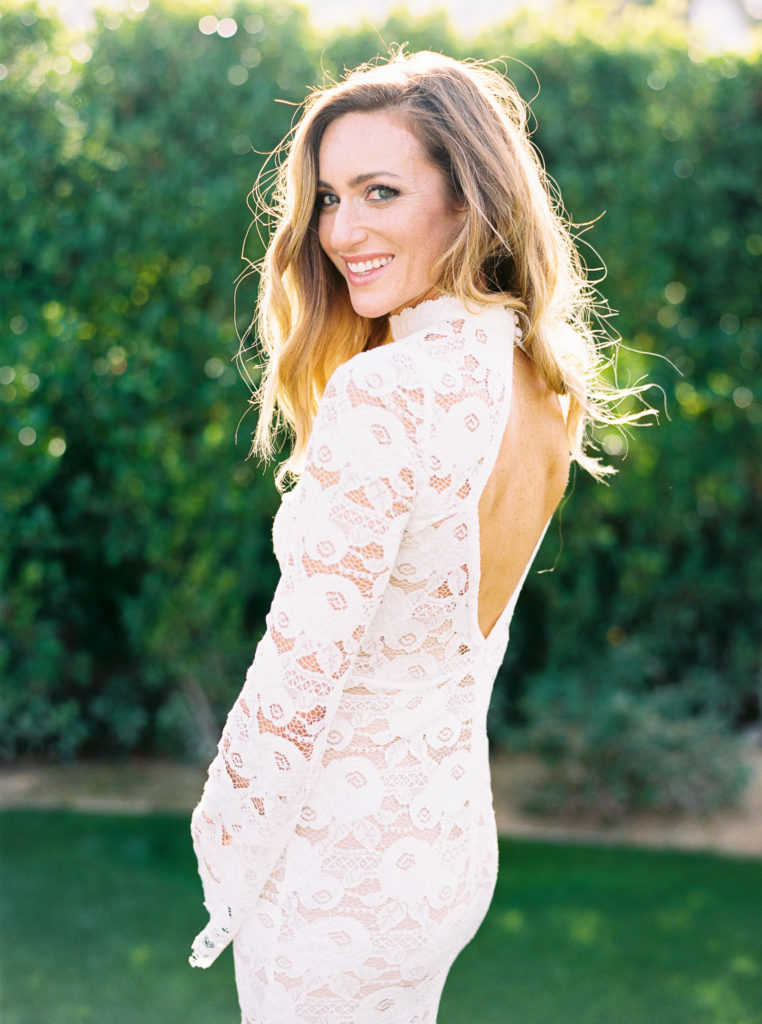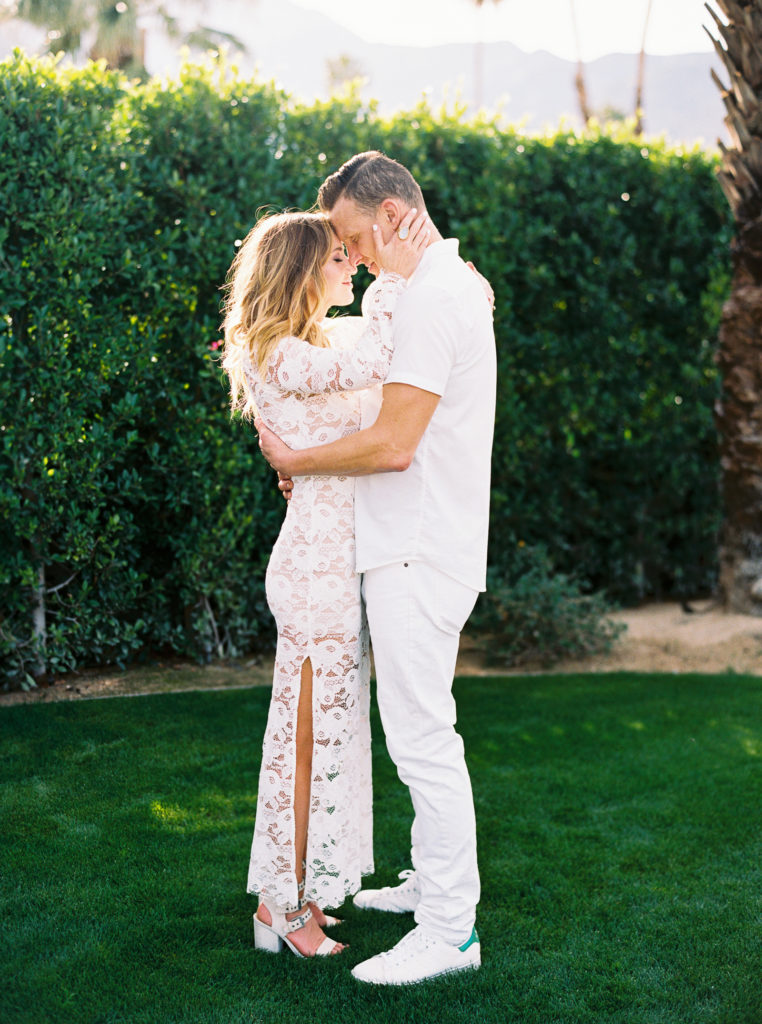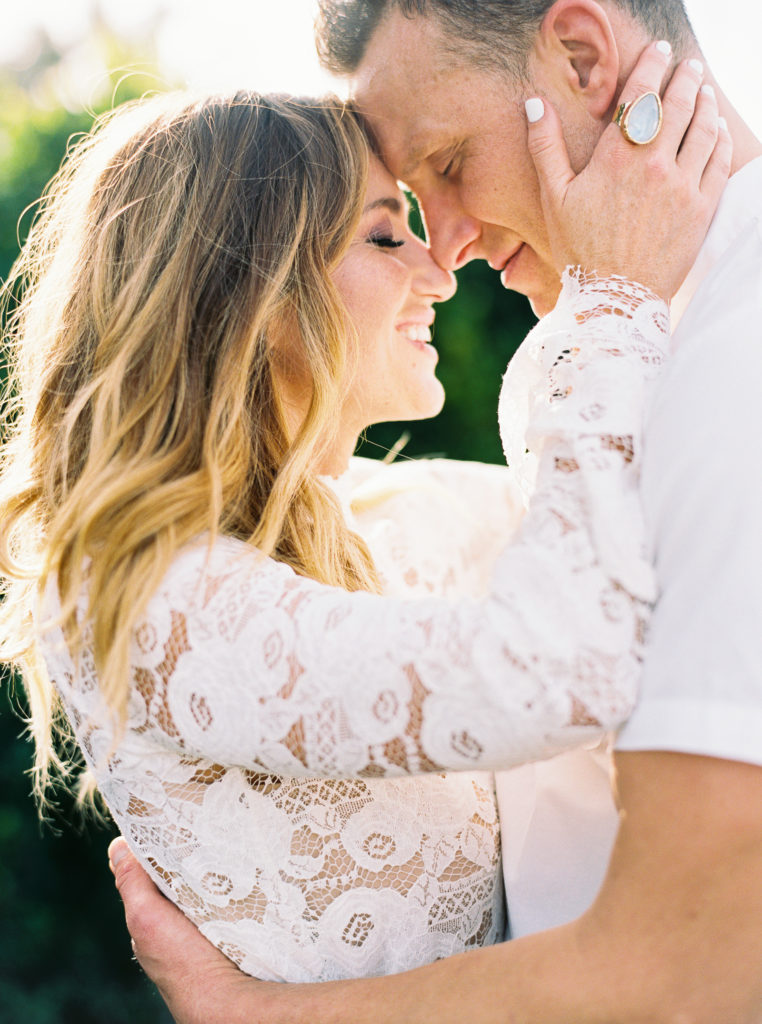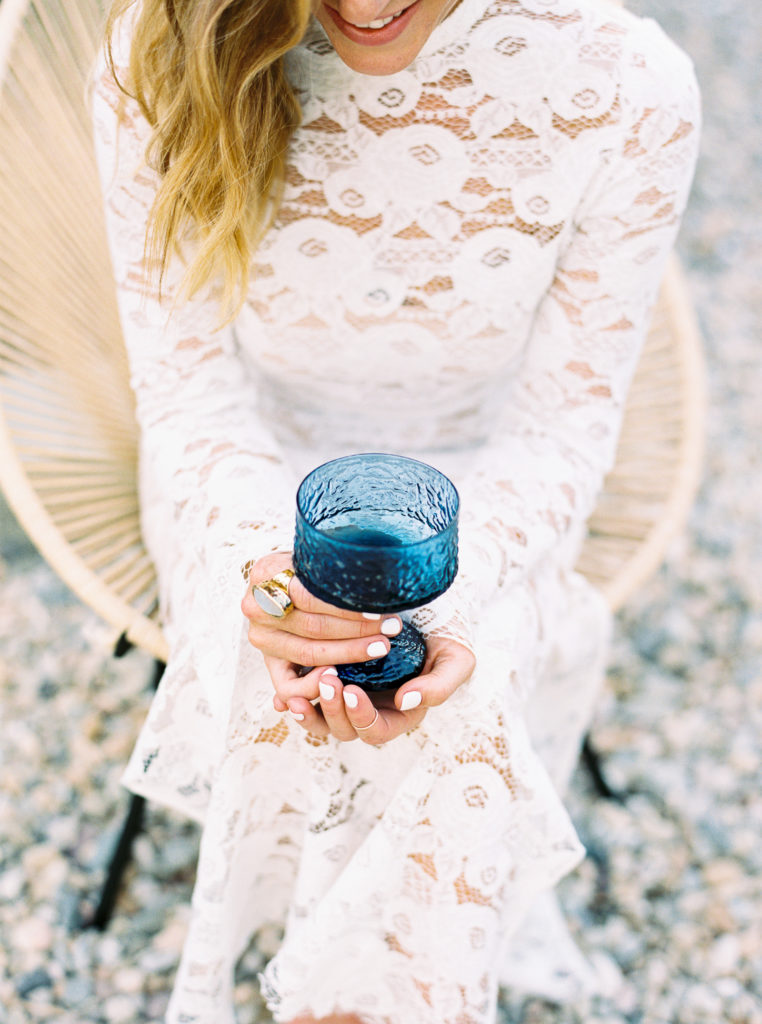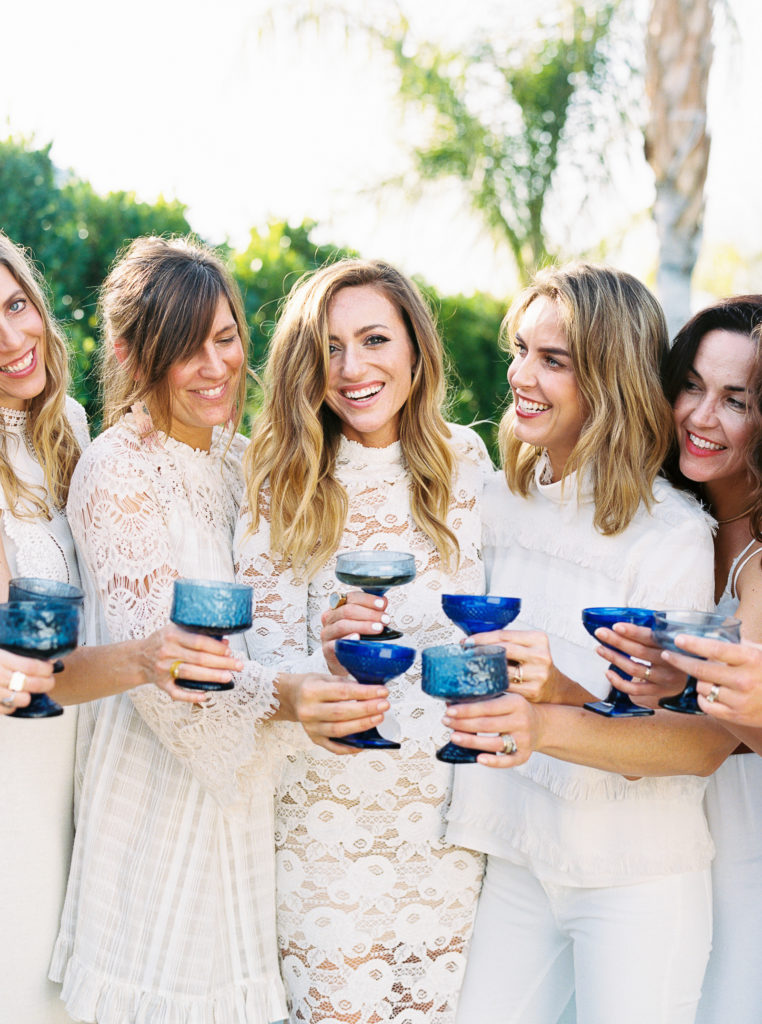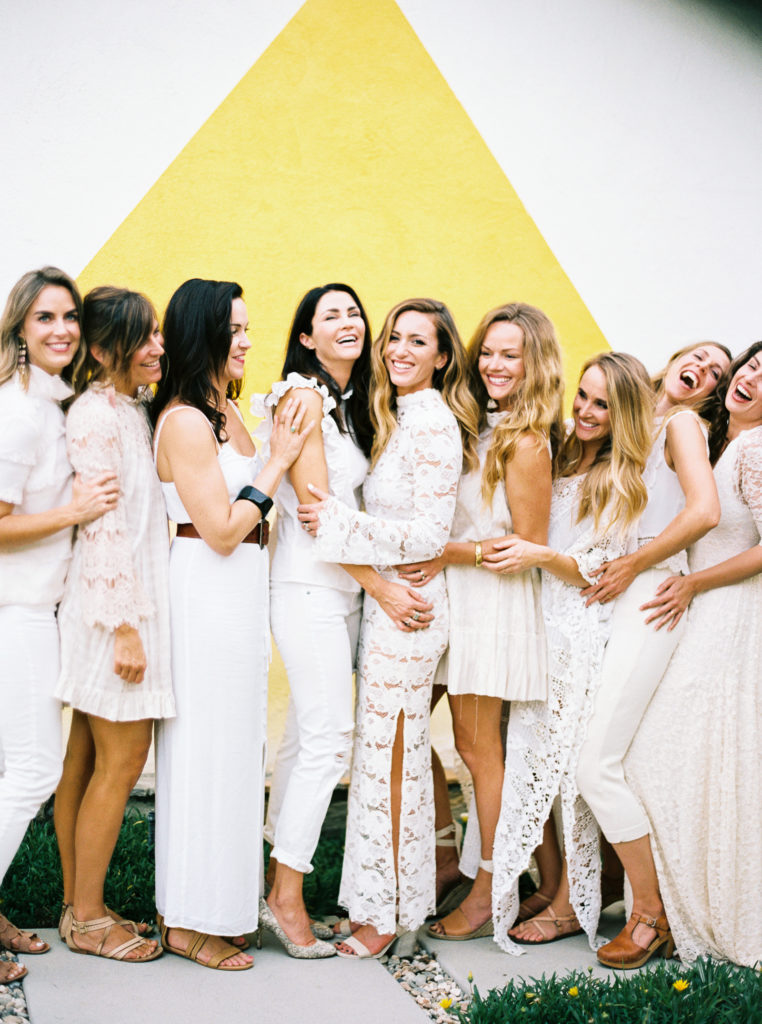 "We arrived that afternoon to see everything all set up beautifully, then got dressed up in shades of white and started the celebrations by popping the champagne and taking photos around the property with Jen, (that lady is truly as talented as she is sweet and she gave me the best birthday present a girl could ask for with all of these amazing tangible memories to keep) before heading out to the desert for sunset with some white smoke bombs that the boys had fun with. One of the highlights of the day was when we were chasing the setting sun and arrived at this spot in the desert covered in white windmills just as the light was glowing from behind the mountains and we just started walking towards that dreamy light! After sunset we headed home for dinner. Jaime from The Junipero recommended that I reach out to Stephen Lee for catering and he came up with the perfect asian-inspired menu for a warm Palm Springs night. We topped the night off with a delicious lemon cake from Beverly's Bakery for desert, and then jumped in the pool and stayed in there for hours. It really could not have been a more perfect way to start my new decade of life. A huge and heartfelt thanks to everyone involved – you managed to make turning 40 a positive thing and a whole lot of fun!"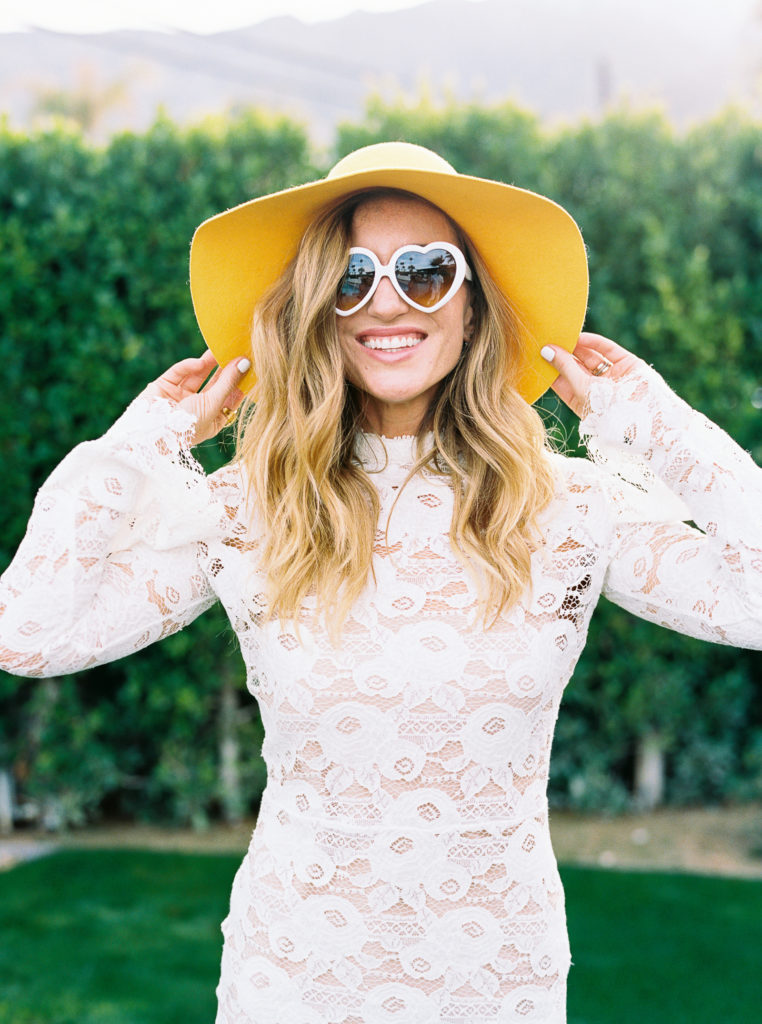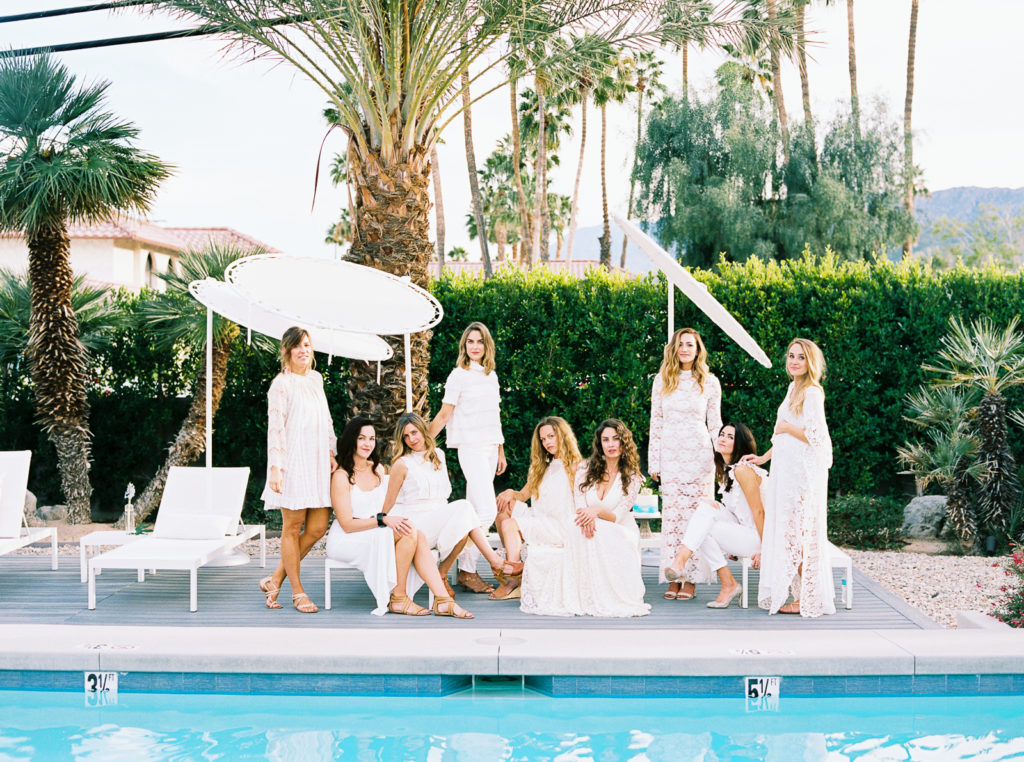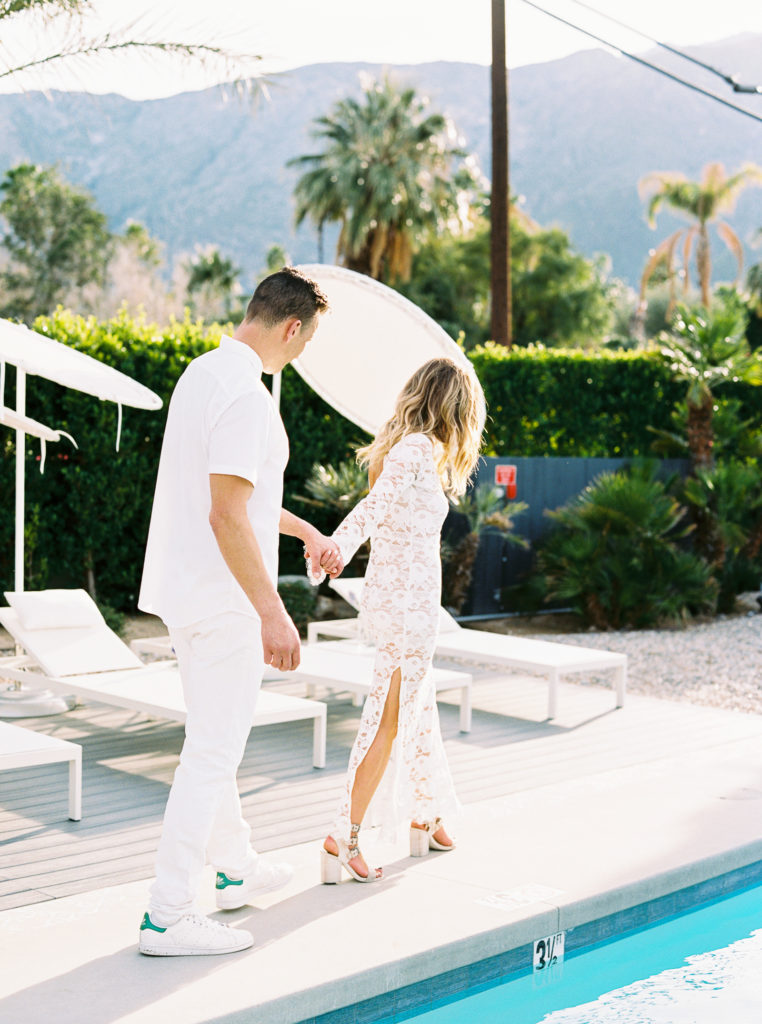 Carlie's beautiful dress is by Spell and her hair and makeup was by Kelly Jones Makeup & Hair…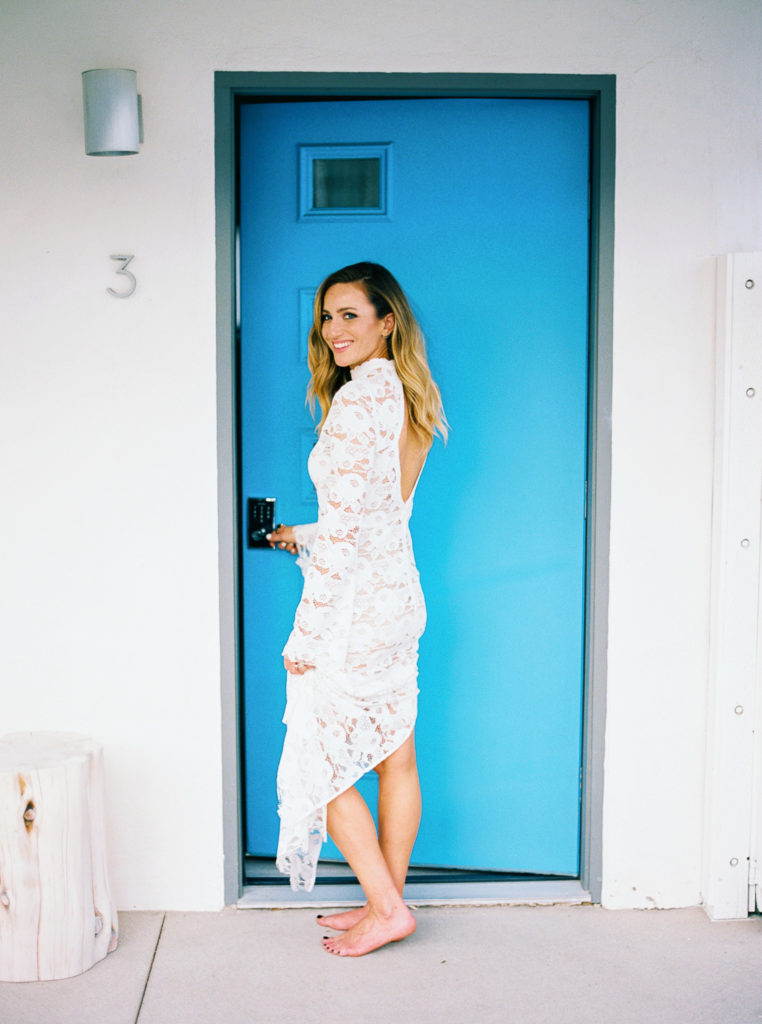 As Carlie said, this group took full advantage of their time and headed out for a sunset photo shoot at the windmills in Palm Desert… These shots are so amazing and such a great way to ring in your 40th year!!! Well played Mrs. Statsky!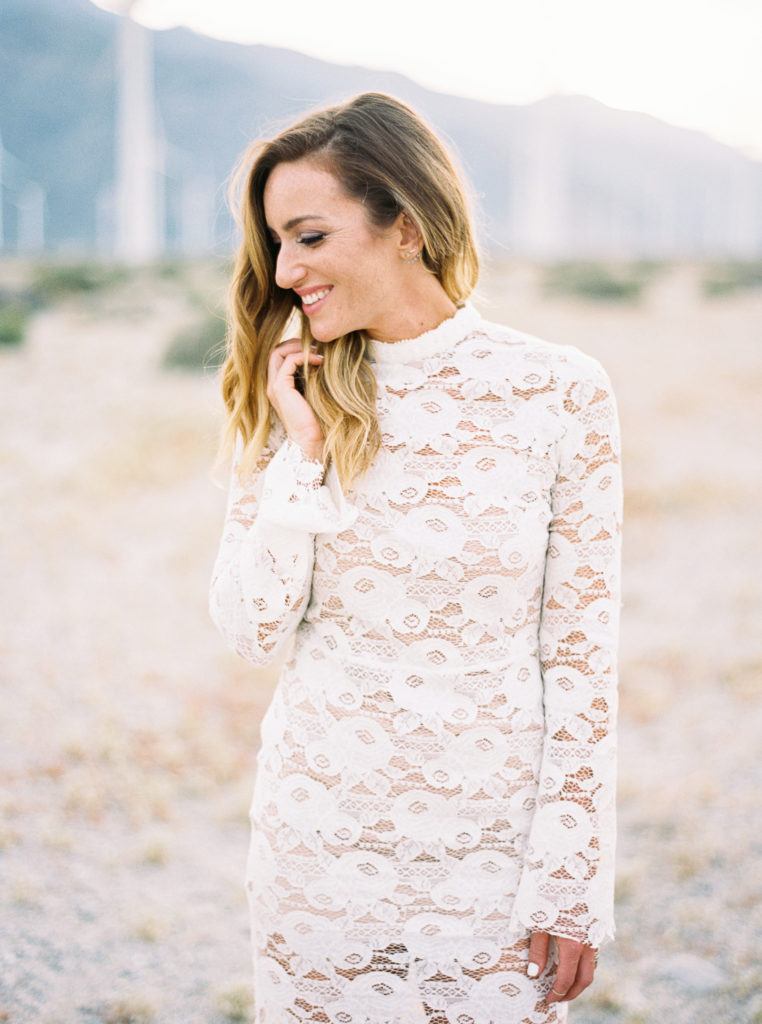 Doesn't get much better than that!!! Happy Birthday Carlie!!!
xx
Jacquelyn