Each wedding we get the privilege and honor to design holds a special place in our hearts. But when it's your younger sister, well that just takes the cake. You might remember Ally as one of our beijos brides, as she chatted it up with us about her year leading up to her big day with a few blog posts here and here. And let's not forget the tropical brunch shower I threw for her, here. But that special day that she had been looking forward to was truly a special one for the books.
My sister pretty much put all her trust into my hands. Her only request was to have pink glassware, and for the big day to be more of a party than a wedding. I mean let's be honest, she had been waiting for this day for well over ten years, and it had to be celebrated! I will have to say, it was pretty stressful designing and planning this "party," as I wanted to make sure it was the best day that she will ever have. When she walked down that aisle, she was seeing everything for the 1st time just like the guests. The smile on her face was all I needed to know that it was perfect, and it truly was.
This pretty in pink wedding is also being featured on Style Me Pretty today! See more goodness, here.
Photography by Yasmin Sarai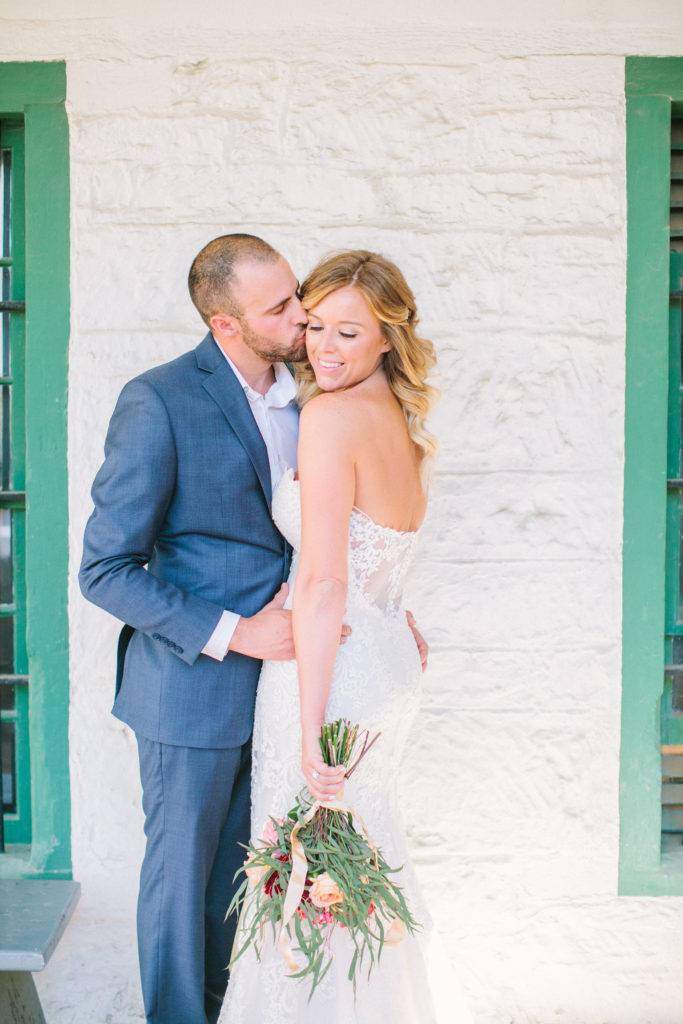 Monterey holds a special place in Ally and Jared's hearts. It was the beach town they would always go to on the weekends to escape from their hectic work weeks in San Jose. Their little peace of heaven. Ally and I knew the wedding had to be in Monterey, we just needed to find that perfect place. We first found Memory Garden while getting lunch at Portola Hotel, and stumbled upon this quiet and hidden gem. From the outside, you would never know the beauty that was behind those walls unless you walked in. It is truly a secret garden. She immediately fell in love, and that was it. Abby, you work out the rest of the details to make this happen here, she said. And so I did.
The day had finally come! Ally and Jared had an intimate wedding party, just siblings and the cutest flowers girls and ring bearers that I have ever seen. Ok, I'm biased..having two of them be my littles, Dylan and Jett, and Cohen and Morgan, my adorable niece and nephew.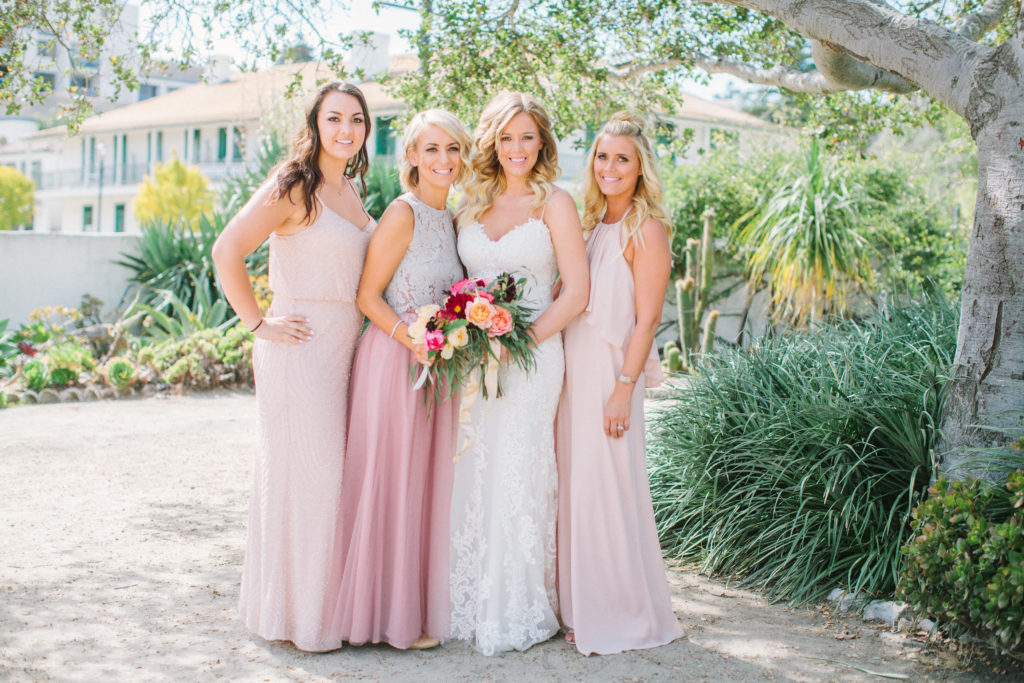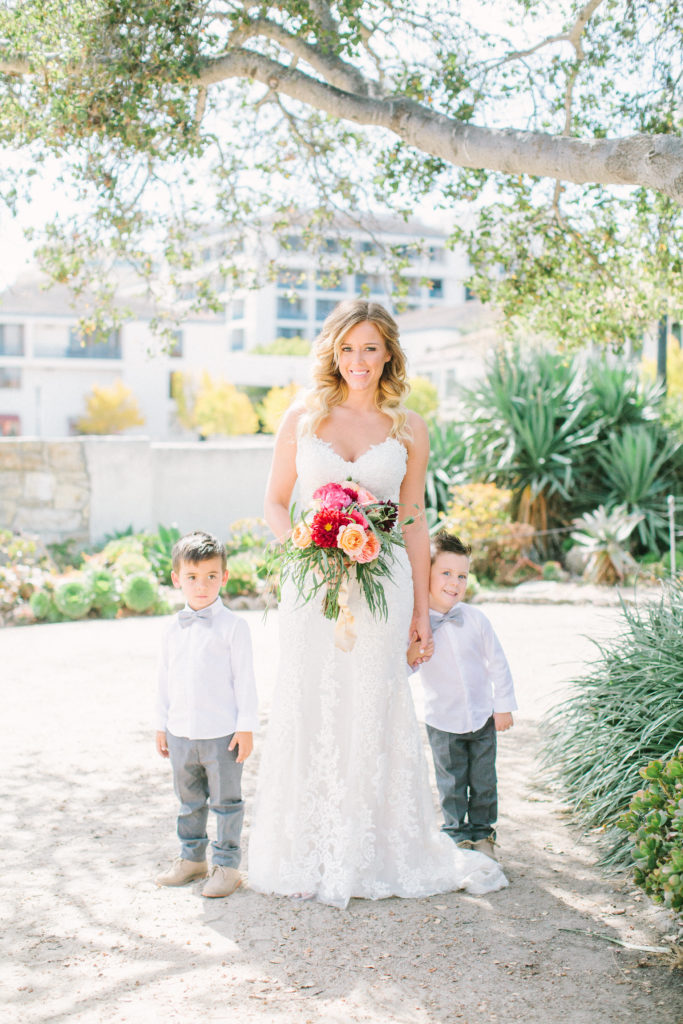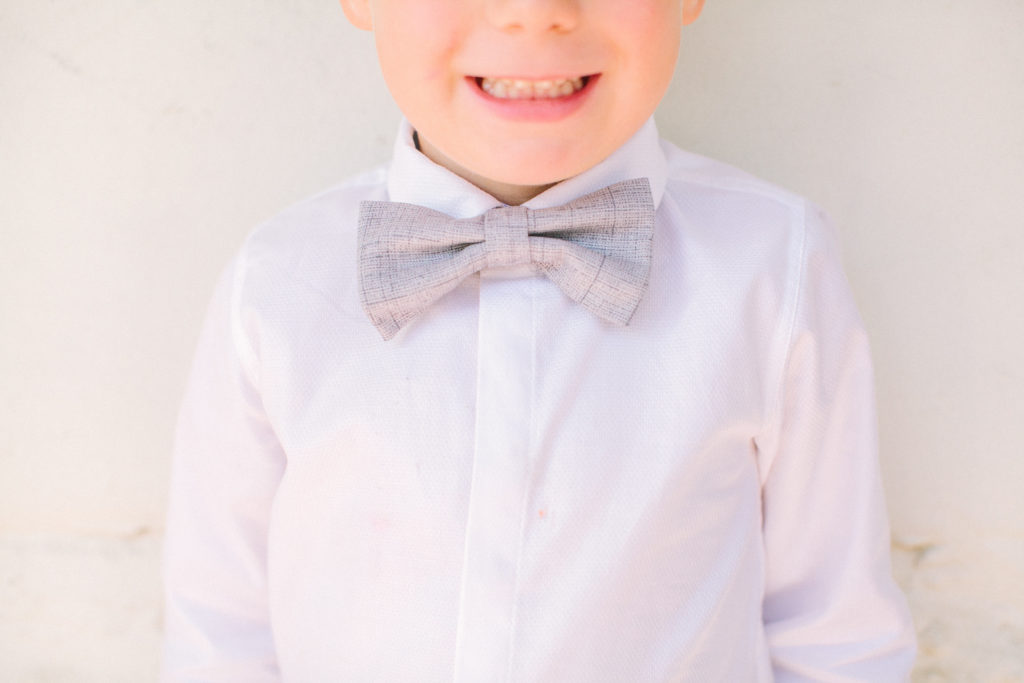 I mean, how cute is that?!?
For the ceremony, Wild Child Flowers created an amazing floral greenery cacti backdrop which flowed up the stairs to where Ally and Jared would say I do. The ceremony was very non-traditional, it was all about Ally + Jared and to celebrate becoming one. Ally wanted the element of surprise and didn't want the 1st look. She wanted to let everyone see Jared's reaction to her walking down the aisle. All the readings were not out of the Bible, or a particular traditional wedding poem, or even a typical song lyric. They were rap song lyrics from 2pac and Biggie Smalls which somehow totally made sense while they were being read out loud. The officiant was our cousin who married my husband and I back in 2010. It's pretty special you can say family married you.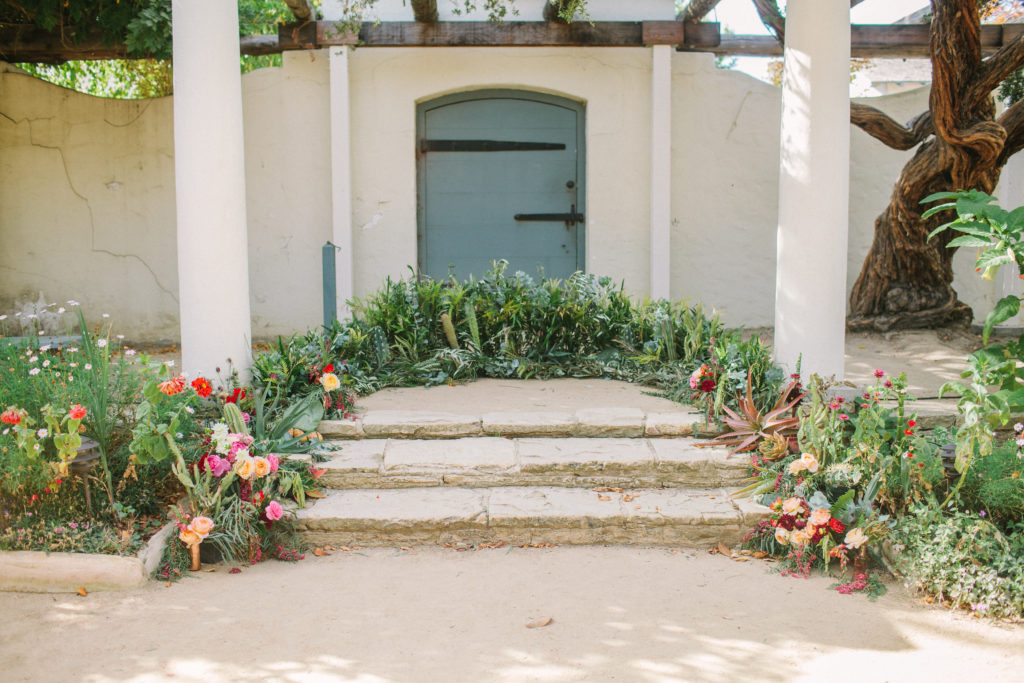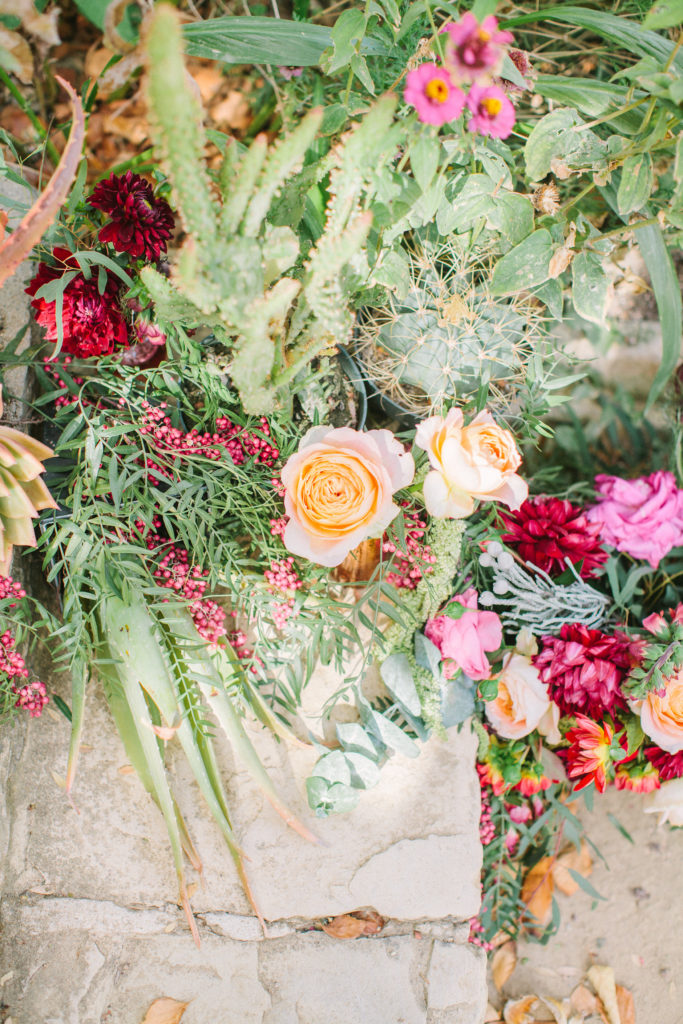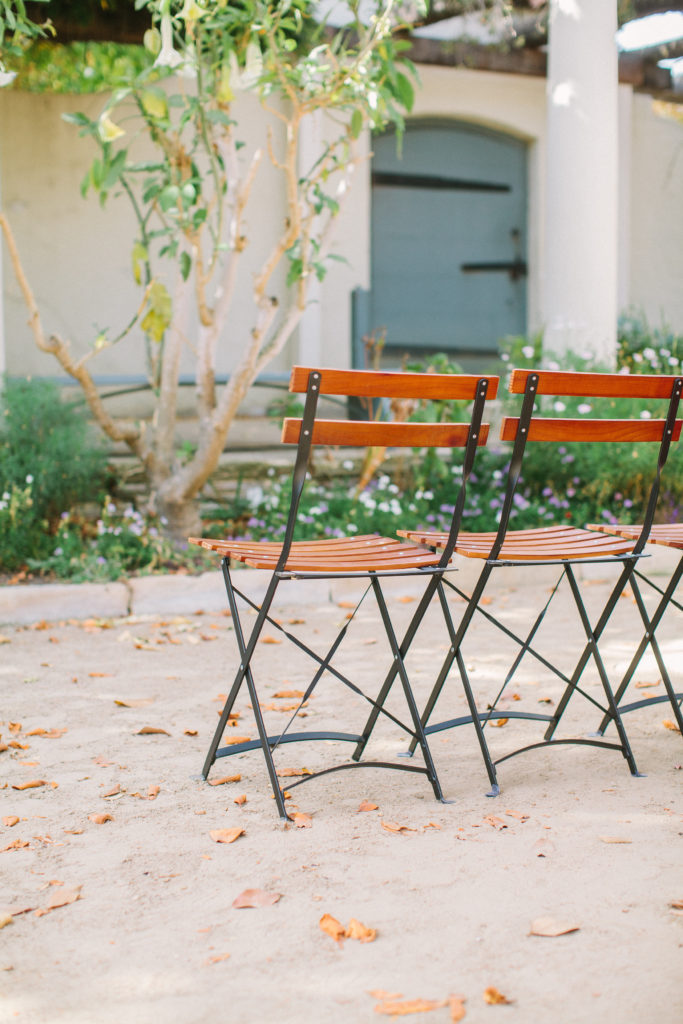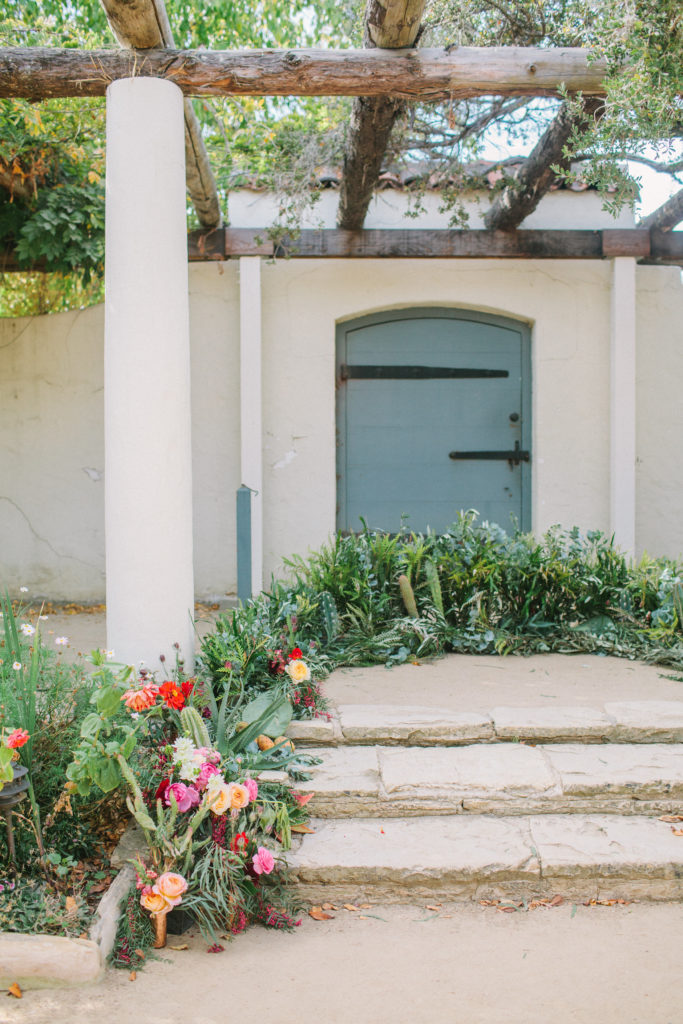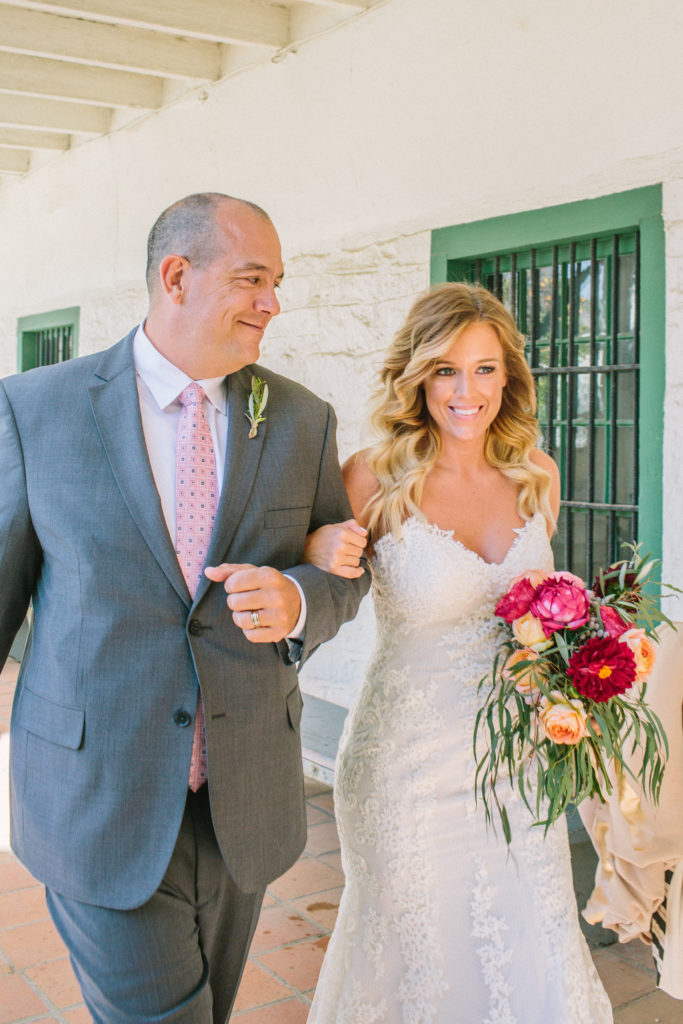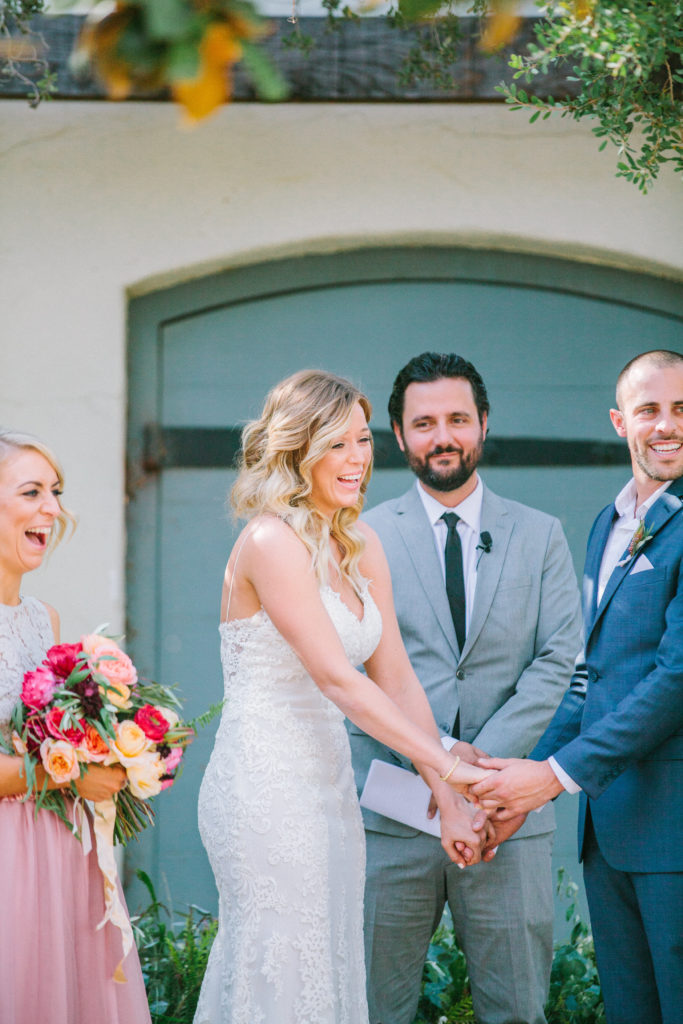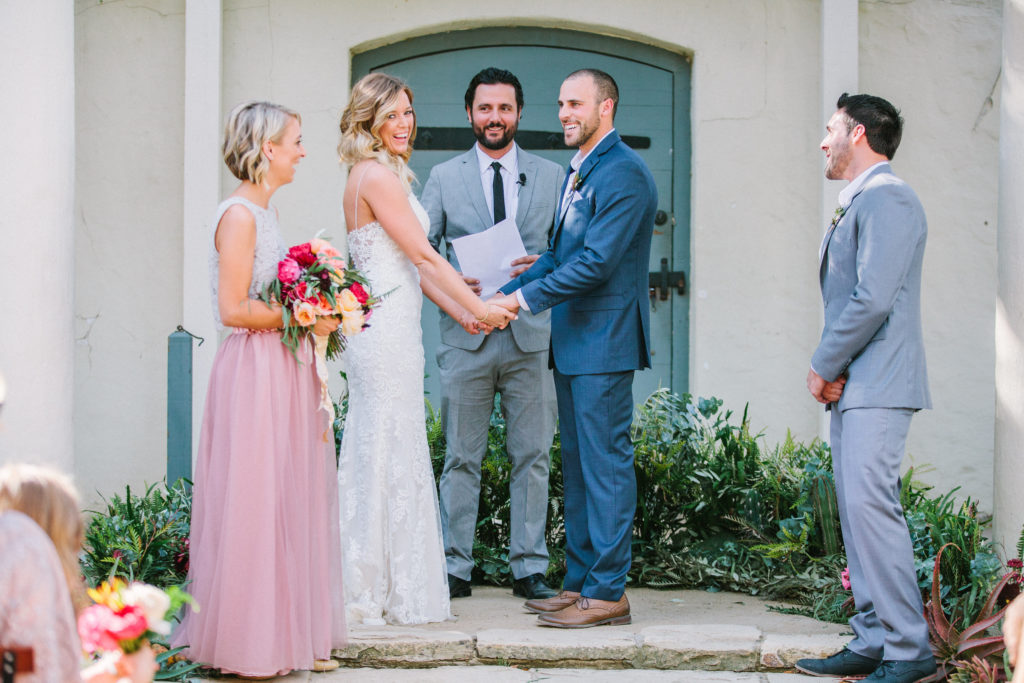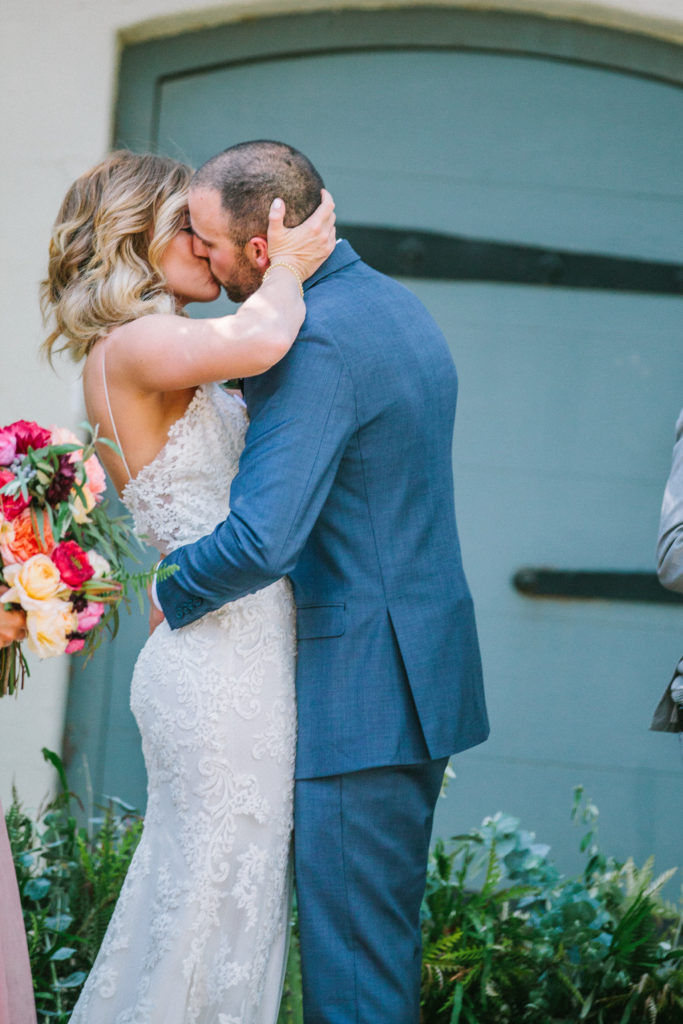 Yess! We are married!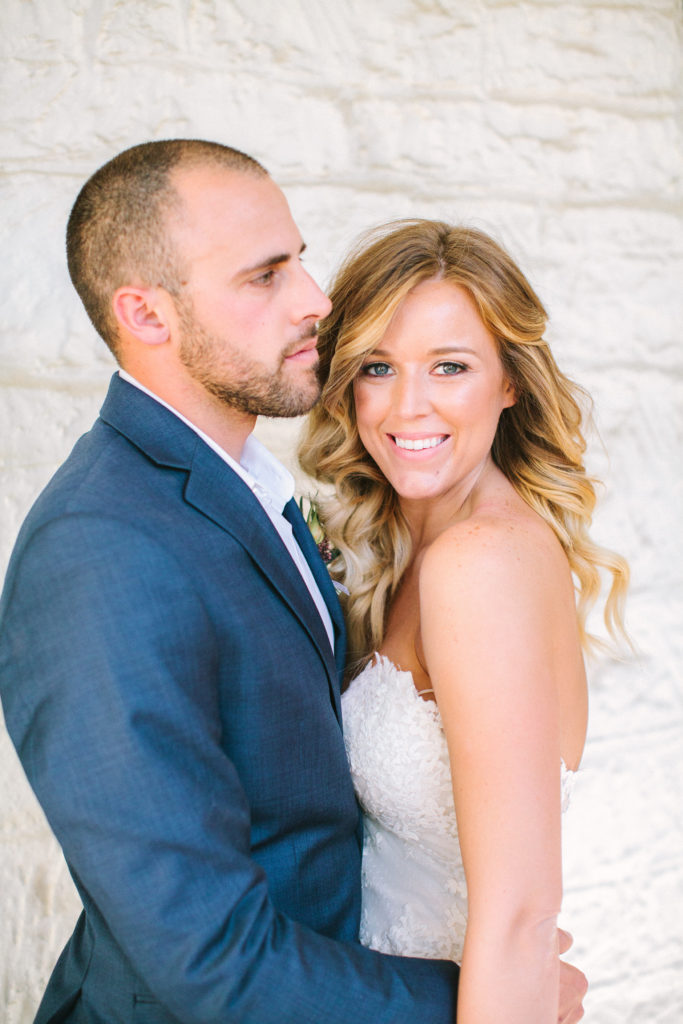 Here are some more florals from Wild Child Flowers… Details of Ally's bouquet, corsages and the sweetest little headpieces for the flower girls.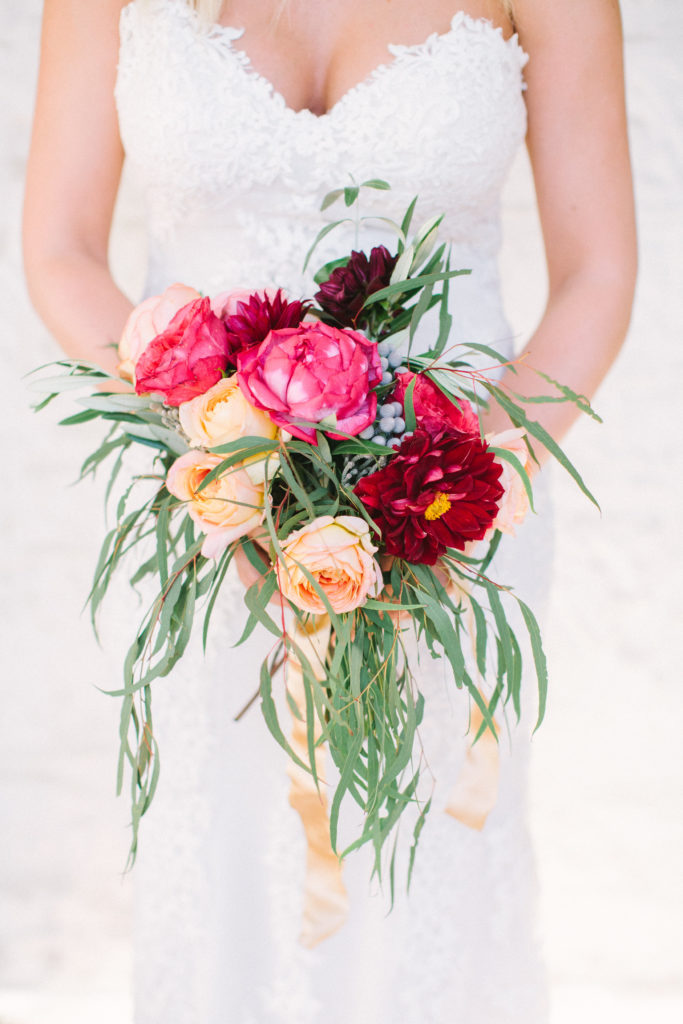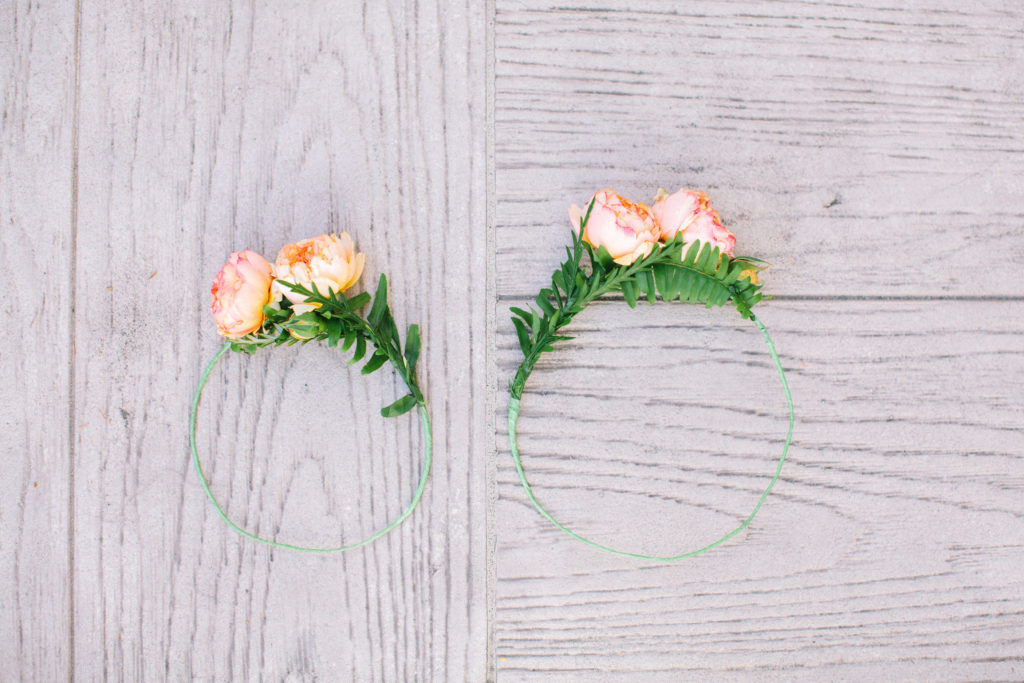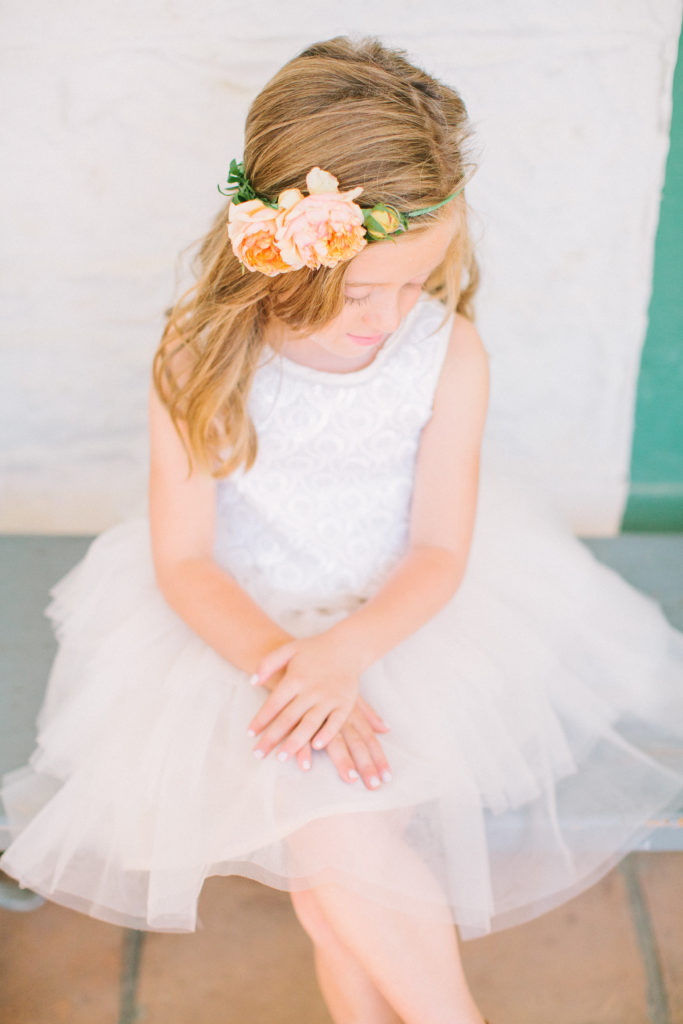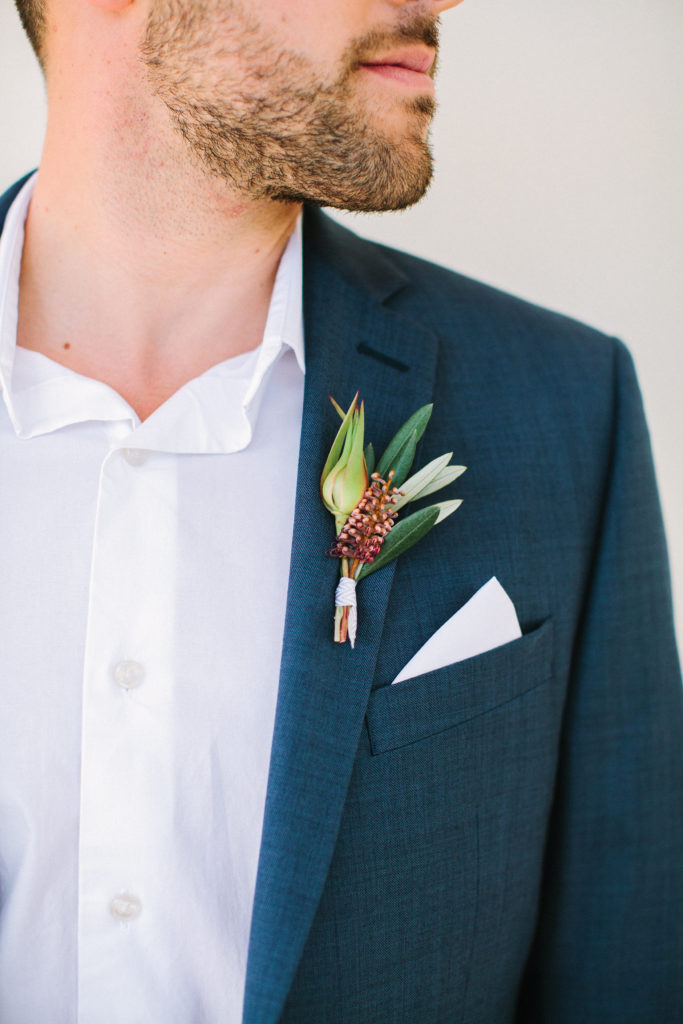 Now for the cocktail hour. My dad built this bar for my sister as part of her wedding gift. Pretty handy dad if I do say so myself! Guests sipped on One Hope Wine, beer, and signature cocktails that were the bride and groom's favorite drinks. Fun wooden signage by Meghann Miniello and florals to complete this pretty bar scene.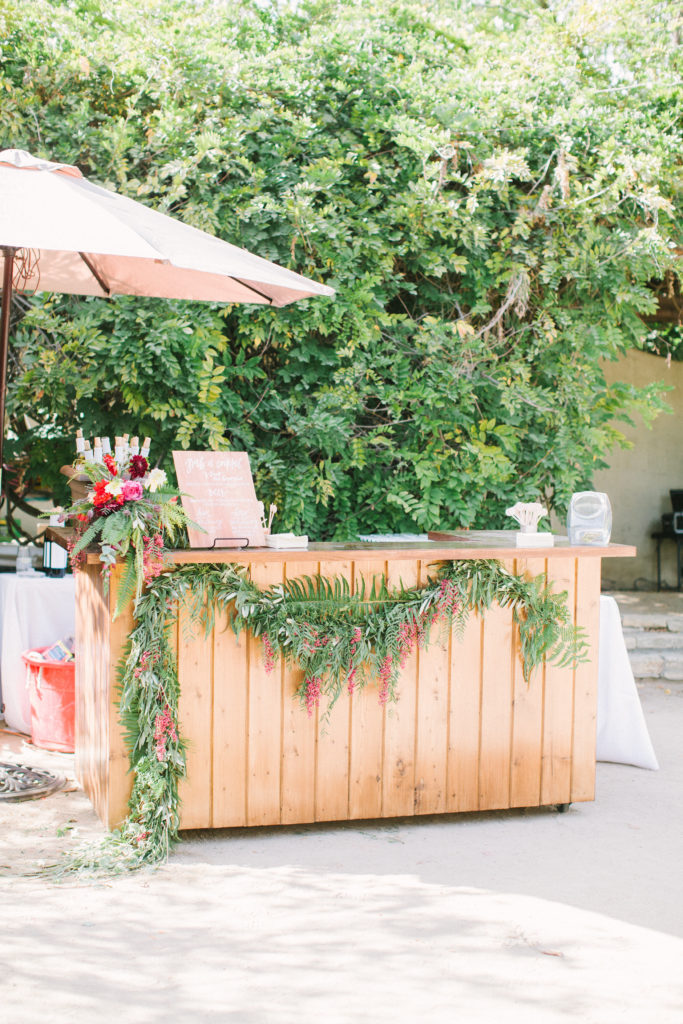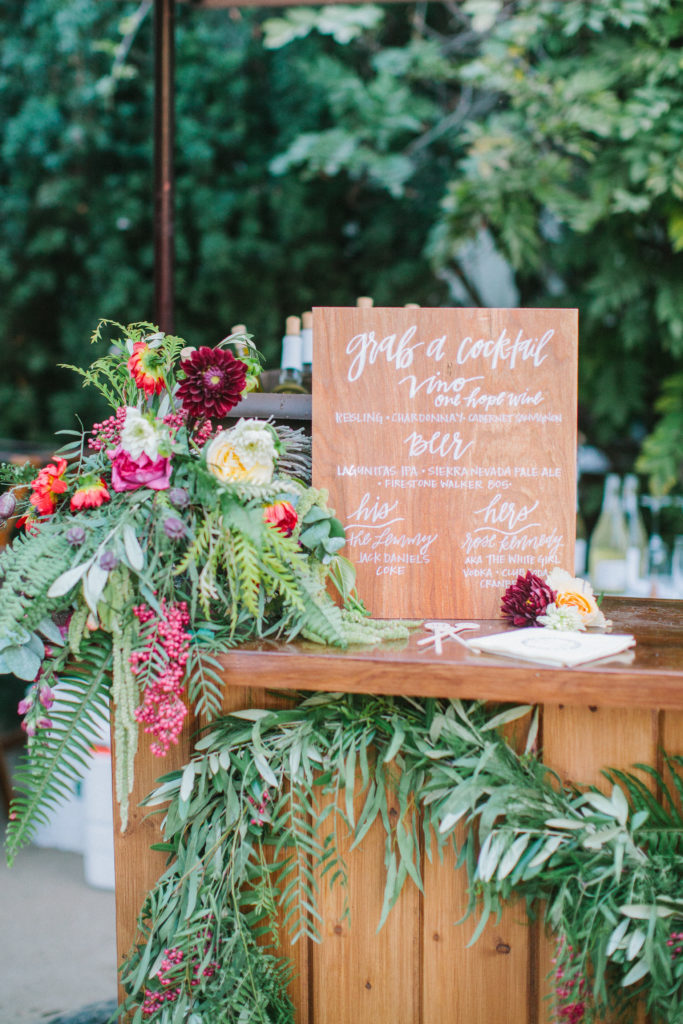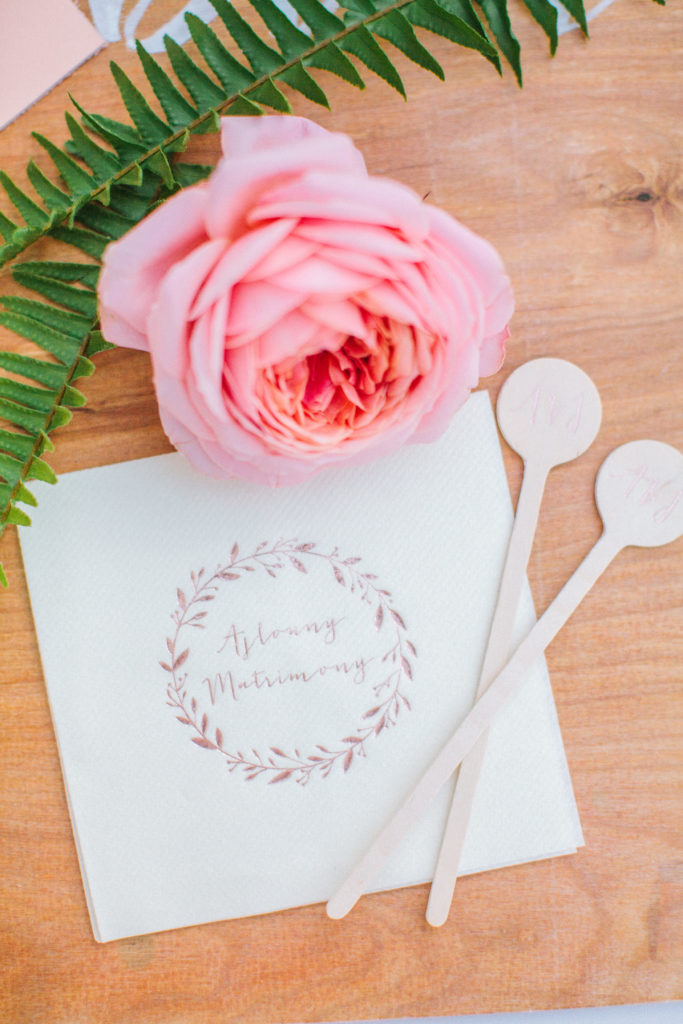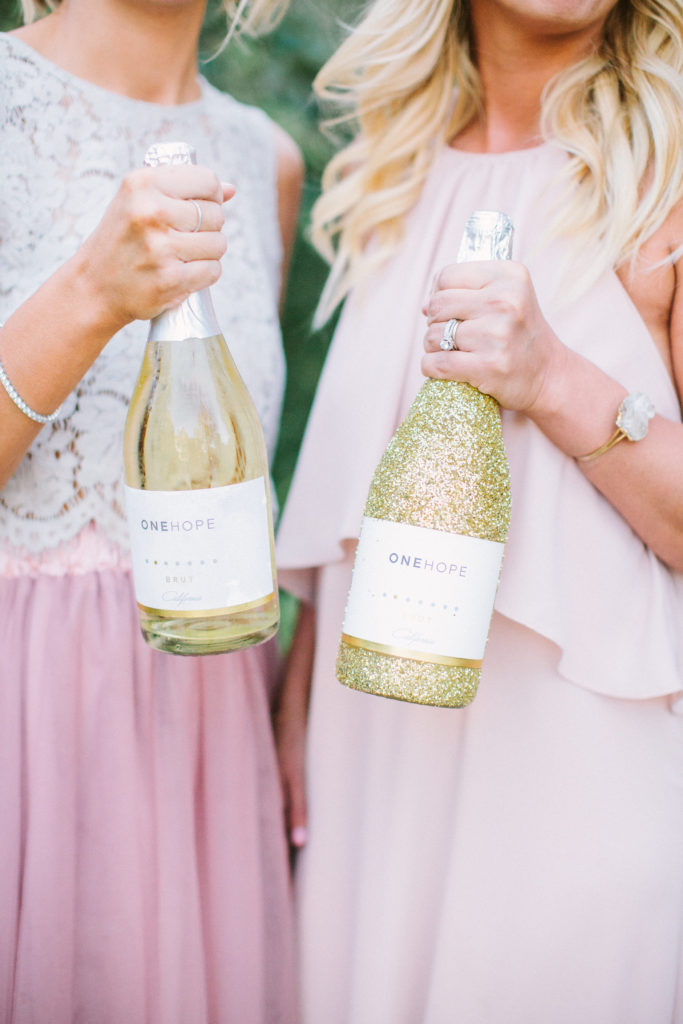 Now onto the reception…To find your place, Meghann Miniello created a wooden sign that was adorned with greenery. How fun is that sign?!?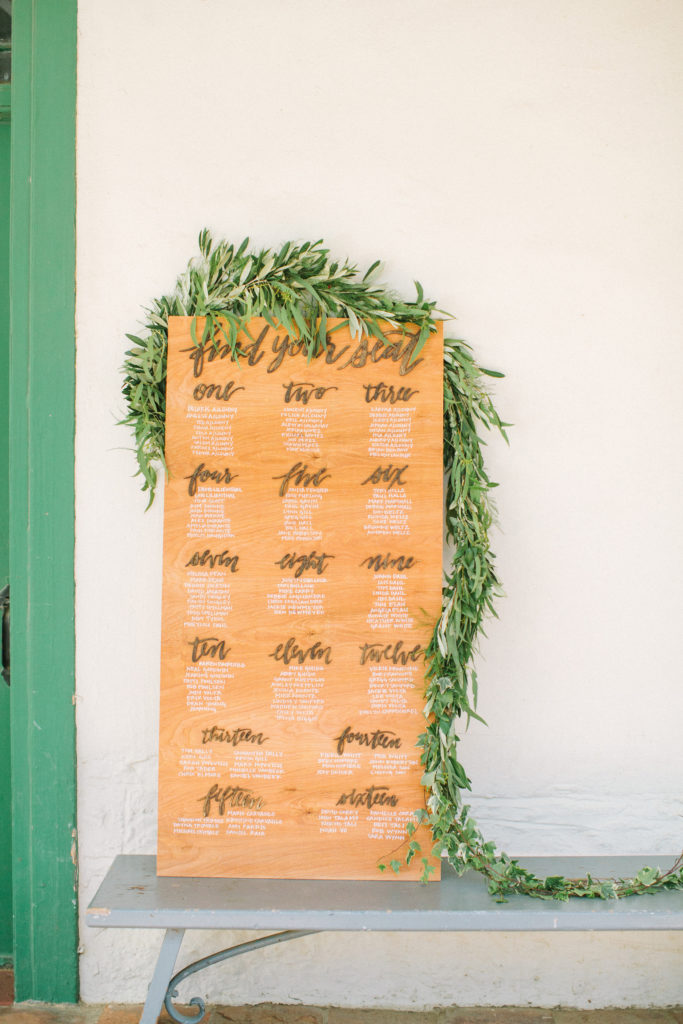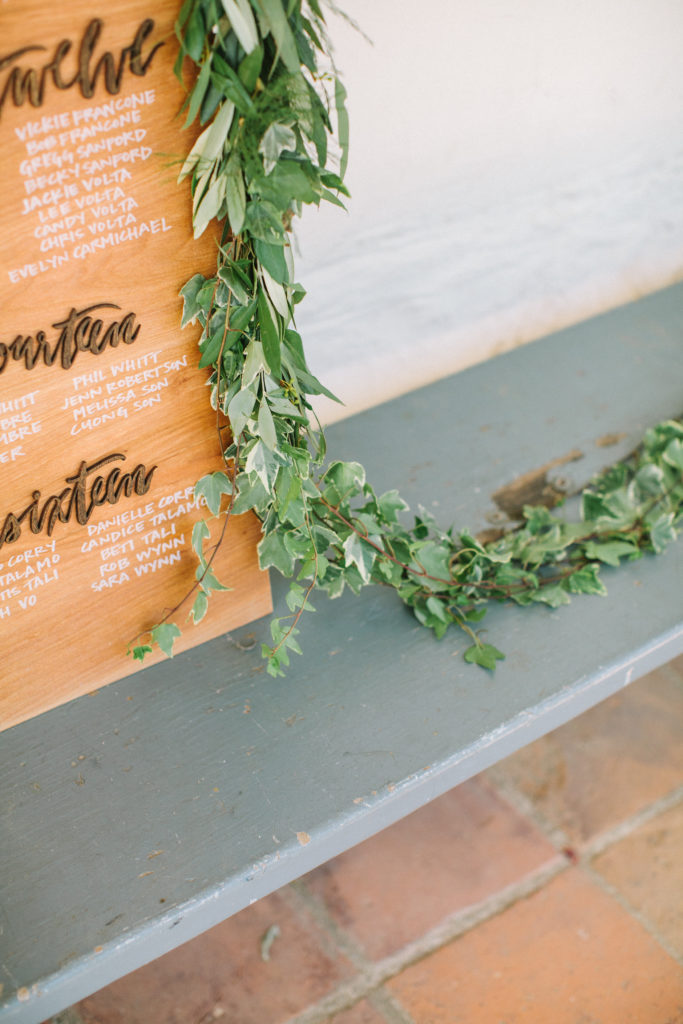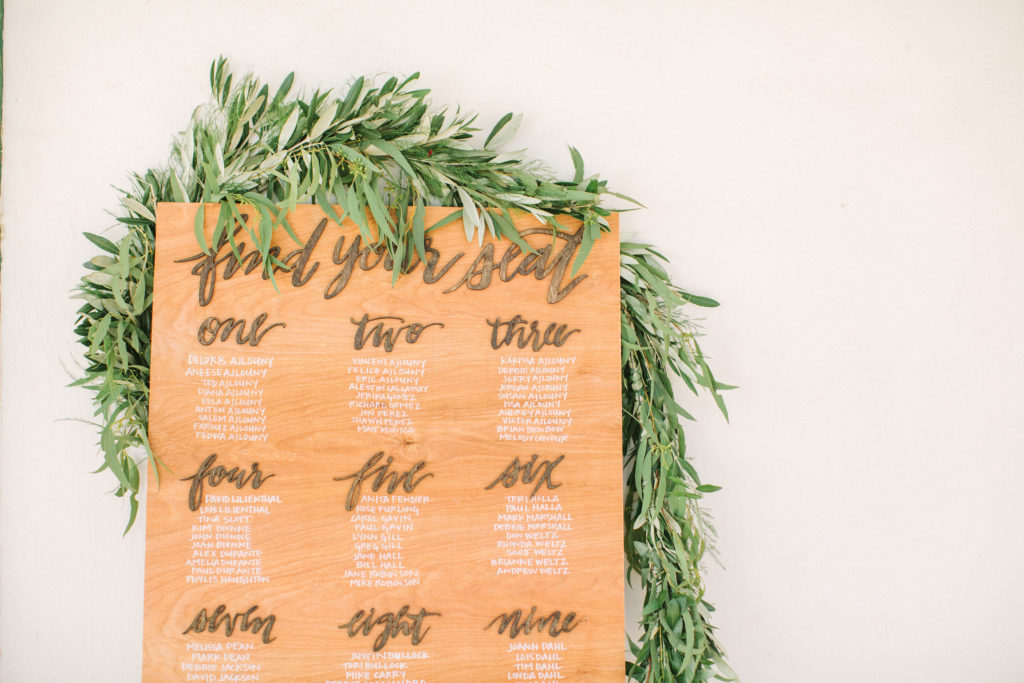 We kept things pretty simple and classic and added a pop of color with that pink glassware that was the only request from my sister. We had long wooden farm tables that were placed among the breathtaking garden. The table setting consisted of rose gold flatware, vintage pink glassware from Danny Thomas, and blush leather name cards done by Meghann Miniello. She also created wooden laser cut table numbers that were placed among the bright hues of pinks and corals flowers.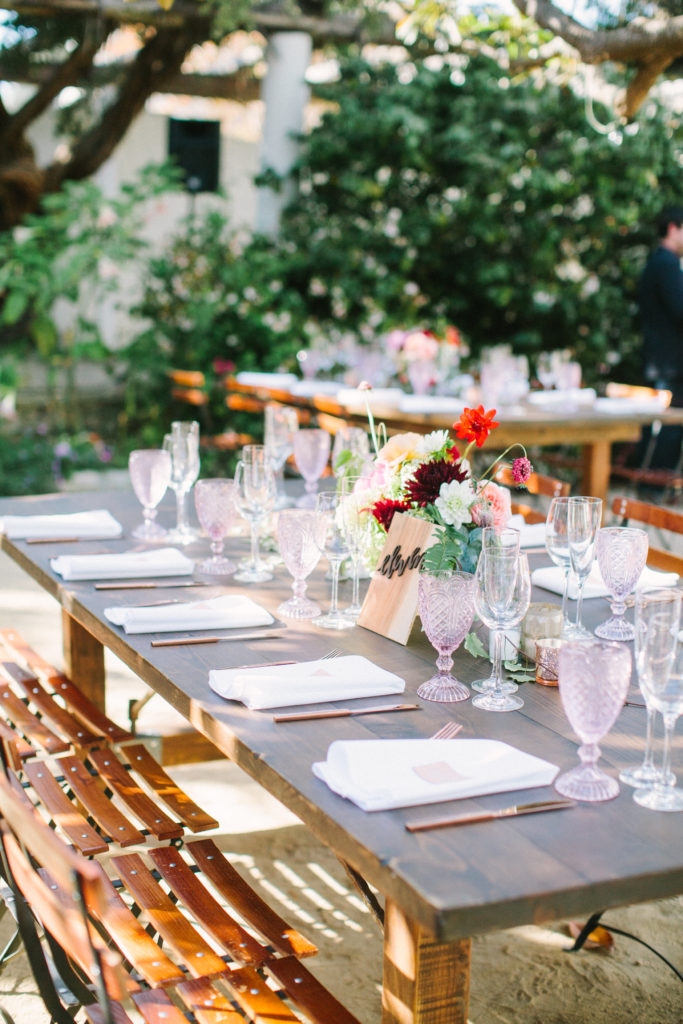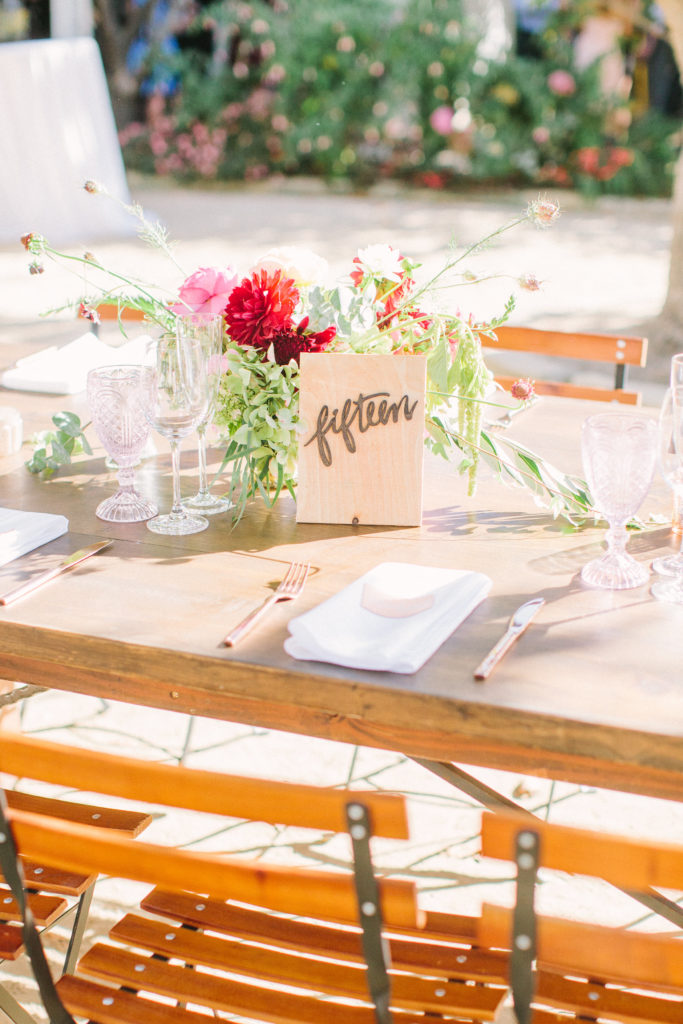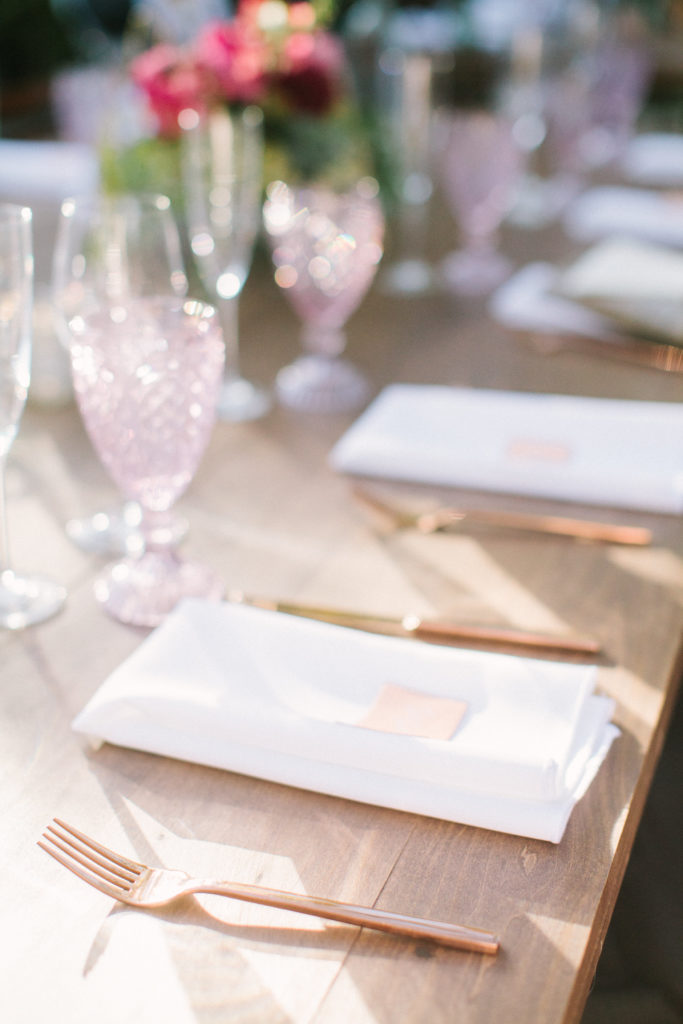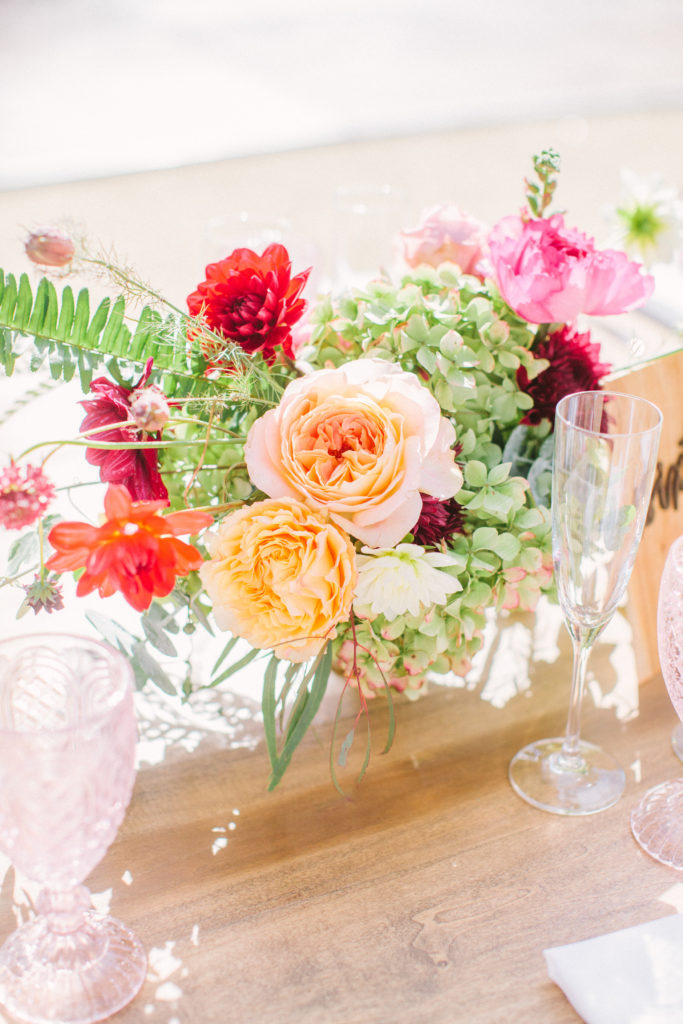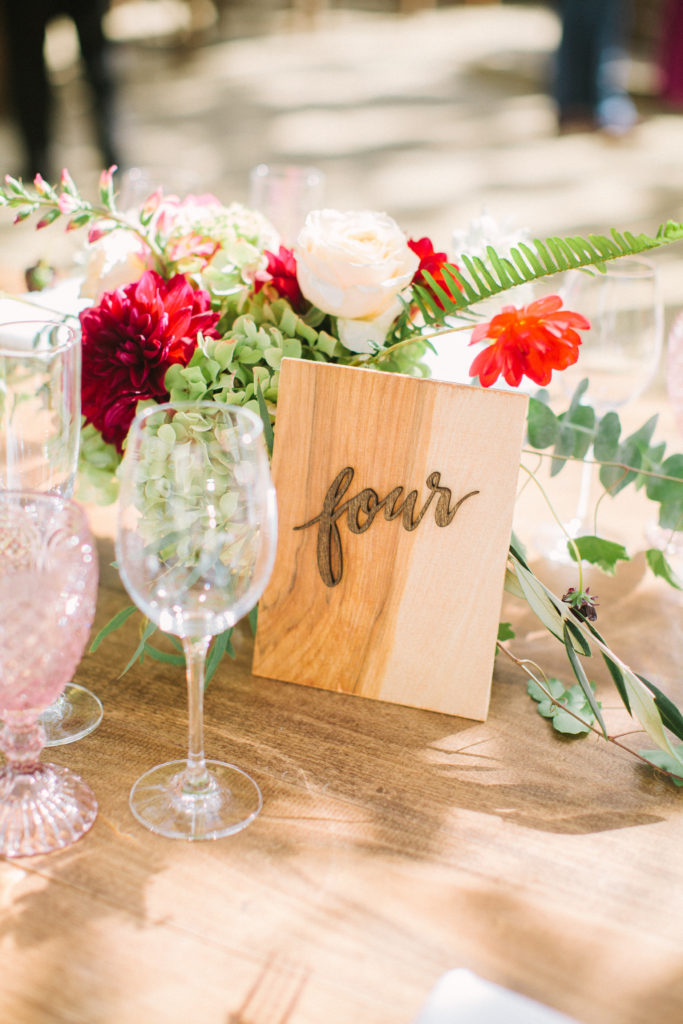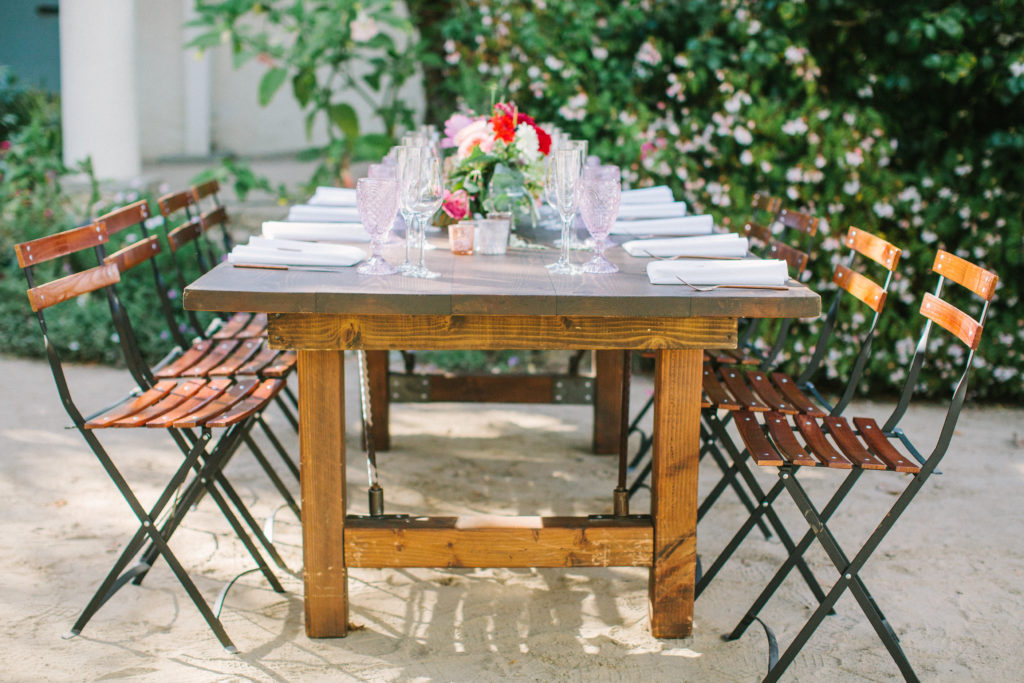 Ally and Jared's sweetheart table was very similar to the guest's tables except for a couple little-added details. Wooden chargers for the bride and groom with a little love note to each other.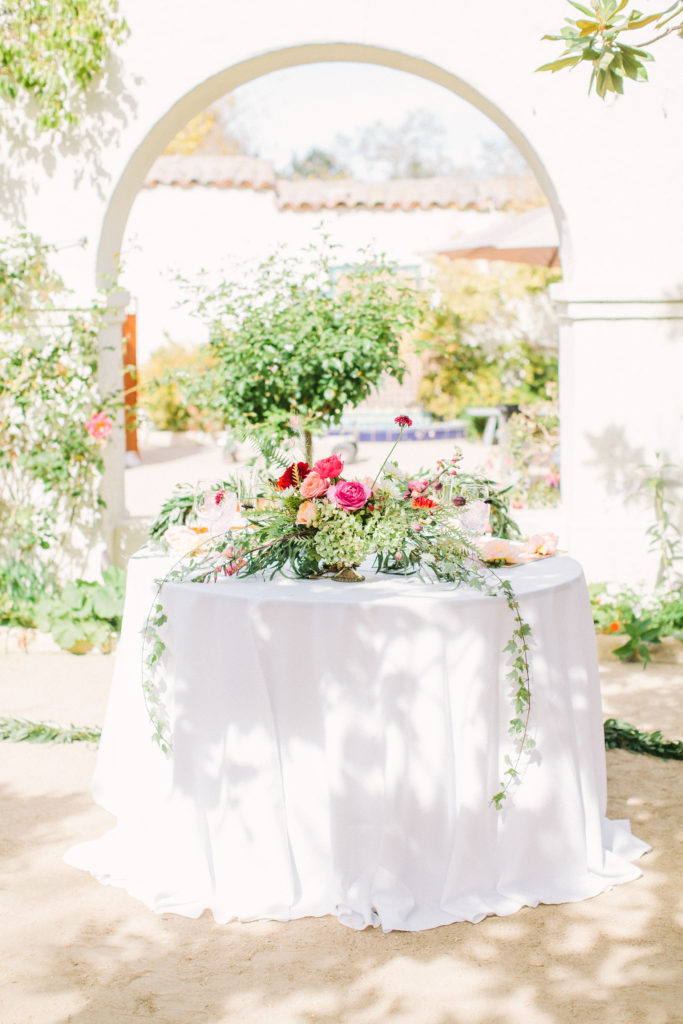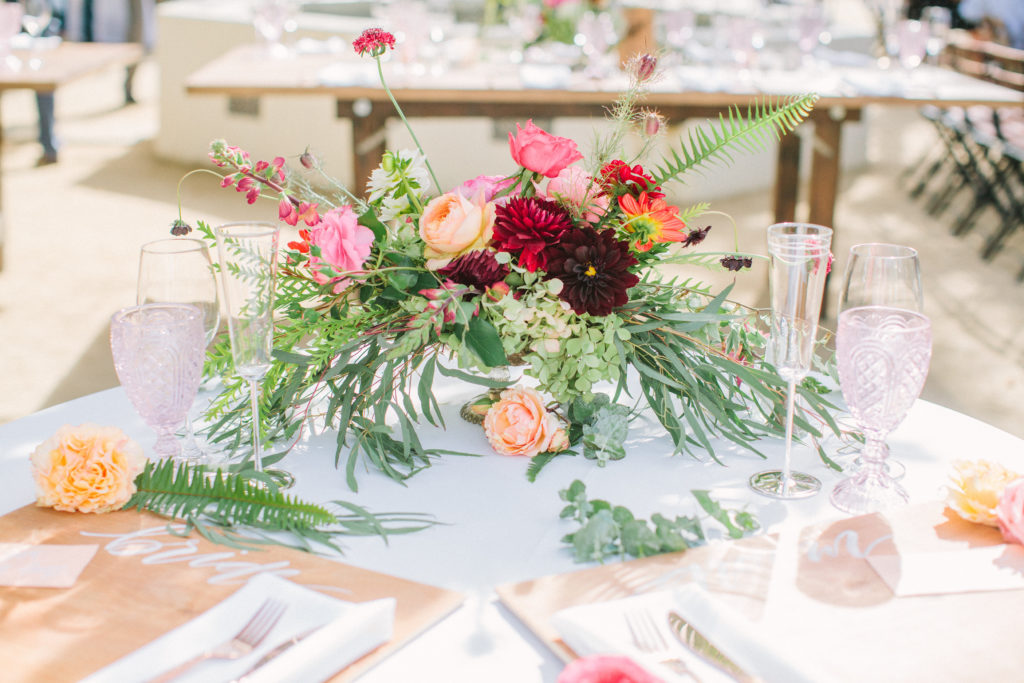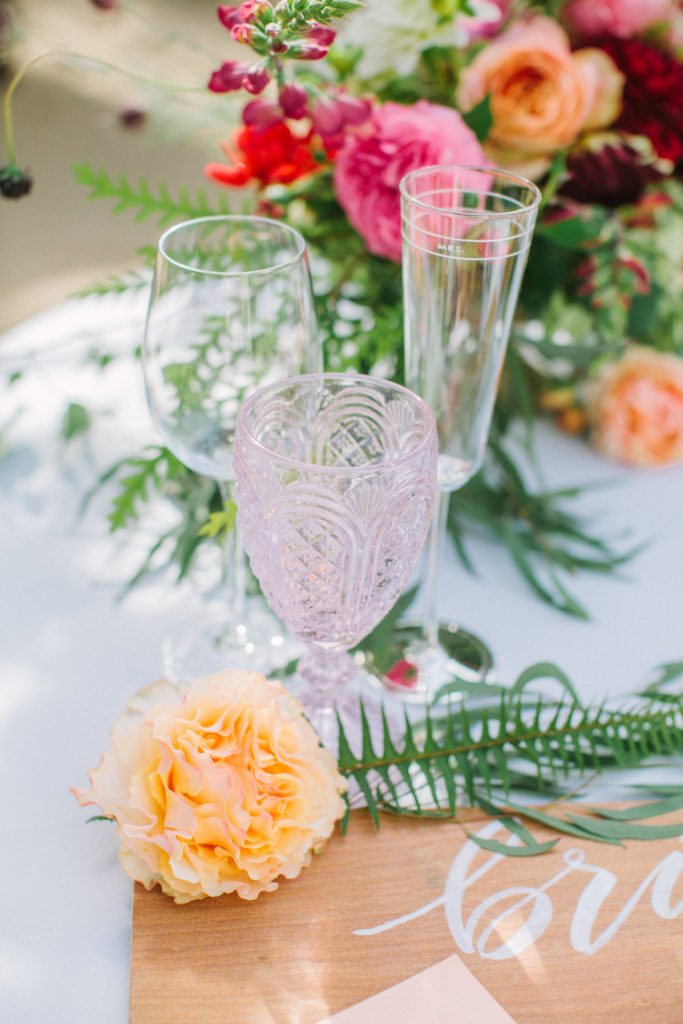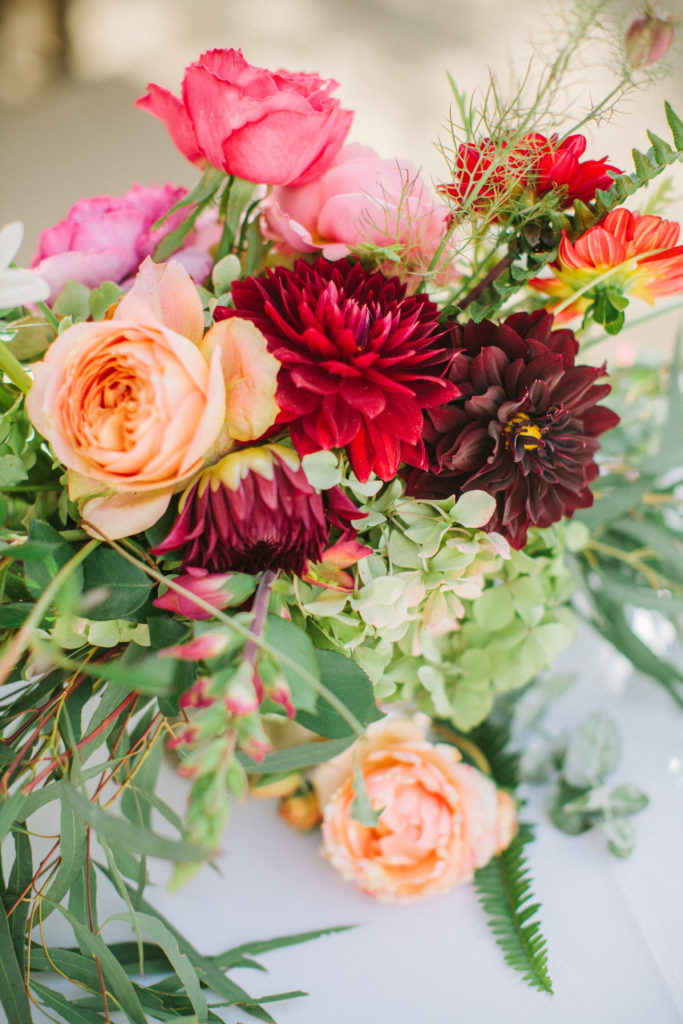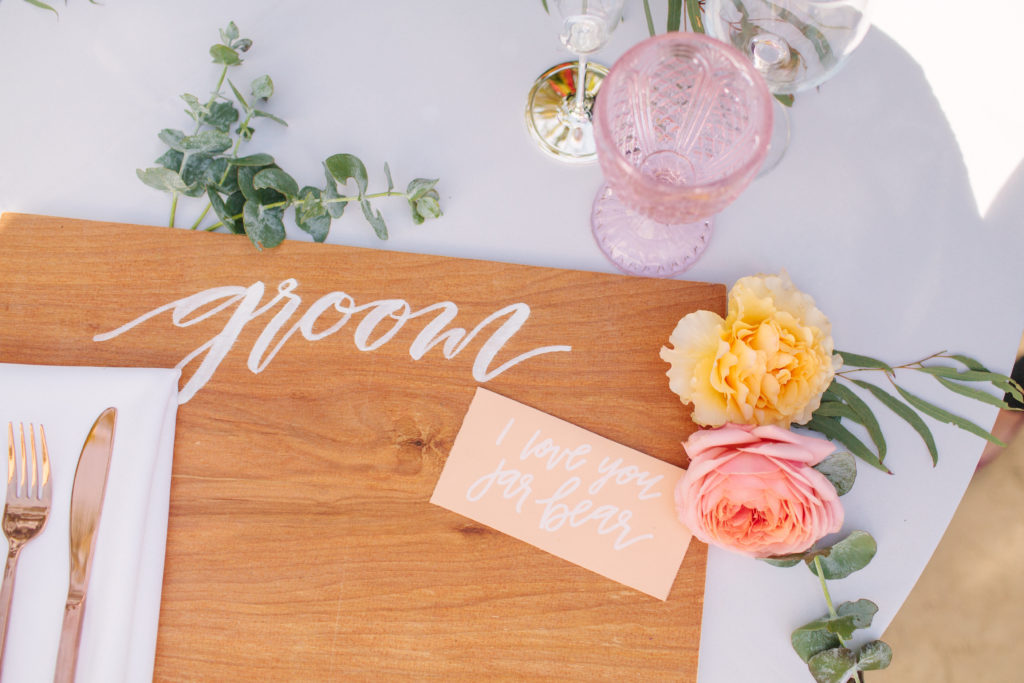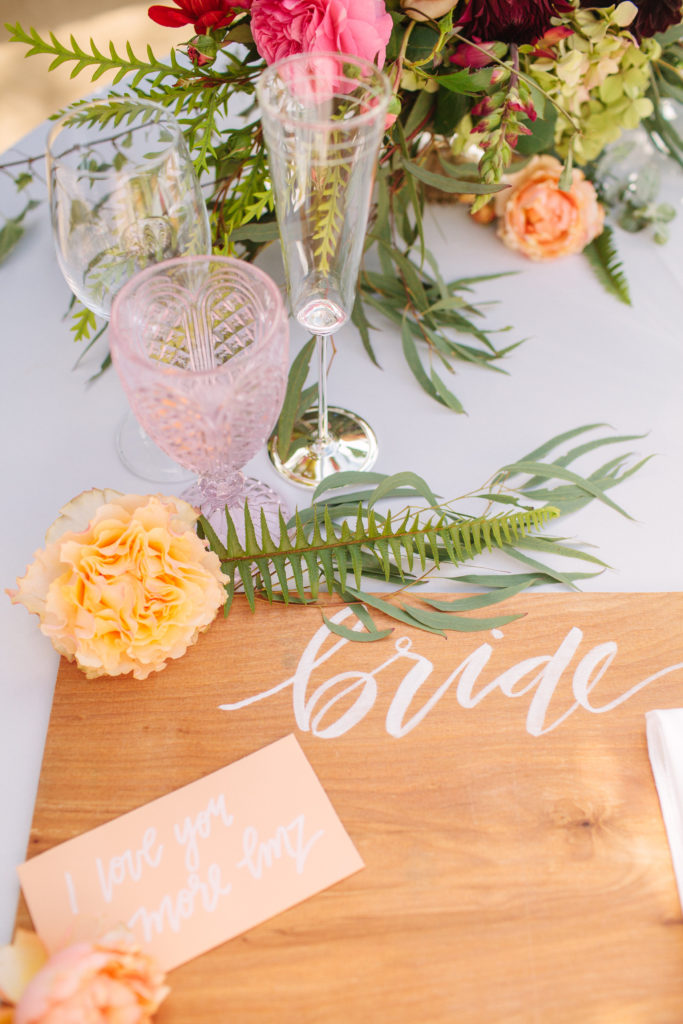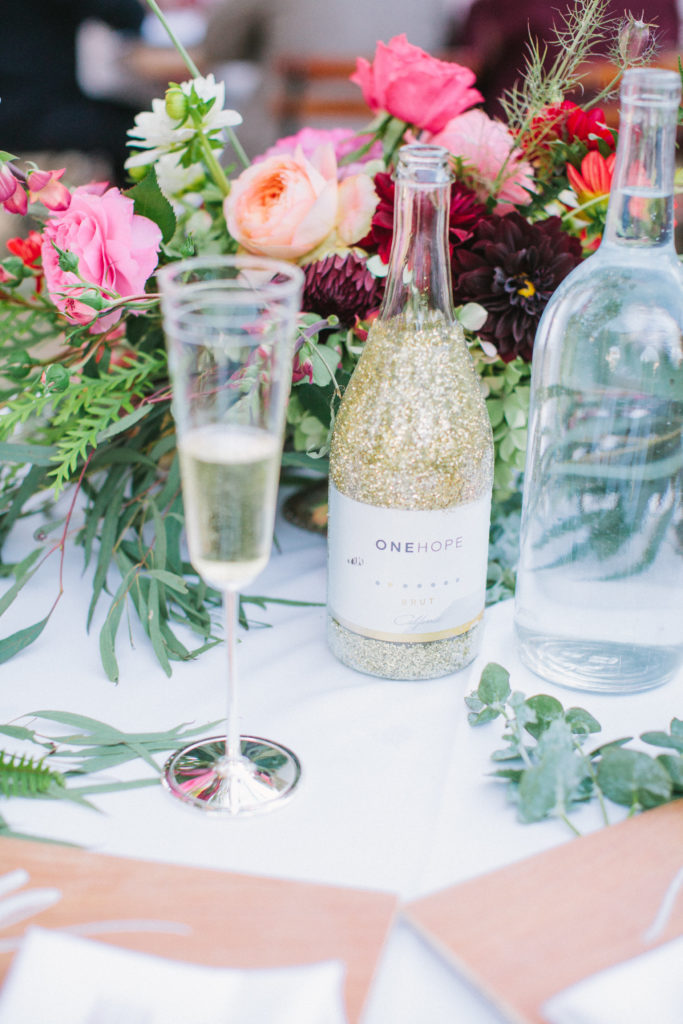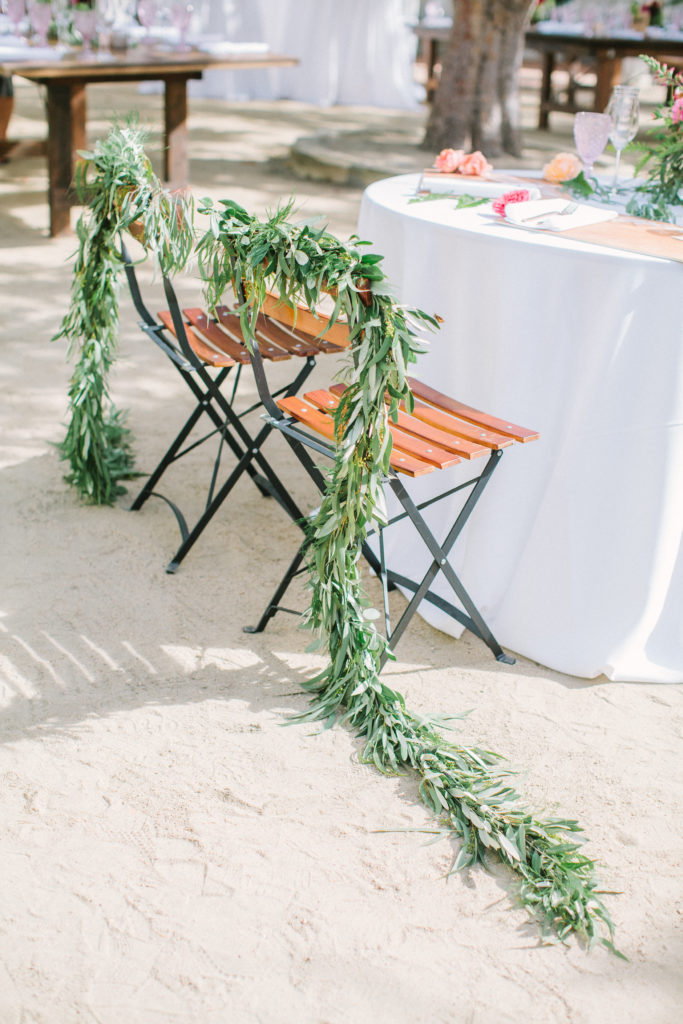 How pretty is this place when the sun goes down?!?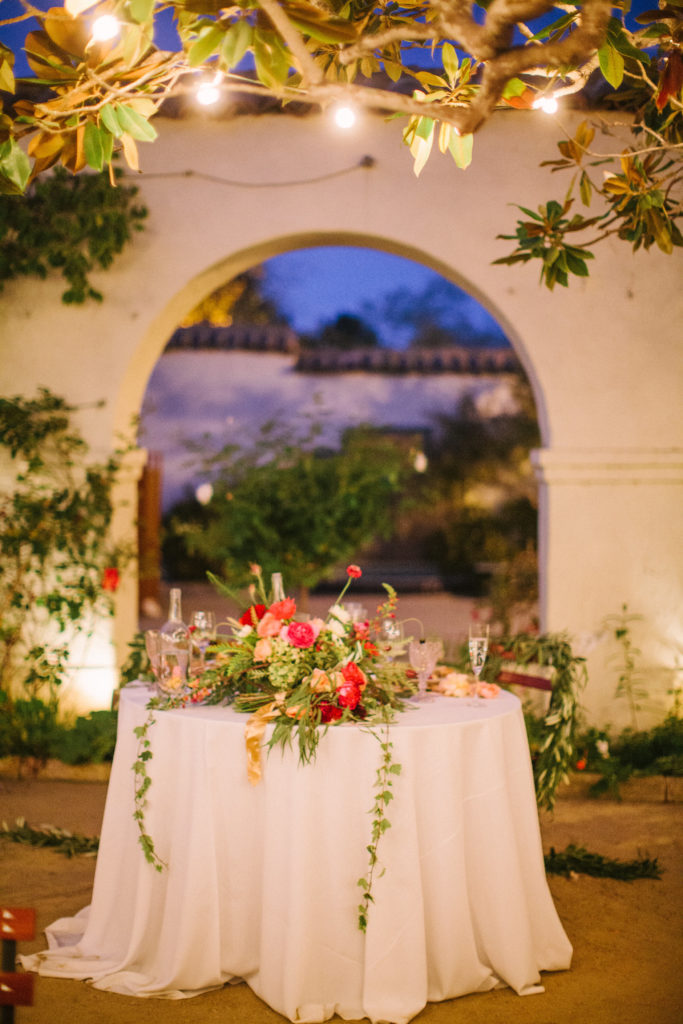 We honored those that were not with us anymore that were a huge part of Ally and Jared's life. My grandma made a red heart out of one of my grandpa's old favorite ties and gave each granddaughter one that she sewed into our dresses. We placed an always remember wooden sign on an empty chair for Jared's uncle who had just recently passed away. This was truly one magical night for two people so in love, and I couldn't have been more proud and honored to help make it the night they will remember forever.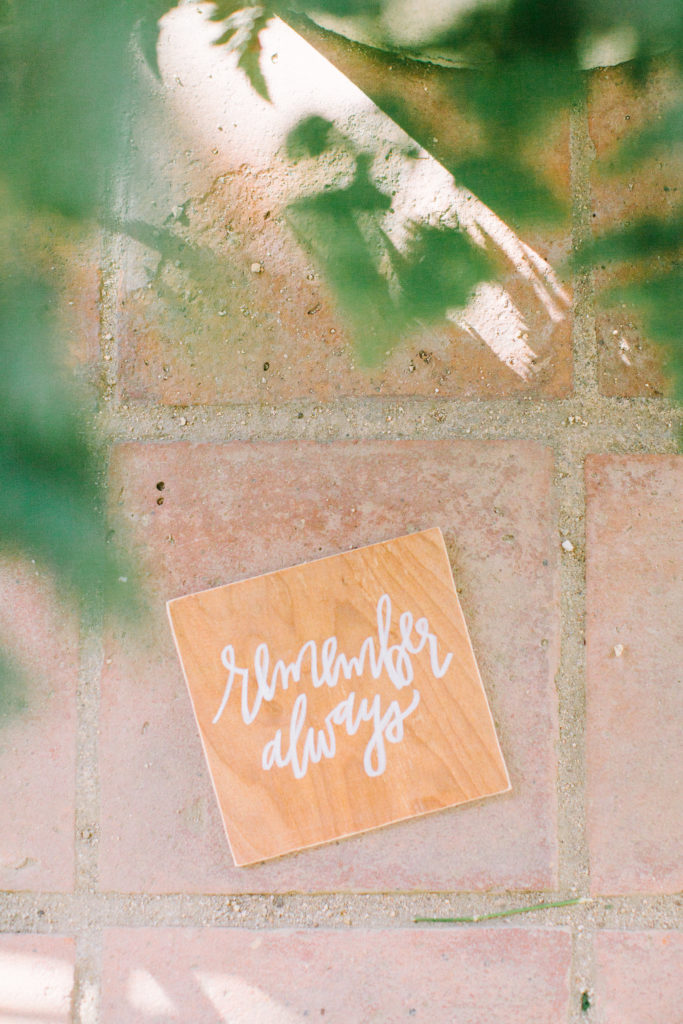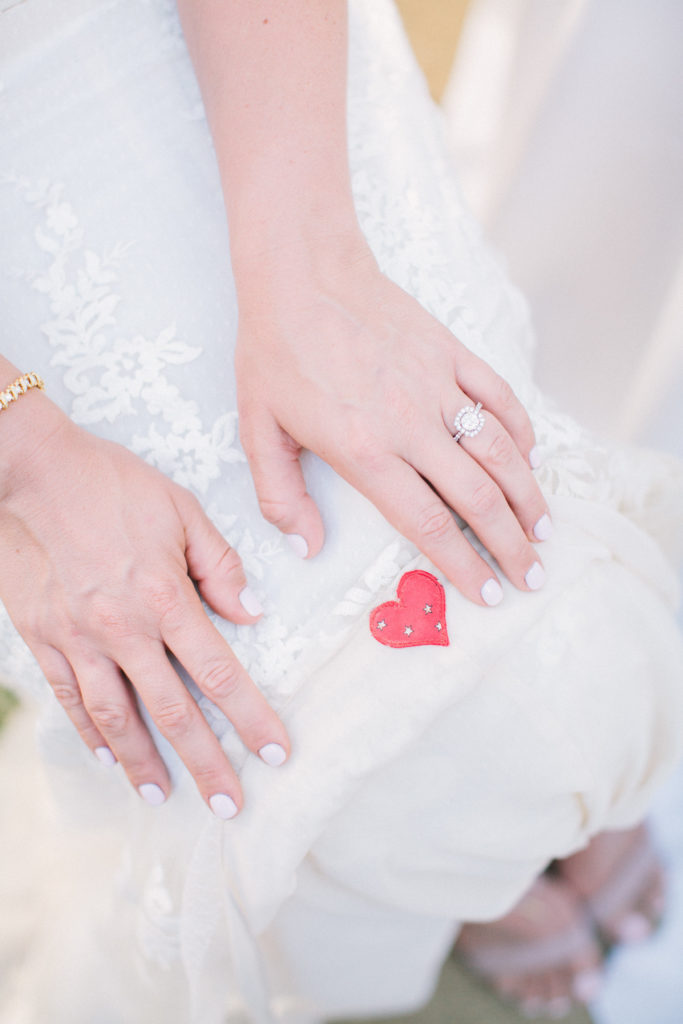 The night was filled with hilarious speeches, and heartfelt ones as well. Family and friends ate and drank, laughed, and danced the night away under the stars. I couldn't be happier for my sister and my new brother in law. It's official! Congrats Ally + Jared! I know there will be a lifetime of happiness for you both.
Vendors
Styling/Design/Planning – Beijos Events
Photography – Yasmin Sarai
Venue – Memory Garden
Florist – Wild Child Flower
Invite/Signage – Meghann Miniello
Catering – Grapes of Wrath
xx
Abby