A couple of days ago I posted about my daughters 4th birthday at home and I wanted to share the food we had since it's the best, ridiculously easy, and not to mention yummy!!  It's a spin on some classics, recipes I stole from my husbands family that I will be making forever.  Now these are great and easy for birthday's, Showers, all the like.  Guests at your parties will probably think nothing of them at first since they are classics and they've probably had versions of them countless times. But, they will come to you asking for these recipes because they will love the flavor and think your an effortlessly amazing cook!
First one is the infamous Chicken Salad Sandwich!  Now, know that I'm not a fan of the chicken salad.  I'm a tuna salad girl, so I always steer in that direction, but when I tasted this sandwich for the first time…this is the only chicken salad sandwich I eat.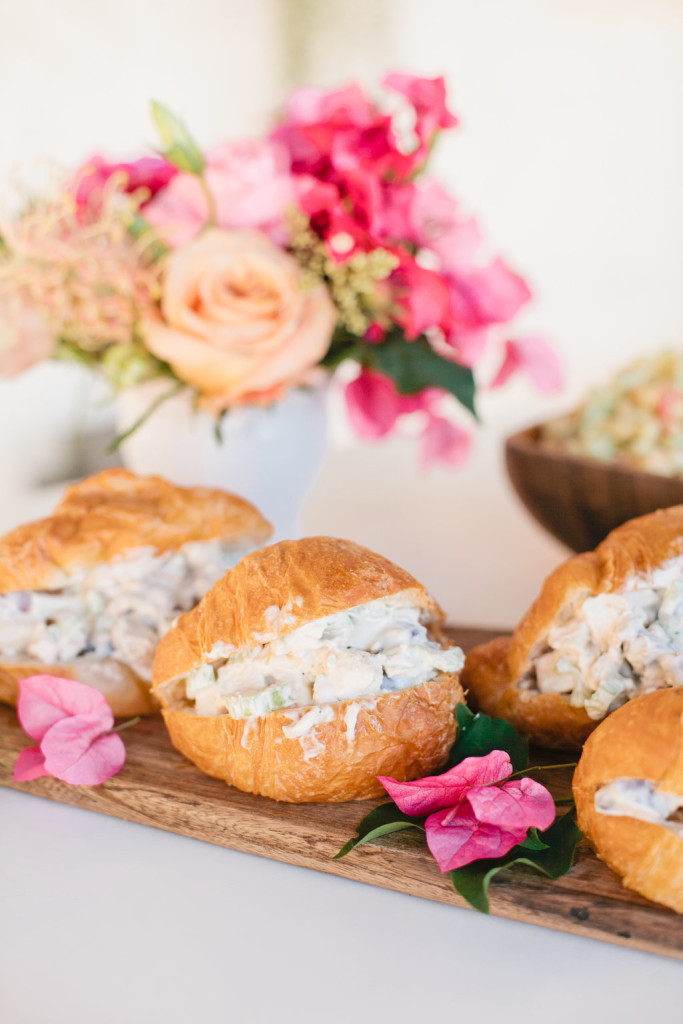 Ingredients
Croissants
Chicken Breast
Grapes
Cashews
Mayonaise
Celery
Salt and Pepper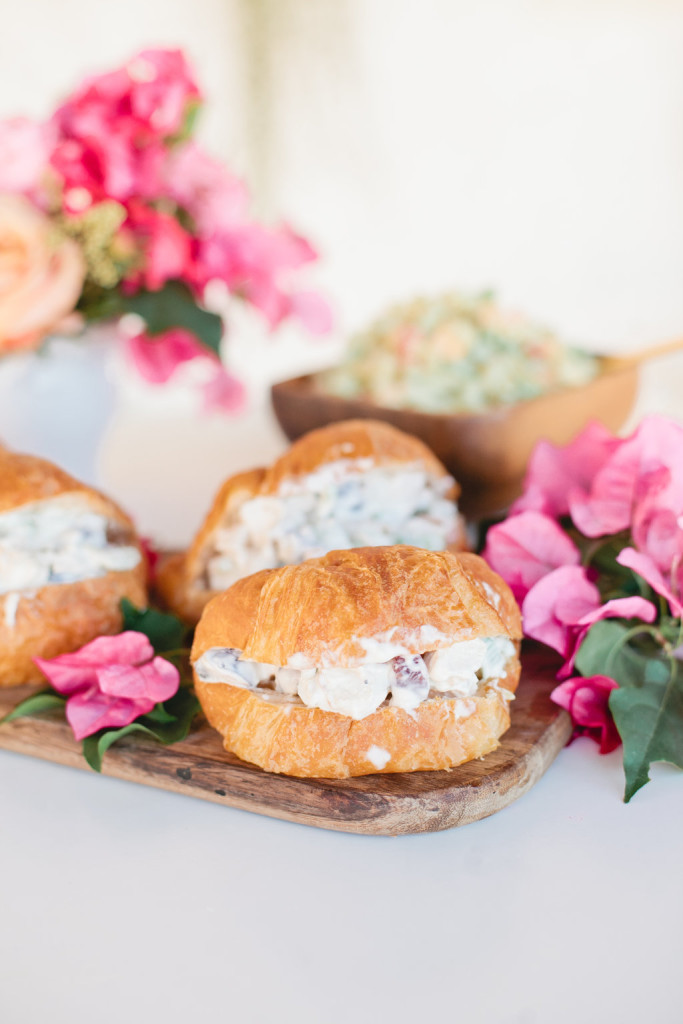 The croissants always gets me, I love them!  So first marinate the chicken breast in lemon juice for a couple hours or so.  Bake the chicken and cut up in to small squares. Cut up the celery, halve the grapes, and mash up the cashews a bit.  In a big bowl combine the chicken, celery and mayo (as much mayo as you want).  Season with salt and pepper.  Then add the grapes and cashews last.  Taste test…add more salt and pepper if needed.  Halve your croissants, stuff them and your done! Seriously delish!!
Next up we have a Macaroni Salad…and It's yummy.  I have to warn you, it's one of those you can't stop eating… so keep that in mind.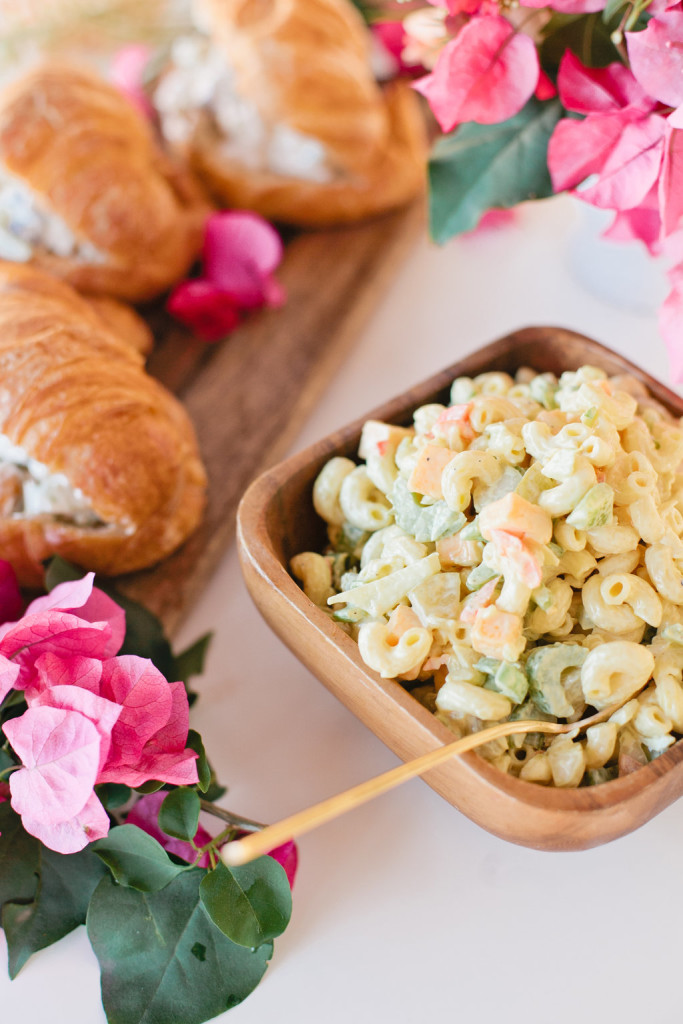 Ingredients
Mayonaise
Mustard
Dill Pickle Juice
Cooked Macaroni Elbow Pasta
Green Pepper
Red Pepper
White Onion
Salt and Pepper
1/2 Lb Mild Cheddar Cheese
Celery
Dill Pickles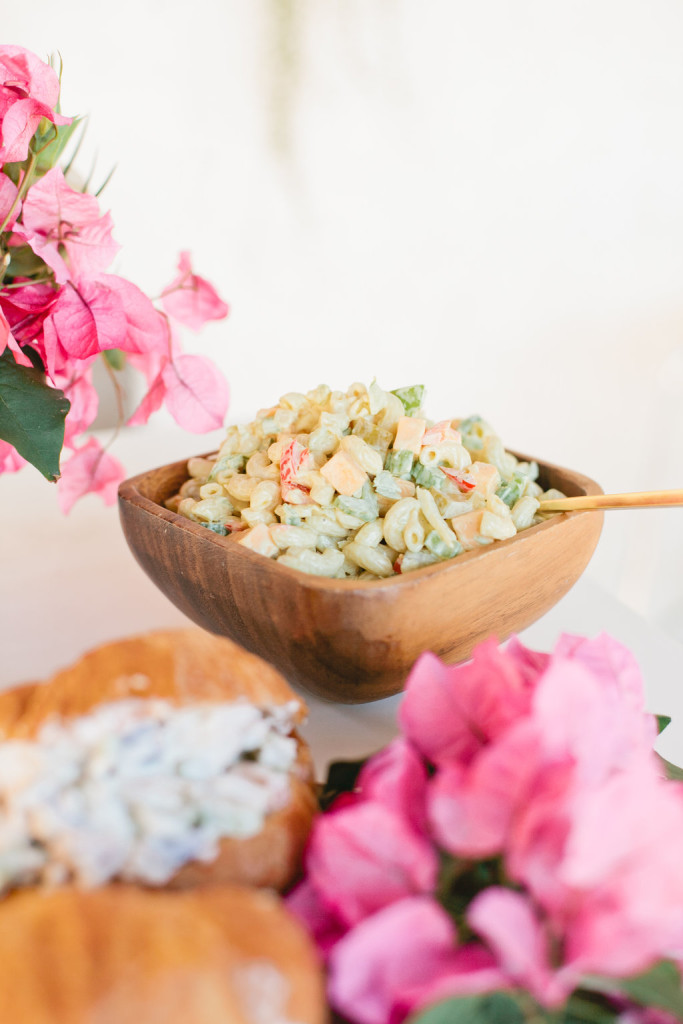 Cook the pasta per box instructions.  Chop onion, green pepper, red pepper, pickles, mild cheddar (into small cubes), and celery.  Mix in all the chopped ingredients with cooked pasta and add your mayo, mustard and dill pickle juice.  Careful not to add too much juice, you don't want it to be runny.  Add you salt and pepper to taste, keep mixing and tasting until it's to your liking, and your done here too!
Quick, easy and effortless people!! The beauty of these two knock your socks off recipes is that you can do them the day before and then just prep the day of your party!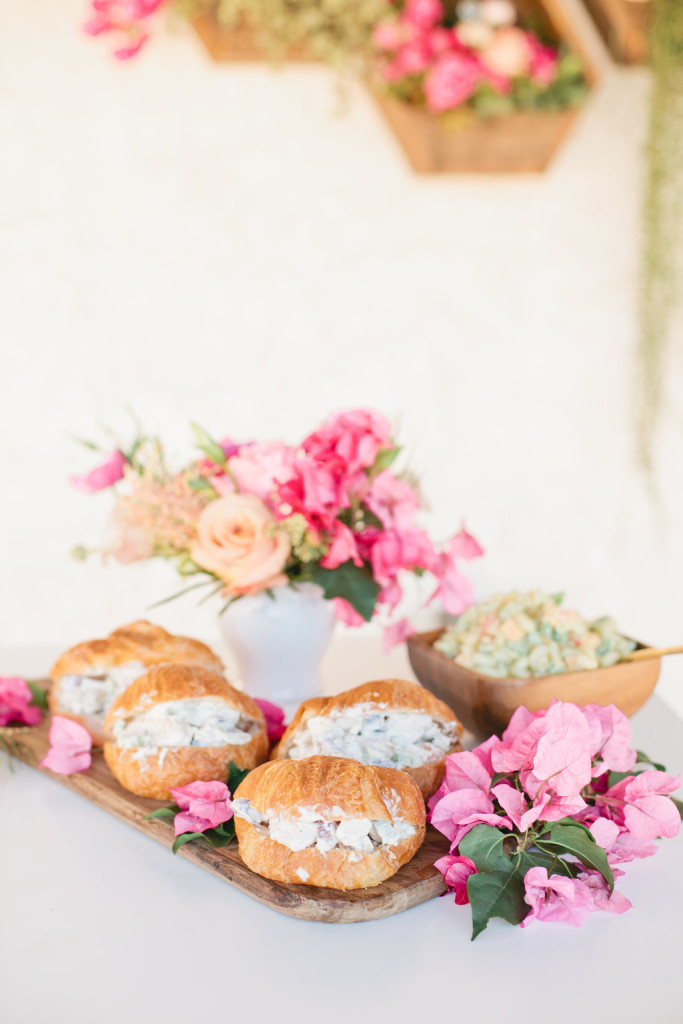 Display them on some pretty platters or cutting boards with some flowers and you've made some classic food options into a pretty display of food!
Thank you to Megan Welker for the stunning photos
Xx Leah