Just a few short days till the 4th of July, and you didn't think we'd let it go by without a big party!! It's one of my favorite holidays, a day for all of us to come together as one and celebrate. This year is looking quite different, but I know that we as a community are stronger together. When we build each other up instead of bringing each other down, that's when America is at its best.
With that being said, lets check out this fun party we planned with a barbecue in mind – Red, White & Barbecue if you will… So call your grill friends and get ready for some fun!!!
Photos by Corrie Lynn Photo
Featured on Green Wedding Shoes today!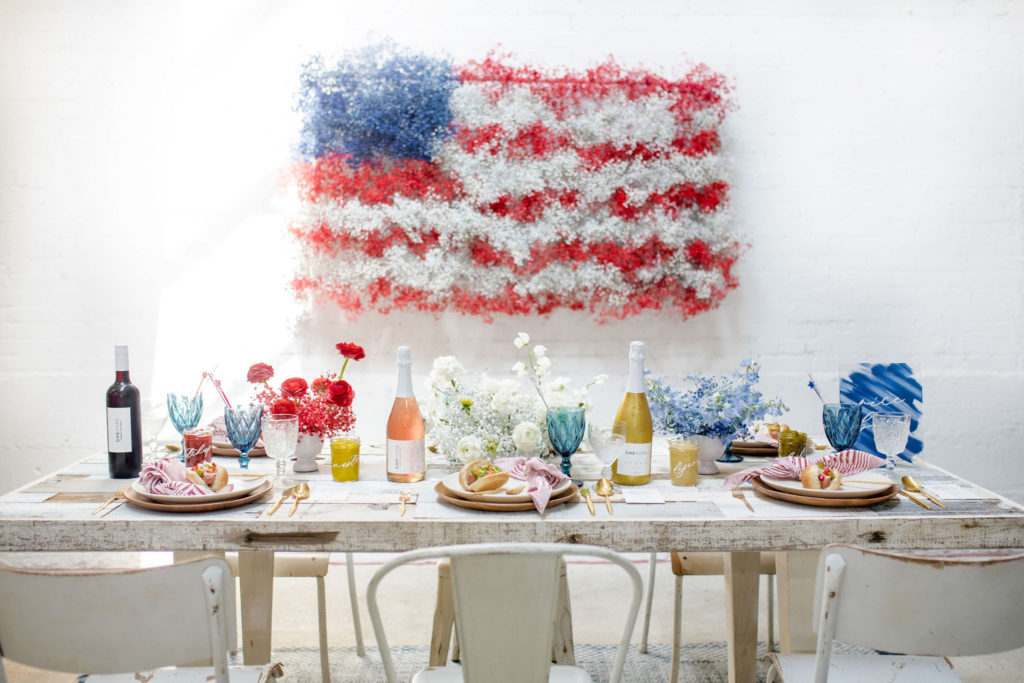 A fun invite is essential for this festive party!! I love what Leanna of David & Leanna did here! Her details for our parties and shoots are always so spot on, this girl nails it! And it looks so great on that Chasing Stone styling surface, right?!
You may notice some hot dogs and stir sticks saying "nice buns"…. that's just a little bit of foreshadowing for the cuteness ahead!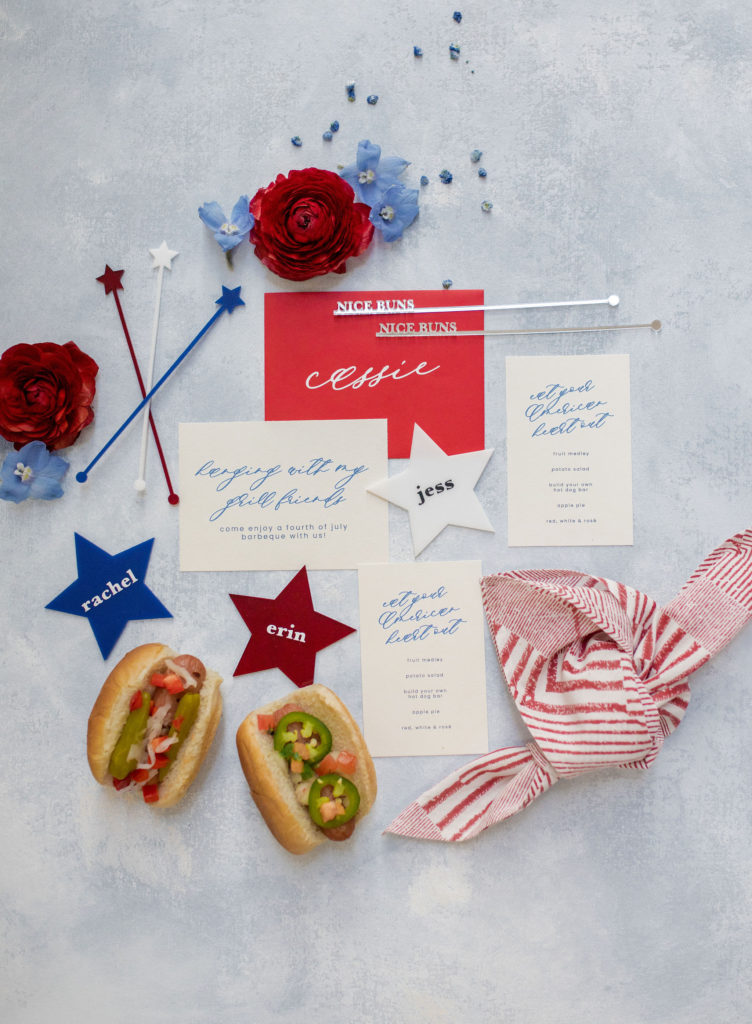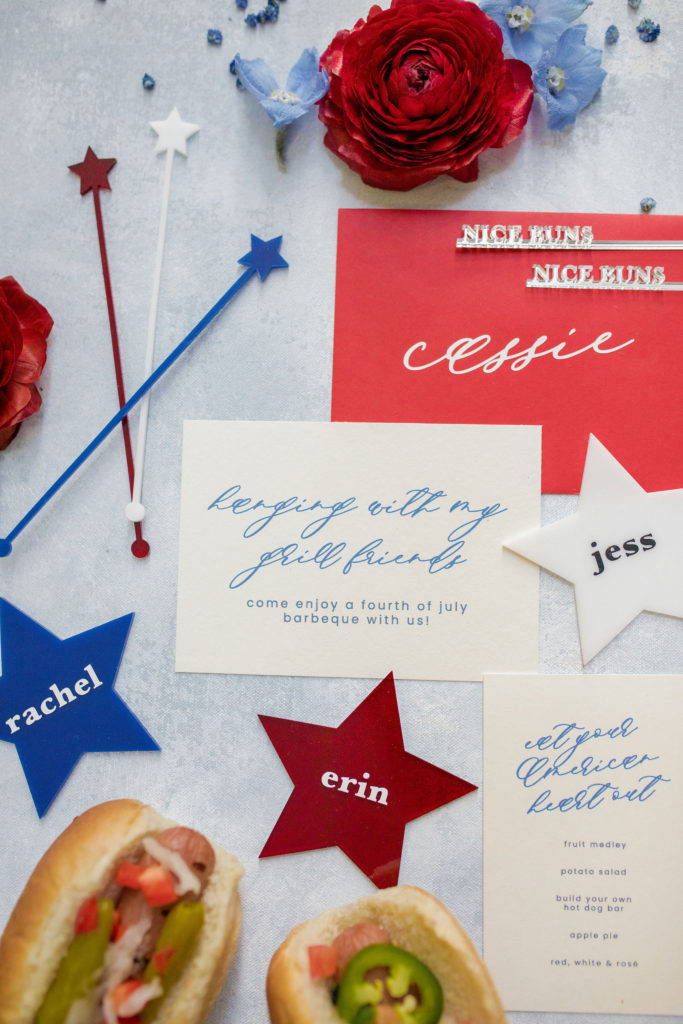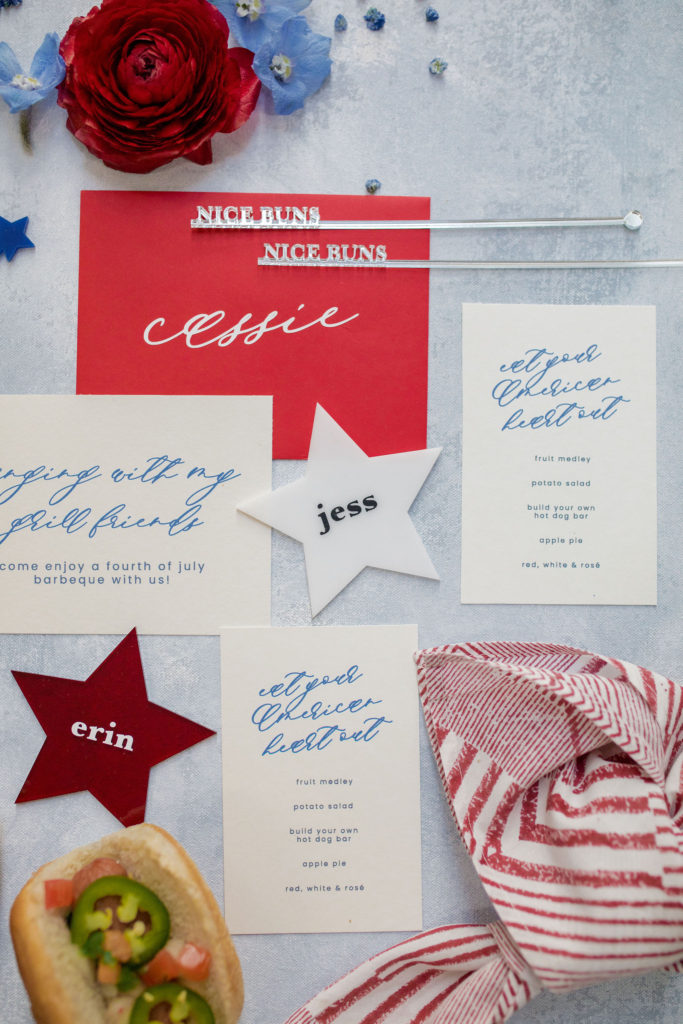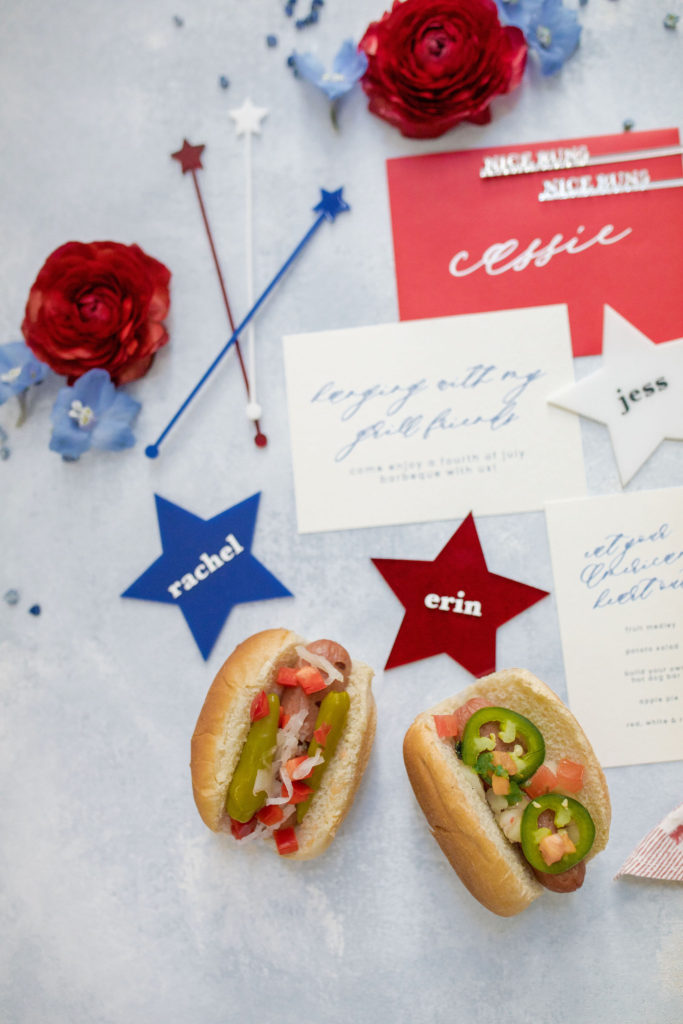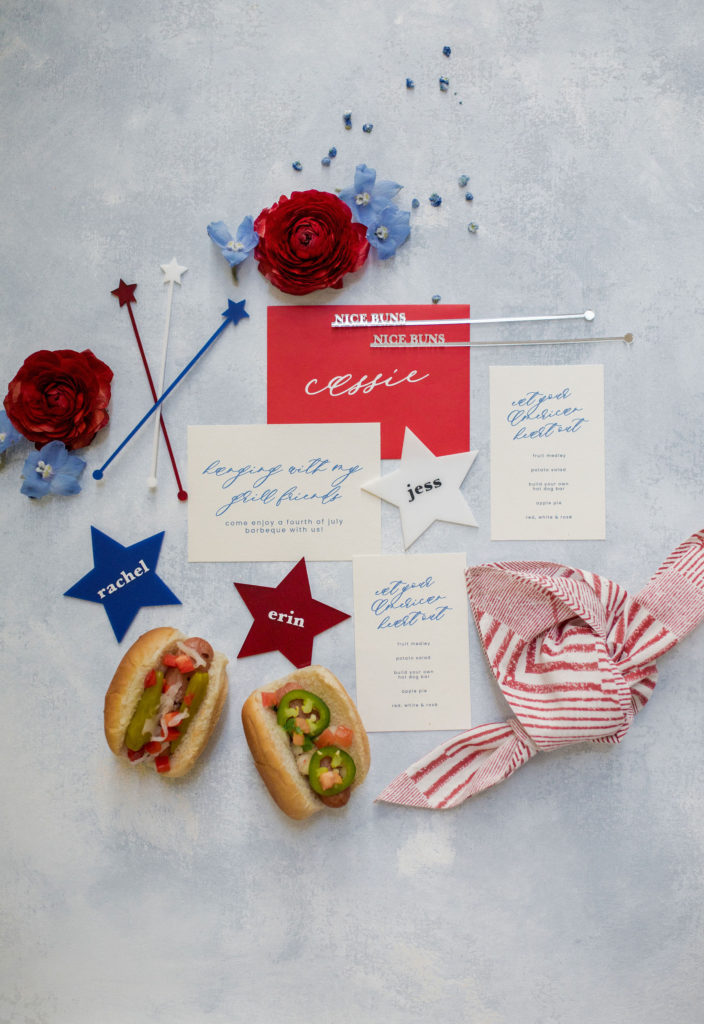 First, our rad table design! The highlight here has got to be that amazing flag created out of baby's breath by the talented Third & Park!!! When I told her about this shoot and she shouted out that idea, I was like "YES!!!" I love collaborating with all of these amazing vendors we get to call friends and encouraging each others talents!
We did a red, white and blue floral arrangement on the table and added in some amazing details which you'll see! But how about the perfect table, chairs and rug from Sweet Salvage Rentals?! Doesn't get much better…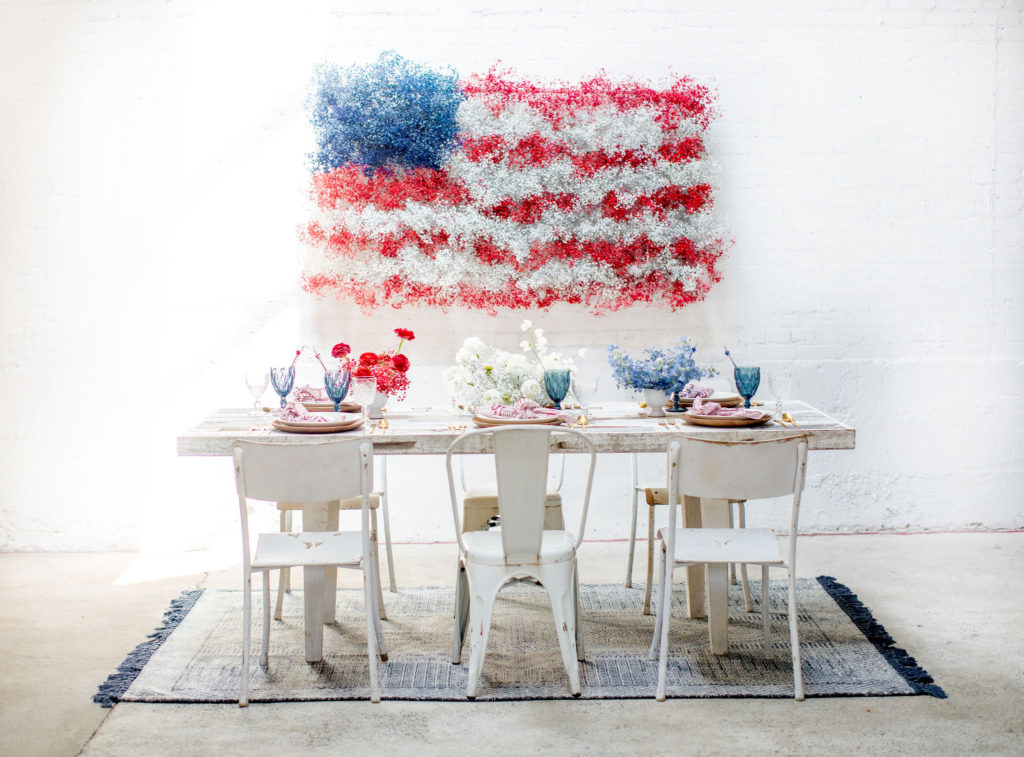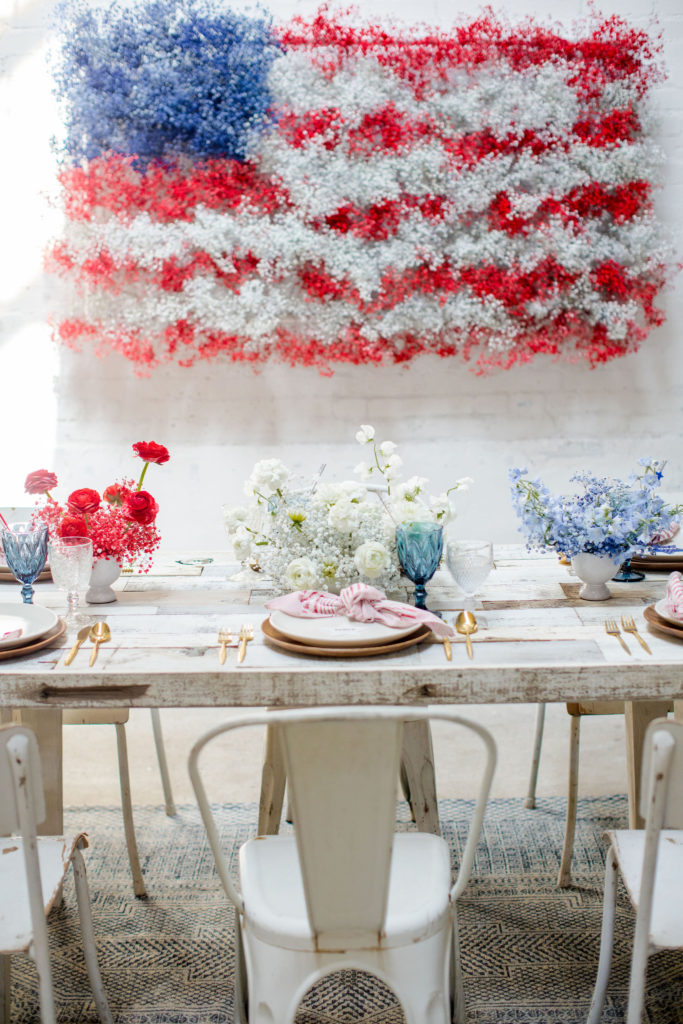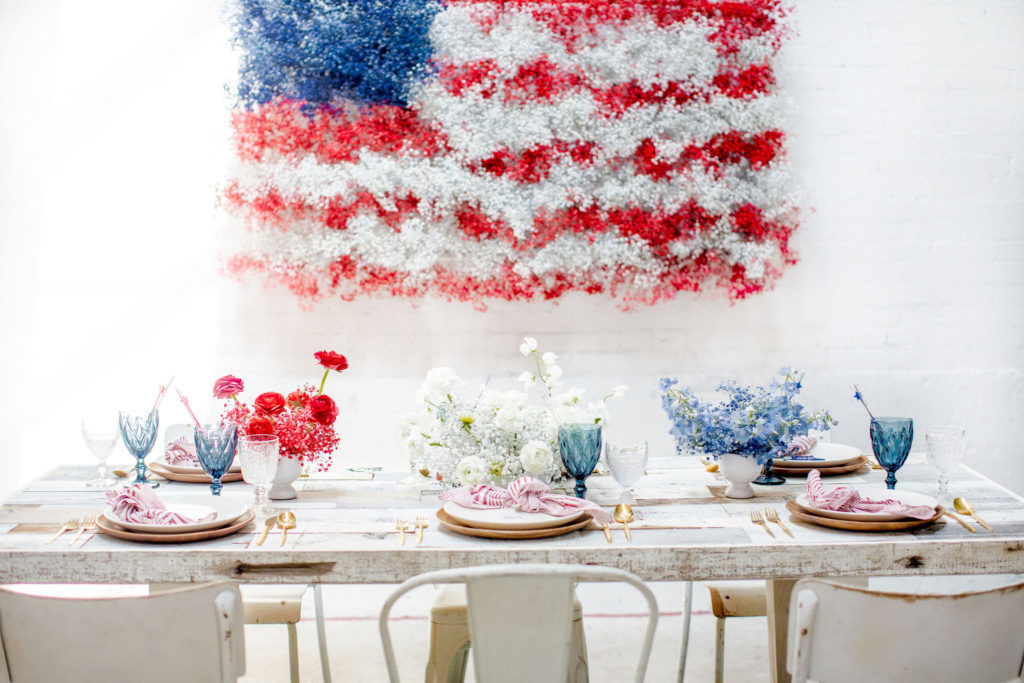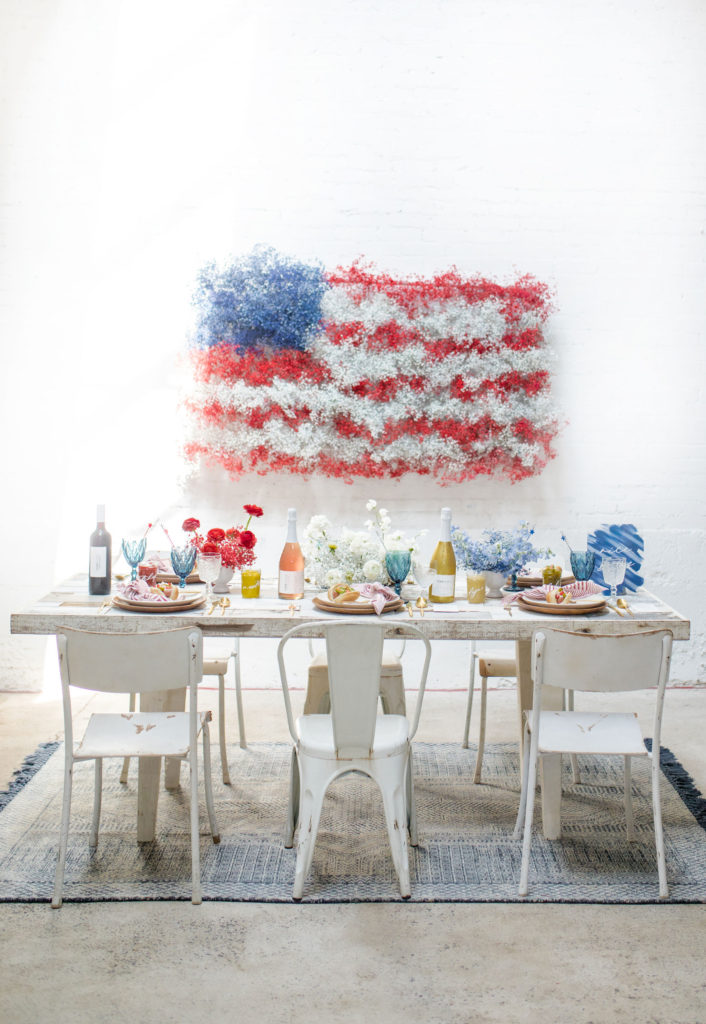 The tabletop is all from Cherished Rentals – you may have noticed that I love using her heath ceramic plates, haha! They are always my go to! We also used her pretty blue & crystal glassware, wood chargers and gold flatware.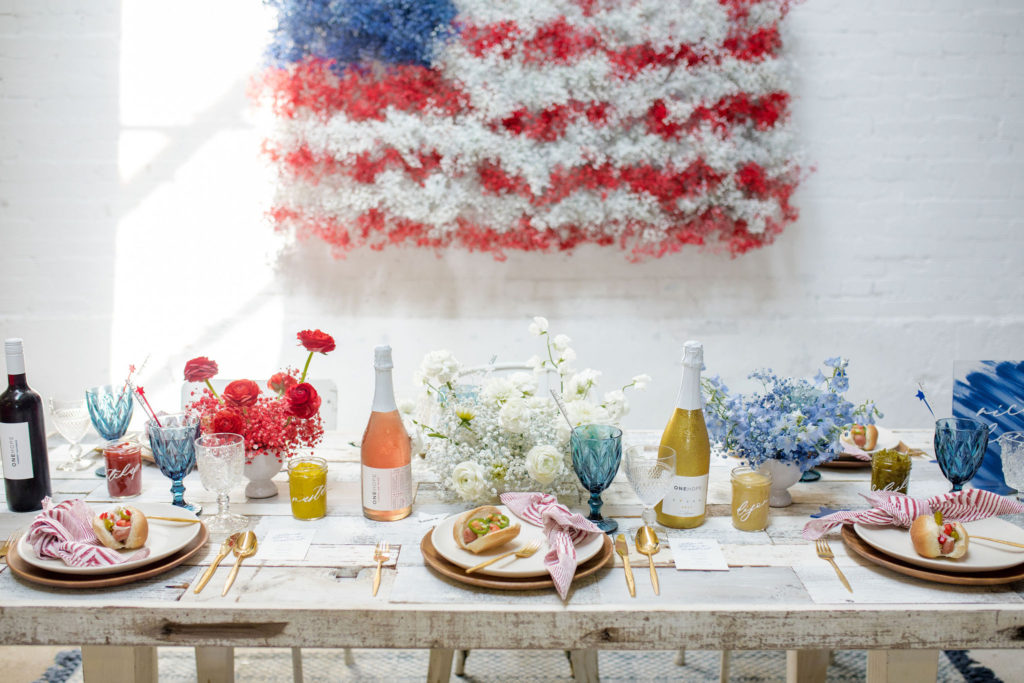 To go with the blue flatware we had to have red & white napkins from Hostess Haven!! Adding in David and Leanna's stir sticks and place cards completed the table!!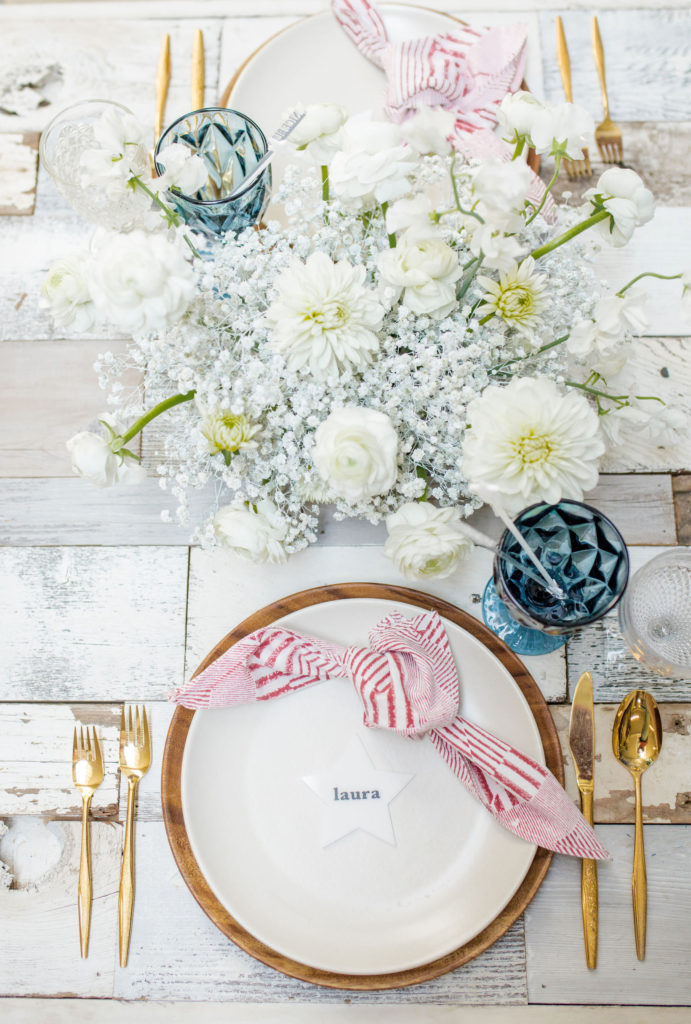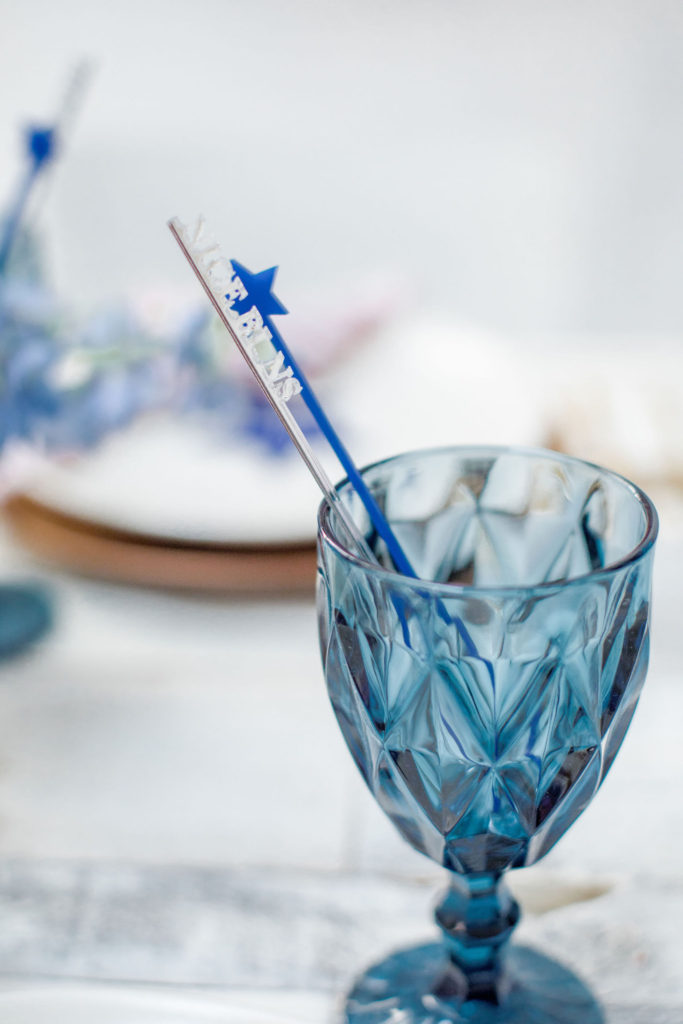 These florals were just so pretty… I love how Third & Park incorporated the baby's breath in them!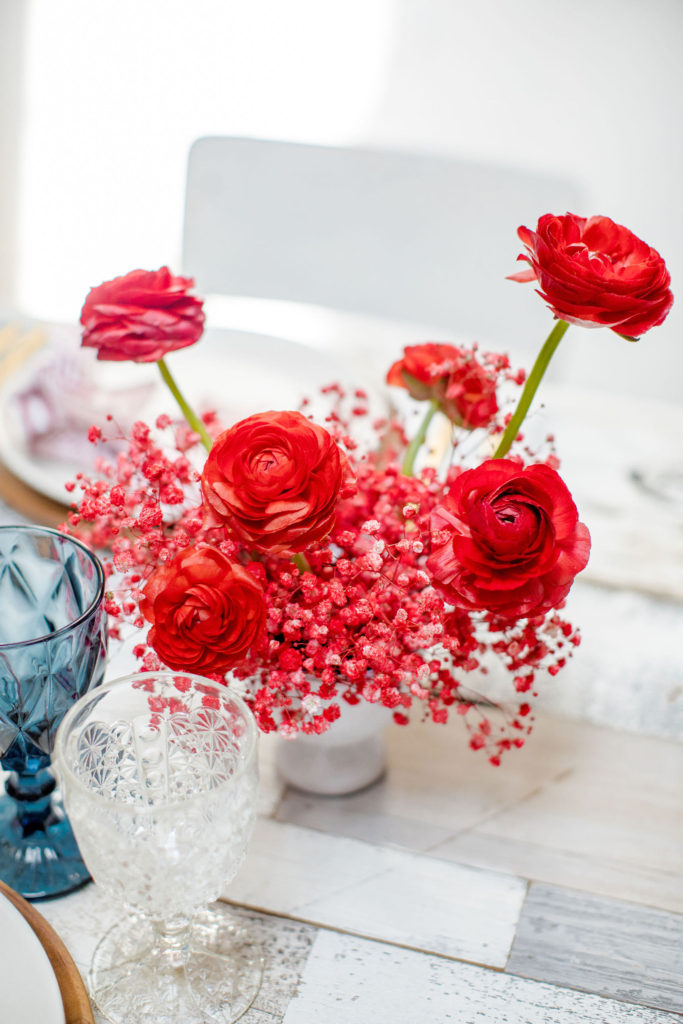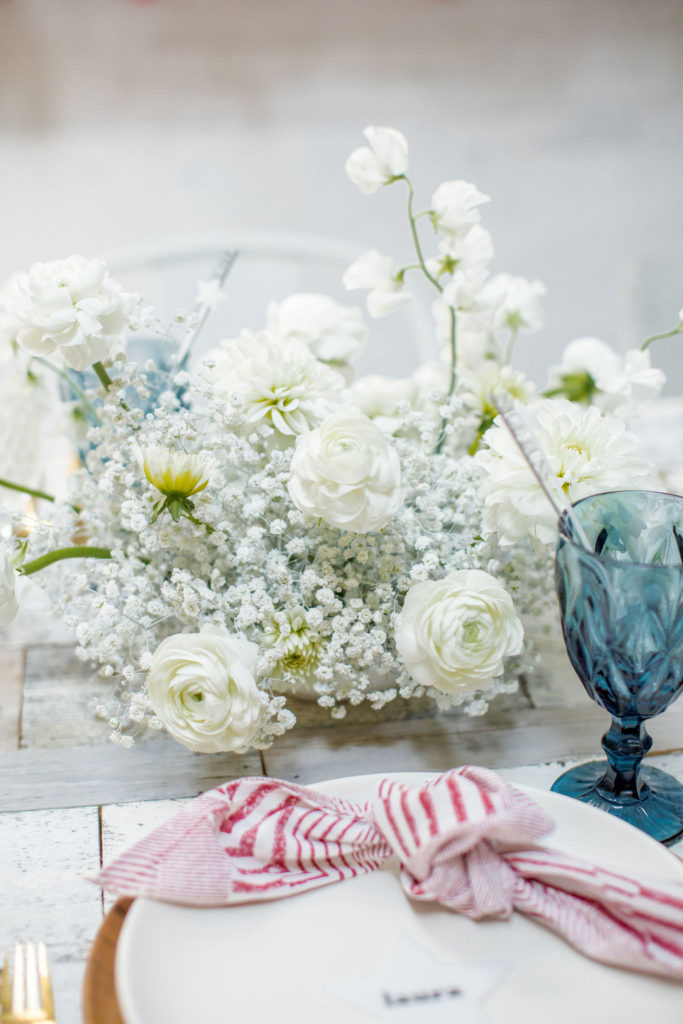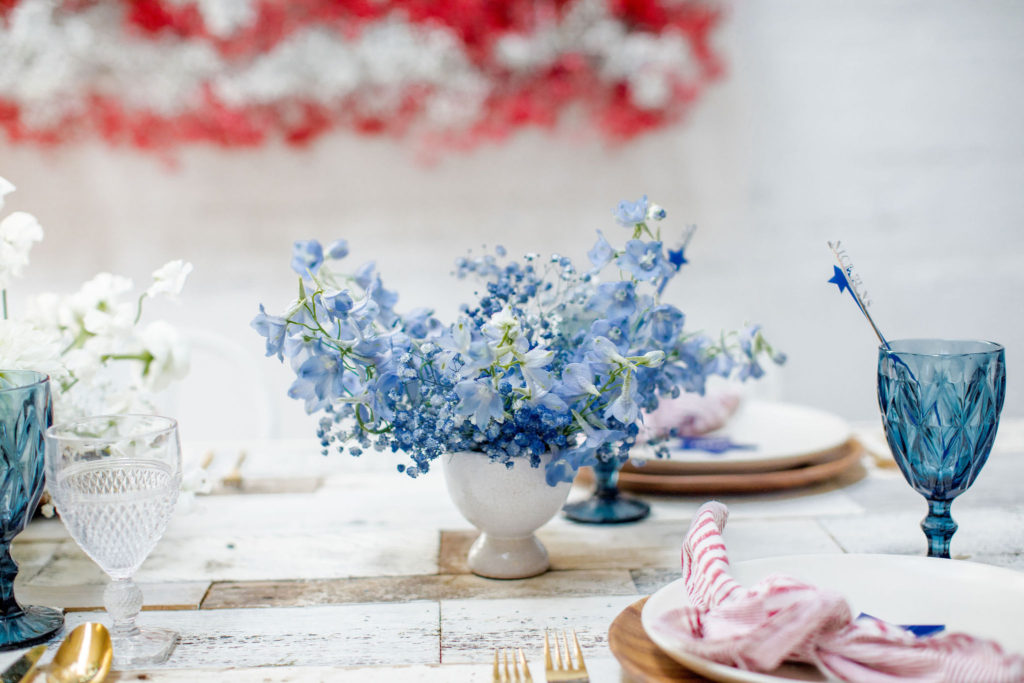 All I gotta say is YES to hot dogs and champagne on the 4th!!! Now that's what I call a party – wait till you see how we showcased these hot dogs… Thanks to Colette's Catering for making these gourmet dogs for us and to One Hope for always adding some sparkle to our tables!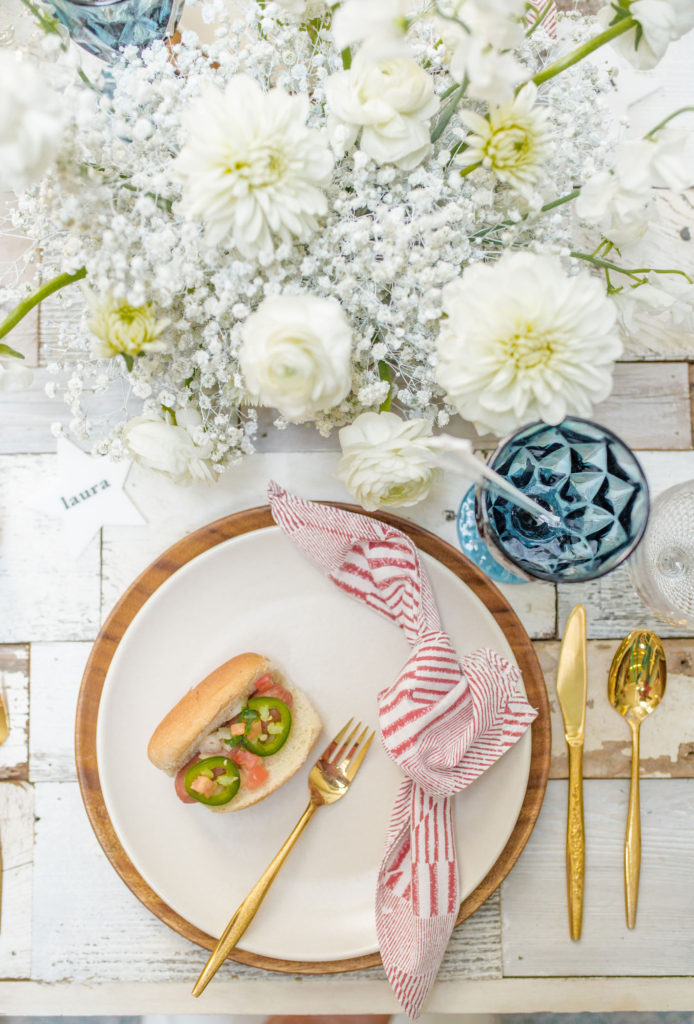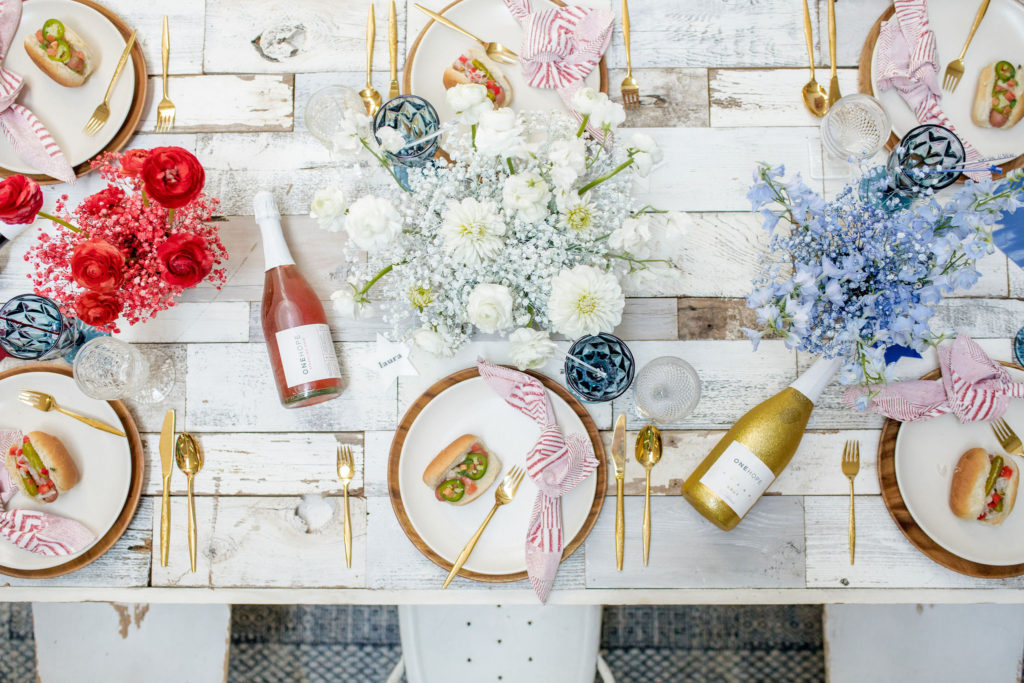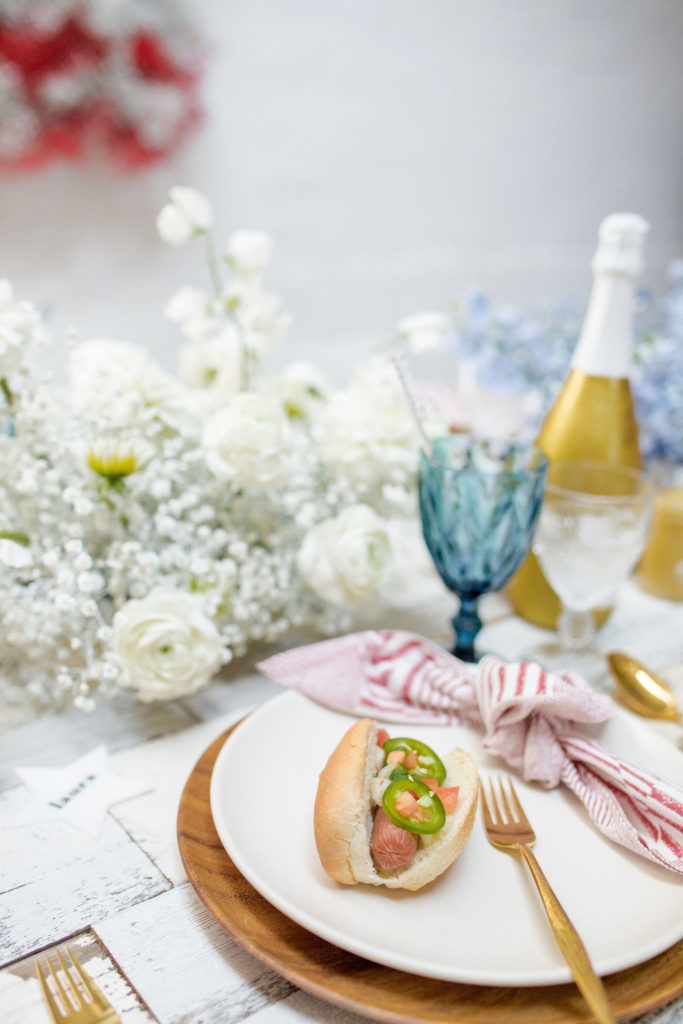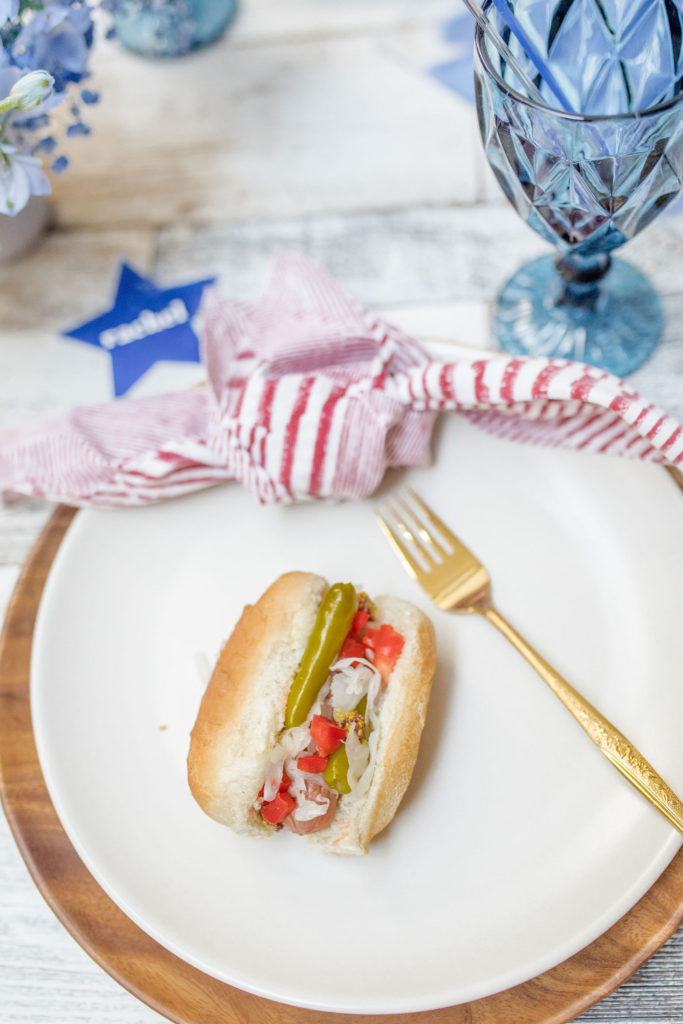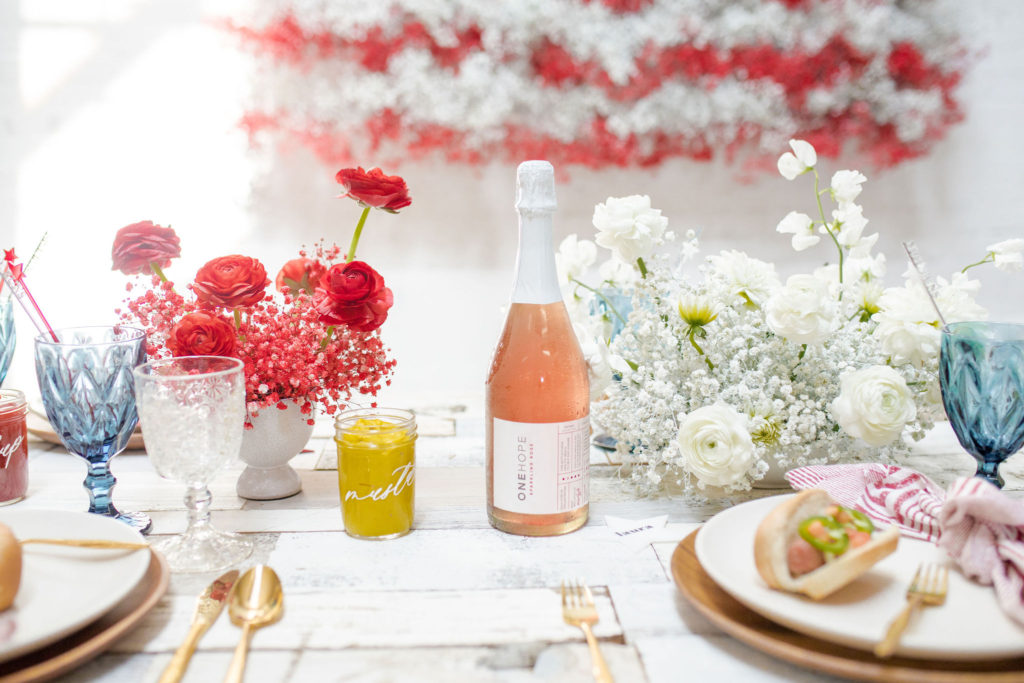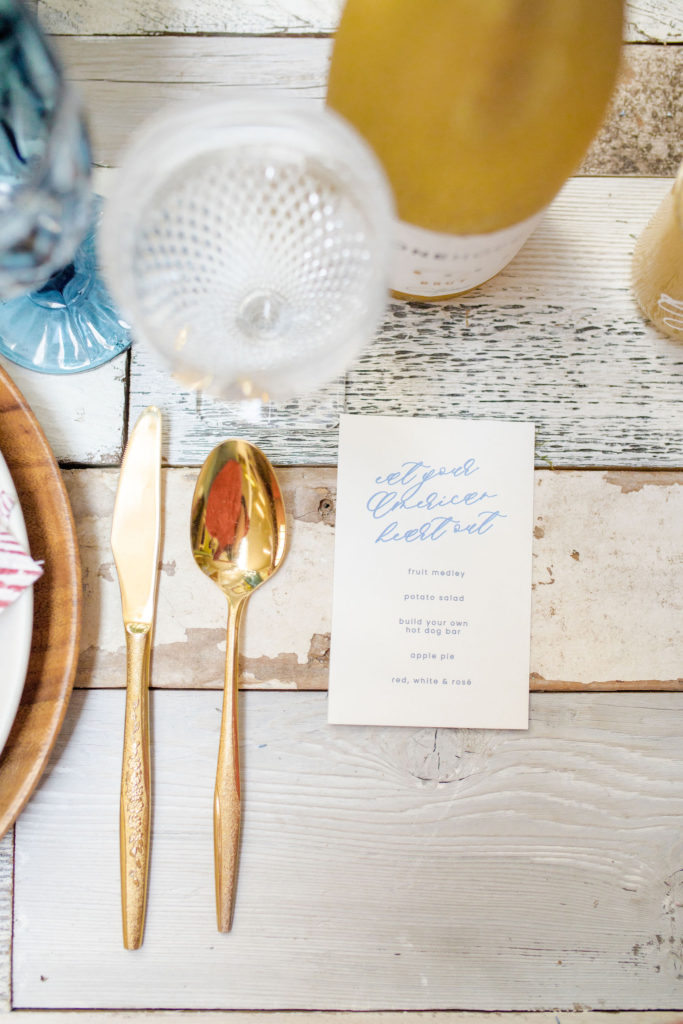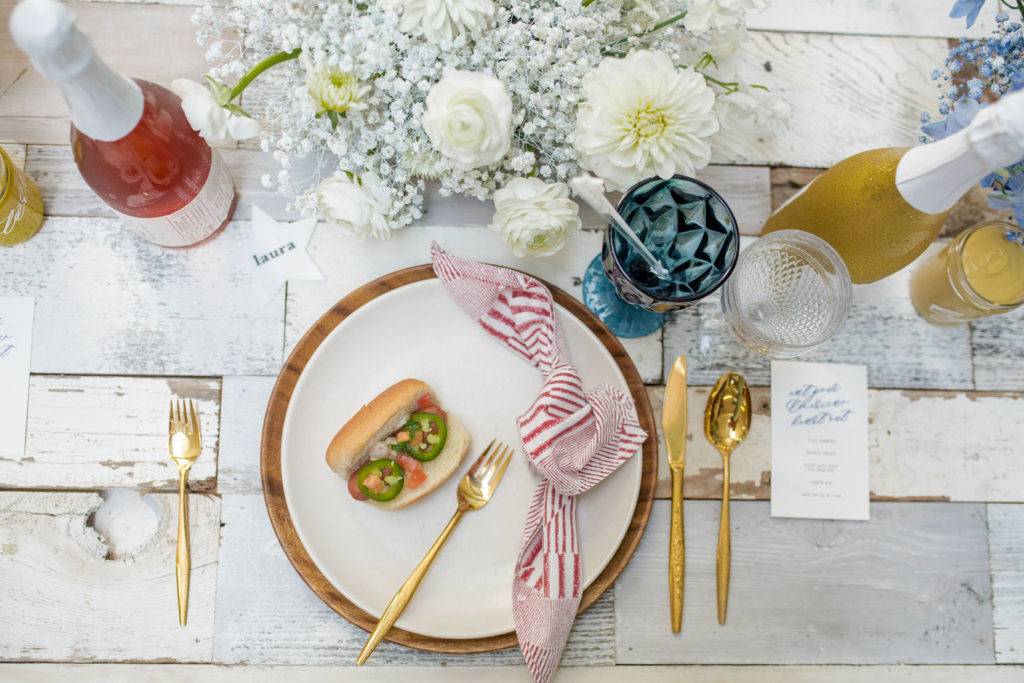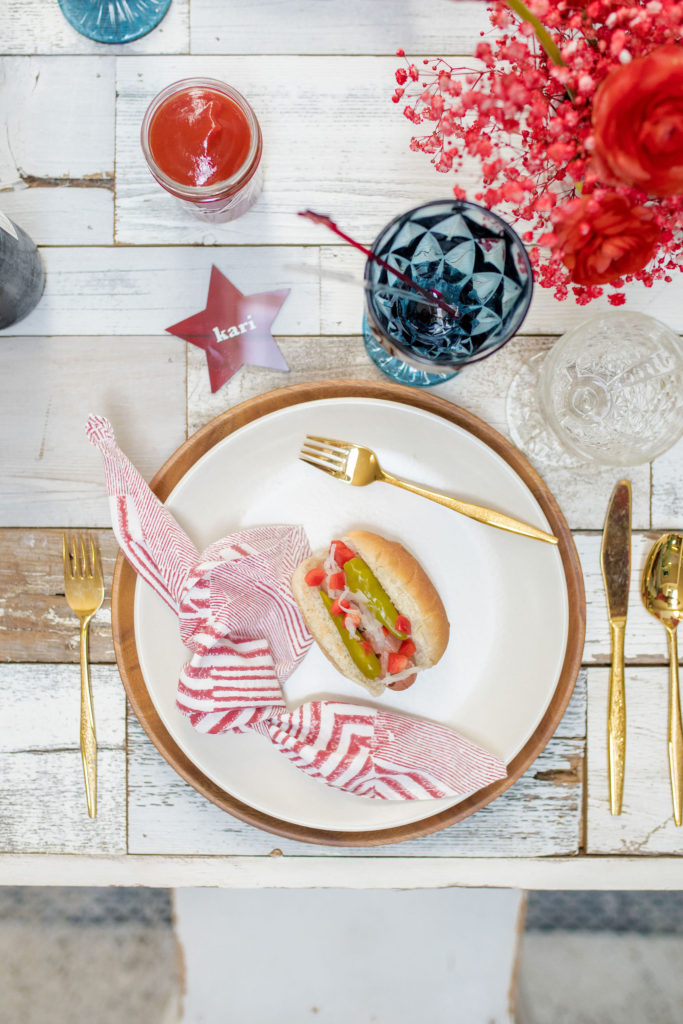 And now…. The Hot Dog Wall!!!! You've probably seen our infamous taco wall for Cinco de Mayo – well, I've been dying to do a hot dog wall for the 4th for some time now. 2020 was the year!!! Sweet Salvage Rentals built this beauty for us – so now you can rent it and have your own amazing wall!!
I thought hot dogs were the perfect treat for this patriotic holiday. Nothing says America like hot dogs, haha! What would you have on your 4th of July wall?!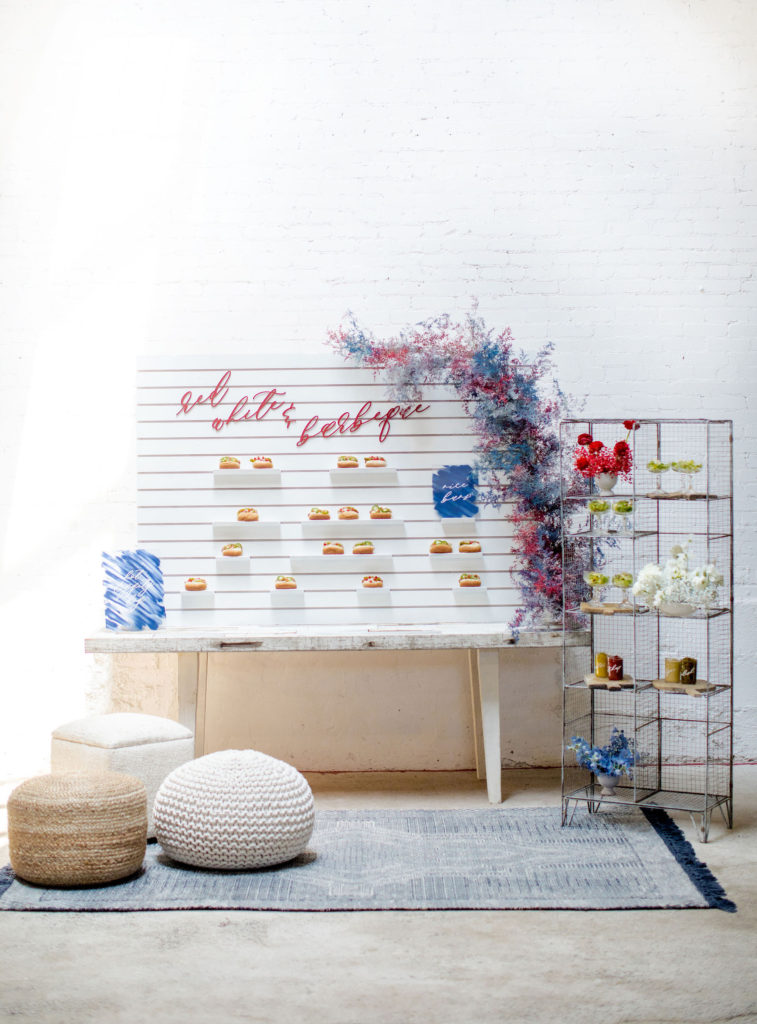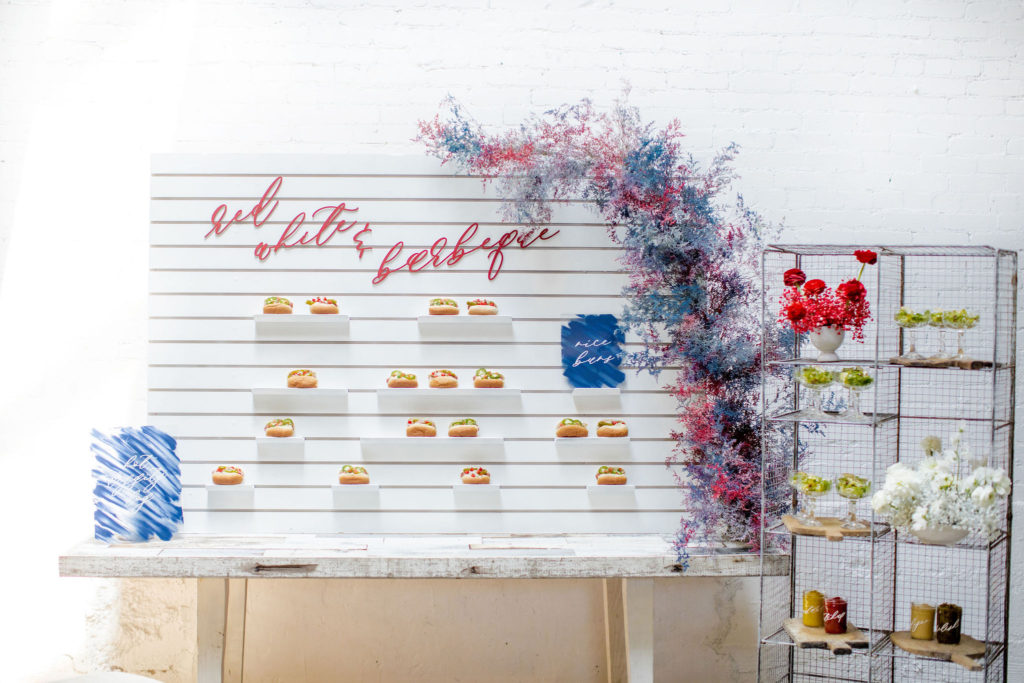 We adorned our wall with the cutest signage from David and Leanna, a red, white and blue floral garland from Third & Park and of course delicious hot dogs from Colette's Catering!!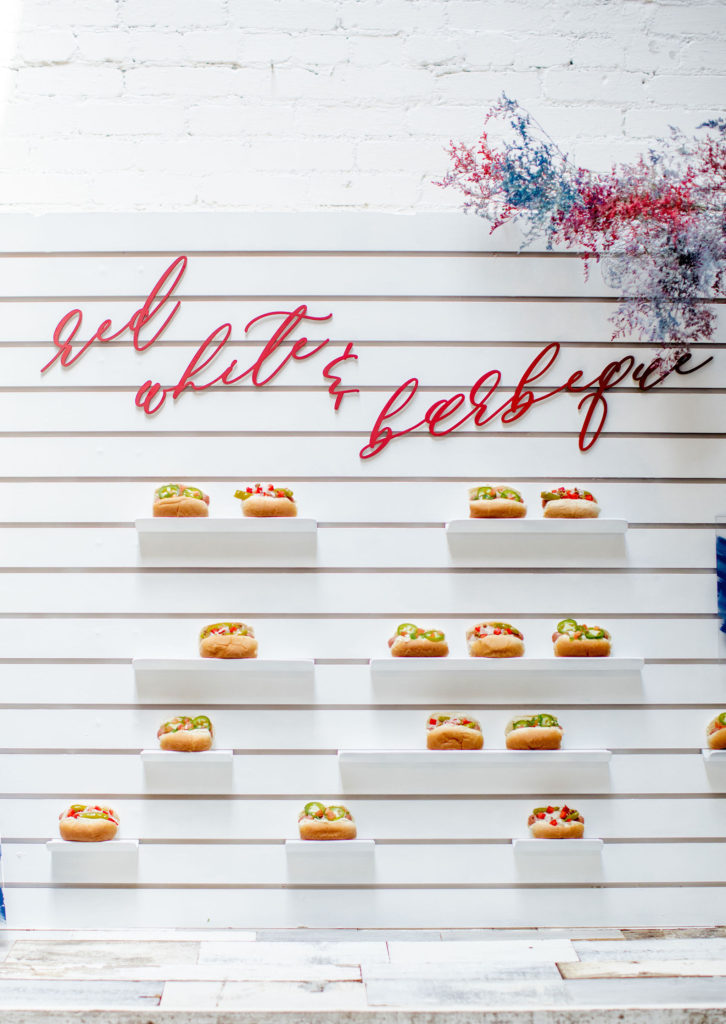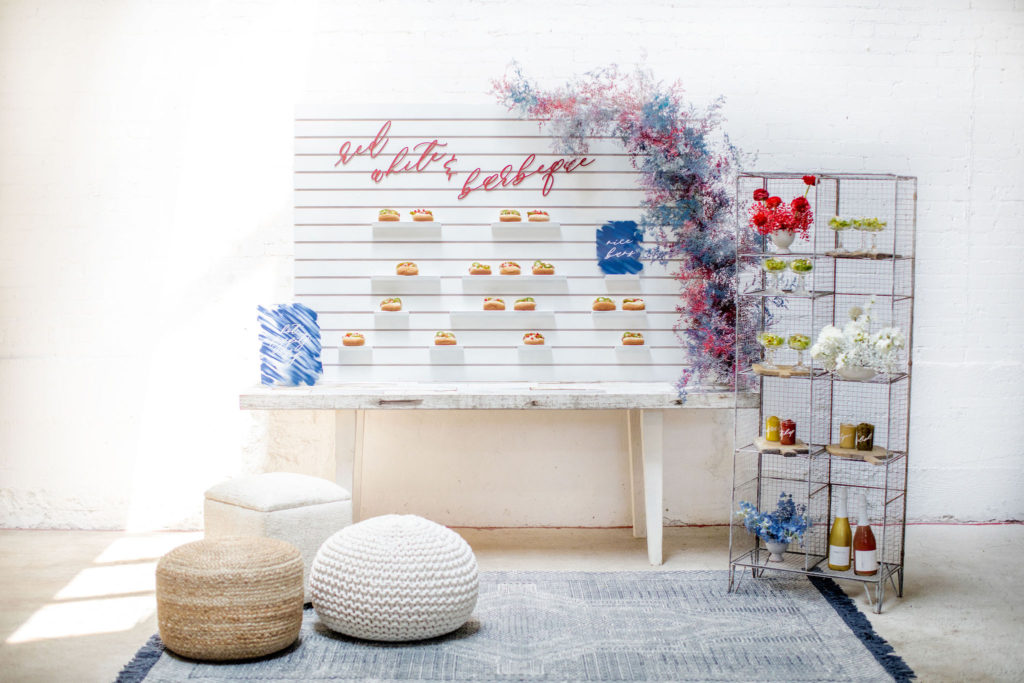 Gotta have the condiments and sides!! Sometimes I'm more about the sides at a bbq than the main dish! For this one Colette's did a delicious brussel sprouts salad and we made our condiments a little extra cute with mason jars and decals by David and Leanna!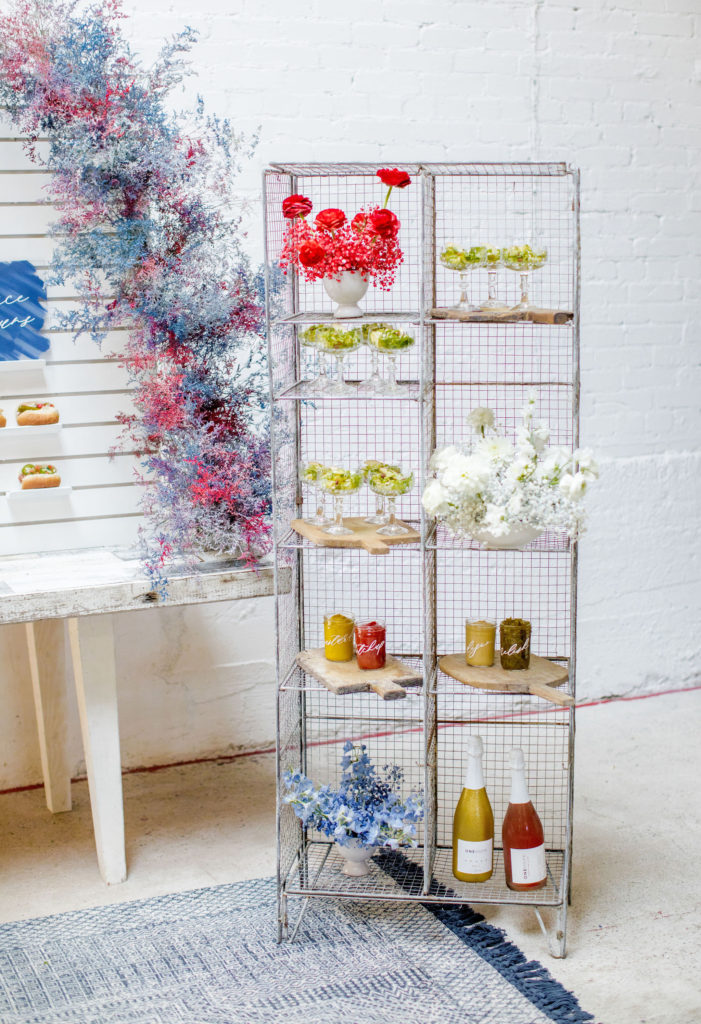 Only the cutest signage!!!! David and Leanna is the best!!!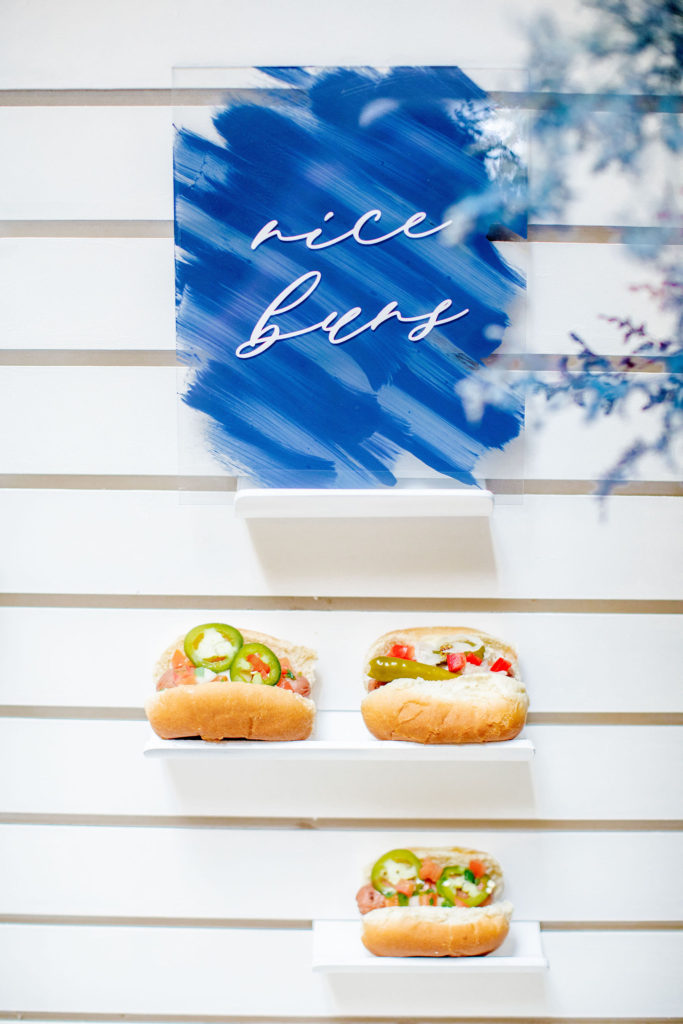 This was a fun, and delicious shoot day!!!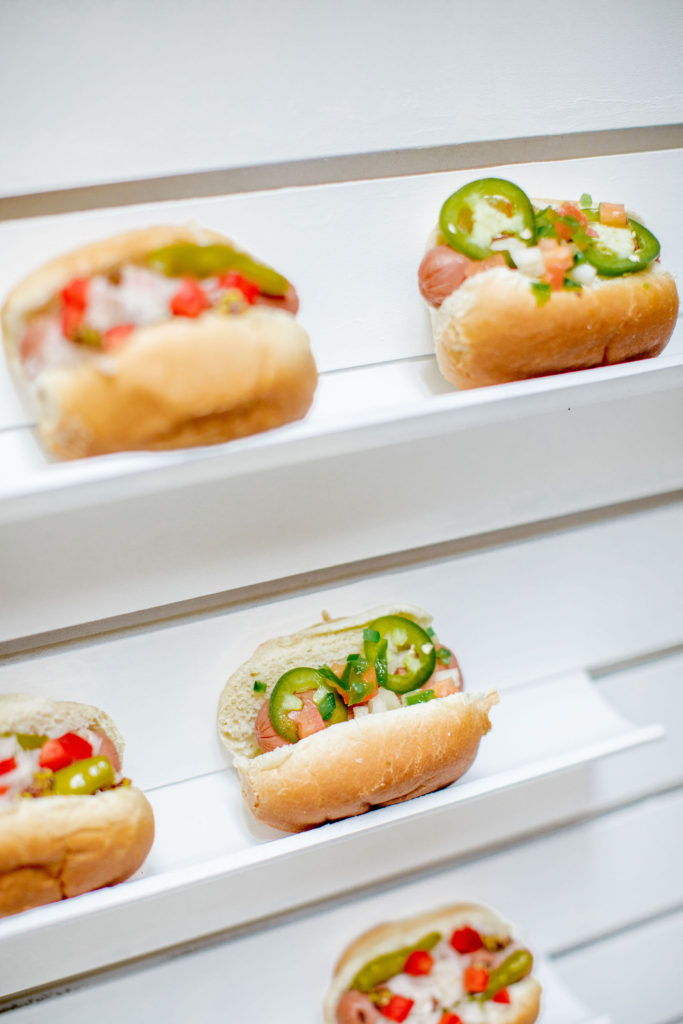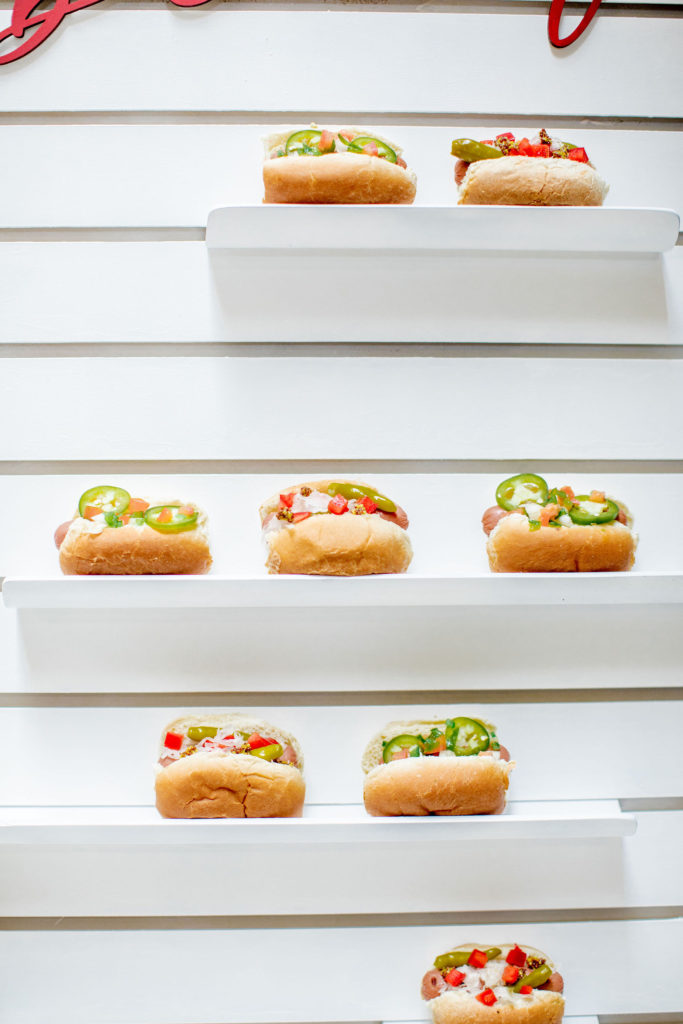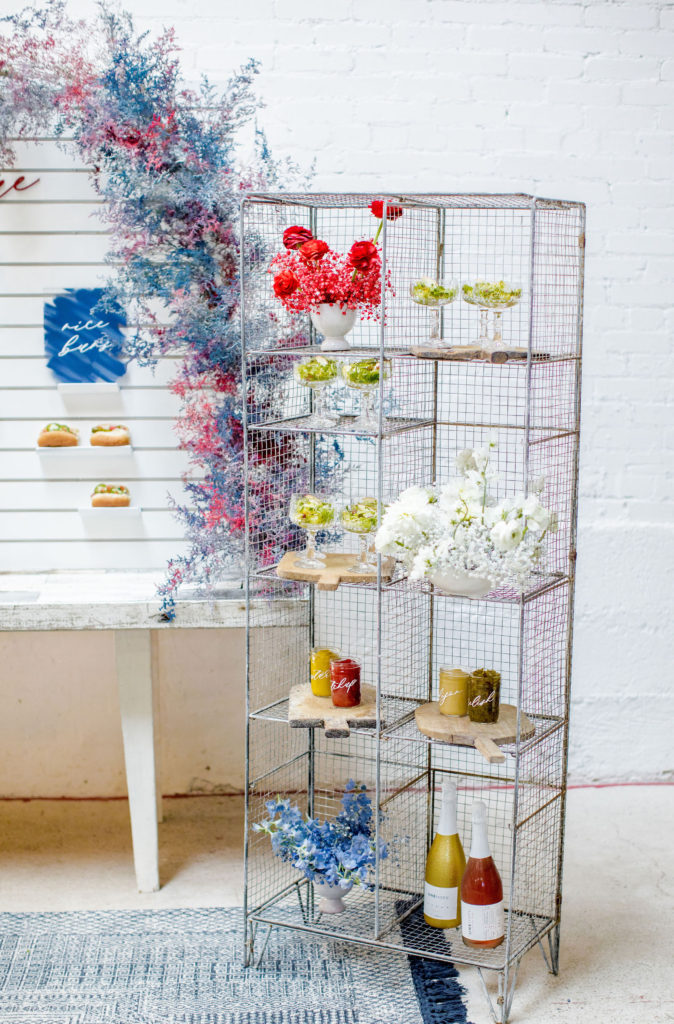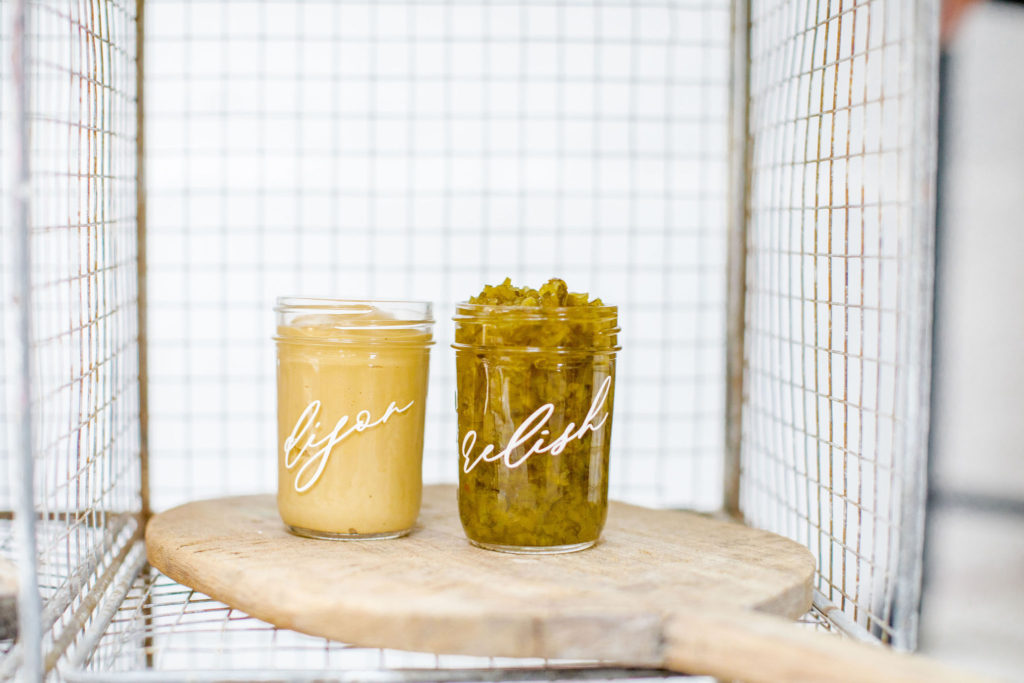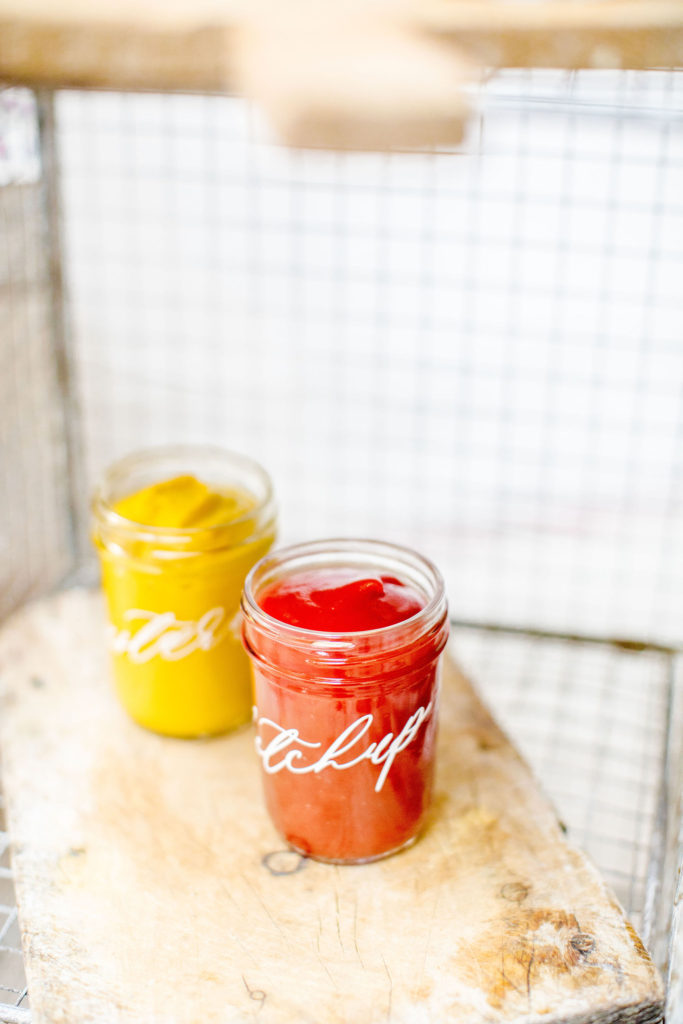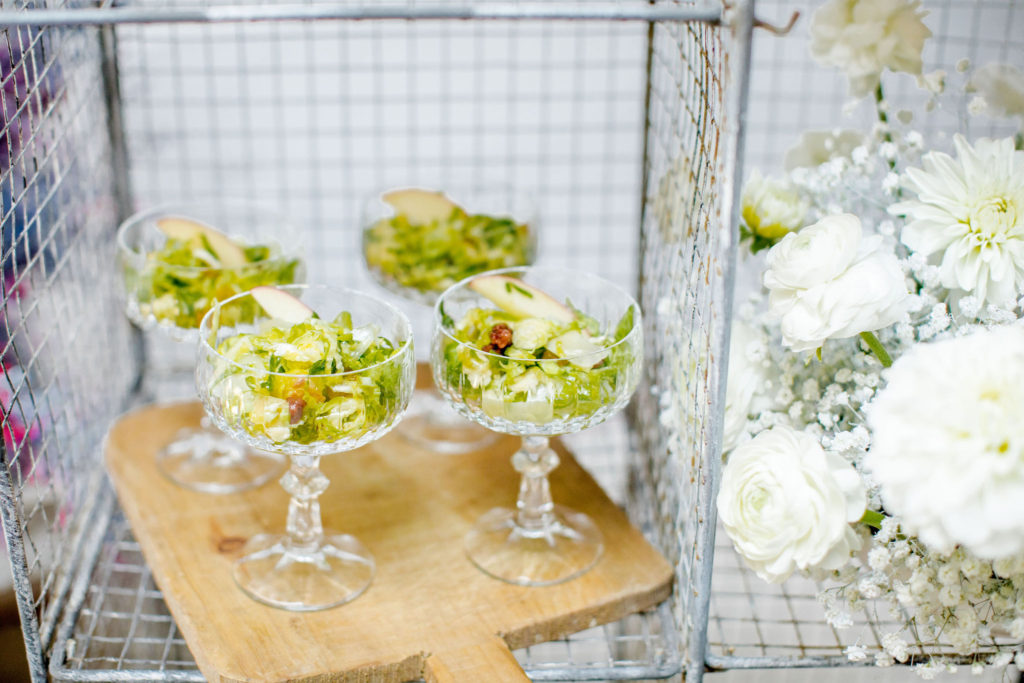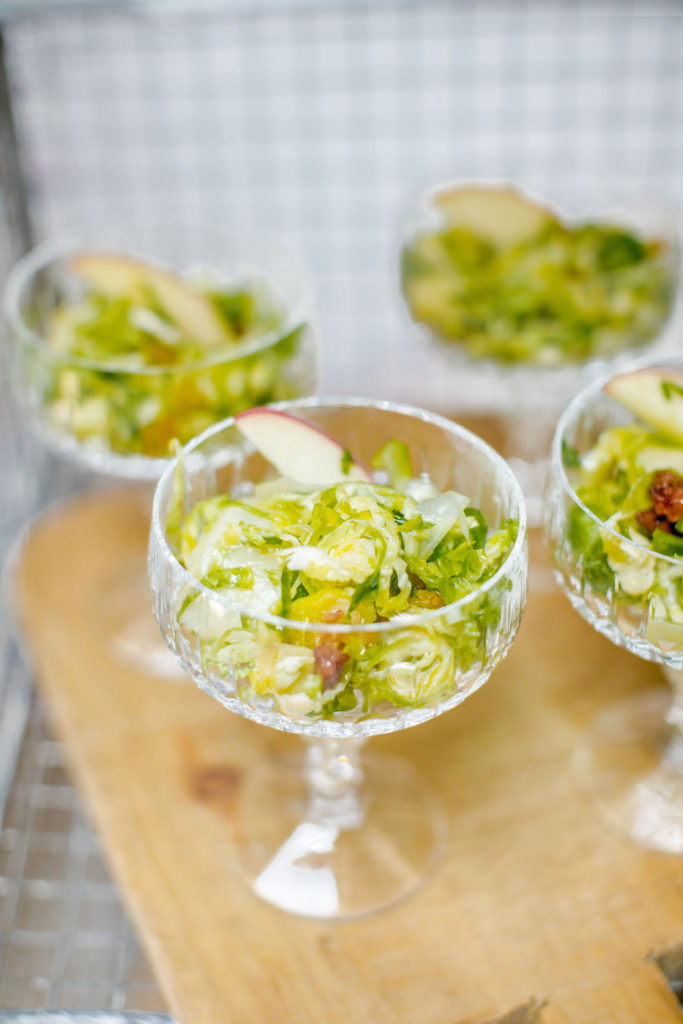 Yummy details are always a good idea!!!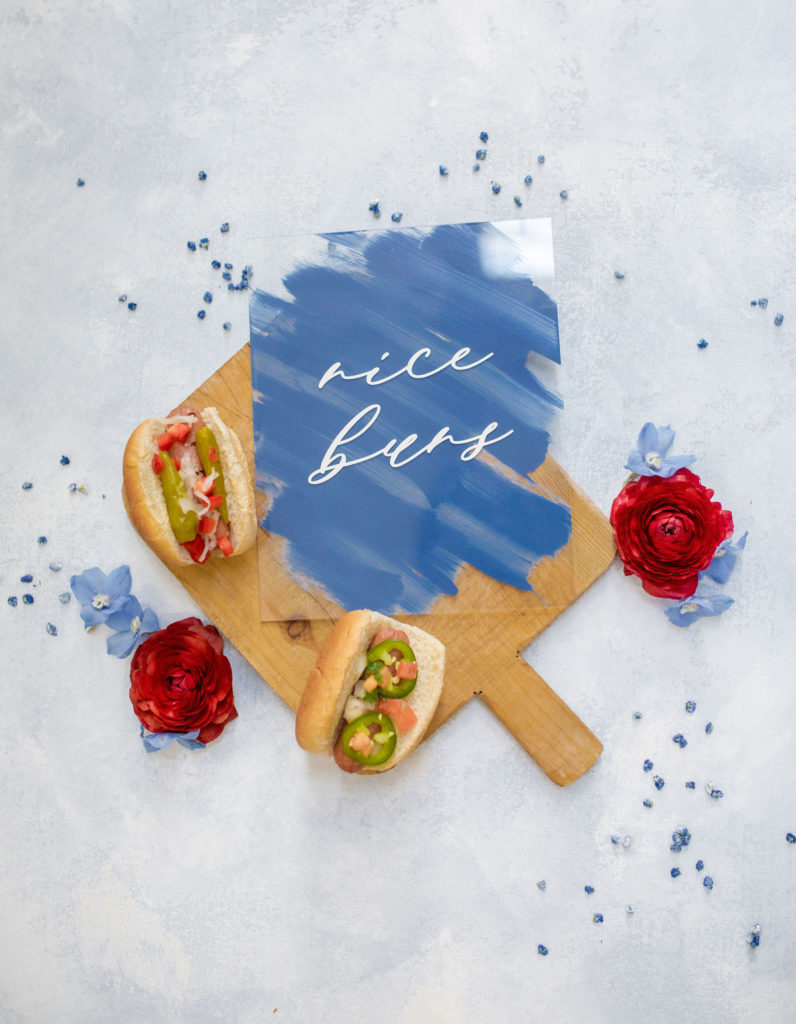 And now for the lounge! Which every party needs in my humble opinion. A place for guests to chill that is just as pretty as the rest of the party, courtesy of Sweet Salvage Rentals of course!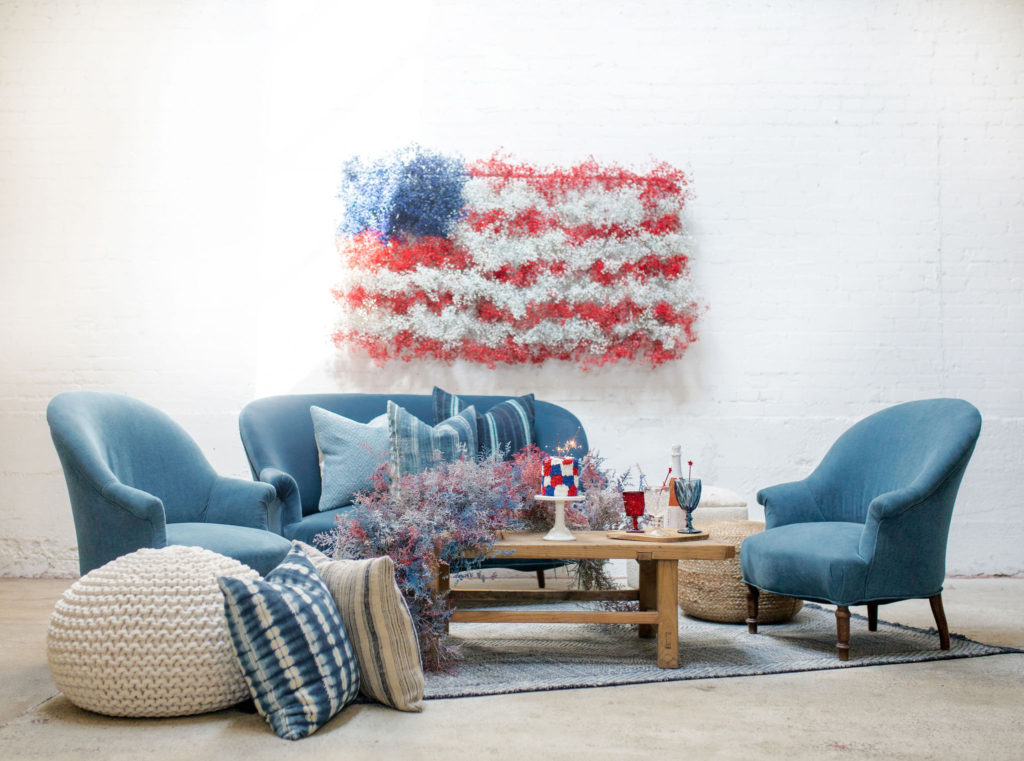 Hot diggity dog, this is one helluva a party!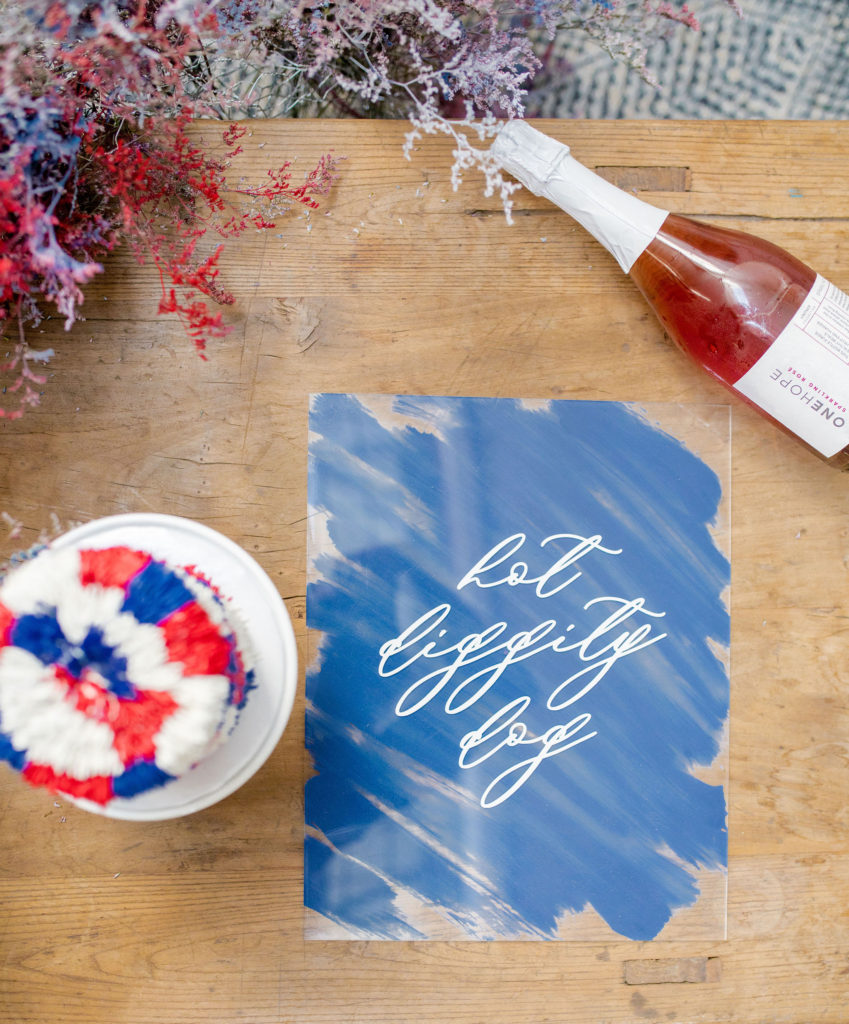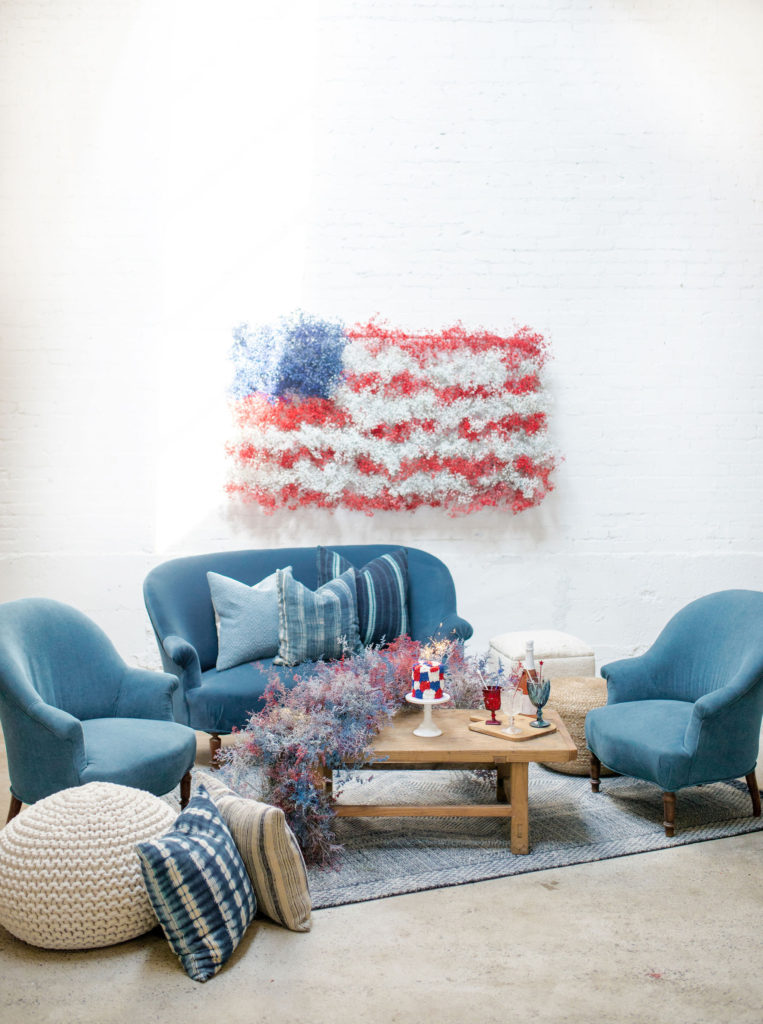 And you know the had to have the cutest 4th of July cake you ever did see!! Sweet & Saucy Shop made our patriotic fringe dreams come true with this little cutie!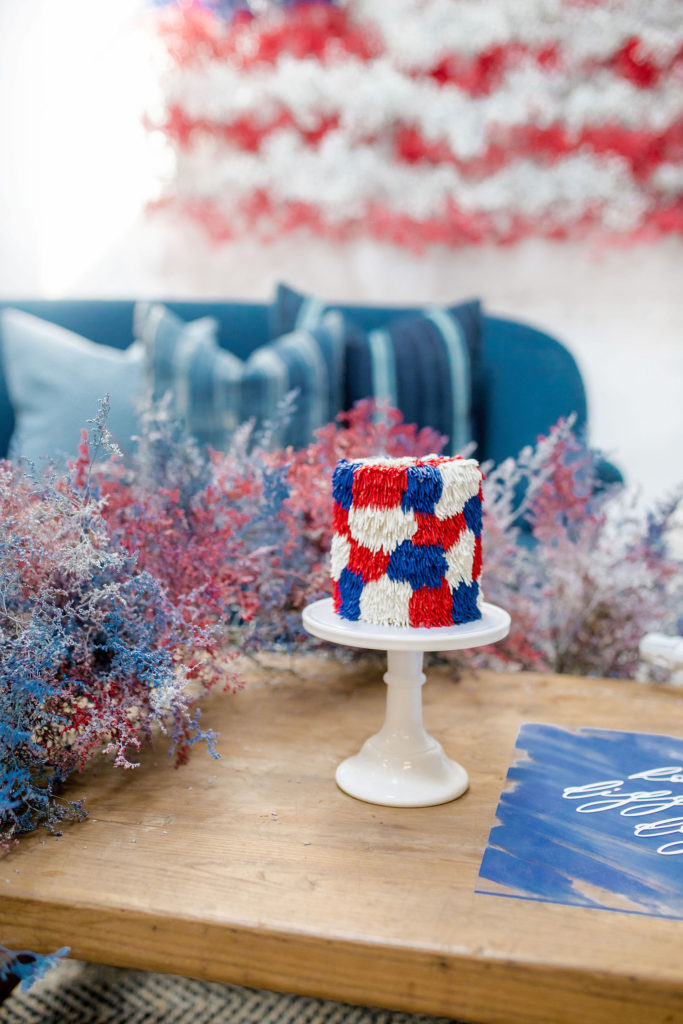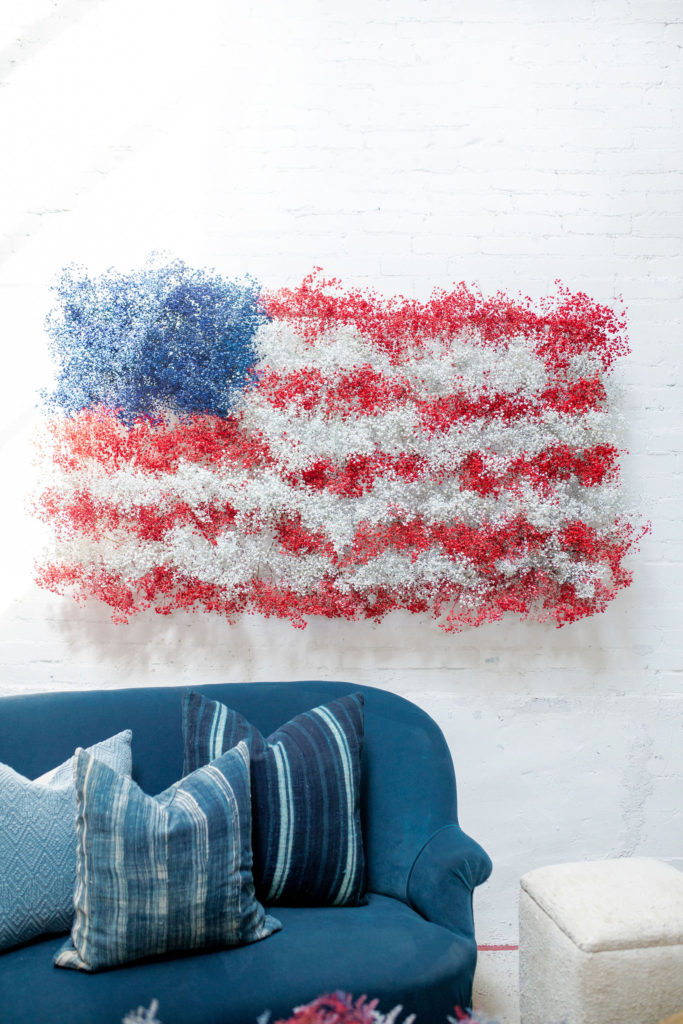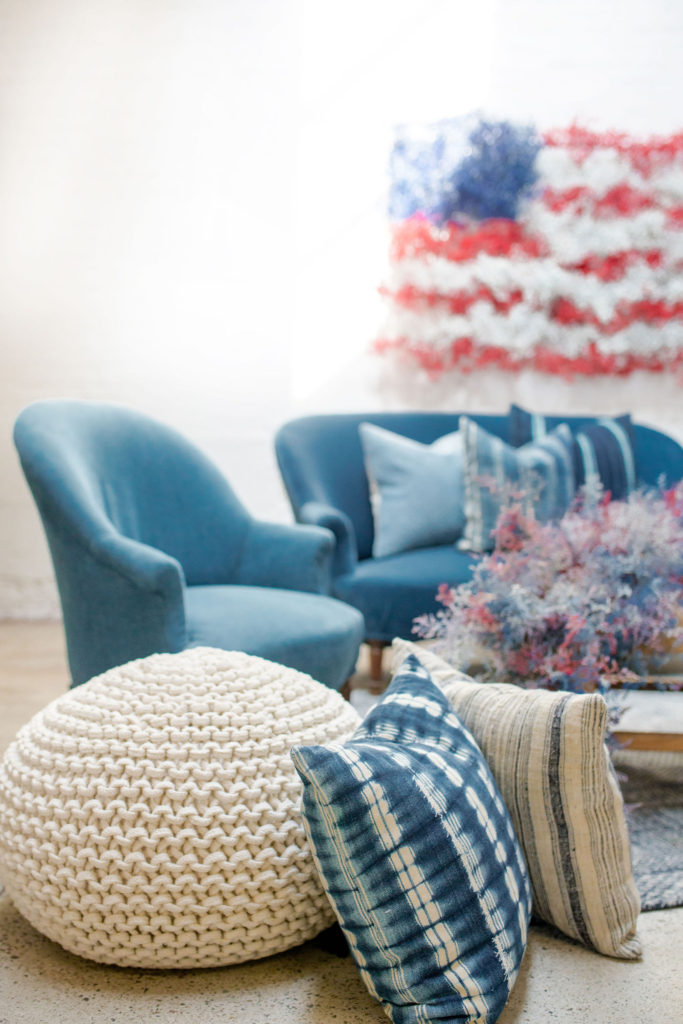 Can't wait for the fireworks!!! Just a few more sleeps!!!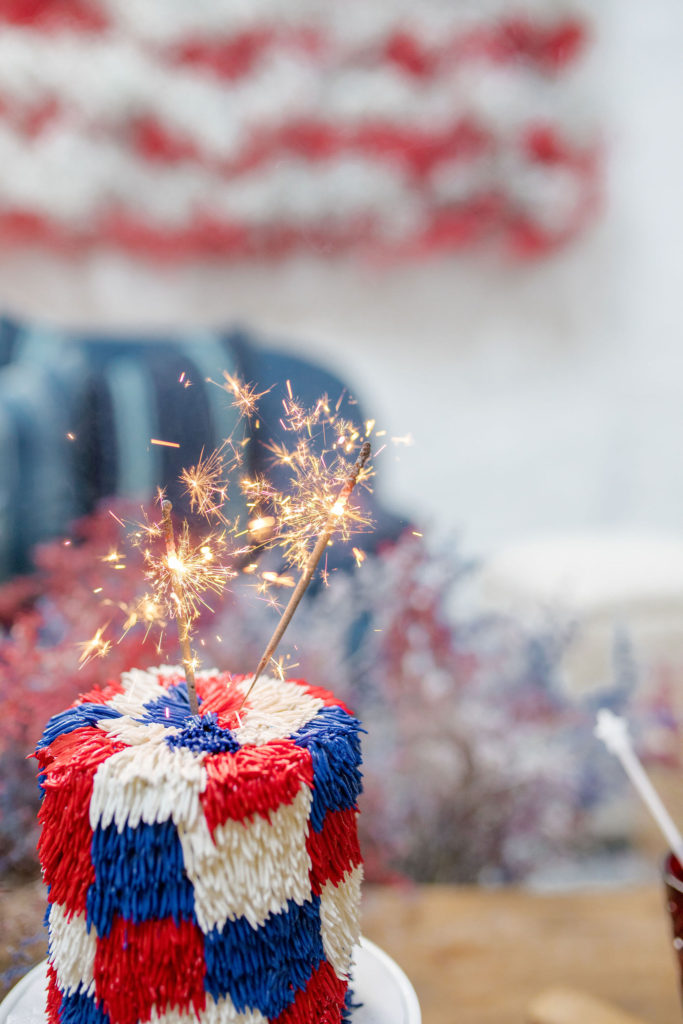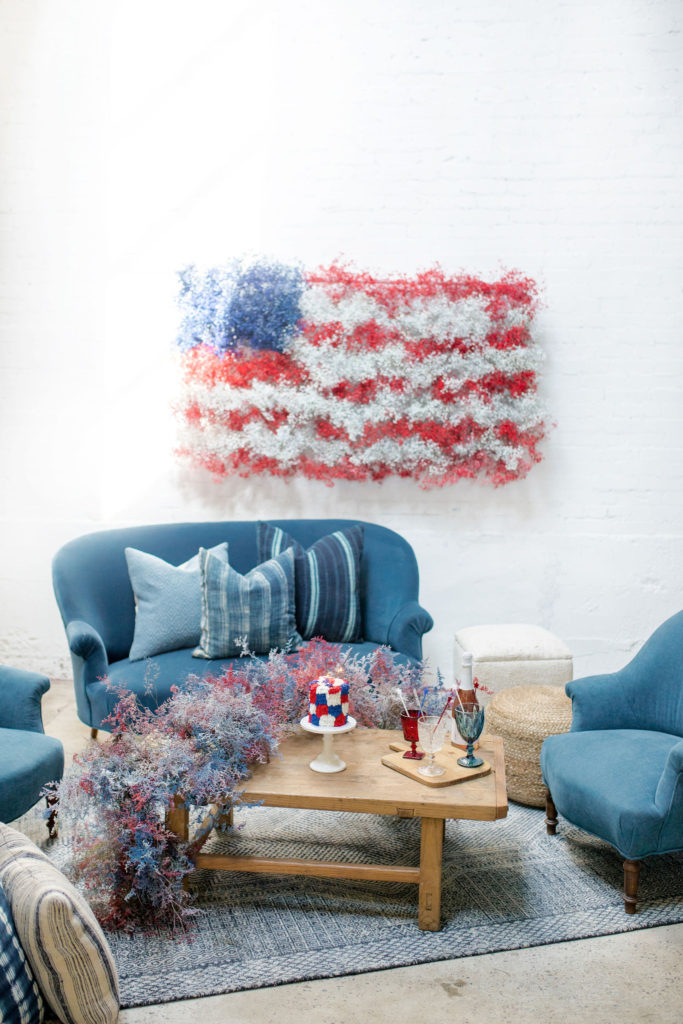 Happy 4th of July everyone! Hope it is fun and safe for you all!!!
xx
Jacquelyn