Earlier this year I spoke about Self Care and how I really want to make it one of my resolutions for 2017. Well, lucky me, one of my dearest friends Melody has gone into the field of therapeutic massage with her own business, HERE & NOW Massage. She is sharing tons of amazing information today on why it's so important. Best part of all?! Melody is offering $10 off your first session if you mention BEIJOS, so keep reading!! Melody is so well versed in the benefits of massage, it was really eye opening for me to hear what she had to say.
As a busy work from home Mom – which with a toddler and baby is nearly impossible somedays – a massage sounds AMAZING, but also unrealistic. I barely have the time to wash my hair, how will I have the time for that?! But after talking to Melody and learning more about the importance of massage I've decided it definitely needs to be added to my "self care list".
Being a mother is one of the most selfless jobs out there. You are constantly putting yourself last and your kids (and anyone else around) first. With Mother's Day fast approaching, I can't think of anything else better than to gift a relaxing HERE & NOW. Just gifting an hour or so of quiet calmness is basically like gifting a million dollars to a Mom! Because I literally can't think of anyone who deserves a massage more than a Mom.
Melody came over to my house recently to give me a massage. Yes, she does at home massages which is a total game changer!!! If I'm being completely honest, it's hard for me to go get a hair cut or even my nails done. When you're that busy it just seems like a chore at times to go get that done. However, as soon as I'm there and I can relax, I love it… It's just getting there and making the plans to do so that is tough. But with how easy Melody made it for me, how could I say no?!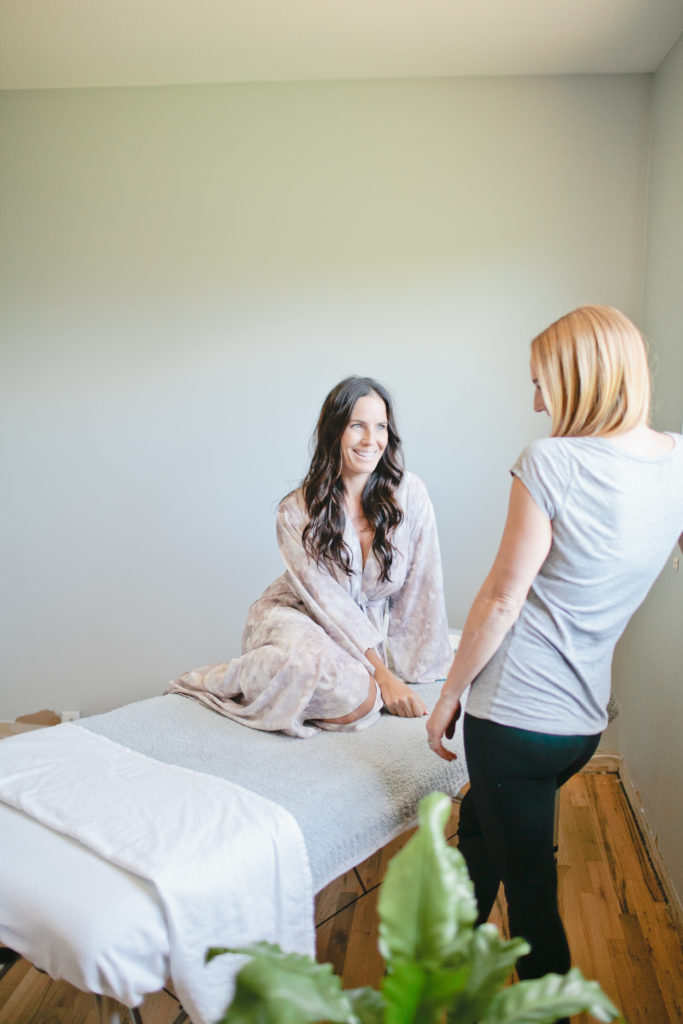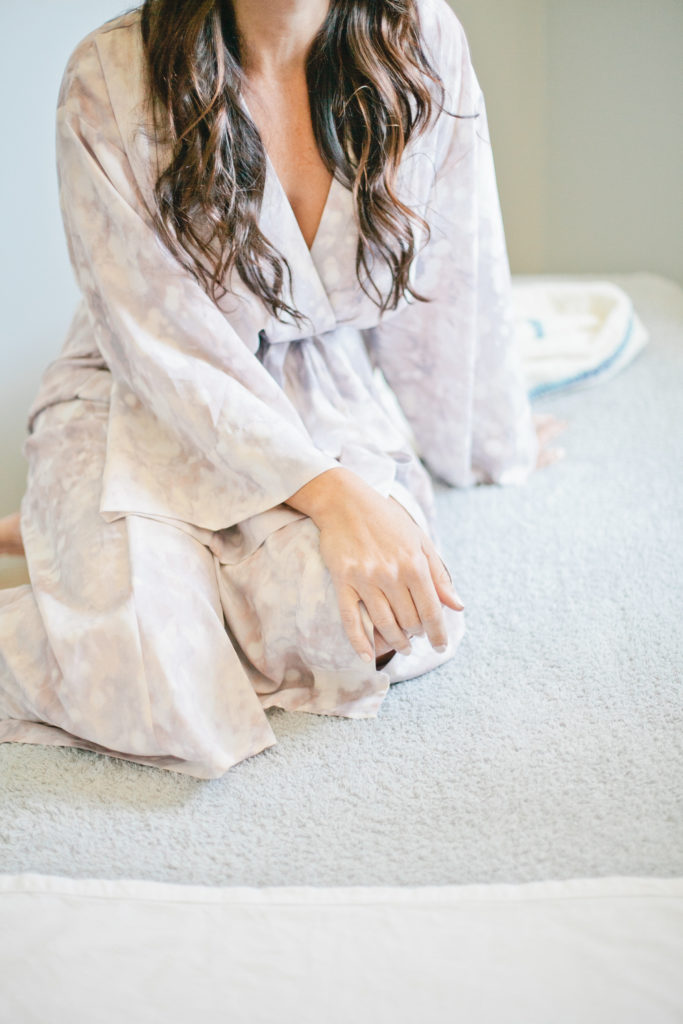 So let's check in with Melody and hear more about why massage is such an important self care concept…
Photos by Megan Welker
Robe by Maison du Soir
First of all, let me introduce my beautiful friend Melody!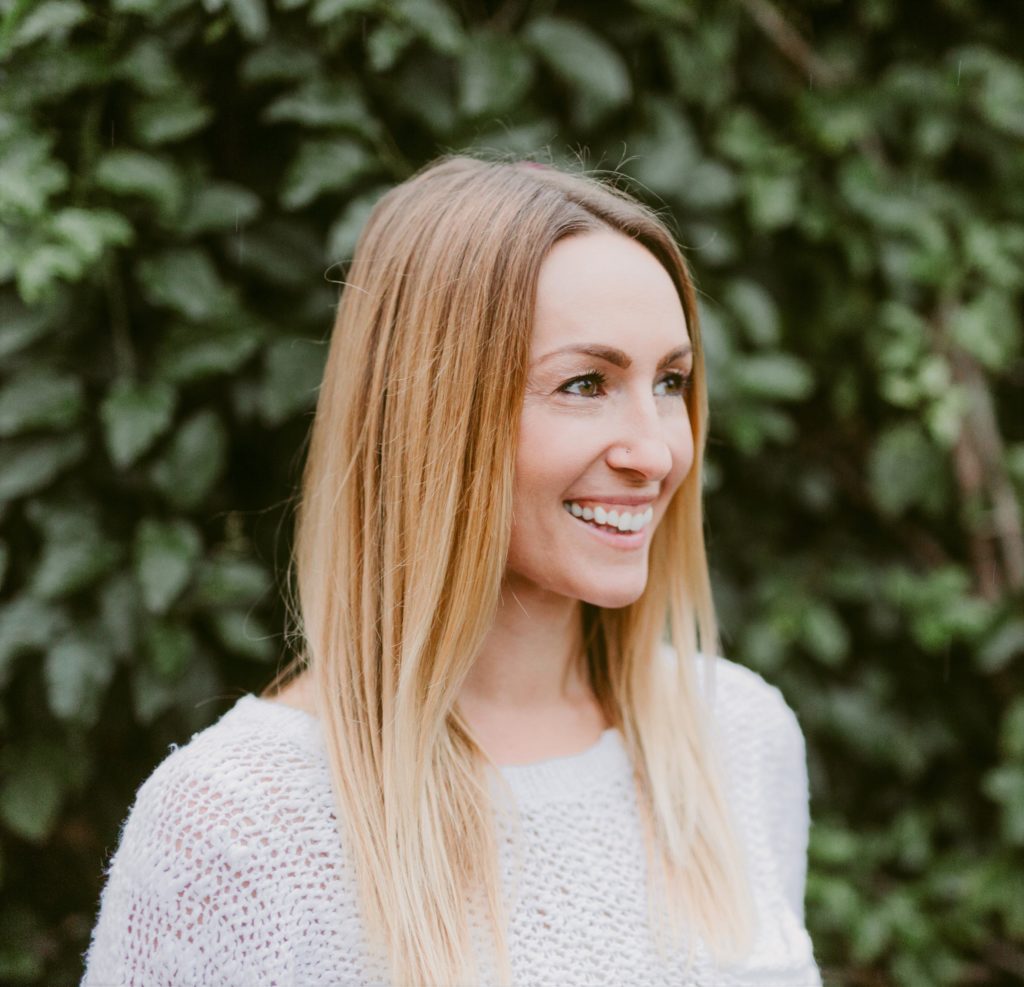 HELLO! My name is Melody and I am a Massage Therapist in Orange County, California. After 10 years in the corporate world of public relations and marketing, I felt compelled to make a change in order to combine my love of working with people and my passion for holistic wellness.
In my pursuit of becoming a Holistic Health Practitioner, I graduated from California College of Physical Arts as a Certified Massage Practitioner and began my business HERE & NOW shortly thereafter, offering specialized bodywork, mindful wellness and a holistic approach to better health.
Working with a variety of clients ranging from individuals looking for relaxation to those working to overcome injuries through a therapeutic massage approach, I specialize in an integrative blend of Swedish and Therapeutic practices to provide pain relief, release of muscle tension, stress reduction, improved circulation and more.
Becoming a massage therapist has brought me to a place of where I am able to practice living in the moment – in the HERE & NOW – by focusing on and helping others in body, mind and spirit through bodywork, wellness and better health.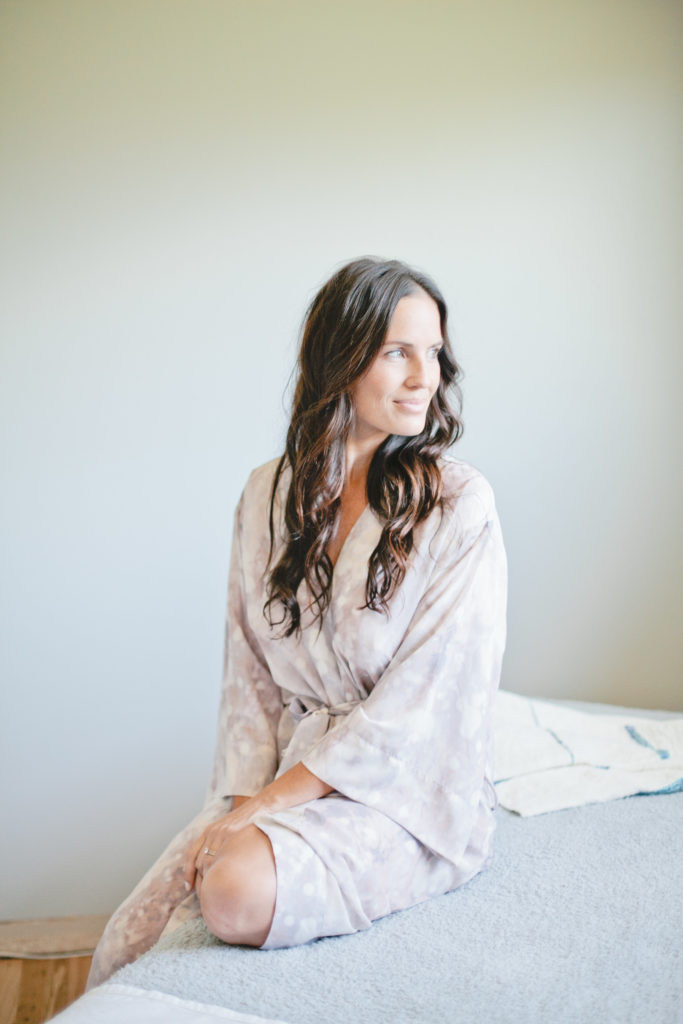 Why is self-care and massage important for women?
Whether you're a momma (new or experienced), an executive, a business owner, a mentor, a friend (and the list goes on), it's likely you have many responsibilities in your day-to-day life and it's also likely you don't put yourself on your "to-do" list. With the laundry list of things that need to get done around the house, with the kids and school, at work, etc., putting time aside for yourself is easier said than done. By the time your day is over, you're wiped out and you just want to catch up on some much needed z's.
So why should you incorporate self-care and massage into your daily/weekly/monthly routine? If you don't start now it won't be long before you're battered from exhaustion (if you're not already) and operating in a mental fog (sound familiar?) where it's hard to make it through the day without forgetting important appointments, getting through your tasks, and truly being there (in body, mind and spirit) for the ones you love. With the (most) important role you have as a mom, putting yourself first, at least some of the time, is the only way you're going to be at your best and massage therapy is one of the easiest ways to get there! Massage not only incorporates relaxation of your body and mind but also has some serious health benefits that you probably could benefit from.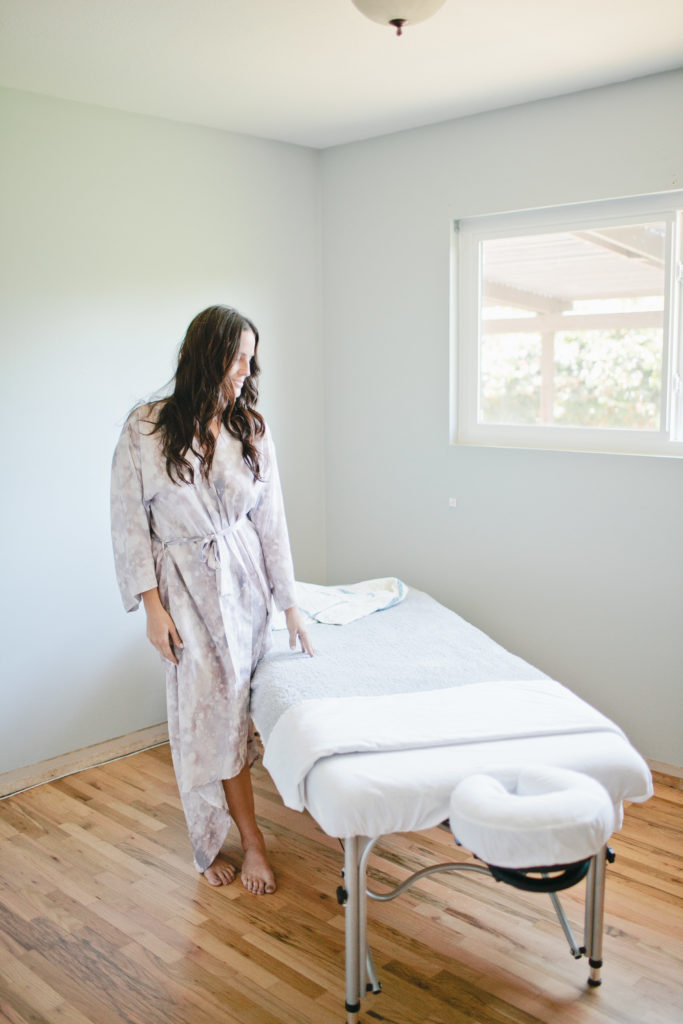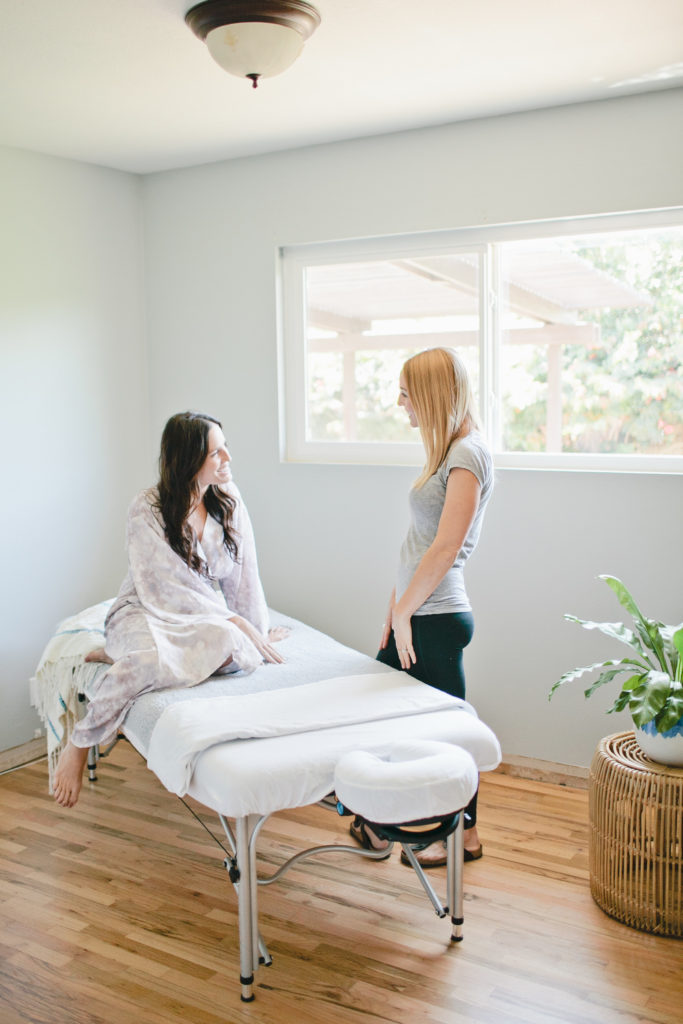 What are the benefits of massage?
There are so many benefits to massage therapy that it's hard to list just a few but let's start with what a mom needs most – some serious (and solo) R&R! No kids, no hubbie, no work, no distractions (are you excited yet?). Beyond just the obvious tranquility and rest you'll be giving your body and mind, the list of health benefits of massage is even more impressive and perfectly suited for the new/busy/working momma:
Manage Anxiety & Depression – Motherhood is the greatest undertaking for most women. It comes with highs and lows, the good and the bad, the pretty and the ugly. It's not easy! If you're suffering from postpartum, talk to your doctor about how massage therapy could help you.
Ease Pain – Tight shoulders, neck tension and low back pain sound familiar? Whether you're breast feeding, carrying around your toddler or just dealing with day-to-day stresses, pain is probably second nature at this point. It shouldn't be.
Hormone Regulation/Balance – Are your hormones out of whack? If you've just had a baby it's likely they're all over the place with estrogen and progesterone hormone levels changing and prolactin and oxytocin hormone levels rising to facilitate breastfeeding. Those with decreased libido, fatigue, migraines, mood changes, irregular periods, hot flashes, and poor focus can also benefit greatly from balancing hormones.
Improve Sleep – Okay fine, this one is not entirely up to you if you have a newborn or if you're sleep training but at the end of the day, you need your z's, deep (REM) sleep. Or maybe there is so much stress in your life that you're suffering from insomnia. Bottom line, you can't afford lousy sleep!
Boost Immunity: Got germs? Massage therapy increases the activity level of the body's white blood cells that work to combat viruses. Because who has time for the flu?
Promote a Better Sense of Well-Being – We all need a break every now and then. Time to recharge, rejuvenate, refresh and get centered. Not only will you feel relaxed but you'll also feel re-energized and ready to take on life even better than before.
The list is long but here are a few more things massage therapy may also help with: digestive disorders; tension headaches; soft tissue strains; circulation; reducing blood pressure; sciatica, chronic pain; Carpal Tunnel Syndrome; rheumatoid arthritis pain; fibromyalgia; chemotherapy-related nausea..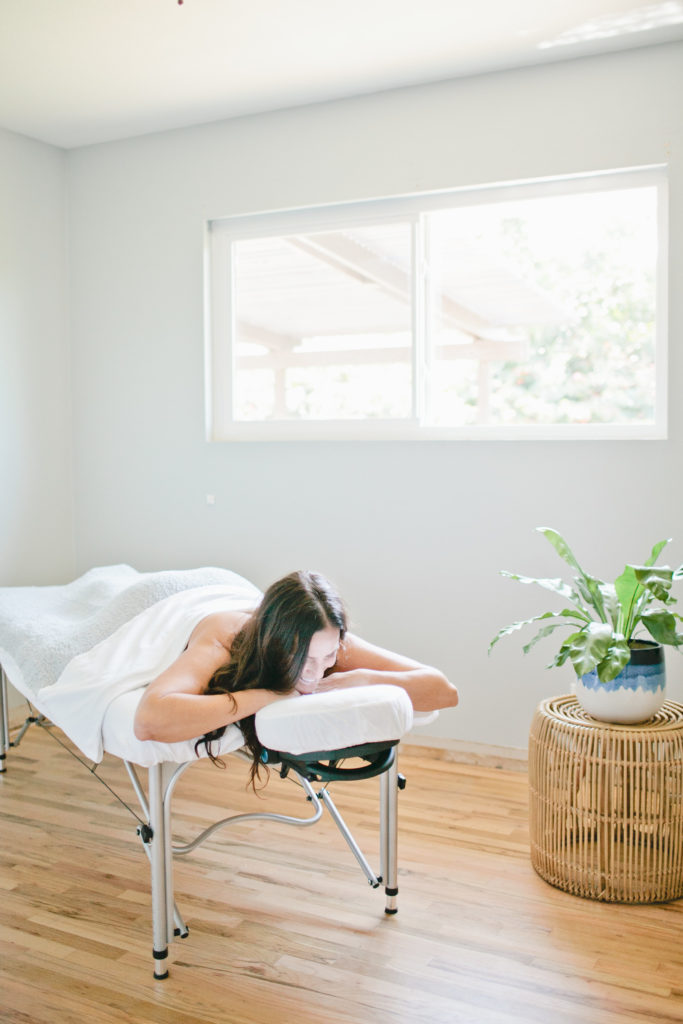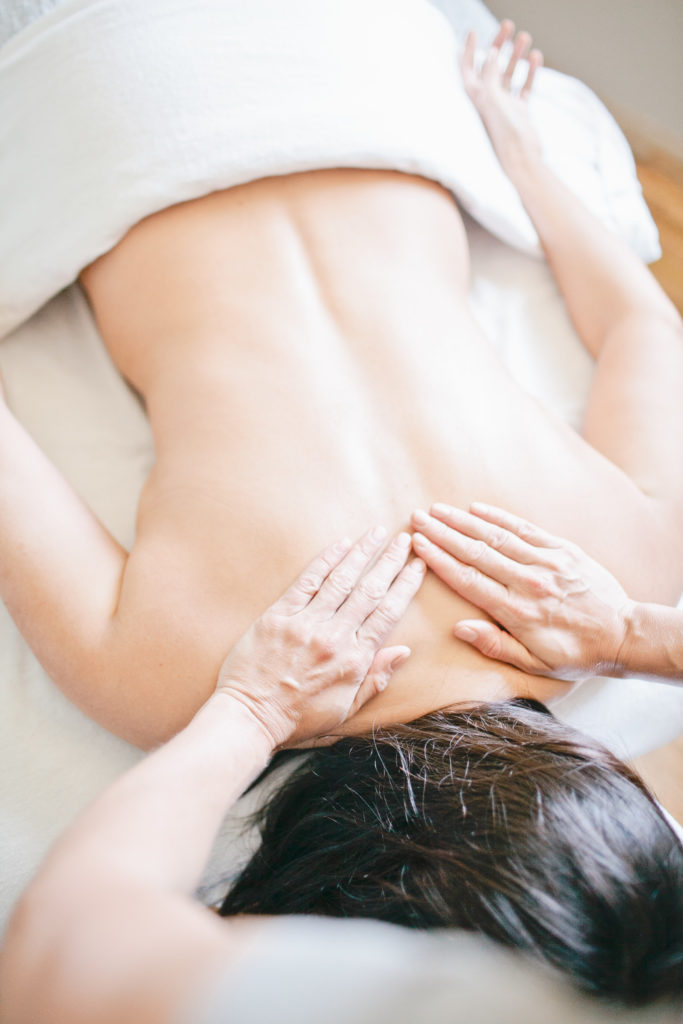 How do I maximize my in-home massage experience?
BEFORE: Get someone to watch your kid(s). Give yourself two hours for a 60 minute massage – 30 minutes to get ready and relax pre-massage and 30 minutes post-massage to shower, dress and return (slowly) back to your normal routine. Before your massage, pick a quiet room in your house, take a hot shower, light some candles or a diffuser with essential oils and put on your favorite soothing music.
DURING: R-E-L-A-X. It might not be easy but this is YOU-time. No kids, no housework, no co-workers or cell phone…just YOU. Take deep breaths, focus on your body and the movements of your inhalations and exhalations and keep your mind in a neutral place. You want to stay in the preset, in the now.
AFTER: Hydrate. Hydrate. Hydrate. Massages are dehydrating and it's important to replenish by drinking plenty of water. Fluids (and toxins) are pumped into your circulatory system, where it heads toward your kidneys eventually moving out of your system. The water provides your kidneys with the water they need to effectively eliminate waste and toxins.
Try to take it easy (again, easier said than done) the rest of the day, practice some breathing techniques if you get frustrated or if your mind starts to wander, and remind yourself of what good you did for yourself with the massage you had earlier.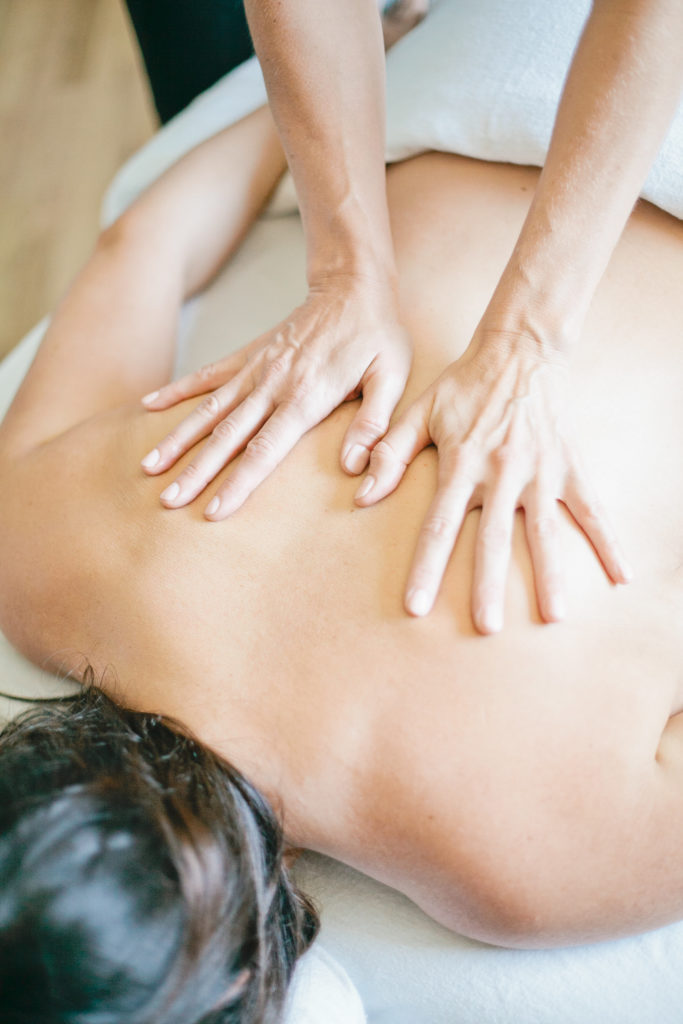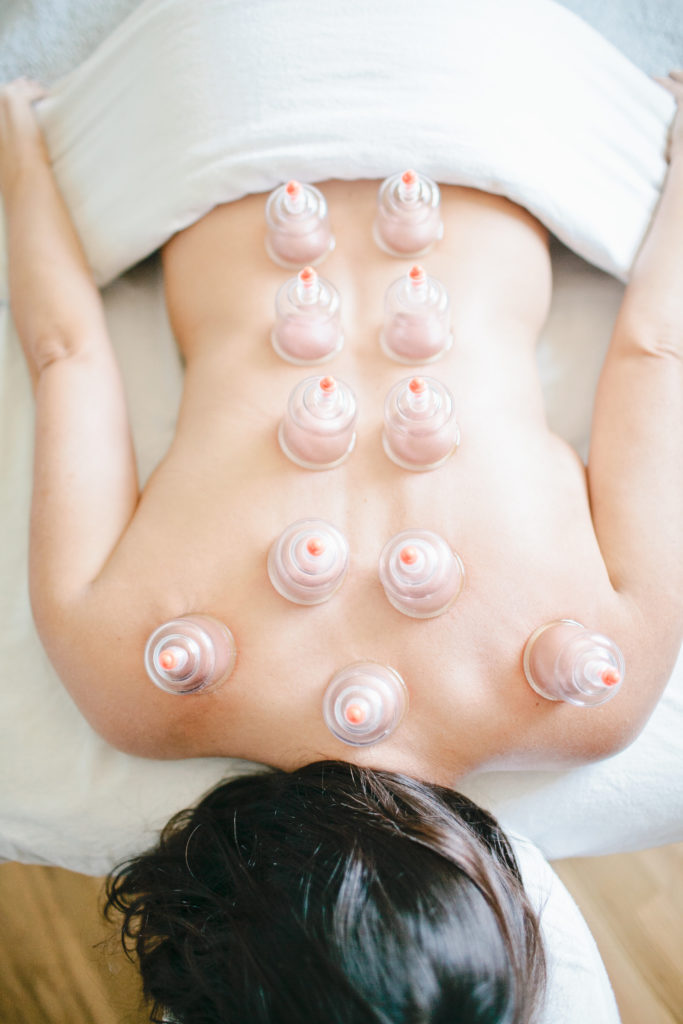 What if I've never had a massage? What if I'm not comfortable with my post-baby body? What if I can't relax?
First timer? No problem – there's a first for everything. Your in-home massage therapist will come prepared with everything needed (table, sheets, oils, music) and will explain the entire process (basically you lay down and relax while the therapist does all the work). This is your time, you're in a safe place and there is nothing for you to worry about. Leave the stresses and your self-judgements at the door, and take this time to put your mind at ease. Still not able to relax? Take deep, long breaths, imagine yourself on your dream vacation and anytime your mind starts to wander, bring it back to your body and the present moment. Have more questions? Check out the frequently asked questions here: Here & Now website.
MAKE THE TIME! Do I need to say it again? MAKE. THE. TIME. That's right, you need it, you deserve it and you've earned it. The best part of an in-home massage is that you don't have to leave the house – no bags to pack, traffic to fight, parking to find, or extra time to plan around. Let's face it, we don't all have the funds to enjoy what some may consider a "luxury", but at the end of the day, self-care is crucial for you to be the best mom to your children, partner to your spouse, employee to your boss, friend to your girlfriends, daughter, sister, boss… So whether you're getting a massage, making it to your favorite yoga class, taking a quick nap, getting a mani/pedi, or even indulging in 60 (uninterrupted) minutes of the latest episode of The Bachelor, MAKE TIME FOR YOU.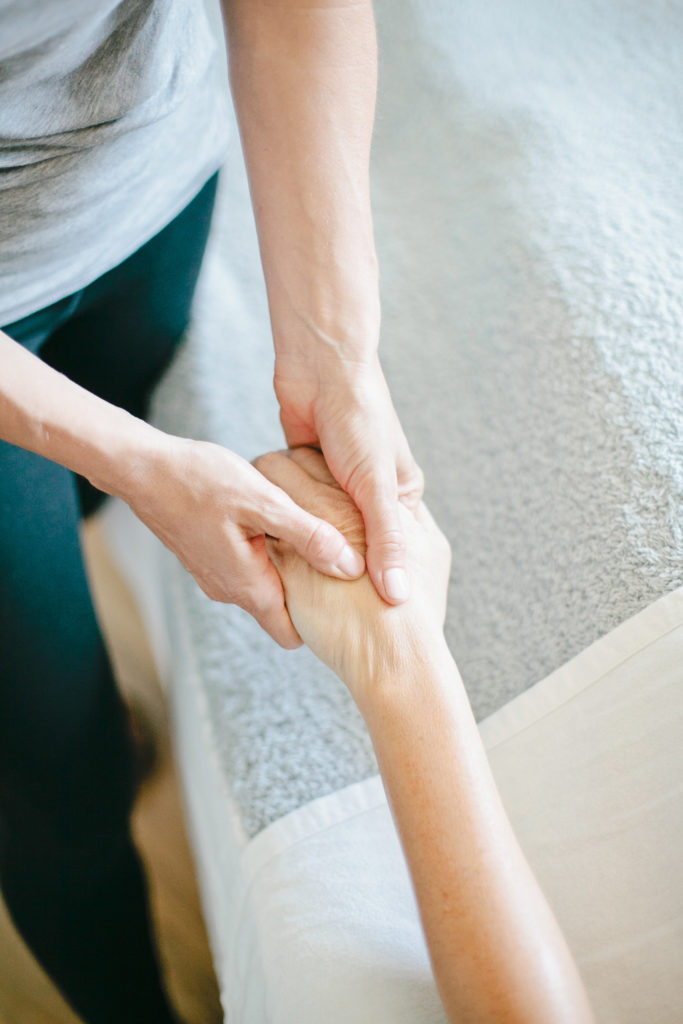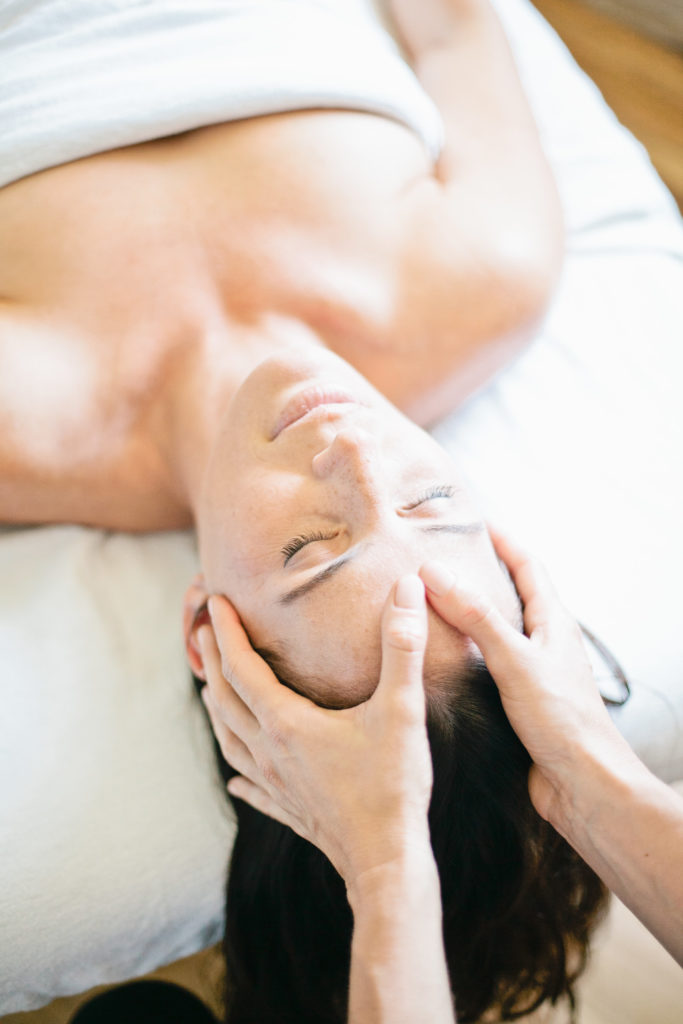 How often should I be receiving massages?
Brush aside any thoughts that massage is only a feel-good way to indulge or pamper yourself. To the contrary, massage can be a powerful tool to help you take charge of your health and well-being, it be a specific health condition or you're simply looking for a stress reliever. Whether you have the financial means to get weekly massages or just one from time to time, the benefits you'll receive will make a huge impact on the quality of your life.
In the Orange County area? Book your in-home massage with licensed massage therapist Melody Althaus, owner of Here & Now Massage | Wellness | Holistic Health.
Remember, if you mention BEIJOS you receive $10 off of your first session!! So go treat yo'self or even gift a Mama you love with the best gift of all – some TLC!
ENJOY!!! And don't forget to take care of your self!!! XX
Jacquelyn