We are full of 4th of July inspiration over here this week! Can you blame us?! It's one of the best holidays to celebrate. Anything with celebrating America, summer nights, hot dogs, and fireworks, I'm there! This year, I'm hosting and I couldn't be more excited to entertain. I love setting the table for dinner parties, it brings me a lot of joy! Getting a table ready is not only fun but so easy! My biggest tip: Do it the night before! You will have plenty of time to make it perfect without the stress of time. This year, I used Sur La Table's outdoor dinnerware and glassware. Keep on scrolling to see how I did it, and how easy it is for you to do at home too! Plus, you can shop my favorites at the end of the post.
Photos by Dayna Studios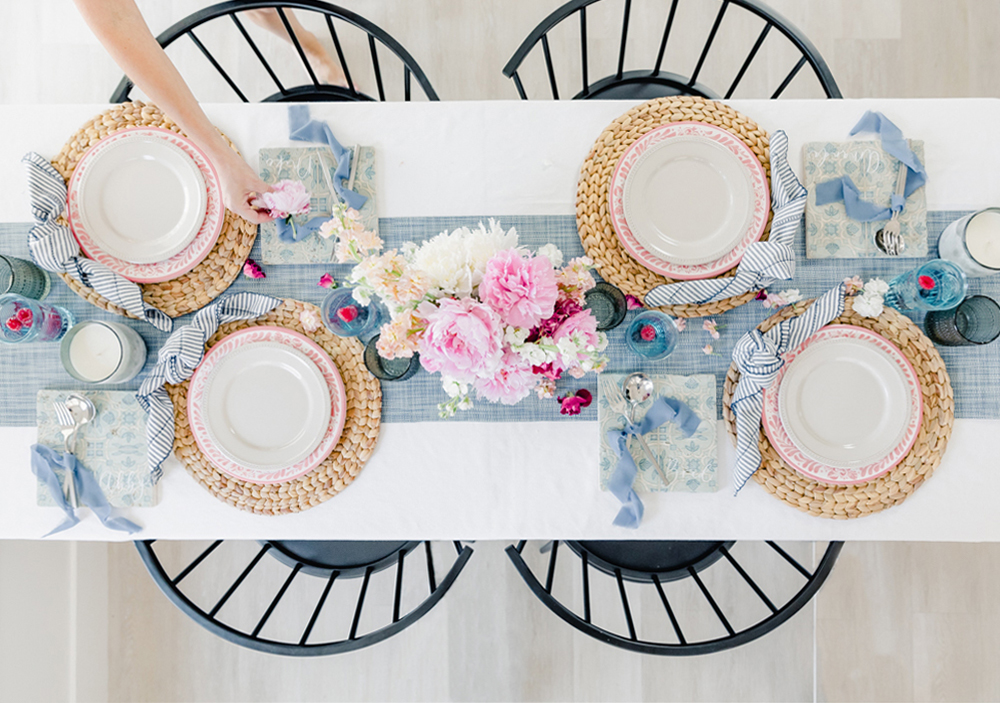 1st, let's start with the invitation. And yes, you can send an invitation for the 4th. Why not? It's fun! Going that extra mile, you are stepping up your hostess game. Proper Letter Co. whipped up this pretty pastel invite. I love everything she does.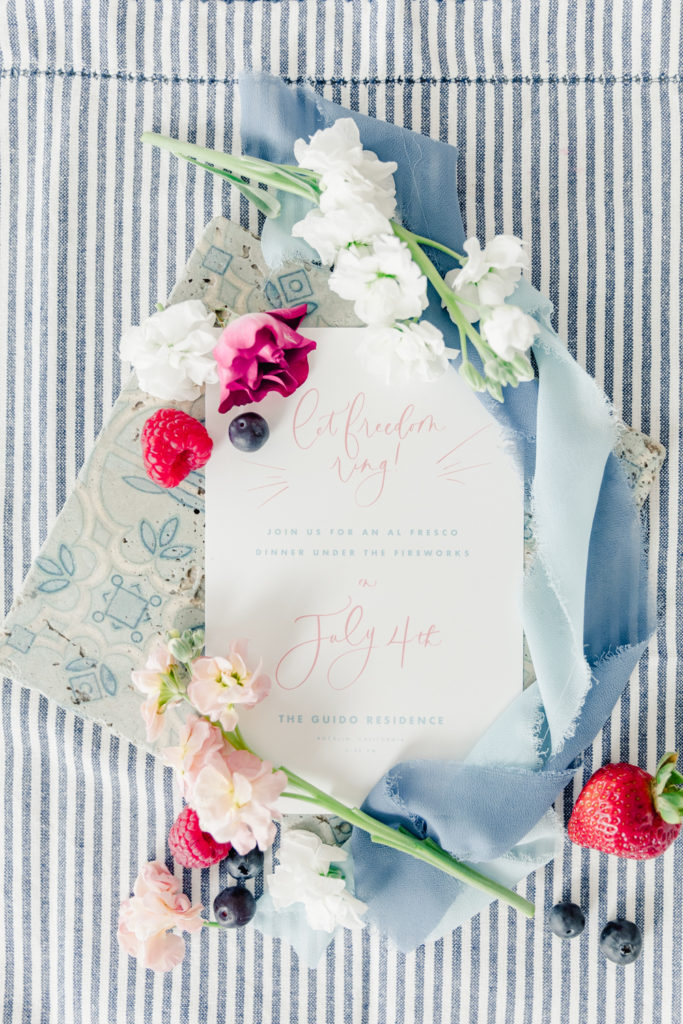 Ok, so its time to dress up that table! Here is how I did it!
Lay On the Tablecloth + Runner
We are still getting new furniture in our new house, and we are still without a real kitchen table! Baby steps, right? Sometimes you might need to rent or use plastic tables. Not easy on the eye, but with Sur La Table's tablecloths and runners, you can achieve beauty on any table. I love the Chilewich Mini Basketweave Table Runner .You can use these indoors and outdoors, which I love multi-purpose items, and these durable beauties are made of Terra Strand (which is made out of phthalate-free, renewable vegetable compounds). You know these runners will last thru endless summer meals indoors and out. Easy to unwind and roll down the table. They also come with a reusable velcro so that it will stay rolled up after your done.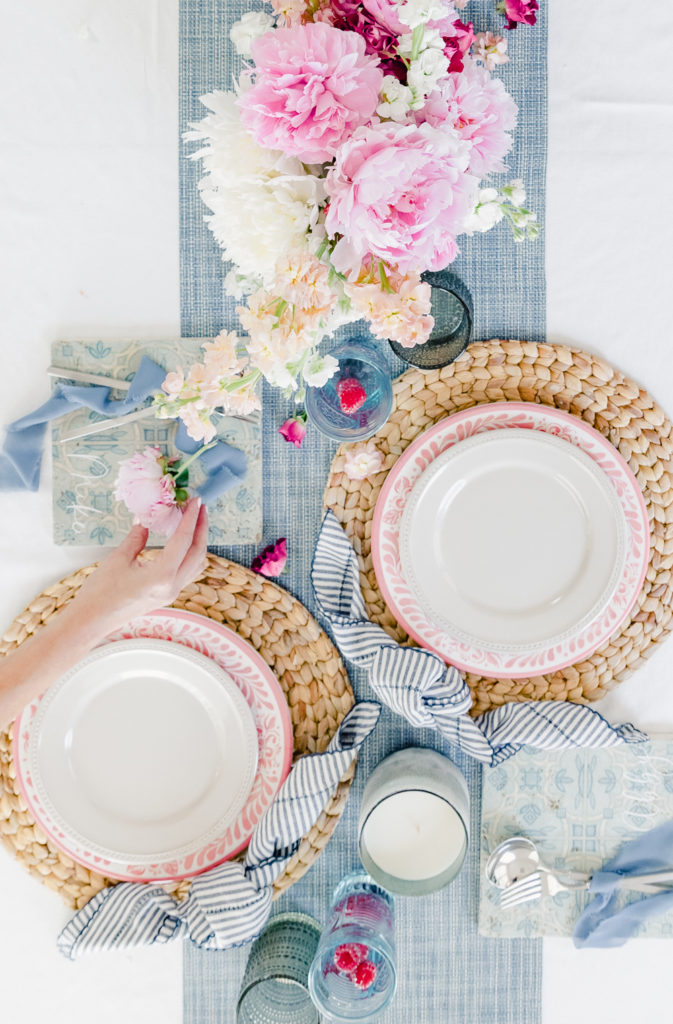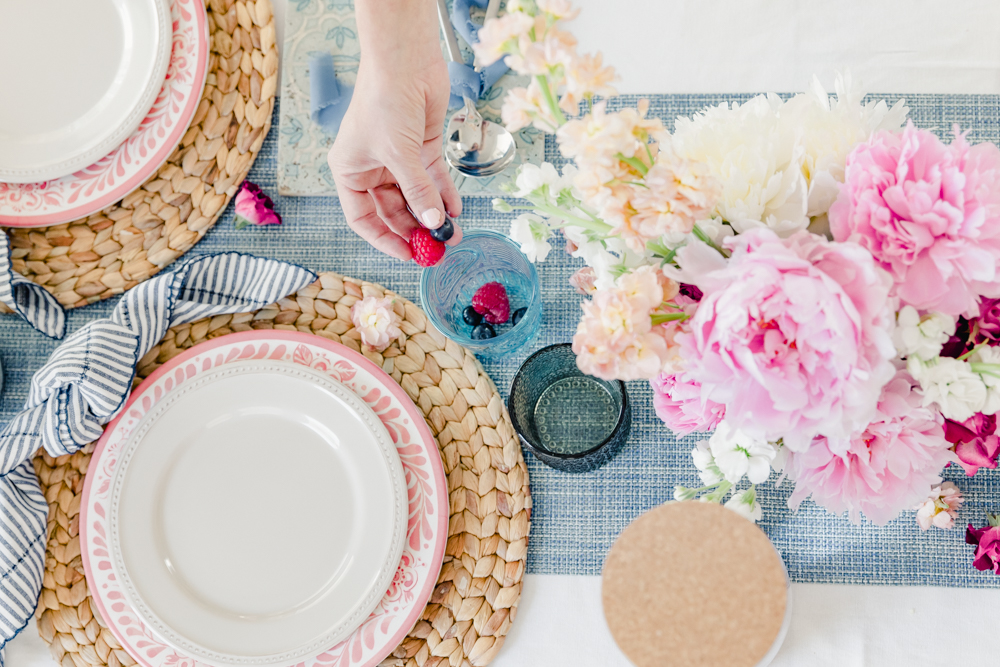 Adding Flowers!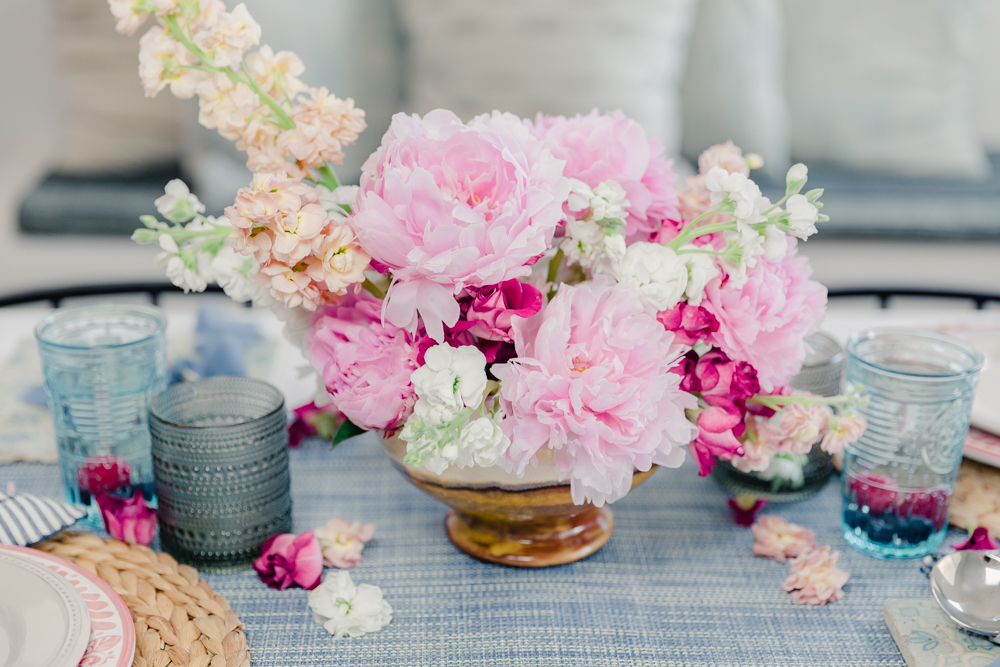 As much as it's nice to have professional florists bring you a beautiful arrangement for your dinner party, it's just… well expensive! I went out to Trader Joe's and Whole Foods and picked up some neutral pink and peach tones florals. Then I channeled my inner florist, and there you have it! You can definitely do this at home!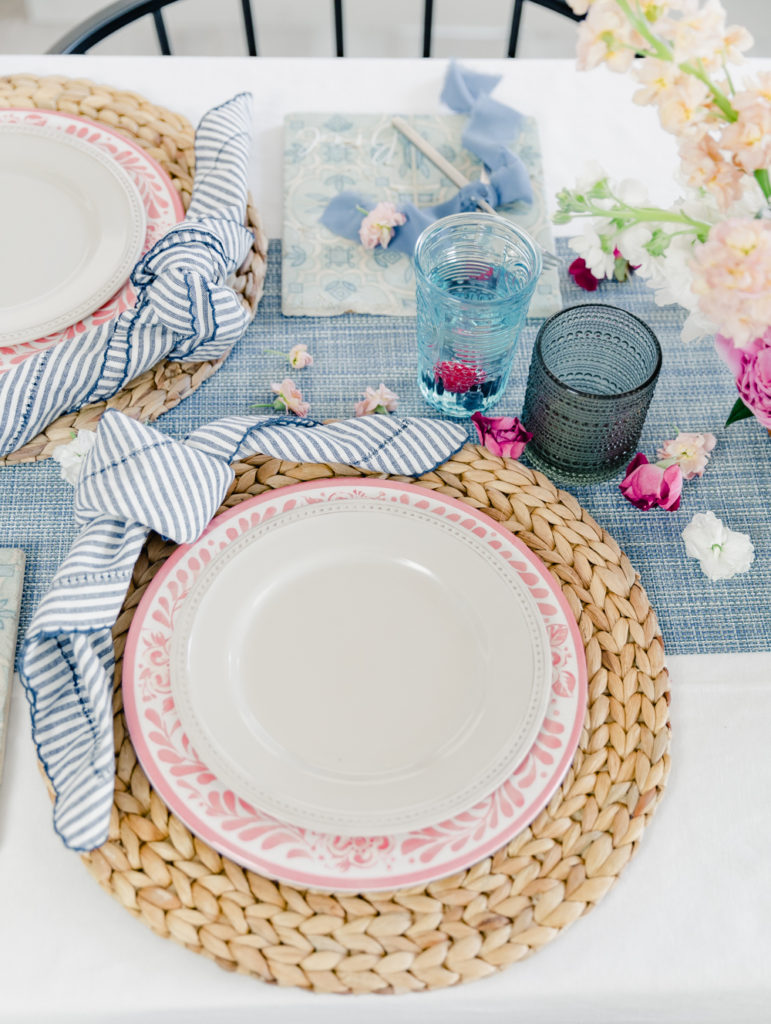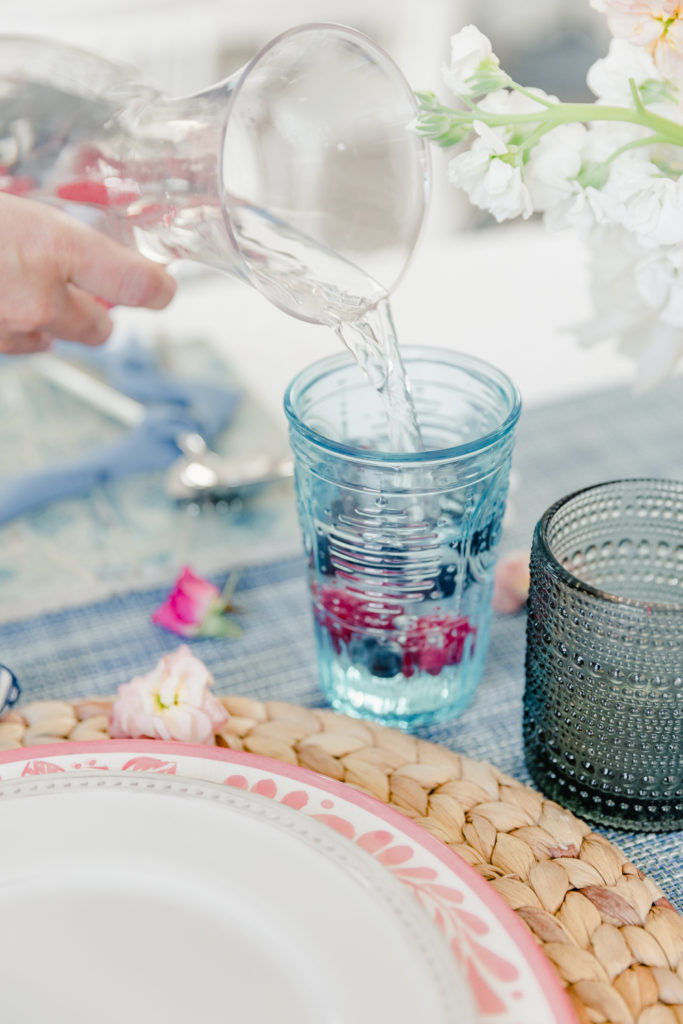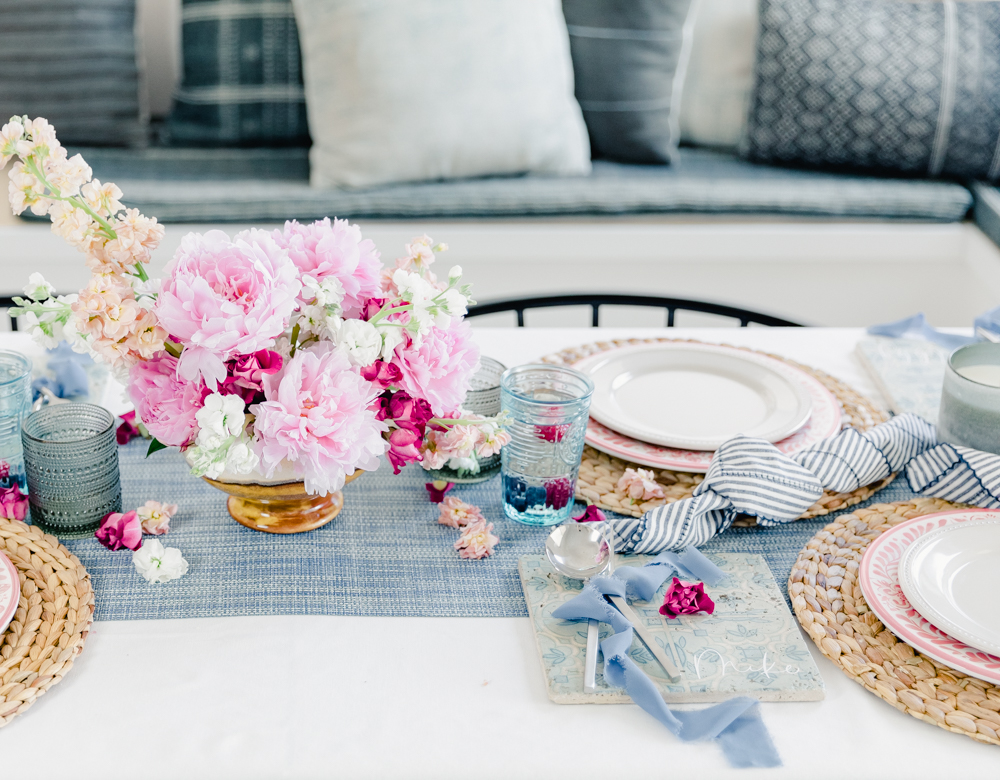 The Essentials
If you are throwing a dinner party for four, or a bigger event, or just the two of you, have fun with it! When I throw dinner parties, especially for holidays like 4th of July, I like to change up the traditional colors. Chambry, pink, and gray were my primary colors this year for the 4th of July. Adding in natural rattan with the chargers, followed by the Marisol Dinner Plate which I loved the pink floral hues, and finally the Pearl Melamine Salad Plate in grey. I have a soft spot for pink florals. Sur La Table's outdoor dinnerware is BPA- free handcrafted melamine and seriously looks like real ceramic! It's the ultimate go-to outdoor dinnerware both for indoors and outdoors. Plus, it's dishwasher safe. After a night of entertaining, the last thing you want to do is handwash dishes.

Tips on placing glassware: When placing glassware, I like to do between 2-3 glasses. It makes any dinner look just that more special. Different levels are essential too, and if you can add multiple colors! I used the Foressa Jupiter Double Old-Fashion tumbler in grey and brought that mysterious smokey vibe to the table. Alongside Mr. Grey, is the vintage-inspired Bormioli Rocco Romantic Glass in blue. This guy gives the table a pop of color.
We love to knot our napkins, it's another Beijos detail you will see a lot. It's so easy to do! I used the Navy Striped Napkin from Sur La Table. I love the stripes mixed with floral, so pretty.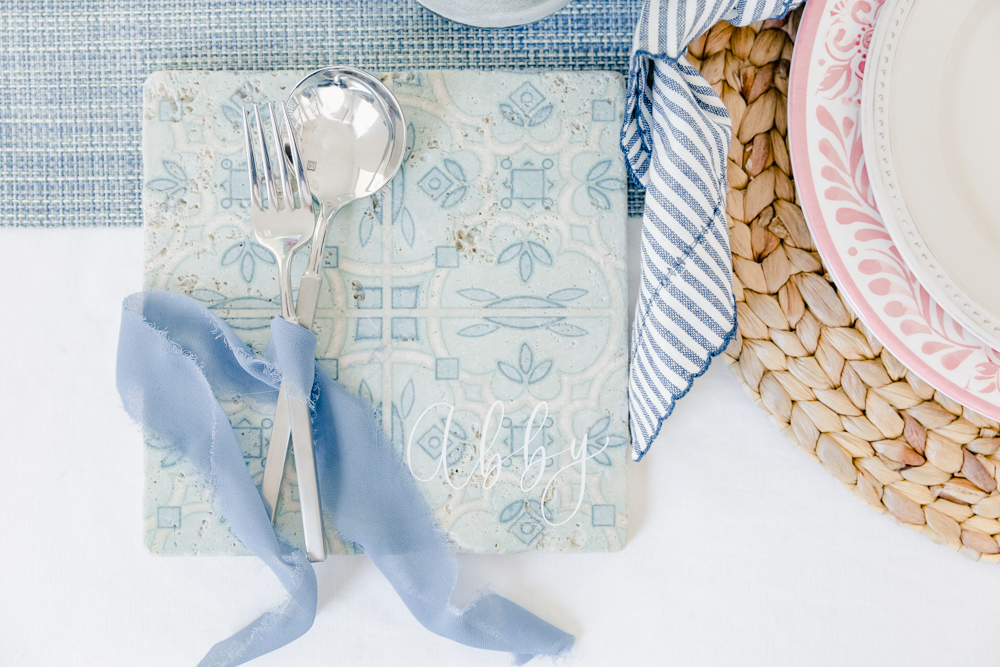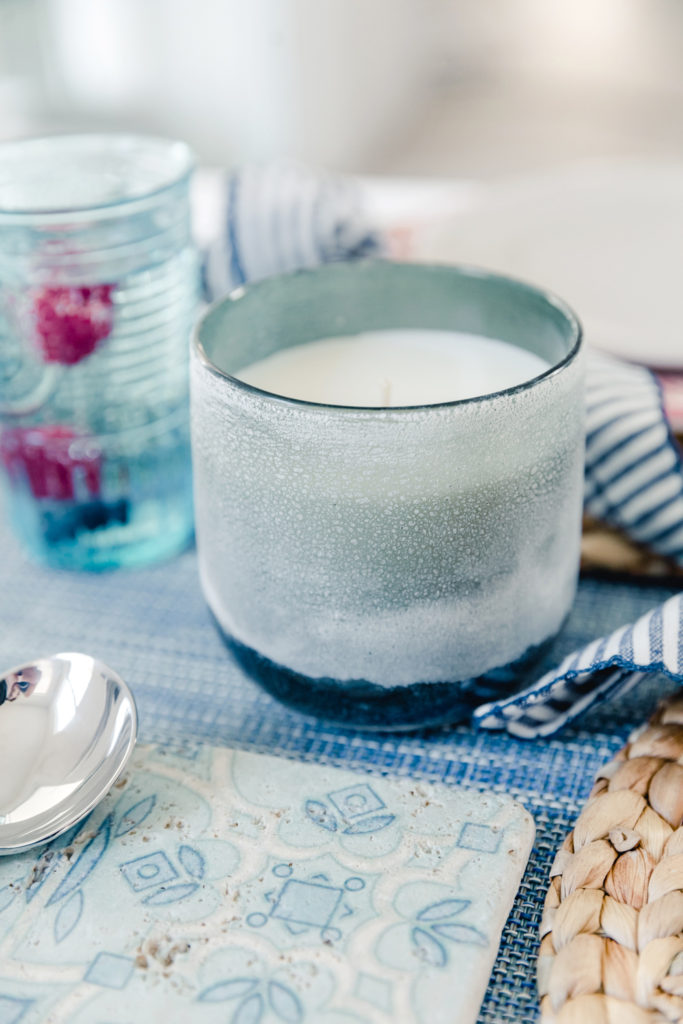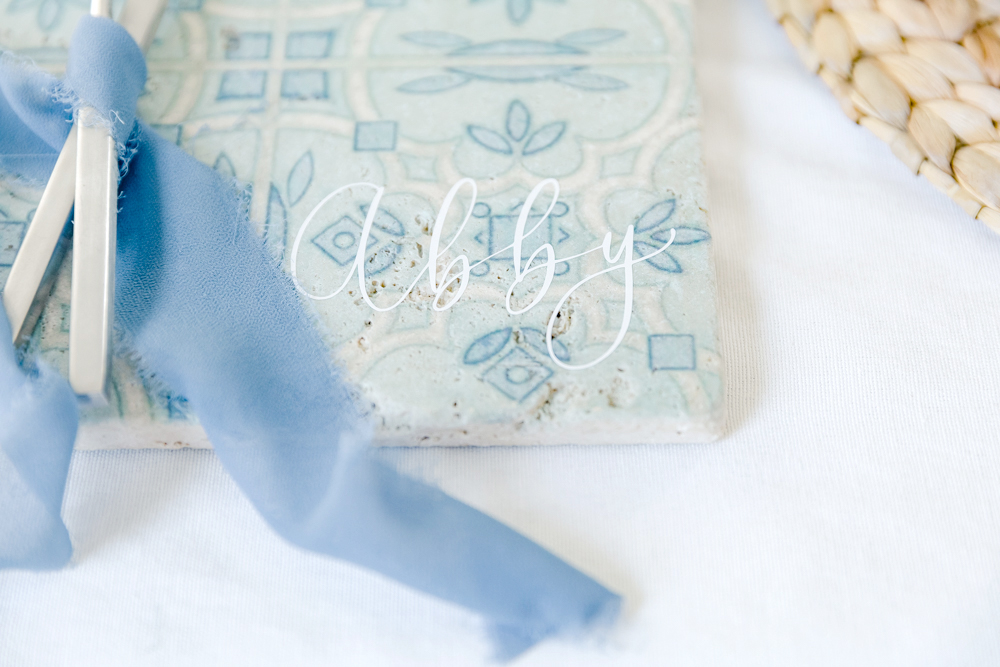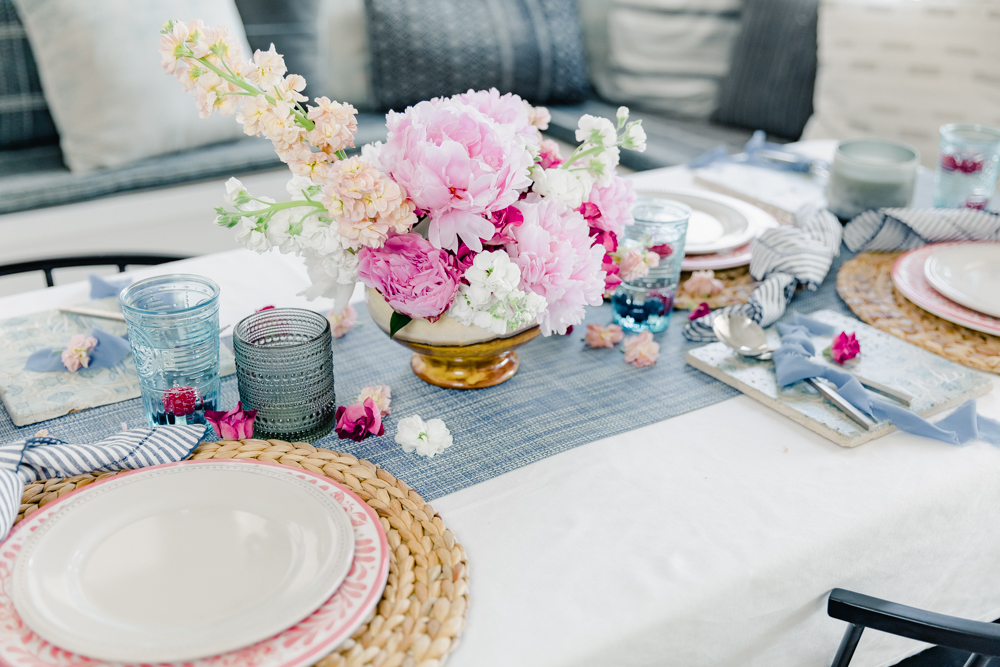 Flatware + Floral Details
Flatware is DEFINITELY my favorite entertaining piece! I used my everyday flatware too! Use what you have! I love to place them in new places or different ways. Lately, I have been into placing a spoon or fork at an angle on the plate. Then place a knife near your napkin or the side of the plate. Sur La Table's has these beautiful blue mosaic trivet's that I placed the flatware on. Adored with Proper Letter Co. beautiful handwriting to show each guest where to seat themselves. The final touch, wrapped a pretty blue ribbon around the flatware to give it a delicate look.
I love sending home my guests with a little something for dinner parties, like the trivet!

Another fun Beijos detail that you will probably always is LOTS and LOTS of loose flowers. We are smitten over these details! Just take the heads off, and place them around the table. I like to add most of them around glassware and flatware. We also add other details like fruit, greenery, candy, and confetti. With it being the fourth of July, you can add fresh fruit, confetti, sparklers, the list goes on! Have fun with it!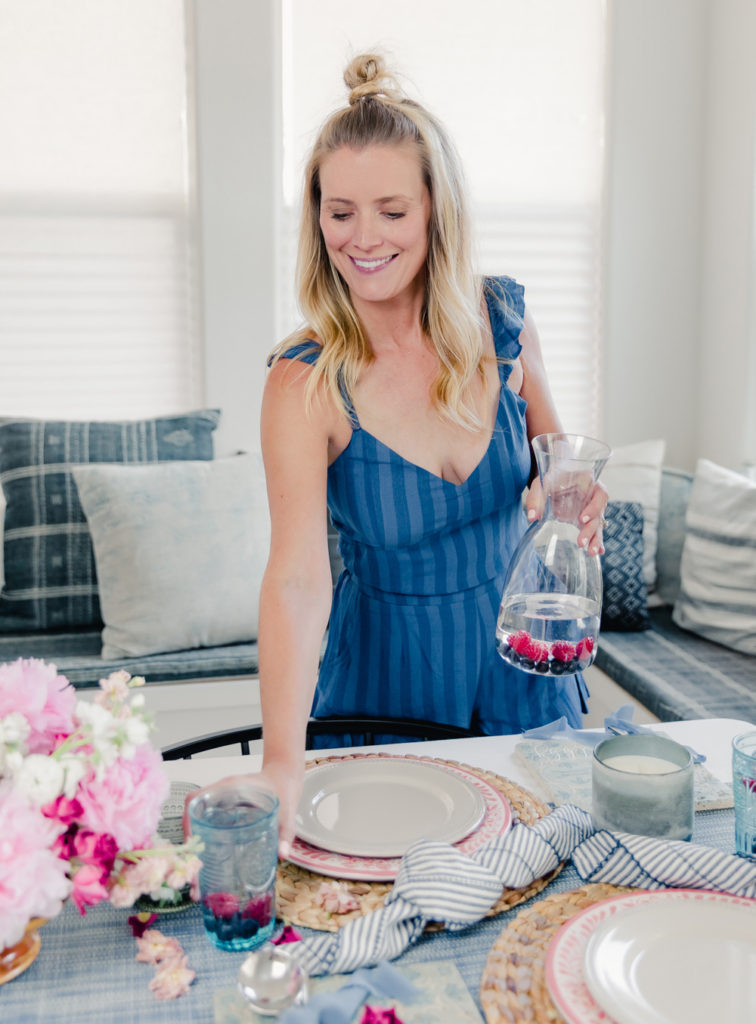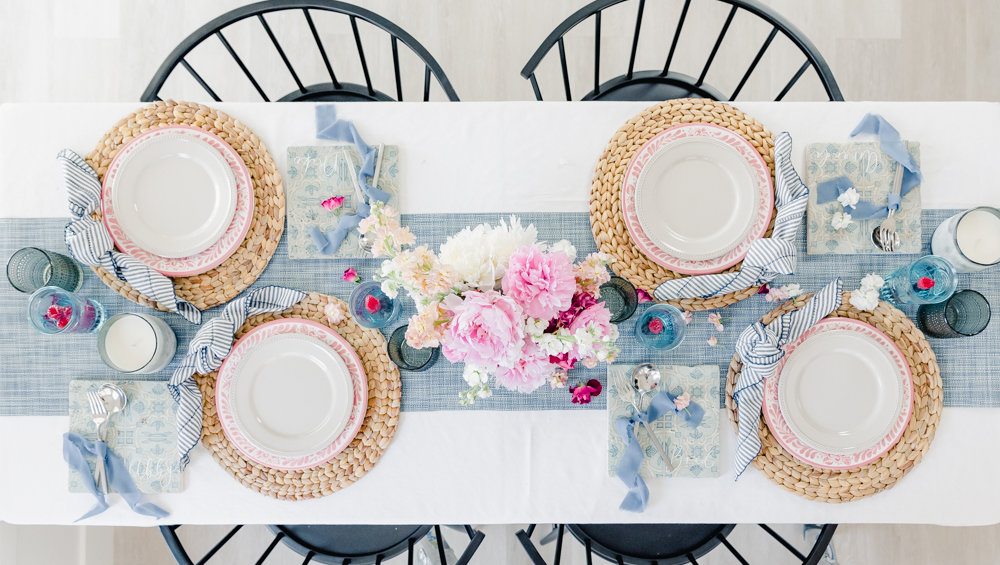 Happy 4th of July friends!
SHOP MY FAVS!

xx
Abby