Us Beijos ladies have become quite accustom to planning and designing 1st birthday parties and quite frankly, we love it!  First of all, our clients have the absolute cutest babies and secondly, we love celebrating something so fun and memorable with them.  Plus, each party is so unique and different with their themes that we get to play and really get creative which is extra fun!  This one was easy because Aveline's mama Misherr was so sweet and gave us a new theme we had never tackled before – a she's a gem 1st birthday party that we know you will love!  This party is also featured on 100LayerCakelet today and you just can't miss it!  Keep scrolling here to see all of the gorgeous photos from Heather Kincaid and all of the fun details that made this party shine!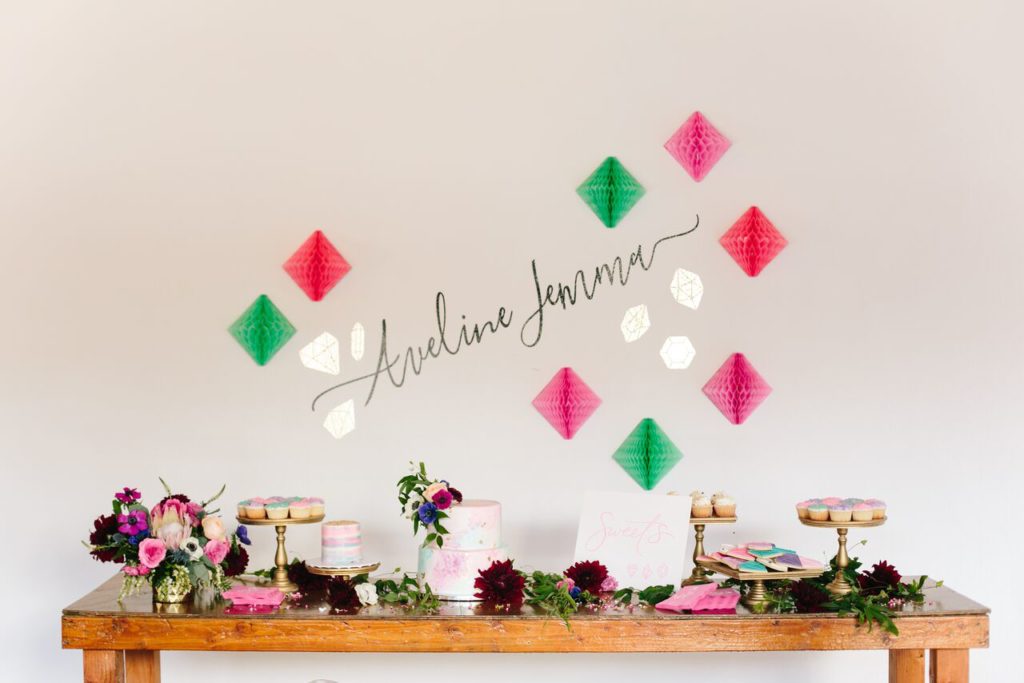 Let's start with the invite, shall we?!  Aveline's daddy does graphic design and we had no problem putting him straight to work, haha!  Let's just say it's a plus to have a dad who is talented and can create anything our little hearts desire!  How cute is this invite?!  And how amazing are these cocktail stirrers and cupcake toppers created by The Roc Shop?!  More on these later…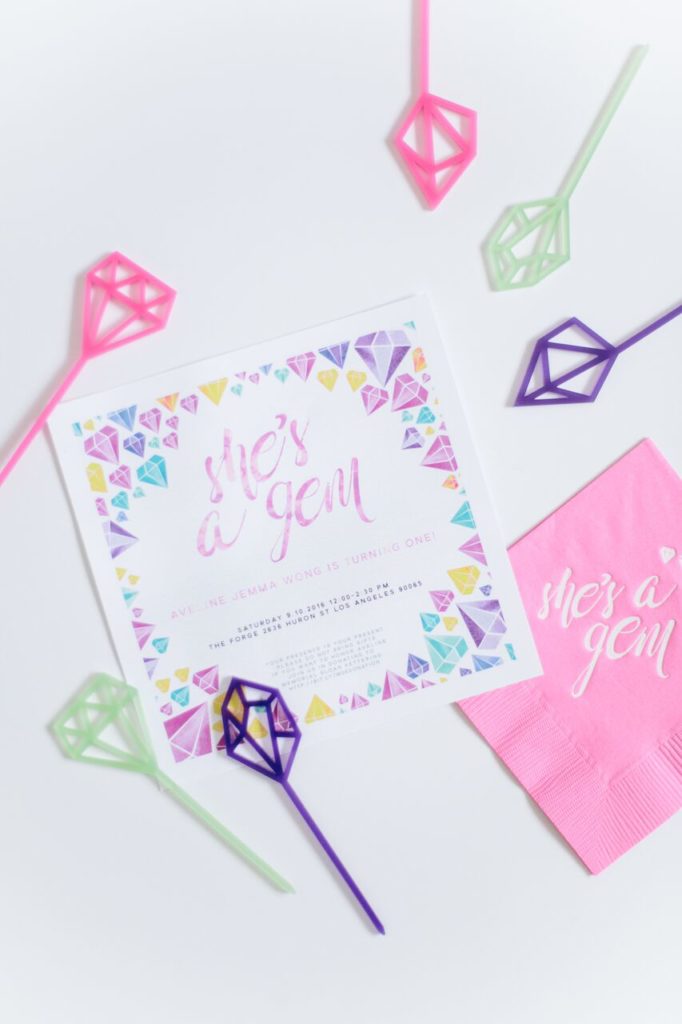 We styled the tables with Cheeky for Target by Design Love Fest's collection of paper plates, napkins, flatware and cups. This collection is so amazing and we have used it before and we can't recommend it enough!  Not only is it cute but it's also cost effective and practical, I mean who wants to do THAT many dishes after throwing a party?!  Totally exhausting , right?!  They dress up a table immediately and their design is easy to use with multiple themes…  And how absolutely amazing are the florals by MV Florals?!  That garland with touches of jewel toned flowers is so gorgeous, we can't get enough!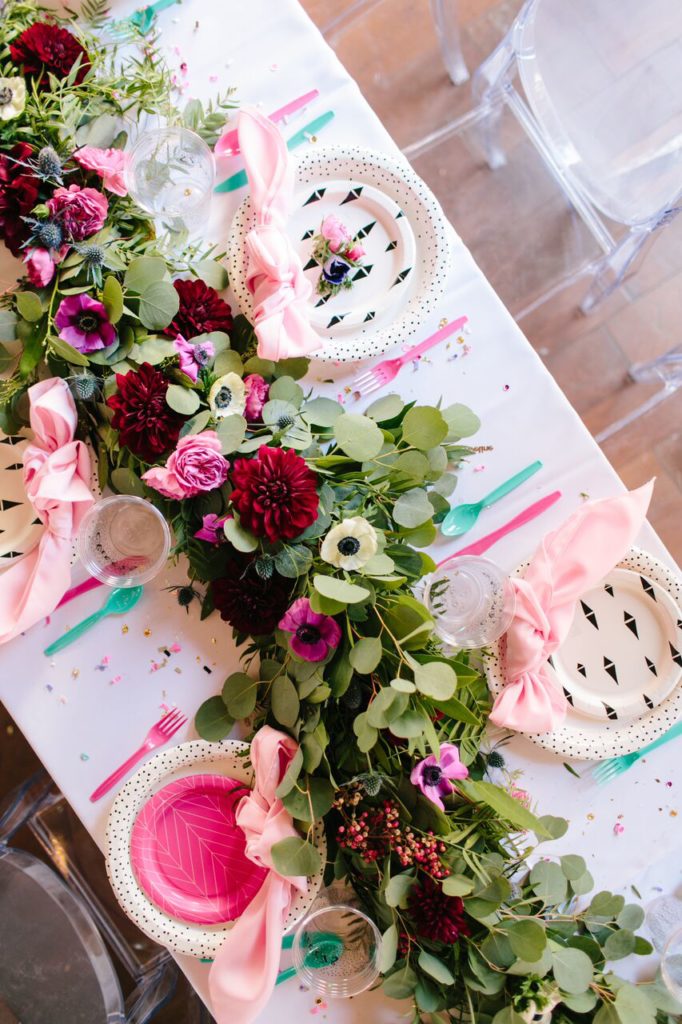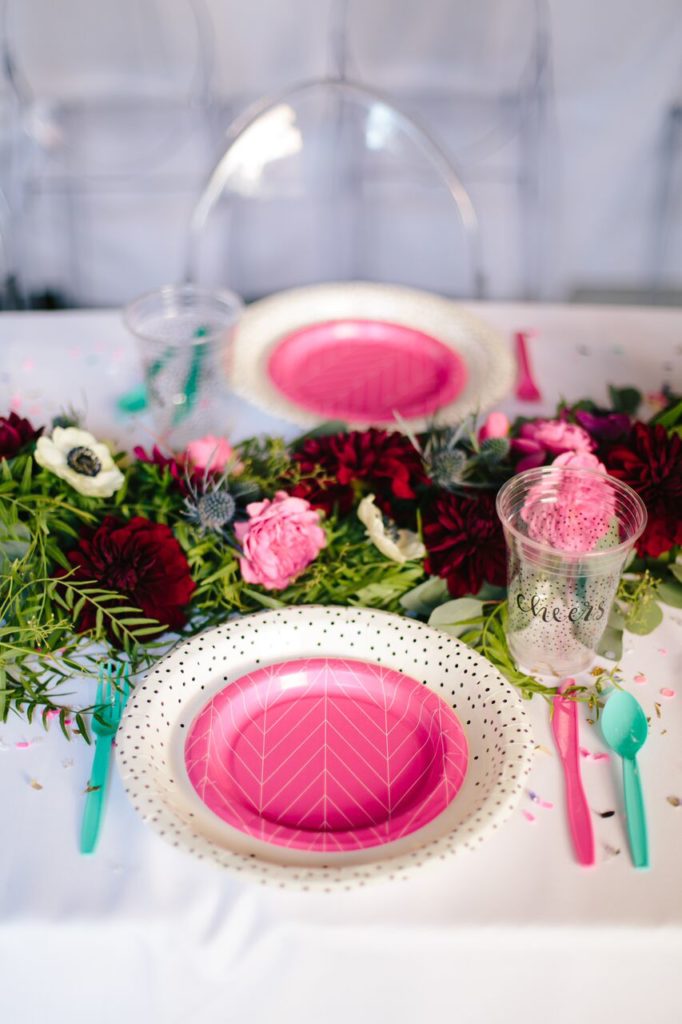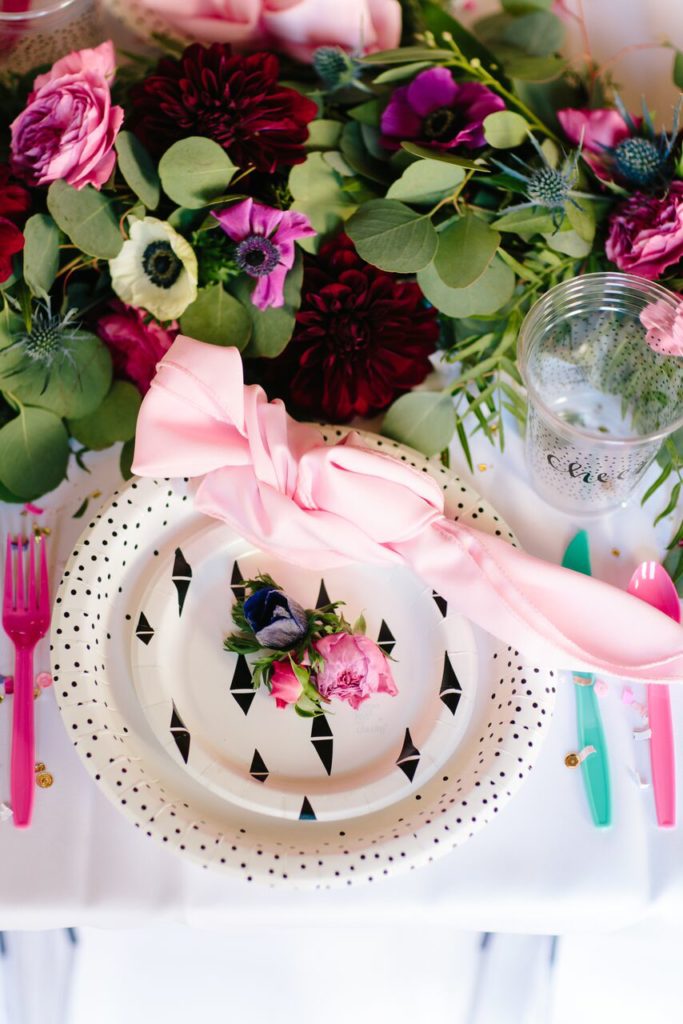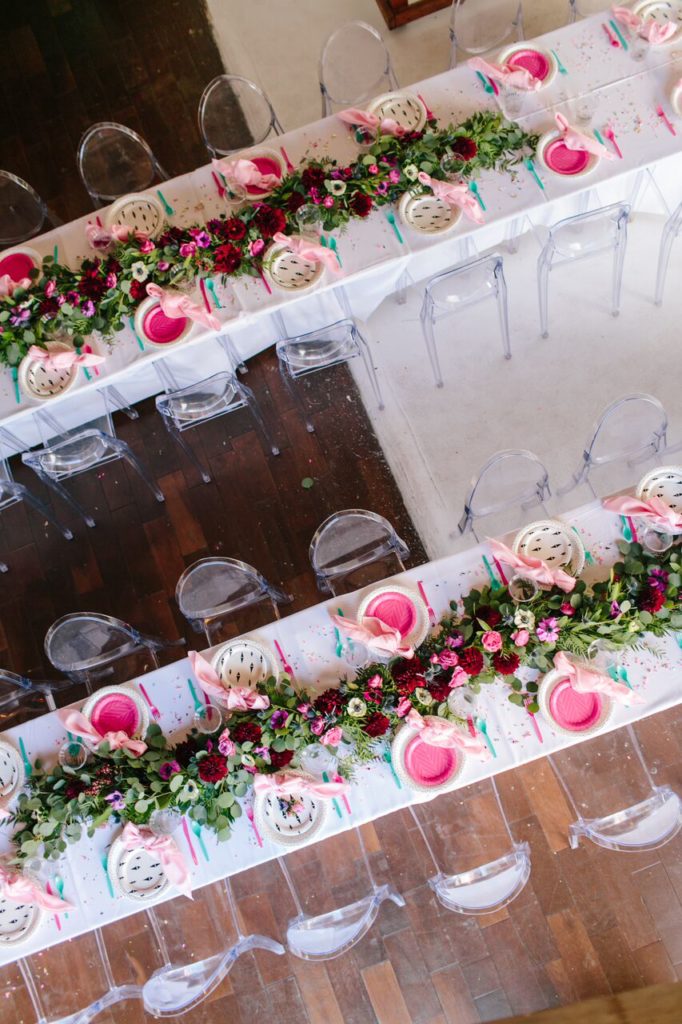 For chairs we used ghost chairs from Stephanie's Linens and were so happy with the decision on these!  They added a fun and modern feel to the party that flowed perfectly with the aesthetic.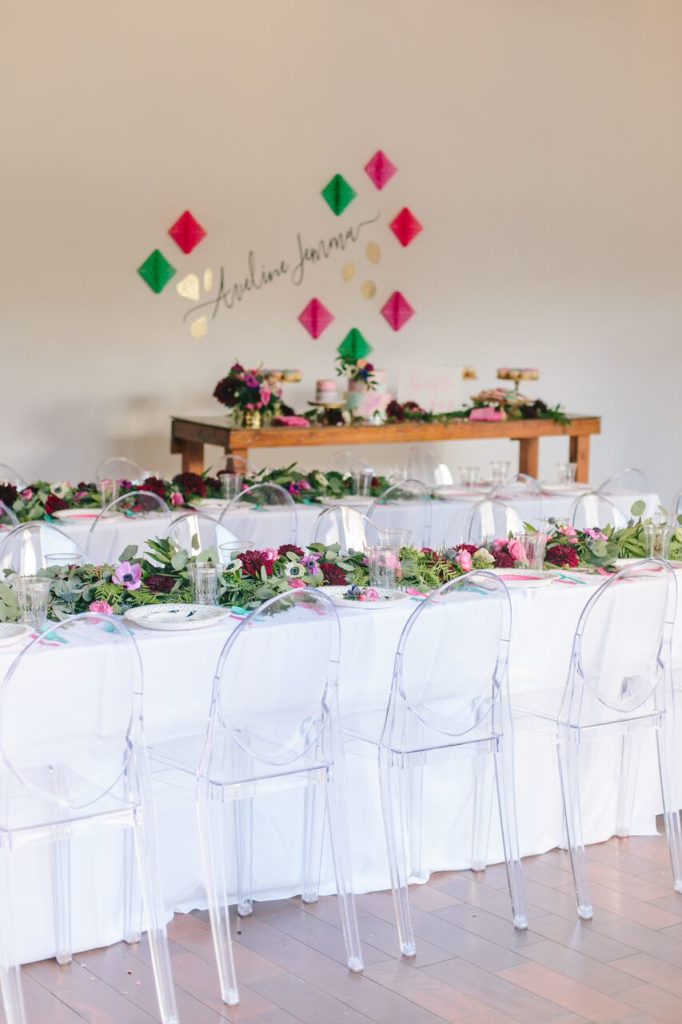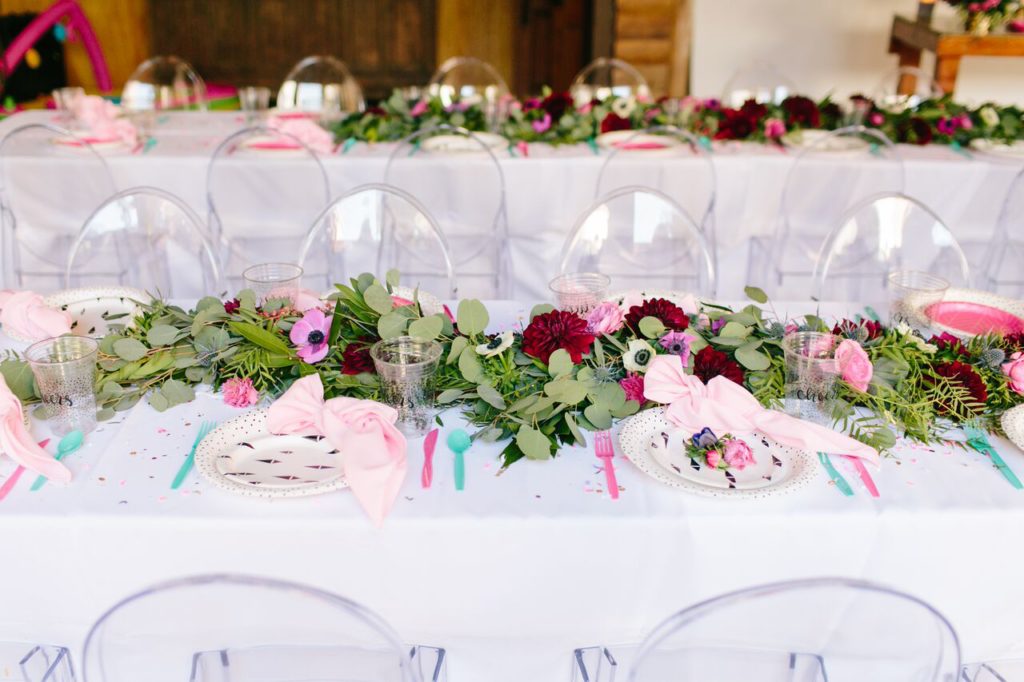 Wanna see more pretty flowers from MV Florals?!  Ya, us too…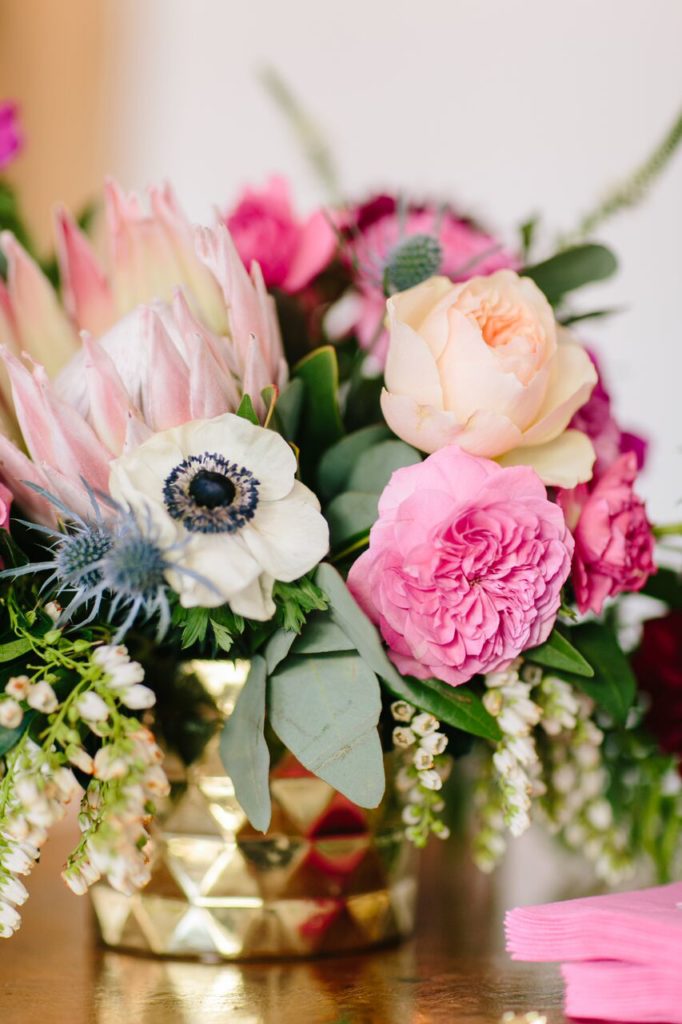 Another fun detail?!  Custom confetti to add a personalized little touch around the party with the birthday girl's name by The Confetti Bar!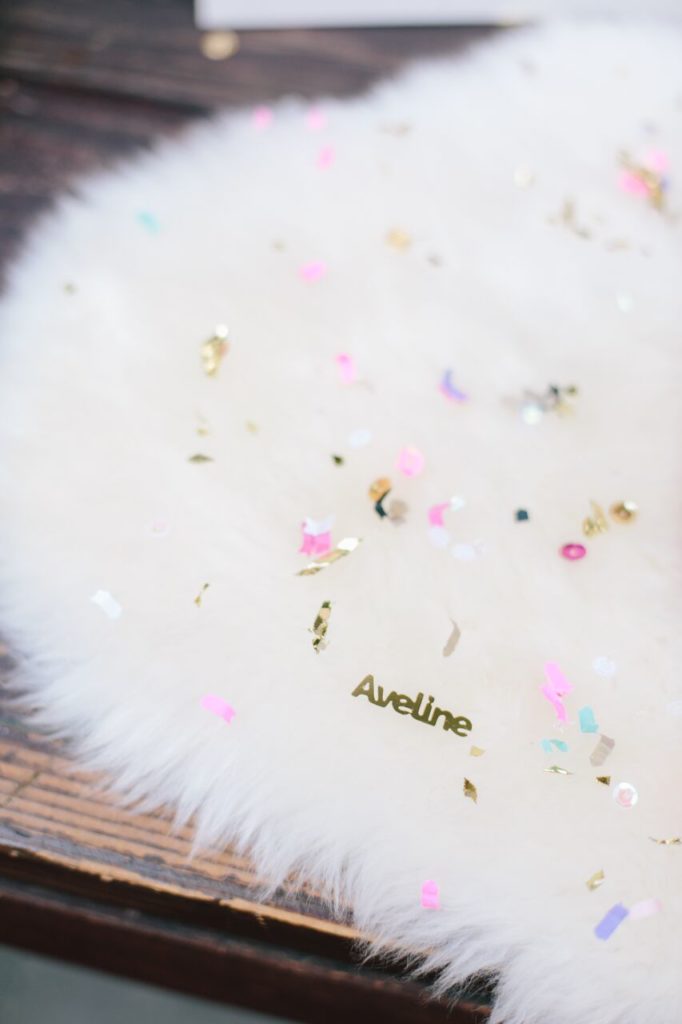 Our girl Blot & Dot did all of the beautiful signage… We love everything she does!  Gotta have a photo sign like this one behind Aveline's high chair, love this one that she created for us!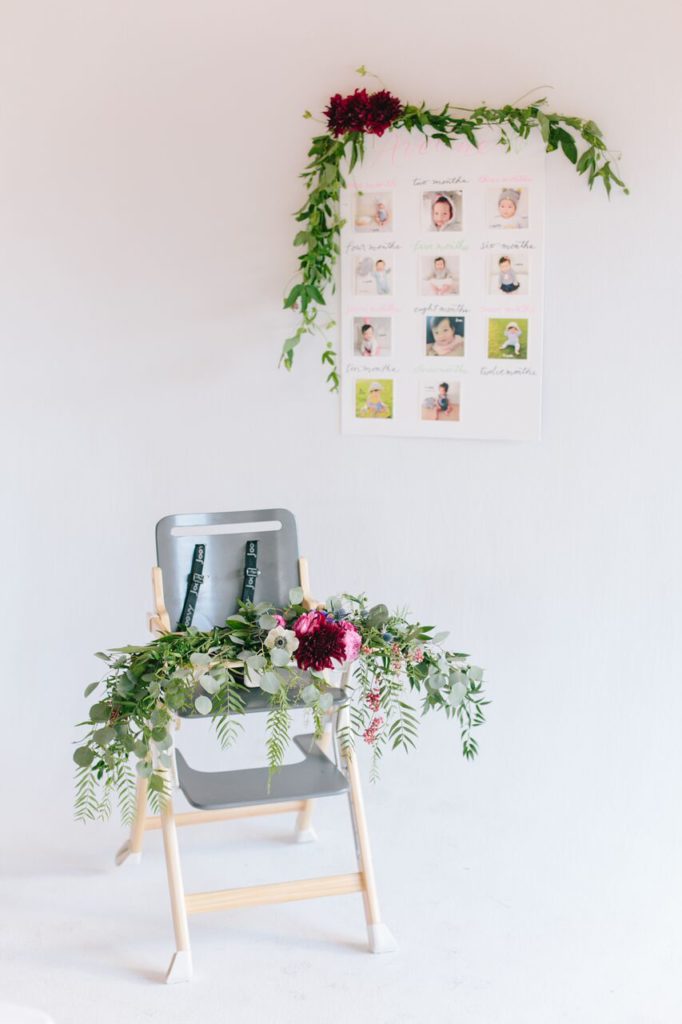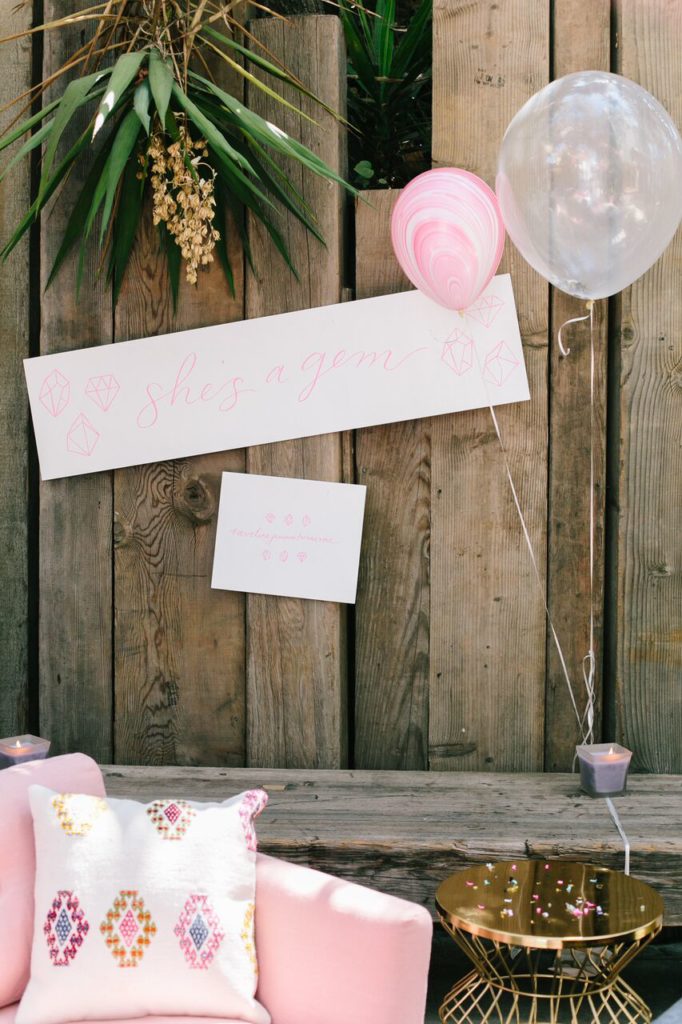 Here's a little bit from our lovely client and mama Misherr…
We went with gem theme as Aveline's middle name is Jemma and that sparked some wordplay inspiration for her 1st birthday party. We opted to throw in some brighter colors on top of jewel tones as we are in Los Angeles and September here does not resonate Fall yet and actually still feels like Summer! Jacquelyn from Beijos Events came up with the most amazing details for the theme that made the party feel really special and personal. We are lovers of details!
Every party needs a lounge space for people to kick back and enjoy themselves, and 1st birthdays are no exception!  They are also utilized as a space for parents to relax with their little ones, hold them or even let them play on a soft space like a rug.  Lucky us the venue the party was held at, The Forge in Los Angeles, has an indoor and outdoor space.  Southern California weather stays warm well into the Fall so we thought the lounge would fit perfectly outside so families could enjoy some sunshine.  Circa Rentals had the perfect pieces to really make this lounge pop and blend well with our overall decor with some pinks and pops of metallic!  But first, how cute are our clients and baby Aveline?!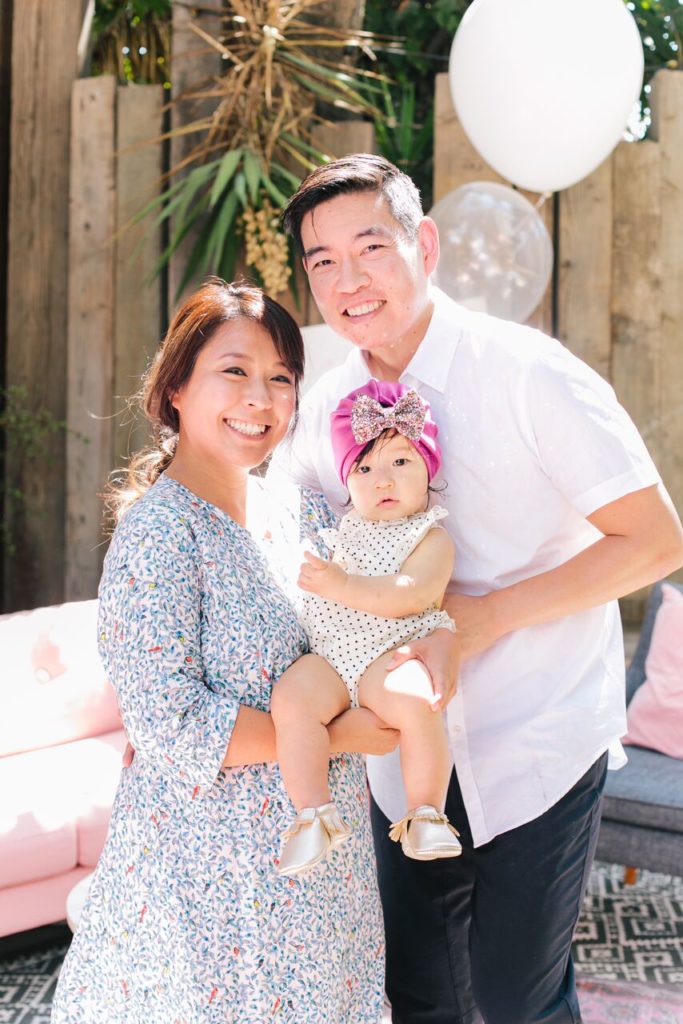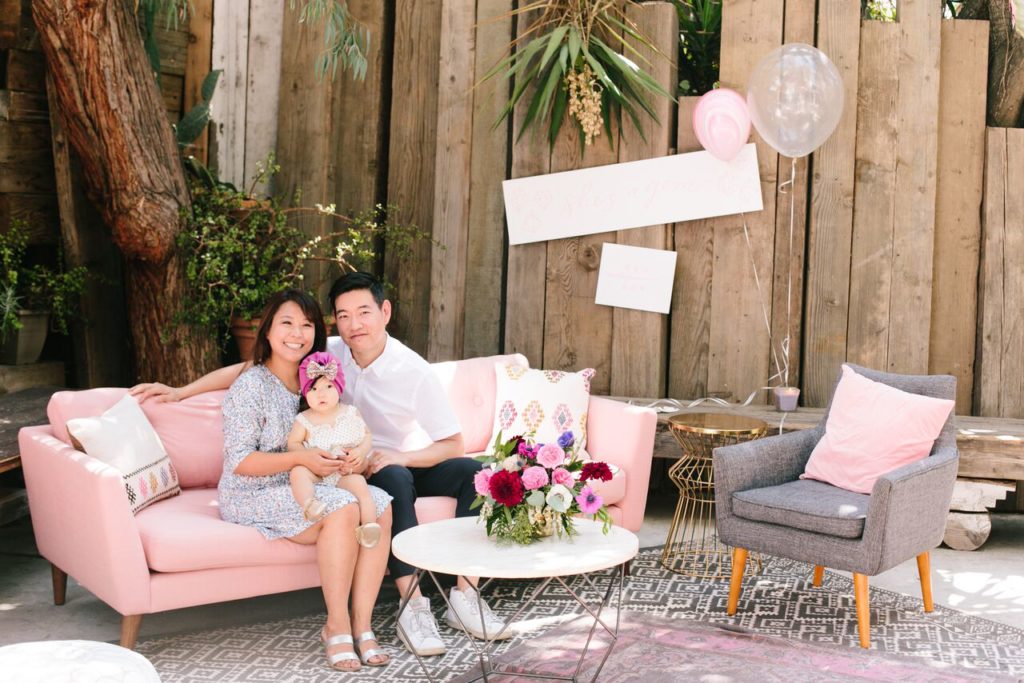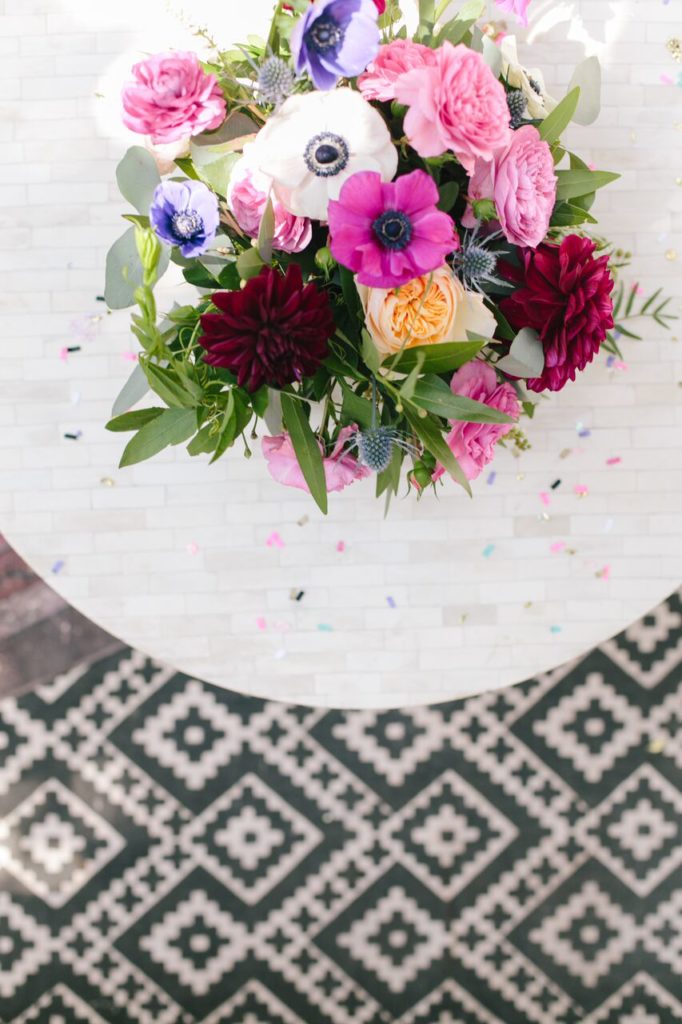 The entire time we were dying over this little cutie!!  I mean her outfit and that face?!  Such a gorgeous babe!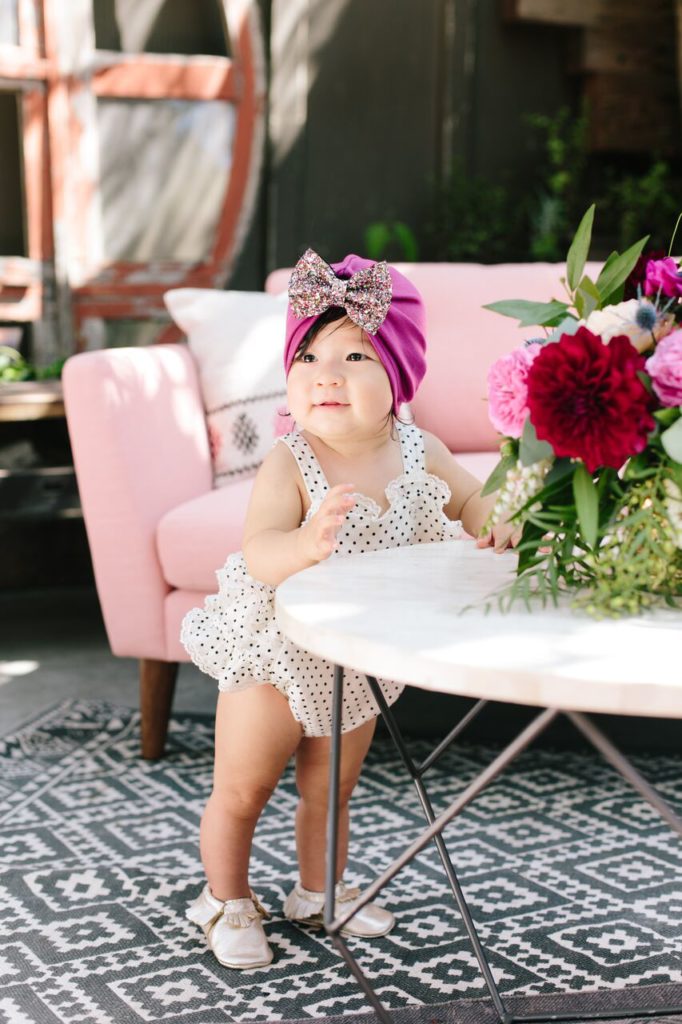 And don't forget fun little toys for all of the babies and kiddos to play with!  We love these neutral wood toys that any baby would love and they go with every party!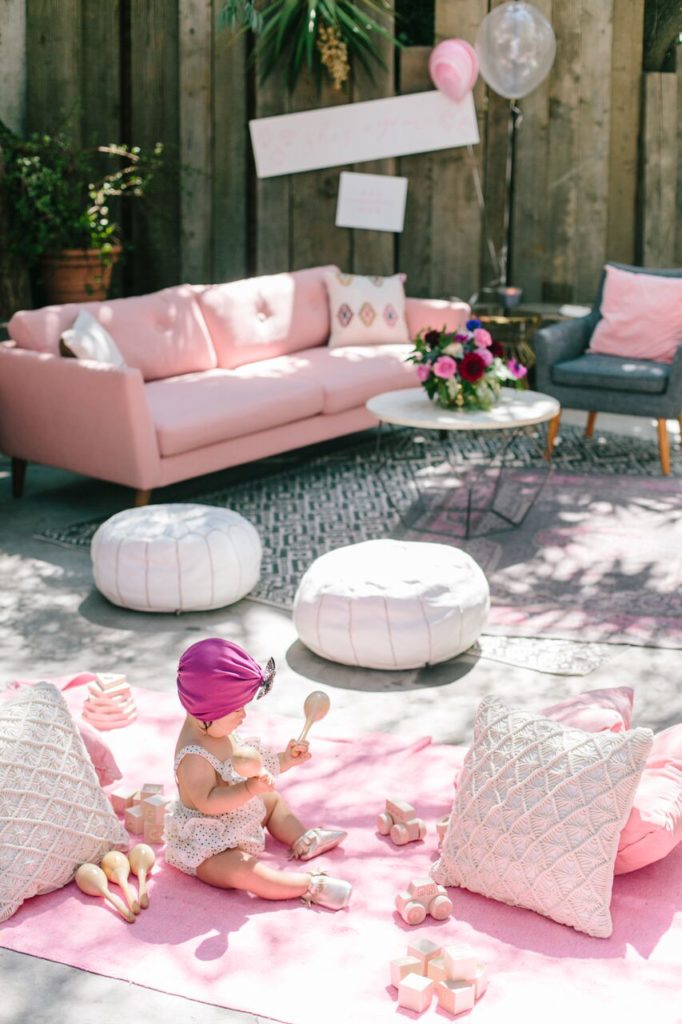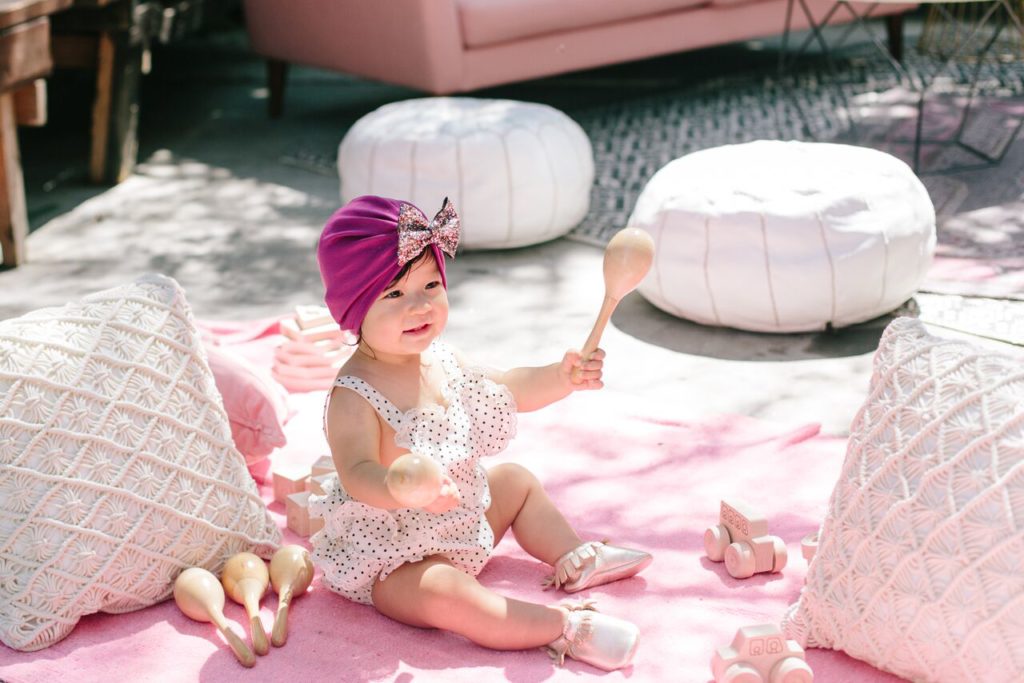 Now… One of the best parts everyone… THE DESSERTS!!!  I'll let Misherr tell you a little bit more…
We asked our friend Sarah from SarieCakes to create these pretty watercolor cakes and super cute gem shape cookies. Aveline loves to eat and she sure did not disappoint as she ate half of her smash cake in under a minute!
Check out all of the AMAZING desserts and the fun details that really made this party stand out, and there are those cute cupcake toppers from The Roc Shop…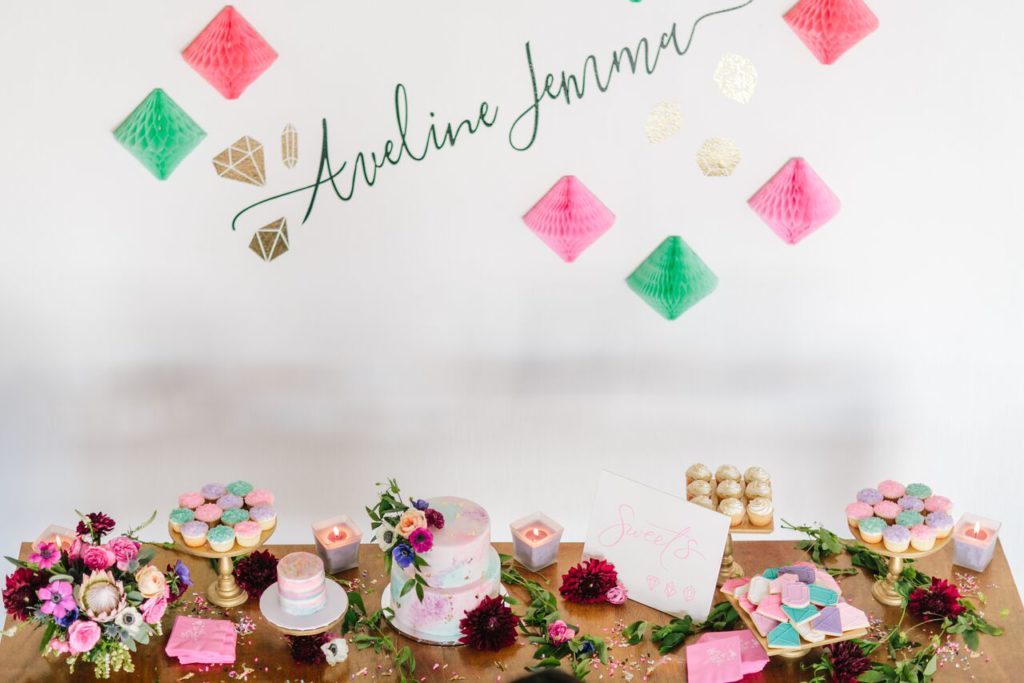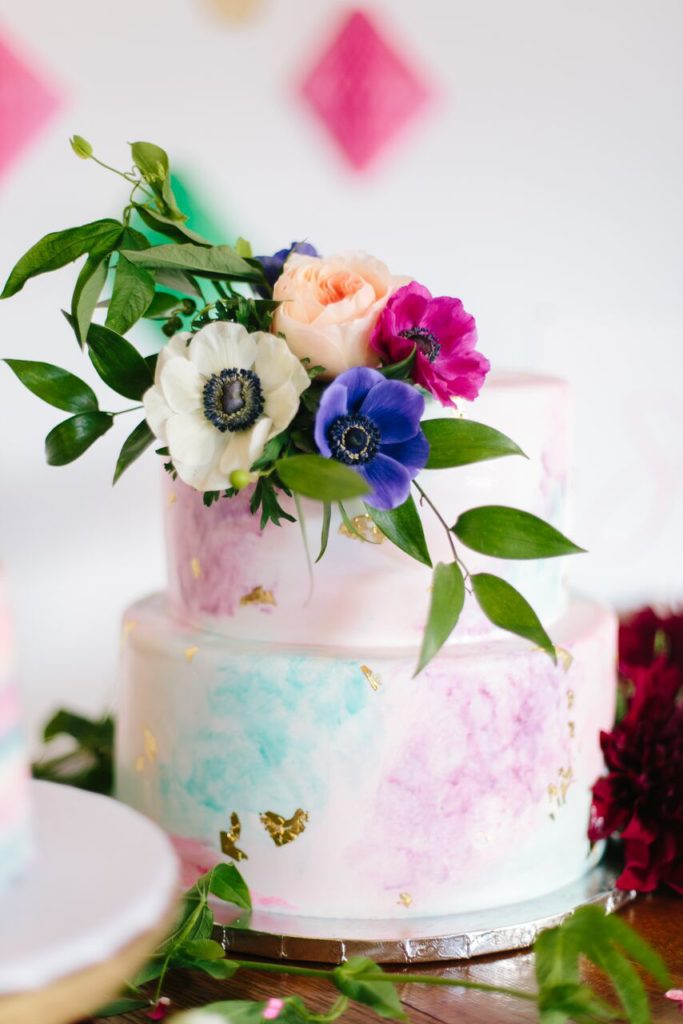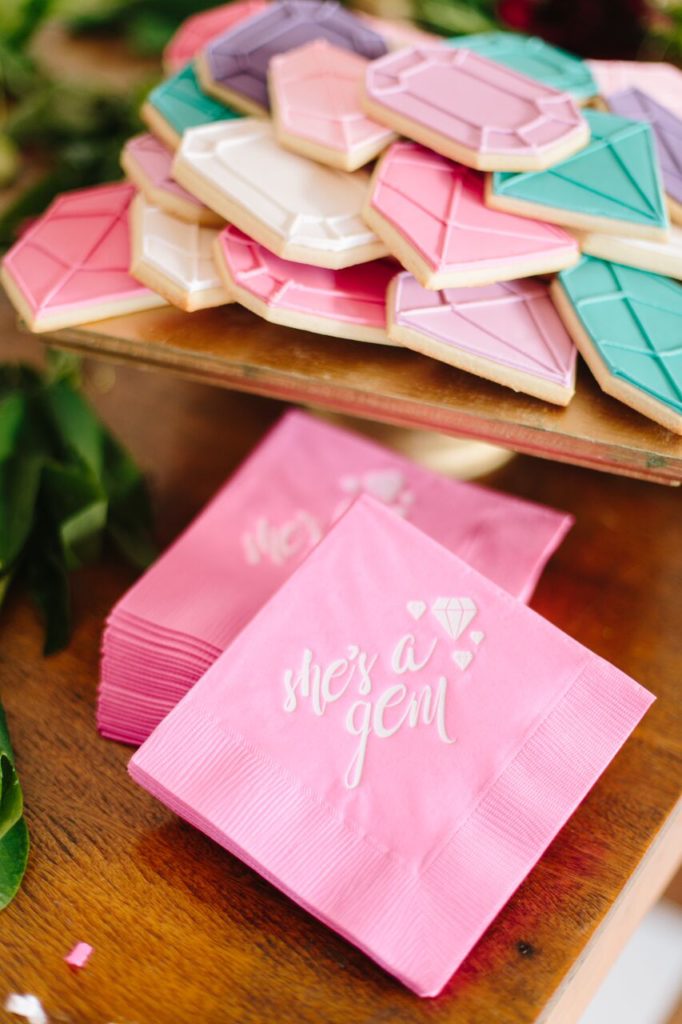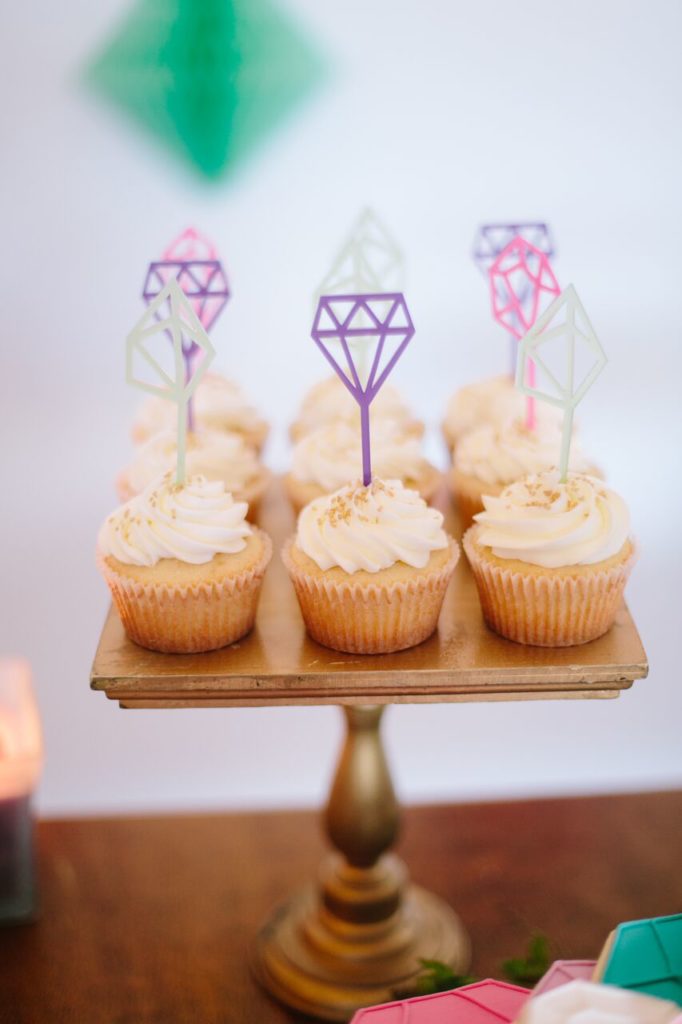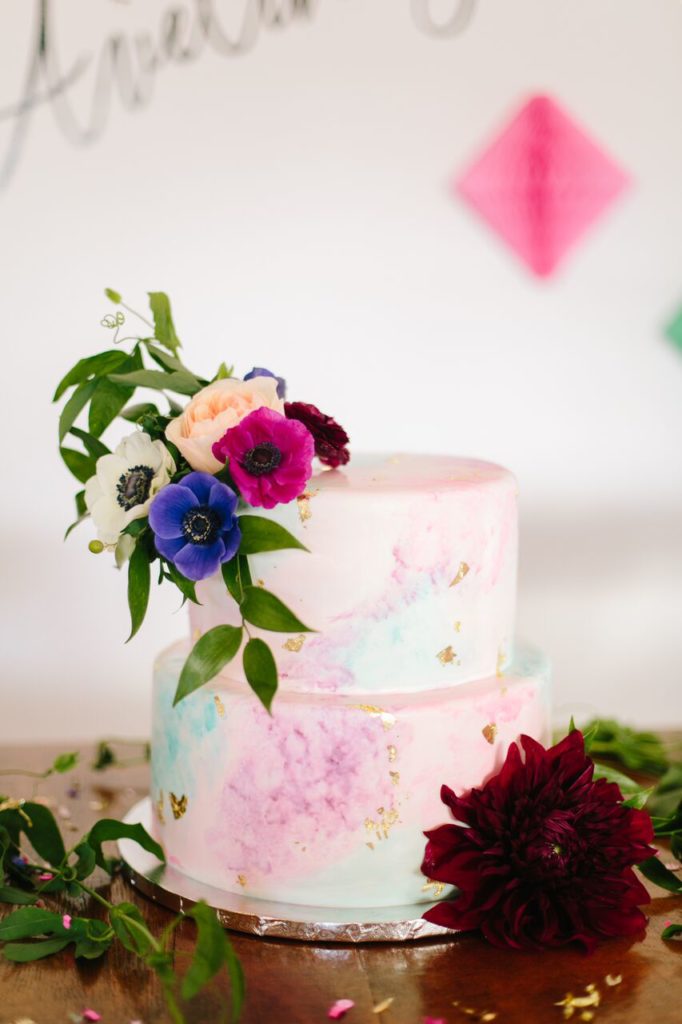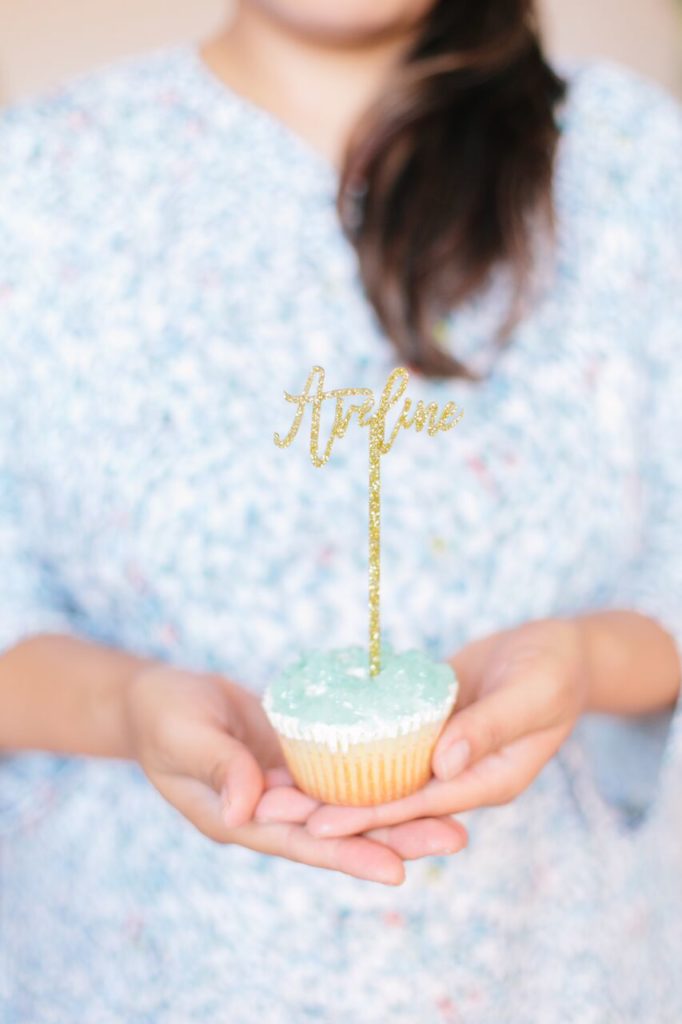 How cute is Aveline and her smash cake?!  This is one of our favorite parts of every 1st Birthday!!  Gotta have some extra details like the florals by MV Florals on the high chair to dress it up a bit too!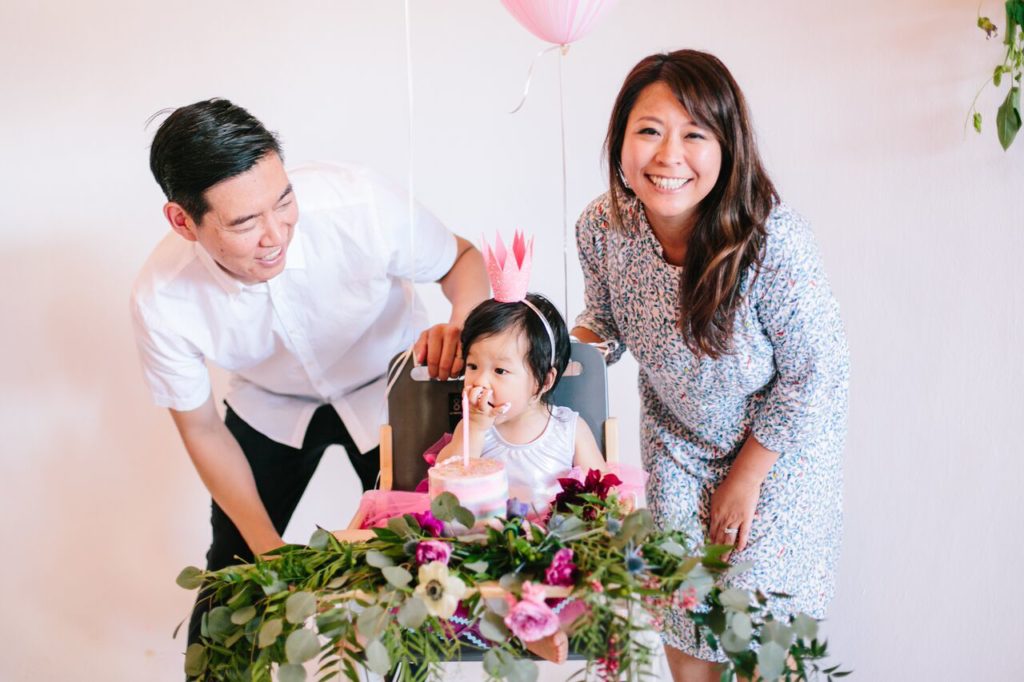 Hope you liked this one as much as us!  We're a little biased but we think it was pretty amazing… And this family couldn't be cuter!  Thanks for letting us be a part of your special day!
xx
Jacquelyn