A B B Y
Halloween cards mailed to family and friends have become my favorite over Christmas. Did I hear a gasp? In my defense, it's the 1st holiday of the holiday trio months, and well, it's Halloween; I love it all! Being a bit away from family and friends, sending cards is a great way to show your love for them. This year, we were all about the bat theme, from Dylan's sunnies to Penny's bat wings. This outdoor scene paired perfectly with the my card I picked this year, the Halloween Happiness. To go the extra mile, include some bats inside your card.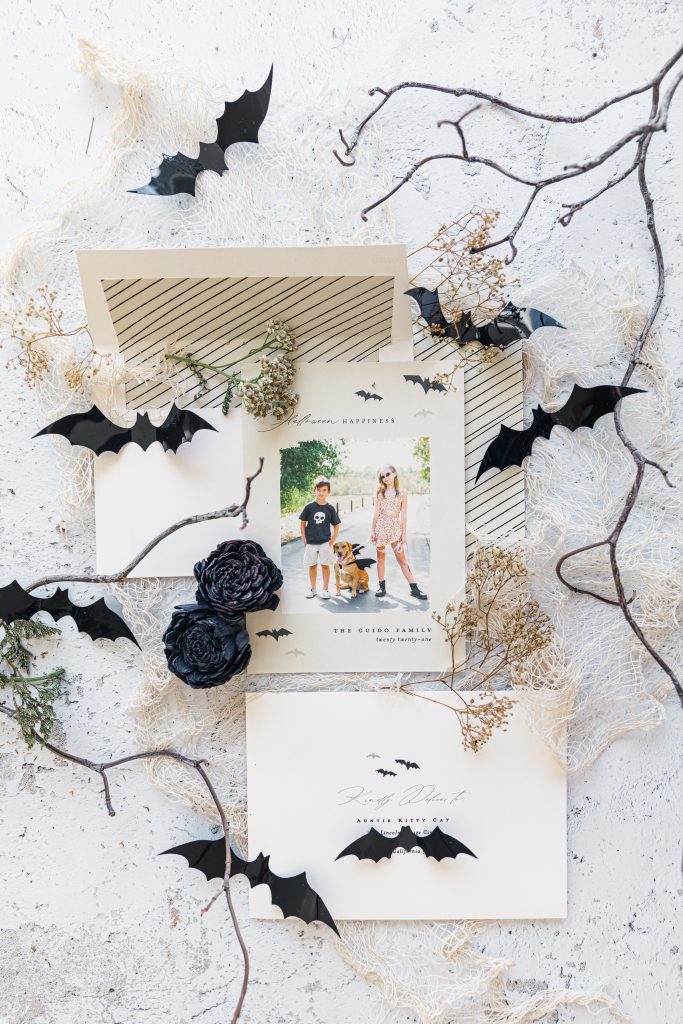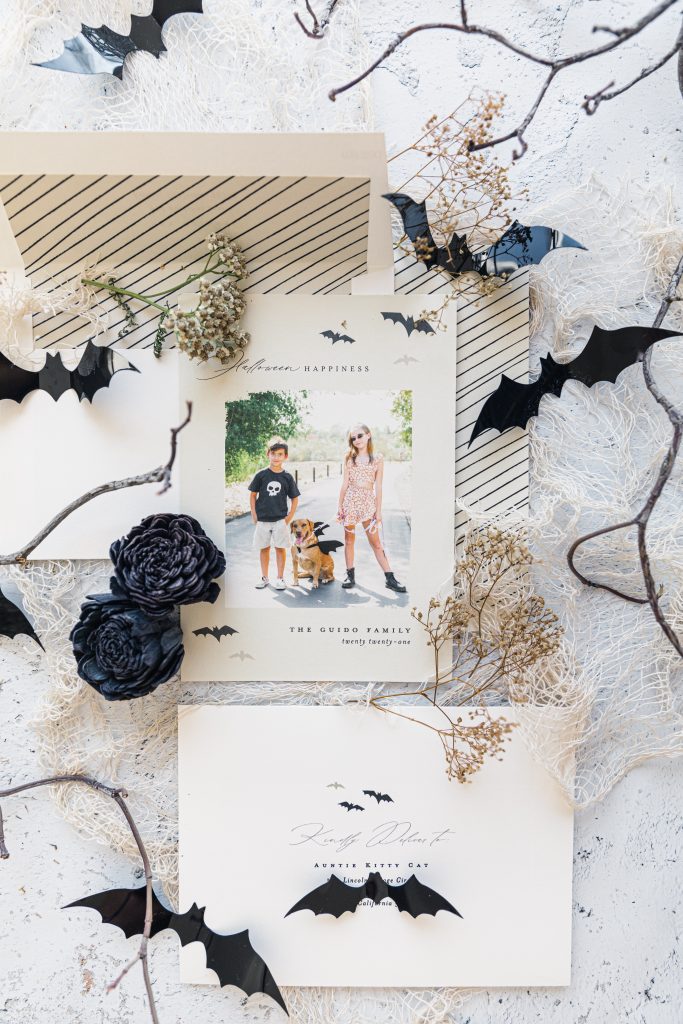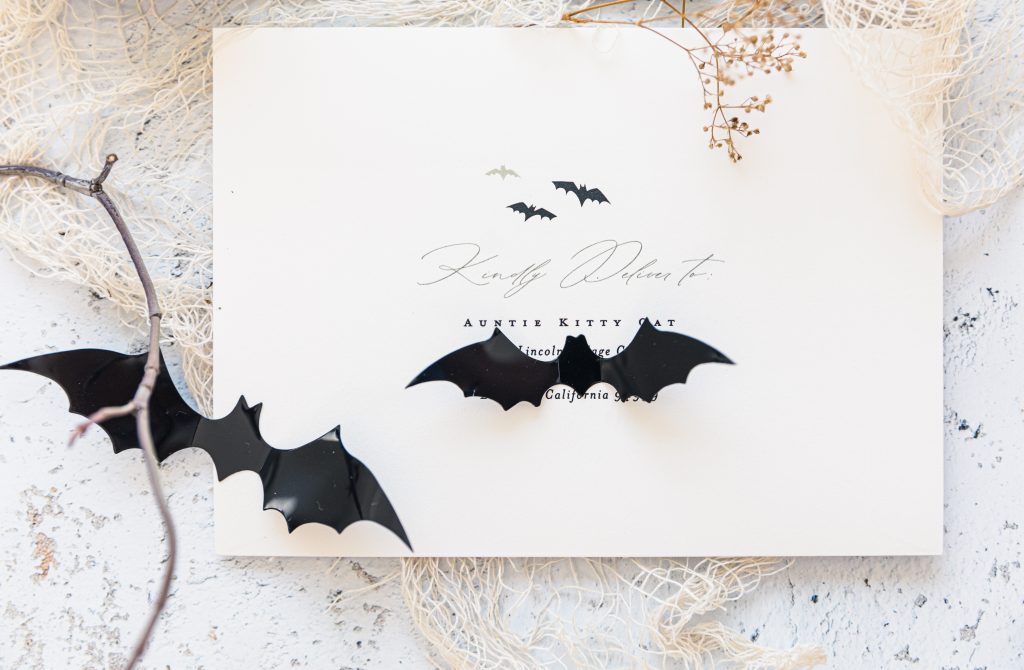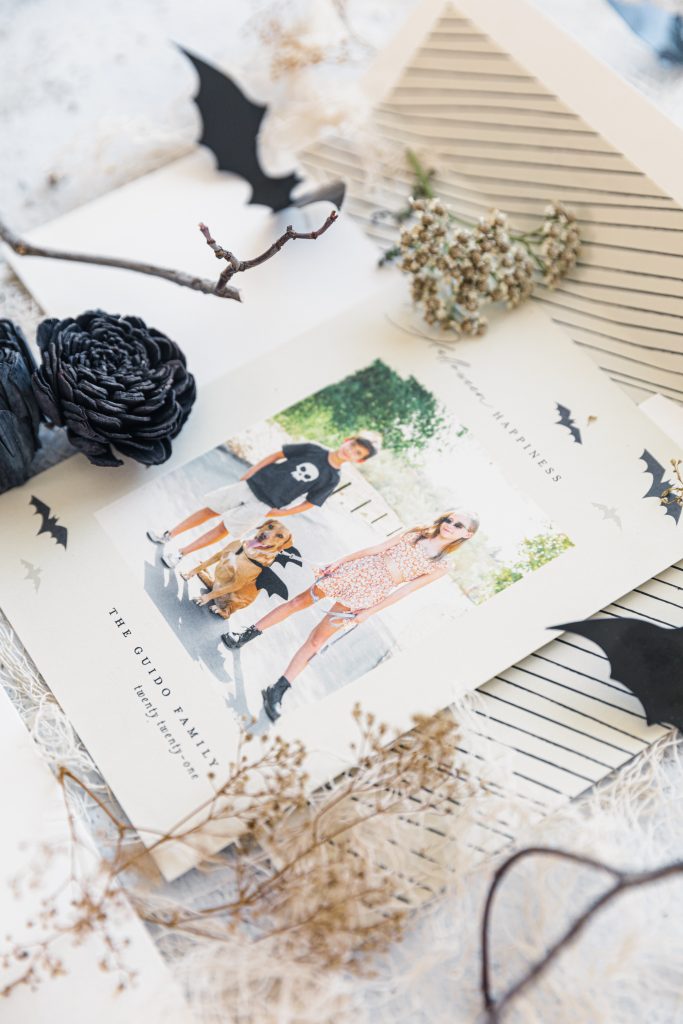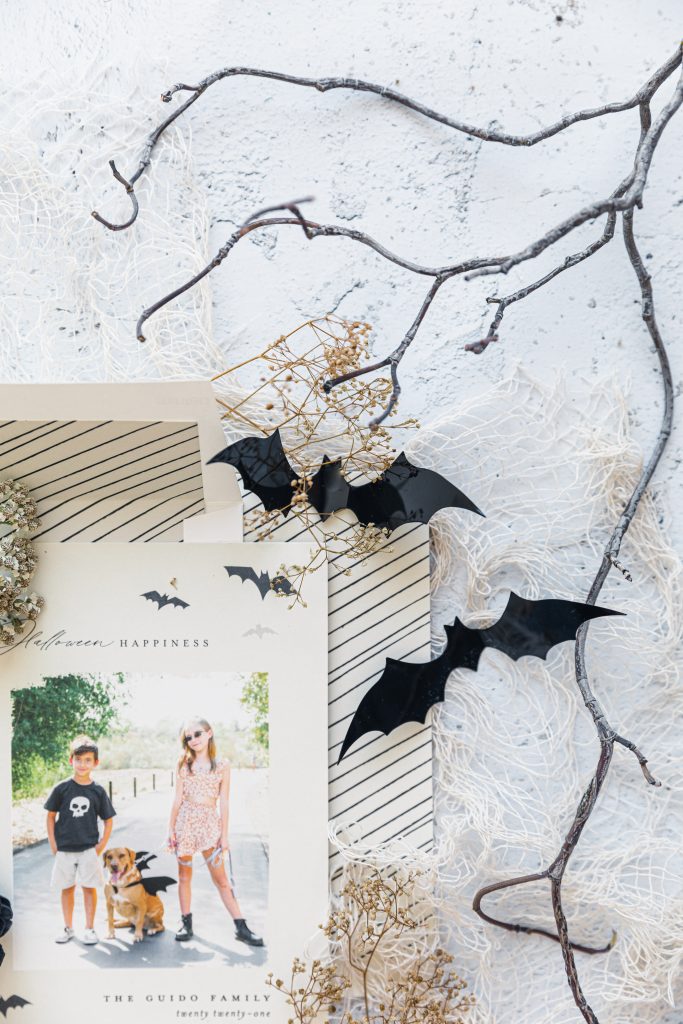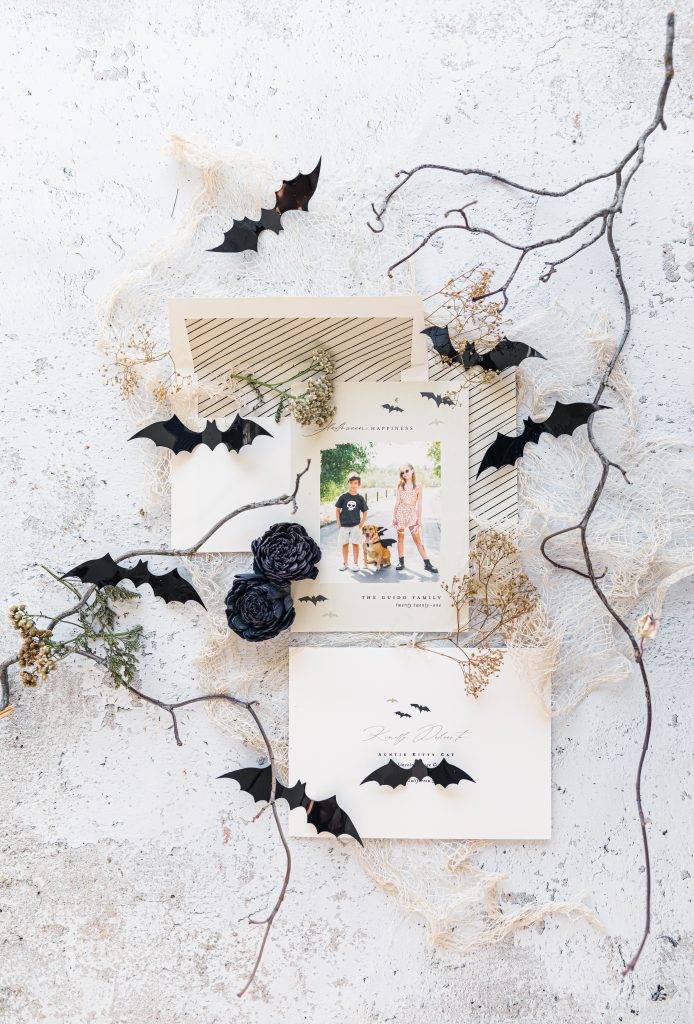 Shop Abby's Card and Some Attire Goodies!


J A C Q U E L Y N
I love the idea of sending seasonal cheer to your friends and family, Halloween of course included! It's my boy's favorite holiday and we go all out at our house. All month we are doing fun Halloween outings or activities, so of course, we had to share the love!! Every year I get my boys matching Halloween pajamas, and since they are getting bigger and this probably won't last forever, I decided to capture them in this year's set. When choosing my card the font on this one really caught my eye, I love it!! I know our friends & family will love receiving this card and it will put smiles on their faces knowing these boys are living their best lives on Halloween!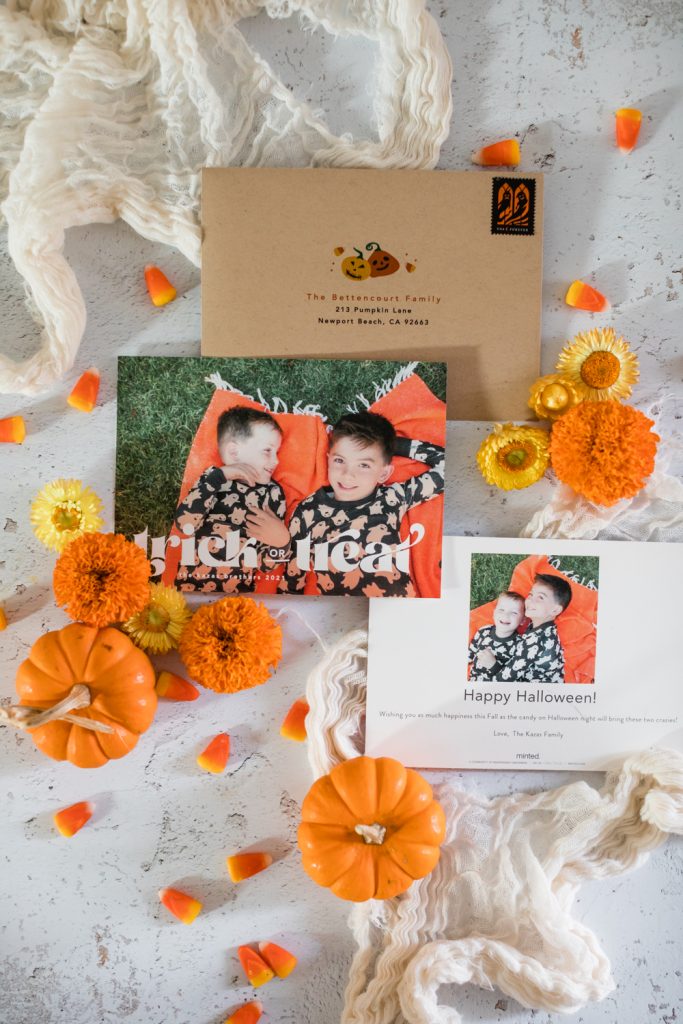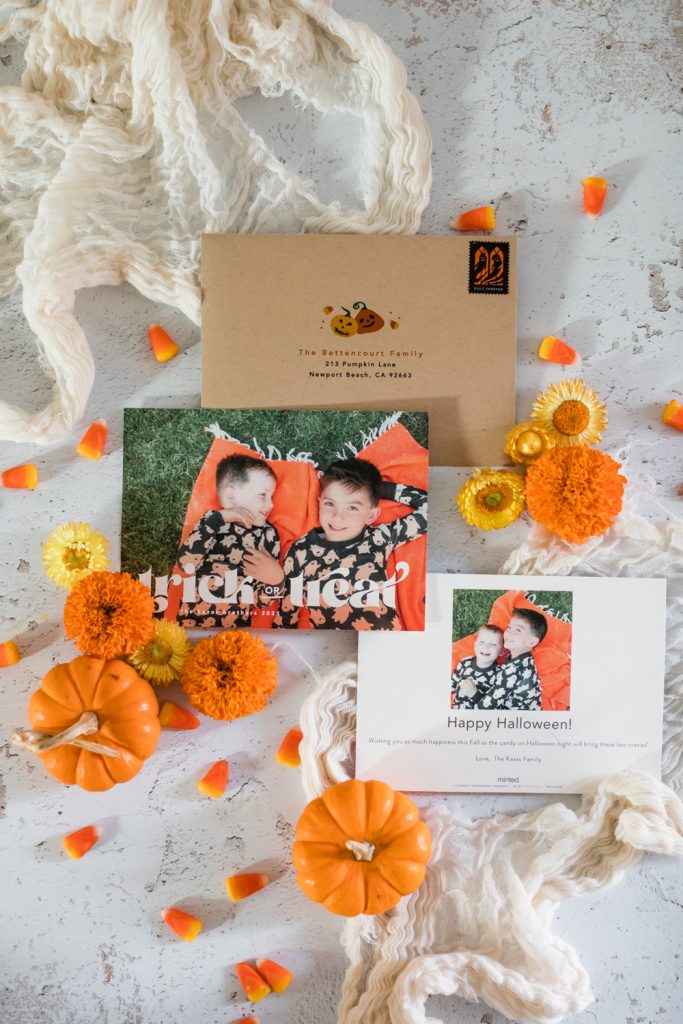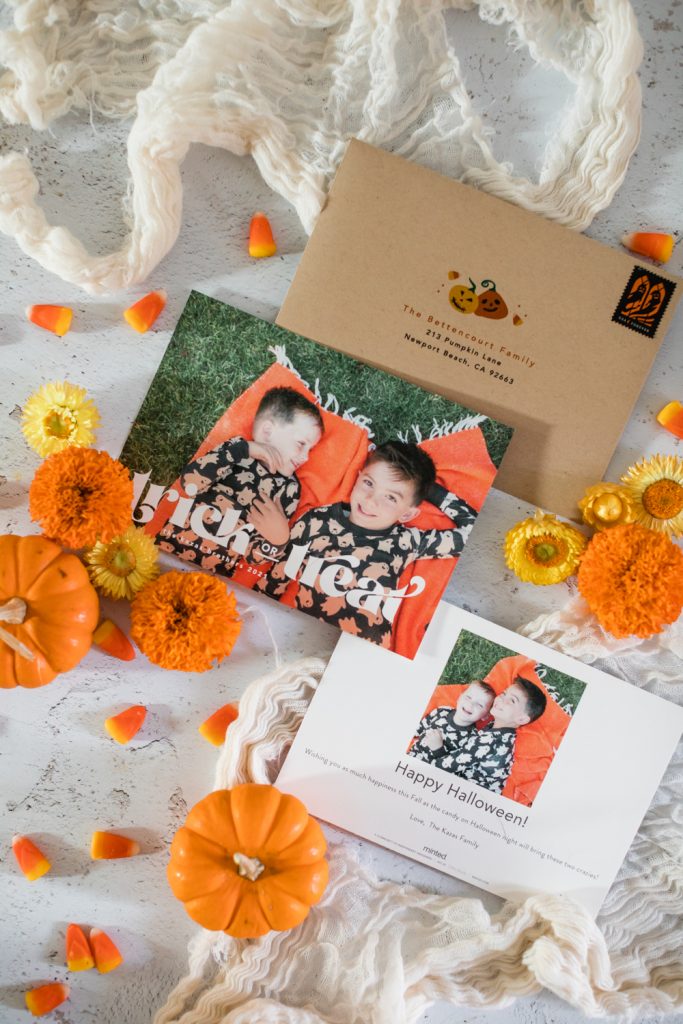 Shop Jacquelyn's Card and Pajamas below!


L E A H
Leah took her three littles to an Orange County festive treasure – Roger's Gardens! They always have the best set ups for the holidays, and Halloween is usually the most amazing one! Tied with Christmas I'd say. They got dressed in their Halloween attire and headed over and found this amazing skull wall! She knew this was the perfect spot to capture them for their Halloween card, and it just proves you don't always need professional photos for these cards! Memories being made in the moment is much more important than a posed photo! Cheers to all of the festive fun Fall brings and this Fa-BOO-lous card!!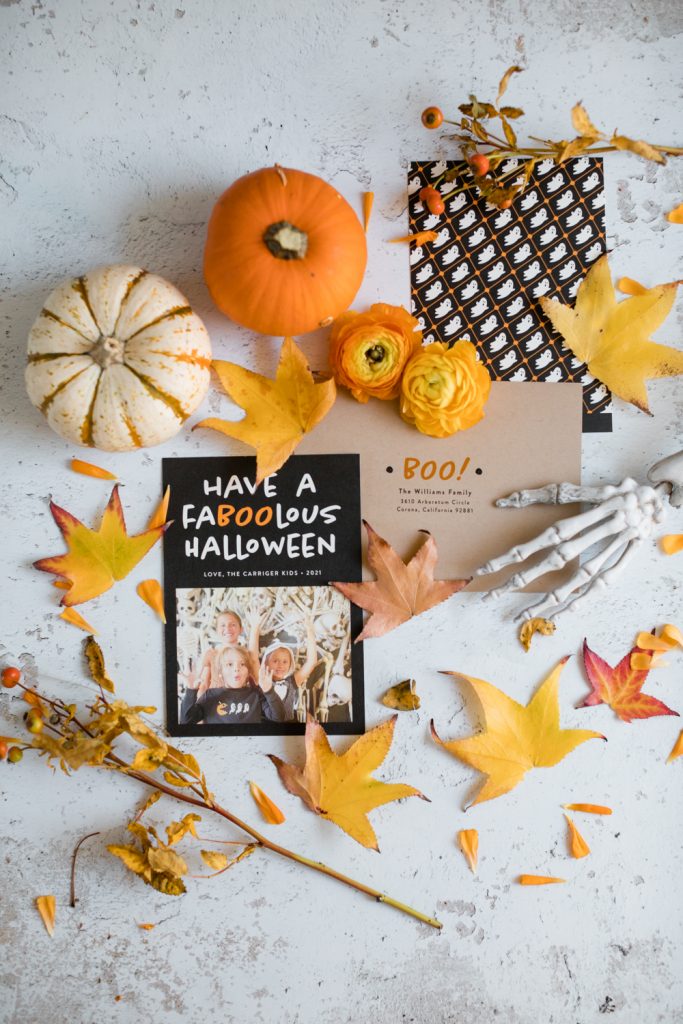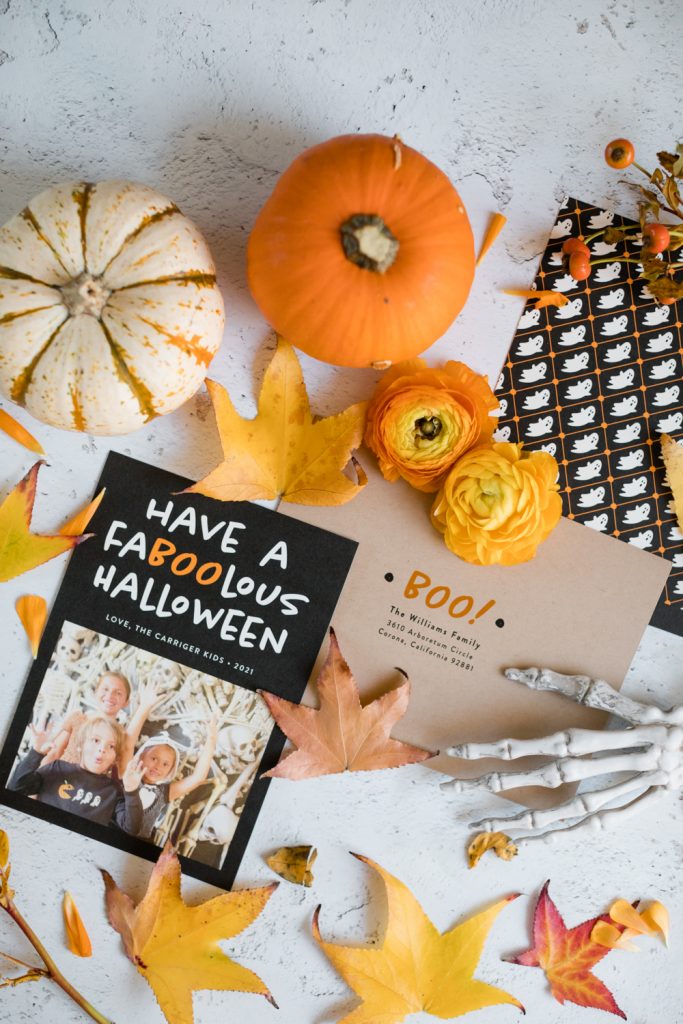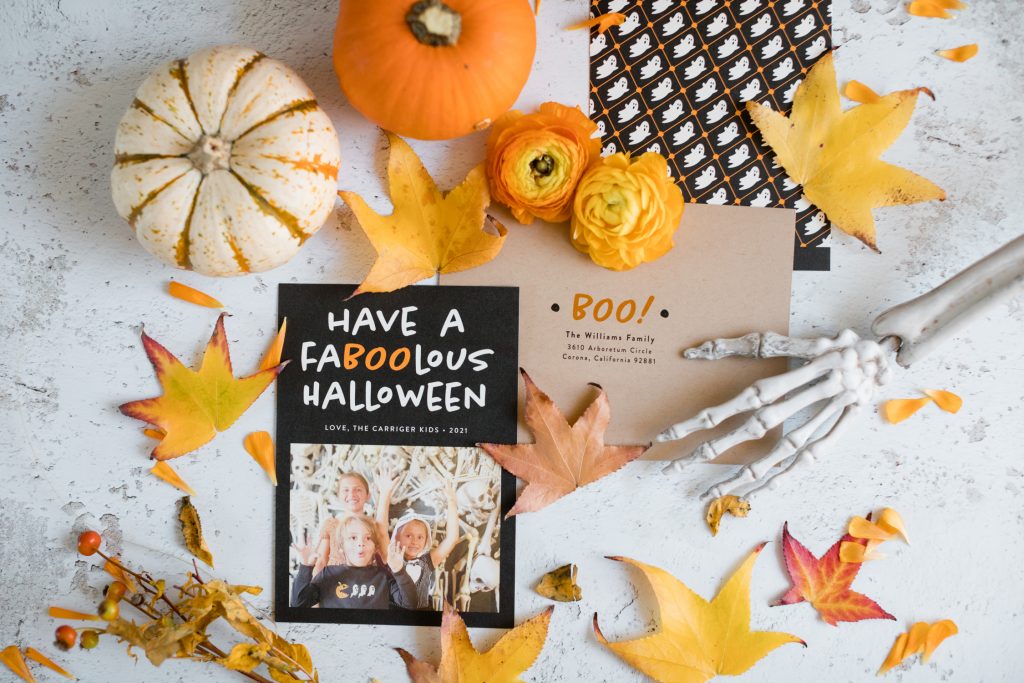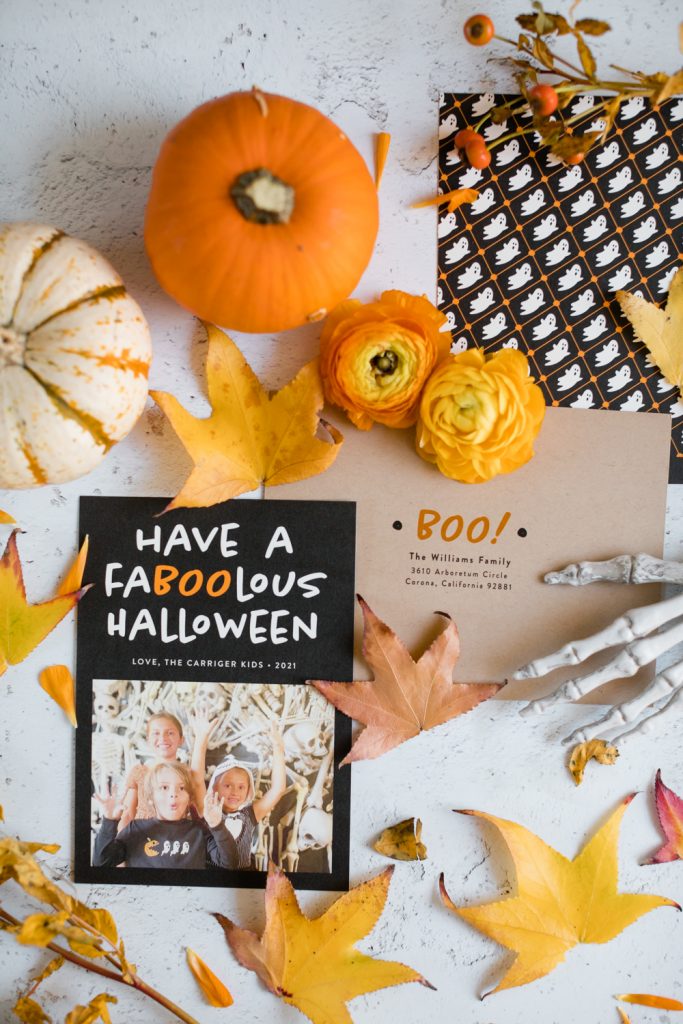 Shop Leah's card and cute kiddo clothing below!


A L I S O N
Alison chose this spooky Thrills & Chills card and I love the modern cut and neutral tones to it! She dressed her three girls up in their spookiest attire – Olivia, Penny, and their new pup Matilda! I'm loving the scared and spooked faces they made for their cards, they gave me a good chuckle! And I think it will do the same to for their family and friends. Who wouldn't want to see two of the cutest little ladies in top comedic form?! This is one for the memory books for sure!!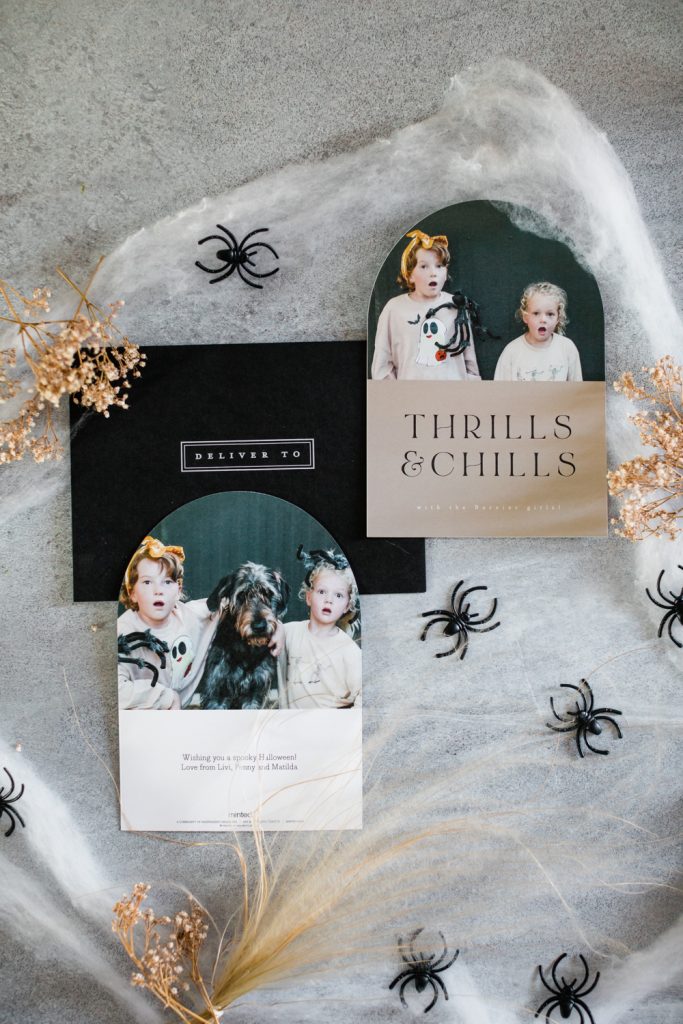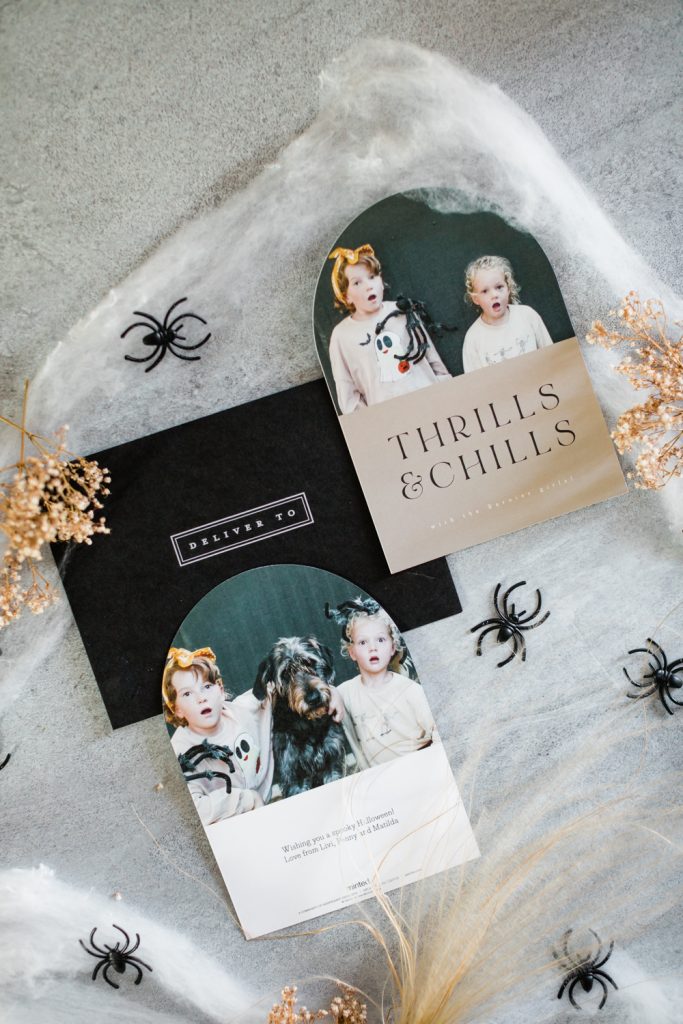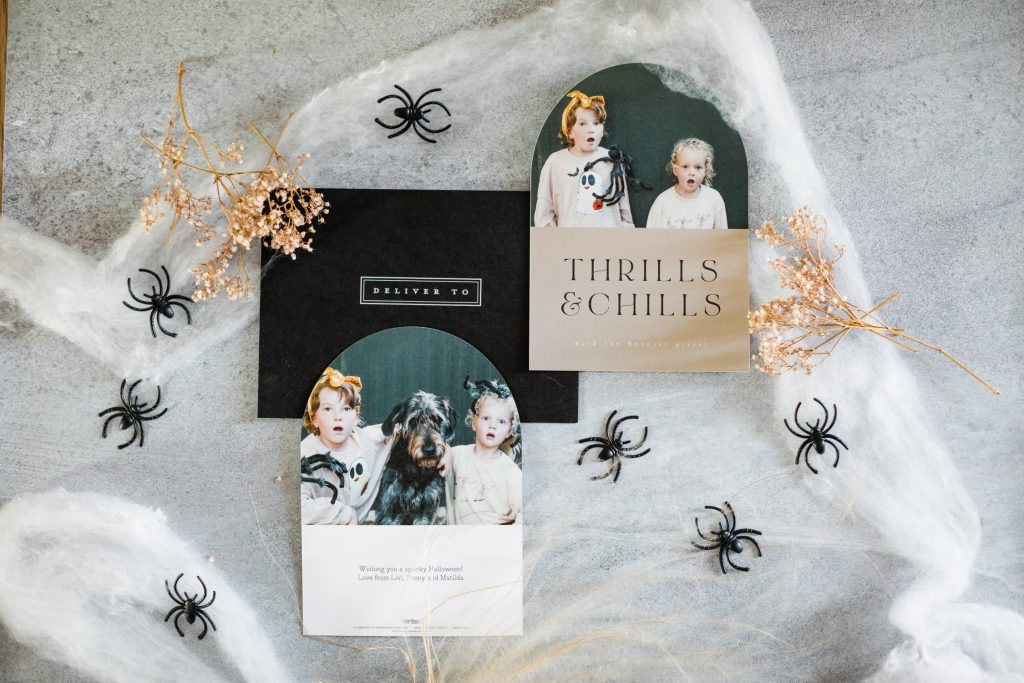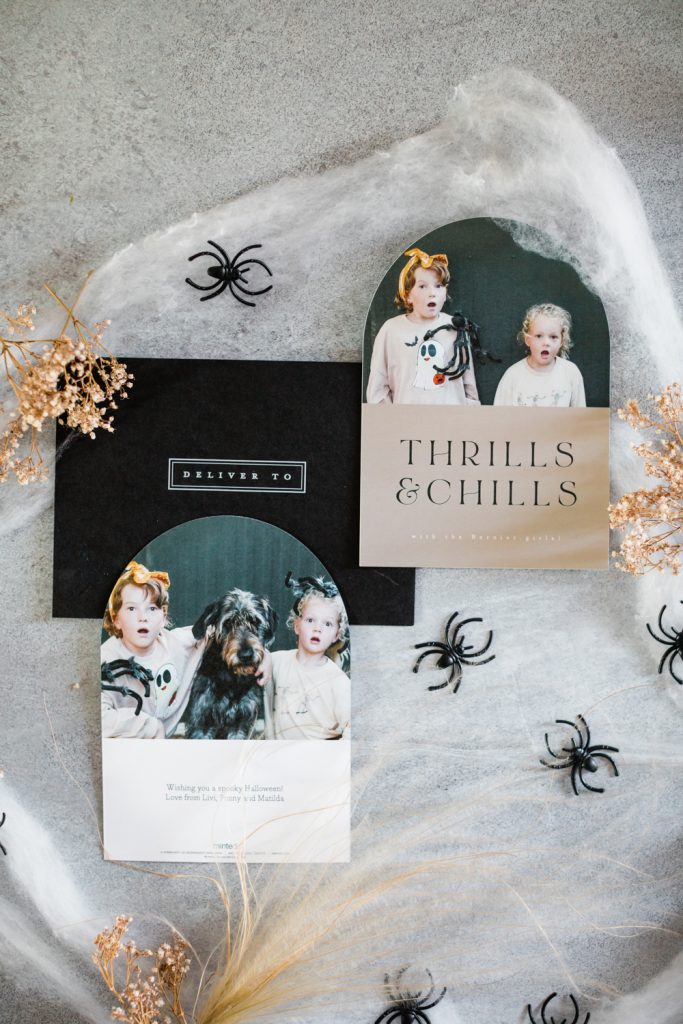 Shop Alison's card and her girl's spooky attire below!

Here are a few more of our favorite cards!


xx
Jacquelyn & Abby