Hip! Hip! Hooray! It's Fri-yay! Anyone else's week need to be over? This weekend should be a goody! With Mother's Day on Sunday and my birthday celebration tomorrow with a night away with the hubby at Cordavalle, our favorite hotel, I'm super excited! I haven't done a salad in awhile on the blog, and I thought today would be a perfect day with Mother's Day coming up! I'm sure most of you will have to prepare brunch, breakfast, and even dinner for those beautiful mamas. Keep on reading as we have you covered with this fresh spring bevy of vegetables. This salad is about my mama. She loves to make salads for every dinner. My dad and I have named her salads, "everything but the kitchen sink." Anything she loves will go in these salads. None of it makes sense, but somehow it always tastes super yummy. I took a couple of spring vegetables like artichokes, asparagus, and peas that she loves to put in her salads to create this delicious spring salad recipe that just screamed Candy! That's my mama's name. Sounds kinda unusual but trust me with the sweet and tangy citrus along with the earthy vibes from the peas, artichokes, and arugula its a winner.
Photos by Erin Milk
Spring Asparagus, Artichoke, and Arugula Salad with Chive Vinaigrette
Serving: 2-4
Ingredients
One small bunch of asparagus spears, woody ends trimmed, cut into pieces on the diagonal
1 cup Jerusalem artichoke hearts, peeled and sliced
If you can't find them, use fresh or frozen artichoke hearts
½ cup frozen or fresh petite peas
5 oz wild arugula
One ruby red grapefruit, peeled and sectioned
One white grapefruit, peeled and sectioned
Fresh Chive Vinaigrette
1/4 cup minced chives
The zest of half a lemon
2 Tablespoons freshly squeezed lemon juice
¼ teaspoon sea salt and freshly ground pepper to taste
2 Tablespoons extra-virgin olive oil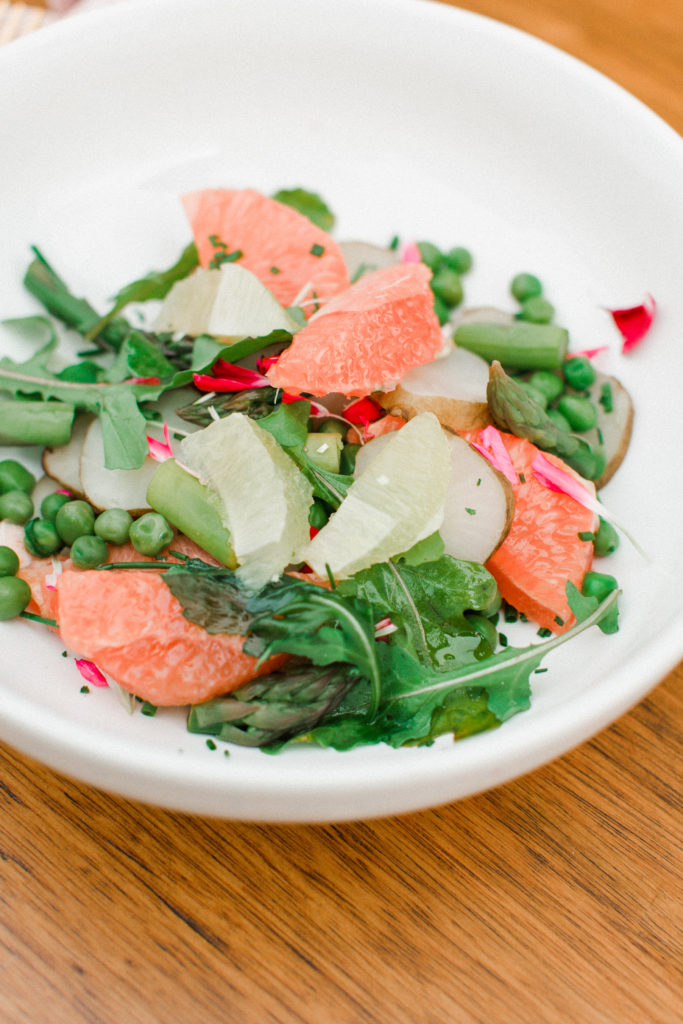 Instructions
Chive Vinaigrette
Combine all the ingredients in a small blender or food processor jar and blend until smooth and creamy.
Salad
Place the arugula leaves in a large serving bowl. Drizzle over half the dressing and toss until well combined. Bring a large saucepan of salted water to a boil. For the frozen artichokes, add and cook for 2 minutes. Add the asparagus and peas, and cook for another 2-3 minutes or until tender-crisp. Strain and place in an ice bath to stop the cooking and set the color. Drain when completely cool and season with salt and pepper. If you are using Jerusalem artichokes, peel and slice. Because Jerusalem Artichokes discolor quickly, peel and slice them just before serving. Add the seasoned blanched vegetable and the rest of the dressing and gently toss to combine. Add sectioned grapefruit on top and season with salt and pepper. Garnish with some chopped chives and serve immediately.
Happy Friday!
xx
Abby