Happy Mother's Day!!! We hope all of you are out there celebrating the mamas in your lives! And if you are a mama, that you are feeling the love!! What better way to spend Mother's Day then with some relaxing alone time doing some online shopping? I have to say, as much as I love my little family that may be exactly what I would want today, haha! A day off!! A day to just chill, maybe get my nails done, and have a glass of wine while perusing the web.
One of my favorite trends I've been seeing this Spring are jumpsuits. I mean really, they're nothing new, but what is out there right now is real good. So I put together a few of my favorites to give you some inspiration. I know they gave me some! Jumpsuits are amazing because you can dress them up and down with just the change of a shoe – flats or heels. And, really, they are always a show stopper! They are unique and original and I feel like only the really stylish girls wear them.
So let's jump on it! Haha, pun was definitely intended.
Let's start with one of my favorites, this adorable ruffled neck denim choice! I just ordered it so you may see me in it soon, yikes! Haha!! but I couldn't resist this one, I especially like the 60's/70's vibe.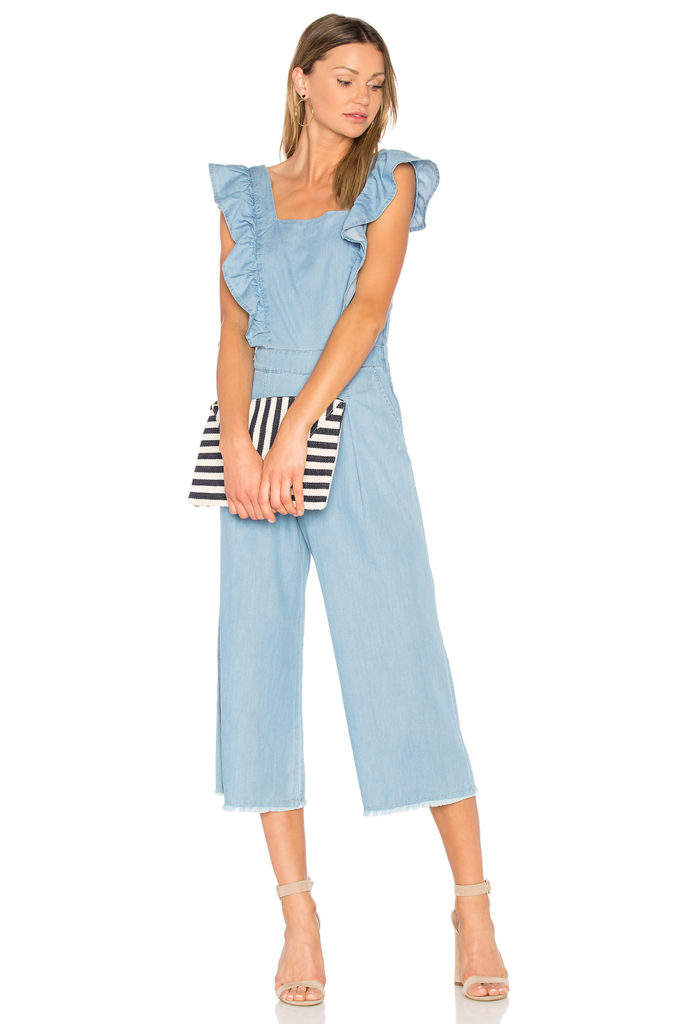 If you want to keep it in the blue family but don't want to quite spend that much, this one is for you!! It's by ASTR and it's perfect for Summer. Loving that culotte look!!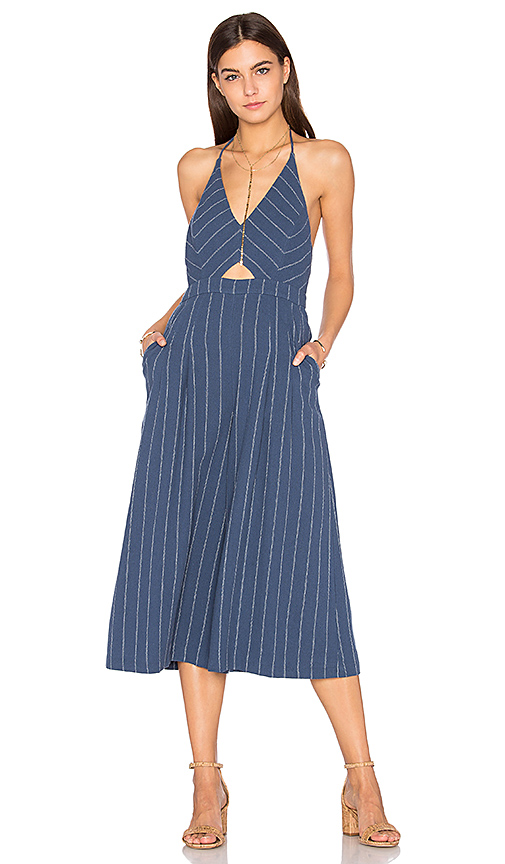 When in doubt, whites and creams area always a good idea, especially for Spring & Summer. They are fresh, clean and fun to accessorize with. This white jumpsuit from Free People is fun for a casual occasion, while the cream jumpsuit from Clayton is such a great date night outfit!!
Our buddy and photographer extraordinaire Megan Welker was wearing this cute Madewell Jumper the other day! I loved the way it looked on her. She paired it with a denim jacket. The print is subtle but cute and you could definitely dress this one up or down.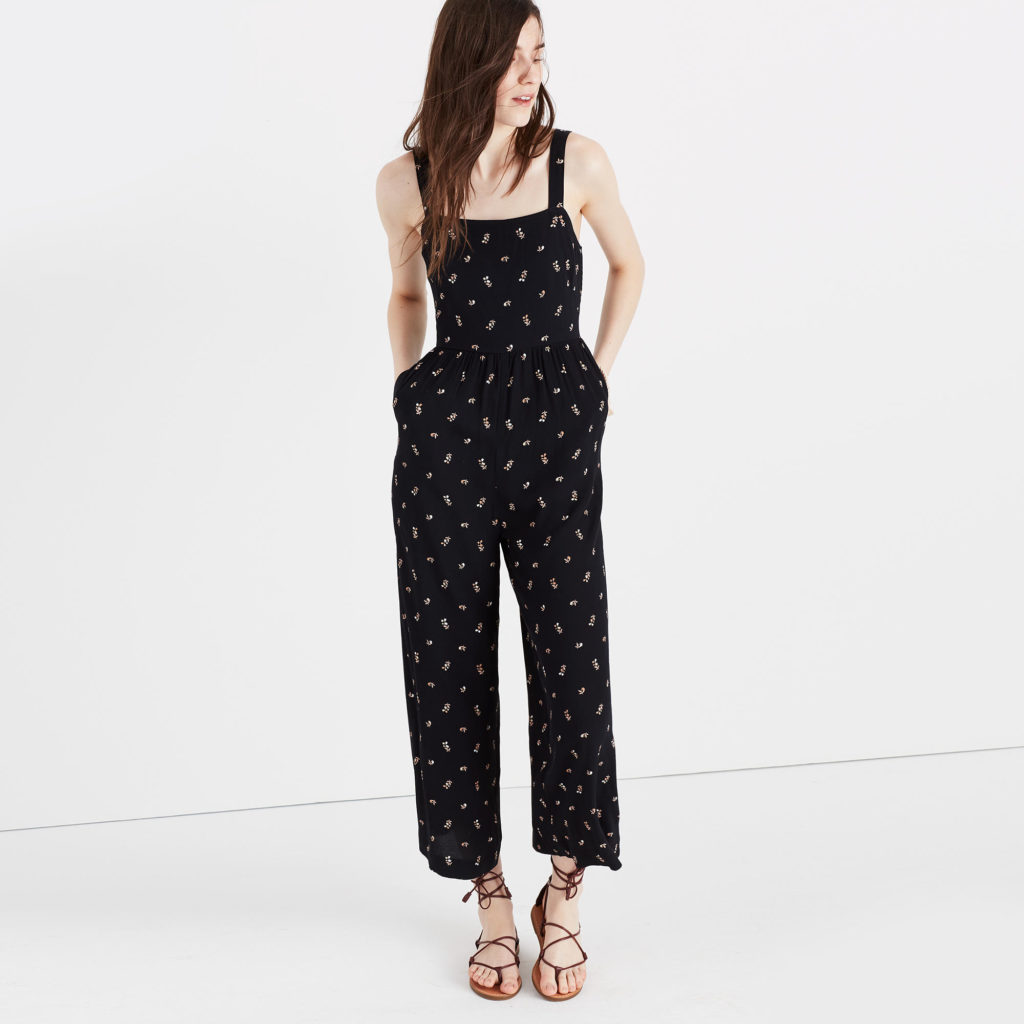 Abby has pre-ordered this cute Faithfull the Brand jumpsuit, I love the stripes on this!! The colors are also great! Another sexy jumpsuit with that low cut neckline. This one is so much fun!!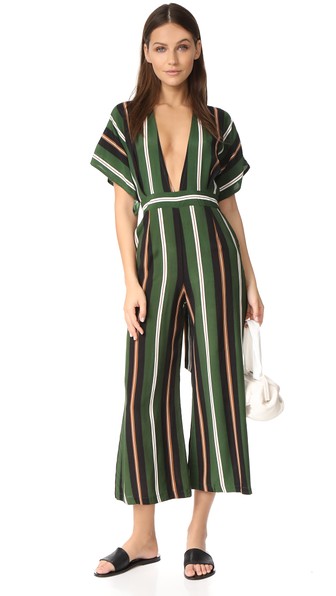 I really love this clay color on this Enza Costa jumpsuit, it's a great investment piece as it could easily transition into Fall! Plus, it's another one of those day to night jumpsuits, just undo a few of those buttons and woo hoo, sexy time!!!
Last but not least, this one is a little bit out there on price but I'm sort of obsessed…. The print is SO fun and retro!!! If money wasn't an issue this Whistles jumpsuit would be my pick!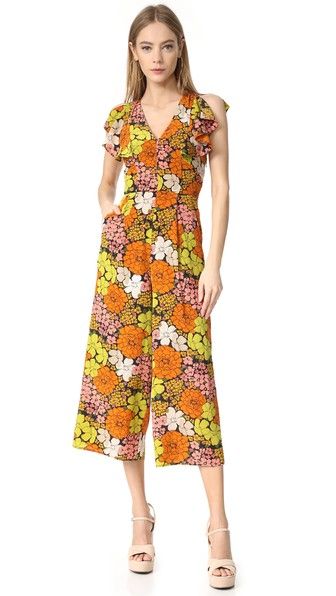 Happy Shopping & Happy Mother's Day!
xx
Jacquelyn