We have a little special treat for you today. A 90's rap song inspired sprinkle I threw for a very dear friend. Yes, ha ha we threw a sprinkle based off E40's, Sprinkle Me hit. The 90's are in right?!?  Just kidding. My friend Stephanie was expecting her second boy, and we wanted to shower her with lots of love and donuts. She wanted something small and intimate, and not over the top. When throwing a sprinkle for a friend, I think it is only fitting to include some of their favorite things. She is a lover of donuts and really good food. So that's exactly what she got! Let's dive right in shall we…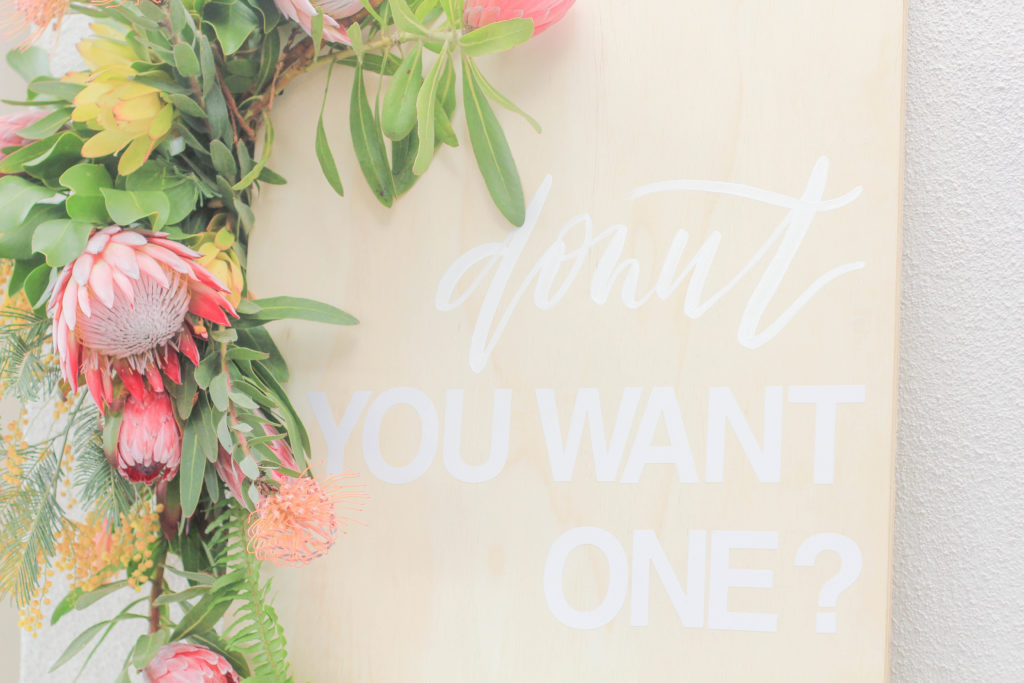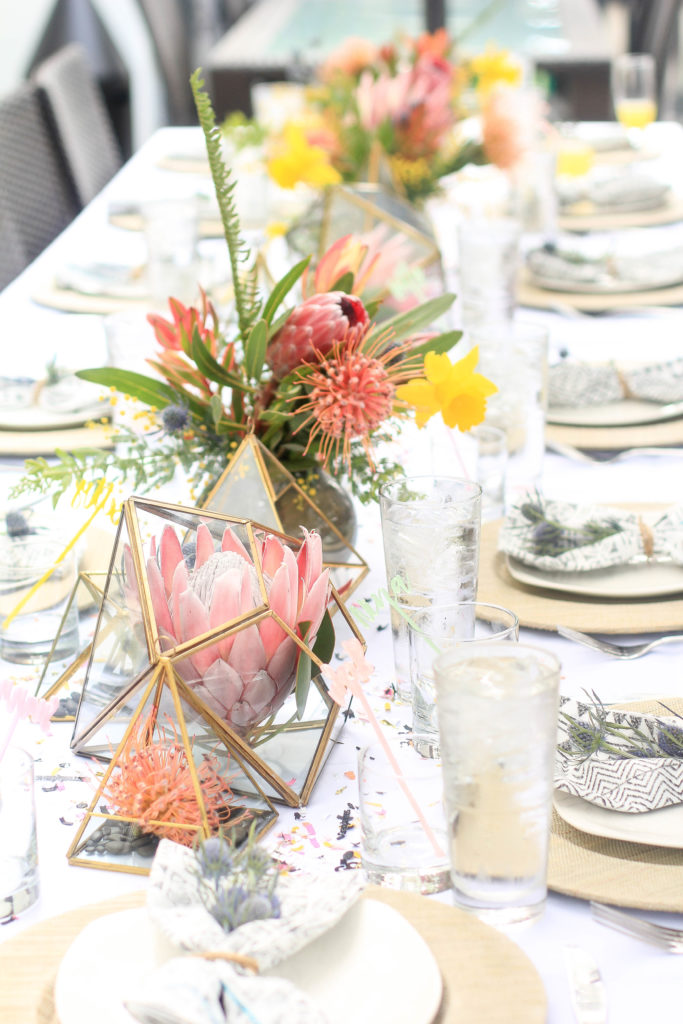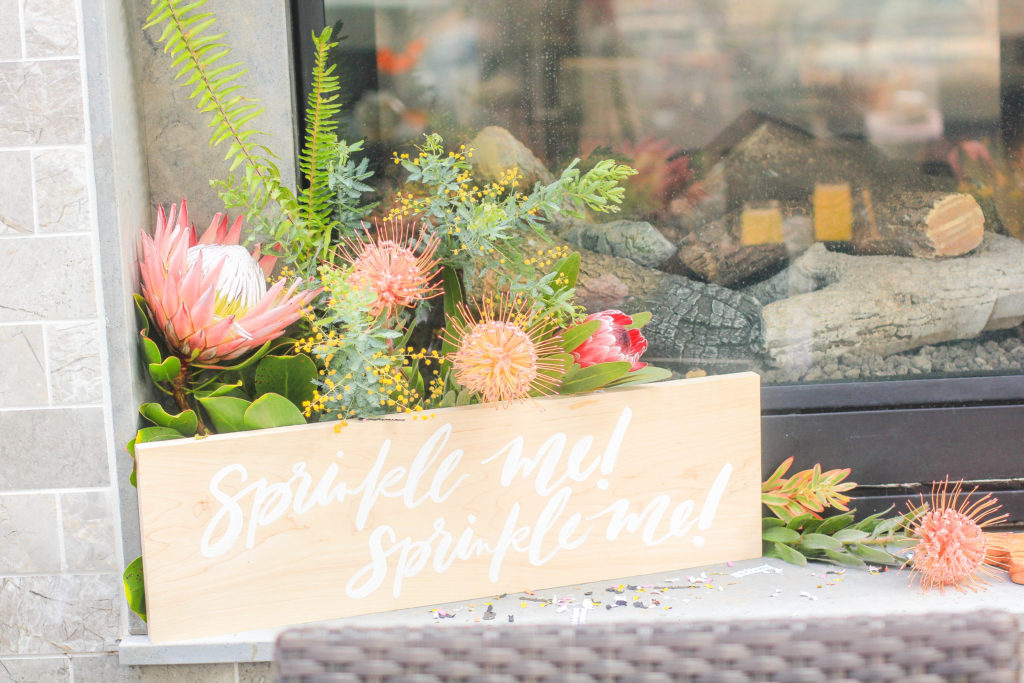 Being the hostess, I wanted to make sure that the food was on its A-game. So the only logical decision was to taste test multiple dishes at various restaurants. Hard job but someone's gotta do it. The fried chicken and waffles with honey mustard syrup was the winner at the Blue Door in Saratoga. Its a cute little restaurant in the San Jose area. They had the perfect patio outside to host this sprinkle. Now, I couldn't just show up with some confetti and call it day. What kind of host would I be? The nursery for Grady James is going to be a black and white theme. We carried that into the decor of the sprinkle. Along with the black and white theme, we thought it would be cute to have sprinkles be a part of the fun. This is where E40 comes in, but we will chat about that in a bit. The lady of the hour is also a HUGE fan of donuts, so of course we had those as the dessert for the brunch. I have been seeing these donut walls all over Pinterest and had to have one. With the handy help from my dad and the penmanship from Meghann Miniello, the donut wall was achieved. Christine Cater came and did her magic and created a beautiful floral garland that just put the donut wall on a whole new level. That lady is crazy talented.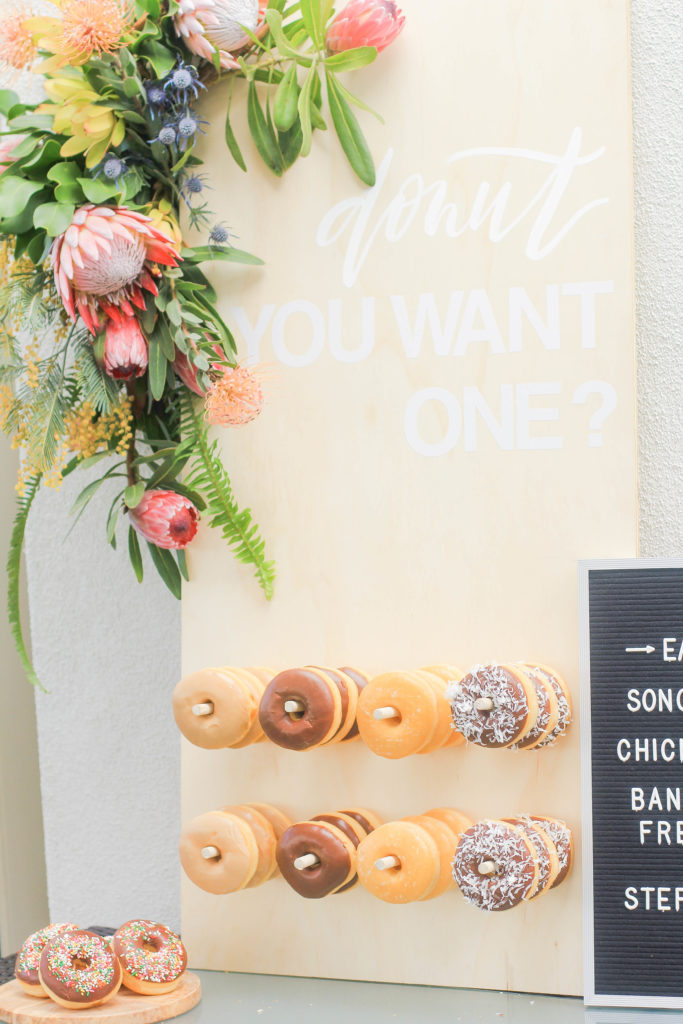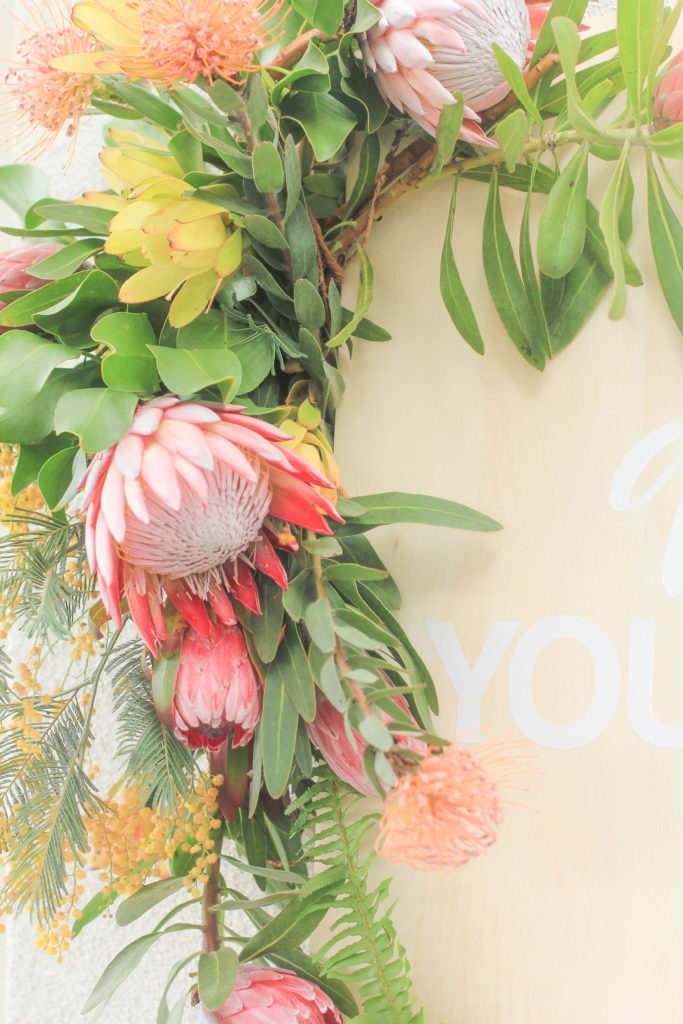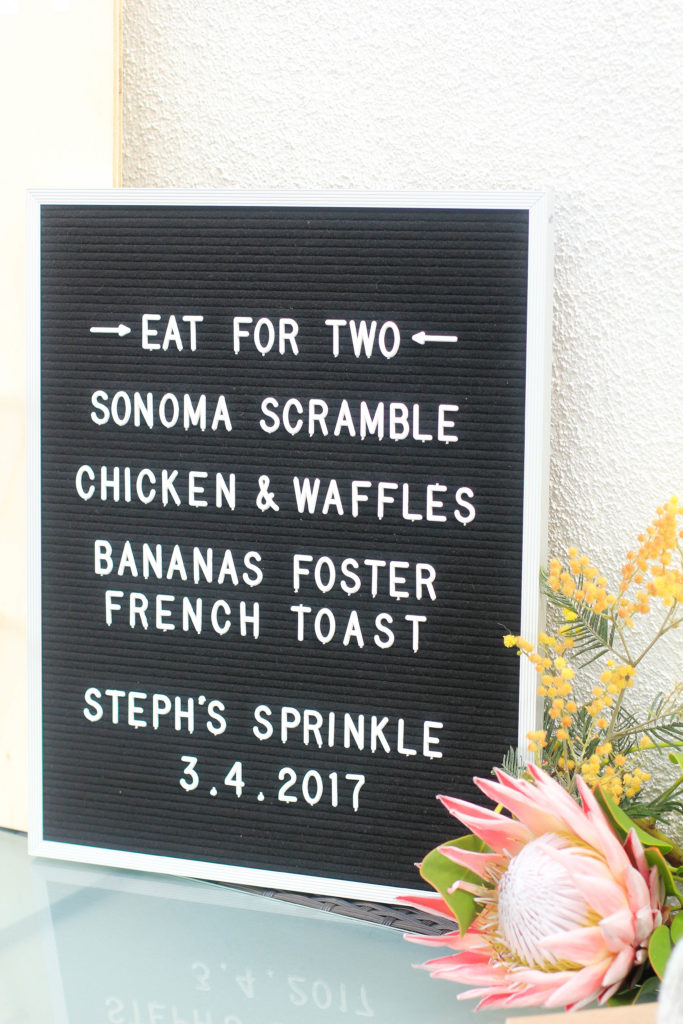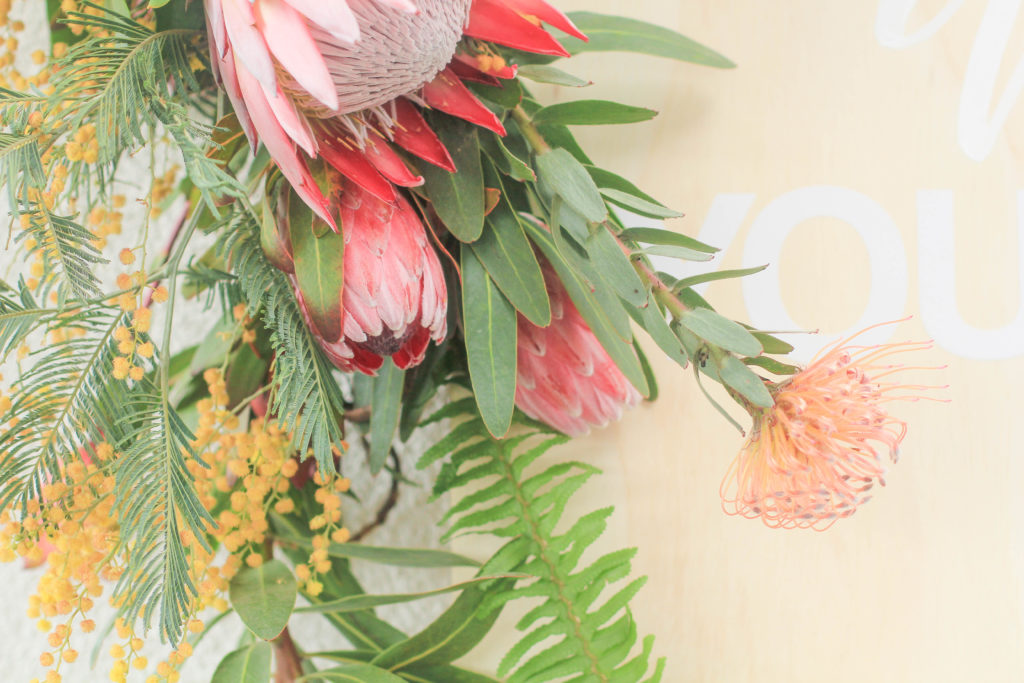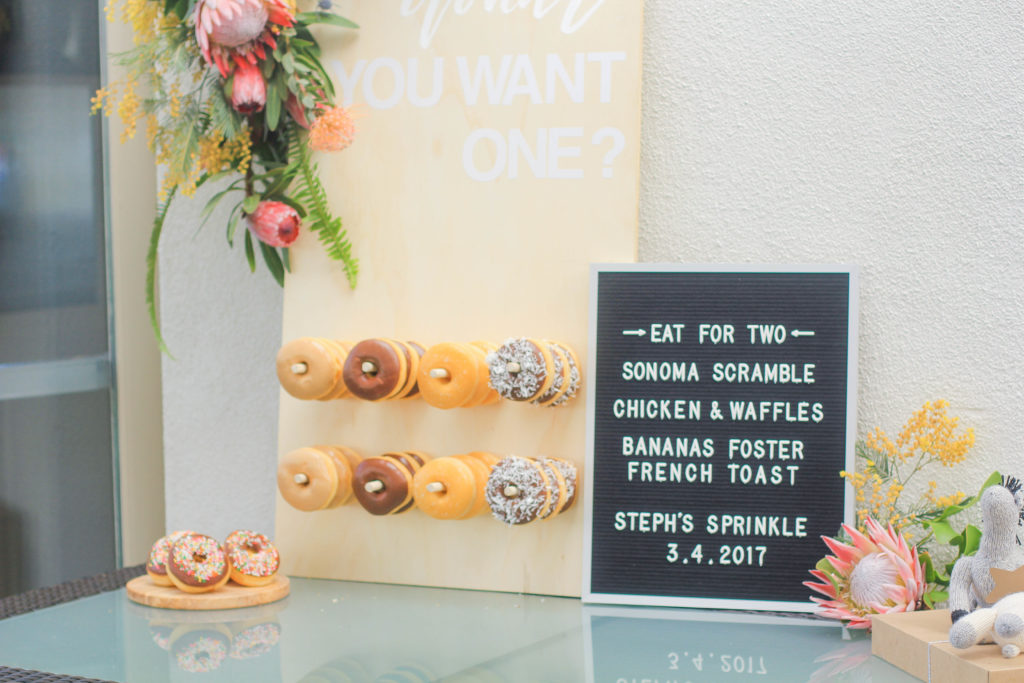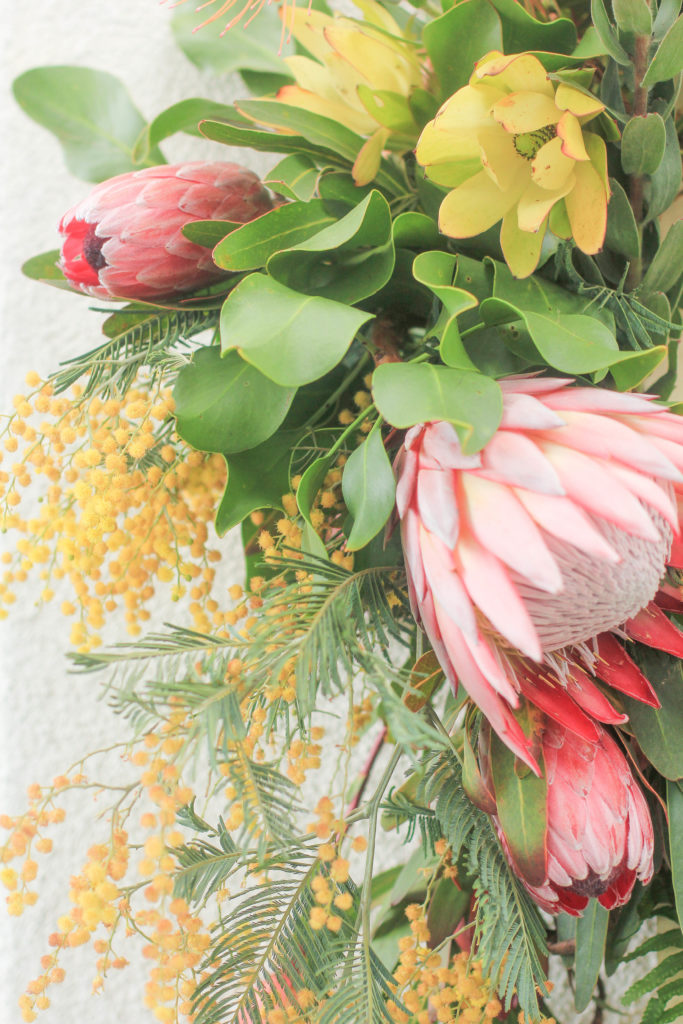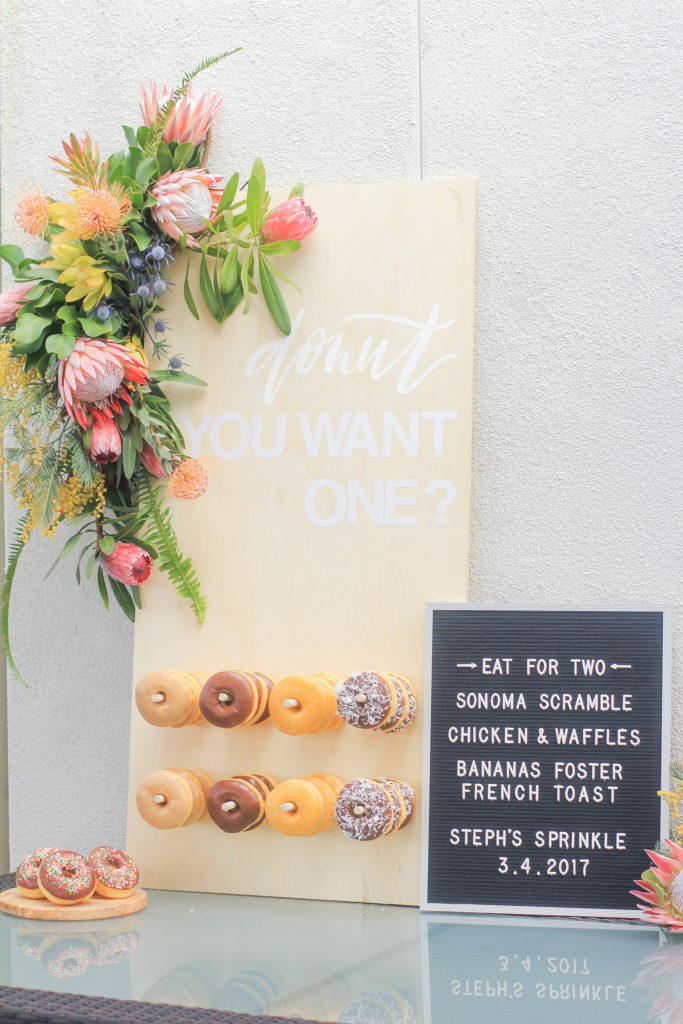 It is really easy to make! Here is how we did it. I went to Home Depot and got a large sheet of plywood. We drilled holes in the bottom portion and placed wooden dowels thru the backside. There you go! The best part the wooden dowels can come out, which makes it very handy for storage. Never know when you are going to need a donut wall again. Place a couple of yummy donuts on each dowel in an order that is attractive to the eye. With the theme being black and white, I used glazed, chocolate, coconut, and maple. We couldn't forget some sprinkled donuts as well.
The guests were seated all together at a family-style table. Down the middle of the table were these beautiful multi-shaped geometric terrariums that Christine filled with proteas and other florals. I loved the simplicity; it created such a fun look. I'm definitely going to be doing this look for summer. How fun would that be for your outdoor table? I found some similar ones at Cost Plus. They even have little ones you can hang! See them here. Among the terrariums, were beautiful boho protea arrangments. Even though it was a baby boy sprinkle, we still had to include lots of pinks. Having a white plate on a white table cloth was not gonna work for me. I brought in round fiber chargers that I purchased at Cost Plus. They are all out of the round ones, but you can find some square ones still, or you can even do a natural wood charger as well. On top of the plates, I used a fun black and white triangle geo embroidered napkin. Cost Plus was my best friend for this sprinkle. The Roc Shop created sprinkled colored inspired cocktail stir sticks that each guest had at their place setting. Cute little favor as well!
Also included was custom confetti from The Confetti Bar that was sprinkled on top of the table. The confetti consisted of a mix of fun colors, the baby's name, his initials, and actual cake sprinkles. So cute!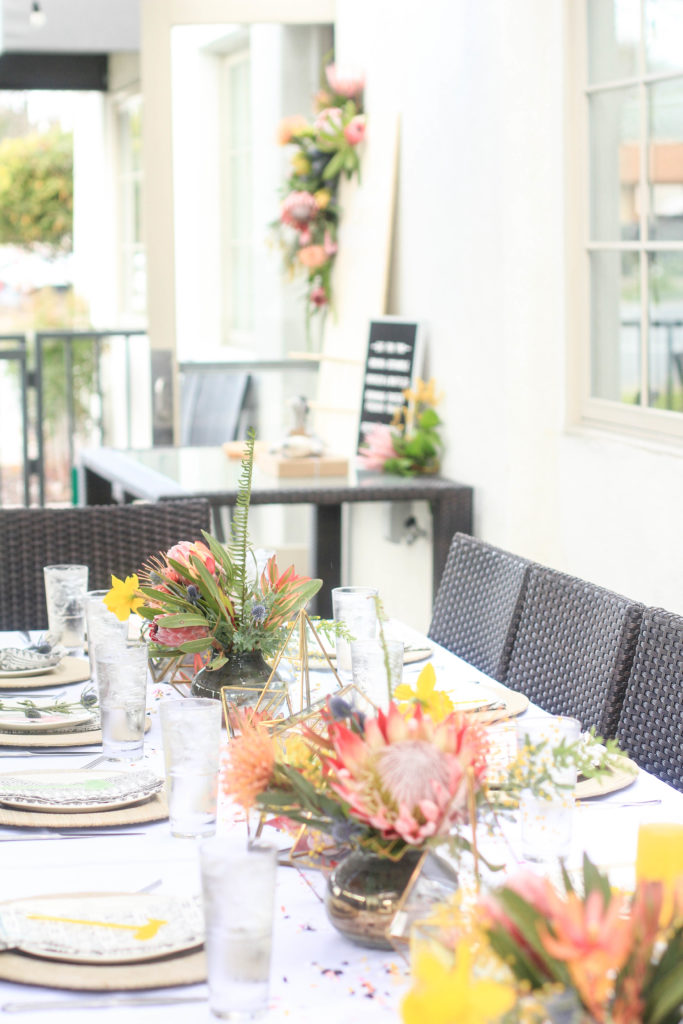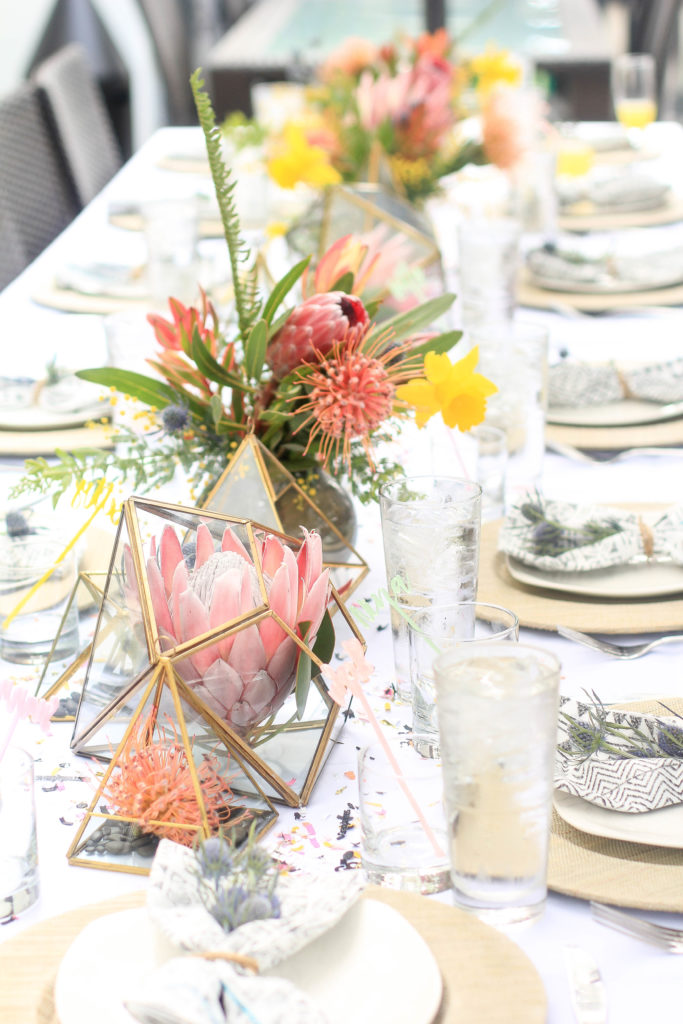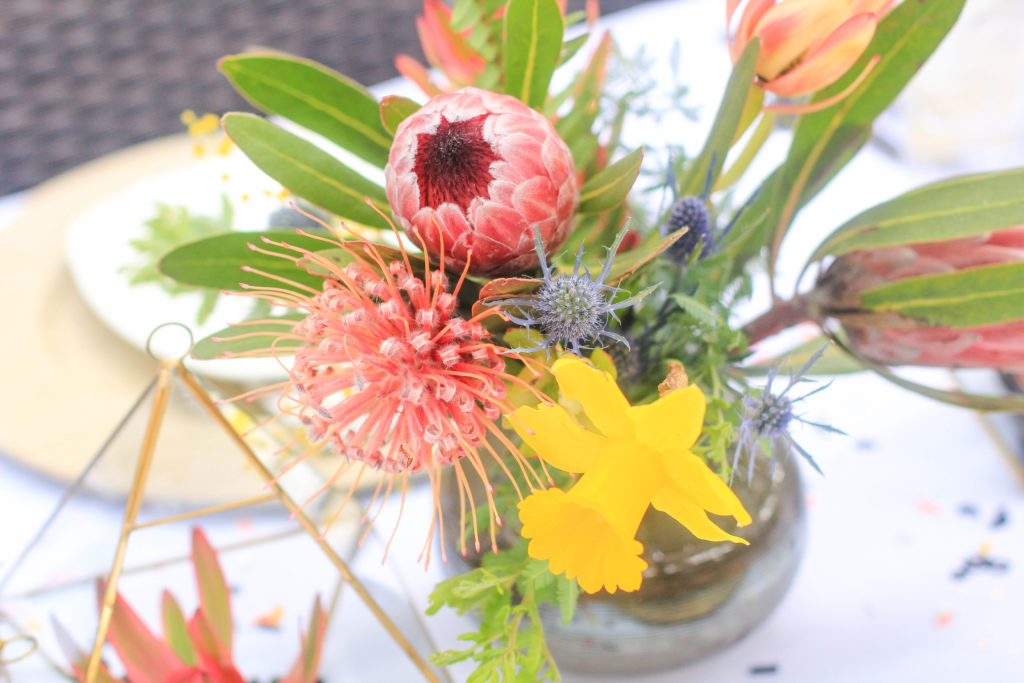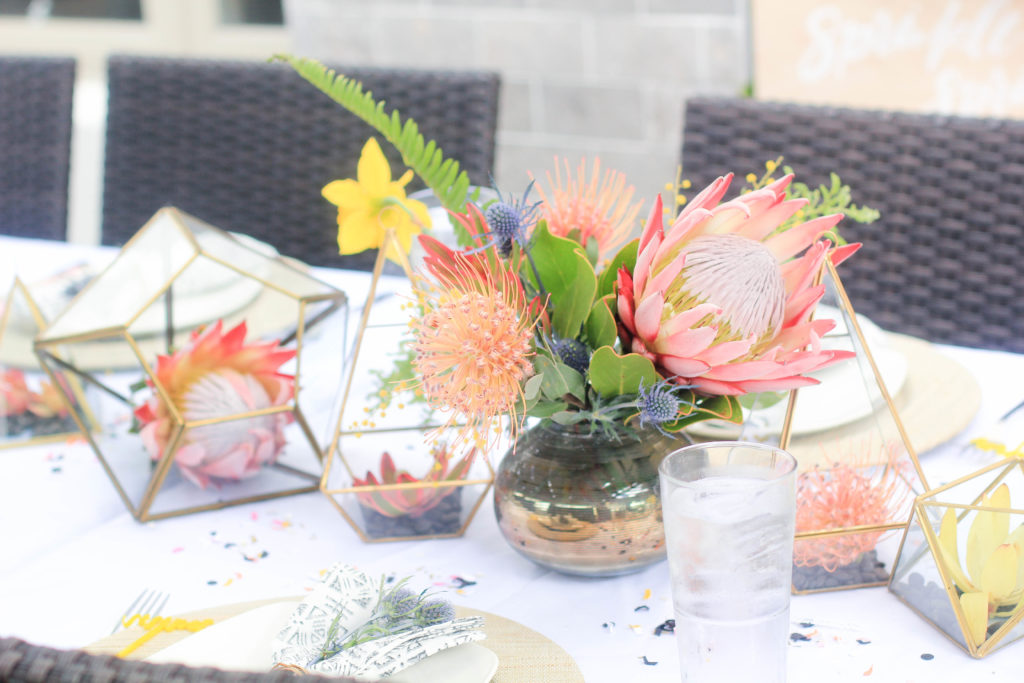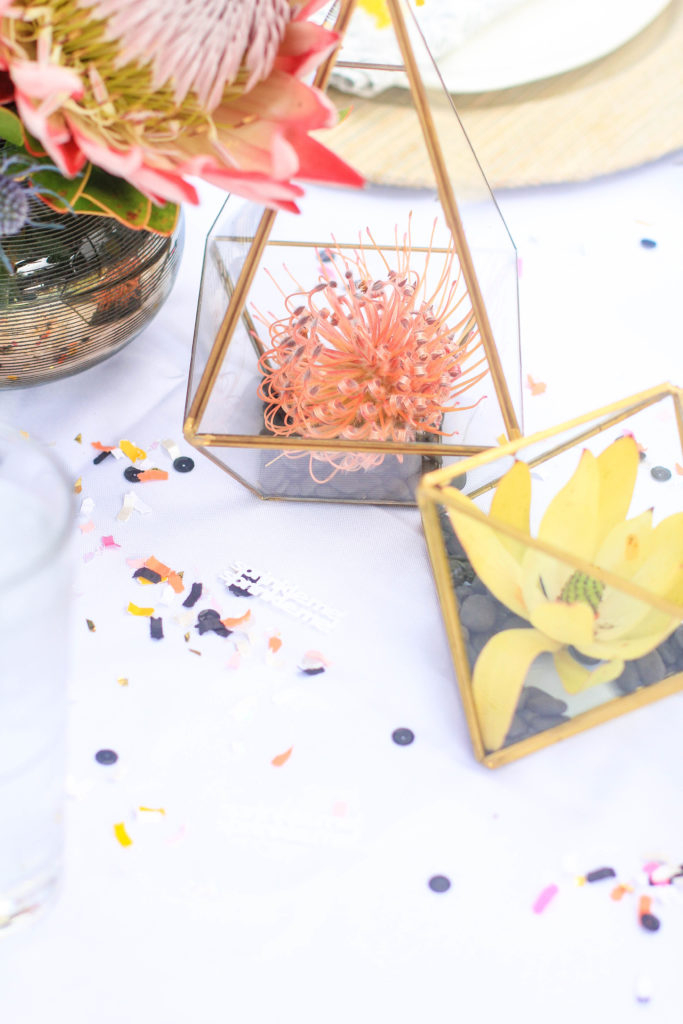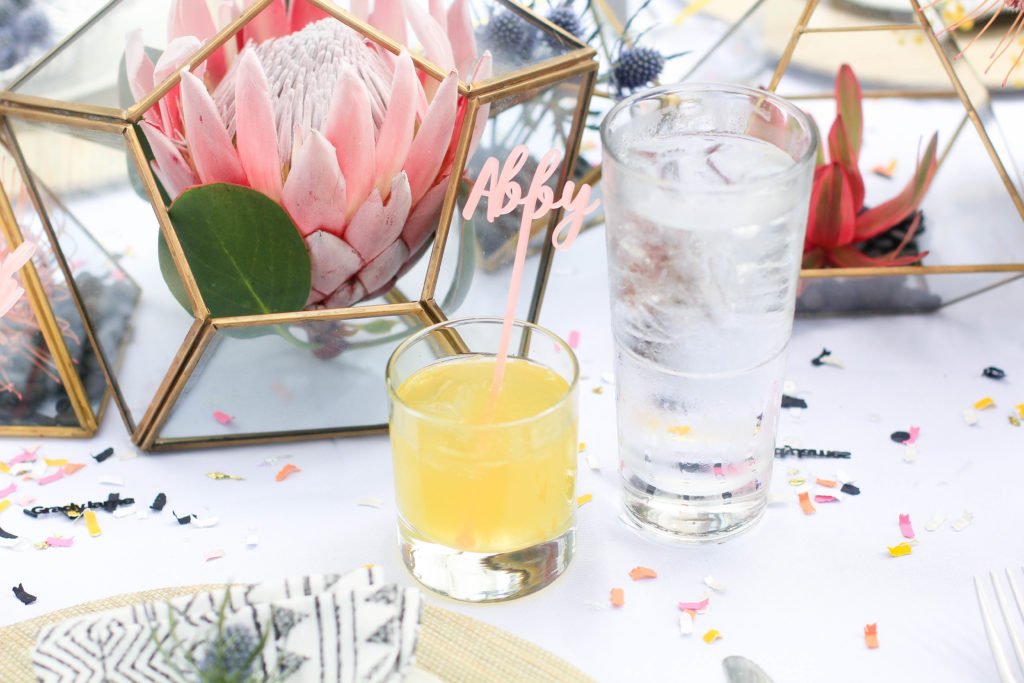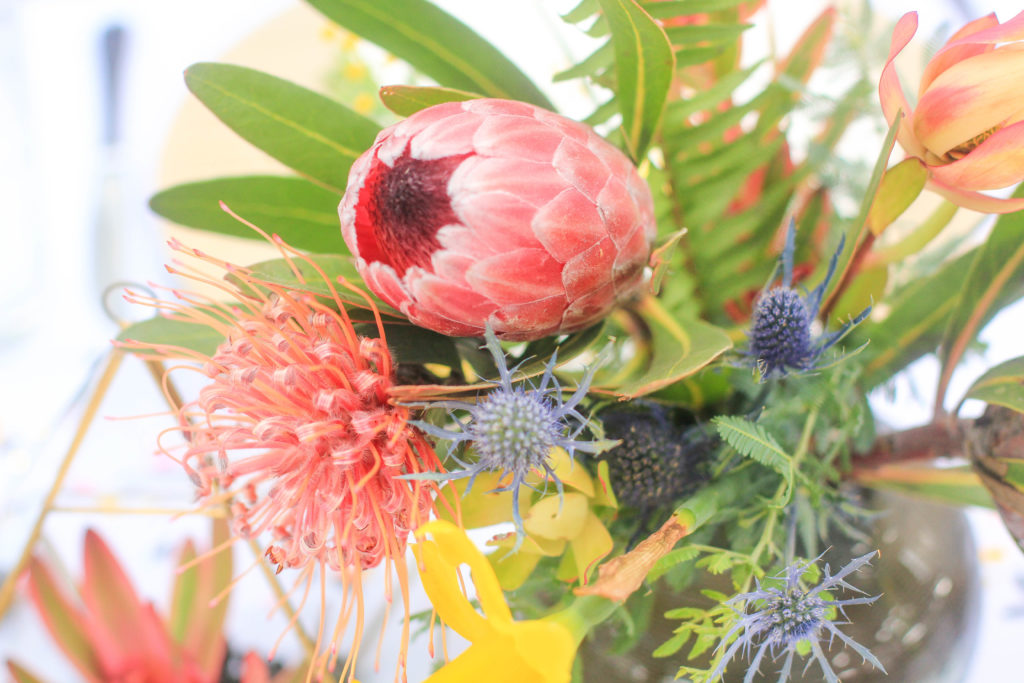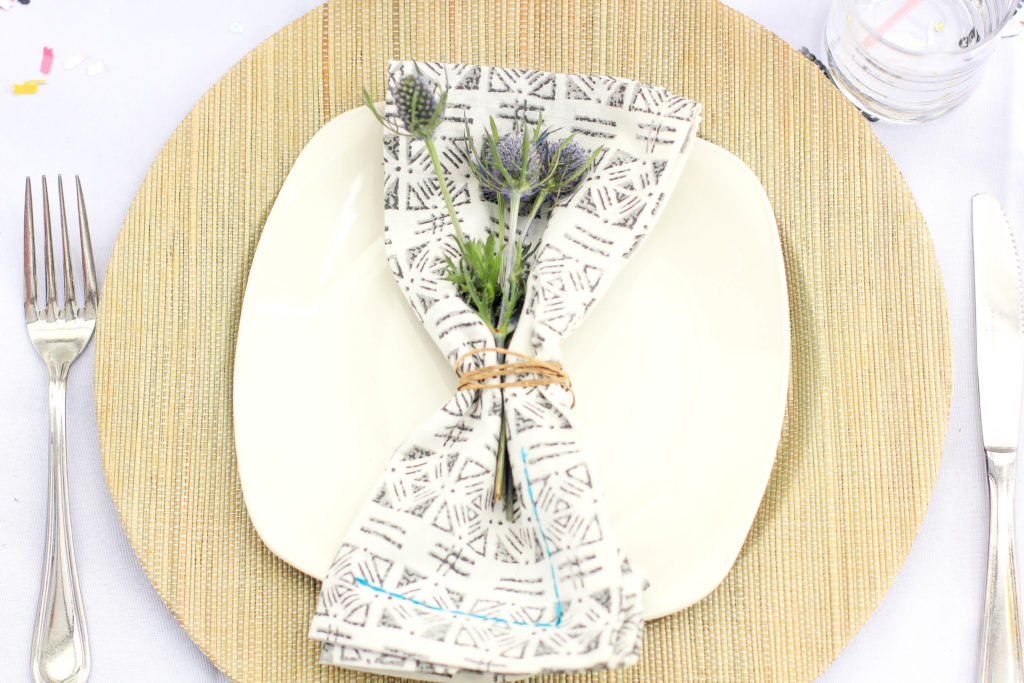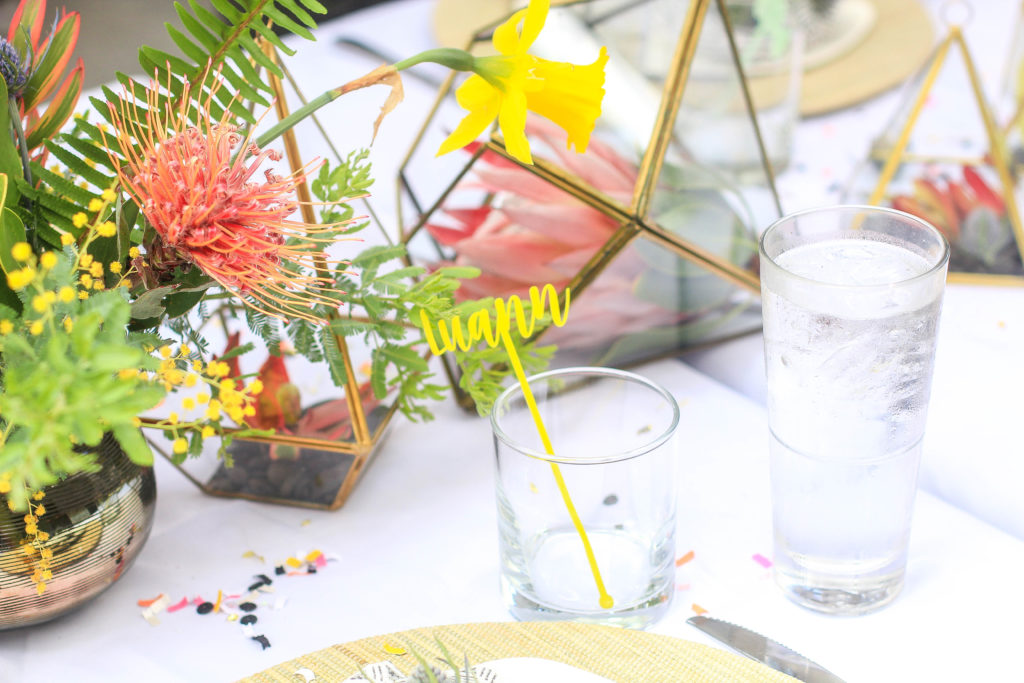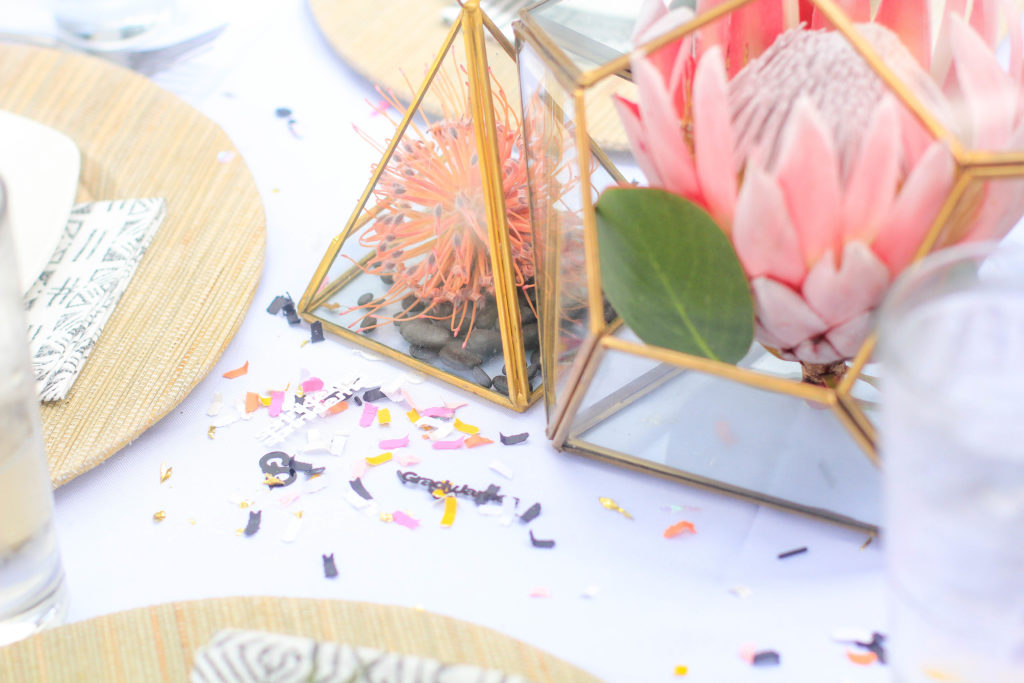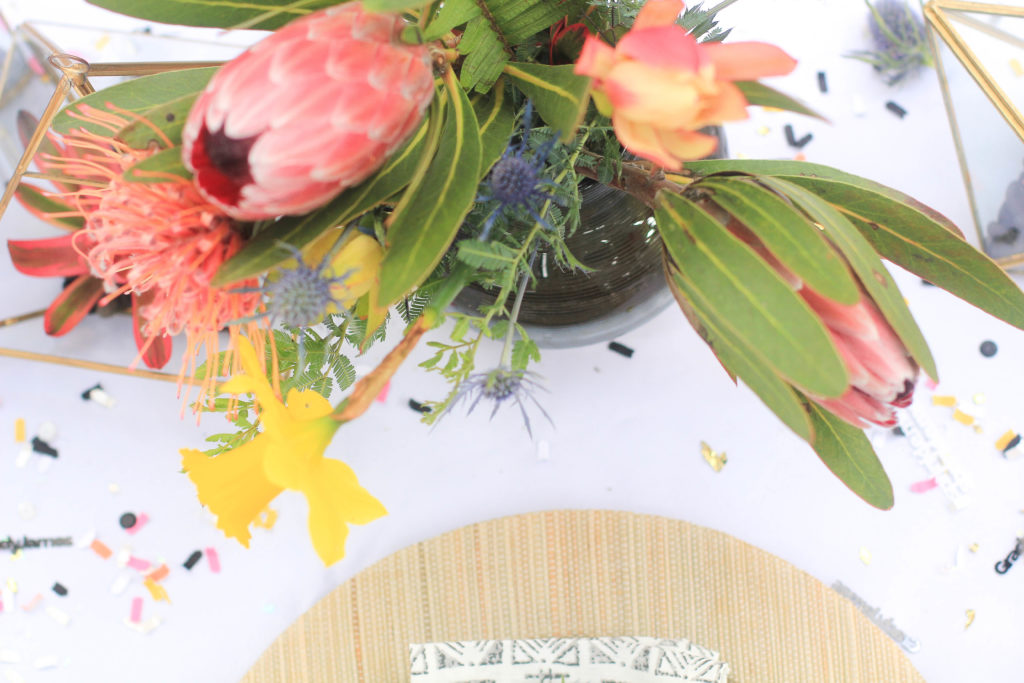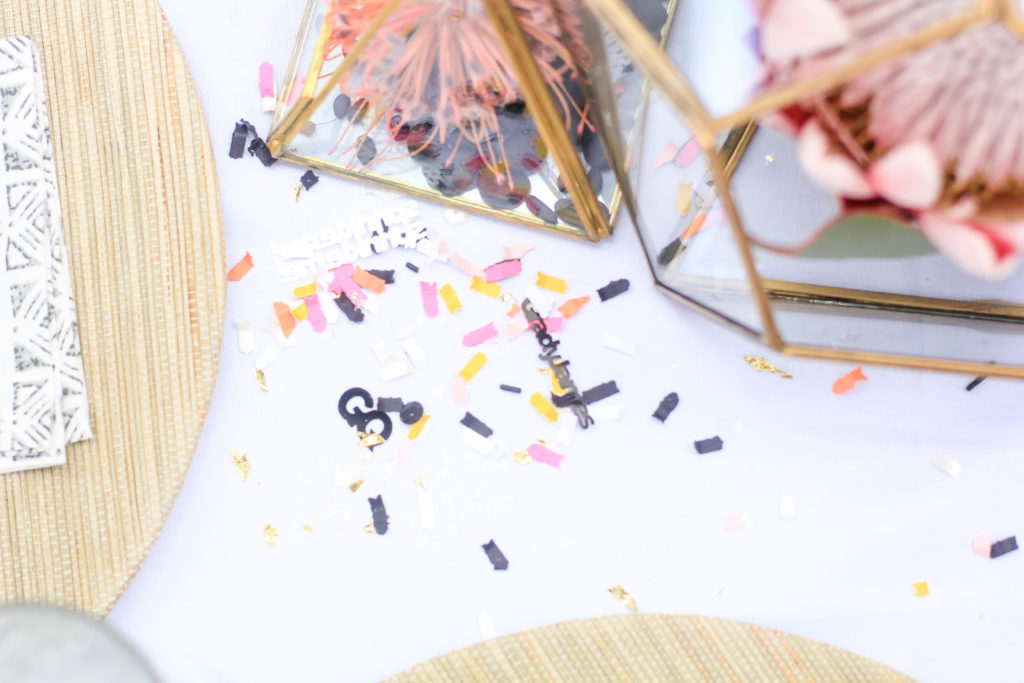 A wooden sign that Meghann Miniello created for us, that added an extra touch of comical fun to the mix. Yes, this is where E40 comes in. The majority of the guests were family members, so it made for a great icebreaker to explain to them who E40 was and why we used a rap lyric for a baby sprinkle decor.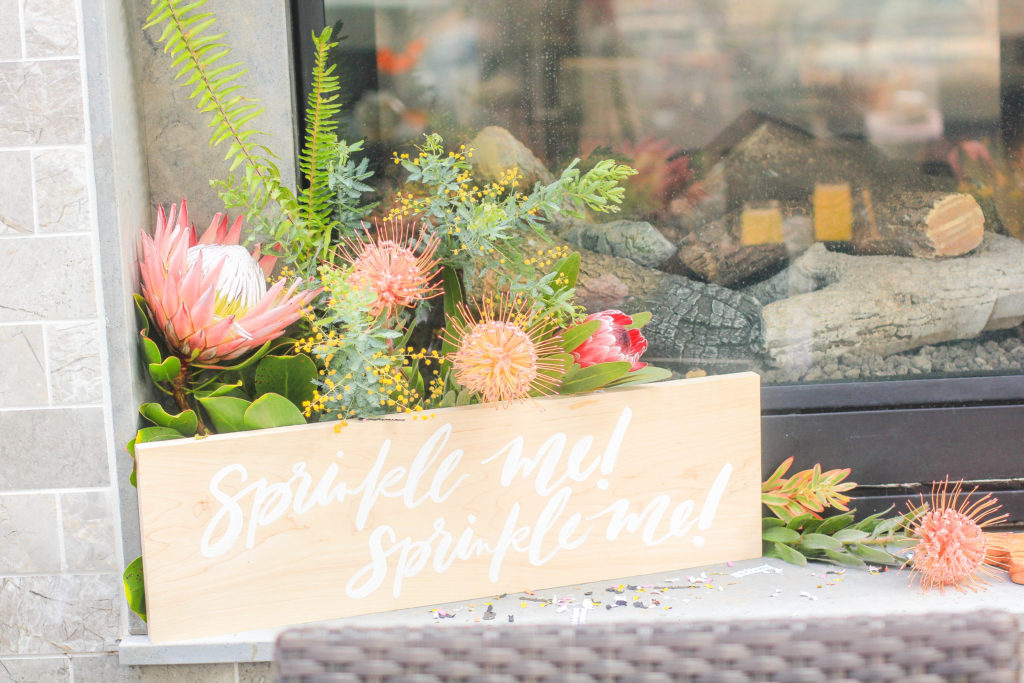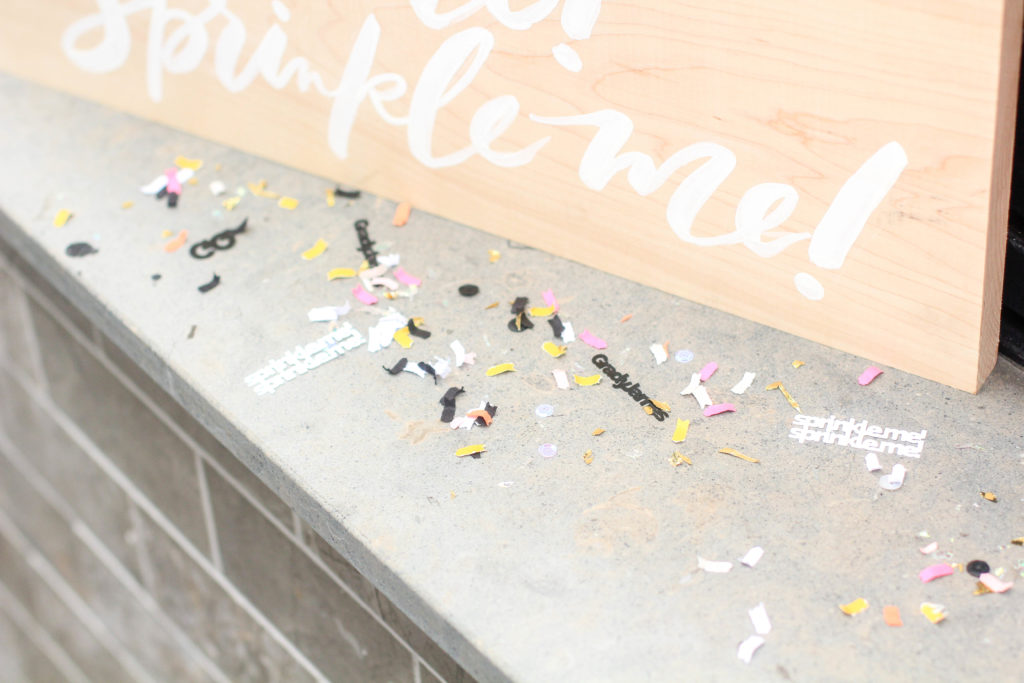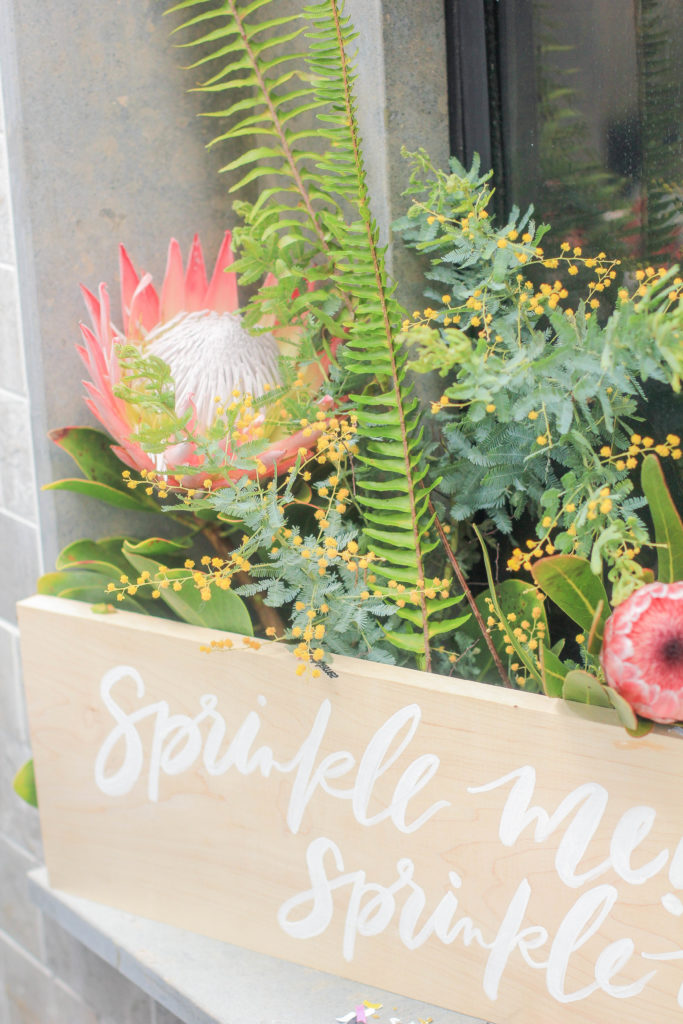 It was a beautiful day to shower a beautiful lady we love so much! Grady James was born last Friday, and I can't wait to snuggle with him again soon!
xx
Abby