How's everyone's summer going?! Are you like me, trying to find ways to keep your kids busy and entertained day after day? Well, I have a fun answer for you today! A tie-dye party!! Tie-dye is all the rage and we decided to have some fun and make a party out of it!
Yes, it can be messy mamas, but it's also a ton of fun! I can't begin to tell you how excited the kiddos were. So keep scrolling to see how we made this one big colorful bash a day to remember!
Pretty photos by the talented Corrie Lynn Photo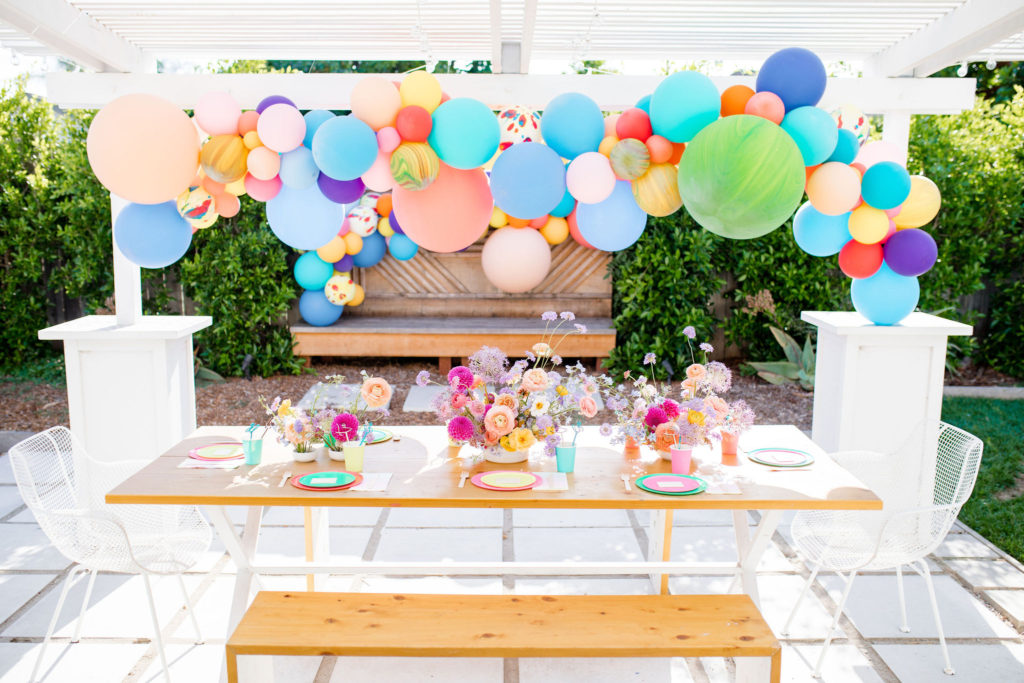 Kicking it off with a sweet and simple invite by Proper Letter. And a pun of course!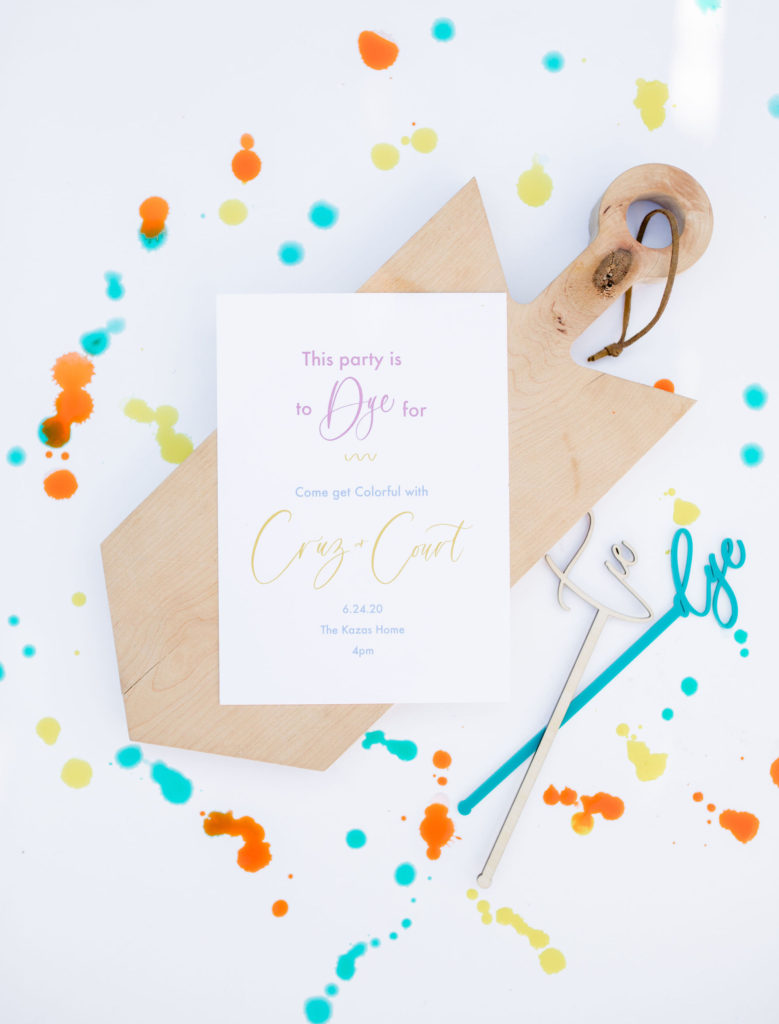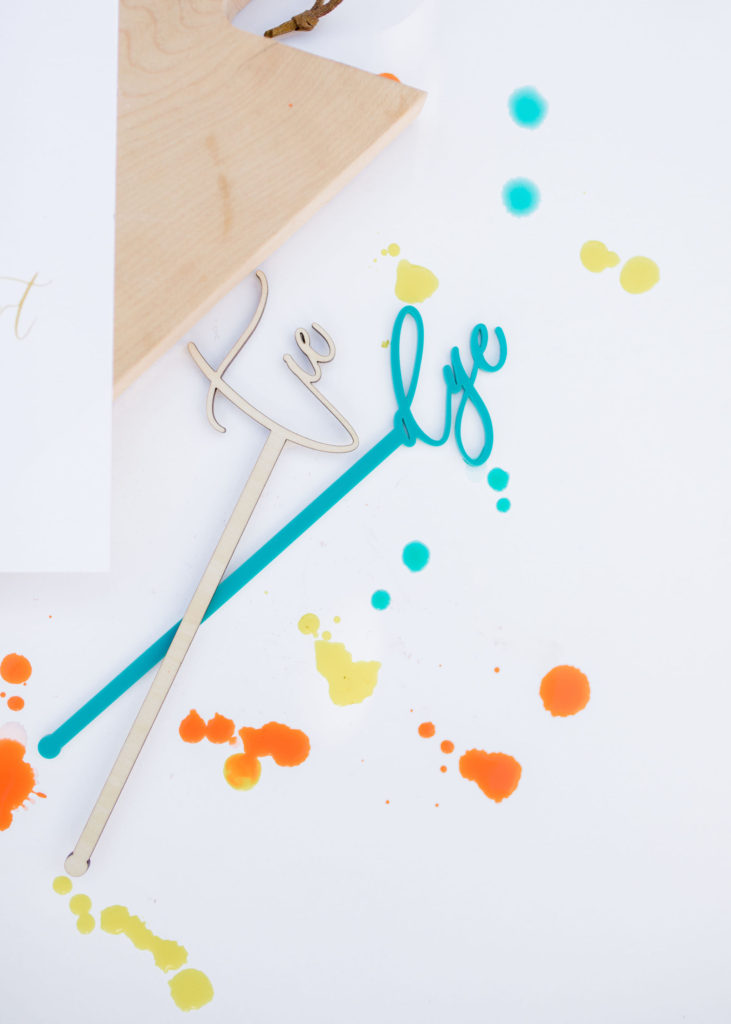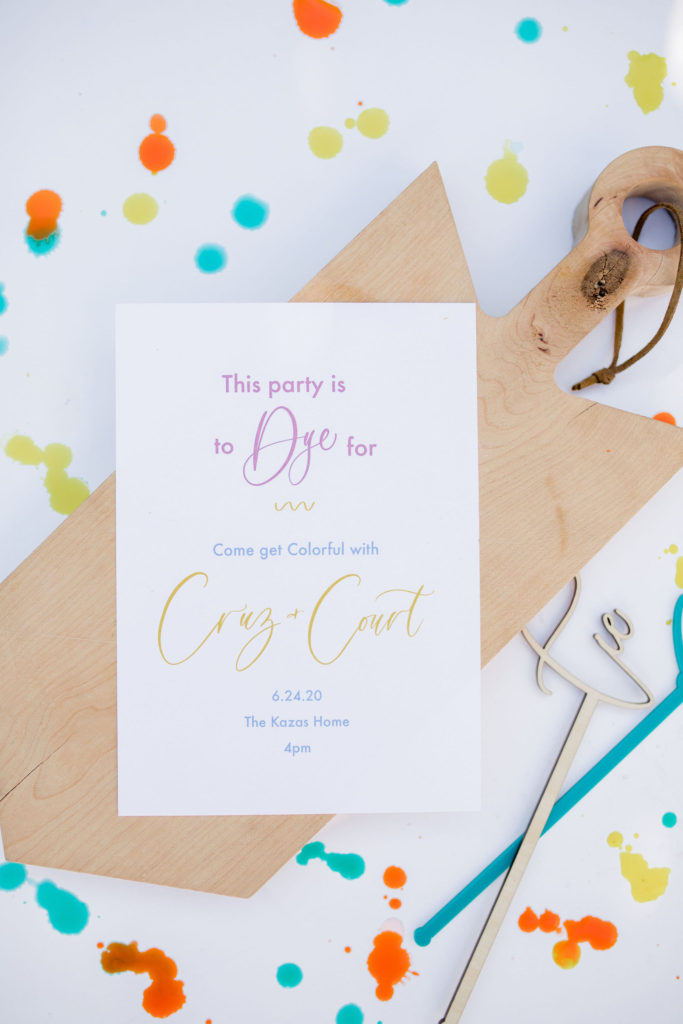 I'm not one to shy away from color, so this had my name all over it! Aren't the balloons by The Pop Shop so fun?! I love all of this color!! We kept it going on the table with gorgeous florals by Not Just in Novels and tabletop from Oh Happy Day Party Shop.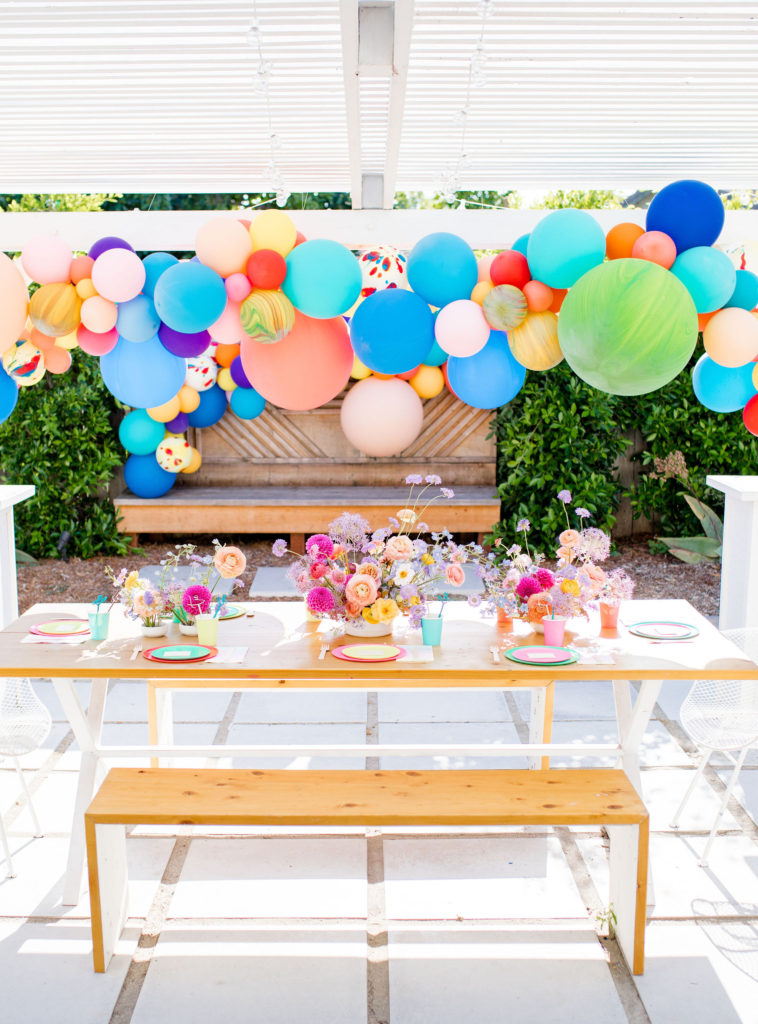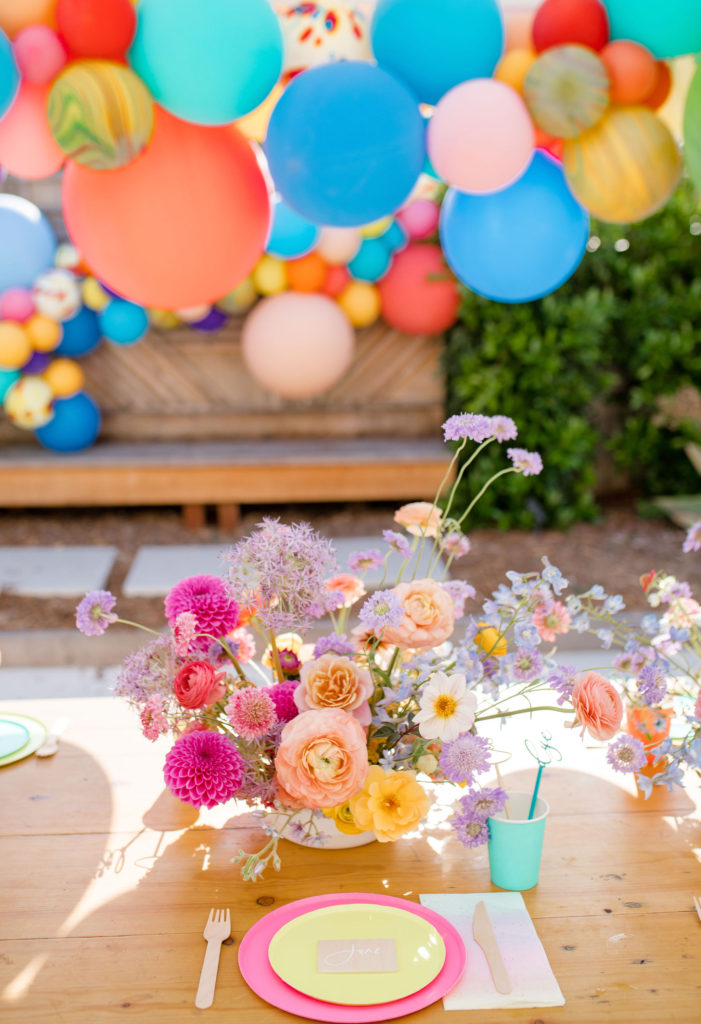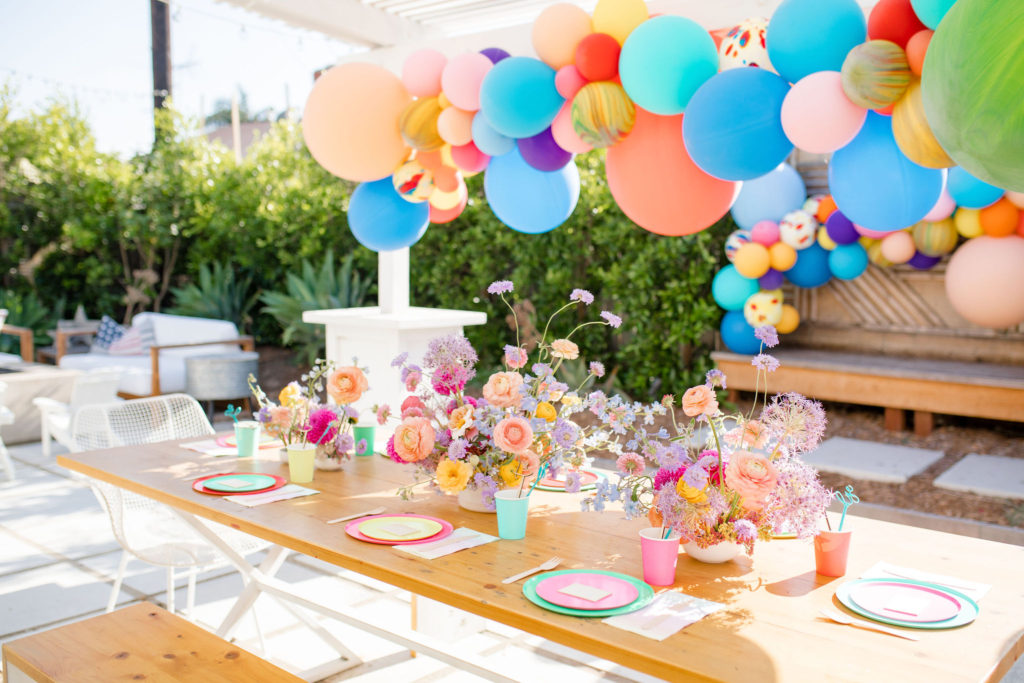 These florals are just too much. They are my favorite! Not Just in Novels is a genius with color… You may also notice the cute stir sticks by Proper Letter saying Tie and Dye. Such a fun little touch!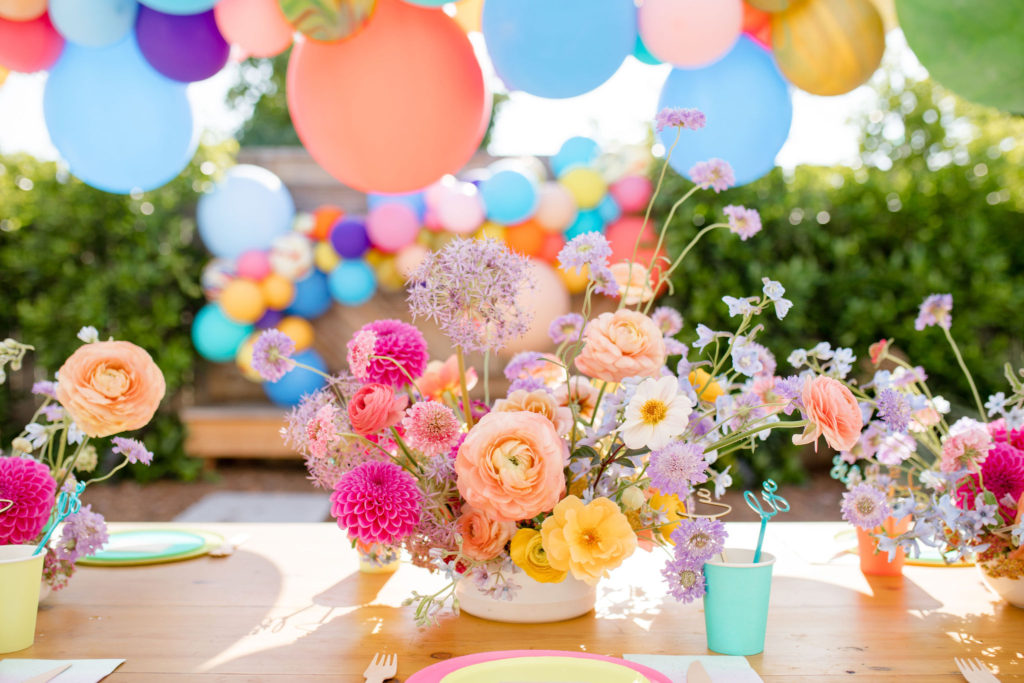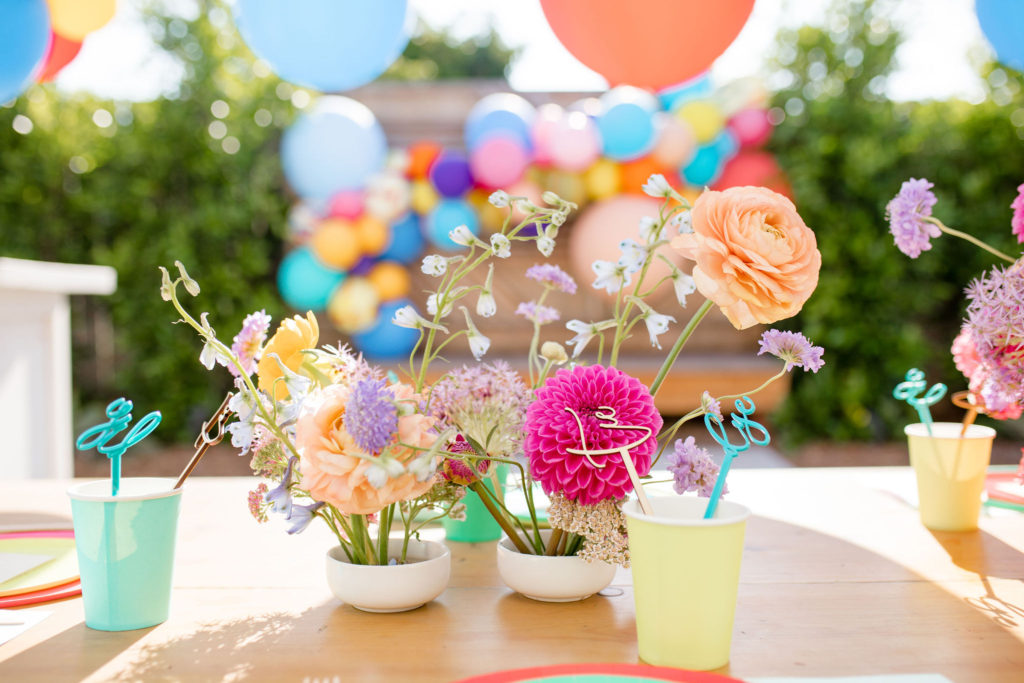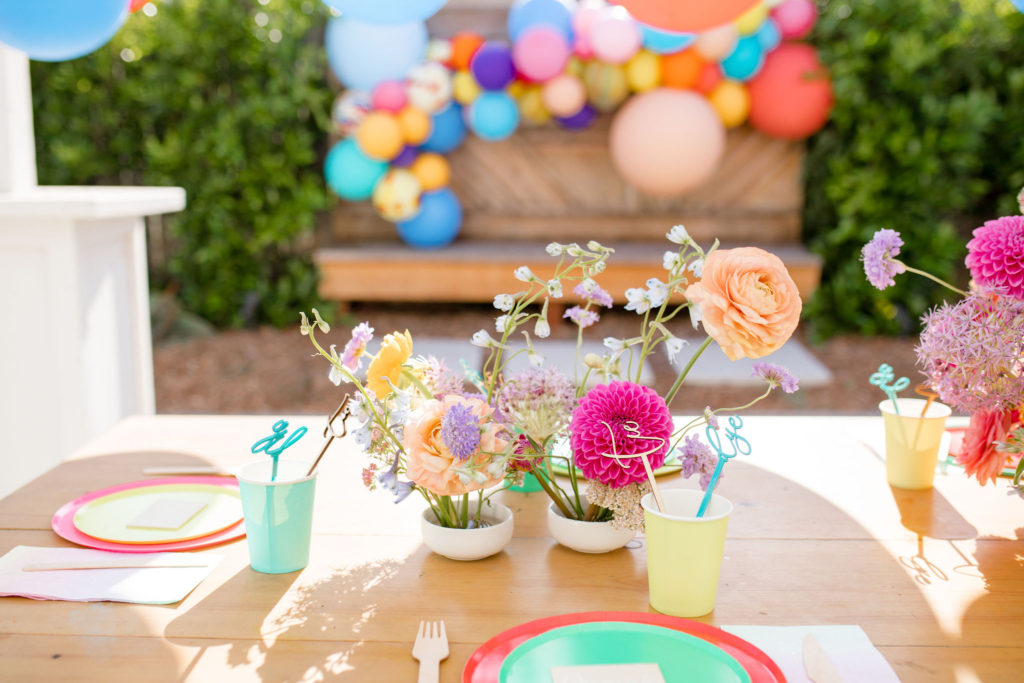 So vibrant!!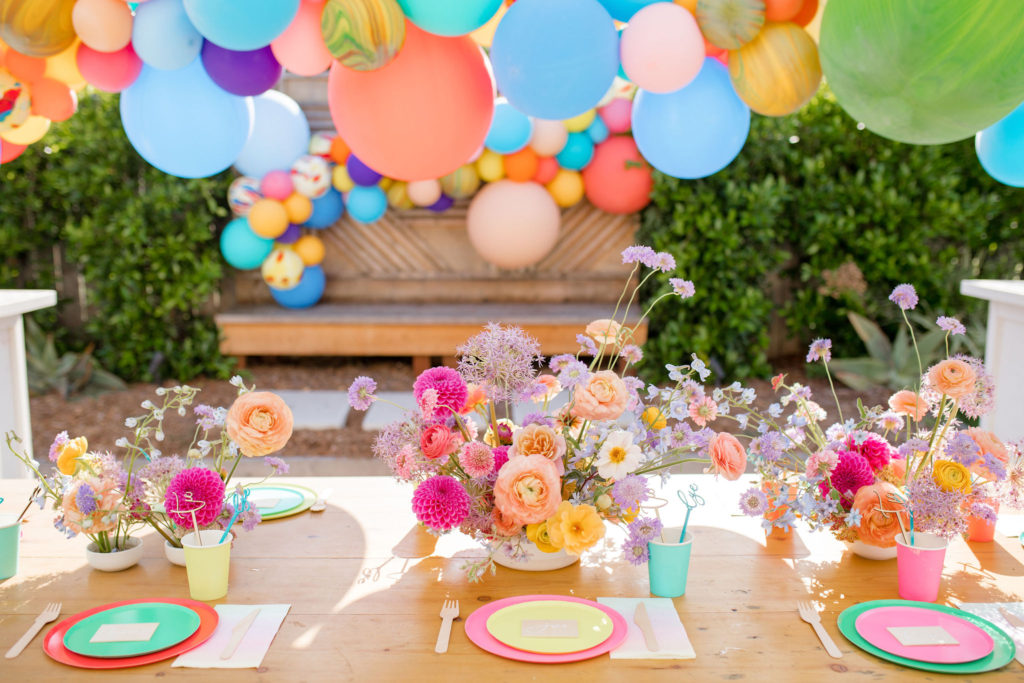 Proper Letter also created the simple place cards with each guest's name. Since there was so much color I liked the simplicity of the light wood.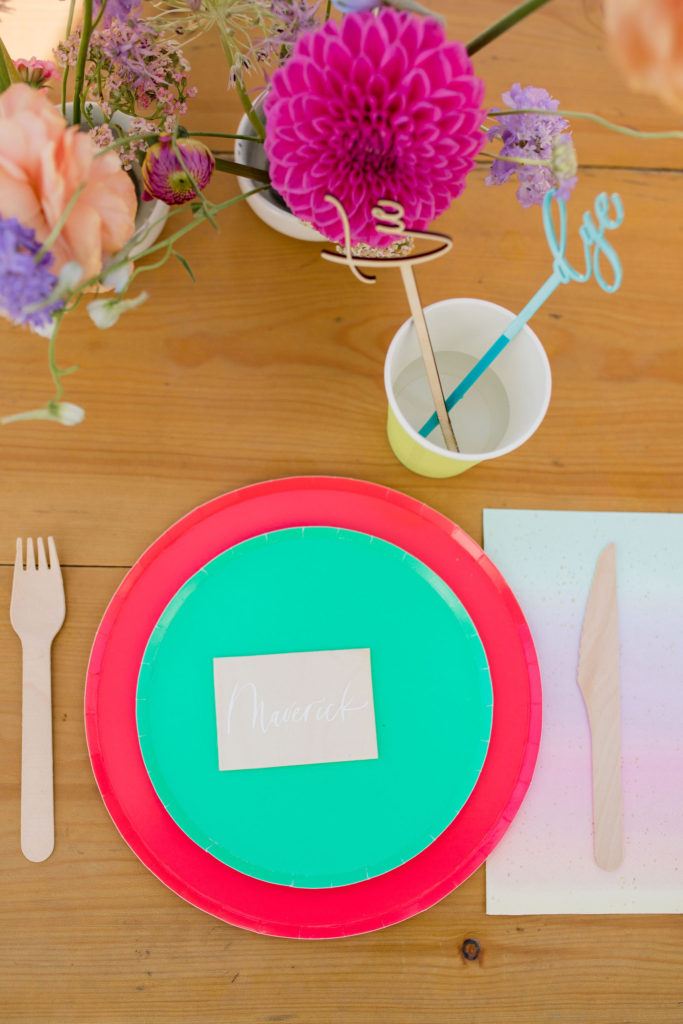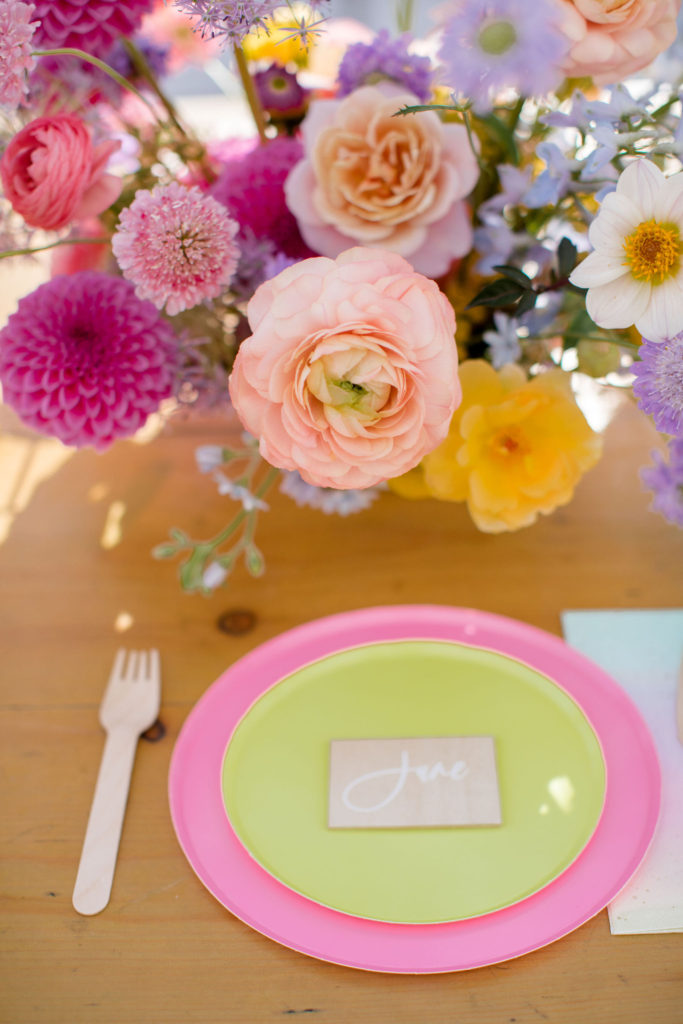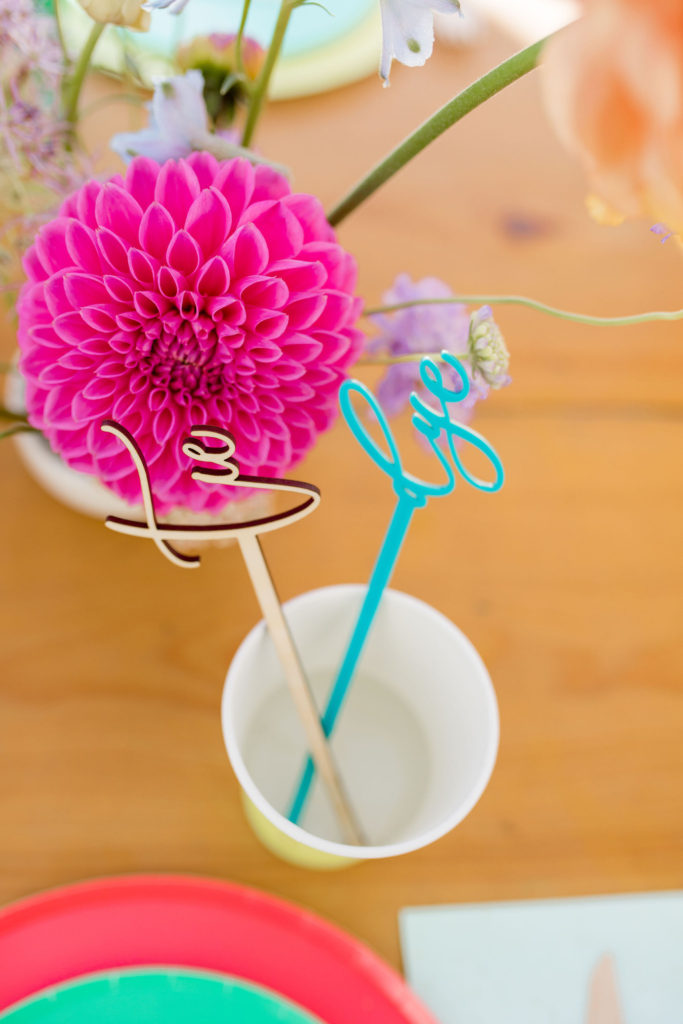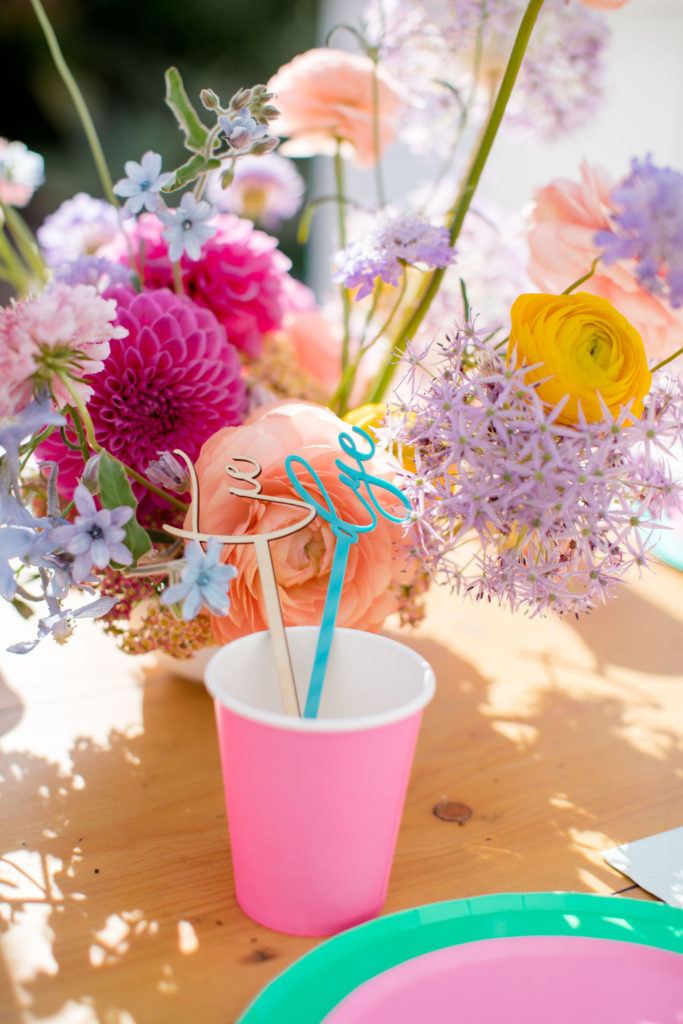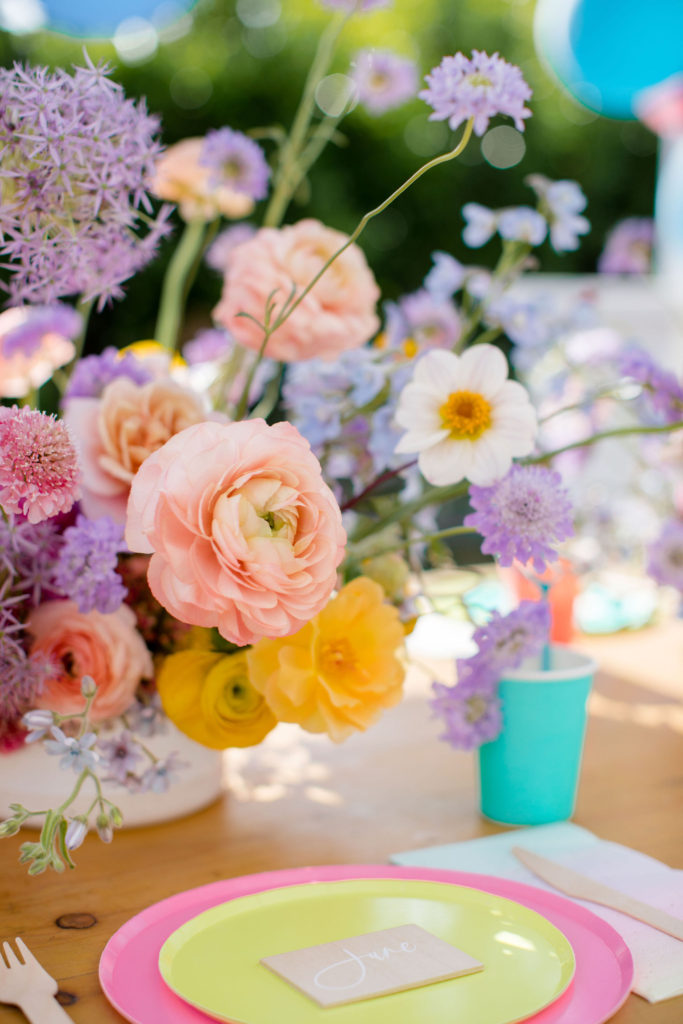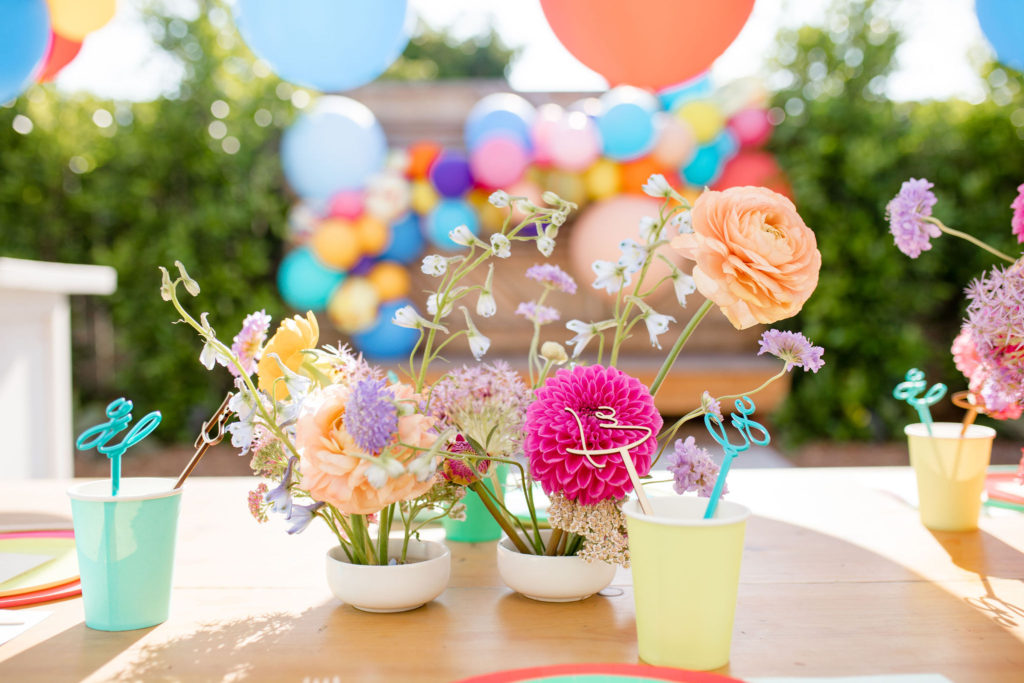 Those amazing balloons just make the party! I love how colorful they are and that we mixed in some of the marbled balloons. Perfect for a tie-dye soiree! Thank you The Pop Shop for always bringing my visions to life!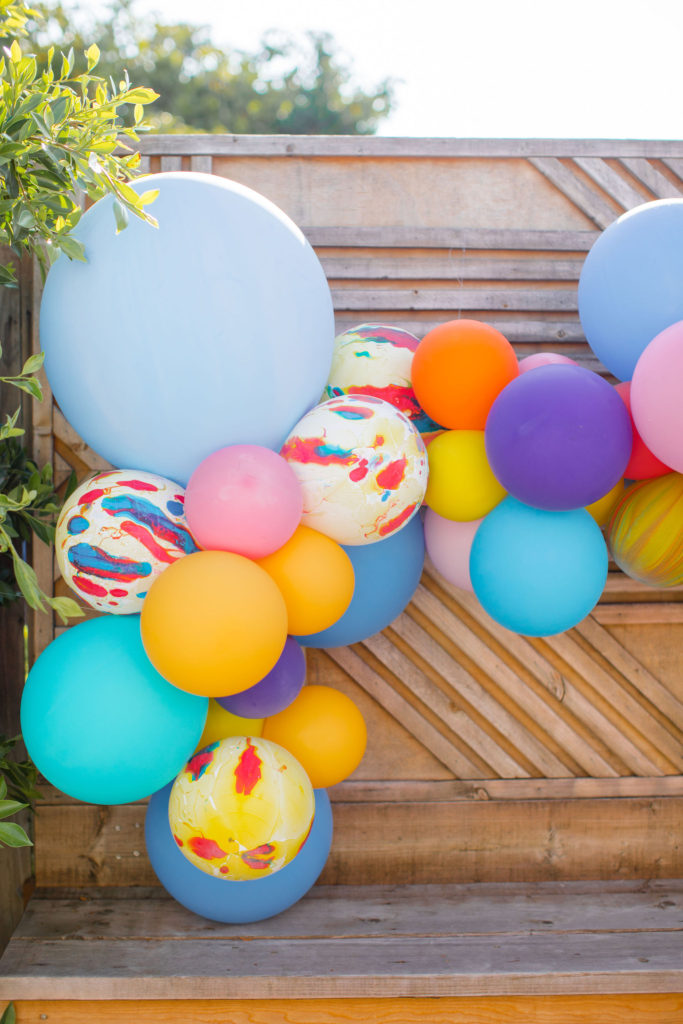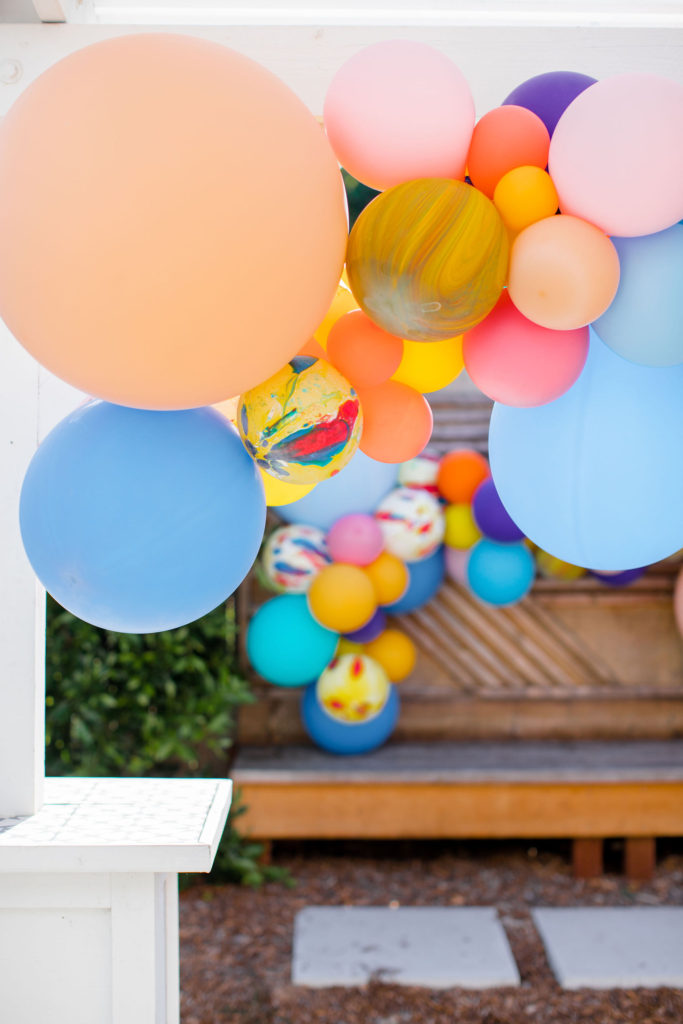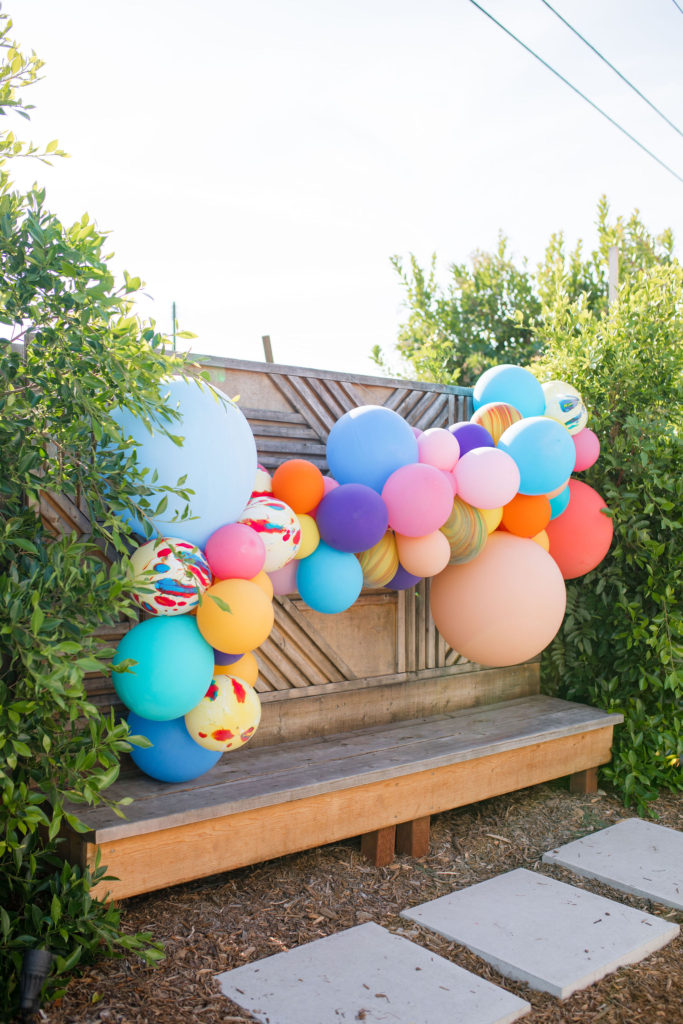 When you combine the balloons, florals, and tabletop it is just the cutest thing ever. I loved the way this one turned out, as I'm sure you can tell! I can't stop gushing over it. Don't you agree?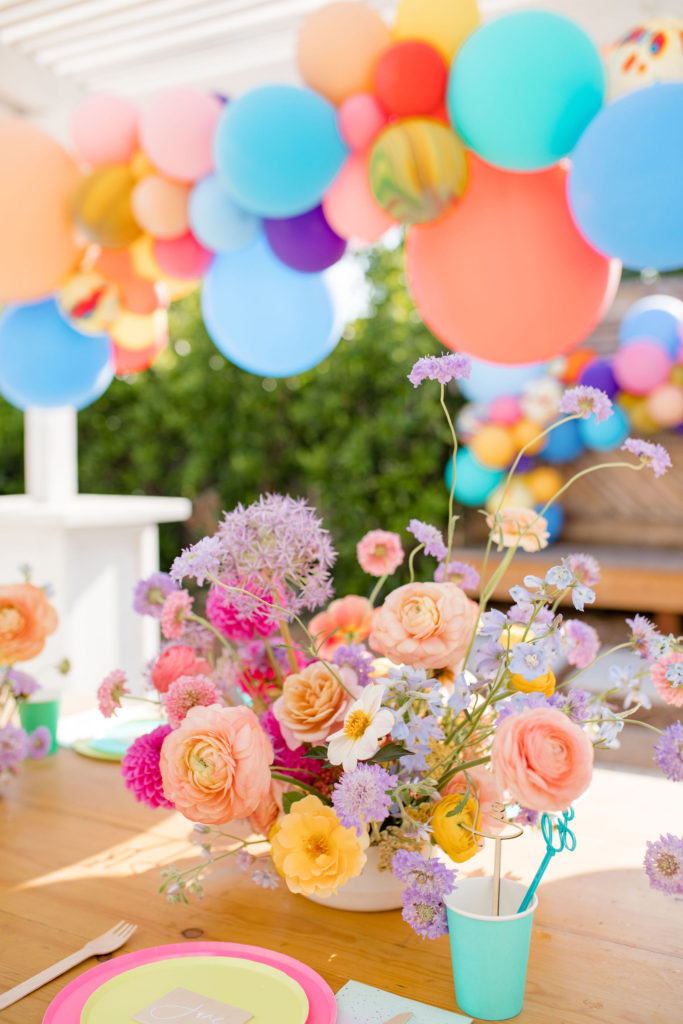 I always appreciate the florals at our events and photoshoots, but seeing them in detail is just WOW. How stunning are these blooms? Krista at Not Just in Novels is such a talent.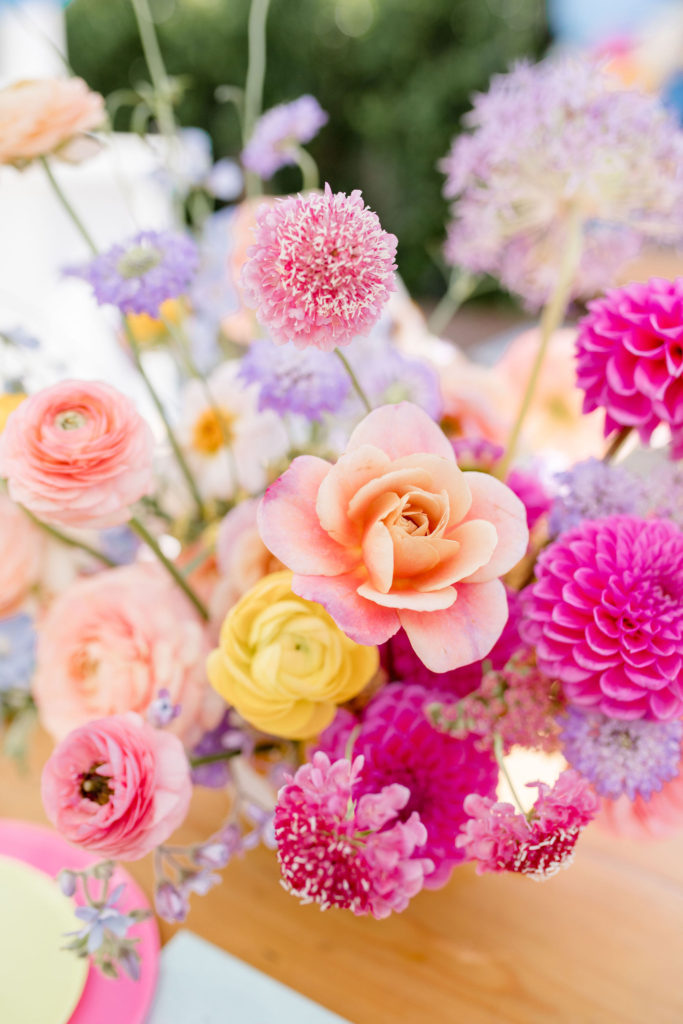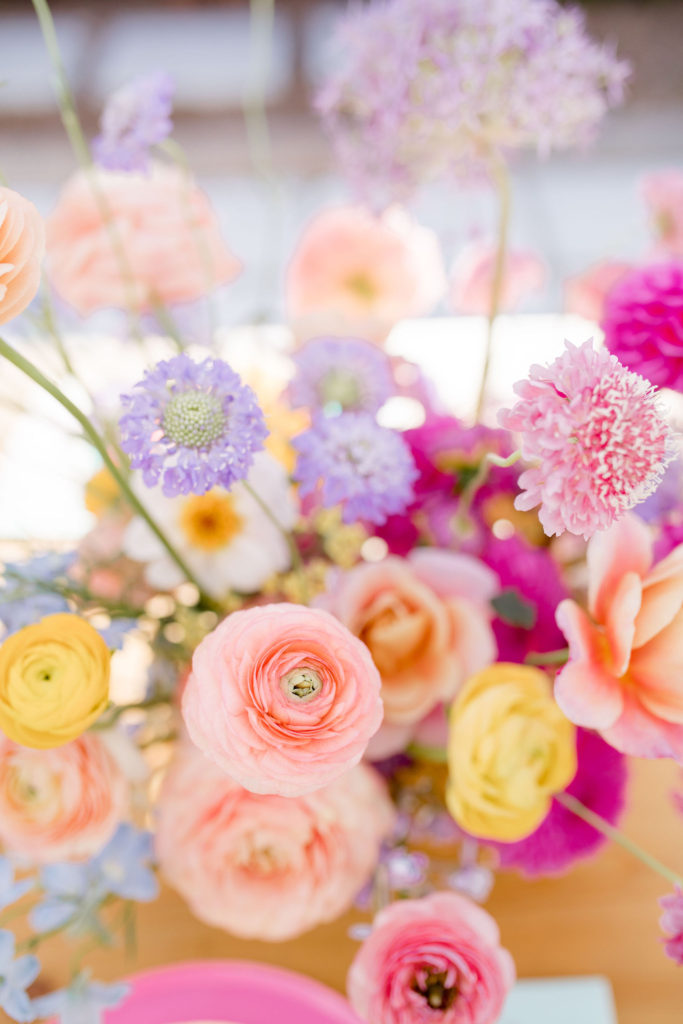 I'd say we are ready for our little guests! And my backyard has never looked better!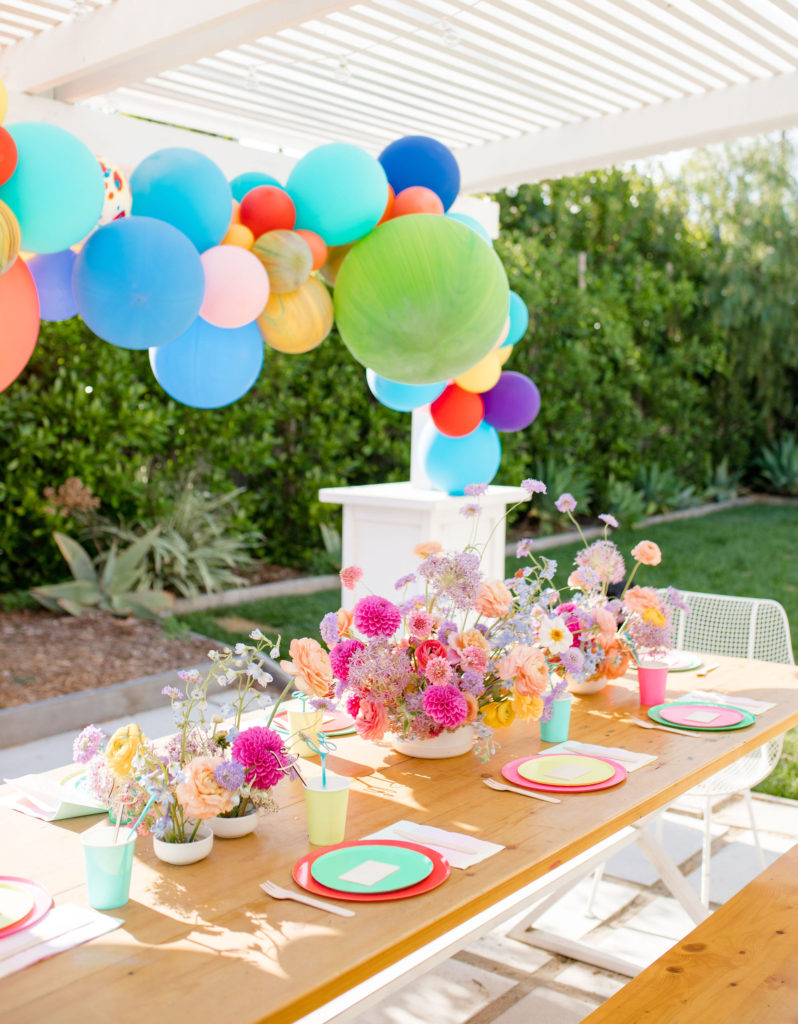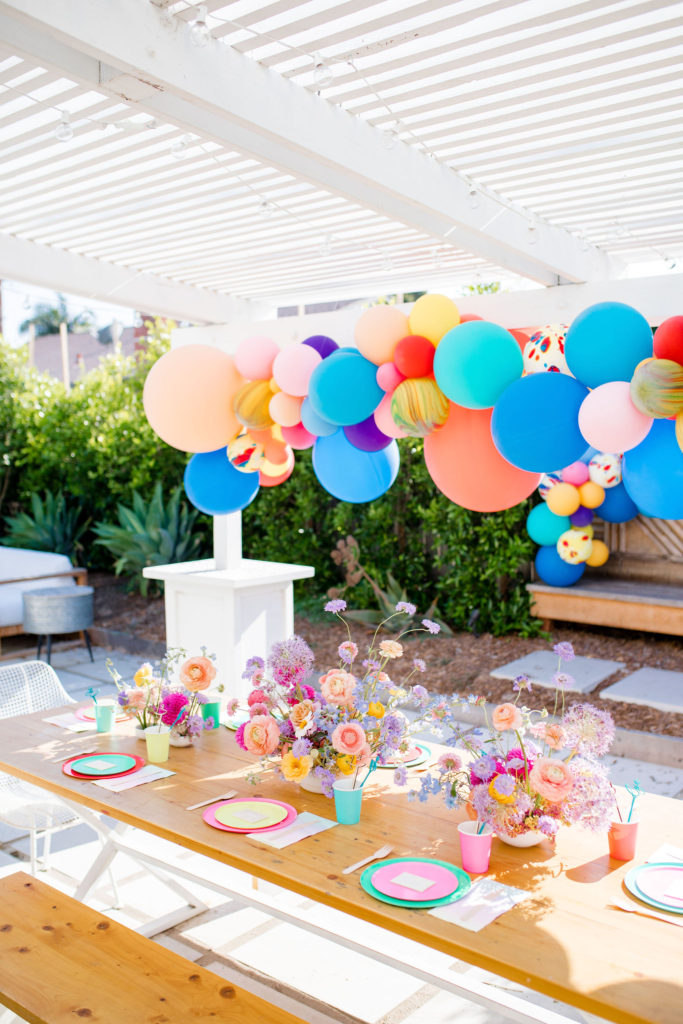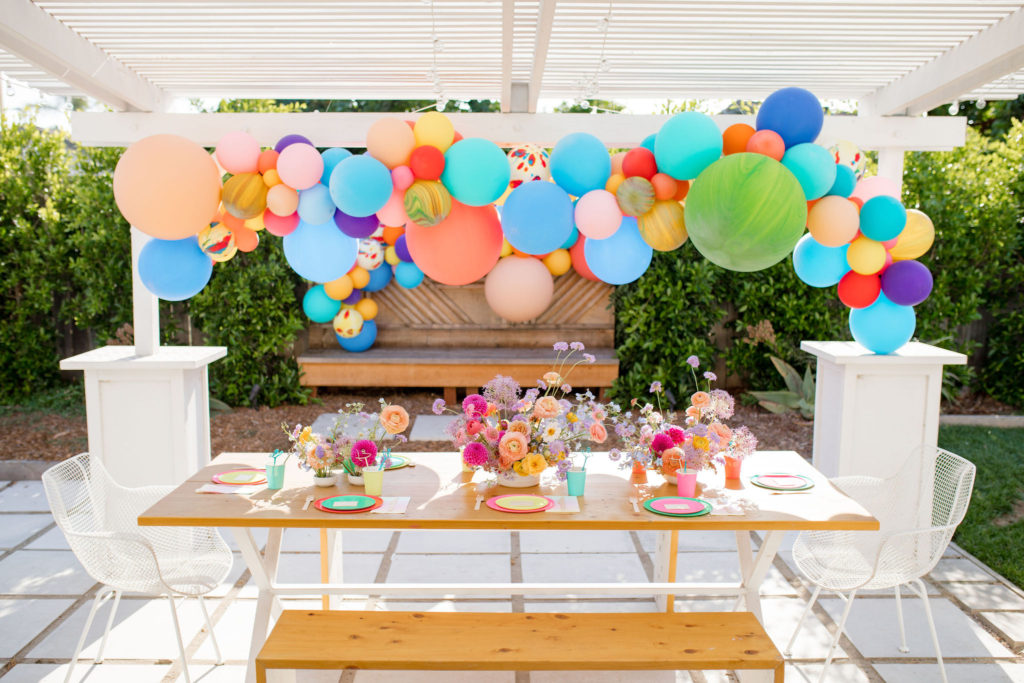 We kept this gathering small, yep, Covid-19 is still a thing! So we had just a few neighbors and friends come to join the fun. Each of these little cuties is wearing Seaesta Surf. They have the cutest tie-dye collection this summer – so on trend and perfect for our party!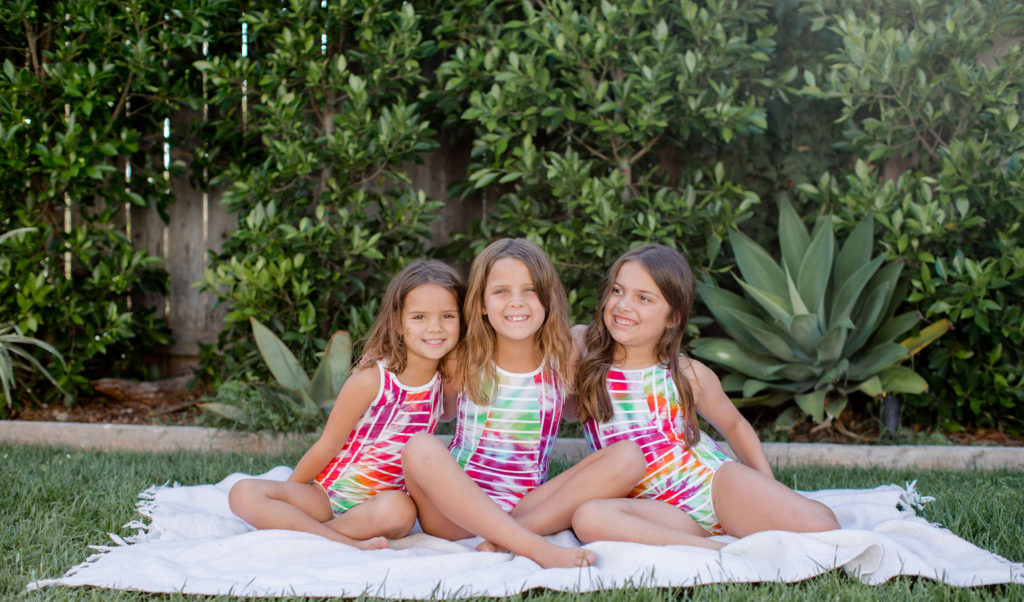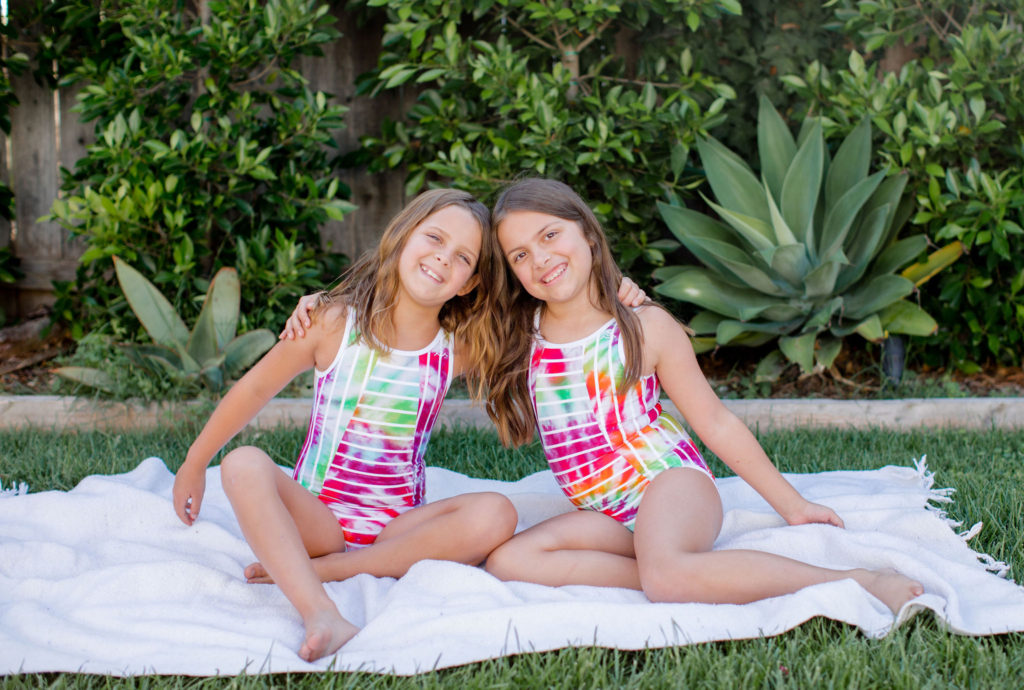 These little buddies are darling on this Gunn & Swain blanket. They are essential for my family and me all year round.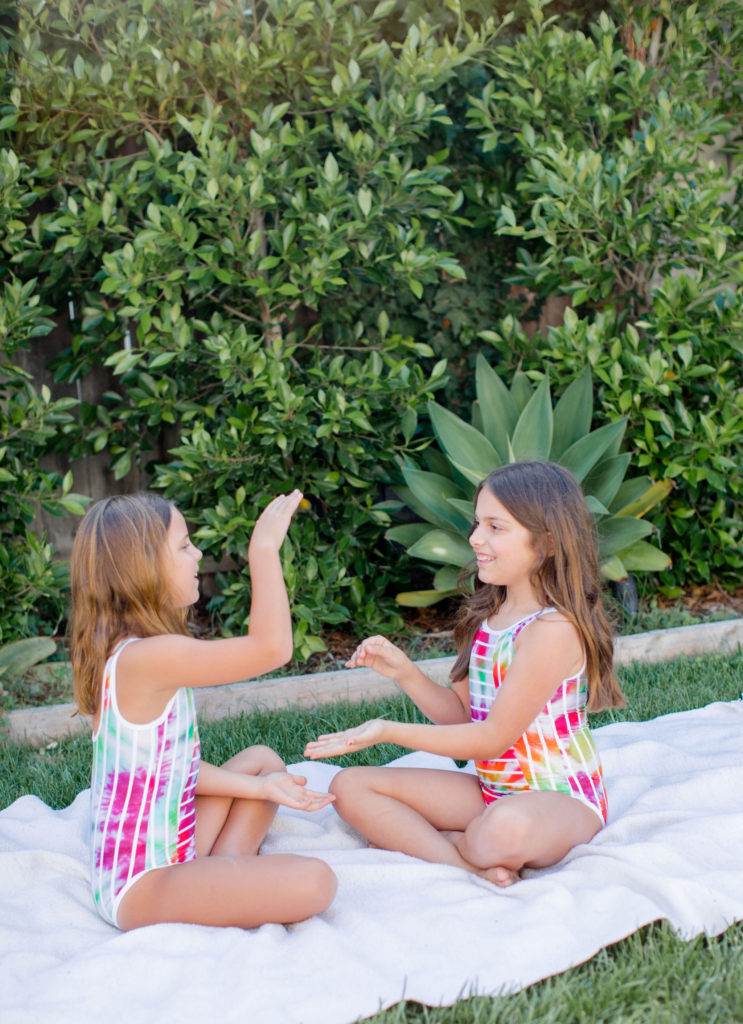 The cutest girl gang!!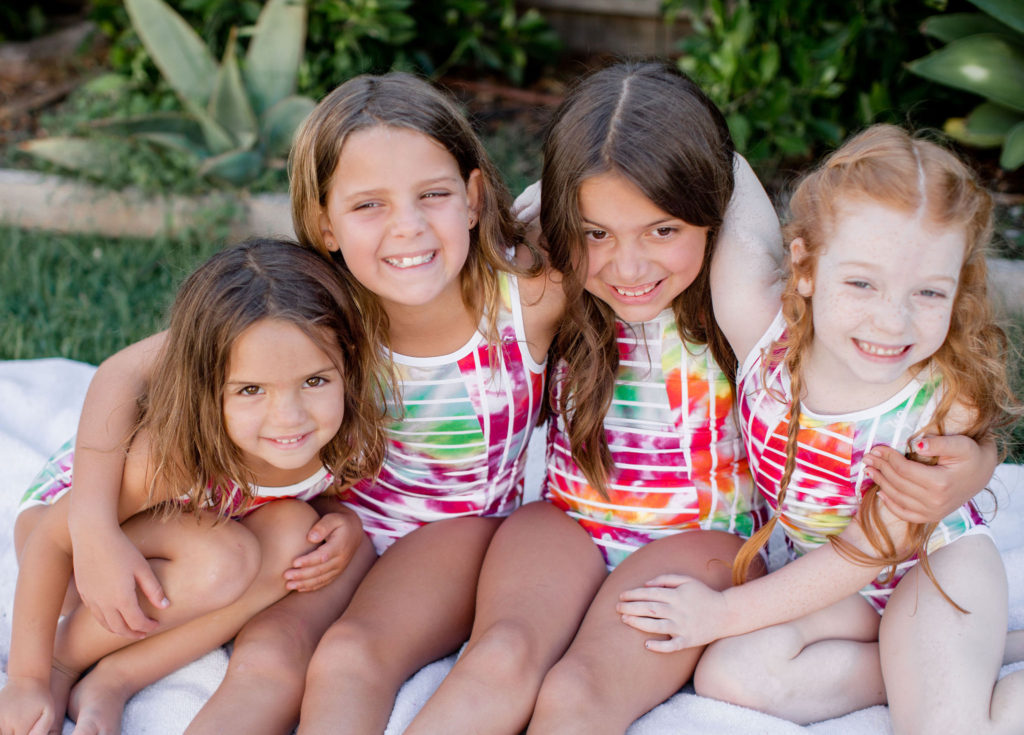 Now it's time for the boys!! It's a Maverick sandwich! Mav is our neighbor and the son of my dear friend Jesi Haack. He has become my boy's hero this summer, they love him so much!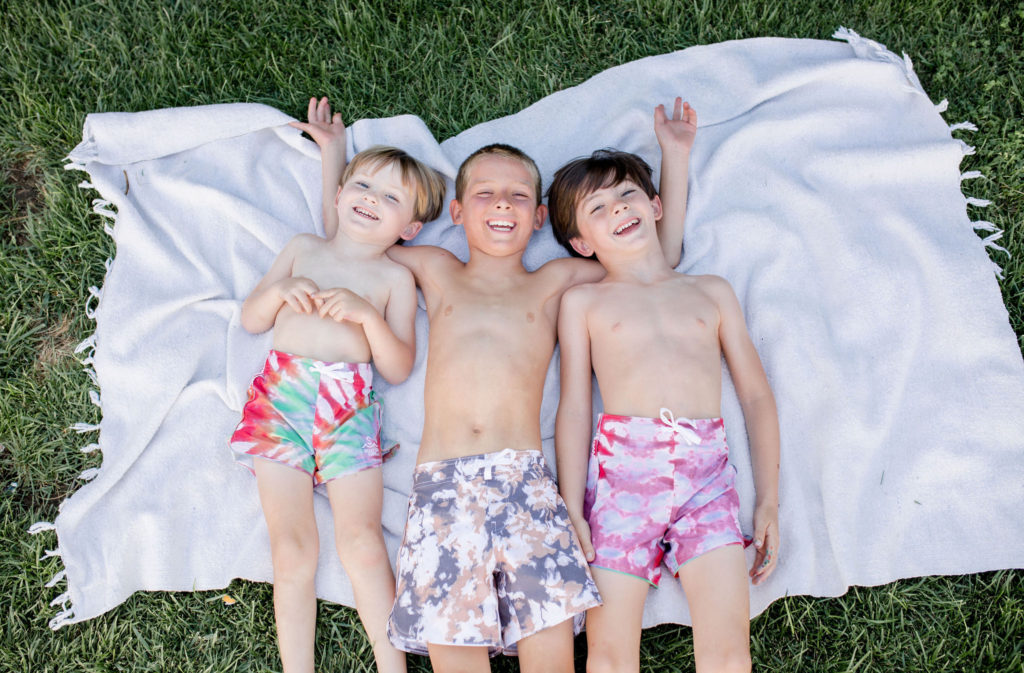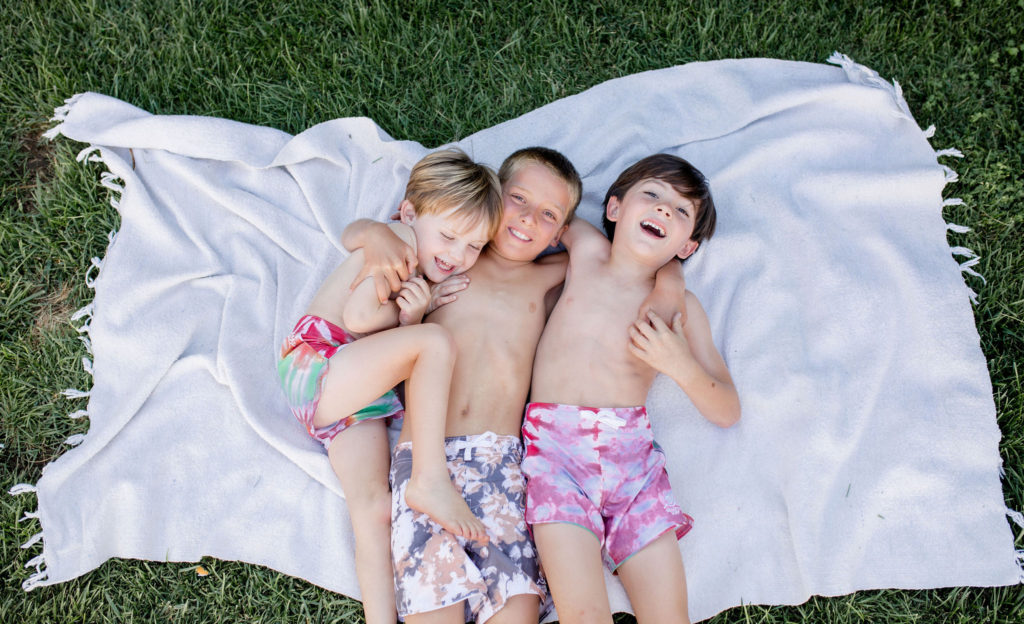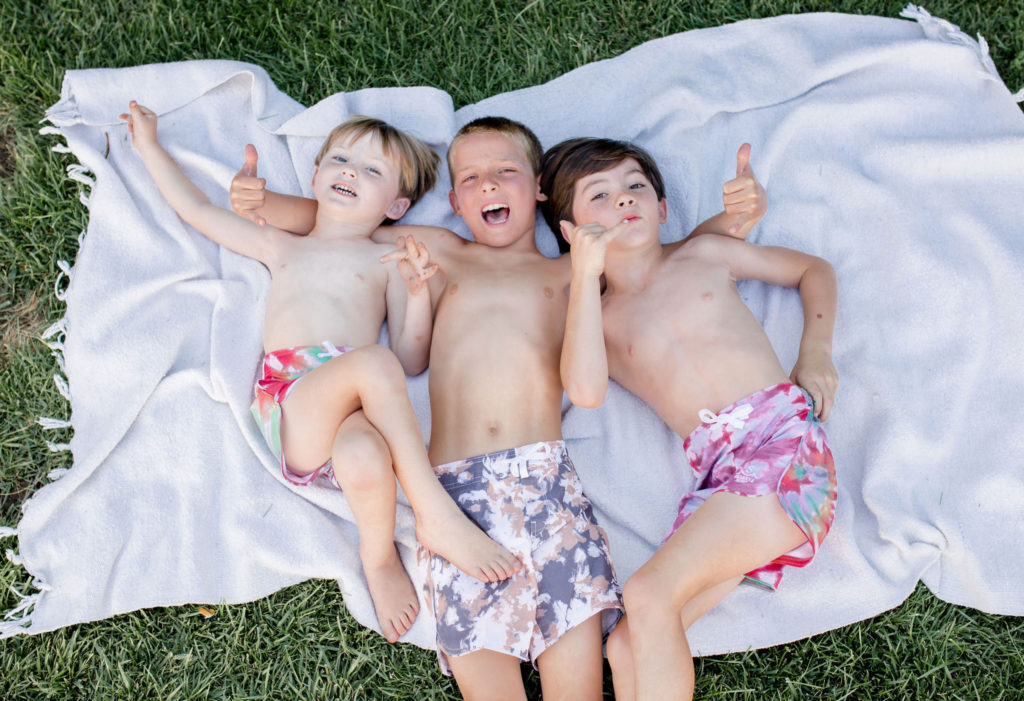 I love each of these cute kiddos!!! They are always fun! And they look so cute in their Seaesta Surf!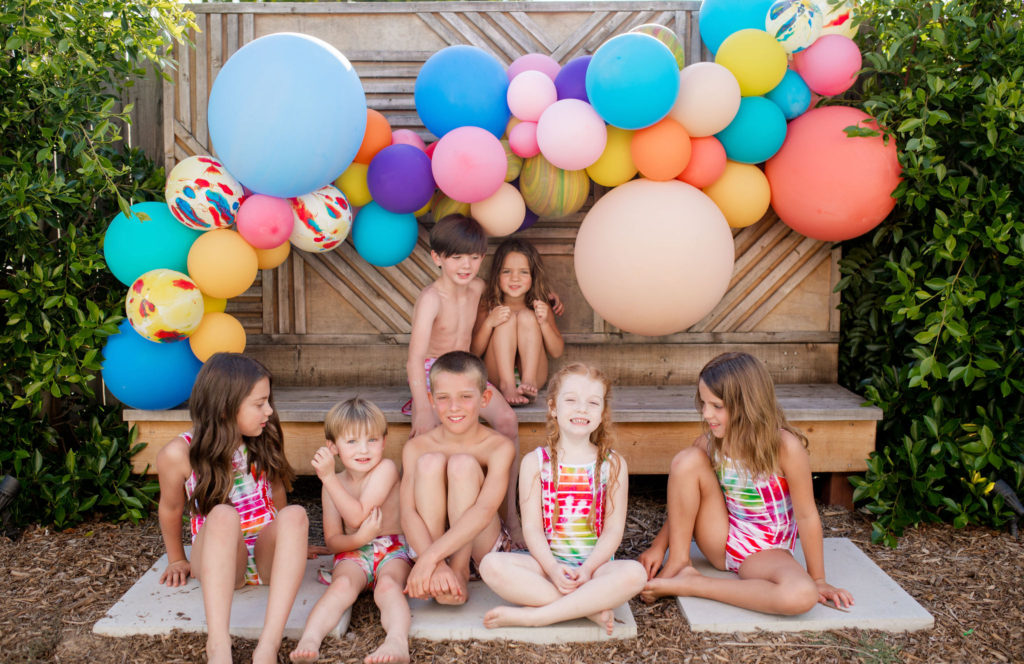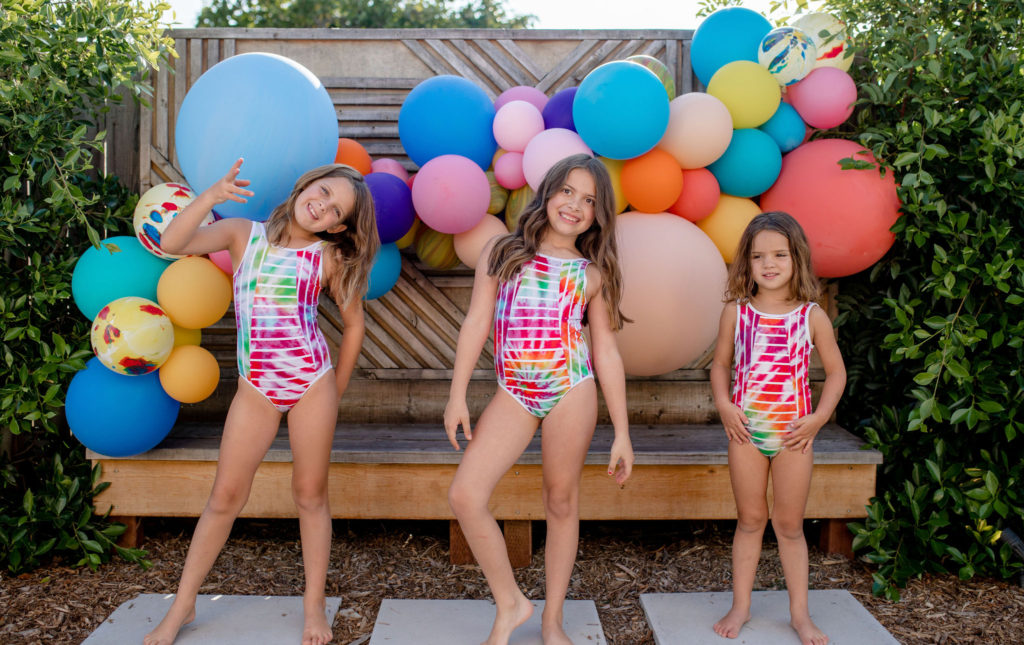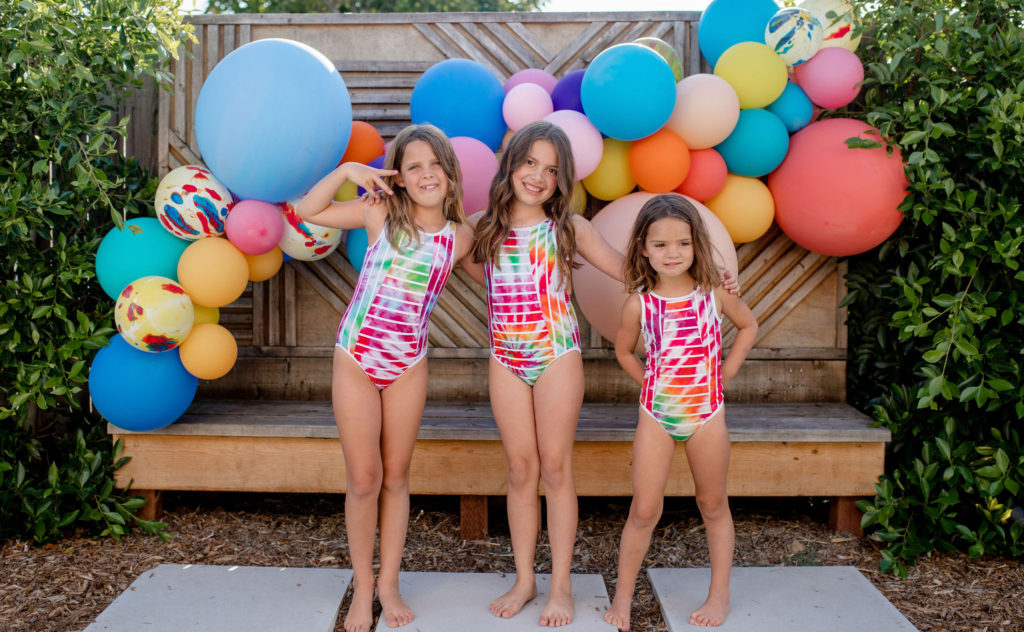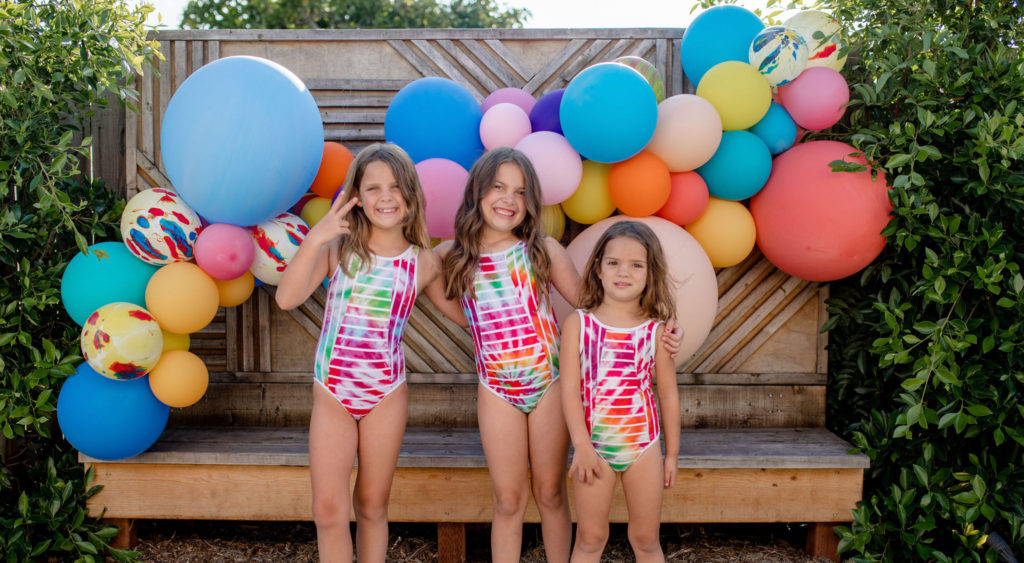 That cutie is June holding her mom's beautiful florals! Yep, that's Krista's daughter, a professional floral holder.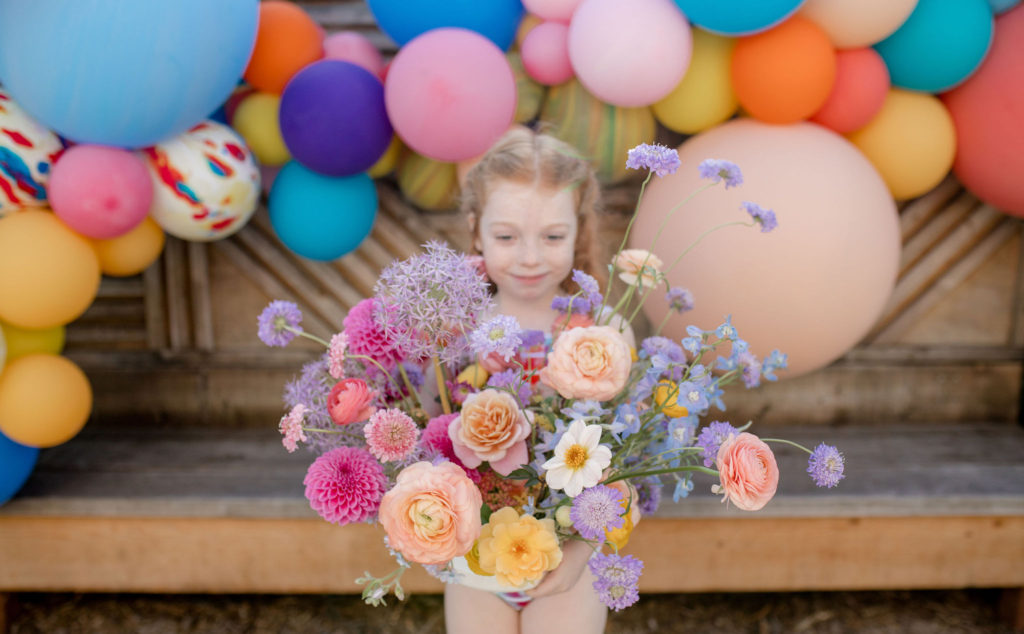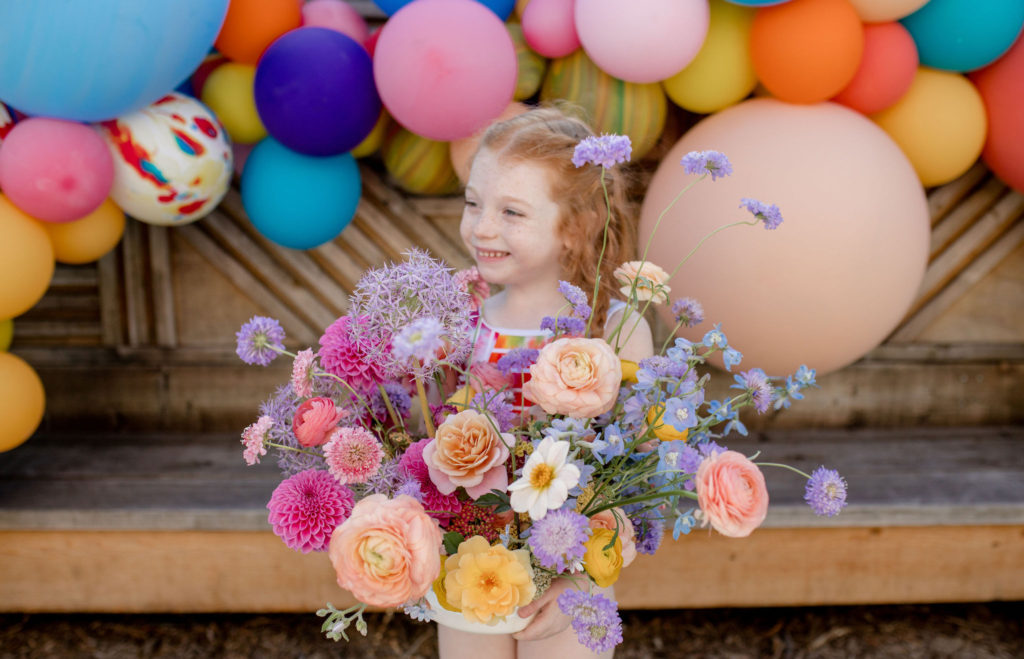 These little crazies aren't having any fun at all!! Look at those silly smiles! They just wanted to get right to the tie-dye, but we had to have a little pizza and popsicles first. No tie-dye on an empty stomach!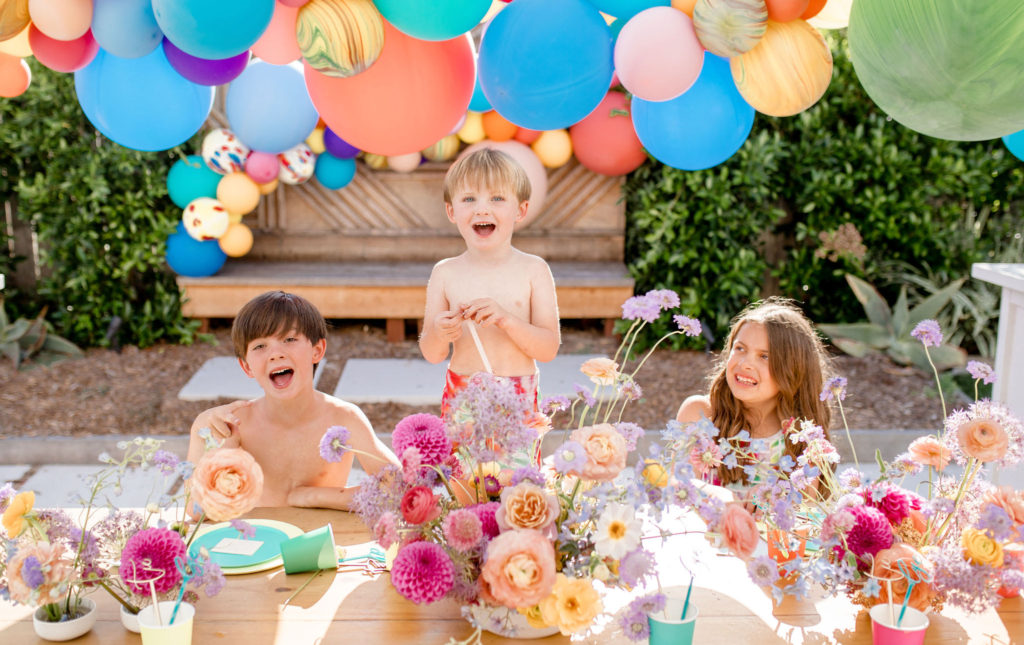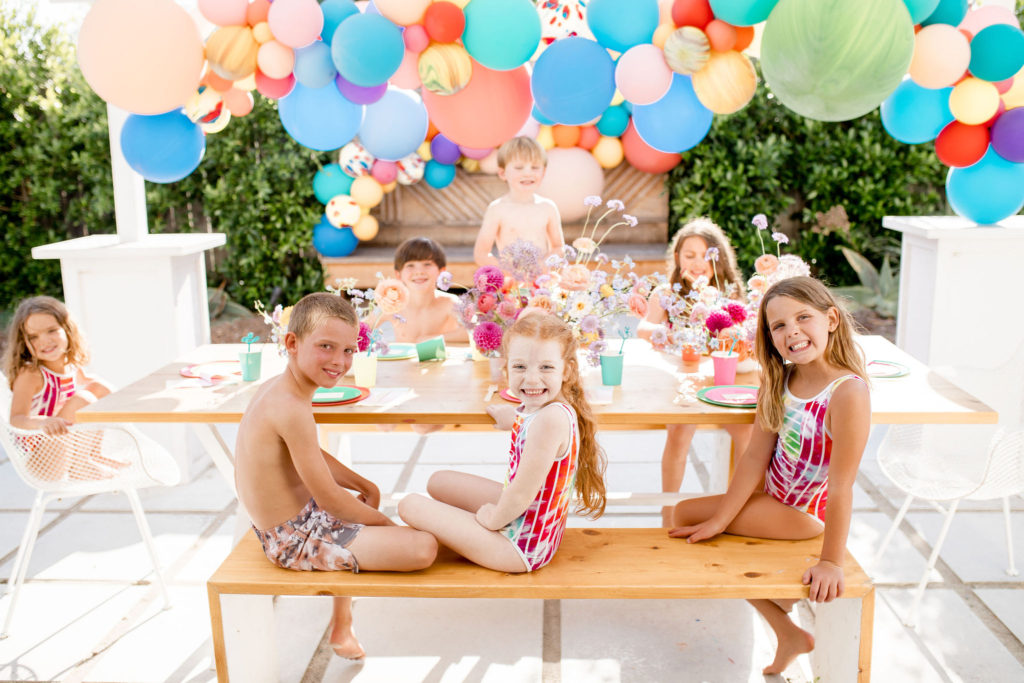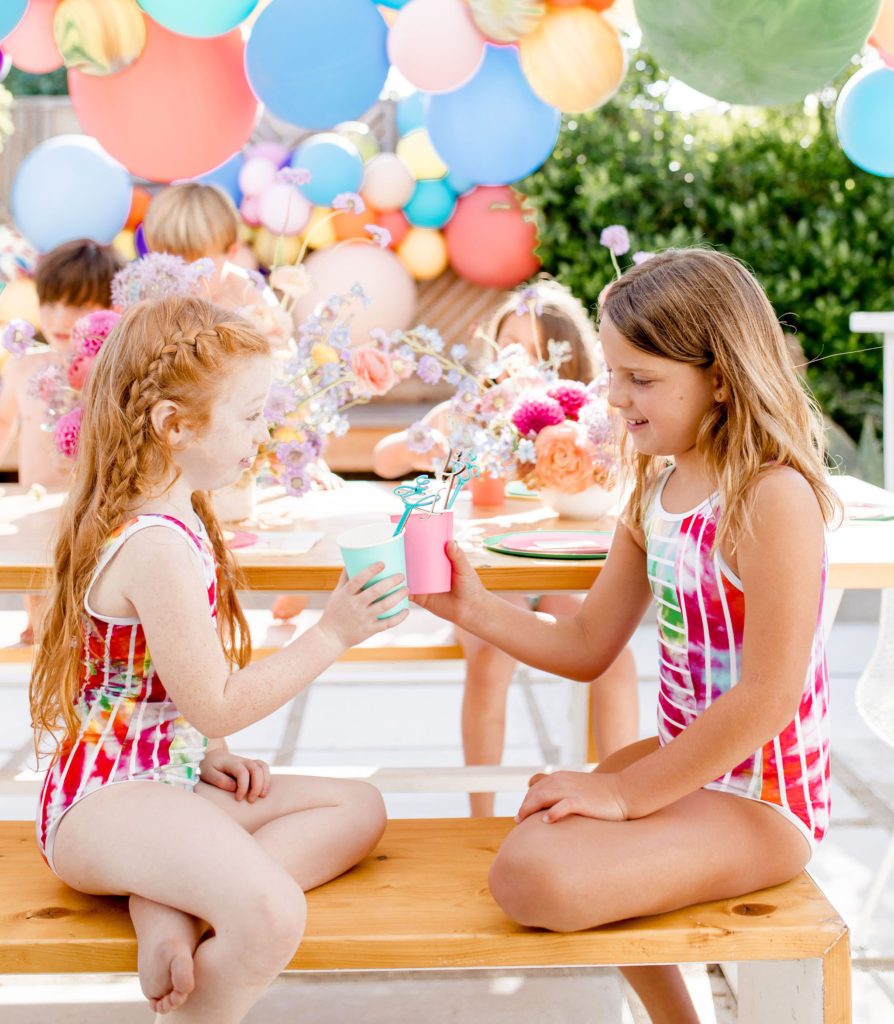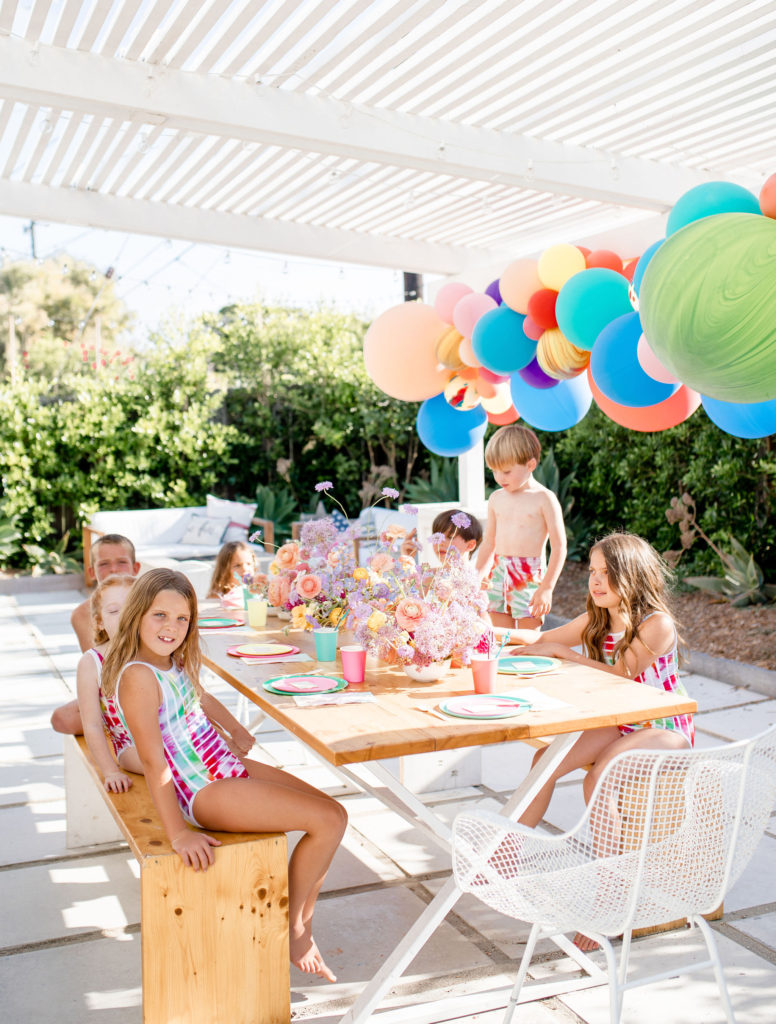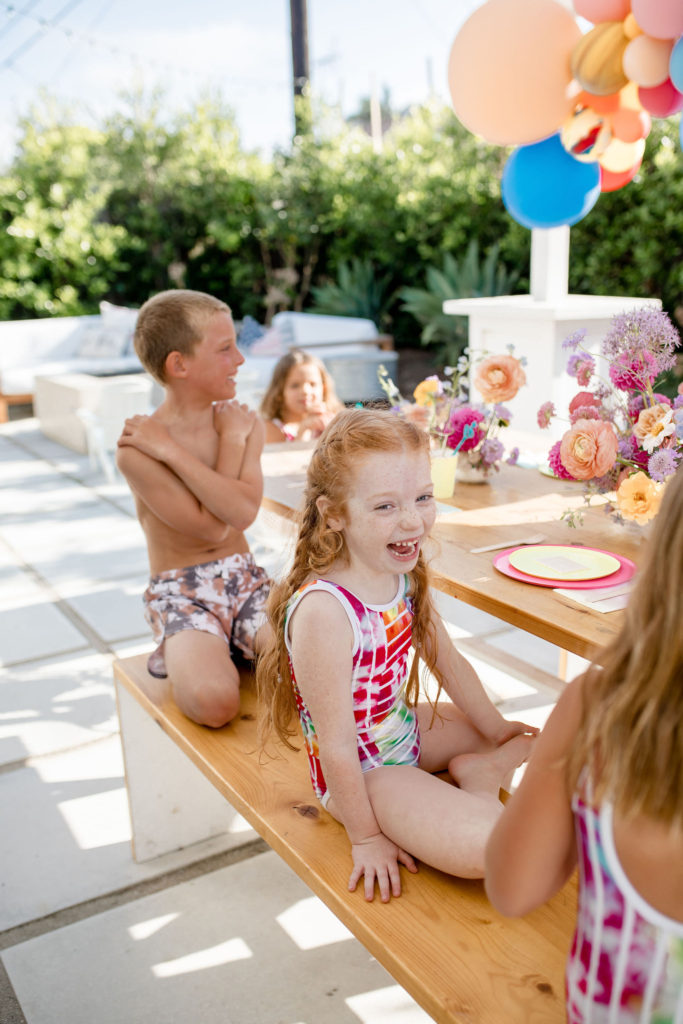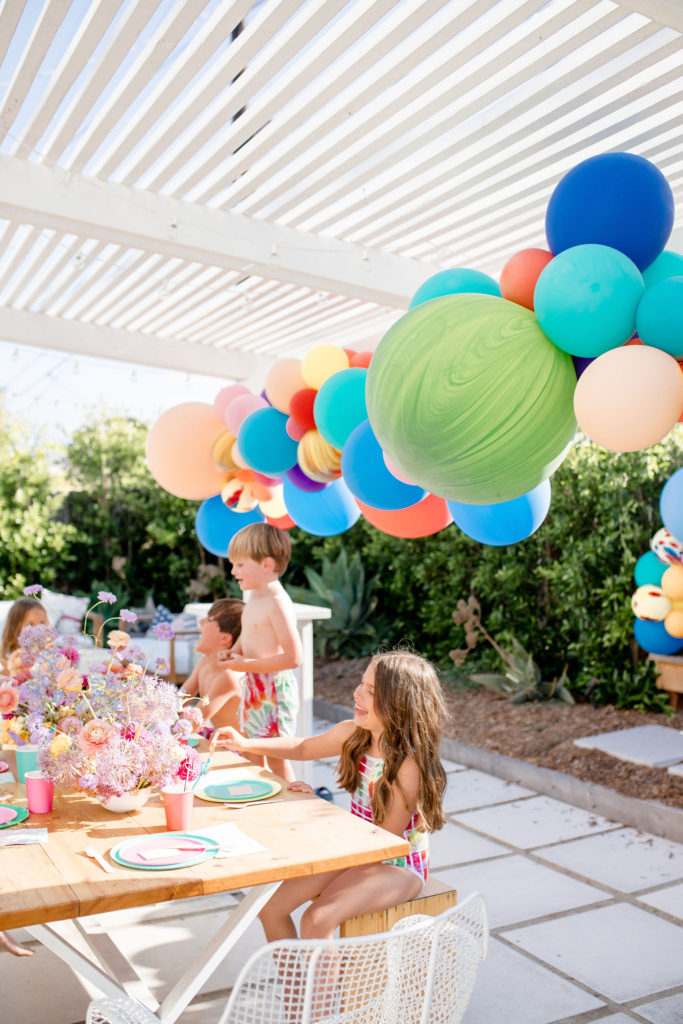 Popsicles + friends = summer at it's best!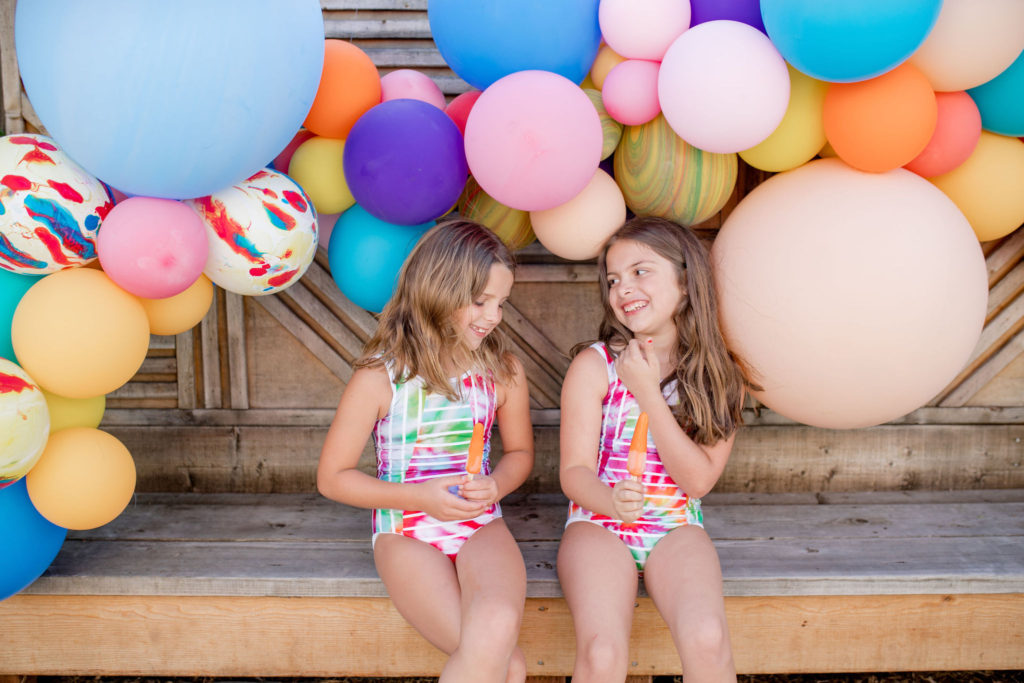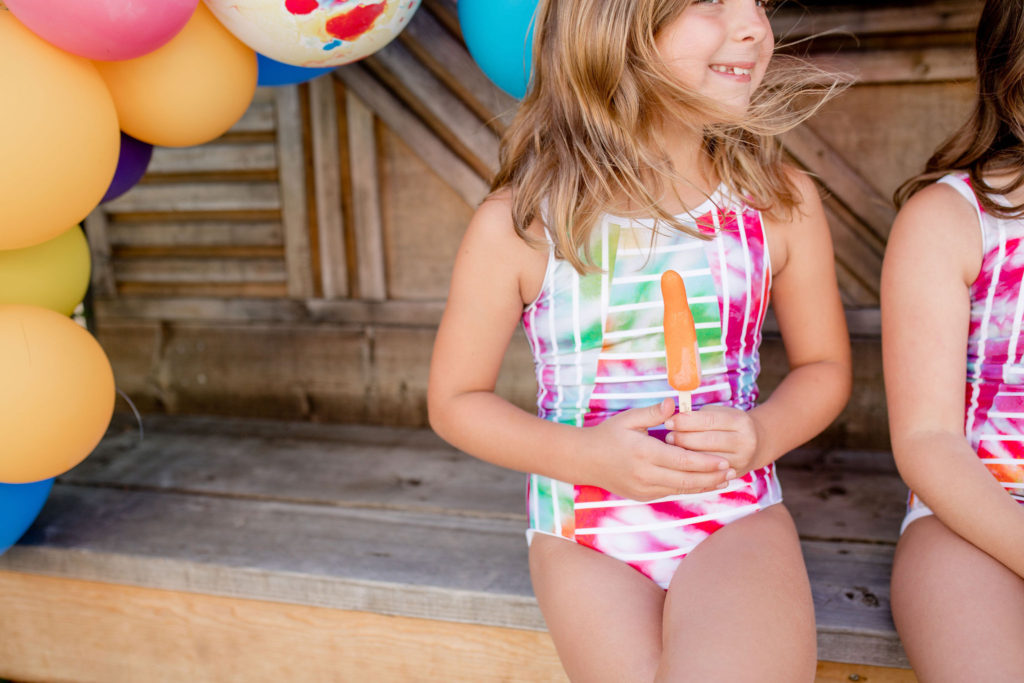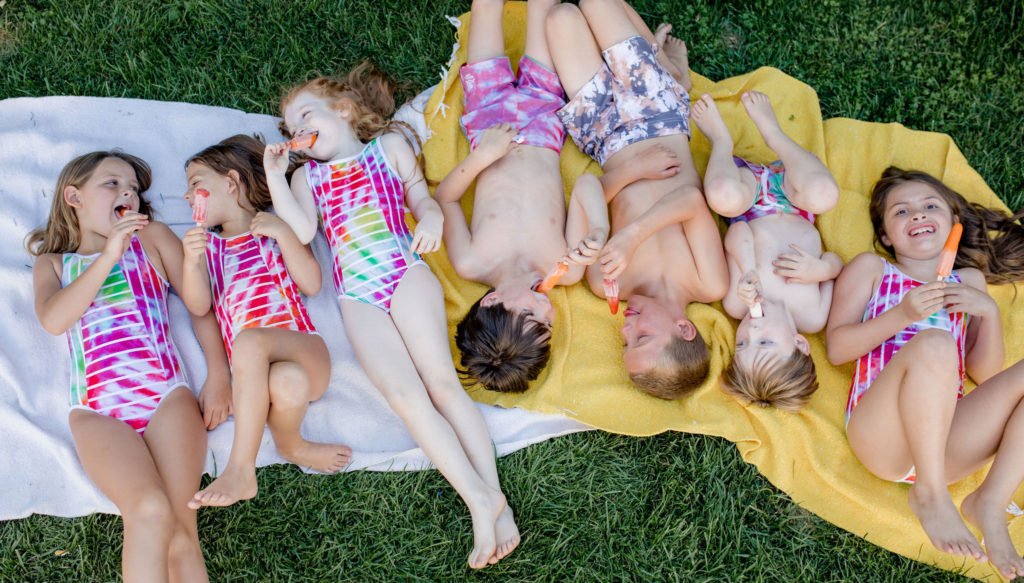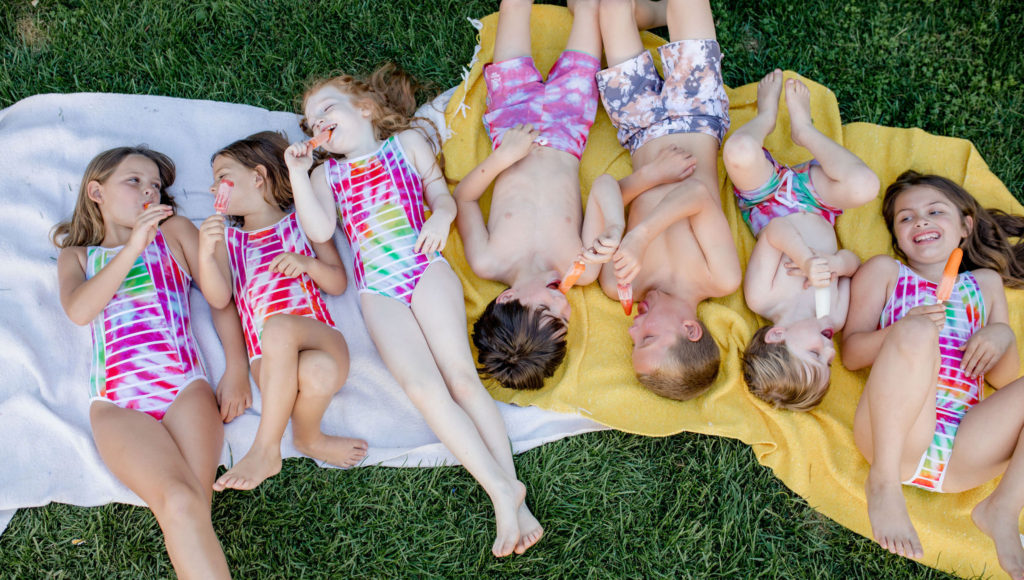 For our tie-dye needs, I turned to my friends at Tulip. Their two-step tie-dye kits could not be easier to use and they come with the best variety of colors. I can't wait to share how easy they are with you… You can purchase them here or at your local craft store.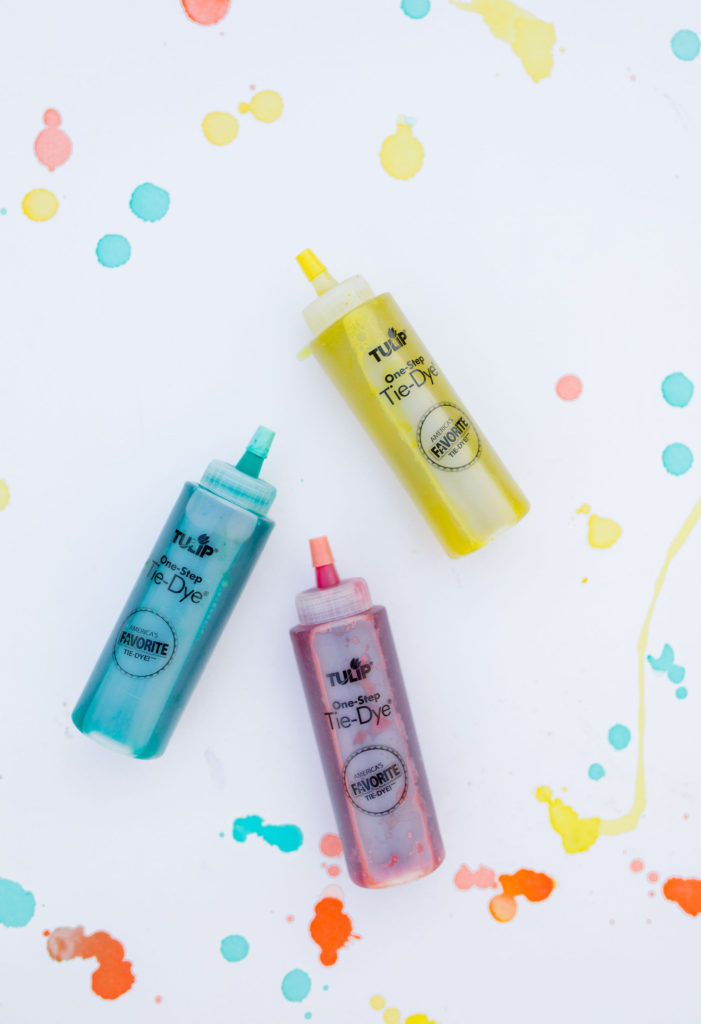 I ordered a bunch of white tees in the sizes of my little guests so each child could do 2-3 shirts. We were already talking about doing sweatshirts, scrunchies, and socks next time!
I also picked up a toss away tablecloth from Target, trust me, it's a must-have!!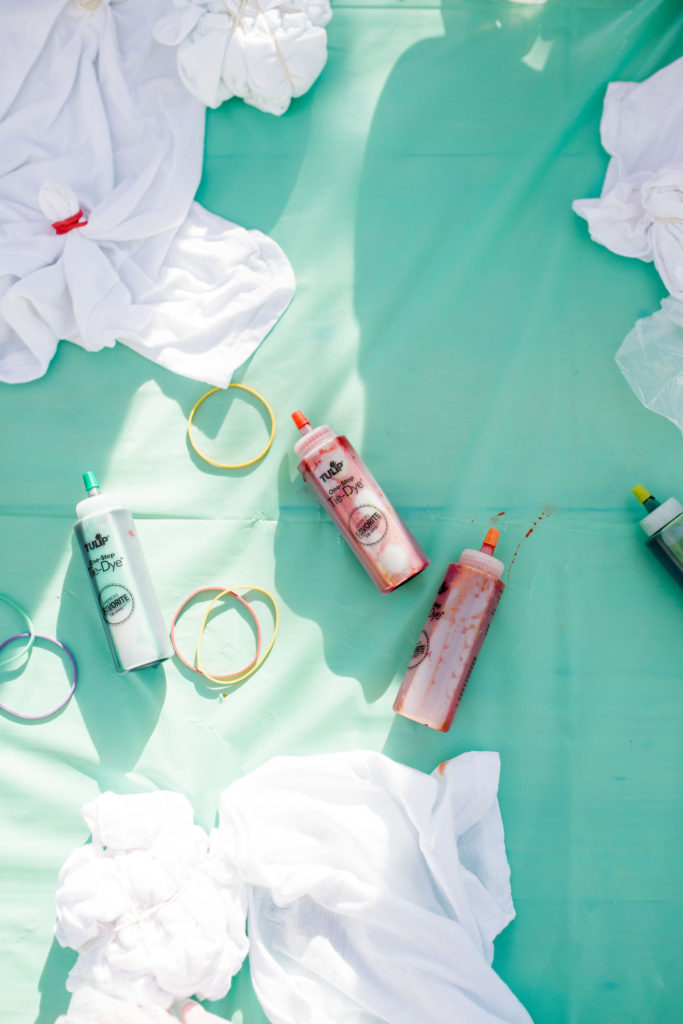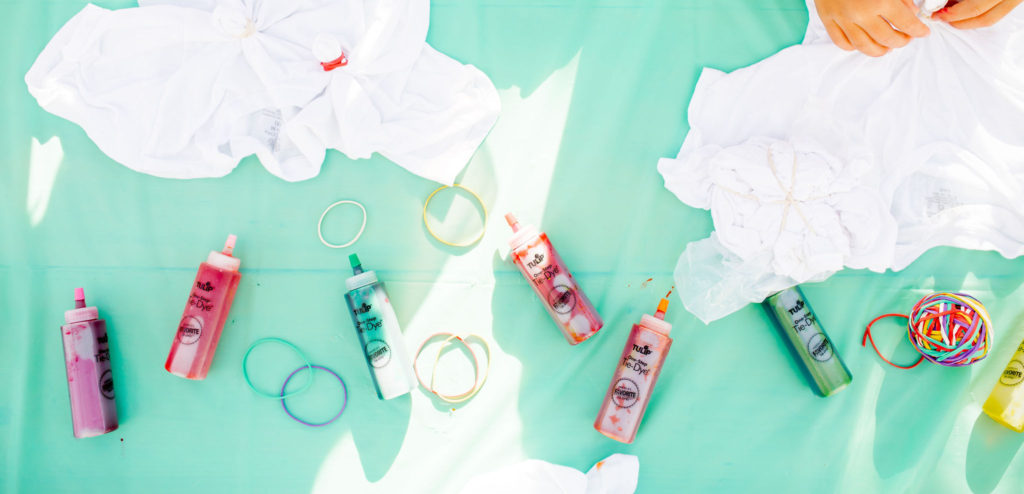 So, this was my first time tie-dying and most of the other parents too! We watched a YouTube tutorial which helped a lot. Then we each did our own different techniques.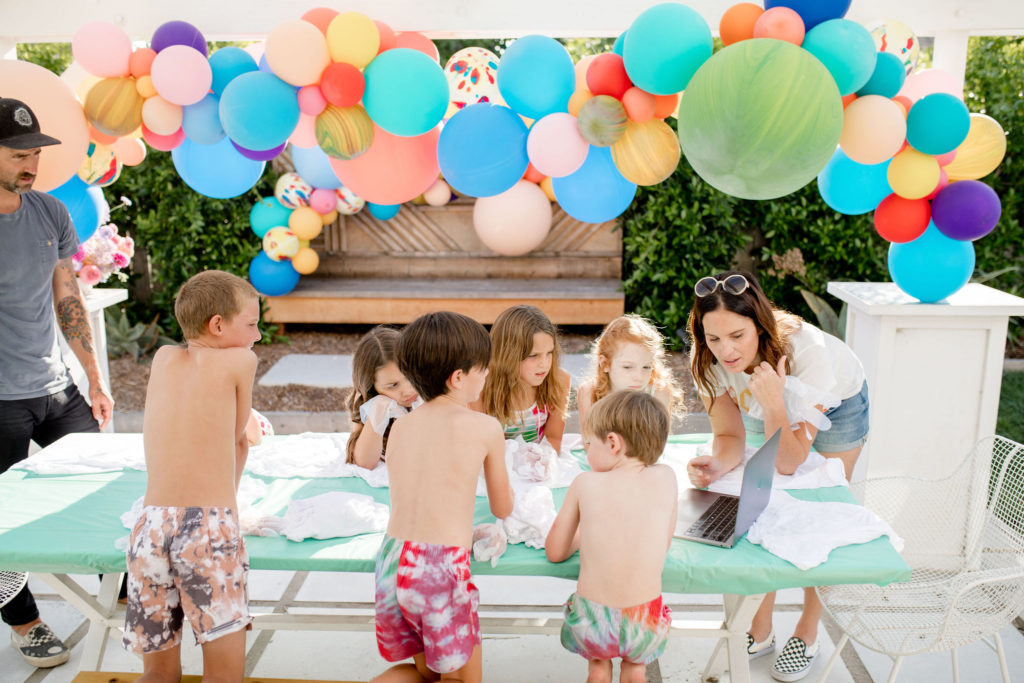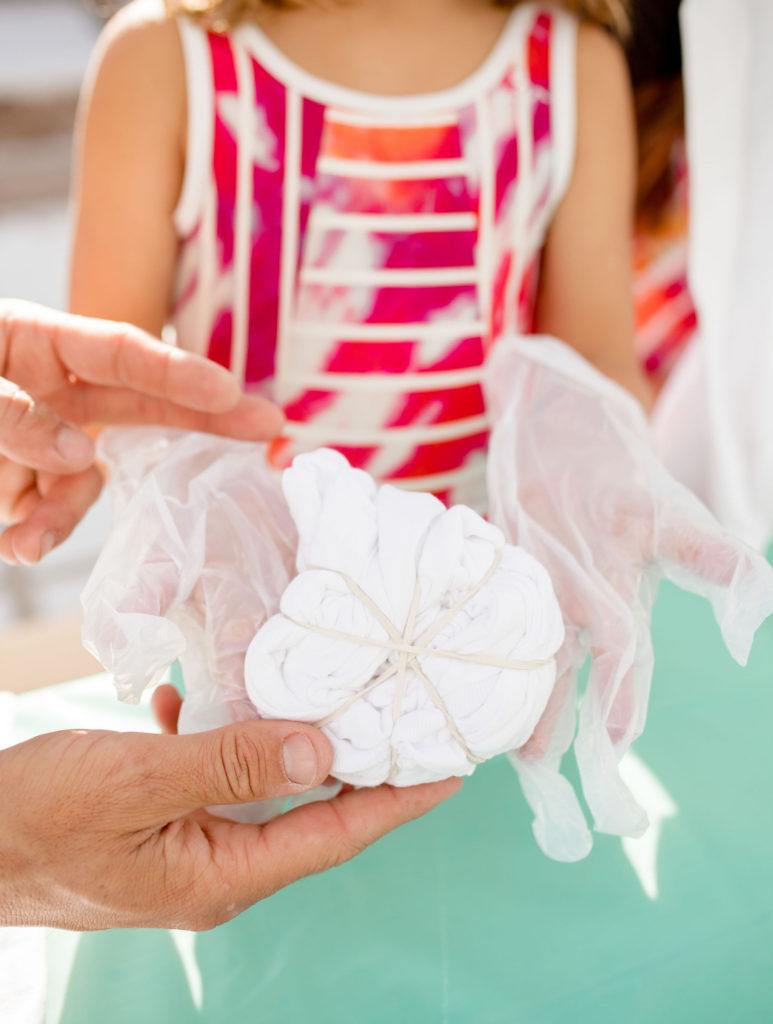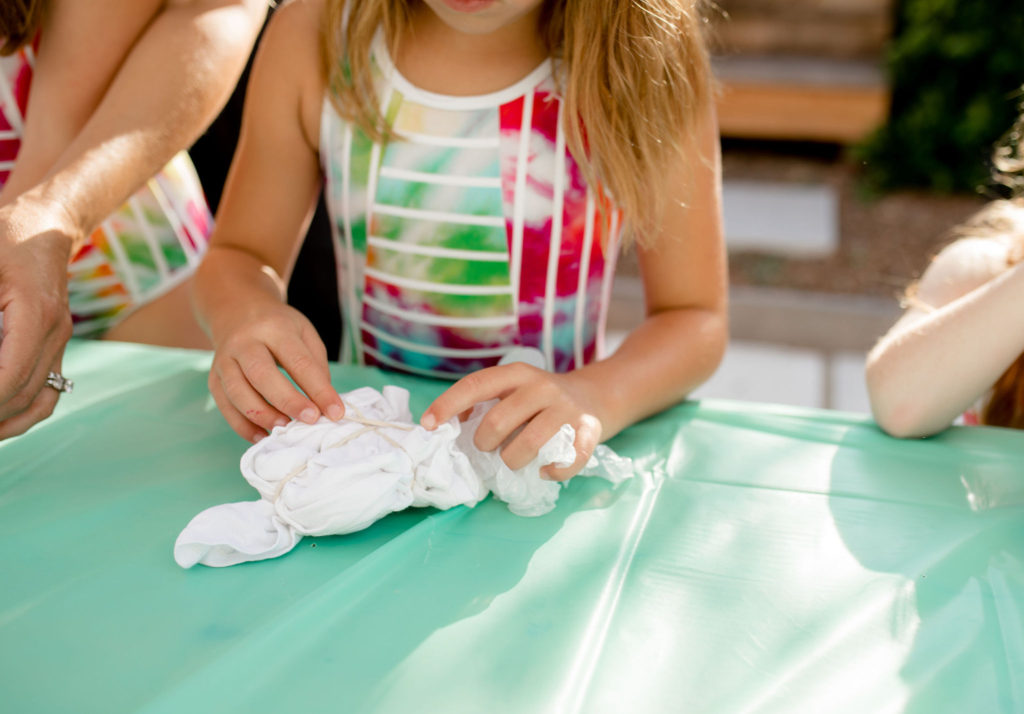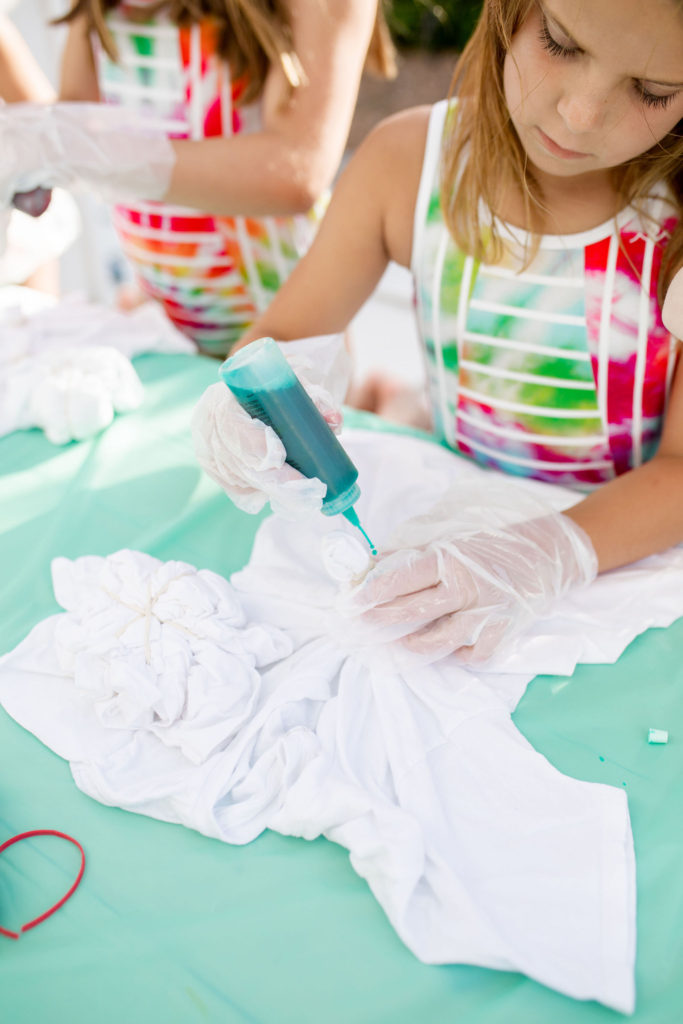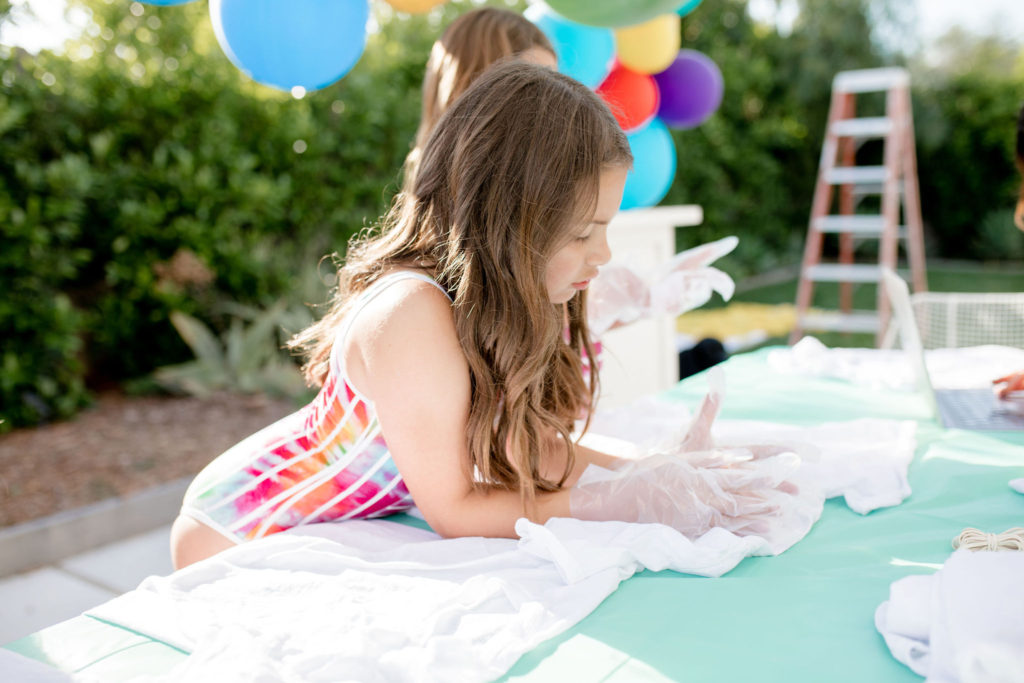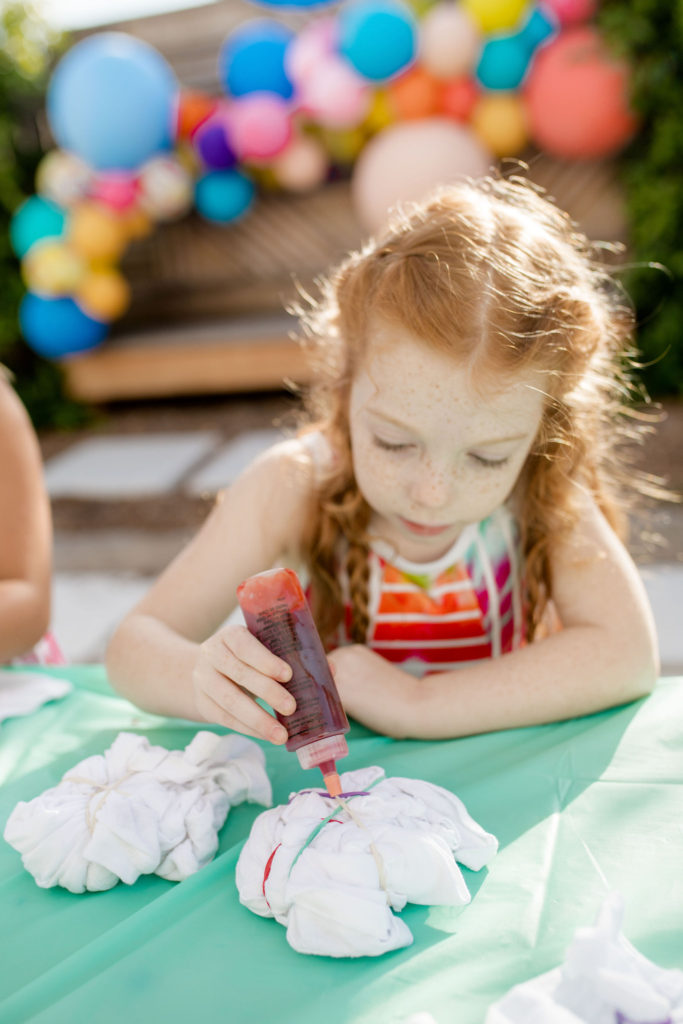 At this age, parent involvement was necessary, unless you're ok with kids going nuts with dye, which I am not! Haha! PS, my cute tee is from Chaser Brand, I thought it was a fun one for this party!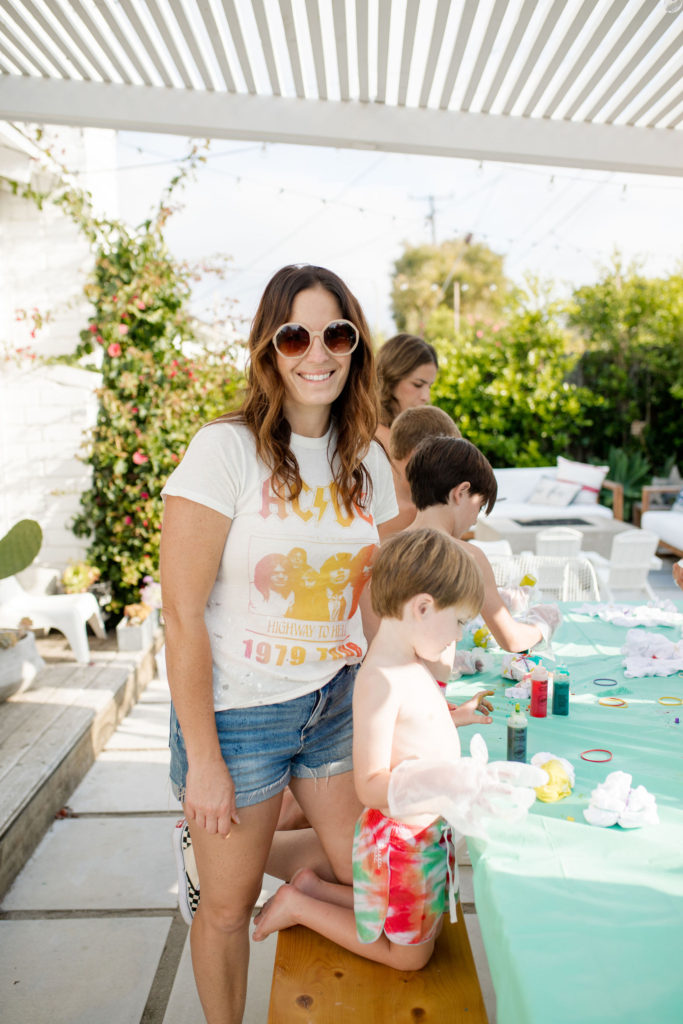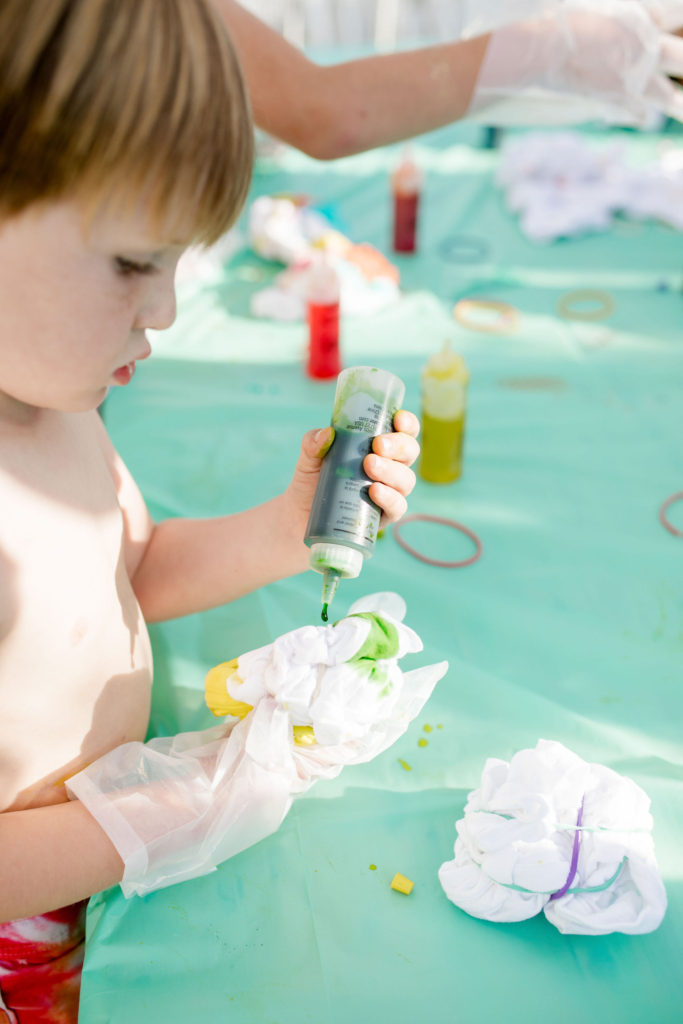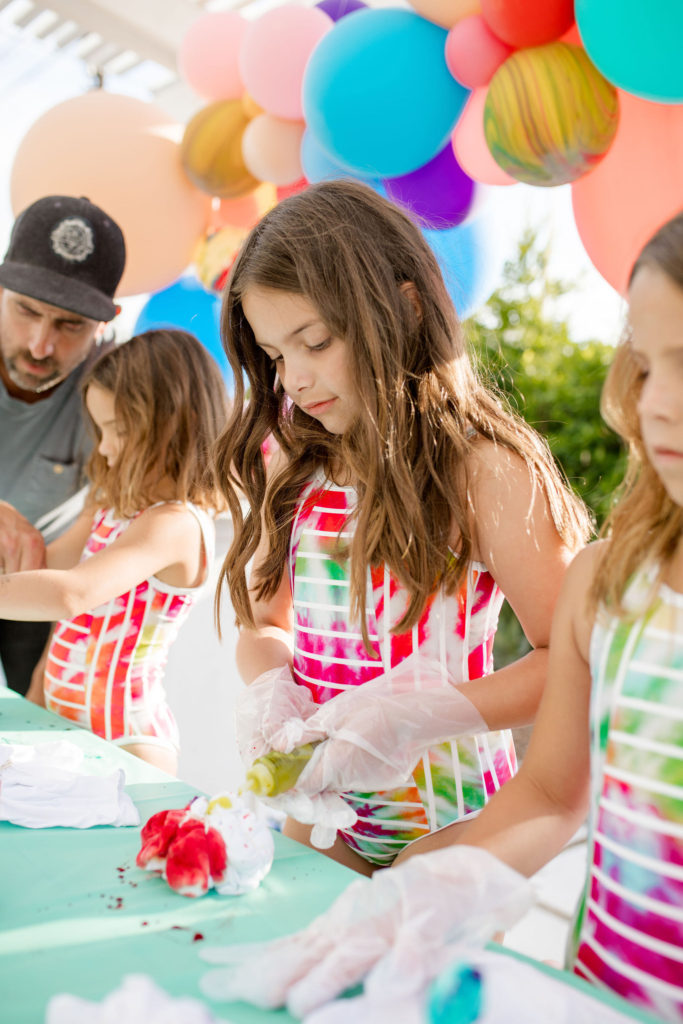 Even the dads got in on the fun! Well one dad, the other one was just enjoying a cocktail, he happens to be my husband. Haha…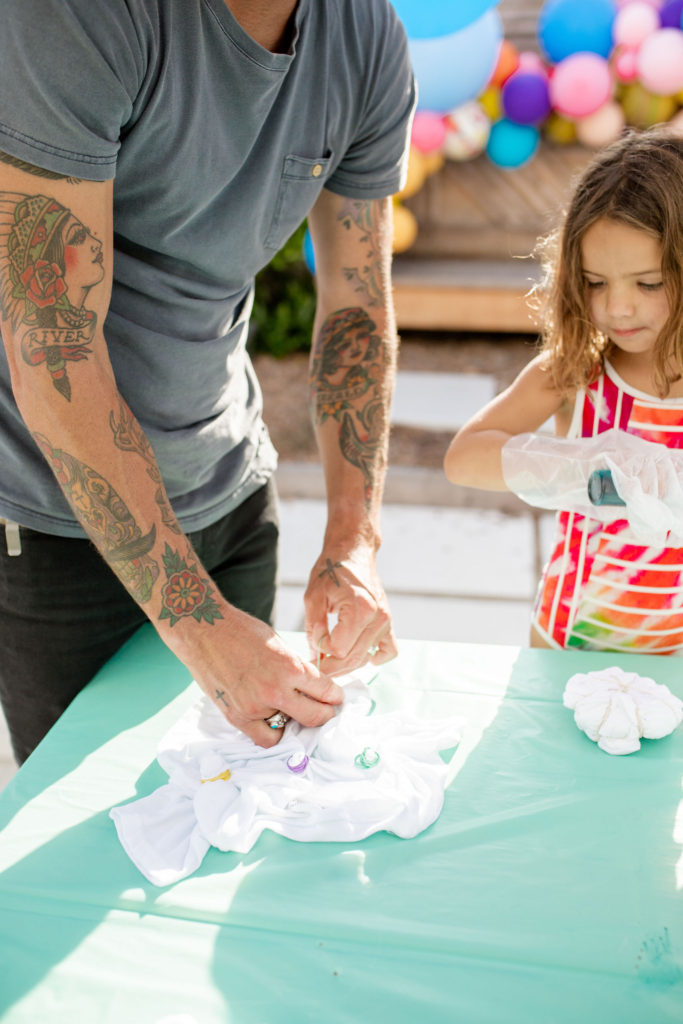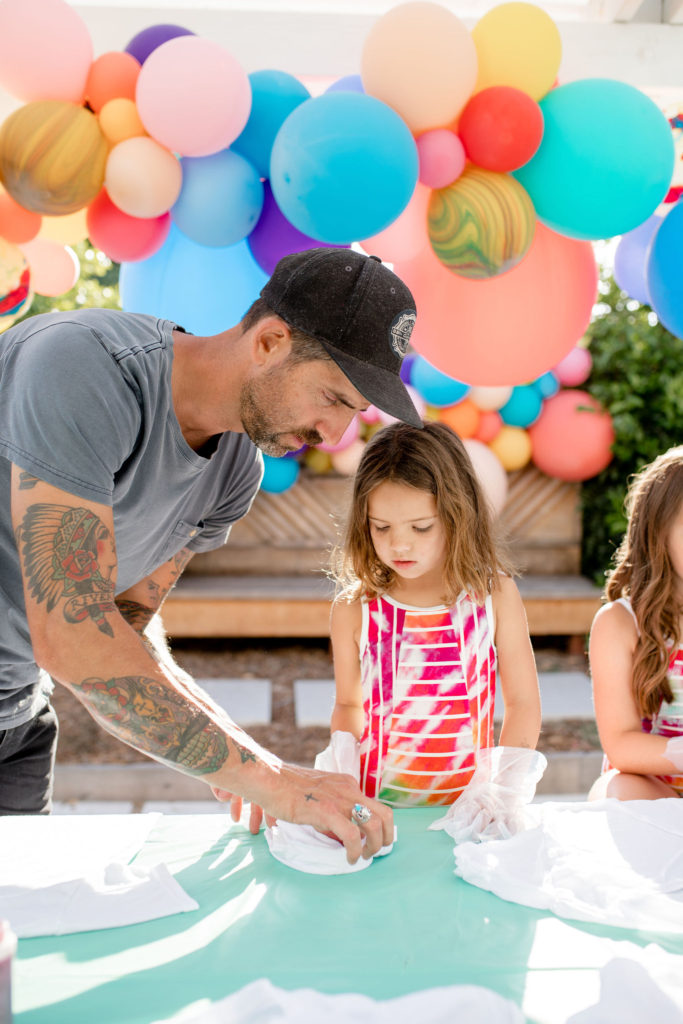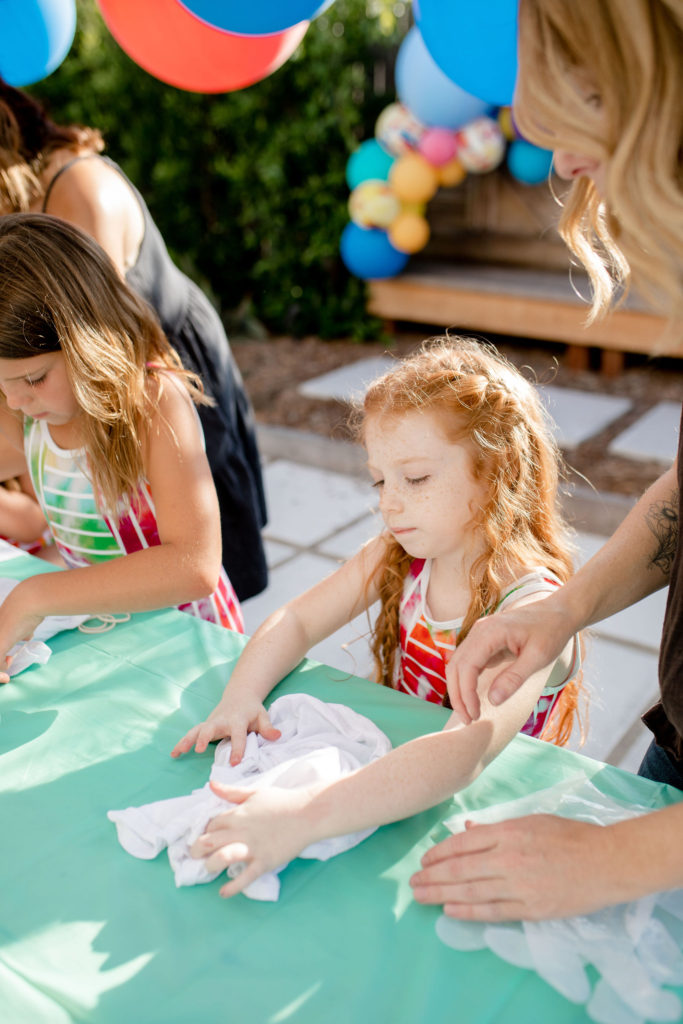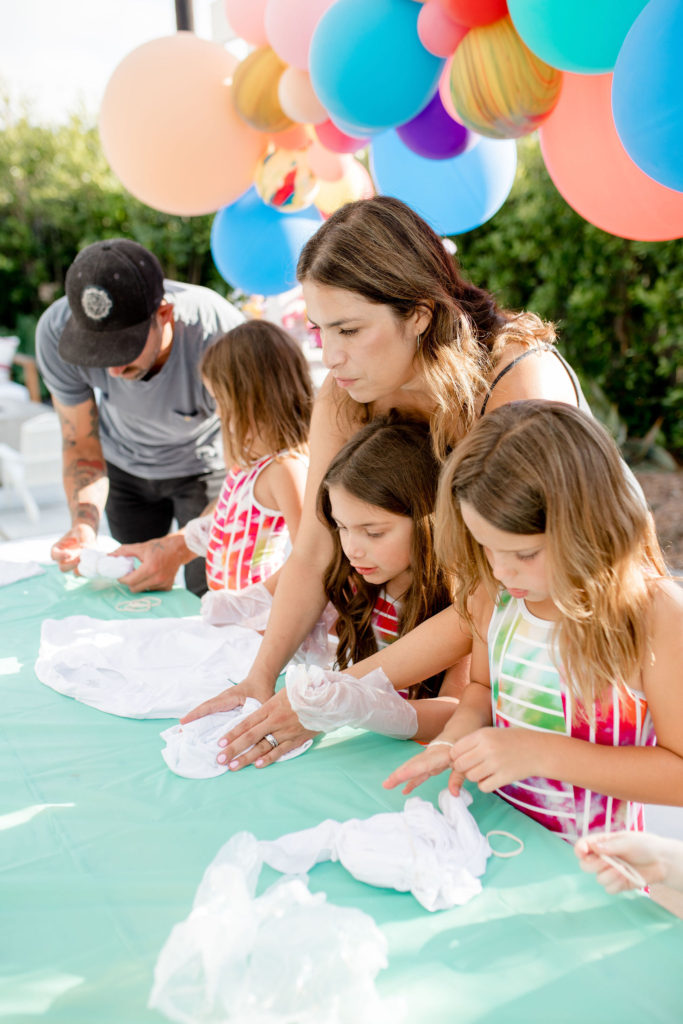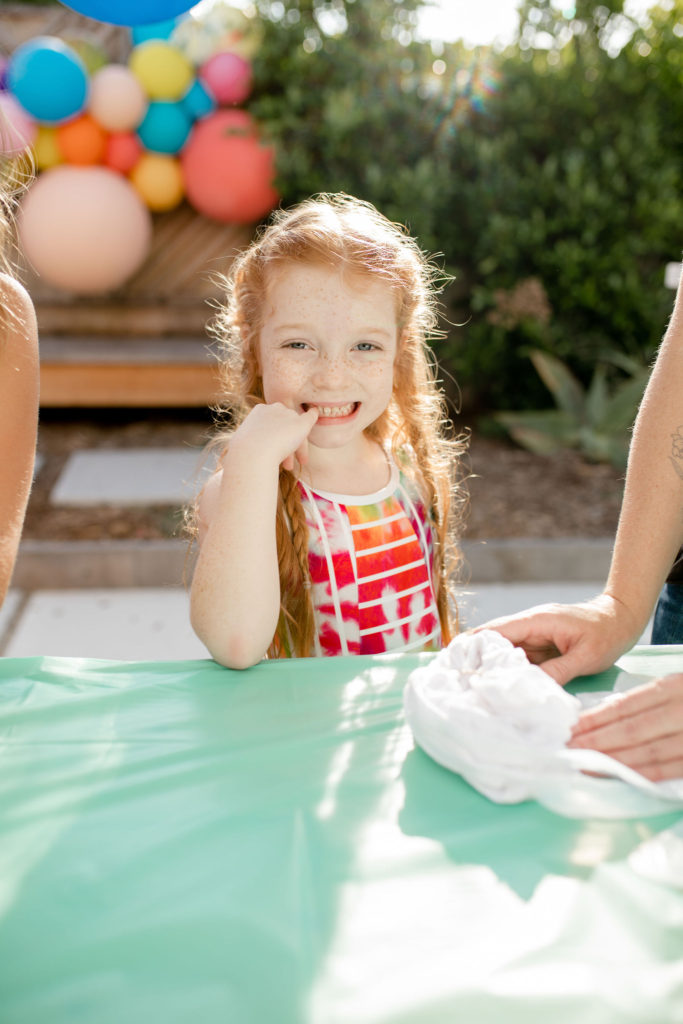 These littles worked hard on their tie-dye! I was so proud of them!!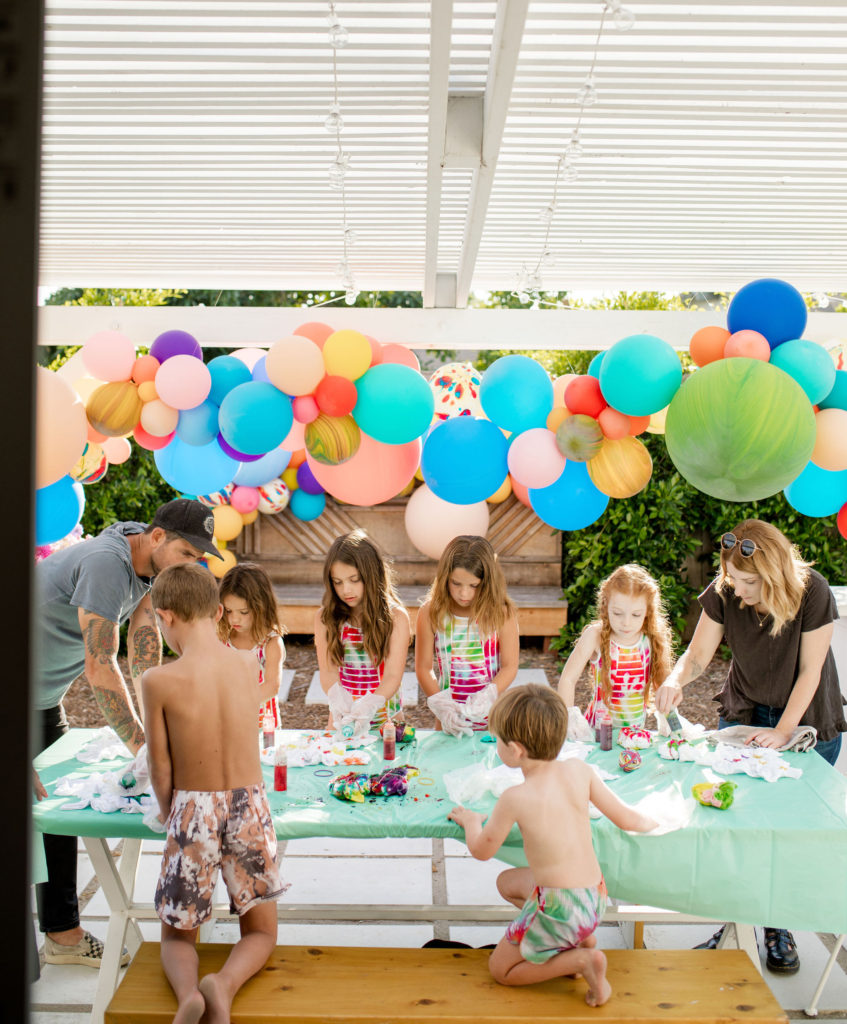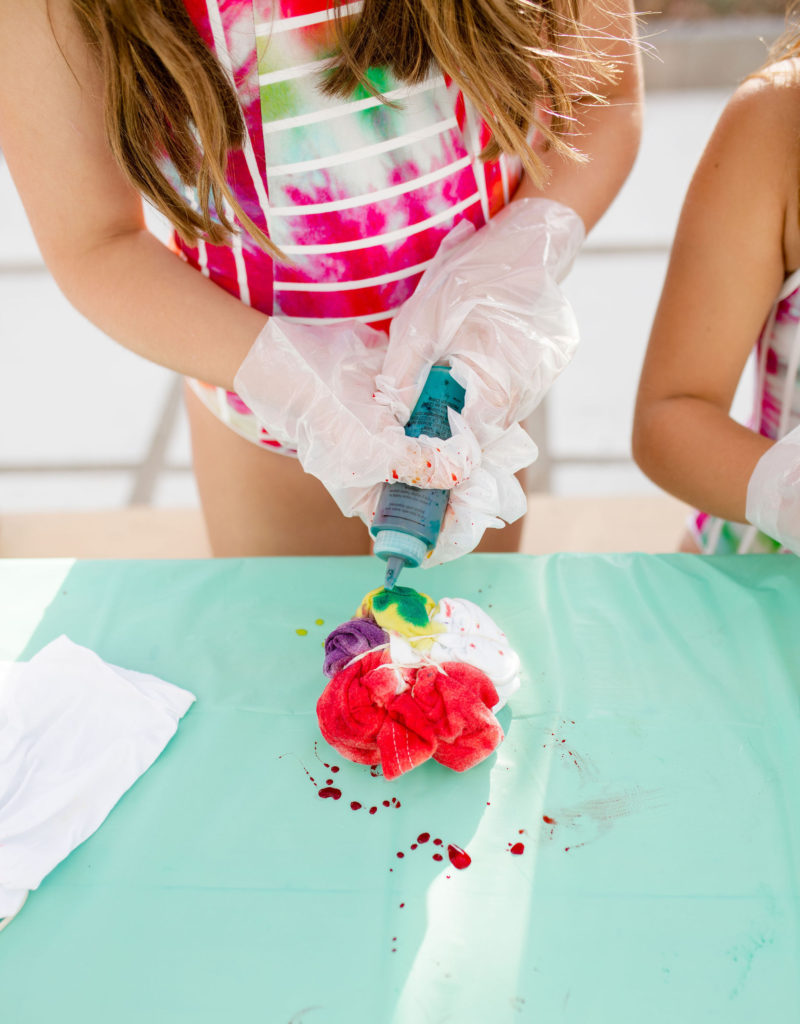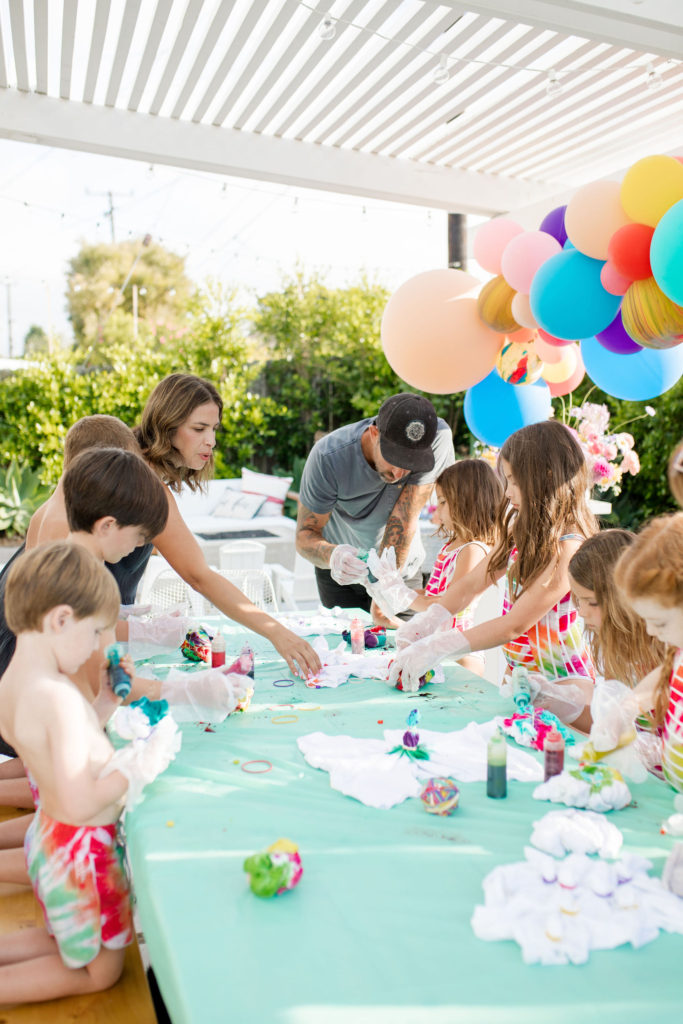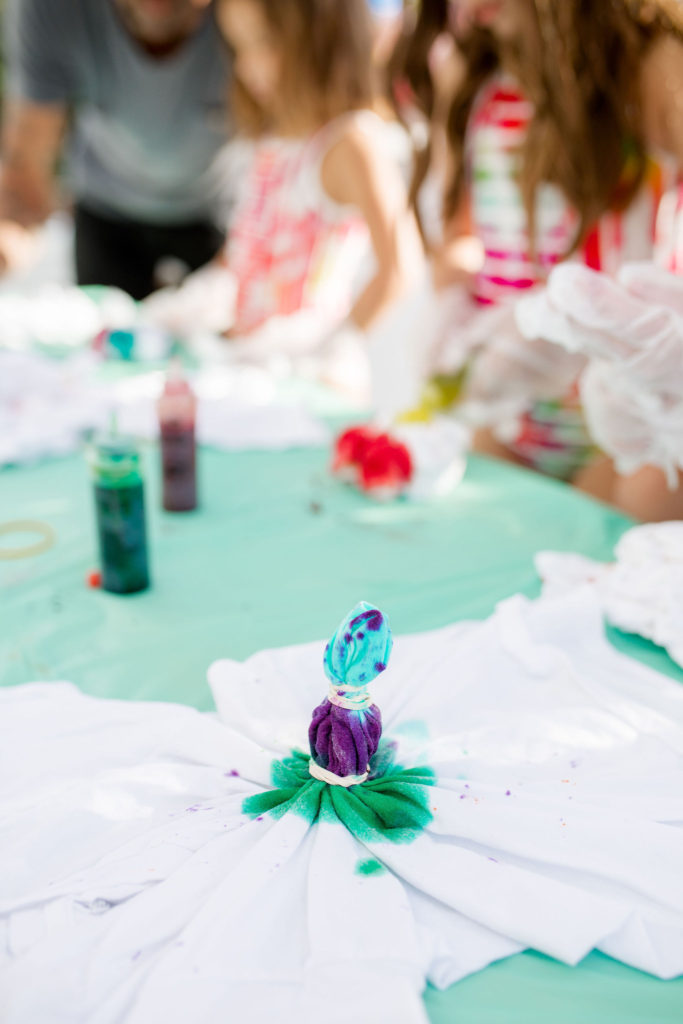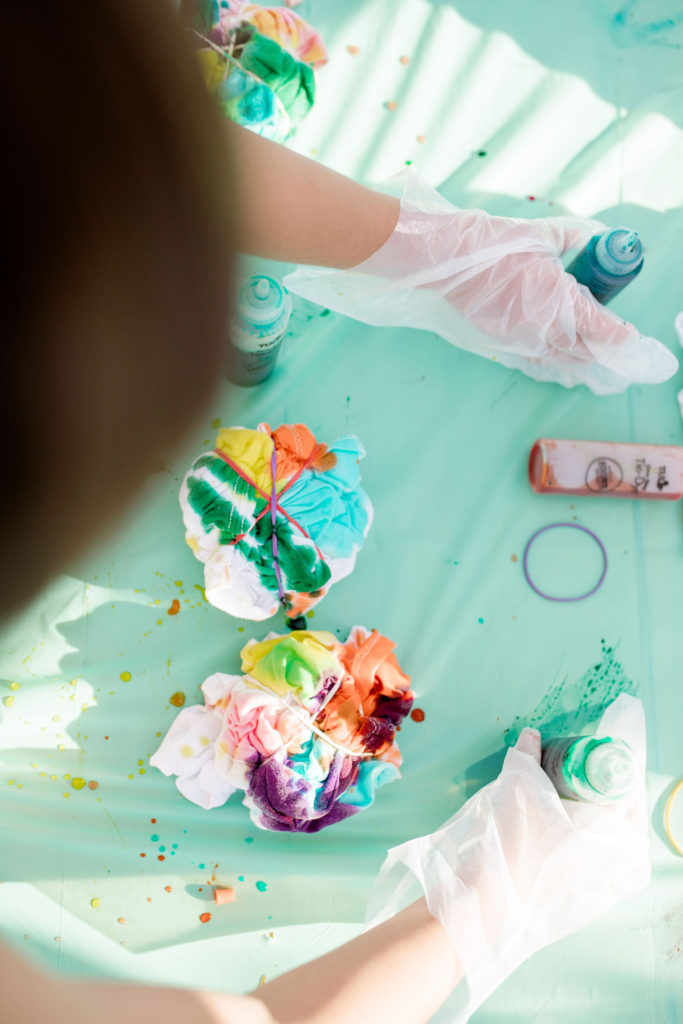 Us parents formed an assembly line after they were done with the first tees. With the Tulip two minute kit, you get different colored dye, rubber bands, gloves, and plastic containers. You simply put the finished tie-dyed item in the container and pop it in the microwave for 2 minutes. It's done after that! Basically even dry.
We hung a few up, but for the most part the kids could throw them on after they cooled off. It was so incredibly easy you guys, I can't recommend it enough!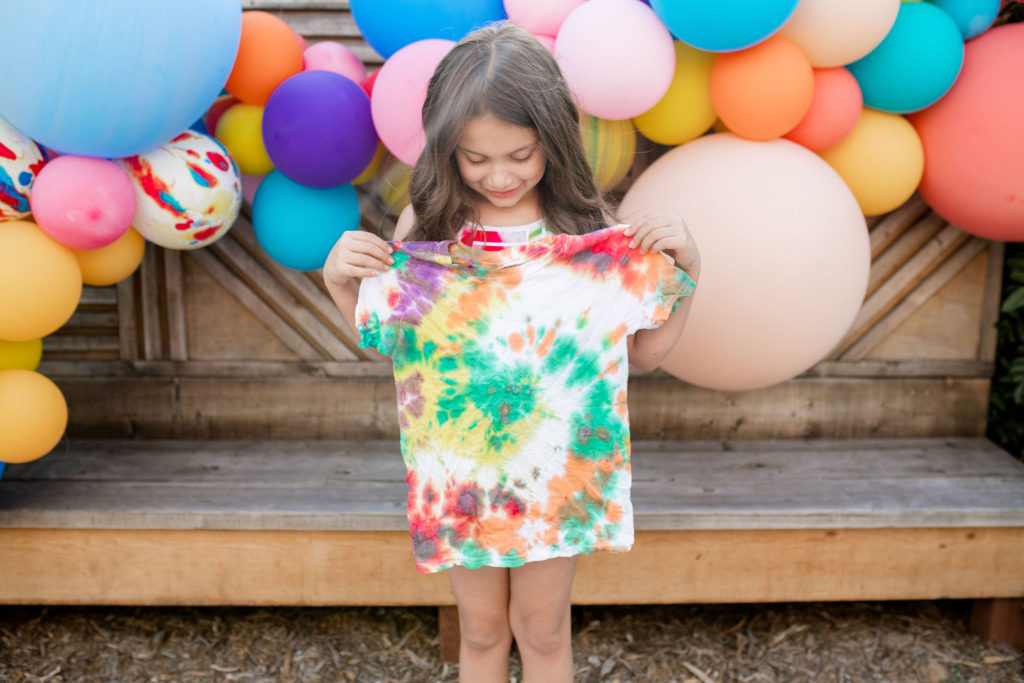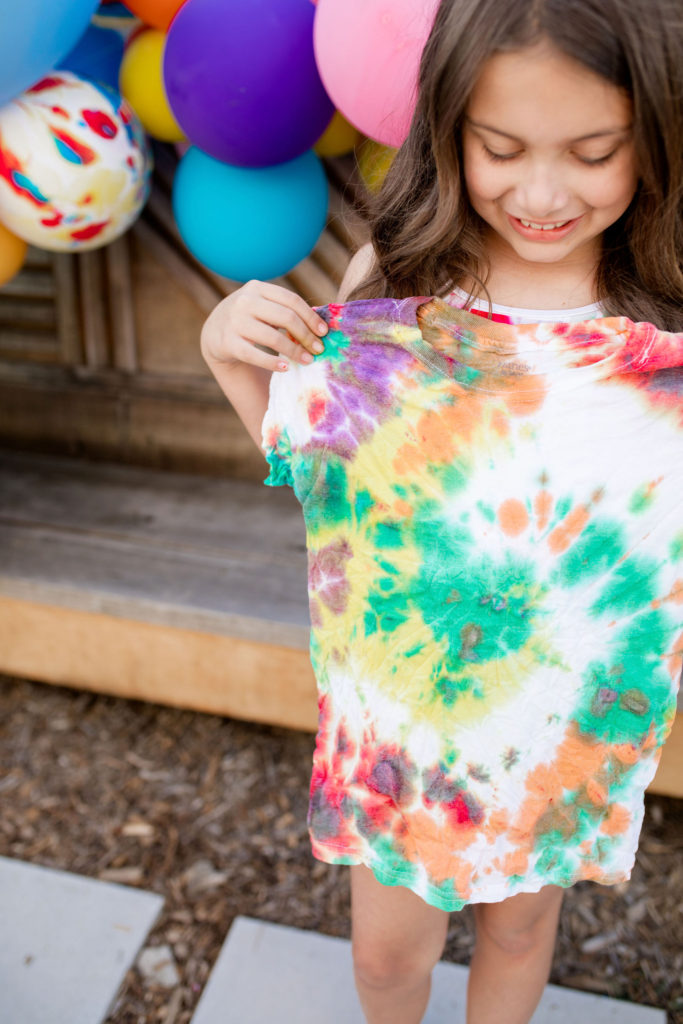 Court's knees got a little bit of color on them, haha!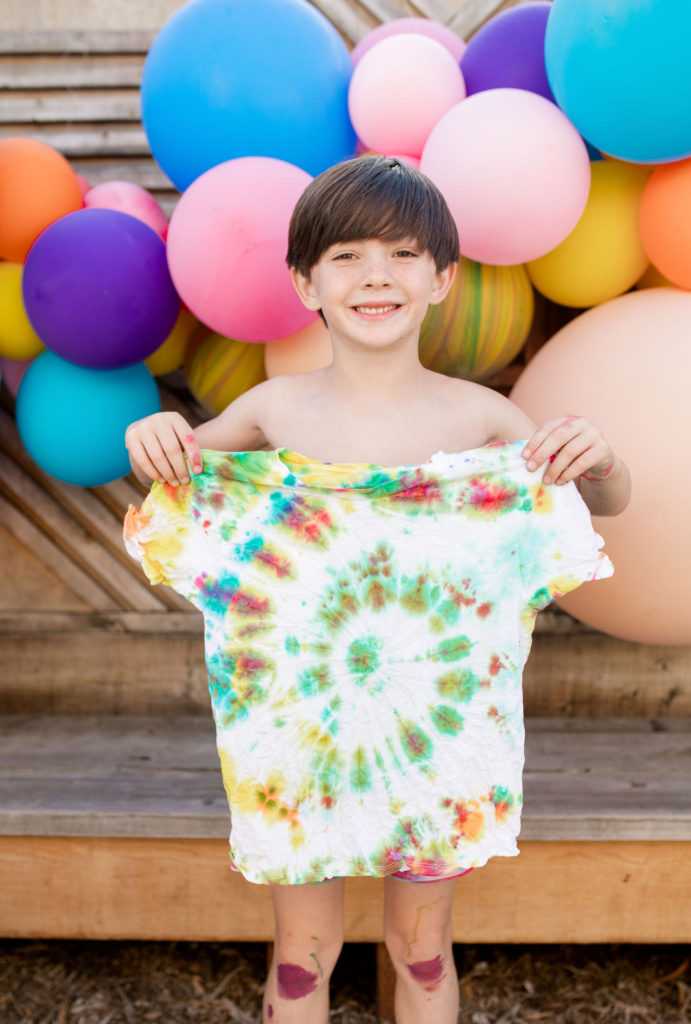 They seriously had so much fun and LOVE their tees!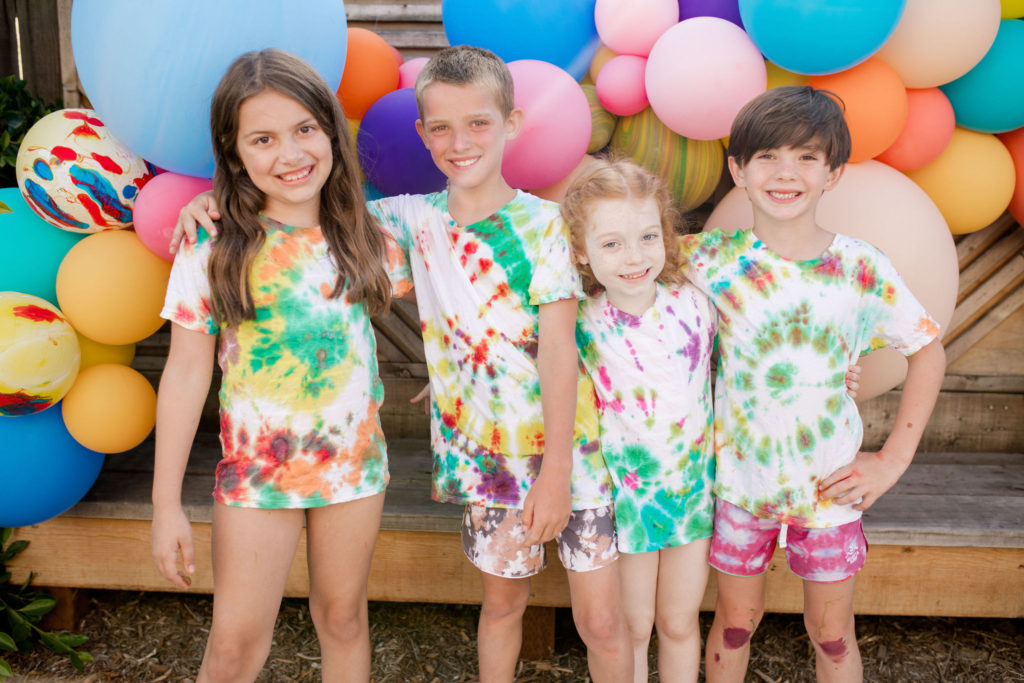 Look at these party animals!!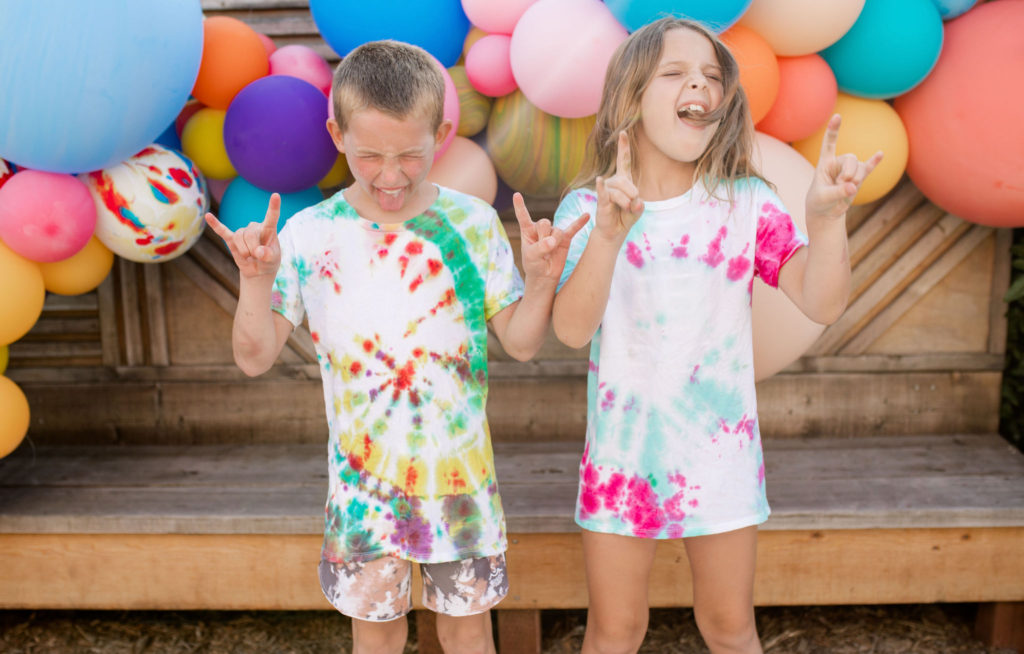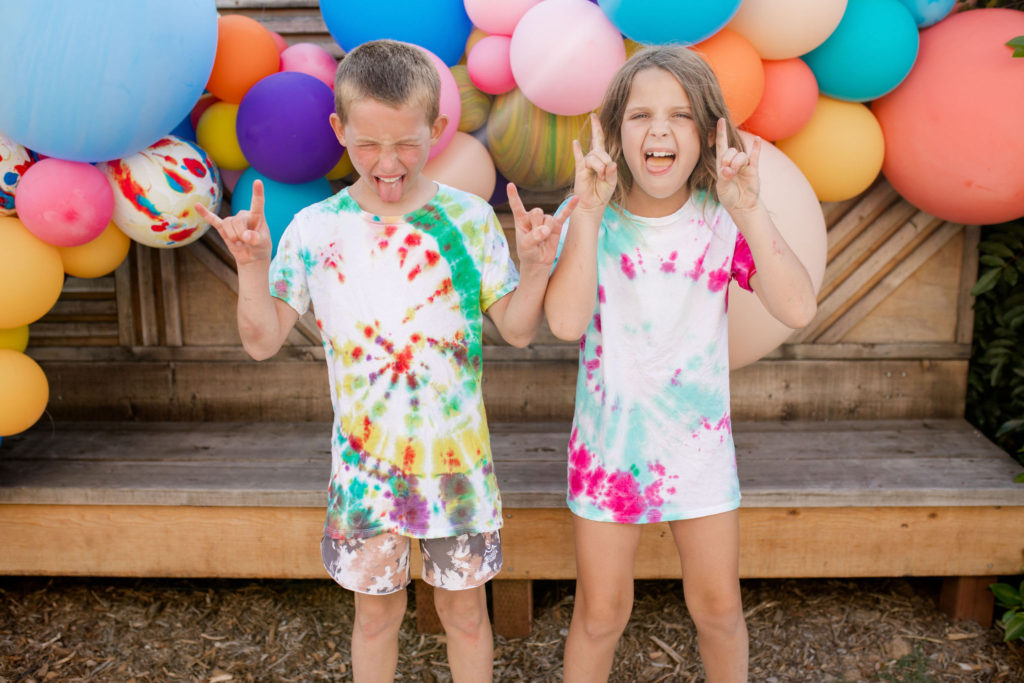 Such cuties!! I think I may need to do another tie-dye party real soon!!!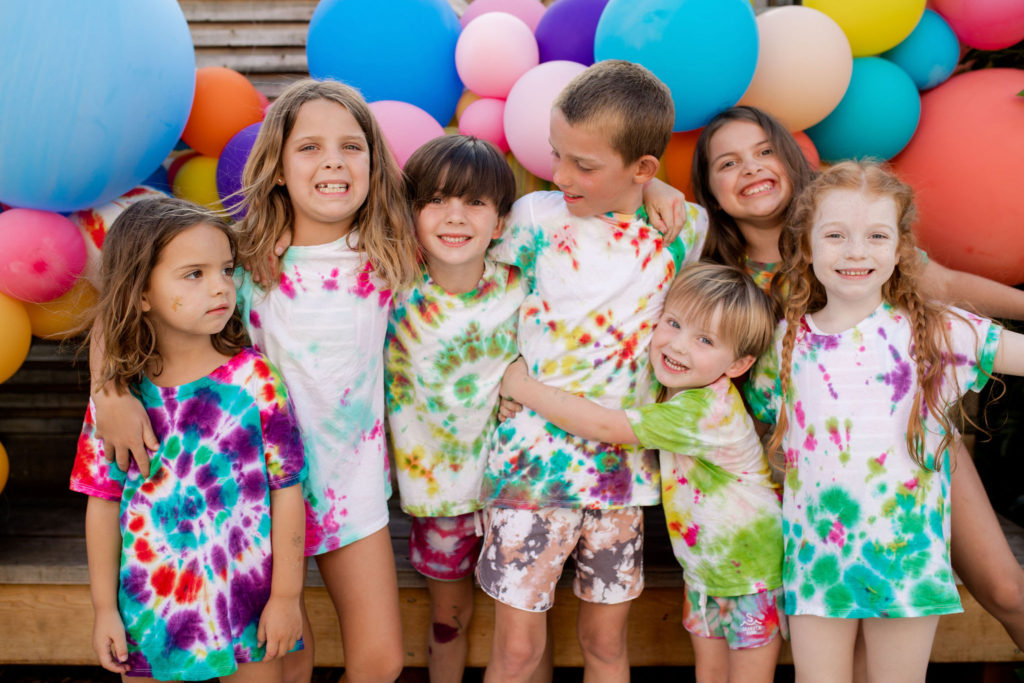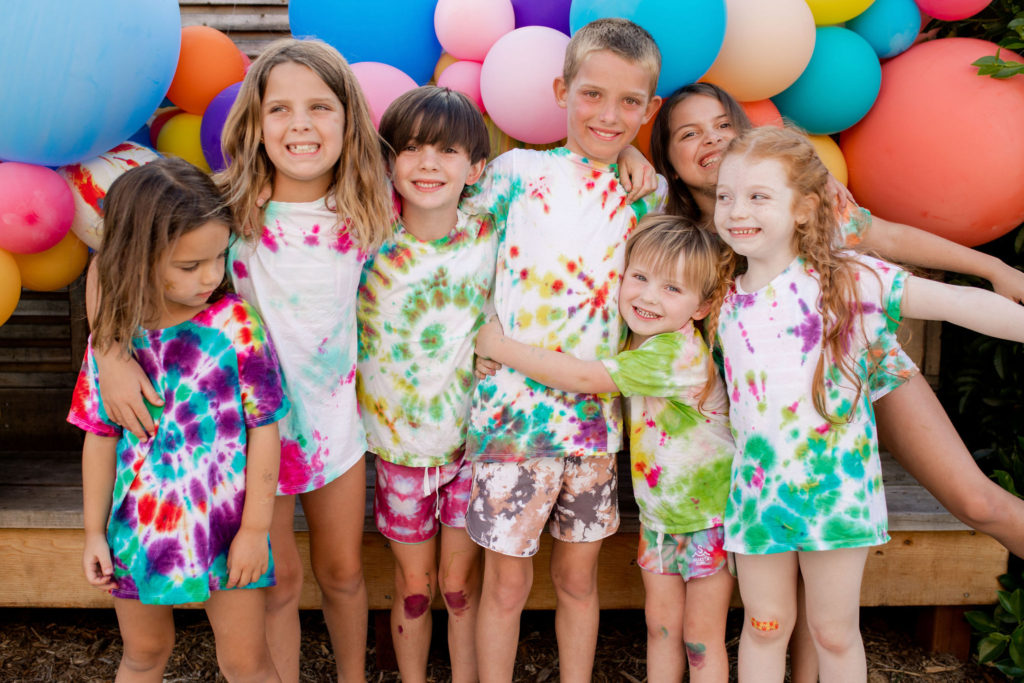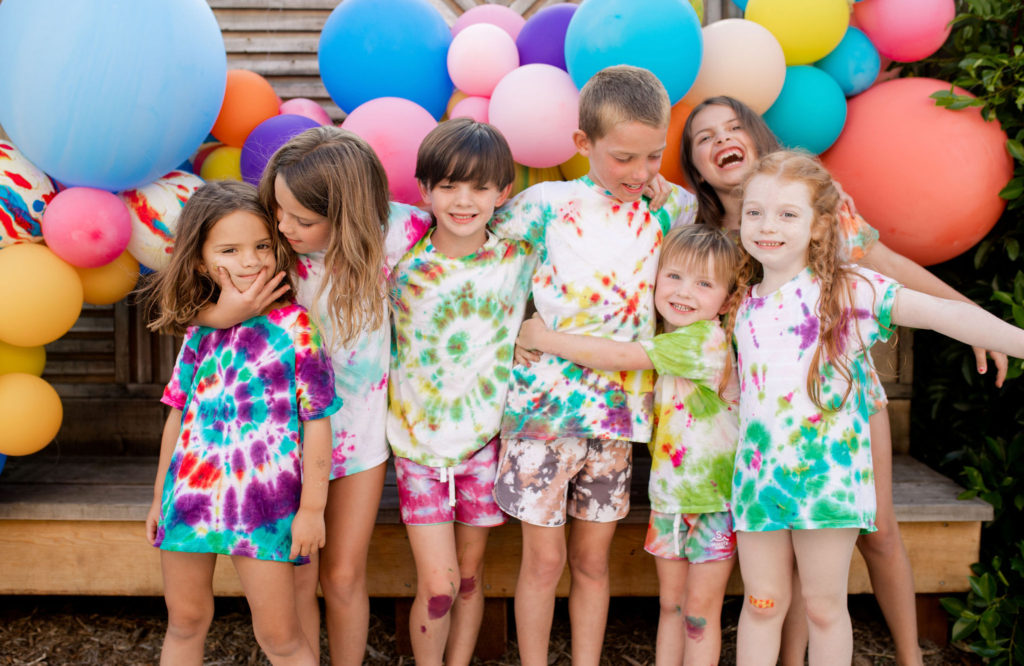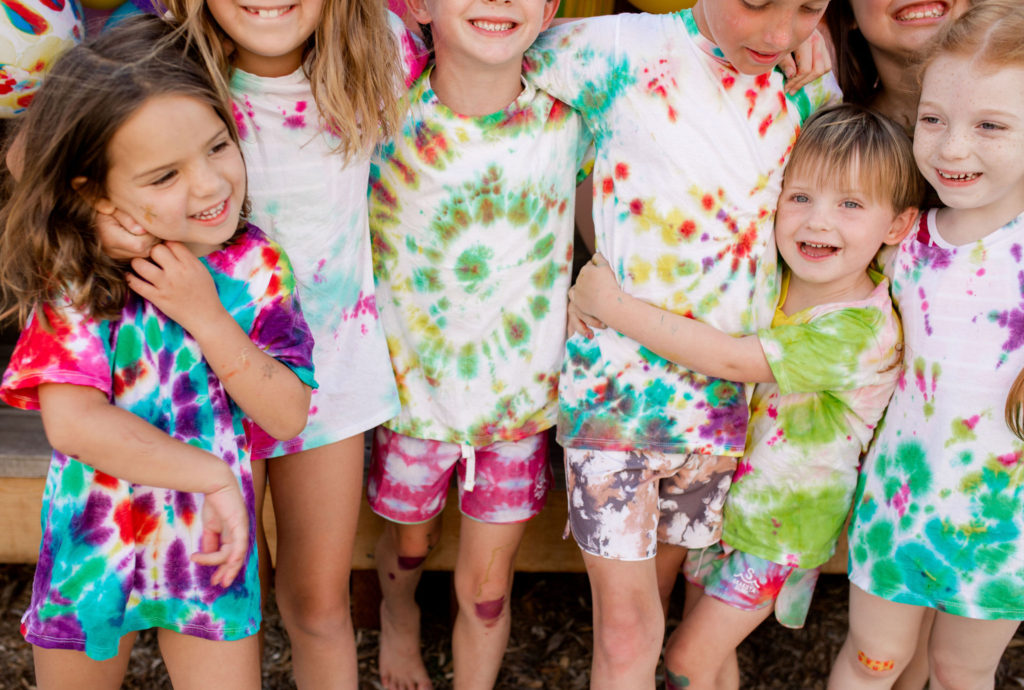 I love making fun memories for these boys of mine and their buddies, doesn't get any better!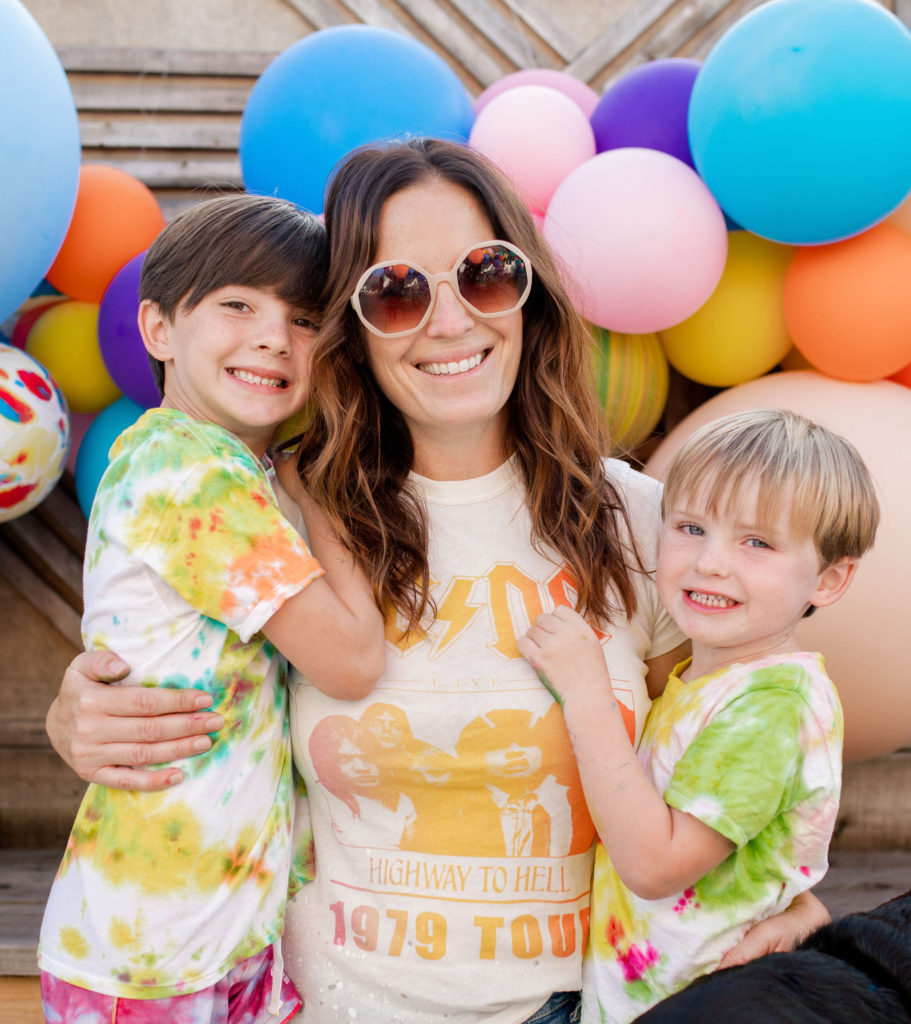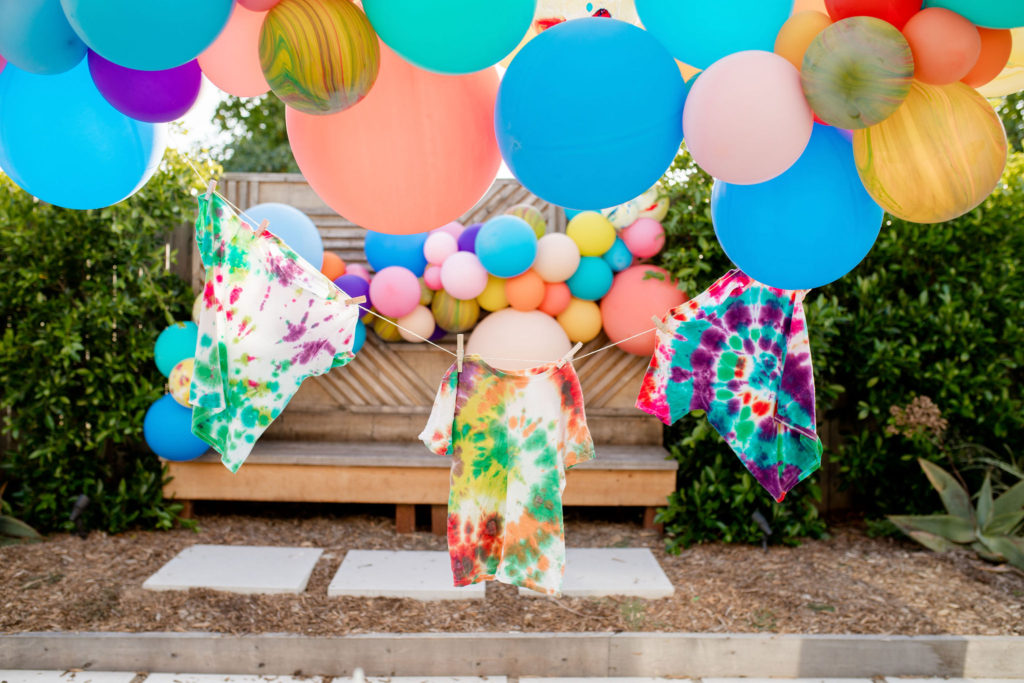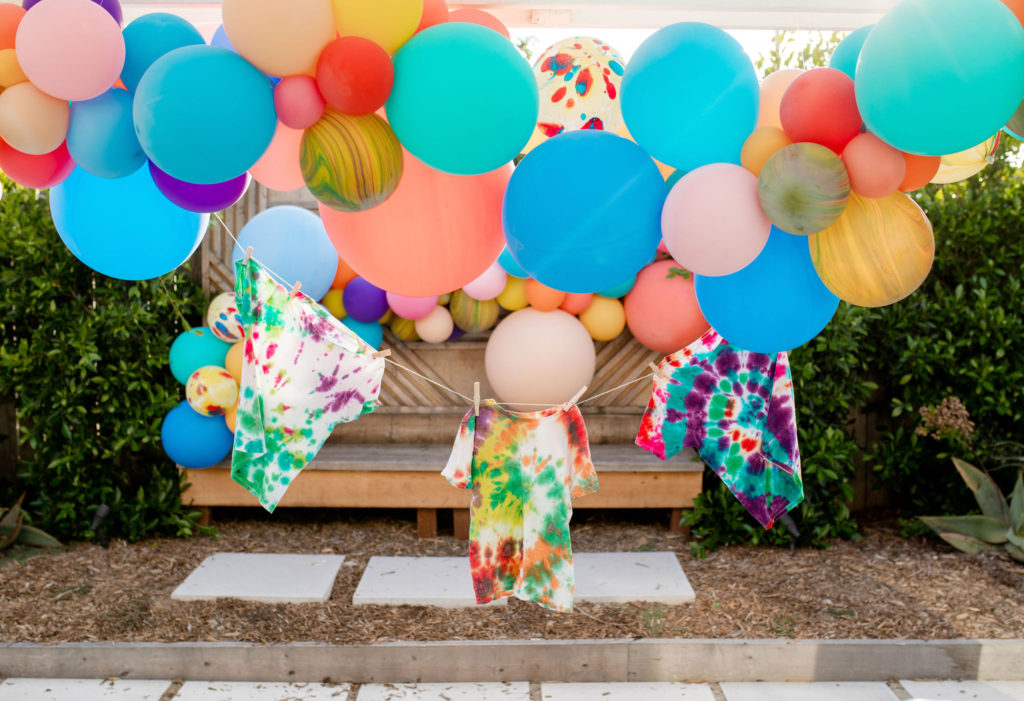 Shop the party below so you can have a tie-dye party of your own!

Stay colorful babes!
xx
Jacquelyn