Superbowl Sunday is almost here, five days in fact! Are you looking to update your game day gathering with some cocktails? While beer is an easy choice to wash down all those snacks, it's always fun to have a cocktail to offer to keep the party going in between touchdowns. The play is simple here, take your favorite IPA and turn it into a tasty IPA beergarita. This beer margarita promises to quench your taste buds with an aromatic and flavorful IPA, a spicy kick from the jalapeno, and our secret play is the hop salt rim. Get game day ready with this crowd-friendly IPA beergarita. Make this a day ahead, so those spicy jalapenos and sweet citrus co-mingle!
Photos by Dayna Studios
---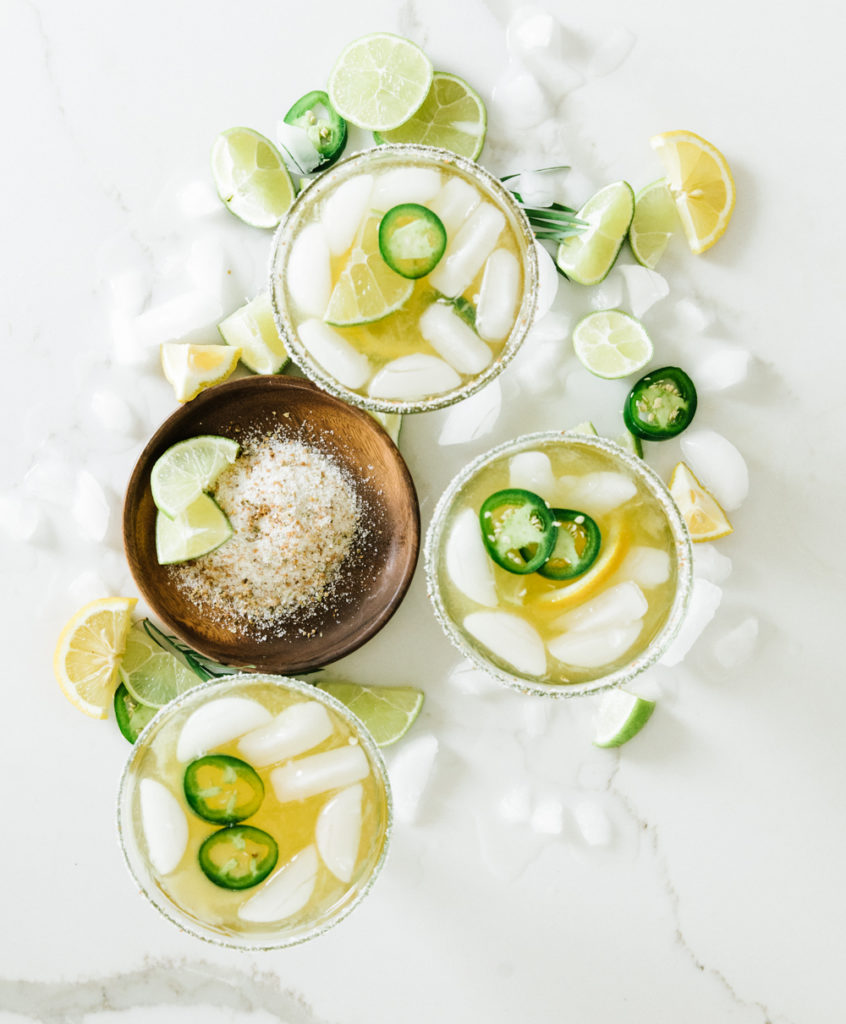 IPA Beergarita
serves: 4-5 cocktails
* Pick an IPA that has flavors of passionfruit in it. There is nothing better the combination of a passionfruit hoppy beer and the spicy jalapeno. Pineapple works great too!
W H A T   Y A   N E E D!
8 oz silver tequila
*optional, add 2 tablespoons passionfruit syrup
2 12 oz bottles IPA
6 tbsp sugar
1 cup water
Juice from two limes
Juice from one lemon
hop salt for garnish
1 jalapeno sliced very thin, seeds and ribs removed, for garnish
1/4 lime sliced very thin, for garnish
B U S T   O U T:
Ice cube trays
Saucepan
Pitcher
Glassware
Wooden Tray
---
I N S T R U C T I O N S

Let's make that simple syrup ahead of time! Bring the water to simmer, add the sugar and remove from heat. Stir until the sugar has dissolved and let cool. Store in the fridge until ready to use.
In a pitcher mix the tequila, beer, lime and lemon juice, and the simple cooled syrup. Add lemon and lime wedges for that extra citrus kick! Then add the jalapenos (seeded or non-seeded) to allow time for that kick of spice to set in. Leave in the fridge overnight!
GAME TIME!
Pour the hop-infused salt in a small plate. Rim each glass with a lime wedge and dip into hop salt.
Fill your glasses with ice, and then pour in the tequila and beer goodness, and garnish with a lime and jalapenos.
Now you're ready to get your Sunday Funday on!
---
---
xx
Abby