Nothing is sweeter than little bees and lots and lots of honey as a theme for a 1st birthday party. Especially with moving out of the summer months, this is a great fall theme to play with. But really, nothing is truly sweeter then your little one turning one. We love discovering new companies to partner with to help make your next event amazing.
And Geese and Ganders is your source for the cutest collections of modern paper tableware. With its endless array of fun and adorable themes, you can mix and match to create your favorite look. When it comes to little kid parties, disposable tableware is pretty key here. Not only is it affordable, but fun! Geese and Ganders have so many fun themes, there is something for everyone! I was excited to play with their bee theme. A fun fall theme, and well it has honey involved which is always a fun sticky sweet situation.
You can also buzz on over to 100 Layer Cake-let to see more of this sweet tablescape.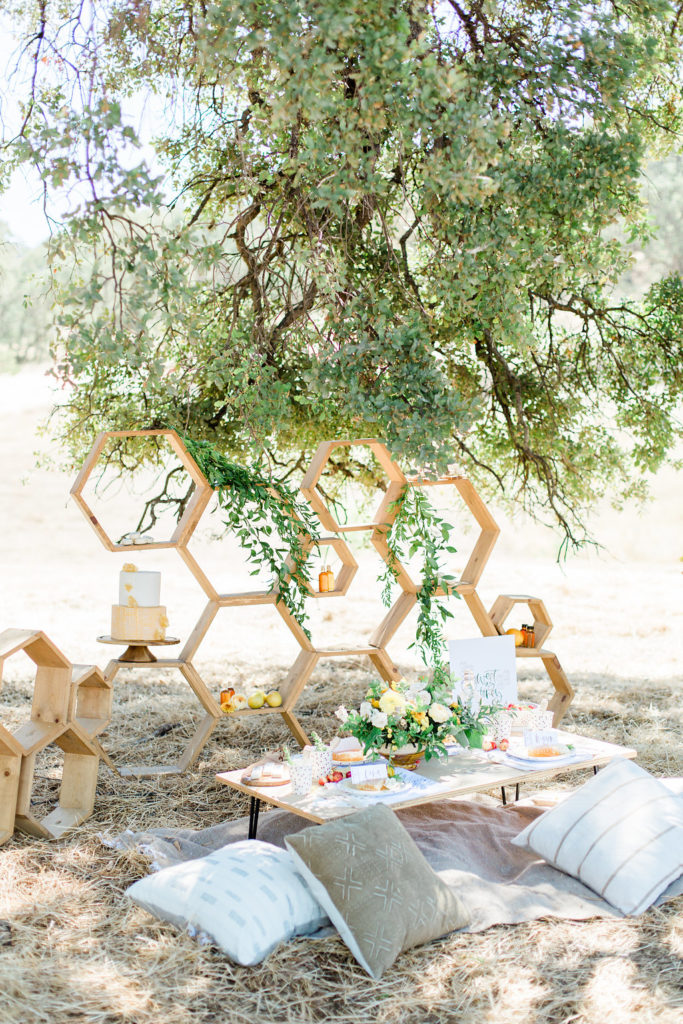 The golden fields outside of Sacramento was a perfect backdrop for Ivory Blush Photography to capture this sweet little scene.
With it being a bee theme this hexagon wooden backdrop made by Bloomande was the perfect background piece. Accompanied by our favorite essentials we use all the time, Gunn & Swain blankets and Boho Pillows in neutral tones, we have ourselves a cute little scene right here.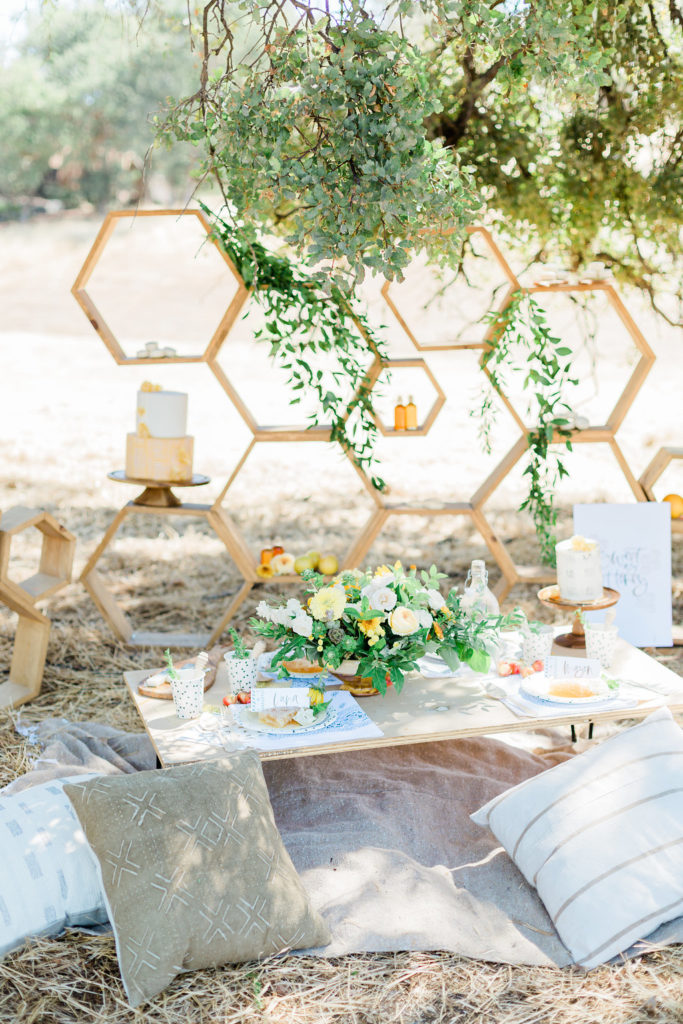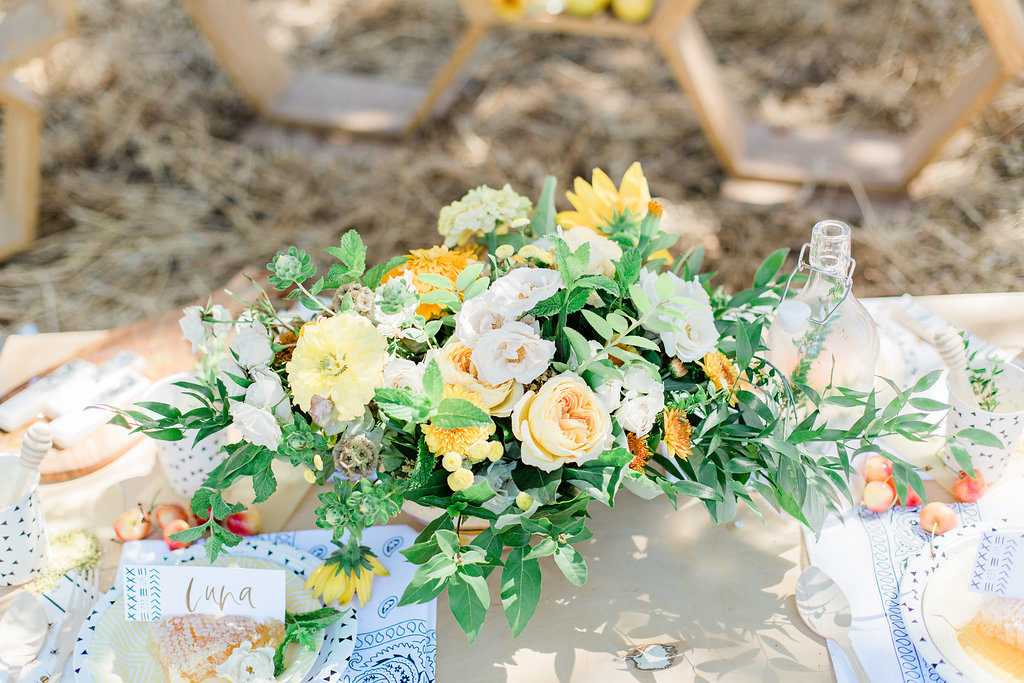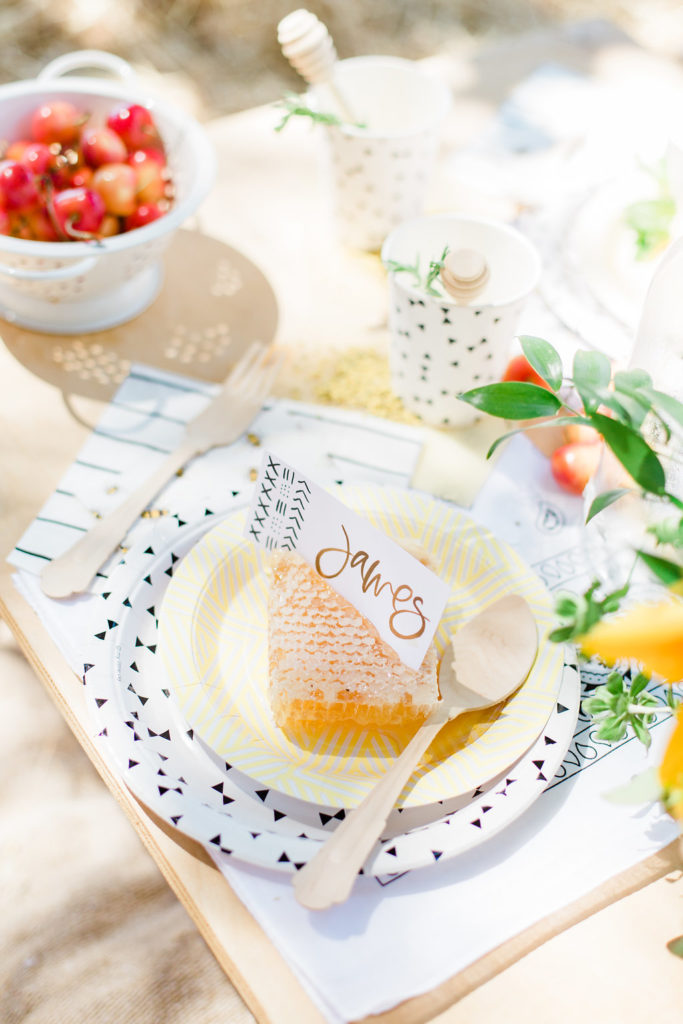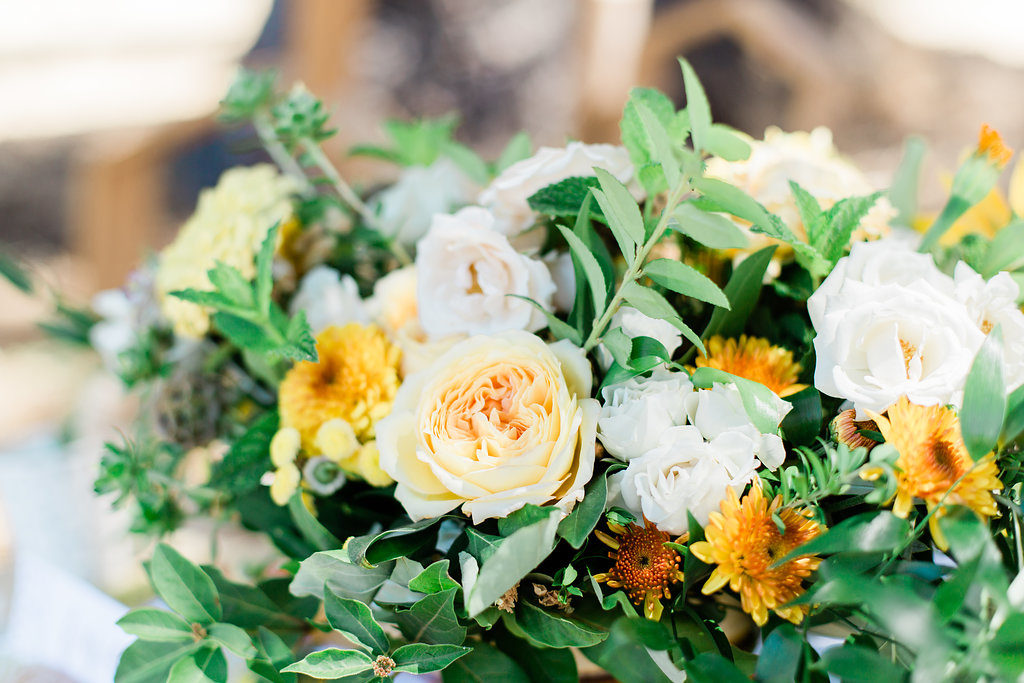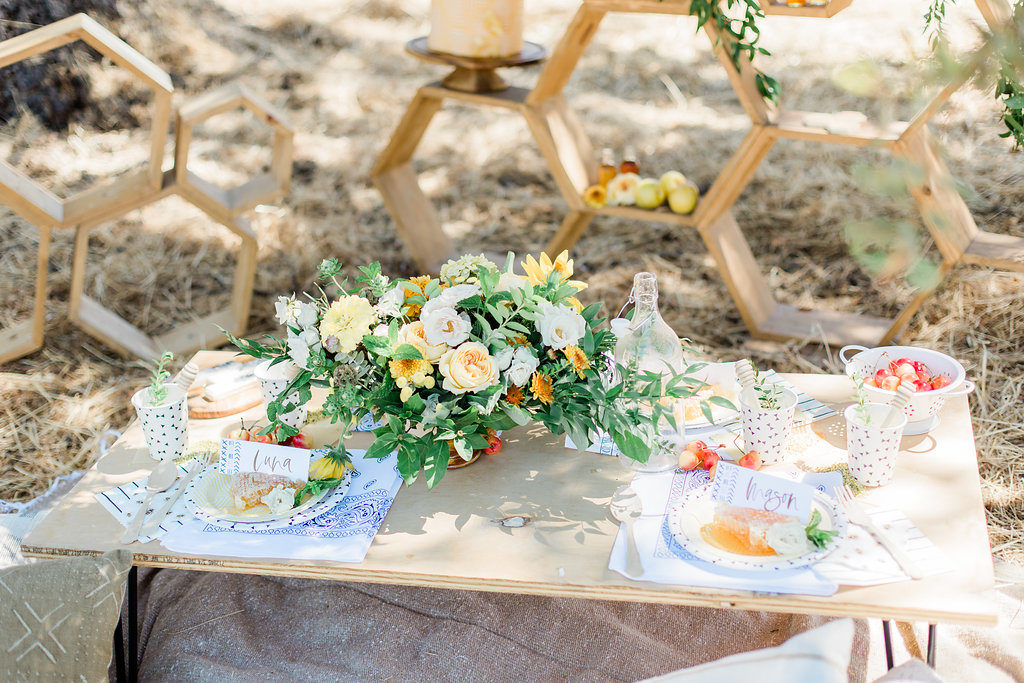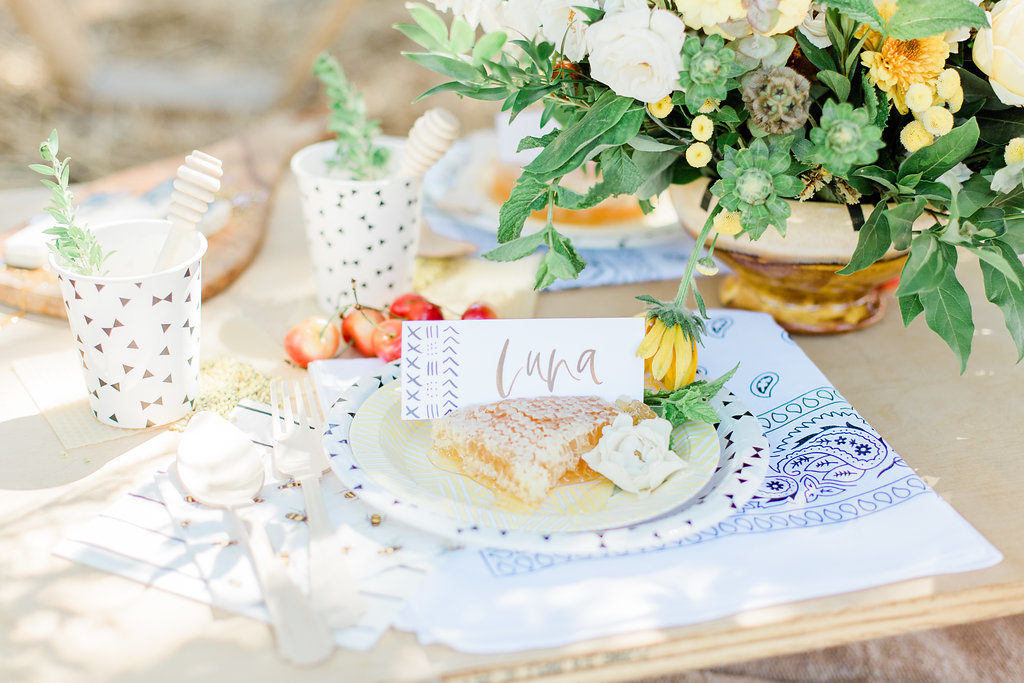 Bloomande created this pretty neural golden toned arrangement for the kid's table. I love how it really brings out the golden and yellow tones perfectly. Along with its beautiful organic look, this arrangement also had herbs tucked in which made it smell so good! Nestled in the middle of our sweet bee themed tablescape, it was right at home. What bee doesn't like flowers?!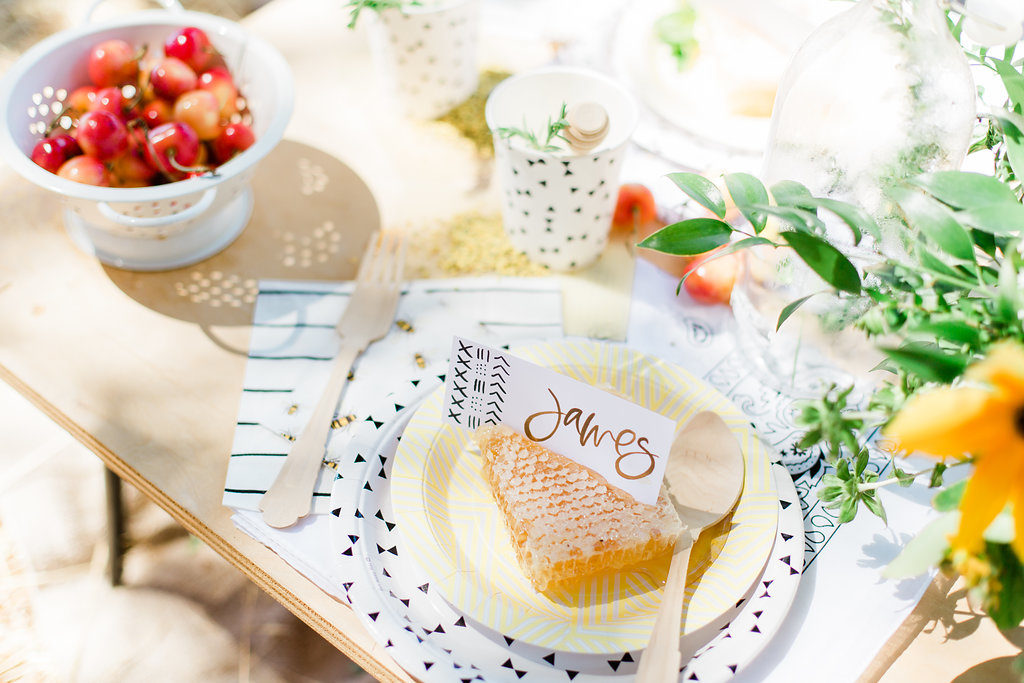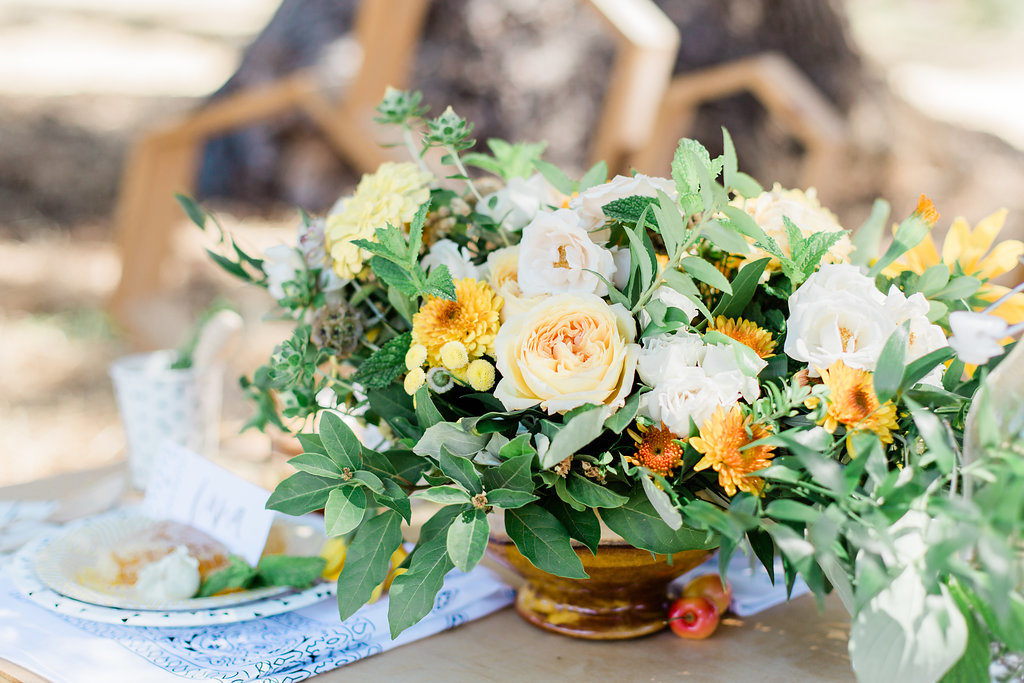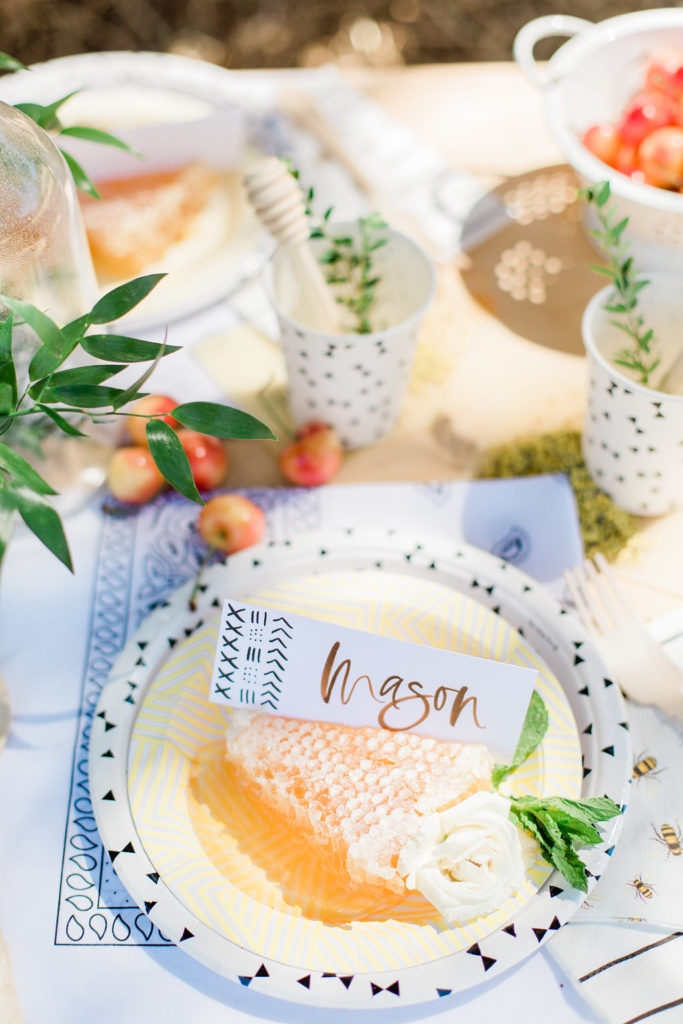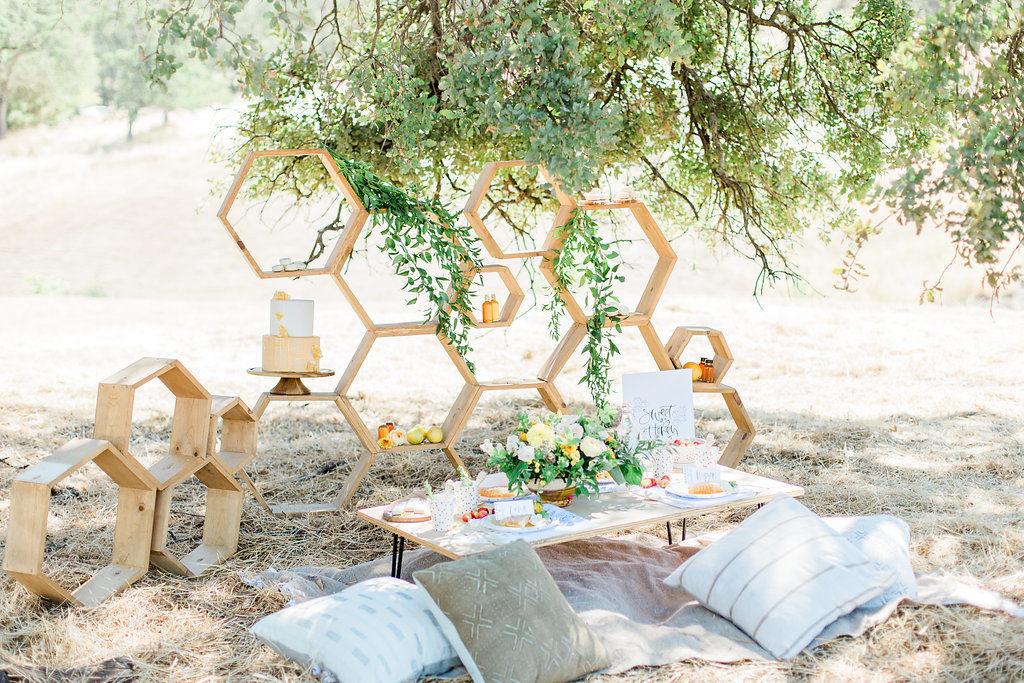 Let's chat about those bees! This tablescape was fun to play with. Geese and Ganders have a save the bees themed collection, and the number of options to mix and match will let you create your own personal touch. You won't feel like you are stuck with only one or two options. I layered the black and white tie triangle plates with the yellow and white geometric small plate, which I placed under a white bandana. I like to create layers with napkins as well, it just adds another level of dimension to the tablescape. The black and white Frenchie stripe large napkin mixed with those cute save the bees napkins were a perfect pair. Plus, their wooden utensils to bring in that neutral element, and the black and white triangle cups to round it all out.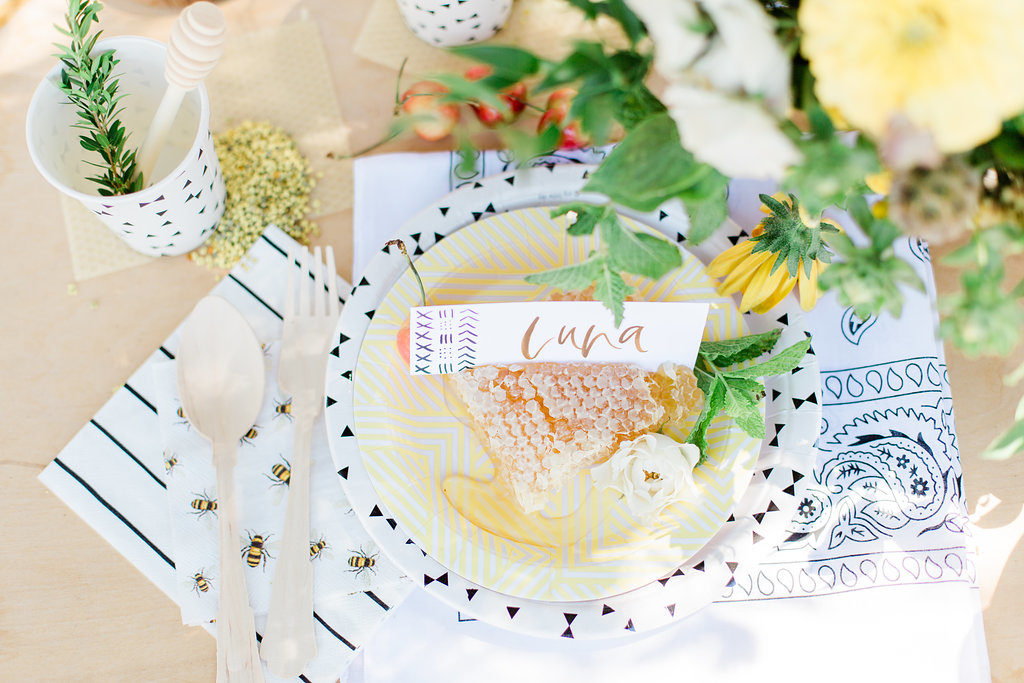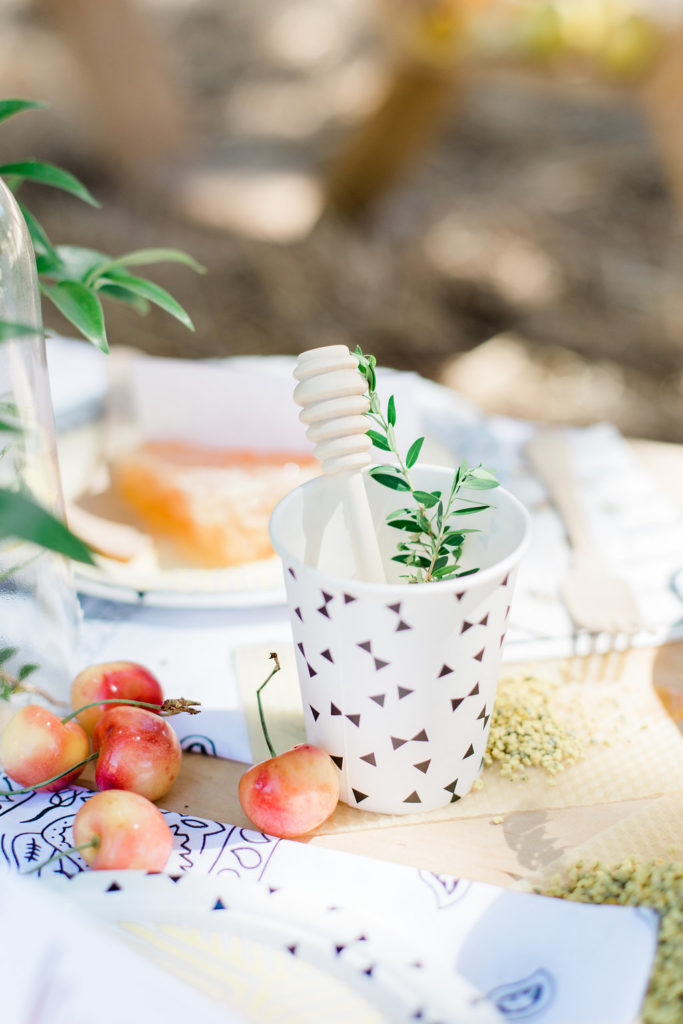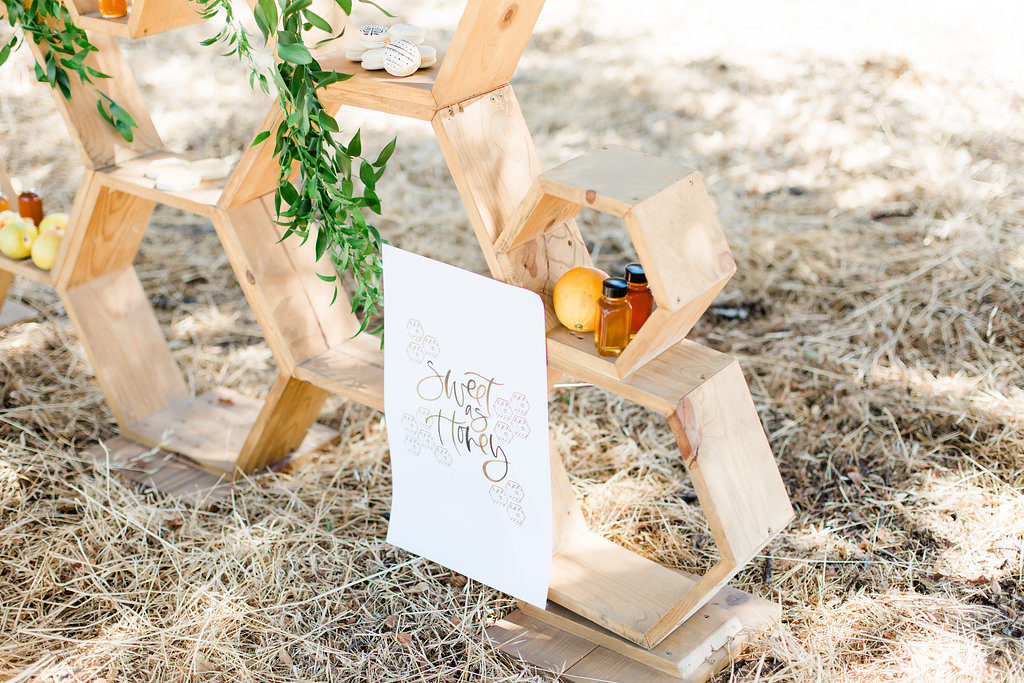 I brought in some mud-cloth pattern to bring in our boho look we love so much. How cute are these name cards that Bare Ink. Co created!?! I'm obsessed with her work!
She also created this fun invite too! Oh, and did you spy the "sweet as honey" art print on the wooden backdrop?!! Love it!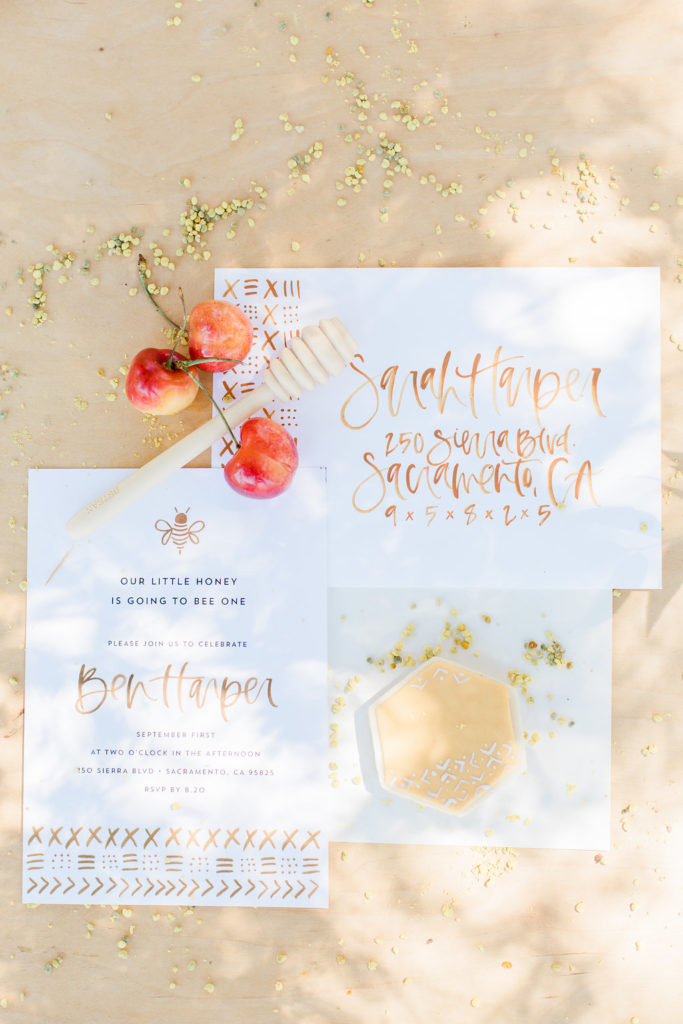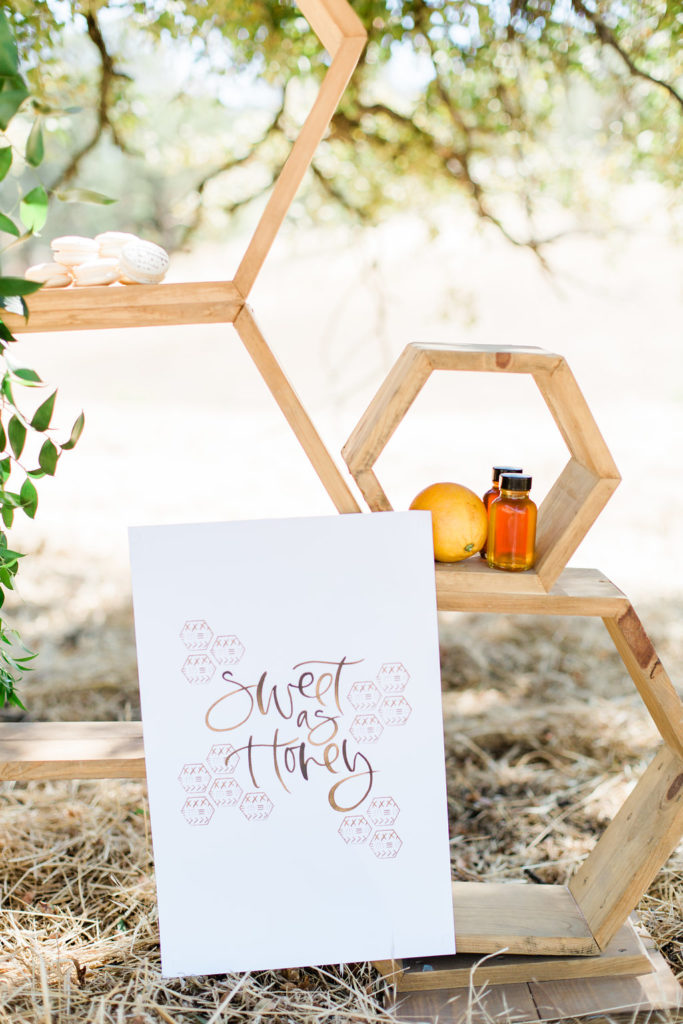 One of the things, I knew I wanted to play with for this cute theme was honeycomb! The bee box which is located in downtown Sacramento has everything you need for your honey cravings! It's a one-stop shop to get yourself started making your own honey, and everything honey, of course!
Honeycomb placeholders are where it's at people! Also beeswax used as a coaster! Plus, bring in the bee pollen and honey drippers to round out your bee details for one cute tablescape.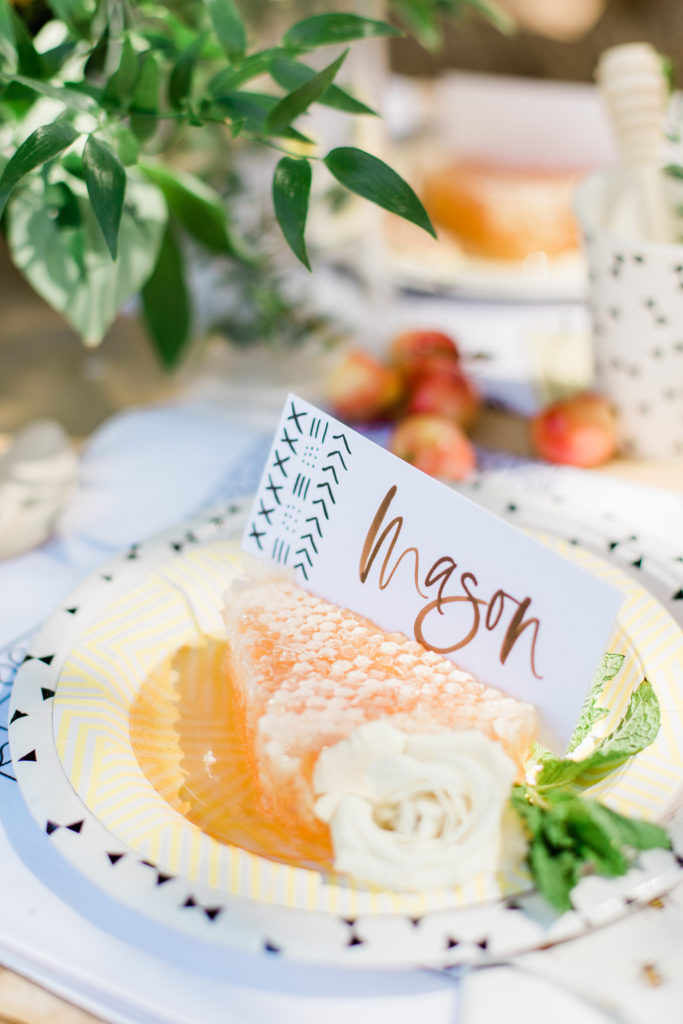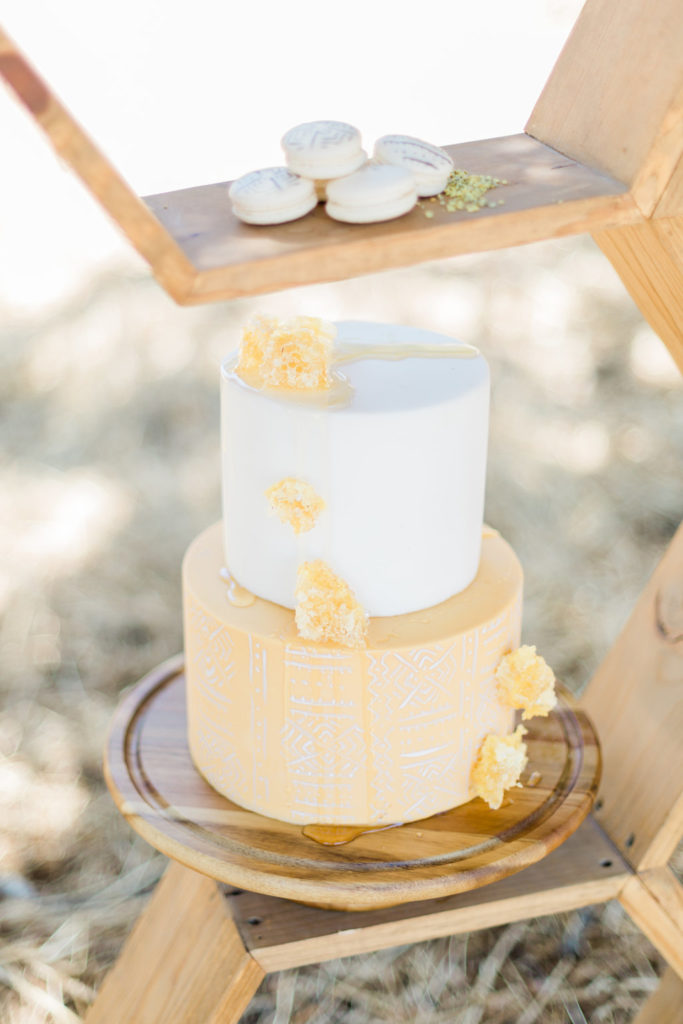 Now, any styled shoot or event we create, you know will have mouth-watering desserts! Bring in Paper Heart Patisserie! This lady I think was just as excited to play with all this honey more than me! With carrying on with the mud cloth details, she created the cutest smash cake and two-tiered mud cloth and honeycomb cake complete with dripping honey.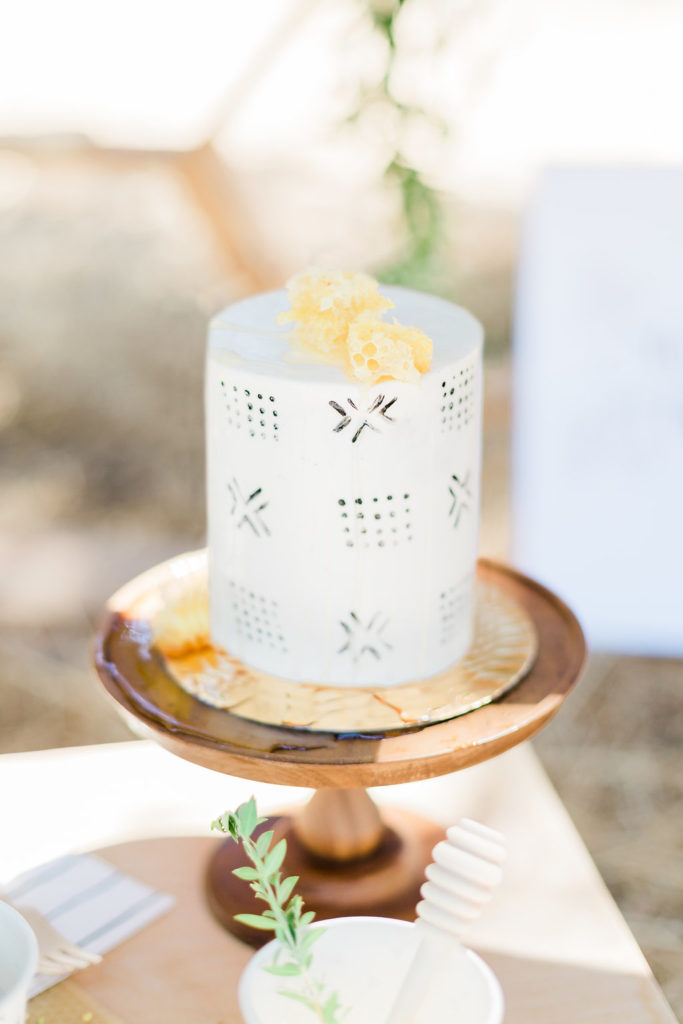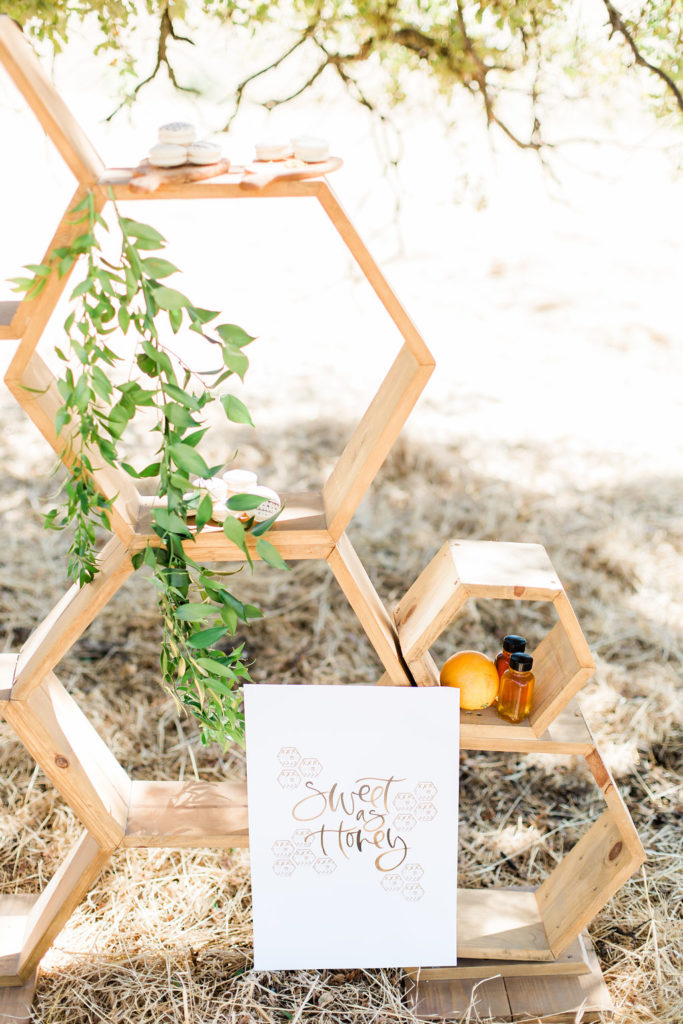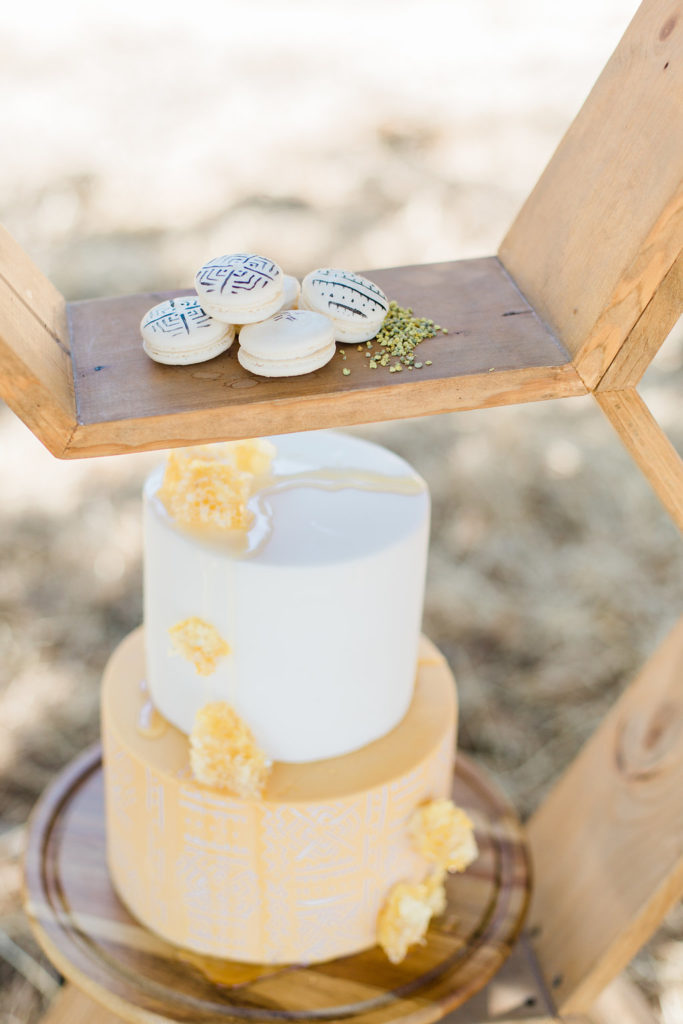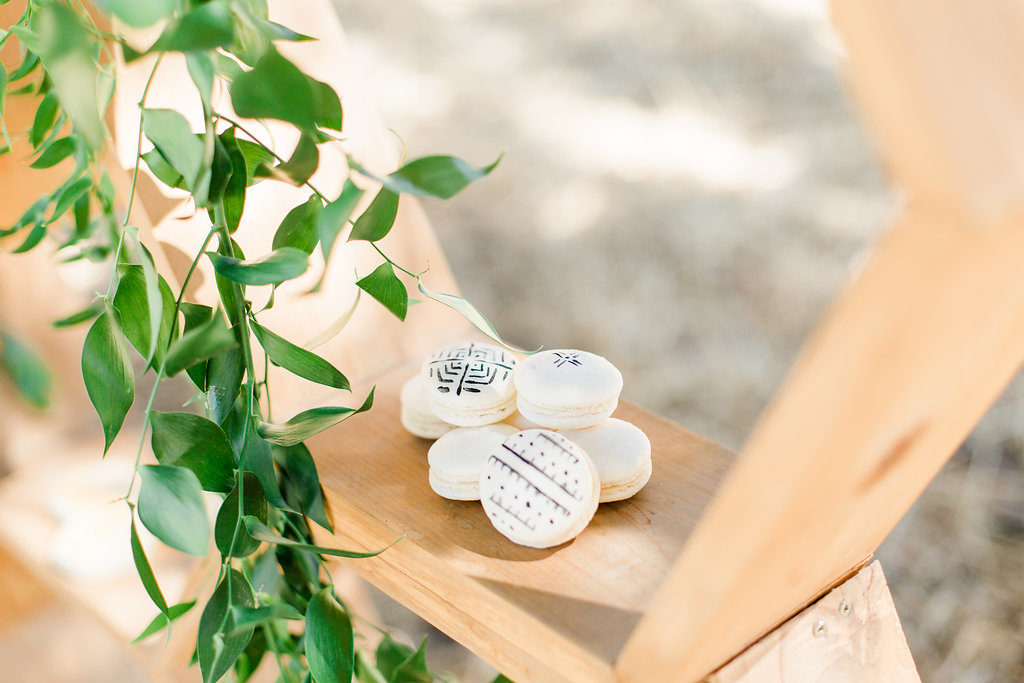 Plus, mud cloth macaroons and "buzz" marbled sugar cookies.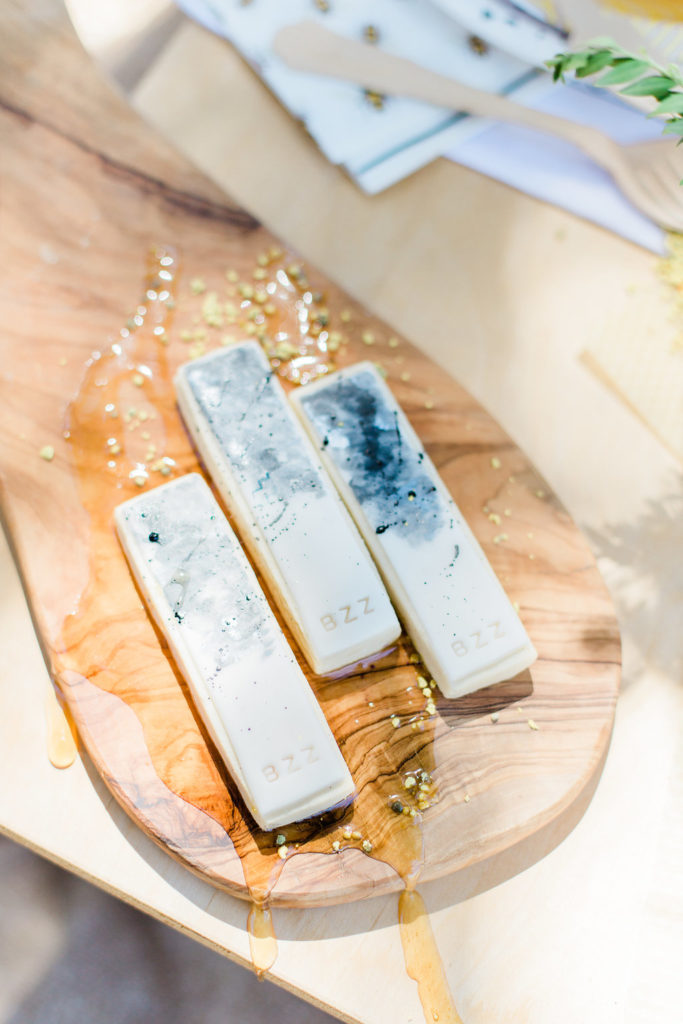 Bring in the birthday boy! This little cutie was ready to dive into this sweet sticky situation!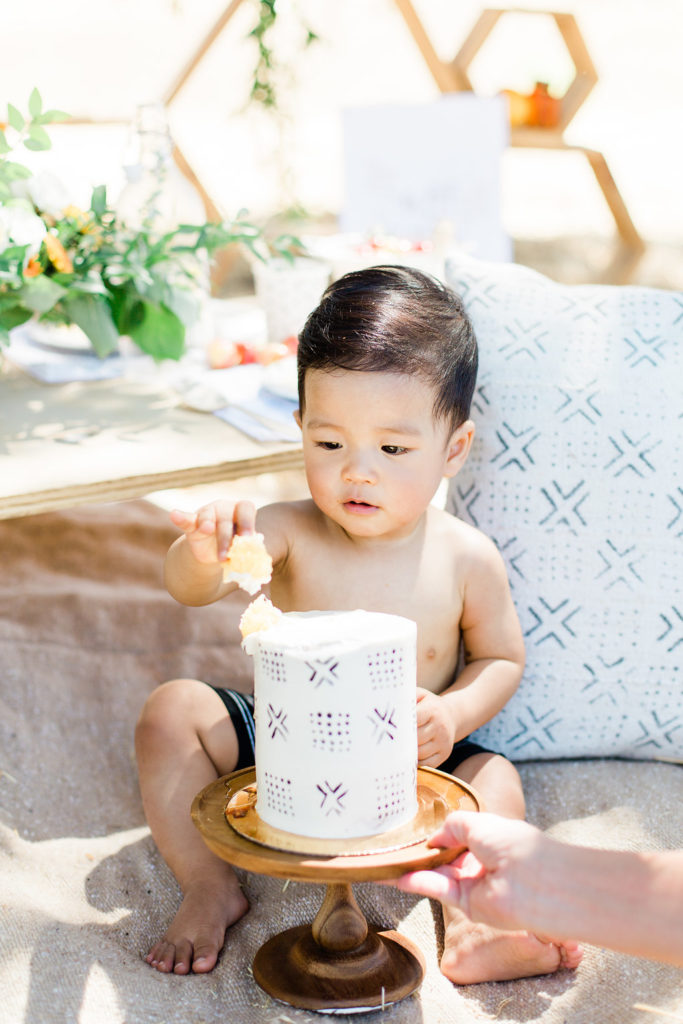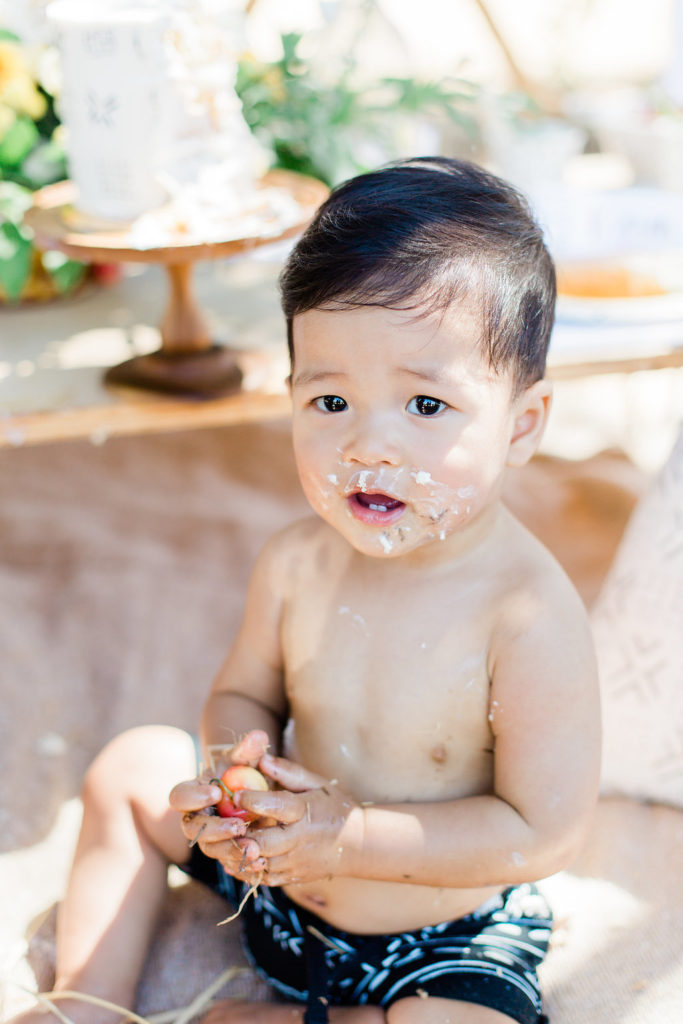 I would cry too if I had all these sugary treats around me! I mean where do you start!?!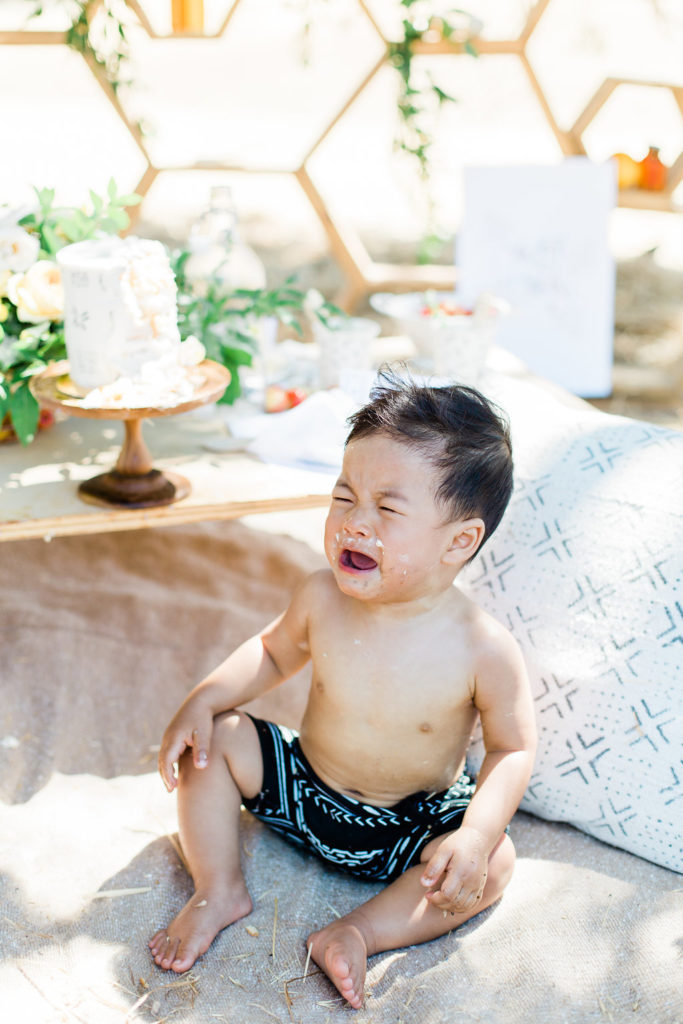 Well, isn't a bee theme so fun to do for your next little one's birthday party!? We think so! See all the amazing vendors below to help create your next party!
Vendors
Styling+Design/ Beijos Events
Florals/Bloomonade
Photography/ Ivory Blush Photography
Paper Goods/Bare Ink Co.
Desserts/ Paper Heart Patisserie
Honey/ The Bee Box
Blanket/ Gunn & Swain
Pillows/ Boho Pillow
xx
Abby